Game Day Football Brownie Bites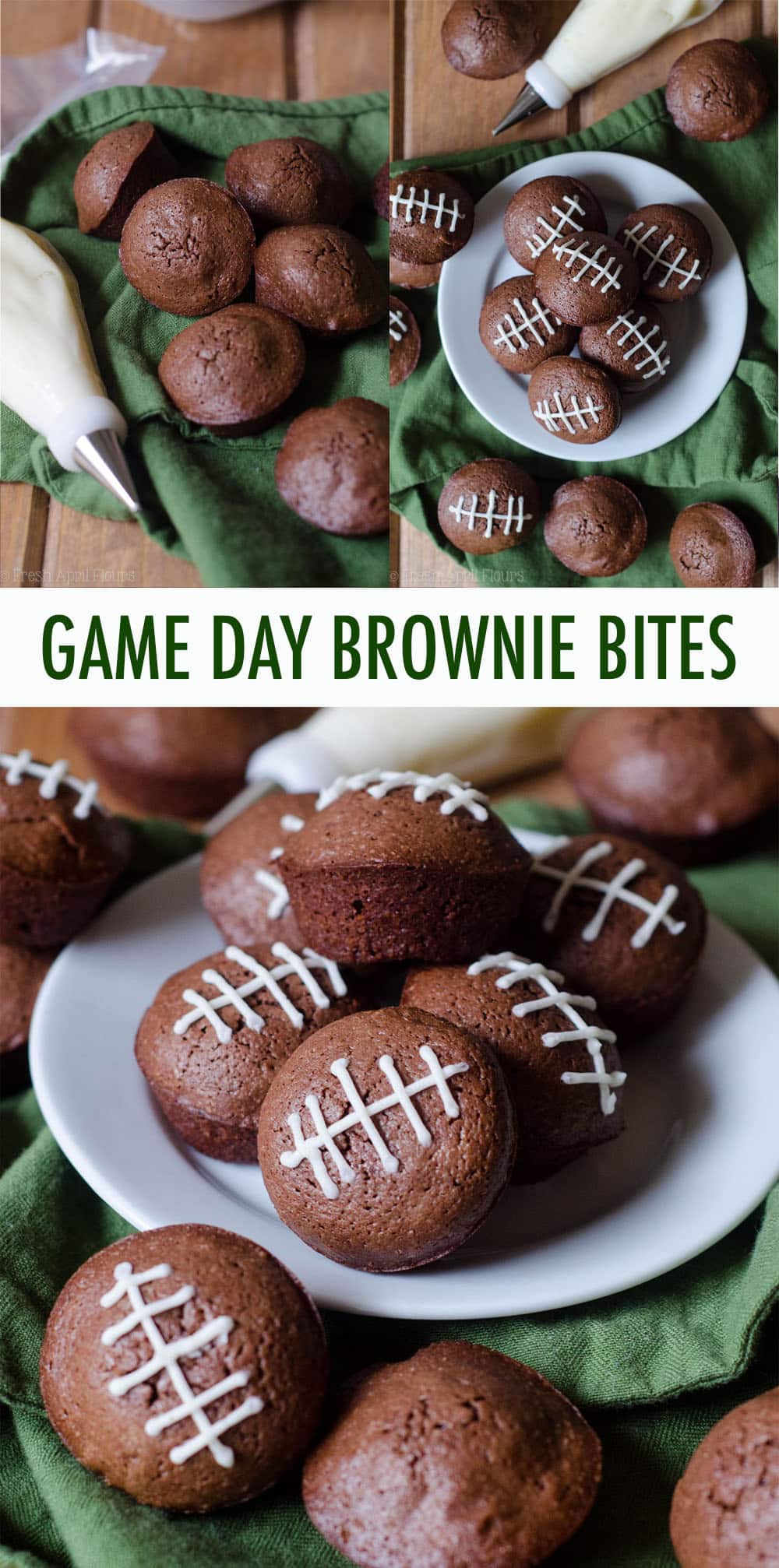 As an Amazon Associate, I earn from qualifying purchases. Read the full disclosure here.
Adorable bite-size brownies adorned with buttercream football stripes. Perfect for any football game day you're looking to celebrate!
I'm going to be perfectly honest here and say that I have never been a diehard football follower/watcher, BUT, I do live right smack dab in the middle of Eagles country, which is tough for me considering "my team" is, well, the Cowboys.
I always have to whisper that around here because it's not an Eagles fan favorite thing to hear (you should see their faces when I tell them).
You see, though we reside in a suburb of Philadelphia and really do love the city, its culture, and its food (helloooo, cheesesteaks!), I have been a dedicated Cowboys fan since I was in the 2nd grade.
Why? Because I liked their helmets and when you're 7, that's a good enough reason to favor a team over another. Isn't it?
Truth be told, I grew up in a central Pennsylvania city where fans of Steelers, Eagles, Giants, (former) Redskins, and Ravens lived in (mostly) harmony.
And then, of course, we were all sideline Saints fans for several years when a fellow high school grad played for them. I mean– how could you not love Colston anyway?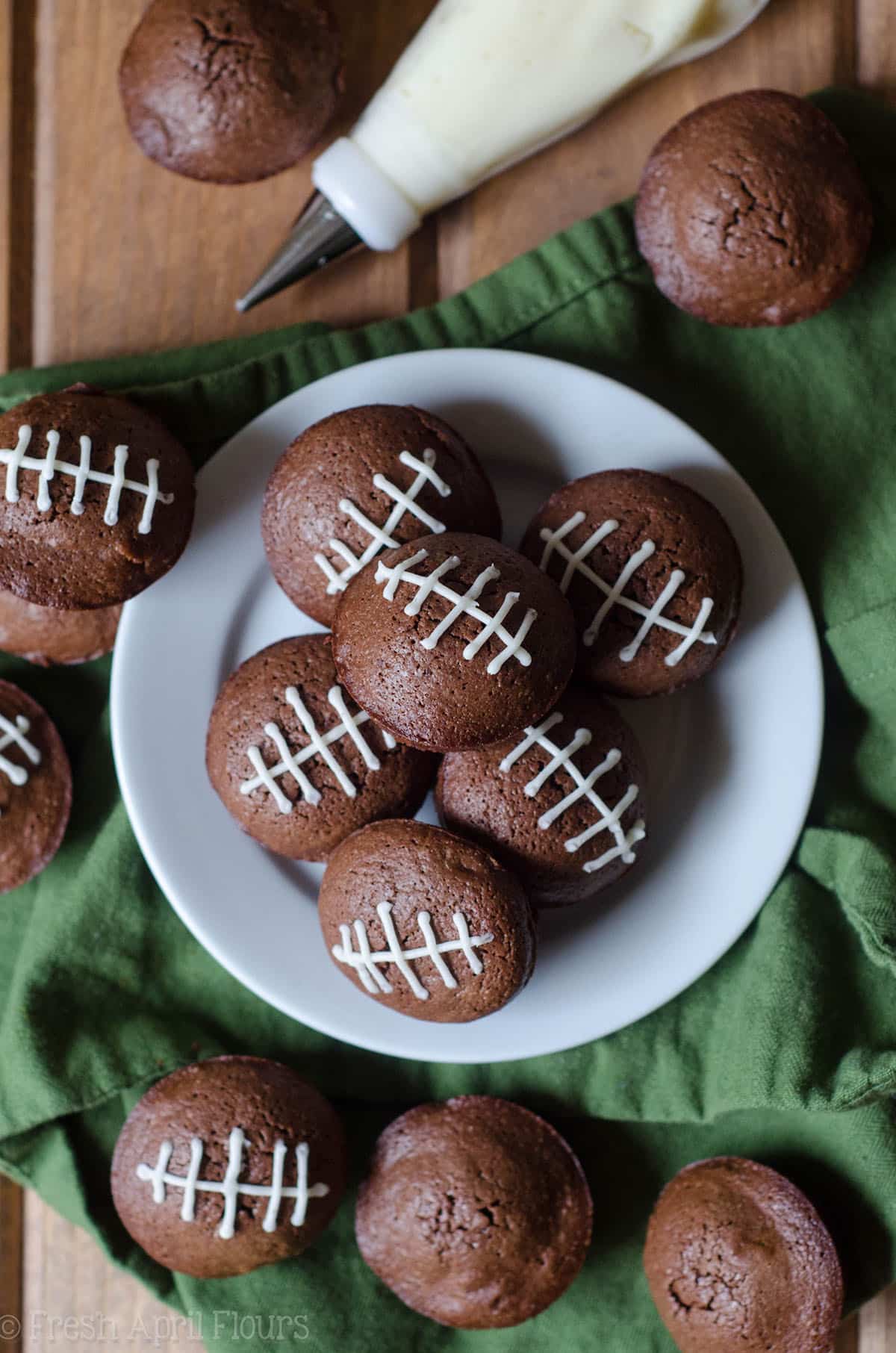 Geographically, I think we just lived in a place where there was no diehard allegiance to any one team. And that was cool.
And then I met my now husband. Who grew up in a town where allegiance was to the Eagles and Eagles alone. And he still married me. We just don't talk football much…
Or we just trash talk and tease each other and laugh because neither of our teams have too much to write home about (aside from that admittedly amazing Super Bowl win for the Eagles in 2017).
We live about 20 miles from center city Philadelphia, so Eagles fans are e-v-e-r-y-w-h-e-r-e. I will not wear a single Cowboys thing out in public for actual fear of danger. I just wear my Flyers gear instead (love me some ice hockey, ohhhh yes), and then the public is none the wiser to my non-Philly football allegiance.
Phew! It's much better that way.
Regardless of your allegiance to a team, I think it's safe to say many of us like watching the game for the excitement, the commercials, the halftime show, and of course, THE FOOD.
And when it comes to party food, I am all about the cute stuff that matches the theme. Between these football brownie bites and my football cupcakes, there is no shortage of game day dessert recipes coming from my contribution.
INGREDIENTS
The base for these creative football desserts is my best homemade brownie recipe. I've used it over a dozen times on my site (see all brownie recipes), and it never fails to produce a dense, chewy brownie that is sure to make you go "mmmm!"
These mini brownie bites are are quite simply that classic brownie recipe just in mini-brownie form, and the ingredient list is quite simple: butter, semi-sweet chocolate, brown and granulated sugar, eggs, and a bit of flour.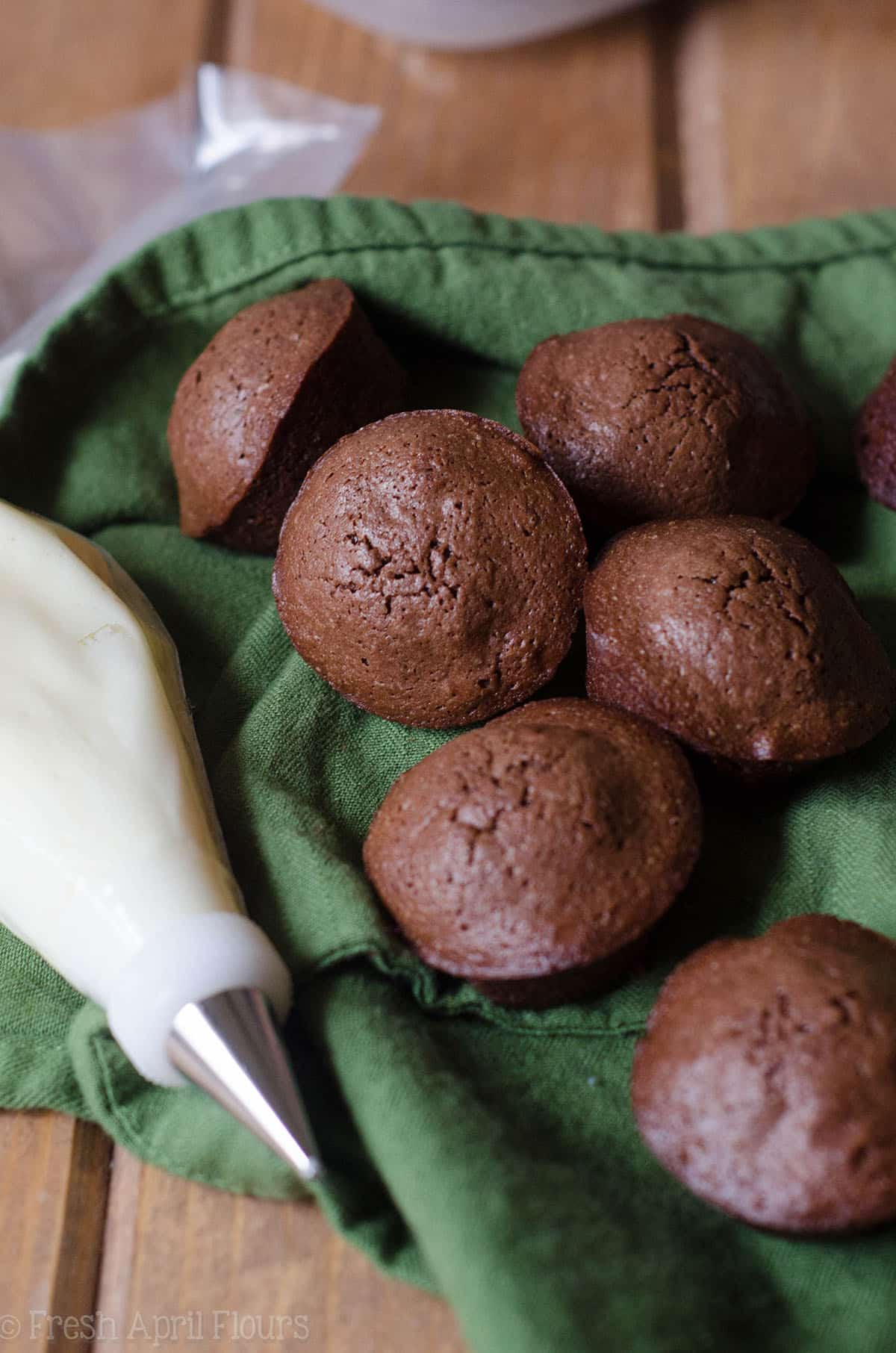 The base of butter + chocolate and just a touch of flour yields the chewiest brownies that are nothing like a chocolate cake or cupcake and are so delish they can just be a standalone brownie bite with no cute decor if you wanted them to be.
HOW TO MAKE FOOTBALL BROWNIES
Baking my classic brownies in a mini muffin pan creates slightly-crunchy-outside, soft-on-the-inside bites of brownies that are the ideal canvas for football stitches, because, remember, these are game day brownies, meant to be eaten during the Super Bowl.
Of course, you could use these brownies at the beginning of the season, a playoff game, a pee-wee football game…
Whatever! Any reason to make adorable little football brownies, right?!
So about these football stitches, you can go about them a few different ways. Around these parts, it's pretty normal to have a stash of leftover buttercream in the fridge, because that's how we roll in our house.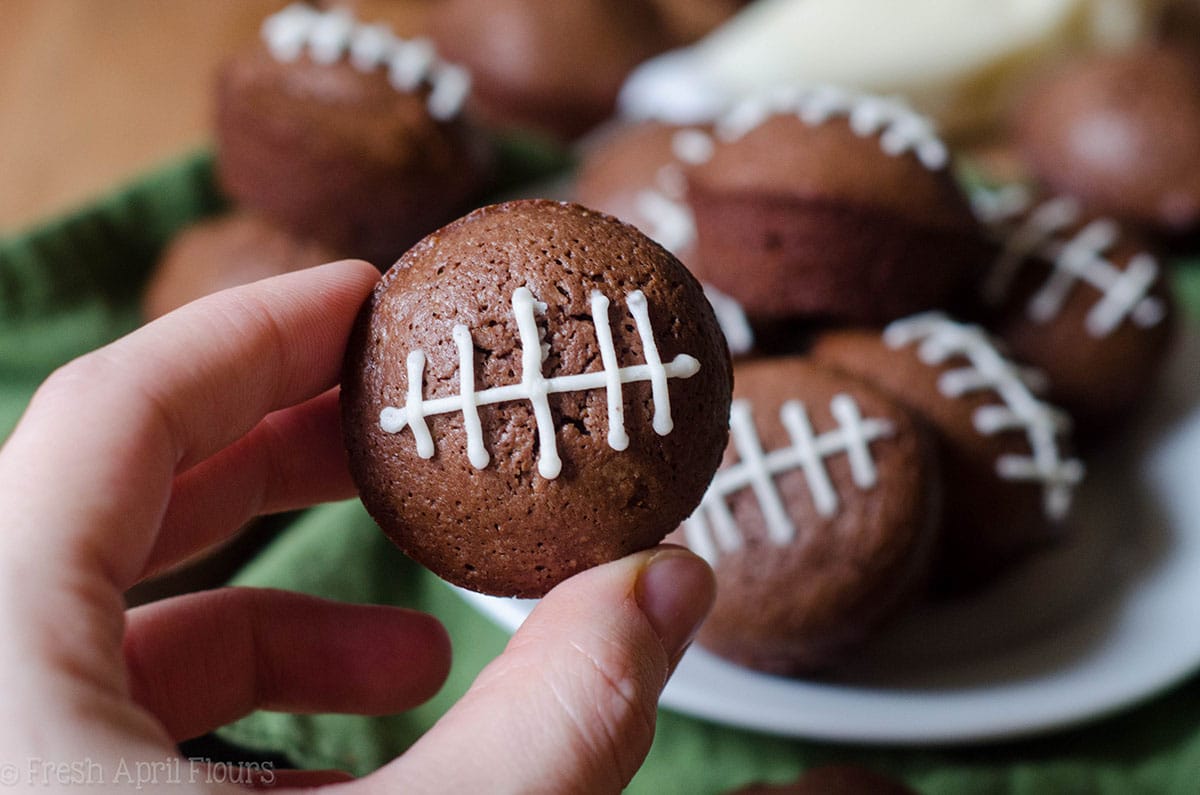 USE BUTTERCREAM OR ROYAL ICING FOR THE LACES
For regular people, that may not be the case, so you can go ahead and make a small batch of my classic vanilla buttercream (about ¼ of a batch– I outlined how to do that in the notes at the bottom of this recipe) OR you can use the easy royal icing that I use to decorate my cut-out sugar cookies.
Either way, you'll have some leftovers, but that's not the worst thing. Maybe you whip up some cookies to cover with the rest… Or grab some pretzels or graham crackers and just have vanilla buttercream dip at your Super Bowl party?
No judgment… And can I come to your house?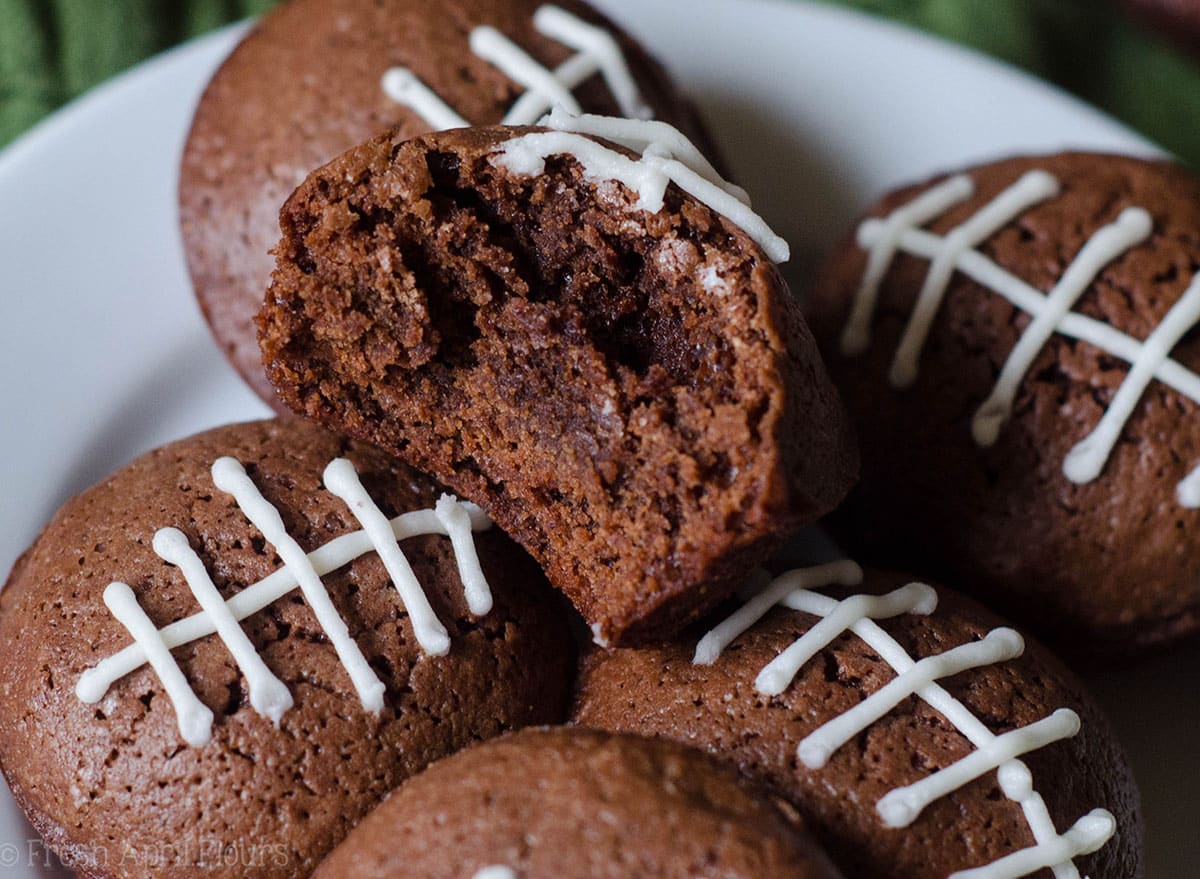 Regardless of who you are or aren't rooting for this Super Bowl, I think we all can agree that these brownies must make an appearance in your life. To help celebrate, to distract from the game, and of course, because THEY ARE TOO CUTE NOT TO.
My favorite Super Bowl/football eats: football brownies, jalapeño cream cheese dip, skillet pizza dip, and creamy southwest corn dip.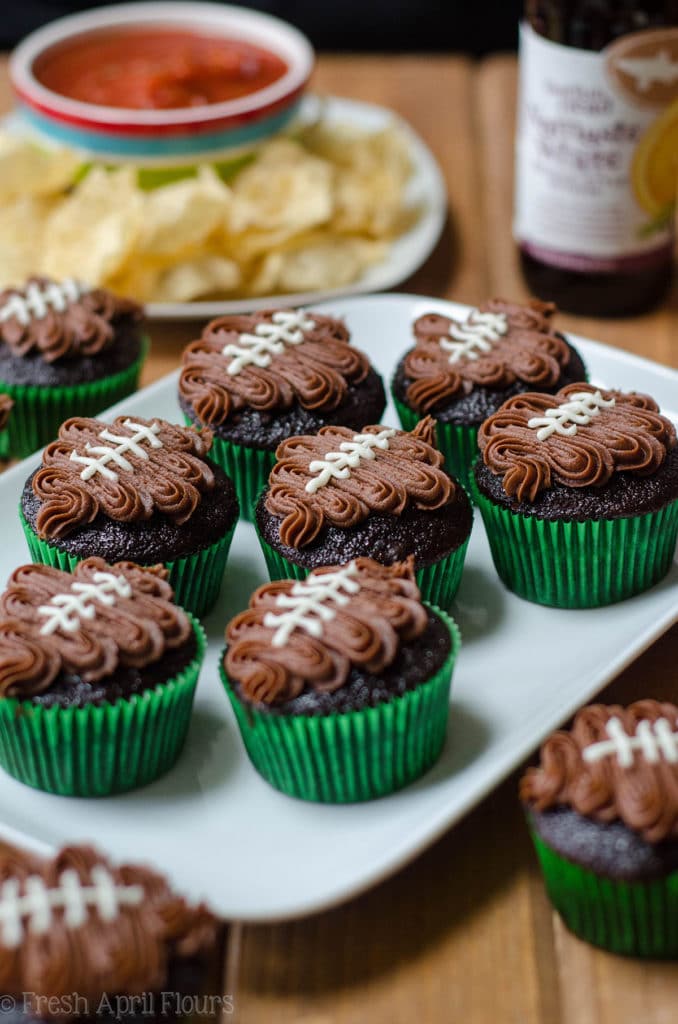 More football game desserts from my friends around the blogoshpere!
Game Day Football Brownie Bites
Adorable bite-size brownies adorned with buttercream football stripes. Perfect for any football game day you're looking to celebrate!
Servings:
2
dozen mini brownies
Ingredients
½

cup

(113g) unsalted butter

cut into 6-8 slices

8

ounces

(225g) semi-sweet chocolate

coarsely chopped

¾

cup

(150g) firmly packed light brown sugar

¼

cup

(50g) granulated sugar

3

large eggs room temperature preferred1

1

teaspoon

vanilla extract

¾

cup

(90g) all-purpose flour be sure to measure properly

¼

teaspoon

salt
Instructions
Preheat the oven to 350ºF (177ºC). Spray the wells of a 24 or 12 count mini-cupcake pan with nonstick spray. Set aside.

In a medium saucepan over medium heat, melt the butter and chopped chocolate, stirring frequently until completely smooth. Allow to cool for about 15 minutes.

Whisk sugar into cooled chocolate mixture until combined. Add the eggs one at a time, whisking after each addition until smooth. Whisk in the vanilla. Add the flour and salt and stir gently until completely combined.

Spoon the batter into the wells of the mini-cupcake pan. Bake brownies for 12-13 minutes or until a toothpick inserted in the center comes out mostly clean. Allow brownies to cool completely in the pan before removing and decorating.

I used leftover vanilla buttercream2 for my football stripes, but this quick royal icing will also do the trick. Use a small zip top bag with the corner snipped off or an icing bag fitted with a Wilton #3 tip. Allow icing to set before serving. Store brownies covered at room temperature up to 1 week or in the freezer up to 2 months.
Notes
Room temperature eggs: these incorporate into batter much more easily than cold eggs, although this is not absolutely necessary.
For buttercream laces: you'll want to decrease the original recipe significantly. Use

¼

cup (57g Tablespoons) butter, 1 cup (120g) of powdered sugar,

¼

teaspoon vanilla extract, and about 1 to 1 and

½

Tablespoons (22mL) milk or cream. Salt to taste if needed. You'll have the best luck whisking everything together in a small bowl or using a handheld mixer. You will have some leftover.
Adapted from homemade fudgy brownies
Nutrition Disclosure
All nutritional values are approximate and provided to the reader as a courtesy. Changing ingredients and/or quantities will alter the estimated nutritional calculations.