Herbed Tomato Quick Bread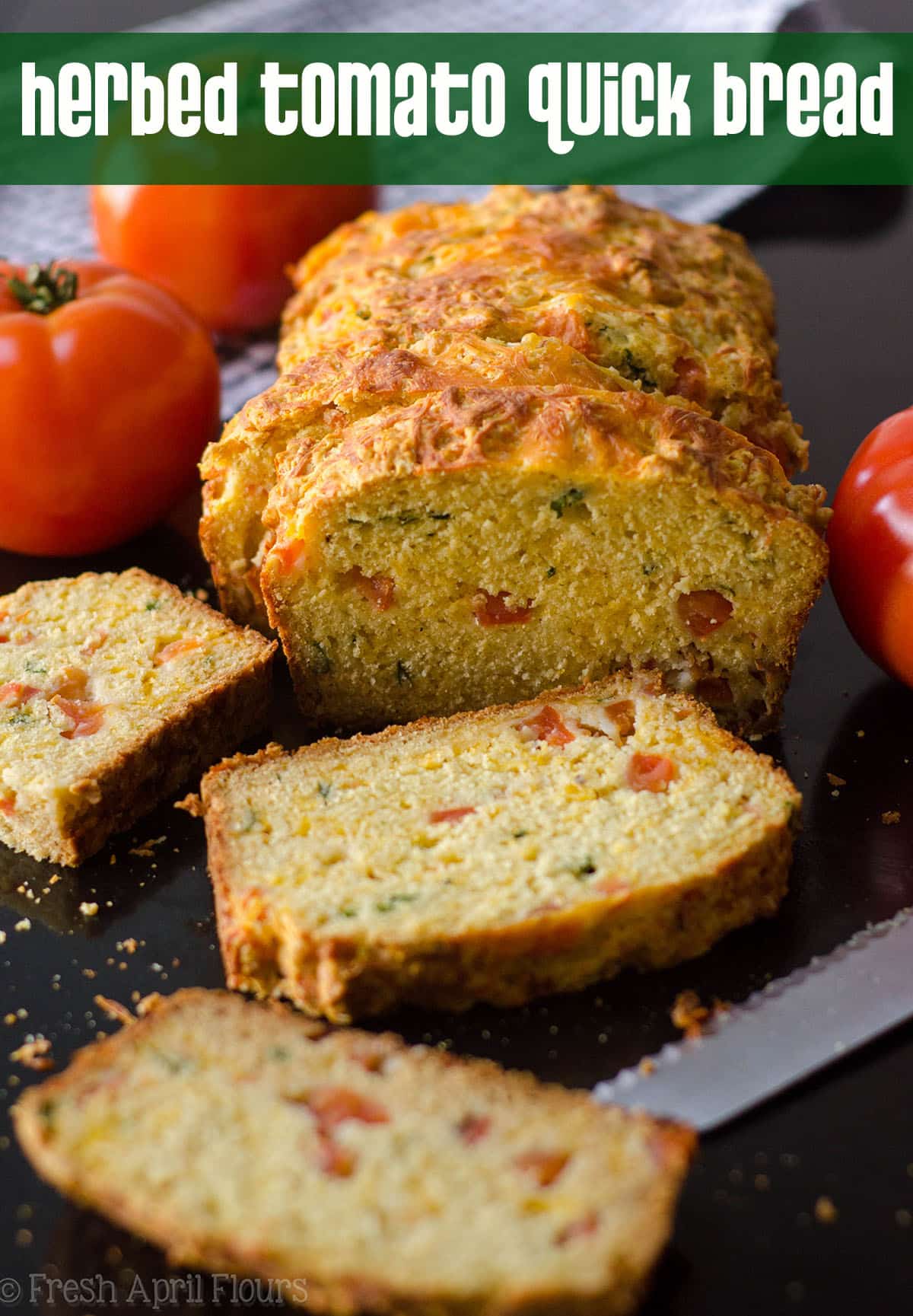 As an Amazon Associate, I earn from qualifying purchases. Read the full disclosure here.
A savory bread that comes together quickly using fresh tomatoes and basil. Perfect for using summer produce!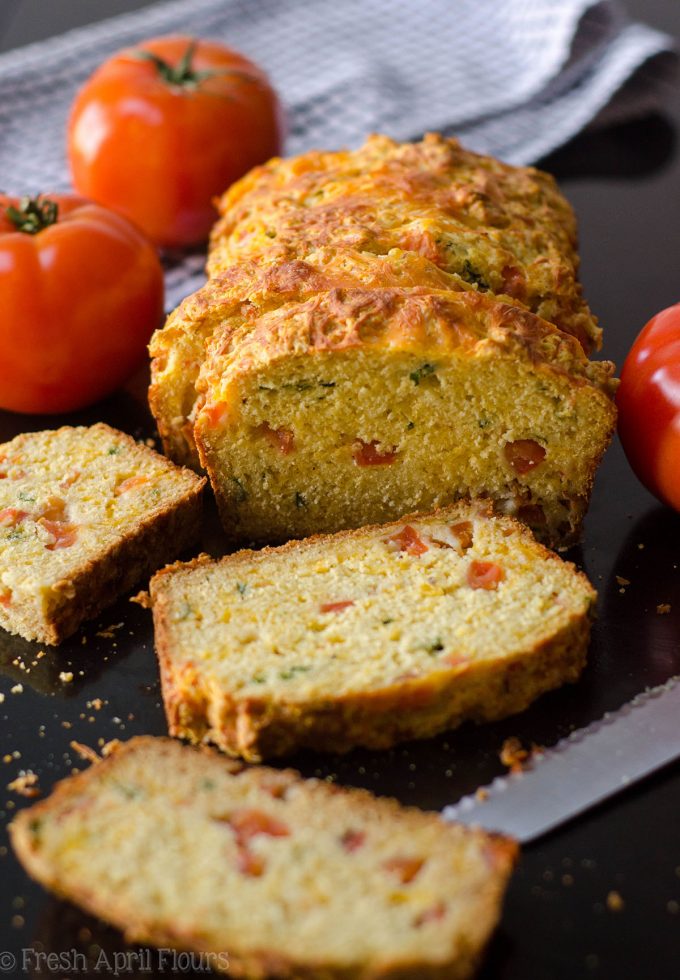 New year, new monthly recipe collection!
2017 brought us cakes.
2018 brought us muffins.
And 2019 will bring us BREAD.
And not just quick bread like you're seeing here today. We're going to do 6 quick breads and 6 yeast breads, and a mix of savory and sweet. A whole bunch of bread is coming your way this year, friends!
Anything in particular you're interested in seeing while I'm still brainstorming my editorial calendar? I have a few things in mind but would love to cater to the masses. Let me know!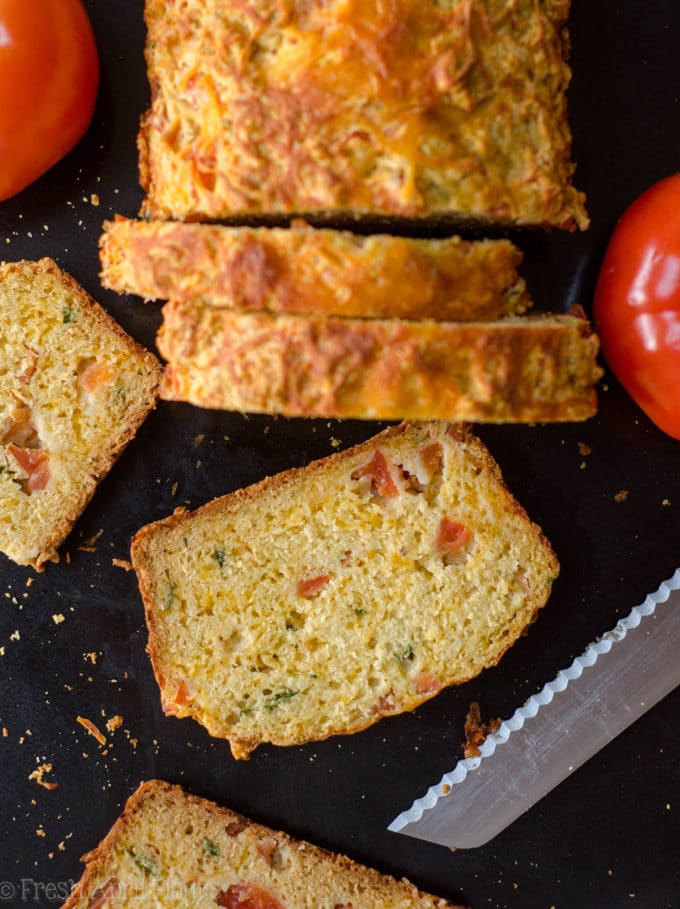 So when you think of quick bread, do you immediately think of sweet? Like banana bread, zucchini bread, apple bread, pumpkin bread… Those sorts of flavors?
Well, knock it off! Savory deserves a spot in the quick bread limelight, even if it's just for a short time before we bring back sugar and sprinkles.
Today we're putting tomatoes, cheese, basil, and garlic into a bowl with some flour, eggs, milk, and OLIVE OIL to make my new favorite "dinner bread" that will probably be taking the place of plain old dinner rolls at our next hosted meal.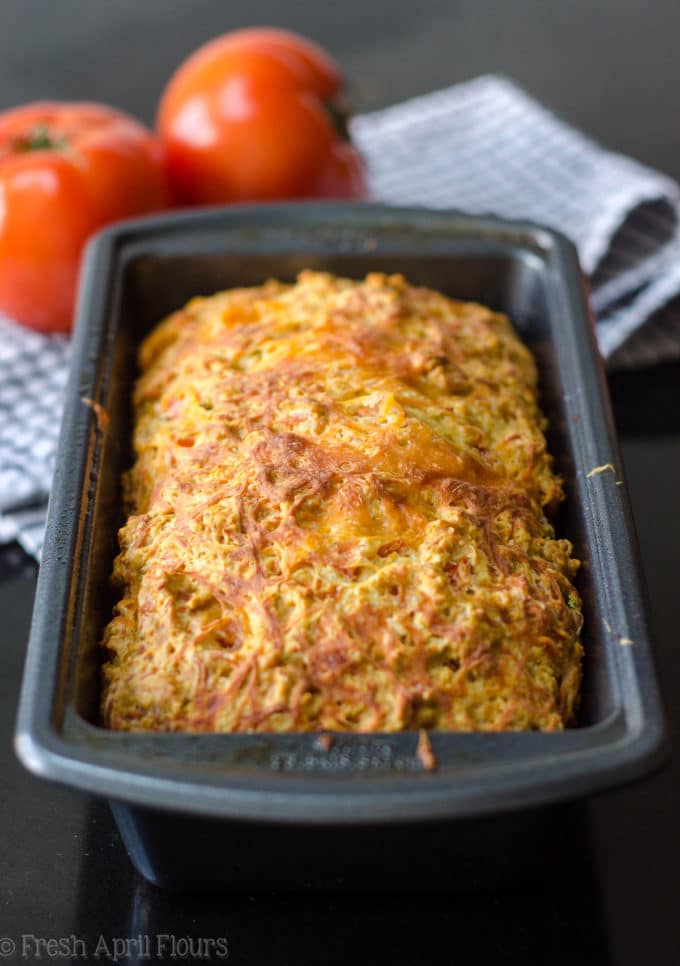 I sort of modeled this bread after my grandmother's Parmesan parsley bread. While that bread uses yeast, it doesn't have any rise time, so it's pretty quick. But I wanted an actual quick bread that I could whip up in a bowl and be done with.
And I wanted to make it savory because the world of quick breads is definitely monopolized by sweetness.
This bread uses one large tomato and a hefty serving of fresh basil. The cheese is up to you, but I like cheddar because it's a strong flavor (mild or sharp, for sure). There's a little garlic in there to amp up the flavor, and olive oil brings all the moisture while also bringing a complementing flavor.
You can certainly use vegetable oil, but the olive oil really brings it home with this one. I urge you to use it!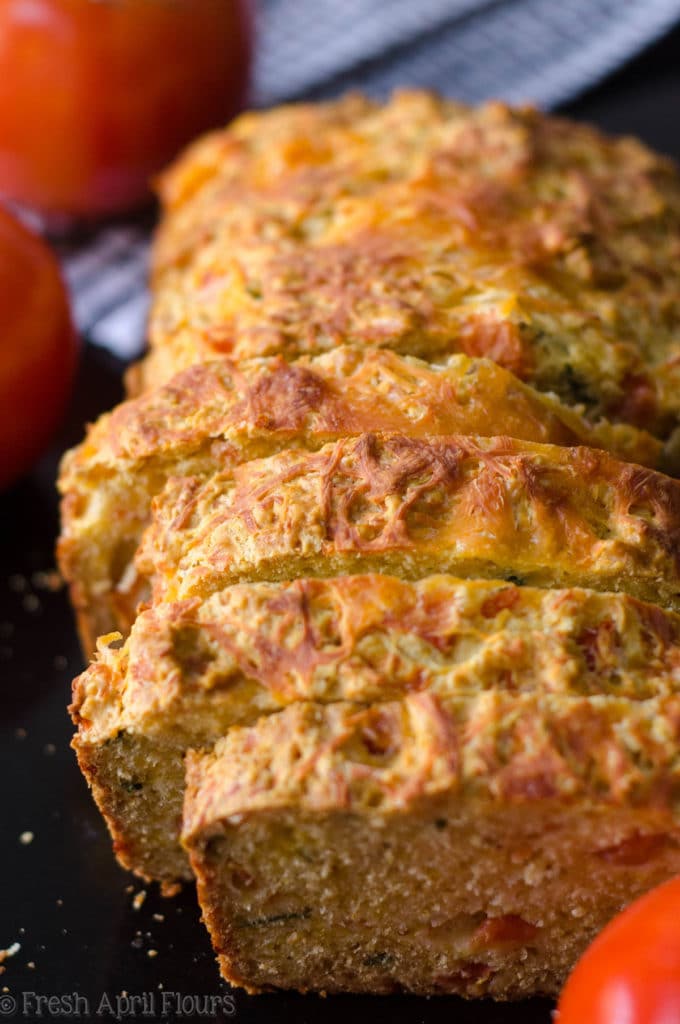 This bread was a hit in our house, even with the infant and the toddler. The toddler, in fact, helped me make it, and one of my 2019 goals is to get him more involved in the kitchen with me.
He's now 2 and 1/2, so he's capable of understanding simple instructions and loves counting, so I'm having him help me with things like quick breads that are simple and don't necessarily depend on super exact measurements, because this is what happens when he helps…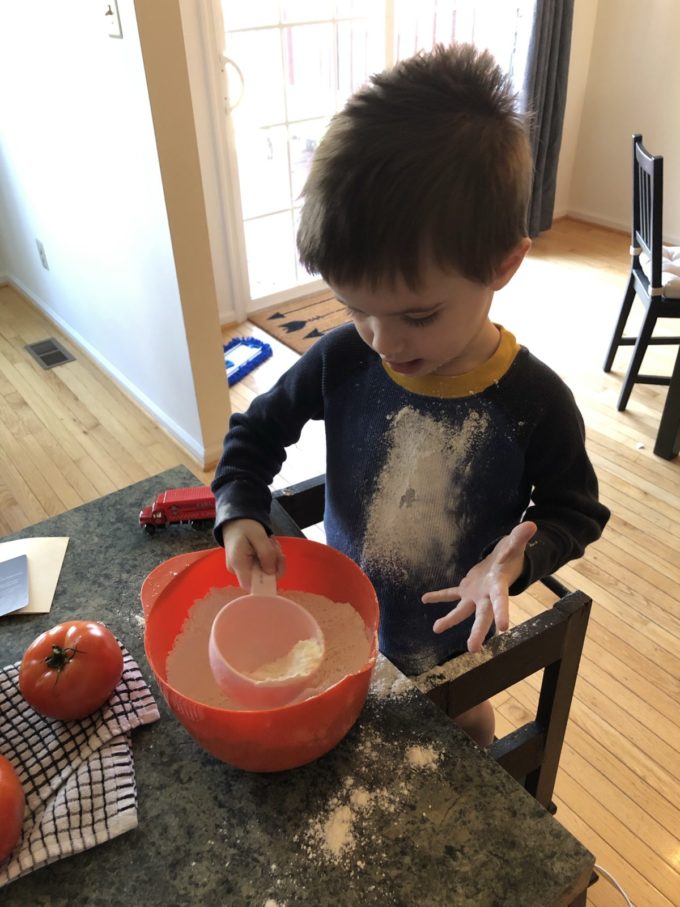 My concrete 2019 goal is to teach him how to crack an egg. And I think we're going to have to endure some huge messes to get that to happen.
For now, I'm filling measuring cups and spoons with the ingredients, handing them to him, and having him dump them into the bowl. A really BIG bowl so that his aim is pretty accurate and we reduce the possibility of him completely missing. So far, mostly good.
Do you have little helpers in the kitchen? What are your best tips for getting them involved?
I'll definitely be sharing things I learn along the way, but if I can cut down on the amount of flour all over our kitchen floor while I learn, I'm open to hearing about those strategies!
For now, I'm pretty proud of how much he helped me with this savory quick bread, and I'm happy to report the texture and flavor turned out perfectly despite a few messes through the process.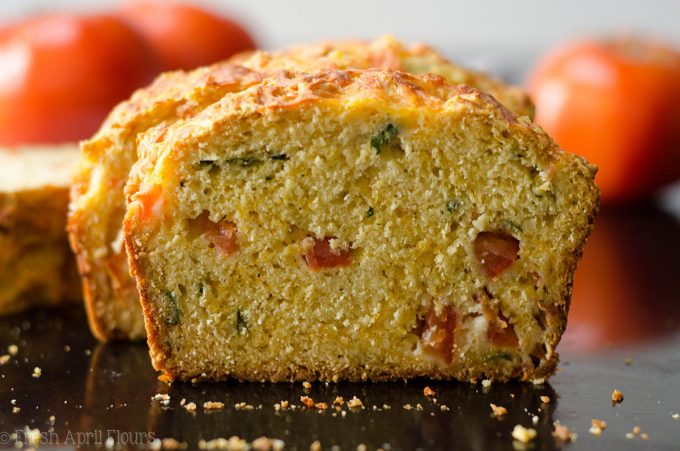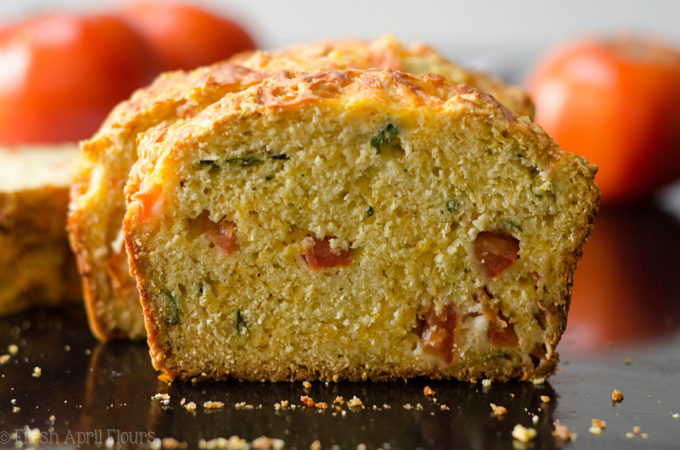 Tomatoes, basil, garlic, cheese… In bread?! That you don't have to knead? Definitely put this one on your next dinner menu. You and your guests will not be disappointed.
Herbed Tomato Quick Bread
A savory bread that comes together quickly using fresh tomatoes and basil. Perfect for using summer produce!
Ingredients
3

cups

all purpose flour

be sure to measure properly

1 and 1/2

teaspoons

baking powder

1 and 1/2

teaspoons

baking soda

3/4

teaspoon

salt

1/2

teaspoon

black pepper

1

large tomato

diced (about 2 cups)

1/4

cup

packed fresh basil

finely chopped

2

cloves

of garlic

minced

2

large eggs

lightly beaten

1/3

cup

extra virgin olive oil

1/2

cup

milk

1 and 1/2

cups

+ 1/4 cup shredded cheese

any kind, divided
Instructions
Preheat the oven to 350ºF. Spray a loaf pan with nonstick spray or olive oil. Set aside.

In a large bowl, whisk together the flour, baking powder, baking soda, salt, and pepper. Set aside.

In another large bowl, toss together the tomato, basil, and garlic. Add the eggs, olive oil, and milk, and toss again to coat everything.

Pour the wet ingredients into the dry ingredients and stir until mostly combined. Add 1 and 1/2 cups of the cheese and continue to stir until everything is evenly dispersed. Batter will be thick.

Pour the batter into the prepared loaf pan and spread evenly with a spatula. Sprinkle the remaining 1/4 cup of cheese on top of the batter.

Bake loaf for 55-60 minutes or until a toothpick inserted in the center comes out mostly clean. Allow to cool in the pan at least 15 minutes before removing and serving warm. Store leftovers covered tightly at room temperature up to 3 days, or in the refrigerator up to one week. Since bread is very moist, it will spoil quickly at room temperature. Warm slices in the microwave or toast in a toaster oven or broiler, if desired. Loaf freezes well, up to 2 months. Thaw in refrigerator overnight.
Nutrition Disclosure
All nutritional values are approximate and provided to the reader as a courtesy. Changing ingredients and/or quantities will alter the estimated nutritional calculations.