Truffle Goat Cheese Risotto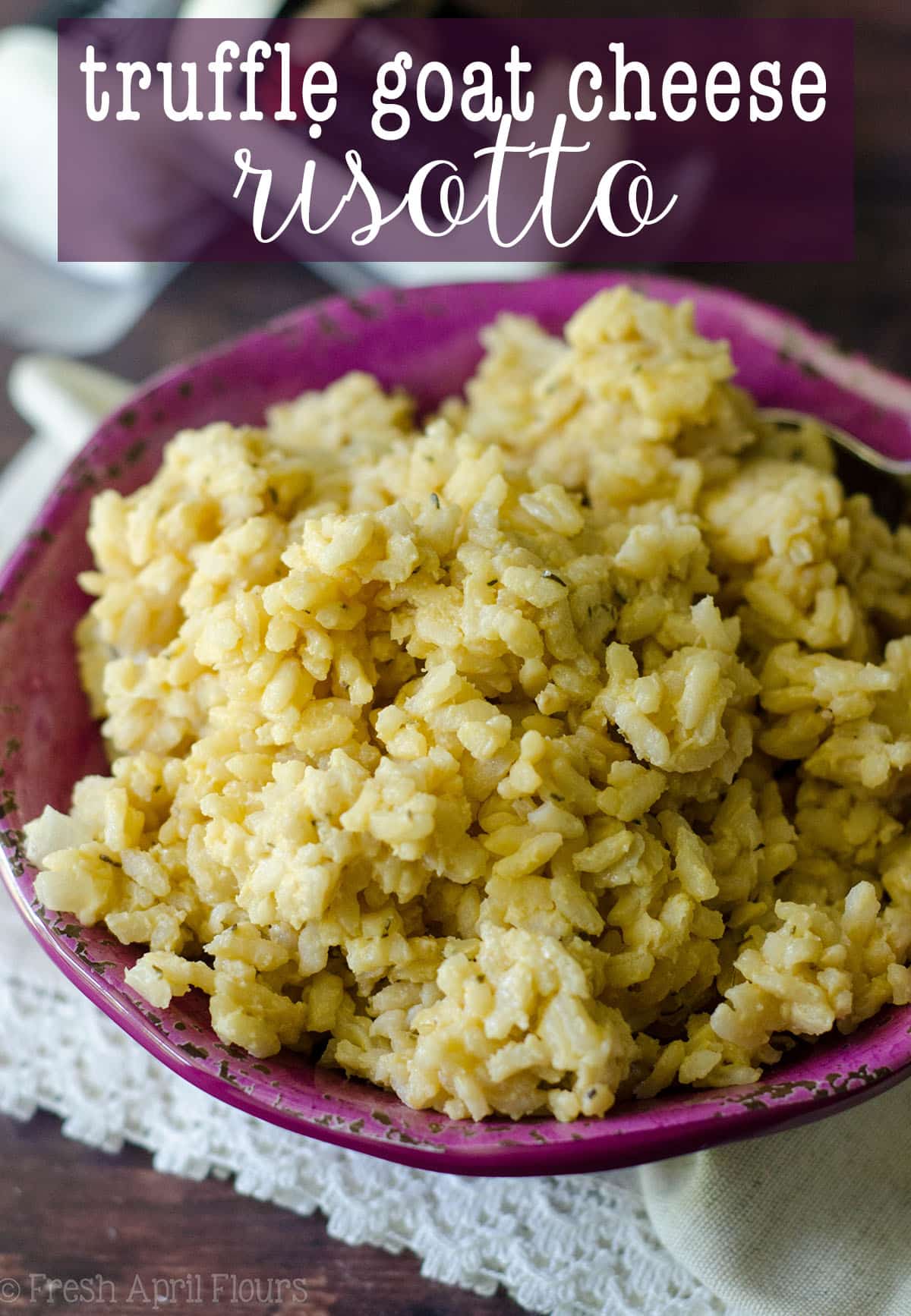 As an Amazon Associate, I earn from qualifying purchases. Read the full disclosure here.
Classic risotto gets a jazzy makeover with creamy goat cheese and earthy truffle notes.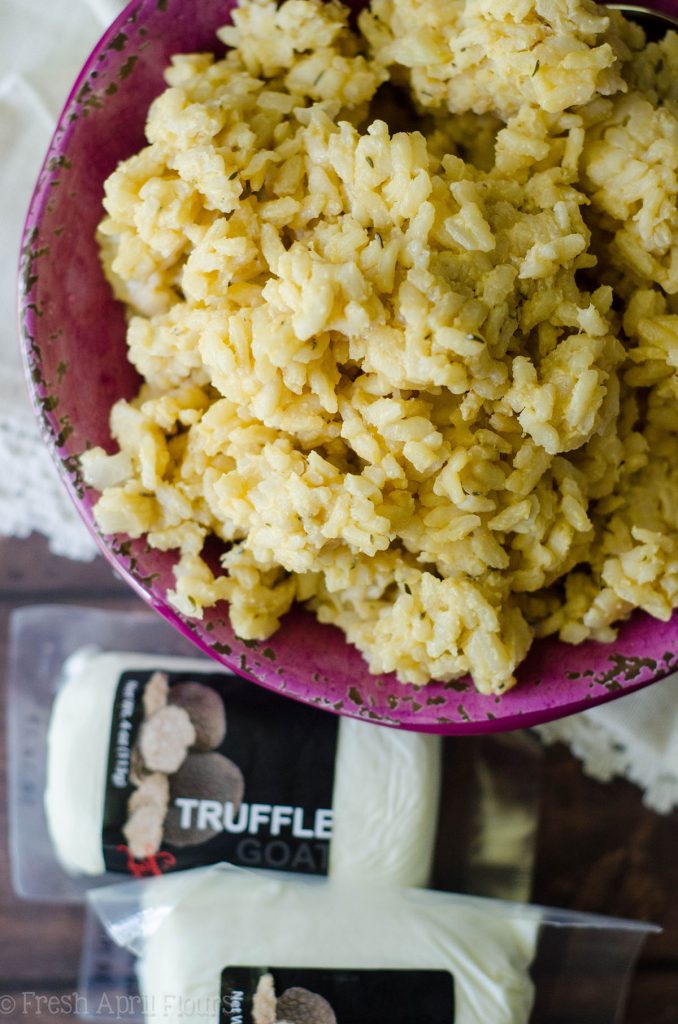 Before you check your browser and wonder if you're in the right place, rest assured you are. I know we've had a lot of cake and sweets going on around these parts lately, so truffle risotto might seem a little fancy, but truly, it isn't. I'm here to help you make something I thought was overwhelming up until last weekend seem a little less so.
When I think of truffles, not the chocolate ones, I think that really only belongs on things that fancy people eat… And then I remember that truffle fries are a thing, and if truffle oil can go on FRENCH FRIES, I think we can find some room for truffle something-or-another here on FAF, don't you think?
In reality, I have my friends at Sincerely, Brigitte to thank for the truffle business going on here today. Surely, if you're a regular here, you're aware of my wonderful friends at SB who make fabulous cheese (I fell in love with their chipotle cheese first and made this quinoa casserole).
If you're not a regular here, welcome!! Please get to know my cheese buddies– they're going to knock your socks off today.
You might recall from December's cookie party that SB came out with a line of goat cheese, flavored with all sorts of interesting notes. We used their maple pecan goat cheese to make these amaaaaaazing cookies, and for Valentine's Day, they stole our hearts with chocolate raspberry cheesecake. All the googly heart eyed love for those guys!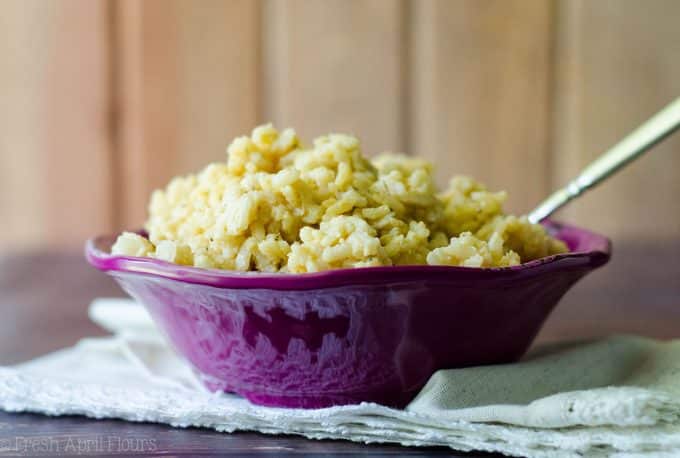 Today, we're turning the flavor tables and heading in a savory goat cheese direction with SB's truffle goat cheese. But first, have you ever tried truffles or truffle oil? Do you even know what they/it tastes like?
I wasn't too sure until I had my first bite of truffle goat cheese, and I'm not sure I can put my finger on exactly how to describe it to you, but it sort of reminds me of mushrooms– earthy, slightly garlicky, musky, "herby."
I may not be doing it any justice, but I will say, truffle is one of those things you just didn't know your goat cheese needed. SB really did a great job with this flavor, and when I tasted it, I knew I needed it to go in something that could hold up to herbs, veggies, and any other "add in" that makes the world of jazzy side dishes go 'round.
And so we have risotto.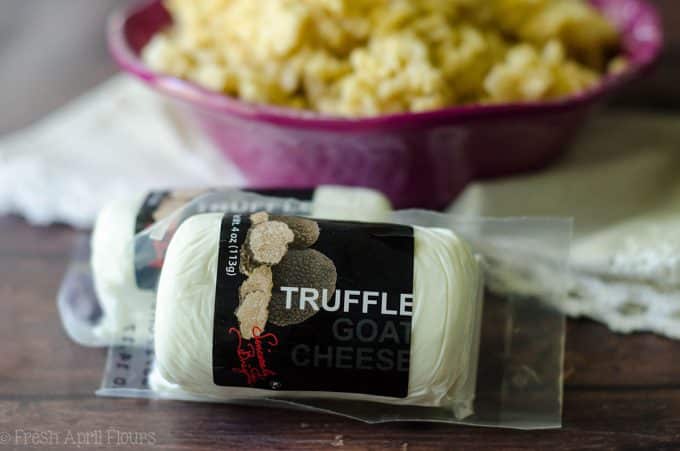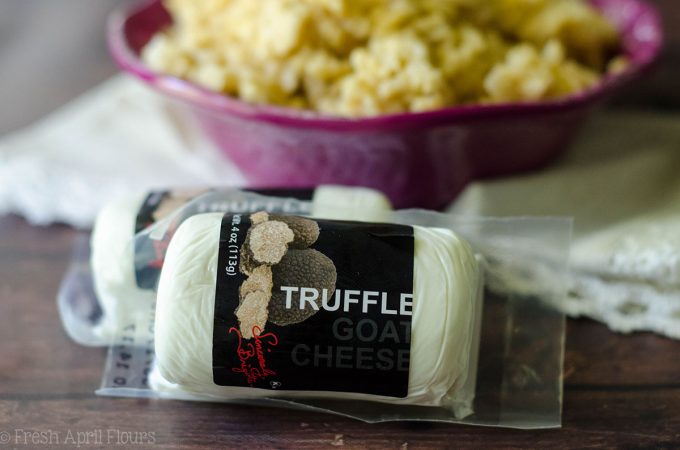 Have you ever made risotto before? I had not, up until last weekend, and I don't know why I let it intimidate me. I've always heard that risotto is tricky, and while it might be, I read so many tutorials and watched several YouTube videos about how to make it that I definitely had to give myself a pat on the back when my risotto turned out perfect the first time.
And I'm going to help you make the perfect risotto right off the bat as well!
One thing I learned about risotto that I didn't know before I started was that it is not made with traditional long-grain rice. For true risotto, you'll need arborio rice (or valencia or bomba) which is a medium-grain rice.
It cooks up mostly the same as the long-grain rice you're familiar with, but it creates a creamy texture while also maintaining a sturdy texture, which is characteristic of risotto. The end game texture of risotto is like al dente pasta.
So make sure you're starting your risotto off on the right foot and grab that arborio, valencia, or bomba!
Before actually starting your risotto, it's imperative that you get all of your ingredients ready ahead of time. You want your butter cut into two portions, onion chopped, dry and wet ingredients measured, vegetable broth heated, and your goat cheese unwrapped and crumbled.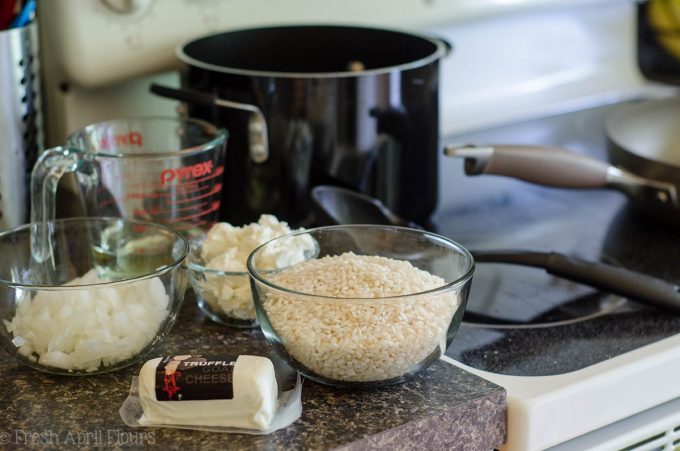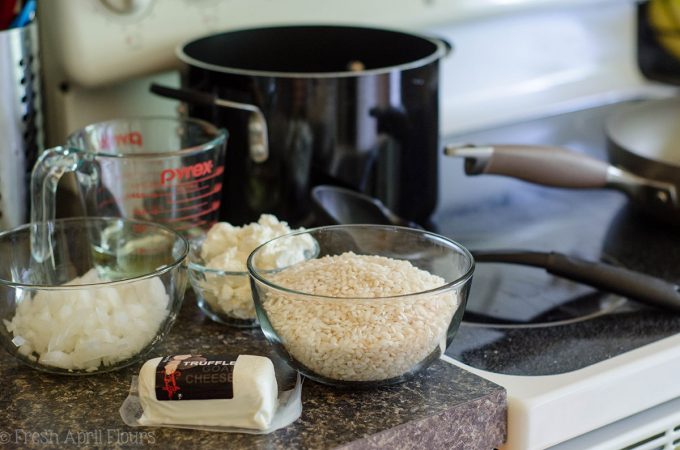 You'll begin your risotto by melting butter and sauteeing the onion. This will lay the first foundation of flavor for your risotto. You'll add your rice right to the melted butter/onion combo, letting all of the fat and flavor coat each grain. You only need to cook the rice for a couple minutes, just so the edges become translucent and the middle of the grains are still opaque.
Next up is the wine. Wine is totally optional, if you're not into it or don't feel like using it, that's totally fine. I encourage using it, because with it, you're introducing layer #2 of flavor. A dry white wine is best, please no moscato!
After all of the wine is absorbed into your rice, you'll begin ladeling the heated vegetable stock into the rice. The key here is to allow each ladel to absorb into the rice before adding the next one. This will be a hands-on 25-30 minutes, which sounds hard and intimidating, but I promise that it is not. It's labor intensive, but you will be greatly rewarded for your work at the end via your first forkful.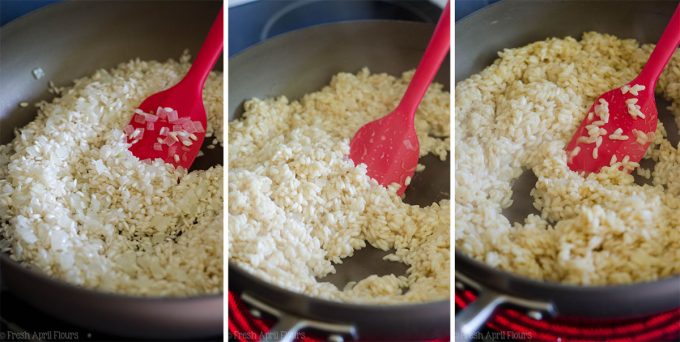 Once your broth is absorbed and you're working with an al dente texture, add a touch of dried thyme, the remaining butter, salt, and the star of the show, your truffle goat cheese. Stir it all up, and your risotto is ready to serve!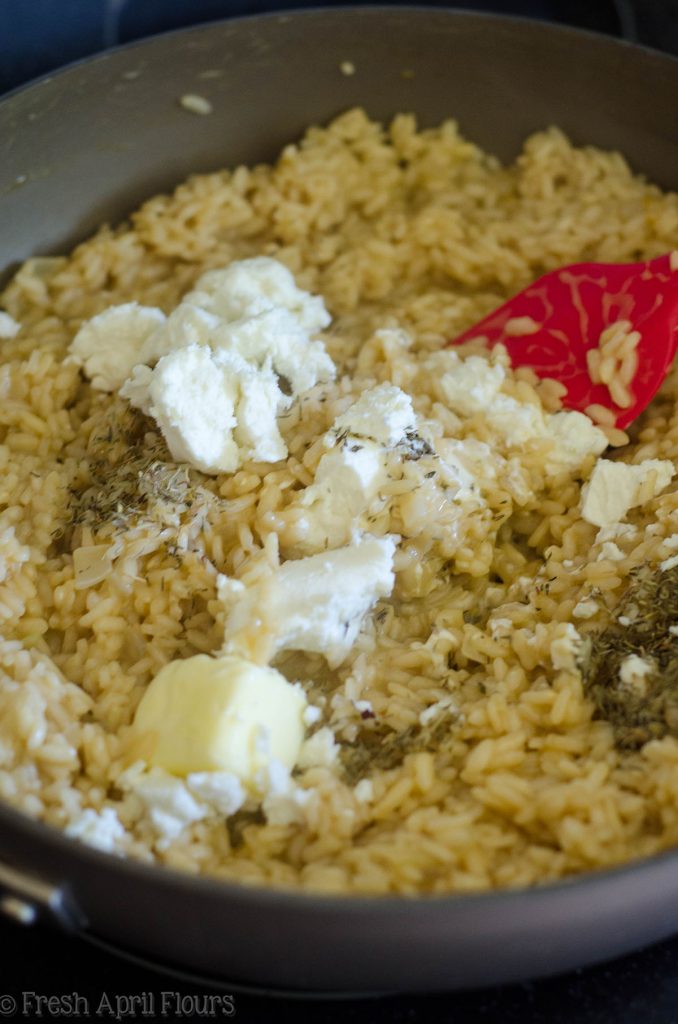 We took this truffle goat cheese risotto to a 4th of July gathering and served it up along side an olive and avocado green salad. It was the perfect pairing, and we found ourselves taking extra spoonfuls of the risotto just to keep tasting its unique flavor. Plus, I was just so darn proud this dish I was afraid to make turned out so well.
If you're in the market for an impressive and different side dish, this is it. Add more of your favorite veggies (like mushrooms!) and make a hearty meal of it, or add it to your standard dinner rotation for a fun new twist. I am happy to say that not only did all of the adults who ate this enjoy it, but so did the toddler. We were shocked, but he went back for more every chance he got!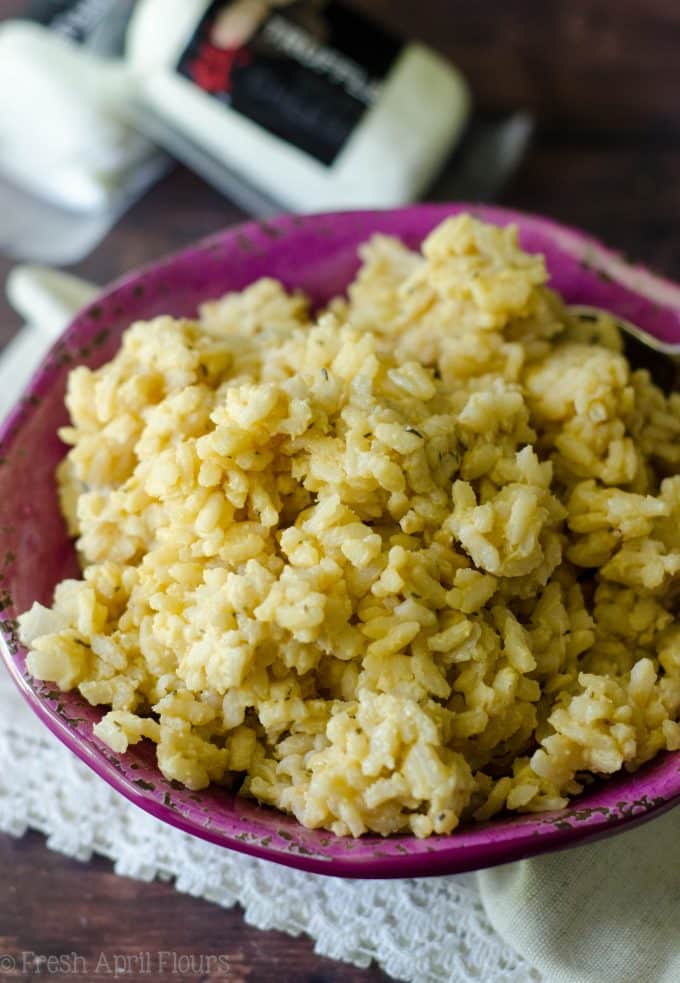 If that isn't a reason to try this risotto, I don't know what is!
Truffle Goat Cheese Risotto
Classic risotto gets a jazzy makeover with creamy goat cheese and earthy truffle notes.
Ingredients
4

Tablespoons

unsalted butter

divided

1

small white onion

chopped

2

cups

arborio, valenica, or bomba rice

1/2

cup

dry white wine

6

cups

vegetable stock

heated to steam

1

teaspoon

dried thyme

4

ounces

truffle goat cheese

1/2

teaspoon

salt plus more if desired for taste

black pepper
Instructions
Be sure to have all of your ingredients ready to go before starting your risotto.

In a large, heavy bottom skillet, melt 2 tablespoons of the butter over medium heat. Add the chopped onion and sauté until soft and translucent, approximately 6-8 minutes.

Add the arborio rice, stirring until the grains are translucent on the edges, about 2-3 additional minutes. Add the wine and stir until all the wine is absorbed.

Ladel in the hot stock, allowing each ladleful become fully absorbed before adding the next one. Stir mixture frequently. After about 20 minutes, start tasting the risotto after each ladel to check the texture, stopping when it reaches al dente texture. The entire process will take about 25 to 30 minutes until all the broth has been absorbed.

When all of the broth is absorbed, stir in the remaining butter, dried thyme, goat cheese, and salt. Taste and add more salt if desired, then season with black pepper. Serve immediately. Leftovers stay fresh covered tightly in the refrigerator up to 4 days.
Nutrition Disclosure
All nutritional values are approximate and provided to the reader as a courtesy. Changing ingredients and/or quantities will alter the estimated nutritional calculations.
Sincerely, Brigitte provided me with the cheese to make this recipe. Thanks for helping me work with brands that I love!
Love goat cheese? Try my bacon wrapped dates with goat cheese next.