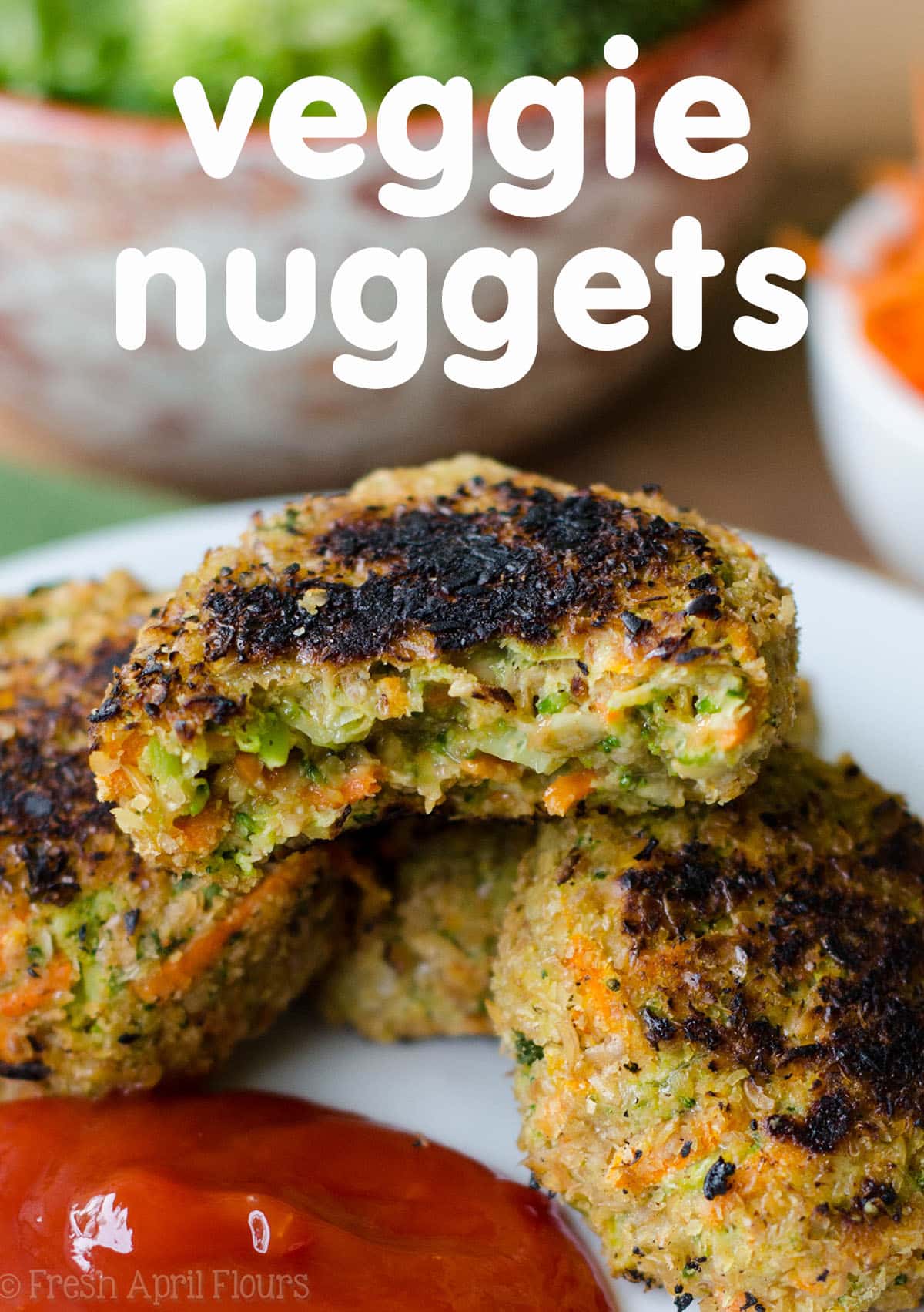 As an Amazon Associate, I earn from qualifying purchases. Read the full disclosure here.
Gluten-free vegetable patties perfect for little hands and adults alike.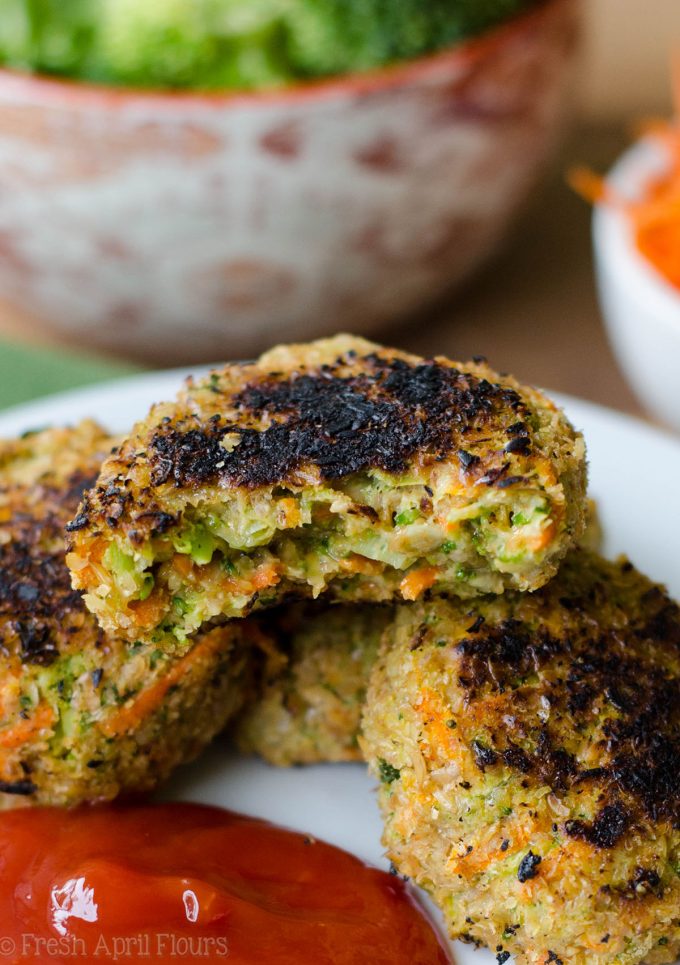 Are you full? Of all kinds of burgers (veggie and meat alike!), hot dogs, savory sides, ice cream cake, RW&B bundt cake, and maybe a handful or two or three of cookies? I know I am.
In fact, we were so full of goodies from Saturday through Monday that on Tuesday, the actual day of celebrating our wonderful country, we stayed home and didn't eat a single "BBQ food."
Don't get me wrong, we still splurged a little bit (hellooooo, coffee ice cream!), but by yesterday morning, I was back to wanting my fruit and oatmeal breakfast and green lunch.
I've actually been waiting to share this healthier veggie nugget recipe for a few months, but I never quite found the right spot for it. So here we are, sliding it into the cracks between the 4th of July and the next celebratory occasion, because you know summer is full of them, whatever they may be!
This is one of those recipes that I made for my kiddo, but it is perfectly suitable for older kids and adults as well. I was getting tired of chopping broccoli and carrots up in to small pieces for our son, and he was equally losing interest in eating plain veggies, so I wanted a way (other than toddler muffins) to get him to eat them in a fun way.
Since my toddler muffins are a little on the sweeter side, I was hoping to get a recipe together that could serve as a savory side or the star of the meal show.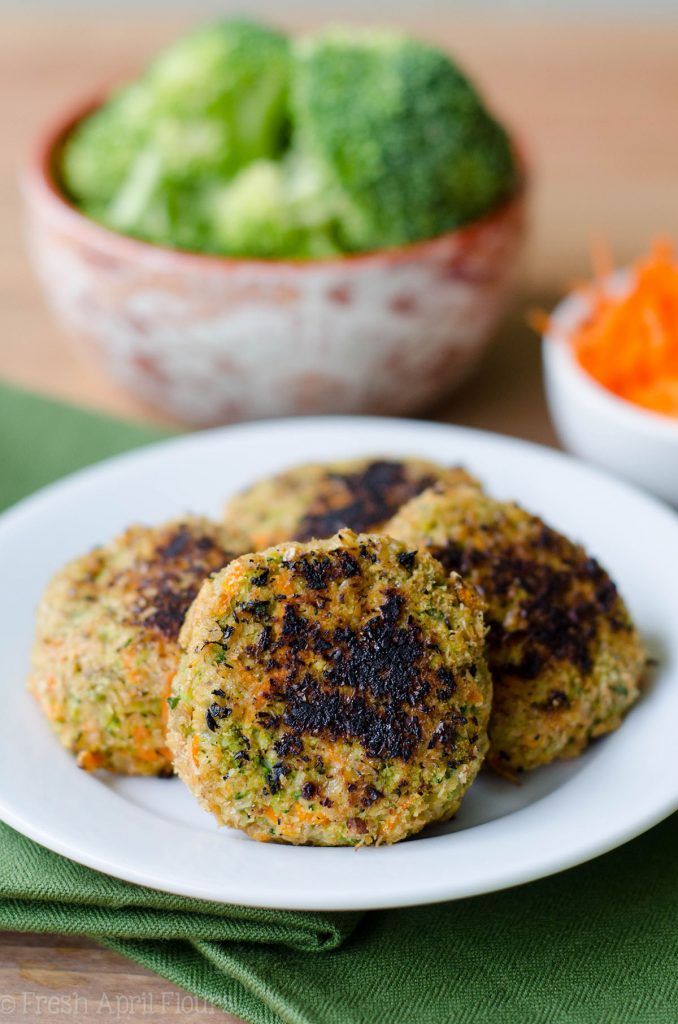 I used my suuuuuper oldie but goodie recipe for quinoa patties as a guide and I got to work, keeping the ingredient list simple and short. I thought about using breadcrumbs for these veggie nuggets, but I decided against that because I wanted to keep them gluten free for the kiddos who need such foods.
Don't worry, it's easily adaptable to use breadcrumbs, so if you're not worried about that, do whatever works best for you and your family.
Since breadcrumbs are typically seasoned, I needed to be able to season the ground flaxseed (what I used in place of breadcrumbs) to taste like breadcrumbs.
To get that job done, I went with salt, pepper, garlic powder, onion powder, parsley, and oregano, so they have a sort of Italian-ish taste. I also chose a sharper cheddar cheese, so these veggie nuggets are jam-packed with flavor.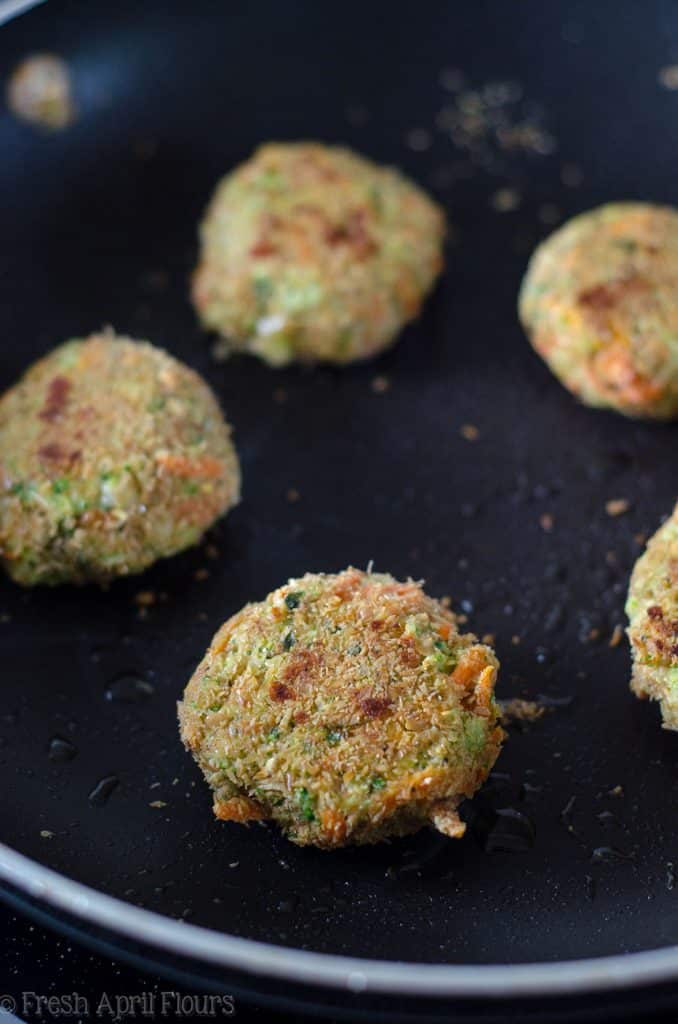 The main components of these veggie nuggets are carrots and broccoli, broken down into tiny pieces with a food processor. You'll keep your carrots raw, but you're going to need to steam your broccoli before you pulse it in the food processor, otherwise… Yuck.
Raw broccoli will not work in this recipe.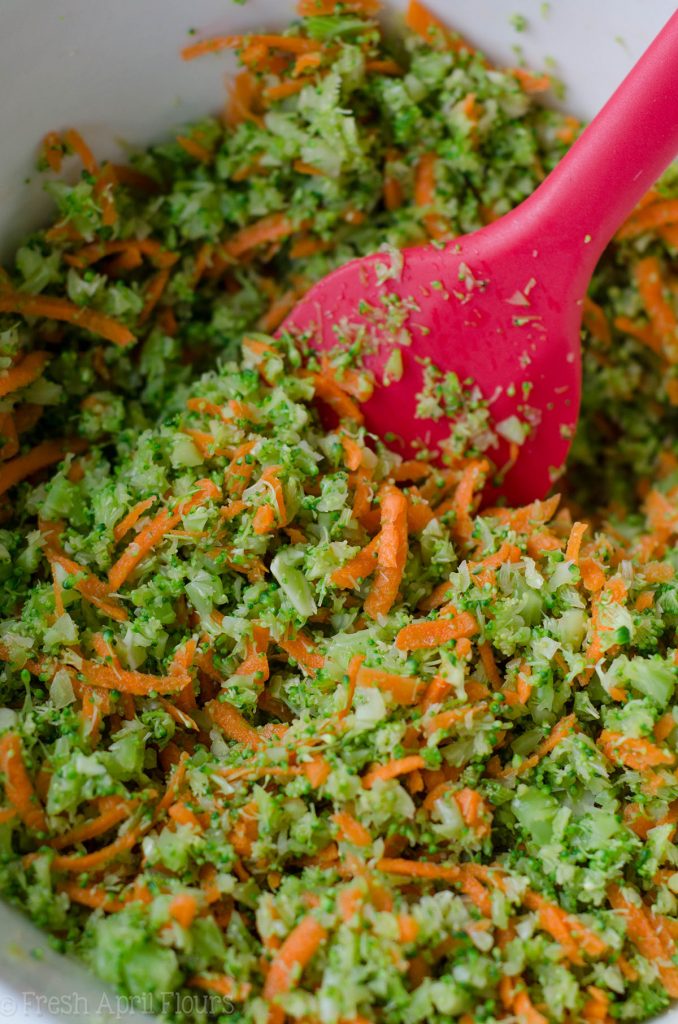 Two eggs hold the whole "batter" together, and you're on your way to the tastiest little nuggets, full of veggies and cheese and flavor and texture!
You'll use a small cookie scoop to form your nuggets into balls which you'll flatten into a little "cake" before rolling in some of the seasoned ground flaxseed you set aside for coating.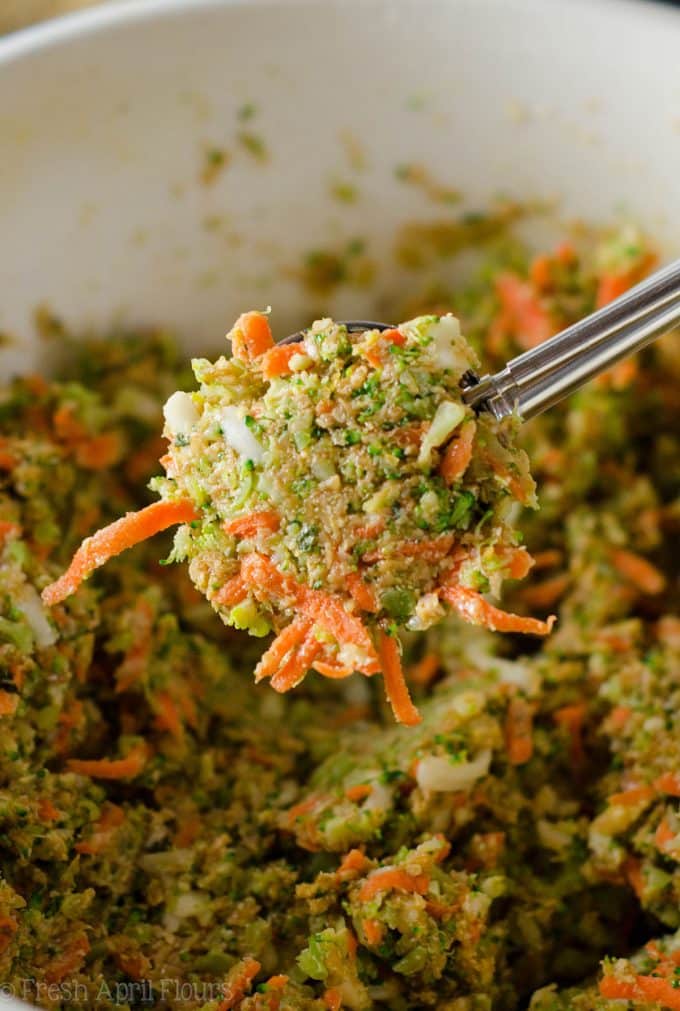 I did the majority of my nuggets in a pan, sort of "frying" them, but not really… Just a little bit of olive oil went a long way when crisping up these guys. I baked a few in the oven to see how they would fare, and although they worked, they weren't my favorite.
In fact, our kiddo preferred the "fried" ones as well. Carry on as you wish!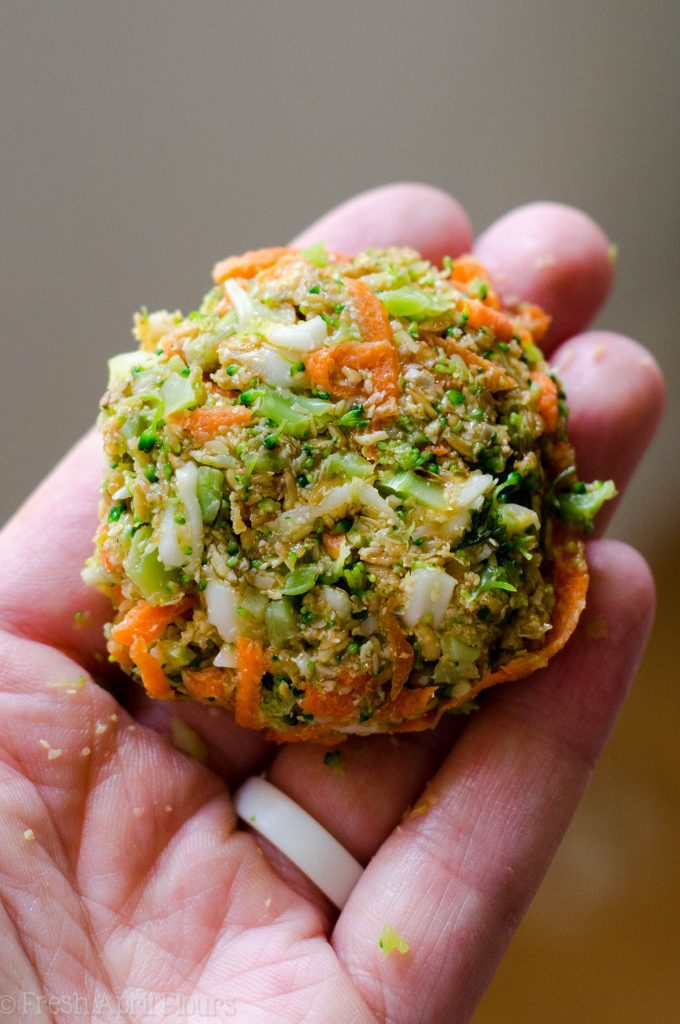 I also set some aside to finish up the next day, just to see how the batter was after it sat a bit, and I have to say… Don't do that. This is not a great make ahead food.
The flaxseed got soggy and the nuggets didn't have the same texture or flavor. Not a good time. Do it up right away.
My favorite part about these veggie nuggets was that although I totally knew I was eating veggies, they tasted fun. It was sort of like eating a chicken nugget, but not exactly (don't think what I said was that veggies taste like chicken!), because I dipped them in ketchup and got to bite into them like a nugget.
They were good in salad, by themselves, dipped, not dipped, hot, cold… All ways! Our son preferred them warm, but hey, he ate them, so I call them a win.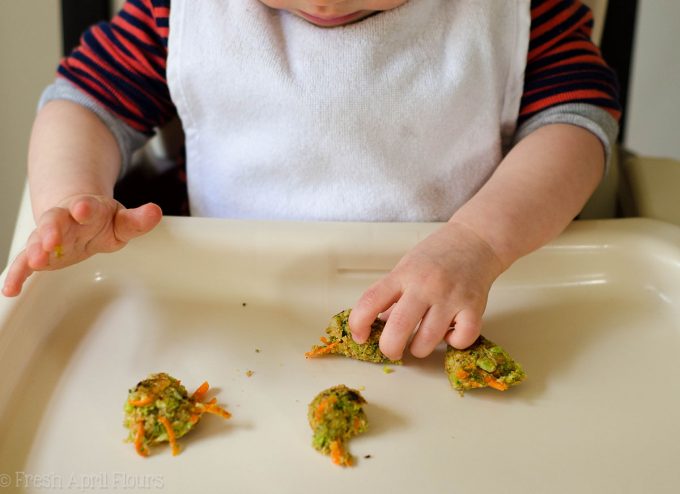 If you're looking for a way to get more veggies in you or someone you love, consider some veggie nuggets. They take a little time to put together, but the payout is worth it when you find that veggies don't have to be boring or plain.
And anything that gets more ketchup into my life, I'm all about. Tell me you agree?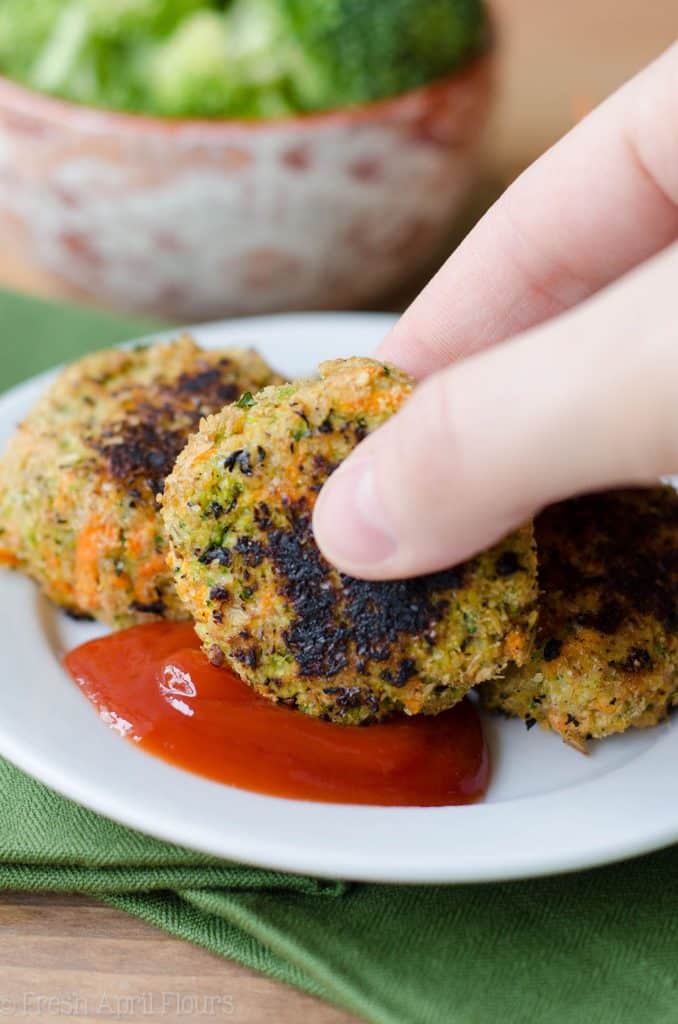 Greens, cheese, protein-rich flaxseed, and fiber? What's not to love? Bring on the veggies!
Veggie Nuggets
Gluten-free vegetable patties perfect for little hands and adults alike.
Ingredients
1 and 1/4

cup

ground flaxseed

1

teaspoon

salt

1/2

teaspoon

pepper

1

teaspoon

garlic powder

1/2

teaspoon

onion powder

1/2

teaspoon

dried parsley

1/4

teaspoon

dried oregano

3

cups

broccoli florets

steamed

1

cup

shredded carrots

approximately 2 large carrots

1/2

cup

shredded cheese

2

large eggs

lightly beaten

olive oil

as needed
Instructions
Combine flaxseed, salt, pepper, garlic powder, onion powder, parsley, and oregano in a small bowl. Set aside.

Place the steamed broccoli florets in a food processor and pulse until broccoli is in very small pieces. Pour broccoli into a very large bowl. Add the shredded carrots to the broccoli and stir to combine. Add 1 cup of the seasoned ground flaxseed and shredded cheese and stir again to combine. Before adding the eggs, taste the mixture and add more seasoning to your taste, if desired. When you are happy with the flavor, add the eggs, and stir well to coat all of the mixture with egg.

Form veggie mixture into balls, approximately 1" in diameter. Flatten slightly with your hands to about 1/2" thickness, roll gently in the remaining 1/4 cup of seasoned flaxseed, and place on a large plate or baking sheet until all of the veggie mixture is gone.

Heat a bit of olive oil in a large skillet over medium-low heat. Without crowding, add veggie nuggets to the pan and cook for 4-5 minutes until underside is lightly browned. Carefully flip nuggets with a spatula and cook other side for an additional 4-5 minutes, or until lightly browned. Remove from skillet, allow to cool on a cooling rack, and cook remaining nuggets, adding additional oil to the pan as needed. If you prefer to bake your veggie nuggets, bake for 400ºF for 15-20 minutes, until lightly browned. Cooked patties can be kept in the refrigerator in an airtight container up to 1 week, or in the freezer for 1 month.
Nutrition Disclosure
All nutritional values are approximate and provided to the reader as a courtesy. Changing ingredients and/or quantities will alter the estimated nutritional calculations.