No Churn Coffee Ice Cream

As an Amazon Associate, I earn from qualifying purchases. Read the full disclosure here.
Creamy, full-bodied coffee ice cream complemented by rich chocolate chunks.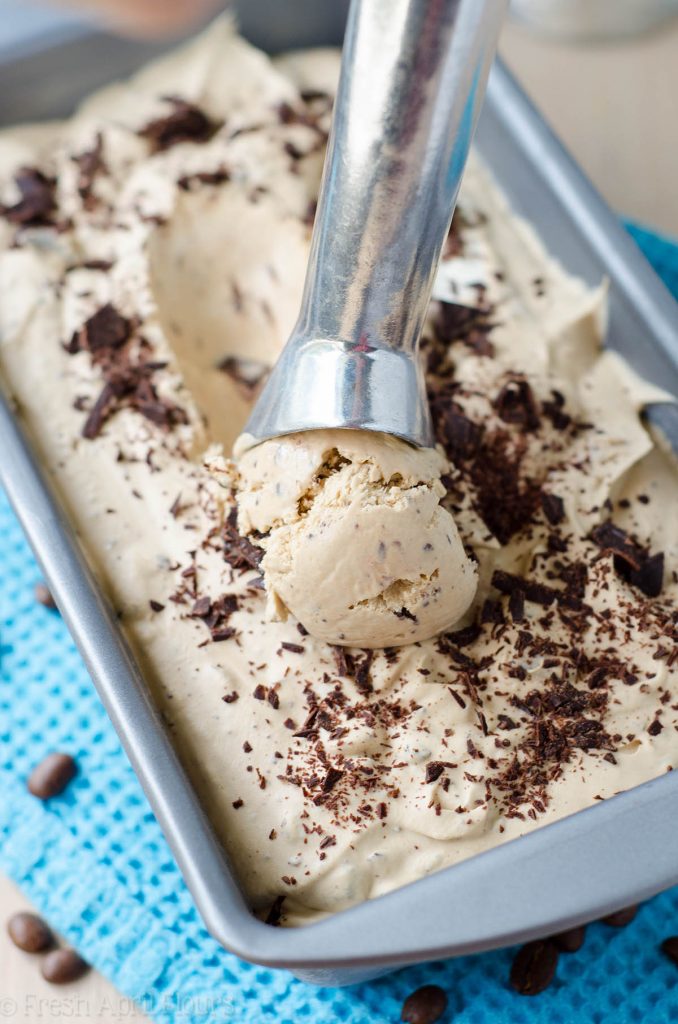 So I didn't talk too much about the specifics of my pregnancy here, but now that it's all said and done and everything turned out a-ok, I can!
The last 10 or so weeks were a little worrisome as we found out that our little dude was, in fact, a little dude. Although he always measured proportionate to himself, he measured behind consistently from 20 weeks on.
At around 28 weeks, we started seeing a specialist twice a week (exhausting) to keep track of all kinds of things.
Long story short, he wound up being a 5 pounder at birth, and under 5 pounds when we brought him home. Perfectly healthy, no NICU time, just a tiny guy.
Lucky for him and for all of us, he's gaining weight like a champion and is already 8 and 1/2 pounds at 6 weeks old!
I make no secret that Matt and I keep a pretty healthy lifestyle around here, and I tried fairly hard to follow suit during my pregnancy. Of course, I had plenty of indulgences along the way, but for the most part, I continued to eat pretty healthy and also kept working out up until 36 weeks.
Once I hit about 32 weeks, though, I noticed a lot more indulgences showed up in our grocery haul. Matt does the cooking in our house, so he also does the grocery shopping.
I don't normally have too much of an opinion on what we eat, so I just let him do his thing. I started seeing more snacks like crackers and pretzels, the occasional donut or muffin, and most often and surprising– ICE CREAM.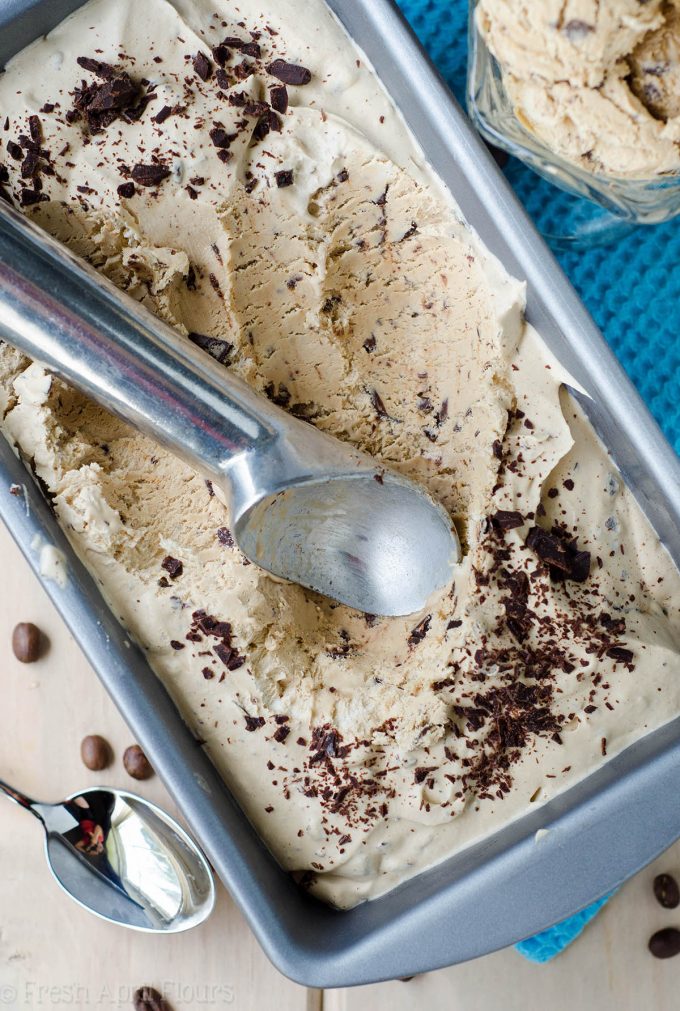 We are not ice cream keepers in the April household. Some people always have some on hand, and those people are smart people. We don't, because we know that we will just eat it all the time.
Matt had a plan and I didn't even notice.
He was trying to pump me up with calories to help our little guy grow. I wound up gaining a total of 35 pounds during my pregnancy, and a large portion of it was in the last 6 weeks.
Who knows if this actually helped our little guy gain some weight, but maybe it did. Either way, my tastebuds were so happy during the last leg of my pregnancy, and, thanks to exclusively breastfeeding, they are still pretty happy.
The ice cream flavor that showed up most often in our freezer was both of the coffee varieties of our favorite store-bought gelato. We ate it so often, I was worried that I was increasing my caffeine intake too much!
Since giving birth, we haven't really had much ice cream around, but I had to recreate that delightful little treat in our kitchen so that I knew we could have it whenever we want.
Since this is no churn ice cream, it's super simple. I tackled no churn ice cream last summer with my peanut butter ripple ice cream.
It. Was. Awesome.
So I went with that again, since time is not something I have a ton of at the moment, and no churn ice cream takes about 5 minutes to throw together before it just needs time to hang out in the freezer.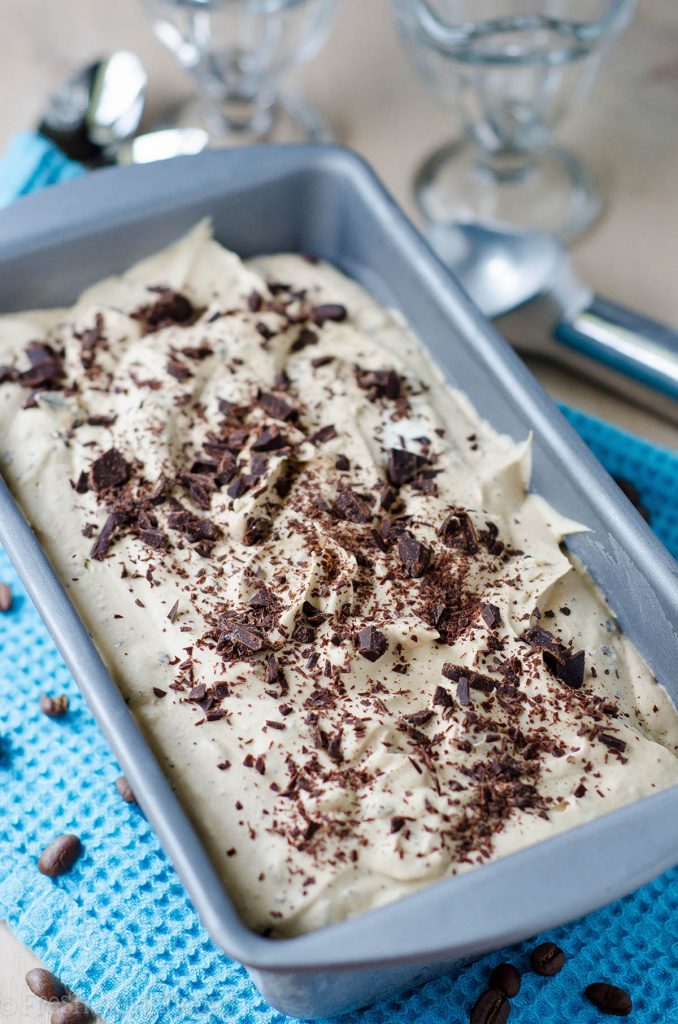 For this no churn coffee ice cream, you need 6 ingredients. And one of them is water. So really, 5 ingredients. And if you don't want to add chocolate chunks (please, do! You won't be sorry!), then only 4. You can totally do this.
All you need to do is whip up some heavy cream, sweetened condensed milk, and some vanilla extract.
You'll whip this for about 3-4 minutes, until it's thick and smooth. Just be careful not to whip too long– you'll wind up with sweet butter in a hurry!
After that's nice a fluffy, you'll add some coffee. I used a super concentrated form of coffee that I made with water and instant coffee grounds. If you'd like to up the coffee flavor even more, make it even more concentrated.
Less? Use some brewed coffee instead. For me, this amount of instant coffee was the perfect amount. Bold and prominent, not at all an afterthought.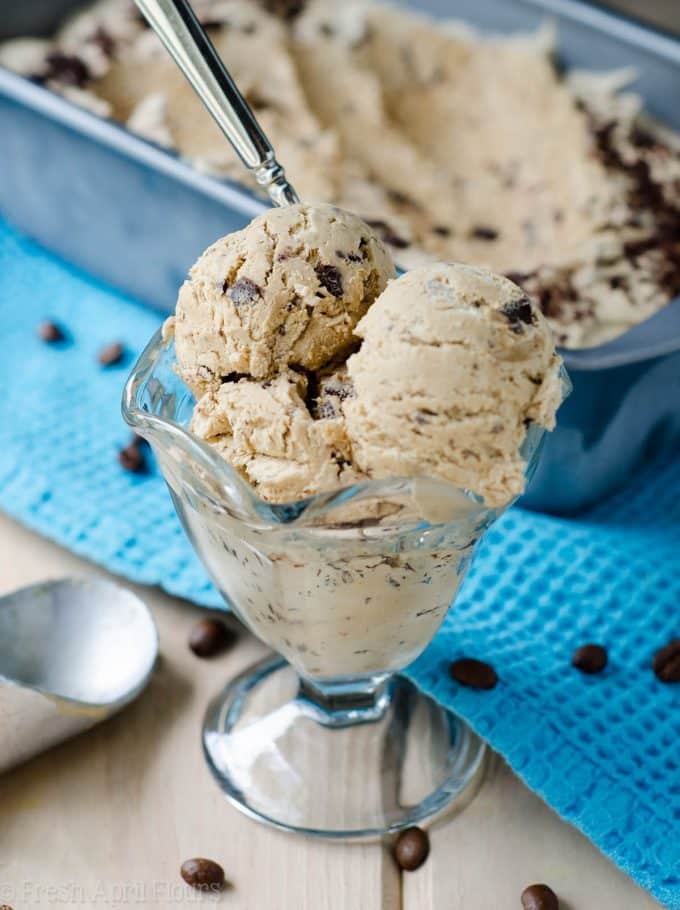 The chocolate chips/chunks/shavings/whatever are totally optional. But, I am a chunky lover, so of course, mine had to have them! I chose to chop up a semi-sweet chocolate bar, but you can totally use chips, chunks, or whatever your coffee and chocolate loving heart desires.
This was one of my favorite treats that I've ever made.
It may be because I absolutely love me some coffee, but also, it's fast, it's simple, and although it requires a tiny bit of elbow grease, it doesn't break the bank nearly as much as buying coffee ice cream at the store might if you go through it as quickly as a third trimester mama and her crazy-awesome-metabolism hubs can.
Light and refreshing for summer, yet bold enough to curb that sweet tooth in cold weather just the same. I think that no churn coffee ice cream should be a thing we all have in our freezers from now on, just in case of ice cream emergencies.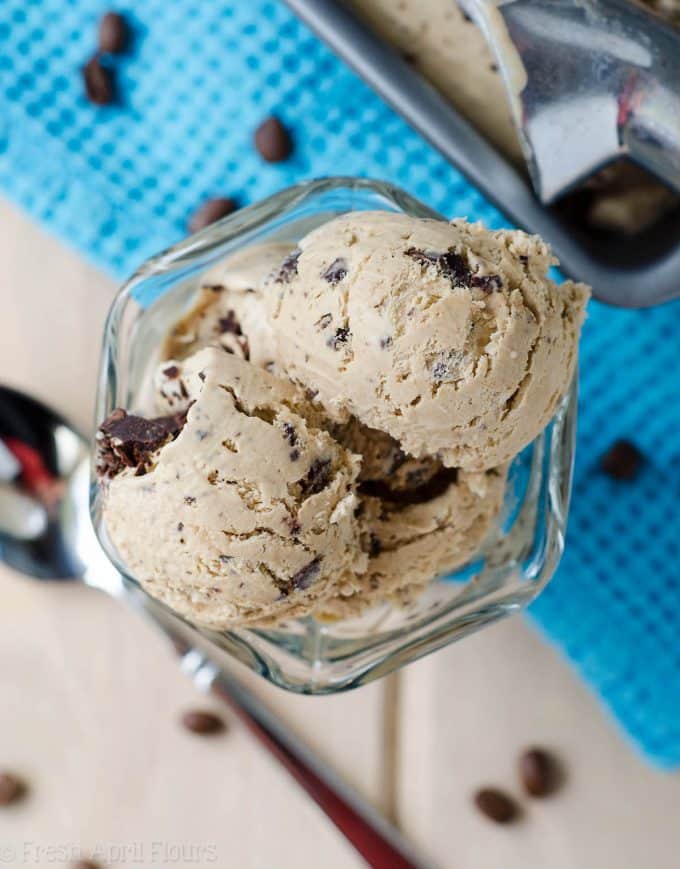 Because ice cream emergencies are a thing and you can never be too prepared.
No Churn Coffee Ice Cream
Creamy, full-bodied coffee ice cream complemented by rich chocolate chunks.
Ingredients
2 and 1/2

Tablespoons

instant coffee granules

2

Tablespoons

warm water

2

cups

heavy cream

1

can

sweetened condensed milk

1

teaspoon

vanilla extract

4

ounces

semi-sweet chocolate

chopped to desired thickness*
Instructions
In a small bowl, combine the instant coffee and warm water. Stir until coffee is dissolved. Set aside.

In a large bowl using a hand mixer or the bowl of a stand mixer fitted with the whisk attachment, beat the heavy cream, sweetened condensed milk, and vanilla extract on high speed until smooth and thick (about 3-4 minutes). Add the prepared coffee and mix on low until mostly combined. Fold in the chopped chocolate with a spatula until evenly dispersed.

Spoon the ice cream into a freezer-safe container or bowl (I prefer a loaf pan). Garnish with additional chocolate pieces, if desired. Cover tightly and freeze overnight, or at least 8 hours. Ice cream can be stored in the freezer for up to 2 weeks.
Notes
*You may also use chocolate chips, chocolate chunks, or omit the chocolate completely.
Nutrition Disclosure
All nutritional values are approximate and provided to the reader as a courtesy. Changing ingredients and/or quantities will alter the estimated nutritional calculations.
Try my No Churn Peanut Butter Ripple Ice Cream next!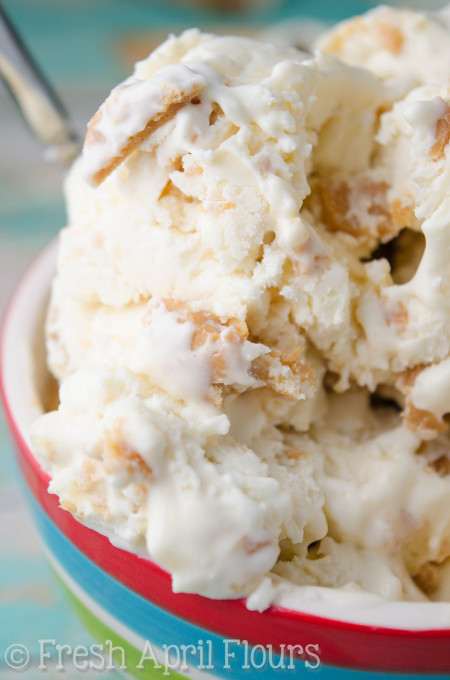 More coffee treats…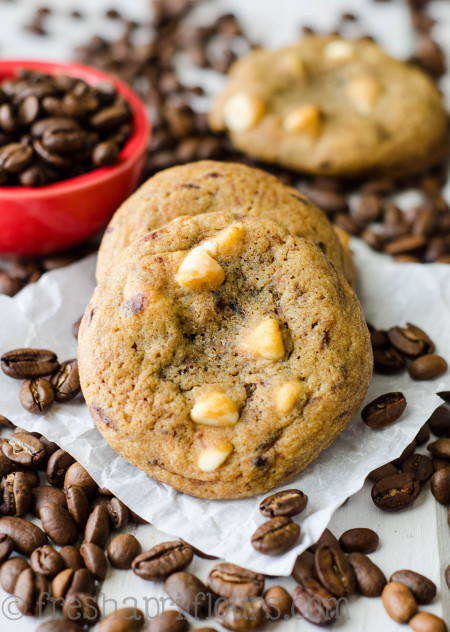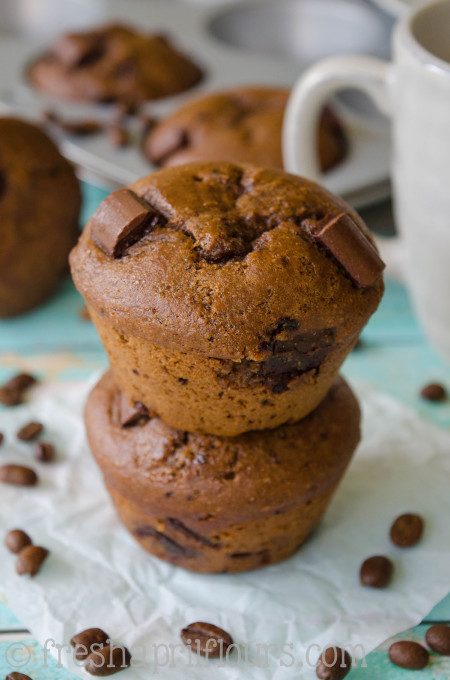 Compost Cookies (made with coffee grounds!)