How To Make A Rainbow Cake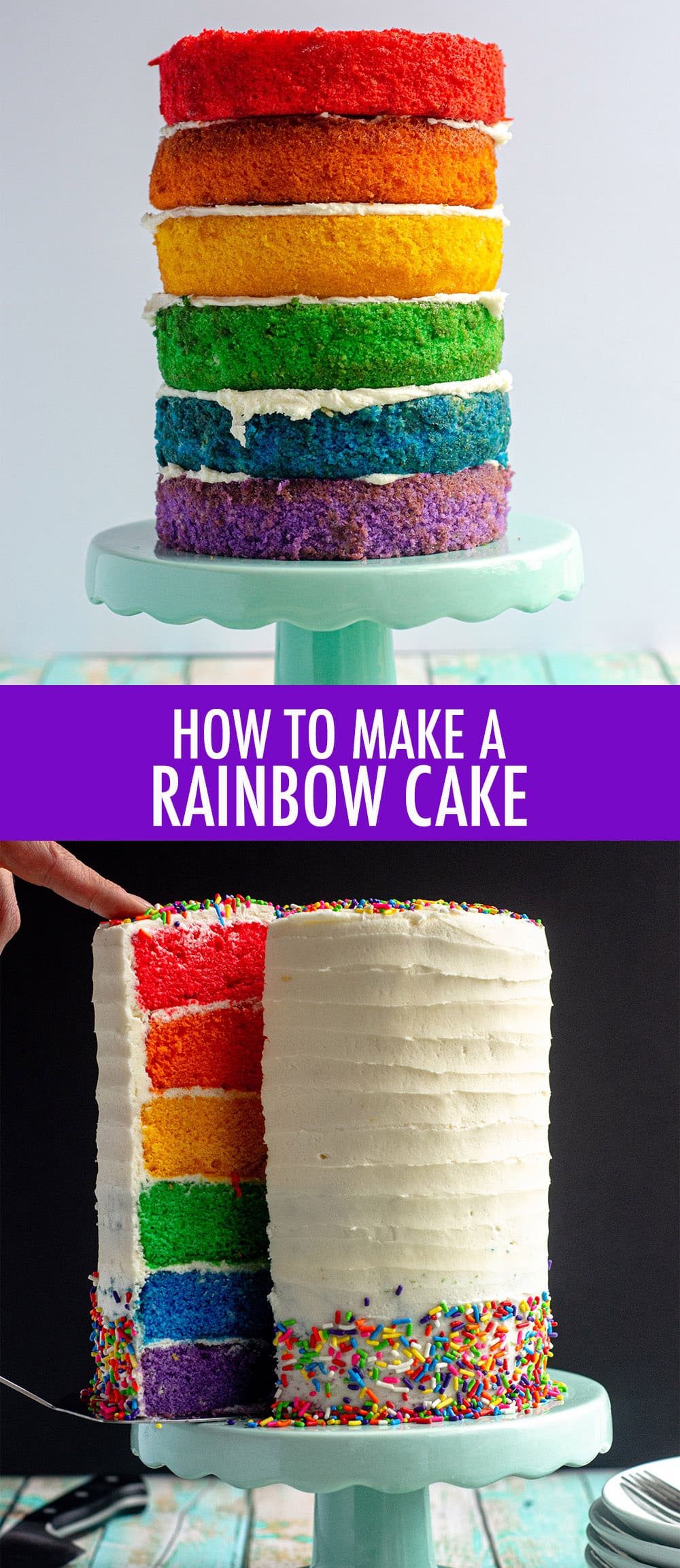 As an Amazon Associate, I earn from qualifying purchases. Read the full disclosure here.
Learn how to make a beautifully colorful rainbow cake, as tall or as short as you want it to be. Find instructions for scaling cake to your needs and how to efficiently create 6 layers of cake, even if you only have 2 pans.
Are you sweating? Anxious? Convinced you could never make this rainbow cake? Not even ever going to think about trying it?
Let me be the first to tell you: chill. You can DO THIS. And I wouldn't be here telling you that you could nail this rainbow cake recipe if I didn't think you could.
So let's take this slowwww. K?
First of all, yeah. This cake is epically tall. It's about 12″ tall.
That does not have to be you.
And I'm going to drill that into your head the entire time I talk you through making this rainbow cake because it's true.
To be 100% transparent, this cake was not supposed to be 12″ tall. It was going to be tall, but… Not this.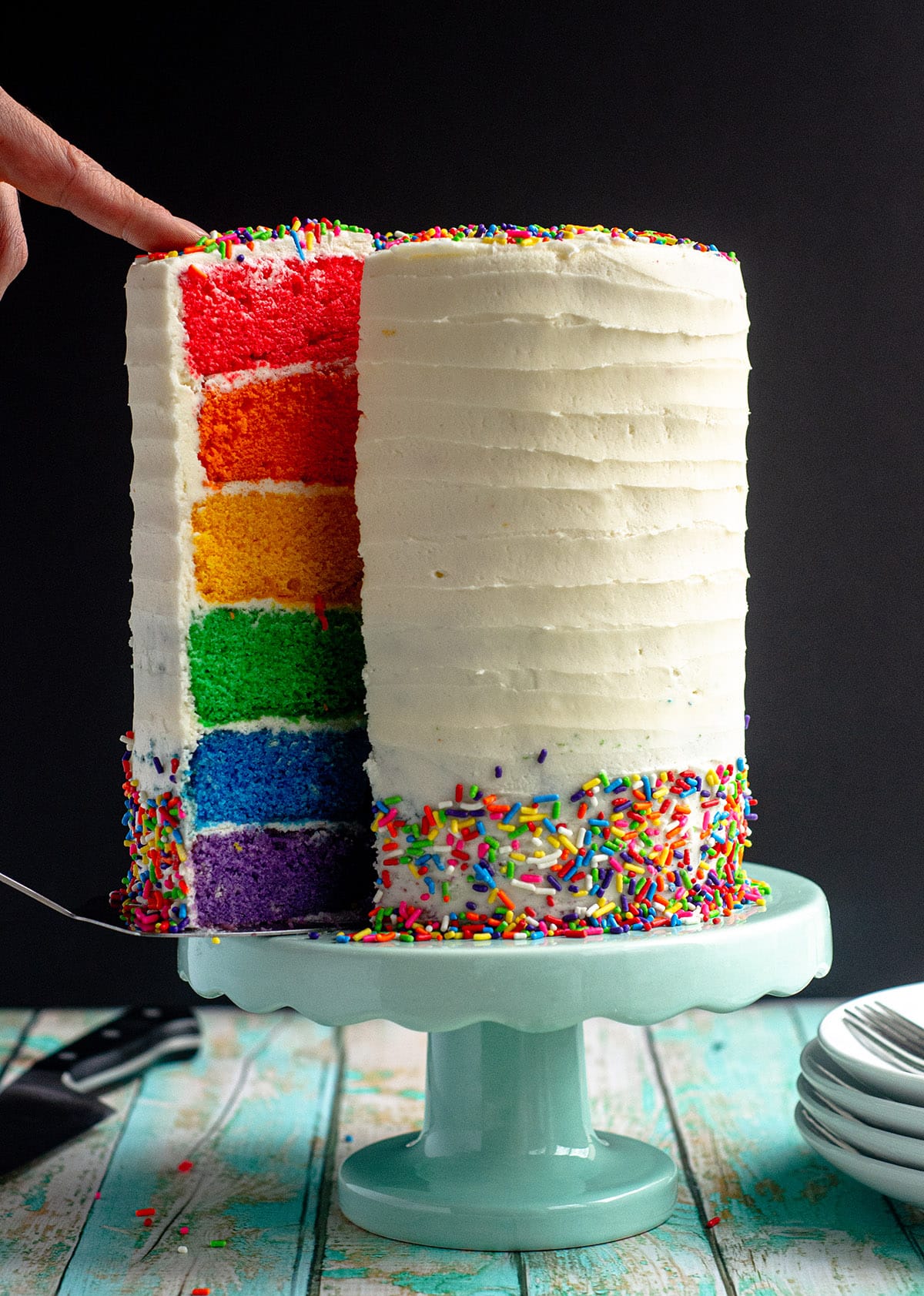 Here's the thing– your rainbow cake is completely and totally your rainbow cake. It can be short, it can be tall, it can be fat, it can be skinny. You know yourself, you know your cake-abilities, and you know your audience (tasters).
You do you, rainbow cake baker. You've got this!
ADJUST THIS CAKE TO YOUR STYLE AND NEEDS
So yes, traditionally, a rainbow cake would have 6 colorful layers. Red, orange, yellow, green, blue, and purple. But if you just want 4 colors, go for it! Want 3 or 5? Also doable.
This cake here is 6 inches wide. Do you want 8 inches? We can make that happen.
This cake in particular is a 6 inch cake, which is how the recipe is written. I will put mega instructions in the recipe to help you scale to what you want and need for your rainbow cake.
The nice part about this cake recipe is that you have seen it so many times before.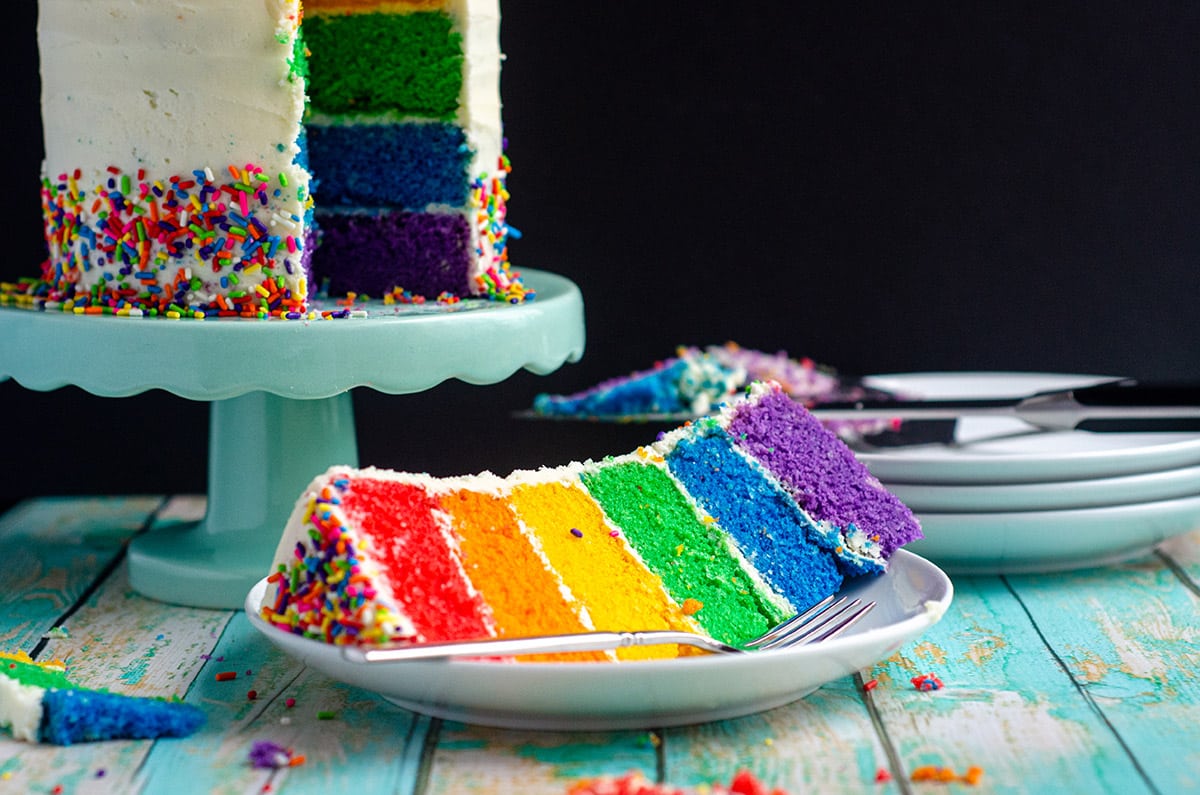 The base for this colorful cake is my white cake, which I've turned into…
•a patriotic bundt cake
•a champagne layer cake
•a funfetti bundt cake
•a funfetti sheet cake
Like I have said so many places but specifically in my gingerbread cupcakes post… If it ain't broke, don't fix it.
In general, most cake recipes produce two 8 inch layers of cake. If you want to convert it to two 6 in layers of cake, simply cut the recipe in half.
As written, my white layer cake makes two 8 inch layers of cake, so making a 6 layer cake means 3 batches of cake. In order to make a 6 inch cake, ½ of the white layer cake recipe as written gives you two 6 inch layers of cake. Which is still 3 batches of cake, it's just 3 half batches.
Are you following?
I won't lie– this rainbow layer cake is a time-intensive recipe. But the labor is not intensive.
Yes, you will need a lot of time to prepare 3 batches of cake, but guess what? Multi-layer cake baking is something I'm super familiar with, and I'm here to share all my tips and tricks with you to make it seamless and easy.
MY BEST TIPS FOR EFFICIENTLY CREATING 6 LAYERS OF CAKE
My recipe will ask you to prepare dry ingredients, prepare wet ingredients, and then combine them. Easy peasy!
In order to efficiently prepare and color 6 layers of cake, do a lot of prep up front, and the rest will come more easily.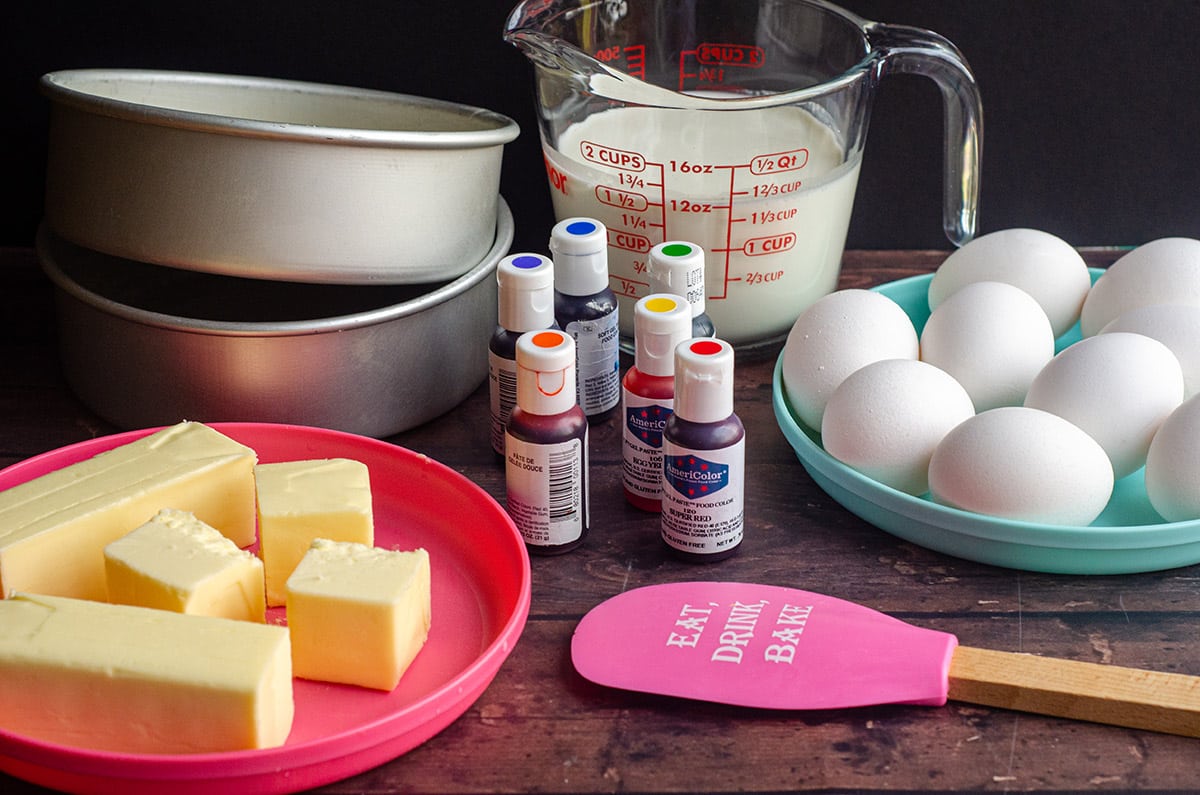 1: Prepare all of your dry ingredients in 3 different bowls, one for each pair of layers.
2: Prepare all of your wet ingredients for each pair of layers in 3 different bowls, one for each pair of layers. You now have 6 different bowls, 2 for each pair of layers: a dry ingredients and a wet ingredients.
3: You'll combine wet and dry ingredients in a stand mixer or large bowl with a handheld mixer, which means that 1 of each a dry and a wet ingredient bowl will be dirty per batch. Save these bowls.
4: When your batter is mixed up, use these 2 dirty bowls to color your individual layers.
It's a lot of dishes, but, it's a rainbow. So. Worth it.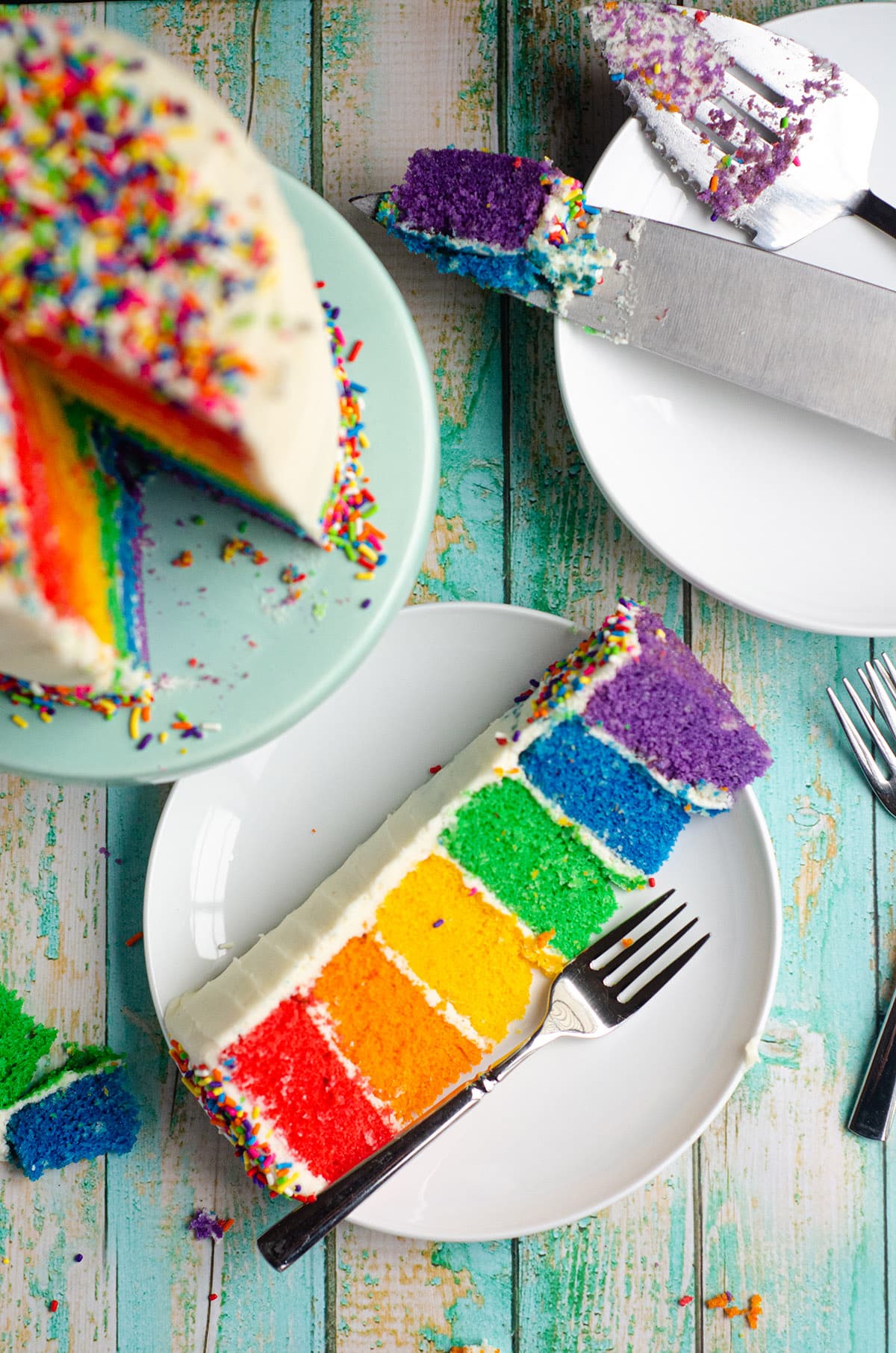 You'll also want to bake all of the delicious cake layers of this fun rainbow cake a whole day in advance. Because preparing ingredients for, baking, and cooling 6 rainbow layers (3 batches) of cake took me 3 and a half hours.
If you've got the stamina, go for gold in one whole day. But if you'd rather practice patience and not overload yourself, give yourself an additional day.
It is advised that once cake layers are fully baked, they should be allowed 15-20 minutes (or LONGER if able) to rest and cool in the cake pan. This makes the pans readily available for the next round of baking.
I only have 2 of each size cake pan. If you have more than this, FANTASTIC. If you don't… No worries! You're all set, just like I was.
My very very very best cake recommendation for getting layers out of the pan easily, though, is my homemade cake release.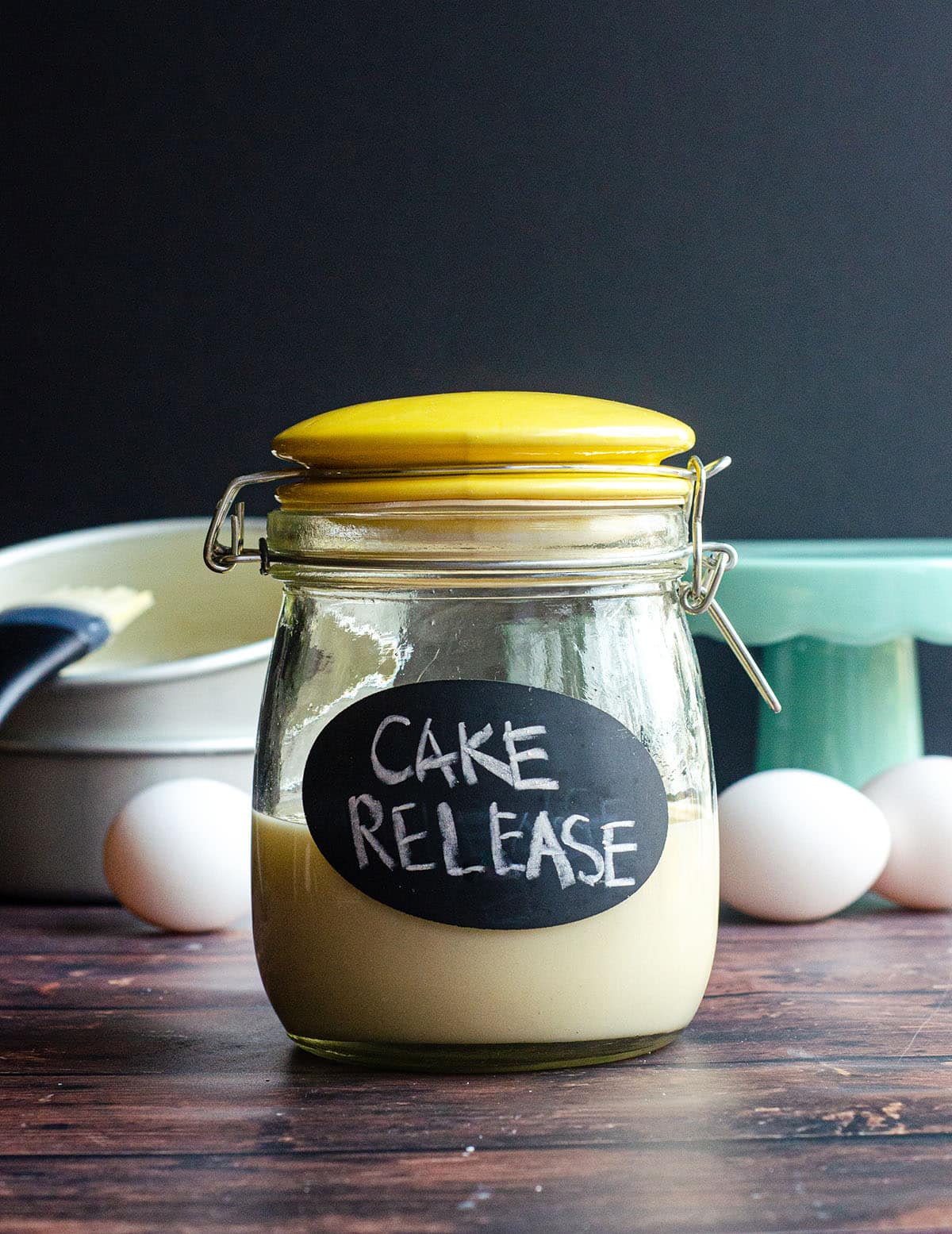 Load those pans up and when you're ready to remove them from the pan, they'll come right out.
Just be sure you've let them cool long enough. Want them to cool longer than 20 minutes? Great! Turn off your oven, take a break, and come back to the next batch later. Like I said… Time intensive. Make a day out of it.
Once you have all of your cake layers, it's time to decide how tall you want your cake to be. And this is totally simple math.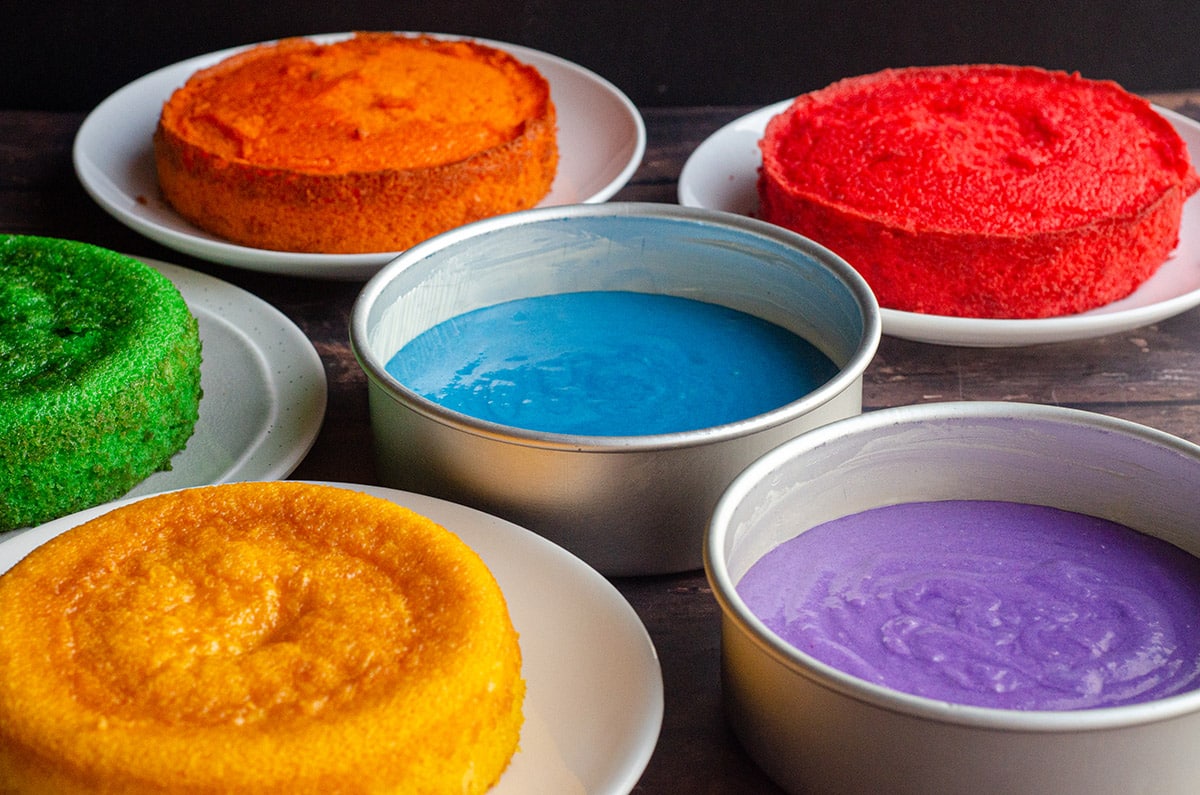 Each of my cake layers were about 2″ tall. All 6 layers baked pretty evenly, so I actually didn't trim them down at all. This means that 6 layers x 2 inches tall = 12 inches tall.
SCALE LAYERS TO THE FINISHED PRODUCT HEIGHT YOU WANT YOUR CAKE TO BE
If you aren't comfortable decorating and serving a foot tall cake, don't make one. Simple as that!
If you, too, had even cake layers and don't necessarily want to trim them, but don't want a foot tall cake, cut each layer in half horizontally and make a second cake! Or freeze the layers and make another cake another time.
Worried about all the leftover cake scraps if you do choose just to trim them? Make some cake pops. Or, again, toss the scraps in a bag, freeze them, and make cake pops later.
When it comes time to assemble the layers, start with the color latest in the rainbow (in my case, and in the written recipe's case, the purple cake layer). Work your way up so that the earliest color in the rainbow (in my case, the red cake layer) is on top.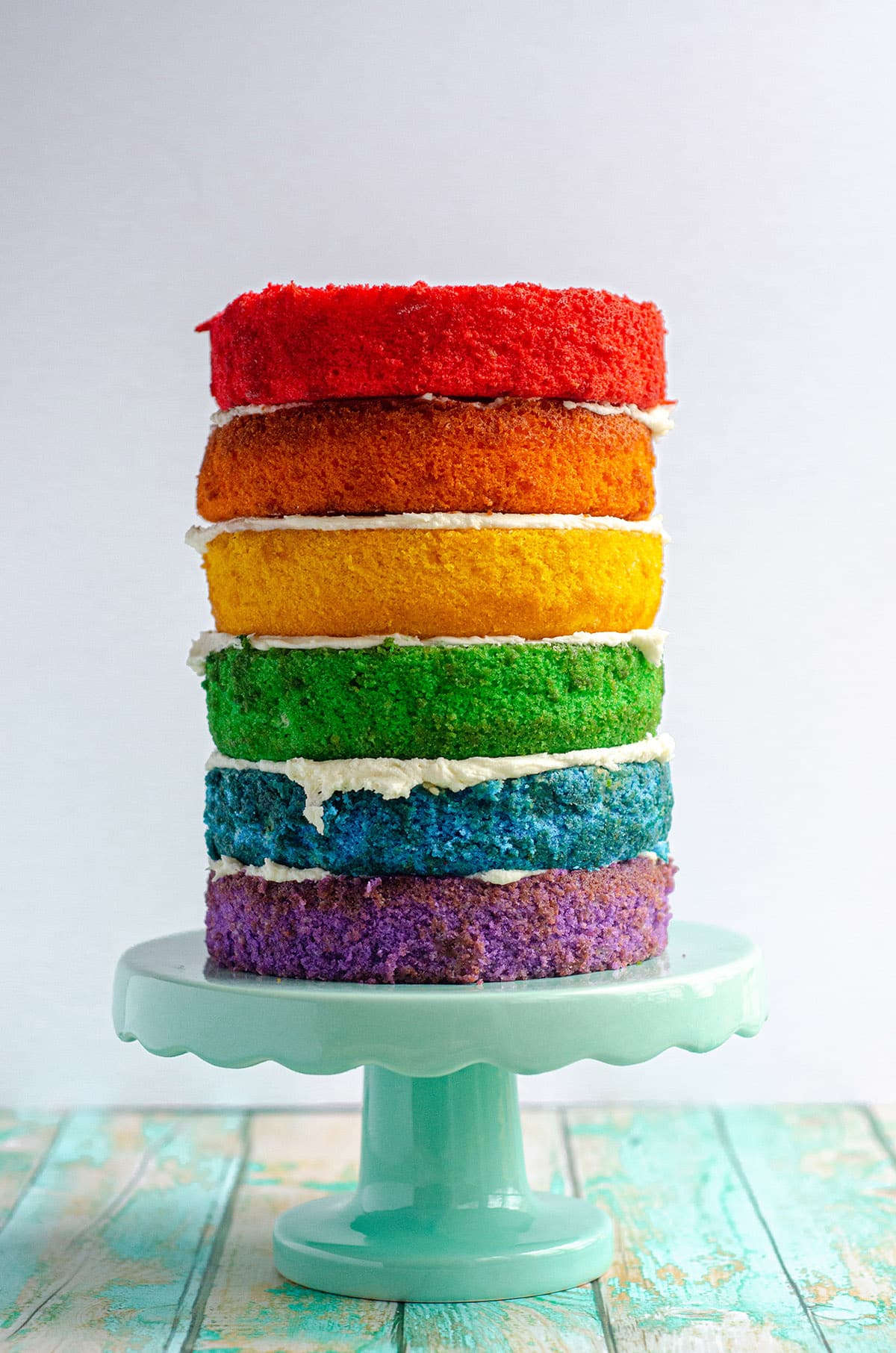 Then… Frost as usual!
Feeling overwhelmed about icing it as fully and nicely as I did? Totally fine.
Leave it naked. Leave it semi-naked (meaning just a very thin crumb coating of icing on the outside).
There are no rules when it comes to cake and the way it must be presented or served.
This tutorial is really just about giving you the foundation for making a beautiful, colorful cake… Whatever that looks like in your kitchen.
So are you ready to tackle this fun cake? Do you think you can do it?
I am always available for additional questions, if you find yourself elbow-deep and stuck for where to go next. Considering asking your question below in the comments so others can see it and maybe we can help troubleshoot someone else together.
Sound good?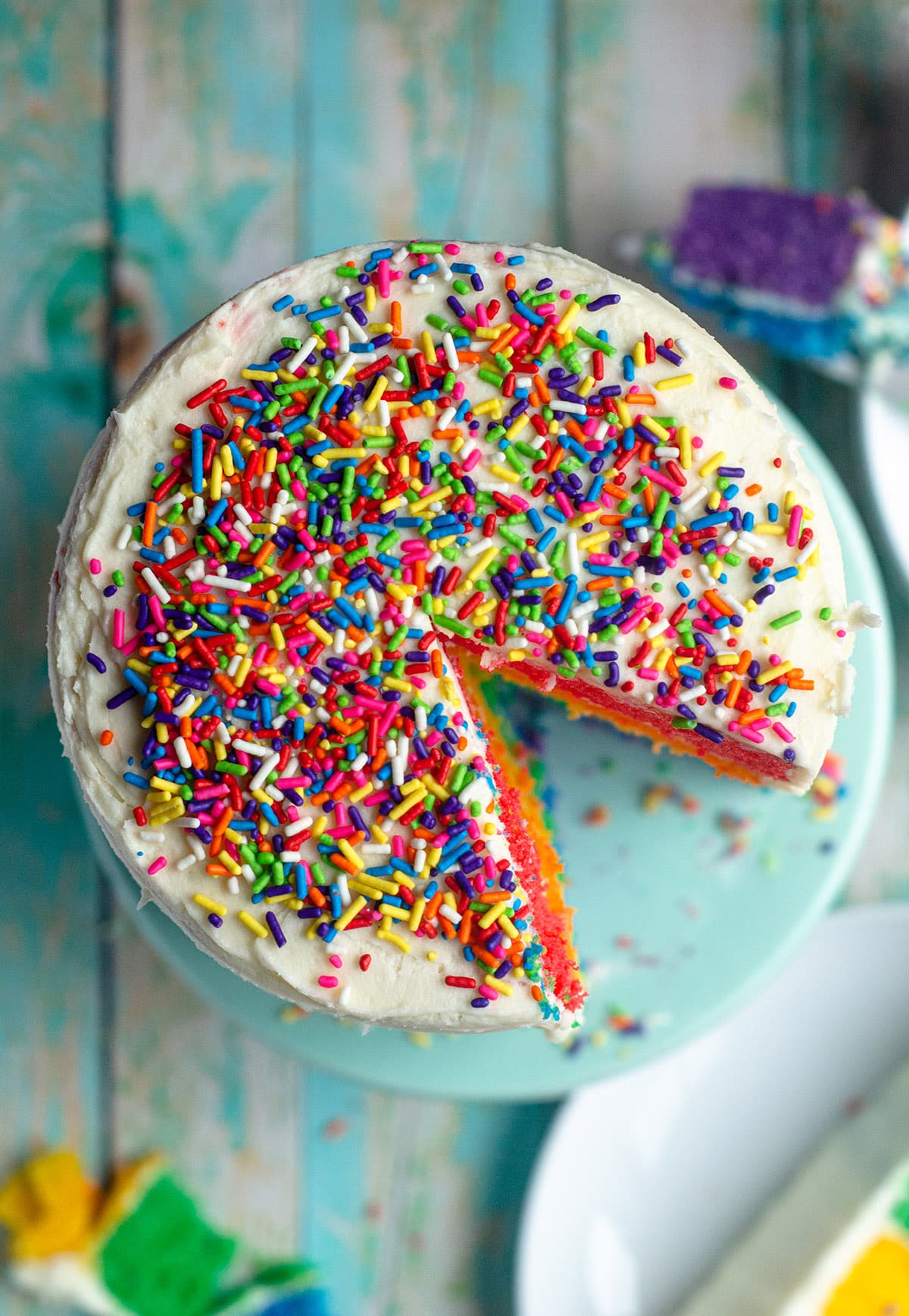 Now set aside your day and plan it all out. I can't wait to see your beautiful homemade rainbow cake!
Looking for more rainbow colored foods? Check out this layered rainbow jello from House of Nash Eats or rainbow donuts from The First Year!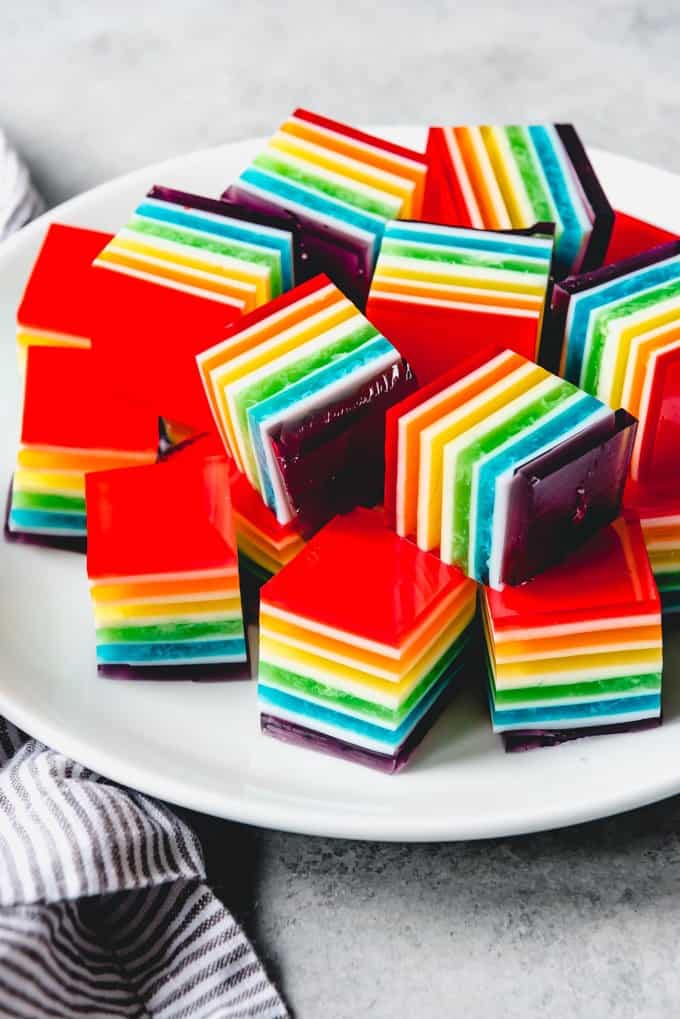 Rainbow Cake
Learn how to make a beautifully colorful rainbow cake, as tall or as short as you want it to be. Find instructions for scaling cake to your needs and how to efficiently create 6 layers of cake, even if you only have 2 pans.
Ingredients
CAKE (PER TWO 6" LAYERS)
1

cup

(120g) all-purpose flour be sure to measure properly

1

Tablespoon

(7.5g) cornstarch

1

cup

+ 1 Tablespoon (212g) granulated sugar

2

teaspoons

baking powder

½

teaspoon

salt

6

Tablespoons

(85g) unsalted butter softened to room temperature1

½

cup

(120mL) heavy cream room temperature1,2

3

large egg whites room temperature1

1 and ¼

teaspoons

vanilla extract
food coloring in desired colors3

see notes for colors I used
WHIPPED CREAM BUTTERCREAM
4

cups

(480g) powdered sugar

1

cup

(227g) unsalted butter

softened to room temperature

2

teaspoons

vanilla extract

pinch

of salt

⅓

cup

(80mL) heavy whipping cream
Instructions
CAKE (PER TWO 6" LAYERS)
Place oven rack on the middle setting and preheat the oven to 350ºF (177ºC). Grease and flour (or use homemade cake release) two 6" round cake pans.

Set out two empty medium size bowls.

In one medium size bowl, combine the flour, cornstarch, sugar, baking powder, and salt. Blend ingredients together with a whisk or fork until completely combined. Set aside.

In the other empty bowl, combine the heavy cream, egg whites, and vanilla extract and mix gently with a fork until blended. Set aside.

Transfer the dry ingredients to a large bowl (if using a handheld mixer) or the bowl of a stand mixer fitted with the paddle attachment, but do not discard the medium bowl. Add the room temperature butter and beat mixture on low speed until it resembles sand. Scrape down the sides and bottom of the bowl with a spatula and mix again on low for a few seconds until thoroughly combined.

Turn the mixer speed up to medium-low, add half of the milk mixture (about 1/2 cup) to the crumb mixture, and mix until blended. Add the remaining milk mixture to the batter and beat again on medium-low until everything is incorporated. Turn the mixer off, scrape down the sides and bottom of the bowl with a spatula, and increase mixer speed to medium. Beat the batter for about 30 seconds until batter is smooth.

Divide batter evenly between the two medium size bowls (that are now dirty). Add a bit of food coloring in the color of your choice to one of the small bowls, stir, and add more coloring until it is to your liking. Repeat with the second bowl and a second coloring. I did red and orange together, yellow and green together, and blue and purple together.

Bake cakes for about 23-25 minutes or until a toothpick inserted in the center comes out clean. Remove from oven and allow cakes to cool at least 15-20 minutes (preferably longer) on a wire rack before removing from pans and moving on to the next batch of colors.
BUTTERCREAM
In a large bowl with a handheld mixer, or a stand mixer fitted with the paddle attachment, beat the butter on medium speed until creamy, about 2 minutes.

With the mixer on low, add in the powdered sugar, vanilla and almond extracts, and salt. Add the cream and continue to mix until everything starts to come together.

Increase mixer speed to high and beat for 3-4 minutes until frosting is fluffy, pausing once or twice to scrape down the sides and bottom of the bowl. Be careful not to over-beat the frosting, as whipping cream may start to clump. Decrease mixer speed to low if you need to add more cream to thin to desired texture.
ASSEMBLE THE CAKE
Trim your cake layers to the desired height, keeping in mind that their height x 6 layers will be the total height of your cake.

Place the layer in the color you want on the bottom on a plate or cake stand. Using a spatula or knife, spread an even layer of frosting over the entire surface. Place the next layer in the color you want second to last on top, and press down on the top lightly. Continue stacking layers of cake until you reach the beginning of the rainbow and have used all of your layers. Spread the rest of the frosting on the cake, beginning with the top and working your way down the sides. Decorate as desired.

Cake stays fresh covered at room temperature for up to 4 days. Cake may be covered and refrigerated for up to 7 days.
Notes
Room temperature ingredients: it is imperative to use room temperature ingredients in this recipe. Allow ingredients to sit out at room temperature at least 45 minutes before beginning.
Heavy cream: I strongly encourage using cream in this recipe. It keeps the crumb moist and dense and adds a creaminess to the overall texture of the cake.
Food coloring: I prefer gel food coloring. My favorite is AmeriColor.
Recipe adapted from White Layer Cake
If you want this cake to be 8″ in diameter, double the cake recipe for each pair of layers and do 1 and

½

times the recipe written for the buttercream.
I used the following color names for my layers: super red, orange, egg yellow, leaf green, royal blue, and combination of violet + a touch of electric pink.
Nutrition Disclosure
All nutritional values are approximate and provided to the reader as a courtesy. Changing ingredients and/or quantities will alter the estimated nutritional calculations.
Serving:
1
serving
|
Calories:
612
kcal
|
Carbohydrates:
79
g
|
Protein:
3
g
|
Fat:
33
g
|
Saturated Fat:
21
g
|
Polyunsaturated Fat:
1
g
|
Monounsaturated Fat:
8
g
|
Trans Fat:
1
g
|
Cholesterol:
89
mg
|
Sodium:
226
mg
|
Potassium:
58
mg
|
Fiber:
0.3
g
|
Sugar:
68
g
|
Vitamin A:
1069
IU
|
Vitamin C:
0.1
mg
|
Calcium:
71
mg
|
Iron:
1
mg