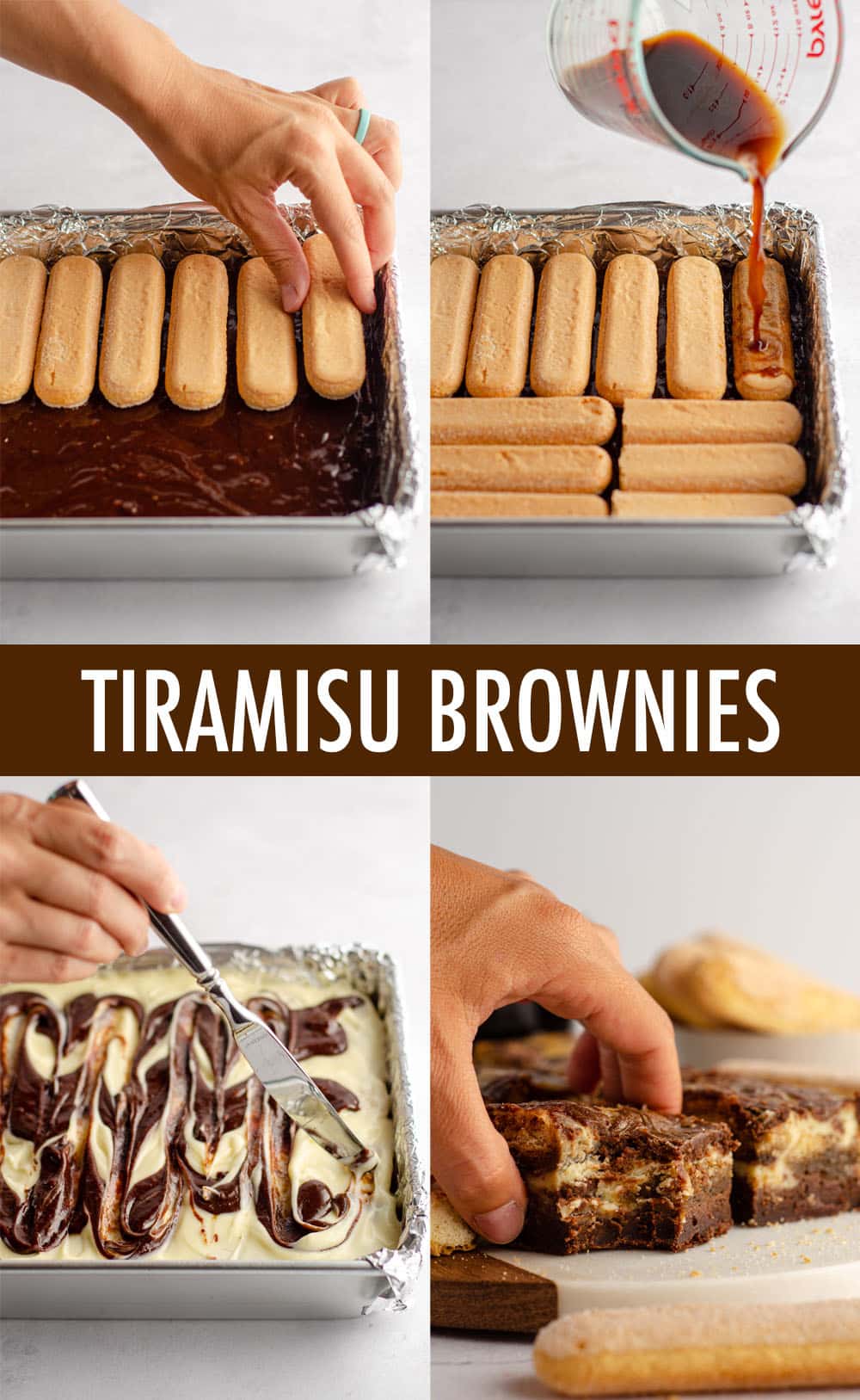 As an Amazon Associate, I earn from qualifying purchases. Read the full disclosure here.
These tiramisu brownies are made with a scratch brownie base, a middle layer of coffee-soaked Ladyfingers, and a top layer of sweetened mascarpone cheese.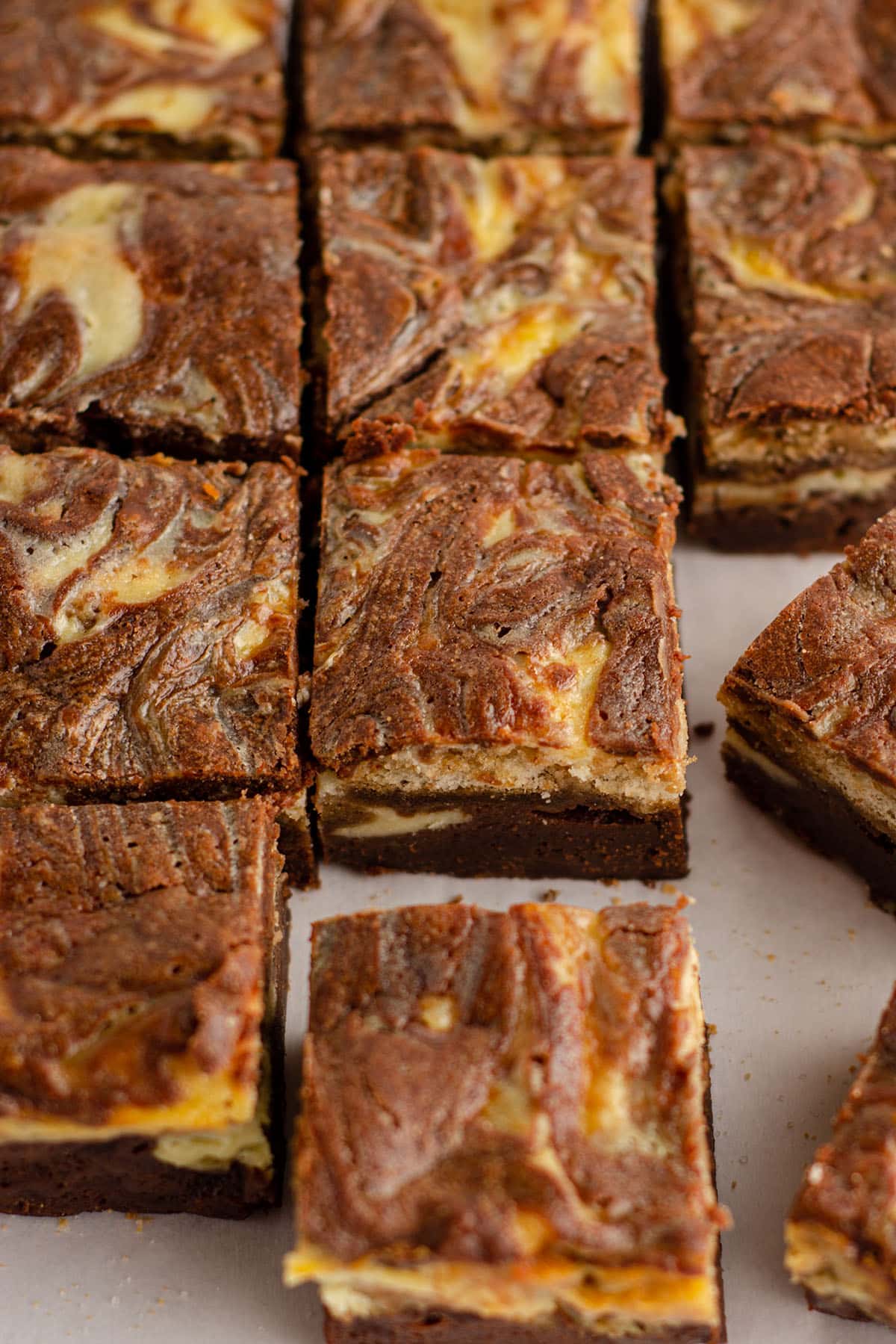 It's that time again, my friends, where I share with you another decadent, chocolatey, gooey, and completely scratch brownie recipe with you, because it's already mid-July and we're halfway through 2020's Brownie of The Month series.
Yet again, 2020 is going at the speed of light yet also slow as molasses because WHAT EVEN IS THIS YEAR and when you measure your months in brownies, things tend to get weird.
Today's recipe is brought to you by my Italian heritage, because we're working with a brownie that's modeled after the classic Italian delicacy tiramisu.
I'll be honest– tiramisu is not something I will typically go for if it's on a dessert menu, but I do, however, enjoy everything it's about.
From the coffee-soaked layers of sponge cake, to the sweetened mascarpone cheese, tiramisu is a heavily coffee flavored dessert, so you know I am ALL about that business (recall I love coffee a whole heck of a lot).
When I set out to make these tiramisu brownies, I didn't want to lose the backbone of the brownies. I wanted them to have the essence of tiramisu without losing the brownie as the hero.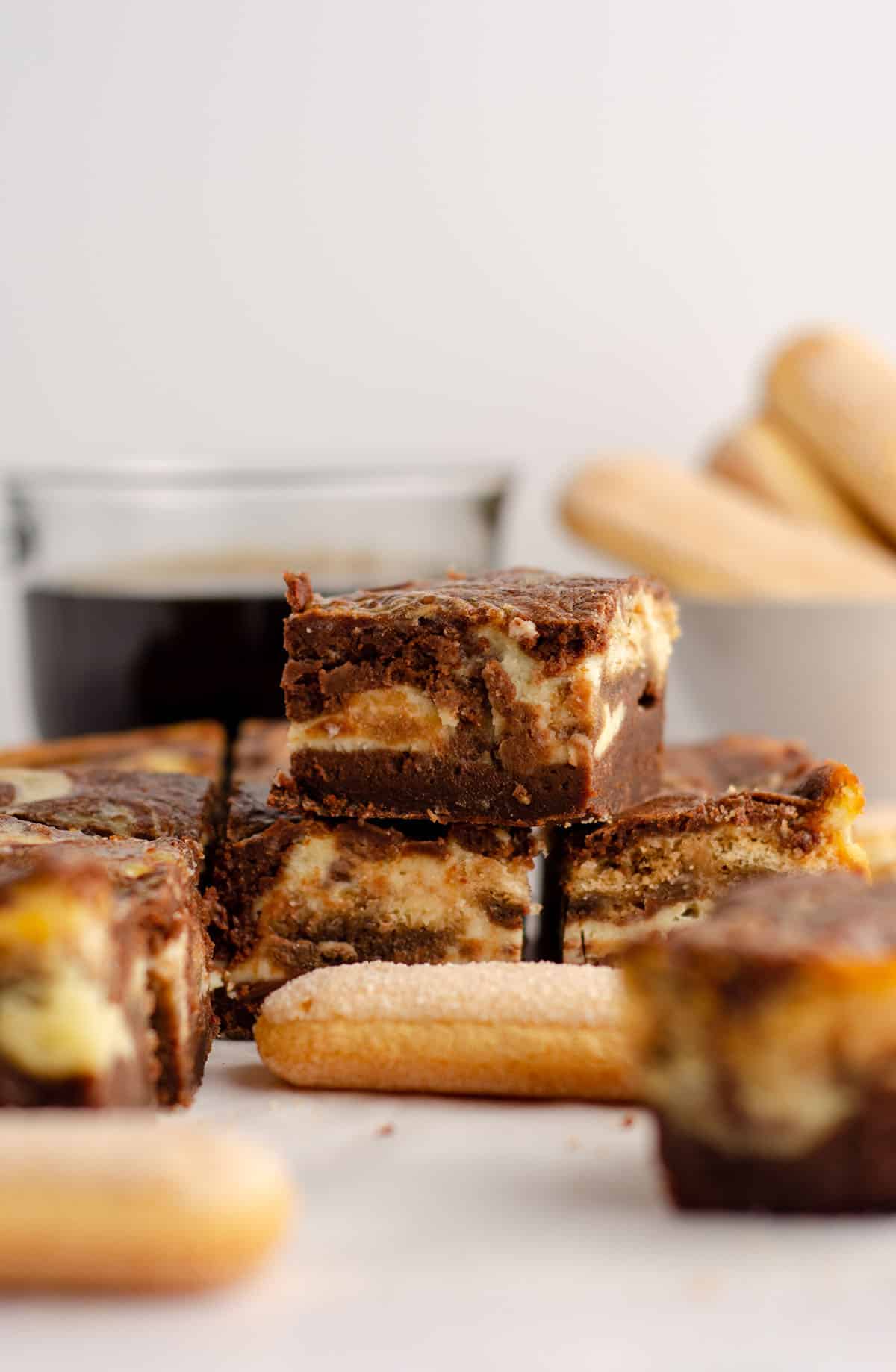 While I considered using my coffee brownies as a starting point, I decided the best way to get the strongest coffee flavor was to create a layer I could soak in strong coffee.
While traditional tiramisu is made with sponge cake, it is often made with Ladyfingers. But until I actually had a box of Ladyfingers open in my kitchen, I didn't actually know what they were.
WHAT ARE LADYFINGERS?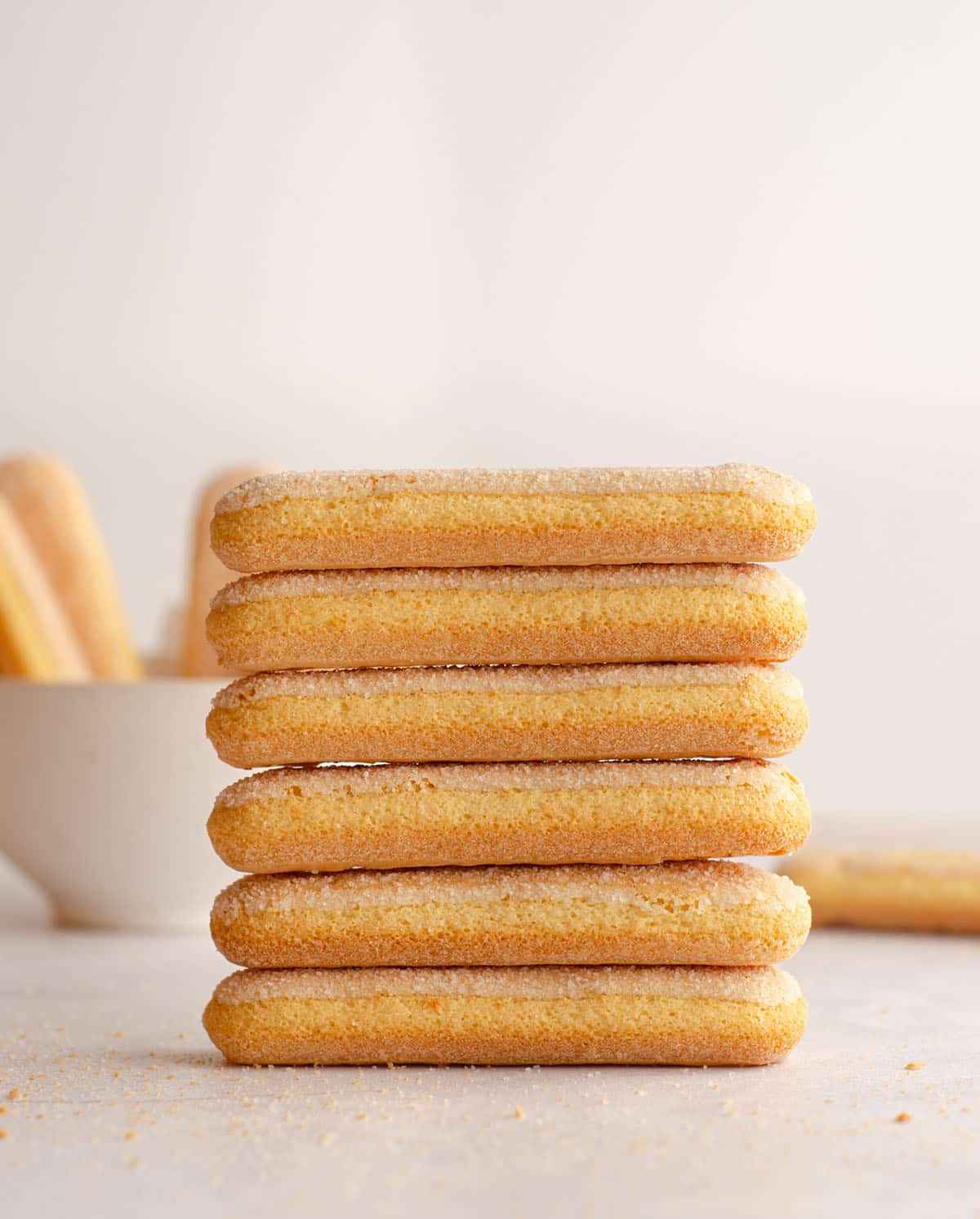 Before I opened the box, I thought that Ladyfingers were a soft, cake-like texture. It turns out they are completely the opposite of that, and they're actually a hard, crunchy, and very light cookie.
Their ability to soak up liquid is impressive, and they turn to the cake-like texture I thought they already were once they've done said soaking.
I poured all but ⅓ cup of brownie batter (more on what I did with it in a bit) into my prepared pan, then layered Ladyfingers on top of that, pressing them in ever-so-slightly.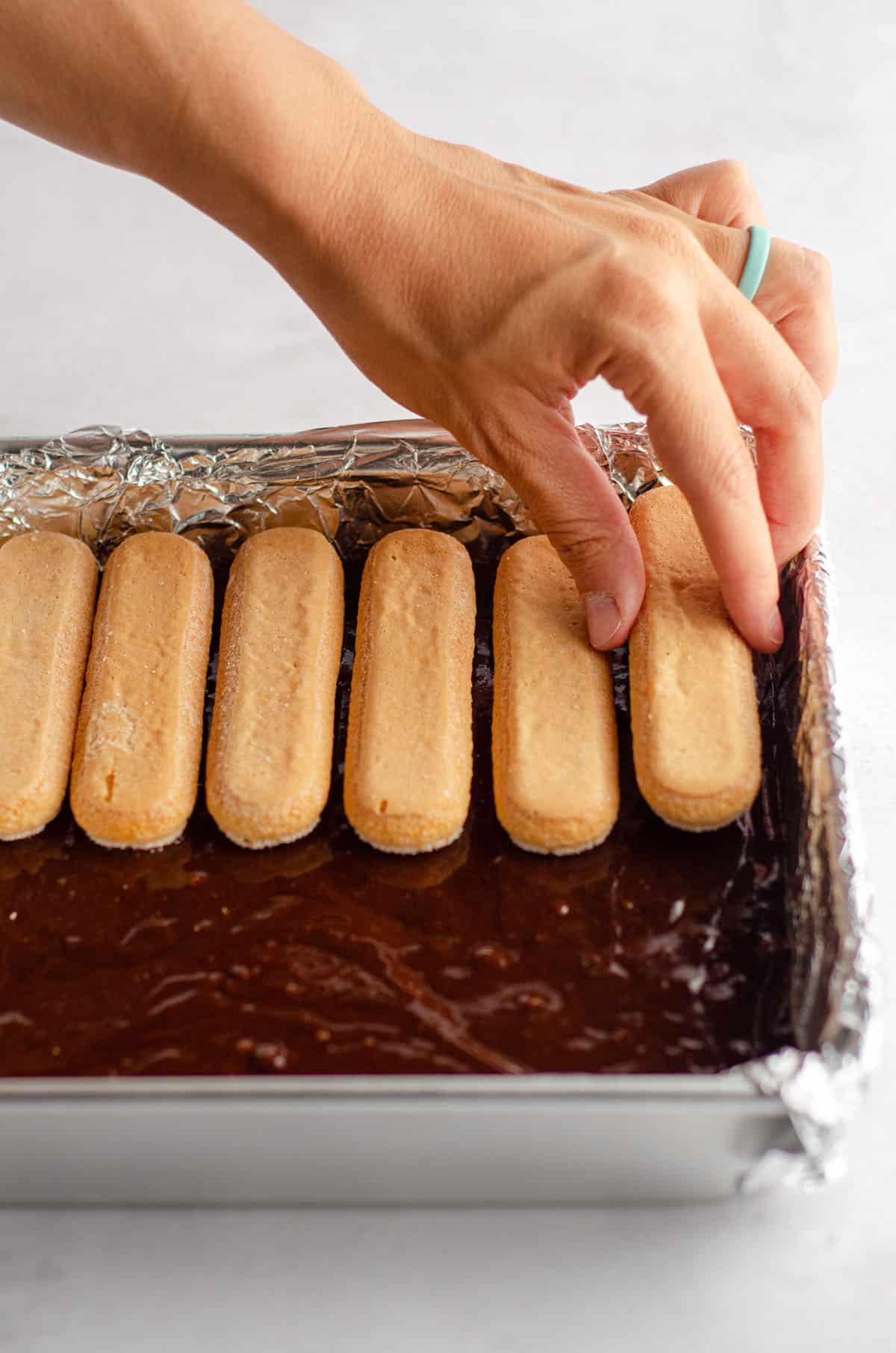 Also, side note, I used one whole sleeve of Ladyfingers (12 cookies). You can see I had to trim off a little bit of three cookies to fit them all, but the arrangement worked out nicely!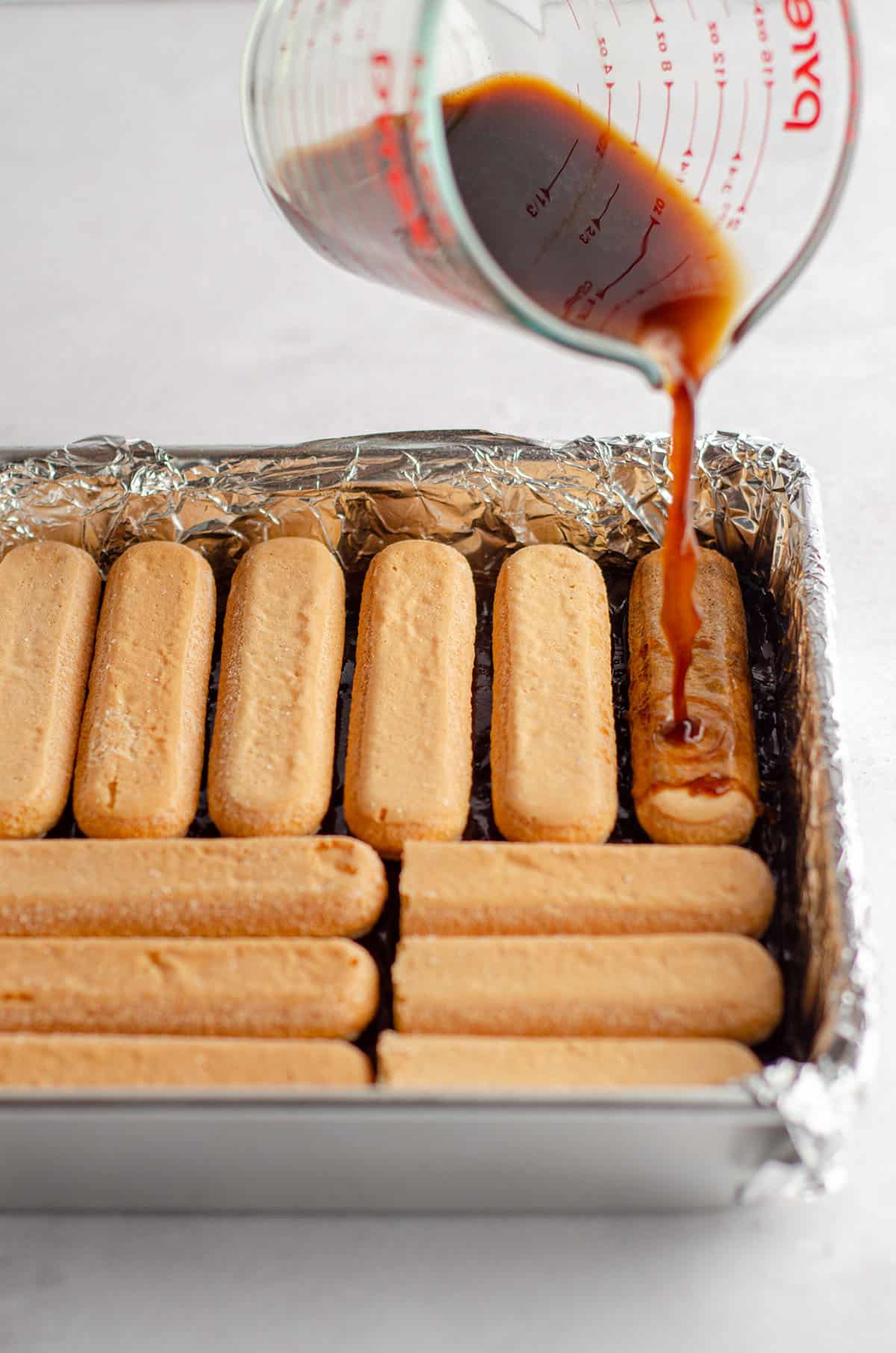 I poured ½ cup of strong coffee on top of the Ladyfingers. They soaked it all right up, which prevented any pools of coffee at the bottom of the brownie pan and also put some intense coffee flavor right up in the middle of these tiramisu brownies.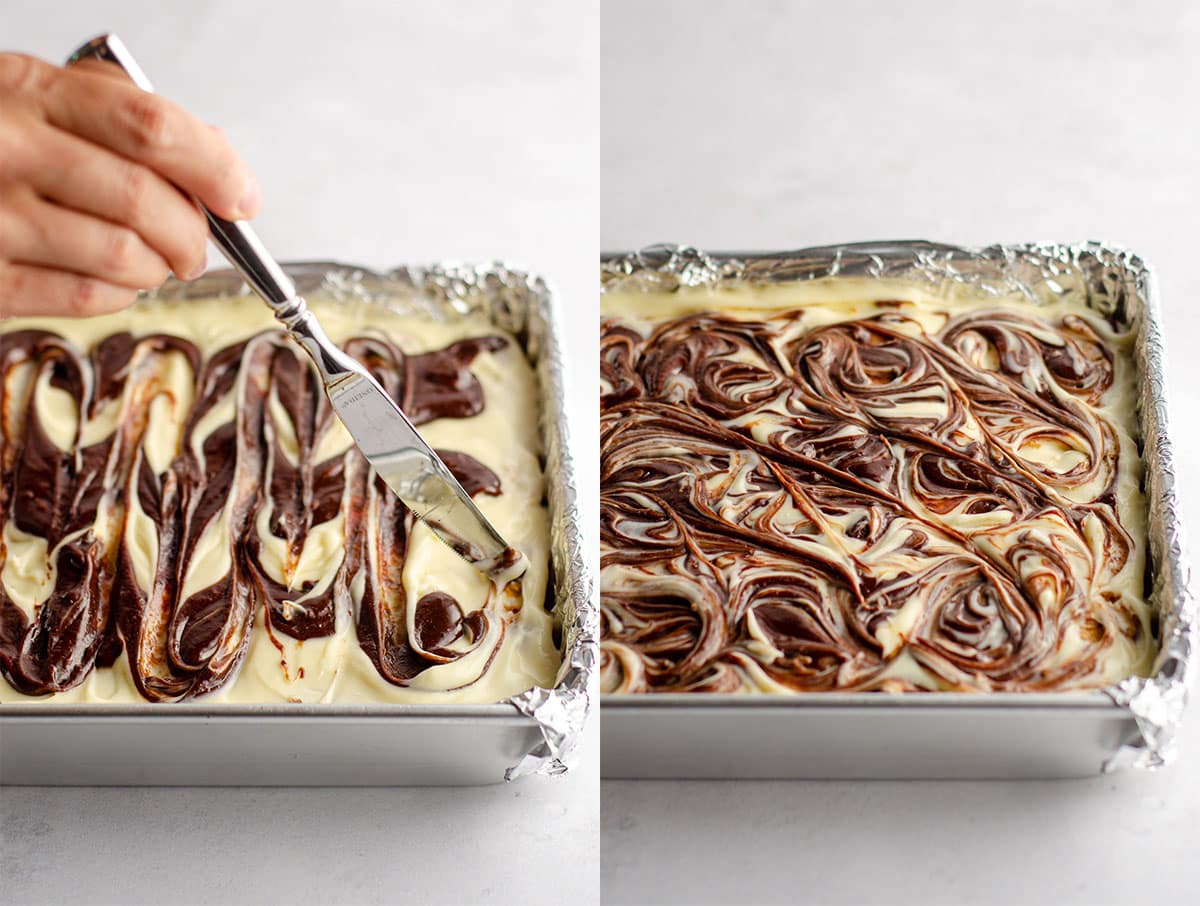 On top of the Ladyfingers, I swirled a layer of sweetened mascarpone cheese with the reserved brownie batter, and the melding of the two batters made the perfect topping for my brownies.
WHAT IS MASCARPONE CHEESE?
At this point, you may be wondering… What in the heck is mascarpone cheese? Believe me, I didn't know what it was until I ventured into a puppy chow recipe in my cookbook, but once I discovered it, I wanted to make all kinds of desserts with it.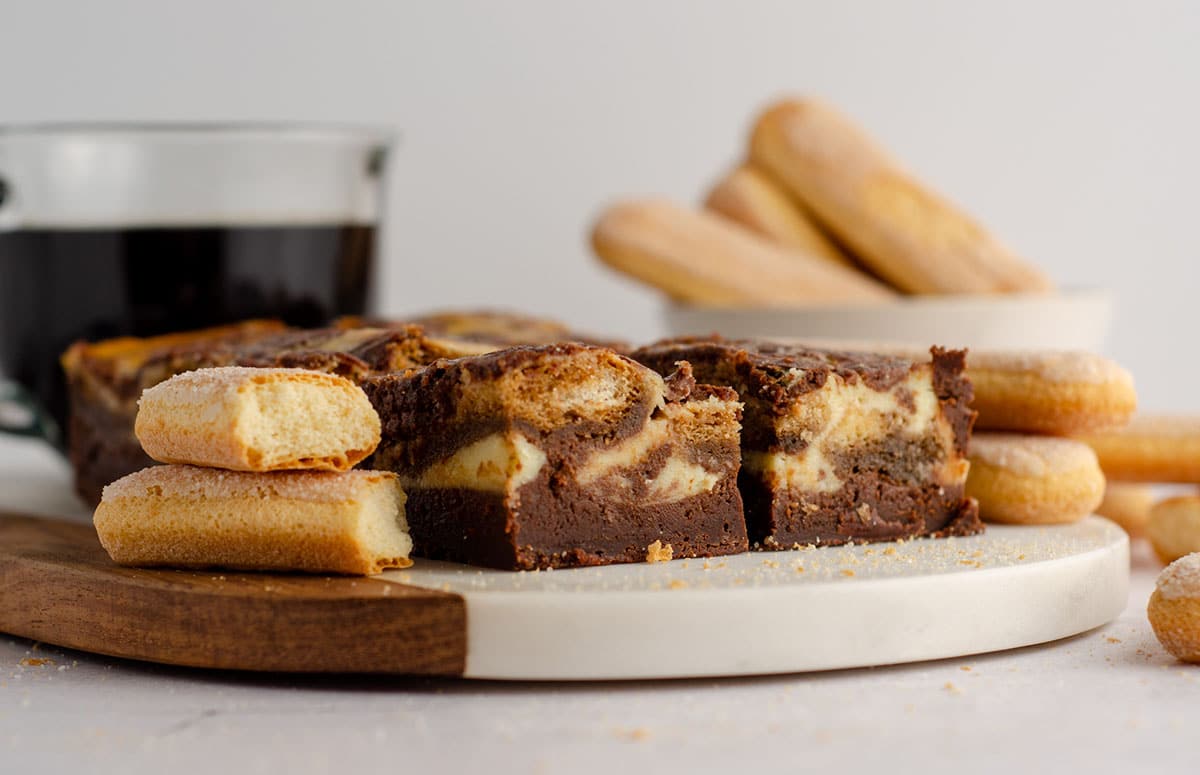 I tend to describe it as a mix between cream cheese and whipped cream. It's smooth and spreadable like cream cheese, but far less tangy, and has a flavor and texture much like unsweetened whipped cream.
It makes for a delectable and more mild replacement for cream cheese without sacrificing the texture and creaminess you'd get with a cream cheese dessert.
While we did keep these brownies in the fridge because of the mascarpone cheese factor, I let each square that I ate sit out for about 15 minutes to come to room temperature before enjoying, and let me tell you what…
…these may be my new favorite brownies.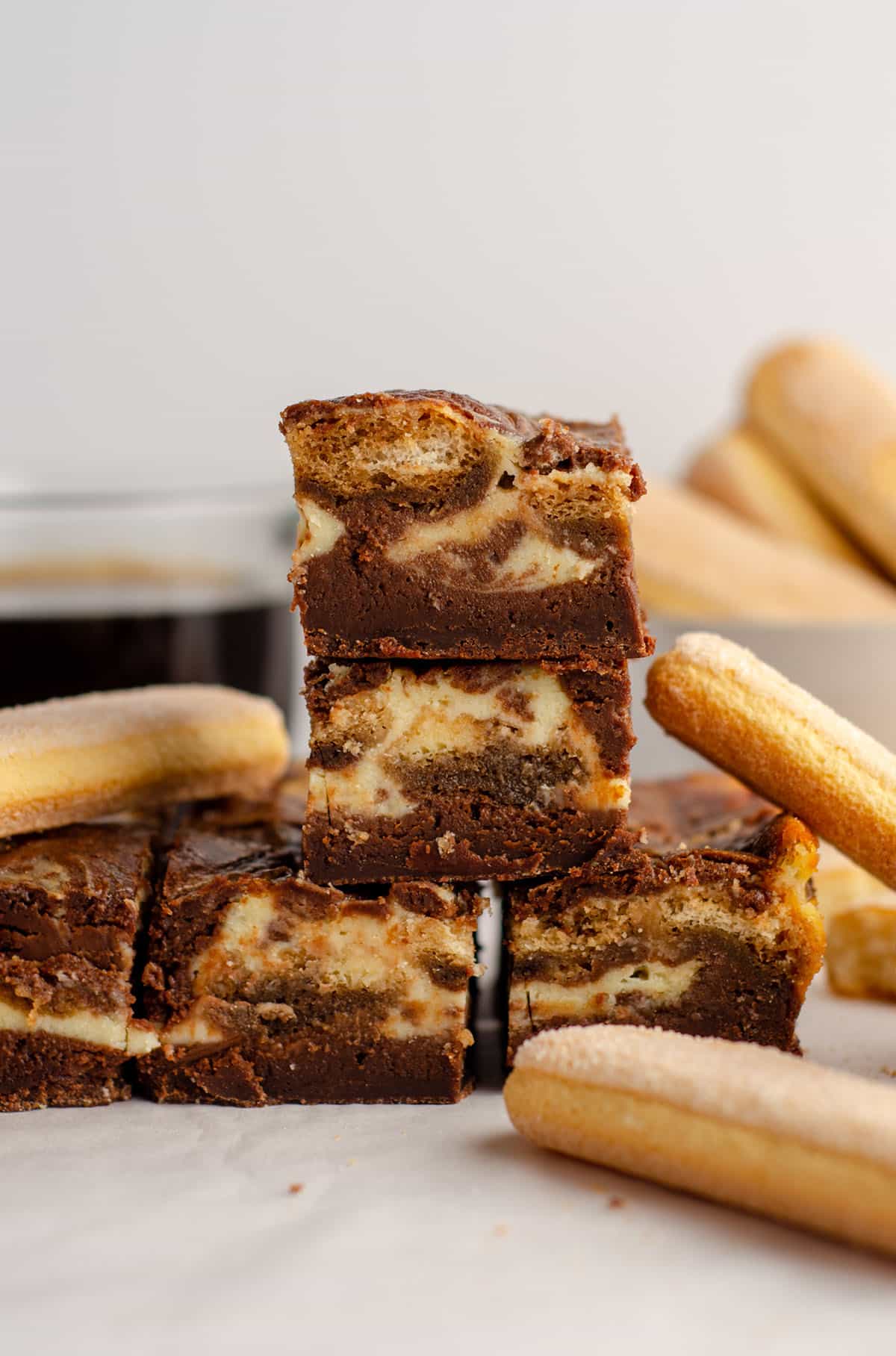 There's no doubt starting with my basic homemade fudgy brownie recipe as a base works in my brownie-loving favor, but the cakey-ness of the Ladyfingers add a whole new dimension to the brownies that are truly a texture lover's dream.
See my homemade fudgy brownies, which is the trusted base recipe for all of my brownies.
I worried that the Ladyfingers would kind of disappear into the brownie batter, but they absolutely did not. It appears using just ½ cup of coffee lent the perfect amount of coffee flavor without disintegrating the integrity of what became the spongy Ladyfinger layer.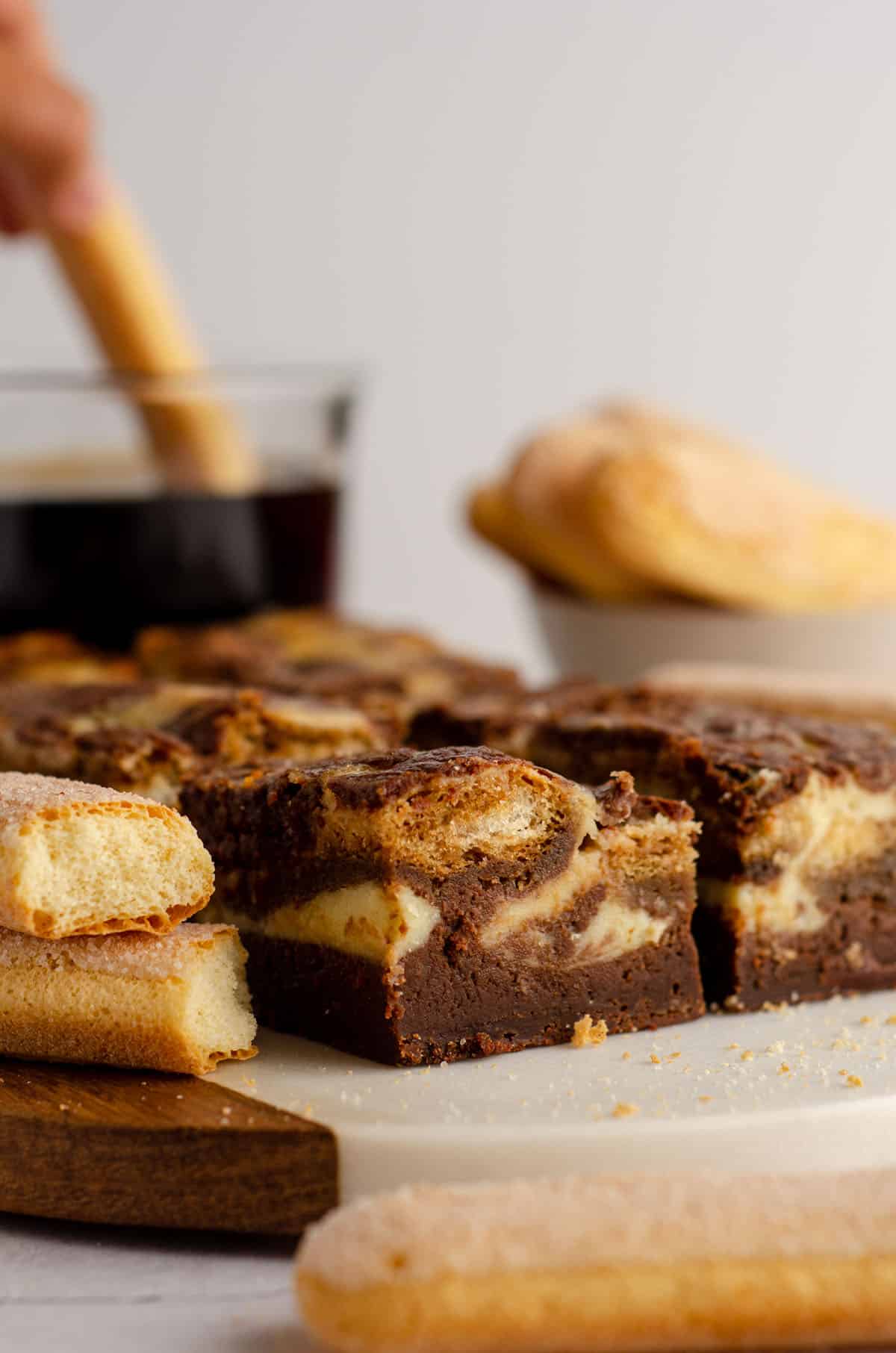 The swirled mascarpone cheese + brownie batter topping brings creaminess and a third dimension to cultivate the perfect brownie to celebrate all the things we love about tiramisu without actually being tiramisu.
It's almost like a modern tiramisu recipe, like a variation on a theme or a remix. No layering of soaked cookies, no whipping of any creams (not that I have anything against either of these things!)… Just my fav brownies with some extra special layers.
I know it's hot, but these tiramisu brownies are worth turning on the oven. I promise.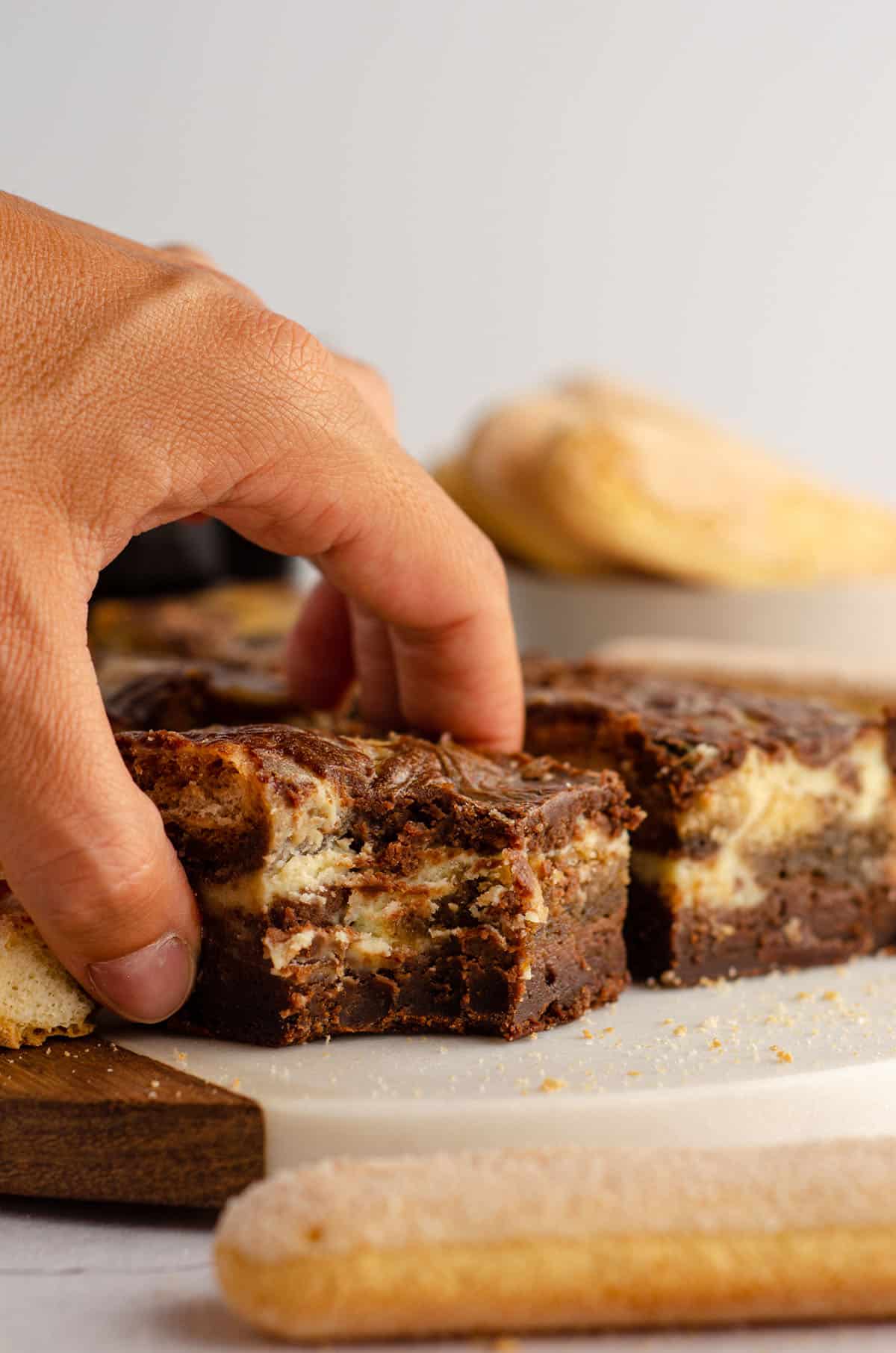 Salute!
Tiramisu Brownies
These tiramisu brownies are made with a scratch brownie base, a middle layer of coffee-soaked Ladyfingers, and a top layer of sweetened mascarpone cheese.
Ingredients
BROWNIES
½

cup

(113g) unsalted butter

cut into 6-8 slices

8

ounces

(227g) semi-sweet chocolate

coarsely chopped

¾

cup

(150g) firmly packed brown sugar

¼

cup

(50g) granulated sugar

3

large eggs room temperature preferred1

1

teaspoon

vanilla extract

¾

cup

(90g) all-purpose flour be sure to measure properly

¼

teaspoon

salt
MASCARPONE LAYER
8

ounces

(226g) mascarpone cheese

softened to room temperature

¼

cup

(50g) granulated sugar

1

large egg

room temperature preferred*

¼

teaspoon

salt
LADYFINGER LAYER
12

Ladyfingers

½

cup

(120g) strong brewed coffee
Instructions
BROWNIE LAYER
Preheat the oven to 350ºF (177ºC). Line an 8" square baking pan with foil and spray with nonstick spray. Set aside.

In a medium saucepan over medium heat, melt the butter and chopped chocolate, stirring frequently until completely smooth. Allow mixture to cool while you move onto the mascarpone layer.
MASCARPONE LAYER
In a medium size bowl with a handheld mixer or the bowl of a stand mixer fitted with the paddle attachment, beat the softened mascarpone cheese, sugar, egg, and salt until completely smooth.
FINISH THE BROWNIE LAYER
Whisk sugar into cooled chocolate mixture until combined. Add the eggs one at a time, whisking after each addition until smooth. Whisk in the vanilla. Add the flour and salt and stir gently until completely combined.

Reserve ⅓ cup of the batter and set aside.
ASSEMBLE BROWNIES
Pour the remaining brownie batter into the prepared pan.

Press each individual Ladyfinger cookie upside down into the brownie batter. See post narrative for a visual.

Once you have placed all 12 Ladyfinger cookies, pour the brewed coffee evenly over the Ladyfingers.

Working quickly because the Ladyfingers will become quite soft, pour the mascarpone layer on top of the Ladyfingers and, using a spatula, carefully spread the layer and cover all exposed cookies.

Drop spoonfuls of the reserved brownie batter on top of the mascarpone cheese layer and use a knife to create swirls by dragging it through the batter.

Bake brownies for 38-42 minutes or until a toothpick inserted in the center comes out mostly clean. Allow brownies to cool completely before cutting into squares. Store brownies covered in the refrigerator up to 1 week or in the freezer up to 2 months.
Nutrition Disclosure
All nutritional values are approximate and provided to the reader as a courtesy. Changing ingredients and/or quantities will alter the estimated nutritional calculations.
Serving:
1
brownie
|
Calories:
328
kcal
|
Carbohydrates:
34
g
|
Protein:
5
g
|
Fat:
19
g
|
Saturated Fat:
11
g
|
Polyunsaturated Fat:
1
g
|
Monounsaturated Fat:
4
g
|
Trans Fat:
0.2
g
|
Cholesterol:
89
mg
|
Sodium:
114
mg
|
Potassium:
131
mg
|
Fiber:
1
g
|
Sugar:
22
g
|
Vitamin A:
488
IU
|
Calcium:
50
mg
|
Iron:
2
mg