Chocolate Raspberry Goat Cheese Cheesecakes (For 2!)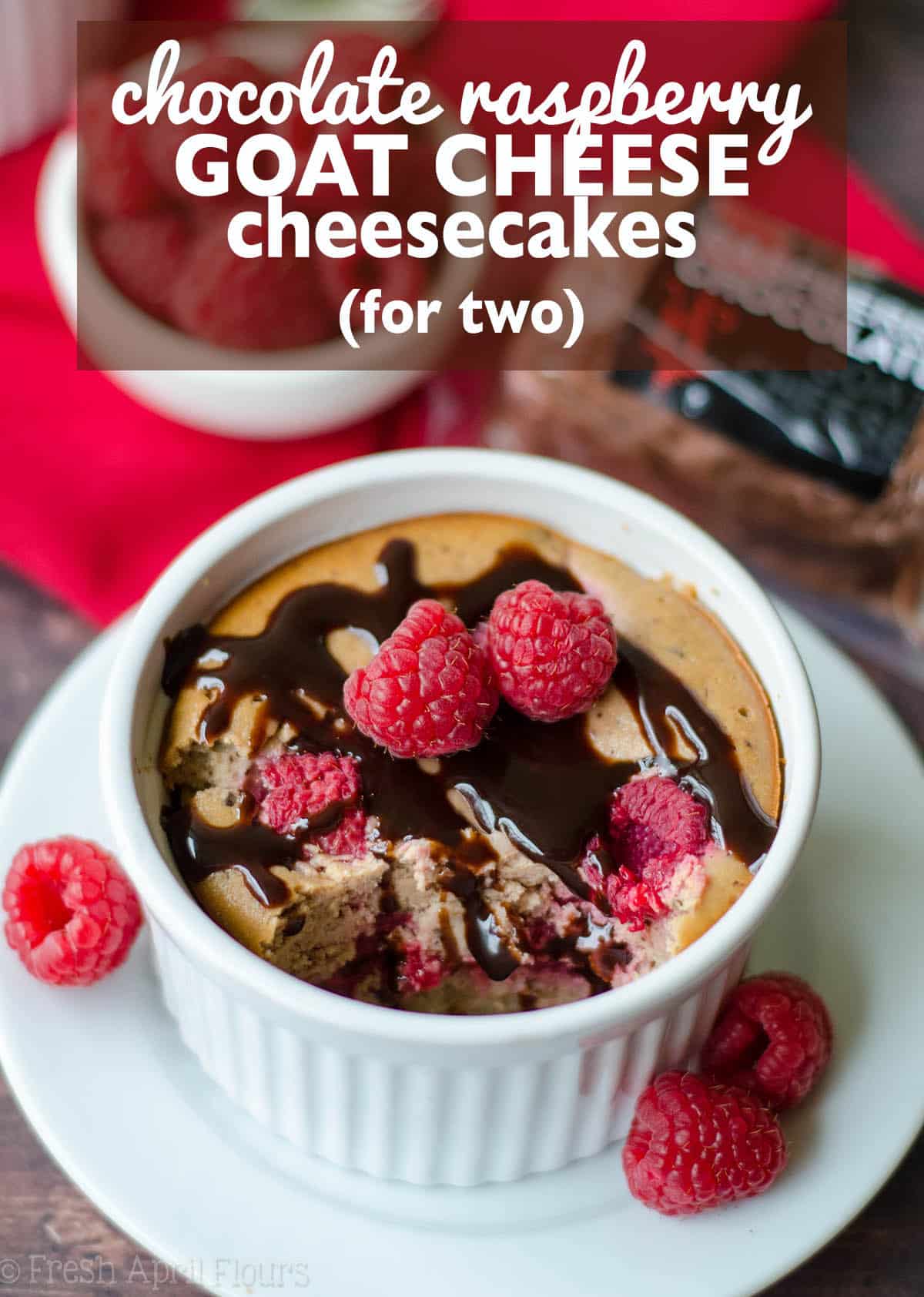 As an Amazon Associate, I earn from qualifying purchases. Read the full disclosure here.
Simple, personal sized, gluten free cheesecakes made with chocolate raspberry goat cheese and fresh raspberries.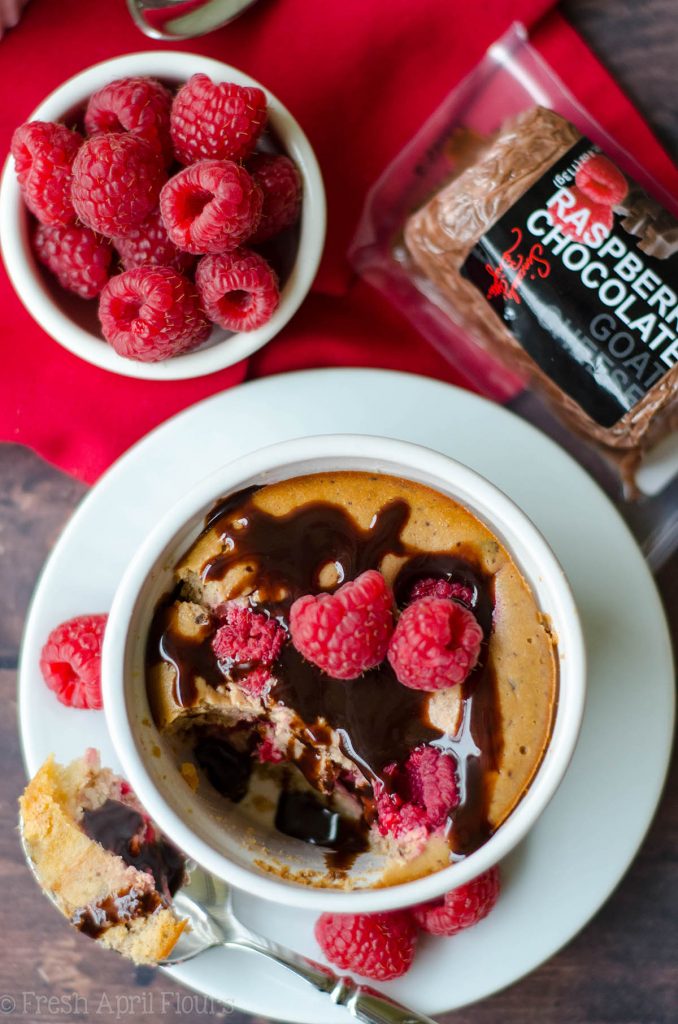 I'm sorry, can I just pause for one second and take a moment to point out anything that begins with drippy chocolate syrup has got to be fantastic? Don't say you don't agree!!
Today's recipe is brought to you by this whole month of loveeeeee. Love and cheese. And chocolate. That's all a girl really needs, right?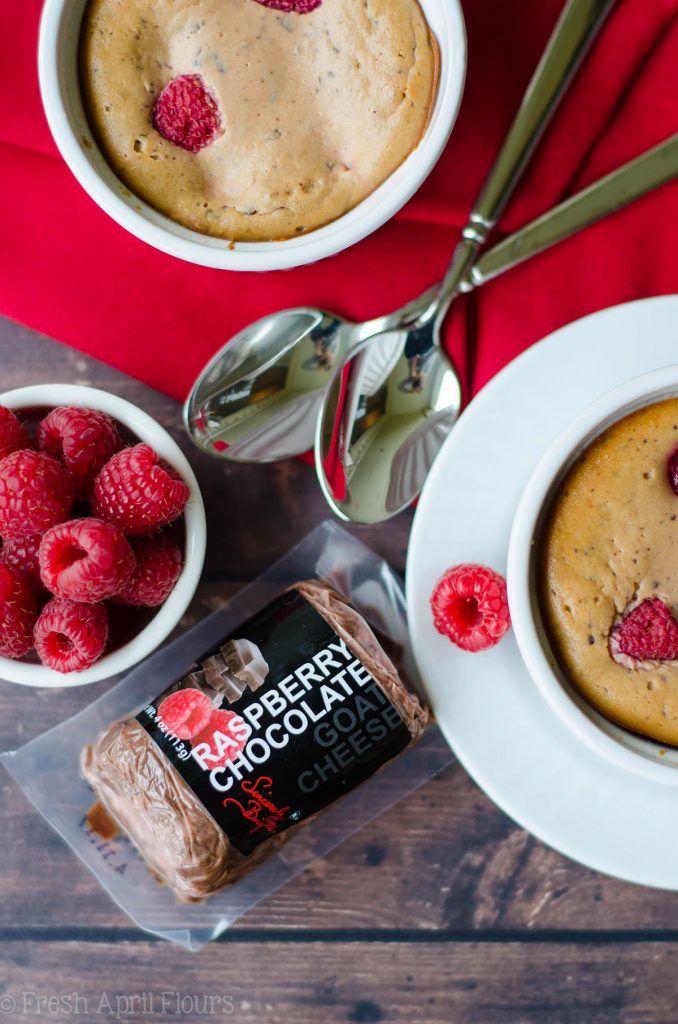 If you recall from our outrageously awesome cookie party, my friends at Sincerely, Brigitte came out with a new line of goat cheese in 2016. I used their maple pecan goat cheese to make some out-of-this-world sugar cookies, and I'm back at it again with another dessert thanks to the decadent raspberry chocolate flavor.
I truly could (and quite honestly HAVE) eat this goat cheese straight up.
I don't even need any crackers or pretzels or really anything but a spoon. Or just fingers, if we aren't worried about keeping it classy.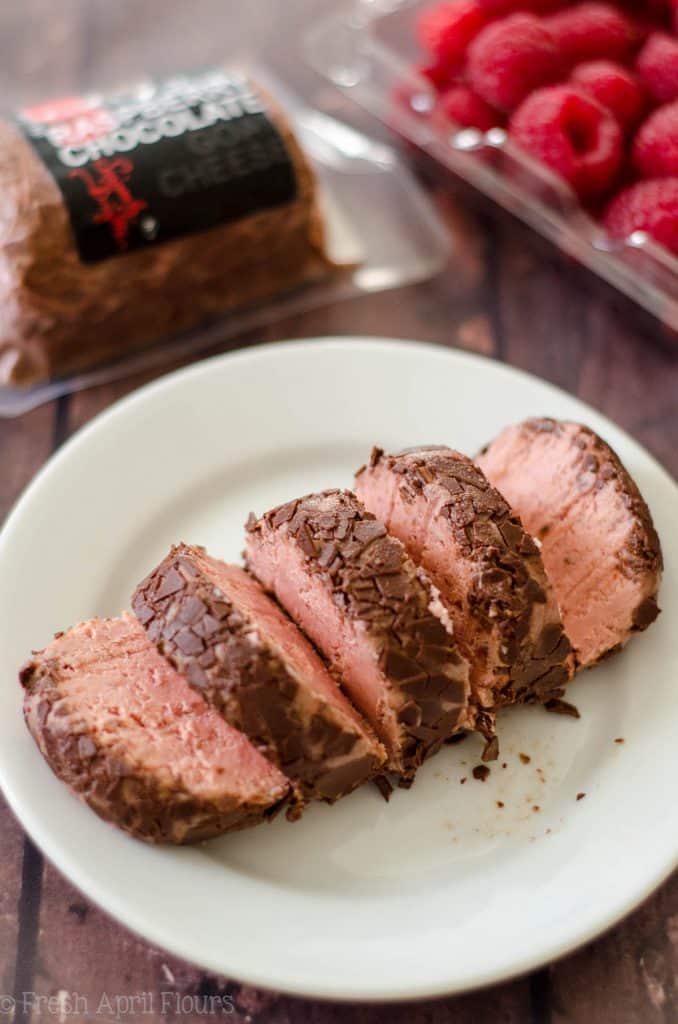 Since I've actually never attempted a whole cheesecake before (I know, I'm a disgrace to bakers everywhere!!), I didn't want to commit to an entire cheesecake with a non-traditional ingredient right off the bat. I figured keeping it small scale would be a good place to start, plus, a dessert for 2 is perfect for February because: one for you, one for your sweetie!
While these cheesecakes are certainly cheesecakes in every sense of the word, they're certainly not labor intensive at all. They're really quite easy, and I think if you haven't attempted a whole cheesecake yourself, this is the perfect way to get your cheesecake feet wet without feeling too overwhelmed.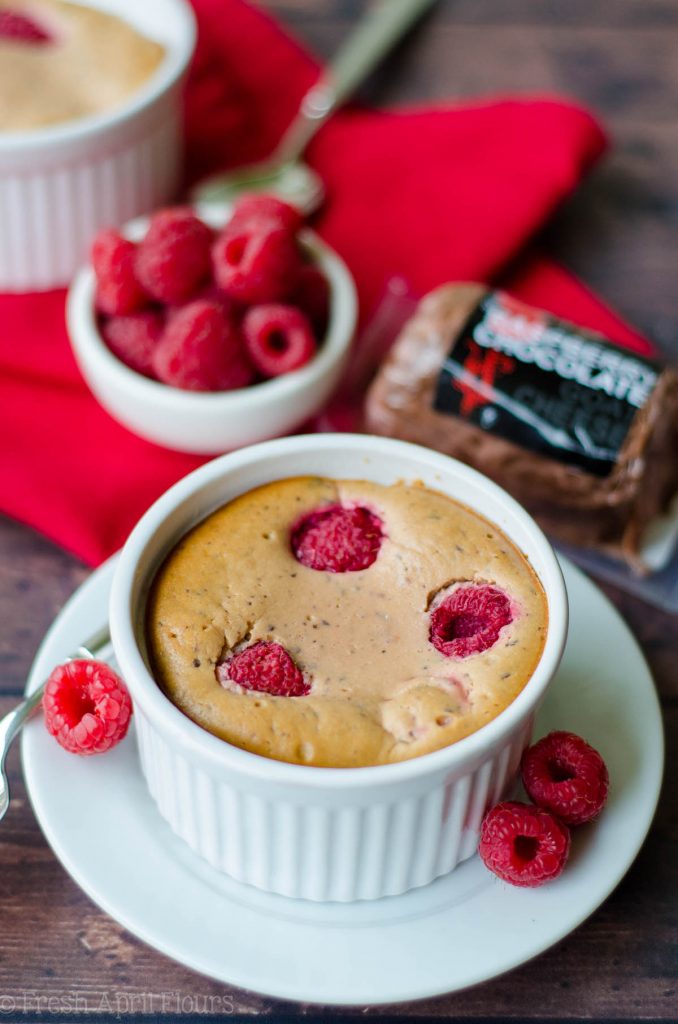 So let's start with the crust for these chocolate raspberry goat cheese cheesecakes. Simple: almond flour, sugar, a pinch of salt, and some butter.
Easy, right?
Also gluten free!
If you're not worried about gluten, you don't have almond flour, or you just would rather stick to a graham cracker crust, go for it. You'll do a 1:1 sub of graham cracker crumbs to almond flour. Note in the recipe below.
You'll press this crust mixture into the bottom of two 6oz ramekins, then bake them for about 10 minutes. This will get them nice and sturdy and also give a little "toast" to the crust. Nothing too intense, just enough to give our creamy cheesecakes a tasty base to sit on.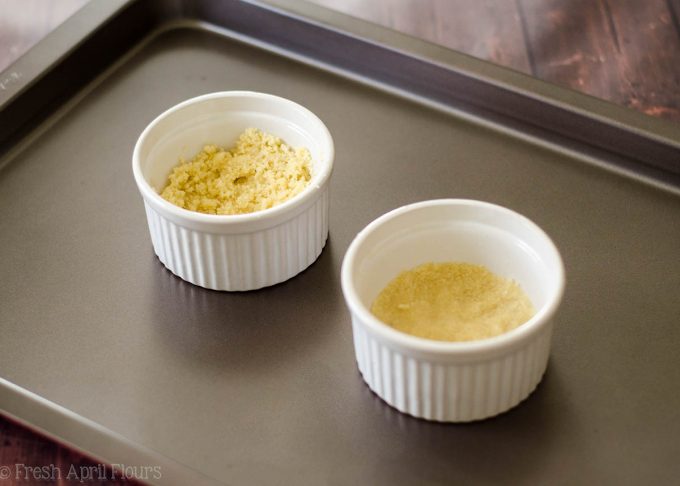 While your crusts cool, you can work on your equally simple filling. Instead of cream cheese like you'd find in a traditional cheesecake, you'll start with 4oz of raspberry chocolate goat cheese for these cuties. In fact, no cream cheese at all here. We're working strictly with that tangy, flavorful goat cheese.
A little sugar to sweeten things up, some yogurt for texture and "glue," a little vanilla for pizzaz, an egg to bind it all together, and then fresh raspberries to dot the insides and make for some beautiful red raspberry pockets.
Psssst, save some raspberries for the tops of the cheesecakes before the oven! So pretty!!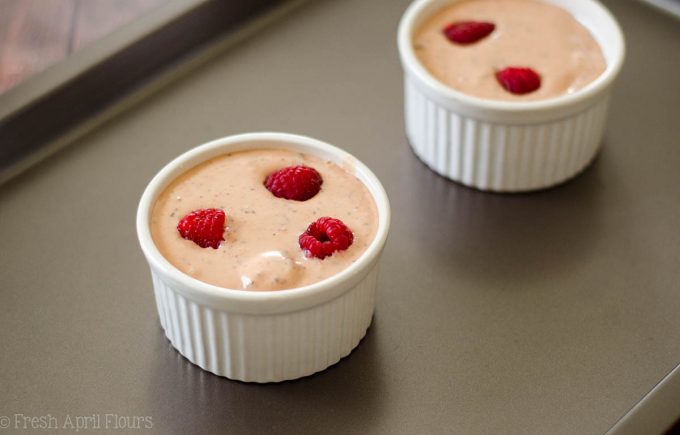 Once your cheesecakes are finished in the oven, they will need to cool to room temperature and then chill in the fridge for at least 4 hours. This is truly the hardest part of the whole recipe. But it also gives you an "easy" factor: make them up on Sunday and you've got Valentine's Day dessert ready for Tuesday!
While you're welcome to serve these however you see fit, I saw sticky, drippy chocolate syrup to be the best fit for our cheesecakes, and I urge you to do the same. Remember what I said? Anything that starts with chocolate syrup has got to be a winner?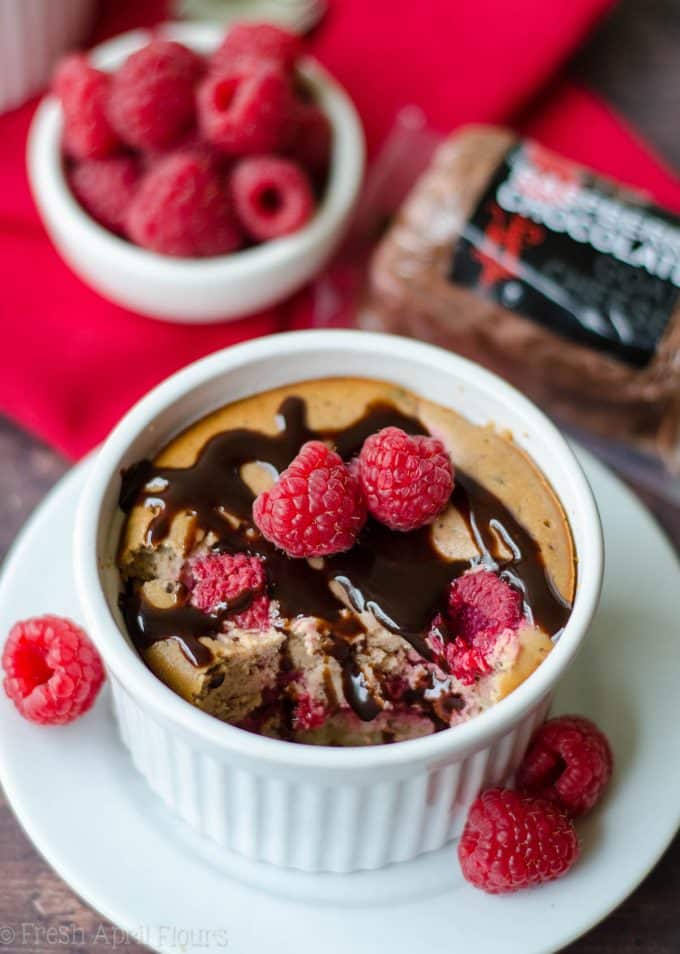 And a winner, indeed, my friends. I was quite pleased with how flavorful these cheesecakes were without being overpowered by raspberry or chocolate flavor. The sweetness of the chocolate and tartness of the raspberries make wonderful complements to the tang of the goat cheese. The texture is creamy, studded with juicy raspberries, and the buttery almond crust make for an extra level of flavor and subtle crunch.
If you're looking for a dessert that is small batch and might even look pretty impressive to whomever you're willing to share it with, this is it, folks. Your sweetie will appreciate you even more after he/she thinks you slaved over these gorgeous cheesecakes, and you'll feel great about the whole thing knowing you spent an entire 20 minutes on it all.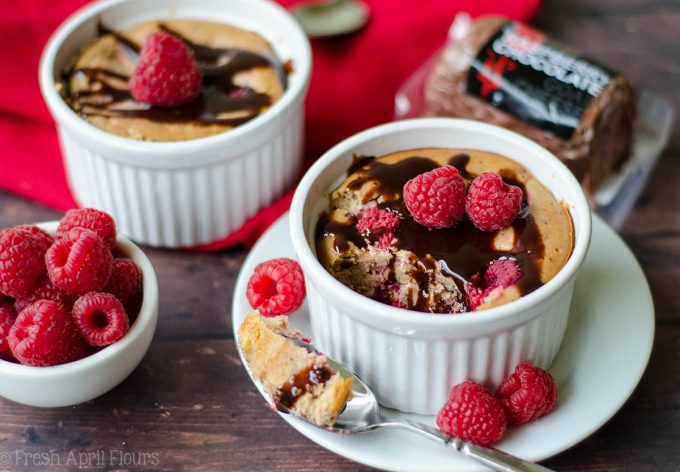 Easy on the eyes, easy to eat, and easy peasy to throw together? I think we all can agree this is a dessert to love with all of our (goat) cheesy hearts this Valentine's Day!
Chocolate Raspberry Goat Cheese Cheesecakes
Simple, personal sized, gluten free cheesecakes made with chocolate raspberry goat cheese and fresh raspberries.
Servings:
2
small cheesecakes
Ingredients
CRUST
5 and 1/2

Tablespoons

almond flour1

1

Tablespoon

granulated sugar

pinch of salt

1

Tablespoon

unsalted butter

melted
FILLING
4

ounce

chocolate goat cheese

softened to room temperature

1

Tablespoon

granulated sugar

2

Tablespoons

plain Greek yogurt

any fat content2

1/8

teaspoon

vanilla extract

1

large egg

1/2

cup

fresh raspberries3
Instructions
CRUST
Preheat the oven to 350ºF. Spray two (2) 6 ounce ramekins with non-stick spray. Set aside.

In a small bowl, combine almond flour, sugar, and salt. Drizzle melted butter over the mixture then blend with a fork until completely combined.

Pour crust mixture into prepared ramekins. Using your fingers or a spoon press the mixture firmly into the bottom of each ramekin.

Place the ramekins on a baking sheet and bake in the oven for 10 minutes, or until lightly browned. Remove from the oven and allow to cool while you prepare the filling.
FILLING
In a medium size bowl with a handheld mixer, or the bowl of a stand mixer fitted with the paddle attachment, beat the goat cheese on medium speed until smooth. Add the sugar, yogurt, and vanilla extract and beat again until smooth. Scrape down the sides and bottom of the bowl with a spatula, add the egg, and beat one more time on medium speed until everything is incorporated. Carefully fold in the raspberries with a spatula, reserving a few for the tops of each cheesecake.

Pour the cheesecake filling into each ramekin. Drop 2-3 raspberries into the tops of each cheesecake. Bake cheesecakes on the baking sheet for 25-27 minutes until just set. The middles may still look wet, but should not jiggle. Allow cheesecakes to cool to room temperature, then allow to chill in the refrigerator for at least 4 hours. Serve with chocolate syrup and more fresh raspberries, if desired. Cheesecakes stay fresh covered in the refrigerator up to 4 days. Cheesecakes may be frozen, covered tightly, up to 2 months. Thaw in refrigerator overnight.
Notes
If you aren't worried about a gluten free treat, you may substitute almond flour for equal parts graham cracker crumbs.
You may also use sour cream.
You may use frozen raspberries. Do not thaw.
Nutrition Disclosure
All nutritional values are approximate and provided to the reader as a courtesy. Changing ingredients and/or quantities will alter the estimated nutritional calculations.