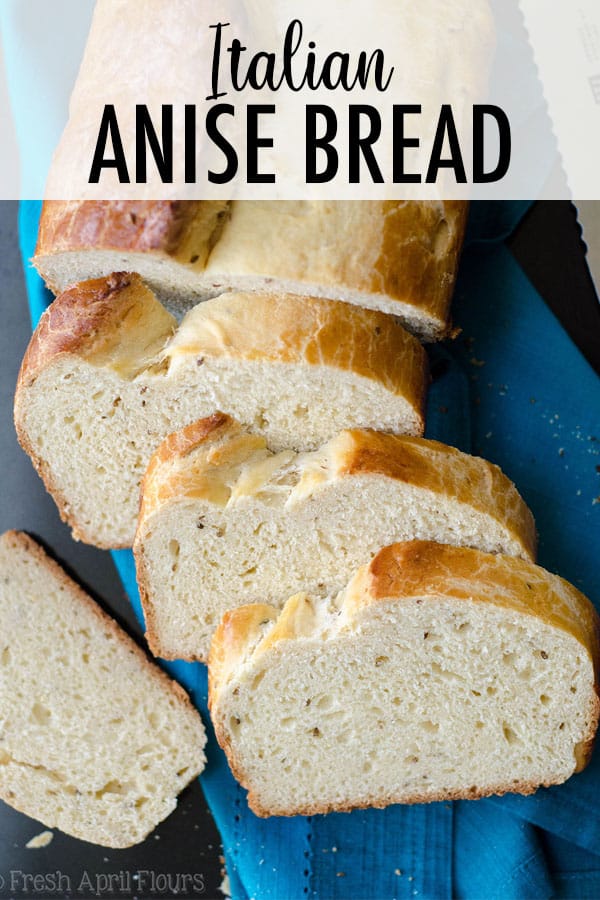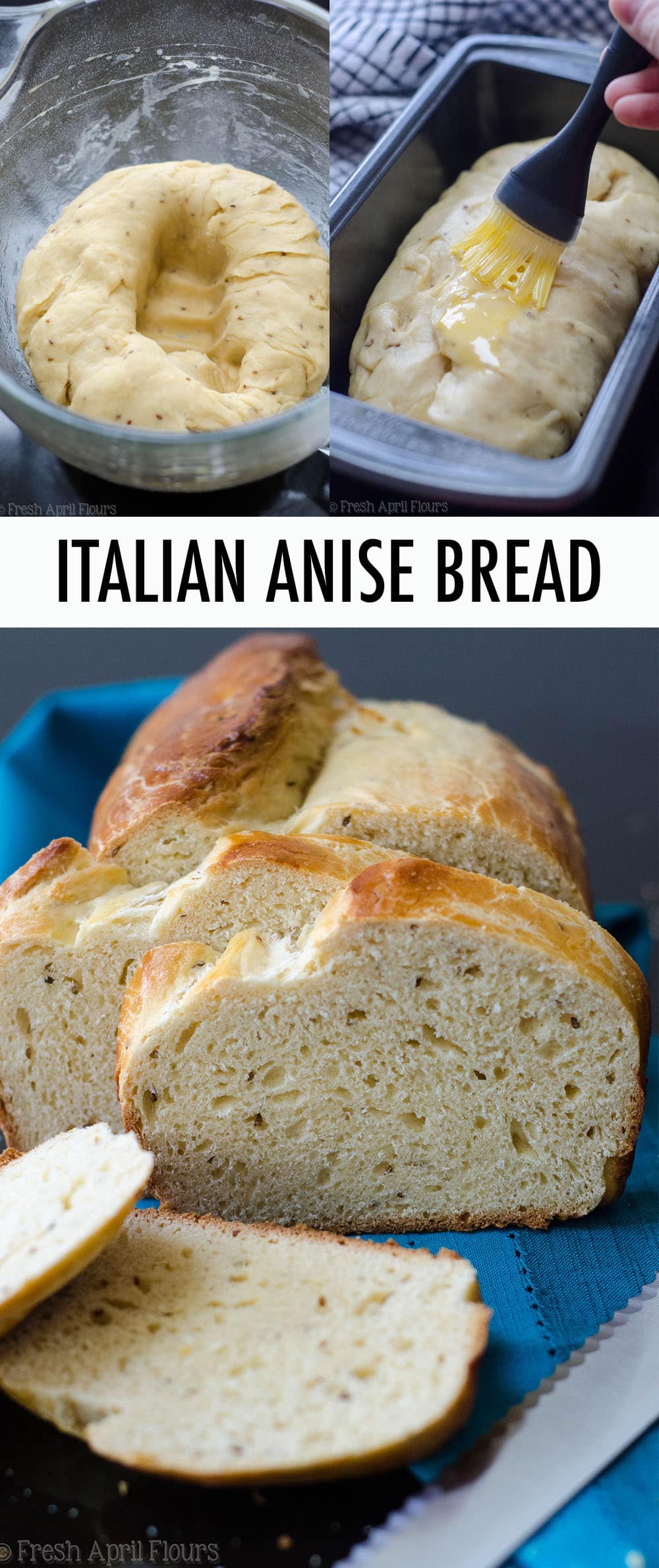 As an Amazon Associate, I earn from qualifying purchases. Read the full disclosure here.
A sweet yeast bread with a tender crumb, flavored with anise extract and dotted with anise seeds.
My dear readers– this post is a long time coming. And I mean longggg time. And I'm so glad to finally be bringing it to you today, probably at least 3 years later than I should have.
You see, almost 4 years ago, I posted my very first recipe here on Fresh April Flours.
That recipe was my grandmother's Easter bread (also known in my family as Easter Pizza), and it's always been a winner recipe, but the post? YIKES. Like super yikes. First of all, I had no clue what I was doing as far as food photography goes.
I mean, they're not the worst pictures, but I have come a long way since I first took some weird angled photos with my first DSLR.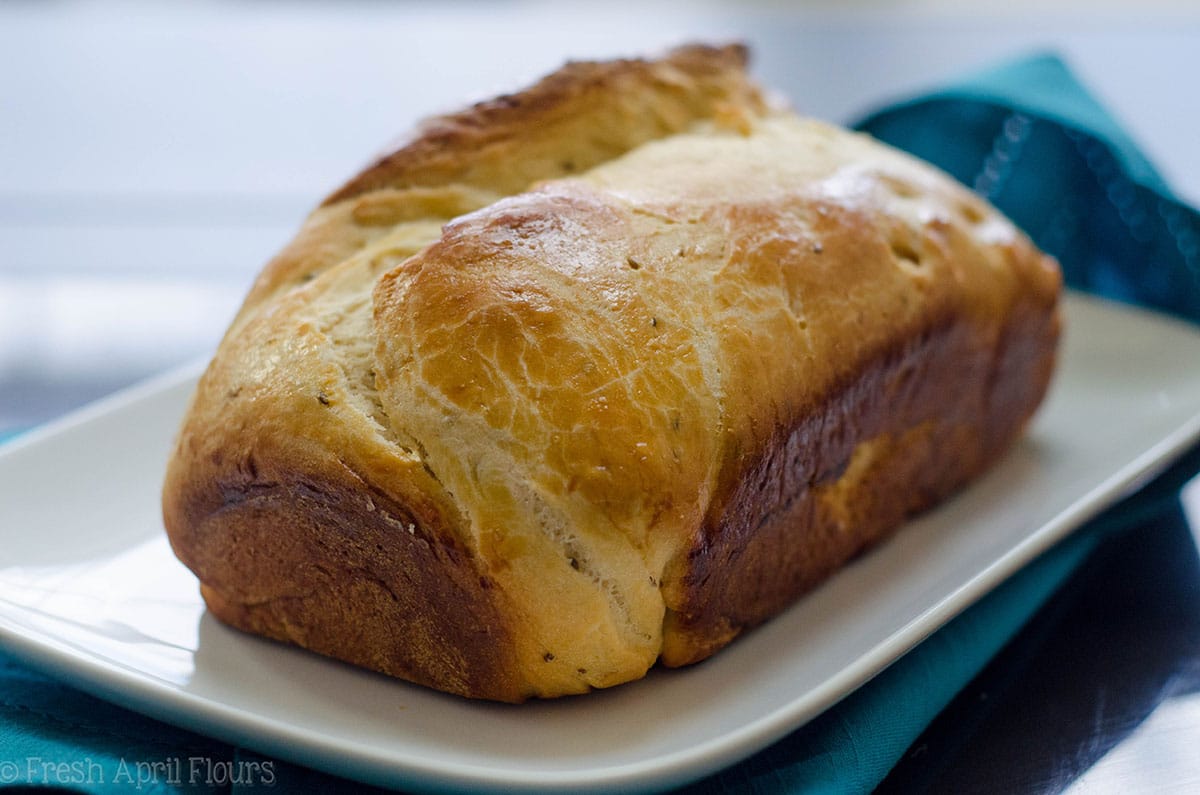 Second of all, have you ever seen a more SEO un-friendly recipe title? I called it "DeAngelis Family Easter Pizza." It says literally nothing about what it actually is, except something to do with Easter, but the rest of the name?
No. Just… No.
That may be what my family calls it, but my readers and other bakers on the interwebs… Yeah. No one is ever finding that recipe.
Actually, it's been viewed more times than I thought it would have been, but elsewhere (Pinterest, Facebook, Instagram) it is slacker city. Let's change that, shall we?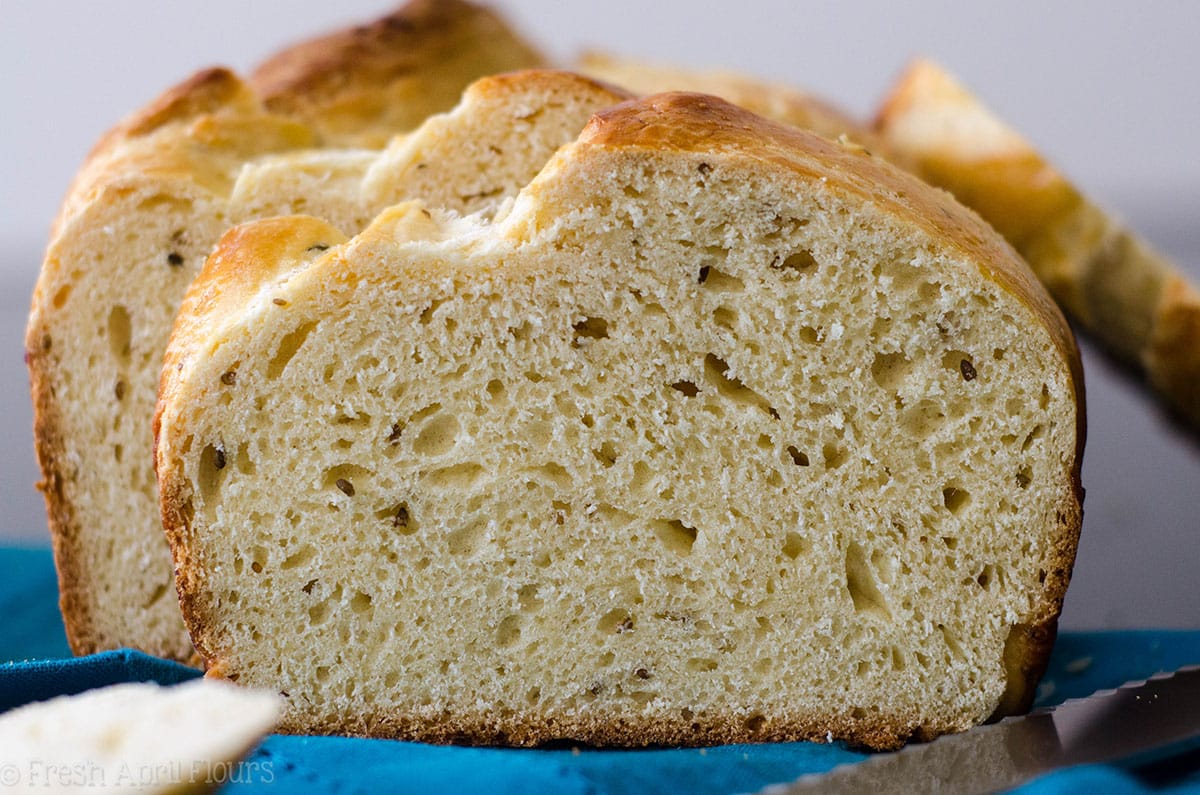 I present you… Italian anise bread. And!! Bonus!! I've managed to reduce this recipe to make just one loaf (my grandmother's OG makes 2).
Of course, having two loaves of this amazingly soft and pillowy bread spiced with anise isn't the worst problem to have, but I did want the versatility of just one loaf. Doubling the recipe is super easy.
So let's get one thing straight: if you're thinking "anise? Like licorice?" put that thought away now. Yes, anise is the spice that gives black licorice its signature deep spicy taste, but I will tell you this…
This bread is not that. I promise you.
I actually despise black licorice so much that I refuse to let Matt near me when he eats the black jelly beans or Good N Plenty because GAG.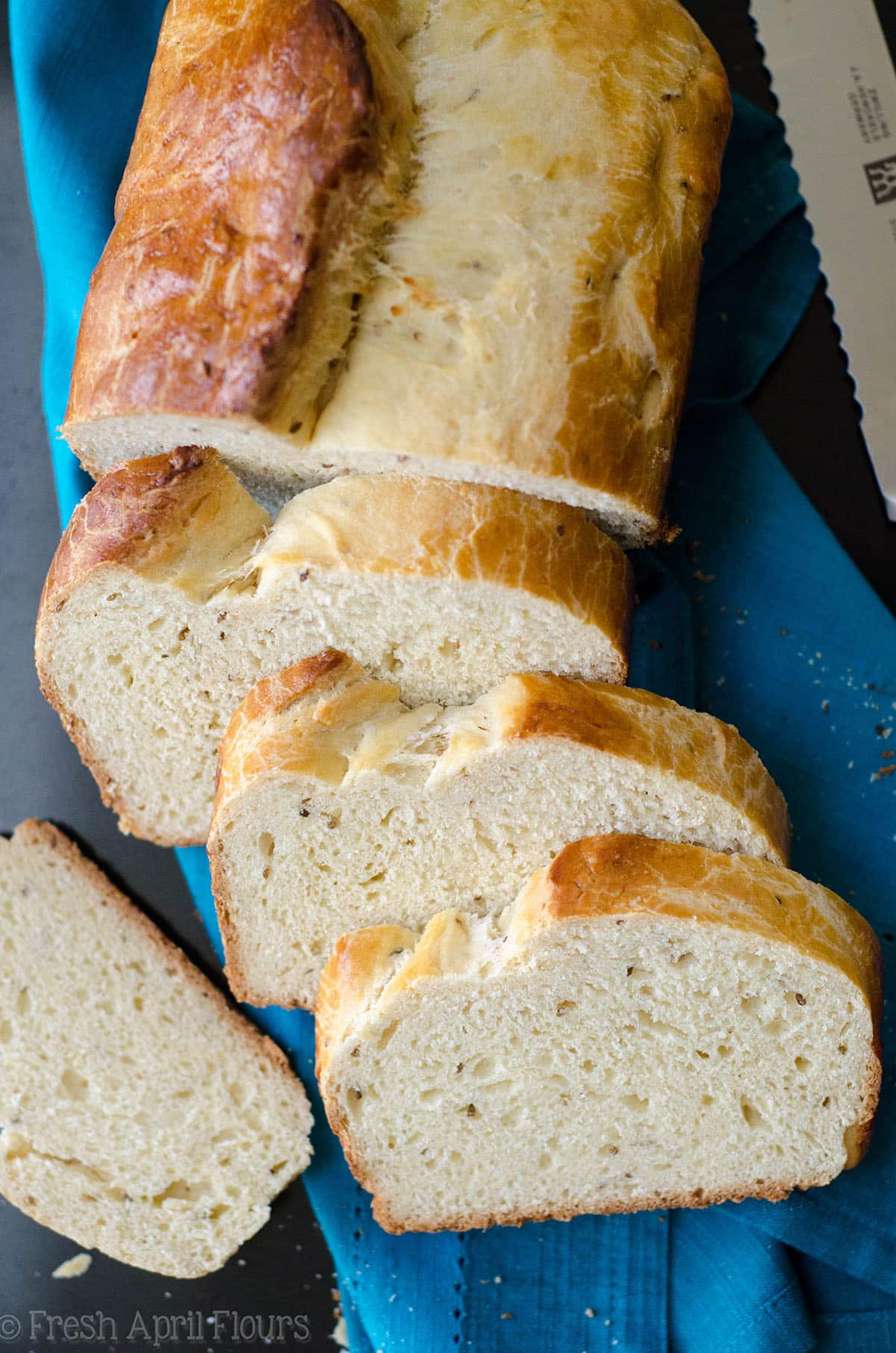 This anise? Subtle. Sweet. Spiced without being overpowering. A bread that goes with butter, plain, or with spaghetti sauce. While this is a sweeter bread, it's not a sweet bread. There's a difference!
This is just the right level of sweetness and unlike any other bread you've ever had before. I'm certain!
If you're also thinking "yeast bread? No way!" put that thought away now, too.
Yeast bread is not hard. It can be intimidating, but once you've done it a time or two, you'll see it's easy peasy and you'll be whipping up yeast bread left and right in no time.
There are just a few basics we have to chat about in order to insure success on your end.
YEAST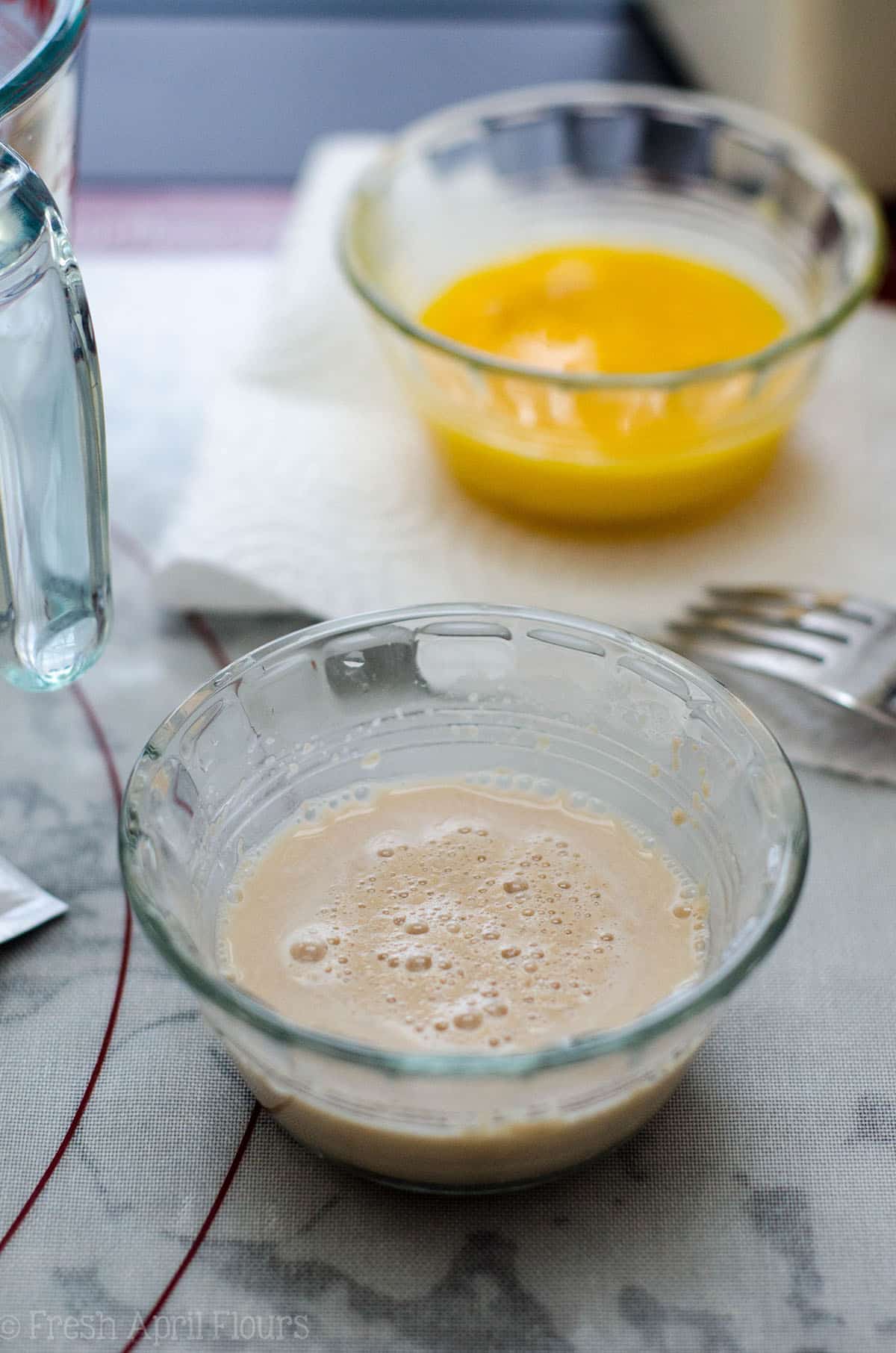 First, the yeast. High quality, fresh, active dry yeast. You'll proof your yeast by sprinkling it into a small bowl of warm water. It should produce bubbles and smell very yeasty. This is proof that your yeast is ready to do its job.
Because of yeast, we don't need any baking soda or baking powder. That live active yeast will do everything on its own. With a little help from…
SUGAR
The yeast feeds off of the sugar to produce ethanol (fermentation) and carbon dioxide. This is where we get the signature smell of bread dough and why we have to punch it down (more on that later).
ANISE FLAVOR
This comes from two places– anise extract and anise seed. You likely don't have these ingredients on hand, but once you do, you'll have all the reasons in the world to make lots and lots of loaves of this Italian anise bread. Not a bad problem to have!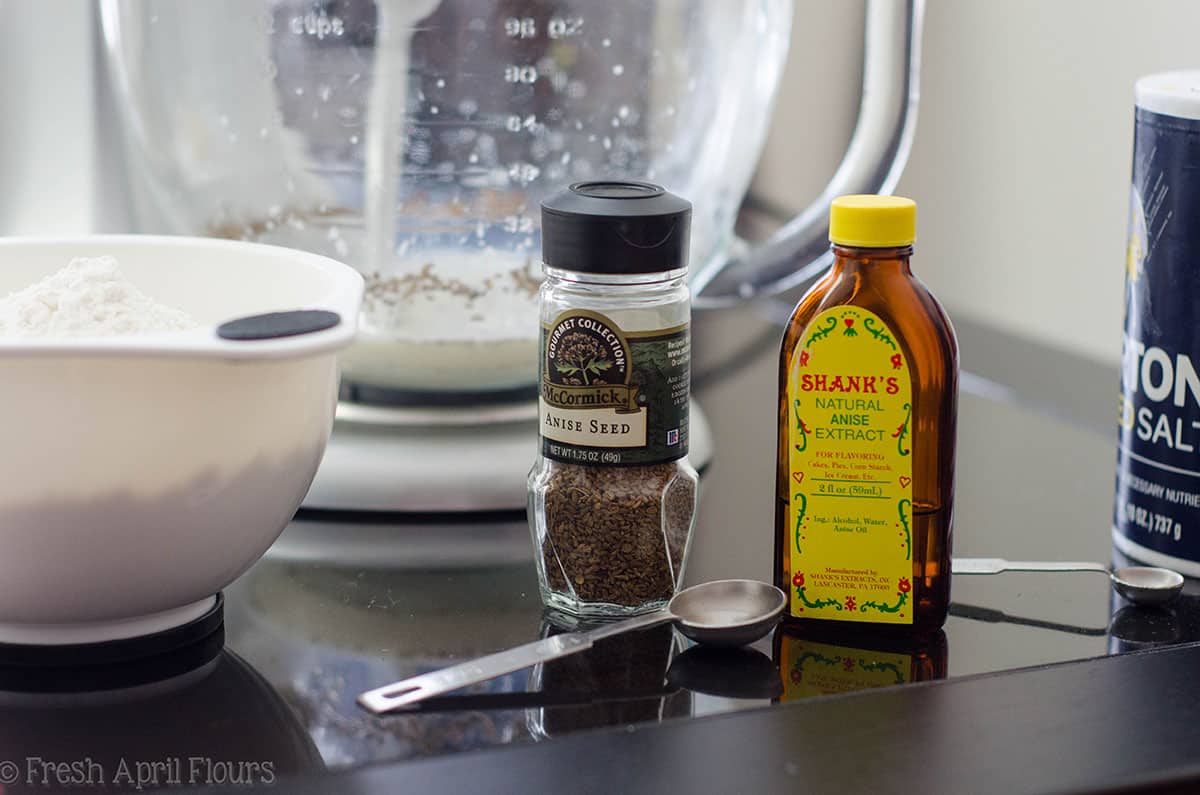 FLOUR
I have written in the recipe to use bread flour, but if we're being completely honest here in yeast bread world, I have used bread, all-purpose, and a combination of the two for this bread, and I love all loaves equally.
Yes, bread flour gives the softest, most supple interior, but I certainly don't hate the bread I've made with all-purpose. Use whatever you have available or prefer. Just no whole wheat flour!!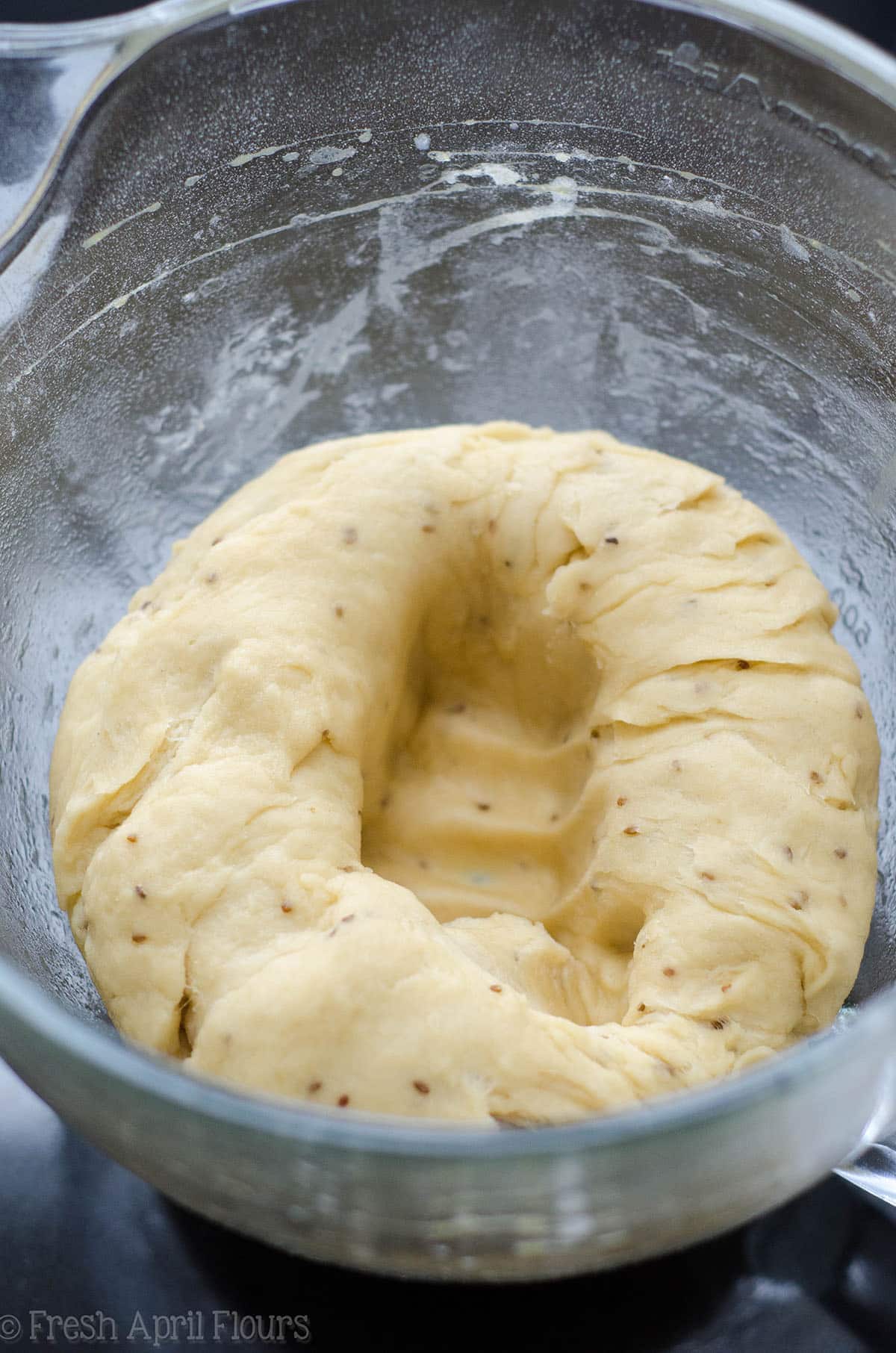 TIME
Yeast bread needs time time time. You'll have 2 different rising times.
The initial one is 2 hours long. In this time, your yeast will be working its magic on all of those other ingredients, puffing up your dough to create pockets of air that give yeast bread its soft and pillowy center.
Your first rise takes place in your baking bowl in a warm environment. I like to preheat my oven to 200ºF, turn it off, then place the dough into the oven with the door cracked. The warm air will help get things going and, in cooler weather, encourage all that rising.
In the summer, I don't really worry about this step, but it's helpful to know about it if you're feeling it's on the cooler side in your kitchen.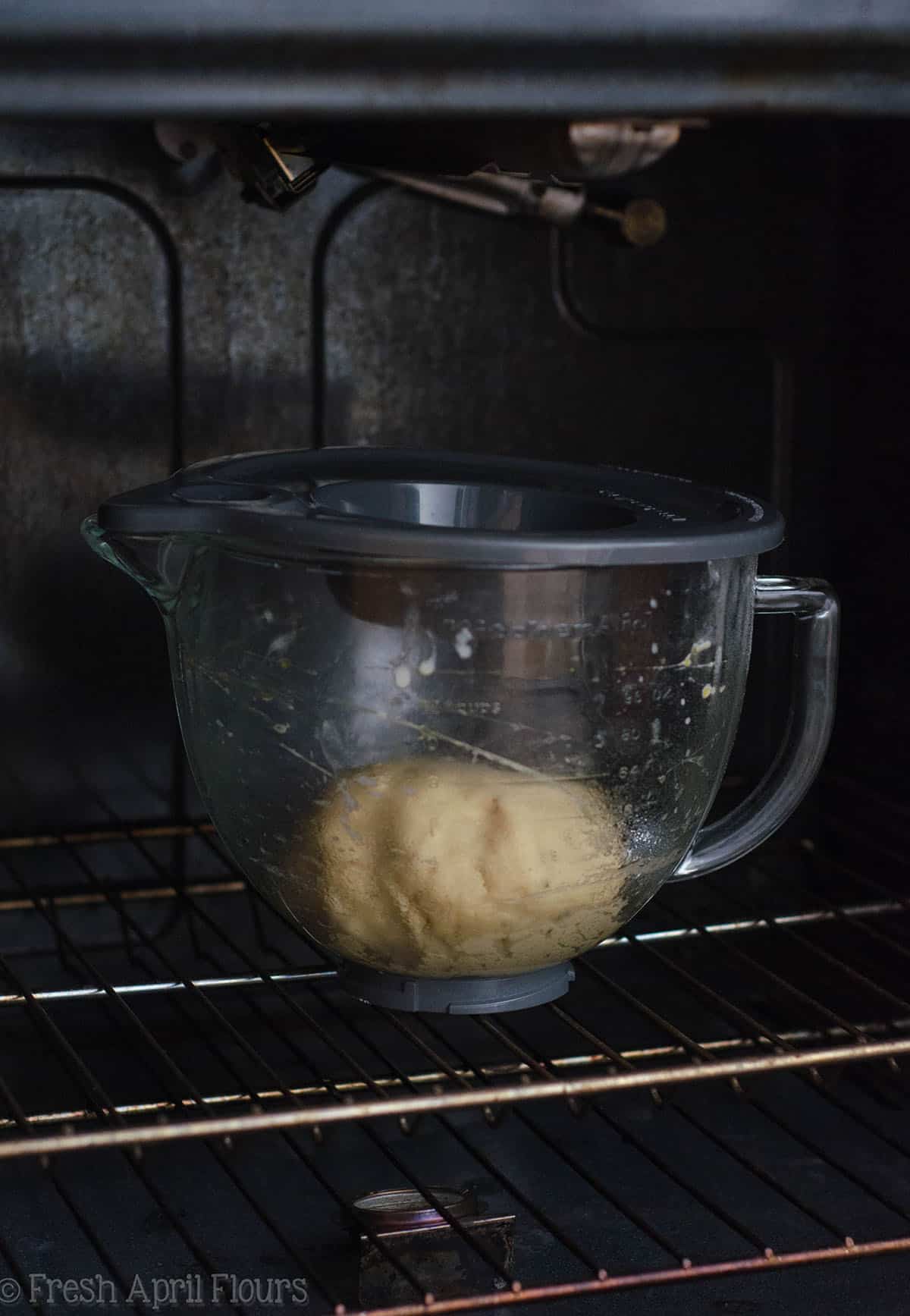 The second rise takes place in your loaf pan. After you've punched down your dough initially, you'll knead it a tiny bit, shape it into a loaf, and let it rise in the pan.
After an hour, it will be ready for an egg wash and then go into the oven!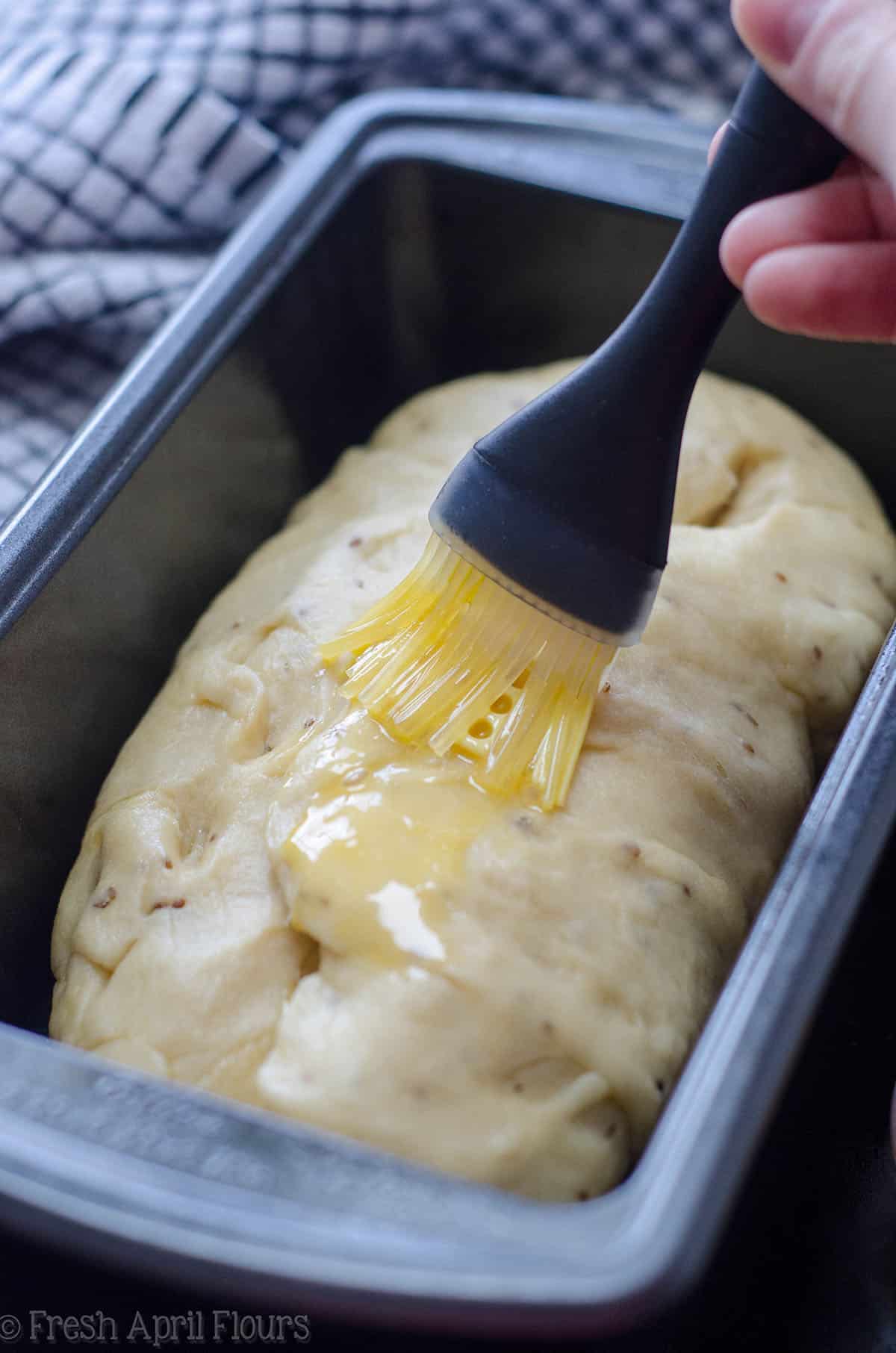 So that's 3 hours of sitting time. Yeast bread is not for the "I need this bread done quickly" people. Those are quick breads.
Yeast bread takes some planning ahead, and I promise, if you're willing to put in the wait time, you'll be rewarded with an incredible loaf of bread.
In. Cred. I. Ble.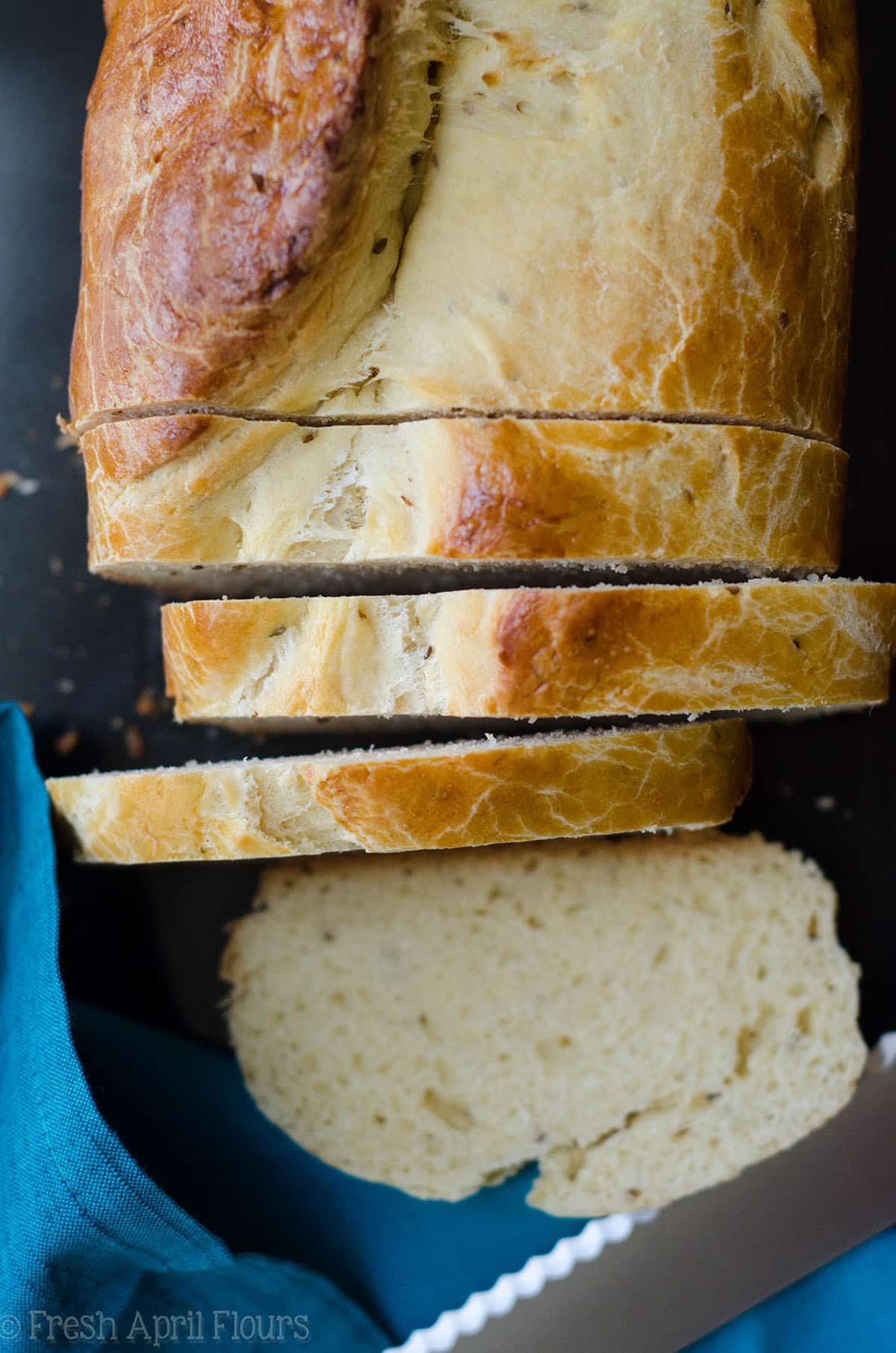 BUT! One of my very favorite things about yeast breads especially is that no two loaves will ever look the same.
In fact, I made this bread again this past weekend in preparation for hosting Easter at our house this coming weekend (popped it in the freezer– it will be good as new on Sunday!) and that loaf was a picture perfect loaf.
I debated whether or not I should re-photograph the bread, but I decided not to because the first one I made and photographed a few weeks ago has all the bumps and dips and curves that can only come with hand-crafted yeast bread.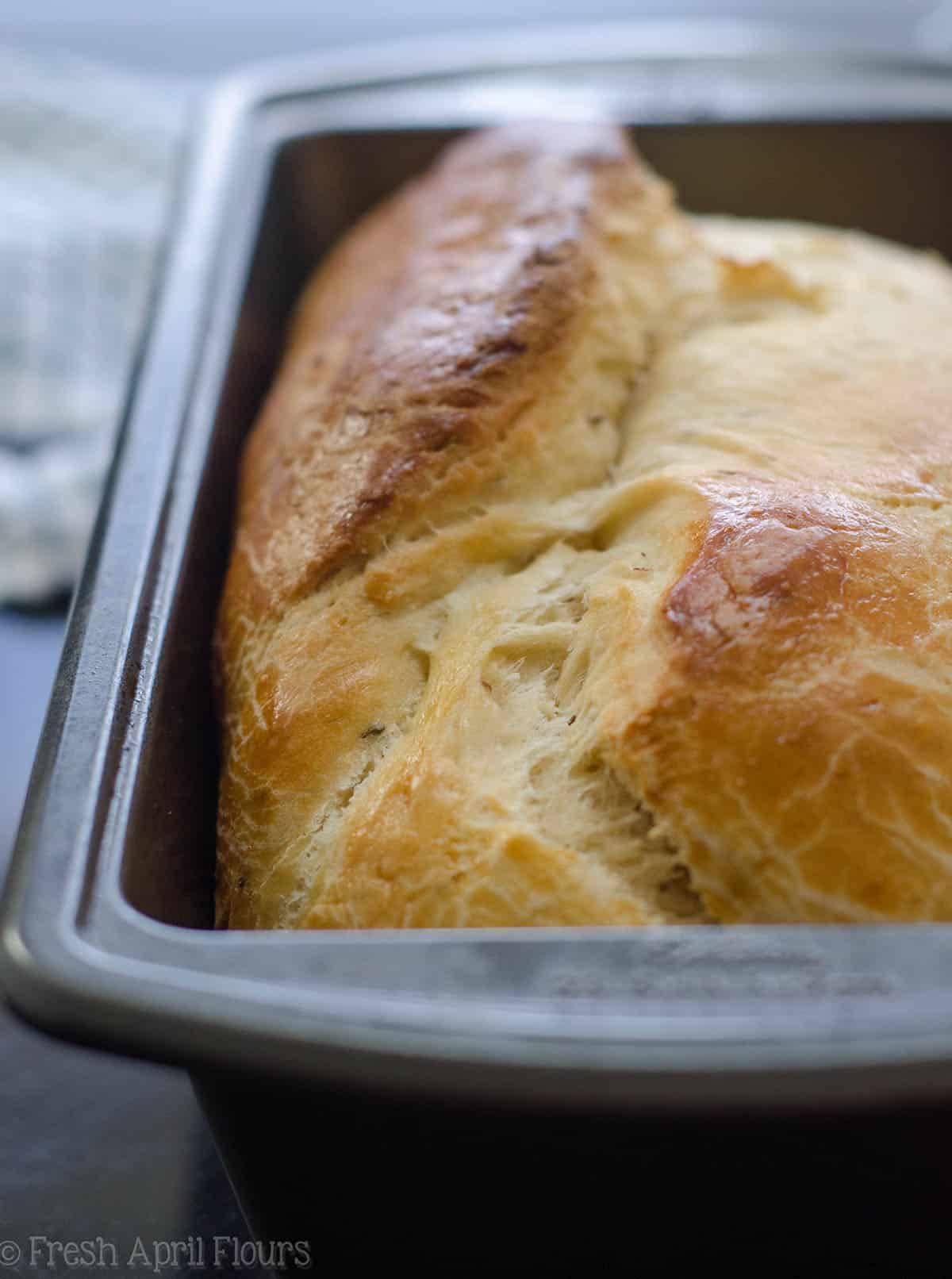 Plus, I kind of like that little notch in the top of this one. It gives it character! And you know what else– all the loaves taste the same anyway and my belly doesn't care what the slices look like. TRUE STORY.
This bread is my childhood in a loaf of gluten. And sharing it with you all brings my heart so much joy. I know my grandmother is smiling down on the baker I have become and so happy her anise bread (aka Easter Pizza) is making its way onto other people's tables and into their bellies.
So PLEASE, knead up a loaf for your celebration this weekend and pass on a little of the DeAngelis family for me.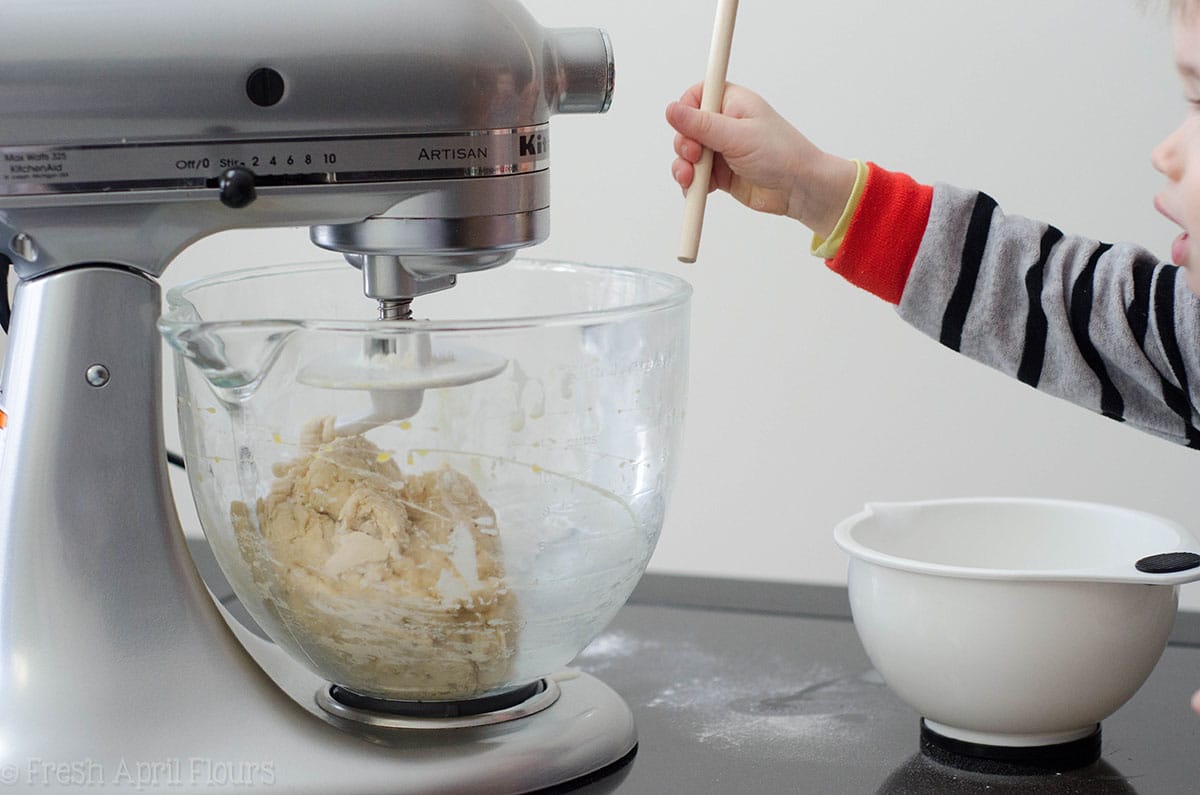 Happy yeast bread baking, bakers!
Italian Anise Bread
A sweet yeast bread with a tender crumb, flavored with anise extract and dotted with anise seeds.
Ingredients
2 and ¼

teaspoons

(7g) dry active yeast

or 1 packet

¼

cup

(60mL) warm water

½

cup

(120mL) warm milk

I prefer whole milk

⅓

cup

(67g) granuated sugar

¾

teaspoon

salt

½

cup

(113g) unsalted butter

melted

1

heaping teaspoon

anise seed

2

teaspoons

anise extract

2

large eggs room temperature, lightly beaten, and 2 Tablespoons removed and set aside in the fridge for an egg wash

3 and ½ to 4

cups

(420-480g) bread flour* be sure to measure properly
Instructions
Sprinkle the yeast over warm water. The best way to test the temperature of your water is to take it from the tap and run your wrist in the stream. If you can't feel the temperature of the water, it's perfect. Stir yeast in with a fork until it is dissolved and set aside.

In a large mixing bowl or the bowl of a stand mixer, blend the milk, sugar, salt, anise seed, and anise extract with a wooden spoon or a spatula. Stir in the butter, eggs with 2 Tablespoons removed, and yeast mixture.

Gradually stir in the flour. If you are using a stand mixer, use your dough hook. If mixing by hand, continue to use a wooden spoon or spatula. Add flour until your dough is soft enough to handle, usually when it can easily pull away from the sides of your bowl.

Turn out dough on a lightly floured surface and knead until smooth and elastic. You may need to add the last cup or so of flour by hand. Your dough should feel like PlayDoh to the touch and "snap" when you pull it apart.

Spray your bowl with non-stick spray and place the dough ball into the bottom of the bowl. Flip the dough ball over to coat the top, and then cover the bowl with a lid or towel and place in a warm environment. I like to heat my oven to 200ºF (93ºC), turn it off, then leave the door cracked with the bowl inside. Allow dough to rise until double in size, about 2 hours.

After dough has doubled, punch down the dough and turn out onto a lightly floured surface. Shape into a loaf and place in a pre-greased loaf pan, cover with a towel, and allow to rise again, about 1 hour.

When you are ready to bake the bread, set the rack to the middle position in your oven and preheat to 350ºF (177ºC).

Using a pastry brush, brush the loaf with the reserved egg. Bake loaf for 36-40 minutes. Loaf is done when the top is golden brown and tapping on the top of bottom of the loaf produces a hollow sound. Loaf stays fresh covered at room temperature up to 1 week. Loaf may be frozen, wrapped tightly, up to 2 months. Thaw to room temperature before serving.
Notes
*Bread flour: this is not absolutely imperative to this bread. I've used bread flour and all-purpose flour interchangeably, and I enjoy both textures. Bread flour will make your bread slightly softer, but all-purpose will work perfectly fine if you don't have bread flour on hand.
Nutrition Disclosure
All nutritional values are approximate and provided to the reader as a courtesy. Changing ingredients and/or quantities will alter the estimated nutritional calculations.