As an Amazon Associate, I earn from qualifying purchases. Read the full disclosure here.
This simple banana muffin recipe is the perfect way to use ripe bananas for a quick and easy addition to breakfast or a simple snack. You can make these banana bread muffins with or without nuts.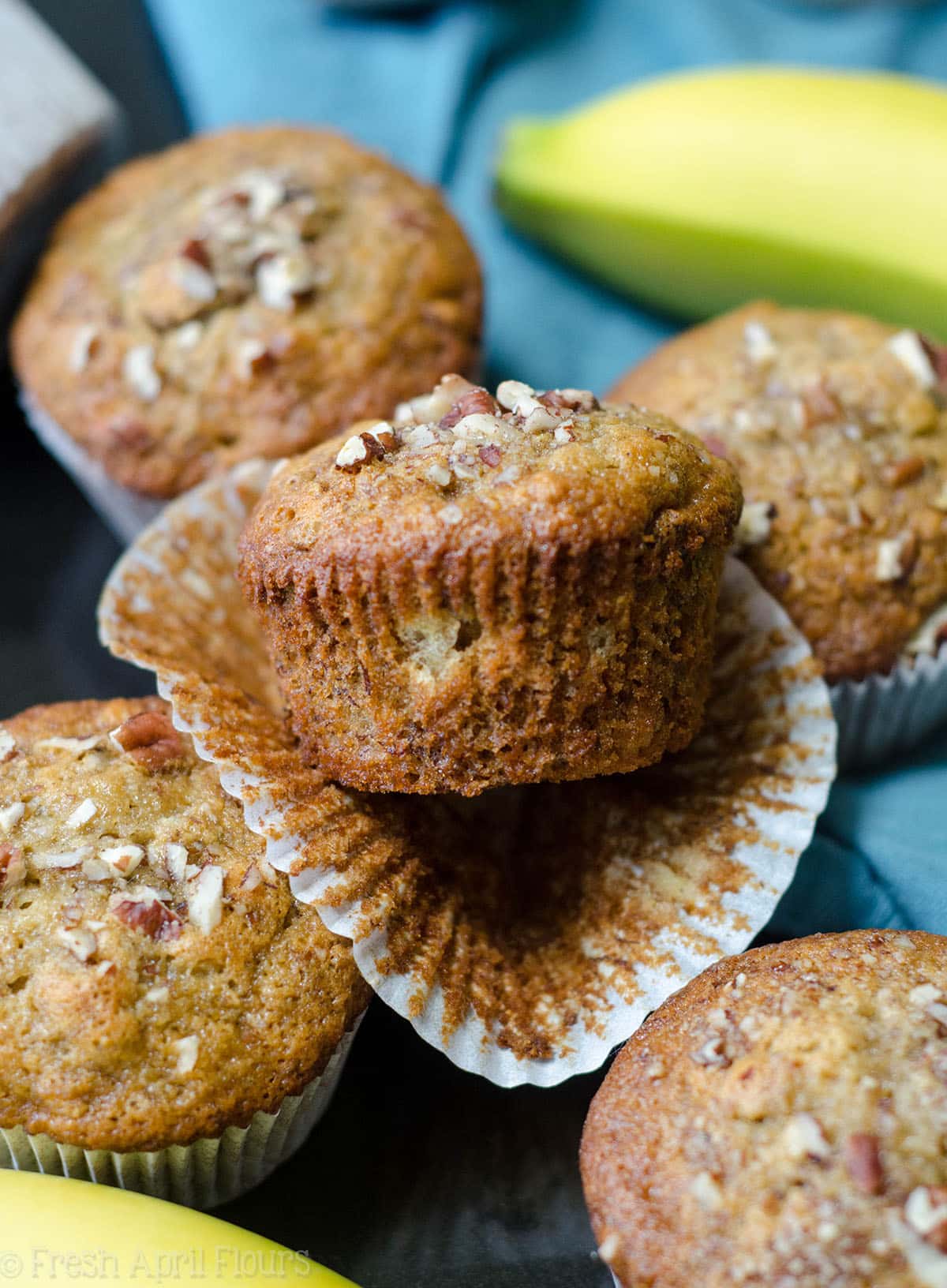 Ah, yes. Find ripe bananas –> make banana bread. A tale as old as time. But it doesn't just have to be about the banana bread, you know.
Just like tons of zucchini in the garden doesn't always have to be about zucchini bread. It can also be about zucchini ravioli and summer pasta salad.
Ripe bananas always seem shunned to banana bread, and while my classic banana bread recipe is a go-to in this house, we often like to change it up and use our bananas for breakfast smoothies, Bananas Foster cake, and these easy banana bread muffins.
And because I'm a texture lover, these are usually more specifically banana nut muffins, but that's something you can decide later. We'll get there.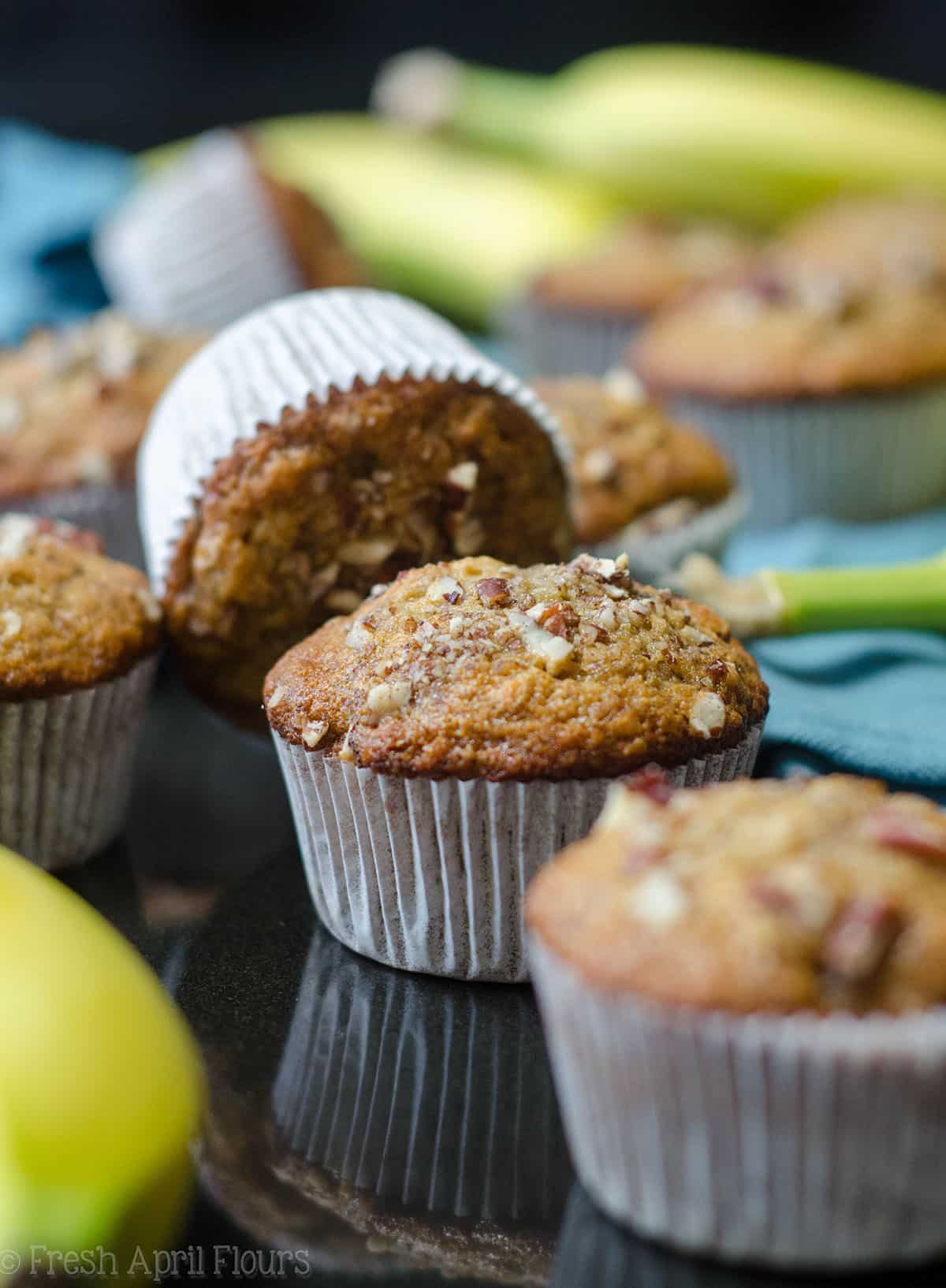 This banana muffins recipe has lived on my blog since The Year of Muffins (2018). Every year, I pick a type of recipe to make monthly, and in 2018, we were about to have our second newborn and I stocked the freezer with muffins and, consequently, my website with muffin recipes.
That idea turned out to be suuuuuch a good one, because the first time around with a newborn, I naively thought I would spend my maternity leave baking and photographing and blogging all the time.
Are you laughing? Because I am. A LOT.
Instead, I found myself wishing I had actually prepped with easy meals and snacks, as had been suggested to me. Thank goodness for a husband who helped keep me fed!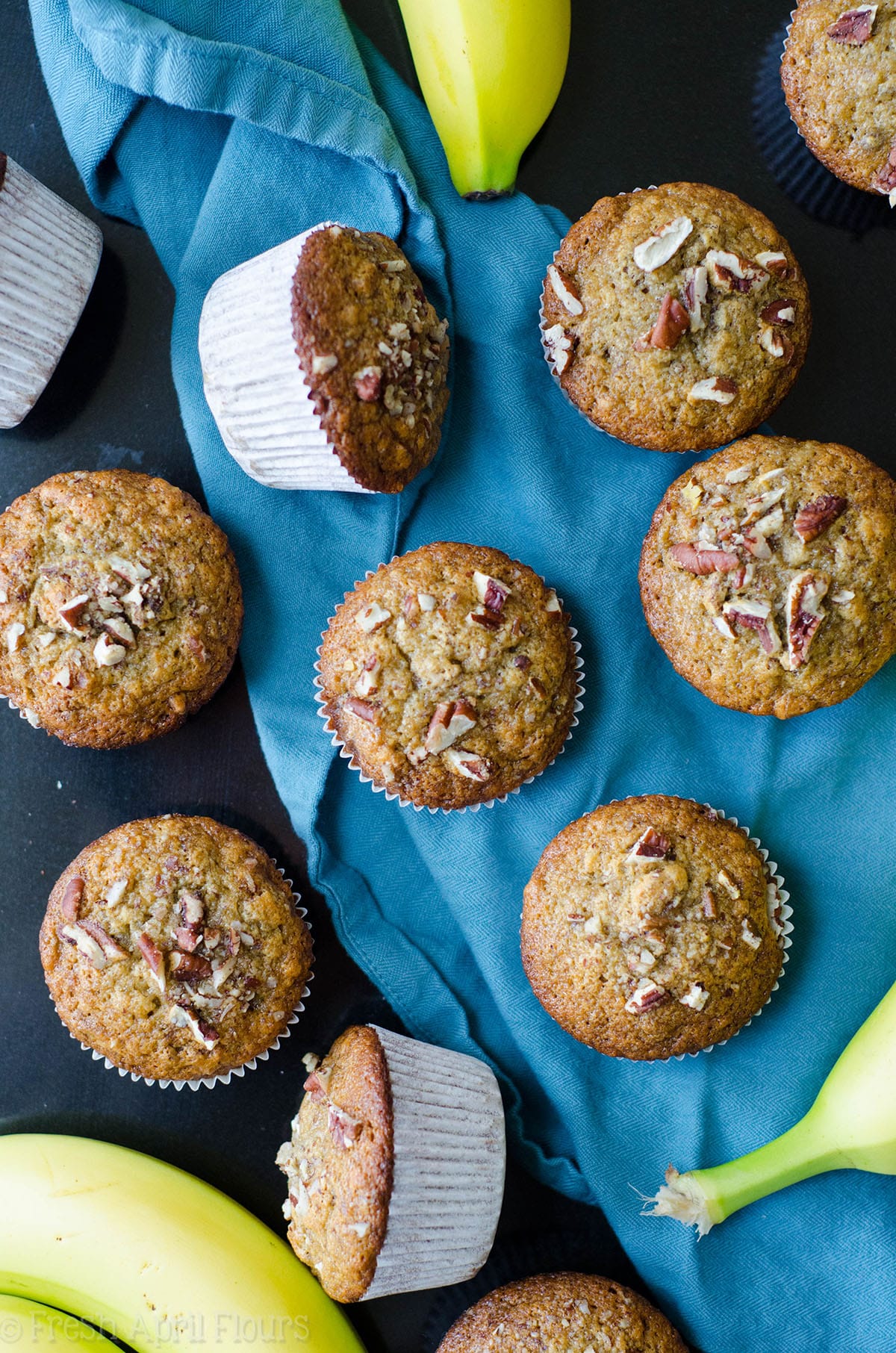 INGREDIENTS
This banana bread muffin recipe could not be easier. In fact, I have used this recipe, which comes from my mother-in-law, who got it from Betty (Crocker, that is), so many time I can do it with my eyes closed.
It actually already exists on my site in the form of classic banana bread, and as my dear husband will tell you, his mom has been making that banana bread for as long as he can remember.
I only had to make a few tiny tweaks to the recipe to perfect these moist banana bread muffins, and it is one of our favorites for us and for the kids.
The ingredient list is very basic. You'll need flour, baking soda, cinnamon (of course!), and salt for the dry team.
The sugar team consists of both brown sugar and granulated sugar. Brown sugar for that super moisture, and the granulated to add a little extra brown and slightly crisp texture to the golden muffin tops.
You'll also need some butter, two eggs, some ripe bananas (you can use 3 medium bananas or 2 large bananas– aiming for about 1 and ½ cups of mashed banana), and then, a very non-exciting water.
Water you ask? Yes, water. Betty calls for it, so I kept it. It works great (this 1980something recipe has stood the test of time in the April family), I don't think the final product needs any additional creaminess (as in, they are banana bread muffins no milk style), and hey, it kind of doesn't count as an ingredient.
Just go with it. Cool? Cool.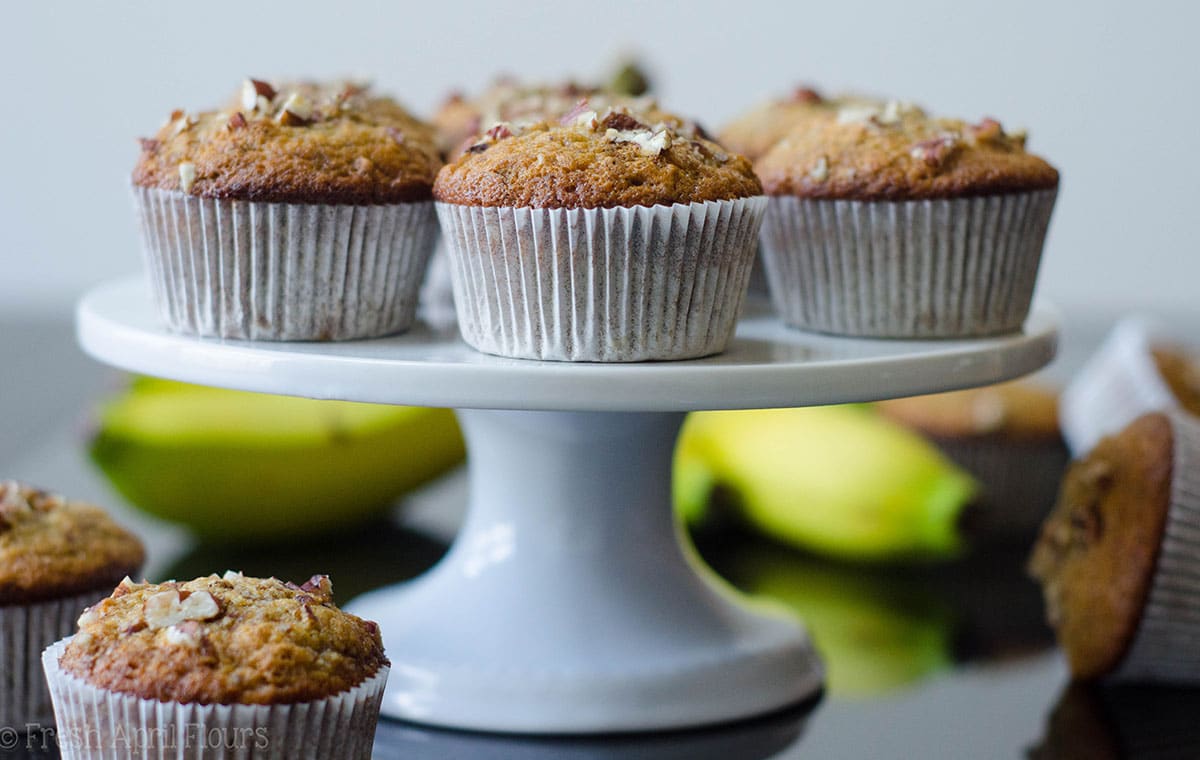 HOW TO MAKE BANANA BREAD MUFFINS
This is a very simple recipe. You'll start by combining your dry ingredients and setting them aside.
Cream together the butter and sugars, then add the eggs one at a time, and finally, beat in the bananas and water.
Add the dry ingredients to the wet ingredients, blend together until the batter just comes together, and then fold in any add-ins you'd like to use.
I like to use nuts, but you can also use chocolate chips. See the notes section of the recipe if you want to make these adjustments.
BAKE HOT THEN REDUCE THE TEMPERATURE
In order to get puffy muffins, you'll give these moist banana muffins a quick bake at 400ºF (204ºC) and then bake for the remaining time at 350ºF (177ºC). This encourages the muffins to puff up, then stay puffy while the rest of the muffin bakes.
It makes for gorgeously domed muffins with slightly crisp tops.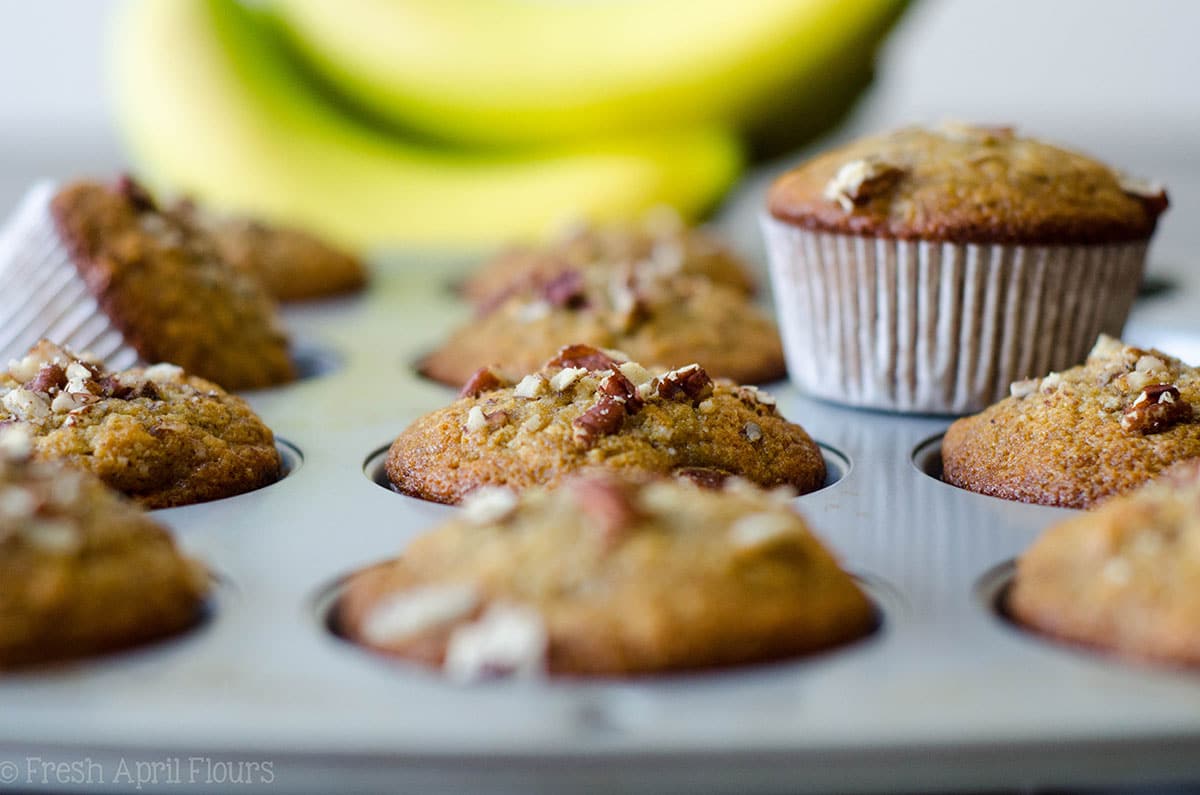 WHAT MAKES THESE BANANA BREAD MUFFINS SO GOOD?
Ok, now why I love these muffins so much– while I would never turn away a loaf of banana bread, there's something special about these little muffins. The tops get toasty with the pecans and they turn a little bit crunchy with all that brown sugar business going on.
Slightly crunchy tops making way to moist and fluffy banana centers.
All the things you love about a slice of banana bread, but you get the slightly crunchy top every single time, not just closer to the edges. That is an absolute winner in my book!
These banana muffins are the perfect "2 banana muffins" for those times you have those pesky 2 bananas hanging out, going brown.
Buuuut I know letting bananas go or discovering bananas have turned may not always be the best timing when you're feeling a sweet treat, so go ahead and preemptively freeze some turned bananas!
We almost always have 2 bananas frozen together for times just like this. Simply thaw in the fridge and use as normal. Future you will thank past you.
I'm so glad I married into a family who takes its banana bread as seriously as all people should. Thanks to their bone-deep love for Betty's recipe, you all get to share in the love via muffins.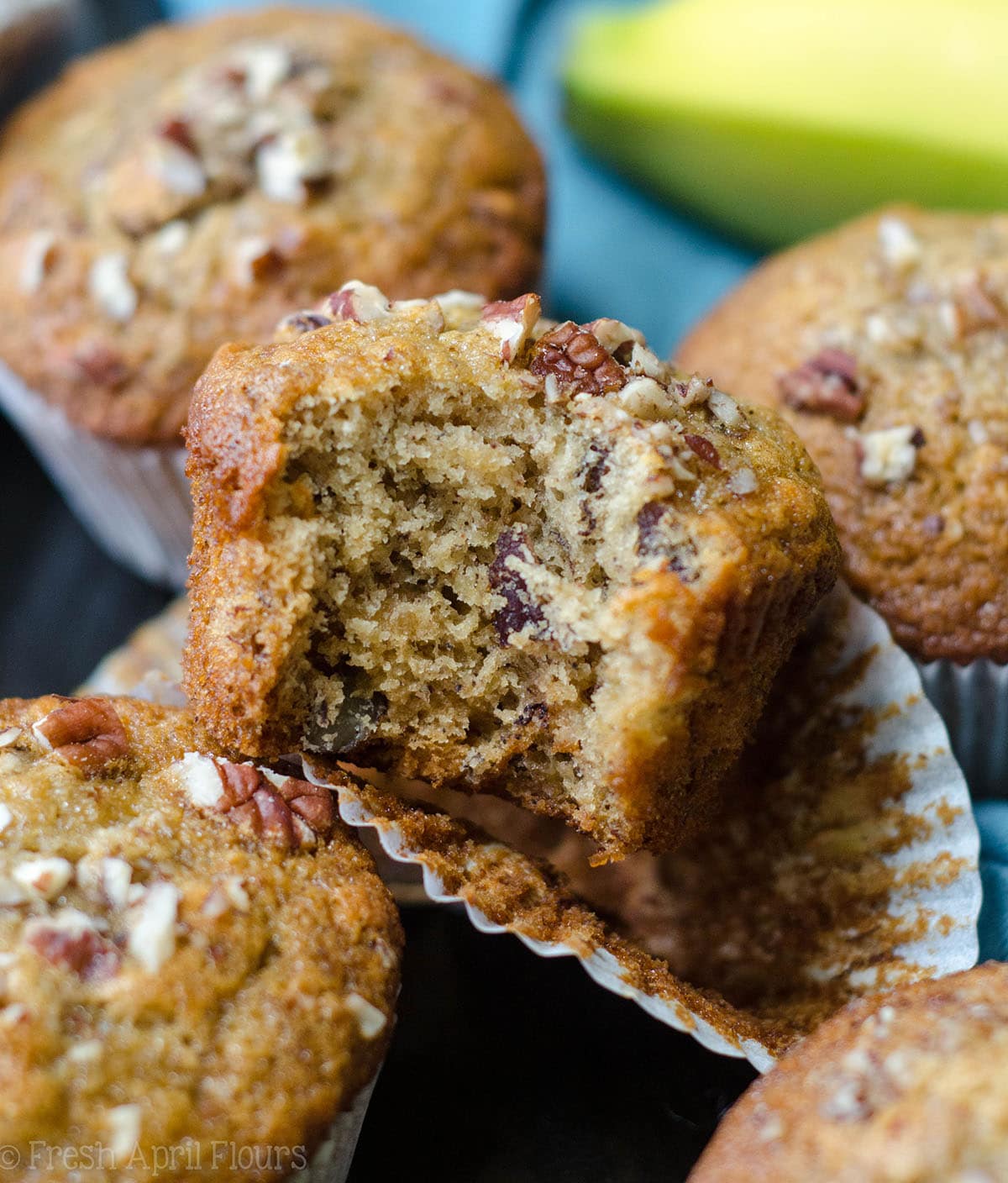 Handheld banana bread, basically. Who wouldn't automatically love that too??
More banana recipes for your enjoyment: banoffee pie, Bananas Foster cake, banana crumb snack cake, almond flour banana bread, and classic banana bread.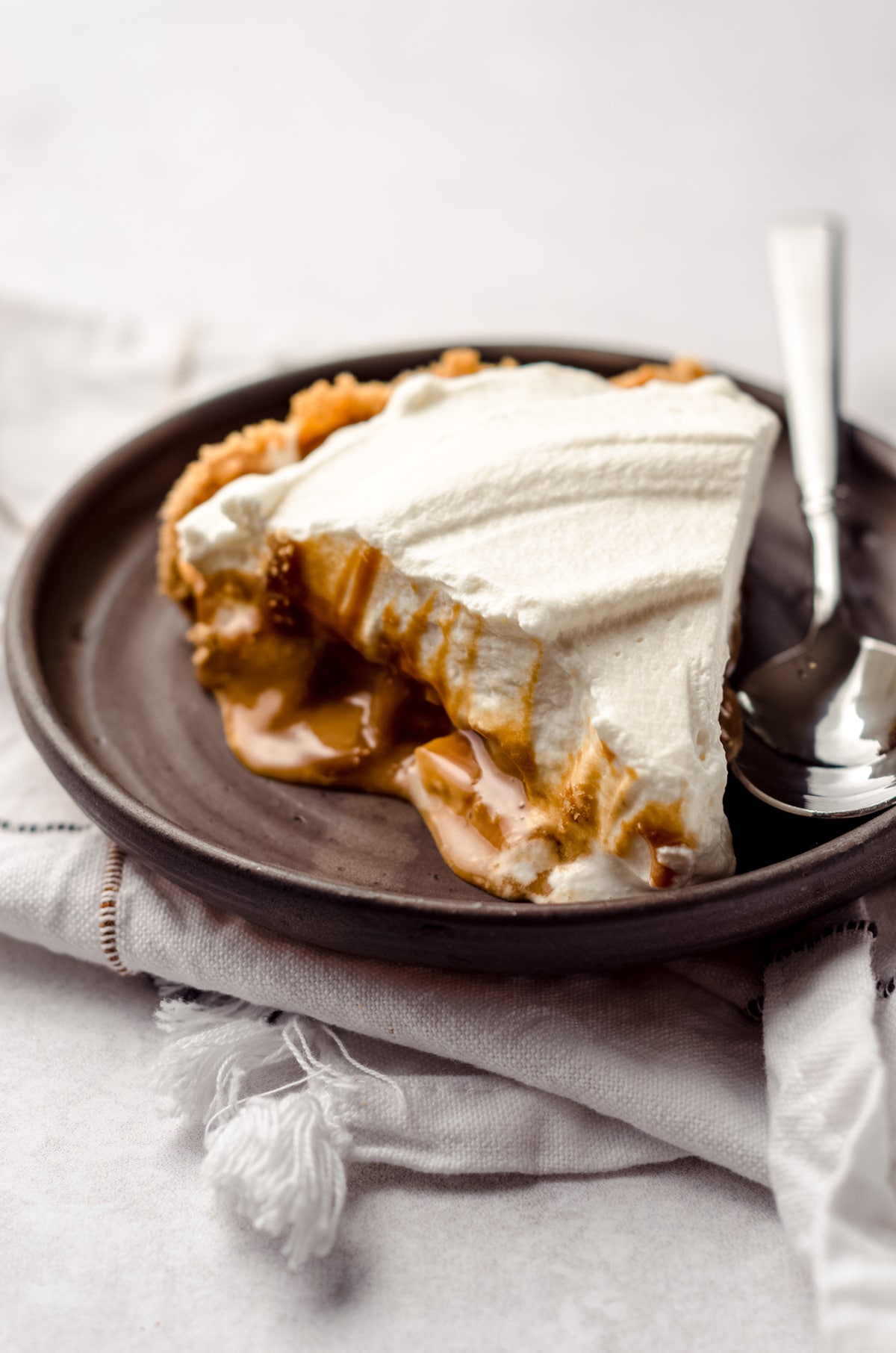 Banana Bread Muffins
This simple banana muffin recipe is the perfect way to use ripe bananas for a quick and easy addition to breakfast or a simple snack. You can make these banana bread muffins with or without nuts.
Ingredients
1 and ⅔

cup

(200g) all-purpose flour be sure to measure properly

1

teaspoon

baking soda

½

teaspoon

ground cinnamon

½

teaspoon

salt

¼

teaspoon

baking powder

½

cup

(100g) granulated sugar

½

cup

(100g) firmly packed light brown sugar

6

Tablespoons

(85g) unsalted butter

softened to room temperature

2

large eggs

3 medium or 2 large

bananas1

mashed

⅓

cup

(80mL) water

½

cup

chopped nuts2

optional
Instructions
Preheat the oven to 400ºF (204ºC). Spray the wells of a 12 count muffin pan with non-stick spray or line them with cupcake liners. Set aside.

In a medium size bowl, whisk together the flour, baking soda, cinnamon, salt, and baking powder. Set aside.

In a large bowl with a handheld mixer, or the bowl of a stand mixer fitted with the paddle attachment, beat both of the sugars and butter on medium-high speed until light and fluffy, about 2-3 minutes. Add the eggs and beat again until completely incorporated. Add the banana and the water and beat again until everything is combined.

Reduce the mixer speed to low and slowly add the dry ingredients, stopping when everything is just incorporated. Stir in the nuts (if using) with a spatula.

Spoon the batter into the prepared wells. I like to use an ice cream scoop with a thumb trigger. Sprinkle some reserved nuts (if using) on top of the batter. Bake the muffins for 8 minutes, then without opening the oven door, reduce the temperature to 350ºF (177ºC) and bake for an additional 13-15 minutes or until tops are golden brown and a toothpick inserted in the center comes out mostly clean. Muffins stay fresh kept in an airtight container at room temperature up to 5 days or in the refrigerator up to 1 week. Muffins freeze well, up to 2 months. Thaw at room temperature before enjoying or pop in the microwave for about 15 seconds to warm up.
Notes
Bananas: you're looking for about 1 and ½ cups of mashed bananas.
Nuts: these are totally optional. I prefer pecans or walnuts, reserve about 2 Tablespoons for sprinkling. You could also use ½ cup of semi-sweet chocolate chips (standard size). If you want to use mini semi-sweet chocolate chips, increase to ¾ cup.
Adapted from Betty Crocker
Nutrition Disclosure
All nutritional values are approximate and provided to the reader as a courtesy. Changing ingredients and/or quantities will alter the estimated nutritional calculations.