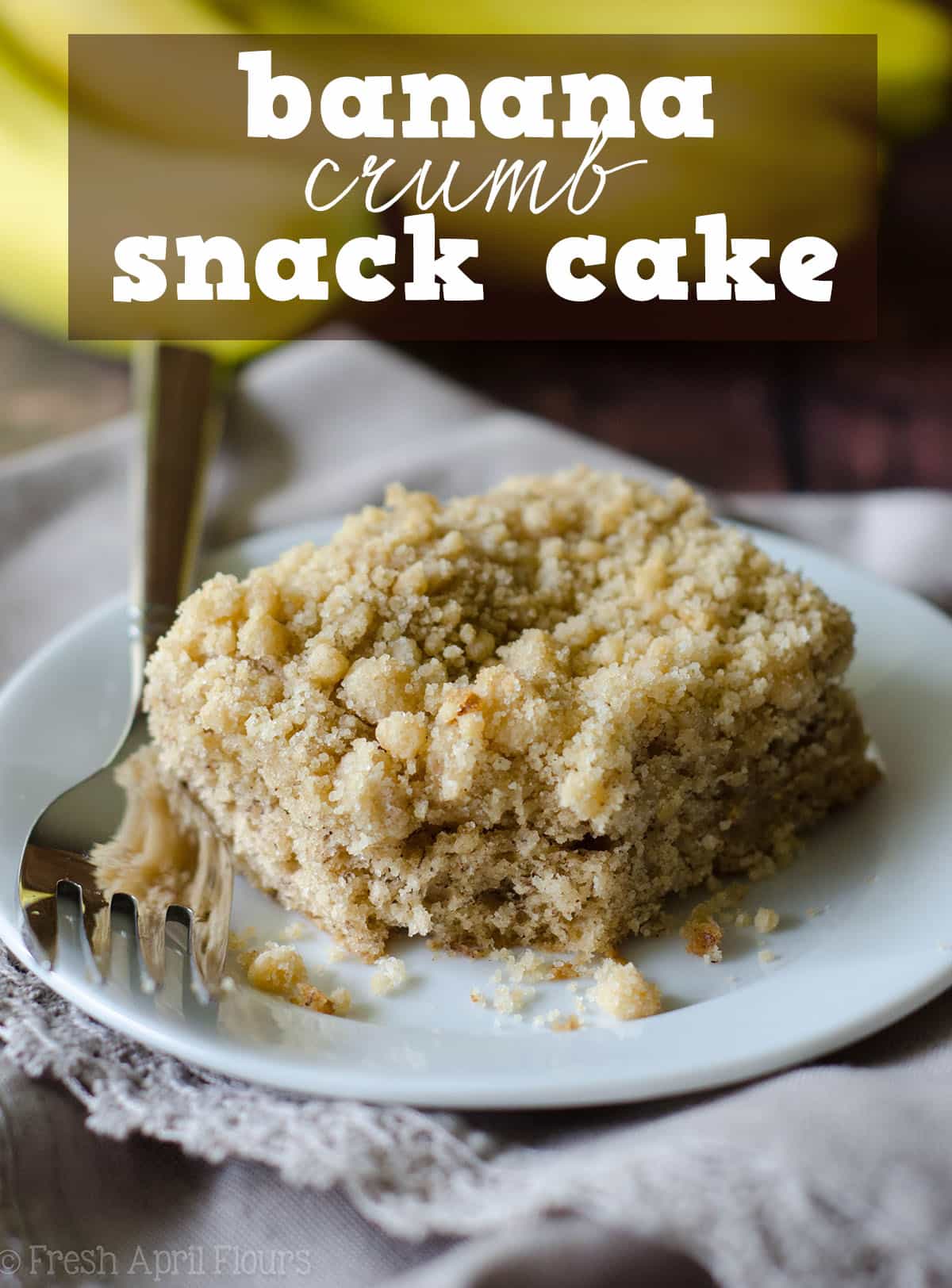 As an Amazon Associate, I earn from qualifying purchases. Read the full disclosure here.
A simple and perfectly moist banana cake with a fine sandy crumb topping.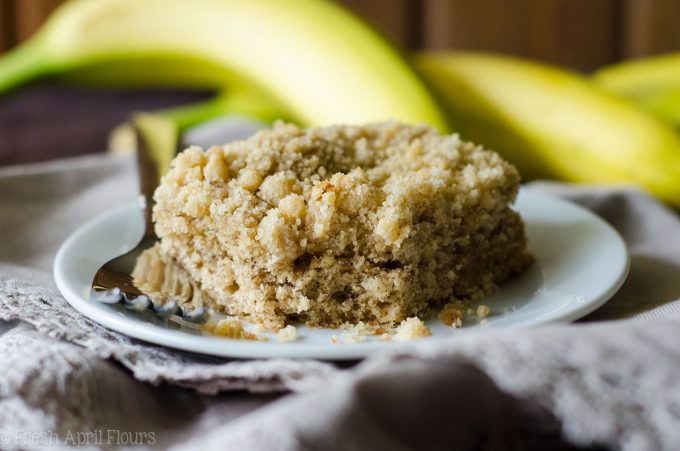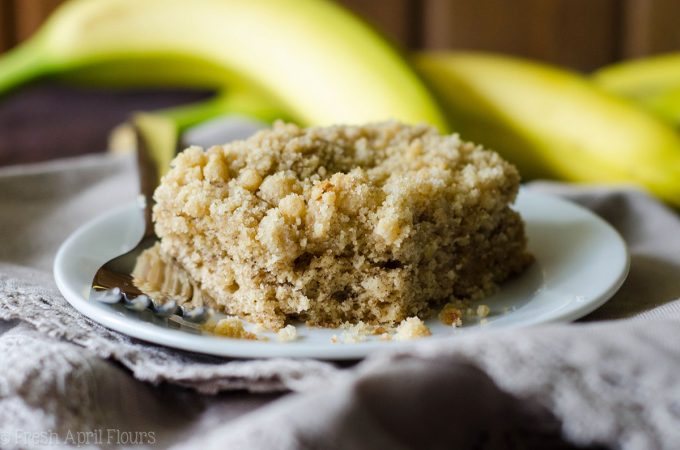 I've said it before and I'll say it again, something I really love about this whole blogging gig is that I can help you (my dear readers) find the best recipes for something specific or recreating something you love but you maybe don't know how or where to start it.
That's part of my job!
I'm not perfect, but I've experimented a lot with baking in my time, so I do know a thing or two about at least where to start sometimes.
Back at the end of 2016, I asked for cake recipes you'd like to see. A wrote a lot of them down and have been working my way through them by way of my Cake of The Month collection.
Thanks for helping me bring white cake and dark chocolate cake to the cake table! This month we're changing things up because I had a very specific request from a reader (hi, Marissa!) and it sounded WAYYY to good to pass up.
Are you familiar with Entenmann's?
They're a New York based company, so I'm not sure if they've made their way over to other parts of the country or not. They make a whole slew of bakery treats, and they certainly remind me so much of my childhood.
Apparently, they made a cake called a "banana crunch cake" that has been discontinued, and my Google consulting tells me that consumers are not so happy about this. Including Marissa!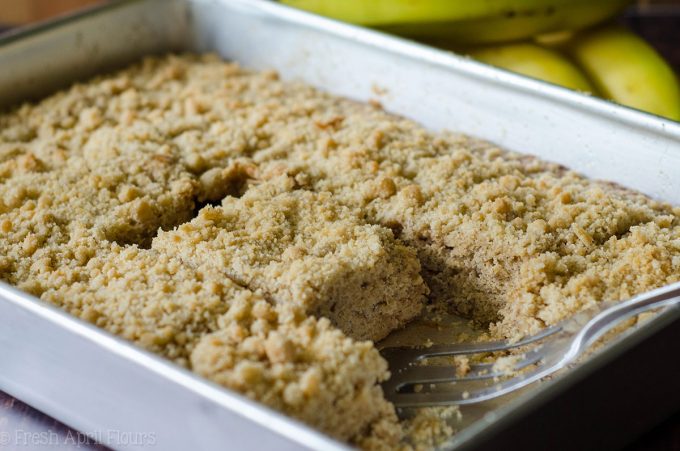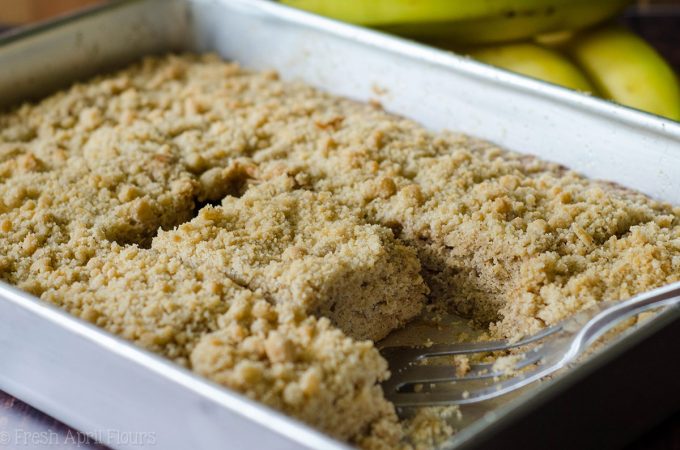 I was told, and found in my research, that this cake was a moist yet light and fluffy banana cake with a very fine sandy crumb on top, and on top of that was a chocolate ganache drizzle. I took some notes, asked some questions, and got to work in the kitchen.
My first attempt was pretty good, I have to give myself some credit, but where I really screwed up was the size of the baking pan. I chose an 8×8 inch square pan, and while I think the cake itself would have probably been ok, there was so much crumb on top that it weighed the whole cake down and I don't think the cake was able to puff up as nicely as it could have without all that business going on on top of it.
You may have seen my picture of how we solved this issue: we ate just the done parts (which happened to be the edges).
You may also see that I attempted some chocolate chip action in the crumb. Nope. Not a great choice. I wanted to keep this cake easy, and while a chocolate ganache drizzle isn't all that difficult, I aim for suuuuuper easy sometimes, and wanted to cut some corners.
Yeah, that didn't work out so great either, as the chips had nowhere to "stick." They sort of just sat around in the crumb and didn't do too much for me.
So I spread things out into a 9×13 inch baking dish and abandoned the chocolate completely. Such a great decision. I think this cake is perfectly flavored and doesn't need anything else. If you'd like to add some chocolate after the fact, or even put some chocolate chips into the cake itself, go for it.
But Matt and I both liked this cake better without chocolate.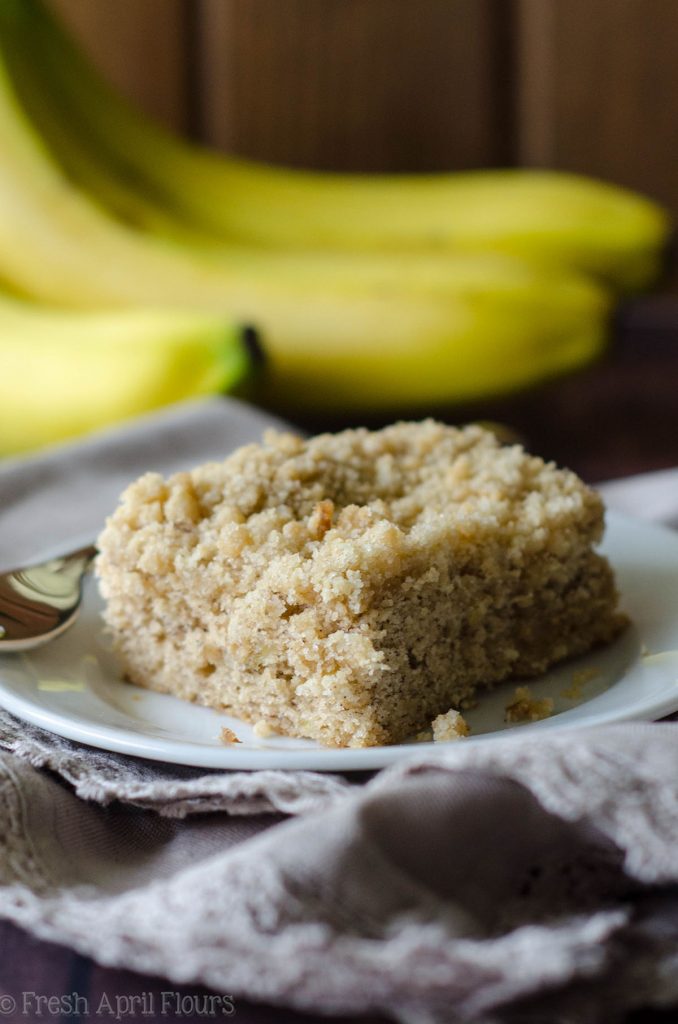 As for the recipe, it's pretty straight forward. I will say, however, that you'll really want to spend some time making that crumb super sandy. This isn't a streusel topping like one you'd find on my cinnamon streusel coffee cake or my apple cinnamon streusel bread, it's more of a crumbly crumb (what?!) that is meant to fall all over the place and create a mess on your plate so you're forced to lick it clean (no shame).
If you feel your crumb isn't fine enough, get your hands in there. That's the best way I found to make it nice and sandy.
What I really love about snack cakes is that they're not quite a bar dessert, but they're also not as fancy or serious as a layer cake. They can stay right there in the pan, so they travel well, and you can either eat a slice with a fork or pick it up and eat it like a brownie.
Your choice! No wrong way to snack on some snack cake, folks. No wrong way at all.
If you're in need of a simple cake that will please lots of tastebuds and won't require a whole lot of elbow grease for a pretty presentation, definitely consider this banana snack cake for your next get together.
It's light and fluffy, Goldilocks level of banana flavor, and it's that perfect level of sweetness that you can totally get away with a piece for breakfast. I mean, BANANAS. That's breakfast, right?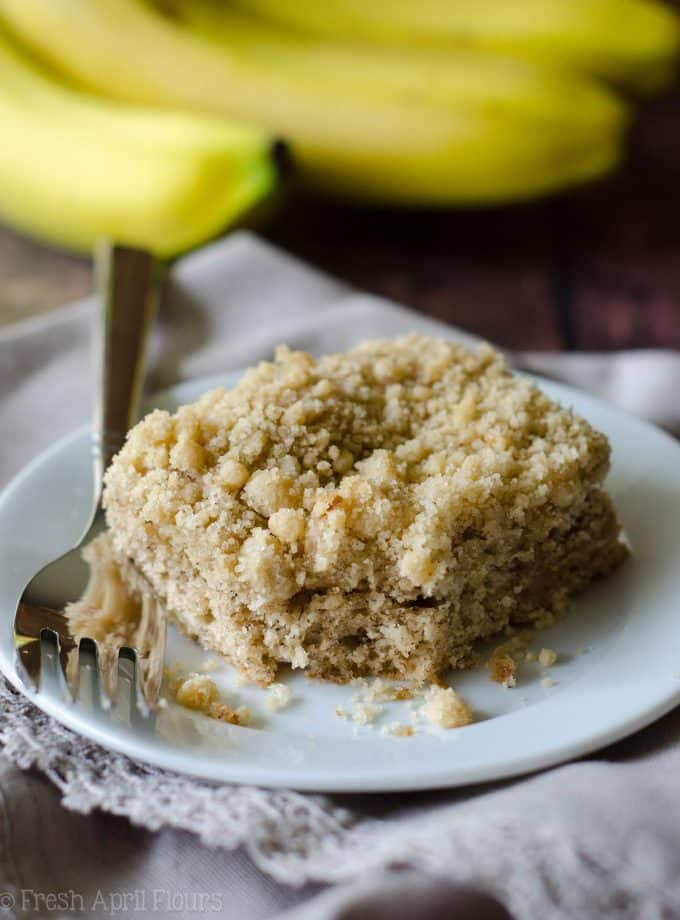 Easy peasy, transportable, and tasty little streusel-like crumbs? Count me in for sure!
Banana Crumb Snack Cake
A simple and perfectly moist banana cake with a fine sandy crumb topping.
Ingredients
CRUMB TOPPING
1 and 1/2

cups

all purpose flour

1/2

cup

granulated sugar

1/2

cup

packed brown sugar

1/4

teaspoon

salt

6

tablespoons

unsalted butter

melted and cooled for 5 minutes
BANANA CAKE
2

cups

all purpose flour

be sure to measure properly

1

teaspoon

baking soda

1

teaspoon

cinnamon

1/2

teaspoon

salt

1/4

cup

buttermilk*

1 and 1/2

teaspoons

vanilla extract

1/2

cup

(1 stick) unsalted butter

softened to room temperature

1/2

cup

granulated sugar

1/2

cup

packed brown sugar

2

large eggs

2

large bananas (or 3 medium)

mashed
Instructions
CRUMB TOPPING
In a medium bowl, whisk together the flour, both sugars, and salt until thoroughly combined. Drizzle melted butter over the flour mixture.

Stir with a spatula until a fine, sandy crumb forms. You may also use your hands to break up larger chunks. Set aside.
BANANA CAKE
Preheat the oven to 350ºF. Spray a 9" x 13" baking sheet with non-stick spray. Set aside.

In a medium bowl, whisk together the flour, baking soda, cinnamon, and salt. Set aside.

Whisk the buttermilk and vanilla together in a small bowl or measuring cup. Set aside.

In a large bowl with a handheld mixer or the bowl of a stand mixer fitted with the paddle attachment, cream together the butter and both sugars on medium-high speed until light and fluffy (about 2-3 minutes). Beat the eggs in one at a time until fully incorporated, scraping down the sides and bottom of the bowl as necessary.

Reduce mixer speed to medium and add half of the flour mixture to the batter, followed by half of the buttermilk mixture. Beat until incorporated. Repeat with remaining flour and buttermilk mixtures. Fold in the mashed bananas with a spatula until just combined.

Pour the batter into the prepared baking dish, making sure to spread the batter evenly. Top with sandy crumbs, ensuring even distribution again. Bake the cake for 20-22 minutes until golden brown and a toothpick inserted into the middle comes out clean. Remove from the oven and allow to cool completely on a wire rack before serving.
Nutrition Disclosure
All nutritional values are approximate and provided to the reader as a courtesy. Changing ingredients and/or quantities will alter the estimated nutritional calculations.