As an Amazon Associate I earn from qualifying purchases.

A moist and flavorful lime cake soaked in a gin syrup and slathered with a boozy, lime frosting.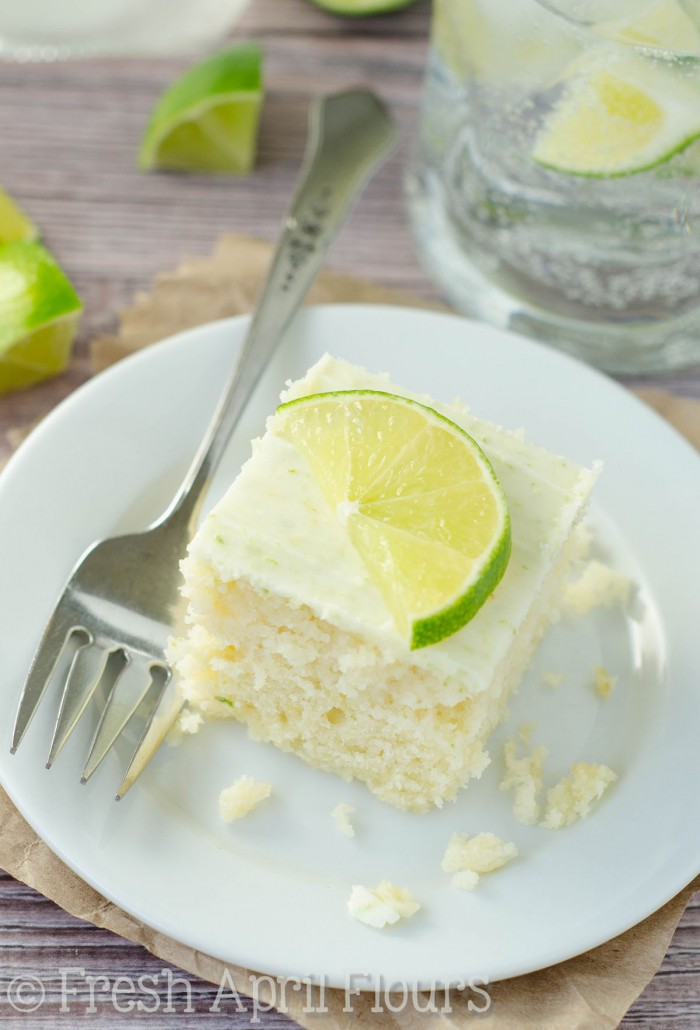 One last day in September means one last installment of #lynnsfavs. Holy moly, that first recipe back while we were on our cruise seems like ages ago! Why do some days/weeks/months fly by and others don't?
I'm certainly not complaining… September is my favorite month! And not just because my birthday falls at the end of it, but also because of the Goldilocks weather (juuuuuust right).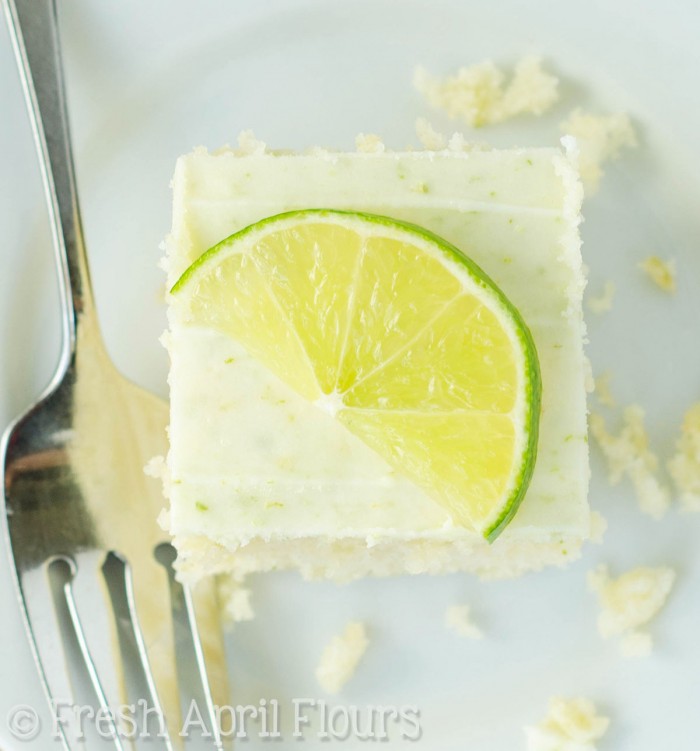 My love for gin began on my birthday last year. Matt took me to an Asian fusion restaurant where the gin mojito came recommended by a friend. I ordered one, not knowing what to expect, and I was pleasantly surprised to find out it was amazeballs.
The next time we were out for drinks, I ordered a gin & tonic and instantly realized that the thing I loved about that gin mojito was, indeed, the gin.
Now this may come as a surprise to you, as I've said before that I am in no way a cocktail girl and that I prefer wine and beer. Well… That all changed this year when I kept ordering G&T's at all of the weddings we've been to this year.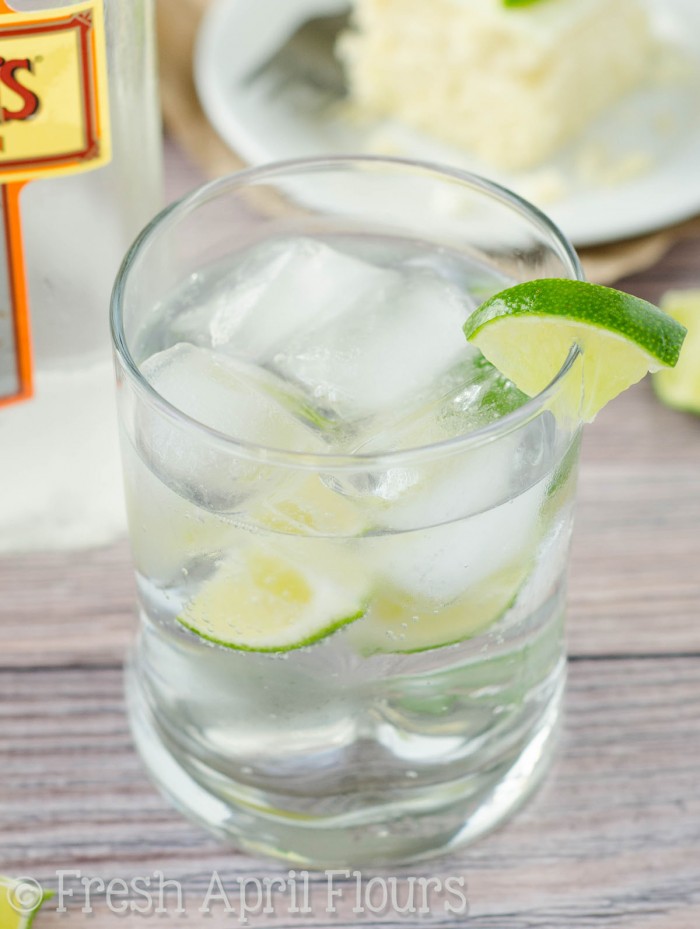 Pretty sure turning 30 means "sophisticated," and I'm sure drinking gin must put me in some sort of "adult" category. Right? It's been a big year for me.
2015: the year of adulting.
Since I wasn't quite sure a classic G&T cocktail recipe would fit that well into the blog, I needed to get creative for my last recipe of #lynnsfavs. And then this cake was born in my head. And then in my oven. Three times.
I'm not calling this a "snack cake" for nothin', folks.
SIMPLE INGREDIENTS FOR THIS SNACK CAKE
1) a super moist gin/lime cake (you'll recognize the base recipe in my mini cookies & cream cupcakes and vanilla bean cupcakes)
2) a gin/lime/tonic SOAKING GLAZE (oh yes)
3) a gin/lime/tonic buttercream (double oh yes)
So, yeah, if you're not into gin… Sorry, Charlie. This cake ain't for ya.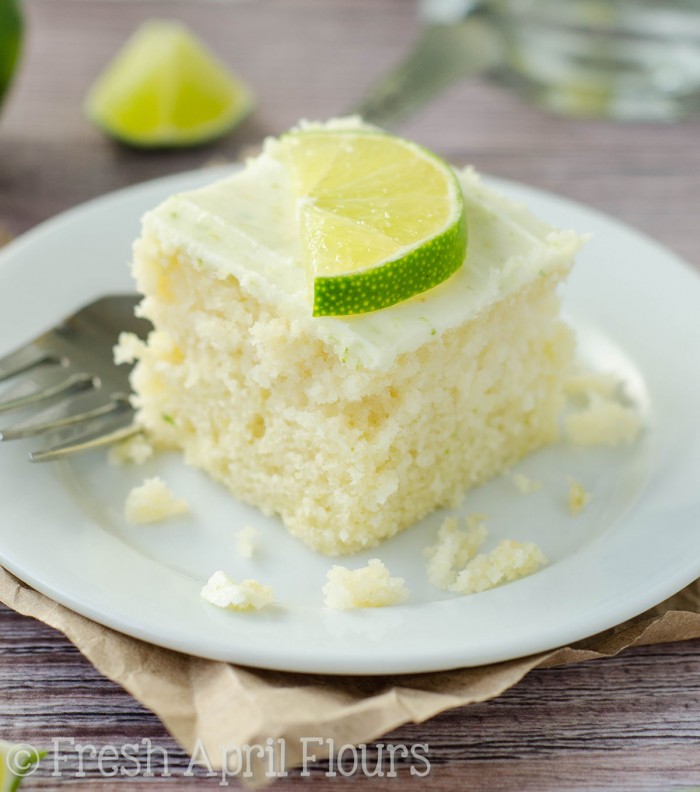 Have you ever worked with a glaze for soaking? Super simple and super tasty.
Right after the cake comes out of the oven, you'll allow it to begin cooling on a wire rack. Then, mix up your soaking syrup (gin, lime juice, tonic water, and sugar). When the sugar is completely dissolved, you'll poke a bunch of holes in the top of the hot cake with a toothpick.
The holes will allow the glaze to really get down into each and every nook and cranny of that cake. It will seem like a lot of liquid: trust me, keep pouring!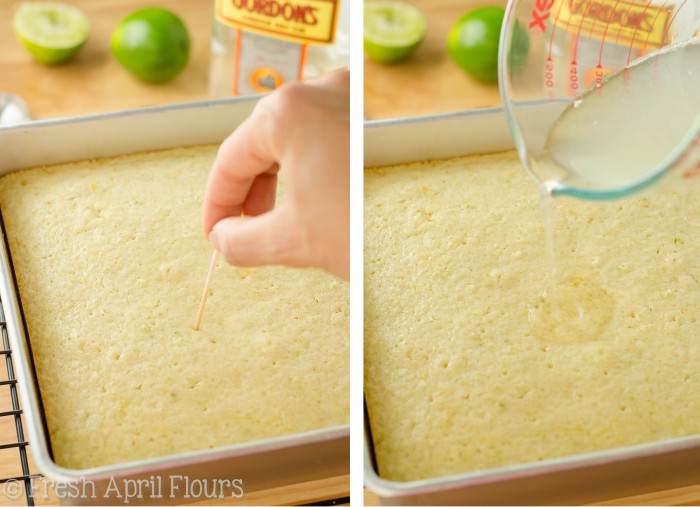 Once the cake is completely cool, spread this gin/tonic/lime buttercream all over the top, right in the pan.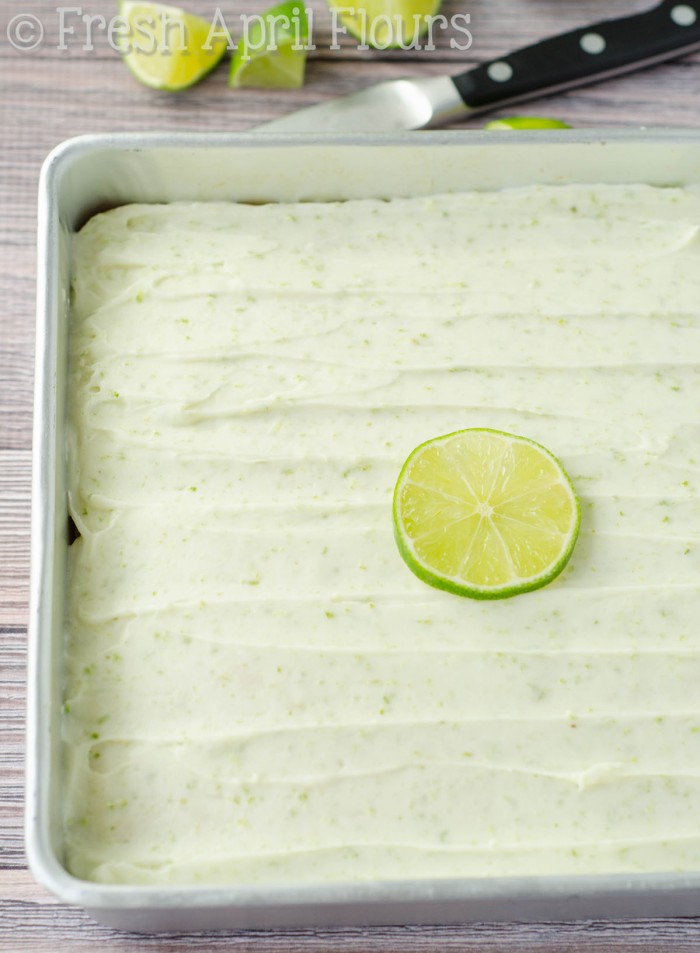 Among my taste testers, I heard many different comments. Some tasted a lot of gin, some not so much, and some not at all.
Umm, what? This cake is so mysterious.
I think the gin level is just right, but obviously I really enjoy gin. Other taste testers who said they tasted the gin a lot more often than not were not gin drinkers.
Don't get me wrong though… Everyone loved this cake. And I mean l-o-v-e.
I take treats into work all the time. Weekly. Sometimes more than once a week. While I always get positive feedback, this cake had people seeking me out to tell me how good it was and ask for the recipe that instant.
This was back in late August. Some of those lucky taste testers have already baked and shared this cake with their friends!
If you're looking for something different or a way to use up leftover gin or limes or even just tonic water, this cake is for you. I guarantee it will be a hit wherever you bring it, and you may just become a G&T lover's new bestie.
Moist, flavorful, boozy, celebratory… What more can you ask for?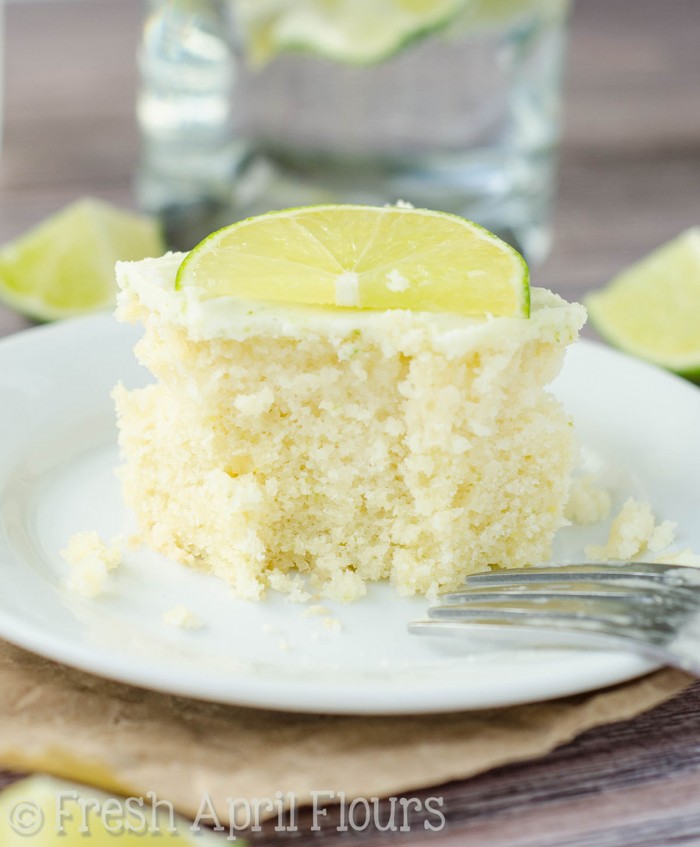 Another slice, that's what!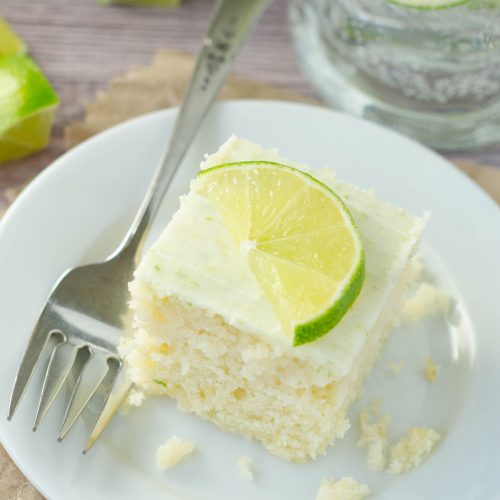 Print Recipe
Gin & Tonic Snack Cake
A moist and flavorful lime cake soaked in a gin syrup and slathered with a boozy, lime frosting.
Ingredients
CAKE
1 and 2/3

cups

all-purpose flour

½

teaspoon

baking powder

¼

teaspoon

baking soda

½

teaspoon

salt

½

cup

(1 stick) unsalted butter

melted

1

cup

granulated sugar

1

egg

¼

cup

yogurt

plain, vanilla, Greek, or regular, any fat content; you may also use sour cream

1/2

cup

+ 2 Tablespoons milk

any

2

Tablespoons

gin

1/2

teaspoon

vanilla extract

juice and zest of 1 lime
GLAZE
juice of 1 lime

4

Tablespoons

gin

1

Tablespoon

granulated sugar

3

Tablespoons

tonic water
FROSTING
4

Tablespoons

unsalted butter

softened to room temperature

zest of 1 lime

1

cup

powdered sugar

1

Tablespoon

gin
Instructions
CAKE
Preheat oven to 350ºF. Spray an 8" square baking dish with non-stick spray and set aside.

In a medium size bowl, whisk together the flour, baking powder, baking soda, and salt. Set aside.

In a large microwave safe bowl, melt the butter in the microwave and allow to cool a bit. Whisk in the sugar, egg, yogurt, milk, gin, and vanilla extract until combined. Add the lime juice and zest and stir again until fulyl incorporated. Slowly add the wet ingredients to the dry ingredients and stir with a spatula until no lumps remain.

Pour batter into prepared pan and bake for 23-25 minutes or until a toothpick inserted in the center comes out clean. Remove from oven and place on a wire cooling rack for a few minutes while you make the glaze.
GLAZE
In a glass measuring cup (or any microwave safe container with a spout), heat the lime juice, gin, and sugar in the microwave on HIGH for 30 seconds. Stir to dissolve sugar. Heat again for 30 seconds and stir again. Repeat this process until all sugar is dissolved. Add tonic water and stir again.

Using a toothpick, poke several holes in the surface of the hot cake (I poked about 50 holes total). Slowly pour the gin glaze evenly over the entire cake. Allow cake to cool completely before frosting.
FROSTING
In a medium size bowl, stir together butter, lime zest, and powdered sugar. Add the gin and stir again until smooth. If you need more liquid, you may add more gin, some tonic water, milk, or tap water.

Spread frosting over cake in the pan using an offset spatula or a knife. Cake will stay fresh covered at room temperature up to 3 days, or in the refrigerator up to 6 days. Unfrosted cake freezes well. Allow to thaw overnight in fridge and frost at room temperature.
Looking for more boozy treats?