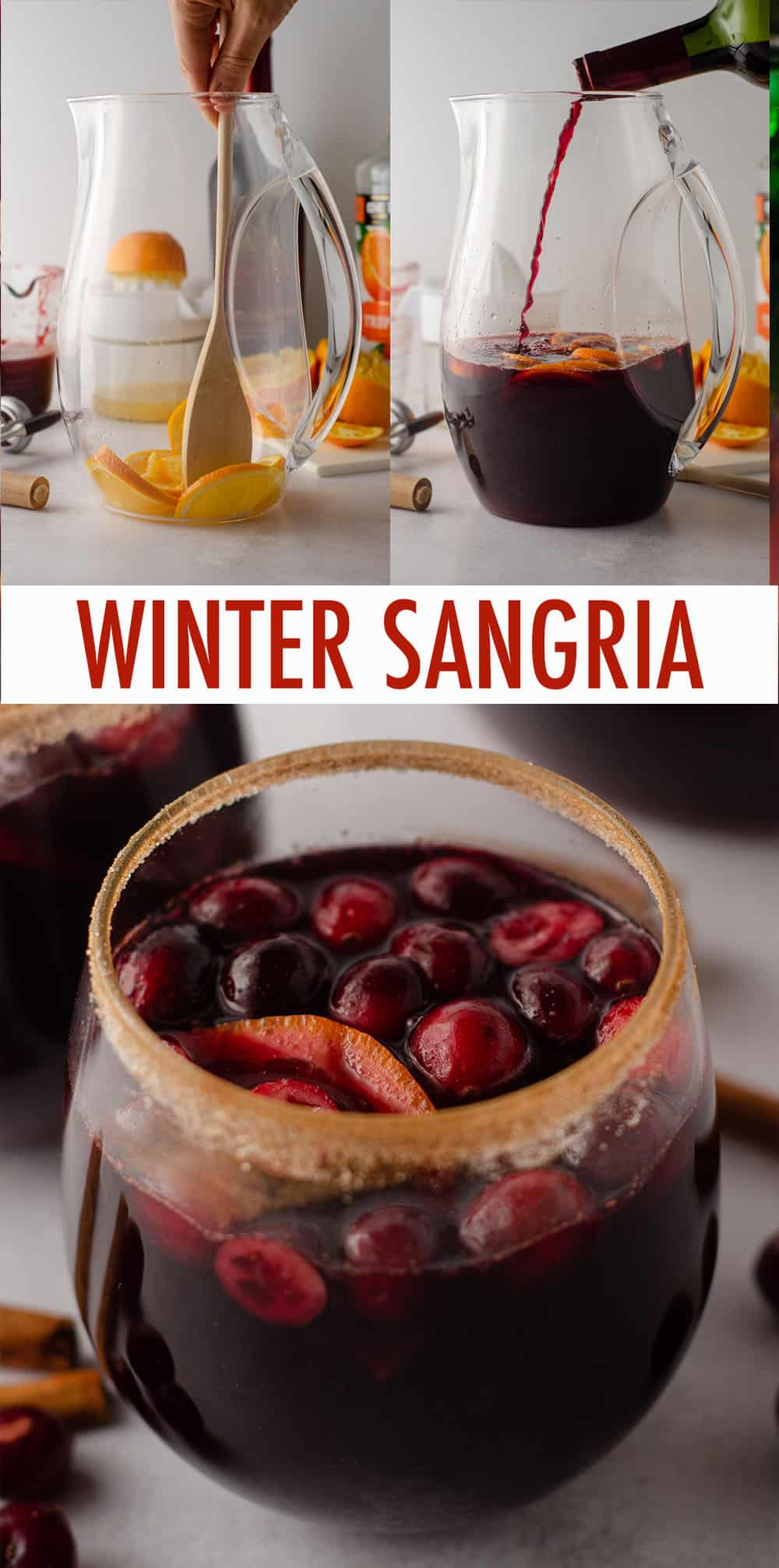 As an Amazon Associate, I earn from qualifying purchases. Read the full disclosure here.
This spiced winter sangria is made with a mulled cranberry syrup, cinnamon and cloves, freshly squeezed orange juice, triple sec, and red wine.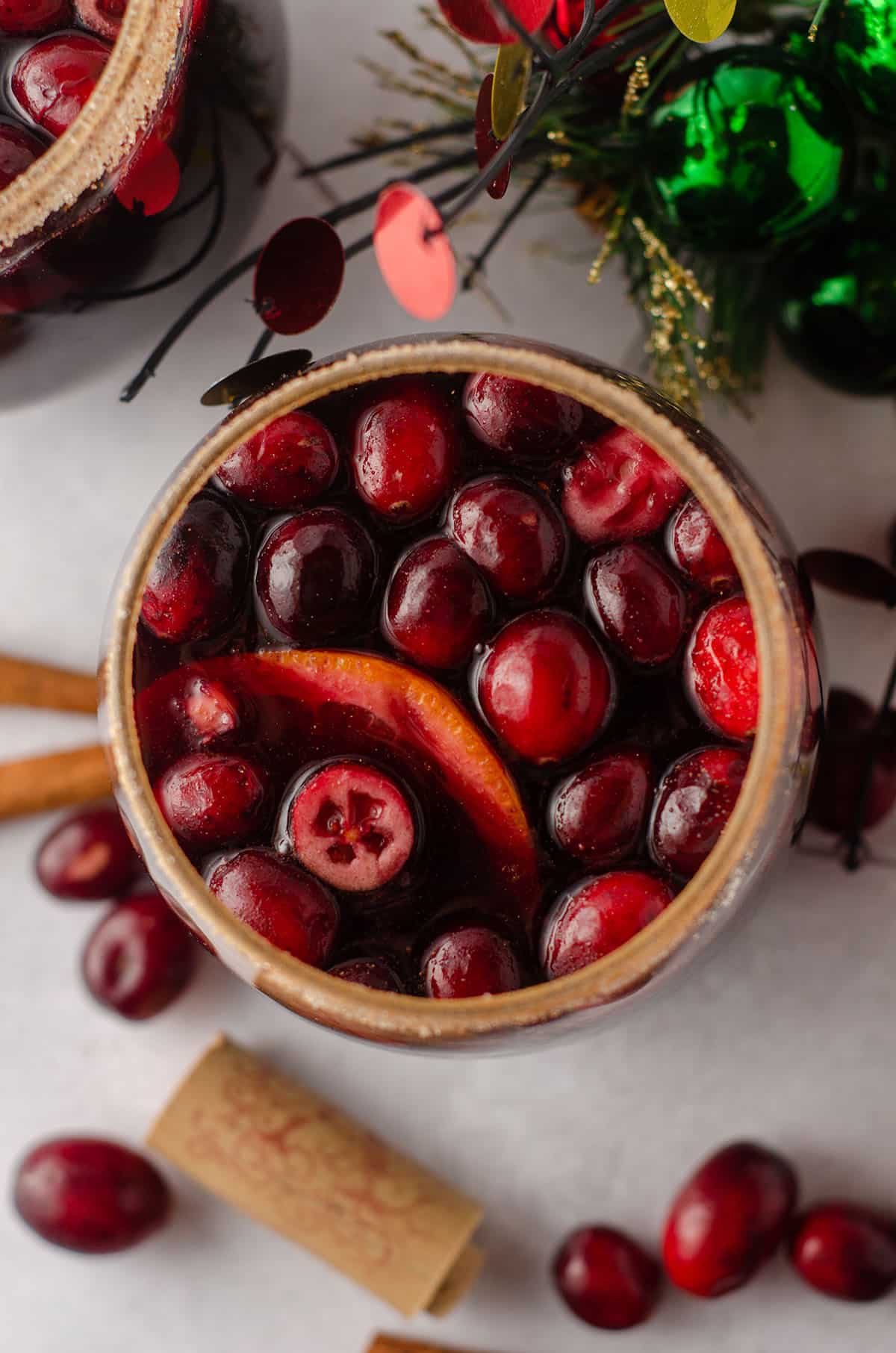 In a blogging world of mostly desserts, let's be a holiday sangria, yes?
Since I've been blogging for nearly 7 years now, there are a lot of recipes that exist on my blog that I like to revisit for updates, fresh photos, and just recirculating for my readers.
Back in 2014, during my first year of blogging, I threw together this "mulled cranberry sangria" that I learned later wasn't actually even considered a sangria (I'll get to that), and since I really and truly love revisiting old content, this one was on my to do list for right around the winter holidays.
The week I went to make this winter sangria recipe, I polled a lot of you on Instagram, asking which red wine I should use for it, and so many of you weighed in with your very specific sangria opinions… Which I loved!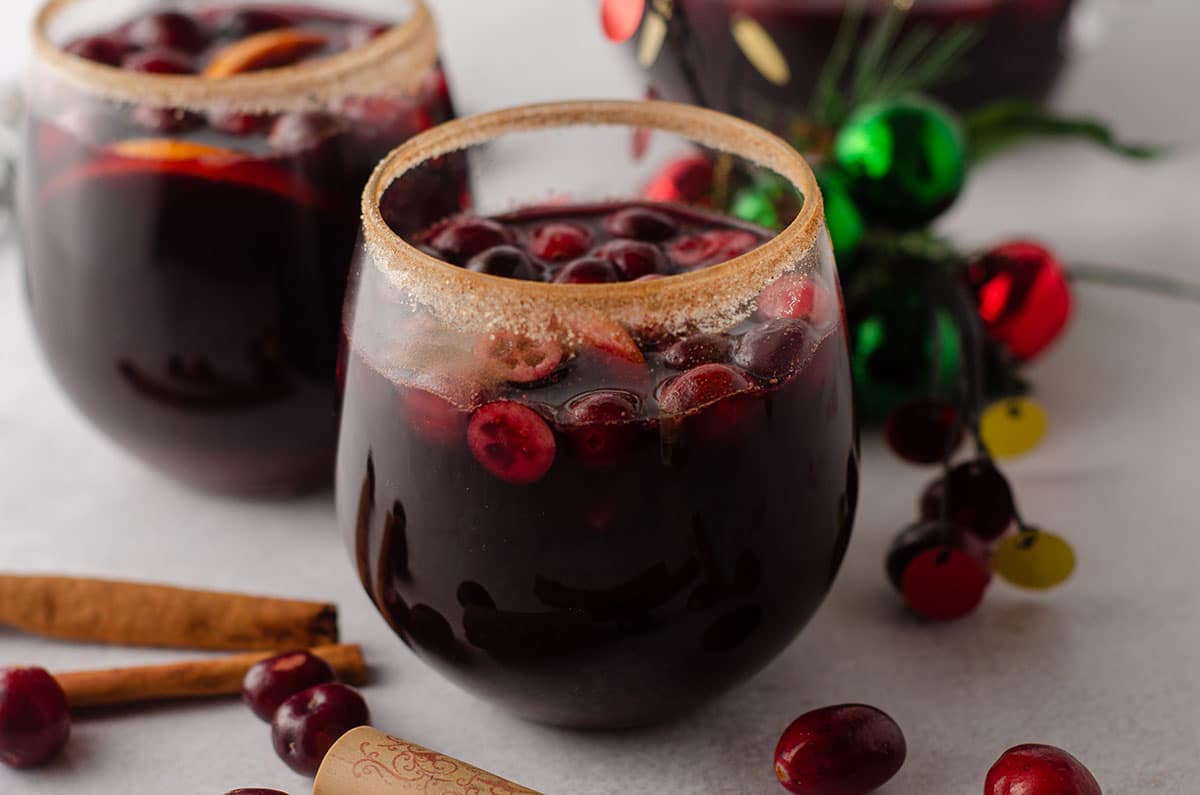 I didn't know there was so much to know about sangria, and quite honestly, I found a whole new appreciation for red wine last week, given that I wound up making 3 (yes, 3) batches of this festive sangria for us, neighbors, and friends (I can never have too many taste testers!).
I found that each batch of this easy winter sangria tasted just a touch different, based on the wine that I used.
And I couldn't even tell you one was better than the other, I just know that YOU NEED THIS holiday sangria recipe, and I bet any of the other 7 taste testers would agree with you.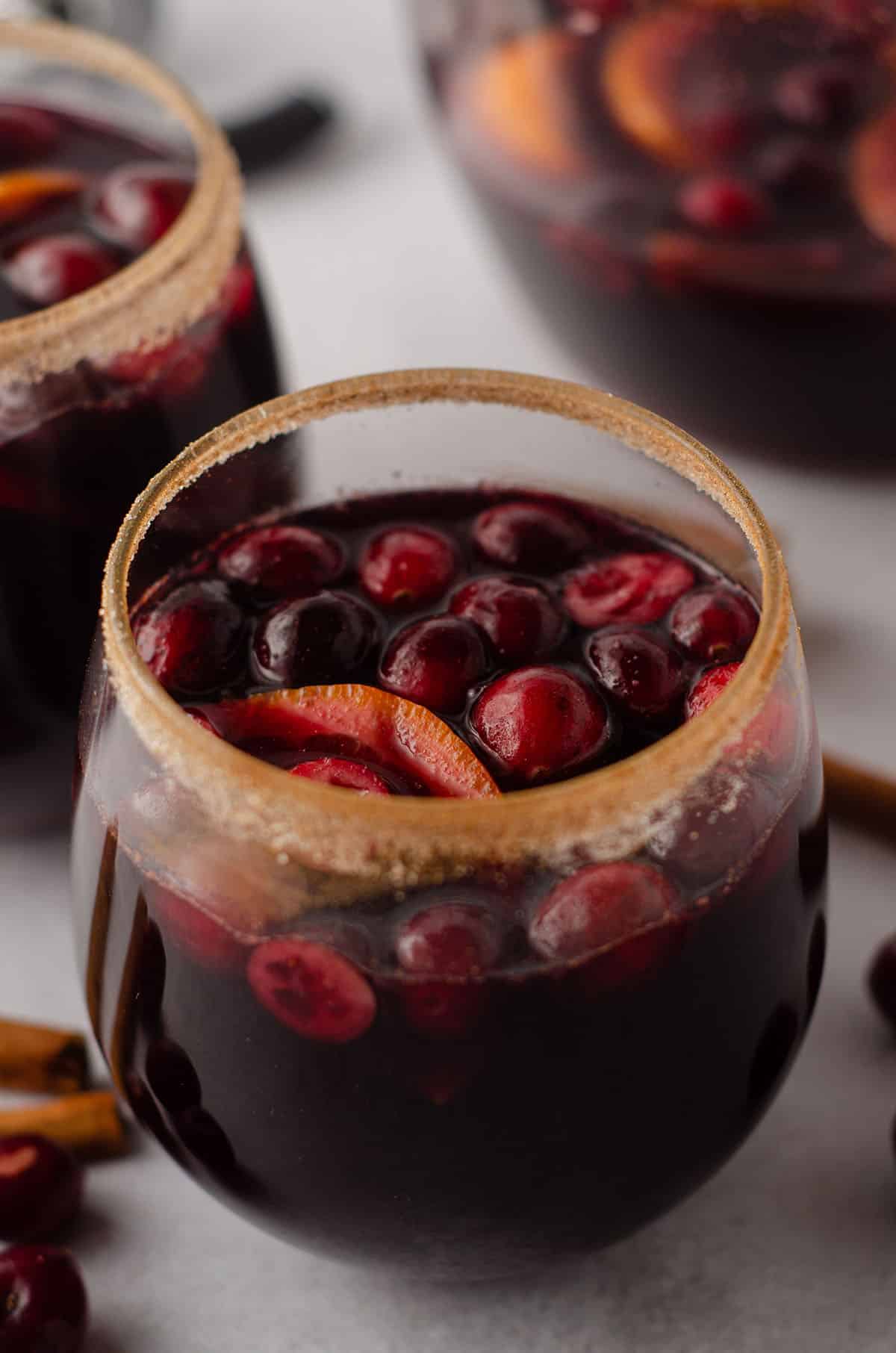 This new and improved recipe is one I'm quite proud of, and I'm certain you're going to love having it in your glass this holiday season!
So let's get to it!
You're here for holiday sangria! But SURPRISE! You get 3 things out of this post…
•a mulled cranberry simple syrup
•a spiced cranberry chutney
•a mulled cranberry sangria
A three-fer!
WHAT IS WINTER SANGRIA?
So you're familiar with sangria, but perhaps you aren't as familiar (I wasn't!) with what actually constitutes sangria.
By definition, sangria, which originated in Spain, is a mixed alcoholic beverage containing red wine, fruit and/or fruit juice, brandy (traditionally), and often topped off with something bubbly like soda water.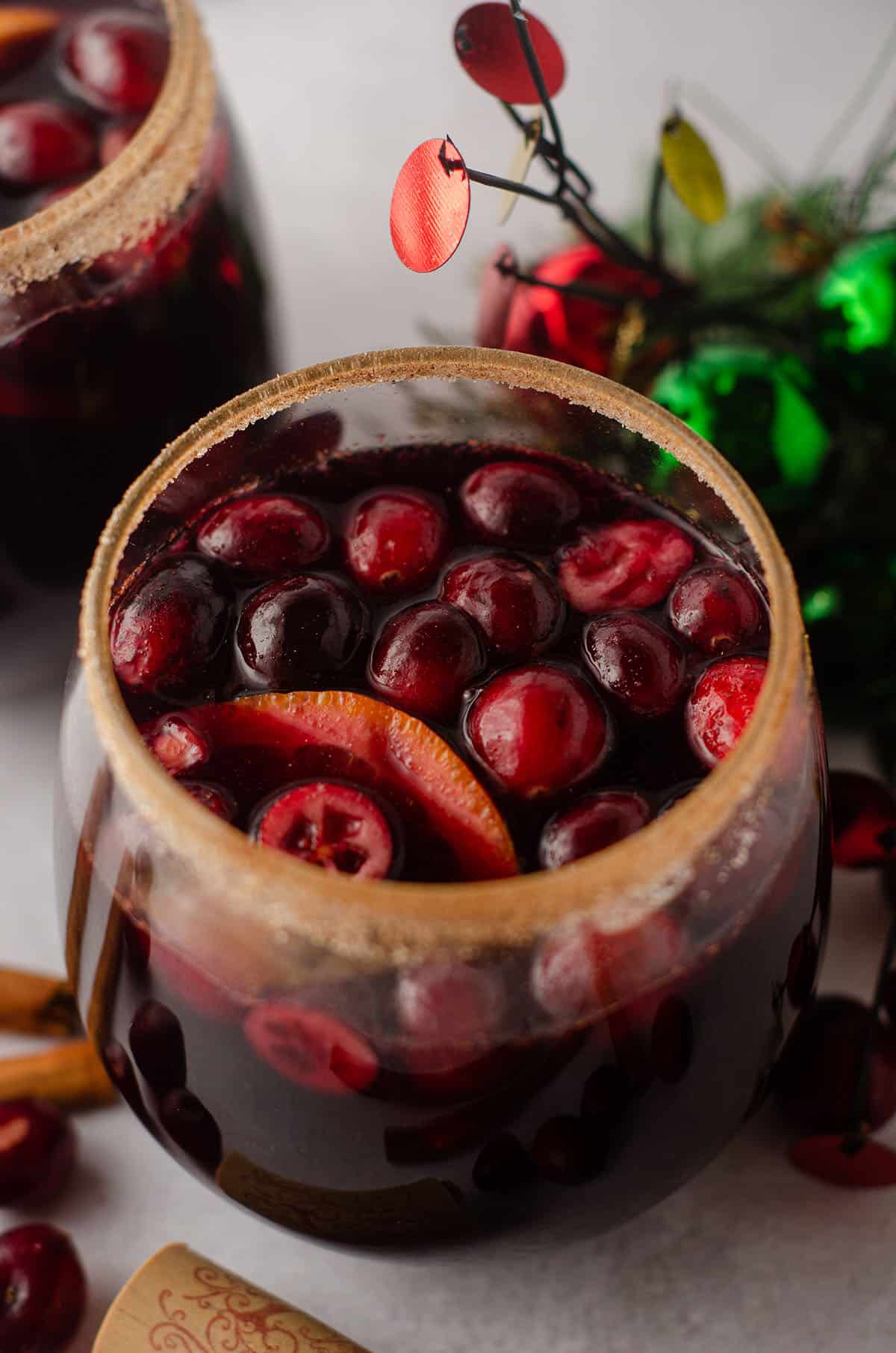 Winter sangria, then, is all of those things, just, well, wintry.
While we're keeping in tradition here with red wine, we're doing wintry fruit like cranberries and oranges.
As for the brandy, I chose to complement the orange flavor here with triple sec instead, and while I didn't personally add anything bubbly to my sangria, there's certainly room to do so.
Because cranberries are so tart, I started things off with a mulled cranberry syrup.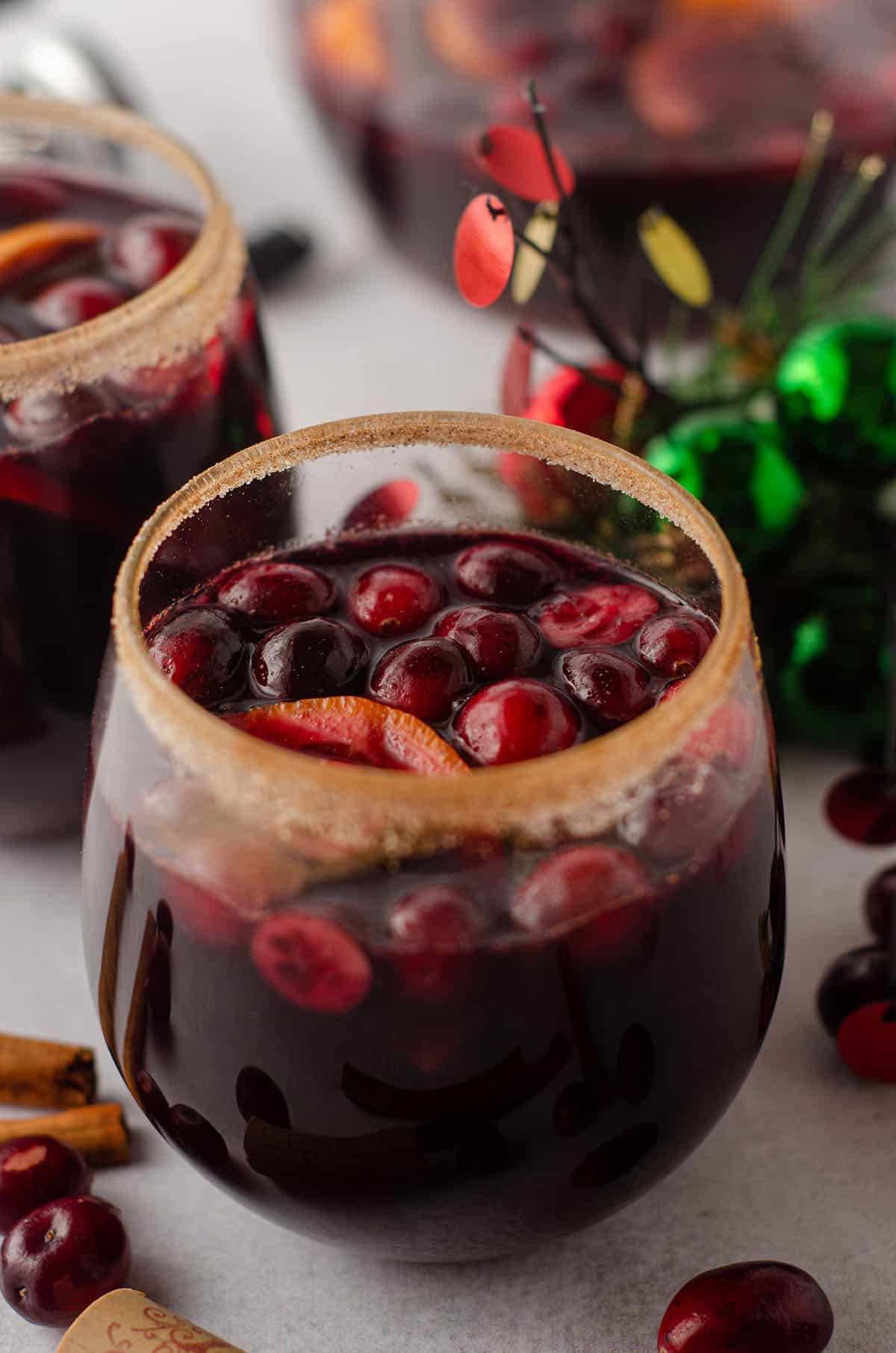 WHAT DOES MULLED MEAN?
So… Mulled. Are you familiar with mulled beverages? Typically, things that get mulled are apple cider and red wine. Mulling is just a fancy term for "warming (usually) a beverage that has been spiced with cinnamon, cloves, allspice, and/or nutmeg."
My mom used to make a big batch of mulled wine for her annual holiday party, and I remember it smelling so good and I wanted to taste it so badly, but I was very underage for many of her parties.
Since this sangria has a mulled component to it, I chose to start out my sangria the same way I start out my homemade mulled cranberry sauce: water, sugar, cranberries, cinnamon, and cloves.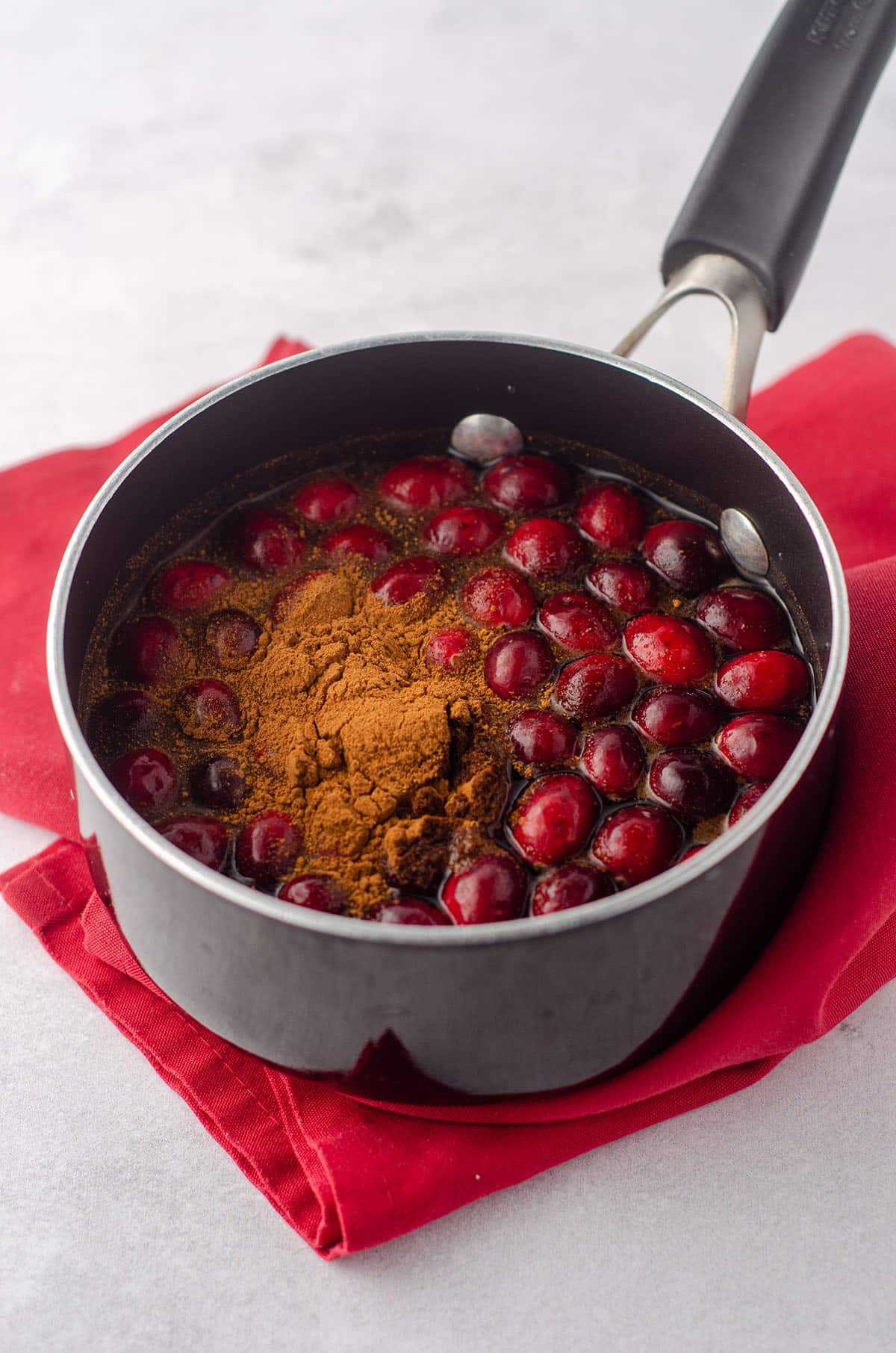 All of this gets heated on the stove, brought to a boil, and then immediately turned down to a simmer for 10 minutes. After 10 minutes, you'll find your home smells aaaamazing and that your cranberries are nice and macerated.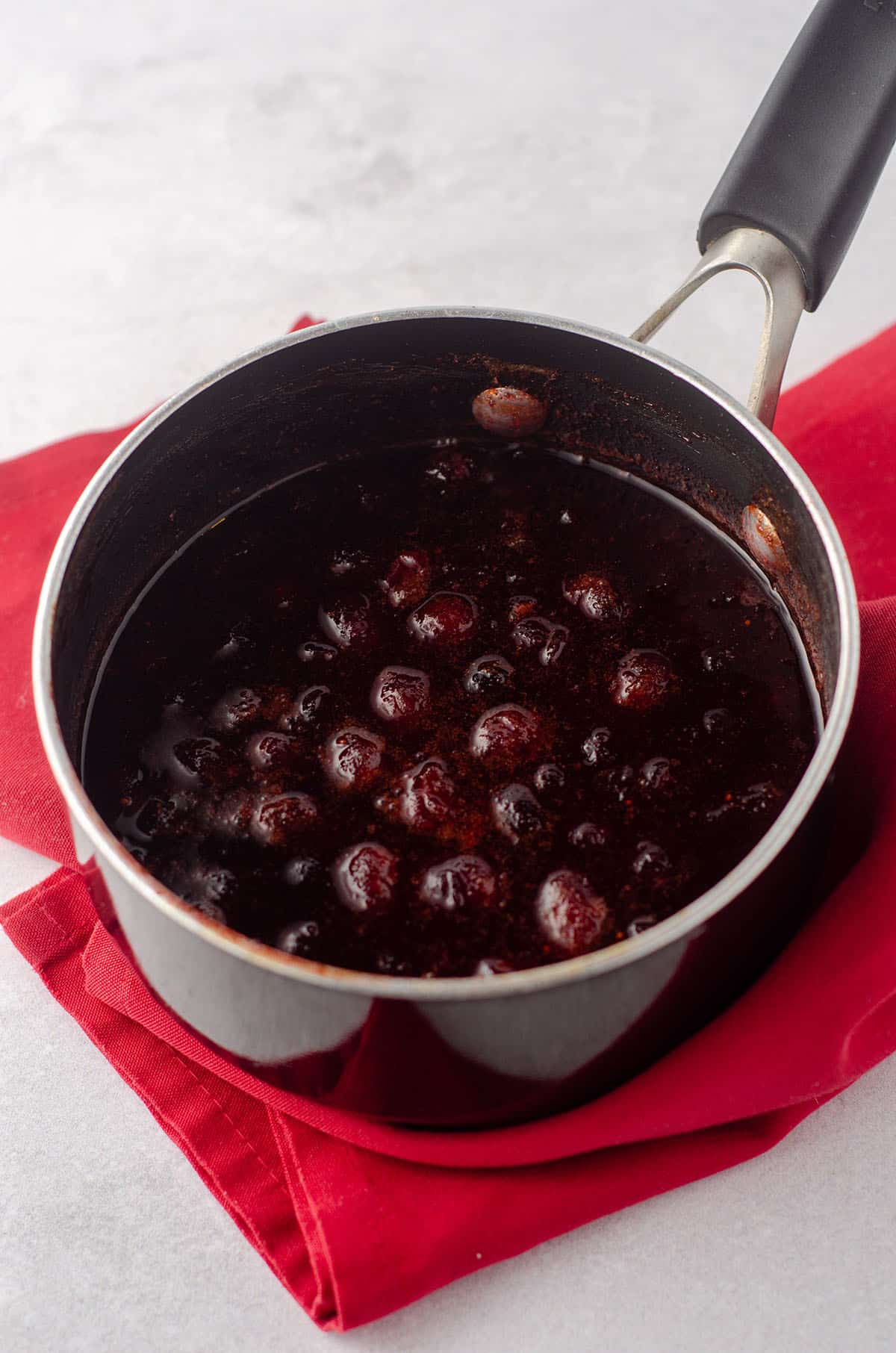 After this mixture cools down, you'll strain it through a mesh sieve and you're left with 1 cup of spicy, sweet liquid to add to your sangria (though don't discount this syrup– feel free to make some as a standalone addition to winter cocktails!).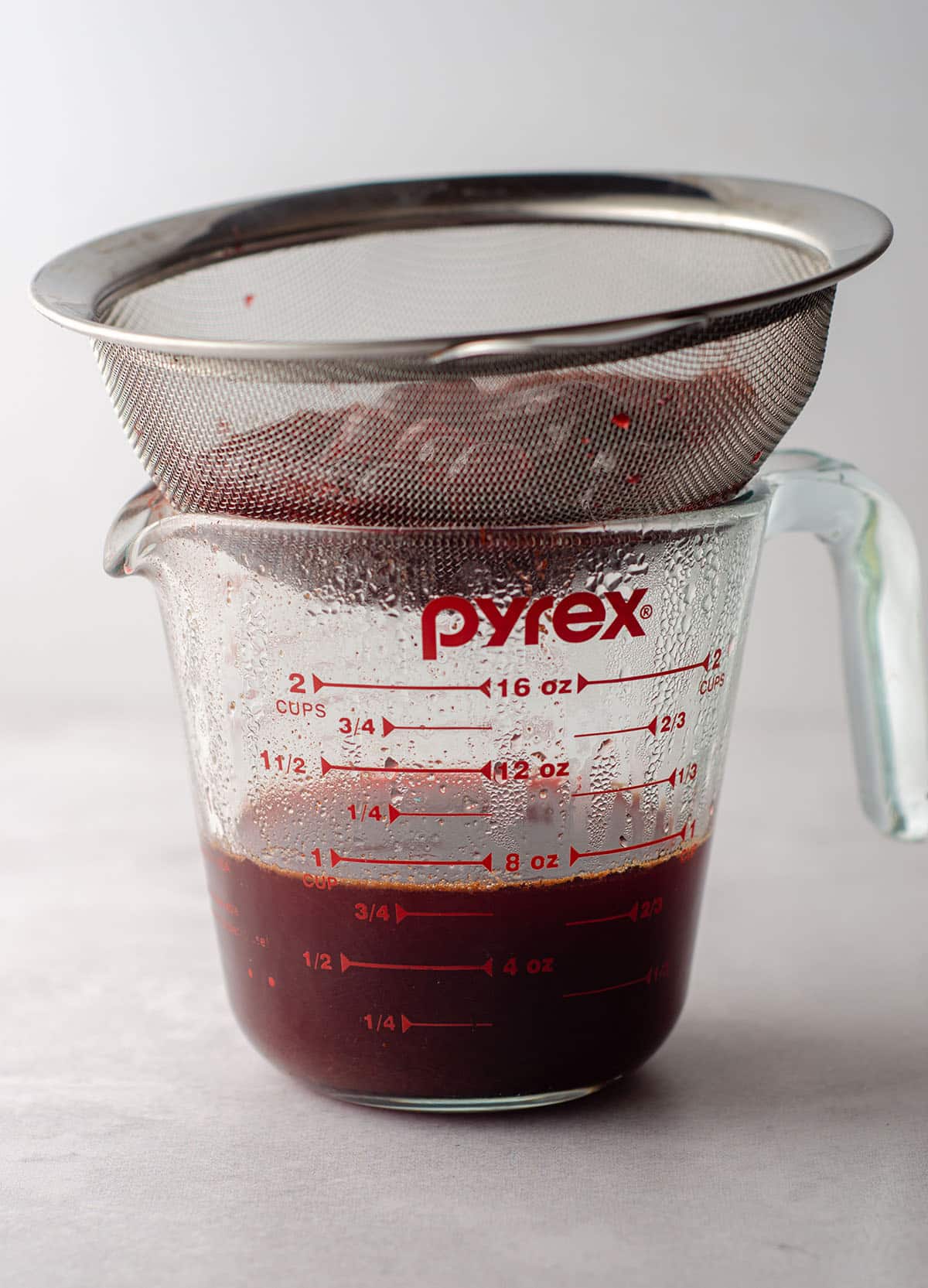 AND DON'T GET RID OF THE CHUNKS OF CRANBERRIES.
Just like that, you've made spiced cranberry chutney, which is another fancy term (what's with fancy terms anyway, huh??) for a cooked fruit/sugar/spices/often vinegar condiment typically used in Indian food.
We'll talk about what to do with your chutney in a bit.
Back to the sangria.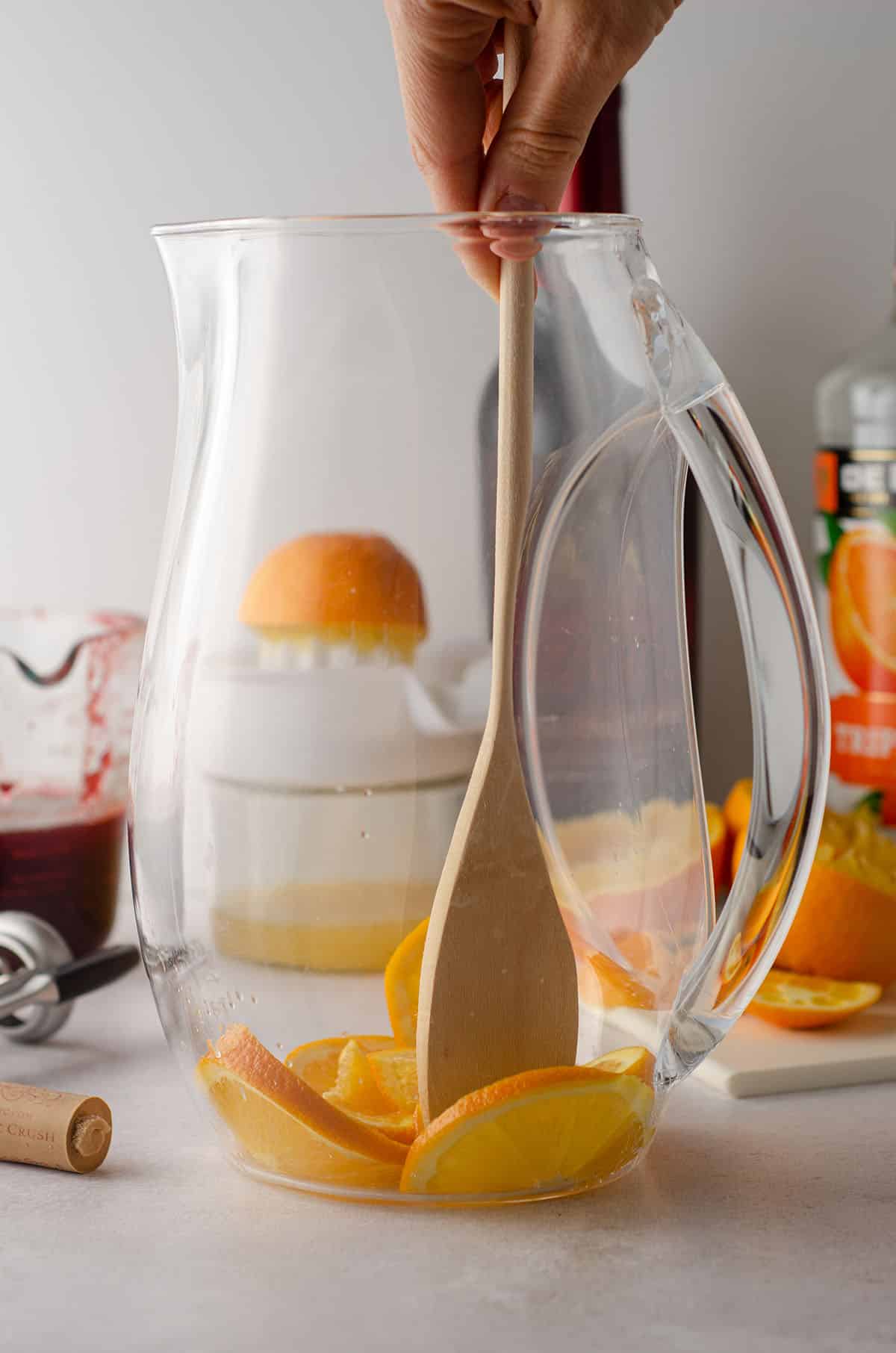 Some muddled oranges go into the bottom of your sangria pitcher, followed by some freshly squeezed orange juice, the spiced cranberry syrup, the triple sec, and then your red wine of choice.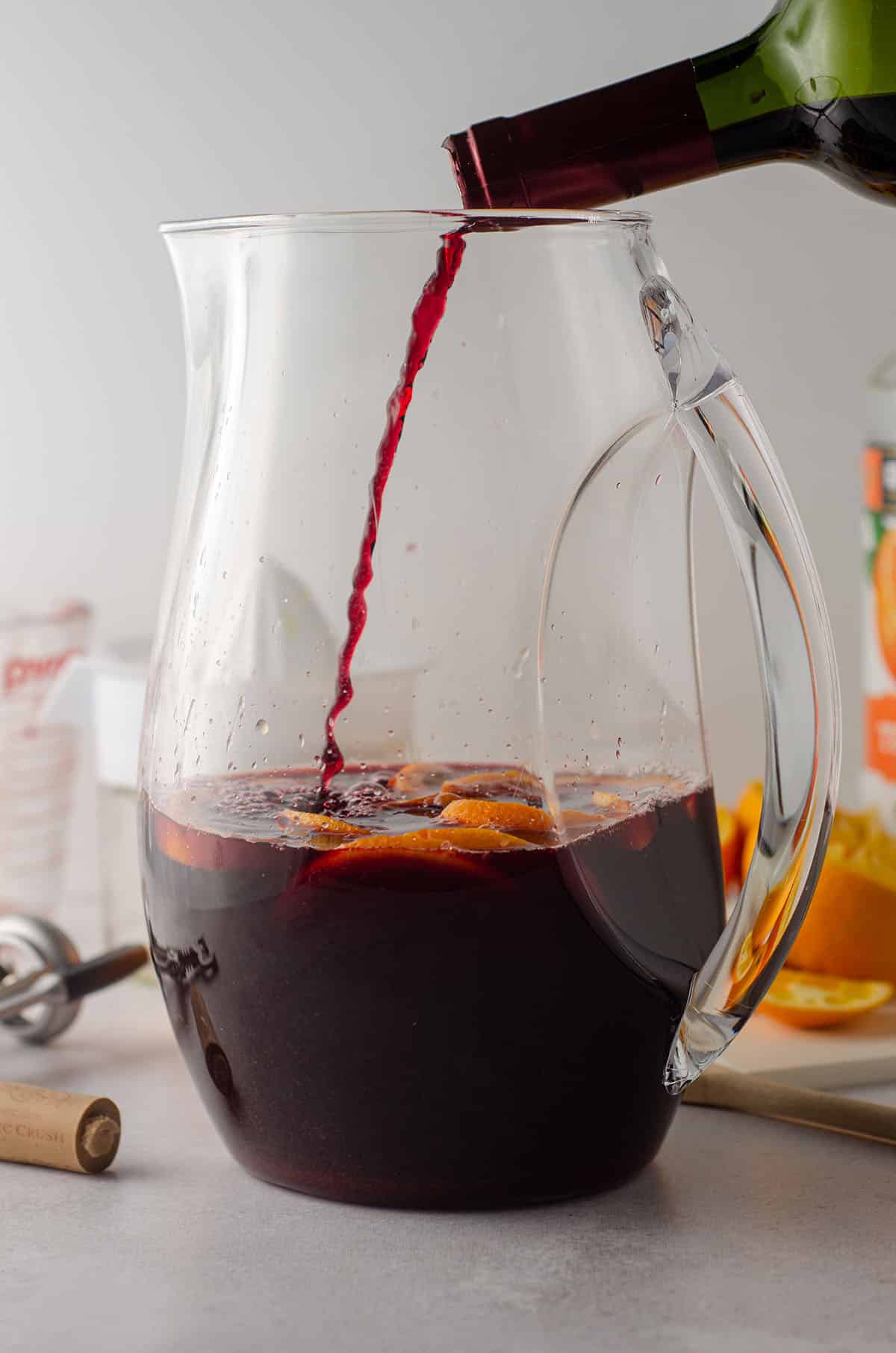 Add some additional roughly chopped cranberries to the mix, stir it all up, and then… WAIT.
Wait at least 4 hours, but ideally, let this stuff marry and chill for at least 12 hours, and if you can bear it, 24 hours.
When you're ready to serve it, add some club soda or other bubbly liquid, and you're off to the races!
My favorite thing to do with this sangria is make myself a cinnamon sugared rim (1 part cinnamon to 3 parts sugar). You won't regret that!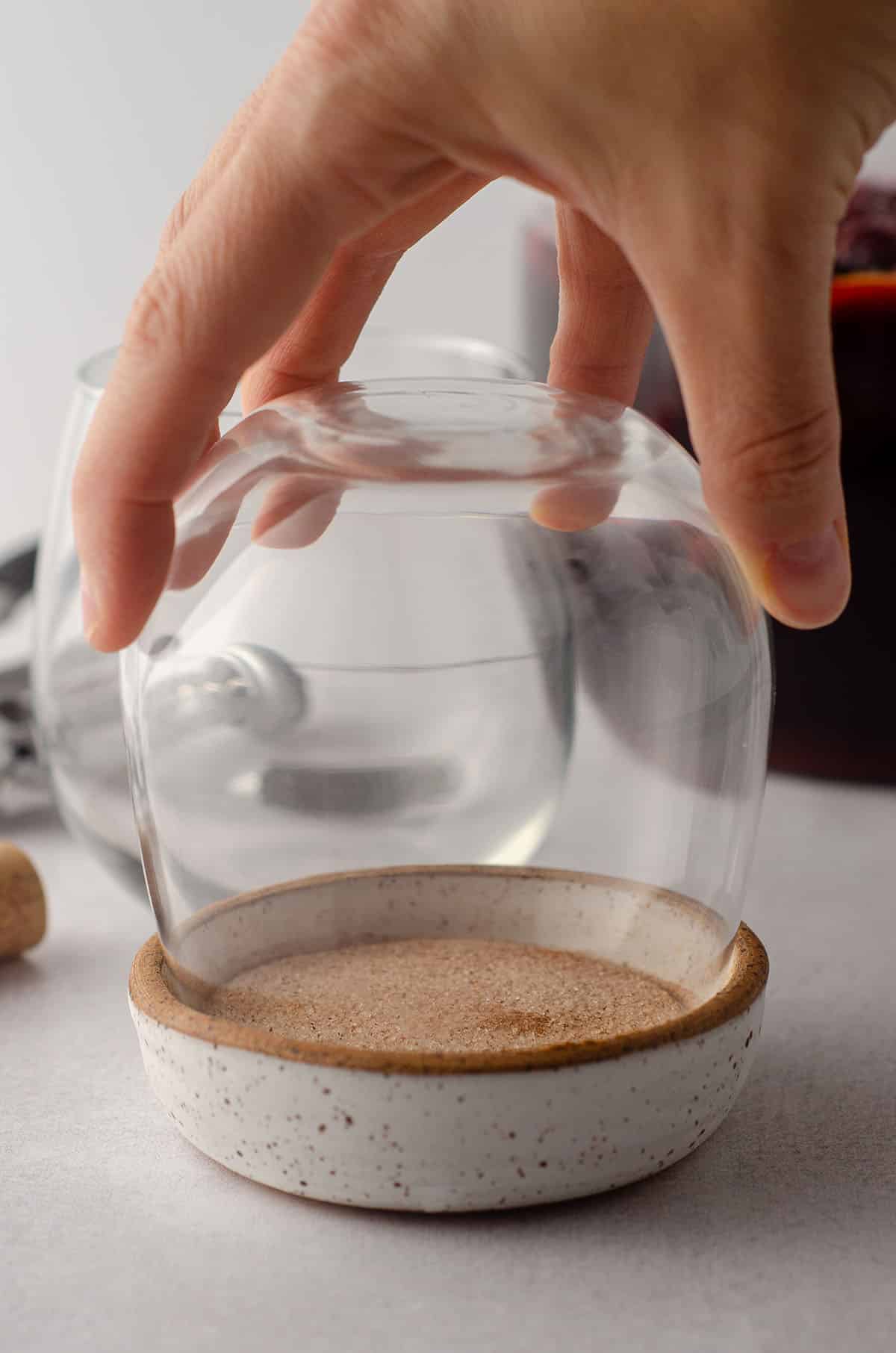 OR… Leave out the bubbly, warm it up, and enjoy it in a mug. Don't forget the cozy blanket.
As far as the chutney goes… I enjoy just eating it, but you can also…
•spread it on crackers
•spread it on bread
•spread it on a block of cream cheese to eat with crackers and/or bread
•eat it with pork, lamb, or venison
•spread it on a sandwich
•use it at Thanksgiving (here is my actual recipe for homemade mulled cranberry sauce)
You're going to love this spiciness in your holiday sangria!
Although the cranberries are sweetened up, their inherent tartness is definitely not lost. The cinnamon and cloves marry so nicely with each other to add just the right amount of seasonal flavor to every glass.
The complements of the orange give just the right amount of zest and add that warm winter citrus we love to mix with cranberry. It's totally the perfect recipe for Christmas sangria, if you ask me.
Cranberries, oranges, cinnamon, cloves, and wine… It doesn't get much more holiday-y than this, folks.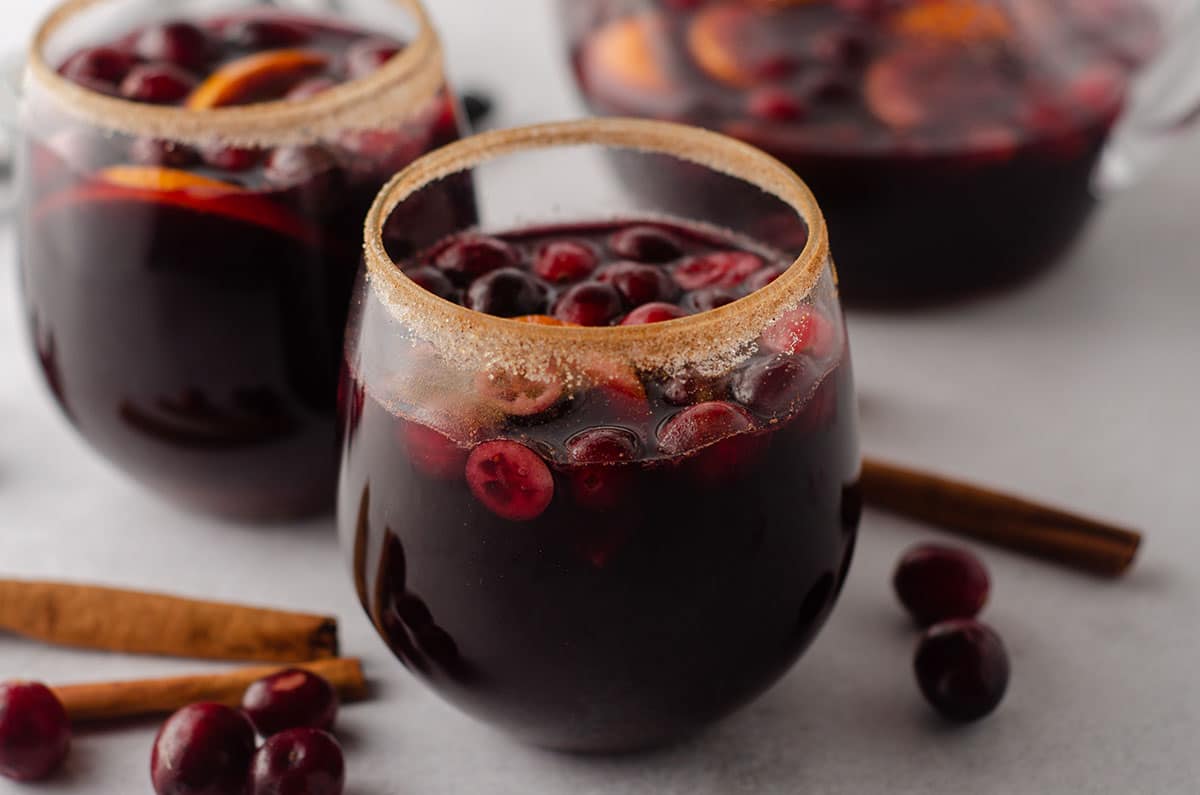 Let's get to it. Bottoms up!
Winter Sangria
This spiced winter sangria is made with a mulled cranberry syrup, cinnamon and cloves, freshly squeezed orange juice, triple sec, and red wine.
Ingredients
MULLED CRANBERRY SYRUP
1 and ¾

cups

(175g) whole cranberries

divided

1

cup

(200g) granulated sugar

1

cup

(240mL) water

2

teaspoons

ground cinnamon

½

teaspoon

ground cloves
SANGRIA
3

medium (or 2 large) oranges

1

bottle

(750mL) red wine1

⅓

cup

(80mL) triple sec
Instructions
In a medium saucepan over medium heat, combine sugar, water, cinnamon, cloves, and 1 cup (100g) of the cranberries. Bring to a boil and immediately turn down to a simmer.

Simmer the mixture for 10 minutes, stirring frequently, and being careful not to let mixture boil over sides of saucepan. After 10 minutes, cranberries will be macerated and mixture will have thickened. Remove from heat and allow to cool.

Once cranberry mixture has cooled, strain through a mesh sieve, cheesecloth, or fine strainer into a small container. Save the cranberry chunks to use as chutney2, and set aside the mulled syrup.

Slice one large orange and add the slices to the bottom of a large glass pitcher. Muddle oranges with a muddler or wooden spoon.

Juice the other two oranges and add the juice to the pitcher, along with the reserved mulled cranberry syrup, red wine, and triple sec. Stir to combine.

Roughly chop the remaining ¾ cup of cranberries, then add to the pitcher. Allow sangria to chill in the fridge minimum of 2 hours (the longer the better). Serve chilled with a cinnamon-sugared rim3.
Notes
Red wine: be sure to use a good, quality red wine. Avoid using a very expensive one, since you will be adding to it, but choose one that you enjoy drinking by the glass. Deep and fruity vs super dry is ideal for sangria.
Cranberry chutney: don't throw away your chutney! Spread on crackers or bread, spread on a block of cream cheese to eat with crackers or bread, or use as a sandwich spread. You can also serve it with pork, lamb, or venison. Similarly, see my mulled cranberry sauce for Thanksgiving, which is essentially the same thing.
To serve sparkling: right before serving, top off your pitcher with sparkling water, seltzer, club soda, or ginger ale.
Winter sangria for a crowd: this recipe doubles nicely, as one recipe uses exactly half of a traditional 12oz bag of cranberries.
Nutrition Disclosure
All nutritional values are approximate and provided to the reader as a courtesy. Changing ingredients and/or quantities will alter the estimated nutritional calculations.
Serving:
1
serving
|
Calories:
321
kcal
|
Carbohydrates:
53
g
|
Protein:
1
g
|
Fat:
0.3
g
|
Saturated Fat:
0.03
g
|
Polyunsaturated Fat:
0.1
g
|
Monounsaturated Fat:
0.03
g
|
Sodium:
9
mg
|
Potassium:
310
mg
|
Fiber:
3
g
|
Sugar:
46
g
|
Vitamin A:
170
IU
|
Vitamin C:
39
mg
|
Calcium:
48
mg
|
Iron:
1
mg