Cinnamon Streusel Coffee Cake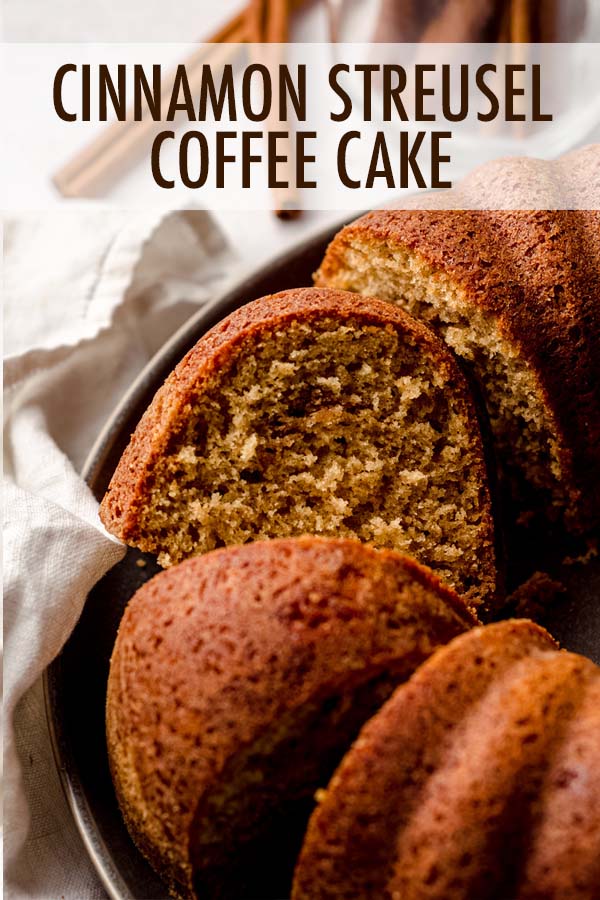 As an Amazon Associate, I earn from qualifying purchases. Read the full disclosure here.
This classic coffee cake recipe is made with a buttery cinnamon streusel ribbon through the middle and on the bottom of each slice.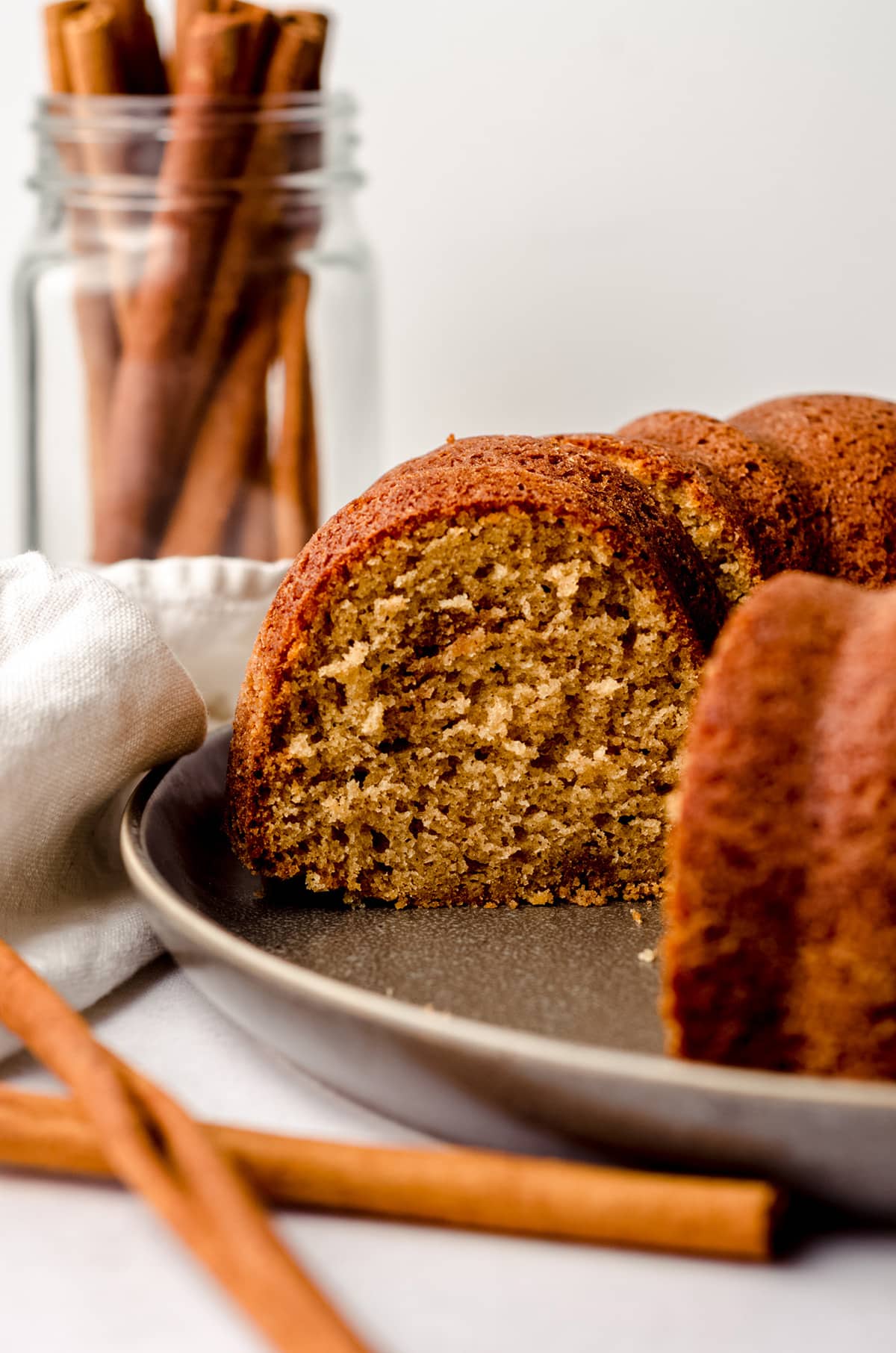 I have a little bone to pick with "coffee cake," because as the name suggests, you'd think it should be a cake flavored with coffee, much like my mocha cake.
But alas, because America is interesting, coffee cake is actually, in fact, a sweet cake intended to be served with coffee or tea.
This recipe for coffee cake has lived on my website since 2015, when I did a series of my favorite things (affectionately called #lynnsfavs). I have always loved coffee cake, likely because it is quite the vehicle for cinnamon and streusel, two of my love languages.
Back in 2015, I was still learning how to branch out from cookies, cupcakes, and cakes, so I turned to my favorite celebrity baker, Ina, knowing she'd likely have something for me to start with.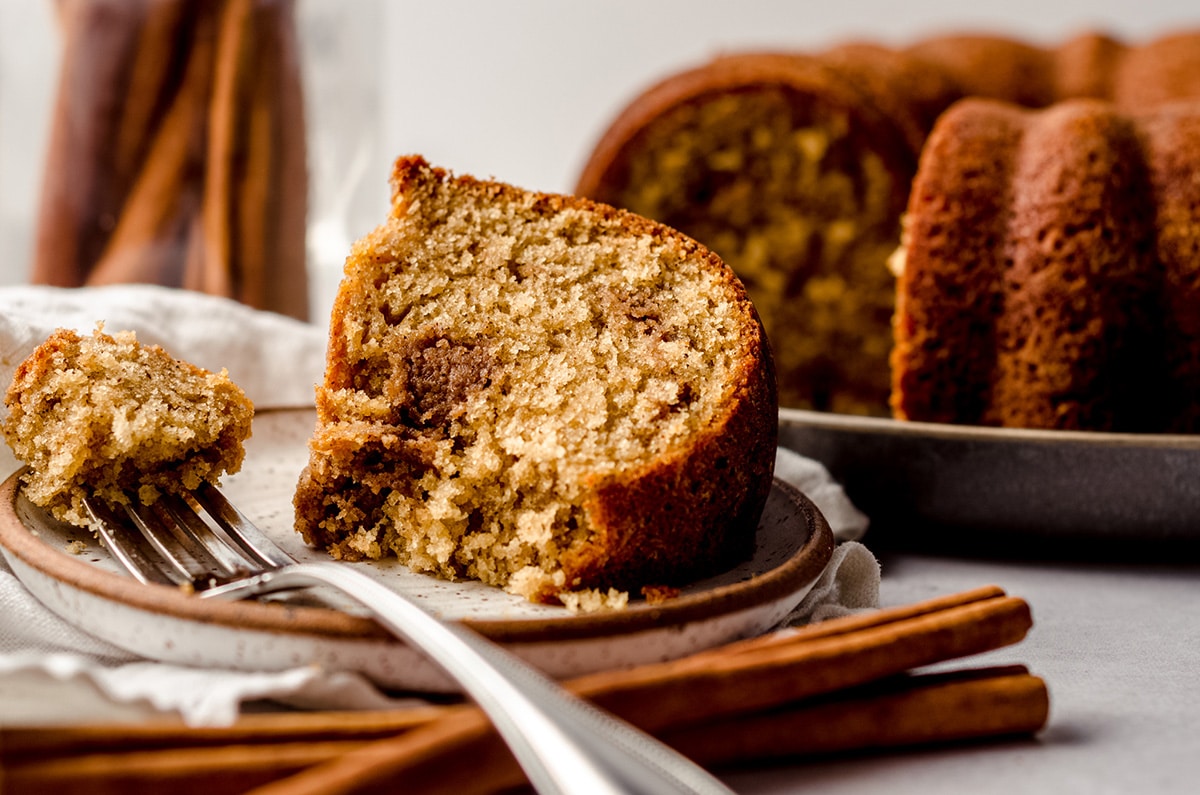 I really needed a coffee cake recipe that would check off all of the qualities I was looking for, which included:
•an easy, uncomplicated list of ingredients
•lots of cinnamon
•something that would be super moist
•could fit into a bundt pan (more on this later)
•and didn't need any kind of glaze
After perusing what seemed like hundreds of recipes, one look at Ina's and I knew I had found the coffee cake of my dreams.
Of course, I changed a few things to make Ina's coffee cake fit my preferences, such as eliminating the glaze and putting streusel in every crevice I could.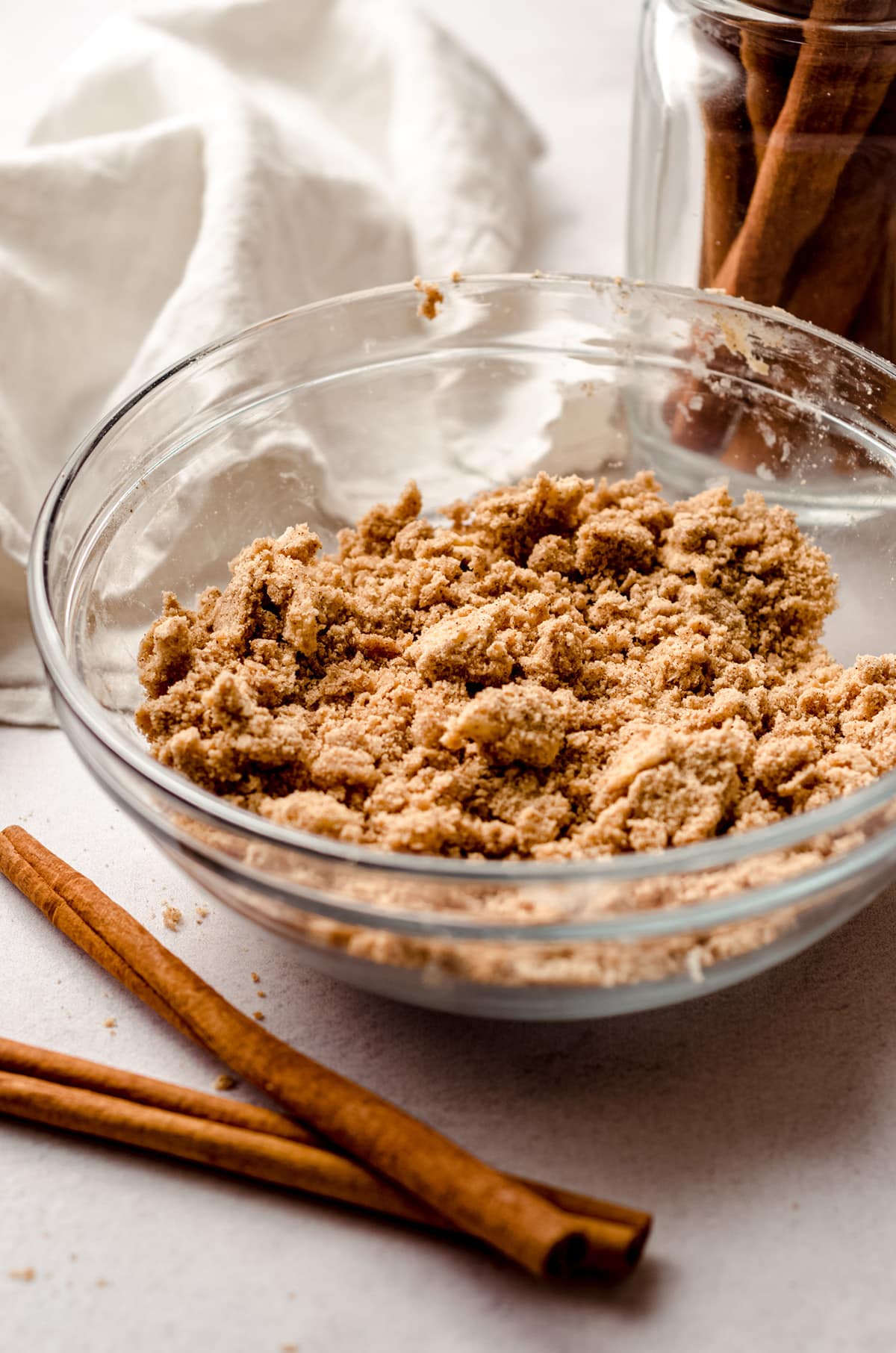 This is a cinnamon streusel coffee cake, after all. The streusel needed to be the star of the show.
So much the star, in fact, that I put a layer of streusel not only on the bottom but ALSO the middle of the batter in my bundt pan so my coffee cake has adequate amounts of streusel in every single bite.
INGREDIENTS
The ingredient list for this streusel coffee cake recipe is quite simple. And you'll repeat a few of the ingredients from the streusel topping to the cinnamon coffee cake itself, so don't be intimidated by the seemingly long list below.
COFFEE CAKE
For the coffee cake itself, you'll be using flour, ground cinnamon, baking powder, baking soda, and salt as the dry ingredients.
The fat base is made with softened butter, both brown and white sugars, eggs, vanilla extract, and the ingredient that brings the most moisture to this moist coffee cake, the full fat yogurt or sour cream.
Either is totally fine, but I sincerely urge you to make this cinnamon streusel coffee cake with sour cream as opposed to yogurt– it is just SO luscious!
STREUSEL
I love streusel so much that I have dedicated an entire post to just streusel topping. If you're interested in the whats and whys of the ingredients, how to convert the recipe and use it for any baked good you desire, give that post a read.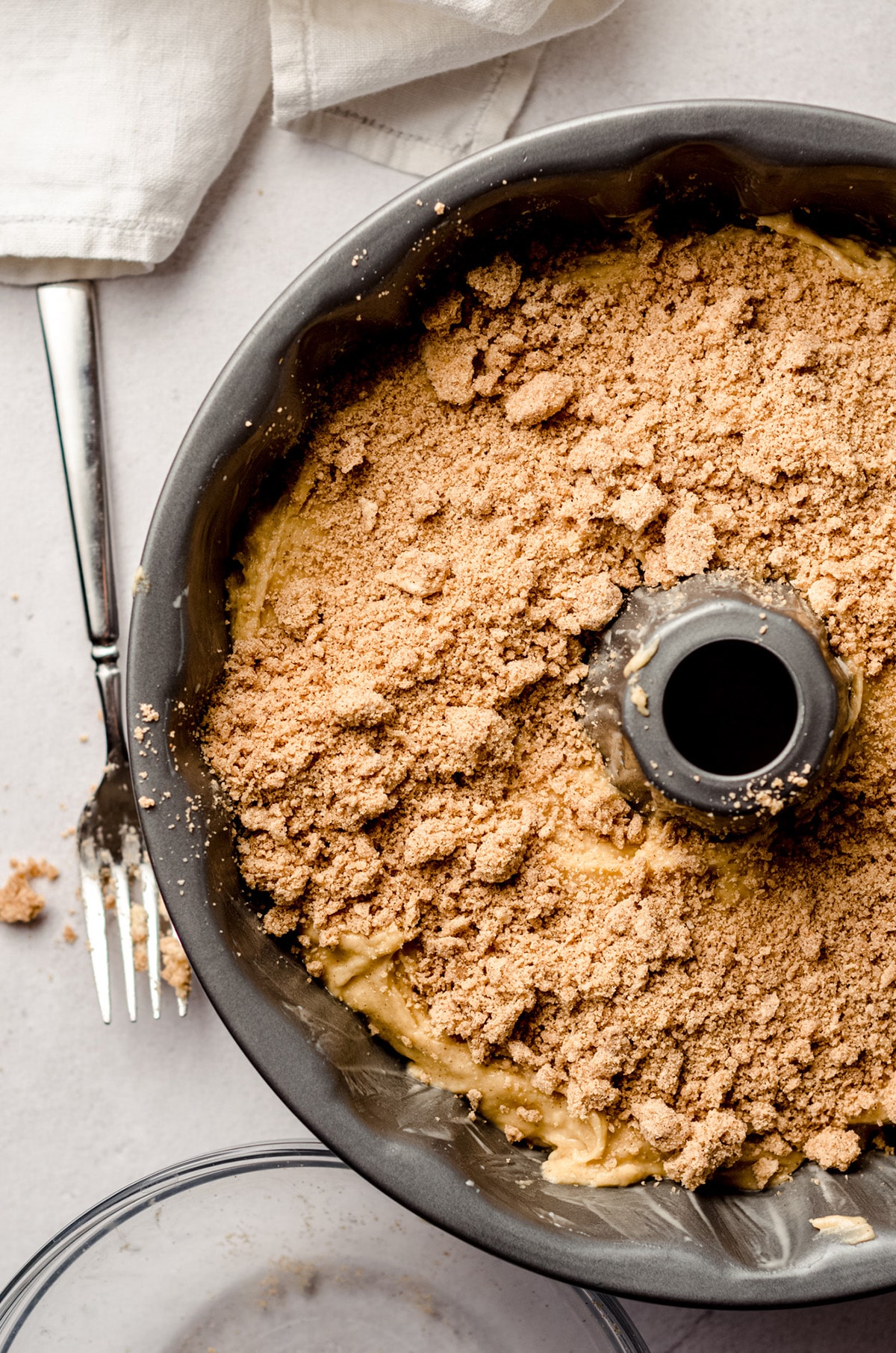 For the streusel in this cinnamon streusel bundt cake, you'll need flour, brown sugar, ground cinnamon, salt, and butter (see? I told you we'd repeat ingredients from the batter!).
HOW TO MAKE CINNAMON STREUSEL COFFEE CAKE
Before you get to making the coffee cake batter, you'll make your streusel topping. You can do this up to 3 days in advance, being sure to store your streusel covered in the refrigerator.
Once your streusel is ready, you can get to work on the coffee cake batter.
You'll start by whisking together the dry ingredients and setting them aside. You'll be adding them to the wet ingredients in a bit.
Next, cream together your butter and sugars until light in color and fluffy in texture. Beat in the eggs, vanilla extract, and yogurt or sour cream.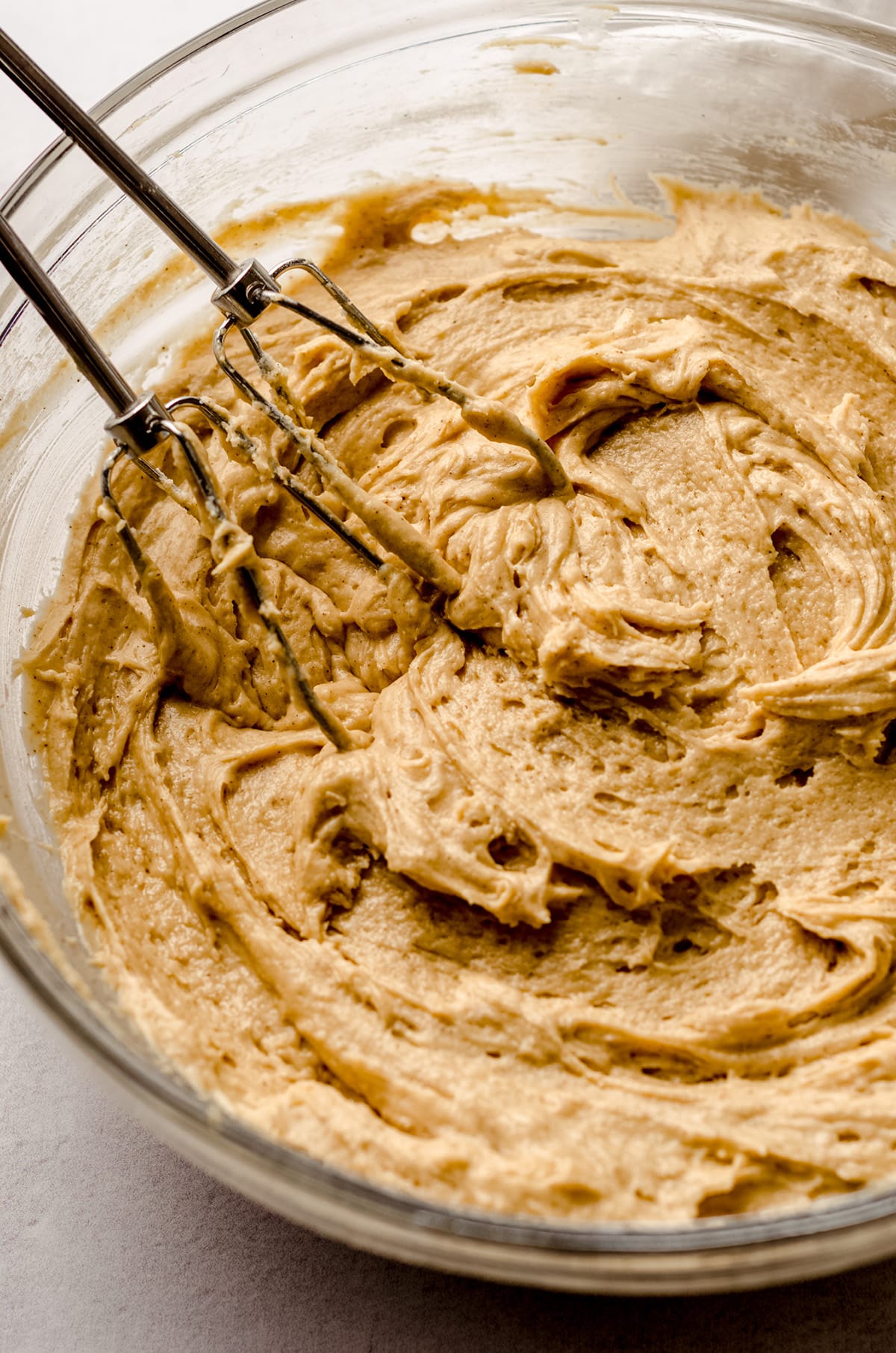 Lastly, add the dry ingredients, beating until just combined. The resulting batter will give you a light and fluffy coffee cake crumb that is the perfect vehicle for the sweet, salty, and slightly crisp cinnamon streusel that gets all up in every bite.
ASSEMBLE THE CINNAMON STREUSEL COFFEE CAKE IN A BUNDT PAN
I love doing this coffee cake in a bundt pan because not only does it look so pretty in that bundt shape, but the slices of cake get tall and can totally show off that delectable cinnamon streusel ribbon going through each slice.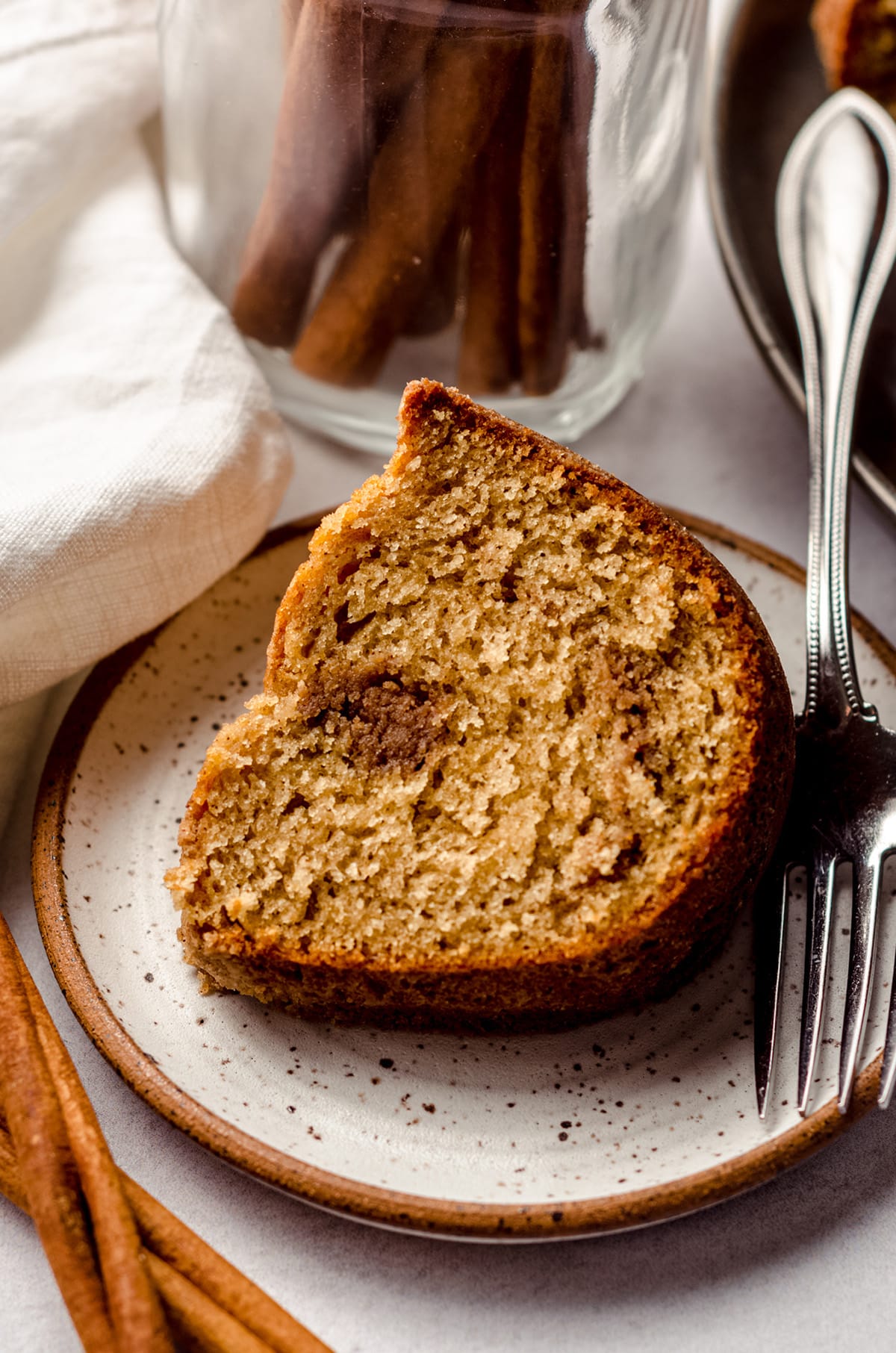 When I originally shared this coffee cake, I had a streusel layer on top and on the bottom, but over time, I preferred having a streusel layer in the middle, as it showcases the texture and flavor much better than squishing the streusel into the bottom of the bundt pan.
Pour half of the coffee cake batter evenly into the bundt pan, then layer on about half of the streusel mixture.
Then, layer on the rest of the batter and finish off the whole thing with the remaining streusel topping.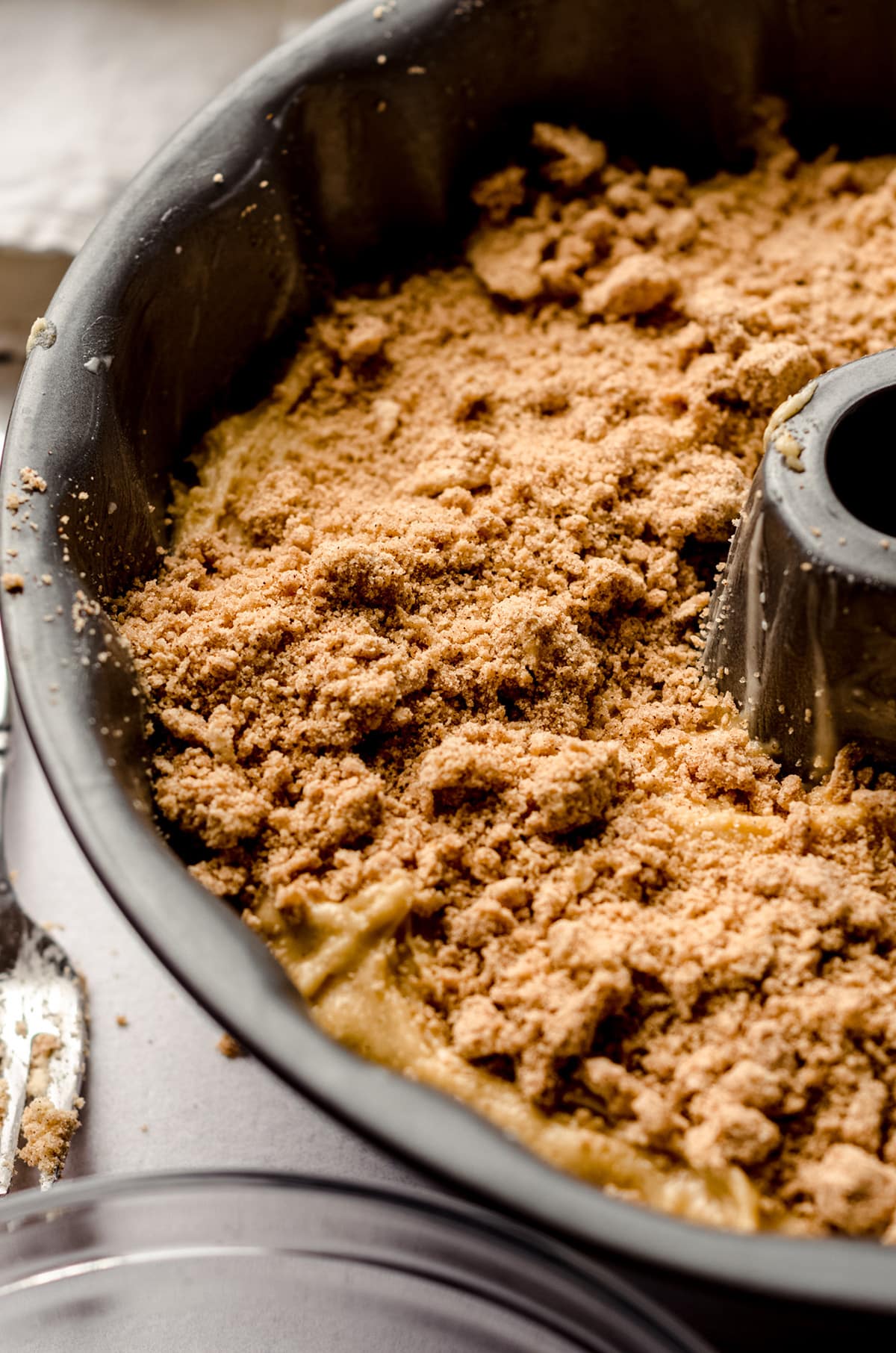 WHAT IF I DON'T HAVE A BUNDT PAN?
If you don't have a bundt pan or simply don't want to use one, this recipe will fit into a 9″ x 13″ baking pan. See recipe notes for assembly and baking instructions.
HOW TO GET COFFEE CAKE OUT OF THE BUNDT PAN
Once your cake is fully baked, you'll let it rest for about 10 minutes. After 10 minutes, you'll very carefully, and with oven mitts (because your pan will still be crazy hot), flip your pan onto the serving dish, leaving the cake in the pan to cool.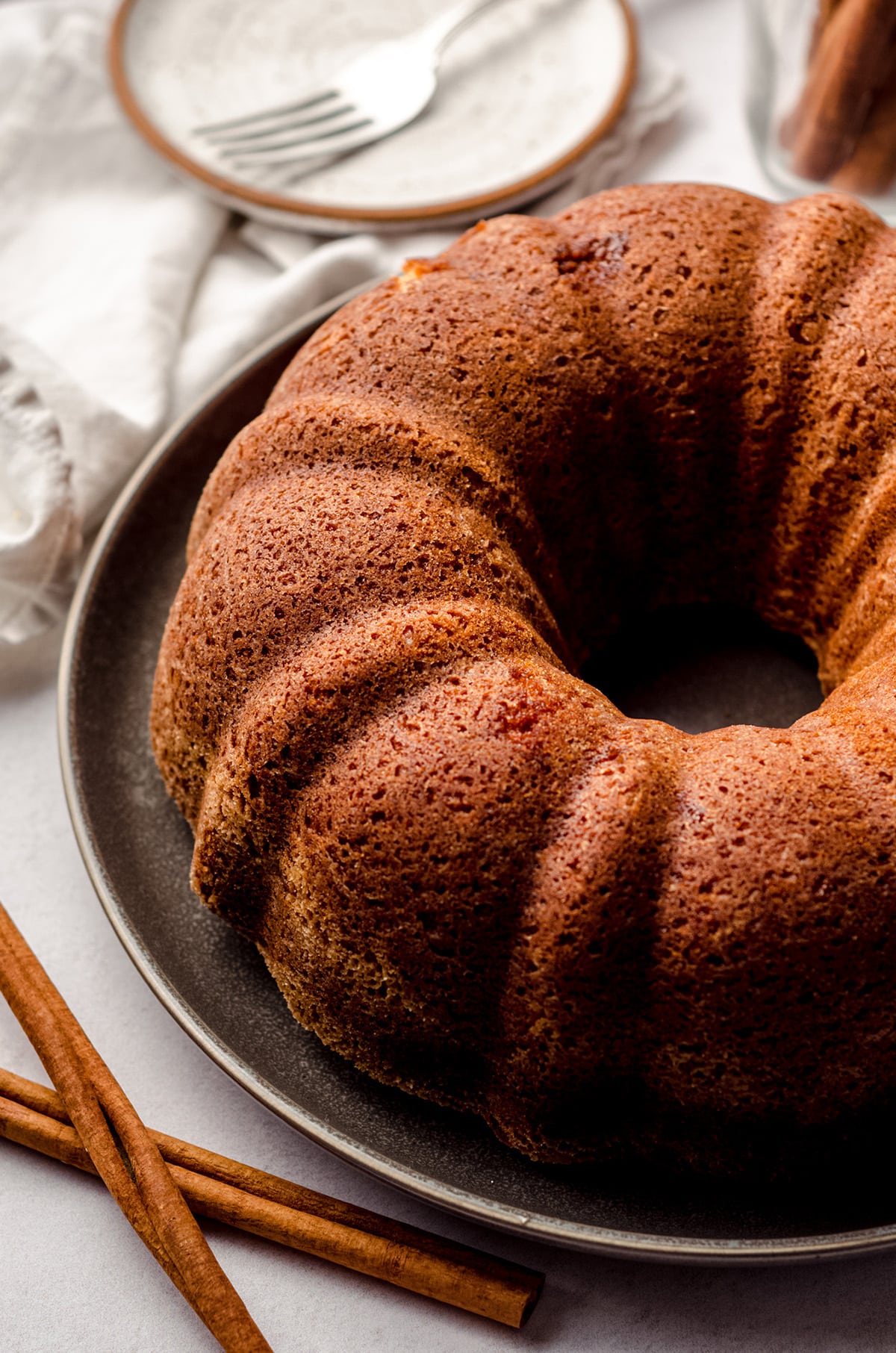 Not only will this insure your cake comes out of the pan, but it will also flatten out the streusel on the top of the cake (which, in your flipping, will make the top the bottom– did I lose you?) so your cake will sit nicely on a flat surface despite its bottom being FULL OF STREUSEL LUMPS!!
LEAVE AS IS OR TOP WITH SOMETHING YOU LOVE
I almost always leave my sour cream streusel coffee cake as is, but I have also served it with a simple dusting of powdered sugar or an easy glaze. If you want a glaze, there's a very simple recipe in the instructions below.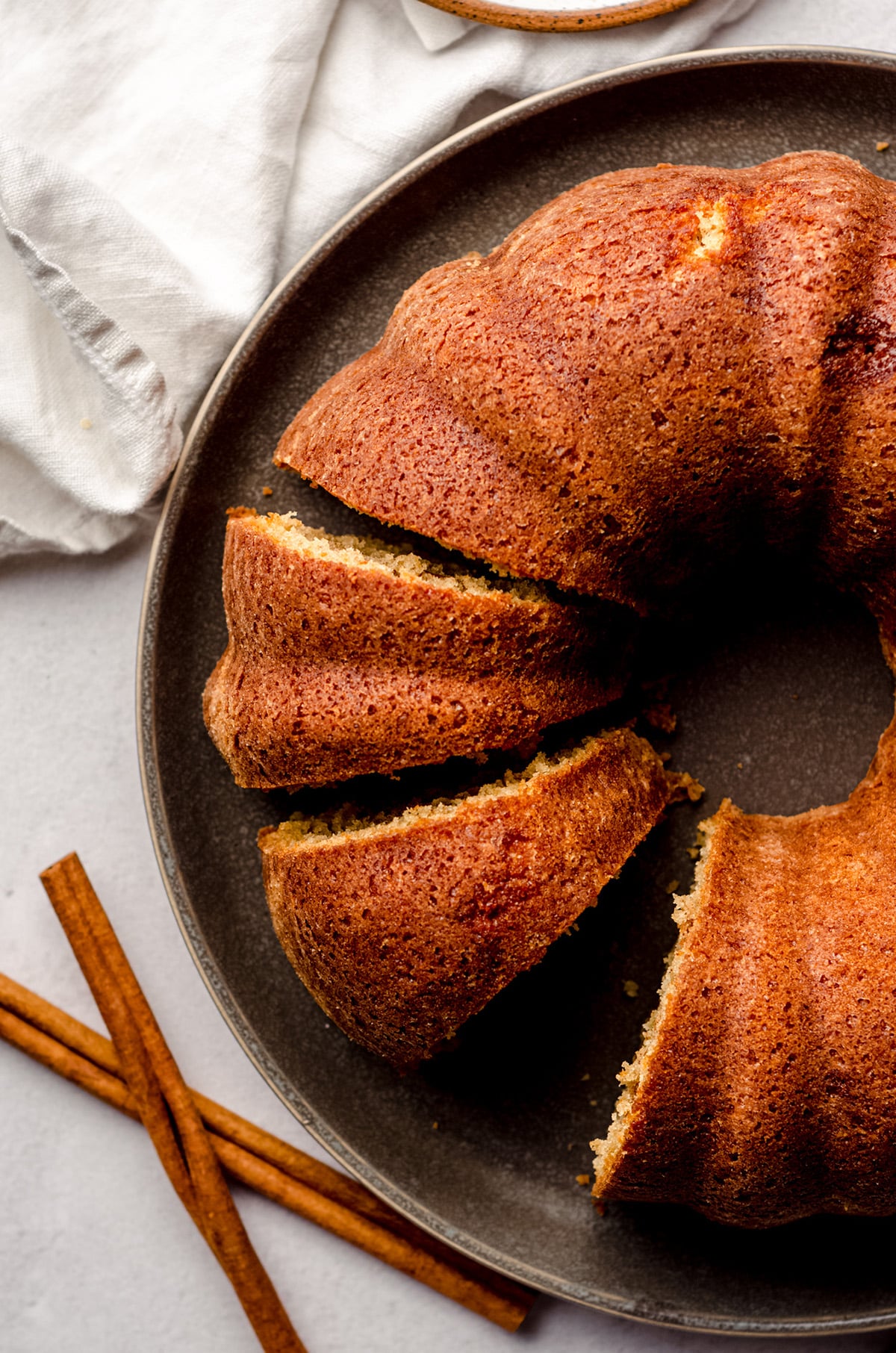 I don't know if I have adequate words to describe to you just how delicious this coffee cake is. Not only do you have streusel in every which way you take a bite, but the cake itself is just an absolutely perfect texture.
It is not too dense that you feel weighed down by each bite, but it's also not light in the slightest, so you have a ton of vanilla/cinnamon cake flavor going on between your bites of buttery streusel.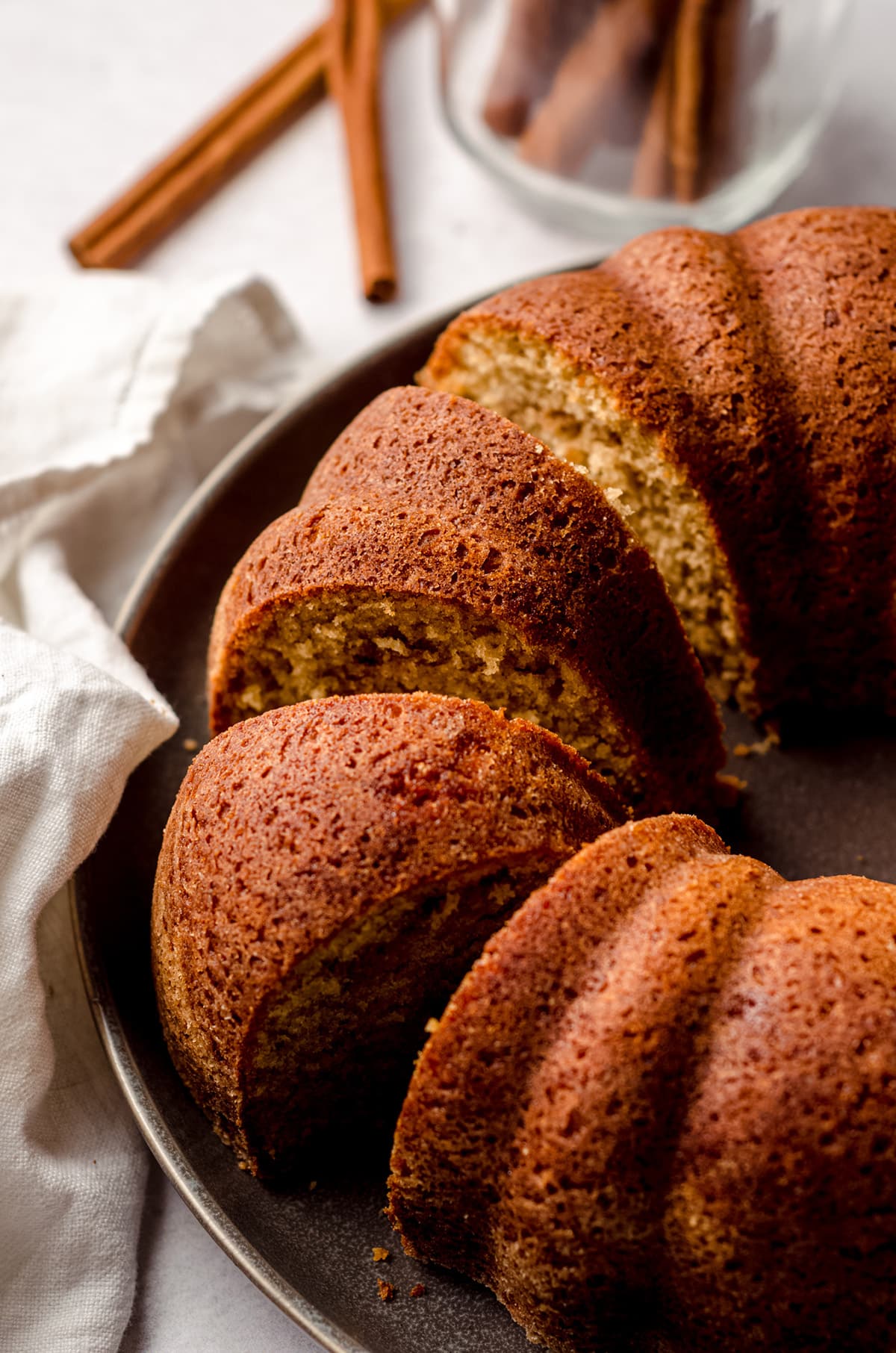 Dunk it in your coffee, eat it straight up, make up some glaze if you feel you really want it… However it is that you decide to enjoy your coffee cake, know that you might find yourself sneaking nibble after nibble after nibble before there isn't any more coffee cake.
Which I guess wouldn't be the worst thing– you could just make it again. And you'll want to. Because it's that good.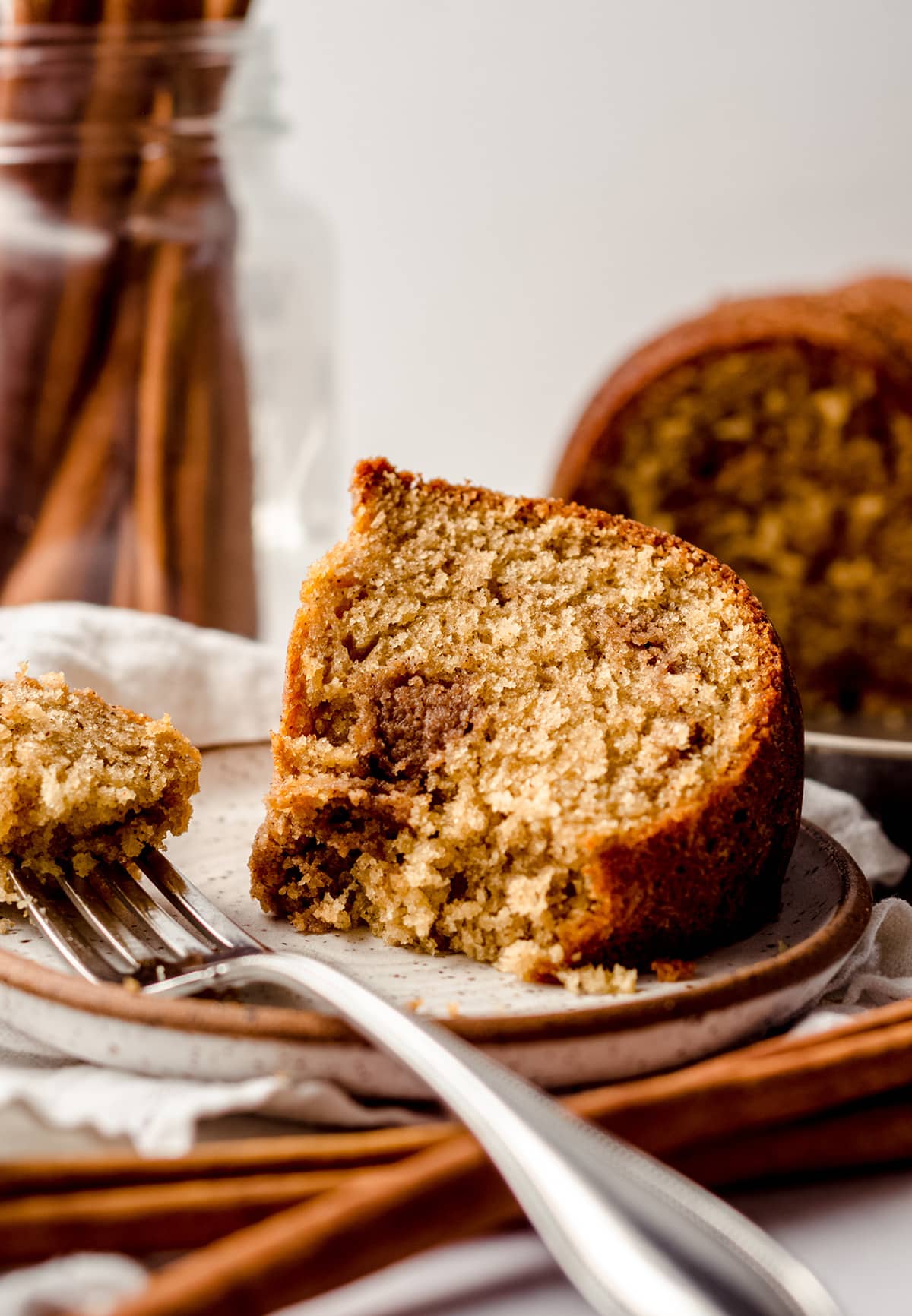 …and I cannot be held responsible for how much coffee cake with streusel consumption might be in your future.
Love streusel as much as I do? Check out some of my other favorite recipes featuring streusel topping: pumpkin streusel muffins, chai streusel muffins, and cinnamon babka.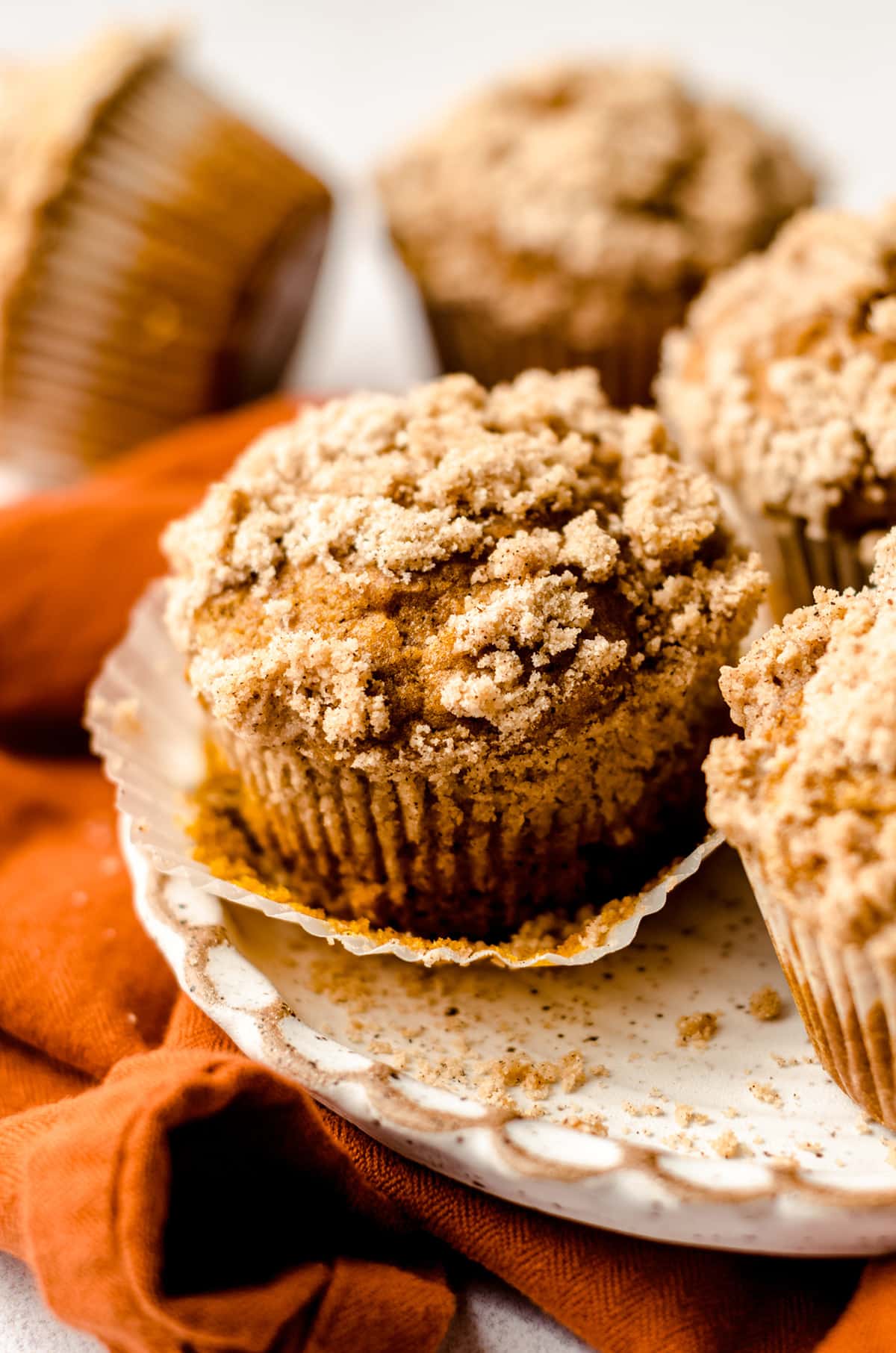 Cinnamon Streusel Coffee Cake
This classic coffee cake recipe is made with a buttery cinnamon streusel ribbon through the middle and on the bottom of each slice.
Ingredients
STREUSEL TOPPING
COFFEE CAKE
2 and ½

cups

(300g) all-purpose flour be sure to measure properly

1

teaspoon

ground cinnamon

2

teaspoons

baking powder

½

teaspoon

baking soda

½

teaspoon

salt

¾

cup

(170g) unsalted butter

softened to room temperature

1

cup

(200g) firmly packed light brown sugar

½

cup

(100g) granulated sugar

3

large eggs room temperature1

2

teaspoons

vanilla extract

5

ounces

(150g) full fat yogurt or sour cream room temperature1
Instructions
Preheat the oven to 350ºF (177ºC).
STREUSEL TOPPING
Place flour, brown sugar, cinnamon, and salt into a small bowl. Toss together with a fork until combined.

Add the butter to the bowl, then use a fork to smash the pieces of butter into the mixture.

Use your fingers to press the ingredients together until butter is in small chunks. I like to pick up chunks of butter and gently pinch them between my thumb and pointer and middle fingers to flatten slightly. I then drop the flattened pieces of butter back into the mixture so they pick up the dry mixture, then go through the whole bowl again with all of my fingers to "fluff" the mixture and turn the flattened pieces back into larger chunks. You are aiming for mostly medium-size chunks and some smaller and larger chunks. Set aside.
COFFEE CAKE
In a medium size bowl, toss together the flour, cinnamon, baking powder, baking soda, and salt. Set aside.

In a large bowl with a handheld mixer or the bowl of a stand mixer fitted with the paddle attachment, cream the butter and sugars until light and fluffy. Add the eggs one at a time, beating on medium speed after each until combined. Add the vanilla and the yogurt or sour cream and beat again on medium speed until completely incorporated.

Reduce mixer speed to medium-low and slowly add the dry ingredients. Increase mixer speed to medium and beat until no flour lumps remain. Do not over mix batter.

Pour approximately half of the coffee cake batter into the prepared bundt pan, then sprinkle half (approximately ¾ cup) of the streusel evenly onto the batter. Pour the rest of the batter into the pan and sprinkle the remaining streusel evenly on top of the batter. Bake for 42-45 minutes, or until a toothpick inserted in the center comes out mostly clean.

Remove from oven and allow to cool for 10 minutes on a wire cooling rack. Using oven mitts, carefully flip the coffee cake onto your serving dish/platter. To do this: flip the serving dish/platter over and place on top of the cooling bundt pan. Flip everything over and allow cake to cool completely in the pan, sitting on the serving dish. When cake is completely cool, lift pan off of the cake and cut to serve. Enjoy as is, dust with powdered sugar, or mix ½ cup powdered sugar with 1-2 Tablespoons of water or milk to make a simple glaze. Leftovers can be kept covered tightly at room temperature up to 5 days or in the refrigerator up to one week. Cake freezes well, up to 2 months. Thaw in fridge overnight and allow to come to room temperature.
Notes
Room temperature ingredients: it is always a good rule of thumb to use room temperature ingredients when using room temperature butter. To bring eggs to room temperature quickly, place in a bowl of warm water for 10 minutes.
To make in a 9″ x 13″ baking pan: sprinkle about ¼ cup of the streusel on the bottom of the sprayed pan. Layer batter in as normal, and sprinkle remaining streusel on top. Bake time is 28-30 minutes until golden brown or a toothpick inserted in center comes out clean. You can serve it straight from the baking pan (no need to flip it out of the pan).
Recipe adapted from Ina Garten
Nutrition Disclosure
All nutritional values are approximate and provided to the reader as a courtesy. Changing ingredients and/or quantities will alter the estimated nutritional calculations.