Apple, Quinoa, and Almond Kale Salad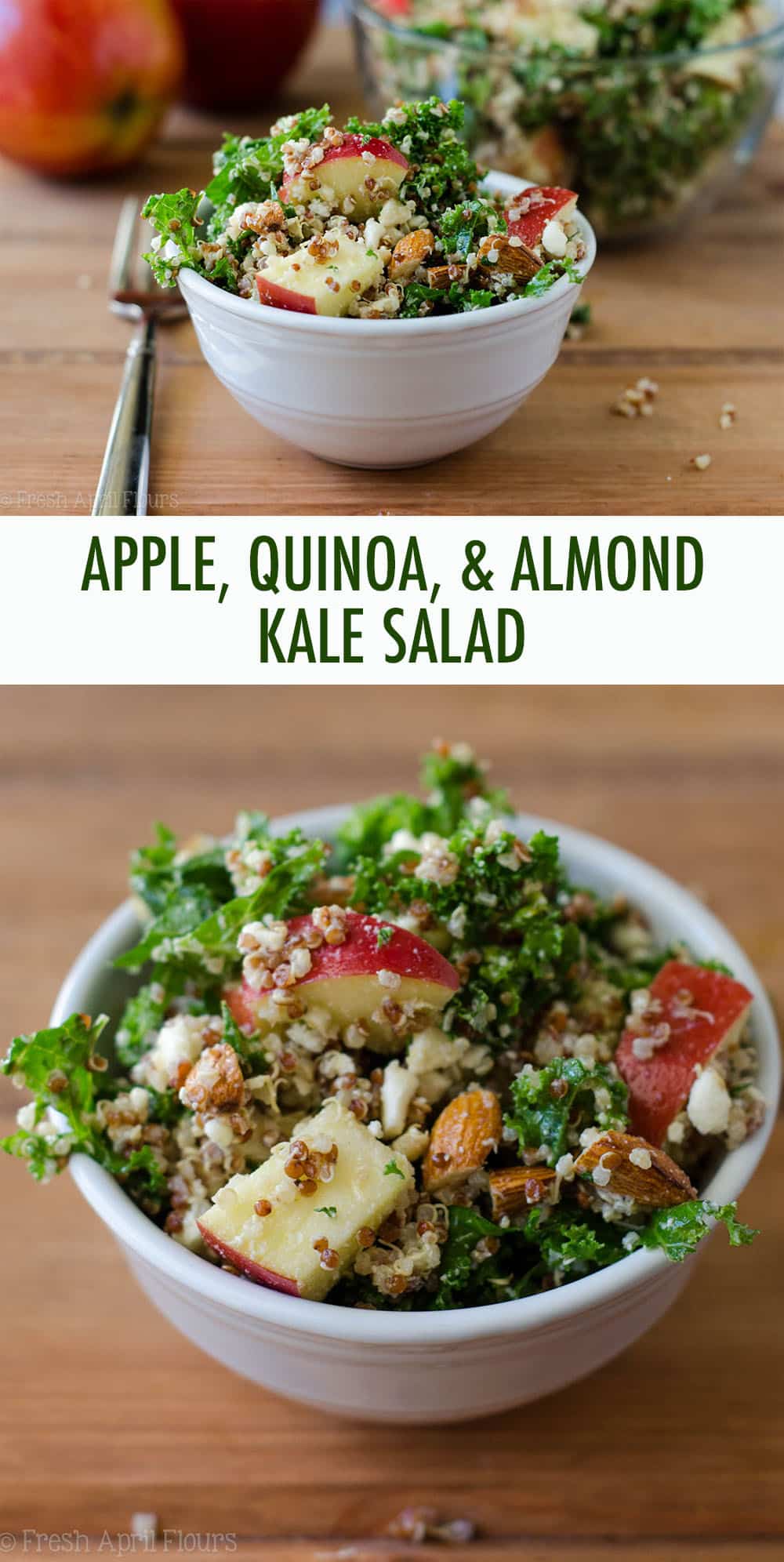 As an Amazon Associate, I earn from qualifying purchases. Read the full disclosure here.
This easy, no bake side dish is packed with flavor, fiber, and protein. Change up the fruit to match your season!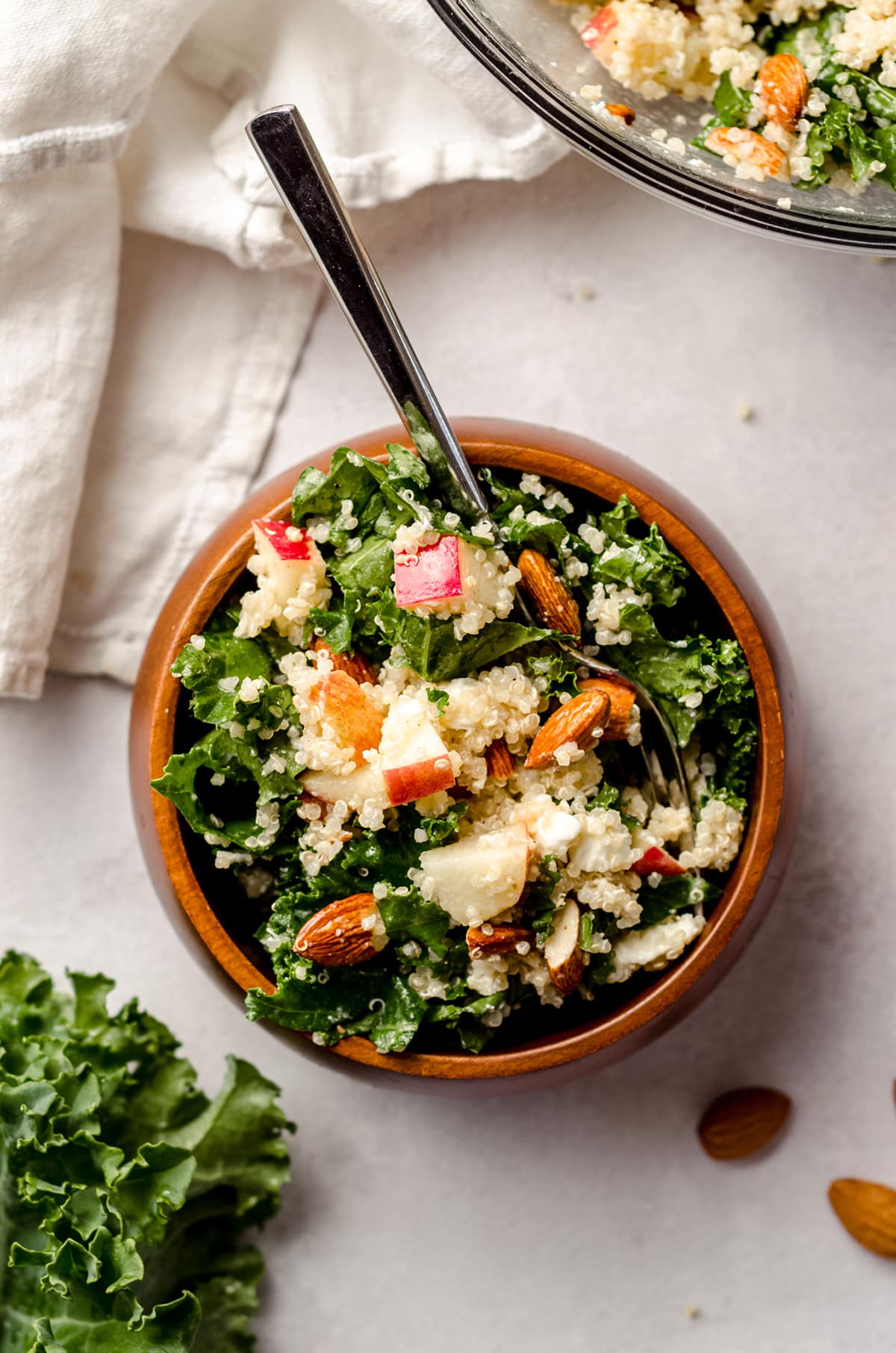 When I originally published this recipe in November 2016, it came with a short discussion about ahem kindness.
Kindness + this apple quinoa salad are totally related. And over the years of making it over and over and over (seriously, aside from tortilla pizza and homemade whipped cream, I think this is the 3rd most made recipe in my house from my own site), the kindness related to this salad still rings true.
I know, it's getting weird, but… Follow along. I promise this makes sense!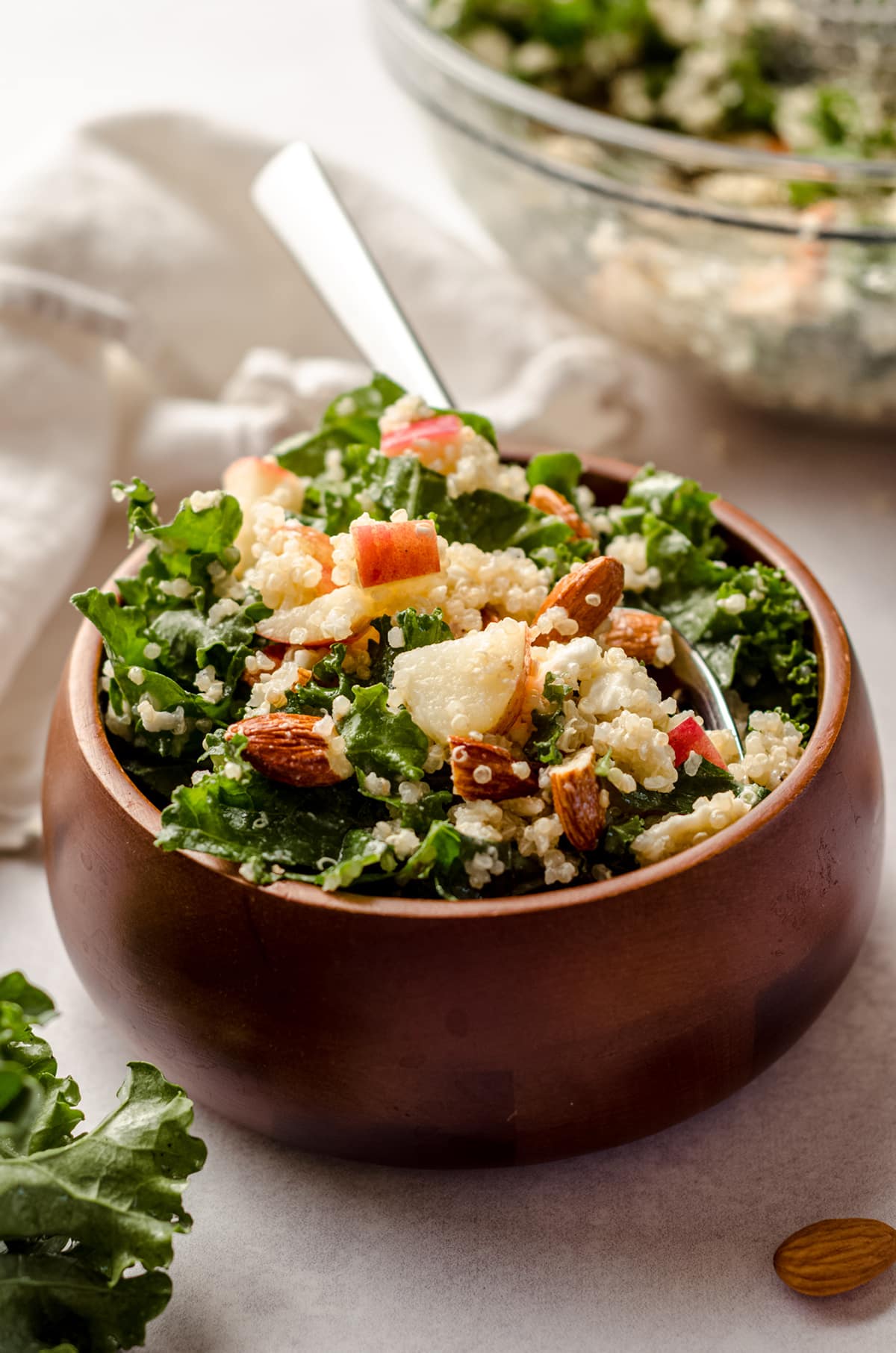 If you've been around my site or follow me on my socials, you might know that my favorite baked ziti recipe is my favorite thing to fit to families who have just had a baby (barring any allergies or sensitivities– I always ask first!).
I've made and gifted literally dozens of baked ziti dishes in my adult life as friends, family, and neighbors have had kids. The reason I like to gift that zit is because kind gestures like that remind people
1) you care about them
2) you want them to worry less about something important (eating) when there's something seemingly more important to learn about (a tiny screaming human) and
3) baked ziti is bangarang.
Yeah, bangarang. No other word for it.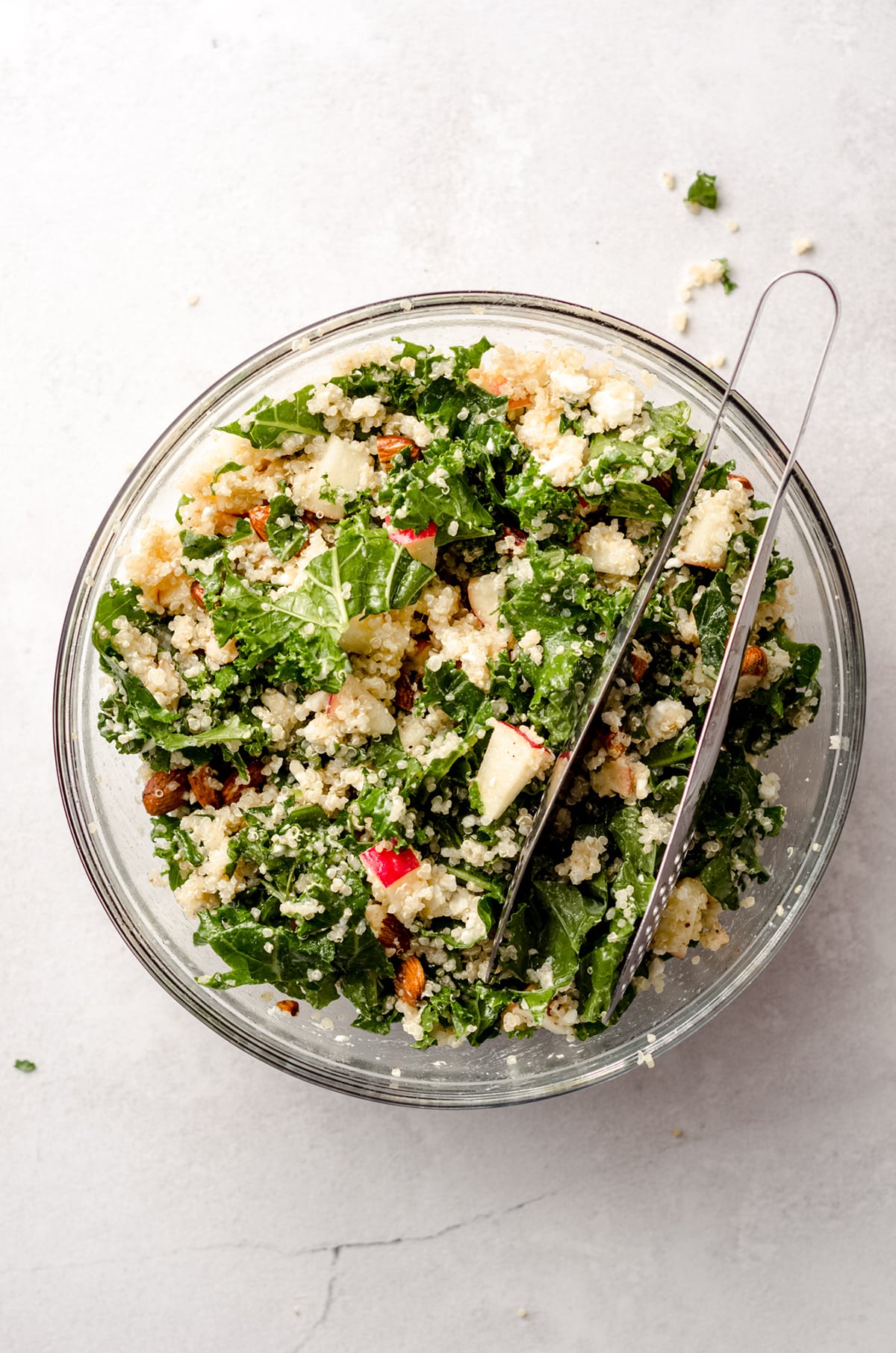 Never did I ever gift a baked ziti during a newborn visit expecting or hoping the favor would be returned when we had a baby someday, I just did it because I wanted to.
And now, after actually having gone through the newborn stage ourselves TWICE, I wish I would have made 47 baked ziti dishes per newborn visit because OMG it is so hard to eat when you have one of those things.
I'll be honest, I did expect some meals brought to us, because that's just a nice thing to do and we know a lot of very nice people, but I will tell you what– the kindness that absolutely poured out of our friends and family after we had our first son in summer 2016 was overwhelming.
Legitimately overwhelming.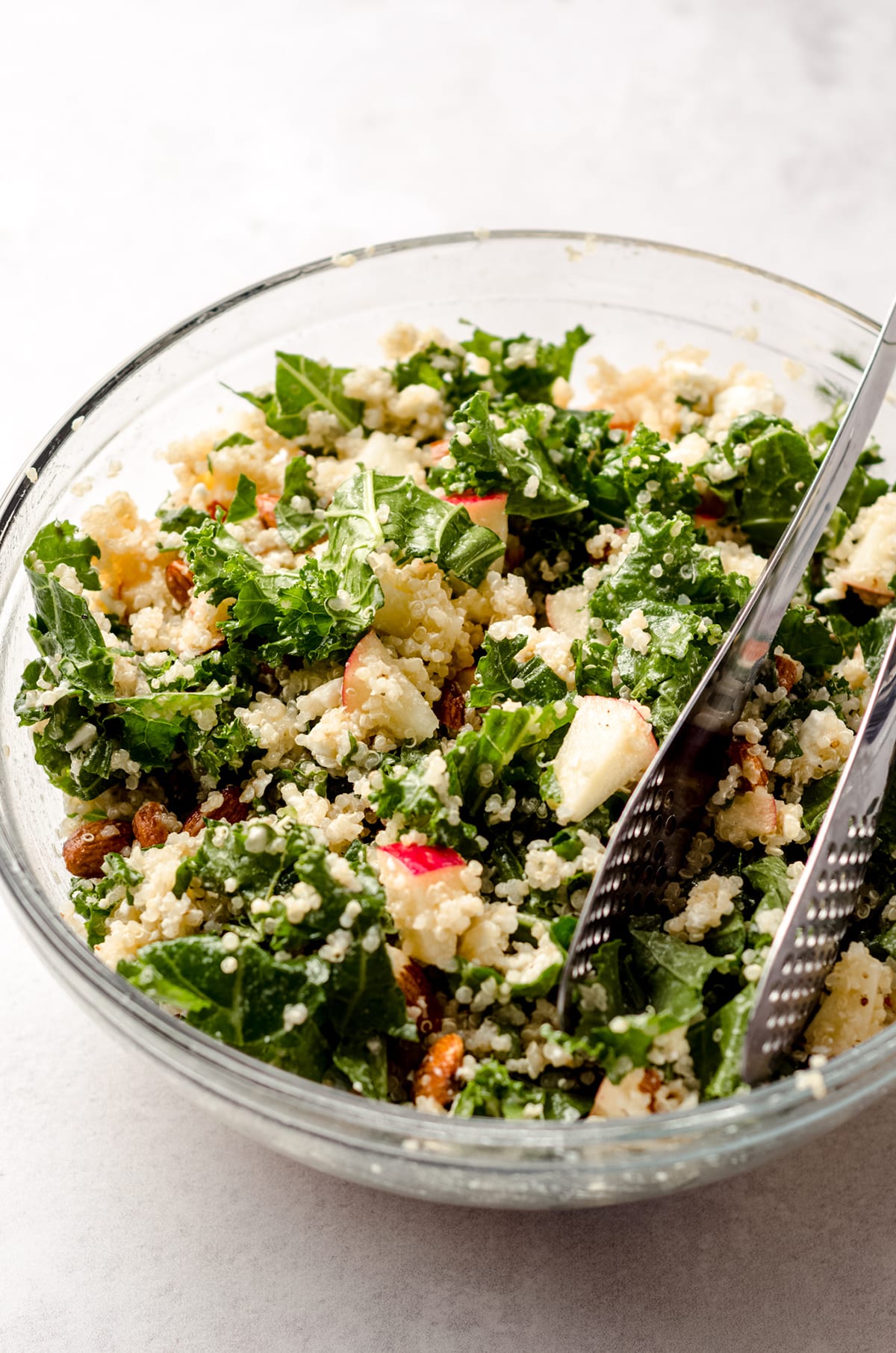 As in we had so much food in our refrigerator and freezer that we didn't need to really grocery shop for "big items" for about 6 weeks.
People… SIX. WEEKS. I am not kidding. That is nearly 2 months. If that's not one of the greatest examples of kindness ever, I don't know what is.
One of the things that Matt's aunt brought to us was a version of this salad. It had everything you'll see in the quinoa apple salad recipe here but with blueberries instead of apples (original recipe from Greatist).
INGREDIENTS
As the very descriptive title of this recipe states, the ingredients are pretty straightforward.
As far as the "bulk" of the salad, we'll use kale as the base, followed by cooked quinoa, sliced apples, sliced almonds, and feta cheese.
There is no real dressing on this salad, but rather a simple mixture of olive oil and lemon juice to soften the kale, keep the apples fresh, and add some moisture.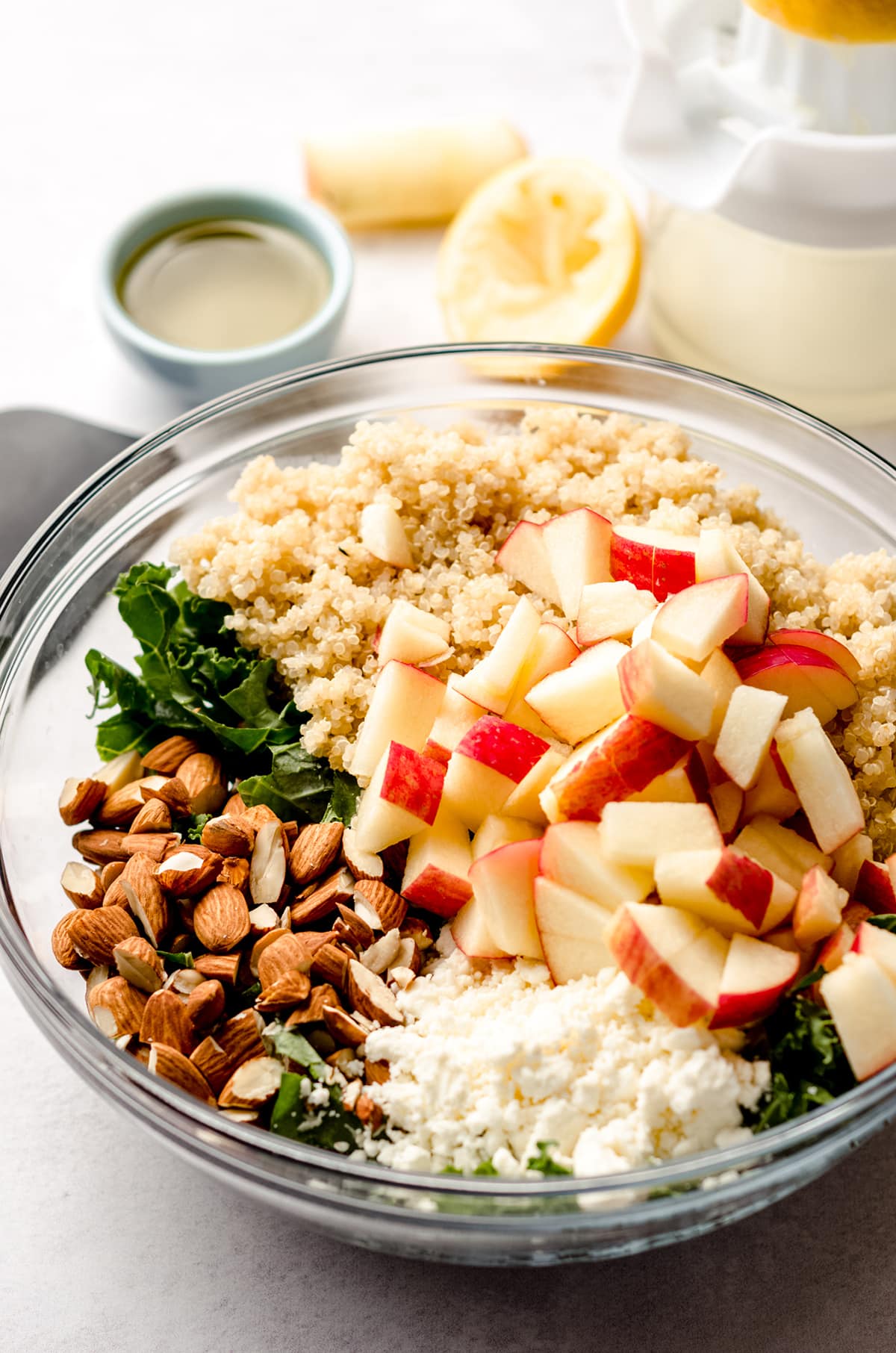 A little salt and pepper, and the ingredient list for this kale apple quinoa salad is done.
So easy, right?
You have nothing fancy to do except throw things together. And (!!!), if your local grocery store rocks as much as mine does, you can buy shredded kale in a bag so you don't even have to chop very much. The most you have to do ahead of time is cook up some quinoa and allow it to cool.
That's literally the most work of the whole recipe.
CHANGE UP THE FRUIT
Over the years of making this salad, I have made it with so many different kinds of fruit. And to be perfectly honest, I don't know which one is my favorite.
Though I've definitely made the apple version the most!
Consider oranges, blueberries, pears, strawberries, peaches, grapes, nectarines… Anything with some texture and sweetness goes perfectly in this quinoa and kale salad.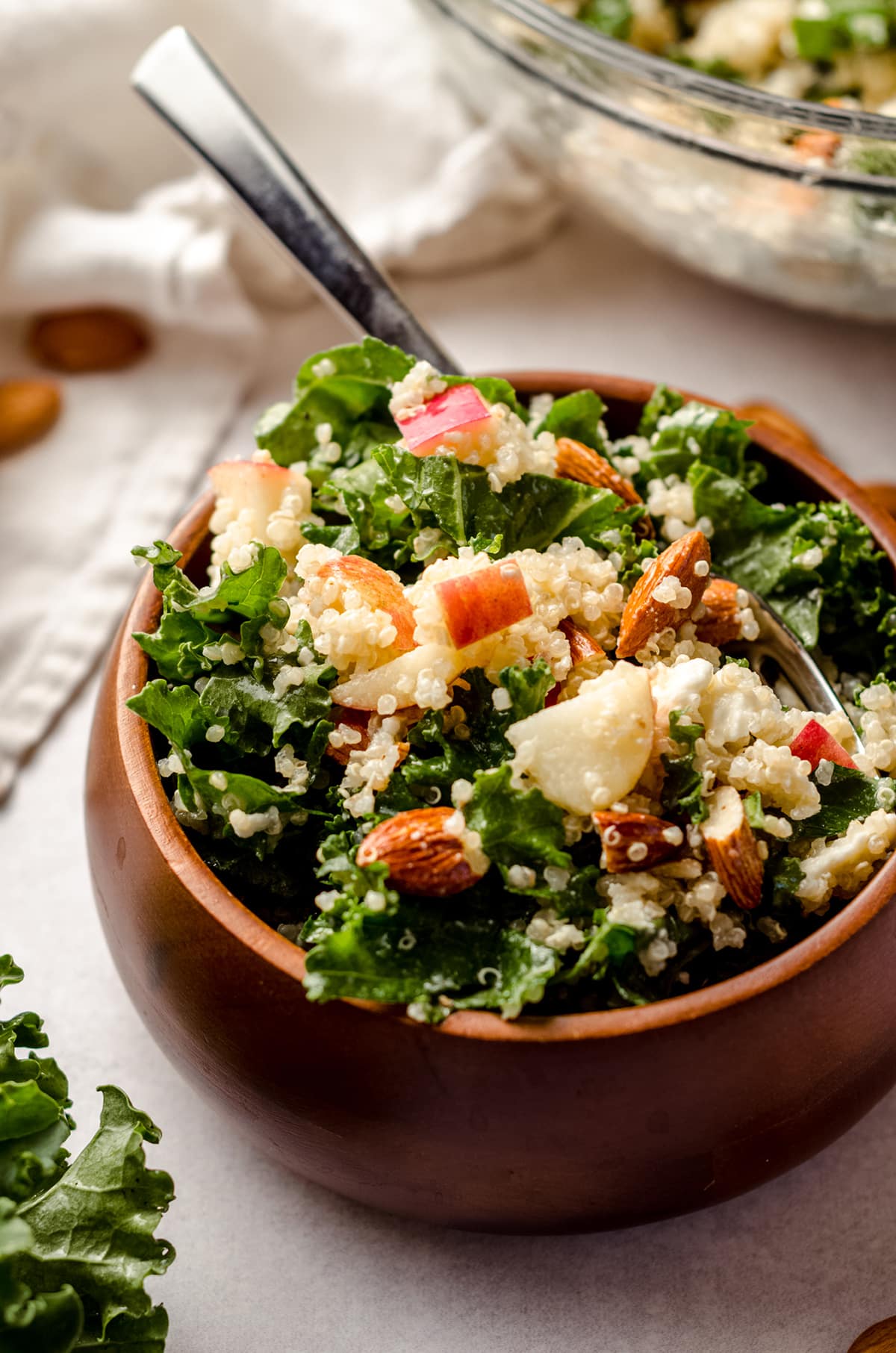 Aunt Peg's original newborn salad lasted about 2 days in our house. I could not stop eating it.
And by "eating it," I mean making Matt shove it into my face faster because: newborn. I had to have the recipe, and I knew I had to share it on my site because it's just too good not to!
THIS SALAD IS SO VERSATILE
What I love most about this recipe is that the list of ingredients looks a little strange, but when it's all together and in your mouth, you can't help but wonder why you ever thought it might be weird.
Lemon juice? Olive oil? Black pepper? Fruit? What?! Believe me– it's downright delicious.
This salad is great for an easy and different side dish at Thanksgiving because it's tasty, presents beautifully, and it doesn't require any oven space. We make it every year (alongside the classics, of course).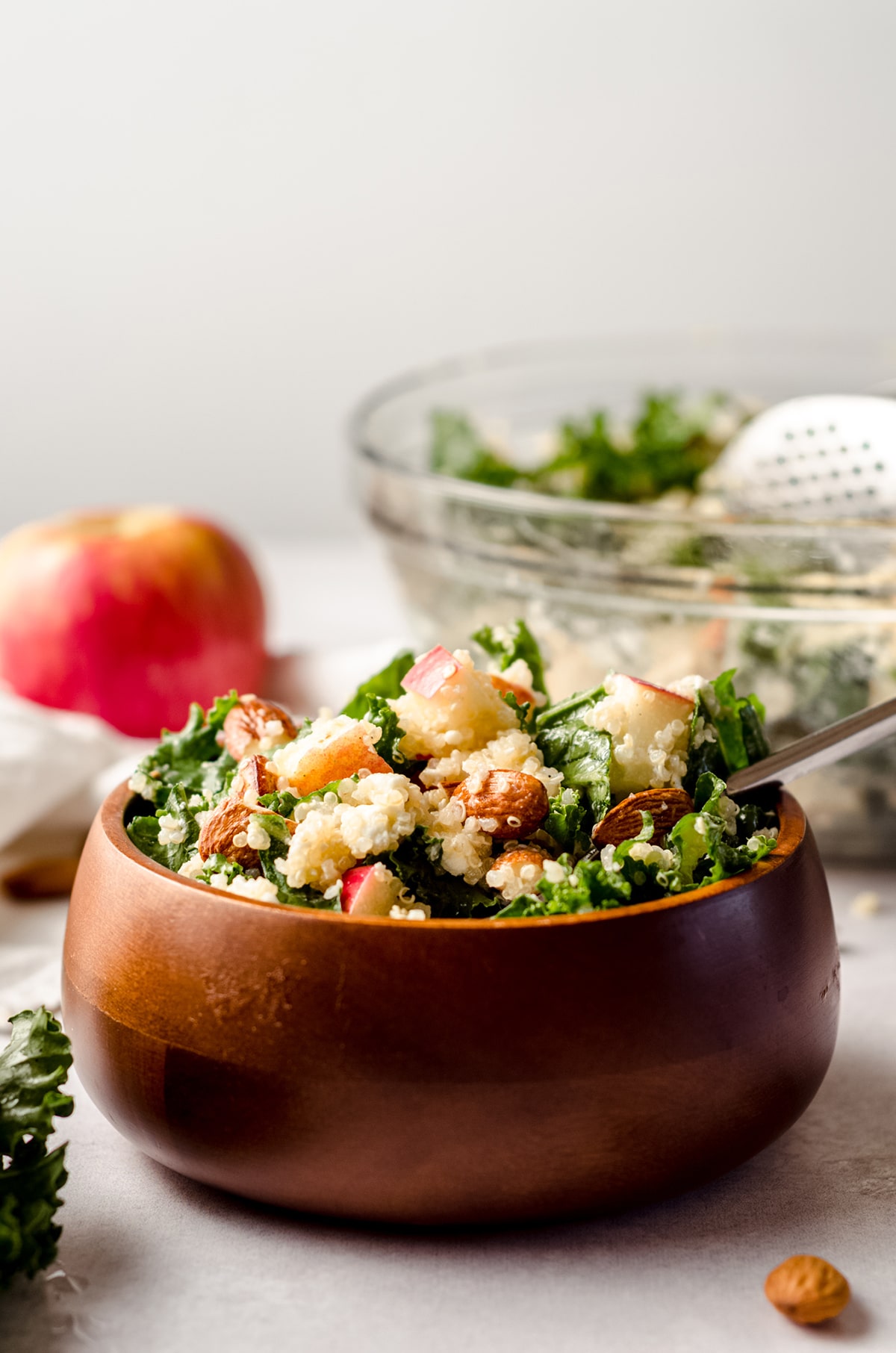 This quinoa and kale salad is seriously versatile and customizable to your palate. You can even swap the feta for goat cheese, gorgonzola, or blue, depending on the fruit and your tastebuds.
I've even used lime juice when making this apple quinoa salad recipe with strawberries instead.
Oooh oh oh! Or you can add dried cranberries or raisins!
Are you seeing how versatile this is? You can make this quinoa kale salad with any kind of fruit, cheese, or nut for that matter. The possibilities are endless.
WHY THE FLAVORS OF THIS SALAD WORK SO WELL
I'm telling you what, the bite of the feta, the crunch of the almonds and kale, the chewiness of the quinoa, and the seasonings that adorn every nibble of this salad will be calling your name over and over once you give them a try.
It's sweet, it's tart, and it keeps its texture for a good 3-4 days and it just gets better as it sits. The almonds stay crunchy but start to take on some of the flavor of the other ingredients, and the kale doesn't wilt much at all. No sogginess happening here!
I hope you enjoy this apple, quinoa, and almond kale salad as much as we do and consider adding it + a tray of baked ziti to your next newborn visit.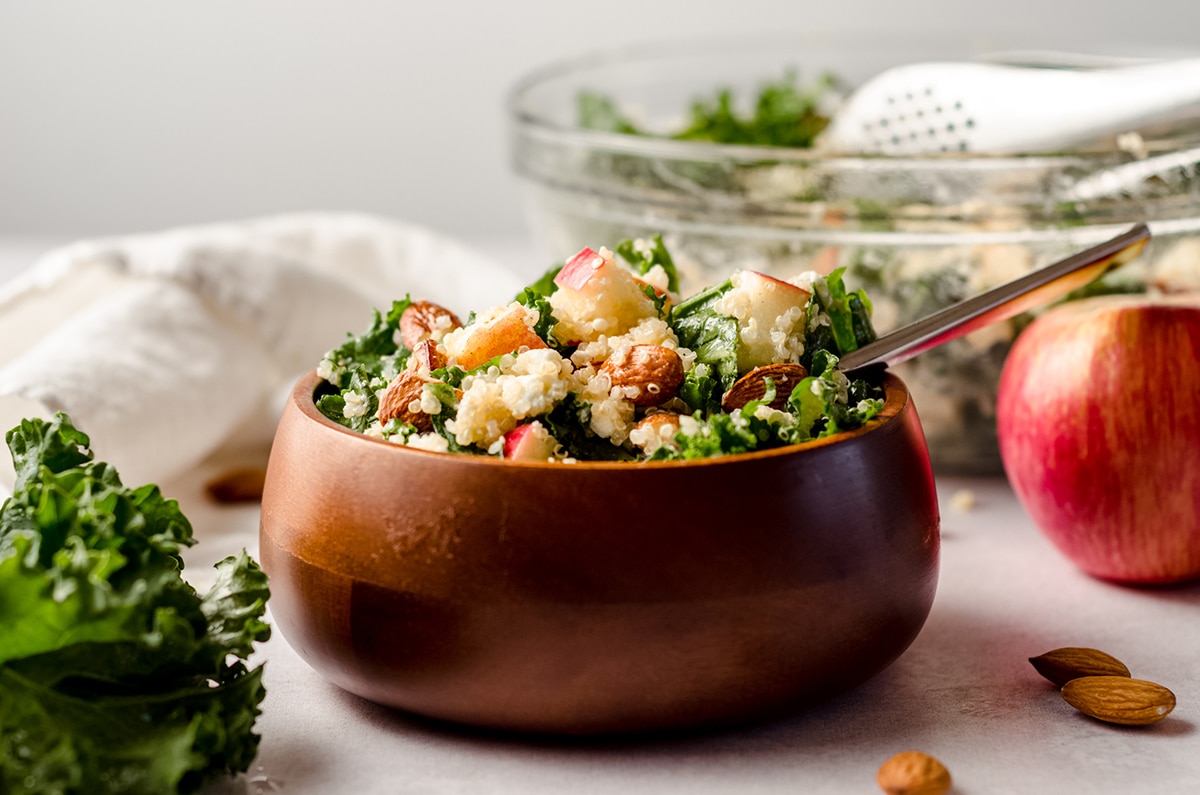 And seriously, remember to be kind. Perhaps even invite me over if you plan to try one of those other fruits or nut combos I suggested.
I'll be kind right back and bring wine in exchange.
More of my favorite quinoa recipes: enchilada quinoa casserole, quinoa, kale, and flaxseed patties, and apple quinoa granola.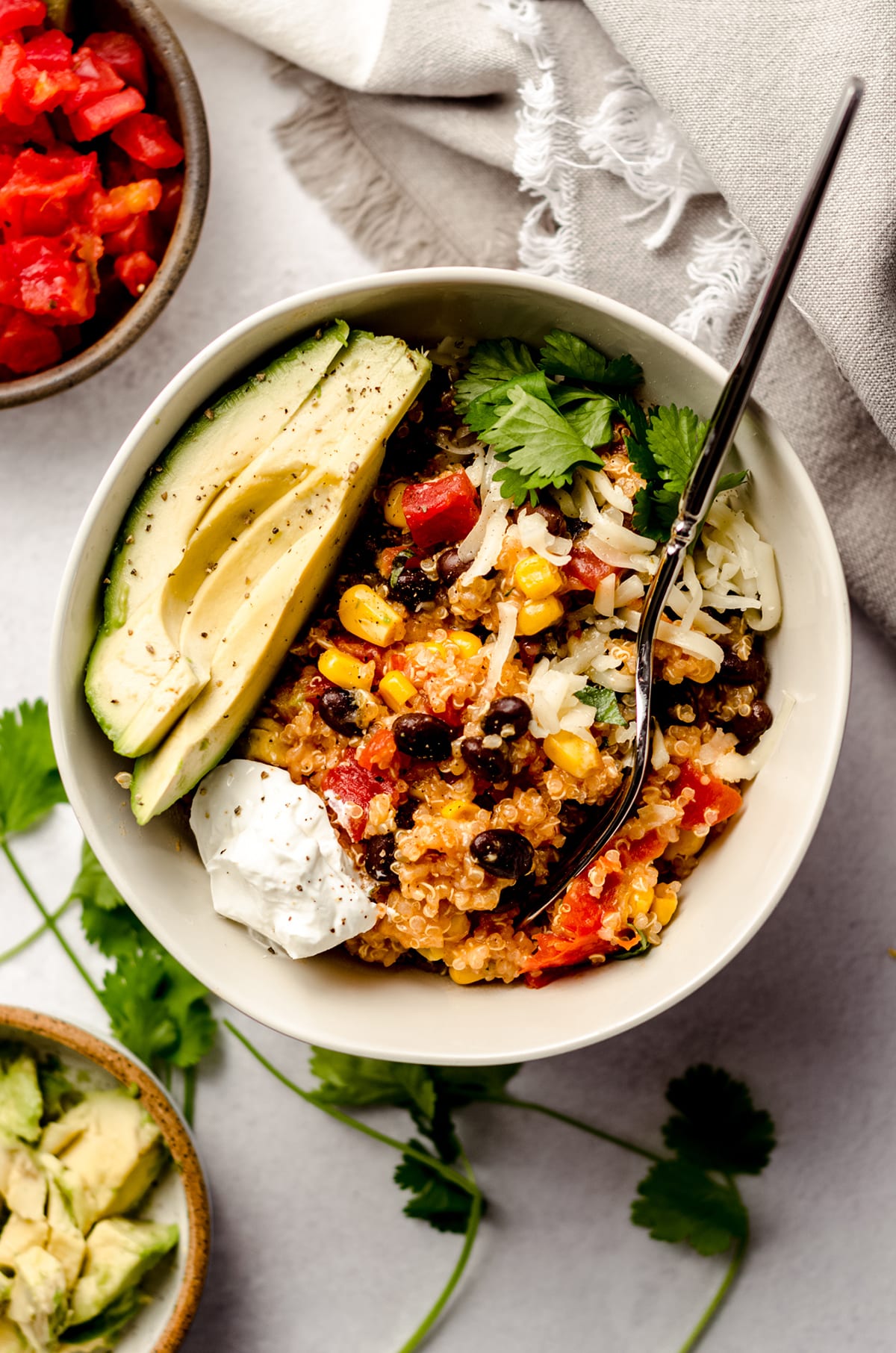 Apple, Quinoa, and Almond Kale Salad
This easy, no bake side dish is packed with flavor, fiber, and protein. Change up the fruit to match your season!
Ingredients
2

cups

(370g) cooked quinoa

cooled

2

cups

shredded kale

¾

cup

(84g) crumbled feta cheese

1

large apple1

chopped

½

cup

(70g) whole raw almonds

coarsely chopped

juice of

1

lemon2

2

Tablespoons

(30mL) olive oil
salt and pepper

to taste
Instructions
In a large bowl, combine quinoa, kale, feta cheese, apples, and almonds. Mix until thoroughly combined.

Drizzle lemon juice and olive oil over the salad, toss to coat everything, then taste and add salt and pepper as needed. Salad can be served warm or cold. Leftovers stay fresh in an airtight container in the refrigerator, up to 4 days.
Notes
Apple: I prefer a sweeter variety. Feel free to swap in any fruit you'd like in this recipe (suggestions: blueberries, oranges, peaches, strawberries, grapes, nectarines, pears). Aim for about 1 cup of fruit.
Lemon juice: fresh lemon juice preferred, but bottled is fine, too.
Recipe adapted from Greatist
Nutrition Disclosure
All nutritional values are approximate and provided to the reader as a courtesy. Changing ingredients and/or quantities will alter the estimated nutritional calculations.