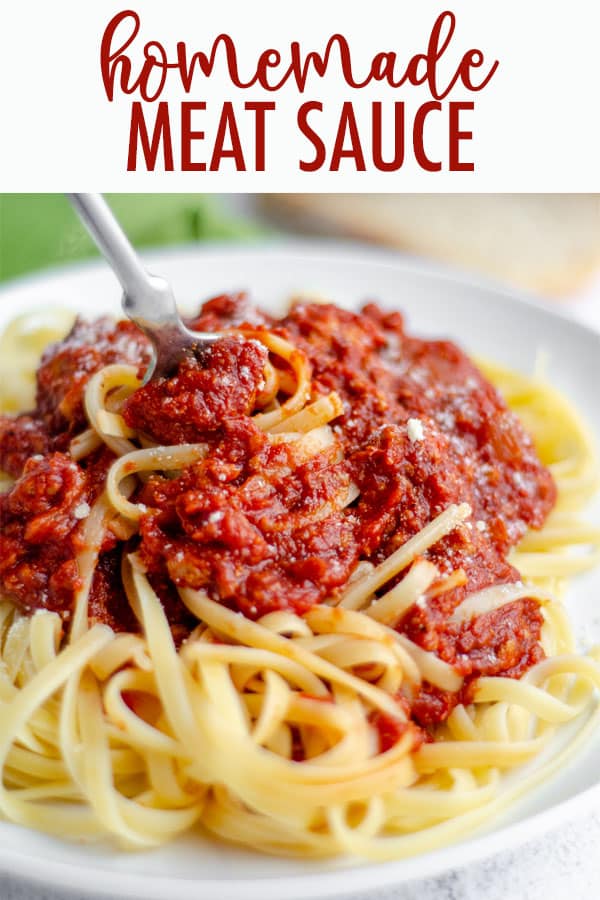 As an Amazon Associate, I earn from qualifying purchases. Read the full disclosure here.
An easy homemade pasta sauce made with five simple ingredients. This recipe has been in my family for over a century and is a go-to for pasta dishes and lasagna or over vegetables or eggs.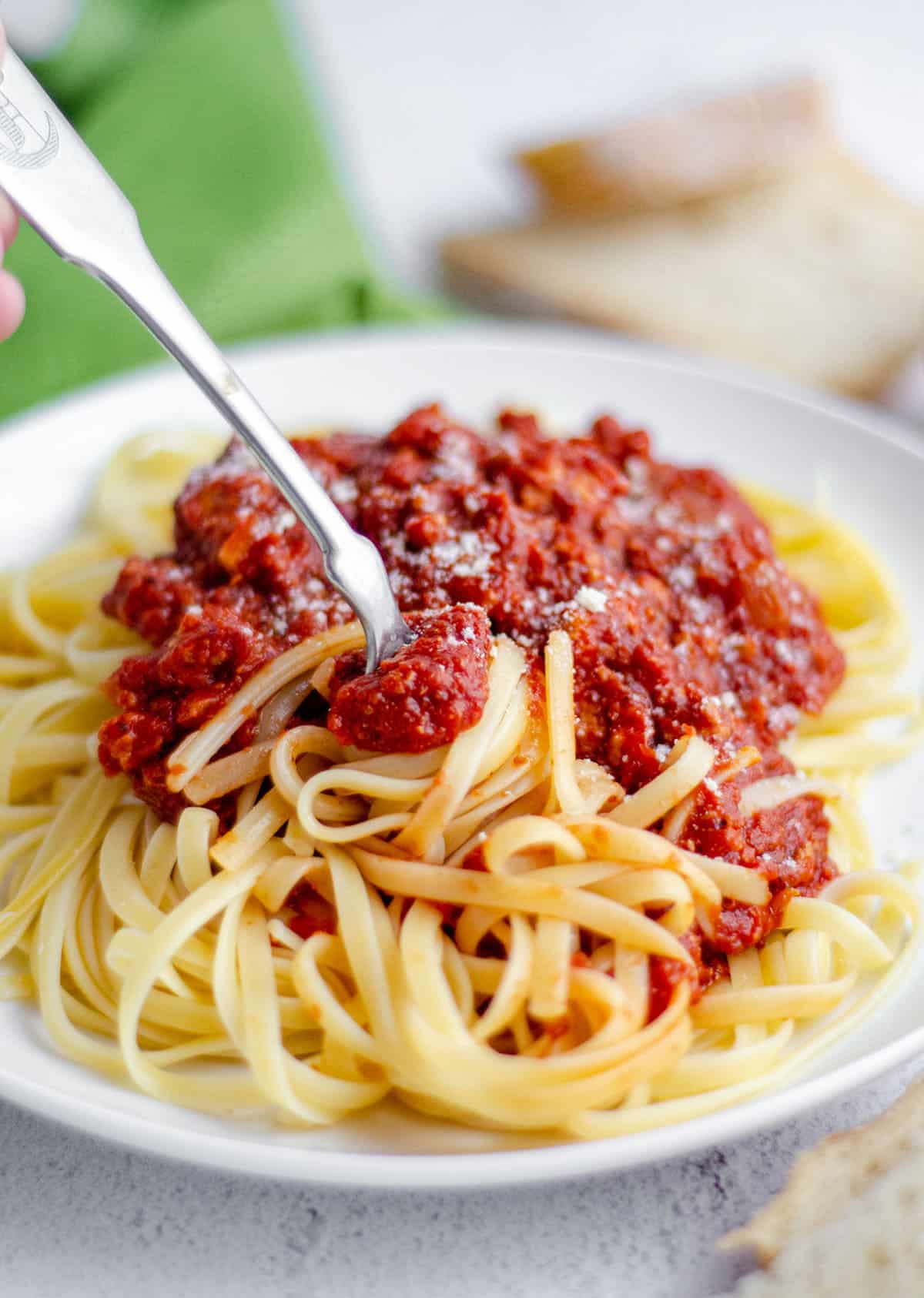 Is homemade spaghetti sauce something that you make in your house, or do you rely on something you buy, fresh or jarred, from the store?
There is no wrong answer, because goodness knows I am no stranger to pre-made sauce (see my tortilla pizza, zucchini ravioli, and baked ziti). But sometimes this authentic Italian meat sauce recipe (yes, authentic– we'll get there) is just what my belly needs.
And since it's a pretty simple recipe, I don't feel like I have to begin making my sauce with a big sigh. It's quick and easy and worth the time, as little as that time may actually be!
THIS SAUCE HAS HISTORY
While I think there are some really great pasta sauces out there that you can buy from the store, I am of the opinion that there are too many that are packed full of a billion ingredients, completely masking the basic, fundamental spaghetti sauce recipes that my great grandparents brought with them from Italy.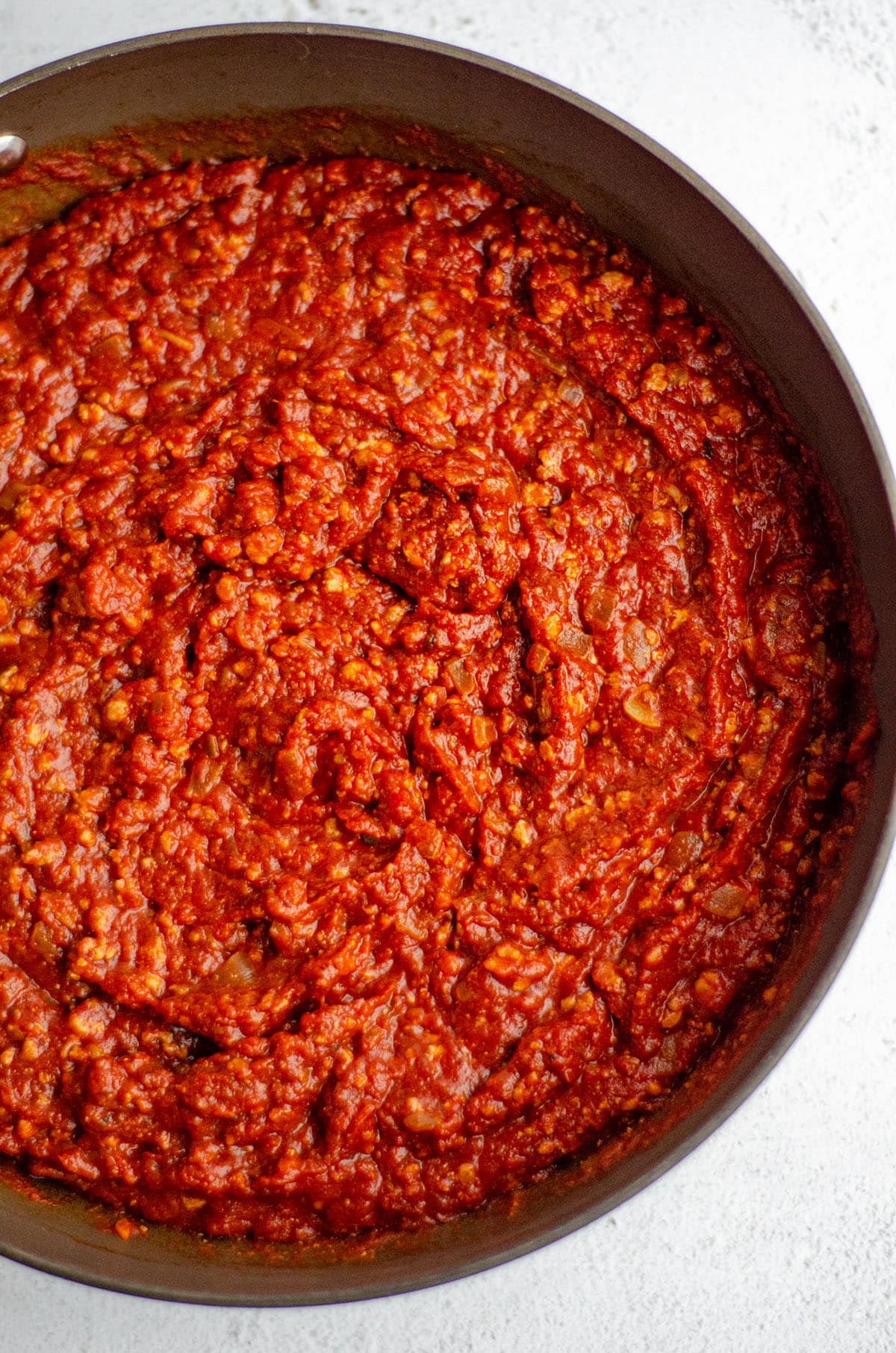 Yes, this is my 100% Italian family's easy meat sauce recipe, which has been in existence for over a century.
This homemade meat sauce recipe is very very simple (five ingredients). And I am going to be very very snobby-ish about why (so that Nonna and Nonno DeAngelis don't haunt me for obliterating their recipe).
INGREDIENTS
We don't need a ton of spices or herbs, or WINE, or, god forbid, SUGAR for simple spaghetti meat sauce.
Like I mentioned, we only need five (yes, only FIVE) things:
1) meat
2) garlic
3) onion
4) crushed tomatoes (more on these in a bit*)
5) tomato paste
THAT'S. IT.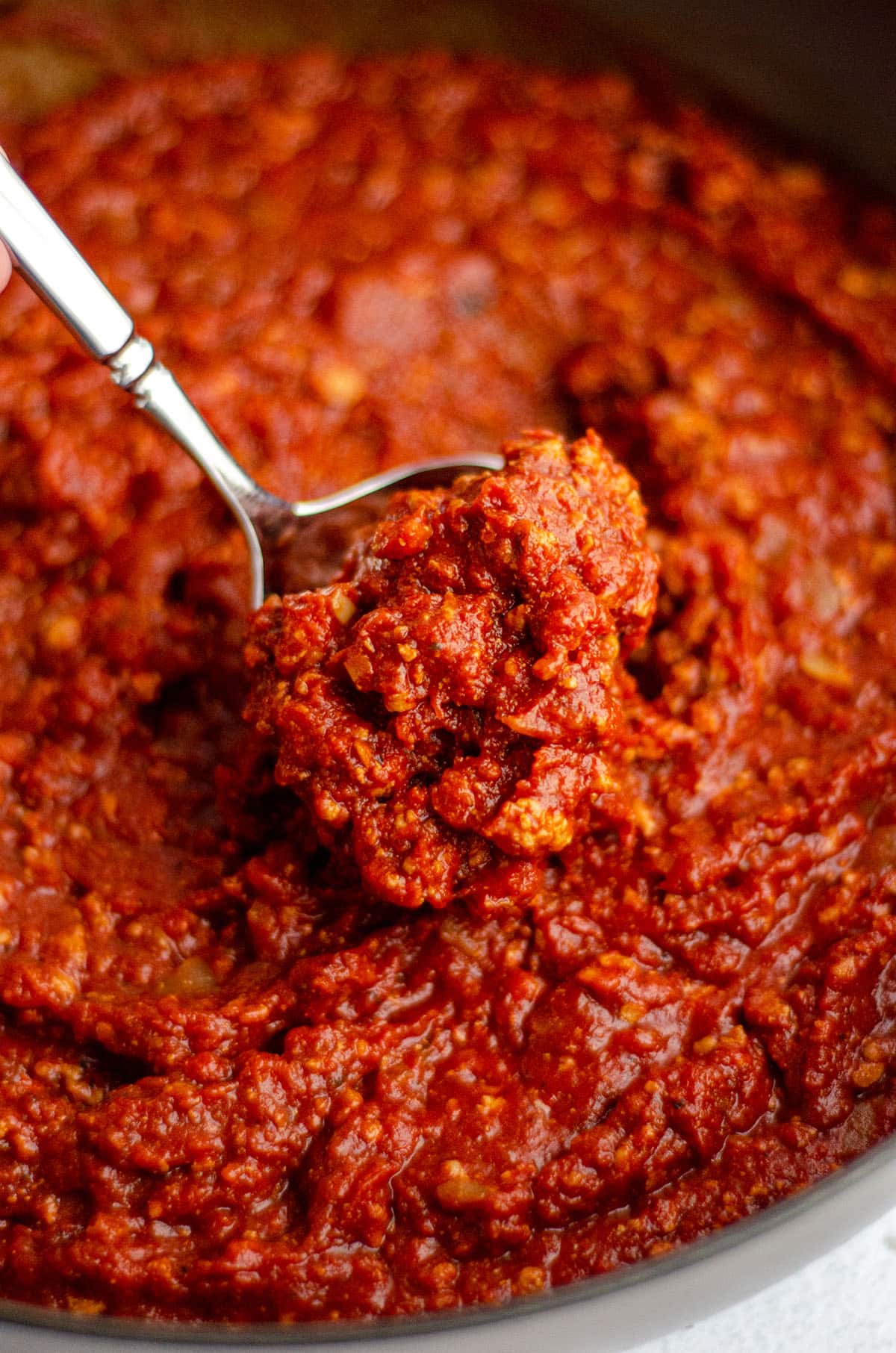 You also don't need a ton of time– just a bit more than "wham, bam, thank you ma'am."
This is a fairly quick meat sauce recipe, so when I say you only need about 2 hours from start to finish, know that about 1 and ½ of those hours are used for simmering.
HOW TO MAKE MEAT SAUCE
As most meat sauce recipes go, you'll start out by sautéeing an entire onion and garlic with your browning meat.
While my family has typically always turned to ground pork for this homemade meat sauce, you can certainly use ground beef, ground turkey, ground chicken, or even Italian sausage.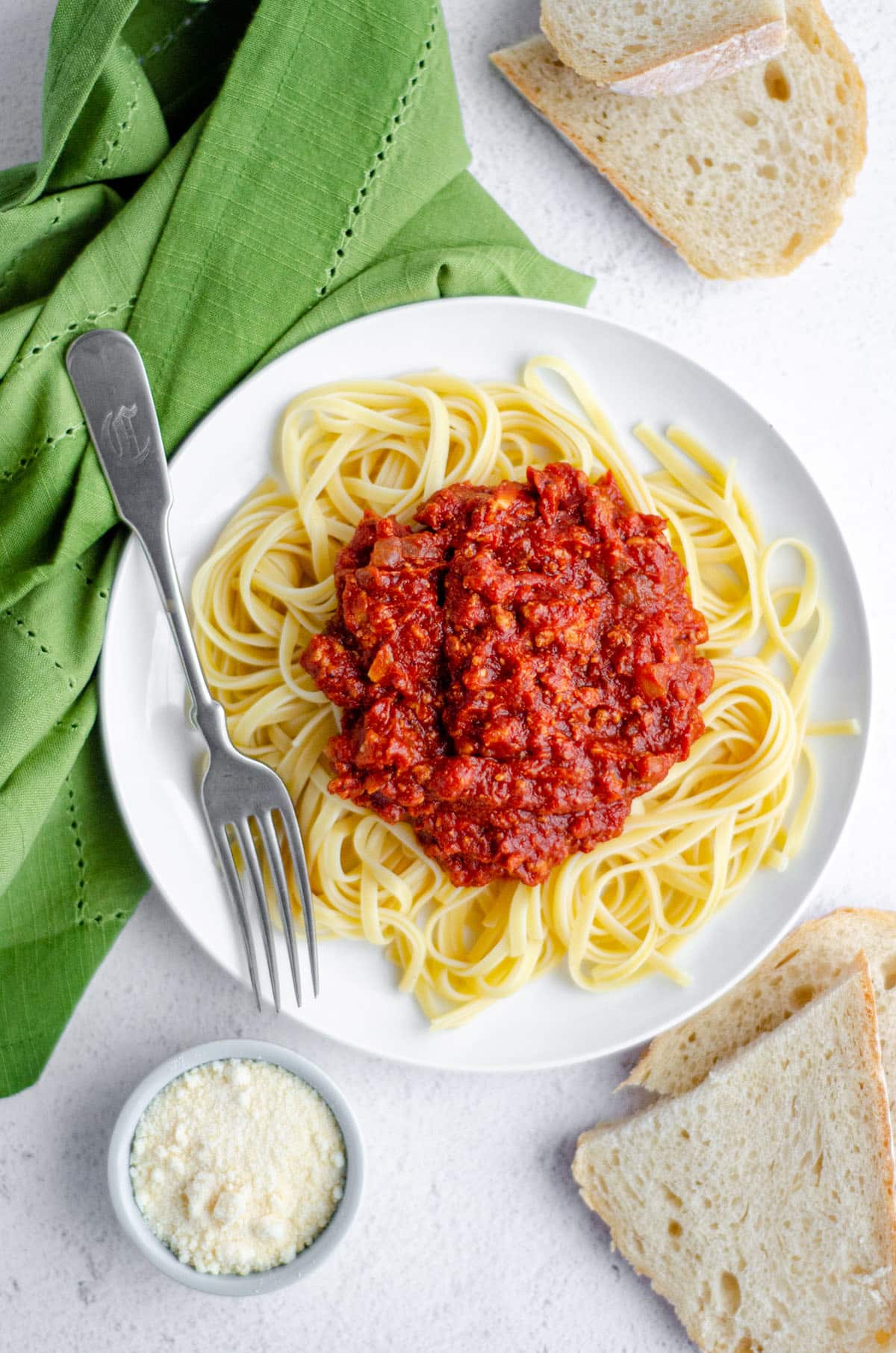 If you choose to go with poultry or a lean ground beef, you may want to use a little extra olive oil while cooking your onions and garlic so everything doesn't dry out.
Now, before I go any further, let me go on the record right now and say that in our family's opinion, sugar absolutely does not belong in pasta sauce. If you're looking for subtle sweetness, that's where a sweet onion comes in.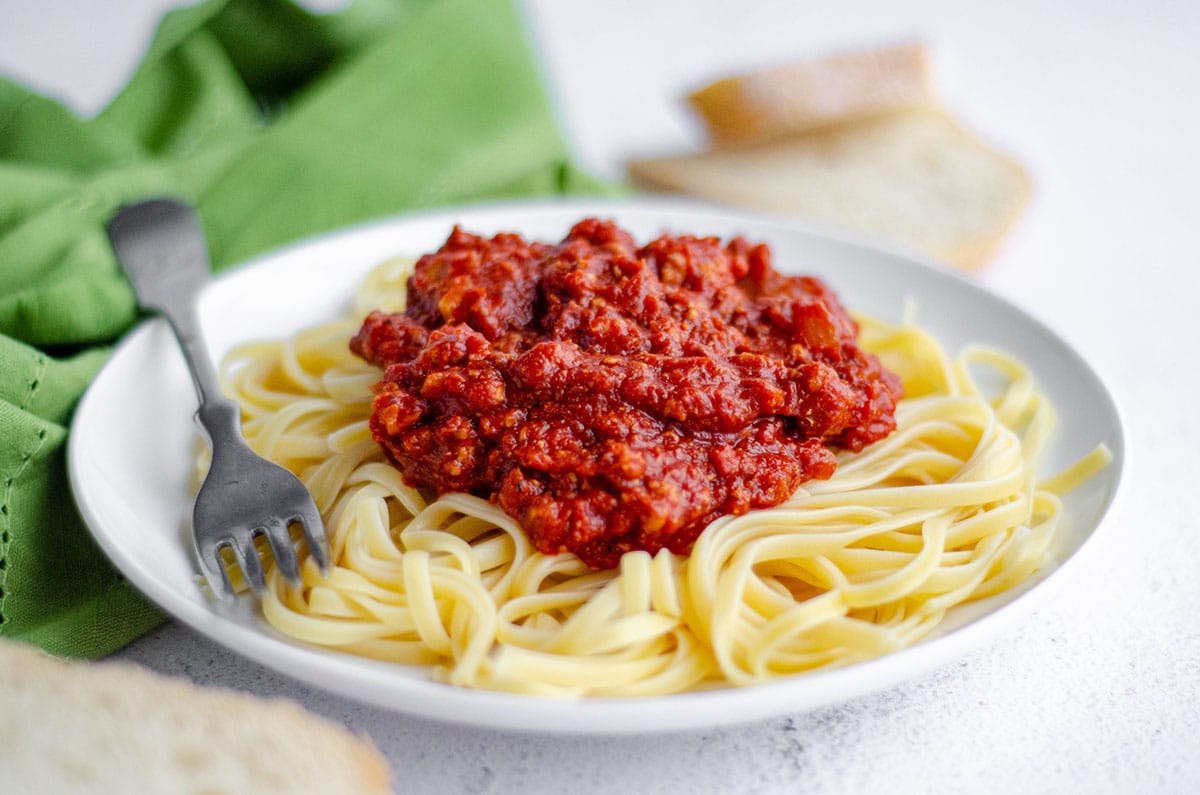 My dad has always used a white onion, but I find that I really enjoy the natural sweetness of tomatoes + a sweet onion. It's absolutely perfect against all that savory meat flavor. Use whatever you prefer.
In fact, when he emailed me the recipe, he said, in his typical silly humor "during this entire process, ensure that your sugar container remains in your cupboard."
Yes, sir, dad!
Moving right along…
Once your meat of choice is browned and your onion and garlic have thoroughly seasoned it up, it's time for the tomato components.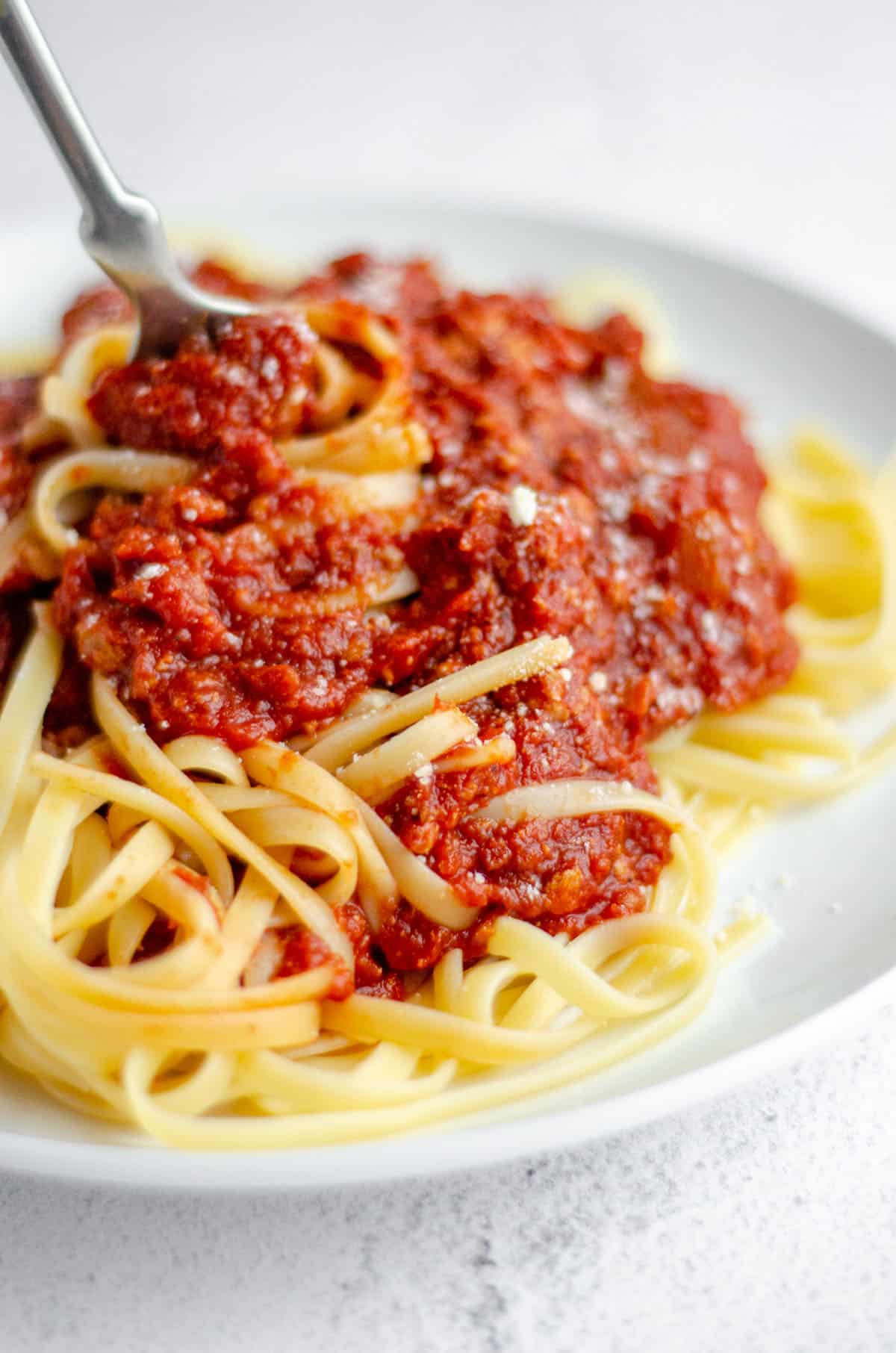 CANNED CRUSHED TOMATOES AND TOMATO PASTE KEEP THIS RECIPE SIMPLE
As listed above, you'll only need crushed tomatoes and tomato paste. While my dad has only ever used canned crushed tomatoes you make be looking for an easy homemade meat sauce with fresh tomatoes.
Guess what? I have GOOD NEWS– you can absolutely use fresh tomatoes in place of canned crushed tomatoes. See my notes at the bottom of the recipe for how to make homemade crushed tomatoes.
The crushed tomatoes + tomato paste make the perfect simple base for this meaty spaghetti sauce without drowning out the flavors of the meat or making the sauce too runny.
WHY THIS IS THE BEST MEAT SAUCE RECIPE
Sometimes I find that store-bought meat sauces can be a little too thin for my liking, and what I love about this particular homemade meat sauce is that you can absolutely cook it to your liking.
If you like a hardy, thick sauce, cook it for a longer time than you might if you prefer a thinner one. The good news is if you cook it down too far, you can always add back in some water or continue to cook it if you feel it isn't quite thick enough.
That's the beauty of a simple recipe for spaghetti sauce: you don't have to try to find more wine or more jarred sauce because you're working with nothing but meat and tomatoes (that's like "meat and potatoes" but the Italian version).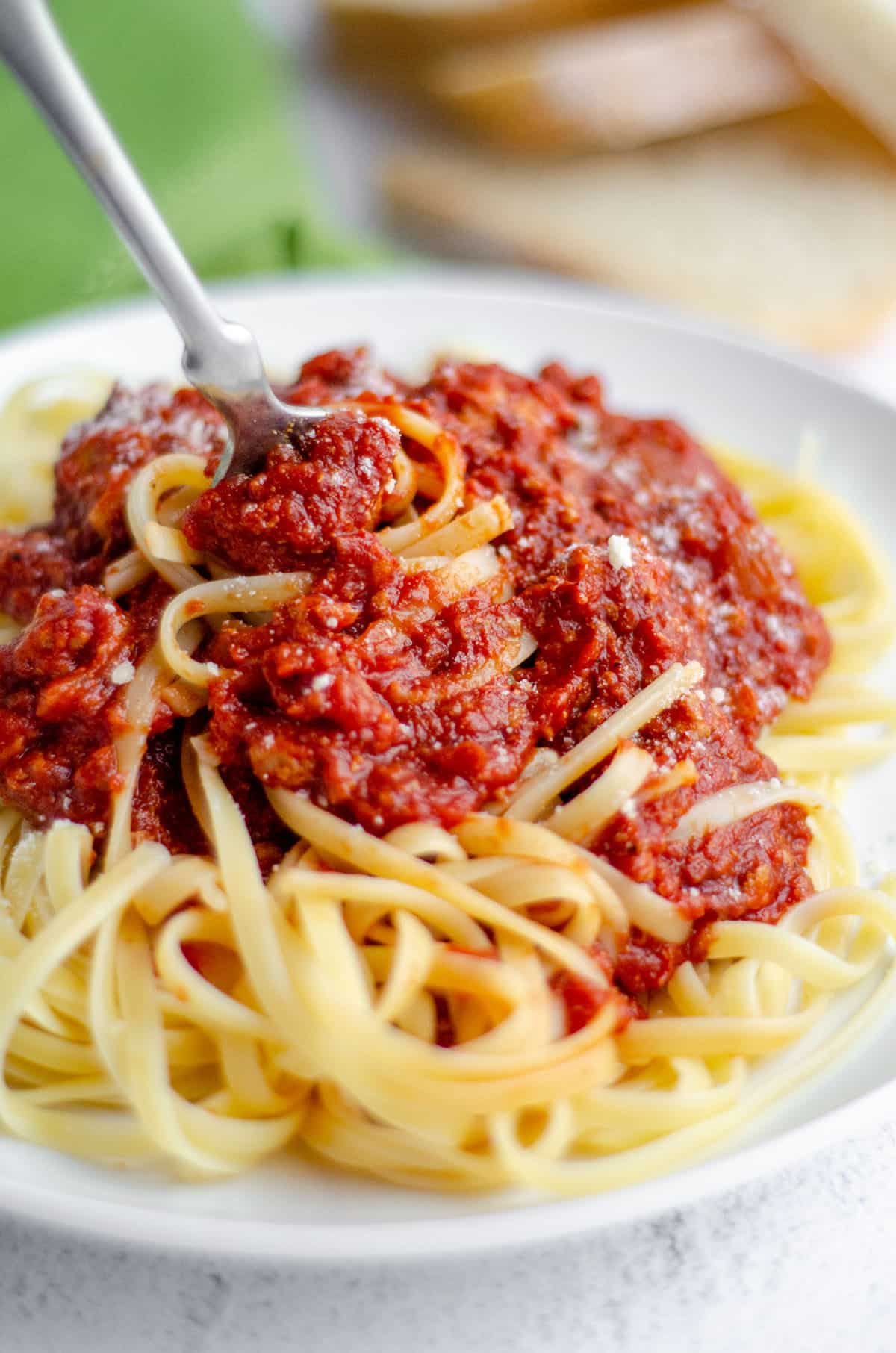 I will be forever grateful to my grandparents and great grandparents for passing down recipes and skills/lessons to me that I can pass on to my children, grandchildren, and readers.
My mission at Fresh April Flours has always been to help you get back into the kitchen and down to basics while living in a fast-paced, instant gratification world.
This recipe is a great reminder to slow down and I think it will serve all of us to sit back and remember that sometimes we have to work with less than what we're used to.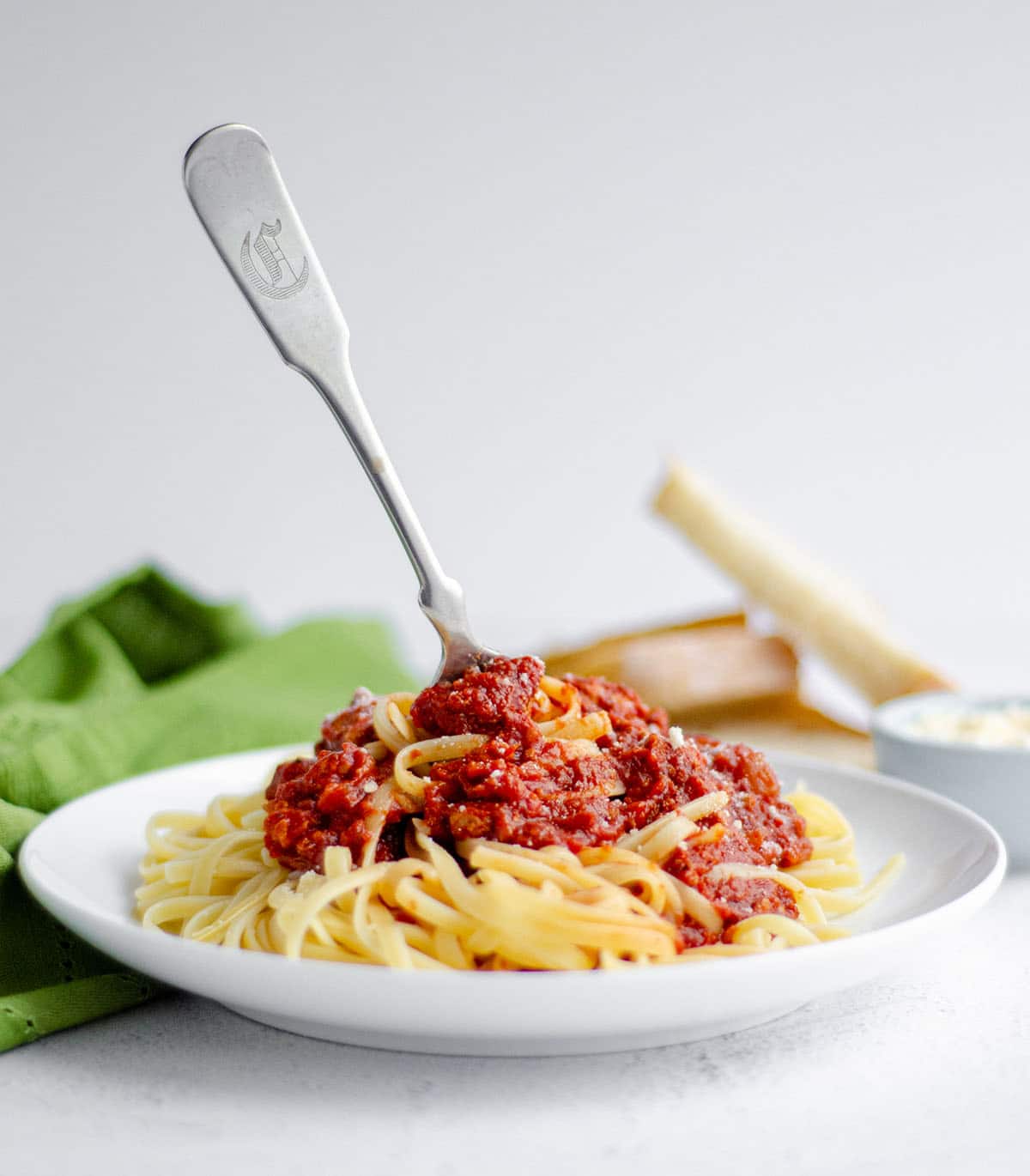 So why not do it with a big plate of spaghetti with meat sauce, completely homemade from what we've recently acquired at our latest grocery haul?
Stay safe, well, and happy, my friends.
Enjoy this tomato meat sauce in my saucy recipes: zucchini ravioli and baked ziti (you can even use this meat sauce for lasagna if you have a go-to recipe!)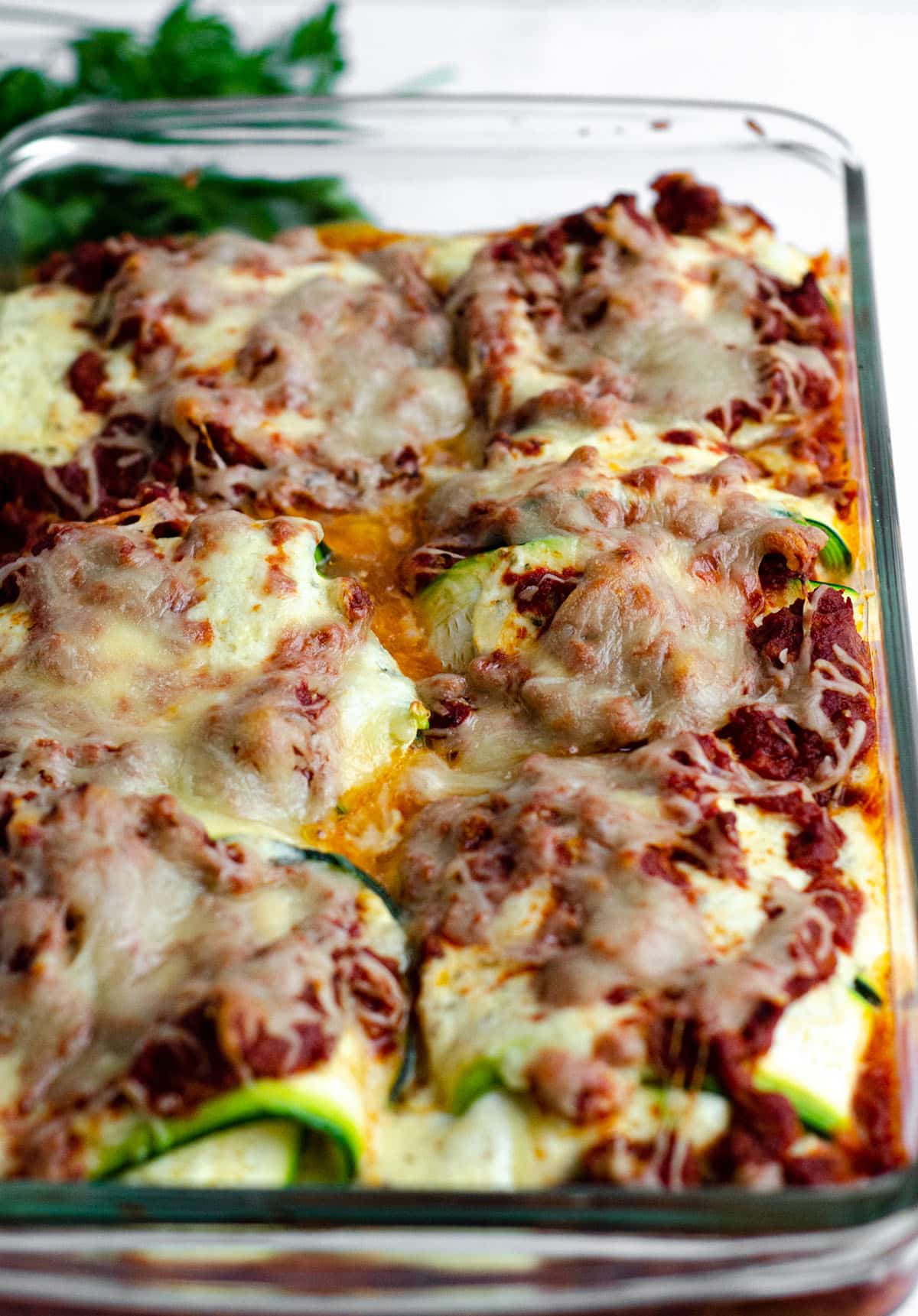 Homemade Meat Sauce
An easy homemade pasta sauce made with five simple ingredients. This recipe has been in my family for over a century and is a go-to for pasta dishes and lasagna or over vegetables or eggs.
Ingredients
2

Tablespoons

(27g) extra virgin olive oil

1

large

onion

I prefer a sweet one

3

cloves

of garlic

minced

1 and ½ to 2

pounds

(680-907g) ground meat

I prefer pork– if you use a lean meat, add more olive oil

28

ounces

(794g) crushed tomatoes1

12

ounces

(340g) tomato paste

½ to 1

teaspoon

salt
Instructions
Add the olive oil to a large warmed skillet or saucepan. Add the onion, garlic, and ground meat and cook until meat is browned and onion is translucent.

Add the crushed tomatoes, tomato paste, and salt to the skillet, then simmer sauce on low at least 1 hour and 30 minutes, or until desired thickness. Add water if sauce is too thick for your liking. Store leftovers in the refrigerator up to 1 week. Sauce freezes well, up to 3 months. Thaw in refrigerator overnight.
Notes
Fresh tomatoes: you can make your own crushed tomatoes– using a sharp knife, score the bottom of each tomato with an "X" and boil in water until skin pulls away (approximately 1 minute). Transfer boiled tomatoes to a bowl of ice water and allow to cool. Peel and quarter tomatoes, then pulse in a food processor until crushed.
Nutrition Disclosure
All nutritional values are approximate and provided to the reader as a courtesy. Changing ingredients and/or quantities will alter the estimated nutritional calculations.
Serving:
1
serving
|
Calories:
162
kcal
|
Carbohydrates:
9
g
|
Protein:
13
g
|
Fat:
8
g
|
Saturated Fat:
3
g
|
Polyunsaturated Fat:
1
g
|
Monounsaturated Fat:
4
g
|
Trans Fat:
0.4
g
|
Cholesterol:
37
mg
|
Sodium:
362
mg
|
Potassium:
648
mg
|
Fiber:
2
g
|
Sugar:
6
g
|
Vitamin A:
984
IU
|
Vitamin C:
16
mg
|
Calcium:
28
mg
|
Iron:
2
mg