As an Amazon Associate, I earn from qualifying purchases. Read the full disclosure here.
Soft and fluffy pull-apart bread filled with zesty, herbed pesto.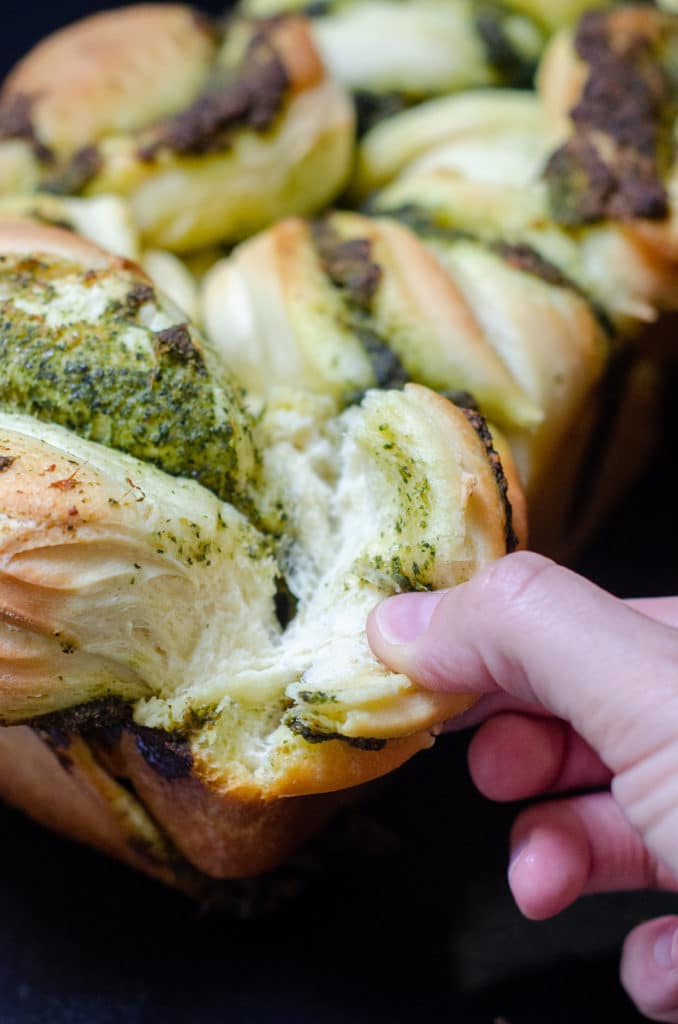 Another month, another loaf of bread!
And this time, YEAST BREAD. My most favorite kind of bread. All dolled up with summer flavor and waiting patiently to make an appearance in your kitchen.
This is not the first Bread of The Month to feature Bob's Red Mill's Artisan Bread Flour (which made its debut with our white sandwich bread), and it won't be the last. And, truthfully, I hope my relationship with this flour never ends because I am borderline obsessed with it and everything it can do and has done for me and my yeast breads.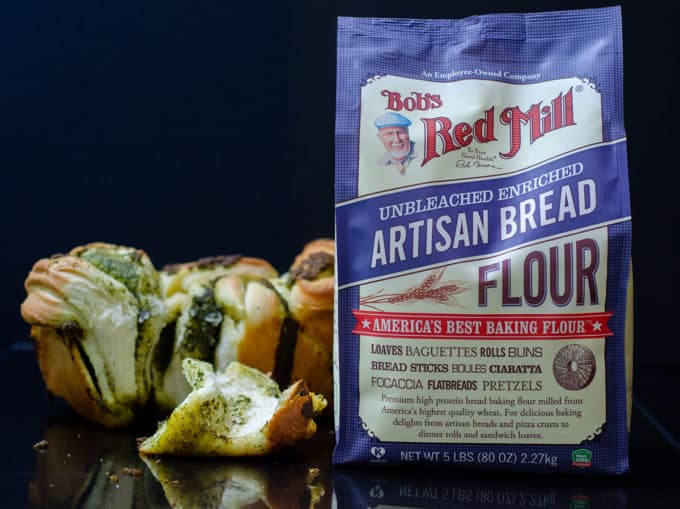 I will probably never use another kind of bread flour ever again in my life. It's that amazing.
When BRM signed on board with some bread recipes for Fresh April Flours in 2019, I knew it was the best time for me to dive into a bread I've been dying to try for years.
Pull-apart bread has graced Pinterest and food blogs in my feeds over and over and they're always so intricate and pretty and seemingly bursting with flavor.
I had to get one going in my kitchen, and I can tell you right now, this one will certainly not be the last! In fact, September's Bread of The Month is another pull-apart bread that will have all you apple lovers dying to get your hands on some yeast dough!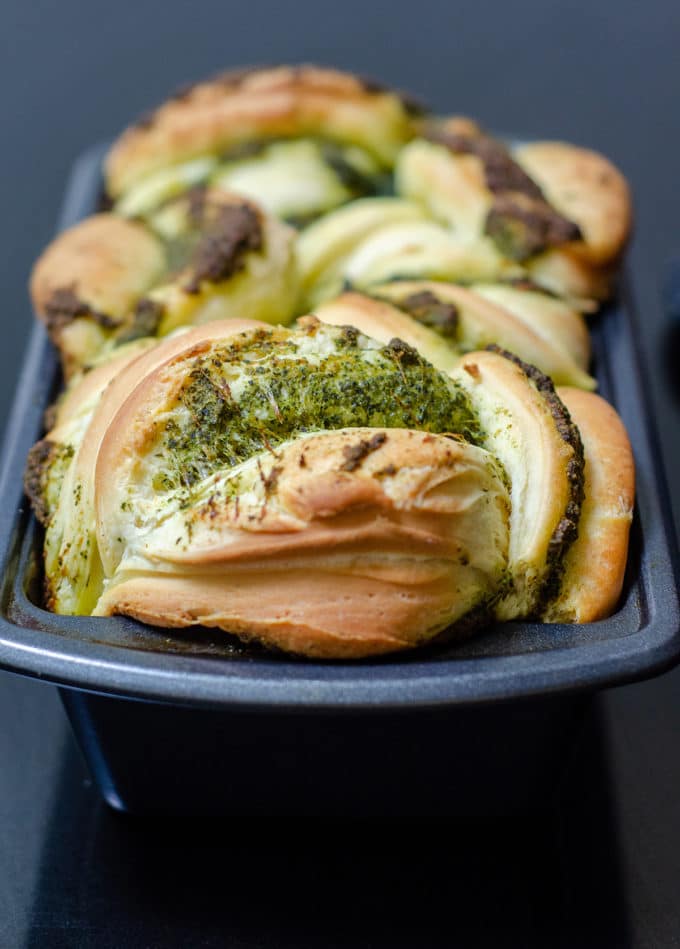 So let's break down exactly what a pull-apart bread is and how we get what looks like a labor-intensive and difficult creation to be easy peasy for us.
What is a pull-apart bread?
Pull-apart bread starts out like any other yeast bread you'll find on my blog (as always, details about the intricacies of yeast bread are broken down in my Italian anise bread post), but arranging it in the loaf pan is a little more complex (yet still easy!) than just shaping it and letting it do its thing.
After a yeast dough's initial first rise, it gets shaped and plopped into a loaf pan where it rises again.
With a pull-apart bread, that still happens, but similar to a babka or King cake where the second rise happens in the shaped state, the second rise happens with filled portions of circular discs of dough. I got this tip from King Arthur Flour, and it really worked fabulously.
Other methods I saw required measuring and folding and were quite complex. This method, which uses a biscuit cutter, cookie cutter, or even the top of a glass, gives you concise circles that get folded into a little taco before layering into the pan.
It's like a loaf pan full of little pesto tacos! The filling squishes out a bit, the discs start to go all kinds of ways when the pan starts getting full… All of this is fine and great.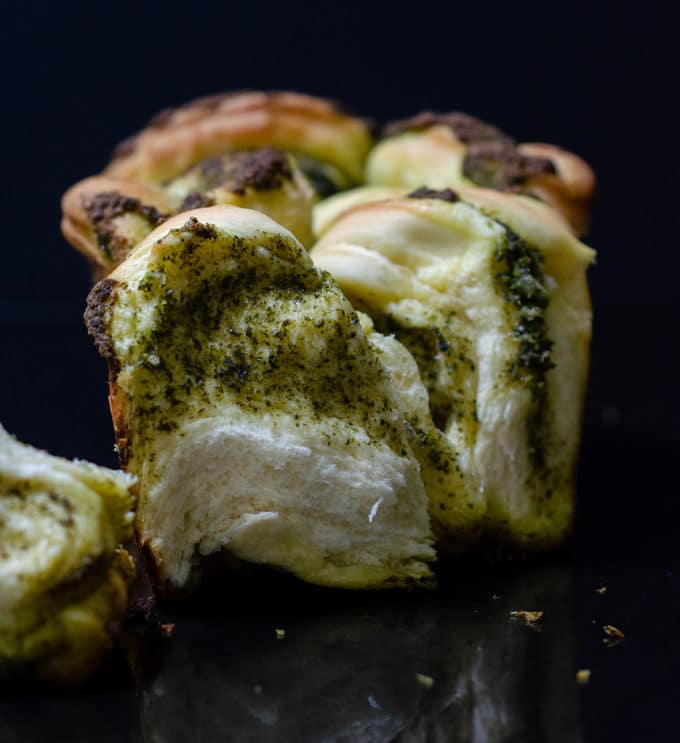 You'll have about 12-14 discs when is all said and done. I used 14, and admittedly, that was pushing it, as you can see I had some pesto tacos on the sides. I think that 12 dough discs is the perfect amount, and you'll probably have a little bit of dough leftover. More on what I do with those scraps at the bottom of this post!
When you have 12-14 discs ready to go, it's time to fill them up. I wanted to use the homemade pesto that I shared last week, but you're welcome to use whatever kind of pesto you like to use.
Use your own homemade pesto!
Do you make your own pesto already? Great! Use that. Or… Grab my recipe and make this pesto pull apart bread from even more love! You'll use about 1/2 Tablespoon on each disc of dough, so you'll need about 1/2 a cup of pesto. My recipe makes 1 cup!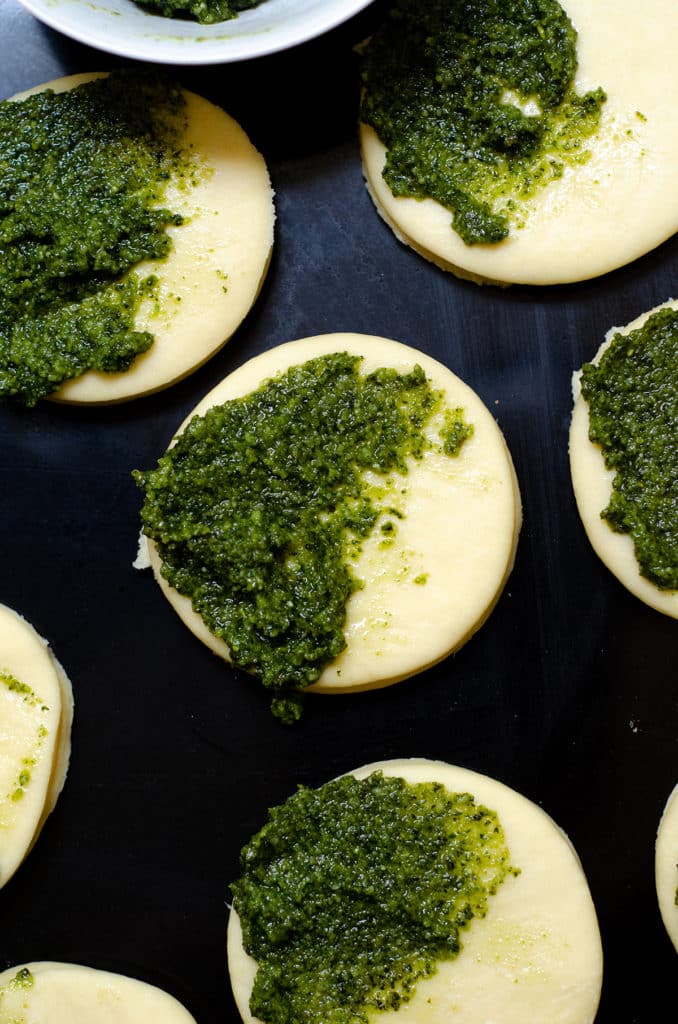 Each disc gets a slather of pesto, then into the pan it goes. Like I said, it can be slightly haphazard. It's really fabulous that way, because you have all kinds of pesto nooks and crannies when the loaf is all done!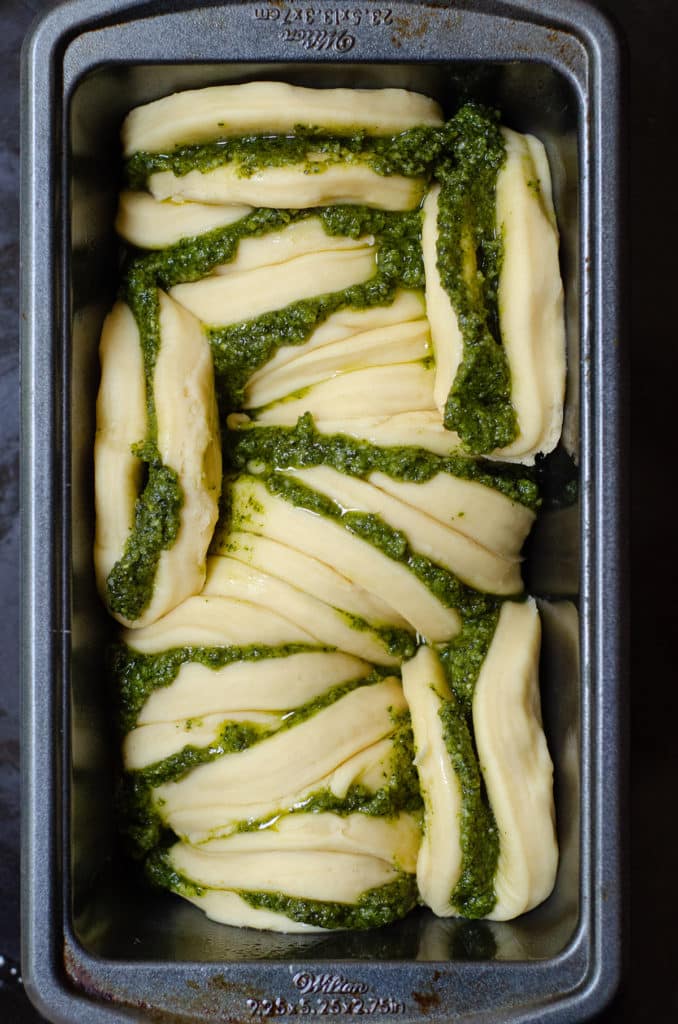 Remember I mentioned the loaf has to rise again? Cover your pesto pull-apart dough arrangement and allow to rise another 30-45 minutes. Then bake, cool a bit, and enjoy!
It's that simple.
Doesn't it look all super fancy and hard? It's so not. It's a little more labor-intensive than some other yeast breads, but I can tell you this is so worth it.
We could not stop eating this bread. The bread itself is pillowy soft. I might even be willing to call it "supple." It's everything you want a soft bread to be, and the pesto in all the corners makes it so much better.
Some of the pesto may fall to the bottom of the pan and burn slightly– this is also ok. I thought those parts would taste bad, but they really didn't. They just tasted like extra herby pieces.
SERIOUSLY. Look at all those pesto pockets!!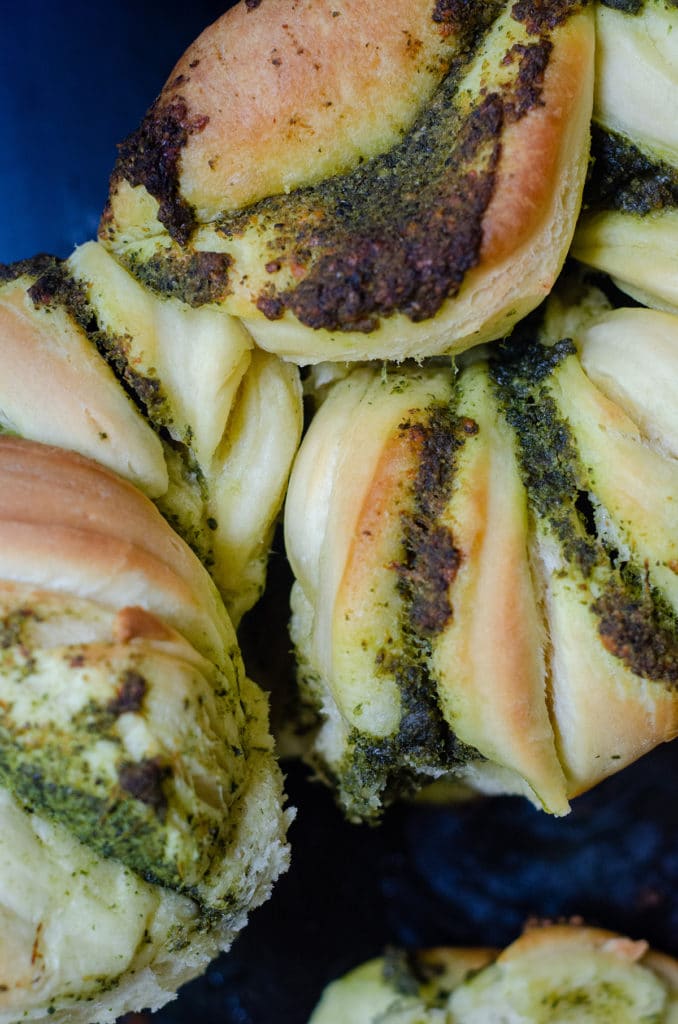 This bread is, admittedly, amazing on its own, but can you imagine it on the side of an Italian meal?
With a big salad full of veggies?
As a vehicle for some eggs at breakfast?
This pesto pull-apart bread knows no boundaries when it comes to the time of day it wishes you to enjoy it. It's perfect for something a little jazzy, and it's fun to share. Why? Because it's just so darn fun to pull apart. Really. It has the most non-descript descriptive name!
PUT LEFTOVER DOUGH TO GOOD USE
And what I said I did with the leftovers? Spread it out, spray with some olive oil, dust with garlic and onion powder, Italian seasonings, and pop in the oven for 20 minutes.
You can even spread some more pesto on this chunk of dough, sprinkle some mozzarella cheese on top, and have yourself a little pesto mozzarella bread in a snap. No need to waste those dough scraps!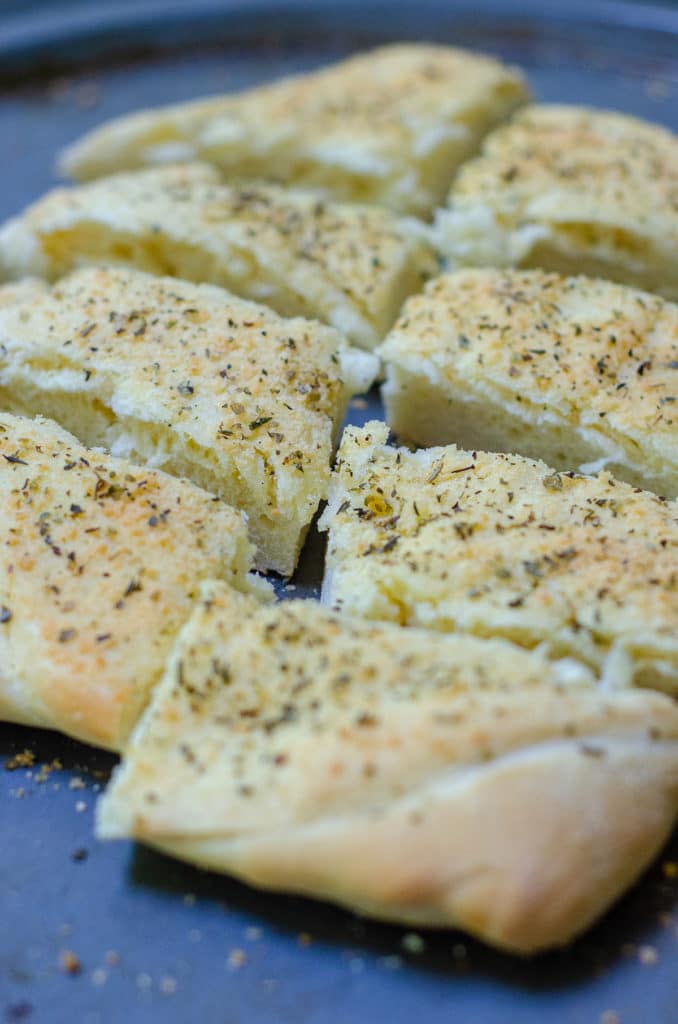 I am legitimately BRM's Artisan Bread Flour's biggest fan right now, and I know you'll love it too if you try it. I am equating all of my fluffy bread to them right now, so join us in the fluffy bread adventure if you're willing! Can't wait to see your pesto pull-apart bread creations!
Pesto Pull-Apart Bread
Soft and fluffy pull-apart bread filled with zesty, herbed pesto.
Instructions
Sprinkle the yeast over warm water. The best way to test the temperature of your water is to take it from the tap and run your wrist in the stream. If you can't feel the temperature of the water, it's perfect. Stir yeast in with a fork until it is dissolved and set aside.

In a large mixing bowl or the bowl of a stand mixer, blend the milk, sugar, and salt with a wooden spoon or a spatula. Stir in the butter, eggs, and yeast mixture.

Gradually stir in the flour. If you are using a stand mixer, use your dough hook. If mixing by hand, continue to use a wooden spoon or spatula. Add flour until your dough is soft enough to handle, usually when it can easily pull away from the sides of your bowl.

Turn out dough on a lightly floured surface and knead until smooth and elastic. You may need to add the last cup or so of flour by hand. Your dough should feel like PlayDoh to the touch and "snap" when you pull it apart.

Spray your bowl with non-stick spray and place the dough ball into the bottom of the bowl. Flip the dough ball over to coat the top, and then cover the bowl with a lid or towel and place in a warm environment. I like to heat my oven to 200ºF, turn it off, then leave the door cracked with the bowl inside. Allow dough to rise until double in size, about 90 minutes.

After dough has doubled, punch down the dough and turn out onto a lightly floured surface. Roll dough to about 1/2" thickness and, using a biscuit cutter, the rim of a glass, or a circular cookie cutter approximately 4" in diameter to cut circles of dough. Re-roll dough until you have about 12-14 circles. Save the remaining dough and refer to directions for what to do with it.

Spray a loaf pan with non-stick spray. Set aside.

Spread about 1/2 Tablespoon of pesto on half of each disc, fold in half, and place folded side down in the prepared loaf pan. Continue with each disc until all of the discs are in the pan, moving things around if necessary. Do not worry about aesthetics. Cover loaf with a clean kitchen towel and allow to rise at room temperature for about 30-45 minutes.

When you are ready to bake the bread, set the rack to the middle position in the oven and preheat it to 350ºF. Bake the loaf for 35-45 minutes or until the top is golden brown. Allow to cool on a wire cooling rack at least 15 minutes before turning out and serving. Loaf can be served warm or room temperature. Leftovers stay fresh, covered tightly at room temperature, up to 5 days. Loaf freezes well, up to 3 months. Wrap tightly. Thaw in refrigerator overnight.
Notes
*If you don't have or can't find this flour, regular bread flour is fine.
What to do with leftover dough: roll or shape the dough into about 1/2" thick circle (it does not have to be perfect). Brush with olive oil or more pesto, add seasoning if you'd like (such as garlic powder, onion powder, Italian seasoning, etc), cheese, and bake at 350ºF for about 15-20 minutes until golden brown. 
Nutrition Disclosure
All nutritional values are approximate and provided to the reader as a courtesy. Changing ingredients and/or quantities will alter the estimated nutritional calculations.