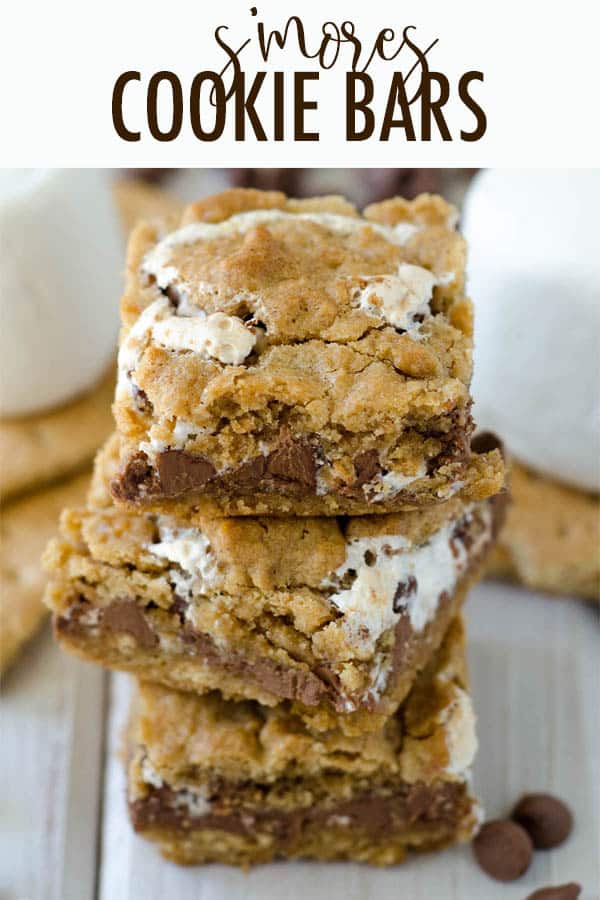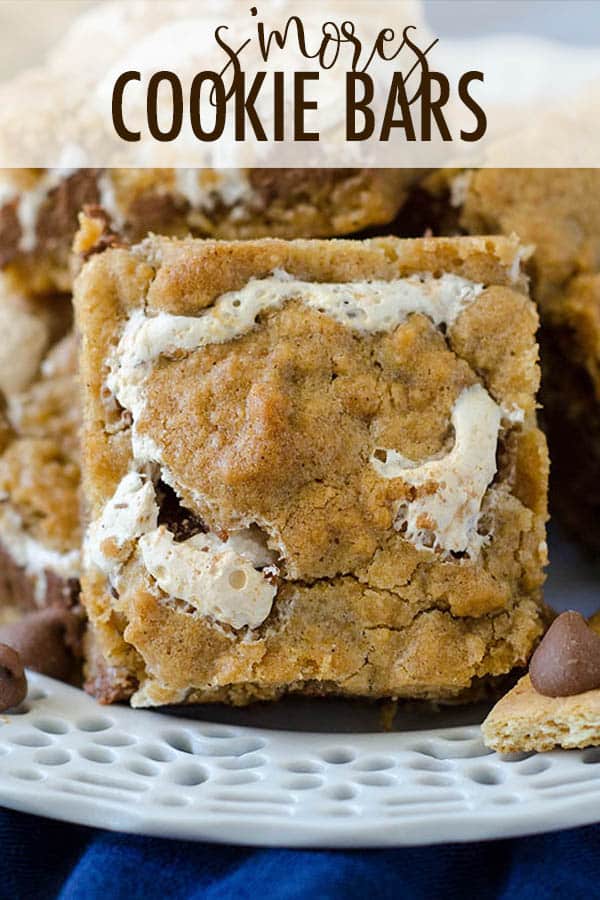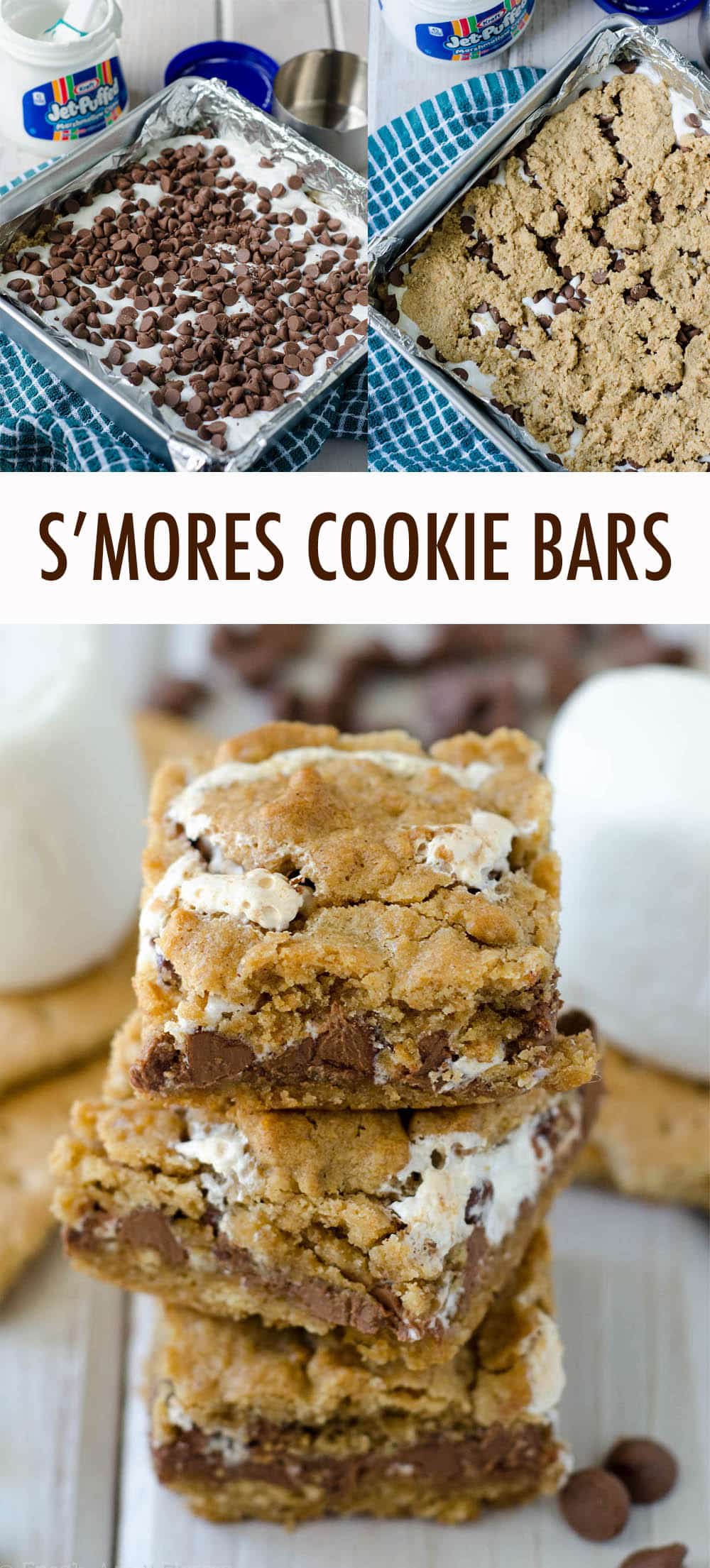 As an Amazon Associate, I earn from qualifying purchases. Read the full disclosure here.
Soft and chewy graham cookie bars filled with a fluffy layer of marshmallow creme and milk chocolate chips. All the s'more without the flame!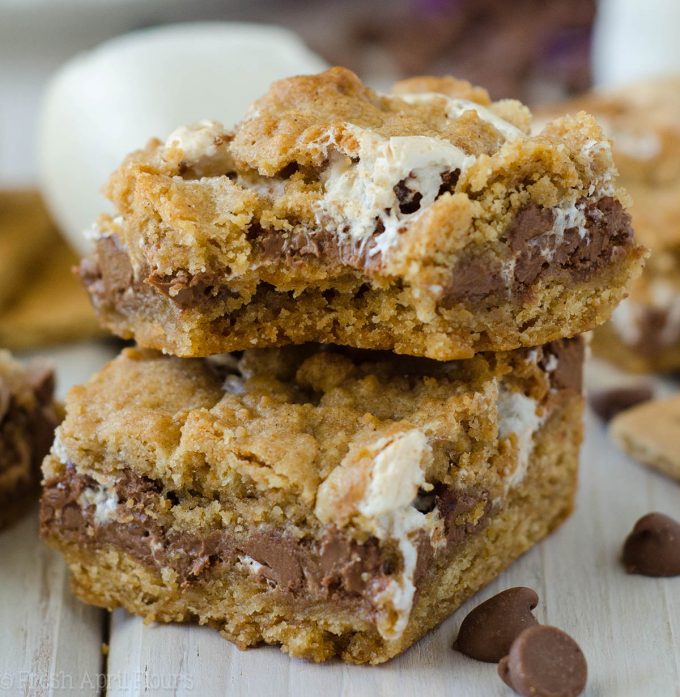 You will love this S'mores Bars recipe
What is summer without a good s'more? Even if you don't have access to a campfire, thank goodness for ways to get s'mores in your mouth while enjoying the comfort of your own home and air conditioning.
Something about that fluffy, ooey gooey marshmallow, melty chocolate, and crunchy graham cracker brings instant feelings of hot and sticky days followed by cooler, lightning bug-illuminated evenings, and seemingly endless hours of sunlight.
As we transition into fall, let's keep the summer loving alive as much as we can, yes? S'mores for everyone, all the time.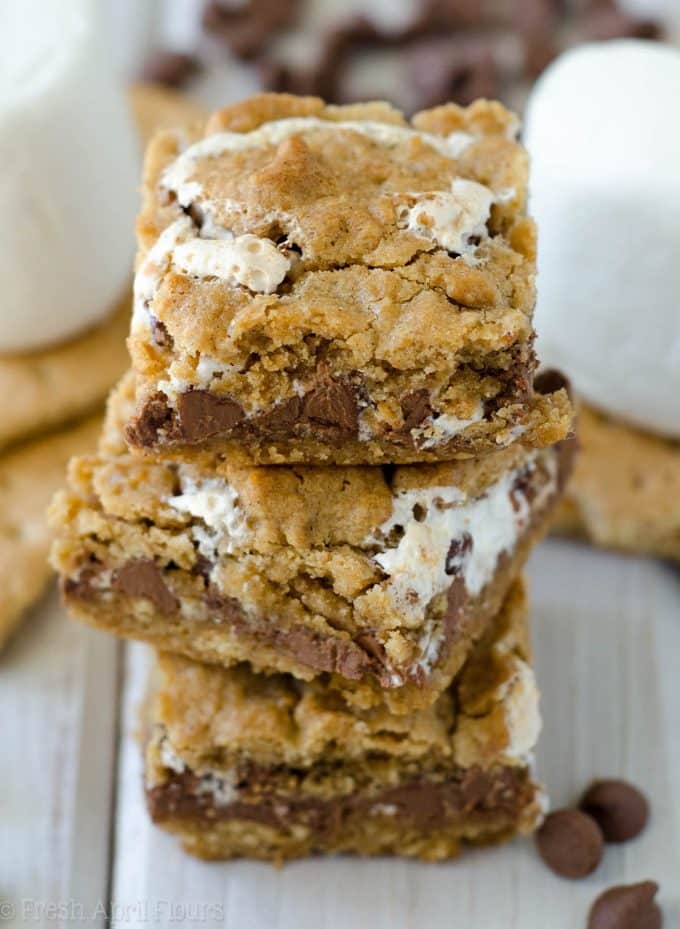 I love a good twist on this familiar favorite, as evidenced by my s'mores cupcakes, s'mores fudge, and the s'mores puppy chow in my cookbook.
Other familiar-favorite-twists include patriotic and Christmas-y Rice Krispies Treats, my extensive oatmeal cookie collection, and several types of biscotti.
Classics are fun to play around with because they keep the integrity of the original but bring a new flair to the idea and can, quite possibly, make them even more fun to enjoy (seriously– funfetti everything. How can you not love these?!).
S'mores Bar ingredients
For these s'mores chewy cookie bars, you will need:
all-purpose flour
graham cracker crumbs
baking powder
salt
ground cinnamon
unsalted butter
brown sugar
egg
vanilla extract
marshmallow creme
milk chocolate chips
How to make S'mores Bars
Let's break down these ridiculously s'moresy (technical term) bars into layers so we know what we're working with here.
Just like the original, we've got a sandwich of sorts with a graham cookie layer on the bottom and top of each bar. This graham cookie is essentially a basic cookie dough with a cup of crushed graham crackers to act as an additional "flour" and bring that classic graham flavor and texture to the bars.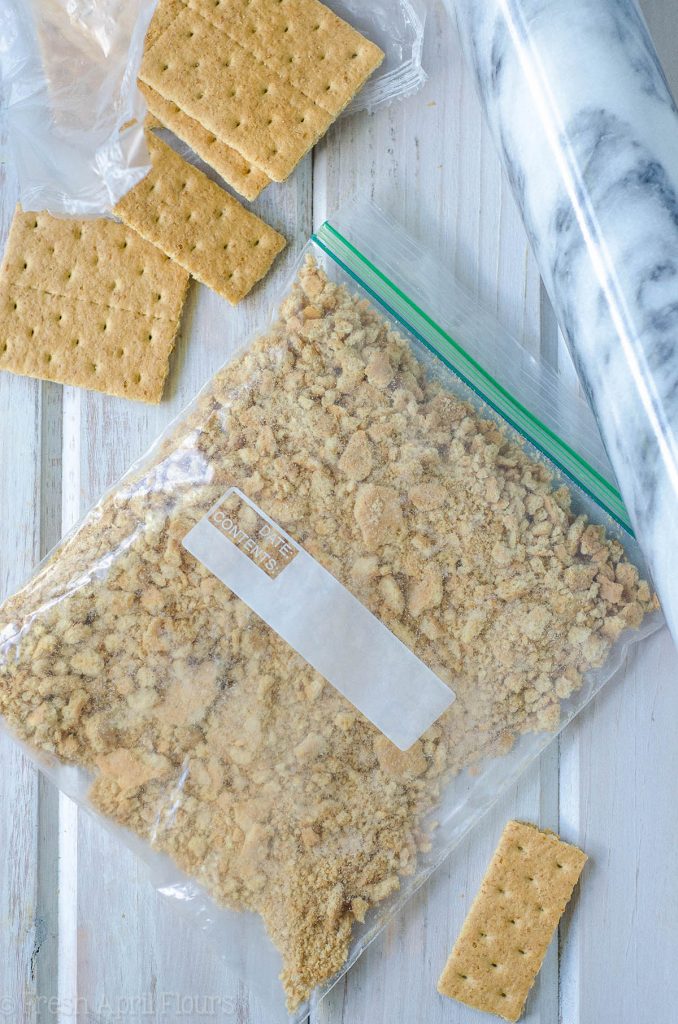 I also added a touch of cinnamon to the cookie dough to enhance that graham cracker flavor. You'll layer about 2/3 of the graham cookie dough onto the bottom of a foil-lined baking pan.
On top of that graham cookie layer, you'll spread and entire 7 ounce jar of marshmallow creme.
Yes, an entire jar. Don't skimp on this one bit.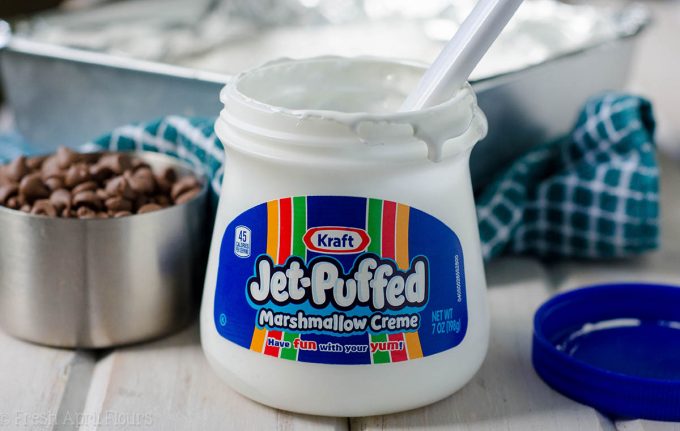 I find the easiest way to do this is to scrape out all of the creme with a spatula, spray that spatula with some non-stick spray, and then spread out the creme as best as you can.
Having an oiled spatula makes things a whole lot less sticky and will prevent you from getting marshmallow creme all over everything. Although, that might not be the worst thing…
On top of that marshmallow creme layer, you'll add a generous layer of chocolate chips. I went with milk chocolate, because that's what classic s'mores go best with, but semi-sweet or dark would also work great here.
Your s'mores bars, your chocolate preference.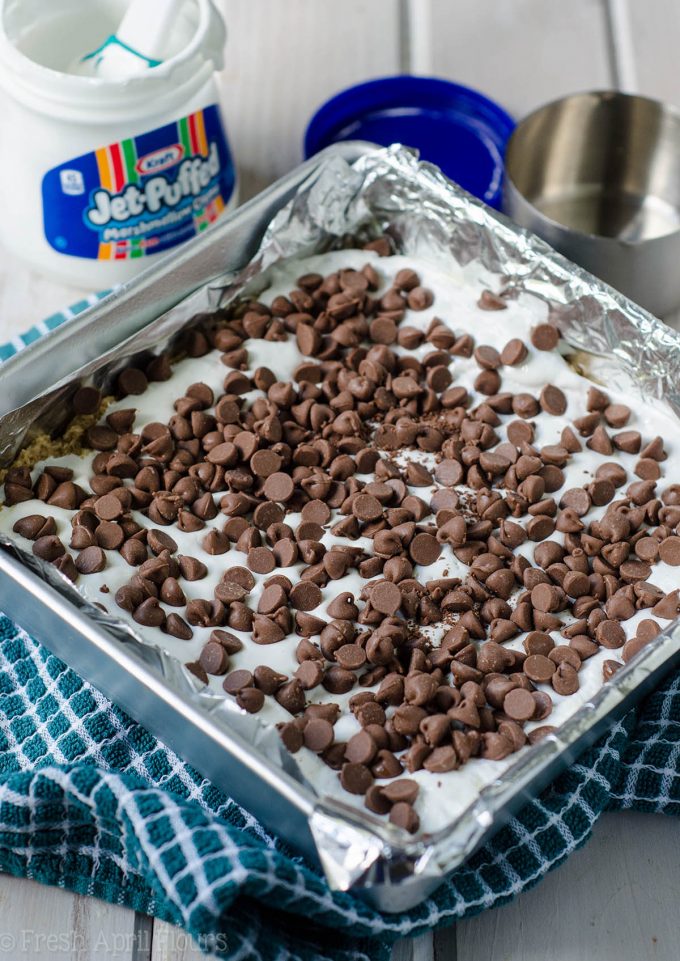 After all that chocolate, you'll top the bars with the remaining graham cookie dough.
This step is a bit tricky, but if you break the dough into 5-6 smaller pieces, flatten them with your hands, and distribute them evenly over the top of the chips, you'll be able to use your fingers to spread the dough around to cover most of the chocolate and marshmallow creme.
Some spots sticking out are completely ok and incredibly encouraged.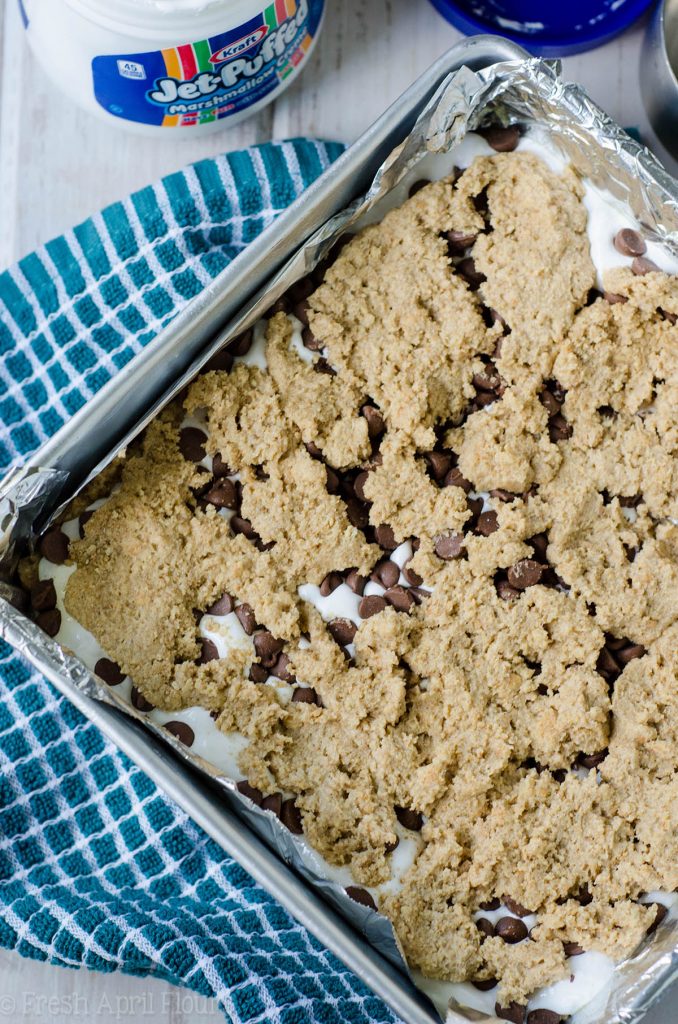 In my s'mores chewy cookie bar experience, the marshmallow that stuck out puffed up in the oven, browned a bit, and cooled into a slightly crunchy layer. Aaaaaamazing. All hail the texture lovers.
Seriously, friends, these s'mores chewy cookie bars take s'mores to a whole new level of enjoyment.
The top cookie layer and the crispy marshmallow creme mixed in make for the perfect parallel of a real s'more before leading to a gooey layer of marshmallow and plenty of creamy chocolate.
All the s'more experience without the hassle of a fire. The only hard part about this recipe? Waiting for the bars to cool before cutting them.
How to store a S'mores Bar
S'mores bars can be stored covered tightly at room temperature for up to 5 days.
Smores Bars Recipe FAQs
What is S'mores short for?
It is said that "s'mores" is a contraction for the phrase "some more" as in "I want some more of those s'mores!"
Is milk or dark chocolate better for s mores?
The choice of chocolate you use for your s'mores is up to you! Traditionally, they have been made with milk chocolate, but we are an equal opportunity chocolate family and if there are s'mores on the menu, we won't be picky!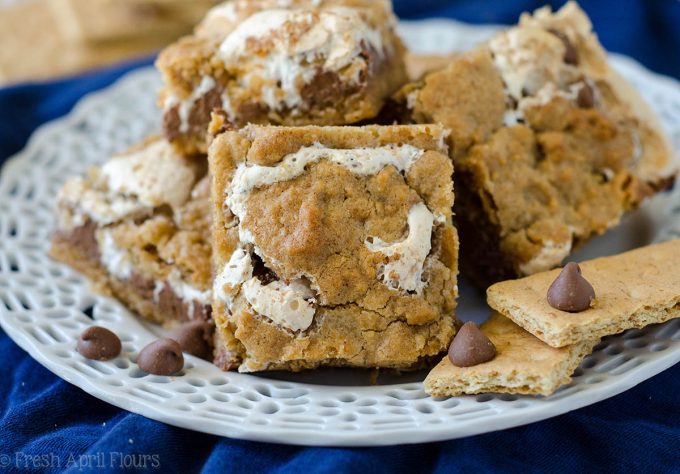 If you're a s'mores lover and just can't bear to think about waiting until next summer to enjoy the classic, it would behoove you to add this recipe to your baking arsenal.
Whip up these twists-on-a-classic whenever you're feeling summery, add them to your cookie trays for the holidays, or bake them for a friend who could use a little pick me up.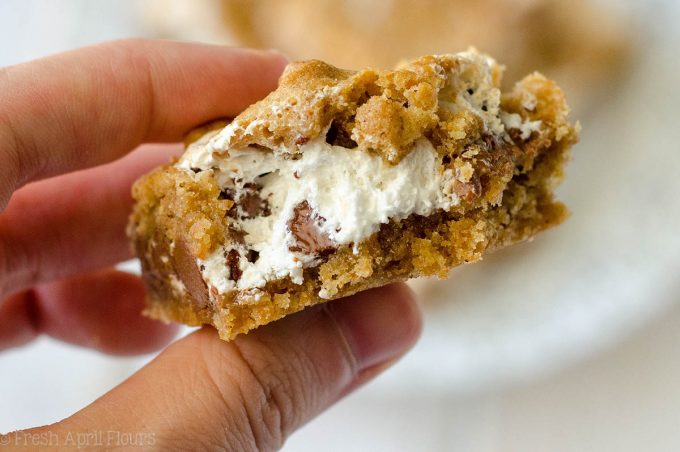 Because really, who can eat a s'more without a smile?
Smores Bar
Soft and chewy graham cookie bars filled with a fluffy layer of marshmallow creme and milk chocolate chips. All the s'more without the flame!
Ingredients
1

cup

(120g) all-purpose flour be sure to measure properly

1

cup

graham cracker crumbs

approximately 9 full graham crackers

1/2

teaspoon

baking powder

1/2

teaspoon

salt

1/2

teaspoon

ground cinnamon

1/2

cup

(113g) unsalted butter

softened to room temperature

3/4

cup

(150g) firmly packed brown sugar

1

large egg

1 and 1/2

teaspoons

vanilla extract

1

7-ounce jar

(198g) marshmallow creme

1

cup

(175g) milk chocolate chips
Instructions
Preheat the oven to 350°F (177ºC). Line an 8" square baking pan with aluminum foil, leaving enough overhang on the sides. Spray with non-stick spray. Set aside.

In a medium size bowl, whisk together the flour, graham cracker crumbs, baking powder, salt, and cinnamon. Set aside.

In a large bowl using a handheld mixer or the bowl of a stand mixer fitted with the paddle attachment, cream the butter and brown sugar together on medium speed until mixture is creamy and smooth. Add the egg and vanilla extract. Continue to mix until combined, scraping down the sides of the bowl as necessary.

Turn the mixer down to low speed and slowly add the dry ingredients to the wet ingredients. Mix until combined.

Press approximately 2/3 of the graham cookie dough evenly into the prepared pan. Spread the marshmallow creme on top. I find the best way to do this is to scoop out the entire amount of creme into the middle of the dough, spray a spatula generously with non-stick spray, and spread it as best as you can. Sprinkle the marshmallow layer evenly with the chocolate chips.

Mold the remaining cookie dough into 5 or 6 flat pieces and layer on top of the chocolate chips. Spread around with your hands the best you can. If some chocolate chips and marshmallow spots are exposed, that's completely ok.

Bake the bars for 26-28 minutes, or until the top is lightly golden brown and the spots of marshmallow creme that stuck out are just beginning to brown. Allow to cool completely on a wire rack before cutting into squares. Bars stay fresh covered tightly at room temperature up to 1 week. Bars may be frozen up to 3 months. Thaw overnight in refrigerator or warm up individually in the microwave for 15-20 seconds.
Nutrition Disclosure
All nutritional values are approximate and provided to the reader as a courtesy. Changing ingredients and/or quantities will alter the estimated nutritional calculations.
Serving:
1
bar
|
Calories:
220
kcal
|
Carbohydrates:
30
g
|
Protein:
2
g
|
Fat:
11
g
|
Saturated Fat:
6
g
|
Polyunsaturated Fat:
0.3
g
|
Monounsaturated Fat:
2
g
|
Trans Fat:
0.2
g
|
Cholesterol:
25
mg
|
Sodium:
128
mg
|
Potassium:
80
mg
|
Fiber:
0.4
g
|
Sugar:
20
g
|
Vitamin A:
192
IU
|
Vitamin C:
0.003
mg
|
Calcium:
36
mg
|
Iron:
1
mg