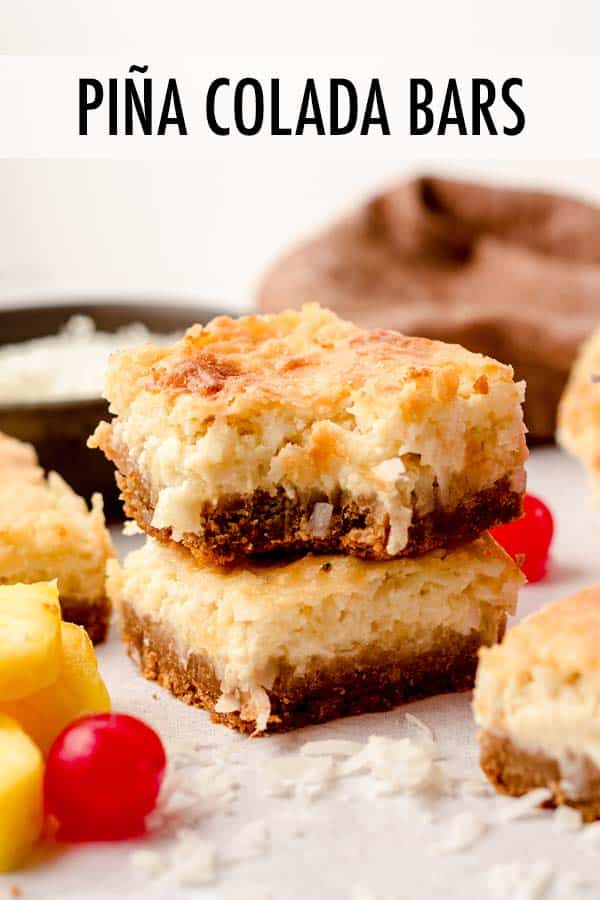 As an Amazon Associate, I earn from qualifying purchases. Read the full disclosure here.
These non-alcoholic tropical coconut custard bars have chunks of pineapple and shredded coconut all on top of a crunchy graham cracker crust.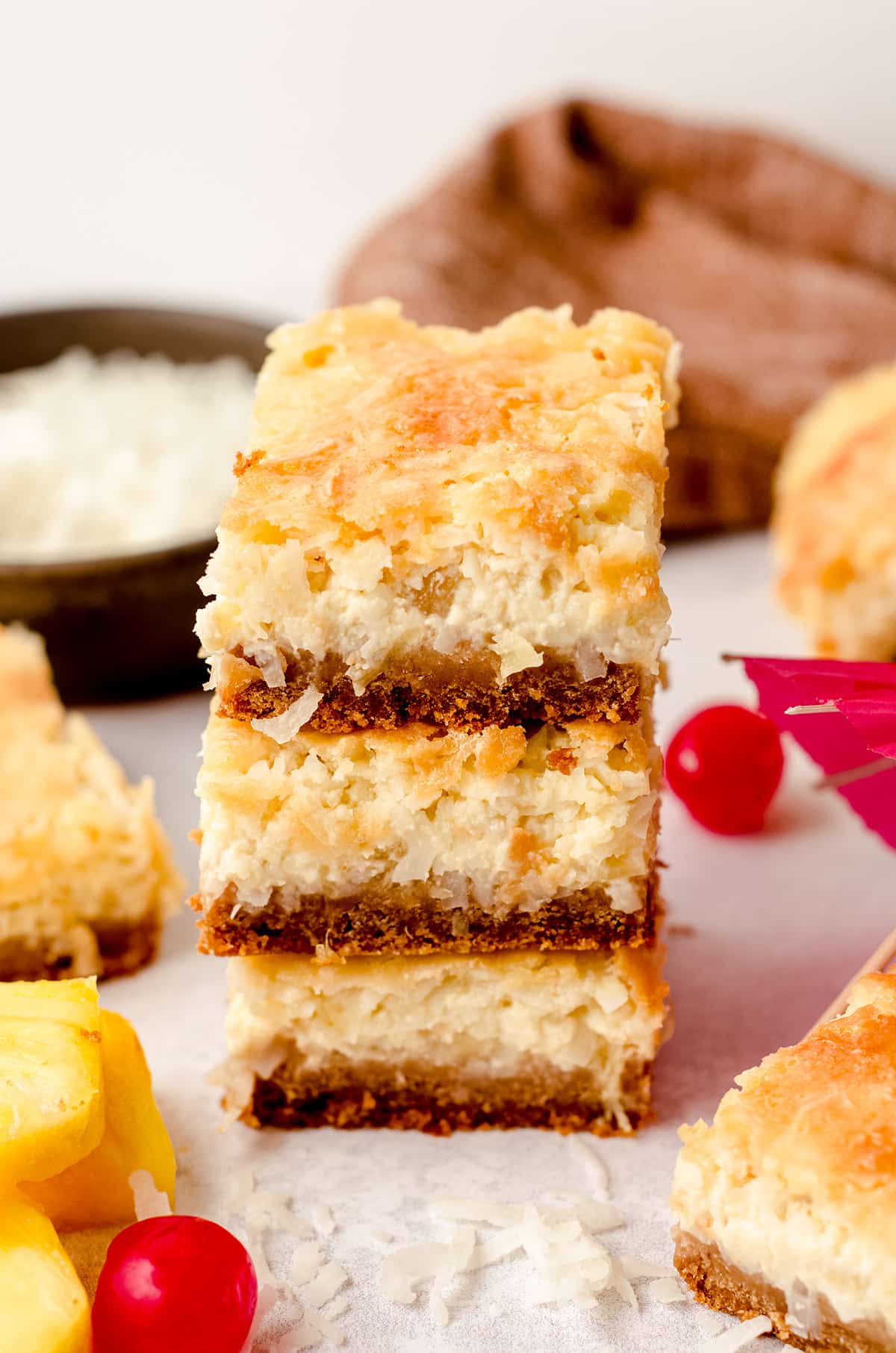 Long ago, back in 2014 when I started my website, I published these piña colada bars and they went BANANAS on Pinterest. Since then, I've had a pretty steady flow of visitors to this recipe, but have never been 100% on board with the final product after hearing reader reviews.
I love growing and learning more and expanding my baking skills, and since these bars' debut, I have been itching to get to this recipe to make it better than ever.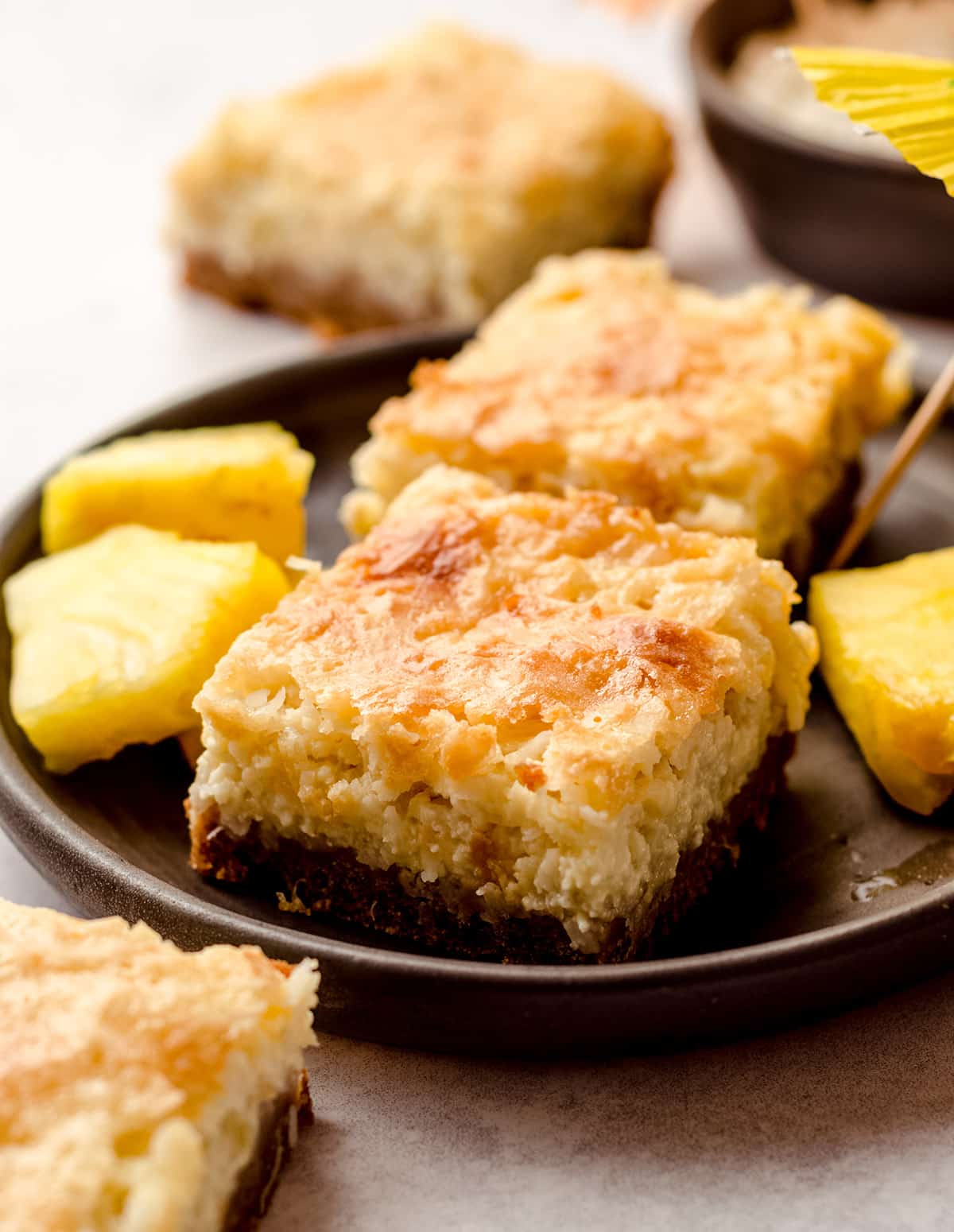 Back in the spring when I made my coconut custard pie, I discovered that a coconut custard type filling is what these piña colada squares were missing. So I took to the kitchen, selected my best coconut ingredients, and made these bars exactly what I wanted them to be.
INGREDIENTS
There are two components to these piña colada bars: a crunchy graham cracker crust and a texture-filled coconuts and pineapple filling.
GRAHAM CRACKER CRUST
We've made this graham cracker crust many times before, and this time is no different. I use the same recipe for a graham cracker crust any time I need one, and all you'll need for it are graham crackers, melted butter, and brown sugar.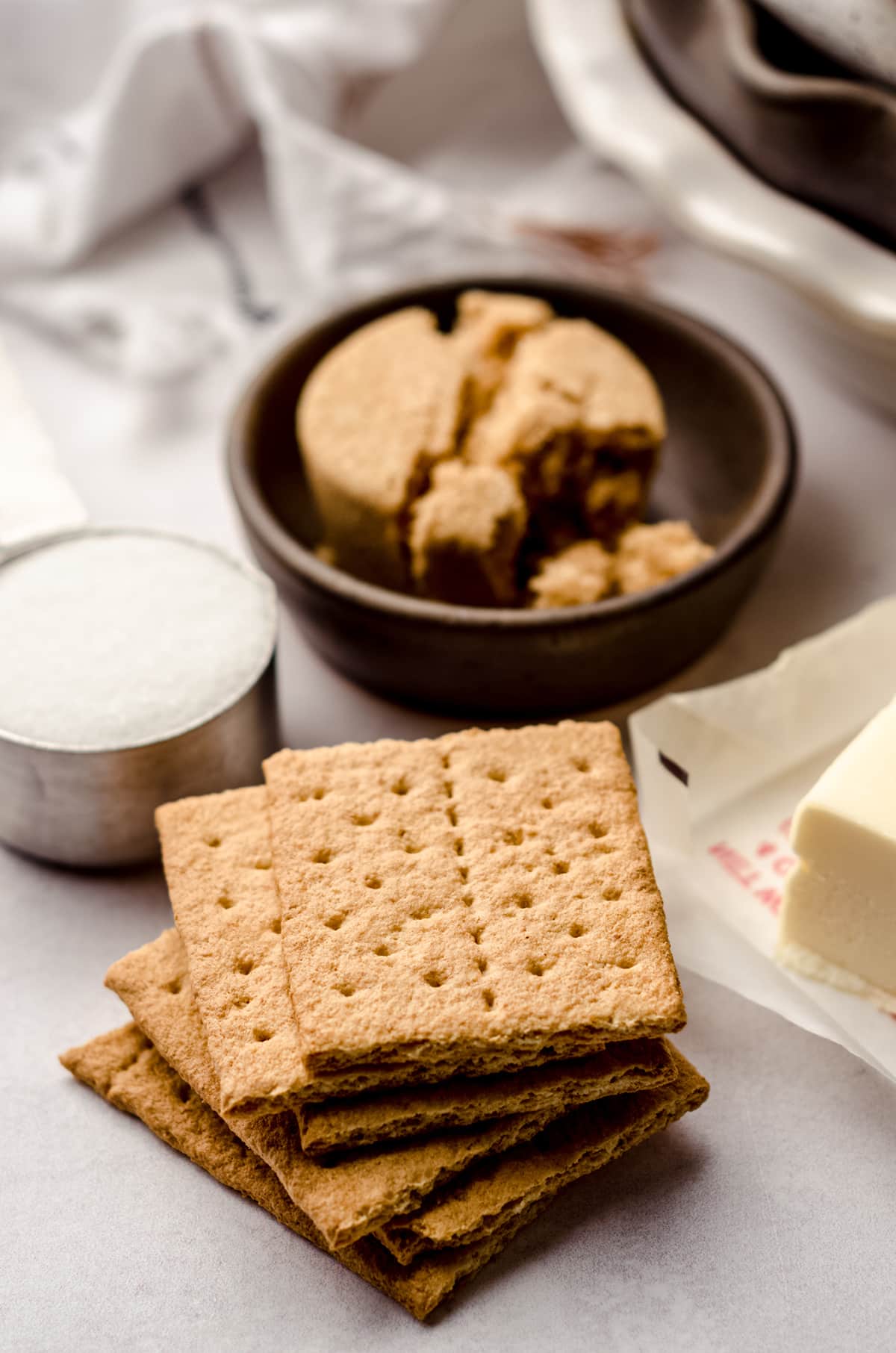 So easy! And a wonderful complement to the filling.
PINEAPPLE COCONUT CUSTARD FILLING
The filling, which originally used sweetened condensed milk modeled after my Key lime pie bars, now uses coconut milk and granulated sugar in place of it.
A note on the coconut milk– you will need this at room temperature where it is often separated into fat and liquid. Take care opening your can, or, if it's warm enough, you may be able to turn it into a complete liquid by shaking it before adding it to your other ingredients.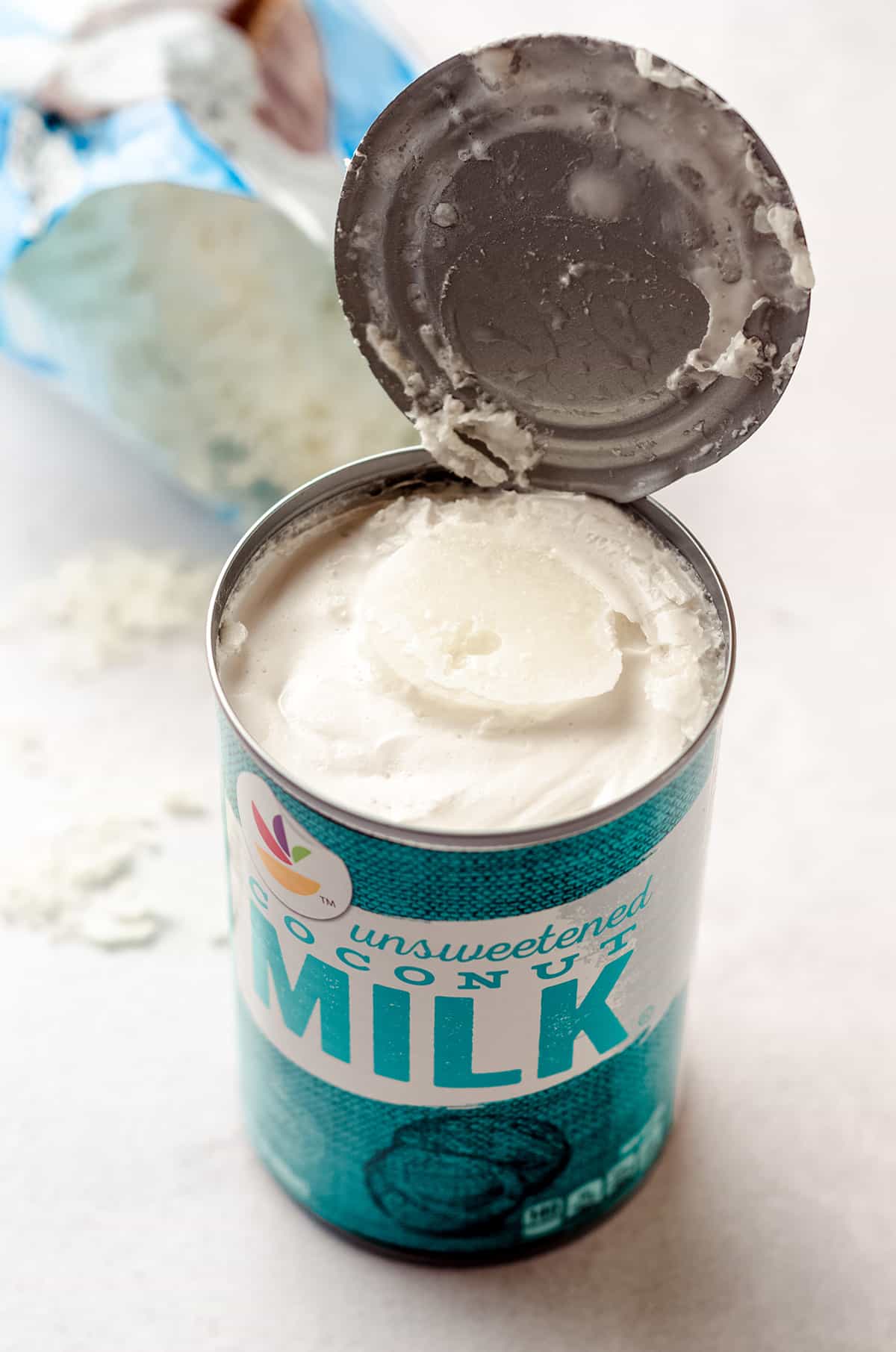 Other ingredients you'll need for the filling: cream cheese, egg yolks, some vanilla extract, a little salt, and to bring all the true piña colada flavor, crushed pineapple and sweetened shredded coconut.
You might be wondering to yourself… Where is the rum?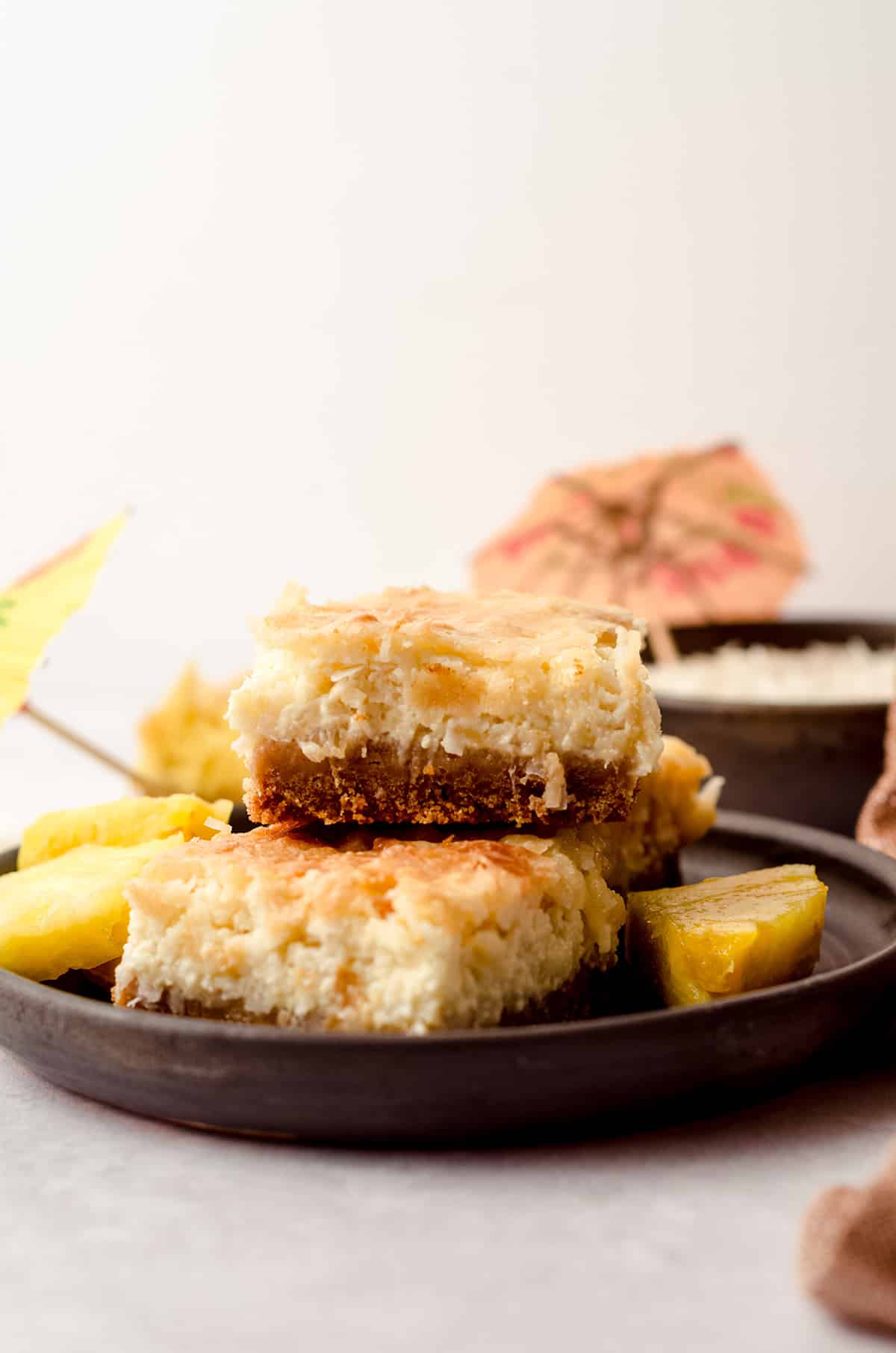 Although there is no actual alcohol in these bars, you can most certainly add some rum extract to make these truly a cocktail dessert. See my notes at the bottom of the recipe for suggestions.
HOW TO MAKE PIÑA COLADA BARS
As per usual for graham cracker crusts, this part is really simple.
Gather the ingredients into a food processor and pulverize everything. Add the melted butter and the sugar and continue to combine.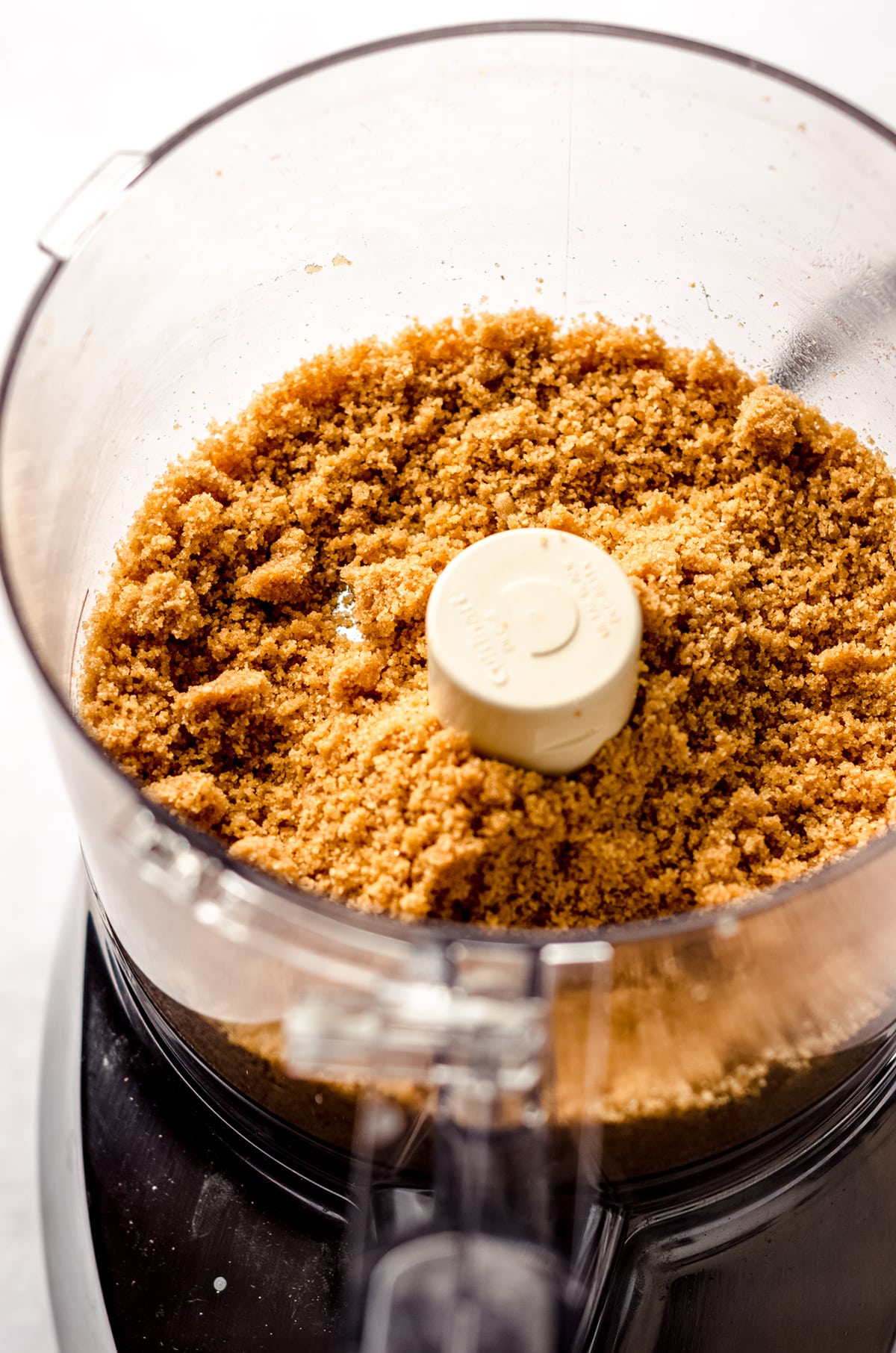 You'll press this mixture into the bottom of an 8″ square pan lined with parchment or foil (I prefer foil).
Then, you'll bake this for about 8-10 minutes just so it can set up.
For the filling, you'll start by creaming together the cream cheese and granulated sugar. To this, you'll add two egg yolks, then the coconut milk and the vanilla extract.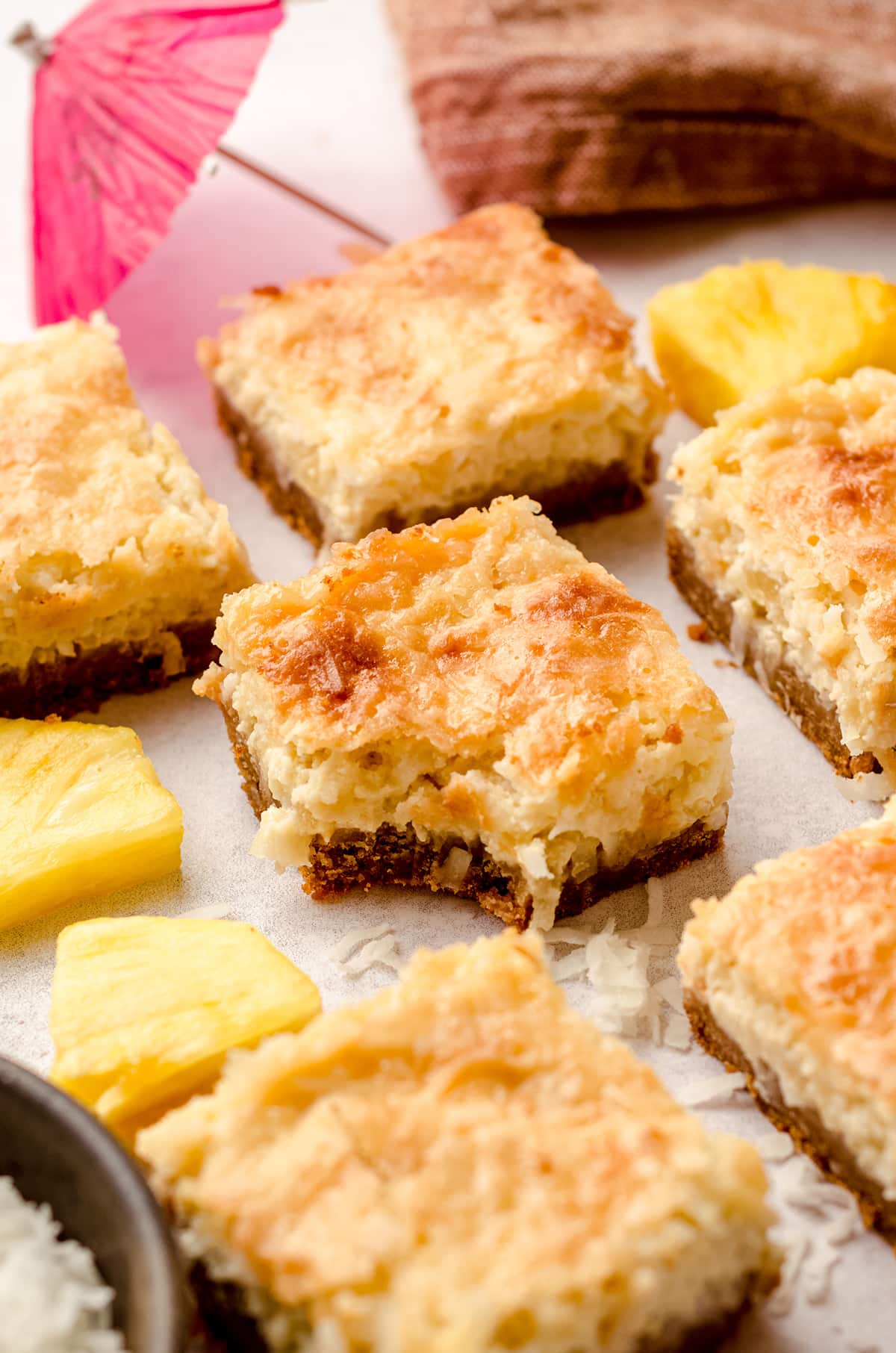 Remember, your coconut milk may be separated, so take care when emptying the contents into your mixture.
Lastly, we'll add some salt and then crushed pineapple and ⅔ cup of the sweetened shredded coconut.
Your crushed pineapple should be drained, but it does not need to be bone dry. Don't worry about wringing out all of the moisture, but do be sure to press out as much as you can before taking it out of the can.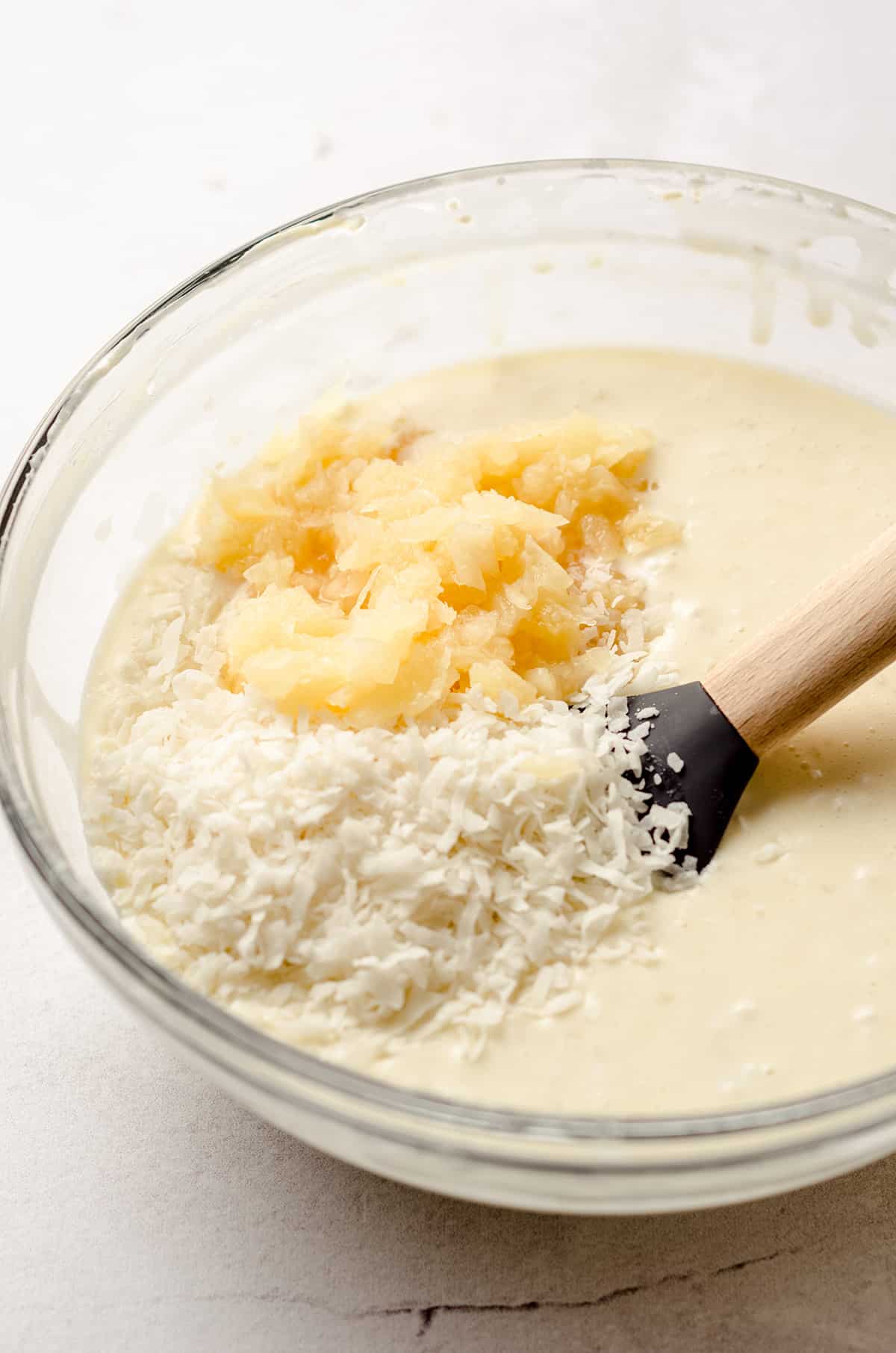 Once these ingredients are all well combined, pour it into the pre-baked graham cracker crust, then sprinkle the remaining ⅓ cup of sweetened shredded coconut on top.
You will bake these piña colada cheesecake bars for a long time– over 1 hour. Remember that this is a coconut custard based bar, so it will need longer to set than traditional bars made with cream cheese.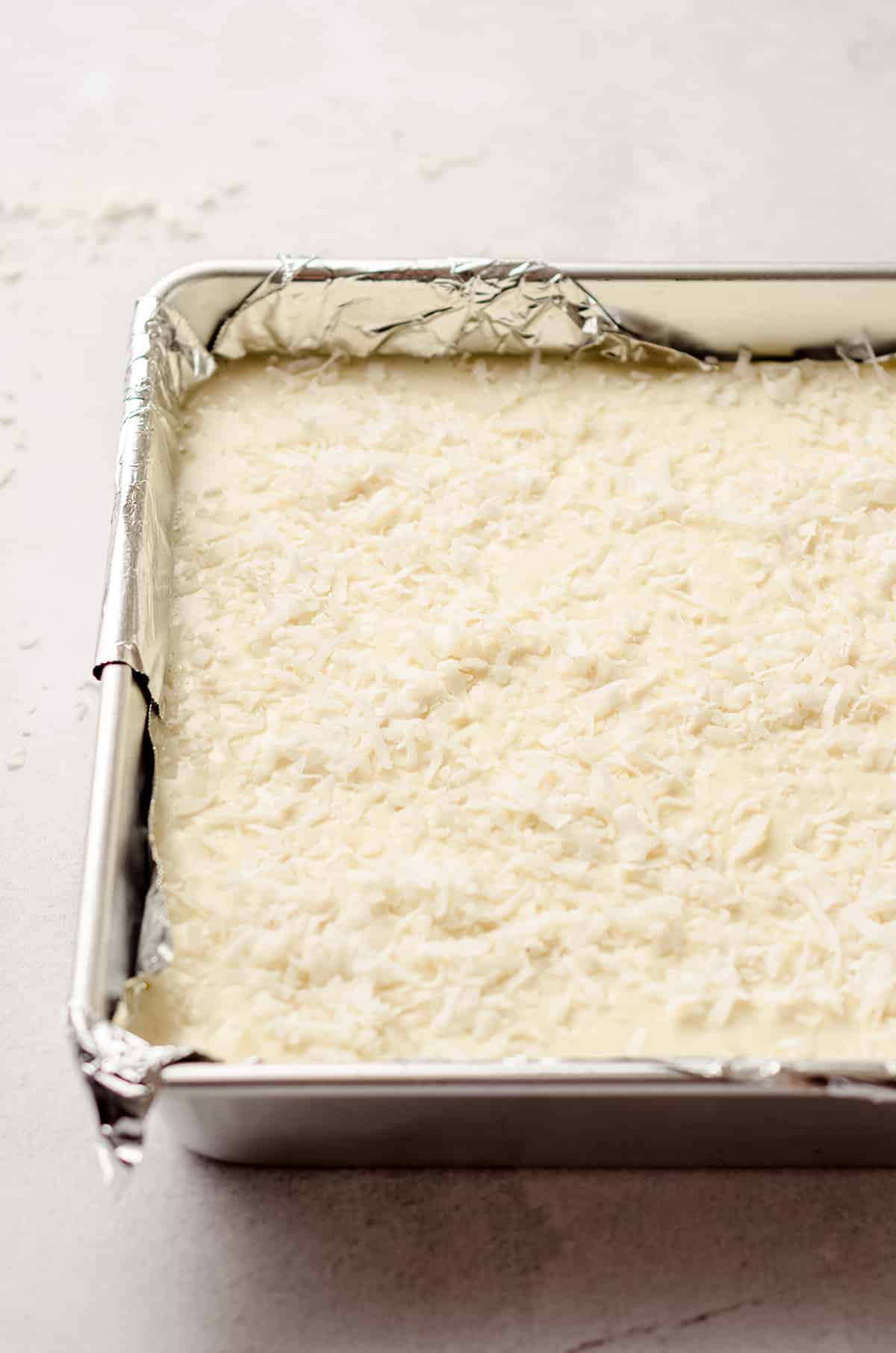 Once baked, they'll need to cool completely before you refrigerate them to cut and serve them. This is crucial in letting the bars set the whole way.
For me, there is no such thing as too much coconut in my life, and these bars are jam-packed with it. It's the perfect summery dessert and worth all the heat of turning on the oven.
The coconut sprinkled on top browns just a little bit, so the slight toasted coconut flavor in each bite meshes well with the sweetness of the bar.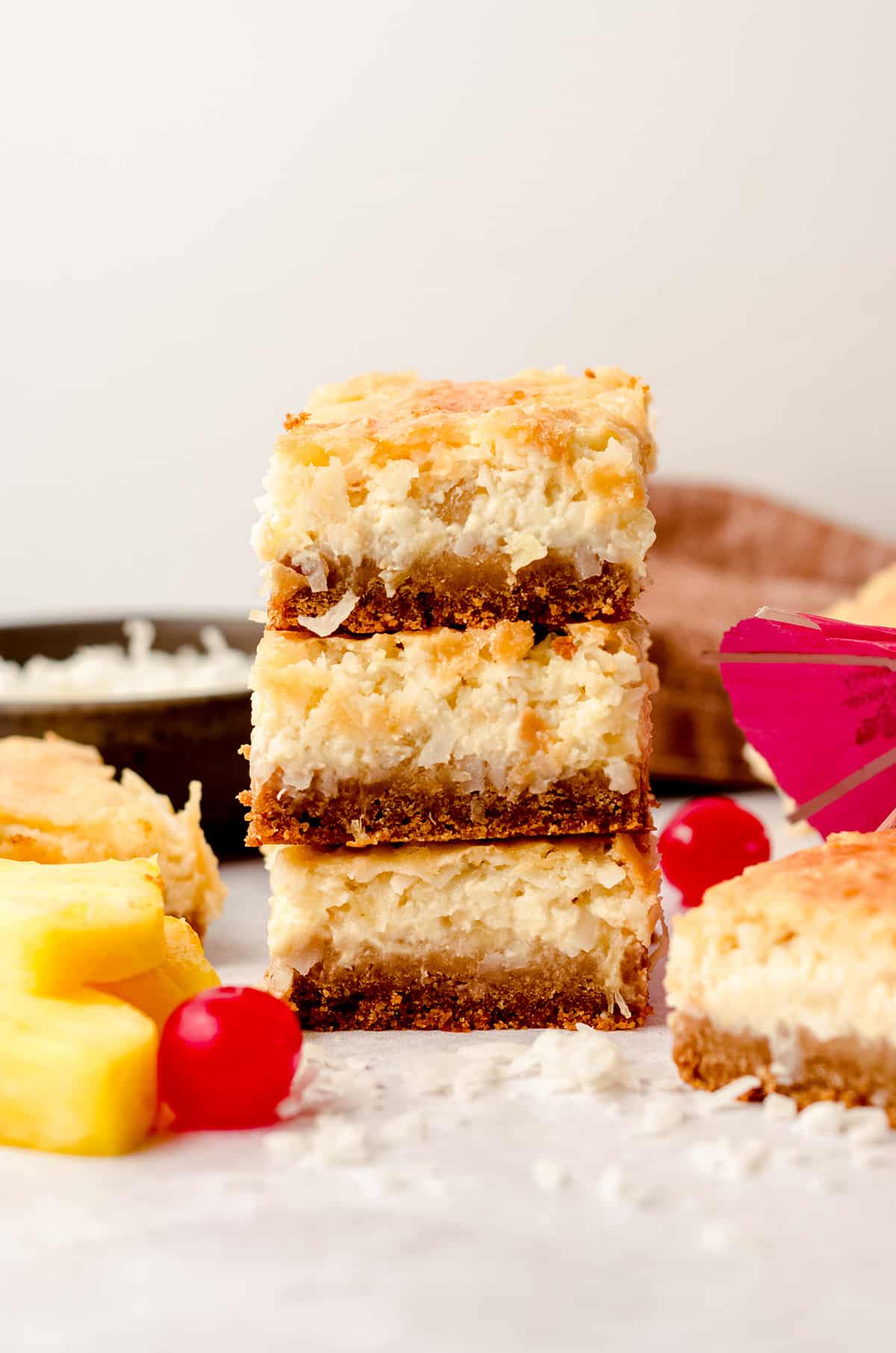 My favorite part of the bar, though, is the caramelized edges that come from the baking of the pineapple juice. It makes the bars just the right amount of sticky and chewy that belong in a dessert.
To make things even more fun, I sometimes top my bars with a maraschino cherry, so it is essentially a chewy cocktail. Now that I've typed that, it sounds kind of gross, but I promise, these bars are a tropical dream.
If you like piña coladas, you must try this dessert.
And the best part? You can eat ALL of these bars and not have a hangover!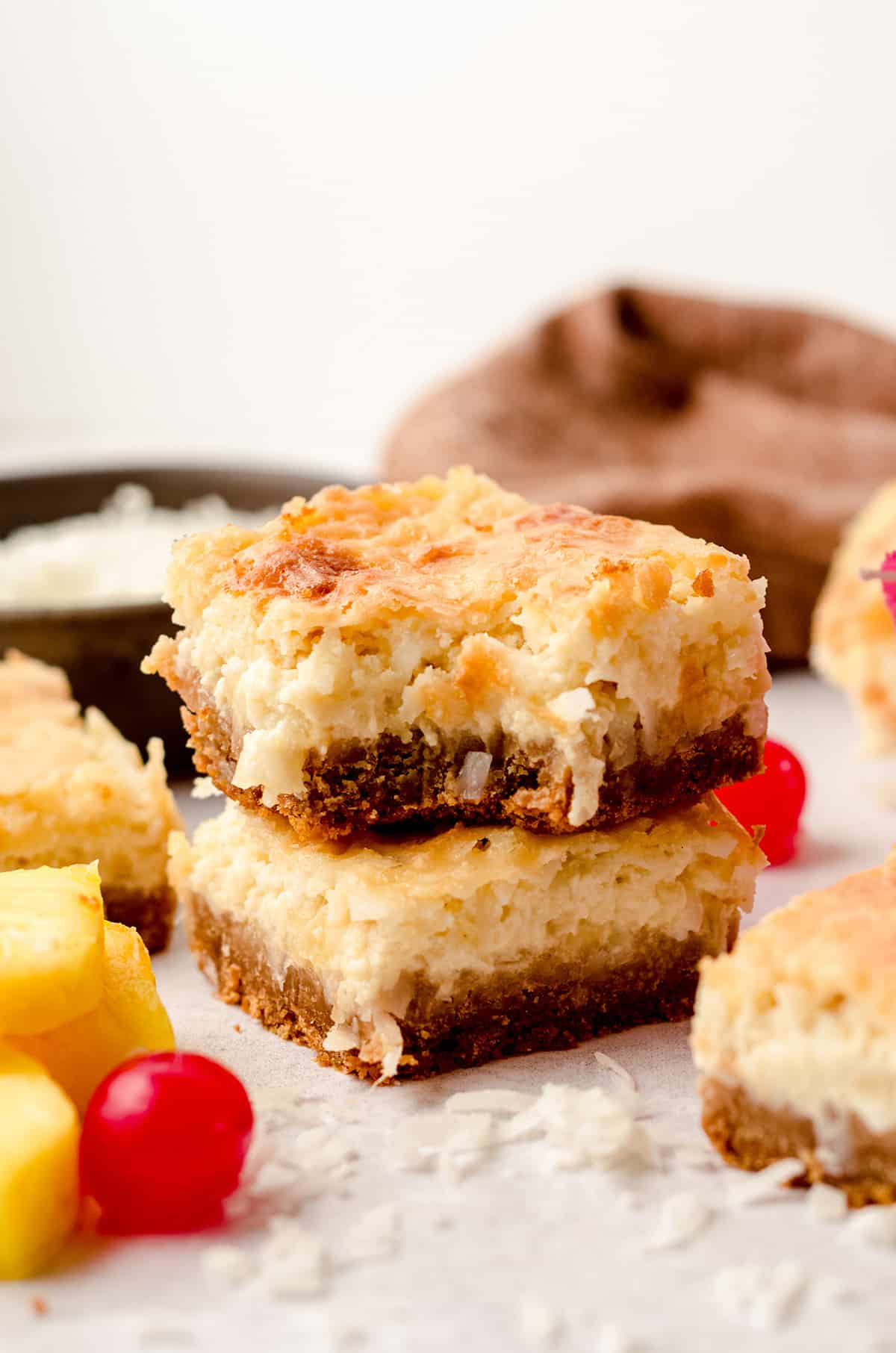 Ok, ok, please don't do that… It would probably be not so great for your belly! Besides, these are too good not to share with fellow piña colada loving friends, so gather them 'round and get to baking!
If you like piña coladas, and want to try more desserts (did you sing that? I hope so!): piña colada coconut macaroons and piña colada granola.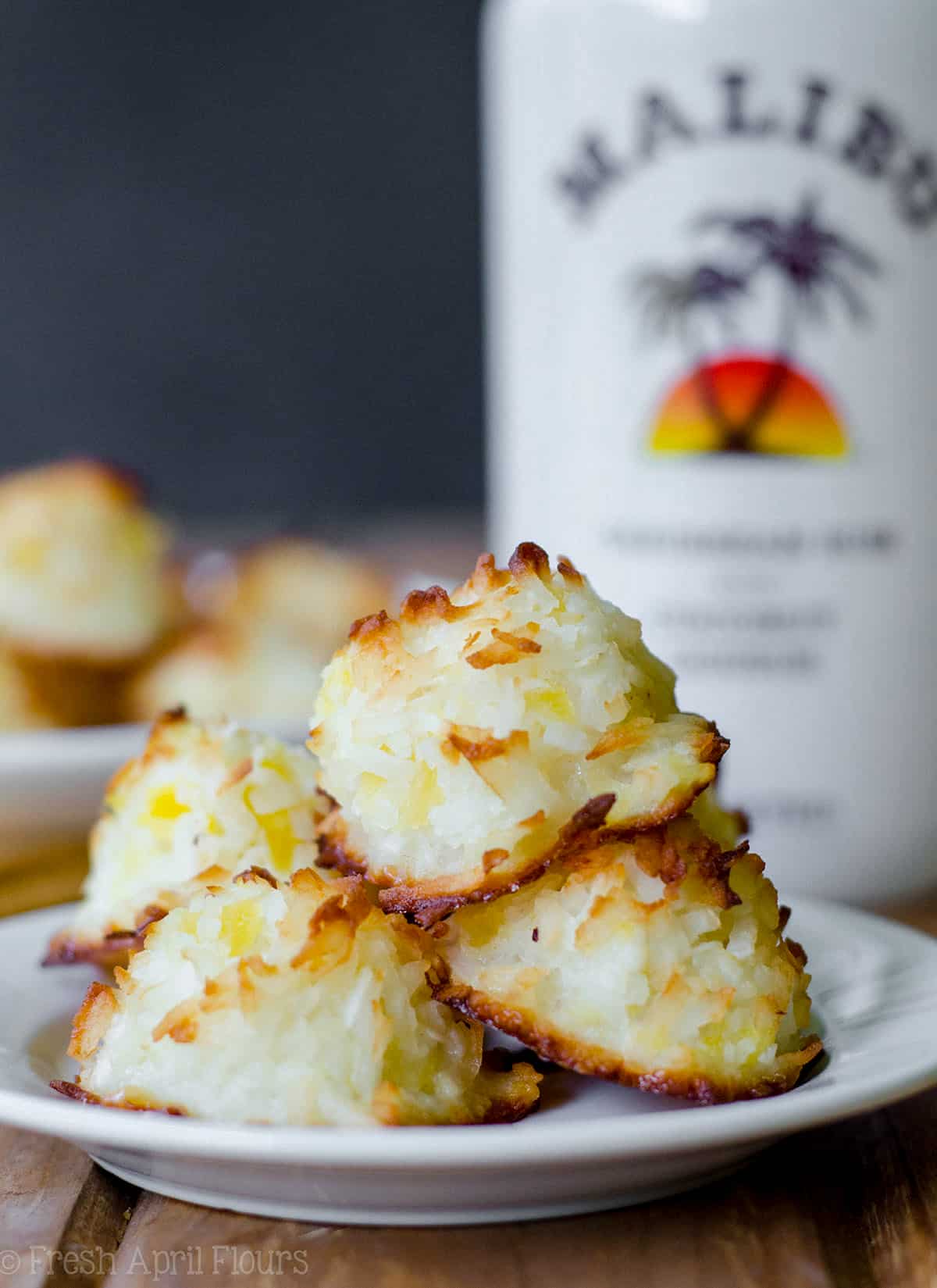 Piña Colada Bars
These non-alcoholic tropical coconut custard bars have chunks of pineapple and shredded coconut all on top of a crunchy graham cracker crust.
Ingredients
CRUST
1 and ½

cups

(150g) graham cracker crumbs

10 or 11 full sheets

5

Tablespoons

(72g) unsalted butter

melted

¼

cup

(50g) firmly packed light brown sugar
FILLING
6

ounces

(171g) full fat block cream cheese

softened to room temperature

⅔

cup

(134g) granulated sugar

2

large egg yolks

1-14

ounce

can coconut milk full fat; room temperature1

1

teaspoon

vanilla extract2

¼

teaspoon

salt

1-8

ounce

can crushed pineapple drained3

1

cup

(120g) sweetened shredded coconut

divided
Instructions
Preheat the oven to 350ºF (177ºC).

Line an 8″ x 8″ or 9″ x 9″ baking pan with foil. Leave an overhang on the sides and spray with nonstick spray. Set aside.
CRUST
Use a food processor or blender to process full graham crackers into a fine crumb.

Turn the processor or blender off, add the butter and sugar, then pulse a few times until everything is blended well. Alternatively, you can add the graham cracker crumbs to a bowl and mix the butter and sugar in with a large spatula. Mixture will be coarse and sandy.

Use your hands to press the mixture evenly into the bottom of the prepared pan. Once it is evenly spread into the dish, use your hands or the bottom of a flat measuring cup to make the crust tight and compact in the pan.

Bake the crust for 8-10 minutes then remove from the oven and allow to cool while you prepare the filling.
FILLING
In the bowl of a stand mixer fitted with the paddle attachment, or in a medium size bowl with a handheld mixer, beat the cream cheese and granulated sugar on high until smooth.

Add the egg yolks one at a time, beating after each addition, and scraping down the sides as necessary. Add the coconut milk and vanilla extract and beat again until everything is combined.

Fold in the crushed pineapple and ⅔ cup of the sweetened shredded coconut until evenly dispersed.

Pour the filling into the pre-baked crust, sprinkle remaining shredded coconut on top, and bake for 70-75 minutes. Bars are done when the edges are set, the shredded coconut is lightly toasted, and the middle no longer jiggles. Allow bars to cool to room temperature in the pan on a wire rack. When bars are completely cool, chill in the refrigerator for at least 2 hours.

When bars are completely chilled, lift out of the pan using foil overhang and cut into squares. Bars can be stored covered in the refrigerator up to 1 week. Bars freeze well, up to 2 months. Thaw in the refrigerator.
Notes
Room temperature coconut milk: at room temperature, coconut milk can still be separated into fat and liquid. Take care opening your can, or, if it's warm enough, you may be able to turn it into a complete liquid by shaking it before adding it to your other ingredients.
Vanilla extract: if you want to add rum to this, I suggest replacing the vanilla extract with rum extract. You can also replace with coconut extract. If you want to use rum extract and coconut extract, you can use 1 teaspoon of each.
Crushed pineapple: while the pineapple should be drained well, it does not have to be pressed or squeezed dry.
Nutrition Disclosure
All nutritional values are approximate and provided to the reader as a courtesy. Changing ingredients and/or quantities will alter the estimated nutritional calculations.