Old Fashioned Coconut Custard Pie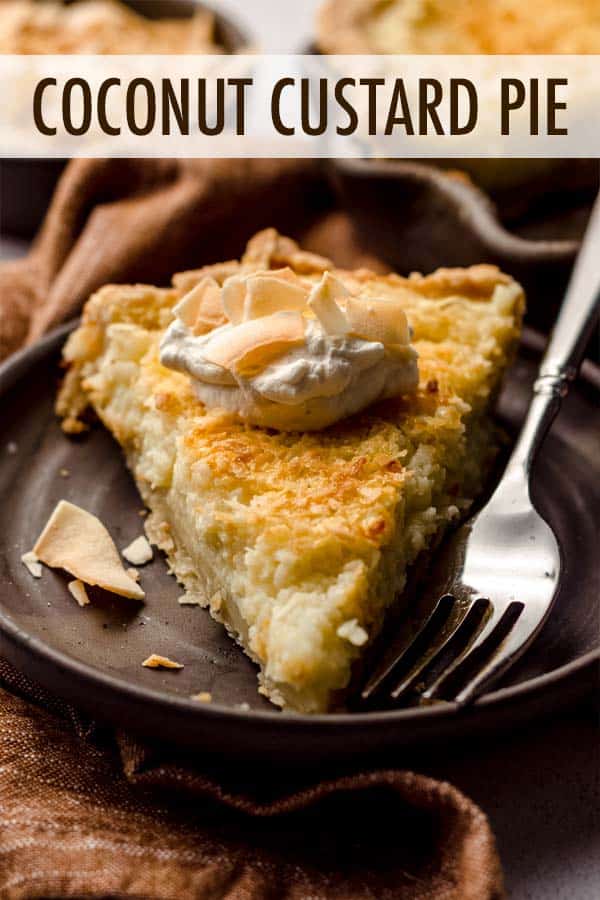 As an Amazon Associate, I earn from qualifying purchases. Read the full disclosure here.
This easy coconut custard pie features flavorful sweetened shredded coconut and a creamy custard filling inside a buttery, flaky, homemade pie crust.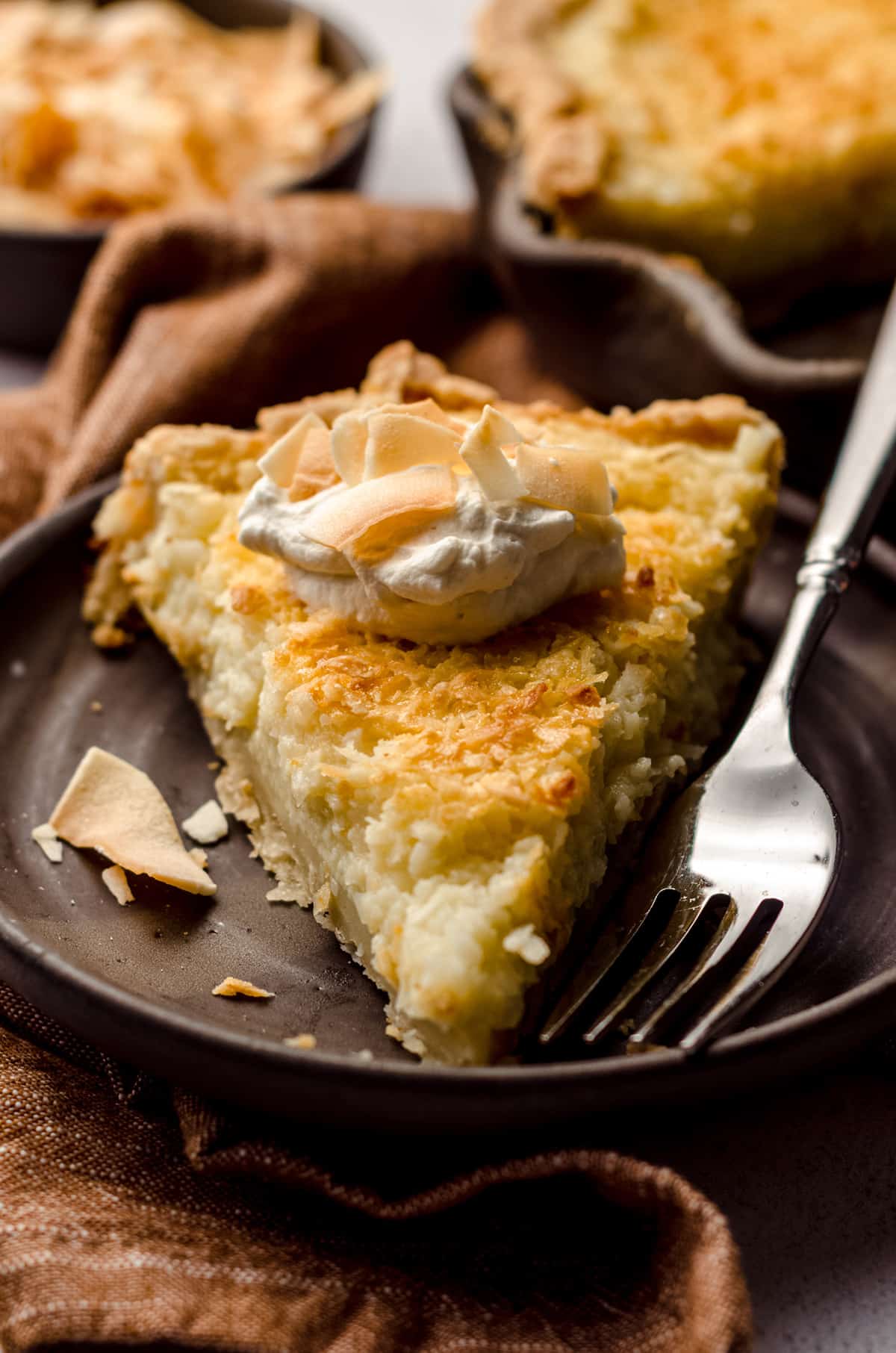 Old Fashioned Recipe for Coconut Custard Pie
It's that time again– time for my monthly addition to the year of pies!
Every year I pick a theme, and feature a monthly recipe around that theme. In years past I've done cakes, muffins, breads, brownies, and my favorite no bake recipes.
This year is all about the pies! So far I've featured banoffee pie, chocolate chess pie, Butterfinger pie, and now this simple and creamy coconut custard pie.
I know that not everyone agrees with me, but I'm a total coconut lover. I always have a bag of shredded coconut in my pantry, waiting to be transformed into a delicious coconut-y treat.
While I don't bake with coconut as much as I would like to (I just have too many delicious goodies on my to-bake list!), I do have a good collection of recipes using shredded coconut.
If you like (let's be real, love) coconut, you have to try these coconut almond cookies, OR my piña colada macaroons. I also happen to love these carrot cake macaroons, and of course, my summertime favorite: piña colada bars. Oh, and you can't forget piña colada granola! If you can't tell, I'm sort of in love with piña coladas (are you, too?).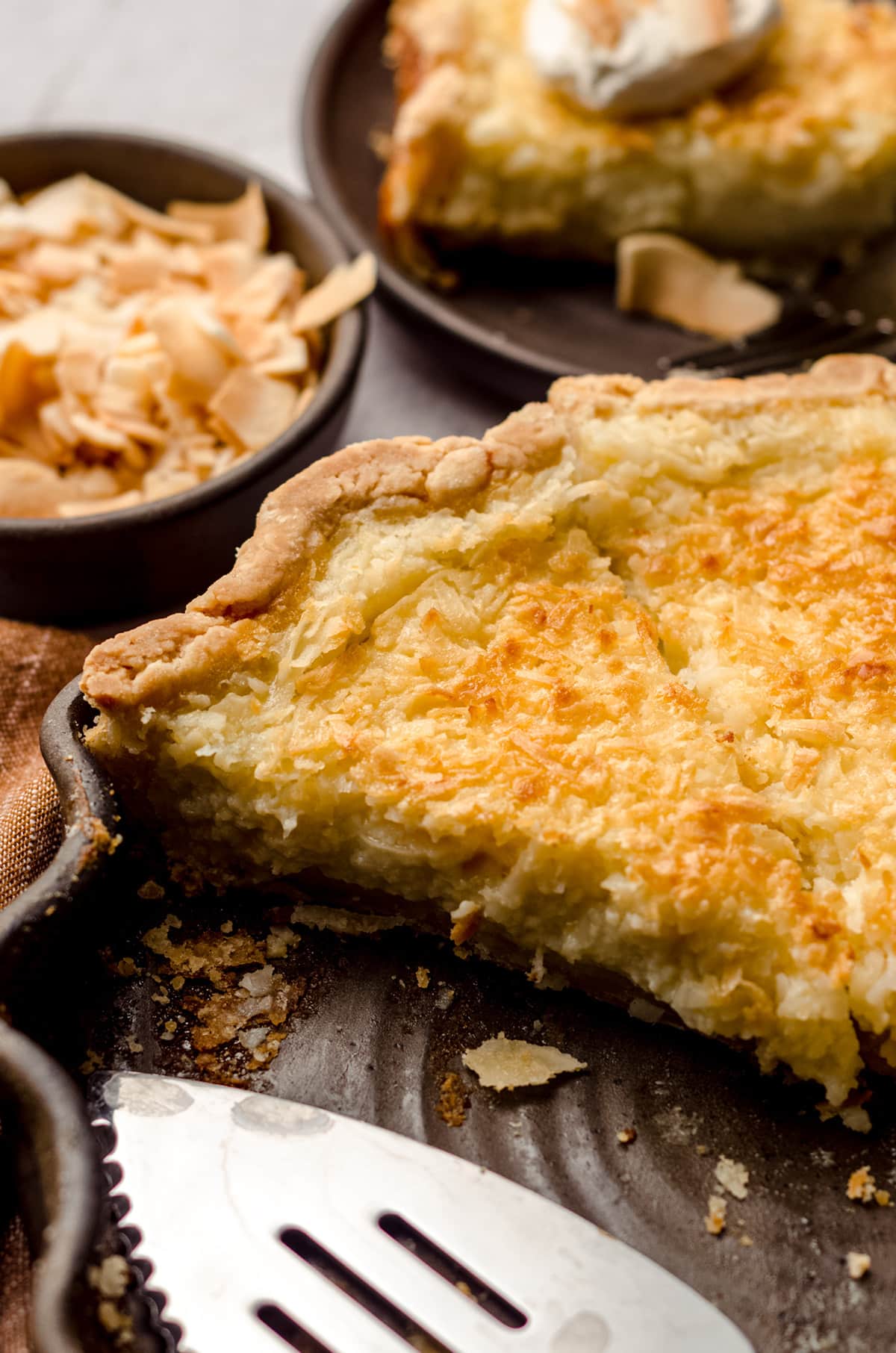 This recipe for coconut custard pie yields dreamy, creamy pie and is shockingly simple to make. If you love coconut, and you want something simple to bake using pantry ingredients, I've got you covered with this delicious custard pie recipe.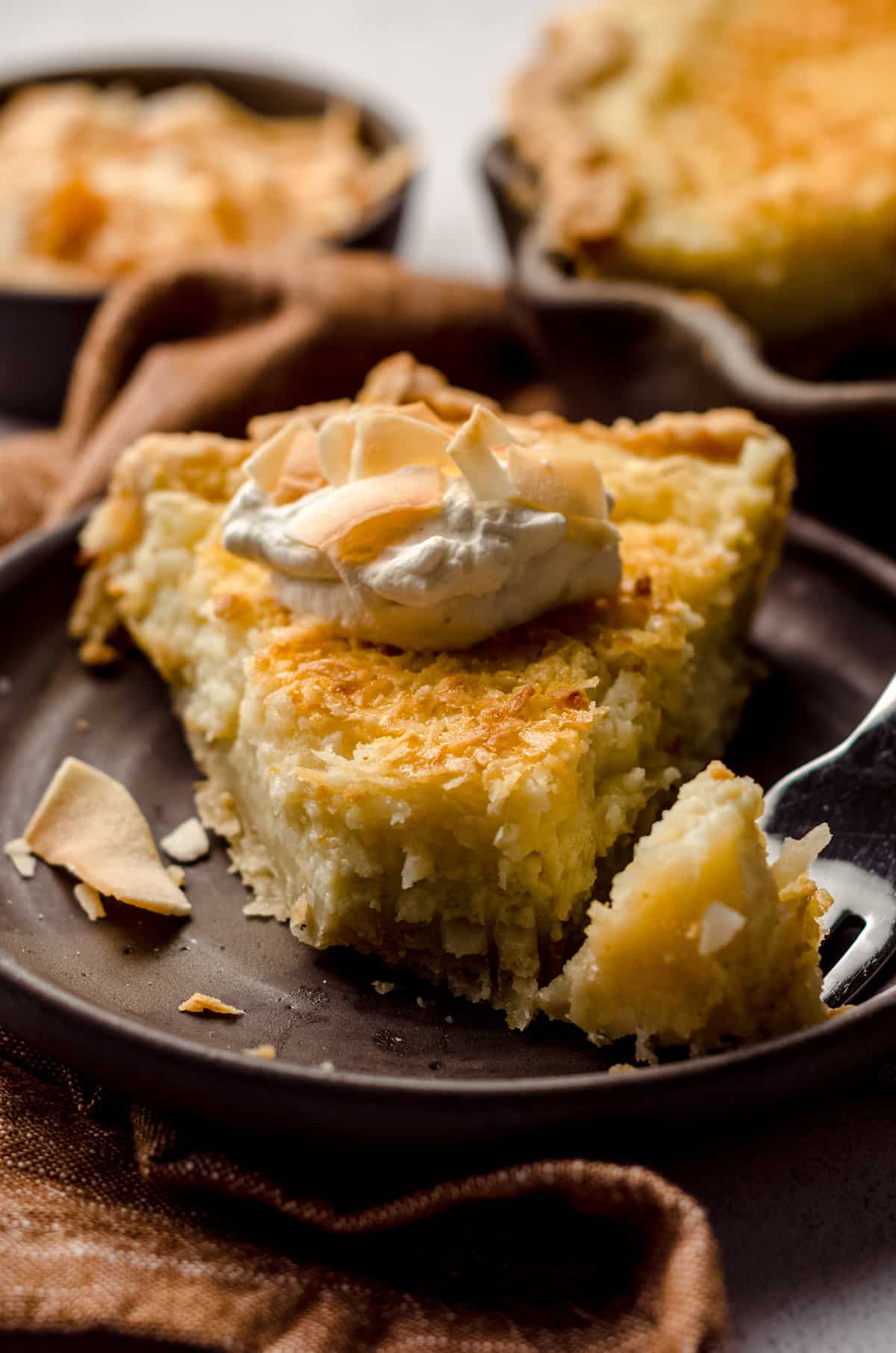 Coconut Custard Pie ingredients
One of the things I love most about this recipe is how crazy simple it is to put together. The ingredient list is pretty short and uses items most of us keep on hand.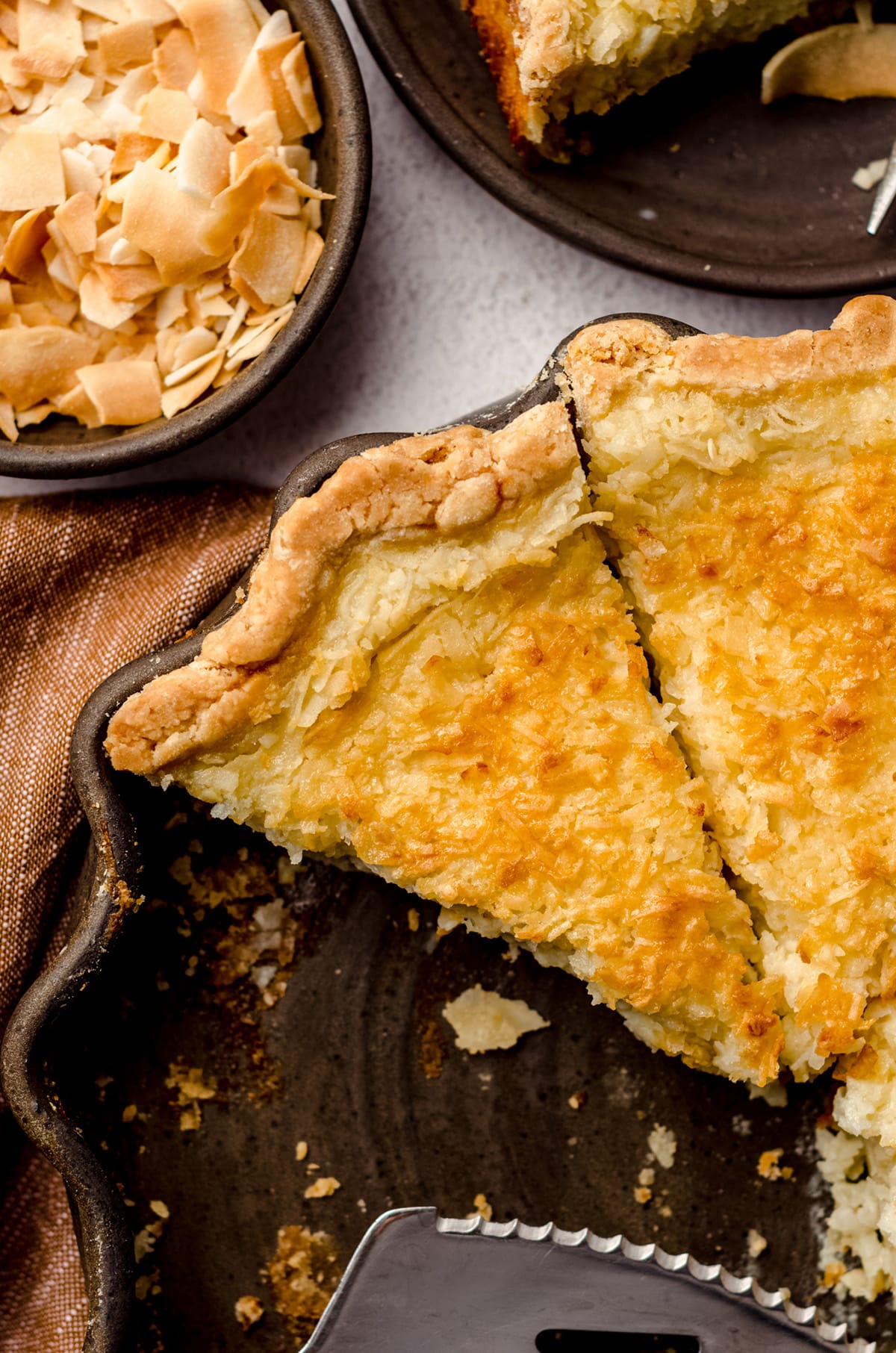 If you're an avid baker like me, chances are you even have a disc of homemade pie crust in the freezer (or at least a store bought one!).
If you're looking for a last minute recipe to bring to an event, or to make in advance for dinner guests, this recipe has got you covered. Chances are, you won't even need to take a run to the store!
This coconut custard pie recipe uses my homemade pie crust as a base, which is of the classic and flaky variety.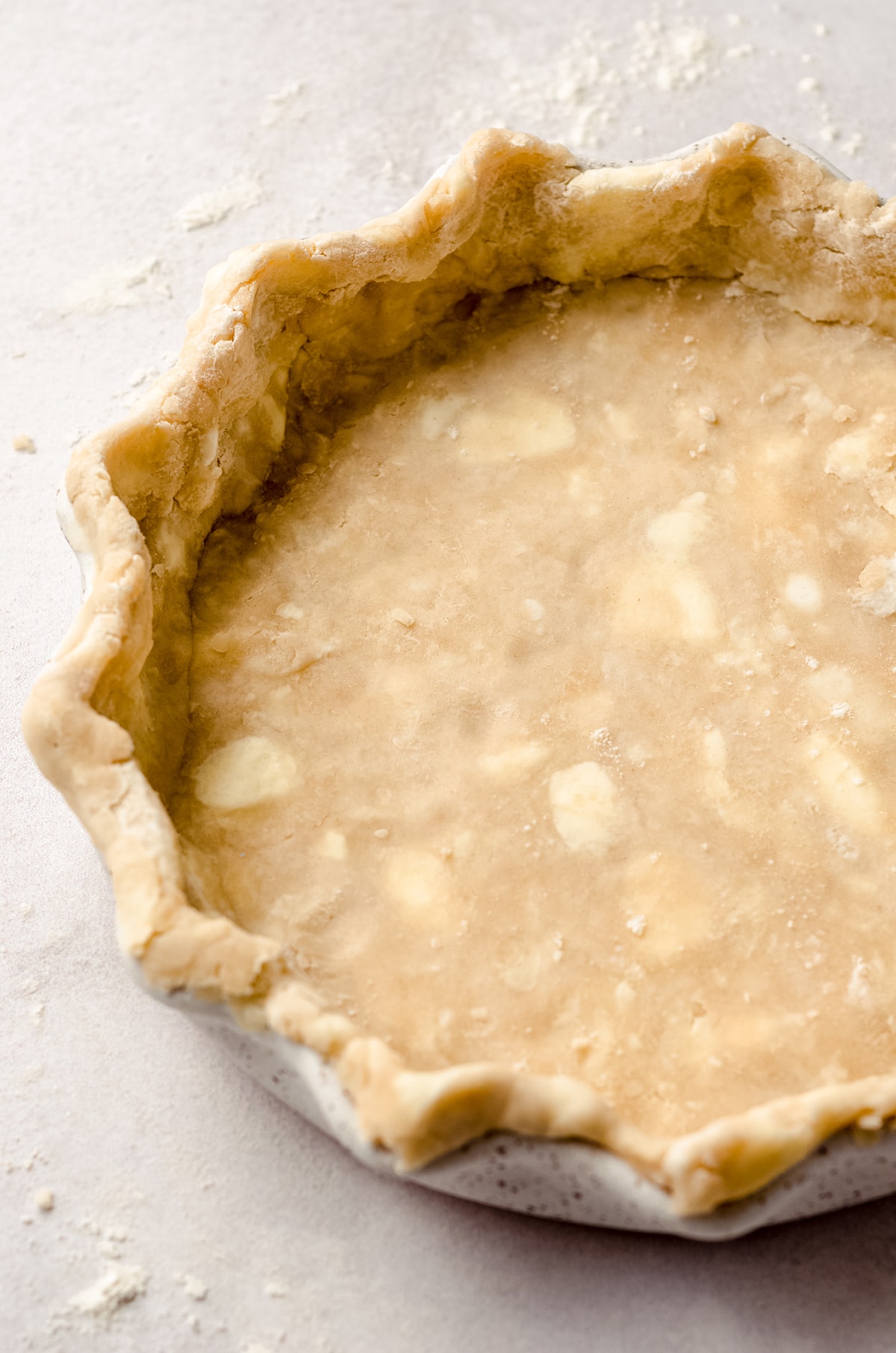 You can totally use a store bought crust if you're short on time, but I'm going to urge you to make it from scratch if you have the time. I promise, it's totally worth it.
SWEETENED SHREDDED COCONUT
All you need for the coconut portion of the best coconut custard pie is one simple ingredient: sweetened shredded coconut.
There are several different types of coconut available, so it's important that you make sure you have the right one. Using unsweetened shredded coconut will mean your pie doesn't have that same level of sweetness. And purchasing a different type (like flaked or chipped) can give it a completely different consistency.
You are looking for sweetened and shredded coconut, which should be on the label if you're purchasing from a standard grocery store or online.
If you're purchasing your coconut in bulk, be sure to read the bin labels and note that shredded coconut looks very much like finely shredded cheese.
CUSTARD
The custard layer is creamy, sweet, and lightly flavored with 1 and ½ teaspoons of vanilla extract. When poured on top of the shredded coconut, it mingles together and creates a sweet vanilla and coconut layer that is just absolute heaven.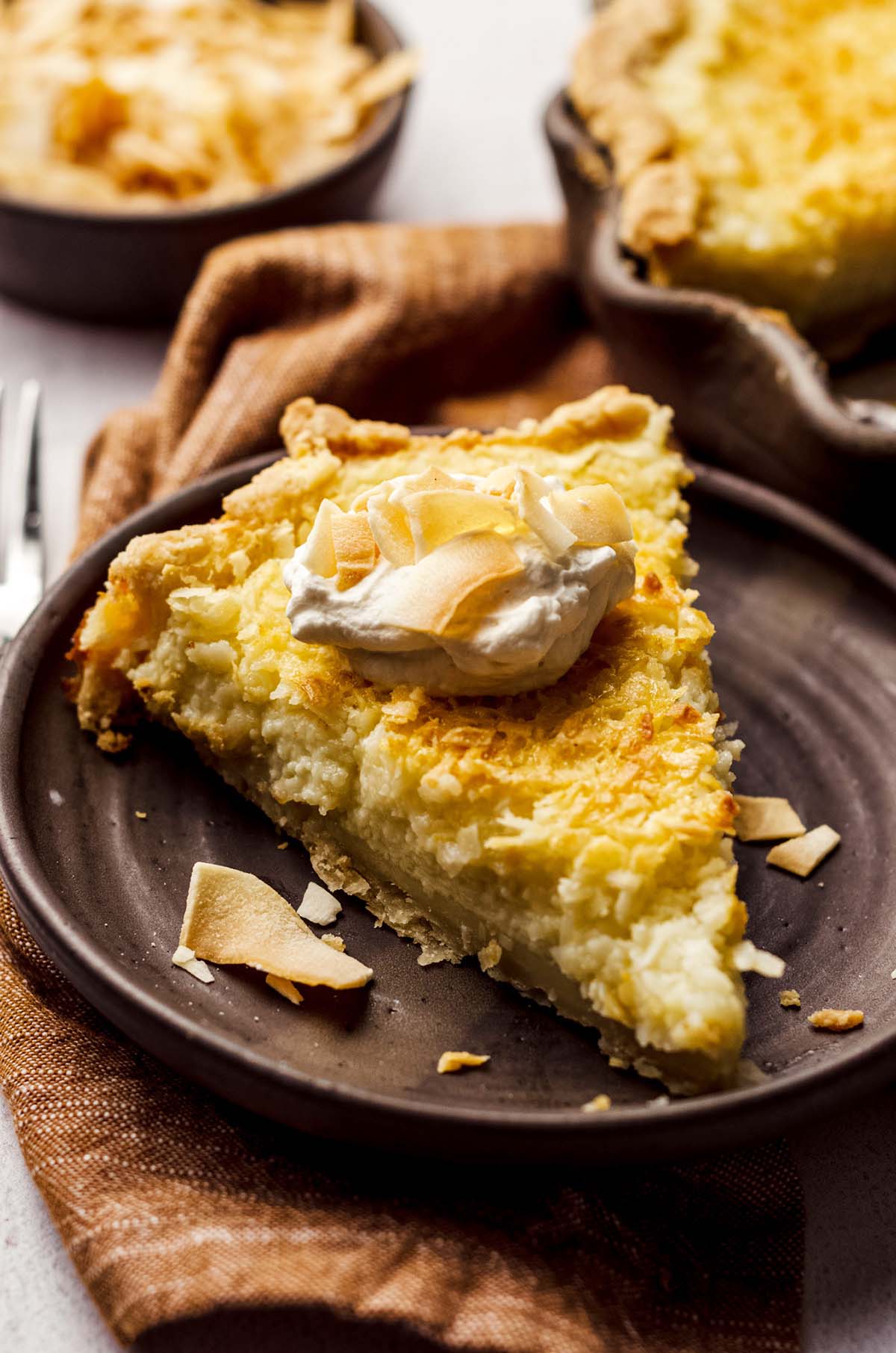 The custard part of this coconut custard pie is so(ooo) easy. It requires no stovetop time, and is basically just mixed together and poured into the pie shell (just like my chocolate chess pie!).
To make the tasty vanilla custard you'll need whole milk, eggs, sugar, salt, and vanilla extract. All ingredients you probably already have on hand!
HOW TO MAKE COCONUT CUSTARD PIE
As mentioned, this is really simple. Mix, fill, bake. You're going to love how simple it is.
THE CRUST
If you've never made pie crust before, it's actually fairly simple once you master a few basic techniques.
You start off by combining the flour, salt, and sugar in a nice, big bowl.
Then go ahead and cut in the fat (yay butter! Yay shortening!) using a pastry blender.

You could totally use two forks if you don't have a pastry blender, but you have to promise me you will go buy one immediately. Pastry blenders make pie SO much easier, and every home baker should have one. Especially if you plan on making pie a regular thing.
Then, once your mixture resembles coarse crumbs, you add in some ice water. Once the dough comes together, stop adding water and fold everything together until all of the flour is absorbed.
Then, form it into two discs and chill for at least 2 hours before rolling it out.
To get step-by-step instructions on making the perfect pie crust PLUS how to roll it out perfectly, be sure to check out the full post for my homemade pie crust.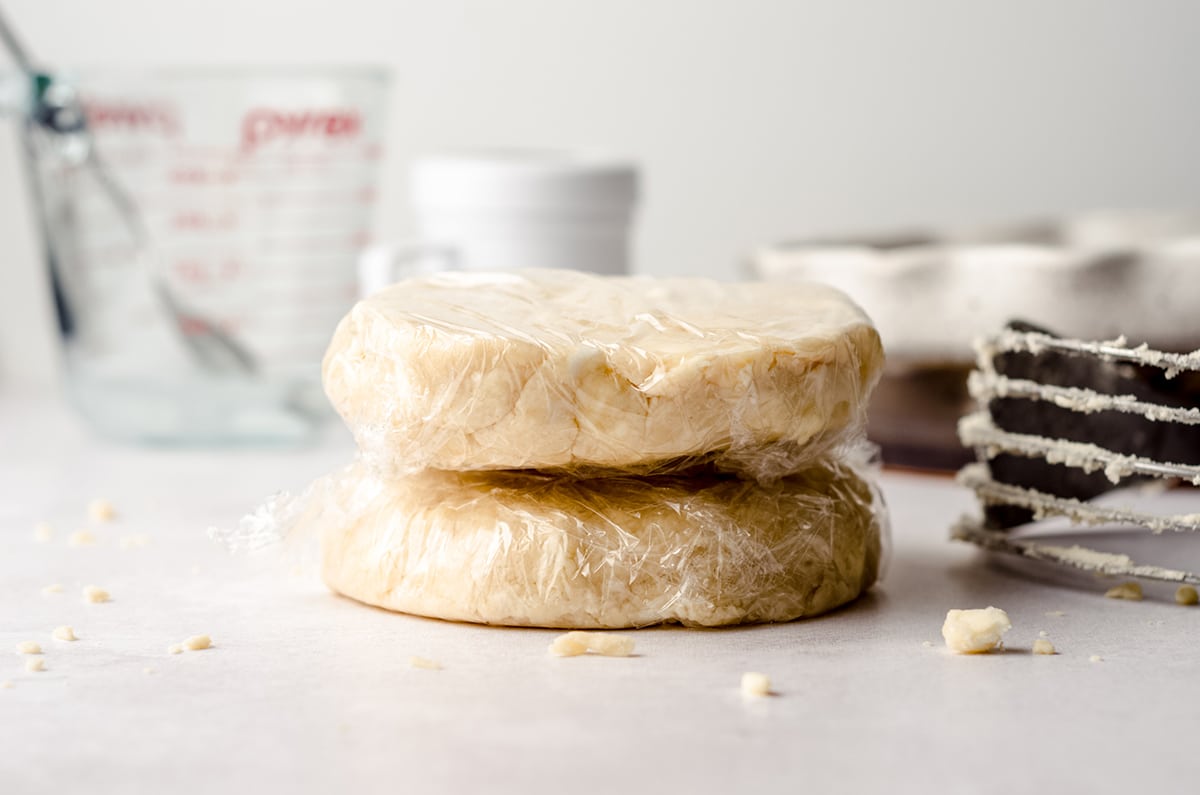 THE COCONUT LAYER
Once your pie crust is rolled out and you have fitted it to a pie plate, you're ready to get started on the coconut layer.
All you have to do is sprinkle the shredded coconut over the bottom of the crust. YES, it's that simple!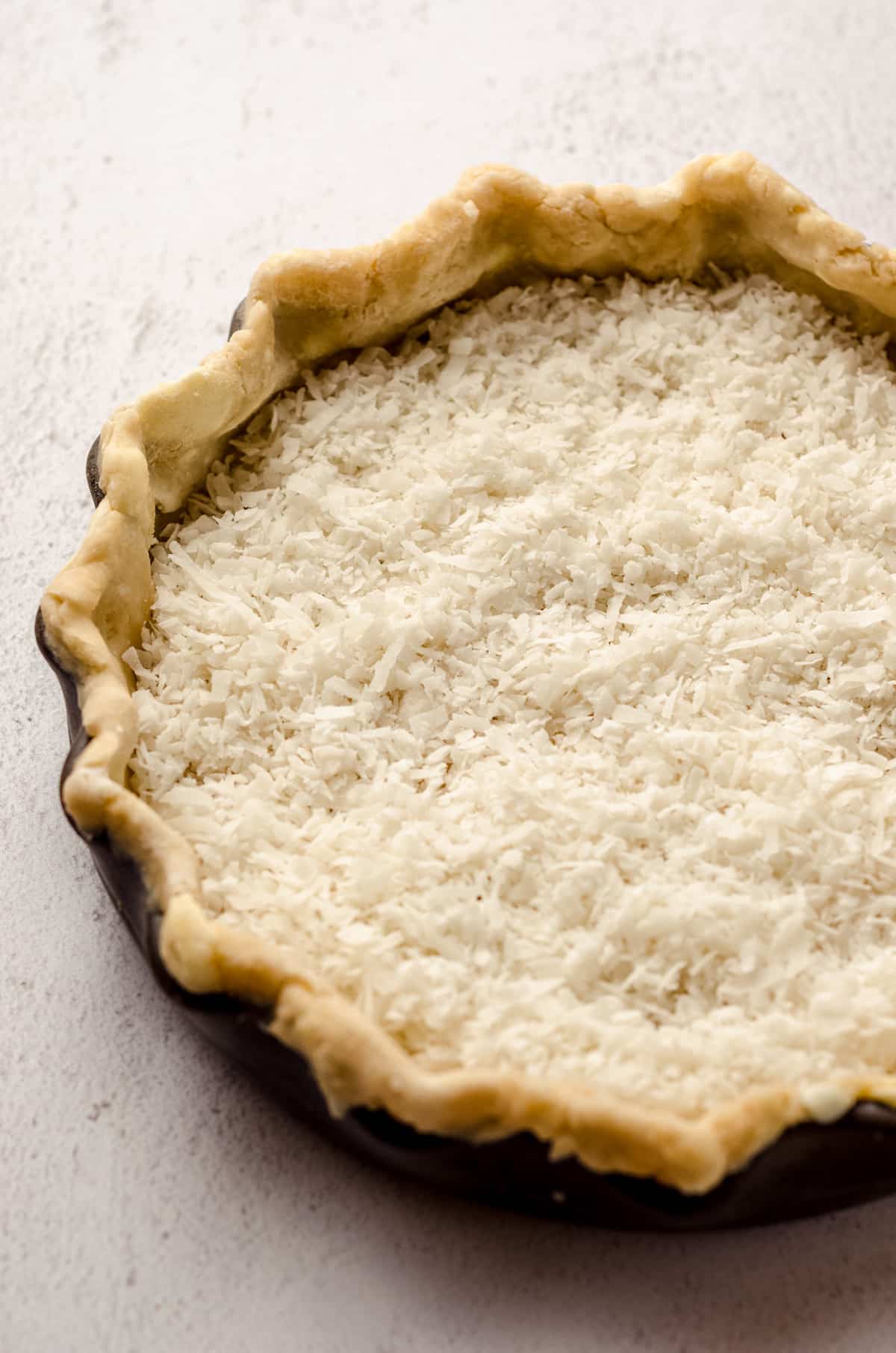 Once we add the custard filling, it will mingle with the coconut layer a little bit, but you don't have to worry about preparing a separate mixture for the shredded coconut.
Don't you love how easy this recipe is?
THE CUSTARD LAYER
This creamy vanilla custard is super simple to make, because it requires absolutely no stovetop time or additional cooking.
All you have to do is combine the ingredients in a big bowl, pour into the pie shell, and get to baking. How easy is that?
Start off by adding the eggs, milk, sugar, salt, and vanilla to a large bowl. Whisk everything together until smooth.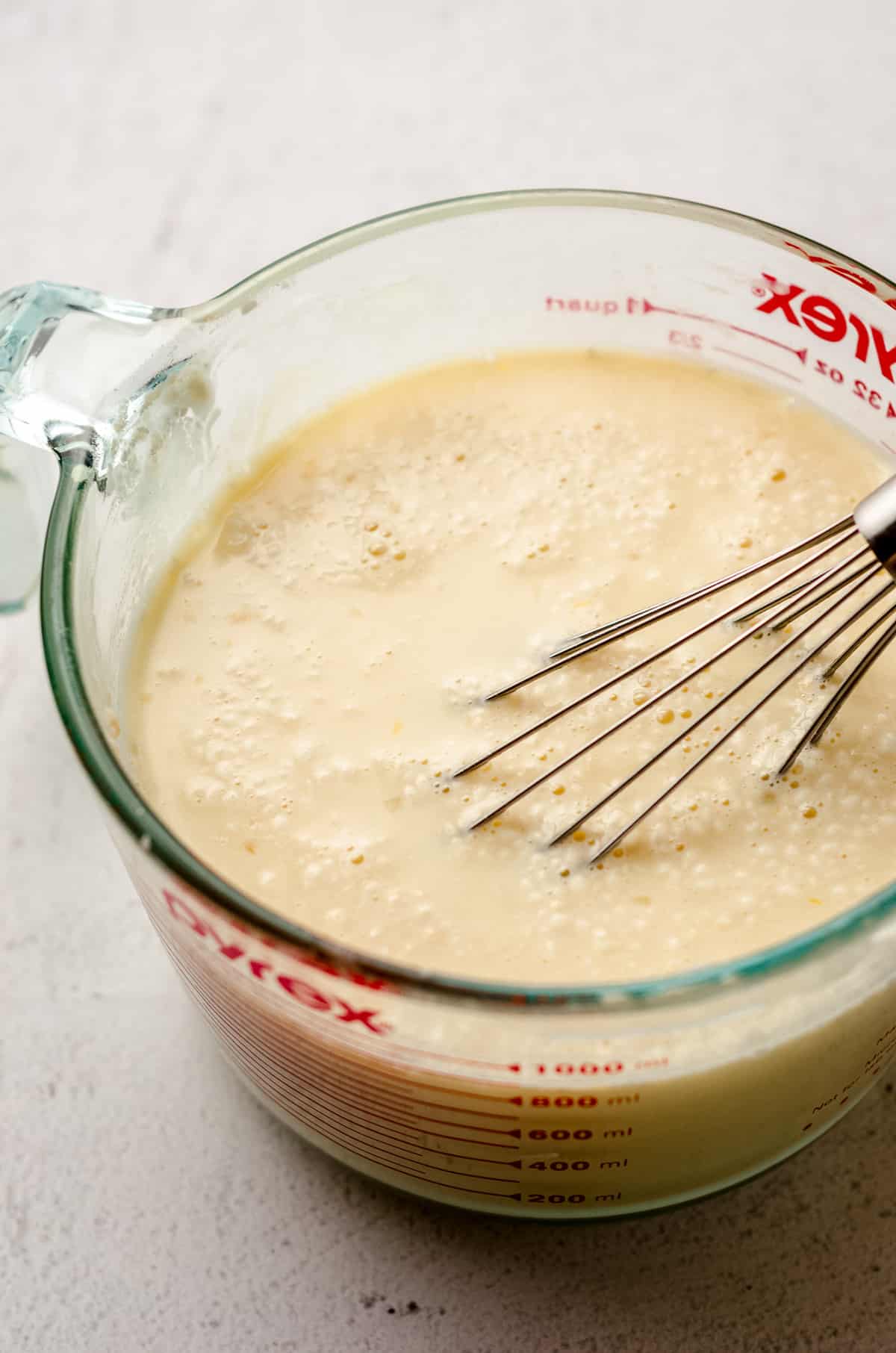 Then, add the flour (or cornstarch), and whisk until everything is combined. You want this to be mostly lump free, although a few small flour bits are okay. Just whisk or press out any large clumps to make sure your mixture is smooth.
Pour the custard mixture into the pie shell, over the layer of shredded coconut. Go slowly, since some pie dishes are smaller or more shallow than others. You don't want to overfill your pie shell, so it's best to go slowly and stop when you get close to the edge.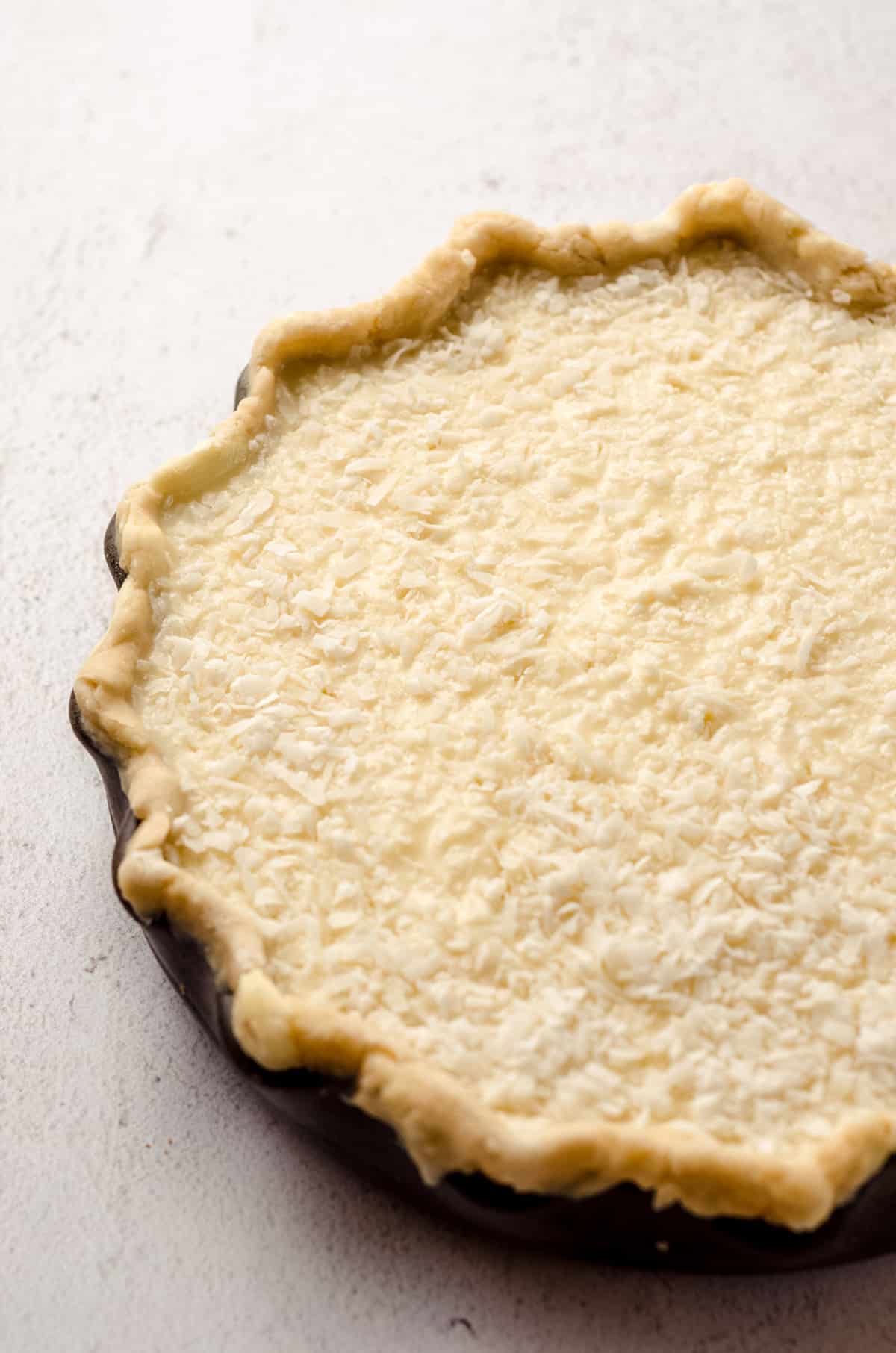 Attach a pie shield to the edges of your crust, or wrap them in foil. This will prevent the crust from getting too brown (or burning!) while the rest of the pie cooks.
Bake your pie in a preheated oven for 80-90 minutes, removing your pie shield (or foil) during the final 20 minutes of baking.
How do I know my Coconut Custard Pie is done?
You will know that your coconut custard pie is fully baked through when the edges are set, but the middle still has a bit of jiggle to it.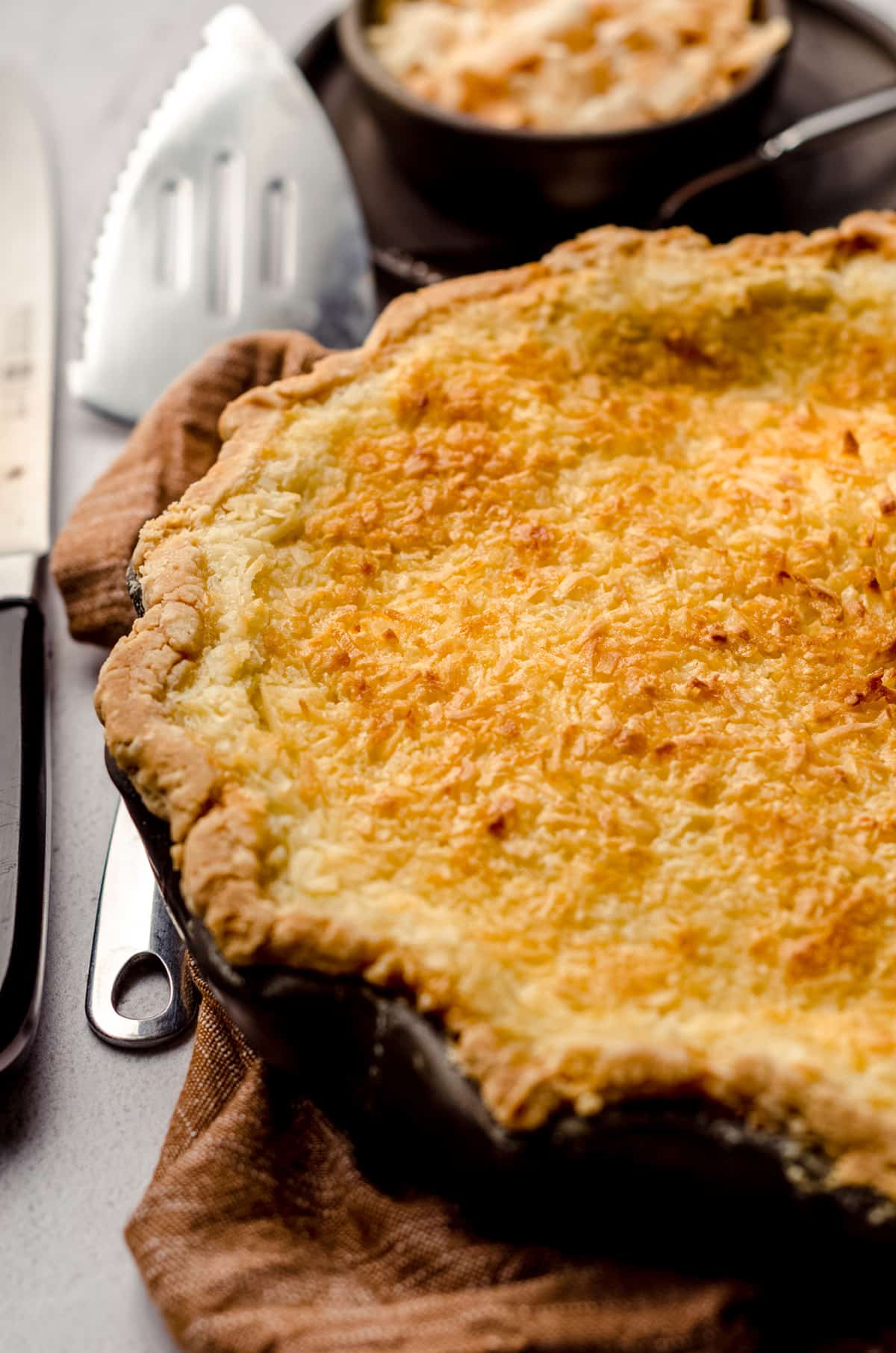 No part of the pie should be "wet," so if that is the case, return your pie to the oven to bake for a bit longer. Once the middle has a bit of jiggle (think Jell-O), your pie is fully baked and is ready to be taken out of the oven.
How to serve this recipe for Coconut Custard Pie
Allow the pie to cool completely on a wire rack before slicing and serving.
I like my coconut custard pie with a simple topping of homemade whipped cream and a sprinkle of toasted coconut, but you can top yours with whatever you like to pair with coconut. It would probably be delicious with a drizzle of hot fudge sauce!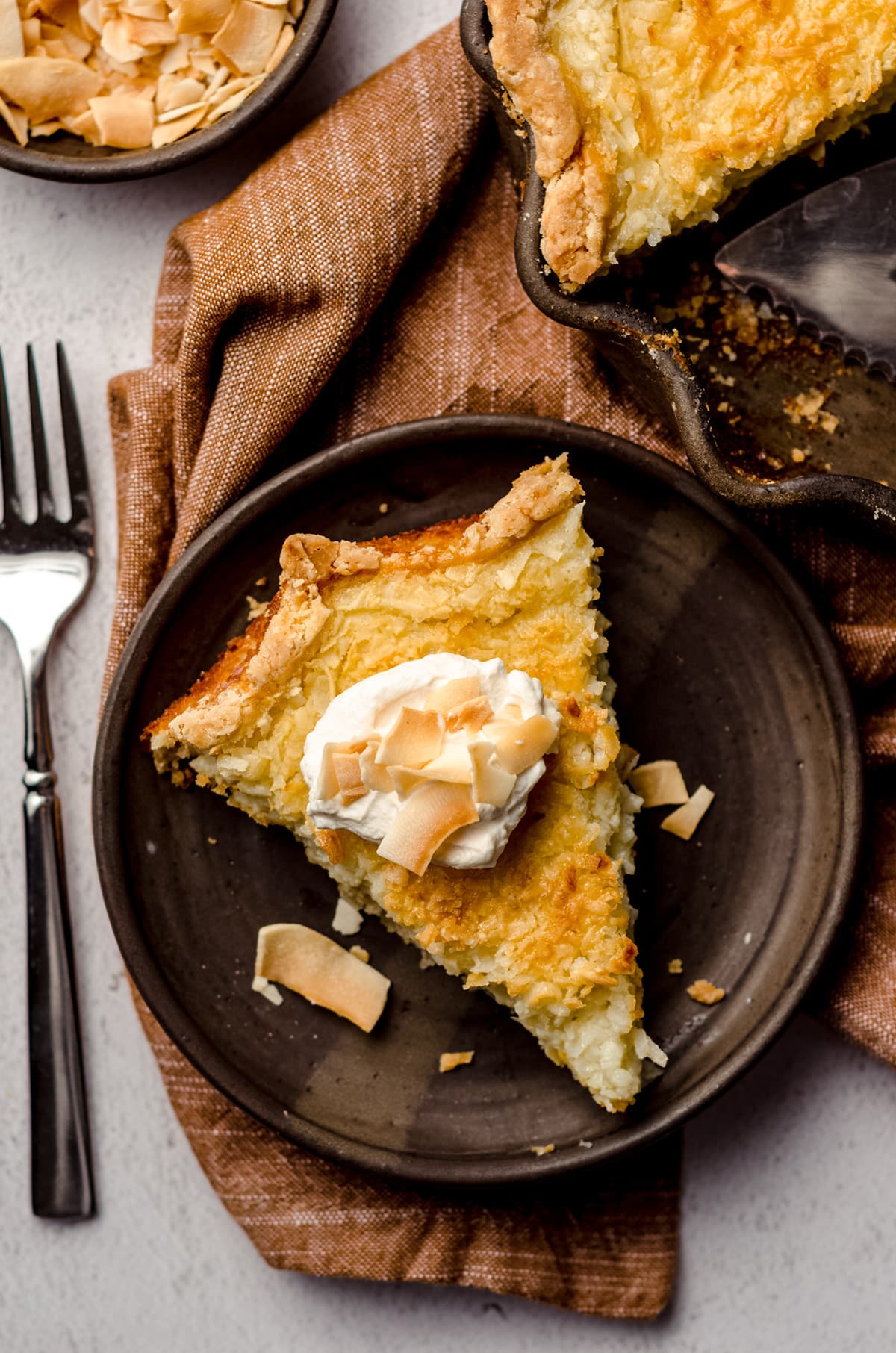 How to store Easy Coconut Custard Pie
HOW LONG CAN COCONUT CUSTARD PIE SIT OUT?
Coconut custard pie can sit out after cooling for a couple hours, but should really be kept in the refrigerator for food safety reasons and for stability of filling.
DOES COCONUT CUSTARD PIE NEED TO BE REFRIGERATED?
If you will be serving your coconut custard pie within the next 24 hours, it does not need to be refrigerated.
In my opinion though, custard-based pies taste so much better when they have chilled in the fridge. So unless you absolutely do not have the room to chill this delicious pie, I highly recommend you do so.
How long does coconut cream pie last in fridge?
Your pie will store for up to 5 days when stored tightly covered in the refrigerator.
Can you freeze coconut custard pie?
This easy coconut custard pie recipe also happens to freeze extremely well, so if you're going that route, be sure to cool it completely, wrap tightly, and freeze for up to 3 months.
Once you're ready to serve, thaw your baked coconut custard pie in the refrigerator overnight, or at room temperature for several hours.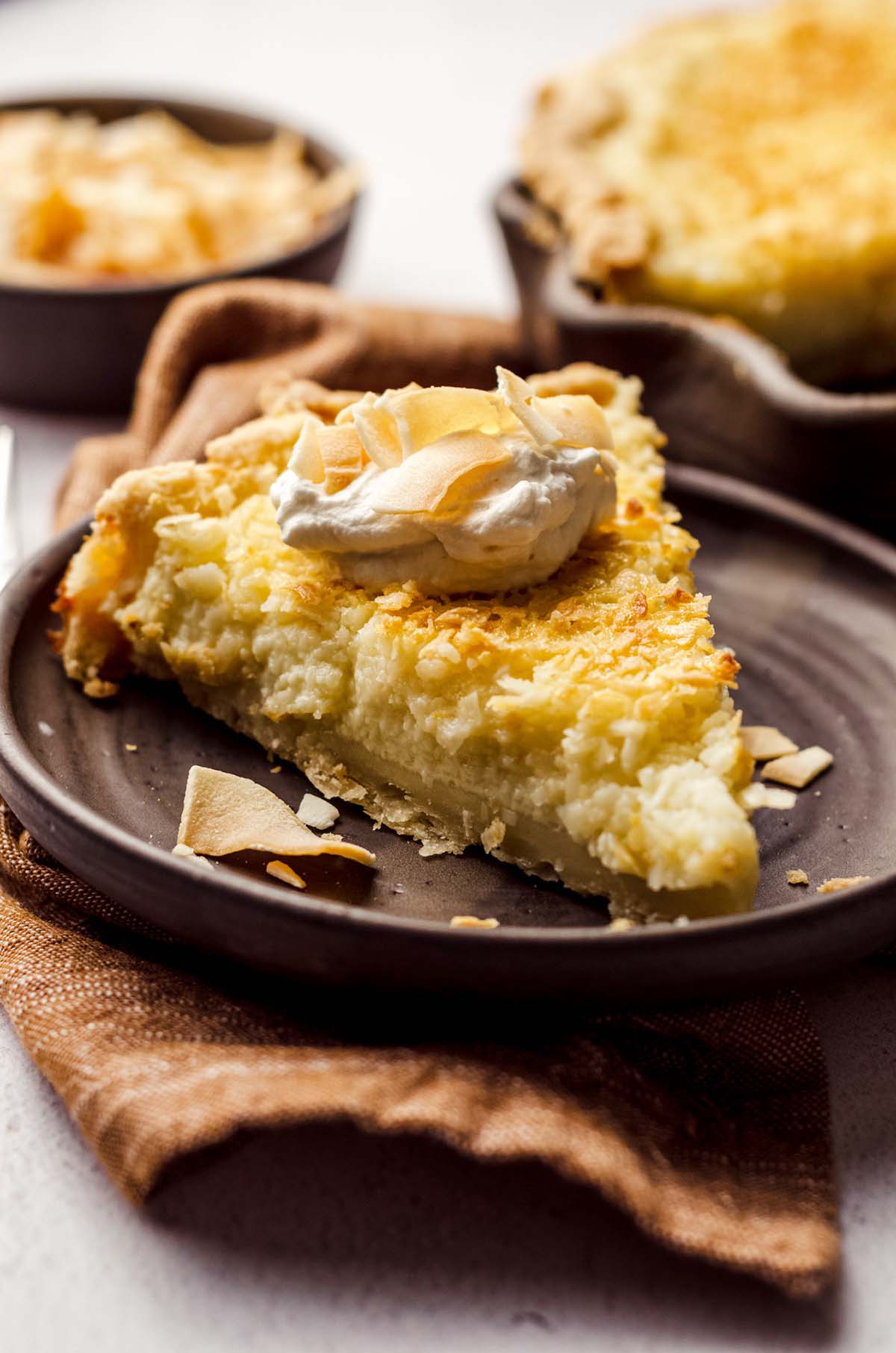 Coconut Custard Pie Recipe FAQs
COCONUT CUSTARD PIE VS COCONUT CREAM PIE
The biggest difference between a coconut custard pie and a coconut cream pie is how the filling is prepared.

While both feature a vanilla and coconut custard as the filling, the coconut custard pie filling is a baked custard, while a coconut cream pie features an unbaked custard.

Instead, the filling for a coconut cream pie is made on the stovetop. It involves cooking the custard slowly while whisking, until it thickens into pudding-like consistency.

Once the cooked custard is thick, it's poured into a prebaked shell and chilled until completely set. Then, it's topped with whipped cream and toasted coconut.

In contrast, a coconut custard pie is filled with unbaked and uncooked custard, then the pie crust and custard filling are baked at the same time. This type of pie may or may not be served with a nice dollop of whipped cream and a garnish of toasted coconut.

As you can see, the two are really pretty similar, but the results are very different!
Why does my custard pie taste like eggs?
If you over-bake a custard-based pie, it can take on an eggy flavor. Be sure you're baking your pie just until the middle is a little jiggly. It will continue to bake and set up as it cools.
Why is my Coconut Custard Pie watery?
You likely under-baked your custard pie. Be sure you're baking it until the edges are set and the center is a little bit jiggly.
Now that you've got one of these yummy pies cooling on the counter (or stashed in the freezer), it's time to try a few more Spring-inspired recipes: try my Meyer lemon bars, homemade lemon curd, or my dreamy blueberry lemon pie bars.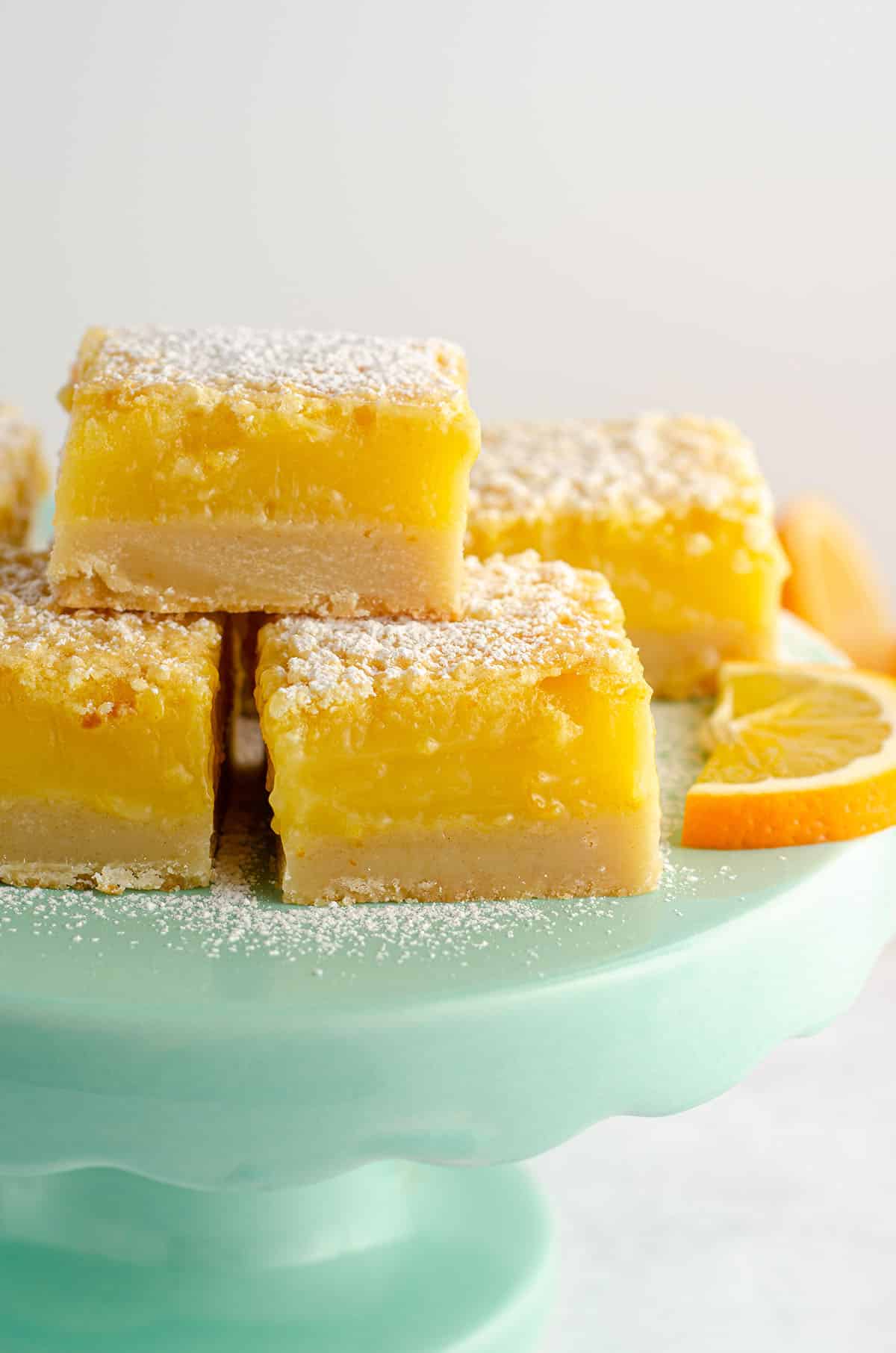 Easy Coconut Custard Pie
This easy coconut custard pie features flavorful sweetened shredded coconut and a creamy custard filling inside a buttery, flaky, homemade pie crust.
Ingredients
½

recipe1 homemade pie crust

1

cup

(120g) sweetened shredded coconut

chopped

3

large eggs

2 and ½

cups

(600mL) whole milk2

¾

cup

(150g) granulated sugar

1 and ½

teaspoons

vanilla extract

½

teaspoon

salt

3

Tablespoons

all-purpose flour or cornstarch3
Instructions
Prepare my homemade pie crust recipe through step 6, or begin with a store-bought pie crust.

When your pie crust is thoroughly chilled and ready to use, prepare a pie plate with the pie crust and sprinkle the chopped sweetened shredded coconut evenly into the bottom of the pie crust.

Adjust the oven rack to the center position and preheat the oven to 350°F (177°C).

In a large bowl, combine the eggs, milk, sugar, vanilla extract, and salt and whisk until smooth. Add the flour or cornstarch and whisk again until everything is combined. Some small flour bits are ok, but whisk or press out any larger chunks.

Pour the custard mixture evenly into the pie crust over the shredded coconut. Take care not to overfill the pie dish (some shapes and depths of pie plates will be a tad too small for all of the filling– only about 3-4 Tablespoons' worth of custard filling).

Pour the mixture into the unbaked pie shell. Attach a pie shield or wrap the edges of the crust in foil.

Bake pie for 80-90 minutes, removing the pie shield/foil about 20 minutes before pie is done baking. You will know the pie is done when edges are set and the middle still has a bit of jiggle to it. Remove from the oven and allow to cool completely on a wire rack before serving. Top with homemade whipped cream and toasted shredded coconut, if desired. Store leftovers covered tightly in the refrigerator up to 5 days. Coconut custard pie freezes well, up to 3 months. Thaw in the refrigerator or at room temperature.
Notes
Homemade pie crust: my recipe makes a double pie crust. You can freeze the second pie crust, or just halve the recipe. Pie dough can also be made up to 5 days in advance and sit wrapped tightly in the refrigerator until you are ready to use it.
Whole milk: it is important to use full-fat milk in this pie to insure the custard sets properly.
Flour/cornstarch: this is solely for giving structure to the pie. Cornstarch is gluten free, if you're using a gluten free pie crust and want to keep the whole pie free of gluten. Weight measurements are 24g of cornstarch or 23g of all-purpose flour.
Nutrition Disclosure
All nutritional values are approximate and provided to the reader as a courtesy. Changing ingredients and/or quantities will alter the estimated nutritional calculations.
Serving:
1
slice
|
Calories:
169
kcal
|
Carbohydrates:
24
g
|
Protein:
4
g
|
Fat:
6
g
|
Saturated Fat:
4
g
|
Polyunsaturated Fat:
0.4
g
|
Monounsaturated Fat:
1
g
|
Trans Fat:
0.01
g
|
Cholesterol:
56
mg
|
Sodium:
182
mg
|
Potassium:
141
mg
|
Fiber:
0.4
g
|
Sugar:
22
g
|
Vitamin A:
170
IU
|
Vitamin C:
0.1
mg
|
Calcium:
84
mg
|
Iron:
0.4
mg