Carrot Cake Coconut Macaroons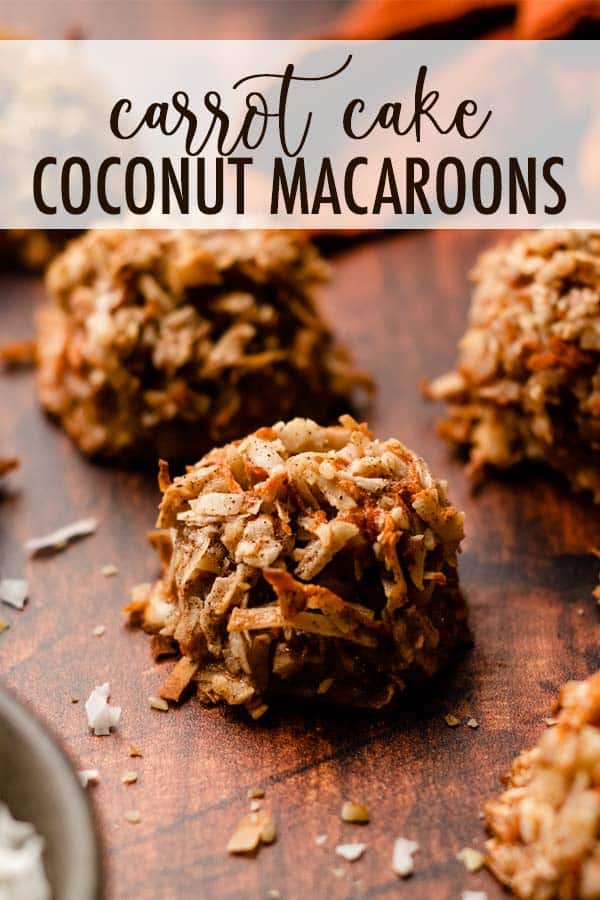 As an Amazon Associate, I earn from qualifying purchases. Read the full disclosure here.
Crispy on the outside, moist and chewy on the inside, these easy coconut macaroons are filled with all of the flavors and warm spices of carrot cake.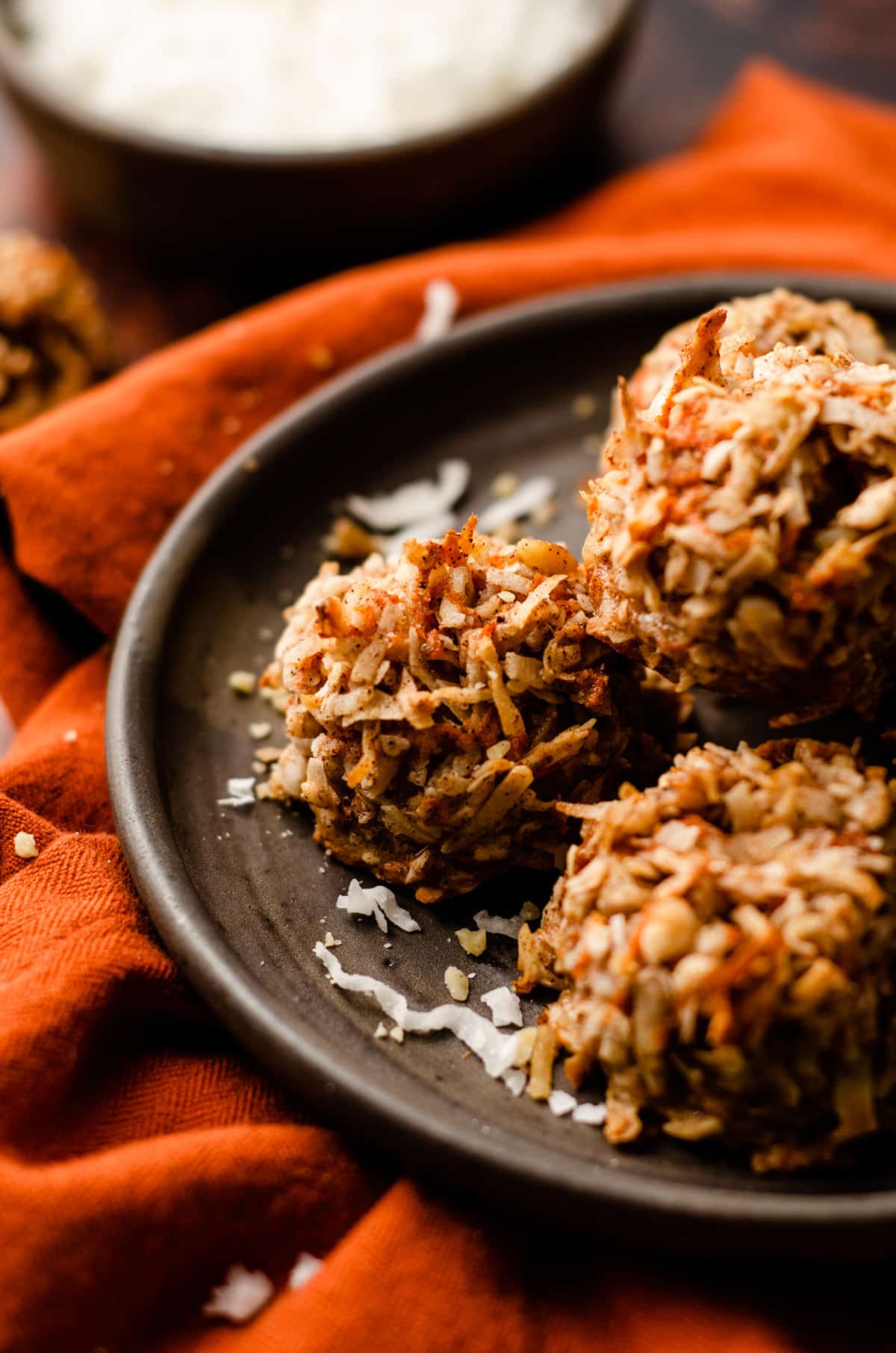 I am really pumped about this recipe, my friends. It has lived on my blog since 2015 but has remained a personal favorite since, all year round, in every season, and is one of my favorite cookies to whip up when I'm feeling I want something non-traditional.
Honestly, these carrot cake coconut macaroons are some of the best things I have ever made. Ever. And I make and bake things on a weekly basis around here.
Now, it may be my absolutely undying love for carrot walnut cake that makes me say this, but even still, these macaroons are so packed with flavor and texture and crunch and chew… There's just so much to love!
WHAT ARE MACAROONS?
Have you ever made coconut macaroons before, not to be confused with macarons (a French, very finicky cookie)? They're pretty simple, and my favorite part: they're a naturally gluten free cookie! So feel free to share with all of your peeps. All of 'em!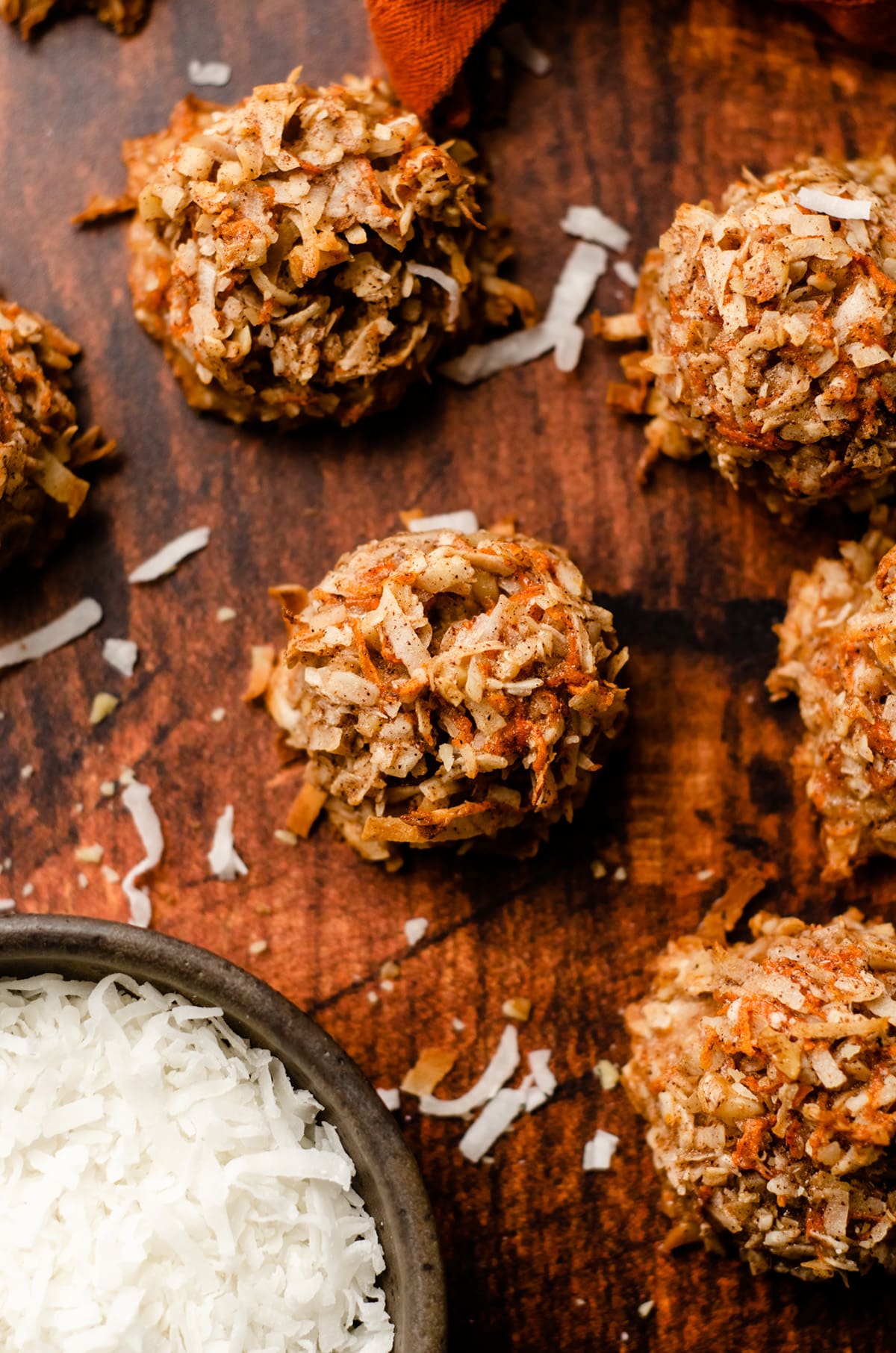 Most cookies use butter and eggs for substance and binding, but macaroons are pretty different. There are no egg yolks, and no butter whatsoever. They're light! Which means they are so supremely poppable, and if you're like me, you'll find yourself eating nearly the entire batch in one day, because… Well… You'll just have to see for yourself.
INGREDIENTS
The flaky base for all coconut macaroons is shredded coconut. This is the sweetened flake coconut you find in a bag the baking aisle.
But before we get to the shredded coconut portion of these carrot cake macaroons, we have to make the "glue" to hold it all together.
Instead of whole eggs and butter, you'll work with just egg whites and granulated sugar to make the "glue."
To the egg whites and sugar, you'll add familiar spices like cinnamon and nutmeg, and we'll also add a touch of vanilla paste or vanilla extract to round out the coconut flavor.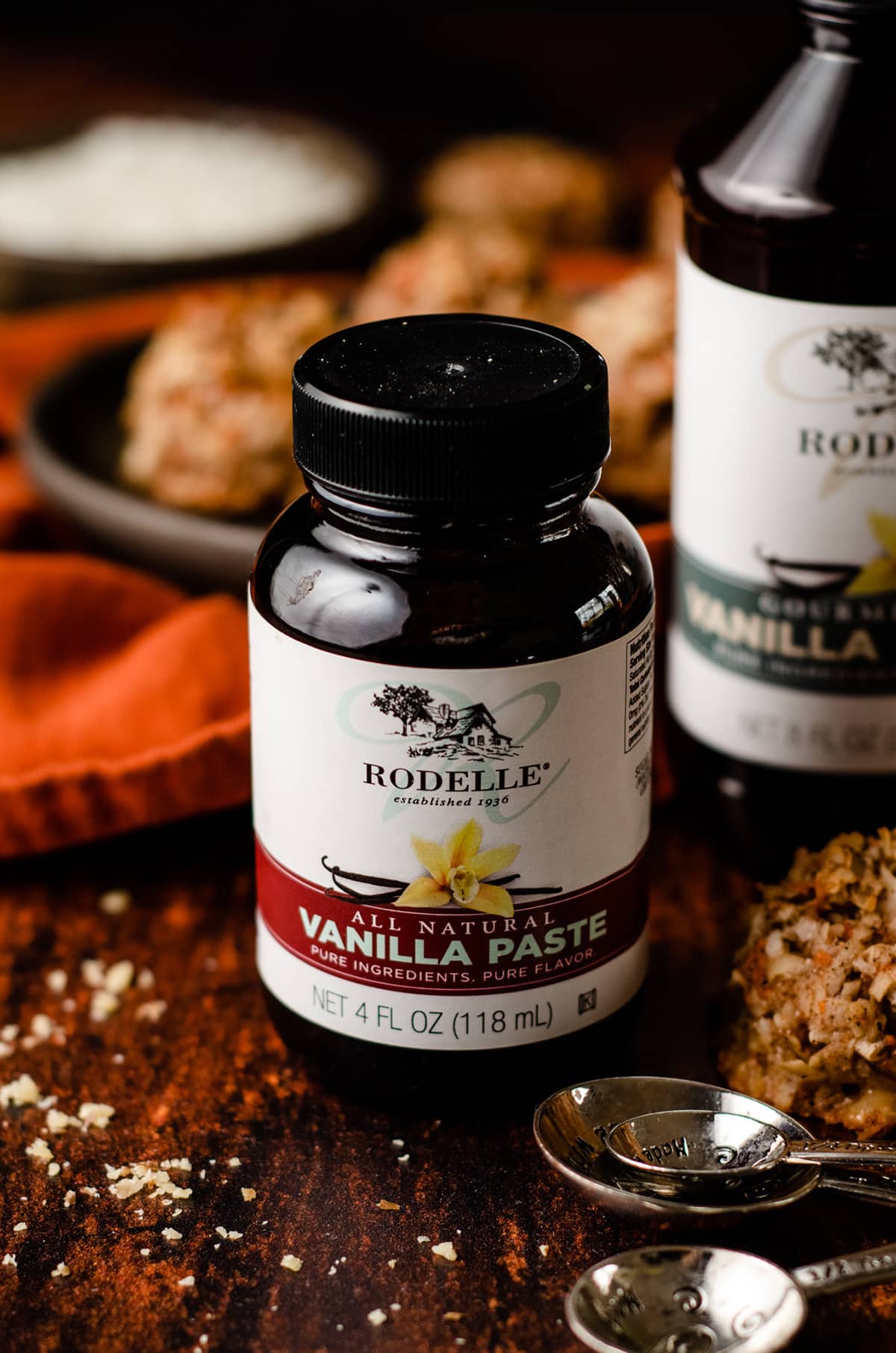 My personal preference of vanilla is vanilla paste (specifically Rodelle brand), but you can certainly use vanilla extract in place of it. It's just a 1:1 substitution!
You'll also be using fresh grated carrots, which you'll want to be nice and fine. I'm talking teeny tiny grated carrot, not just shredded like you might for carrot cake or carrot cake cupcakes.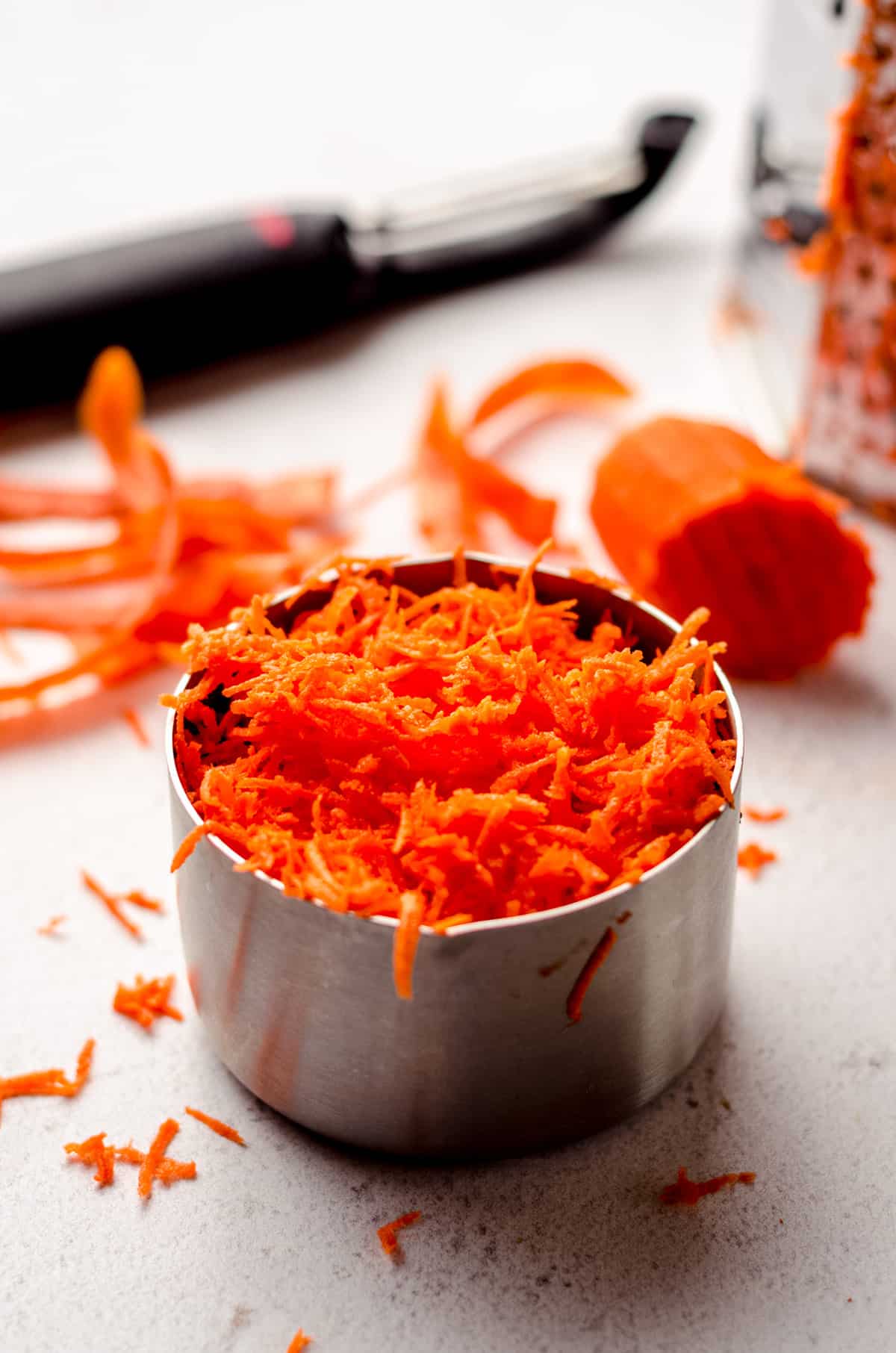 You can use the smallest grate on a box grater or even a food processor. Just don't make carrot mush! You still want to see strings of carrot in your macaroons.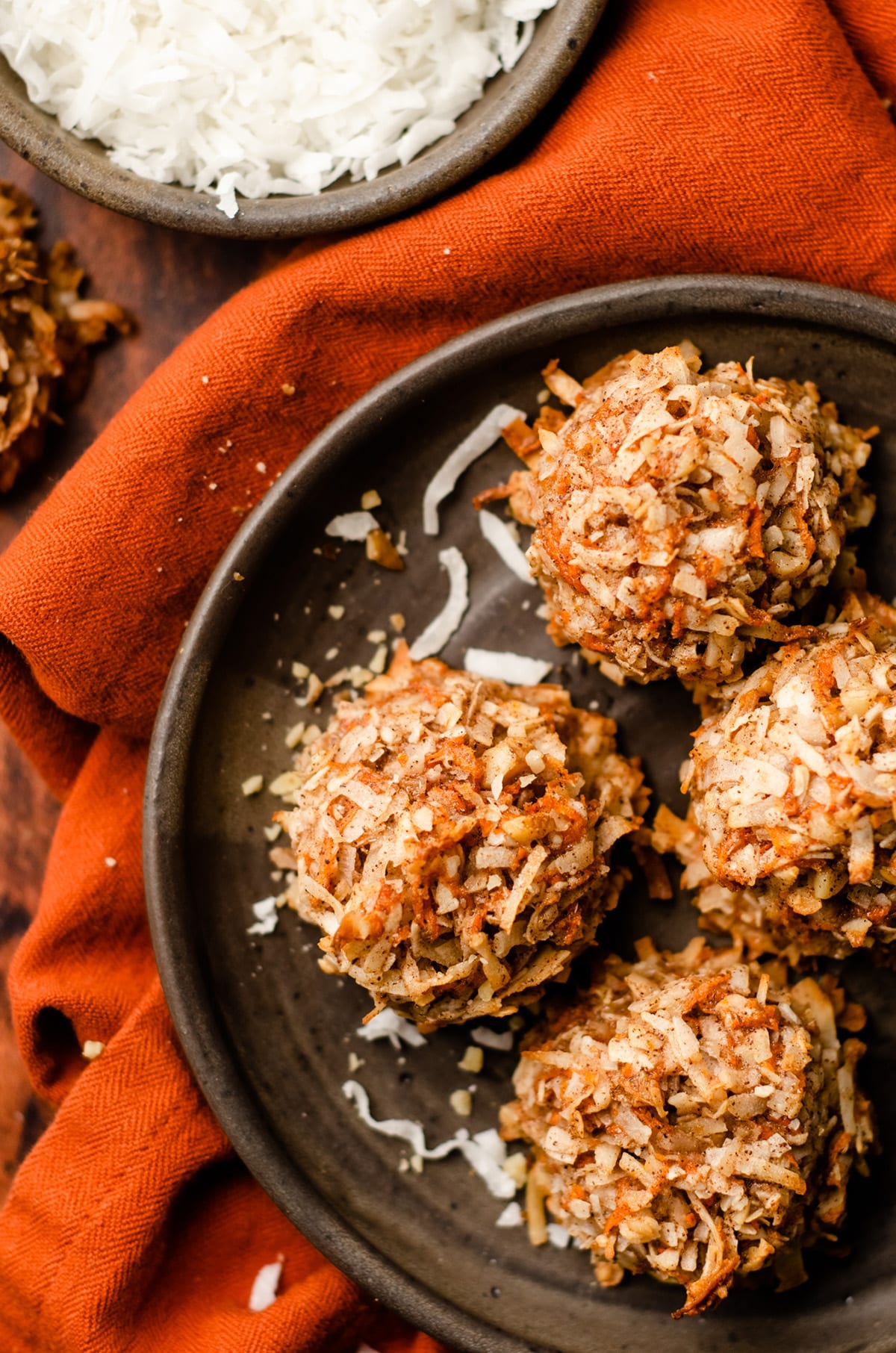 HOW TO MAKE CARROT MACAROONS
Put all of your "glue" ingredients into a large bowl and whisk whisk whisk until it becomes nice and fluffy (I prefer to use my mixer here, but you can also get the job done with a whisk and some mega elbow grease).
As you whisk, the sugar will dissolve, the mixture will become foamy, and it will start to get a little stiff.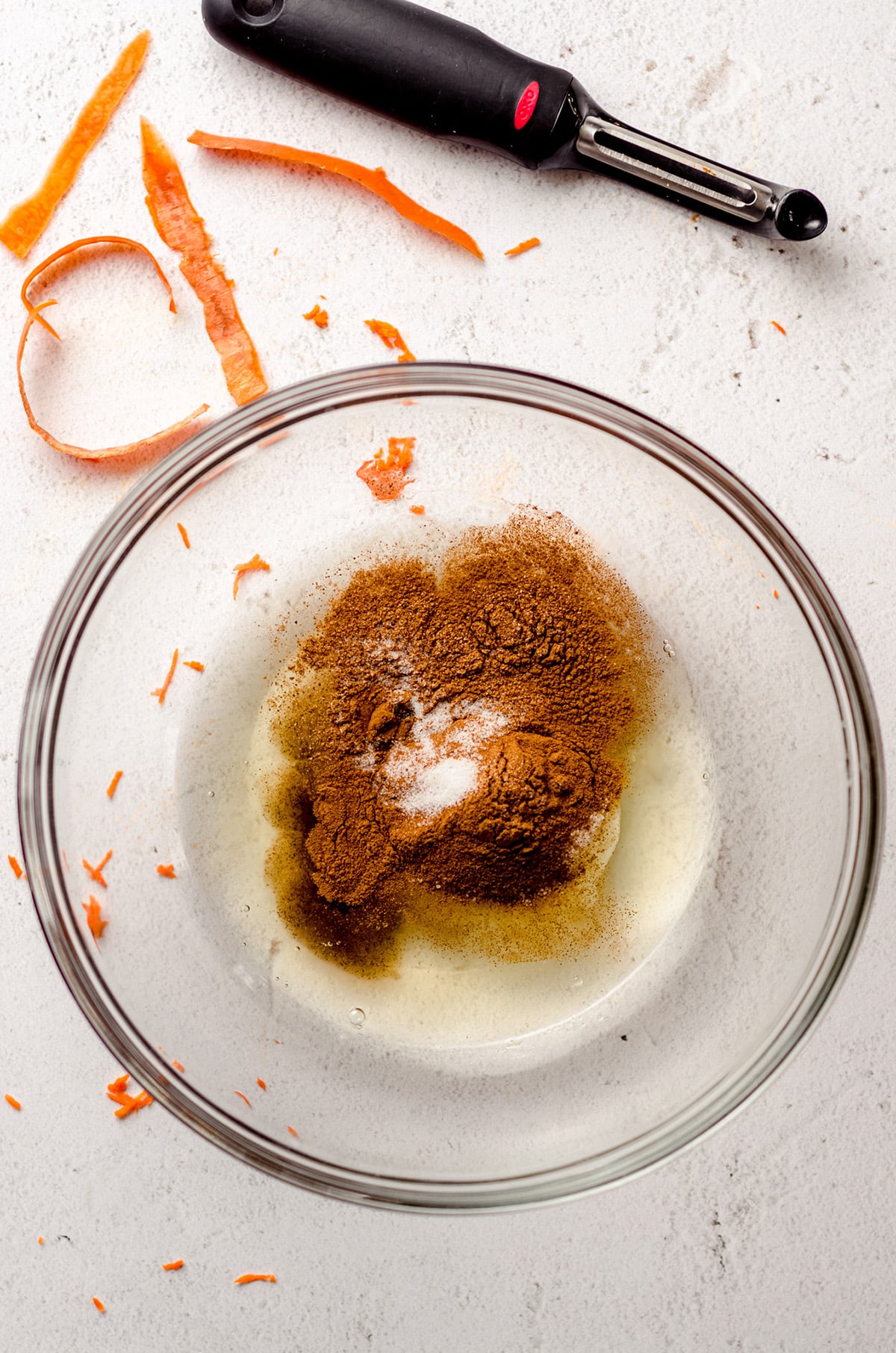 This is how meringue starts, but we're not going that far, so stop when you notice a foamy, slightly stiff mixture. It will have increased in size significantly. If you're more comfortable using a stand mixer or hand mixer, whisk for at least 2 minutes.
Next, fold in your finely grated carrots and chopped nuts (walnuts are my fav but pecans would work great too) a few times, just to get all the goodies and flavors marrying with each other.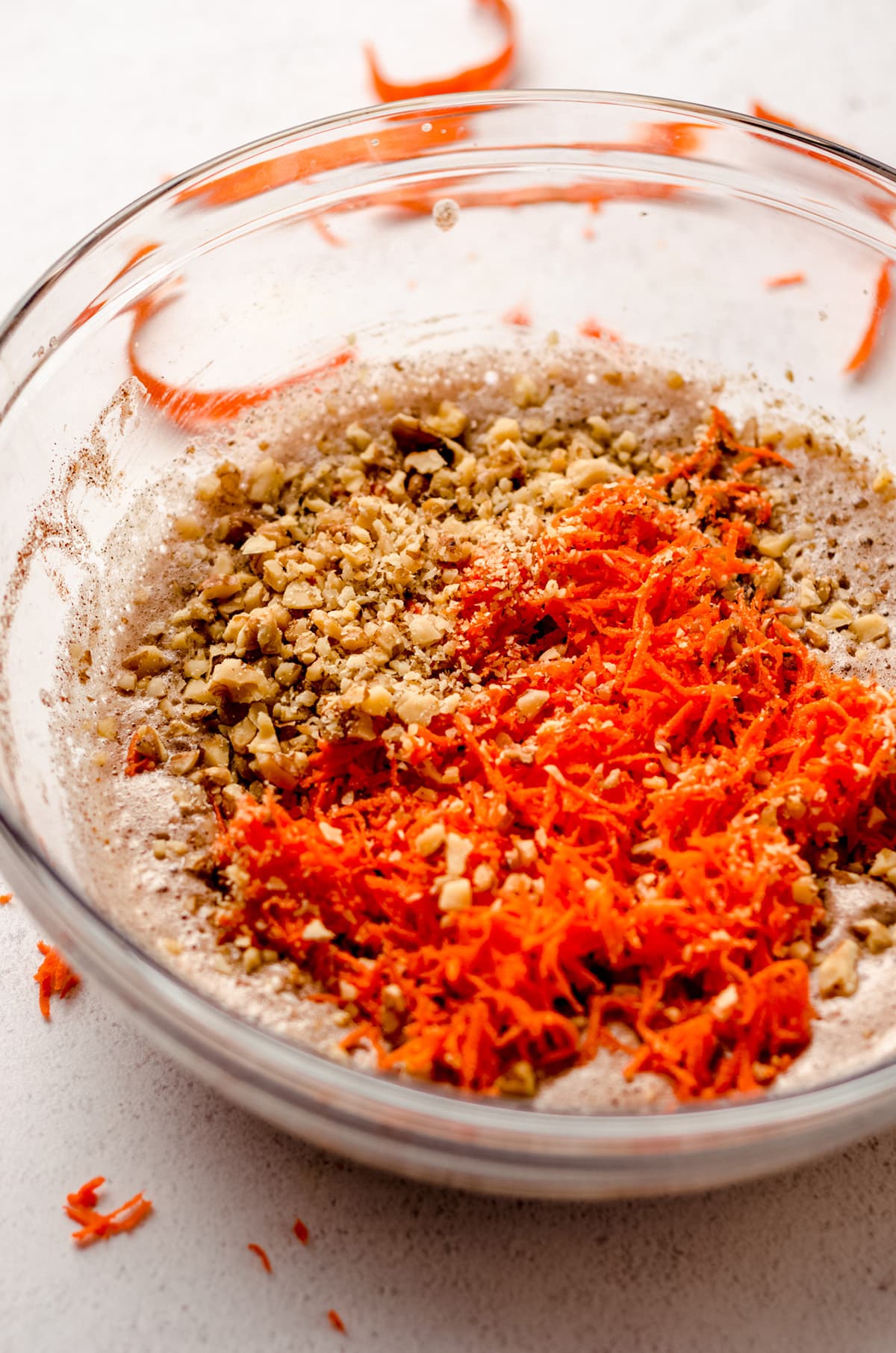 Then, carefully fold in the shredded coconut, taking care not to be too rough with the whipped egg whites. We want to maintain as much of that air we incorporated as possible!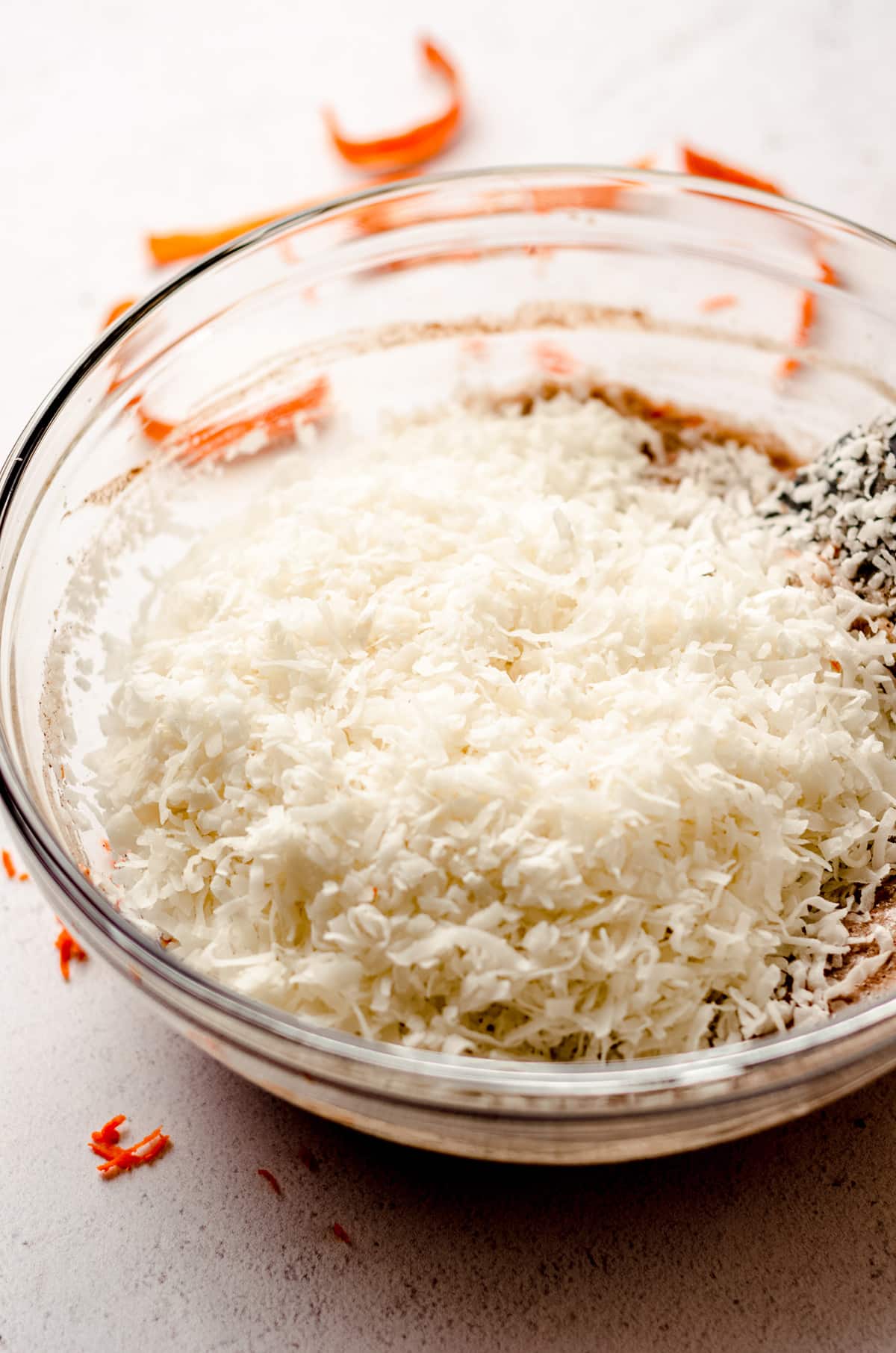 The mixture will be very wet, and this is very good news. It makes for a nice and moist macaroon!
BAKE THE MACAROONS
After your dough comes together, it's just a matter of dropping scoops of dough onto the baking sheet and baking them for 20 minutes. You'll want to rotate the baking sheet ¼ of a turn halfway through the baking time to prevent burning. Coconut burns easily because of all the sugar and the delicate pieces.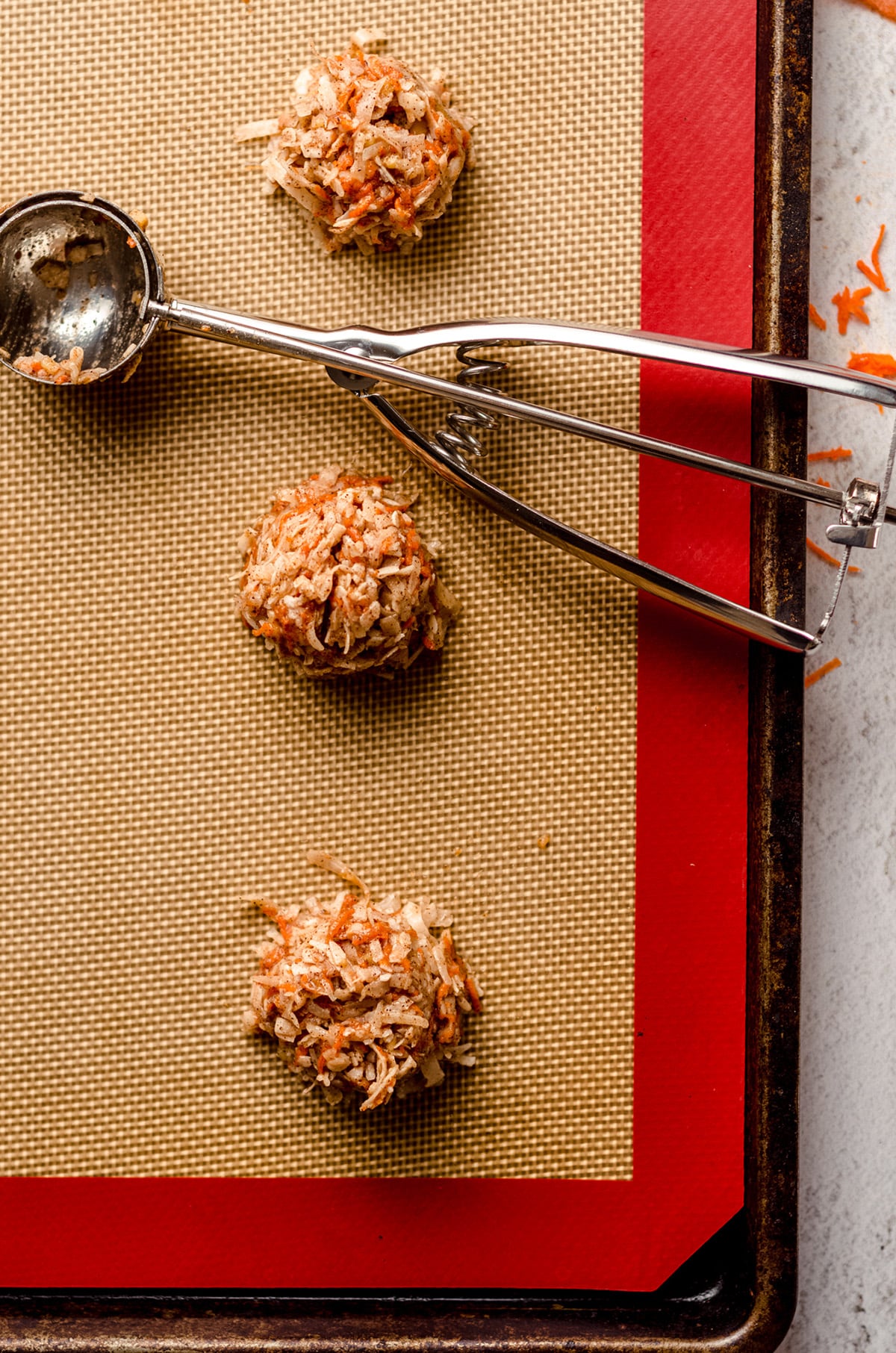 Although, full disclosure, some of the crispy coconut edges are always my favorite! Toasty, nutty coconut. Yumm-o!
Seriously. These macaroons. I die every time.
I usually eat a few of them while they were still warm because
1) I have no self control and
2) warm macaroons are right up there with warm chocolate chip cookies!
I also like to serve these at Thanksgiving (because they freeze beautifully so you can make them ahead of time!) and they are always one of the first desserts to go.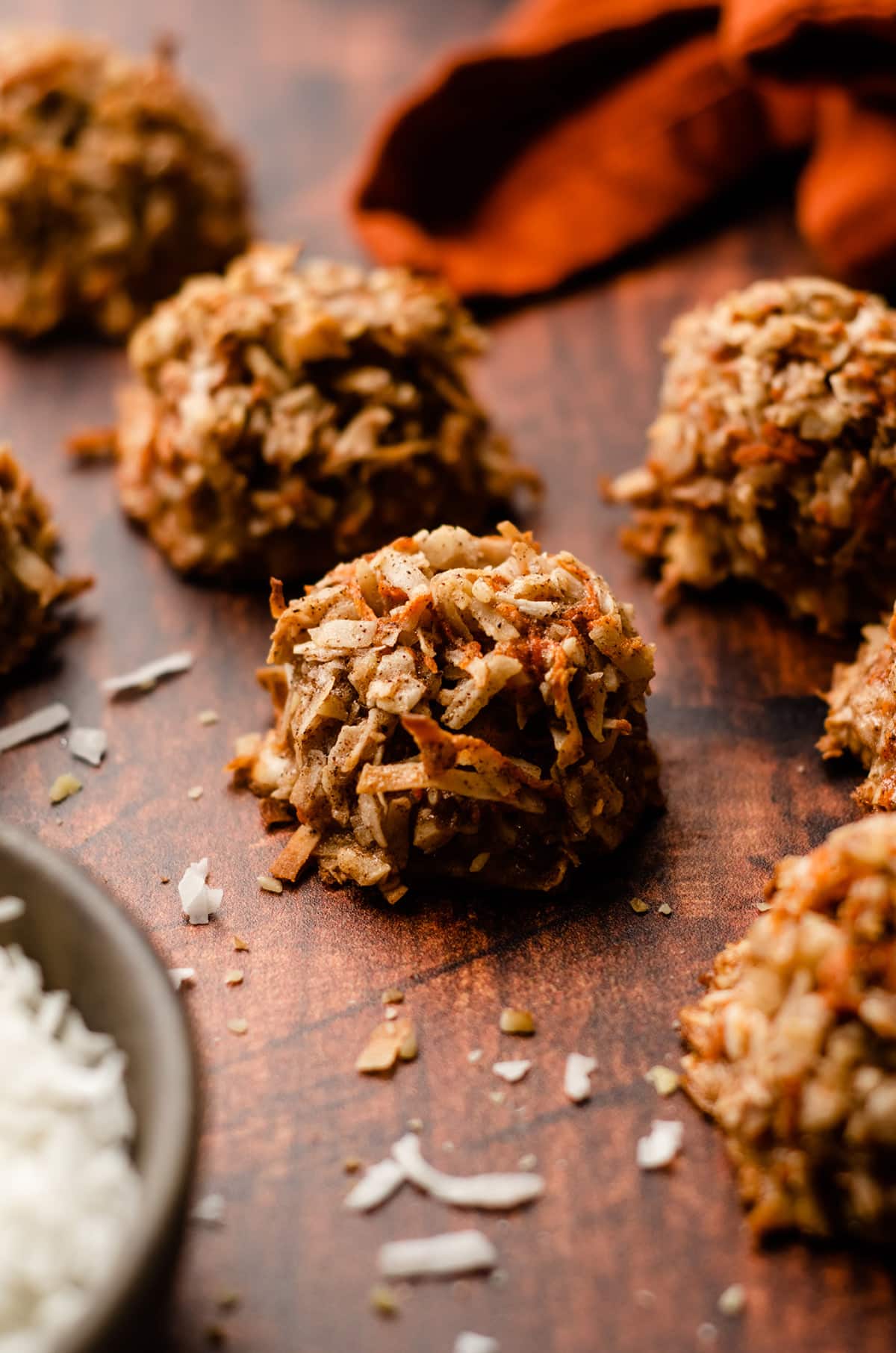 If you love coconut and are a fan of warm, toasty spices, you're going to love these carrot cake macaroons. They're just a bit crispy on the outside while staying tender, chewy, and sweet on the inside. Just like an Almond Joy or Mounds Bar!
While I've added this to my regular Christmas cookie collection, it's certainly a cookie that can grace your cookie jar year round.
I'm like a carrot cake freak over here– and I'm not afraid to admit it. I finally did share my beloved carrot walnut cake recipe a bit ago, but lucky for you, I also have lots of things flavored just like it. Carrot cake in the form of granola AND cupcakes AND waffles?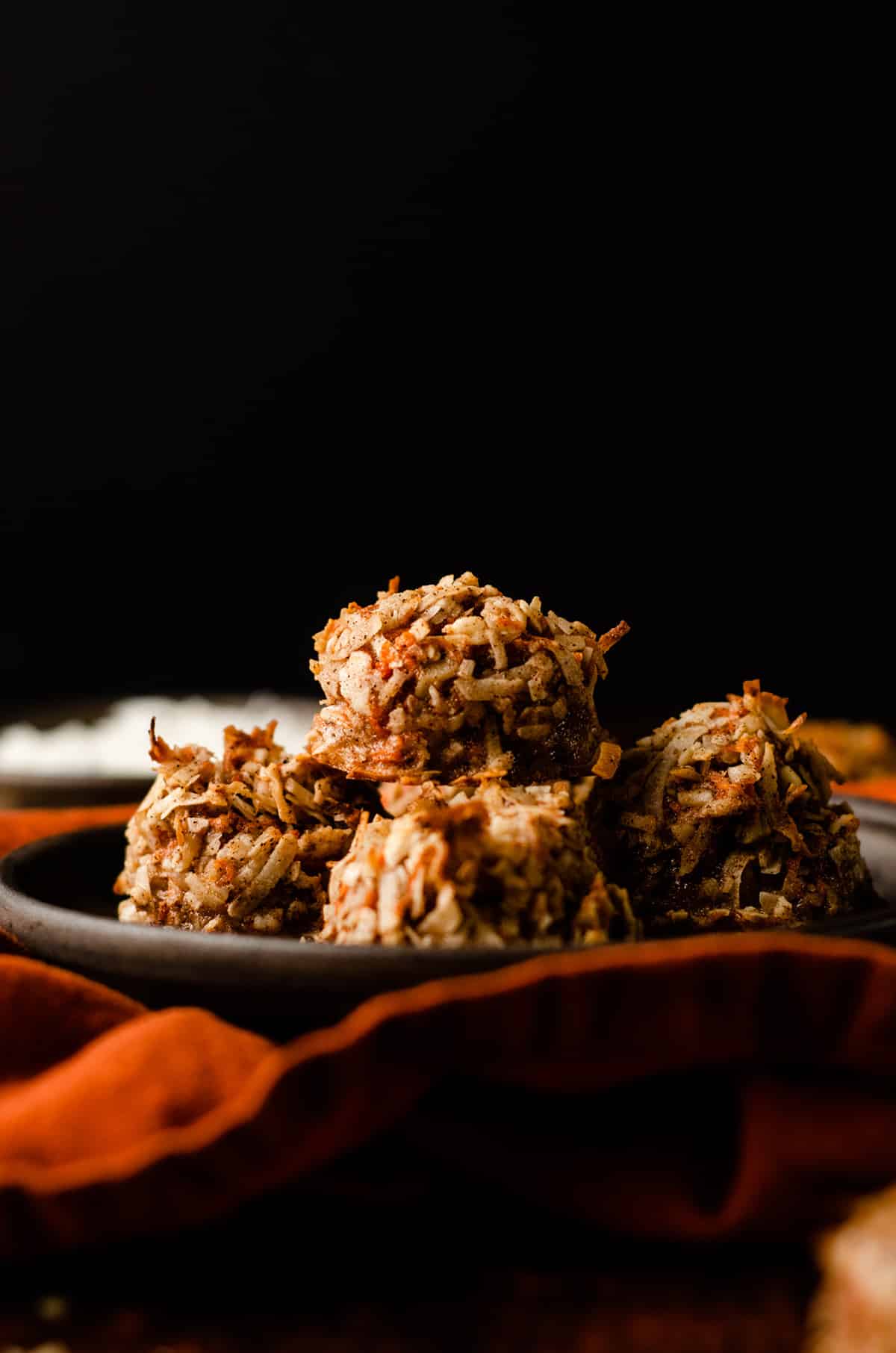 No shortage of carrot cake things around this joint. The problem now becomes… Which one will you make first?
Carrot Cake Coconut Macaroons
Crispy on the outside, moist and chewy on the inside, these easy coconut macaroons are filled with all of the flavors and warm spices of carrot cake.
Servings:
2
dozen macaroons
Ingredients
4

large egg whites

¼

cup

(50g) granulated sugar

2

teaspoons

ground cinnamon

½

teaspoon

ground nutmeg

¼

teaspoon

salt

1

teaspoon

vanilla paste or vanilla extract1

1

cup

finely grated2 carrot

about 1 large carrot

⅓

cup

(30g) chopped nuts

walnuts or pecans work best

3

cups

(360g) sweetened shredded coconut
Instructions
Preheat oven to 350°F (177ºC). Line two baking sheets with parchment paper or silicone baking mats.

In a large bowl, combine egg whites, sugar, salt, spices, and vanilla extract. Beat with a whisk until mixture turns becomes foamy and begins to stiffen, and the sugar is mostly dissolved. You may use a mixer if you'd prefer– whisk at least 2 minutes.

Fold in the carrots and nuts, stir gently a few times, then add the coconut and continue to stir gently until everything is evenly dispersed. Be sure to stir gently so the egg whites keep their shape.

Using a cookie scoop (I use this #50 cookie scoop for all of my standard size cookies), place a mound of cookie dough onto the baking sheet. Bake for 20 minutes or until golden brown, rotating the baking sheet ¼ of a turn halfway through baking time. Macaroons stay fresh in an airtight container up to 3 days at room temperature or 5 days in the refrigerator. Macaroons freeze well, up to 2 months. Thaw overnight in refrigerator.
Notes
Vanilla paste/extract: I prefer vanilla paste in my baked goods, and my favorite is Rodelle brand. Vanilla extract works just as nicely in this recipe, and I only prefer the paste because it creates visible flecks.
Finely grated carrots: be sure these are finely grated and not just shredded. See text above that includes a photo of what the carrots should look like.
Adapted from Betty Crocker
Nutrition Disclosure
All nutritional values are approximate and provided to the reader as a courtesy. Changing ingredients and/or quantities will alter the estimated nutritional calculations.
More carrot cake goodies: carrot cake cupcakes, carrot cake waffles, and carrot walnut cake.