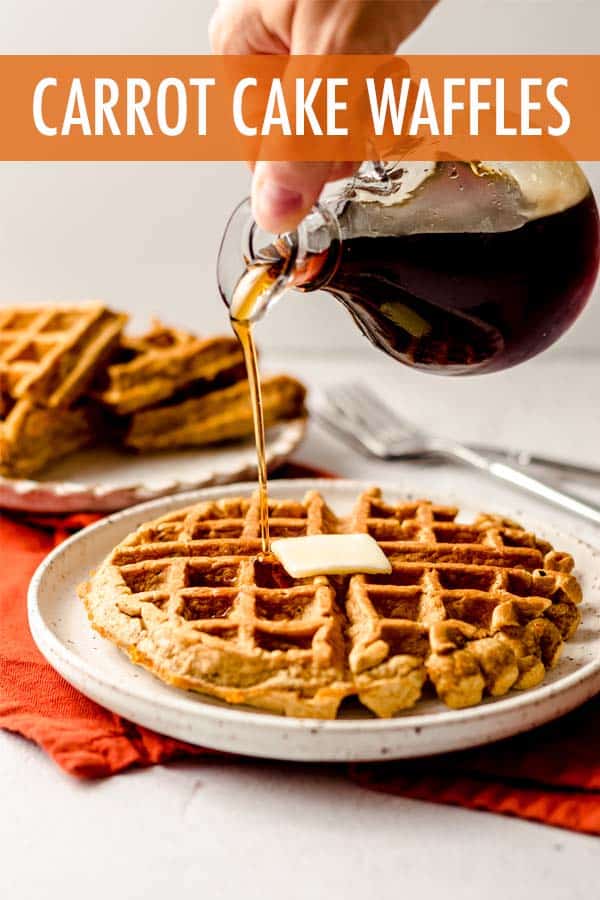 As an Amazon Associate, I earn from qualifying purchases. Read the full disclosure here.
Soft and fluffy homemade carrot cake waffles filled with shredded carrots, warm spices, and crunchy nuts. A non-traditional way to get your waffle fix with a lighter take on the ingredient list.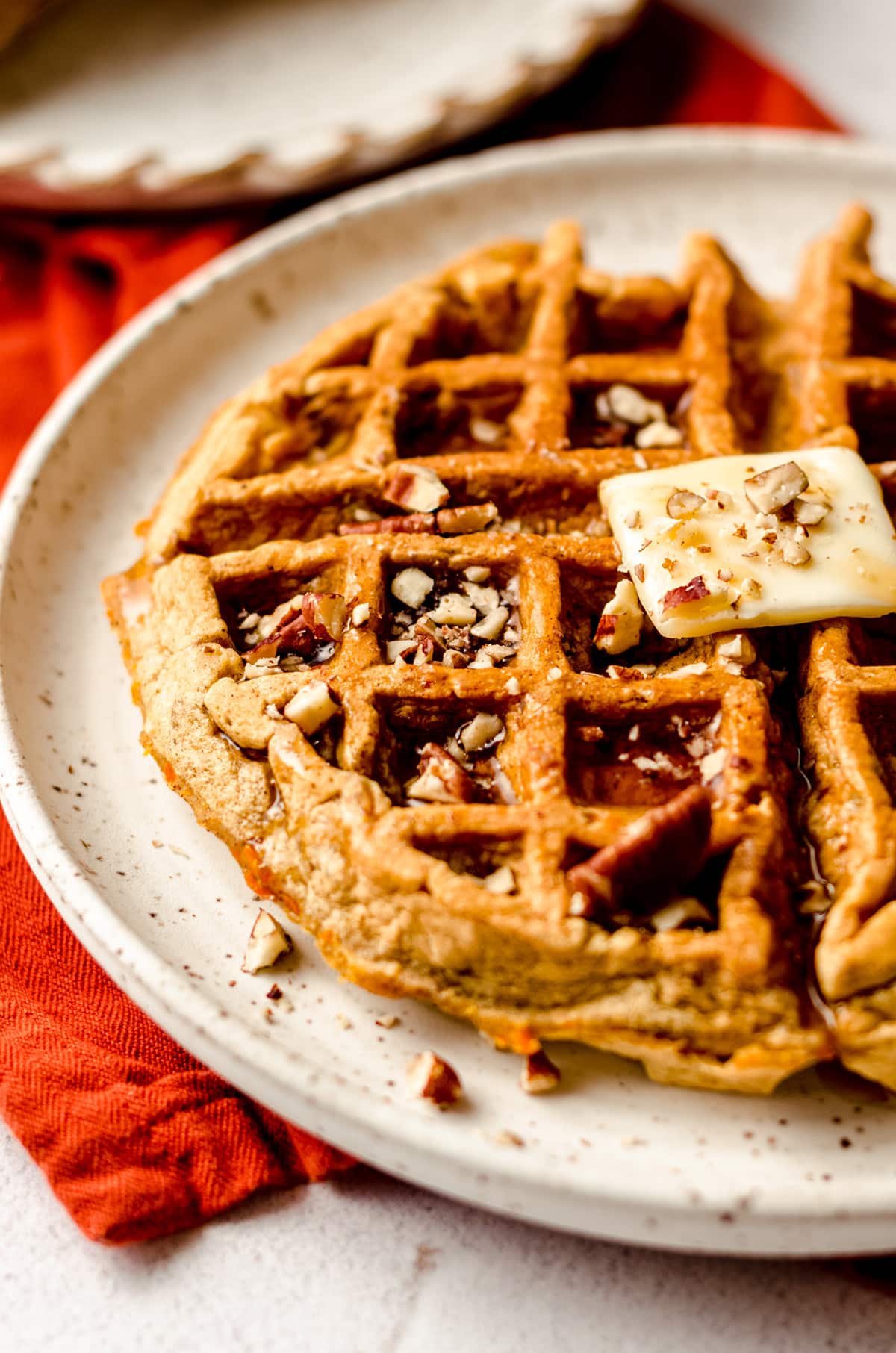 Dust off that waffle maker, Audrey from That Recipe is hosting a Waffle-Fest for National Waffle Day. We've got sweet waffles savory waffles, breakfast waffles, waffle sandwiches and dessert waffles. So many delicious ways to enjoy!
Happy National Waffle Day 2021, friends! Today, I'm sharing my first ever homemade waffle recipe to help celebrate this day in style with a bunch of my fellow food bloggers around the internet.
Carrot cake is one of my very favorite desserts, and after much deliberation, I shared my beloved carrot walnut cake recipe on my blog after literal years of folks asking for it. And it has been a hit with readers ever since!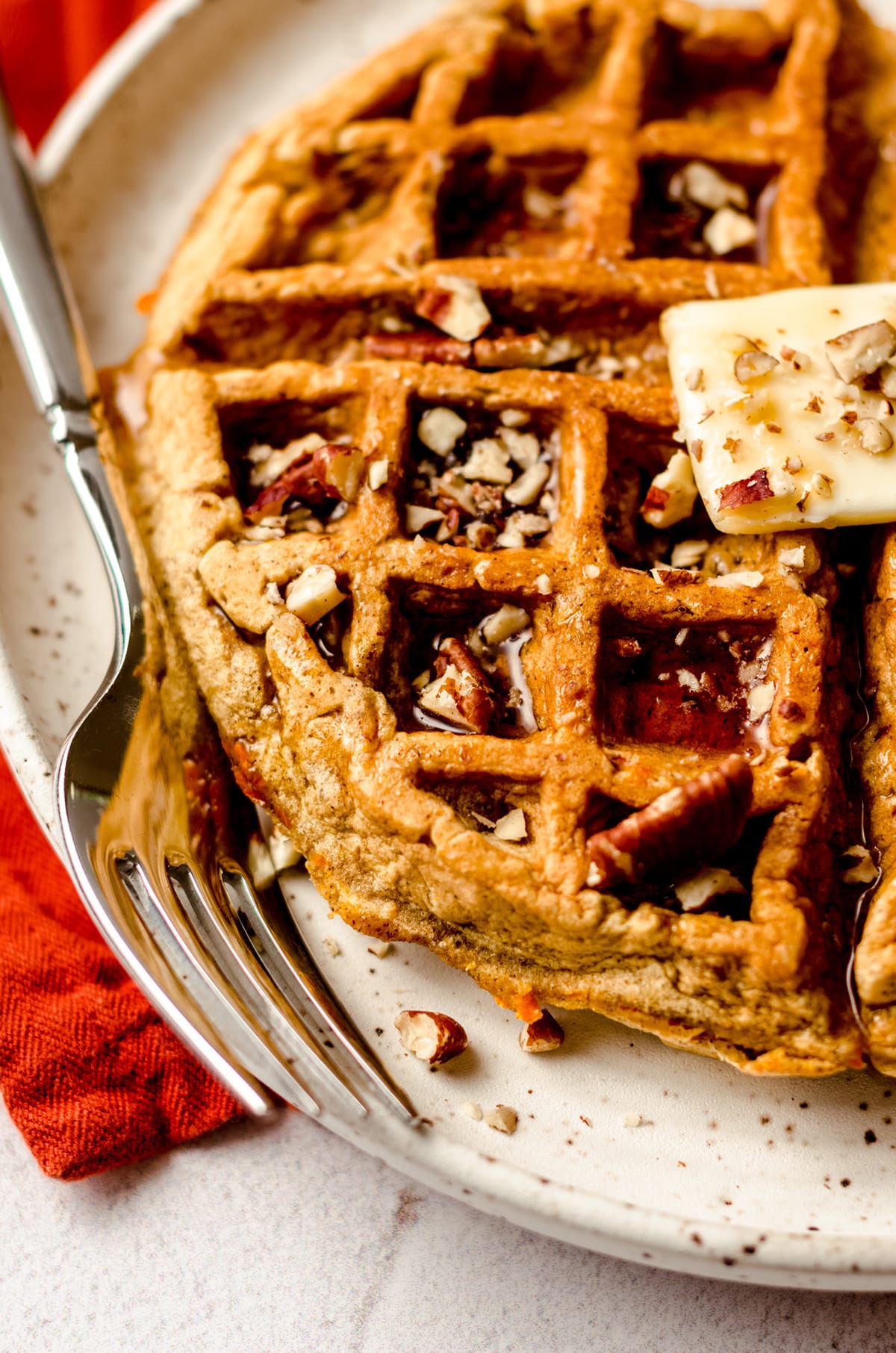 While it is kind of weird to think about vegetables getting all up in desserts and treats, things like chocolate chip zucchini bread, morning glory muffins, and toddler muffins do it all the time. In fact, since I love carrot cake so much, I even got shredded carrots all up in my carrot cake coconut macaroons and soft-baked carrot cake granola.
Yeah, try both of those ASAP.
When I decided to participate in this waffle celebration, it was sort of a no brainer as to what flavor I was going to choose, and I created my own version of some carrot cake waffles I found from The Healthy Maven.
This carrot cake waffle recipe yields waffles that are softer than traditional waffles, yet still taste just as decadent and have all of the flavor you crave from classic carrot cake treats.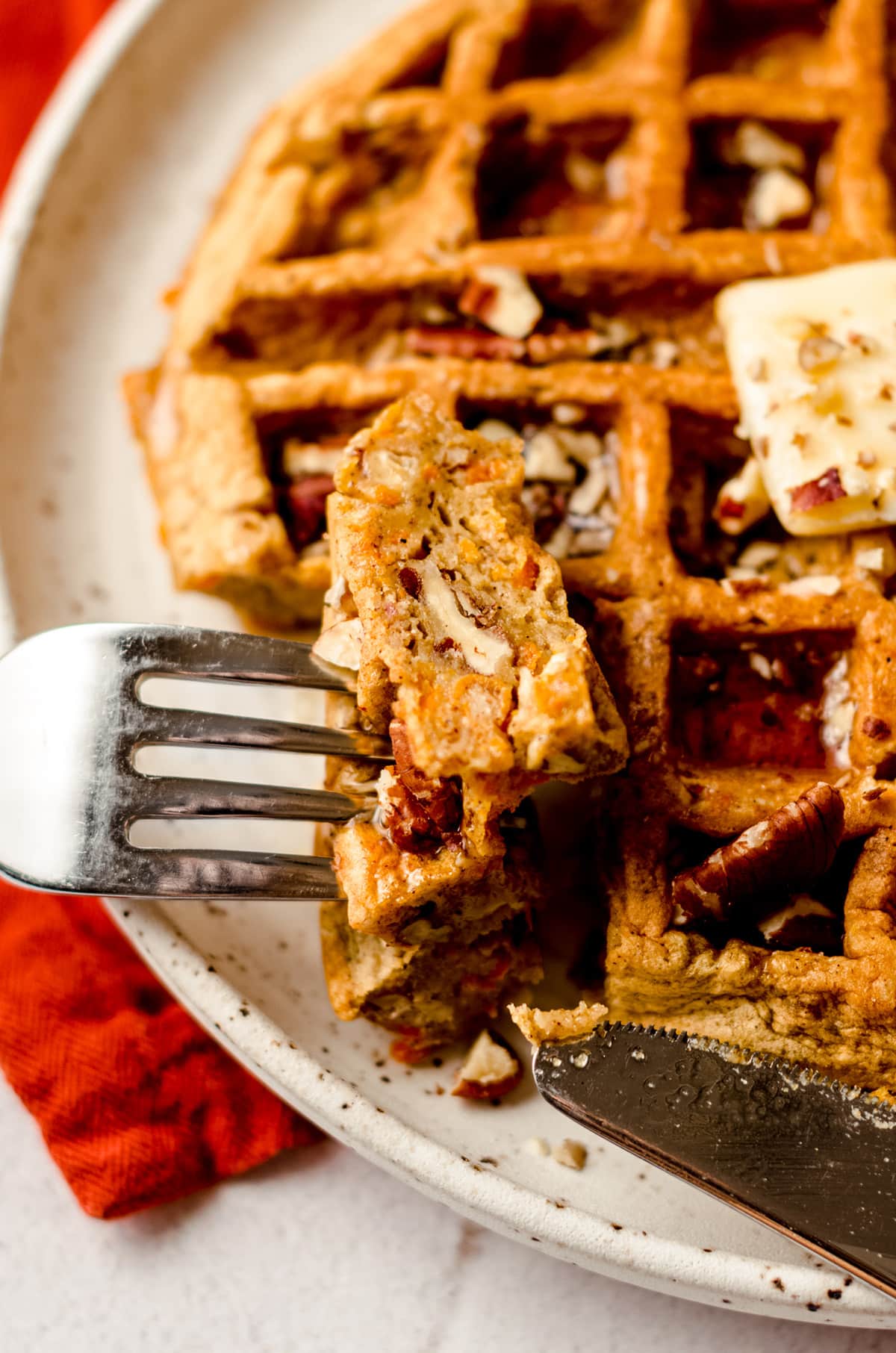 HOW TO MAKE CARROT CAKE WAFFLES
As I mentioned, these waffles are made with some lighter ingredients than traditional waffles, and we're getting fat from a few different places. First, we'll be using full fat yogurt, which is imperative since this waffle batter doesn't contain any oil or butter.
Two eggs + some full fat milk bring the remaining fat and build the structure for the rest of the waffle batter. See recipe notes if you want to use lower fat milk or dairy alternatives.
These homemade carrot cake waffles also combine warm spices like cinnamon, nutmeg, and allspice to create that signature flavor of carrot cake that we love having anywhere we can, outside of just dessert. A dish that's perfect for breakfast, brunch, or even dinner or dessert!
The size of your waffle iron will dictate how much batter to use and how many waffles you'll get from this recipe. I used a 7 inch waffle iron with about ¾ cup of batter for each waffle, and I wound up with three waffles.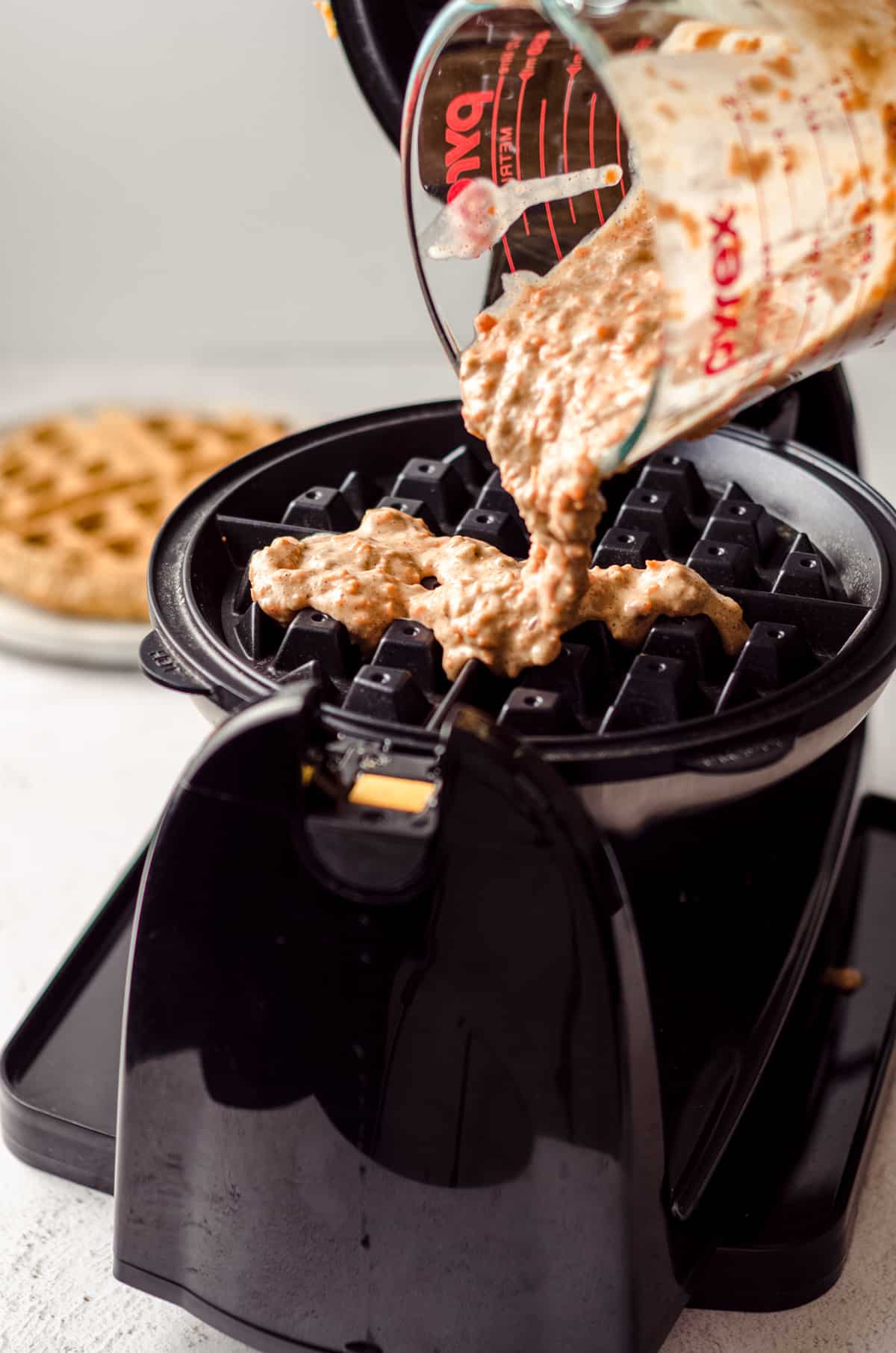 A word about using shredded carrots in baked goods: I learned all about using wet vegetables when I made my soft-baked carrot cake granola many years ago, and then went ahead and happily applied that idea to my soft-baked pumpkin pie granola a few years after that.
Adding shredded carrots to a recipe = mega moisture. This is great when we want to make sure our carrot walnut cake is nice and moist, but it can leave us a little disappointed when we're looking for crispy waffles.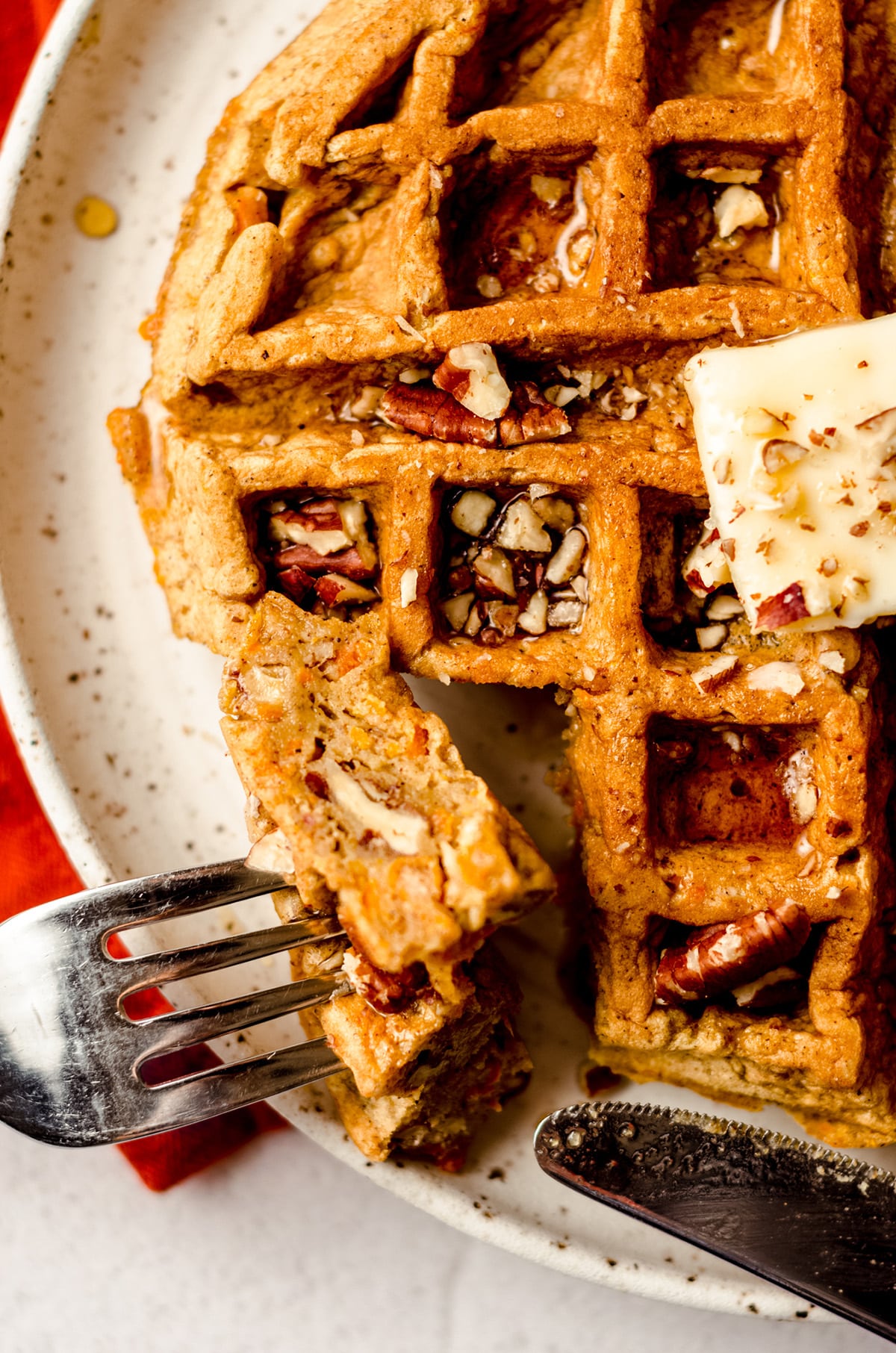 So my disclaimer here is that these are not light and crispy waffles, but that does not mean they aren't incredibly enjoyable or something I want you to try. I'm just here to say it in BIG BOLD LETTERS: these are not light and crispy. I repeat: NOT light and crispy.
Instead, we've got a soft and slightly chewy carrot cake waffle situation going on here, and I can tell you that after you've cooked your waffles on your waffle iron, going that little extra step to add some crunch to the outside in either a toaster oven or broiler is where it's at if you want to make it happen.
Of course, not required, just a suggestion and something I discovered while eating some super tasty leftovers.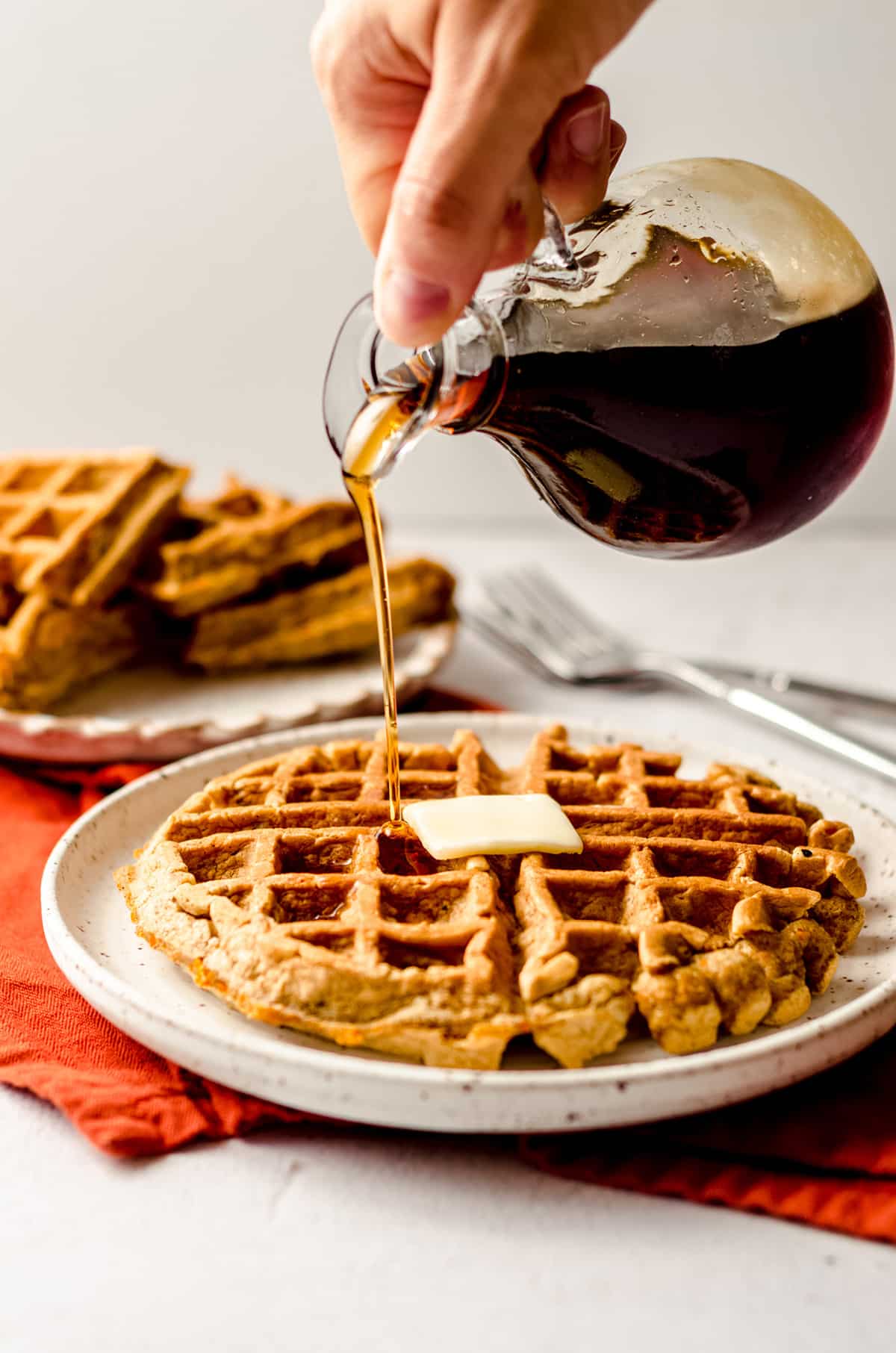 While I wouldn't necessarily call these carrot cake waffles healthy, I would say they are most certainly a healthier option for adding some variety to your breakfast routine while still getting that sweet taste we sometimes crave in our morning meals.
And since they aren't loaded with a bunch of heavy ingredients, a small stack won't weigh you down as you go about your morning.
Plus, these waffles make for a lighter, easy dessert option and I won't tell if you want to serve them up with a scoop of ice cream.
Want to get even more creative? Serve these carrot cake waffles alongside some chicken for a fun twist on classic chicken and waffles brunch or dinner. You can even add some additional shredded carrots on top and call it the veggie. Not a bad idea, right?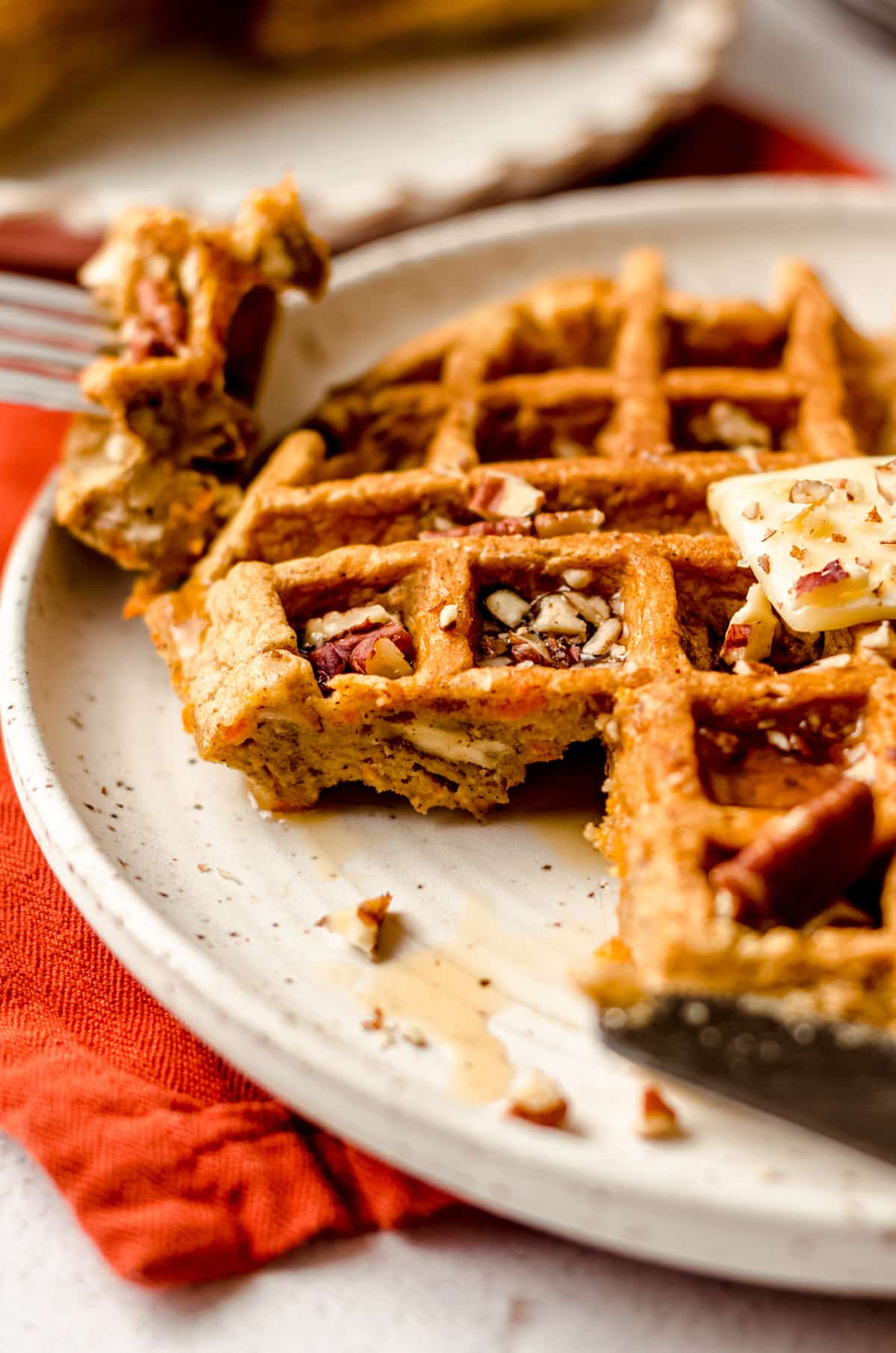 I'm excited for you to try this new carrot cake waffles recipe and give your breakfast (or brunch or snack or dessert or dinner) some fun new flair. Here are some other recipes from my fellow blogger friends you might also enjoy adding to your collection!
National Waffle Day Recipes
Apple Cider Waffles from Jen Around the World
Bacon Cheddar Waffles from SueBee Homemaker
BLT Waffle Sliders from Jolene's Recipe Journal
Blueberry Waffles from Life, Love and Good Food
Brownie Mix Waffles from Cheese Curd in Paradise
Chicken & Waffle Club Sandwich from Palatable Pastime
Chocolate Cherry Waffle Cake from The Freshman Cook
Chocolate Chip Waffles from Salt and Baker
Chocolate Waffles from Devour Dinner
Cinnamon Roll Waffles from House of Nash Eats
Classic Buttermilk Waffles from Kathryn's Kitchen Blog
Cornbread Waffles from A Day in the Life on the Farm
Fresh Peach Waffles with Cinnamon Syrup from Our Good Life
Gandana Waffles from Magical Ingredients
Nutella Waffles with Raspberry Syrup from The Spiffy Cookie
Sourdough Waffles from That Recipe
Carrot Cake Waffles
Soft and fluffy homemade carrot cake waffles filled with shredded carrots, warm spices, and crunchy nuts. A non-traditional way to get your waffle fix with a lighter take on the ingredient list.
Servings:
3
7-inch waffles
Ingredients
1

cup

(120g) all-purpose flour be sure to measure properly

2

teaspoons

ground cinnamon

½

teaspoon

ground nutmeg

¼

teaspoon

allspice

½

teaspoon

baking powder

¼

teaspoon

salt

½

cup

(120mL) milk any, but whole milk is strongly encouraged1

⅓

cup

(77g) full fat yogurt preferably plain/unflavored1

2

large eggs

2

Tablespoons

(25g) firmly packed light brown sugar

1

teaspoon

vanilla extract

1

large carrot peeled and shredded/finely processed2

¼

cup

(40g) chopped walnuts or pecans
Instructions
In a small bowl, whisk together the flour, cinnamon, nutmeg, allspice, baking powder, and salt. Set aside.

In a medium size bowl, whisk together the milk, yogurt, eggs, brown sugar, and vanilla extract until smooth.

Pour the dry ingredients into the wet ingredients and gently fold until just combined. Add the shredded carrots and nuts and fold again until everything is incorporated.

Lightly spray waffle iron with non-stick spray3, then pour ½ to ¾ cup of batter4 evenly into the waffle iron. Cook waffle according to waffle iron instructions.

Remove waffle from waffle iron using two forks or a large flat spatula, add desired toppings5 (I suggest homemade whipped cream or cream cheese frosting) and serve warm. Store leftovers in the refrigerator, up to 3 days. Warm in the microwave or toast in a toaster oven. Waffles freeze well, up to 3 months. Thaw in refrigerator overnight then warm as desired.
Notes
Full fat dairy: it is imperative you use full fat yogurt here since there is not much fat in the batter. If you are using dairy alternatives for these waffles, be forewarned lower fat will bring less moisture to the waffles.
Shredded carrot: I like to use a food processor to shred my carrots, then replace the shredder with the blade and pulse a few times to turn some of the shreds into finely processed carrots. This brings the moisture and soft texture to the waffles.
Non-stick spray: though most waffle irons are already non-stick, I find this recipe works better with a little bit of spray since it yields a moist waffle and there is not much fat in the batter.
Batter: this measurement is based on the 7 inch waffle iron I used. Check your specific waffle iron's instruction manual for suggested amount of batter.
Cooked waffles: if you want to crunch up the waffles, I suggest popping them in a toaster oven or under the broiler in the oven for a few minutes.
Adapted from The Healthy Maven
Nutrition Disclosure
All nutritional values are approximate and provided to the reader as a courtesy. Changing ingredients and/or quantities will alter the estimated nutritional calculations.
Serving:
1
waffle
|
Calories:
347
kcal
|
Carbohydrates:
48
g
|
Protein:
12
g
|
Fat:
12
g
|
Saturated Fat:
3
g
|
Polyunsaturated Fat:
5
g
|
Monounsaturated Fat:
3
g
|
Trans Fat:
0.01
g
|
Cholesterol:
118
mg
|
Sodium:
352
mg
|
Potassium:
318
mg
|
Fiber:
3
g
|
Sugar:
13
g
|
Vitamin A:
3656
IU
|
Vitamin C:
2
mg
|
Calcium:
183
mg
|
Iron:
3
mg