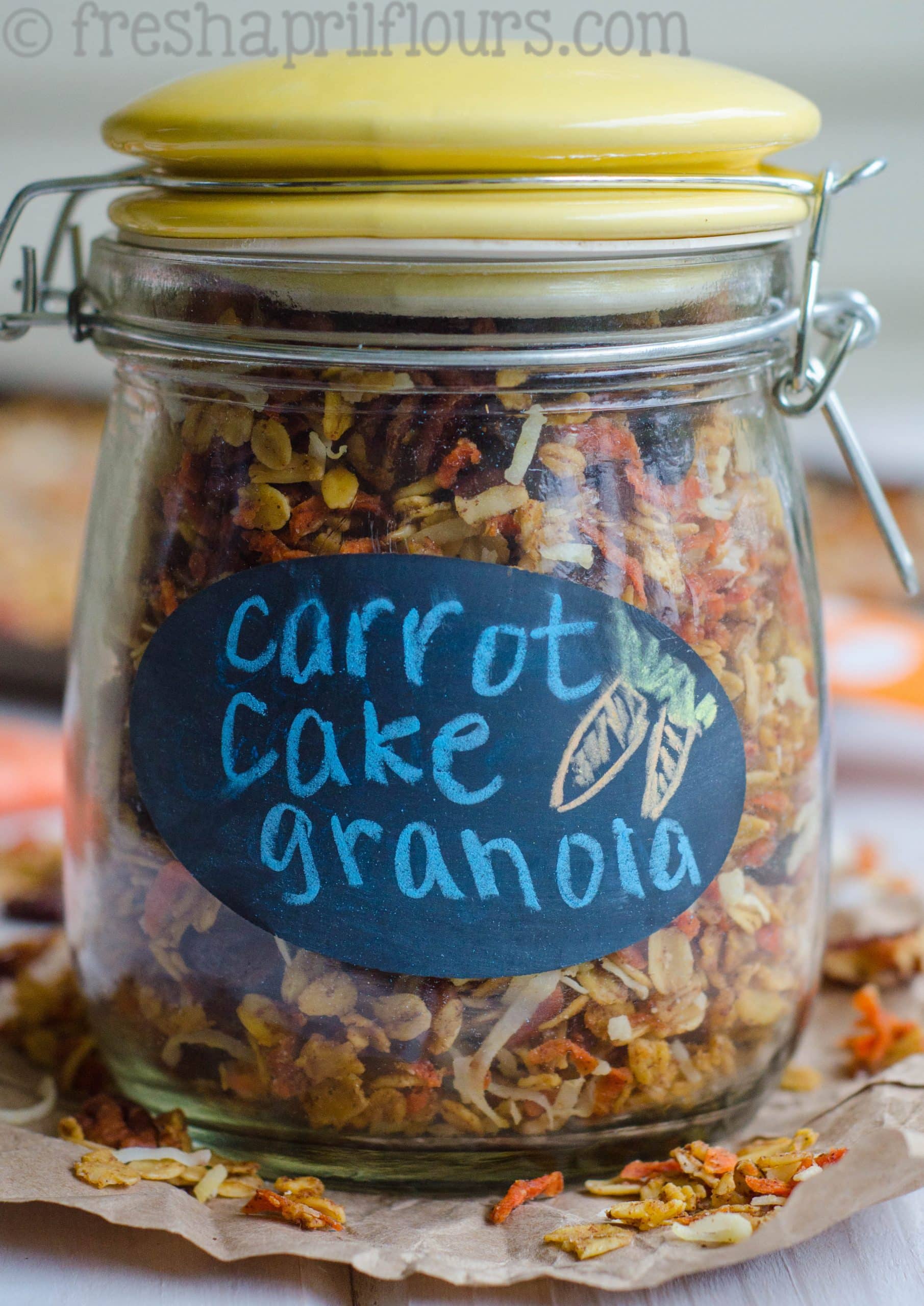 As an Amazon Associate, I earn from qualifying purchases. Read the full disclosure here.
This soft and chewy carrot cake granola is perfectly spicy and full of the best parts of carrot cake.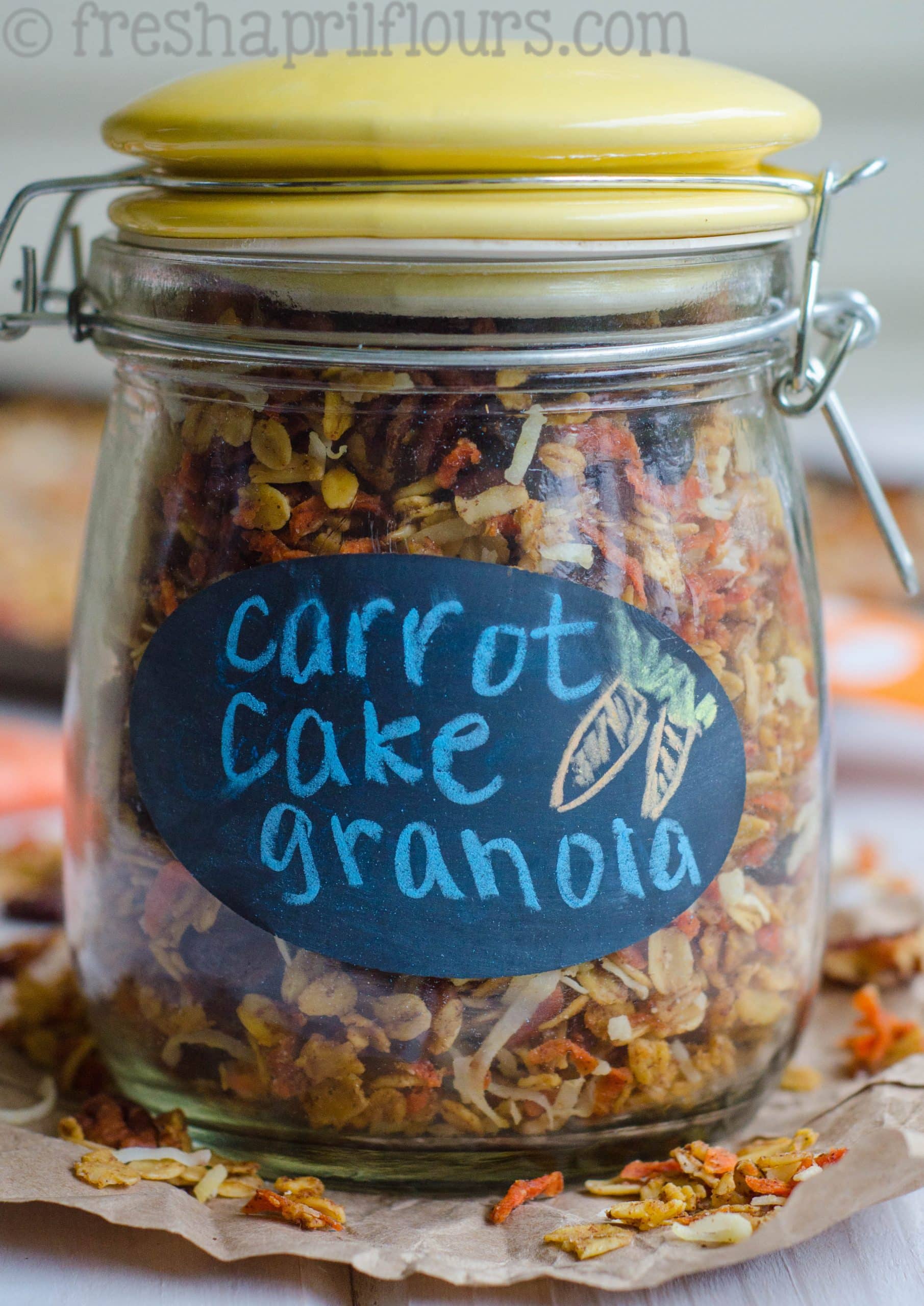 Fun fact about Lynn: carrot cake is one of my top 3 favorite desserts (along with chewy oatmeal raisin cookies and yellow cake with chocolate frosting), and I make an amazing one with the creamiest cream cheese frosting ever.
It's true.
When I owned my own cake baking/decorating business, my carrot walnut cake was my most prized recipe, and I swore I would never share it.
But then I did share it and I have no regrets and you should make it right after you make this granola!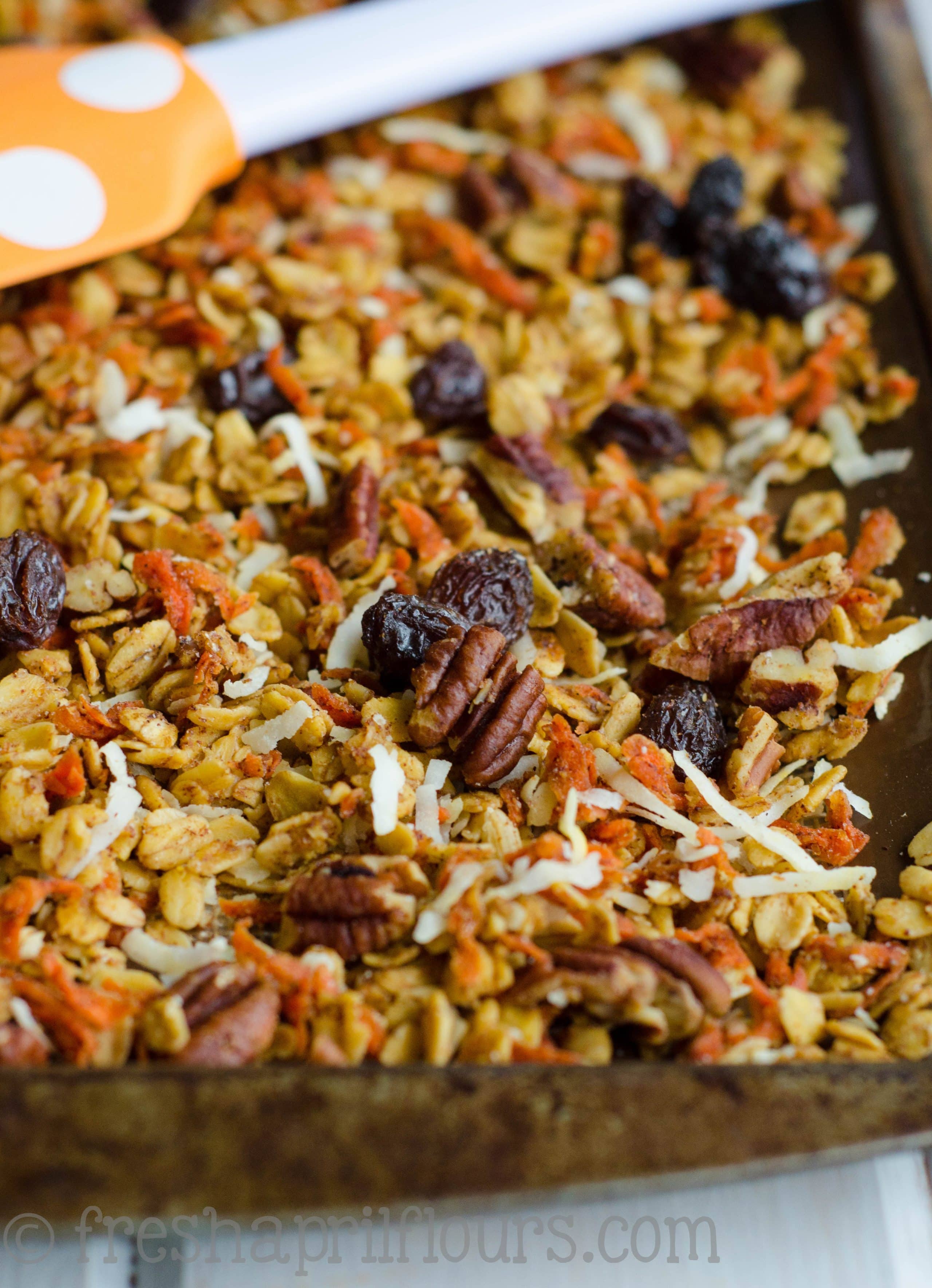 I was inspired to make this perfectly spiced granola when we had a similar snack in our graze box last week. Side note: have you tried graze? This post is not at all sponsored by them (they have no idea who I am), we just really love their stuff… But if you decide to try it out, my code is LYNNA223P!
The snack was deconstructed carrot cake, and it had little gummy carrot fruit snacks, ginger fudge, walnuts and cinnamon flavored raisins in it. It was ahhhhmazing, and so soft-baked carrot cake granola was born in my head.
I knew that granola was easy to make at home, but I jumped the gun a little bit diving right in without knowing what I was doing. I knew I needed oats, some other added goodies, some type of oil, and some sweetener. I just kind of guesstimated with all of that, and I ended up with this.
Yeah.
That was all kinds of burned (yum, burned carrots).
It actually still tasted pretty good, and we totally ate all of it… But it wasn't what I was hoping for, and my loss is your win, because I totally know what not to do, and I'll share all of my tips with you here and in the recipe below.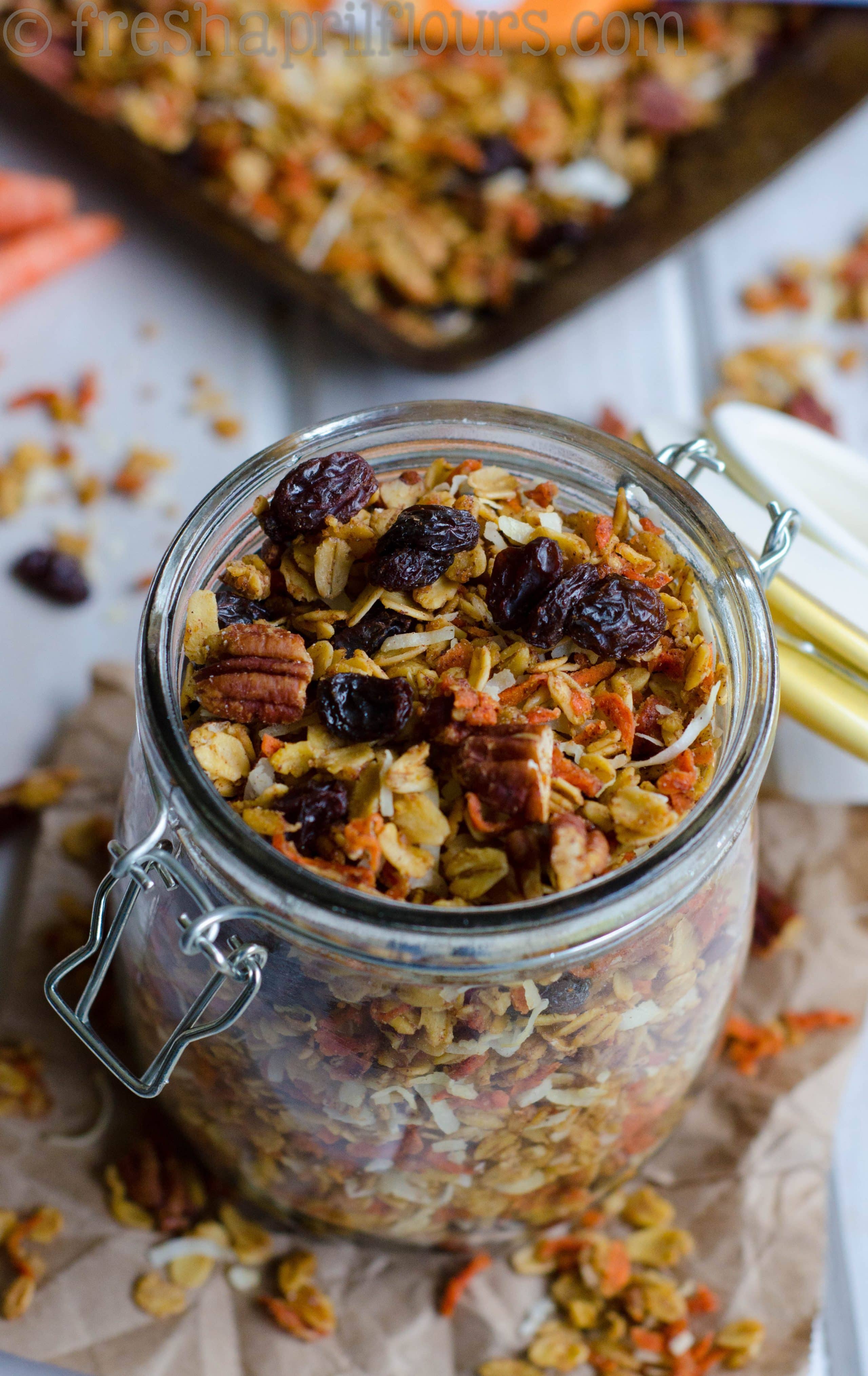 As you probably suspect, the base for this granola is oats, but you must use old fashioned, not quick ones. The quick kind will turn to mush during the granola-ing process. You definitely don't want that.
As I said above, you'll also be working with an oil and a sweetener. Oil encourages the granola to crisp up while the sweetener adds sweetness (duh), but also serves as the "glue" for all of the yummy bits that we want to stick together.
The oil I chose is coconut oil, but you're welcome to use vegetable or canola oil. I prefer coconut because it's healthier and we always have it. Honey is my sweetener of choice, but you could also use agave. Your preferences here!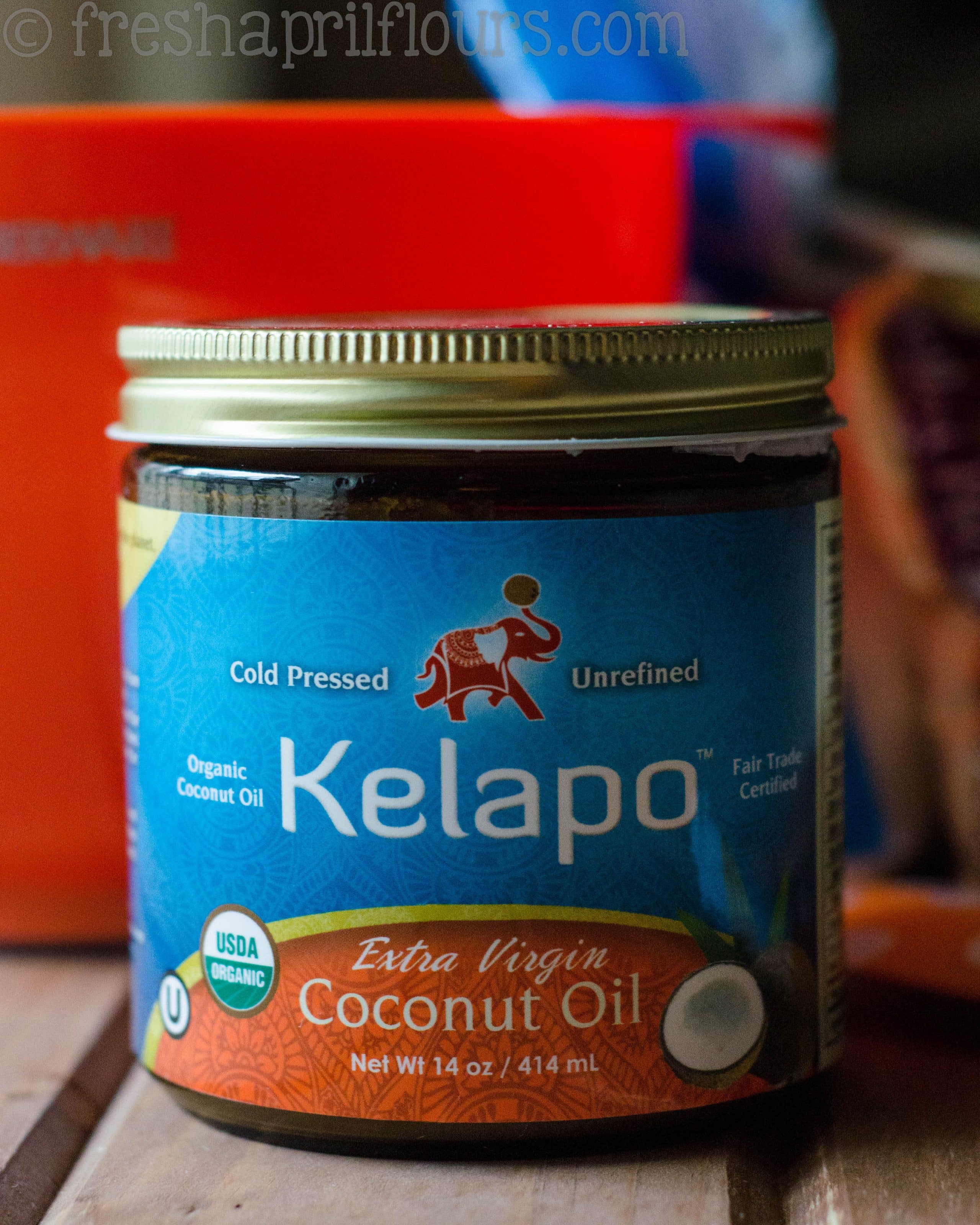 The star of the show is the shredded carrots. I chose to shred my own, but you may certainly use pre-shredded or even shoestring carrots.
Shredding the carrots is the hardest part of this whole process, so to make it even easier to throw together this granola, go with some pre-shredded. I prefer to earn my treats with some elbow grease!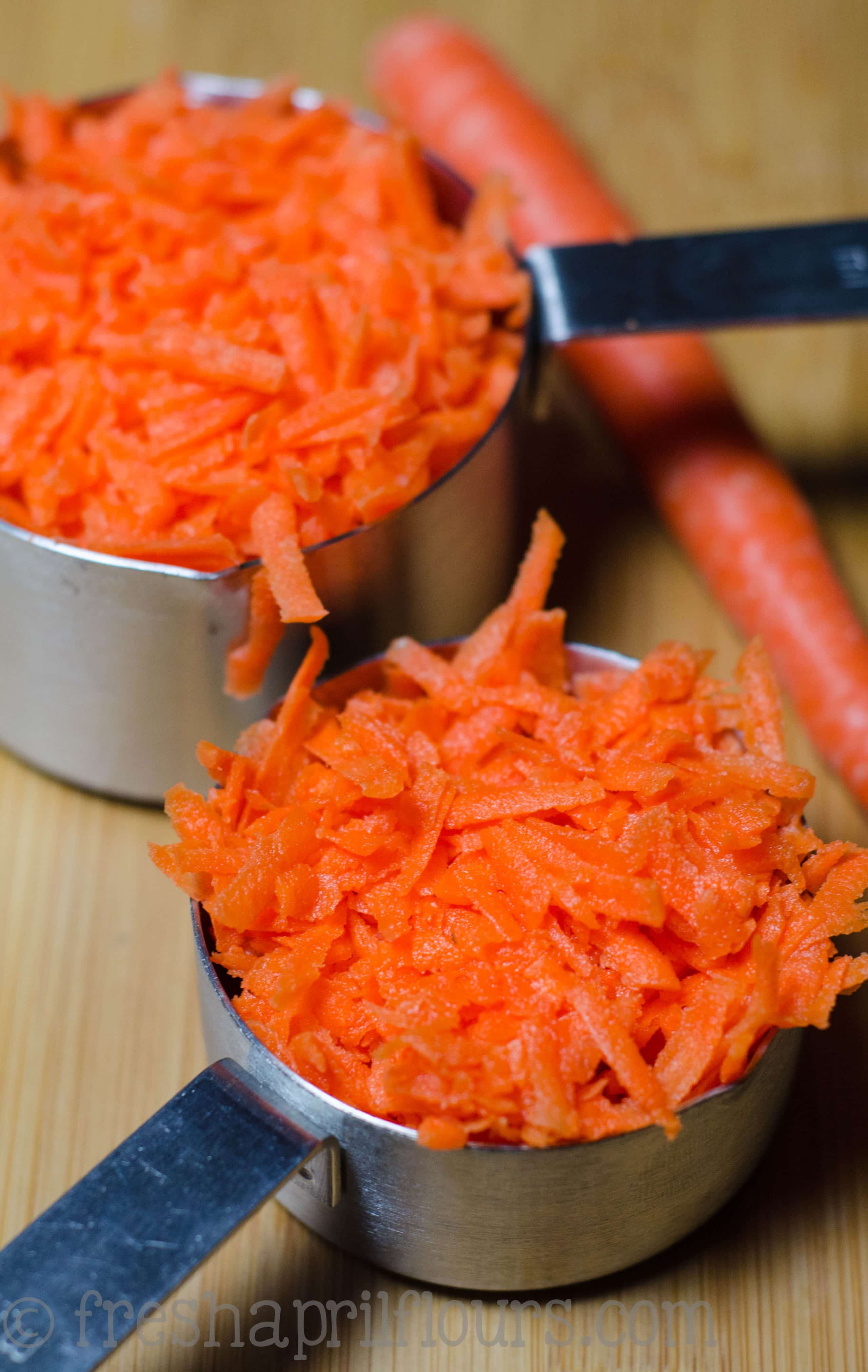 Of course, no carrot cake is complete without nuts. I prefer pecans in my carrot cake because they have a slightly sweet taste to them. You may also use walnuts or even almonds, or totally leave nuts out. Again, your choice!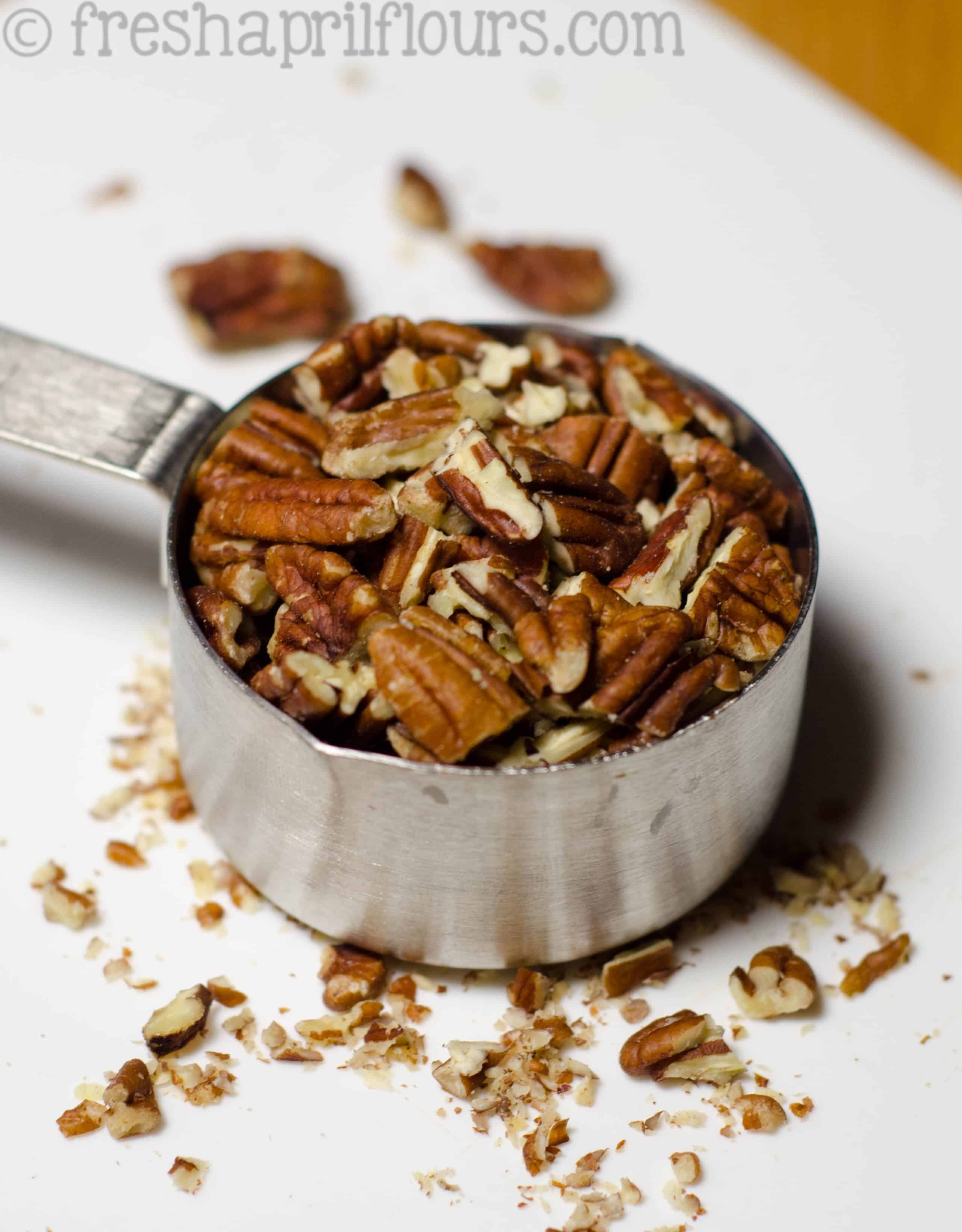 The key to this granola is to bake it low and slow. I decided to keep this granola "soft-bake" because I wanted to emulate a piece of cake as best as I could. Plus, the slightly tender texture is so perfect with all of the flavors going on, and I didn't want to dry out the carrots too much (or burn them, like I did the first time).
You'll add your sweetened coconut in the last 30 minutes of baking. This is also where I went wrong the first time. I added the coconut at the beginning, and it was burned in no time. Add it later. Believe me– it's the best option!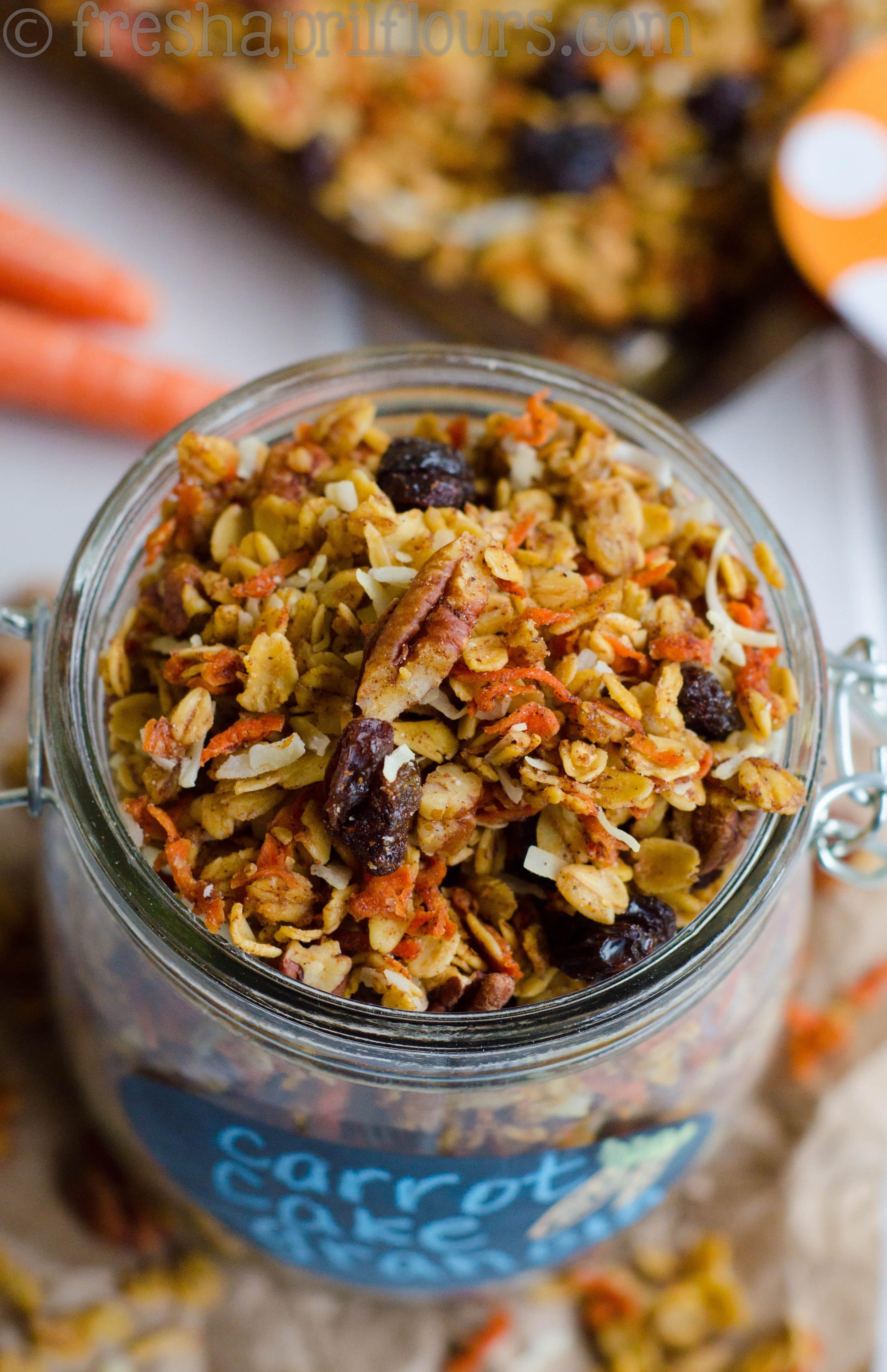 What I wish I had known before I started baking my granola the first time is that it will never feel "crunchy" while it's in the oven.
It took me yearssss to figure this out with cookies.
If they look done, they're over done. That's exactly how granola works. When it's done baking, it will still feel slightly soft and quite moist. It will crisp up as it cools and sits at room temperature, I promise. After it's completely cool, the raisins go in and it's ready to eat!
In a bowl with milk, with a spoon, in your hand, or my favorite, on top of some plain vanilla yogurt…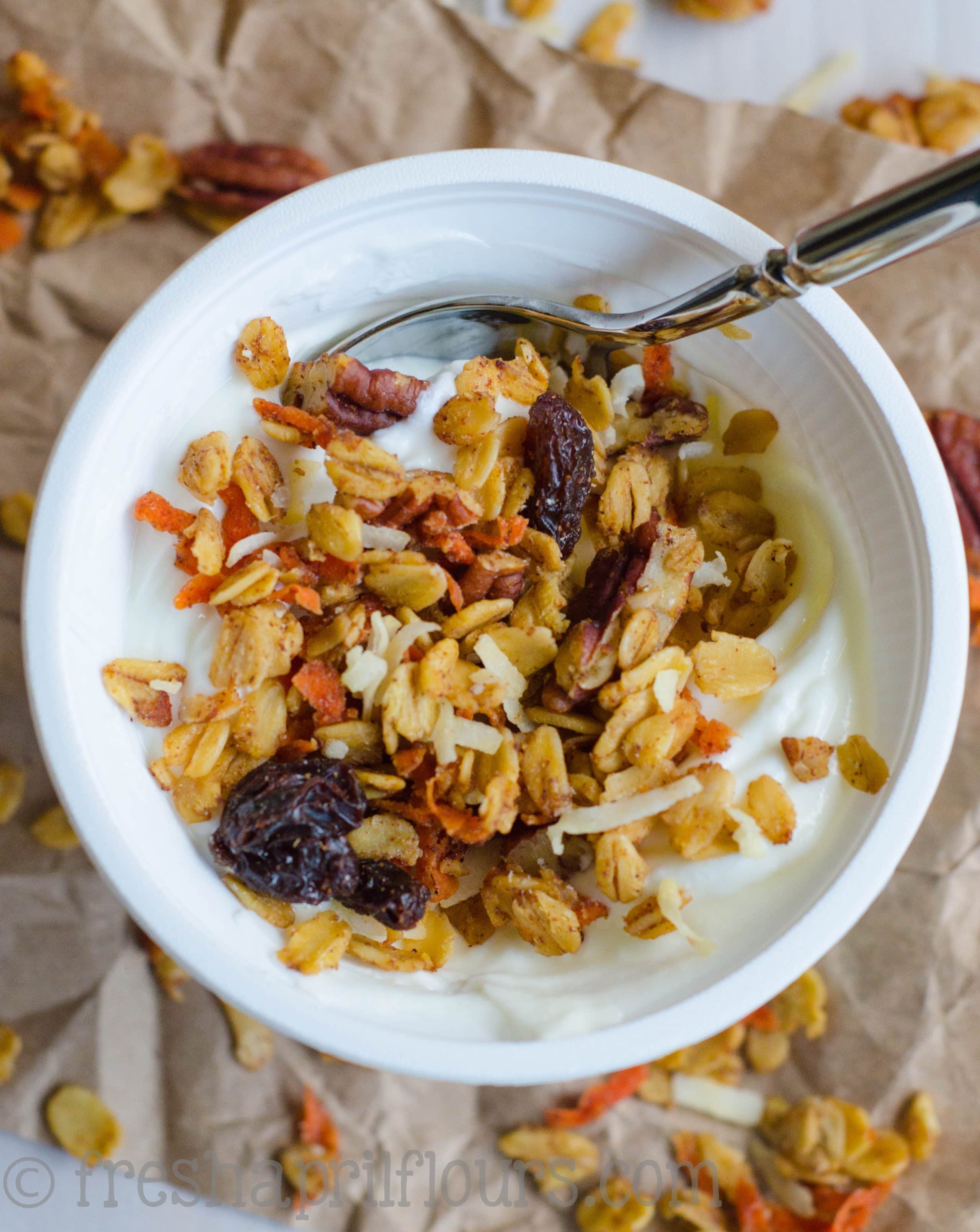 This soft and chewy carrot cake granola is perfectly spiced with cinnamon, allspice, and nutmeg to make it taste just like a slice of carrot cake. The toasted pecans give the granola a nice crunch while the coconut and raisins add a soft sweetness.
Have it with breakfast or just as a snack! But I guarantee, no matter when you decide to try it, you're going to have to try really hard to stop munching.
And no worries, since it's not actually cake, you can definitely feel better about eating the entire batch… Which you might. It's that good.
Love carrot cake as much as I do? Try any of these carrot cake or carrot cake-inspired recipes next: carrot cake baked oatmeal, carrot cake coconut macaroons, carrot cake cupcakes, and my famous carrot walnut cake.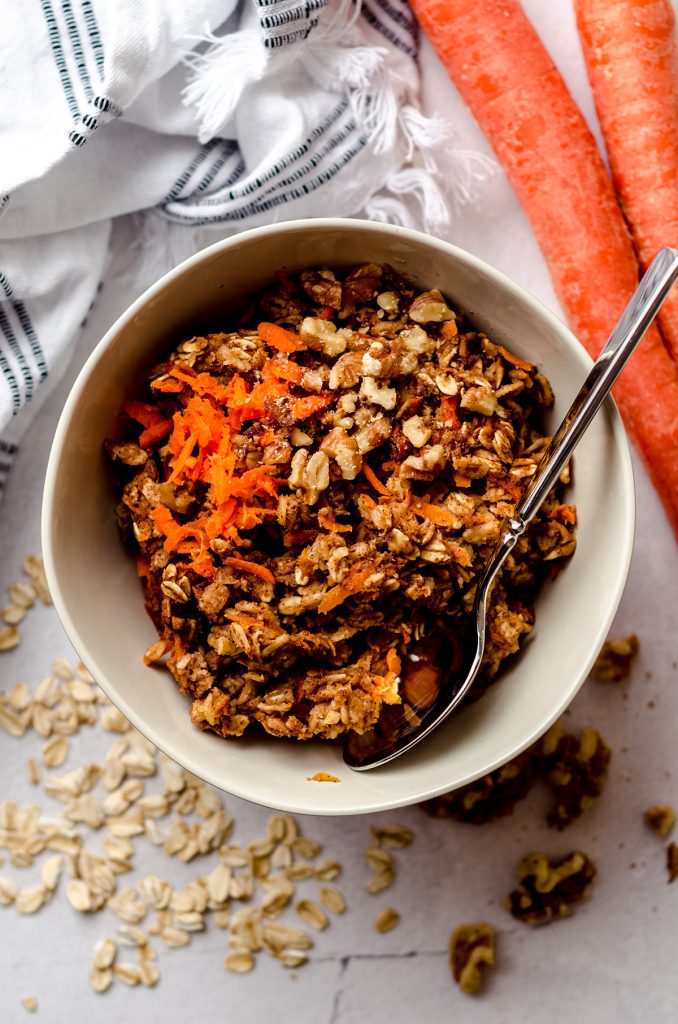 Carrot Cake Granola
This soft and chewy carrot cake granola is perfectly spicy and full of the best parts of carrot cake.
Ingredients
2 and 1/2

cups

old-fashioned oats

not quick*

1/2

cup

coarsely chopped nuts

I prefer pecans

1

teaspoon

ground cinnamon

1/2

teaspoon

allspice

1/2

teaspoon

nutmeg

1/2

teaspoon

salt

1 and 1/2

cups

shredded carrots

approximately 2-3 large carrots

1/2

cup

honey

1/3

cup

melted coconut oil

1

teaspoon

vanilla extract

1/2

cup

sweetened shredded coconut

1/2

cup

raisins
Instructions
Preheat oven to 250ºF. Line a baking sheet with parchment paper or a silicone baking mat. Set aside.

In a large bowl, stir together the oats, chopped nuts, spices, and salt until thoroughly combined. Add shredded carrots and stir well. Set aside.

In a medium bowl, whisk together honey, coconut oil, and vanilla extract until smooth. You may need to heat mixture briefly in microwave if honey and/or coconut oil are not soft. Once mixture is smooth, pour over oat mixture and stir well to coat everything.

Pour granola onto baking sheet and spread out evenly over entire surface. Mixture will be quite wet and sticky. This is ok. Bake for 15 minutes, stir, bake 15 minutes, stir again, bake another 15 minutes, stir once again and then add coconut. Bake an additional 30 minutes. Allow granola to cool completely– the air will help the granola crisp up. Toss in raisins. Granola will remain fresh in an airtight container at room temperature up to 3 weeks.
Notes
*Use certified gluten-free oats to keep this recipe GF friendly!
Nutrition Disclosure
All nutritional values are approximate and provided to the reader as a courtesy. Changing ingredients and/or quantities will alter the estimated nutritional calculations.