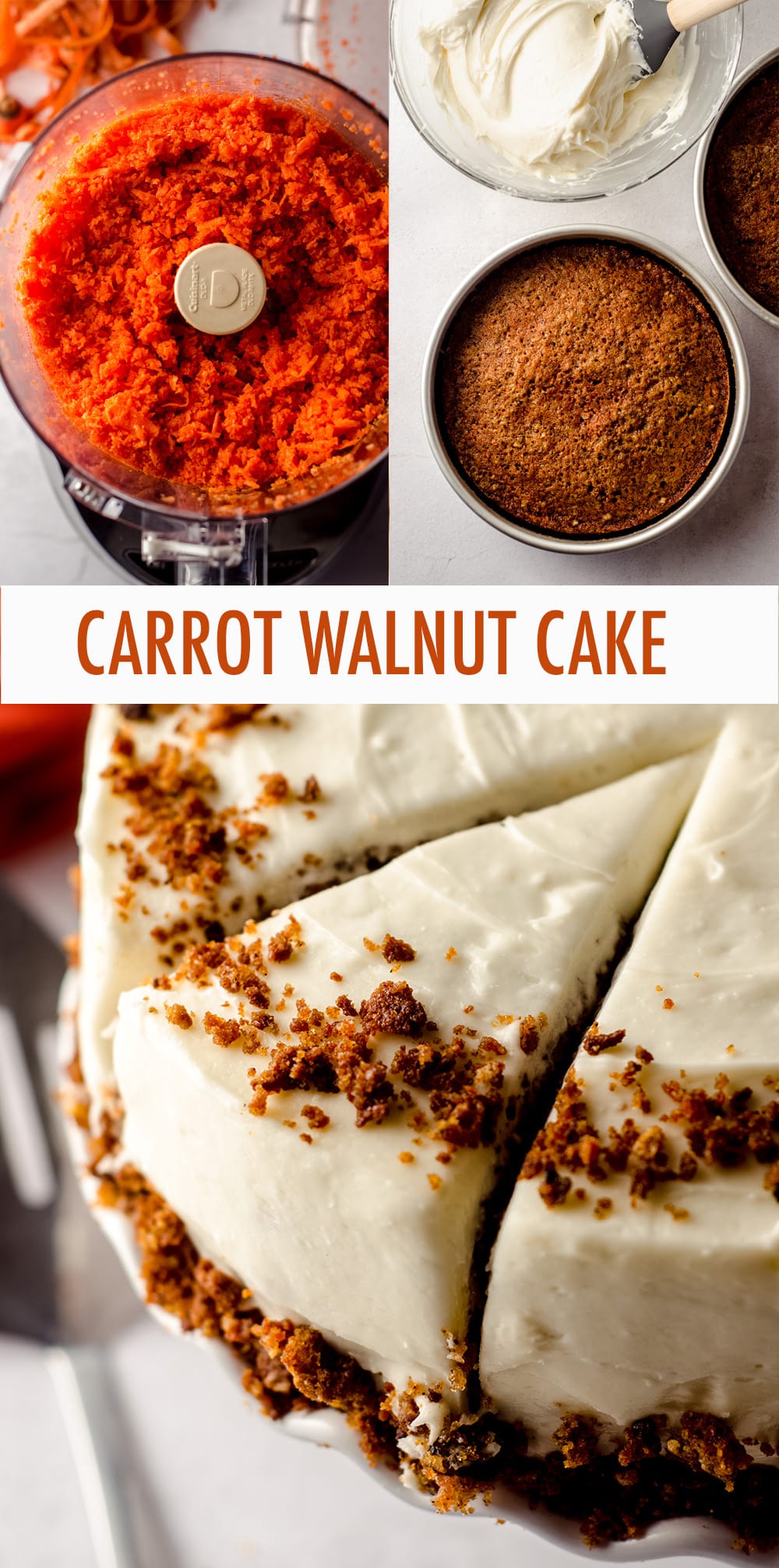 As an Amazon Associate, I earn from qualifying purchases. Read the full disclosure here.
Incredibly moist and flavorful carrot cake filled with crunchy walnuts and covered in a smooth and creamy cream cheese frosting.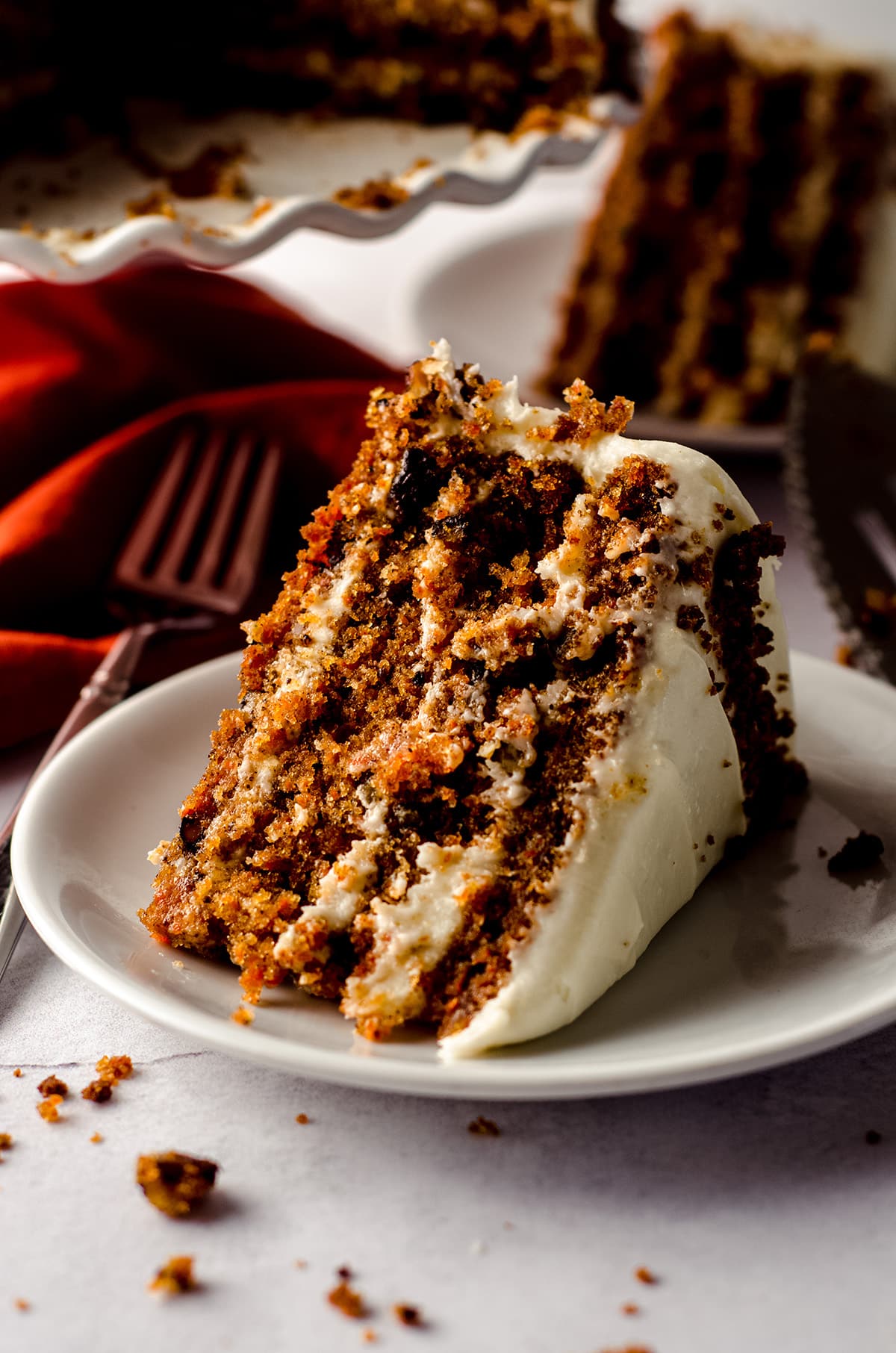 This homemade carrot cake recipe has been a very long time coming, my friends. Very long as in folks have been asking for it since I started my blog in April 2014. And with very good reason.
Prior to starting my blog, I made custom cakes for people– birthdays, showers, weddings, parties. And since I was still working a full time job outside of the house back then (still a dream I get to do THIS as a full time job now!), I made a lot of cakes for coworkers and lunch events.
Whenever I made this carrot cake (or turned it into cupcakes– that information is in the recipe notes!), people went nuts.
In fact, a coworker's husband was a pastry chef, and every year, he requested my carrot walnut cake for his birthday. Flattered, shocked, proud– I was all of the things!
I stewed for many years over whether or not to share my beloved recipe for carrot walnut cake with my readers (and the rest of the internet) because I worked so hard to achieve perfection (a bold statement, I know).
But the more I thought about it, the more I wanted those folks who loved eating my carrot cake to continue to be able to eat it. And this is the best way I know how to share my love of baked goods with the world.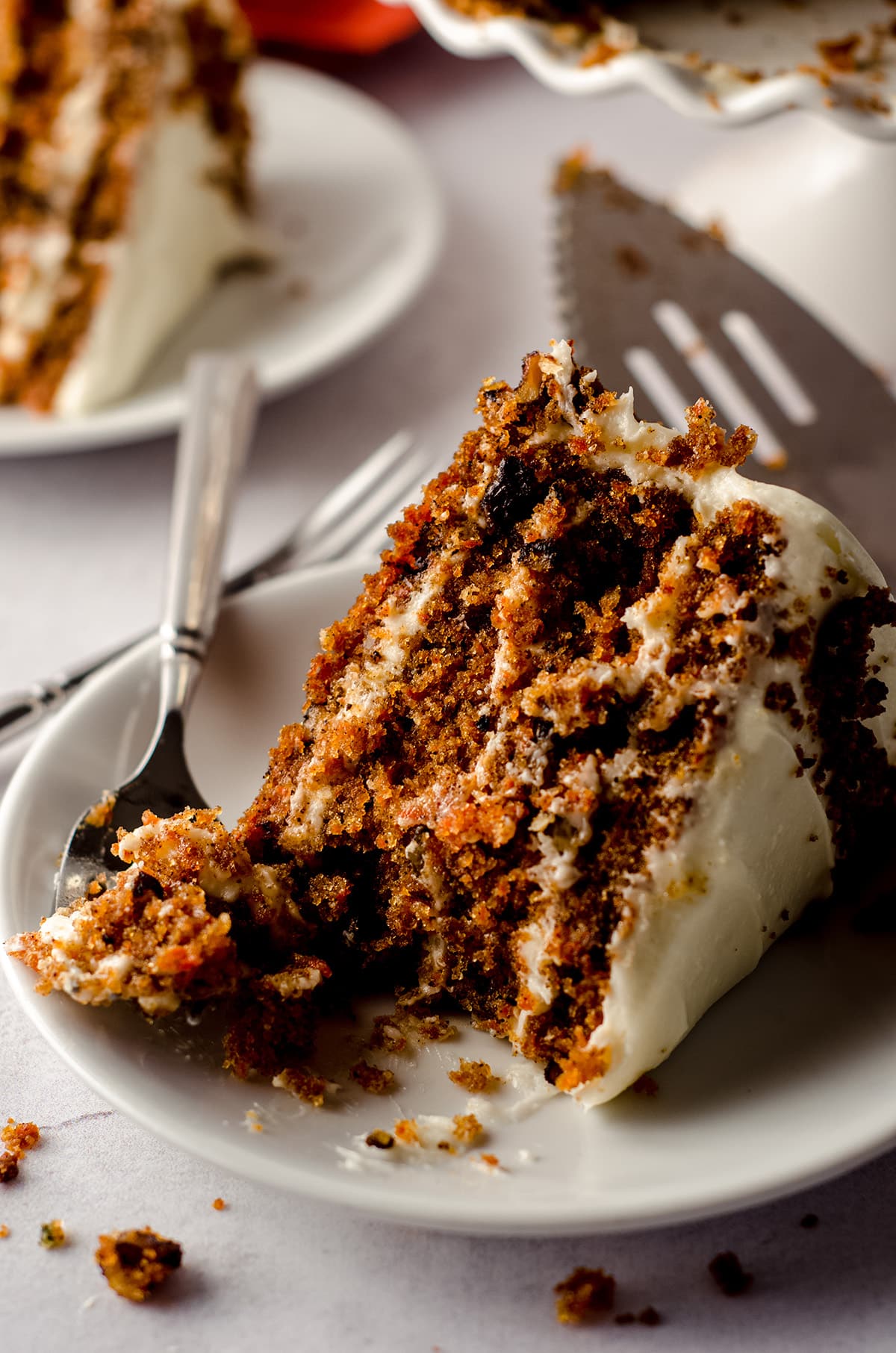 There are a lot of feelings around what should or shouldn't be in carrot cake, and here, you'll find my personal preference. If this is not the way you like your carrot cake, that's perfectly fine. I know this can get as heated as some political issues.
WHAT IS IN THIS CARROT CAKE?
I have always liked my carrot cake with nuts (specifically walnuts), without raisins, and without coconut. To me, those last 2 are borderline sacrilegious, and while I do love me some raisins in my cookies, they do not belong in carrot cake.
Save 'em for the cookies.
Another hotly debated ingredient in cake is butter vs vegetable oil.
It is true that many times, cake made with butter tends to be drier than cake made with vegetable oil, so I tend to prefer it in cakes that aren't meant to have a buttery flavor, such as my white layer cake or my yellow layer cake.
Those cakes are all about the buttery flavor, so butter is the go-to there.
Since my carrot and walnut cake is all about the spice and the carrots (yes, it is about the carrots– we're getting there), vegetable oil is totally acceptable here.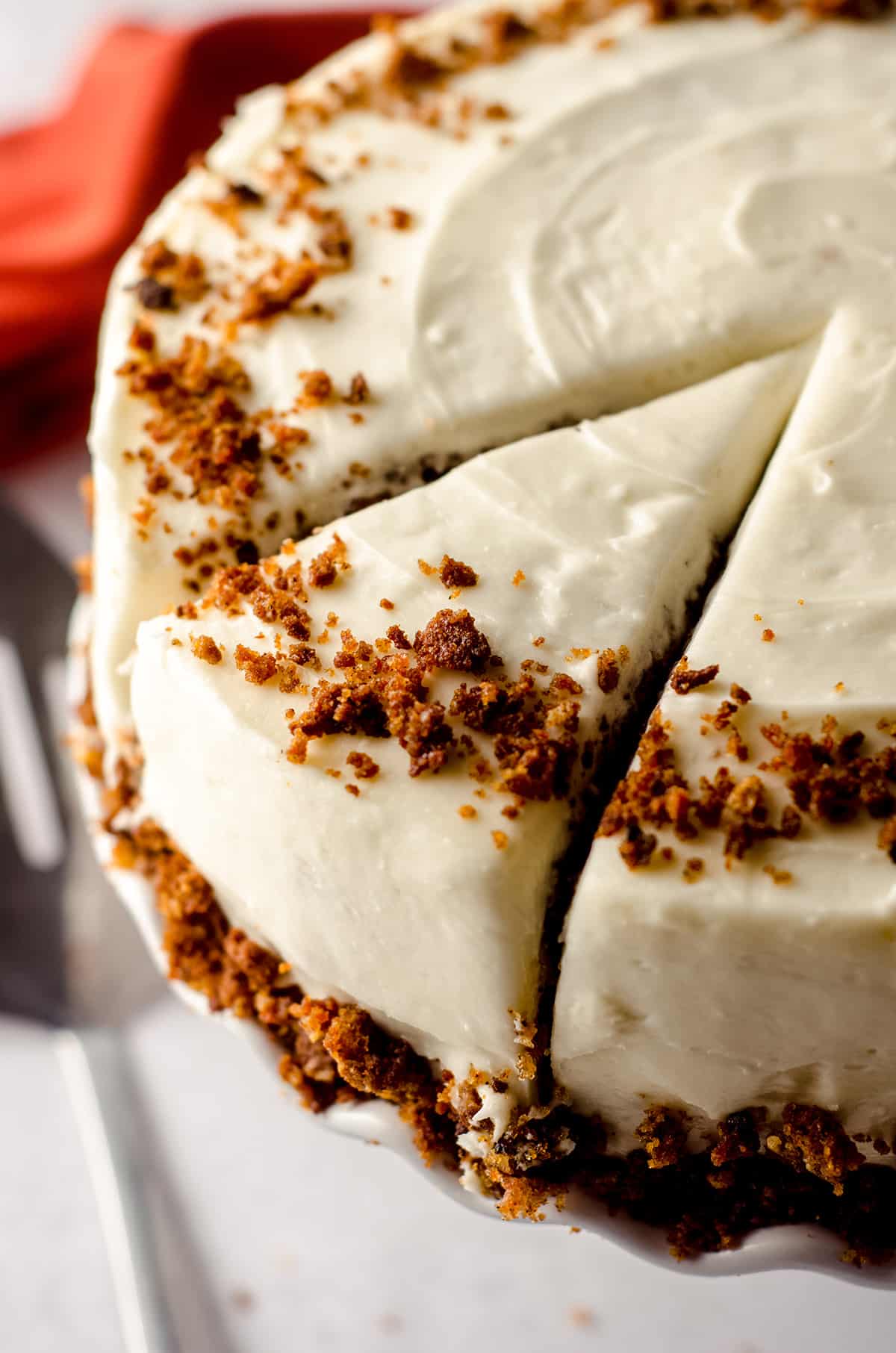 While using vegetable oil will bring a lot of moisture to the cake, the real moist maker (hello, Ross) here is the carrots, and we're getting very specific with the carrots in this carrot cake.
First of all, we're using an entire pound of carrots for one cake. It might seem like a lot, and it is, but this isn't just a sort of carrot cake. This is a full blown carrot cake with walnuts and the carrots really are the star of the show. The walnuts are the secondary star.
The secret to preparing the carrots is to not just shred them, but also finely process them.
My pro tip for preparing the carrots for carrot cake:
Shred the carrots in a food processor, switch out the shredder for the blade, and pulse a few times.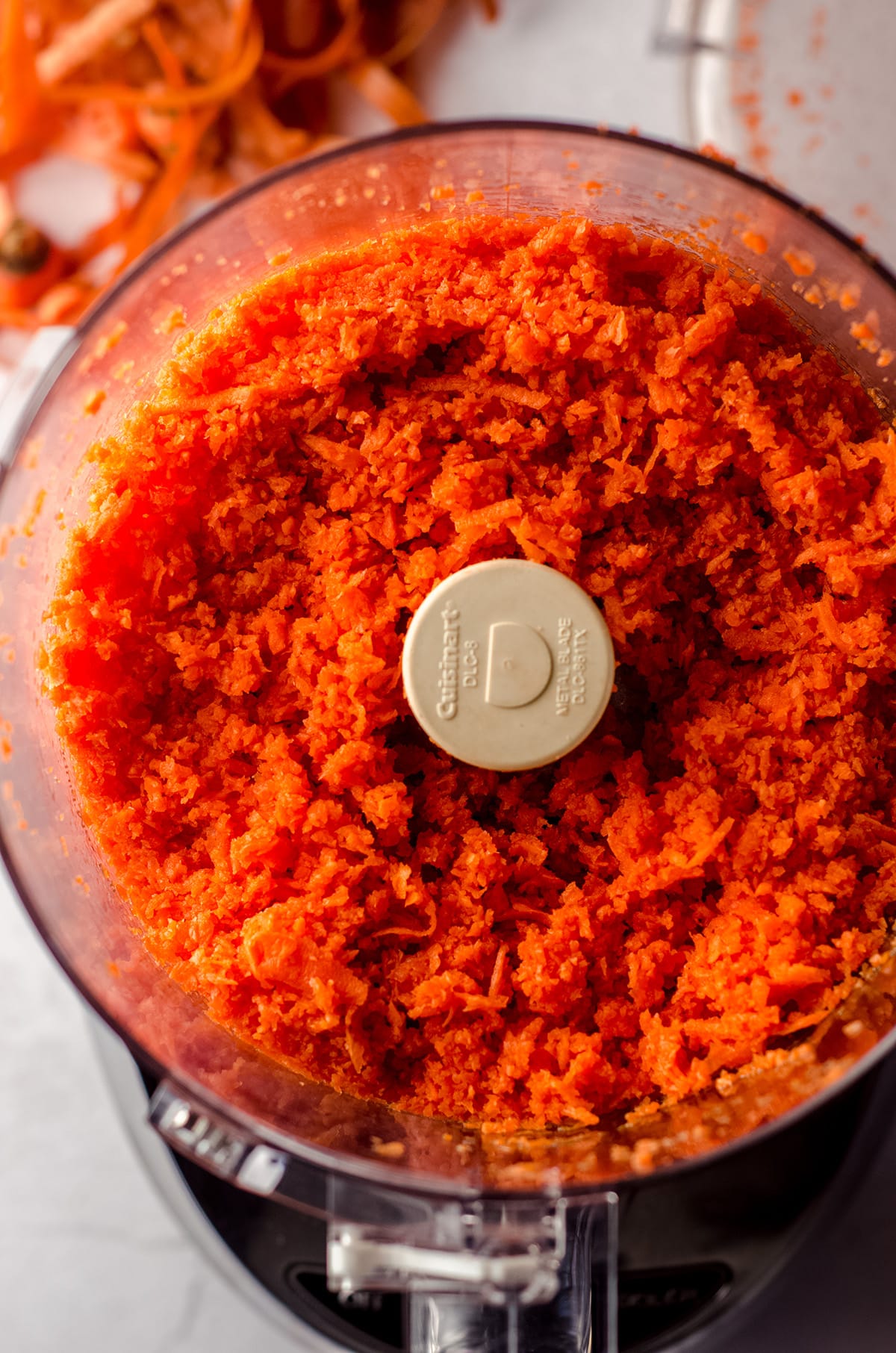 This will insure that you have some very small and fine carrot bits that will get themselves into every nook and cranny of your carrot walnut cake.
The batter will be very orange, and you might start to question "1 pound" of carrots. It is not a typo. I promise, this is where it gets amazing.
The same idea applies to the walnuts– you'll want to chop them very fine so that they distribute through the cake nicely. There is also no need to toast them prior to putting them into the cake. They will toast all on their own while the cakes bake.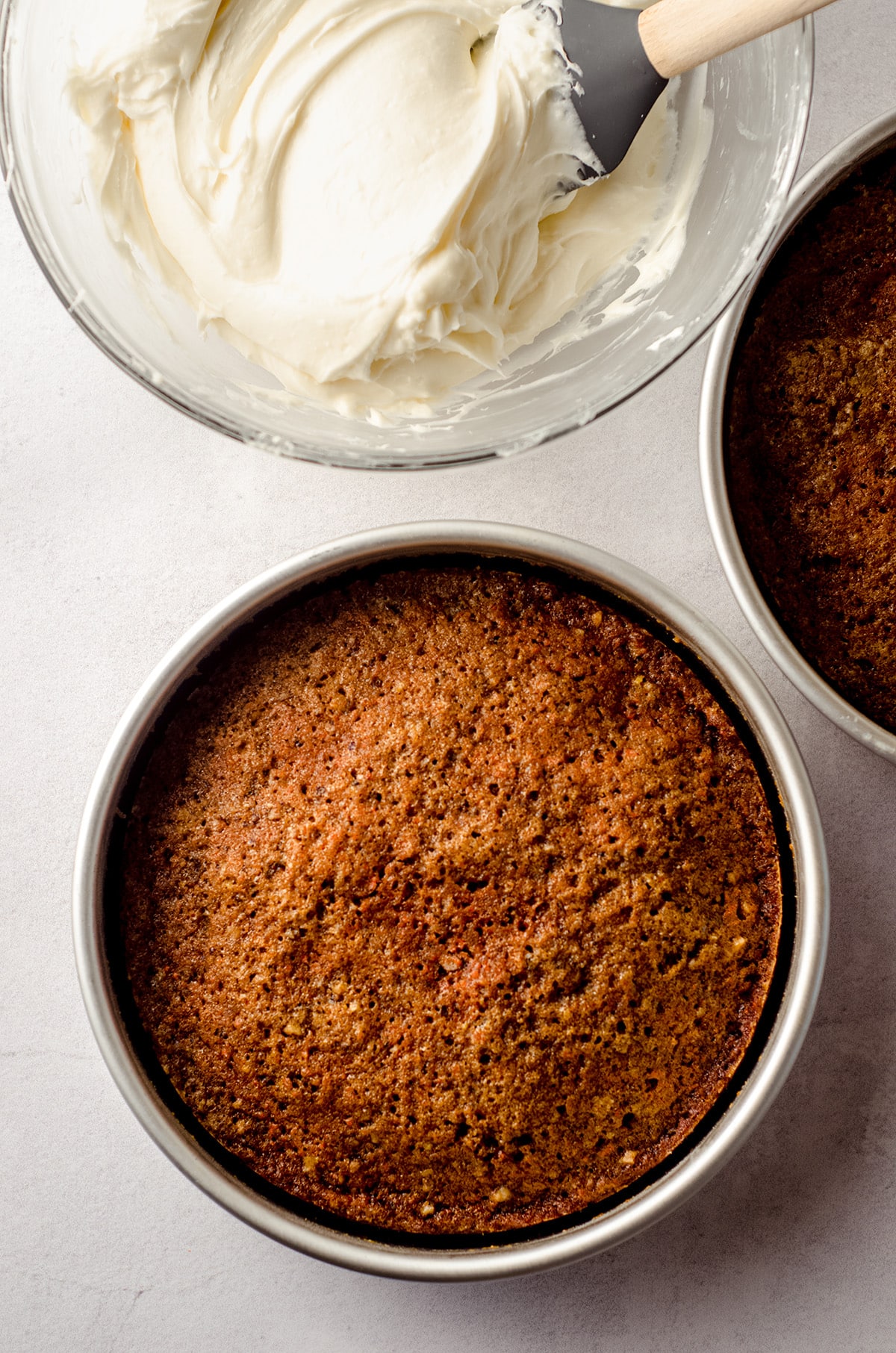 TOP WITH CREAM CHEESE FROSTING
And of course, last but not least, the cream cheese frosting that goes on top is one you've seen before.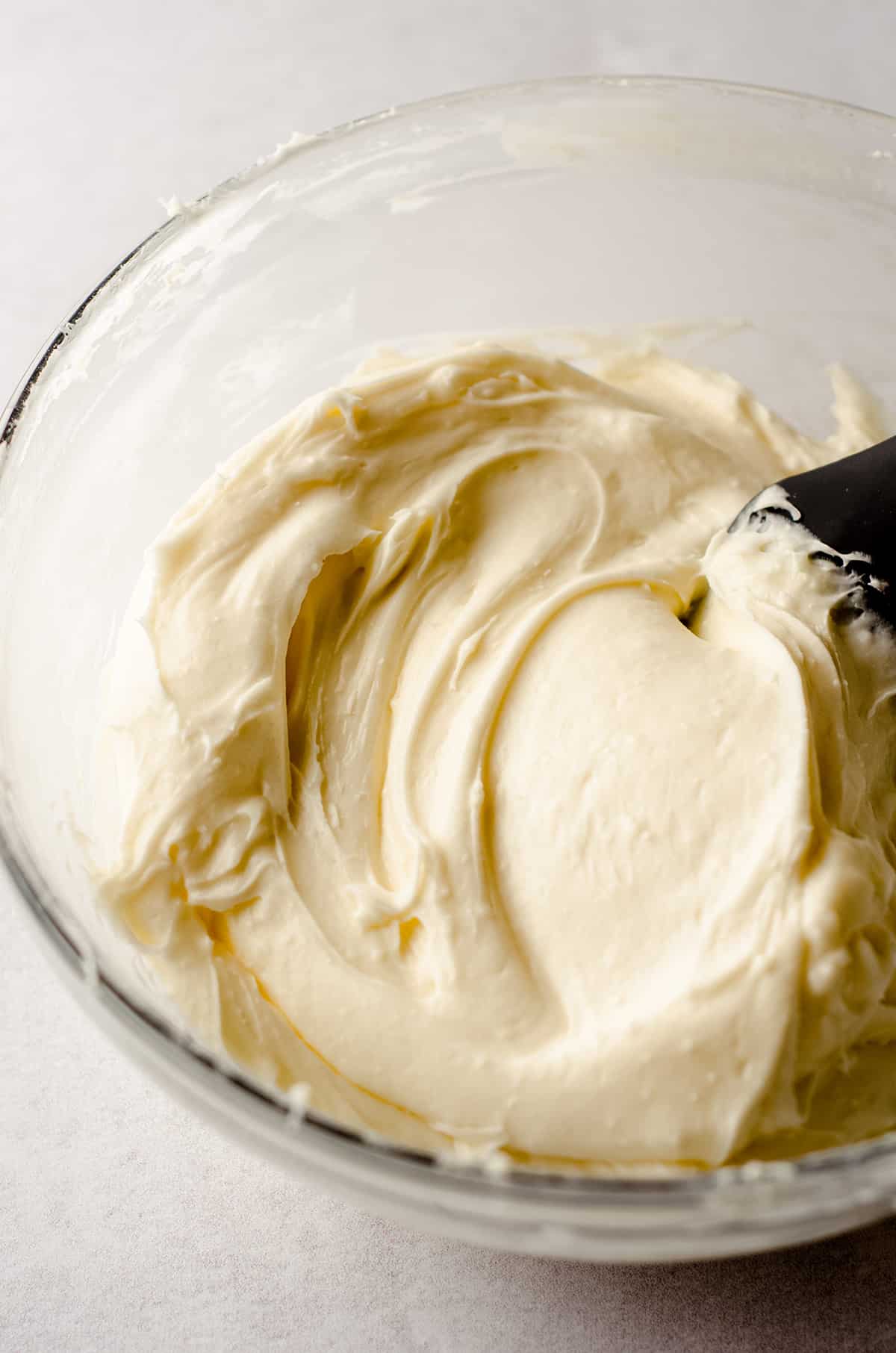 I first brought it with my red velvet cupcakes, and it has since been on top of many cakes and cupcakes since. It's very simple and straightforward and that tang and creaminess makes an excellent complement to all that spice and texture.
I will offer a word of caution: this is an incredibly moist cake. I typically trim each of my 8″ layers in half so I have 4 layers of cake. This carrot walnut cake always makes me work a little harder because it is so moist.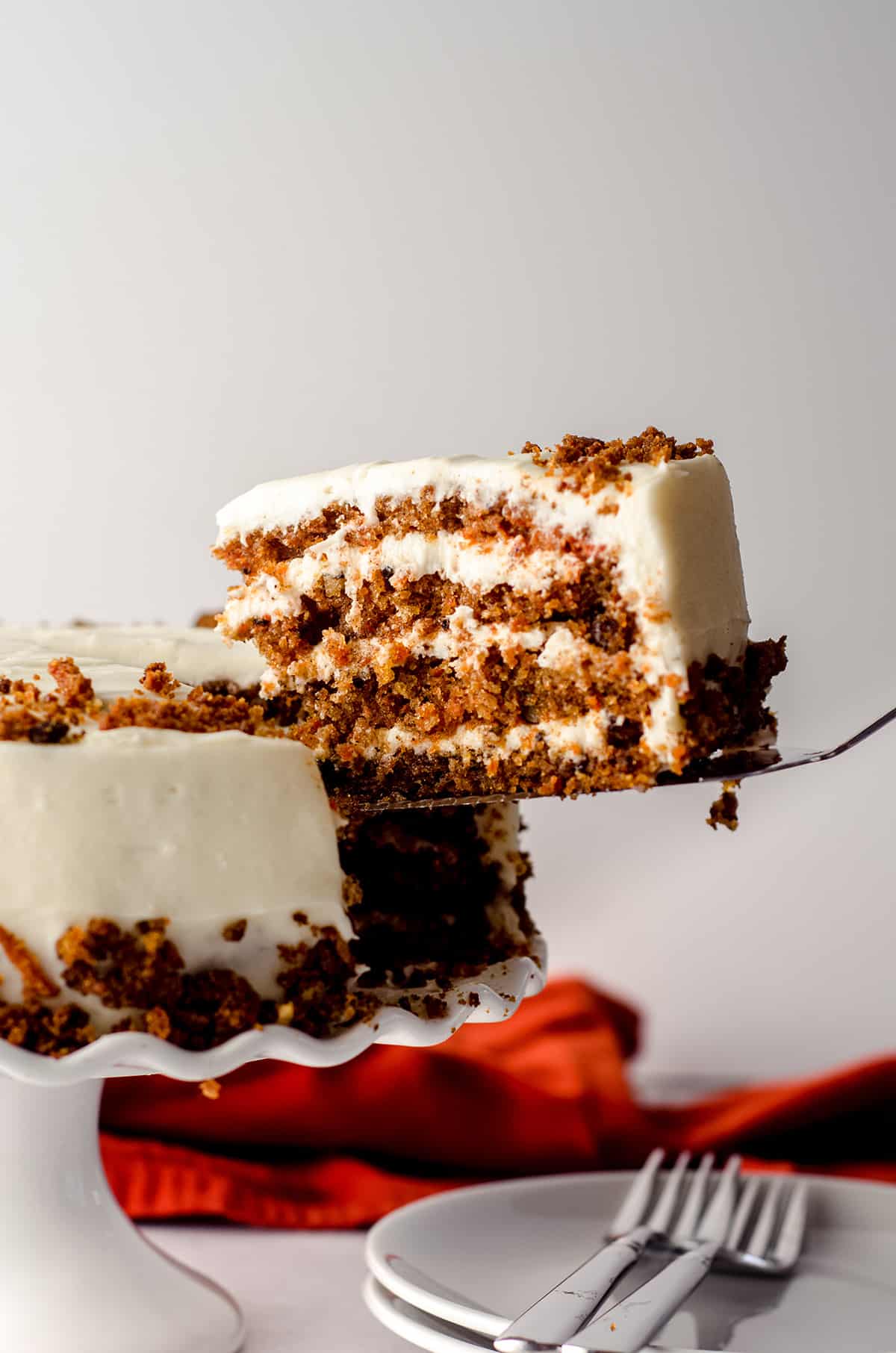 If you aren't super comfortable with trimming and making multi-layer cakes, just stick to the 2 layers. I just prefer the way 4 layers looks in photos!
Since I know just how good this cake is, I distributed it to many taste testers. I had 12 adult taste testers in total and 1 toddler (the other toddler refused because the cake was orange, but he sure did love the frosting!).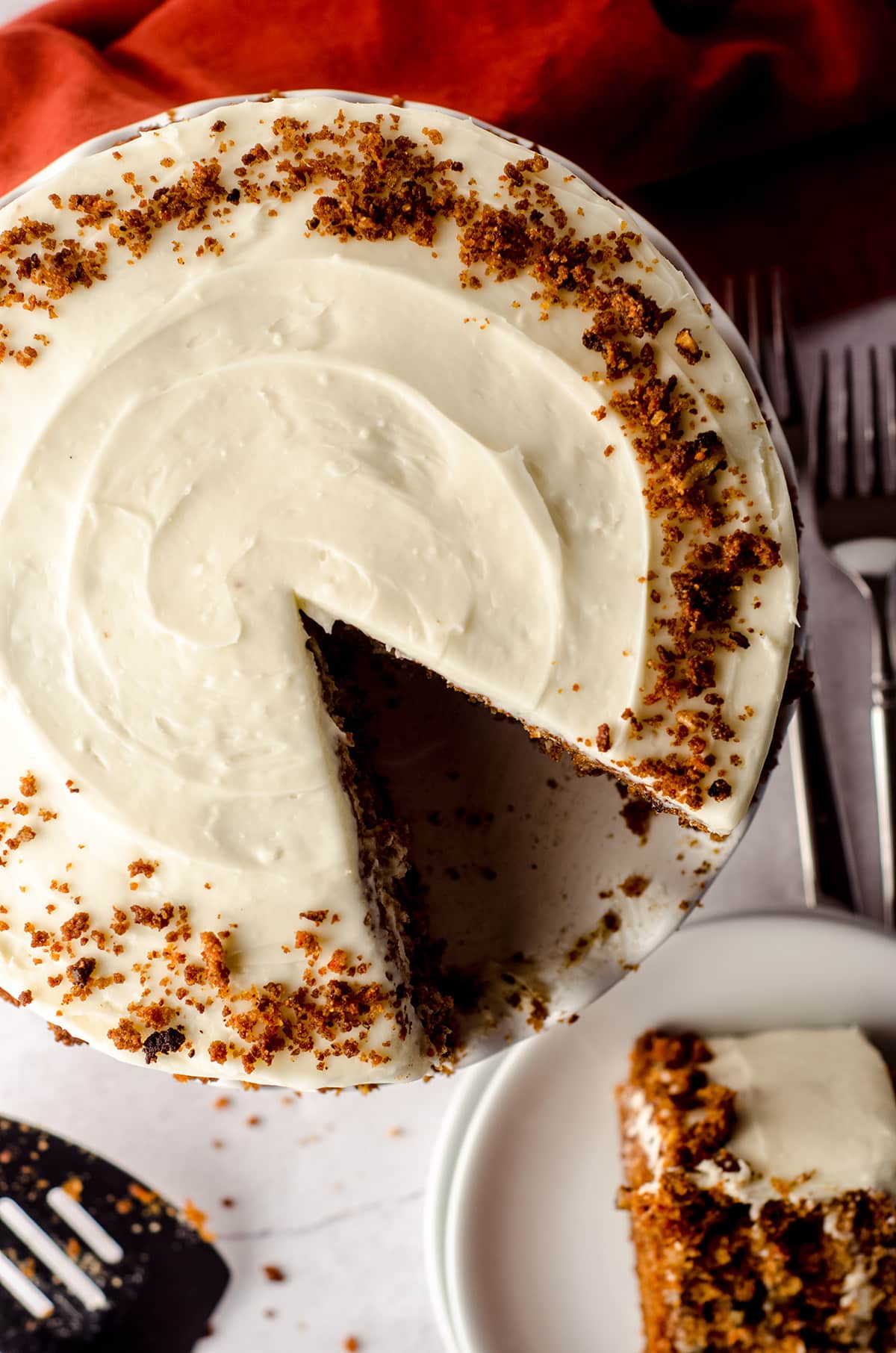 All around rave reviews. One self-proclaimed non-carrot cake lover even hesitated to take a piece, but I asked her to just try it and see if maybe it was other carrot cakes she didn't like and whether or not my very best carrot walnut cake recipe to ever exist was the missing piece. And it was.
I asked for her honest opinion and she said "I have never in my life had a carrot cake that tasted like that." I told her that it was perfectly fine to live the rest of her life "not liking carrot cake except Lynn's."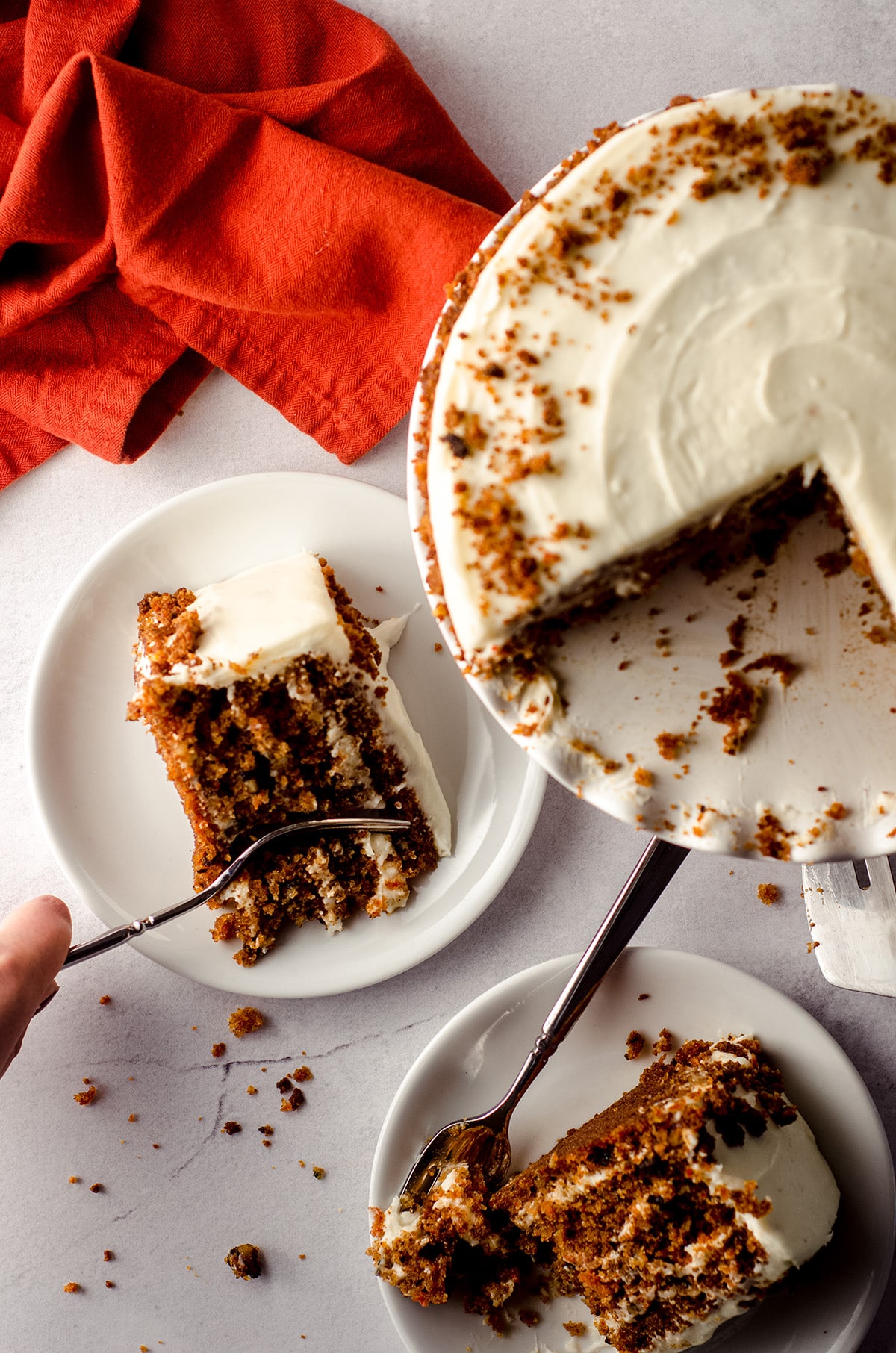 There is truly a piece of my heart here on my blog with this carrot walnut cake recipe.
I hope that you will invite it into your kitchen and love it as much as we and so many others have. I've always said my blog and my cookbook were my first babies, but sometimes I wonder if perhaps this recipe was.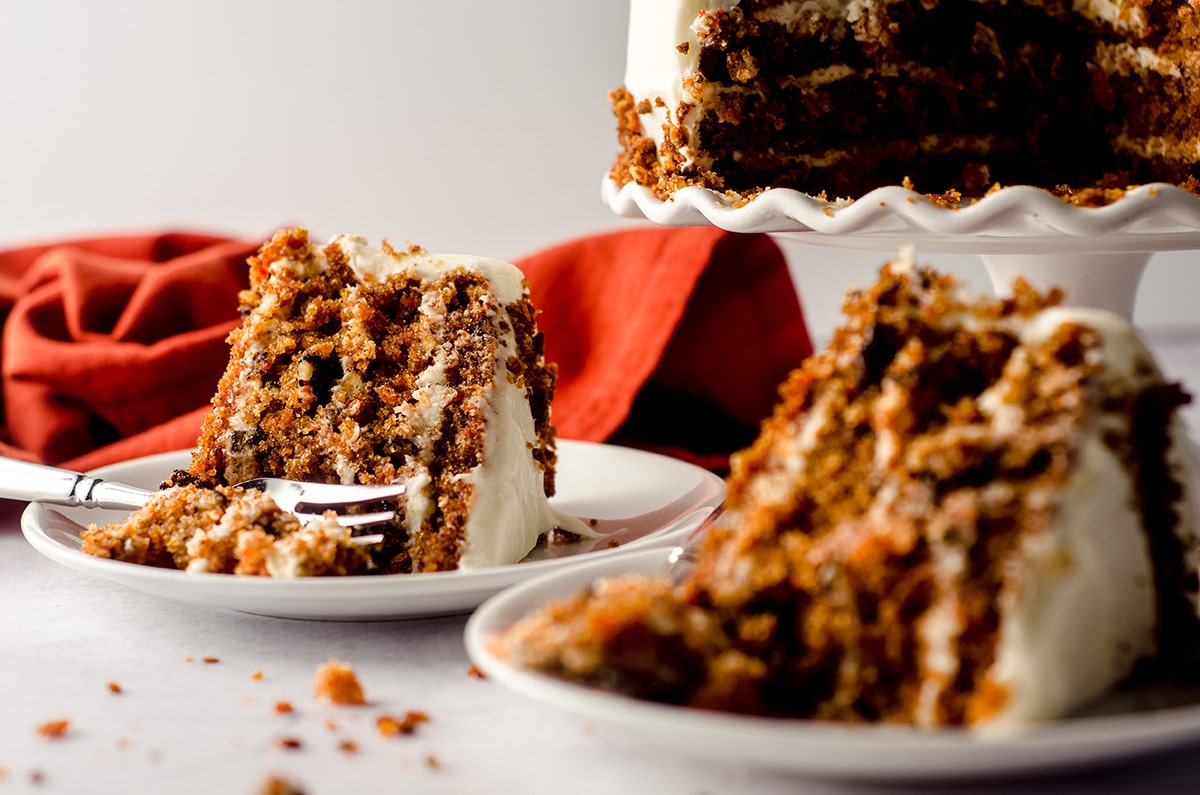 I am so confident that this is the best homemade carrot cake recipe you'll ever find… And I can't wait for you to try it!
Love carrot cake as much as I do? Try my carrot cake cupcakes, carrot cake baked oatmeal, carrot cake coconut macaroons, or carrot cake waffles next!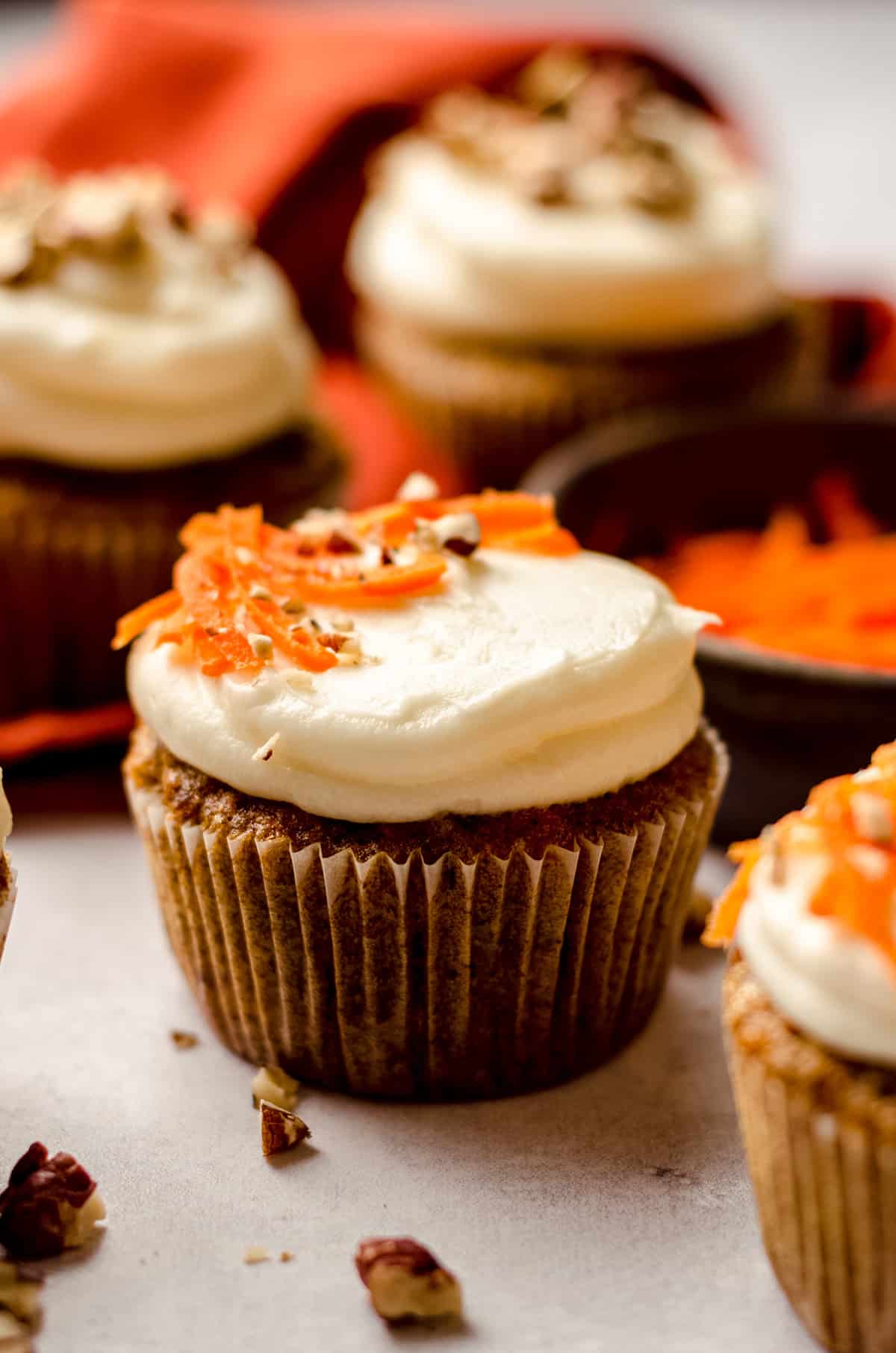 More Favorites from Fresh April Flours
Carrot Walnut Cake
Incredibly moist and flavorful carrot cake filled with crunchy walnuts and covered in a smooth and creamy cream cheese frosting.
Ingredients
CARROT WALNUT CAKE
1 and ½

cups

(180g) all-purpose flour be sure to measure properly

1 and ½

teaspoons

baking soda

1 and ½

teaspoons

ground cinnamon

¾

teaspoon

ground nutmeg

¾

teaspoon

ground allspice

¼

teaspoon

salt

1 and ½

cups

(300g) granulated sugar

1

cup

+ 2 Tablespoons (245g) vegetable oil

3

large eggs

1

pound

(454g) carrots peeled and shredded/finely processed1

3

ounces

walnuts

finely chopped
CREAM CHEESE FROSTING
8

ounces

(225g) full fat block cream cheese

softened to room temperature

½

cup

(113g) unsalted butter

softened to room temperature

3 and ½

cups

(420g) powdered sugar

2

teaspoons

vanilla extract

⅛

teaspoon

salt
Instructions
CARROT WALNUT CAKE
Preheat the oven to 350ºF (177ºC). Grease and flour two 8" round cake pans, or use homemade cake release. Set aside.

In a medium size bowl, whisk together the flour, baking soda, cinnamon, nutmeg, allspice, and salt. Set aside.

In a large bowl, whisk together the sugar and vegetable oil until completely combined. Whisk in the eggs one at a time until everything is incorporated.

Pour the dry ingredients into the wet ingredients and stir with a spatula until batter starts to come together. Add the carrots and the walnuts and continue to mix until everything is evenly combined.

Pour the batter into the prepared pans and bake for 30-34 minutes, or until a toothpick inserted in the center of the cake comes out clean. Remove from oven and allow cakes to cool in the pans completely on a wire rack before removing and assembling.
CREAM CHEESE FROSTING
In a large bowl with a handheld mixer or the bowl of a stand mixer fitted with the paddle attachment, beat the cream cheese and butter together on high speed until smooth and creamy.

With the mixer on low, add the powdered sugar, vanilla, and salt, then increase the mixer speed to medium-high and beat for 2 minutes.
ASSEMBLE THE CAKE
For a 2 layer cake: place one layer, bottom side up, on a plate or cake stand. Using a spatula or knife, spread an even layer of frosting4 over the entire surface. Place the second layer on top, bottom side down, and press down on the top lightly. Spread the rest of the frosting on the cake, beginning with the top and working your way down the sides. Decorate2 as desired.

For a 4 layer3 cake: split each layer into two smaller layers using a cake leveler or serrated knife and repeat steps for 2 layer cake. Cake stays fresh covered at room temperature for up to 4 days. Cake may be covered and refrigerated for up to 7 days.

Make ahead: prepare cakes and frosting up to 1 day in advance. Cover cakes tightly and keep at room temperature or in the refrigerator until ready to assemble. Refrigerate prepared frosting in an airtight container until ready to use. Unfrosted cake layers may be frozen, wrapped tightly, up to 2 months. Thaw overnight in the refrigerator before assembling. Frosted cake can be frozen, wrapped tightly, up to 2 months. Thaw overnight in the refrigerator and bring to room temperature before serving.
Notes
Carrots: I like to use a food processor to shred the carrots, then replace the shredder with the blade and pulse a few times to turn some of the shreds into finely processed carrots. This brings the best moisture and texture to the cake.
Decorating the cake: if you want extra frosting for piping borders or designs, I suggest doing 1.5x the cream cheese frosting recipe.
Four layer cake: this is a very moist cake, which makes splitting the two layers in half a bit tricky. If you are not comfortable with cake trimming and multi-layered cakes, I suggest sticking to just the 2 layers.
Frosting: I also recommend my maple cinnamon cream cheese frosting for this cake.
Cupcakes: this recipe yields about 24 standard cupcakes. Bake time is 20-24 minutes. If you only want 12 cupcakes, use my carrot cake cupcakes recipe.
To make 8×8 carrot cake: cut the recipe for the cake and the frosting in half. Bake time is approximately 30-32 minutes. To use half of an egg, break it into a bowl, whisk it like you're going to scramble it, and use 2 Tablespoons.
Nutrition Disclosure
All nutritional values are approximate and provided to the reader as a courtesy. Changing ingredients and/or quantities will alter the estimated nutritional calculations.
Serving:
1
slice
|
Calories:
619
kcal
|
Carbohydrates:
78
g
|
Protein:
8
g
|
Fat:
32
g
|
Saturated Fat:
9
g
|
Polyunsaturated Fat:
14
g
|
Monounsaturated Fat:
7
g
|
Trans Fat:
0.4
g
|
Cholesterol:
64
mg
|
Sodium:
386
mg
|
Potassium:
244
mg
|
Fiber:
2
g
|
Sugar:
62
g
|
Vitamin A:
6624
IU
|
Vitamin C:
2
mg
|
Calcium:
101
mg
|
Iron:
1
mg