Soft-Baked Pumpkin Pie Granola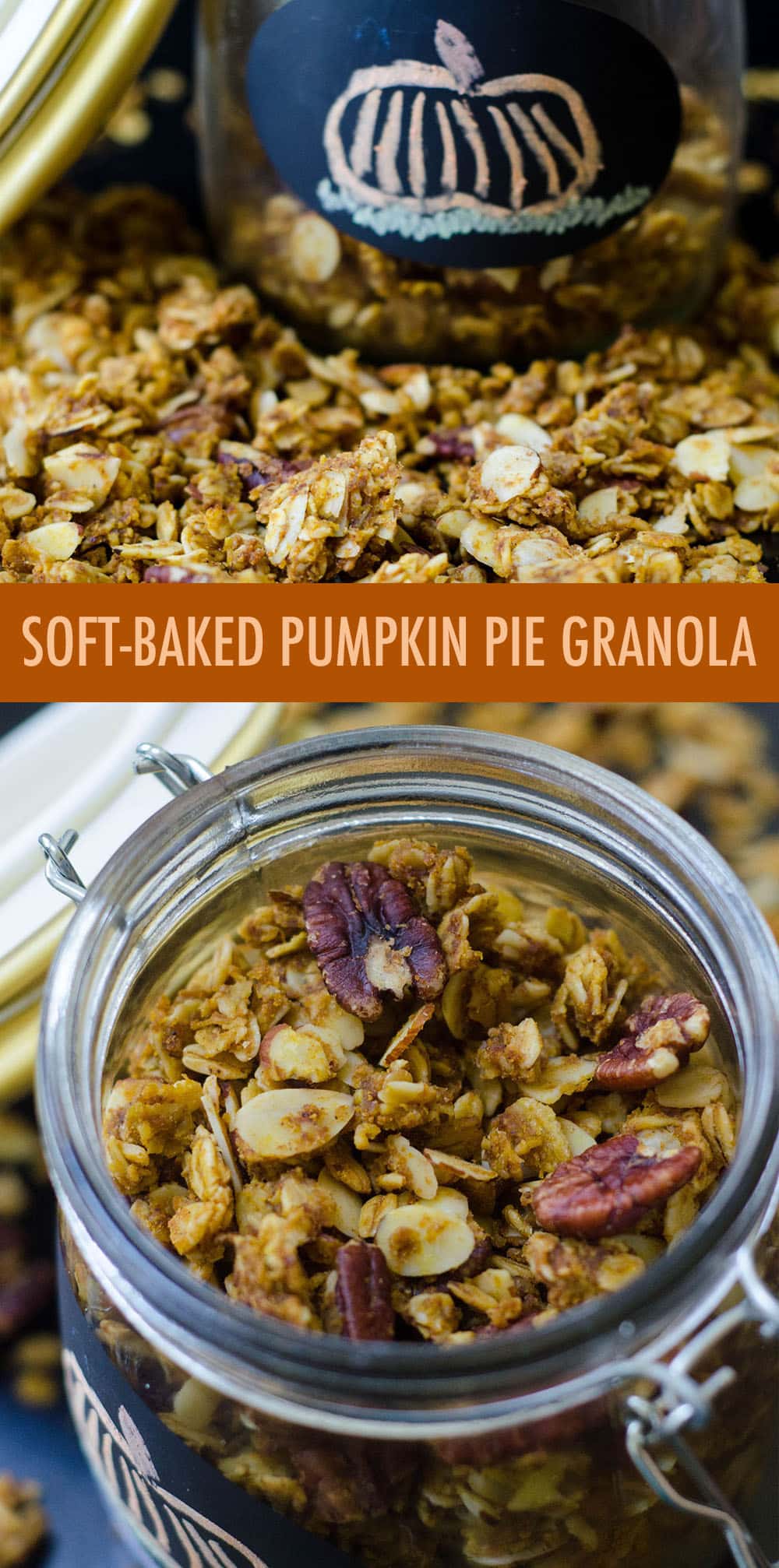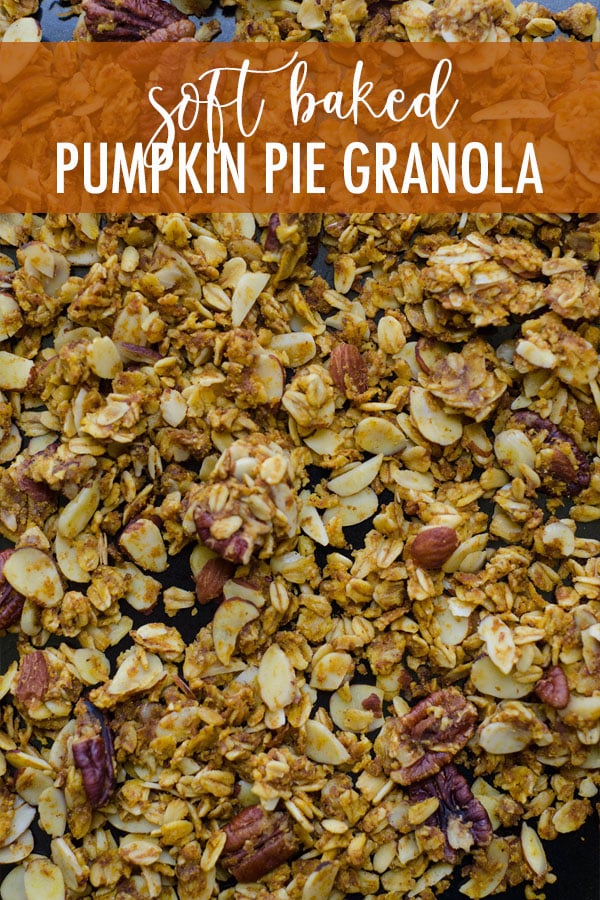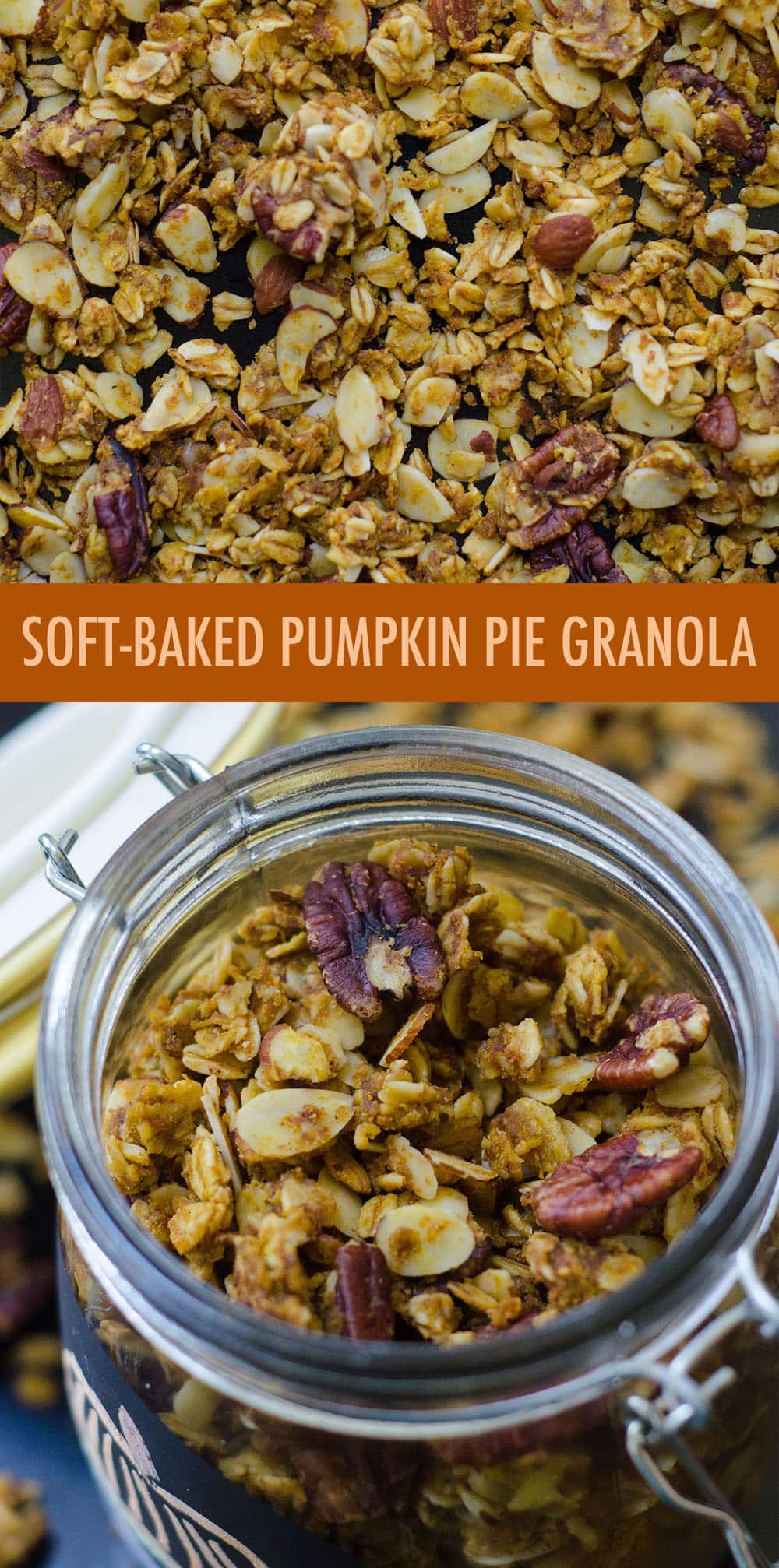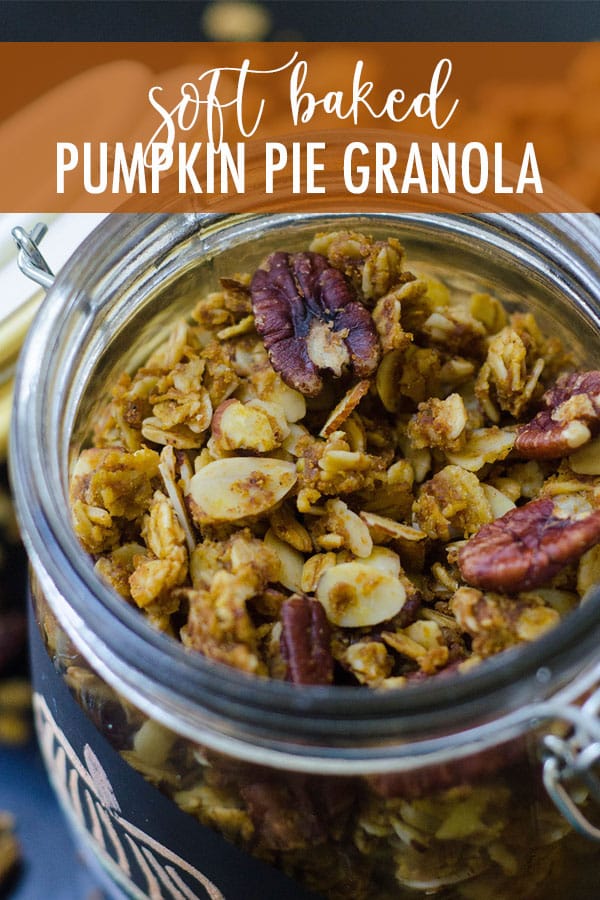 As an Amazon Associate, I earn from qualifying purchases. Read the full disclosure here.
Homemade spiced granola gets a pumpkin flair thanks to real pumpkin, and sweetened with brown sugar and maple syrup. Not your ordinary crunchy granola– this stuff is soft like pie!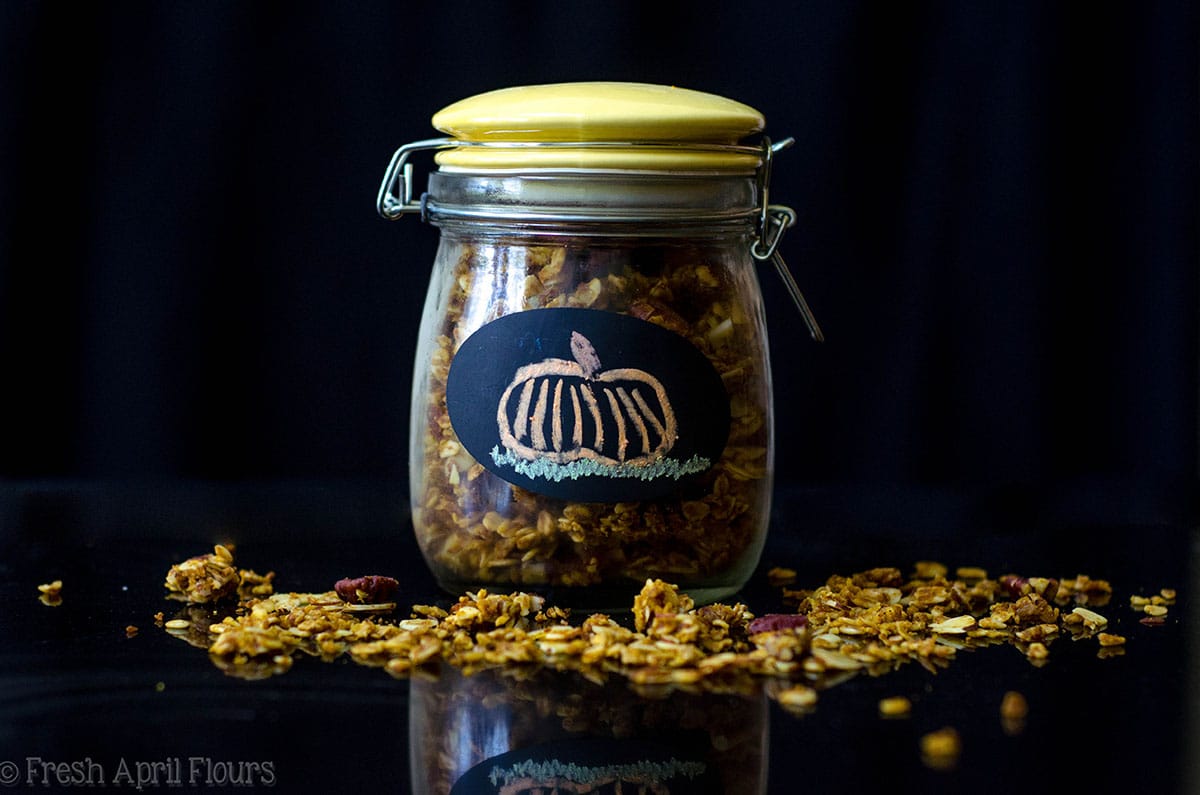 I'm a firm believer in PUMPKIN ALL THE TIME, but even more so a believer in pumpkin flavored things all of September, October, and November.
Give me pumpkin spice in my coffee for 2 months straight before I hit up the peppermint mocha creamer.
I await pumpkin pie with bated breath every year, so don't even think for one second that pumpkin won't make an appearance on FAF in November ever! It would be blasphemous.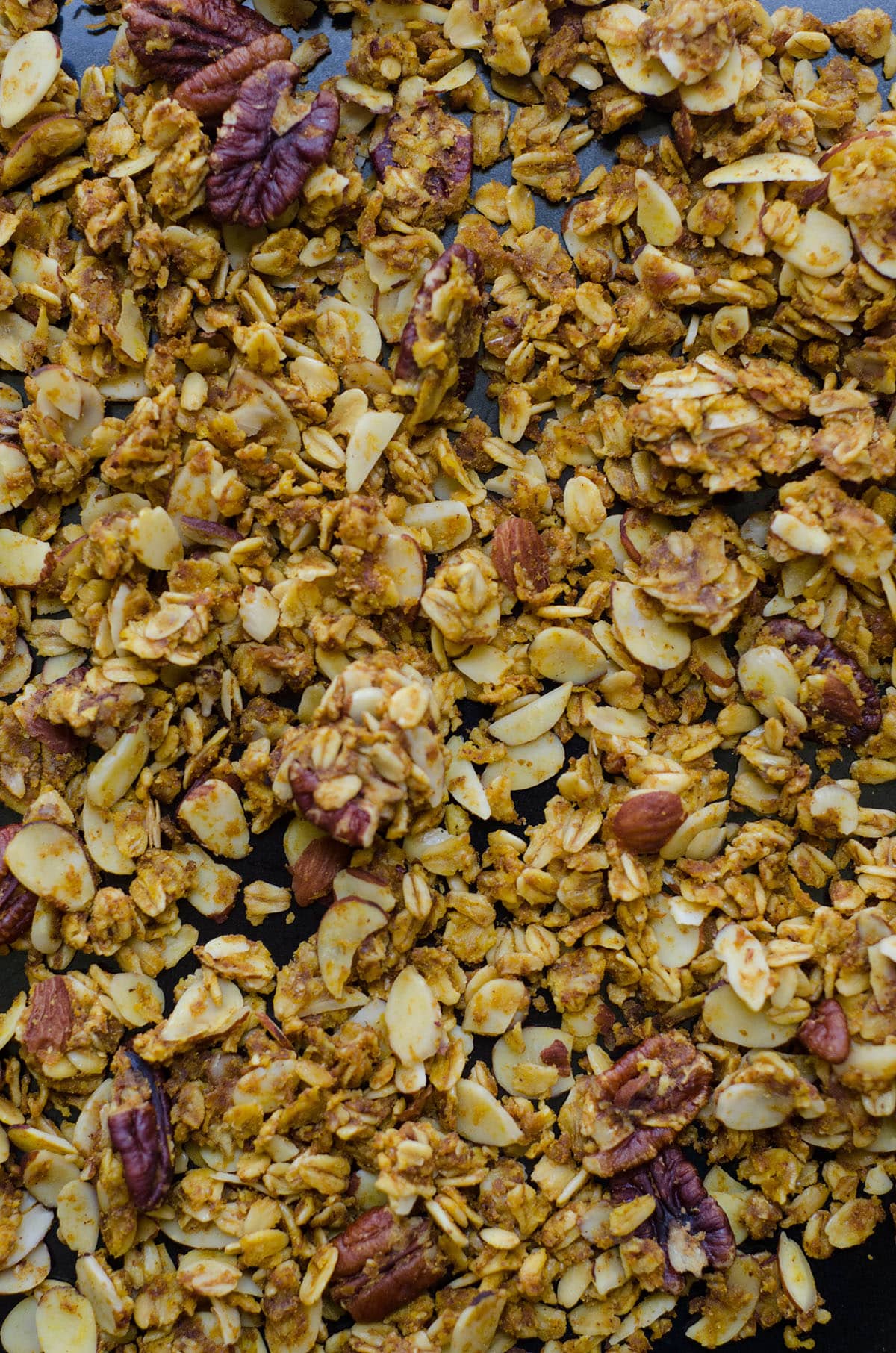 Because of my November-is-still-pumpkiny beliefs, today we're diving deep into one of my other favorite food worlds, that of the homemade granola variety.
I first discovered homemade granola years ago, and it quickly became one of my most loved snacks to make at home.
Traditional store-bought granola is not my fav, because it's usually loaded with sugar and pretty expensive. While homemade does, of course, have sugar in it, I'm more a fan of controlling how sweet my granola is by dialing things back and letting other flavors take over, because to me…
It's all about that crunchy flavor.
Except when it comes to soft baked granola. Because let me tell you, folks, that is a world I accidentally stumbled into and just need to share with you, too.
The first homemade granola recipe I shared on the blog was almost 4 years ago (WOAH). It's my beloved soft baked carrot cake granola, which has graced the granola jars of many readers over the years, and stands tried and true as a quirky flavor combo to get all up in oats.
Like I said, I discovered this "soft-baked" business accidentally, because I didn't realize (though it seems incredibly obvious now) that adding vegetables to my granola would bring lots of moisture that would be hard to get rid of.
I took my first taste of my carrot cake granola and was met with sadness, until Matt grabbed a handful and exclaimed how much he loved the texture and flavor, and thus, soft-baked granola was born in our house.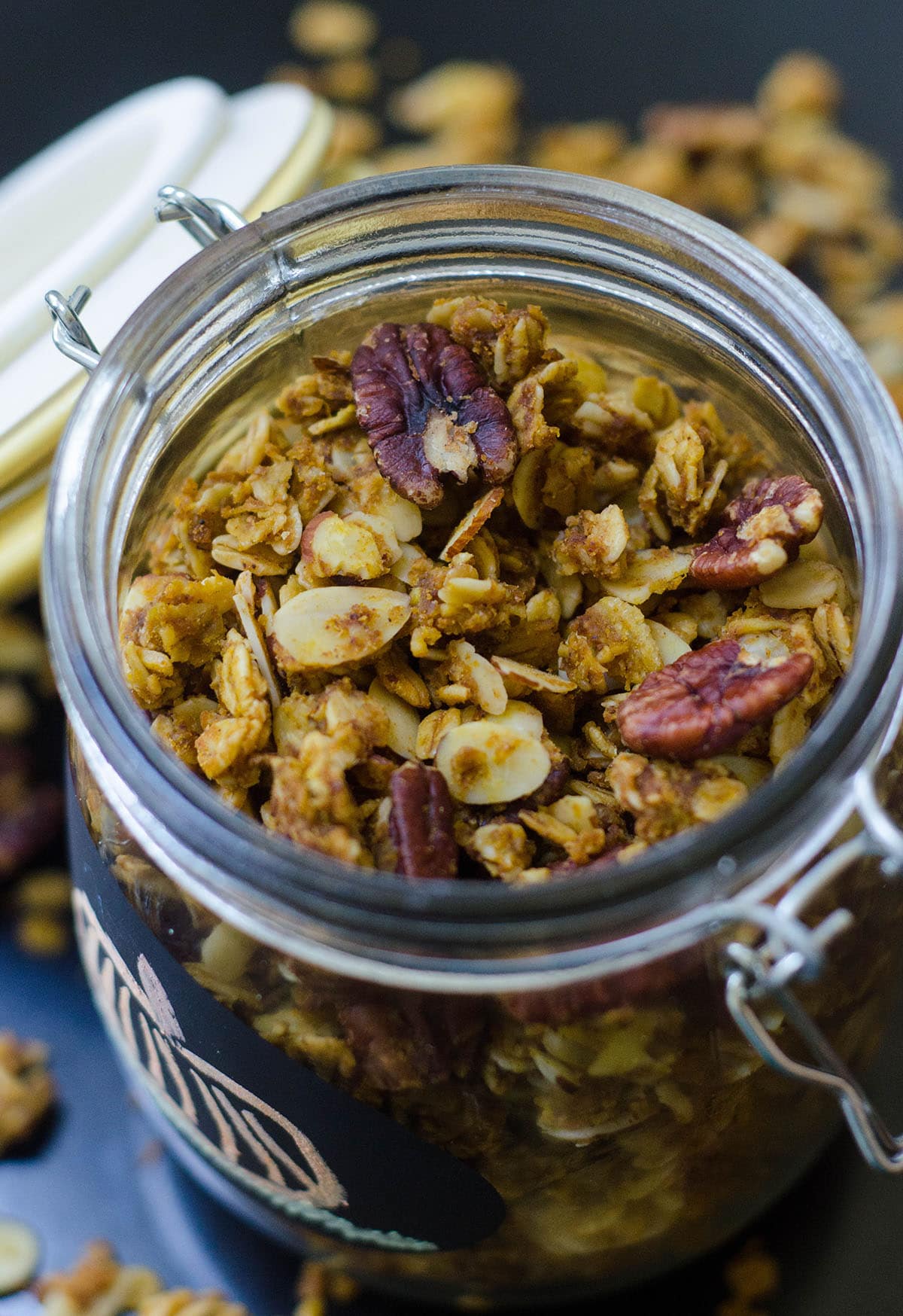 Today's pumpkin pie granola also features vegetables in the form of pumpkin puree, so again, we're met with a softer granola that is reminiscent of the texture of pie.
If you're looking for a crunchy pumpkin granola, head on over to my girl Leah's blog.
I've made that recipe and it is AWESOME. But if you're digging the soft-baked idea I have going on here, you won't be disappointed in sticking around!
Homemade granola is a slowwww process. The oven temp stays nice and low, and we also have to tend to the granola several times over the course of an hour and 15 minutes to prevent burning.
Just a quick turning over of the oats, which is really NBD, but if you're a nursing mom or have some other tasks going on around the house that require your time and attention, take those things into consideration (#notmyfirstrodeo).
While we're adding pumpkin puree to the oats, we do amp up the flavor with pumpkin pie spice and extra cinnamon. A dash of salt helps even out the sweetness factor, and we're using not only brown sugar but also pure maple syrup to sweeten everything.
The sticky + sweet combo is exactly what we need to keep everything together, while also adding a deep sweetness that can only come from maple syrup.
[[SIDE NOTE: Toddler approved– worn off temporary car tattoo on the hand and all]]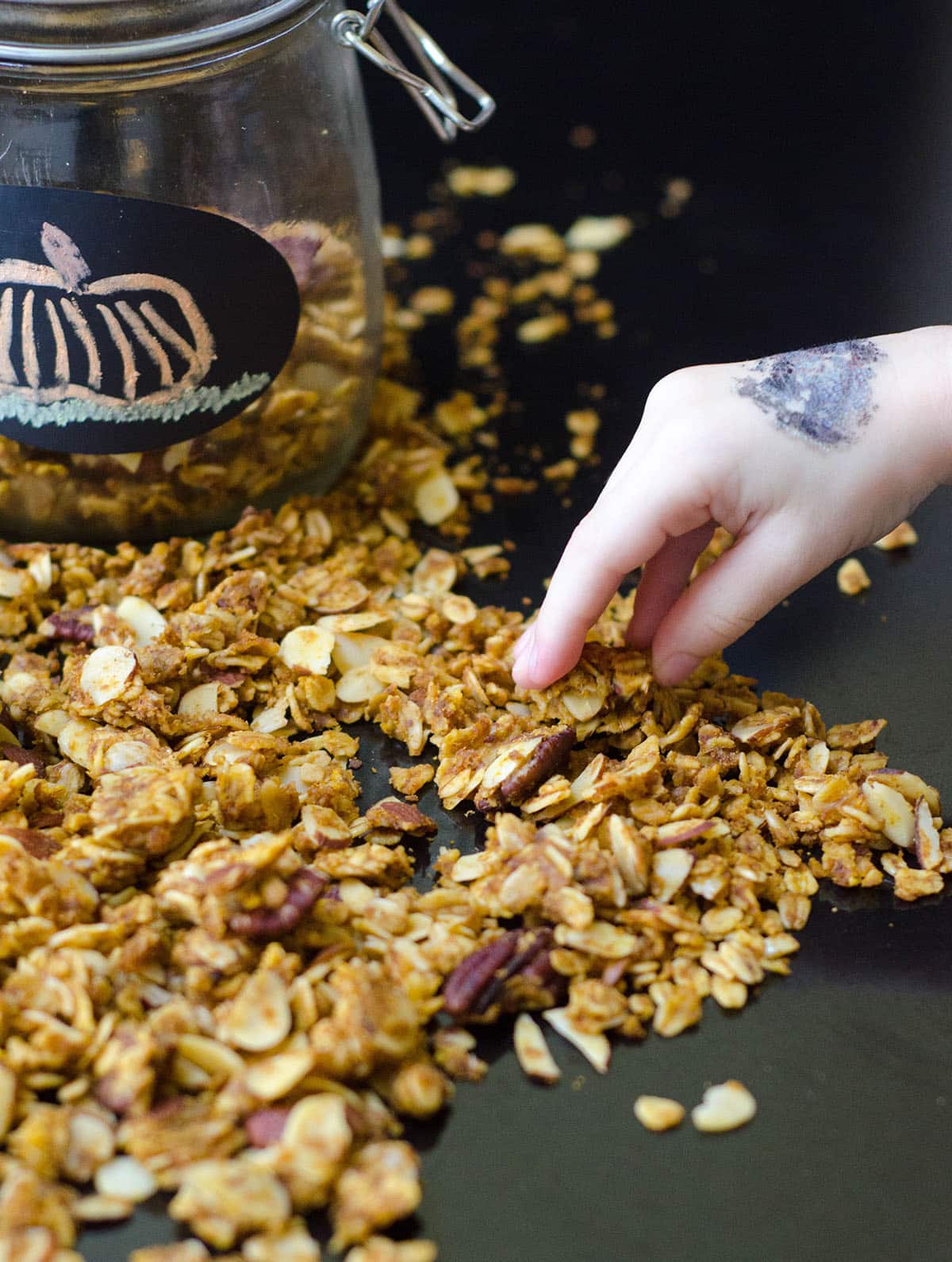 Melted coconut oil is the game changer in the granola process, because it is what turns soggy oats into something crunchy.
Since we're making soft-baked granola here, the coconut oil won't make anything crunchy, but it will help turn "soggy" into a more desirable word like soft or chewy.
Traditional crunchy granola has the ability to stick around for a good 2 weeks, but keep in mind since we have moisture in this granola, things will go bad more quickly.
You're looking at about 5 days tops, at which point, the nuts you've added will be taking on a lot of moisture, plus you're inviting mold into the picture.
To prevent that? Store it in the fridge OR just eat it faster. I vote for option 2, but I don't think you'll have any problem making that one happen!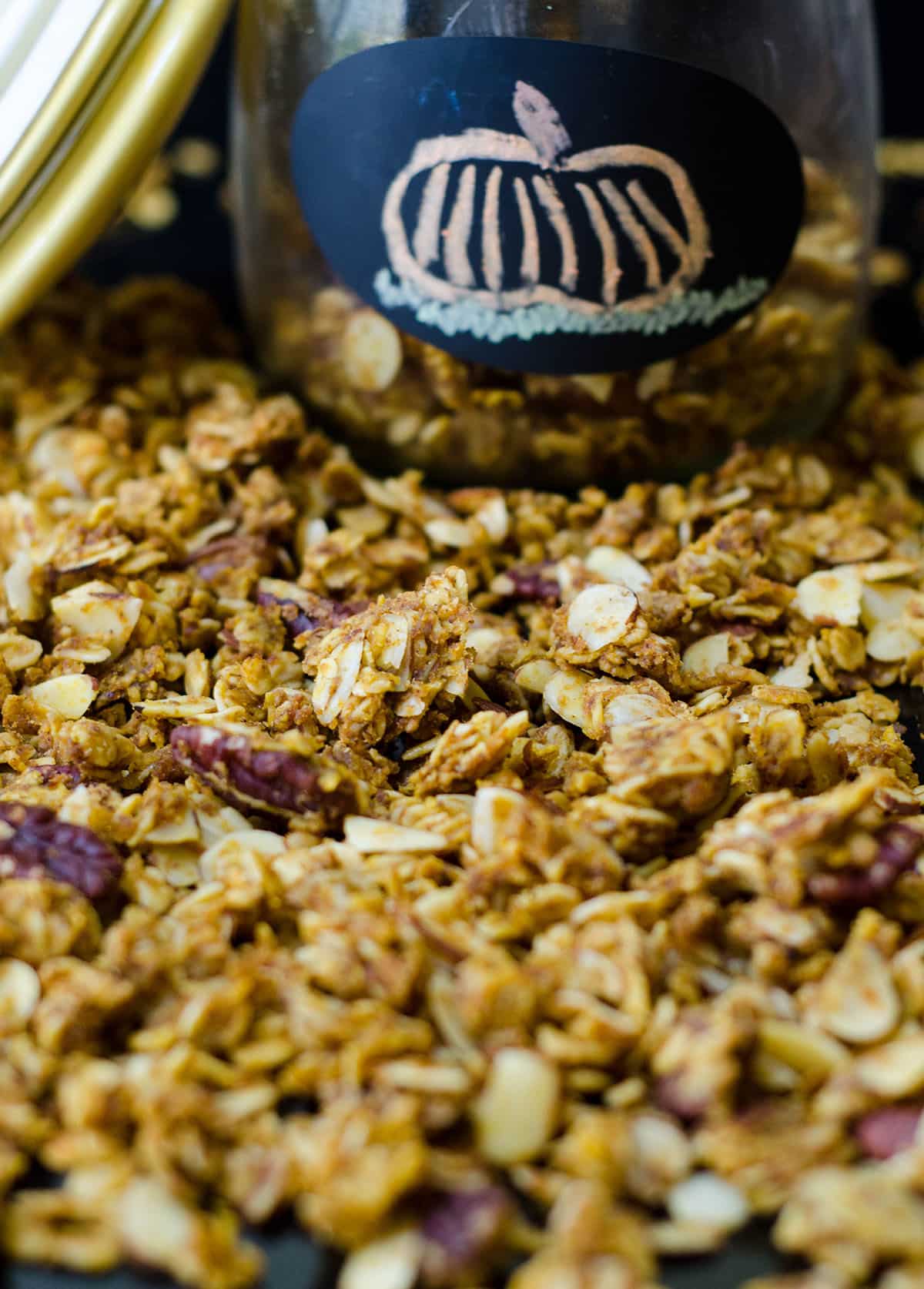 Soft and chewy, just like pie, but without all the hassle of a crust and a custard! Though don't get me wrong, I'm itching already to start rolling out some pie dough…
Soft-Baked Pumpkin Pie Granola
Homemade spiced granola gets a pumpkin flair thanks to real pumpkin, and sweetened with brown sugar and maple syrup. Not your ordinary crunchy granola– this stuff is soft like pie!
Ingredients
2 and 1/2

cups

old fashioned oats

not quick oats

1 and 1/4

cup

nuts*

3/4

teaspoon

pumpkin pie spice

1/4

teaspoon

ground cinnamon

¼

teaspoon

salt

¾

cup

pumpkin puree

¼

cup

firmly packed brown sugar

¼

cup

pure maple syrup

1

teaspoon

vanilla extract

5

Tablespoons

coconut oil

melted
Instructions
Preheat the oven to 250ºF. Line a large baking sheet with a silicone baking mat or parchment paper. Set aside.

In a large bowl, toss together oats, nuts, pumpkin pie spice, cinnamon, and salt. Set aside.

In a medium size bowl, whisk together the pumpkin, brown sugar, maple syrup, and vanilla extract. Pour mixture over oat mixture and stir to coat evenly.

Pour the melted coconut oil over coated oat mixture until evenly distributed. Spread granola onto prepared baking sheet and bake for 1 hour and 15 minutes, stirring after each 15 minute increment. Do not stir after the last 15 minutes. Allow to cool on baking sheet.

When granola is completely cool, break up into desired sized pieces. Granola stays fresh in an airtight container at room temperature up to 5 days. Because of the pumpkin, granola will lose its crunch over time.
Notes
*I used whole pecans and slivered almonds, because that's what I had on hand. Feel free to use whatever type of nuts you prefer.
More pumpkin + oats in my pumpkin overnight oats!