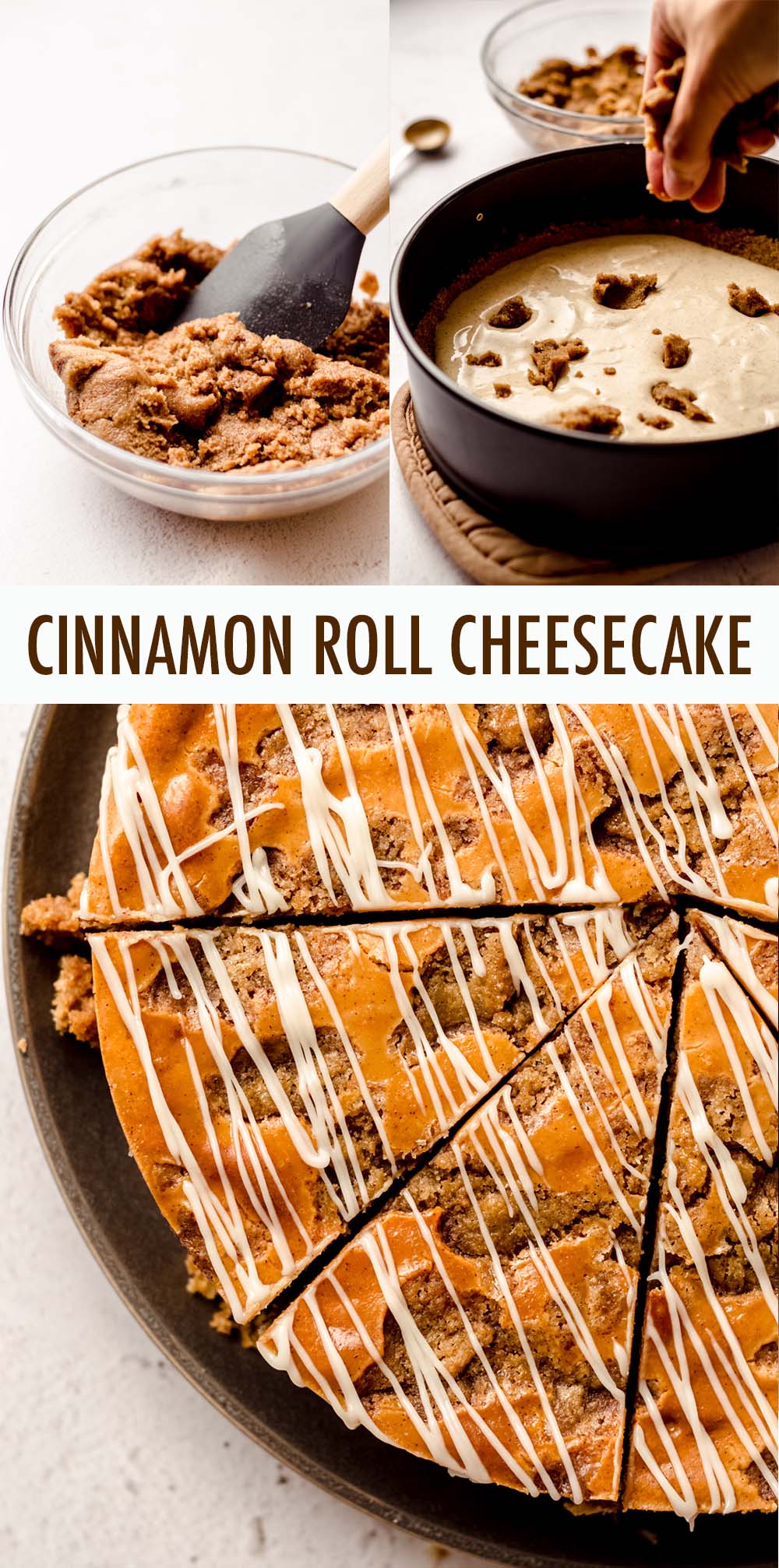 As an Amazon Associate, I earn from qualifying purchases. Read the full disclosure here.
Cinnamon spiced cheesecake studded with chunks of cinnamon filling and topped with a cream cheese frosting drizzle.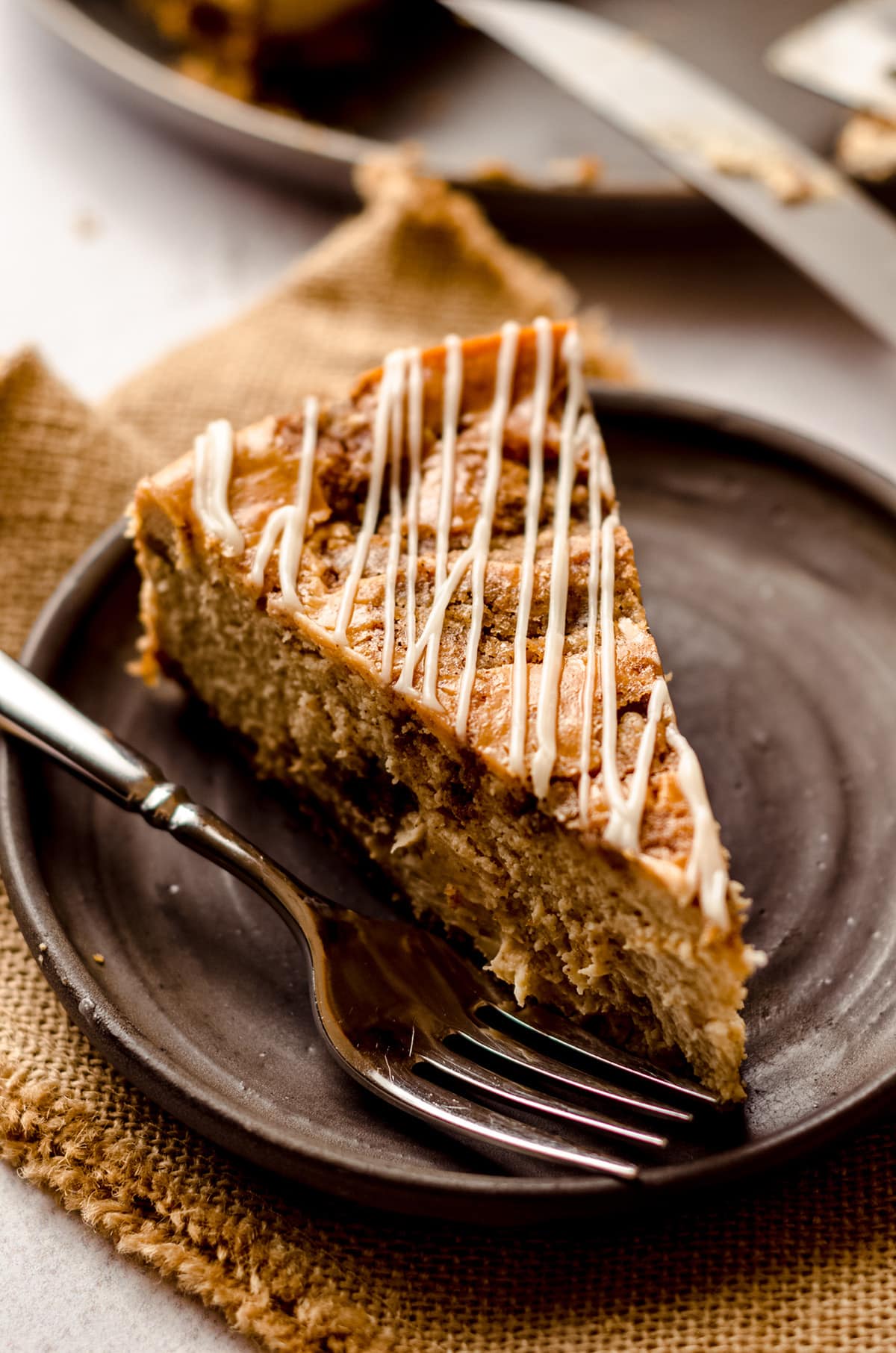 Welcome to #FallFlavors where more than 25 food bloggers are sharing recipes with favorite fall flavors. Our sponsors (Millican Pecan, Dixie Crystals, Melissa's Produce, Taylor & Colledge, Nairn's, and Republic of Tea) have furnished participating bloggers with complimentary product to use in their recipe creations that they will be sharing this week. Be sure to follow our Fall Flavors Pinterest account for more inspiration.
If there's one spice out there that I can just never get enough of, it's cinnamon. I've said it from the beginning of my blog that cinnamon is one of my favorite spices to bake with, and you can find every recipe I have using ground cinnamon right here.
Besides the obvious like cinnamon chip scones, cinnamon streusel coffee cake, sourdough cinnamon rolls, cinnamon honey butter, apple cinnamon oat streusel muffins, and cinnamon babka, I have even found a way to get cinnamon into my peanut butter cookies.
Yeah, I totally love it.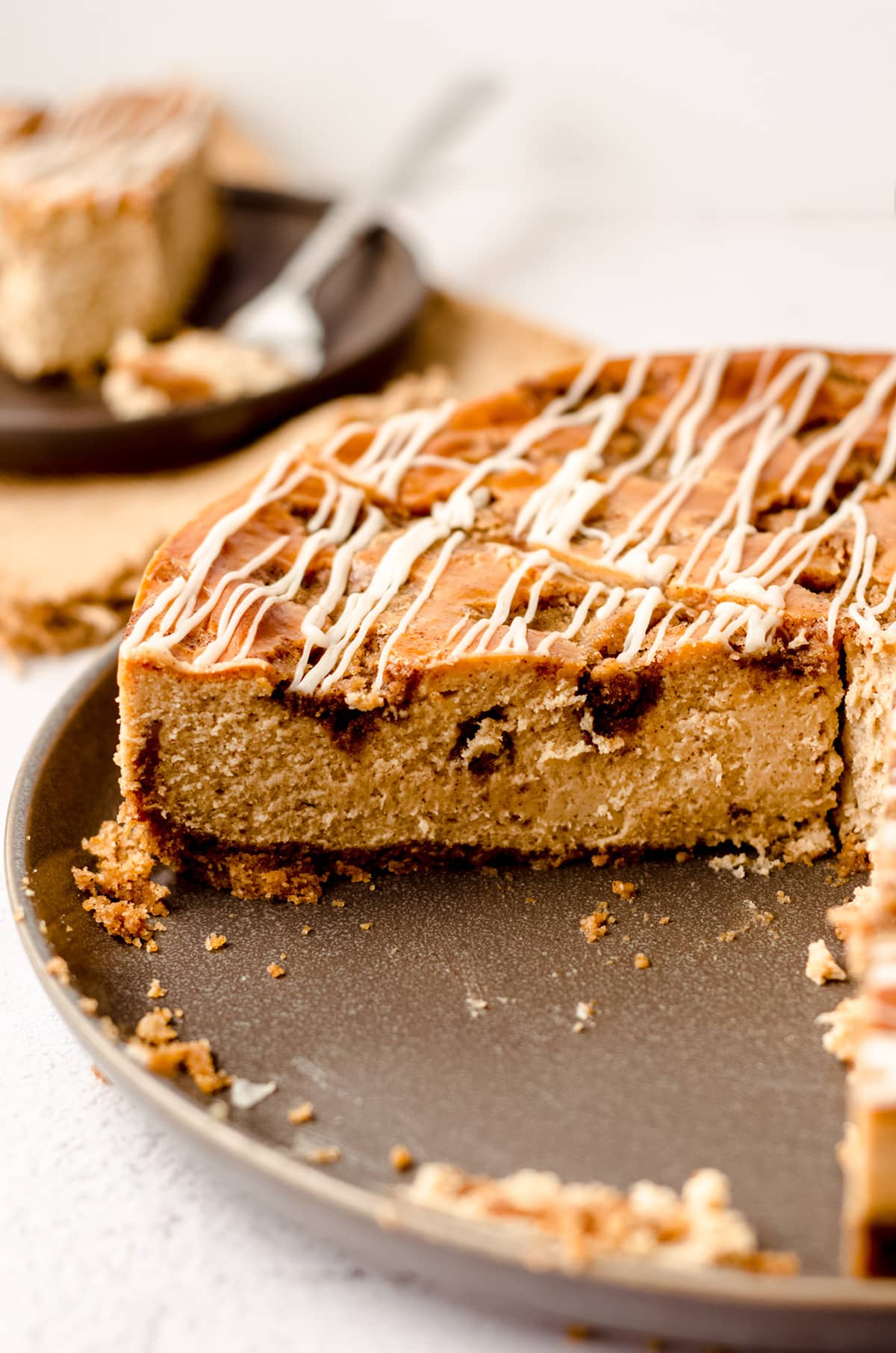 And while I've always loved September because it's my birthday month and I am usually DONE with hot weather come early August, what has made it even better in recent years is seeing all the absolutely delicious recipes my fellow blogging friends create around fall flavors.
Truly, I am a sucker for pretty much anything I see that mentions cinnamon, so when I had to create a fall-inspired recipe for this month, I knew that cinnamon + cheesecake (my newest favorite dessert to bake) just had to happen.
I've talked extensively about exactly how to make a cheesecake in my debut cheesecake recipe, funfetti cheesecake. But every good cheesecake follows essentially the same formula.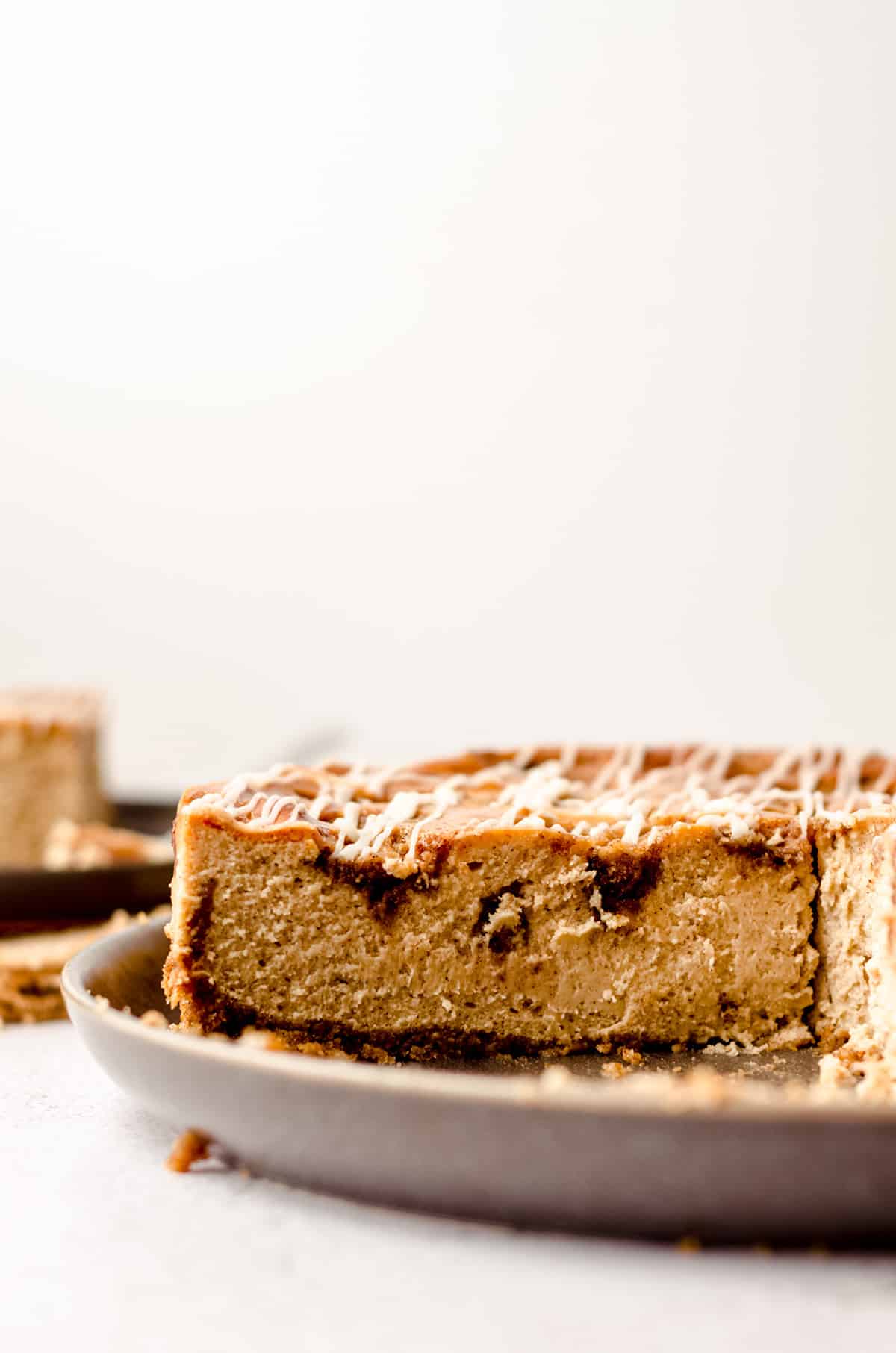 We need a springform pan, lined with some sort of crust, an epic cream cheese filling, and then either goodies inside the cheesecake filling itself or some kind of fun topping. Simple, right?
I have seen cheesecakes out there with lots of layers or piles of fruit and/or sauces on top and while I will likely branch out into "extravagant cheesecake world" eventually, I like to keep my cheesecake recipes plain and simple for now and really bring the wow with flavor in each individual aspect of the cheesecake.
Let me tell you what I mean.
MAKE A NILLA WAFER (OR GRAHAM CRACKER) CRUST
I wanted the crust of this cinnamon roll cheesecake to differ a bit from the traditional cheesecake, so I played with the flavor a bit. While there is nothing wrong with going with a traditional graham cracker crust, I highly recommend kicking the vanilla flavor up a notch and grabbing some Nilla Wafers.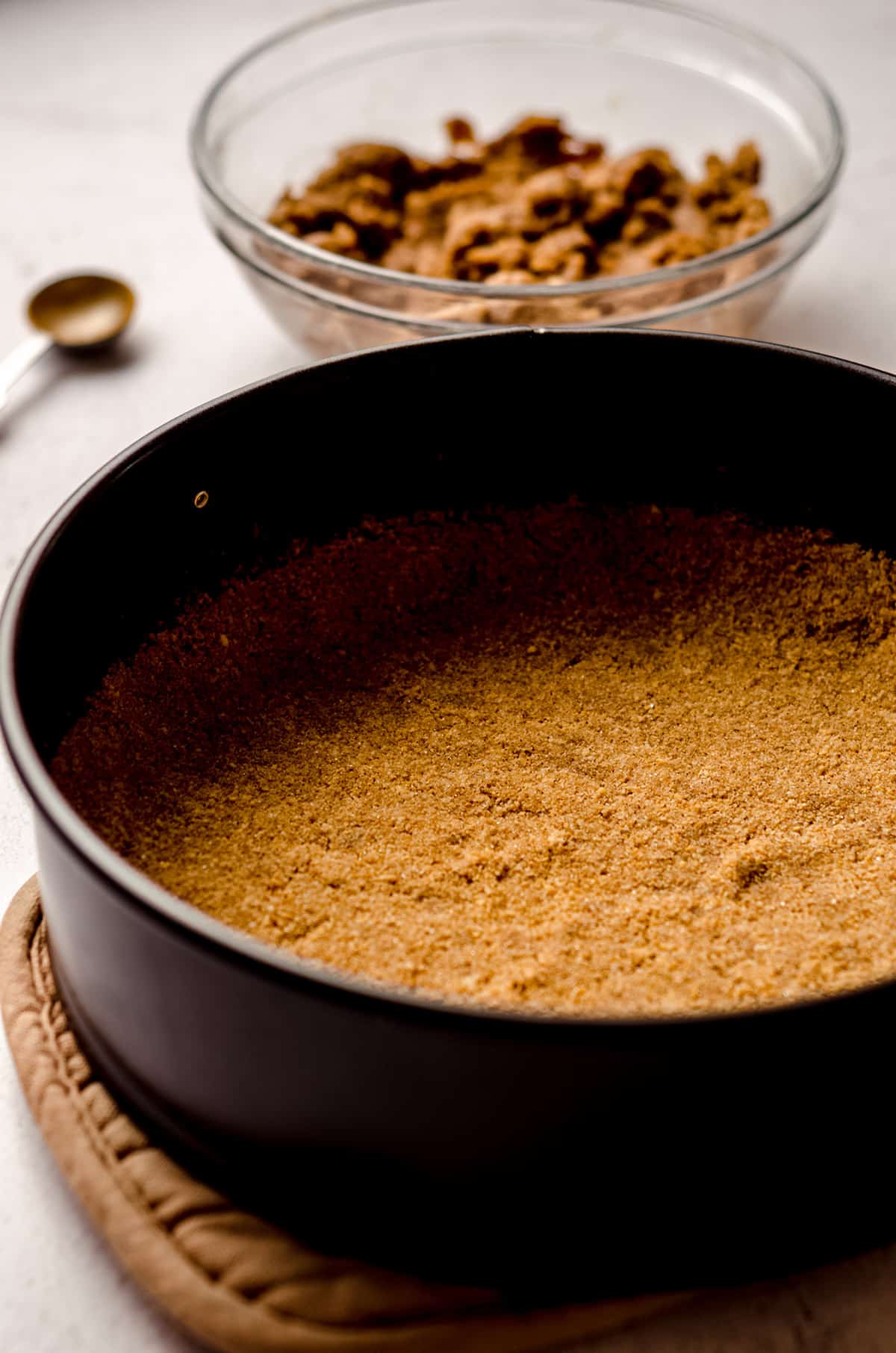 (You can dip your remaining Nilla Wafers into cake batter dip, pumpkin dip, or gingerbread dip!)
Press into a springform pan, then bake for 6-8 minutes. While that's baking and cooling, you have two fillings to tackle.
CINNAMON FILLING
The filling for this cinnamon roll cheesecake is absolutely where the magic happens. You'll want to prepare it before diving into the cheesecake filling part so that it's ready to go when it comes time to pour the filling into the crust.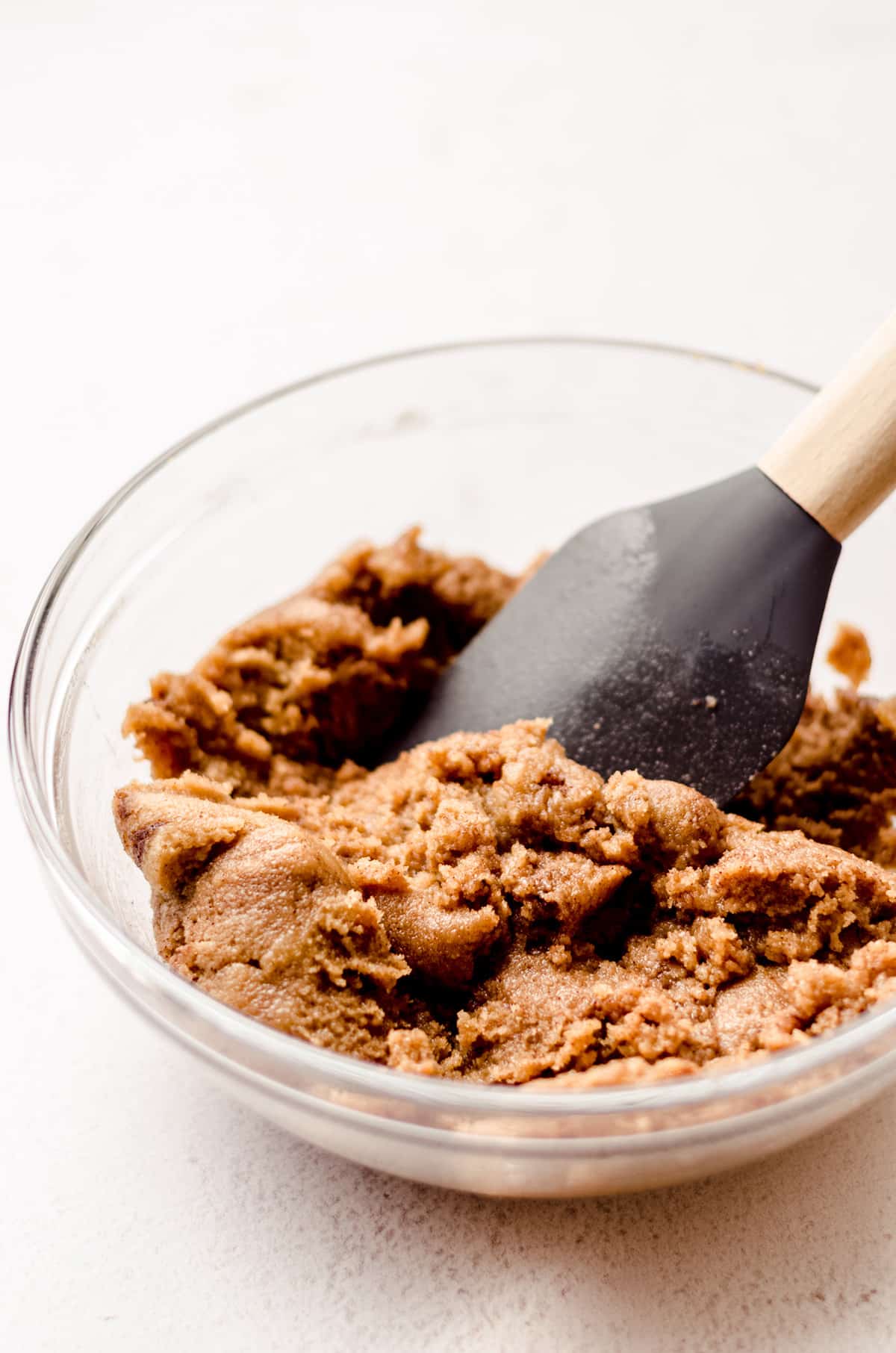 This cinnamon roll filling is made from butter, brown sugar, and cinnamon for flavor. You'll also add some flour to sort of bind things together and create chunks of cinnamon filling.
These chunks of filling will come into play in a bit. Set the filling aside for now.
CHEESECAKE FILLING
You'll notice that the cheesecake filling for this cinnamon cheesecake recipe calls for 23 ounces of cream cheese. And you might be asking… But, Lynn. What the heck is going on? Why not 24 ounces, or 3 full blocks of cream cheese?
I'm so glad you asked– we'll reserve that single ounce of cream cheese for the cream cheese frosting.
If for whatever reason you don't want cream cheese frosting on top, go ahead and use all 24 ounces. This will not alter the recipe enough to make any other adjustments.
The cheesecake filling also gets sweetened with brown sugar and spiced with a hefty dose of cinnamon.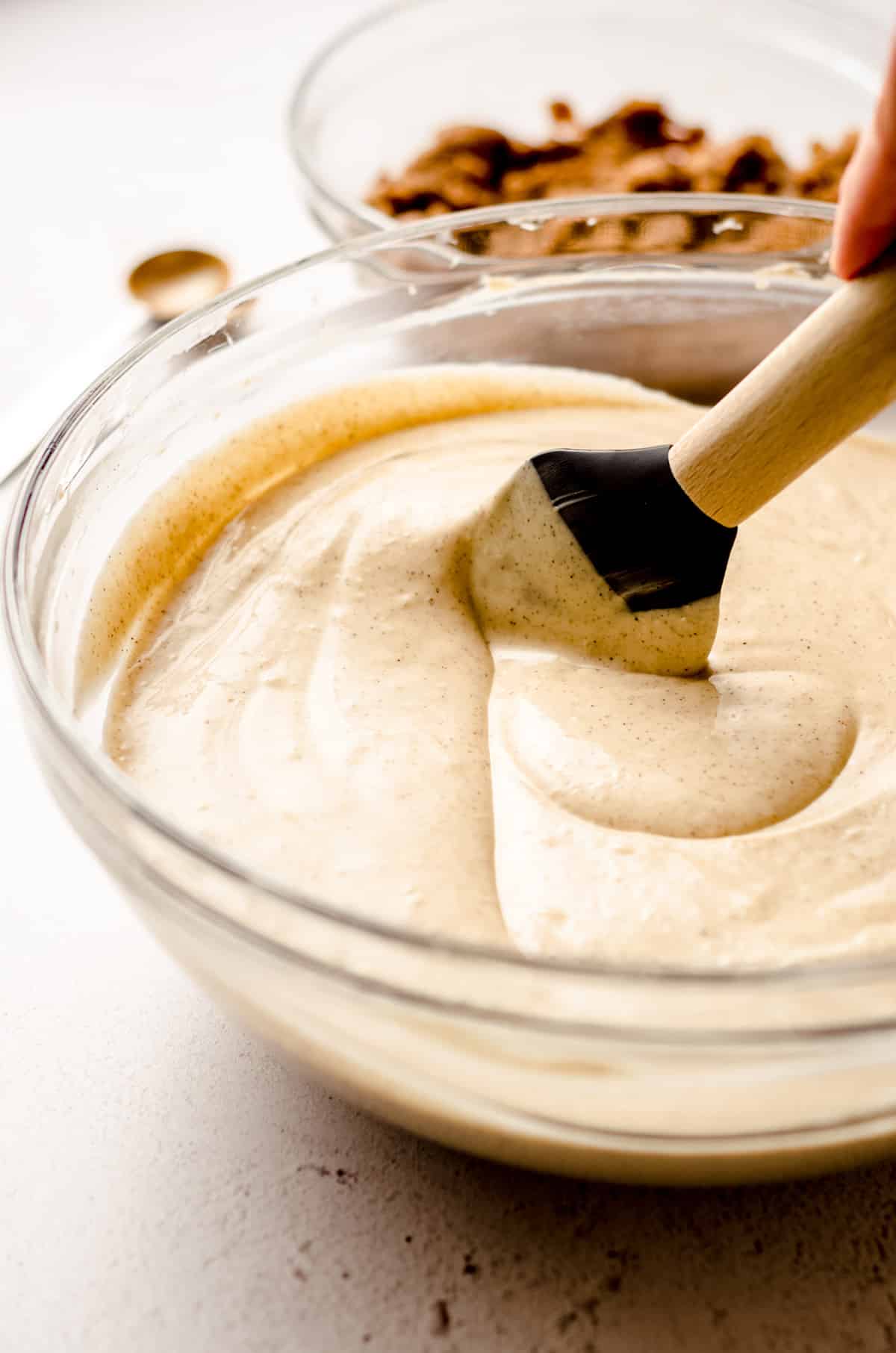 Other ingredients you'll need for this cinnamon bun cheesecake recipe are heavy whipping cream, full fat yogurt or sour cream, three whole eggs, and two egg yolks.
You'll need all of these ingredients at room temperature, which is key in creating that silky smooth cheesecake filling. Any lumps and bumps will show up in the final baked cheesecake, so make sure everything is nice and soft before combining it all.
HOW TO MAKE CINNAMON ROLL CHEESECAKE
Once your cheesecake filling is ready, you'll grab it along with the cinnamon filling you already prepared.
You're going to make three layers of cheesecake + cinnamon filling.
Start by layering in about ⅓ of the cheesecake batter. Break your cinnamon filling into three equal chunks, then crumble one chunk into smaller pieces and scatter them around on top of the filling.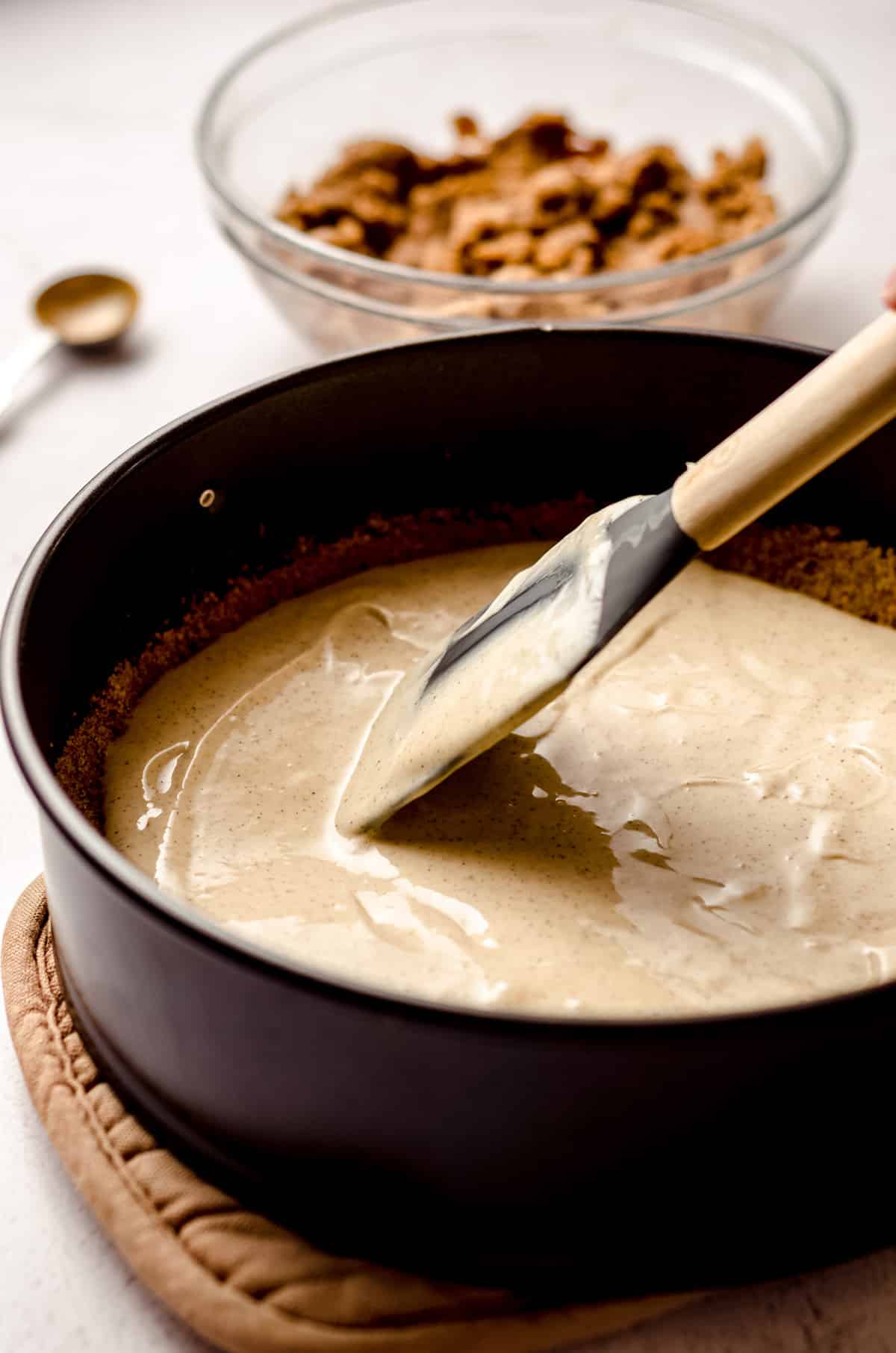 On top of that layer, you'll pour another ⅓ of the cheesecake batter and another ⅓ of the cinnamon filling chunks.
Your third and final layer will mean that the top of your gooey cinnamon roll cheesecake will have what I affectionately called "cinnamon craters," as the cinnamon filling will melt slightly but still keep its chunky shape, and indent slightly into the top of the cheesecake.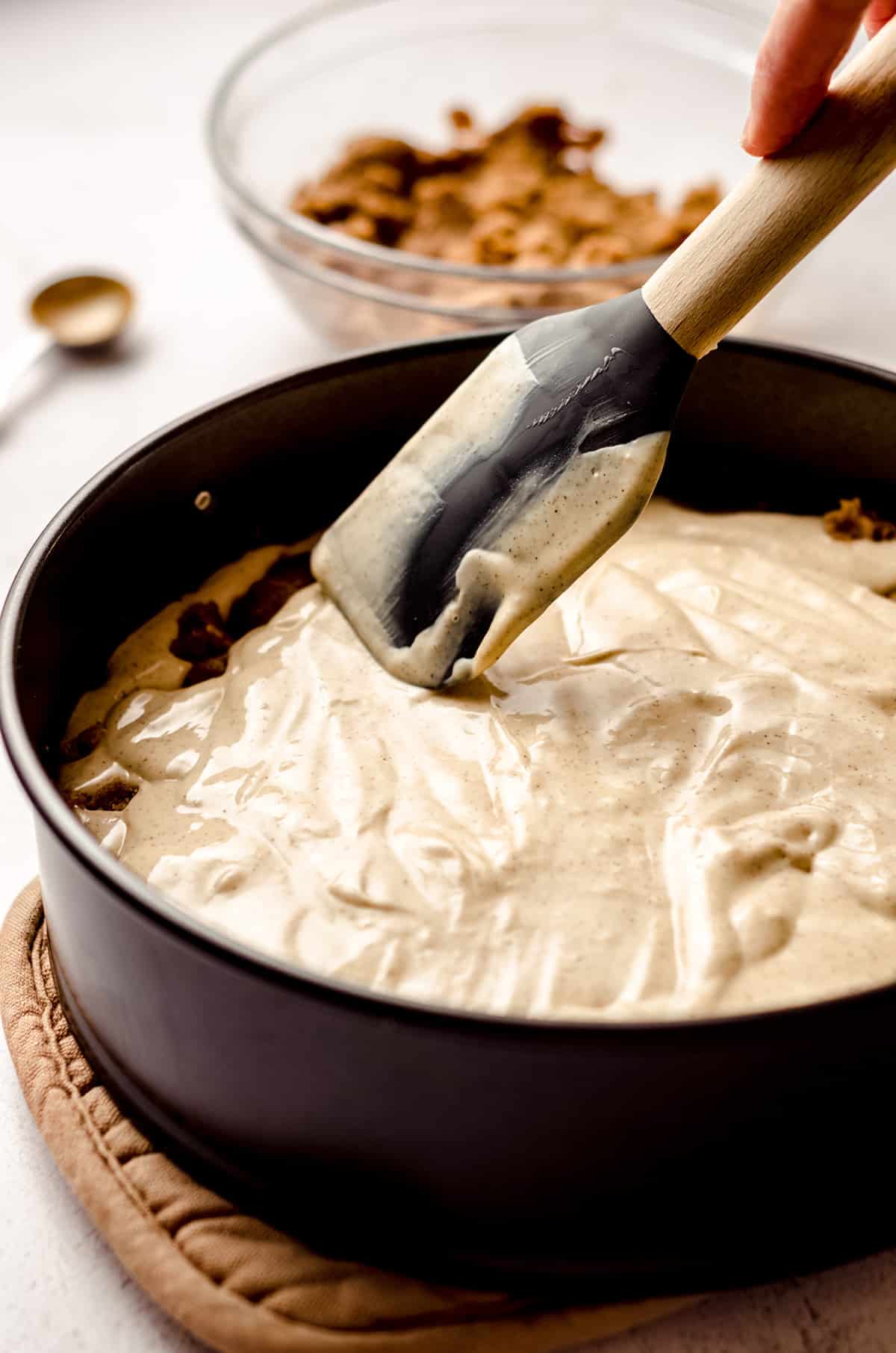 Umm… Cinnamon craters = best part of this whole entire cinnamon swirl cheesecake.
DRIZZLE WITH CREAM CHEESE FROSTING
Once your cinnamon roll cheesecake is fully baked, fully cooled, and fully chilled, it's ready to serve!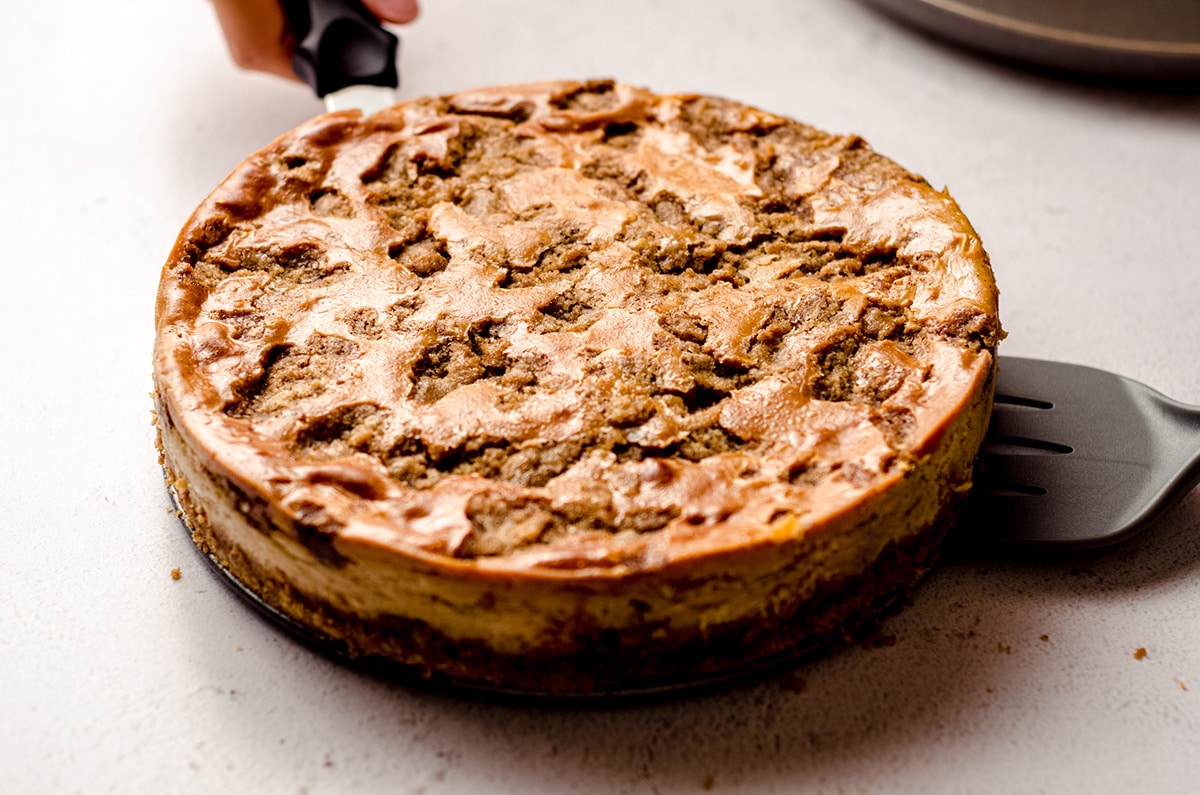 My best tip for transferring a cheesecake from the springform platform to a plate: loosen the crust from the platform with a large metal spatula, then use that metal spatula + a flat spatula to lift and move. Work quickly but carefully.
I chose to drizzle my entire cheesecake with cream cheese frosting, but the recipe makes enough that you can also RE-drizzle slices to cater to the taster's preference, or you can completely forego drizzling the whole thing and just drizzle per slice as you serve it.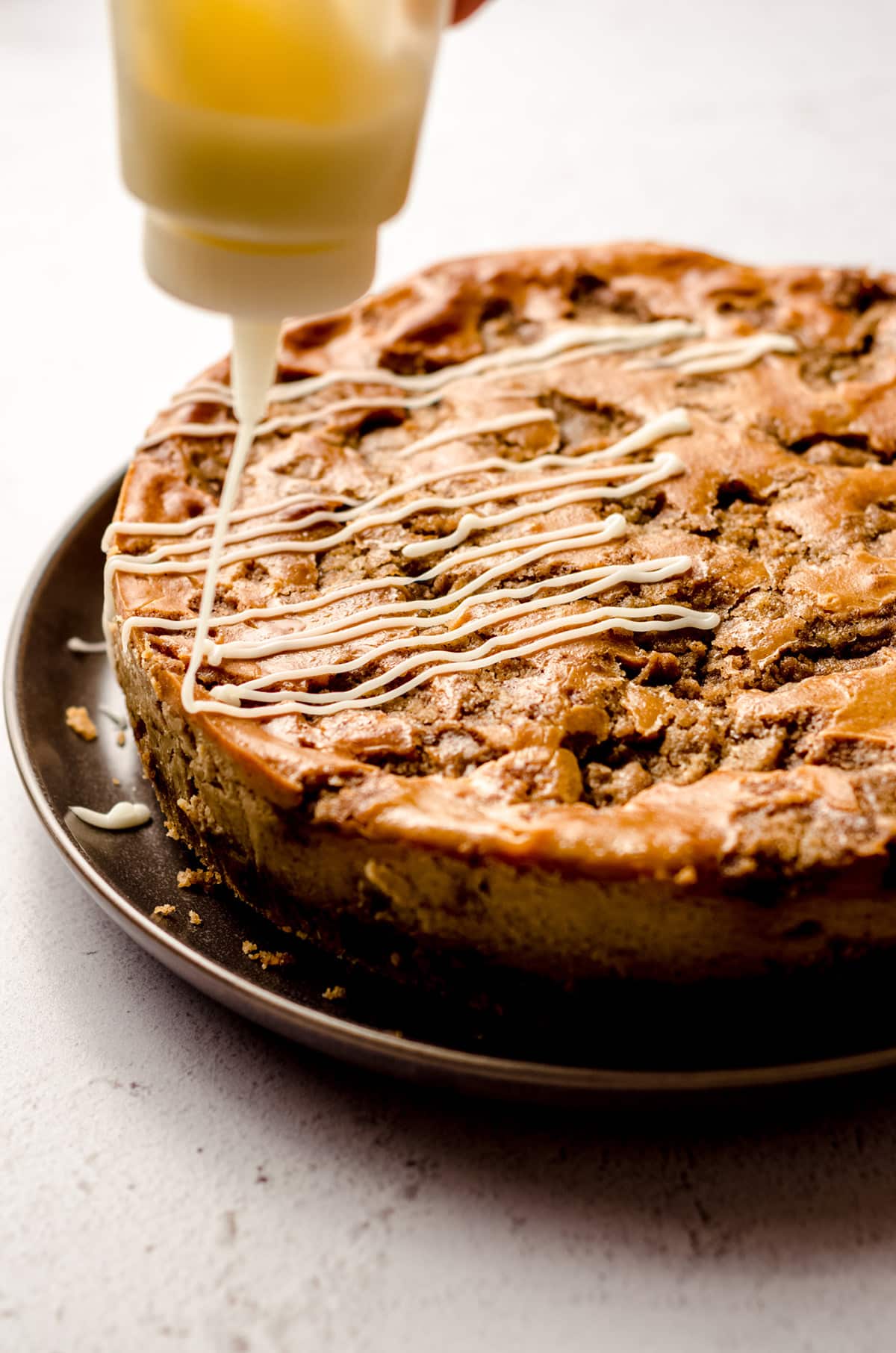 Either way, I urge you to use it, but I promise this cinnamon roll cheesecake recipe can totally stand alone without any frosting if you prefer not to use it.
My friends, this easy cinnamon roll cheesecake blew my expectations out of the water, and I wish I had pictures or a video of what happened when I took it to a gathering.
I placed it on the table with a cake dome over top of it, and it sat for a bit before someone said "by the way, Lynn made this," which prompted someone else to come over and remove the lid.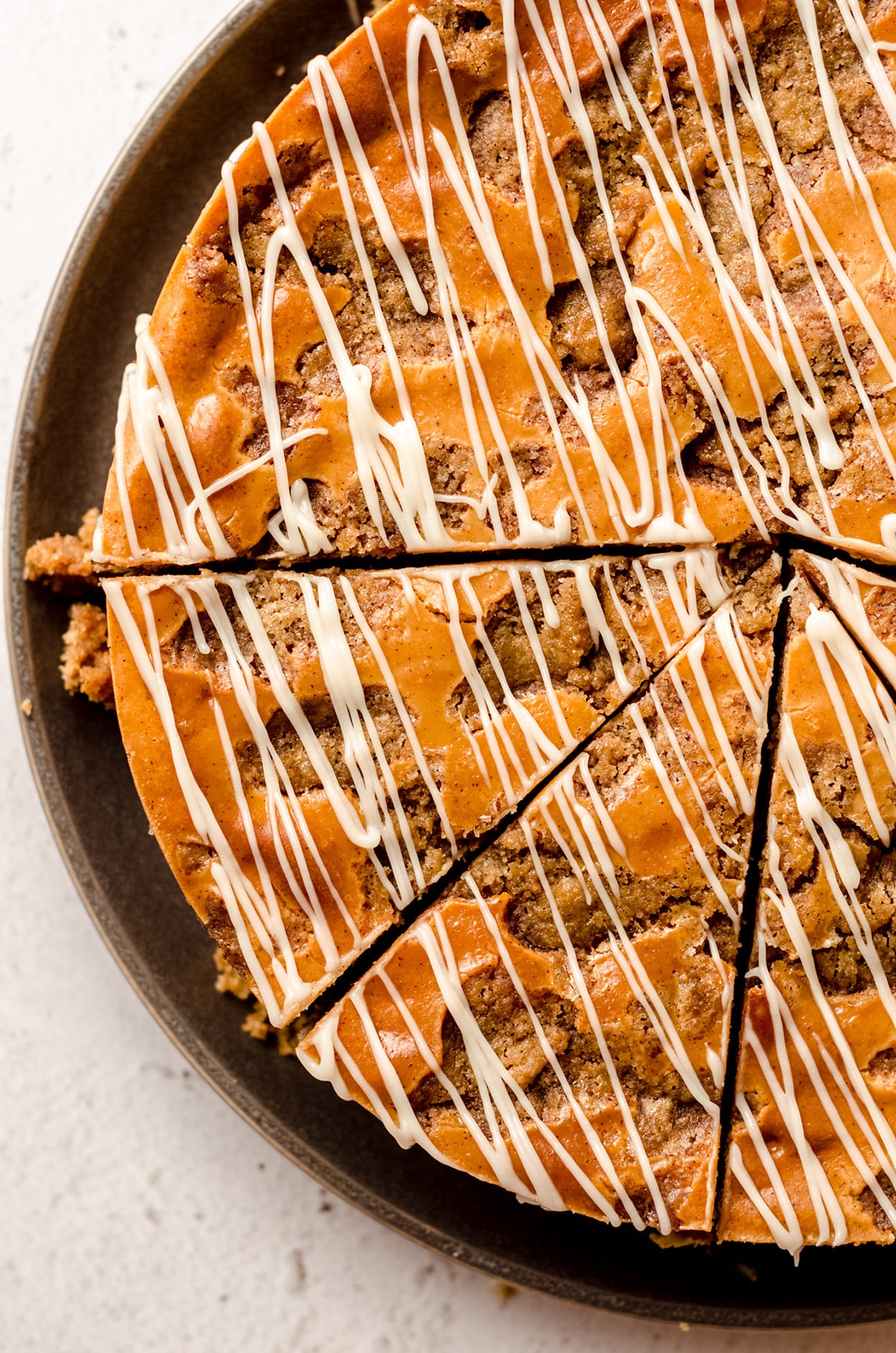 Once that lid was off and folks got a whiff of what was happening under there, all bets were off. Slices were flying off the plate and forkfuls were being devoured before some people even grabbed their slice.
It did not last long AT ALL.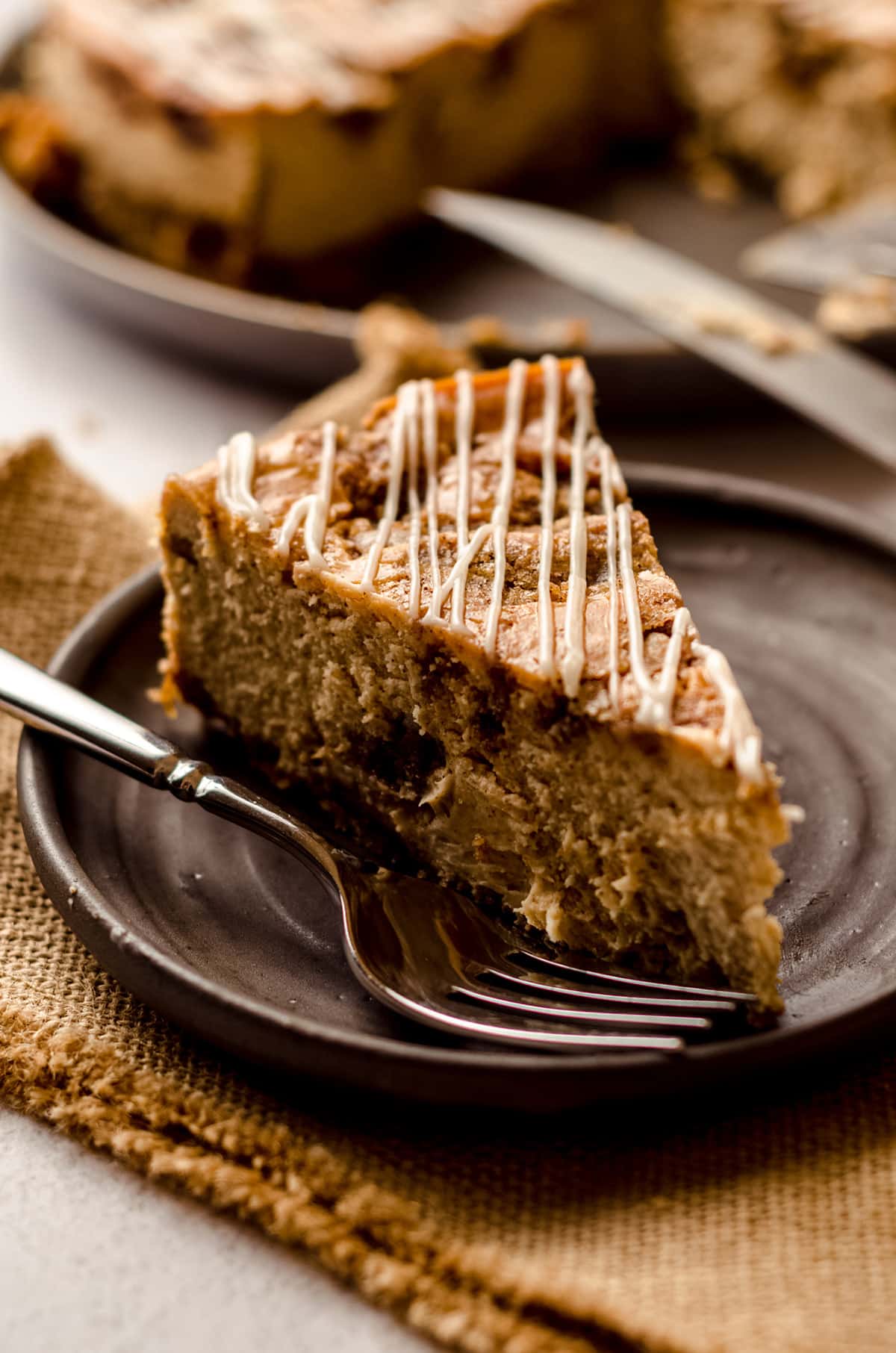 Personally, I admit to taking 80% of the cheesecake to that gathering because I knew if it stayed at our house, I would not be trusted with it. And that's saying a lot, since I don't have the biggest sweet tooth.
It's that cinnamon, man. It gets me every time!
And I would be willing to bet that if you also enjoy yourself some warm cinnamon notes and also enjoy cheesecake, you will also be chomping at the bit to dig your fork into this stuff ASAP.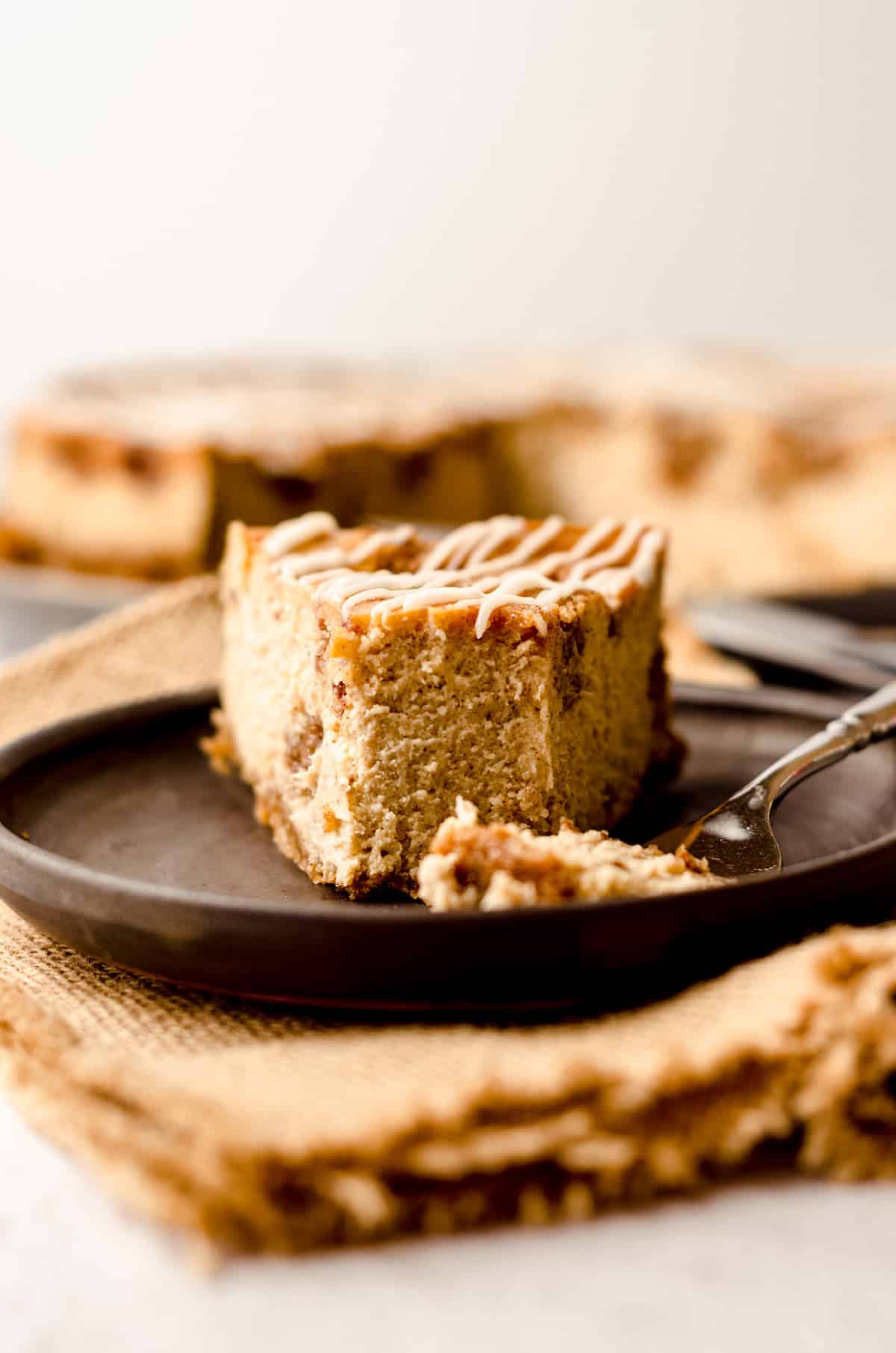 Your fall baking lineup needs it. And I can't wait for you to try it!
More #FallFlavors Recipes
Appetizers and Snacks
Breakfast and Baked Goods
Soups and Salads
Side Dishes
Main Dishes
Desserts
Cinnamon Roll Cheesecake
Cinnamon spiced cheesecake studded with chunks of cinnamon filling and topped with a cream cheese frosting drizzle.
Ingredients
CRUST
1 and ¼

cups

(120g) Nilla Wafer or graham cracker crumbs

¼

cup

(50g) granulated sugar

1

teaspoon

ground cinnamon

¼

cup

(57g) unsalted butter

melted
CINNAMON FILLING
6

Tablespoons

(85g) unsalted butter

melted

1

cup

(200g) firmly packed light brown sugar

¼

cup

+ 2 Tablespoons (45g) all-purpose flour

2

Tablespoons

ground cinnamon
CHEESECAKE
23

ounces

(647g) full fat block cream cheese1 completely softened to room temperature

1

cup

(200g) firmly packed light brown sugar

3

Tablespoons

(45mL) heavy whipping cream

5

ounces

(150g) Greek yogurt or sour cream

about ⅓ cup

2

Tablespoons

vanilla extract

2

teaspoons

ground cinnamon

3

large eggs

at room temperature

2

large egg yolks

at room temperature
CREAM CHEESE FROSTING
1

Tablespoon

(14g) unsalted butter

softened to room temperature

1

ounce

(28g) full fat block cream cheese

softened to room temperature

¼

teaspoon

vanilla extract

¾

cup

(90g) powdered sugar

1 and ½ to 2

Tablespoons

(22-30mL) heavy whipping cream
Instructions
CRUST
Preheat the oven to 325ºF (162ºC). Spray a 9" springform pan with nonstick spray. Set aside.

Pour the Nilla Wafer or graham cracker crumbs into a large bowl. Add the sugar, cinnamon, and melted butter, then stir to combine.

Press the crumb mixture into the bottom of the prepared springform pan, then bake the crust for 6-8 minutes, or until slightly golden brown. Remove from the oven and allow to cool while you prepare the fillings.
CINNAMON FILLING
Melt the butter in (or add the melted butter to) a medium size bowl. Add the brown sugar and stir with a spatula until smooth.

Add the flour and ground cinnamon and stir again until thoroughly combined. Set aside.
CHEESECAKE FILLING
In a large bowl with a handheld mixer or the bowl of a stand mixer fitted with the paddle attachment, beat the cream cheese on medium high speed until smooth, about 2 minutes. Add the brown sugar then beat again until combined, about another 2 minutes.

Reduce the mixer speed to low2, then add the heavy cream, yogurt or sour cream, vanilla extract, and ground cinnamon and mix until completely combined. Add the eggs one at a time and continue mixing on low until eggs are just combined. Your batter should be smooth and creamy without lumps, aside from some small peach pieces.

Pour ⅓ of the cheesecake batter into the prepared pan. Then, break off about ⅓ of the cinnamon filling, break into smaller pieces, then drop randomly all over the cheesecake batter. Repeat with remaining cheesecake batter and cinnamon filling for two more layers, ending with cinnamon filling chunks on the top. You do not need to press them down or swirl them into the batter.

Create a water bath3 by placing the 9" springform pan in a slightly larger round pan (I like to use a 10" cake pan) and then place that pan into an even larger round pan (I like to use a 12" cake pan) or roasting pan.

Fill the outer pan with hot water halfway up the sides of the middle pan, then carefully transfer the whole thing to the oven.

Bake the cheesecake for 1 hour 20 minutes to 1 hour 35 minutes. The middle of the cheesecake (a center approximately 2" wide) should jiggle just a little bit. I use my digital instant-read thermometer to check the internal temperature has reached 145ºF (63ºC). Turn the oven off4 and allow the cheesecake to cool in the oven for 1 hour. After 1 hour, remove the springform pan from all of the other pans and allow to cool on a cooling rack for another 2 hours. When the cheesecake is completely cool, cover or wrap tightly and allow to chill in the refrigerator for at least 6 hours, ideally overnight.
CREAM CHEESE FROSTING
In a small bowl, combine the butter and cream cheese and beat on medium speed with an electric mixer until smooth. Add the vanilla extract and powdered sugar and beat again on medium speed until smooth. Add the heavy whipping cream, starting with 1 and ½ Tablespoons, and beat until desired consistency. Set aside.

Remove the cheesecake from the fridge and use a spatula or butter knife to gently loosen the crust from the side of the pan, then release the outer ring of the springform pan.

Drizzle the cream cheese frosting on top of the cheesecake before slicing and serving. You may also drizzle individual pieces as it is served. Store leftovers in the refrigerator up to 5 days. Cheesecake freezes well, up to 3 months. Thaw in the refrigerator overnight.
Notes
Cream cheese: this amount is correct. You will reserve 1 ounce for the cream cheese frosting.
Mixer speed: it's important not to go above low (or low-medium) speed after you've beaten the cream cheese. Incorporating too much air will create bubbles and potential cracks in your finished cheesecake.
Water bath pans: here is

a bundle

that includes all the pans I use. Using this method eliminates the need to wrap anything in foil.

Cool the cheesecake: I like to prop the oven door open with a wooden spoon or spatula.
Adapted from funfetti cheesecake
Nutrition Disclosure
All nutritional values are approximate and provided to the reader as a courtesy. Changing ingredients and/or quantities will alter the estimated nutritional calculations.
Serving:
1
slice
|
Calories:
554
kcal
|
Carbohydrates:
76
g
|
Protein:
15
g
|
Fat:
22
g
|
Saturated Fat:
12
g
|
Polyunsaturated Fat:
1
g
|
Monounsaturated Fat:
6
g
|
Trans Fat:
1
g
|
Cholesterol:
145
mg
|
Sodium:
588
mg
|
Potassium:
333
mg
|
Fiber:
2
g
|
Sugar:
64
g
|
Vitamin A:
740
IU
|
Vitamin C:
0.3
mg
|
Calcium:
341
mg
|
Iron:
2
mg
Disclaimer: These posts and recipes are part of the week long event (#FallFlavors). All opinions are my own. Thank you to our amazing sponsors for providing the prize packs for our giveaways and also products to the #FallFlavors bloggers to use in their recipes.
More of my favorite cinnamon goodies!