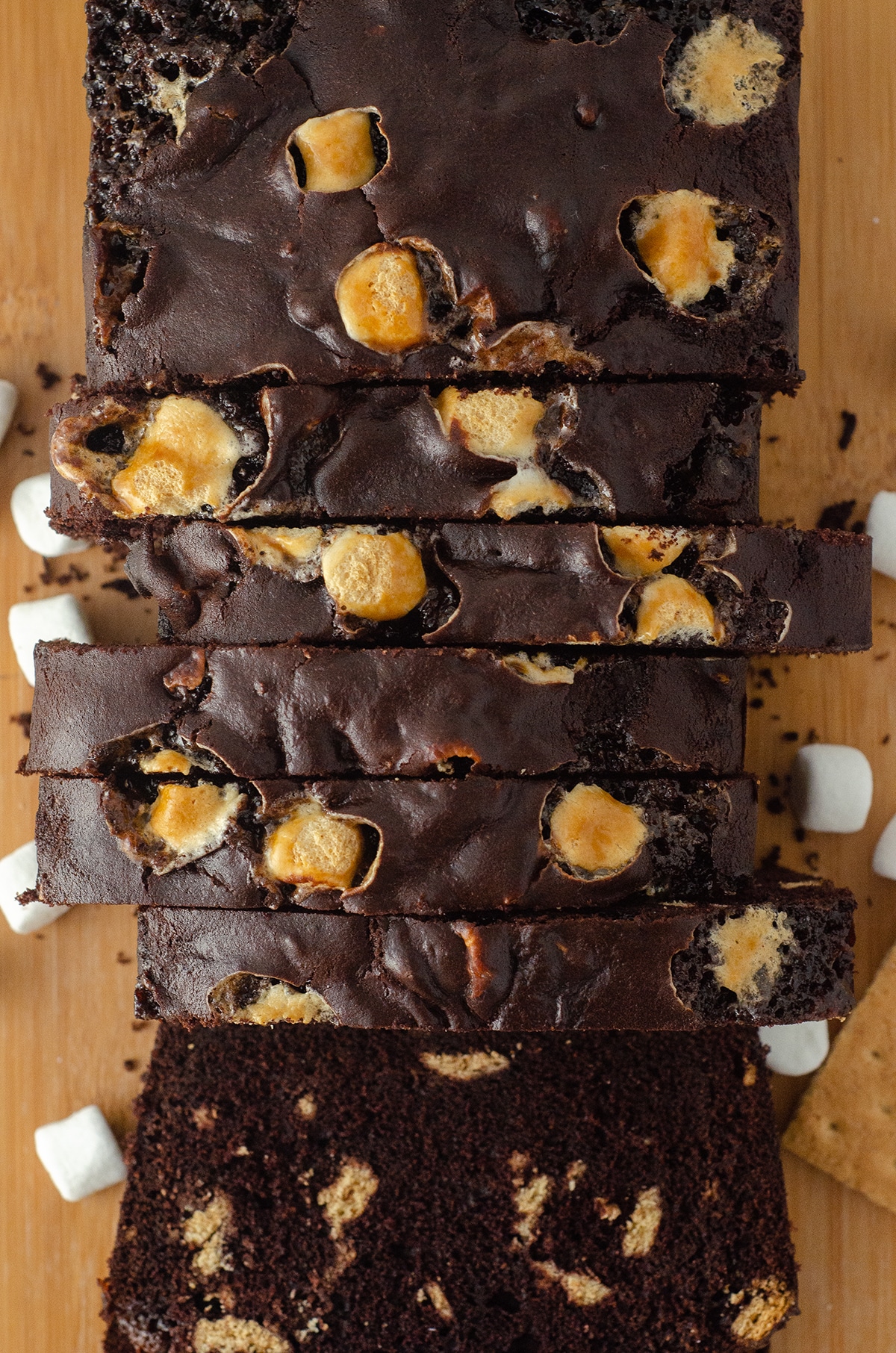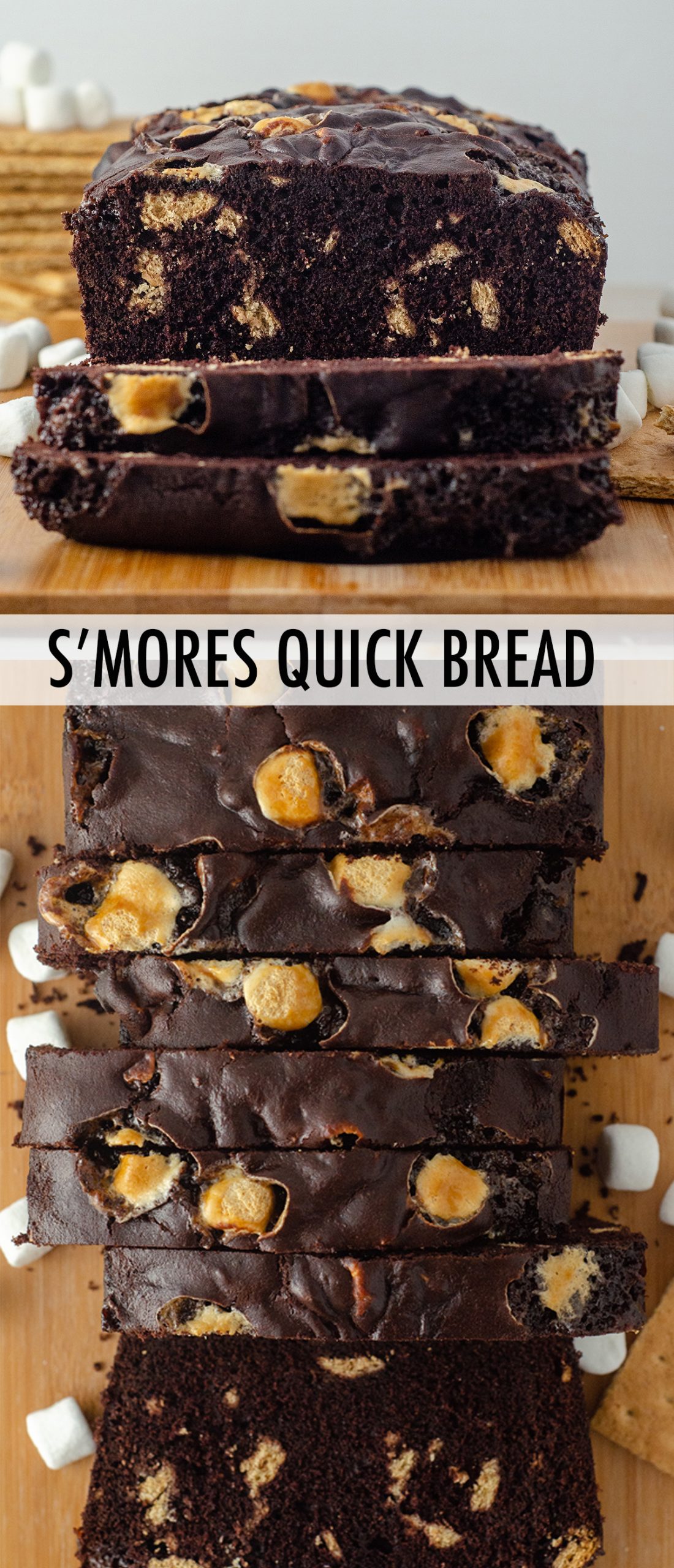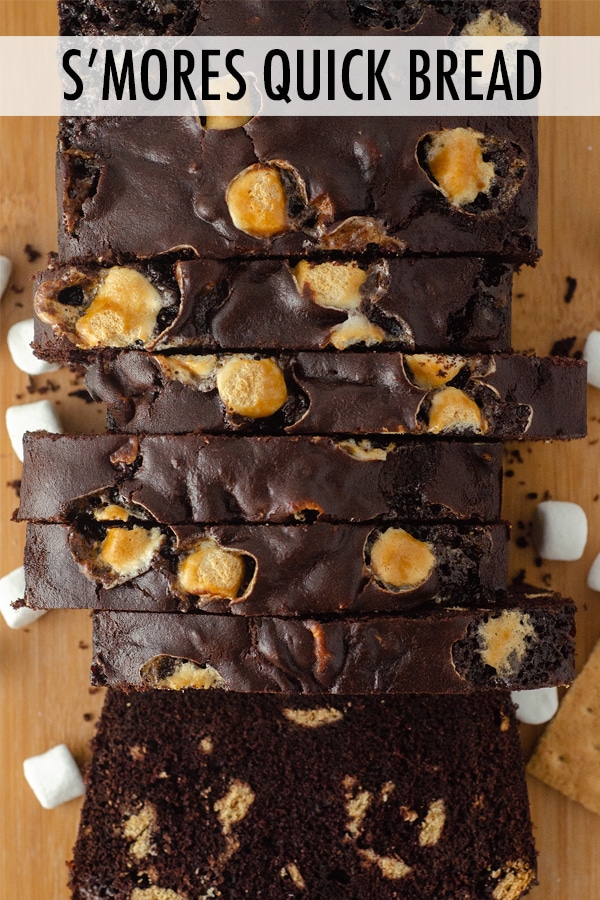 As an Amazon Associate, I earn from qualifying purchases. Read the full disclosure here.
Decadent chocolate quick bread swirling with graham cracker chunks and mini marshmallows.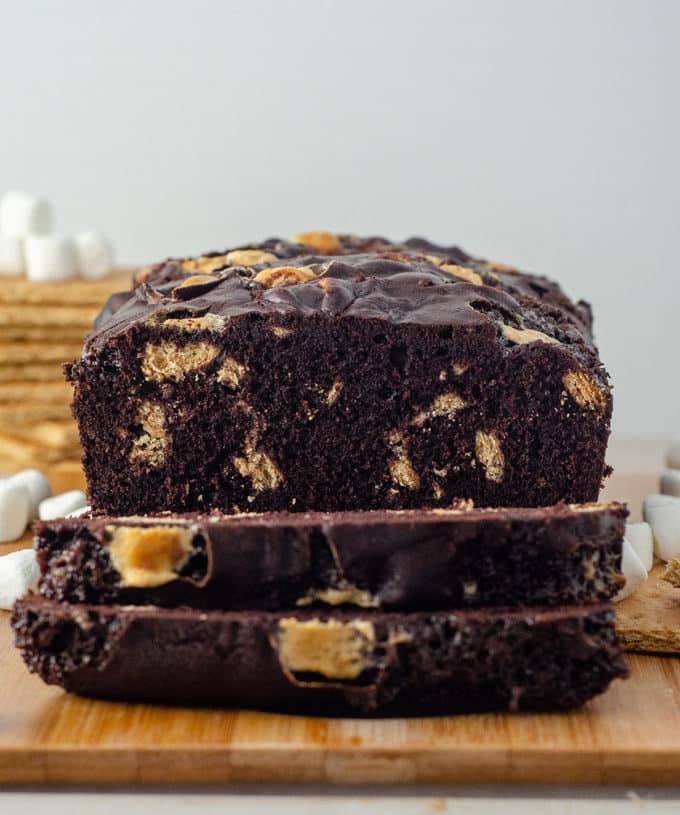 I am V sorry for doing this to you today, friends. Because if life in your neck of the woods is anything like ours right now, it's absolutely scorching out there, and maybe turning on the oven is the very last thing you want to do, but… Bread of The Month must go on and this bread, in my opinion, is worth the heat.
Ok, maybe not worth the heat, but bearable enough knowing you get to bite into this at the end of all of it. So we can make an ok compromise for that, don't you think?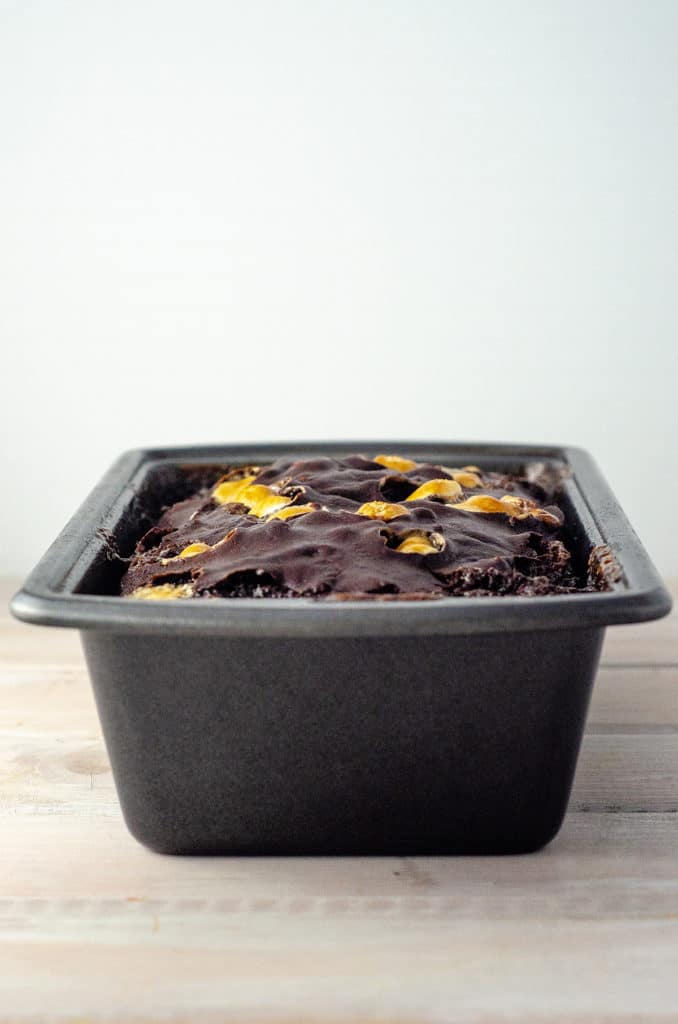 July's #fafbreadofthemonth is another quick one. Have you noticed we've been alternating yeast breads and quick breads? I loveeeee a good quick bread, because they're, well, quick, but I can load them up with so many goodies and bring alltheflavors to just one dessert.
The goodies in this one? Chunky graham crackers and tons of mini marshmallows. All the happenings of a great s'more.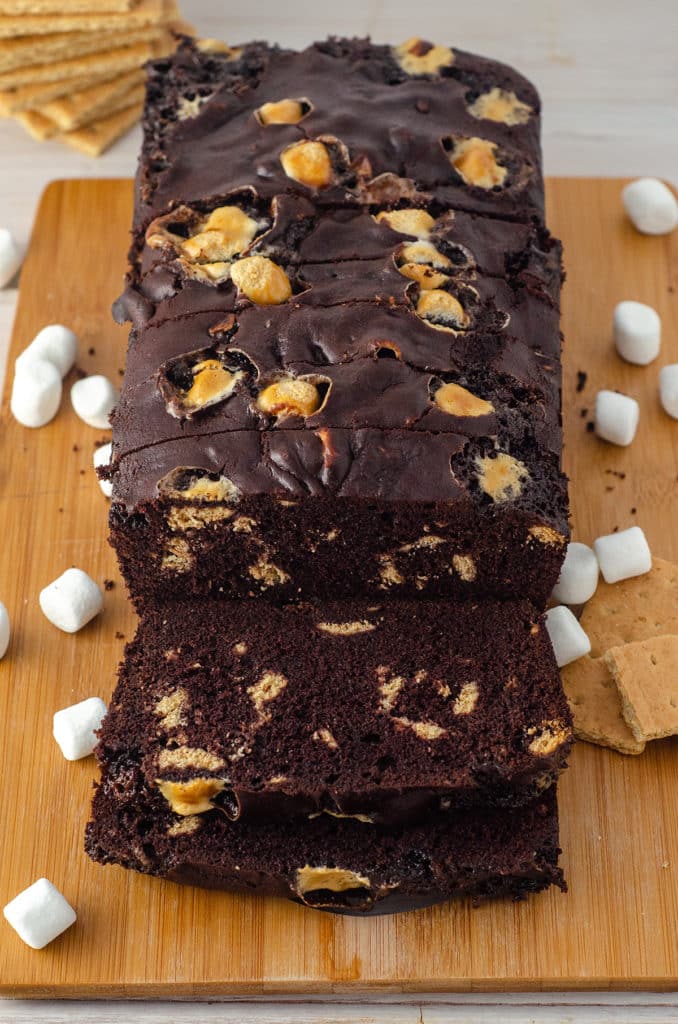 The base of the bread is a decadent chocolate one. I'll definitely be using this base for a future chocolate quick bread, because OMG, was it ever delicious. It's dense and moist and makes the perfect vehicle for the grahams and mallows.
Nothing fancy, and no special ingredients. Just straightforward chocolate quick bread heaven.
But about those graham crackers, you're going to do something a little different with half of them, and that is layer them right in the middle of your batter.
No scientific way of doing this, just pour about 1/2 of your batter into the prepared pan, layer half of the coarsely crushed grahams on top, and then cover with the remaining 1/2 of the batter, which will already have the other half of your graham crackers.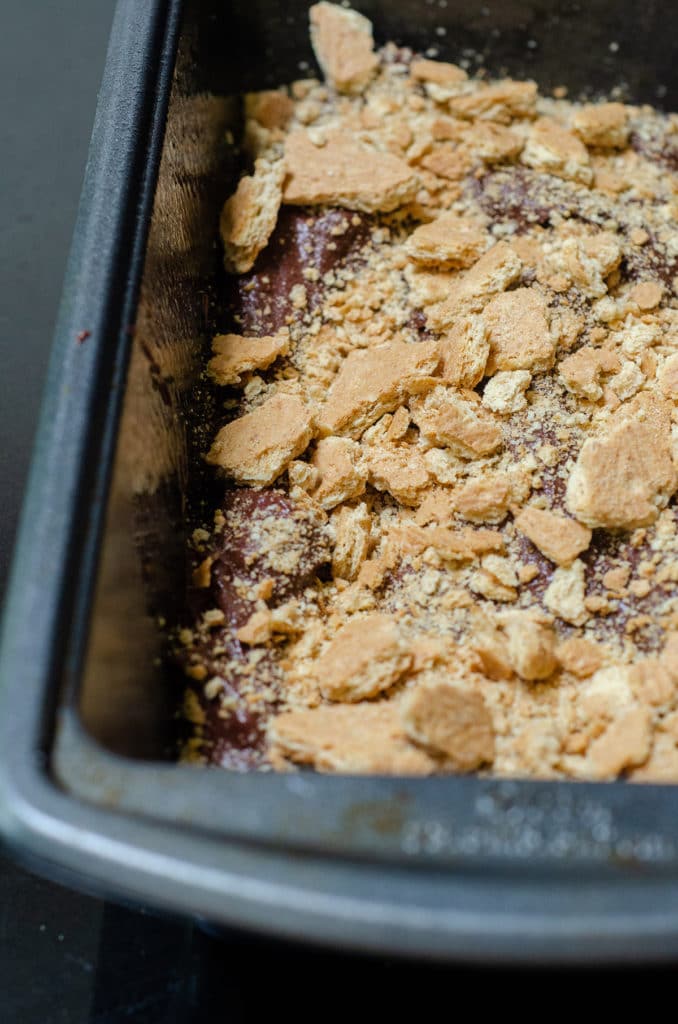 Was that too many halves to keep track of? Don't worry, I break it down for you in the recipe instructions.
Your batter will also house a ton of mini marshmallows, but you'll reserve some for the top of the loaf. Those ones will get nice and melty and start to brown. This is how I like my marshmallows, but if you're not into browning them, you can always cover your loaf before it goes into the oven.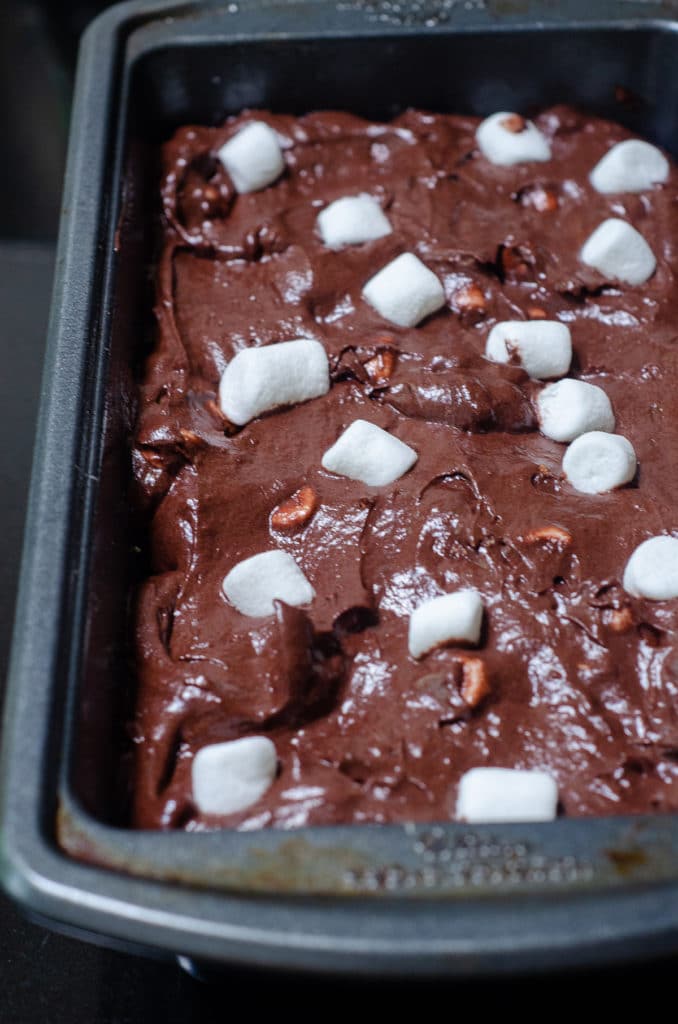 For you blackened marshmallow folk, sorry… You'll have to burn your loaf in order for that to happen, and I'm not advising that method for this bread. If you're feeling really burny, go ahead and torch your bread with a kitchen torch, maybe?
Though try not to light your s'mores bread on fire!
The way those graham pieces get all up in this chocolate based bread is probably my favorite part of the whole thing. Of course, I am a devoted graham lover of the whole s'more relationship, but the way they get soft but still give the slightest crunch to the whole bread is the perfect complement to the gooey marshmallows that sneak their way into every bite.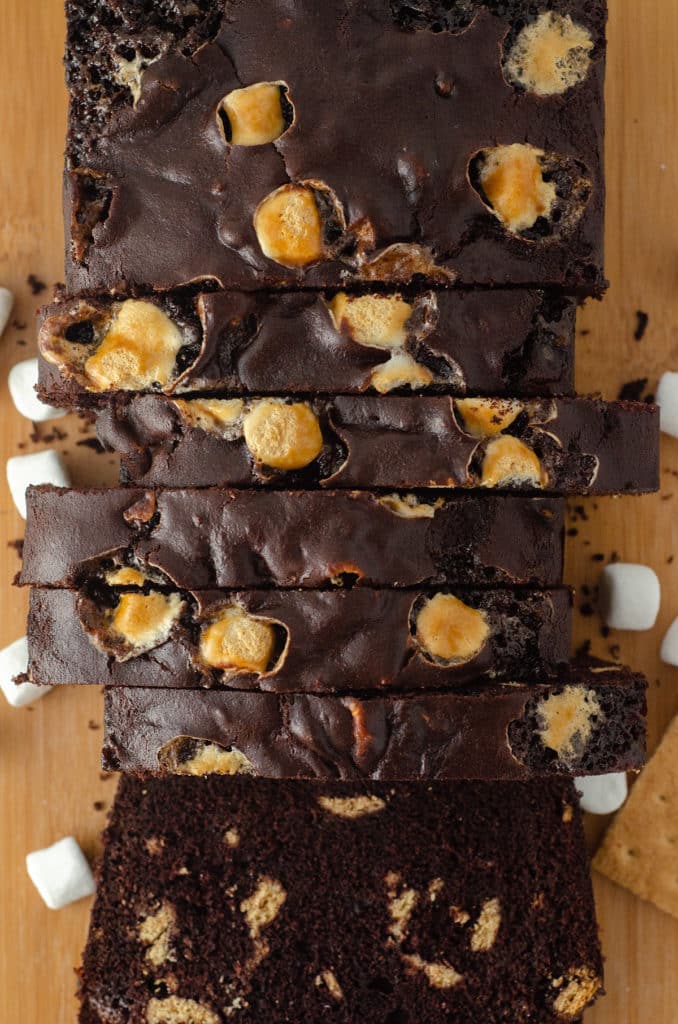 Like I said, I know 90+ degree weather is not the most conducive to turning on the oven, but is a campfire really that much better? I say this bread is what your summer needs, so you can have the s'mores in the comfort of your own air conditioning.
No flames, no campfire smell, and a quick bread that will last longer than a few bites… Maybe!
S'mores Quick Bread
Decadent chocolate quick bread swirling with graham cracker chunks and mini marshmallows.
Ingredients
1 and 1/2

cups

all purpose flour

be sure to measure properly

3/4

cup

unsweetened cocoa powder

1

teaspoon

baking soda

1/2

teaspoon

salt

1/2

cup

unsalted butter

room temperature

1

cup

granulated sugar

2

large

eggs

room temperature

1

cup

milk

any

1/2

teaspoon

vanilla extract

6

full graham crackers

coarsely crushed

1

cup

mini marshmallows

divided
Instructions
Preheat the oven to 350ºF. Spray a loaf pan with nonstick spray. Set aside.

In a medium size bowl, toss together the flour, cocoa powder, baking soda, and salt. Set aside.

In a large bowl with a handheld mixer or the bowl of a stand mixer fitted with the paddle attachment, cream the butter and sugar on high speed until light and fluffy, about 2-3 minutes. Add the eggs one at a time, scraping down the sides of the bowl when necessary to incorporate.

Reduce the mixer speed to low, add the milk and vanilla, and continue to beat on low until everything is combined, again, scraping down the sides of the bowl when necessary.

With the mixer speed on low, slowly add the dry ingredients and mix until just combined. Stir in half of the crushed graham crackers (about 1/2 a cup) and 3/4 cup of the mini marshmallows with a spatula.

Pour half of the batter into the prepared pan. Layer the remaining 1/2 cup of crushed graham crackers on top, then top with the rest of the batter. Scatter the remaining 1/4 cup of mini marshmallows on top of the second layer of batter, then bake the loaf for 45-50 minutes, or until a toothpick inserted into the center comes out mostly clean. Allow to cool 15 minutes before removing from the pan and allowing to cool on a wire cooling rack until ready to serve. Loaf stays fresh covered tightly at room temperature up to 5 days. Loaf freezes well, up to 2 months. Thaw in the refrigerator.
Nutrition Disclosure
All nutritional values are approximate and provided to the reader as a courtesy. Changing ingredients and/or quantities will alter the estimated nutritional calculations.