Graham Cracker Toffee Bark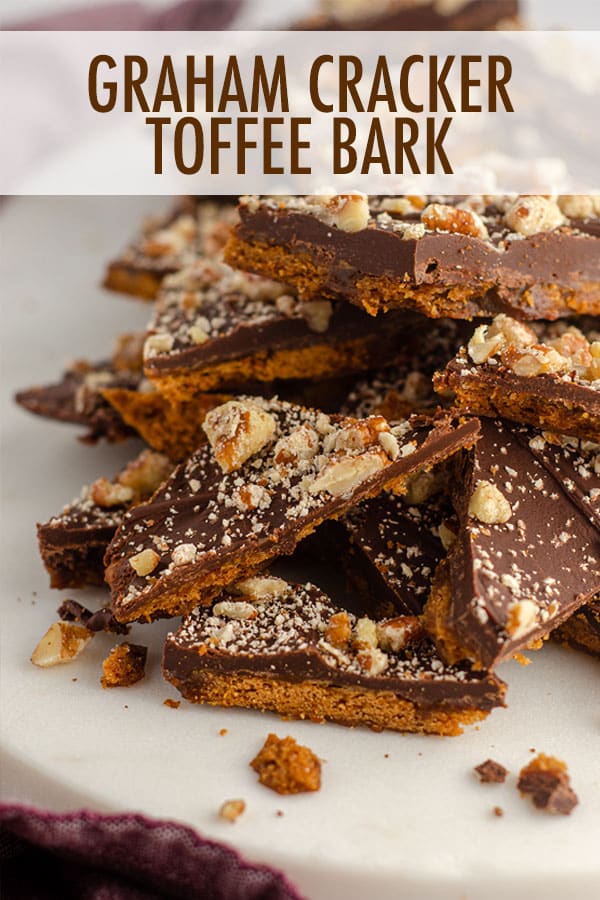 As an Amazon Associate, I earn from qualifying purchases. Read the full disclosure here.
A twist on the classic toffee bark– made with an easy butter and brown sugar toffee, this graham cracker toffee bark is a perfect sweet, salty, and sticky treat. Dress it up with festive sprinkles for holidays or other celebrations!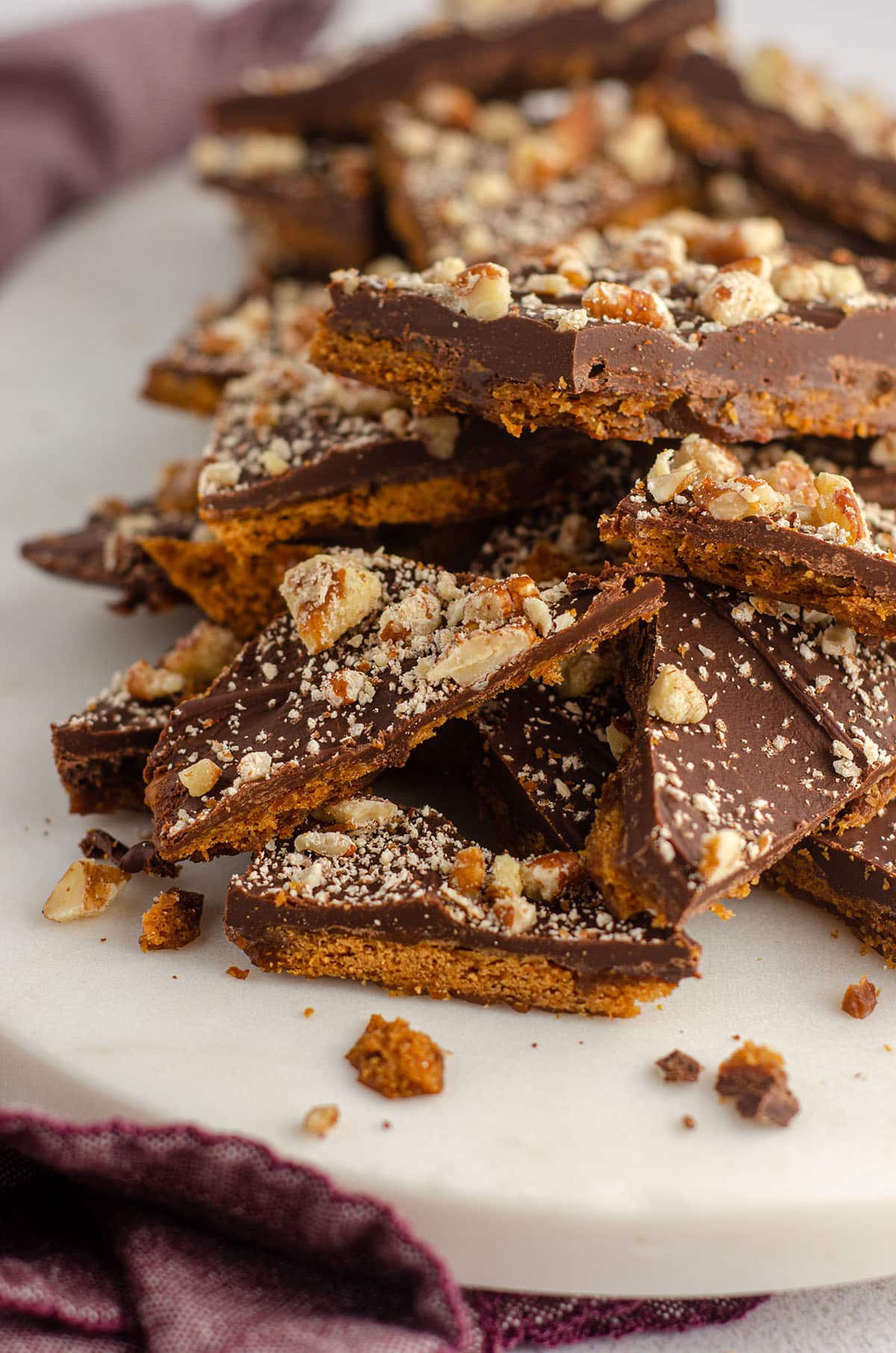 THIS STUFF. Where do I begin? I'll begin with "watch out," because it is really hard to stop snacking on this. So much so that I've often seen its counterpart (made with Saltines) called "Christmas Crack."
Yeah, that stuff.
I'm a big fan of it, but I'm also a huge fan of graham crackers in my desserts, so I wanted to change up the flavor profile and pair my sticky toffee with something a little more brown-sugary.
So let's just call this what it is… Christmas Crack with graham crackers.
With the holidays right around the corner, it's easy for cookies to take over the world (see all of my cookie recipes!) and for little treats like this one to get lost in the shuffle.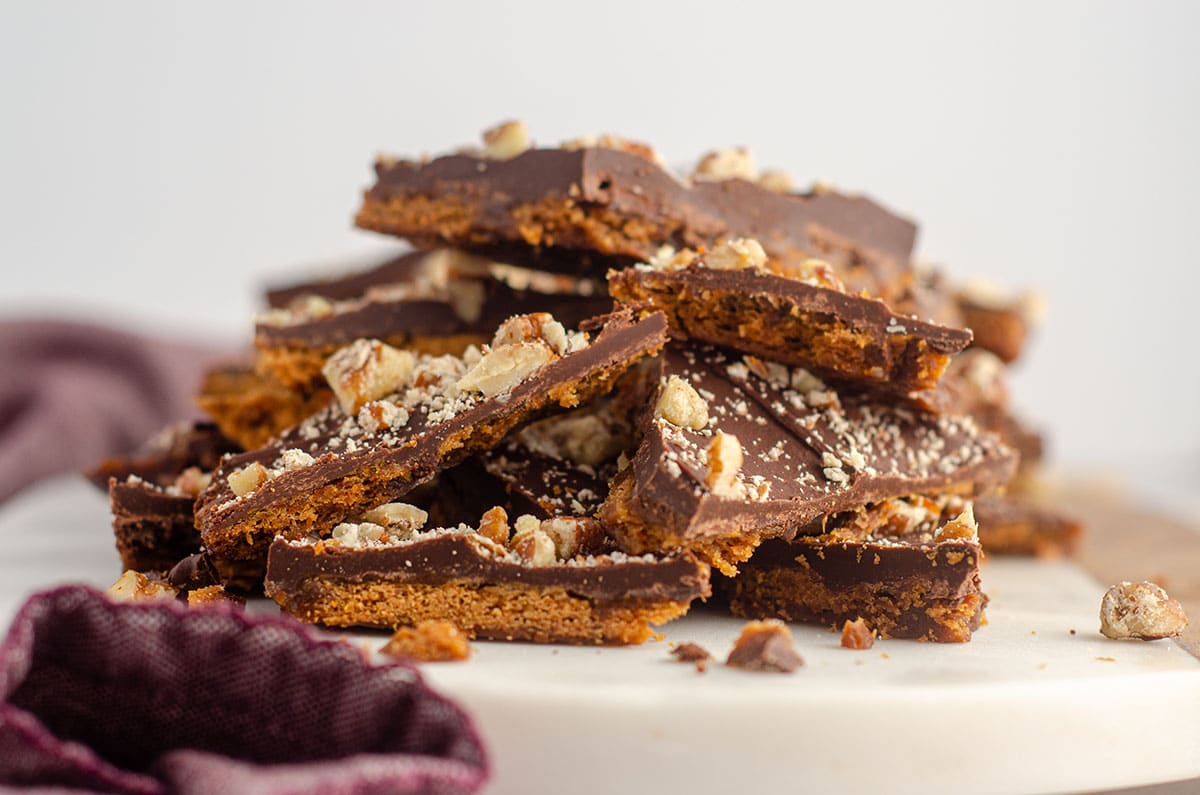 Personally, I'm all about the "other" treats that come along with the holidays and will often decorate my cookie trays with several other sugary specimens.
Plus, this little snack is quite versatile and can be decorated for any holiday or occasion by changing up the topping (more on that in a second).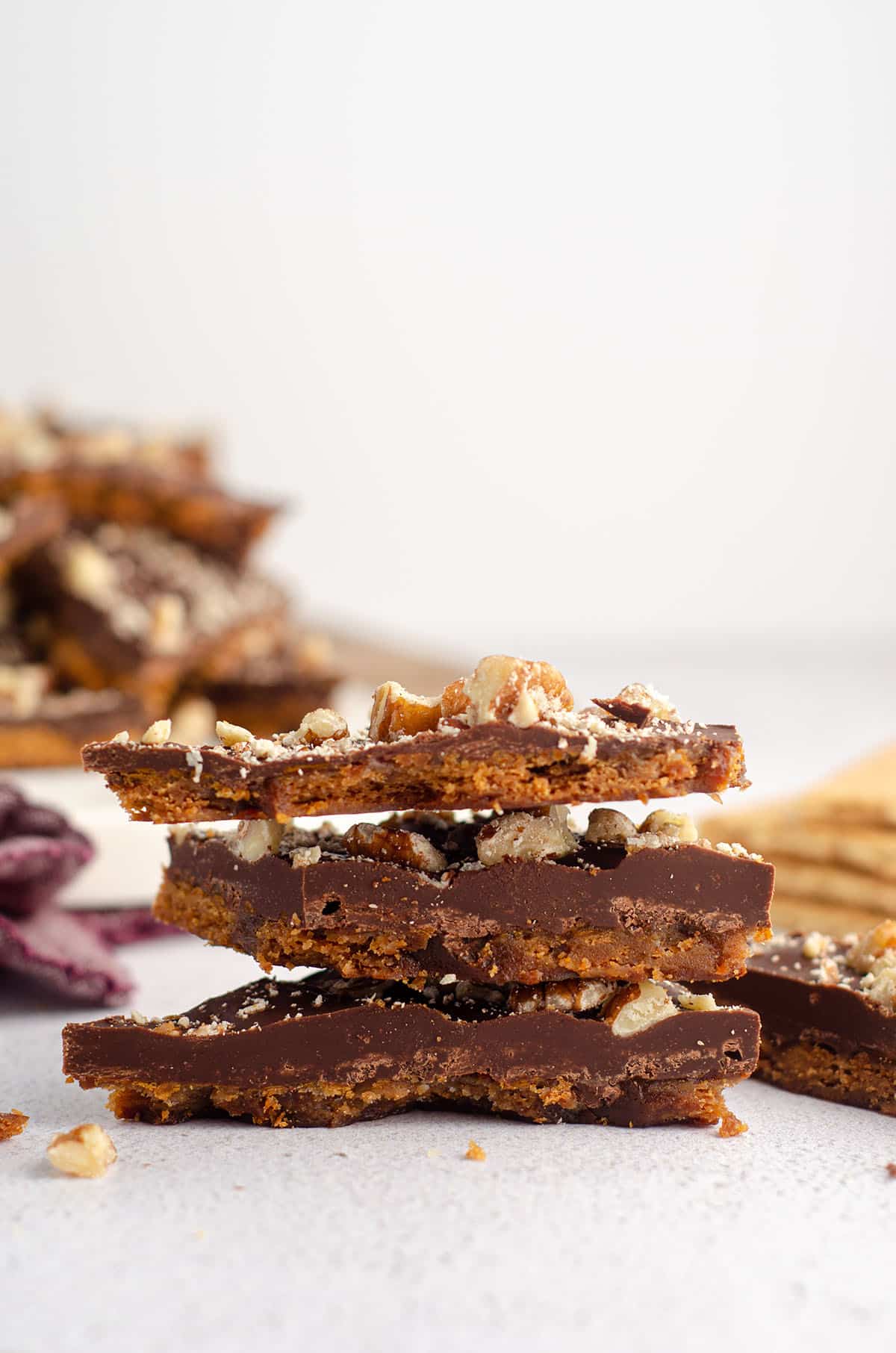 INGREDIENTS
For this sweet and salty snack, grab a box of your favorite graham crackers– plain, honey, cinnamon, low-fat (if you'd like to feel better about all the butter), or chocolate, even.
Graham crackers, brown sugar, butter, chocolate, and some kind of topping (I used pecans). That's all you need.
If you don't like nuts, don't use 'em. Consider festive sprinkles, chopped up m&m's, or just leave them plain.
No matter the topping, the crunchy, salty, brown sugary graham crackers are the star of the show, so let's talk about them.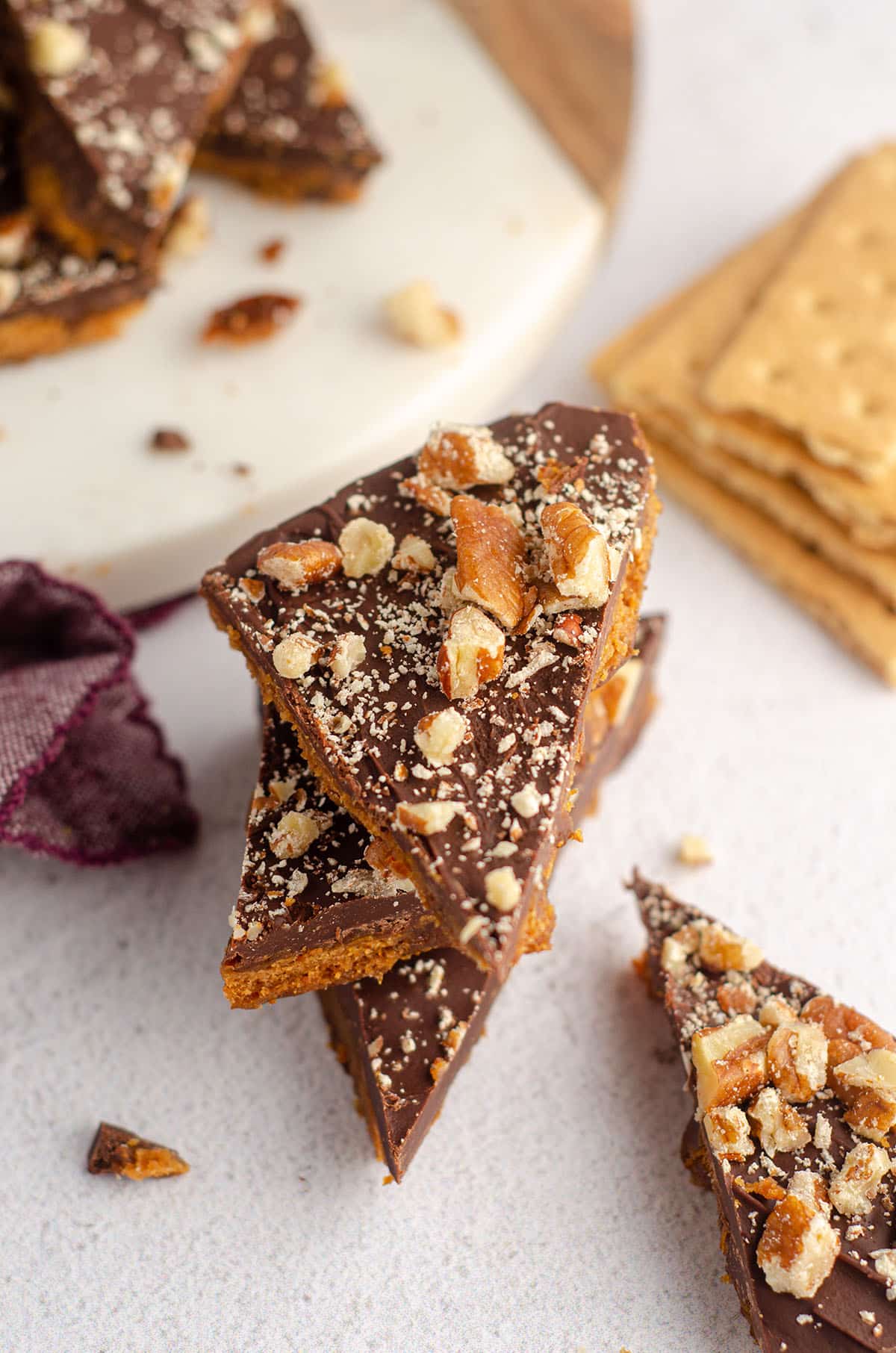 HOW TO MAKE GRAHAM CRACKER TOFFEE
You'll start by spraying a baking sheet generously with non-stick spray. Really spray it down. This stuff gets mighty sticky!
Line your baking sheet with graham crackers, broken into squares, leaving a little bit of room between each cracker.
MAKE A SIMPLE TOFFEE
Melt 1 cup of brown sugar, 2 sticks of butter, and a pinch of salt together for about 4-5 minutes. The mixture will start to bubble and darken. That's when it's ready to be poured all over the graham crackers.
A QUICK BAKE
Once the toffee mixture is on your graham crackers, you'll pop it in a hot oven for about 8 minutes. The mixture will start to bubble and make its way between all of the cracks of your graham crackers (aka toffee magic time).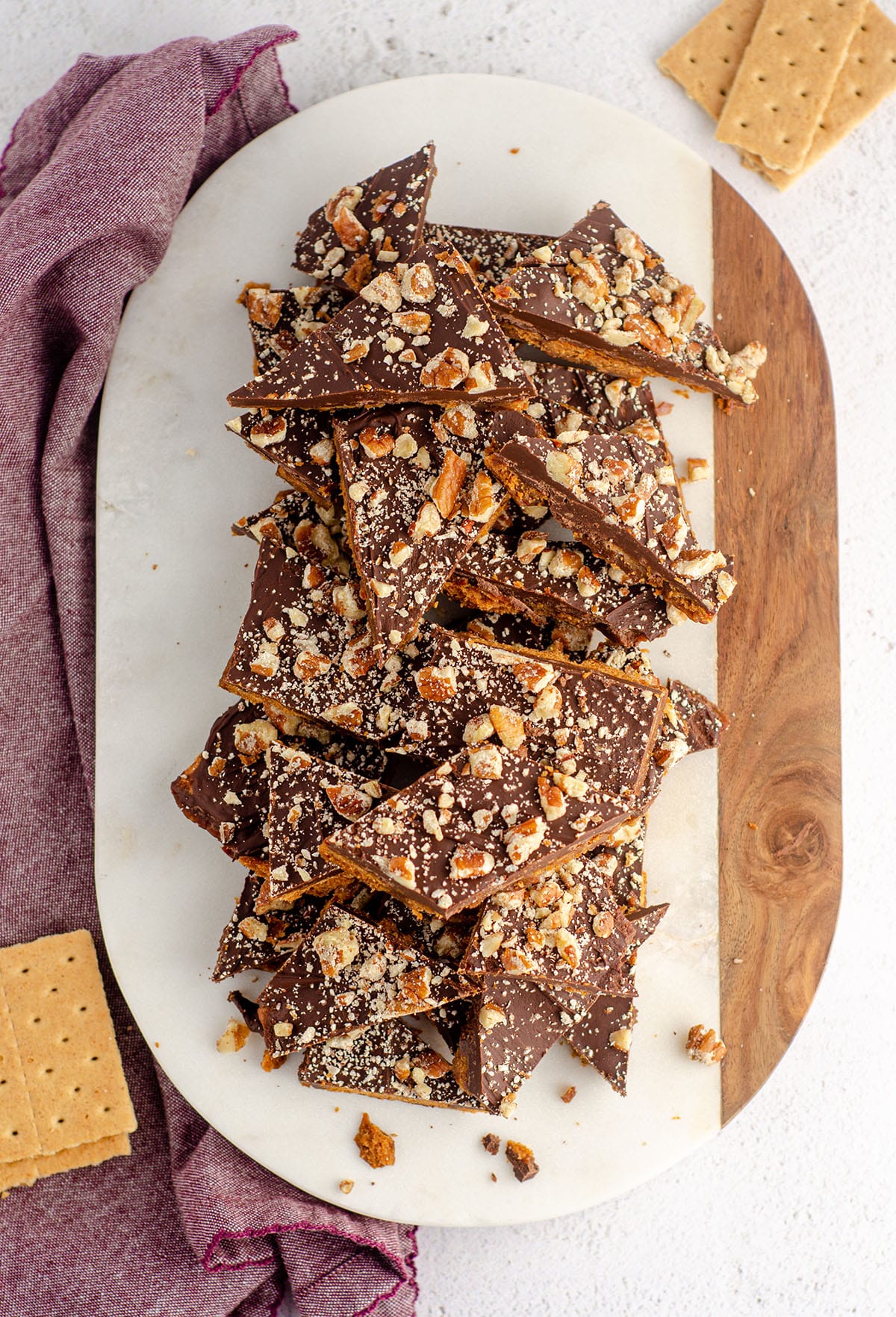 Once your 8 minutes is up, sprinkle 2 cups of semi-sweet chocolate chips evenly all over the top of the bubbly toffee.
Let them sit for a minute or two until they look pretty melty, and then spread the chocolate all over the top until every surface of the toffee is covered.
Sprinkle your chopped nuts (or whatever you're using) on top, and let the entire pan chill in the fridge for about an hour and a half. If you have room in your freezer, you only need to wait 1 hour. The freezer sounds like the better choice here, but that's just me.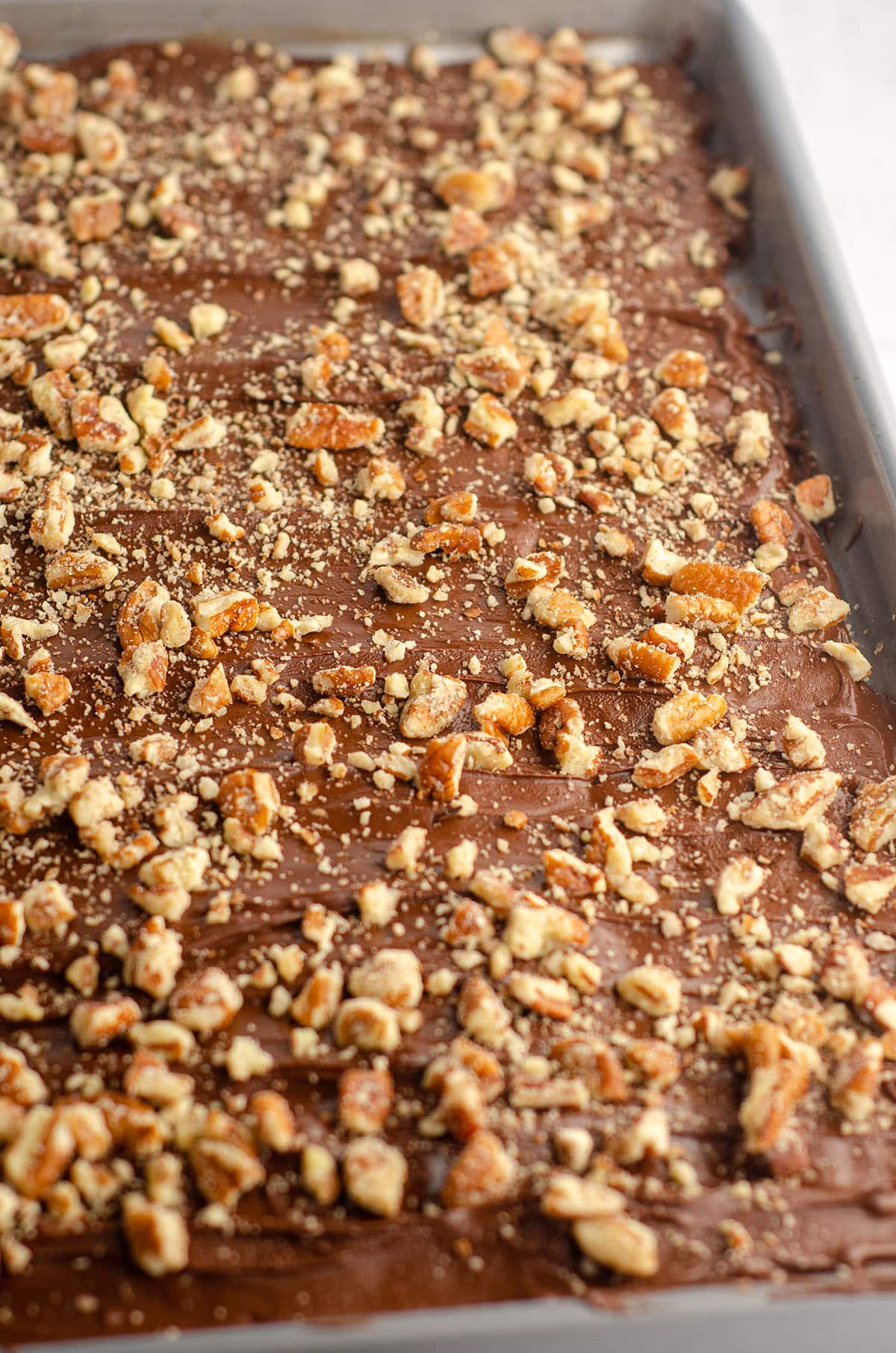 When everything is cool, you can break up your toffee into whatever size pieces you'd like. Big, small, jaggy, smooth… Your choice.
Just know that the smaller your pieces, the more often you'll be going back to get more… Just saying.
Crunchy, brown sugary, buttery, a little salty, and a super easy approach to toffee? Sounds like you need this in your holiday life.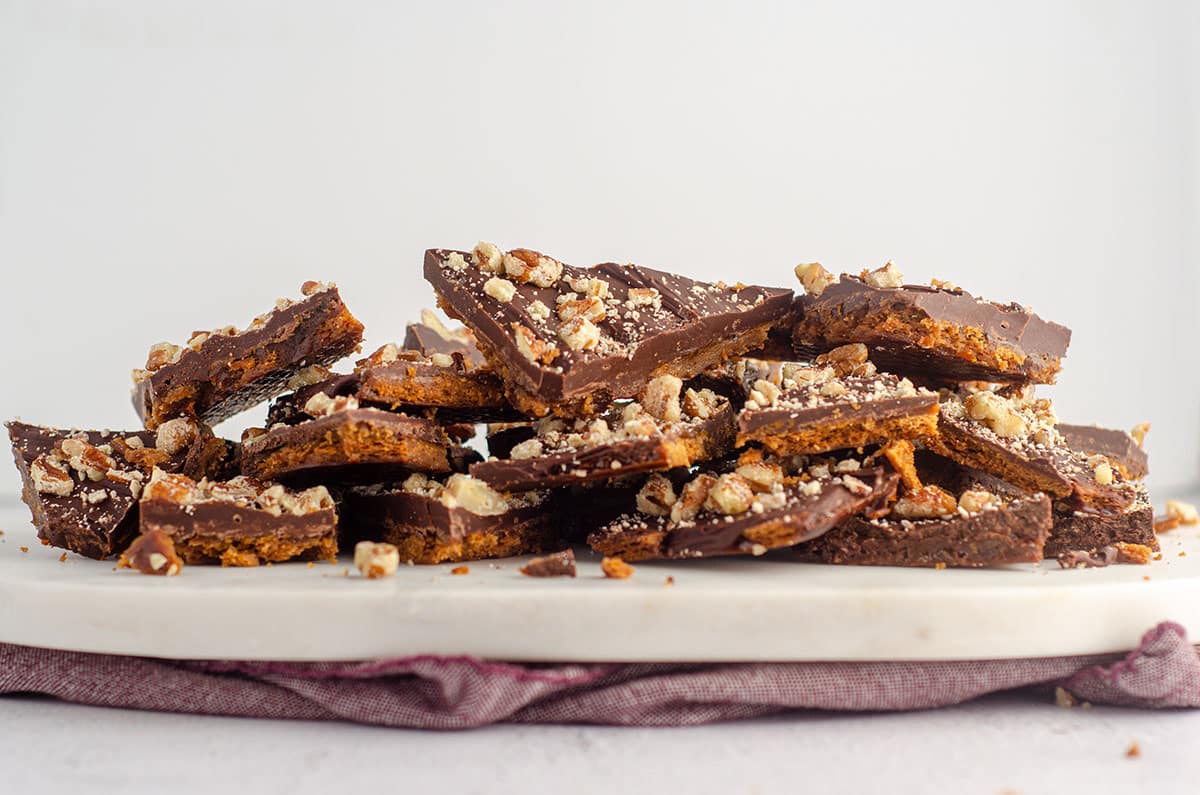 Or… A Wednesday night. Whatever. No judgement here!
Graham Cracker Toffee Bark
Sweet, salty, sticky toffee made with brown sugary graham crackers.
Ingredients
14

full graham cracker sheets

any flavor

1

cup

(200g) lightly packed brown sugar

1

cup

(227g) unsalted butter

2

cups

(340g) semi-sweet chocolate chips

¼

cup

chopped nuts1

optional
Instructions
Preheat oven to 400ºF (204ºC). Generously spray a large baking sheet2 (or jelly roll pan) with non-stick spray. Set aside.

Break graham crackers into squares and arrange in the pan, covering the bottom but leaving a little bit of room between each square.

In a large saucepan over medium heat, bring butter and brown sugar to a boil. When mixture begins to boil, allow it to boil without stirring for 4-5 minutes. When mixture is bubbly and beginning to darken, pour it over the graham crackers.

Immediately place baking sheet in the oven and bake for 8 minutes.

Remove toffee from the oven and pour the chocolate chips over the top, distributing them evenly. Allow to sit for a minute or two so the chocolate chips can melt.

Using an offset spatula or a spoon, smooth the chocolate chips into one melted layer. Top with chopped nuts (or topping of your choice).

Chill the toffee in the freezer for at least 1 hour OR in the refrigerator for 2 hours. Once the toffee is set, break into desired size pieces. Toffee can be stored in an airtight container in the refrigerator or at room temperature for up to 10 days. Toffee can be frozen up to 3 months. Thaw in refrigerator before enjoying.
Notes
Toppings: you may also use chopped candy and/or sprinkles.
Halve this recipe: cut everything in half and prepare in a casserole dish (approximately 7″ x 12″).
Nutrition Disclosure
All nutritional values are approximate and provided to the reader as a courtesy. Changing ingredients and/or quantities will alter the estimated nutritional calculations.