Buffalo Cauliflower Tacos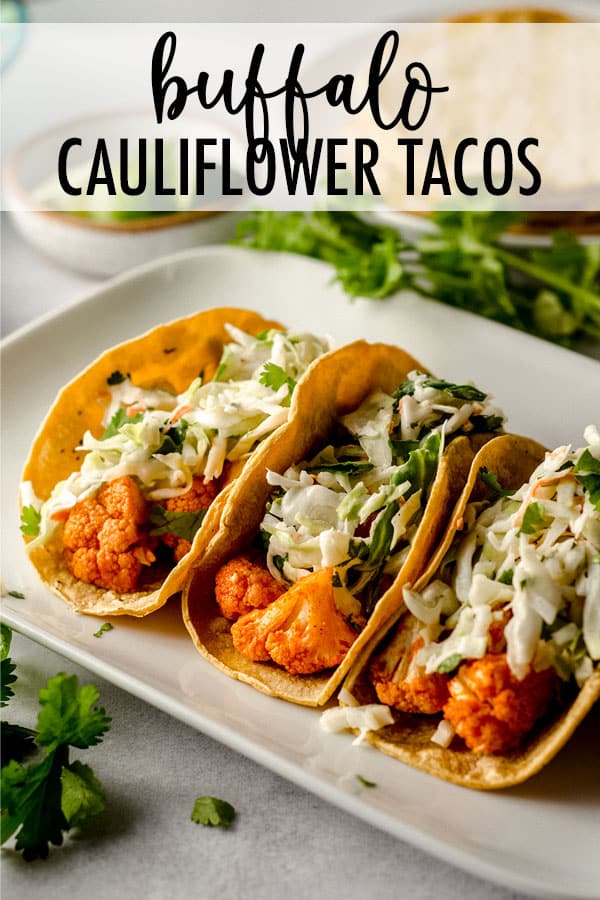 As an Amazon Associate, I earn from qualifying purchases. Read the full disclosure here.
Soft tortillas filled with crunchy buffalo cauliflower and topped with a tangy cilantro slaw. A perfect gluten free, dairy free, and vegetarian option that can easily be made vegan.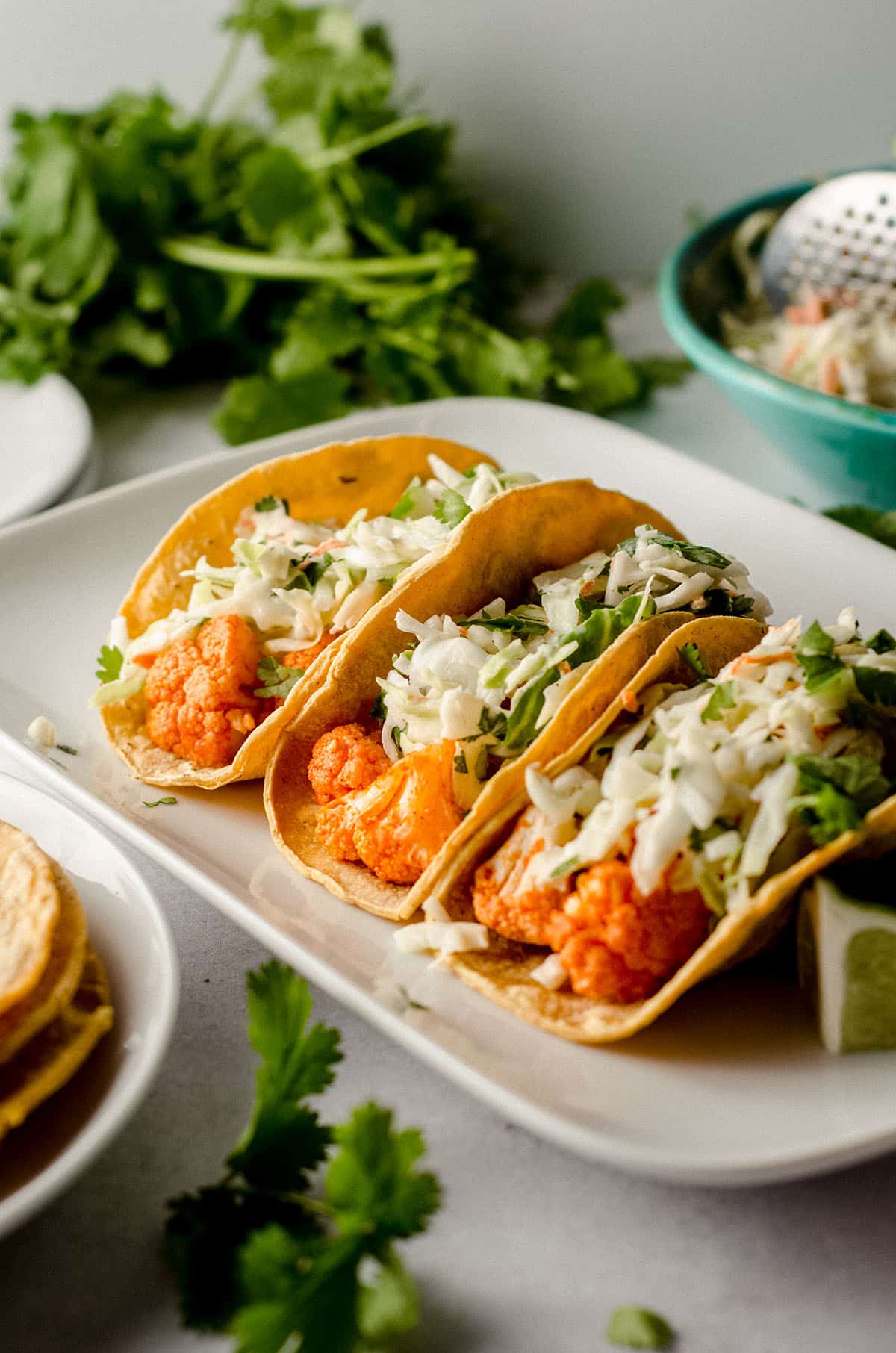 Buffalo flavor: are you in or out? I am always in, as evidenced by my love of buffalo blue salad, buffalo chicken chili, buffalo chicken dip, buffalo chicken stuffed peppers, and buffalo hummus.
Give me this flavor for lunch or dinner any day, and if it's wrapped in a tortilla, EVEN BETTER.
While I am quite dessert heavy here at FAF, every month I like to change it up and share something savory we enjoyed recently, and the only thing I can say here is that I was undecided about sharing this buffalo cauliflower tacos recipe with you until we tasted them.
It would be selfish of me to keep them from you, truly.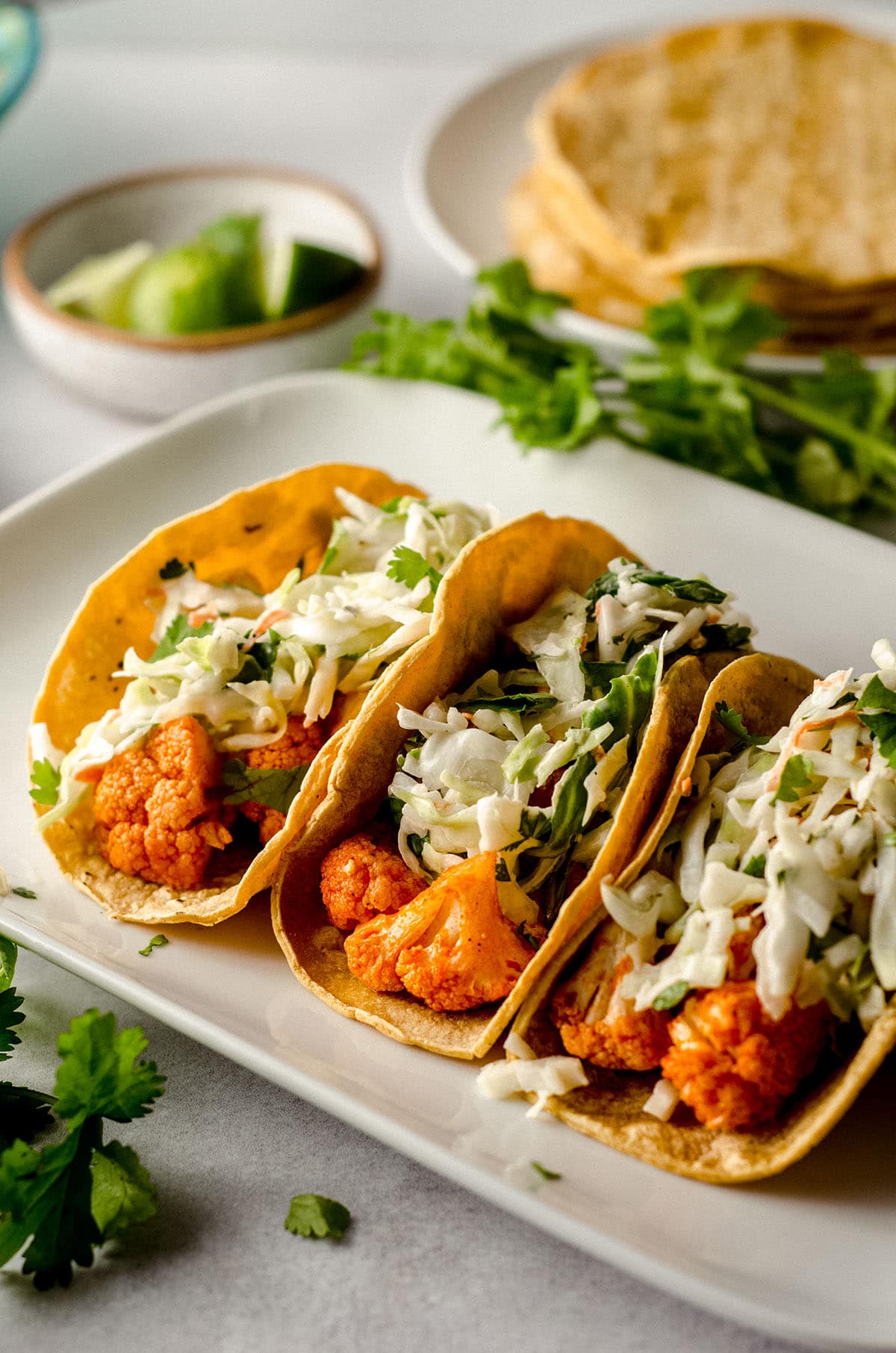 And if you're wondering, YES, I do photograph many things just for the heck of it– in the event that maybe I decide to share it on the blog and also to get practice photographing all kinds of food (that's actually how this winter sangria recipe found its way to the blog).
So let's break down exactly what's going on here.
BUFFALO CAULIFLOWER
I have to preface this: cauliflower is not a replacement or substitute for meat.
And I only mention this because when Matt took a bite, he said "I think I would have preferred mushrooms," but then when I explained this wasn't exactly a way to replicate meat, but more so a vehicle for buffalo sauce, he totally changed his mindset.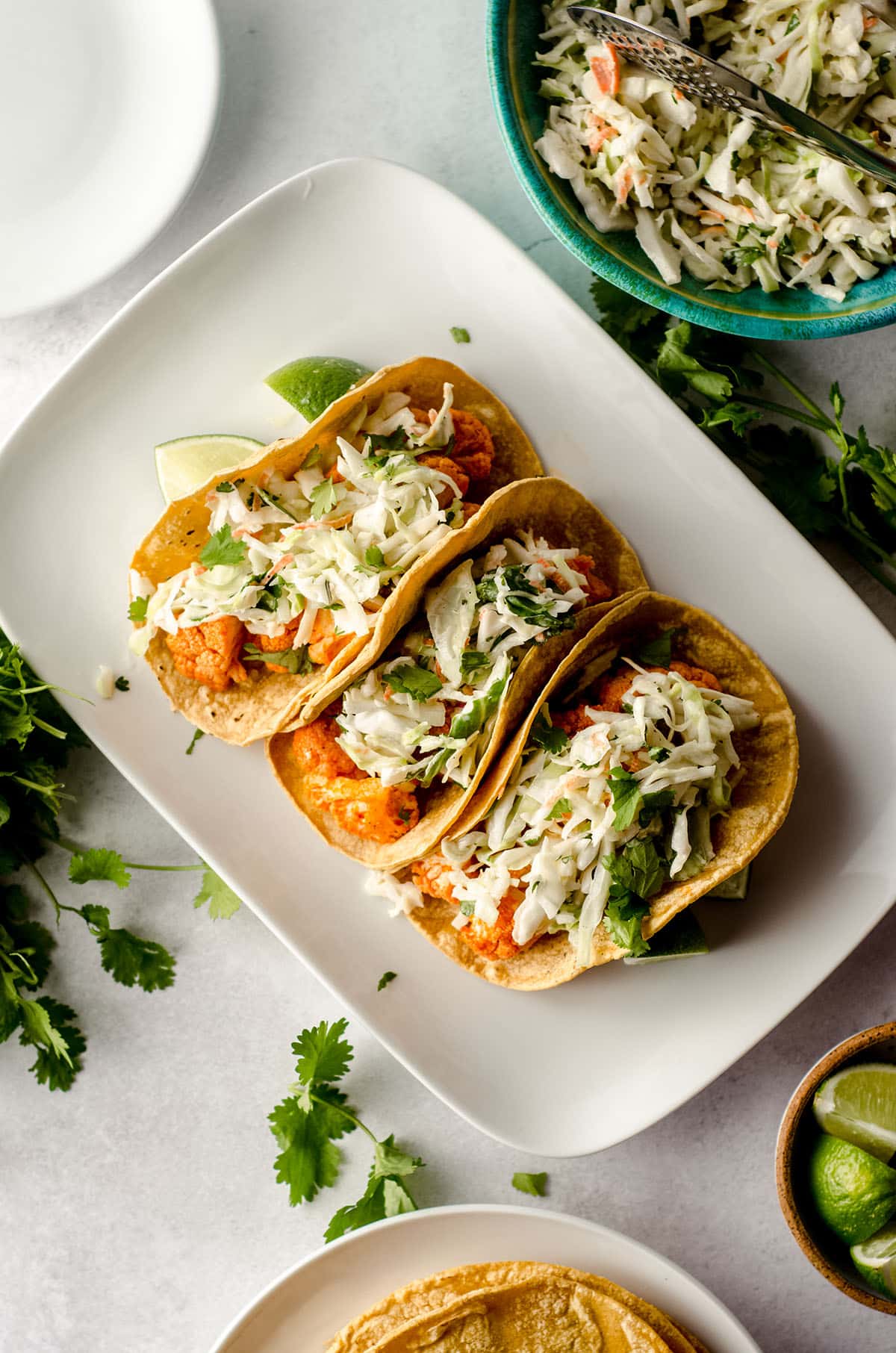 Weird, right? But I have to say it: cauliflower will not replace the "meaty" mouthfeel of meat that mushrooms often replace in vegetarian and vegan meals.
Buffalo cauliflower is simply a novel way to enjoy a veggie taco with some non-traditional spice (buffalo vs taco seasoning/flavor). These are simply roasted cauliflower tacos. Flavored with buffalo.
Are we on the same page?
HOW TO MAKE CAULIFLOWER TACOS
Buffalo cauliflower is simple to make: you'll start by cutting one head of cauliflower into florets. Try to keep them about the same size, realizing you will have some tinier ones, but keeping the majority of them approximately bite-size.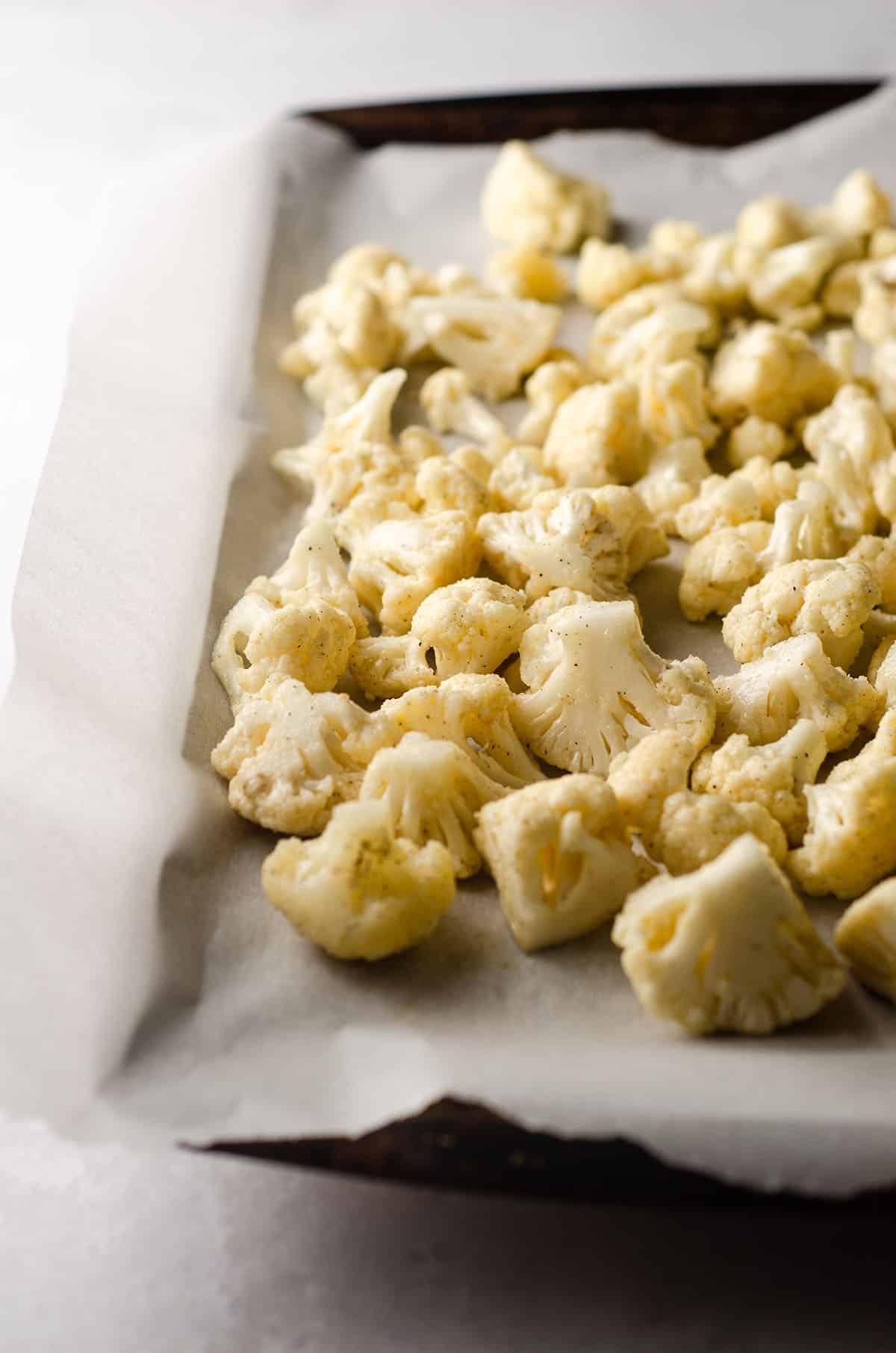 Throw these florets into a zip-top back or large plastic or glass container with a lid so you can season them evenly.
Some olive oil to help it stick, then some salt, pepper, garlic powder, and onion powder. Shake shake shake! Then spread out onto a lined baking sheet (I like to use parchment, which I will explain in a bit).
You'll bake this cauliflower for 10 minutes at high heat near the top of your oven. Rotate/flip/move around the cauliflower on the sheet, then bake another 10 minutes.
After the initial 20 minutes of bake time, it's time to add the hot sauce.
Add the hot sauce to the bag or container you used to season the cauliflower, then add the par-cooked cauliflower.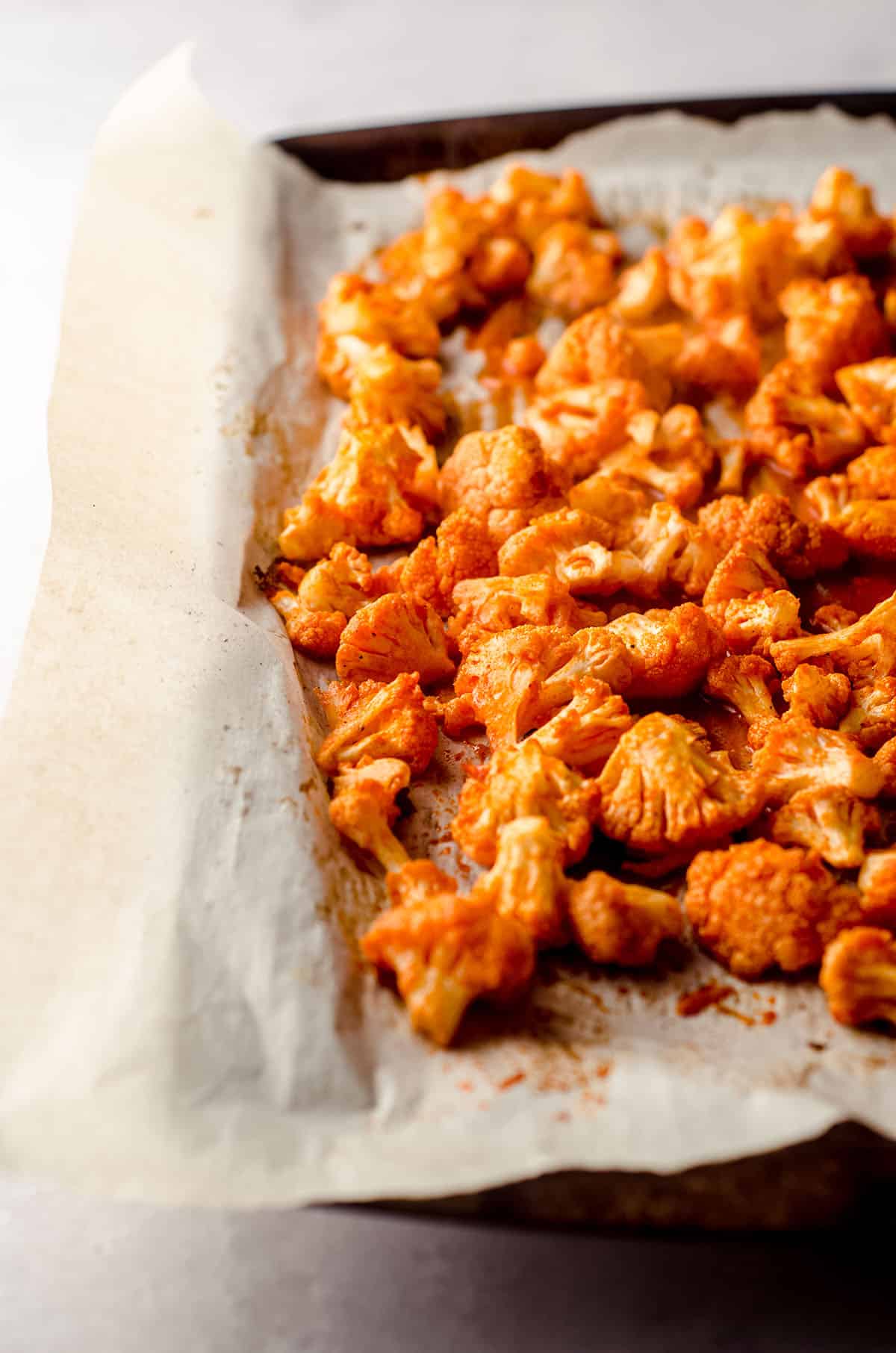 Toss or stir gently to coat, then, before returning the cauliflower to the baking sheet, wipe off the excess moisture on the sheet that baked out of the cauliflower. I actually even flipped my parchment paper over (which is why I like parchment here!) to insure I was working with a mostly dry surface again.
Return the cauliflower to the baking sheet, and then bake for one last round of 10 minutes.
CILANTRO SLAW
During that last 10 minutes of bake time for the cauliflower, go ahead and prep the cilantro slaw. This recipe comes to us from my friend Melissa at Simply Whisked.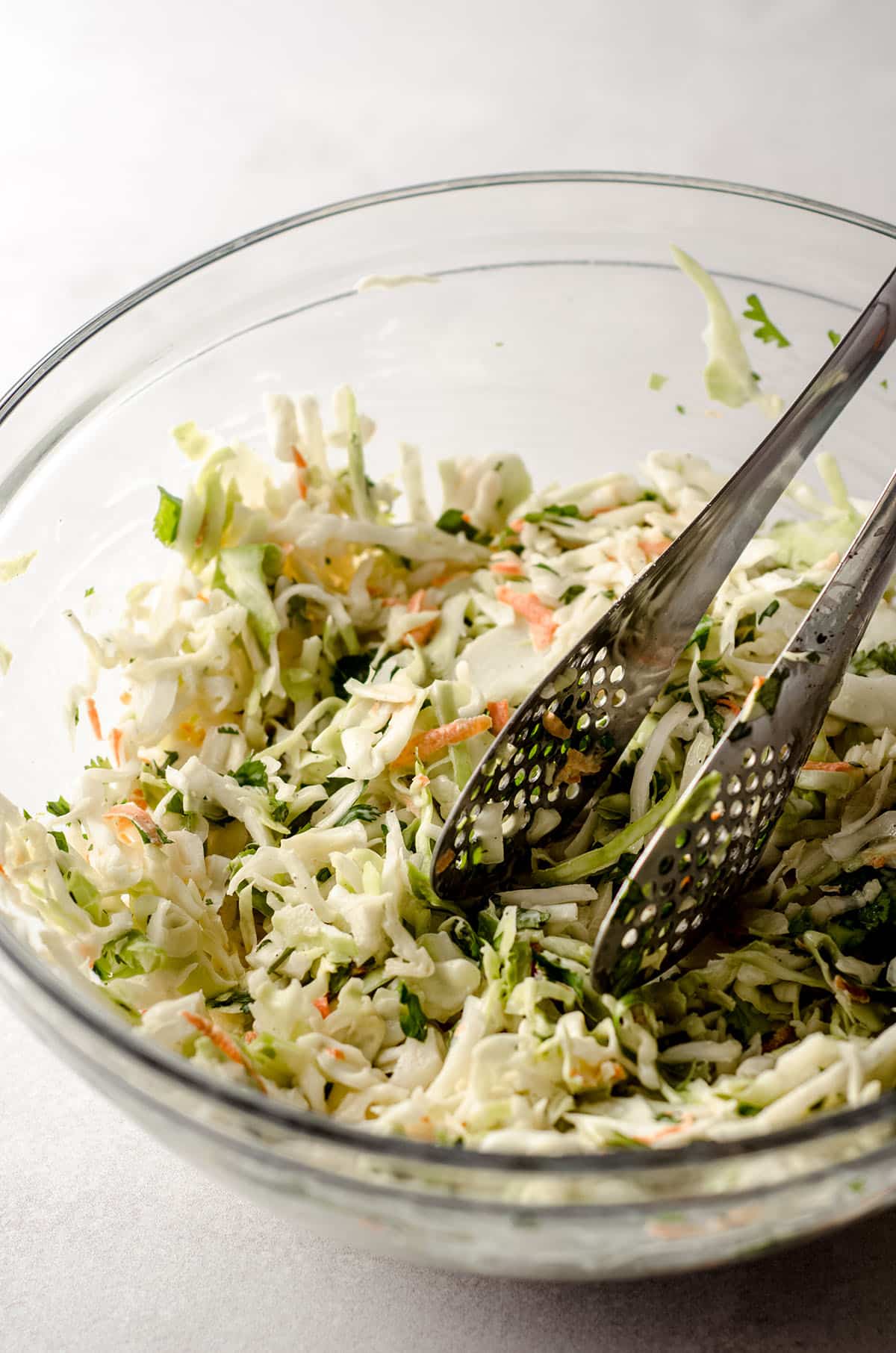 I reached out to Melissa, who is a dairy free food blogger, because I was looking for a slaw I could easily make
1) dairy free
2) vegan, if needed and
3) in just a few minutes.
Melissa delivered, and she gave me a few options– we decided that her cilantro slaw, which she paired with honey chipotle chicken, would go well with the buffalo cauliflower.
Just a few simple ingredients here: a prepared bag of coleslaw, some additional cilantro, some mayonnaise, some lime juice or white vinegar, and some salt and pepper.
I added, after tasting it and LOVING IT, but thinking it needed a little something to cut the acidity I was going to pair with straight up spice (and not sweet spice like she originally did), just a touch of granulated sugar evened it all out and it was perfection.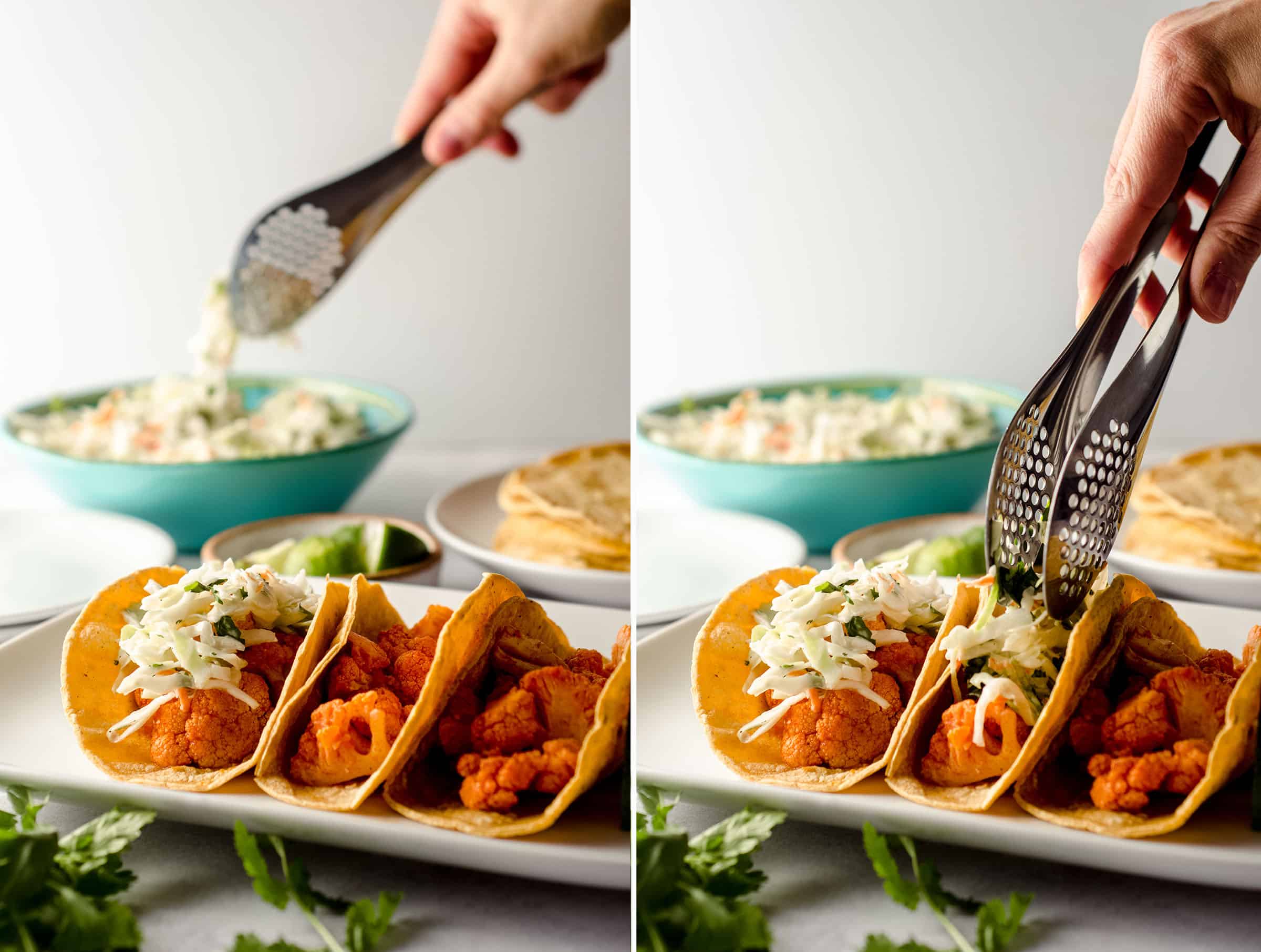 And, SCORE, you can keep these buffalo cauliflower tacos vegan with a simple swap for vegan mayonnaise. Bonus points for gluten free, dairy free, and vegan– the dietary restriction trifecta and you've got yourself vegan cauliflower tacos!
We shared these tacos with some friends who came over for dinner, one a veggie head and the other a diehard carnivore, and both of them absolutely loved it. Between them and the two of us, we devoured all 8 tacos + a couple side dishes in an impressively short amount of time.
I admittedly have never even had cauliflower tacos, so I wasn't sure what to expect as far as texture, but I'm happy to report that the cauliflower remained decently crunchy without being too "raw" feeling.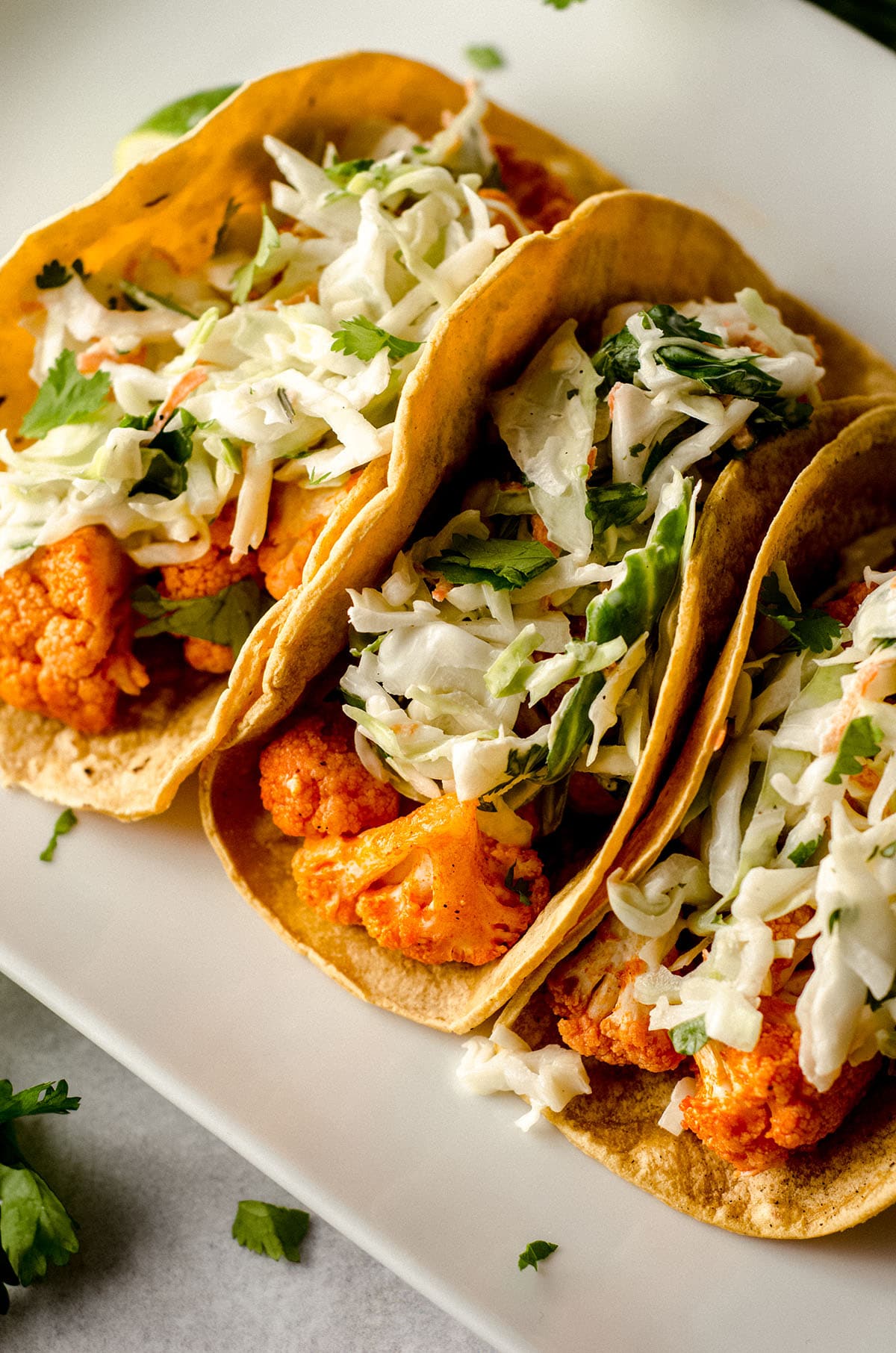 I worried both about the cauliflower being too crunchy or too mushy, and it was neither– it comes out perfectly tender with a little crunch, and the extra crunchy cilantro slaw on top is the perfect complement to the texture and flavor profile.
In fact, the slaw is so good that I had a side of it with lunch and as an afternoon snack the next day.
What can I say, I'm a total sucker for a slaw.
I hope you'll put this recipe for buffalo cauliflower tacos on your dinner rotation sometime soon! It's a fun way to change things up and though I can't vouch for our own kids loving them (nope, wouldn't even try 'em!), I am sure there are kids out there who would!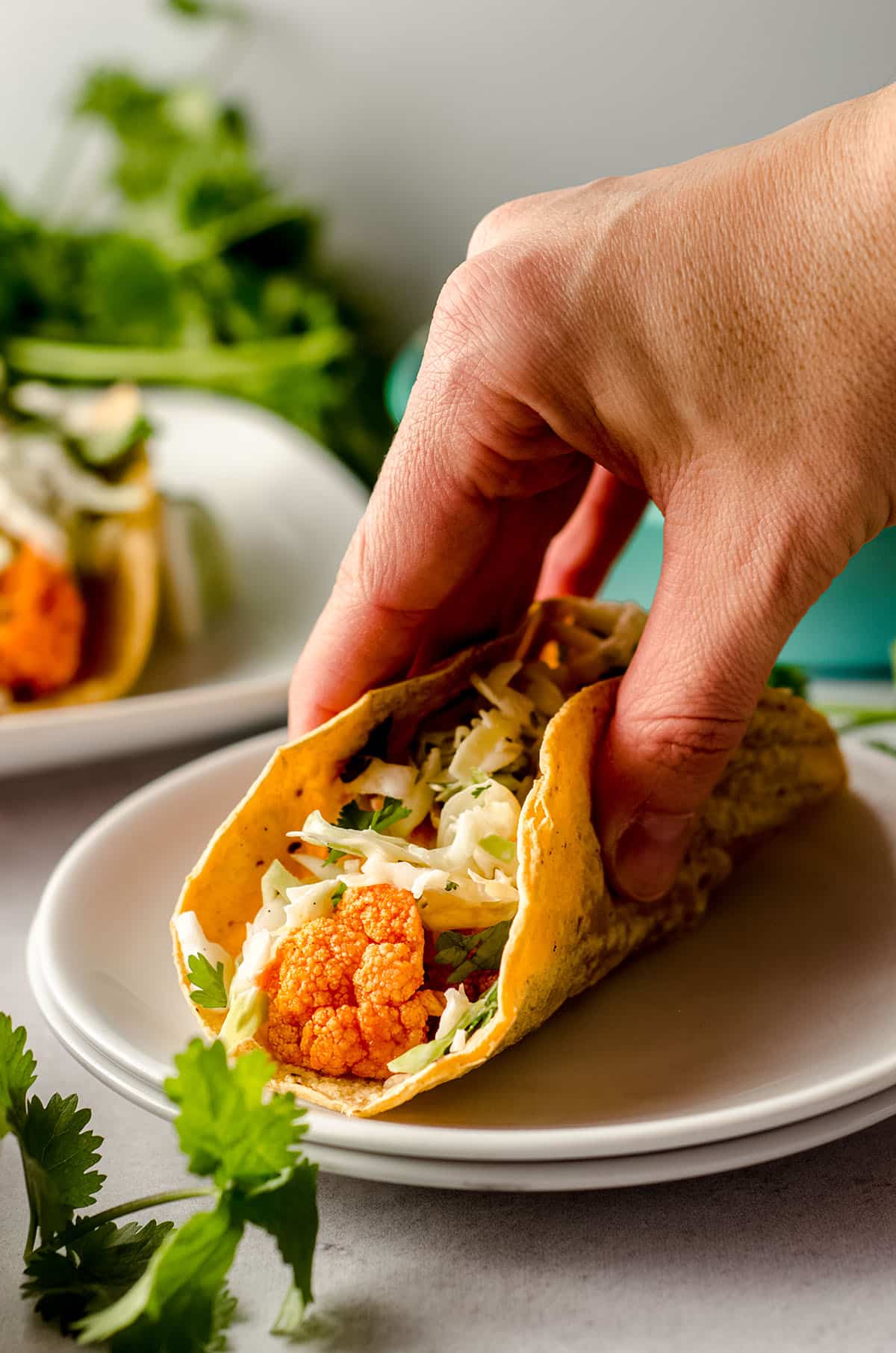 And if not… No big. More easy cauliflower tacos for you! Right?
Buffalo Cauliflower Tacos
Soft tortillas filled with crunchy buffalo cauliflower and topped with a tangy cilantro slaw. A perfect gluten free, dairy free, and vegetarian option that can easily be made vegan.
Ingredients
BUFFALO CAULIFLOWER TACOS
1

head

cauliflower

cut into similarly sized florets

3

Tablespoons

(45mL) olive oil

1

teaspoon

salt

1

teaspoon

garlic powder

½

teaspoon

black pepper

½

teaspoon

onion powder

1

cup

(240mL) hot or buffalo sauce

8

small

corn or flour tortillas
CILANTRO SLAW
1

14-ounce bag

(397g) coleslaw mix

⅓

cup

(10g) cilantro

coarsely chopped

3

Tablespoons

(45mL) lime juice or white vinegar

3

Tablespoons

(42g) mayonnaise

½

teaspoon

granulated sugar
salt and pepper

to taste
Instructions
BUFFALO CAULIFLOWER TACOS
Move a rack in the oven to an upper position (the first or second one) then preheat it to 450ºF (232ºC). Line a large baking sheet with parchment paper. Set aside.

Pour the olive oil, salt, garlic powder, black pepper, and onion powder into a large zip-top bag or large container with a tight-fitting lid. Add the cauliflower, seal the bag or container, and shake until everything is evenly coated.

Spread the cauliflower out onto the prepared baking sheet, but don't discard the bag or container. Bake the cauliflower for 10 minutes, then remove from the oven and turn the cauliflower pieces over (as best as you can). Return the baking sheet to the oven and bake another 10 minutes.

Add the hot sauce to the bag or container. When the cauliflower is finished with its second bake, add it to the bag or container with the hot sauce and gently turn or stir to coat. While the baking sheet is empty, dab off the excess moisture from the parchment paper.

Return the coated cauliflower to the baking sheet (I used a slotted spoon to reduce exceess sauce) and bake for another 10 minutes. While the cauliflower bakes, prepare the slaw.
CILANTRO SLAW
In a large bowl, toss together the coleslaw mix and the cilantro until evenly dispersed. Add the lime juice or white vinegar, mayonnaise, and granulated sugar, and stir until everything is coated.

Taste the slaw and add salt and pepper as needed. I added about ¼ teaspoon of each.
ASSEMBLE THE TACOS
Heat the tortillas in a hot skillet, 10-15 seconds per side.

Fill each taco with the buffalo cauliflower and top with cilantro slaw. Serve immediately. Store cauliflower and cilantro separately, covered tightly, in the refrigerator for up to 3 days. Reheat cauliflower in a toaster oven, in a large skillet over medium-high heat, or in the microwave.
Nutrition Disclosure
All nutritional values are approximate and provided to the reader as a courtesy. Changing ingredients and/or quantities will alter the estimated nutritional calculations.
Serving:
1
taco
|
Calories:
178
kcal
|
Carbohydrates:
16
g
|
Protein:
3
g
|
Fat:
12
g
|
Saturated Fat:
2
g
|
Polyunsaturated Fat:
4
g
|
Monounsaturated Fat:
5
g
|
Trans Fat:
0.01
g
|
Cholesterol:
2
mg
|
Sodium:
1466
mg
|
Potassium:
57
mg
|
Fiber:
1
g
|
Sugar:
2
g
|
Vitamin A:
52
IU
|
Vitamin C:
2
mg
|
Calcium:
47
mg
|
Iron:
1
mg
Put my vegetarian breakfast tacos on your list next!