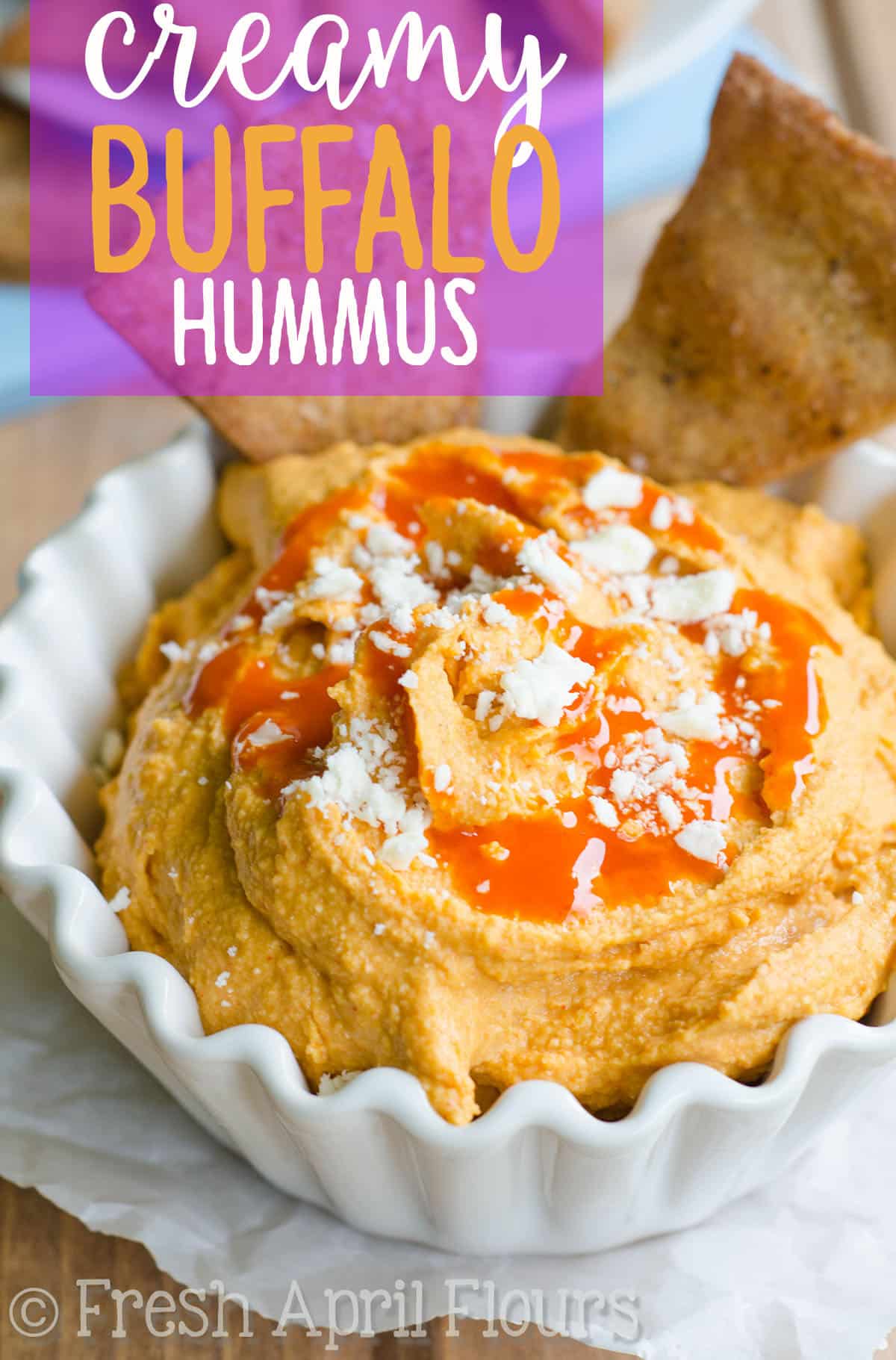 As an Amazon Associate, I earn from qualifying purchases. Read the full disclosure here.
Smooth hummus loaded with spices and creamy blue cheese, perfect for dipping with homemade pita chips or your favorite vegetables.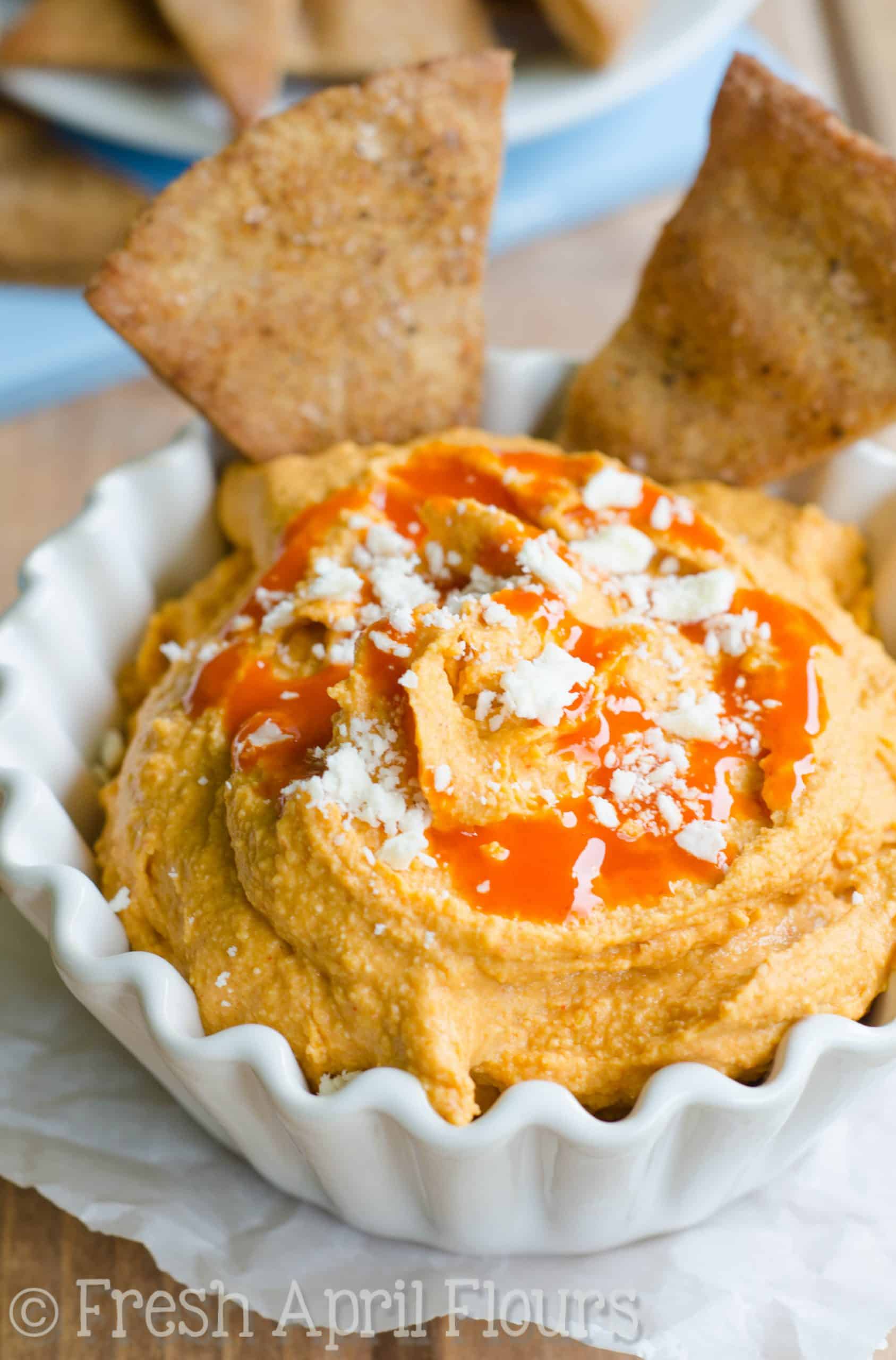 Last year, we took a vacation to Candlewood Lake, Connecticut (followed by a weekend in Dewey Beach), and when we were finally home, I made my first batch of homemade hummus because I just could not eat any more good-for-my-tastebuds-but-not-good-for-my-body foods.
We spent last week on the lake again and, just like last year, all I wanted when we got home was fresh vegetables and fruit and water. I decided to make another batch of homemade hummus, and it wasn't until I had already started working on a recipe that I realized it was the same vacation last year that brought me home to hummus.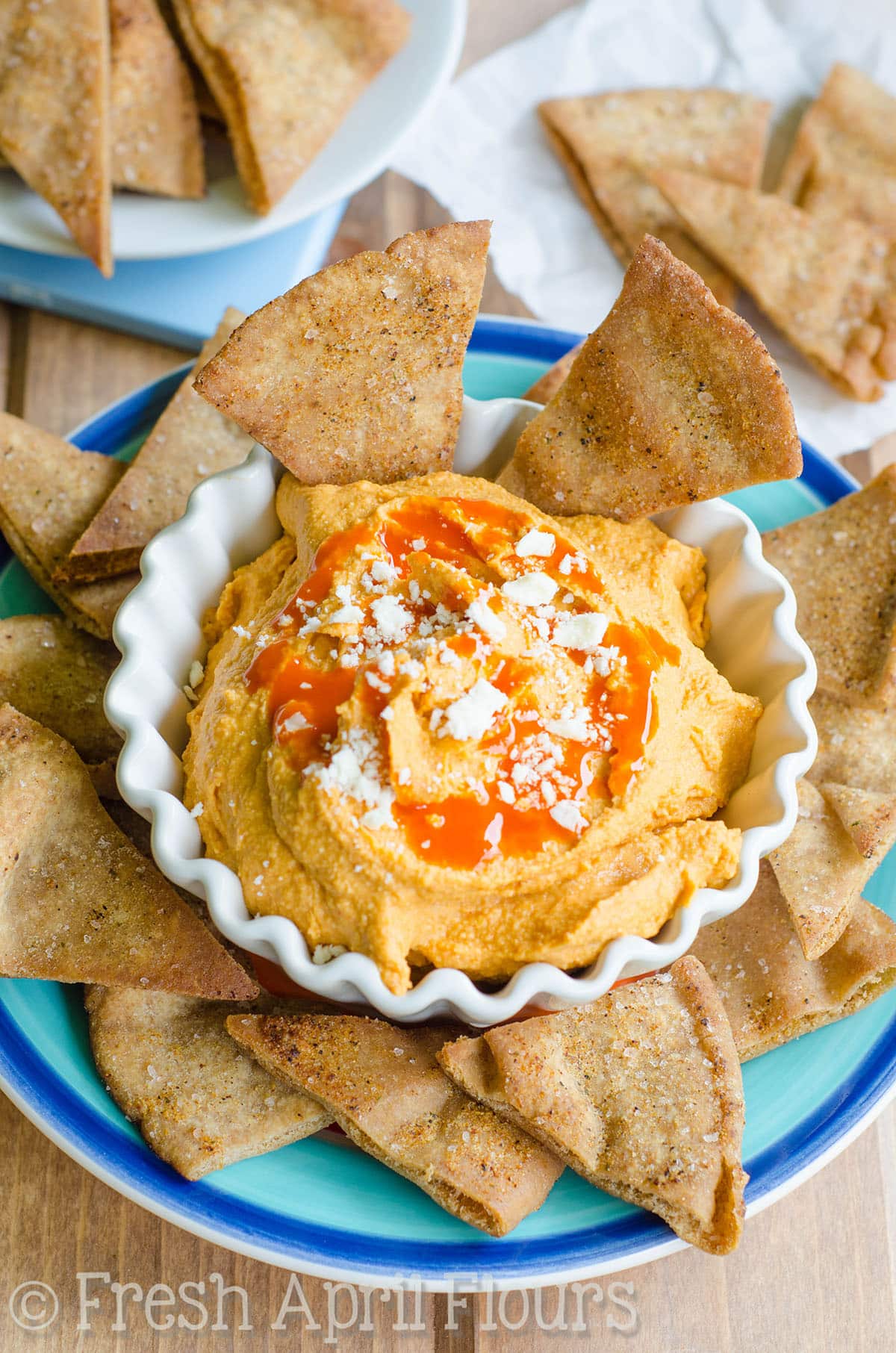 Apparently, for me, the lake life = hummus. And I am a-ok with that.
I had been thinking about hummus flavored with buffalo sauce for awhile now, pretty much since I was obsessed with made this homemade buffalo blue salad. I wanted to do something a little different with the flavor but also with the method. I learned from smitten kitchen that removing the skins from chickpeas yields incredibly smooth hummus.
In my everything hummus, I left the skins on. While the result is still undeniably creamy hummus, it is still a bit grainy, no matter how long you process it or how much liquid you add to it.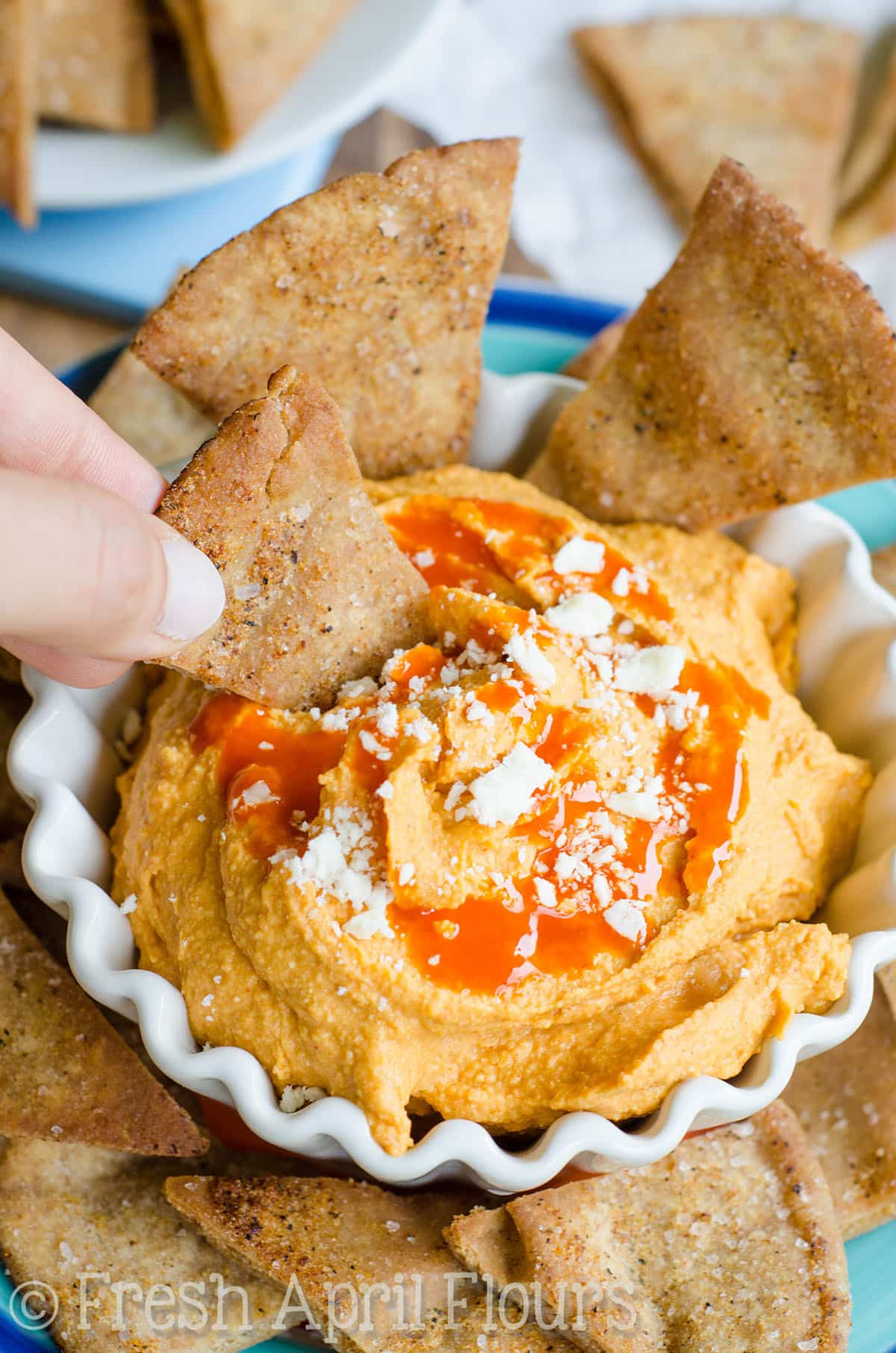 Removing the skins from chickpeas is… Time consuming. I actually had no idea how long it would take me, but I guessed it would take around 10 minutes.
Umm, try 25 minutes.
In those 25 minutes' defense, I did stop to take a photograph and also 'gram it, so it was probably only 20 minutes, but still… Holy moly. Don't let this deter you. I promise, it is 110% worth the labor of love.
Plus, it's not at all difficult. Also, it's a pretty mindless task, so you can watch TV or listen to music or chat with a friend while you do it.
Even better!! You can peel the skins ahead of time and let the naked chickpeas sit in the fridge, covered, up to 2 days.
If you're not familiar with what exactly goes into hummus, it's typically chickpeas, some liquid (oil, water, or chickpea liquid), seasonings, and tahini.
What is tahini?
It's simply ground up sesame seeds, and it is absolutely necessary for bringing that signature flavor to hummus. It is very oily and settles into 2 layers when it sits, so it needs a vigorous stir before use. It should resemble peanut butter when it's sufficiently stirred.
You can find tahini in the international or organic sections of your local grocery store.
For that lovely buffalo flavor, I turned to my pal, Frank. Frank's RedHot Wings sauce is my favorite buffalo sauce. It is so so good. It also comes in an extra spicy version, so be sure you're buying the right heat level for your liking.
Only 1/4 cup of buffalo sauce went into my hummus, but feel free to bump that up after taste testing.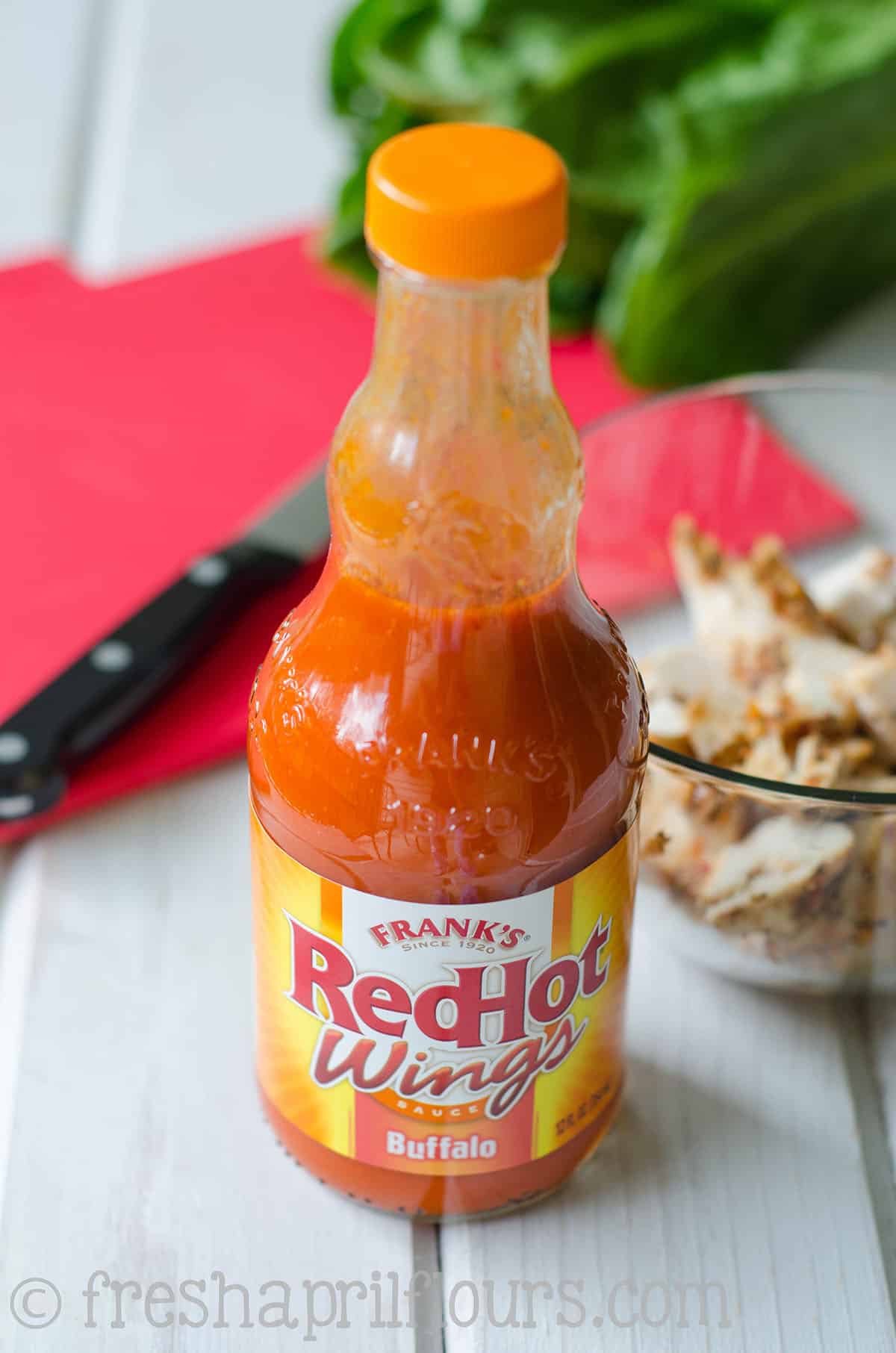 I added some blue cheese directly to my hummus, but this is totally an optional step. A lot of people I know don't love blue cheese (I, for one, am a blue cheese madwoman ♥), so leaving it out is perfectly fine.
If you prefer, you can use feta or Gorgonzola cheese in its place.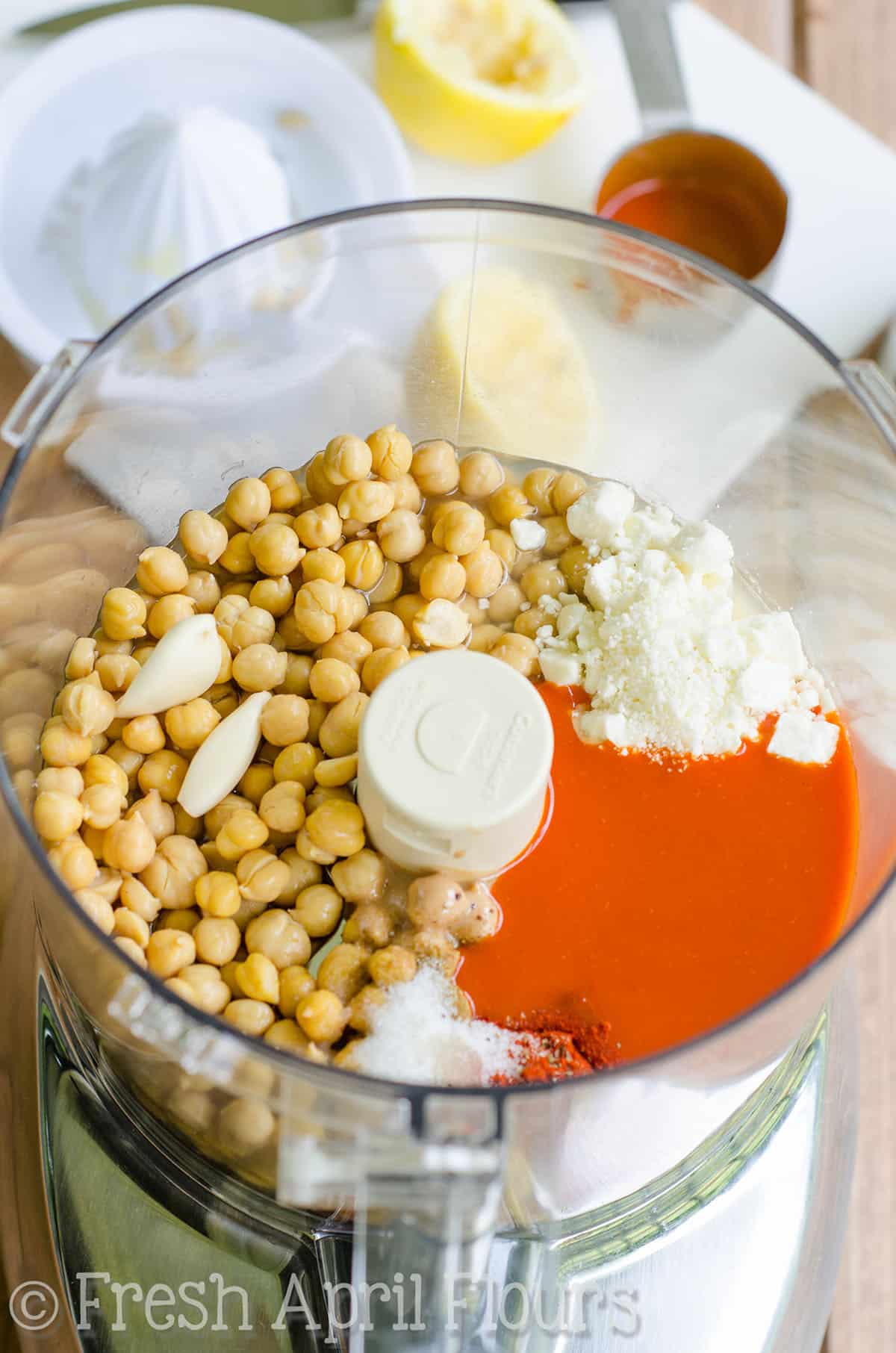 Everything but the reserved chickpea liquid goes into your food processor or high speed blender at the same time, and in just a few minutes, you have yourself some seriously creamy hummus.
Adding in the reserved liquid just takes the creaminess over the top and you're left with sublimely smooth hummus that is spiced perfectly with buffalo flavor.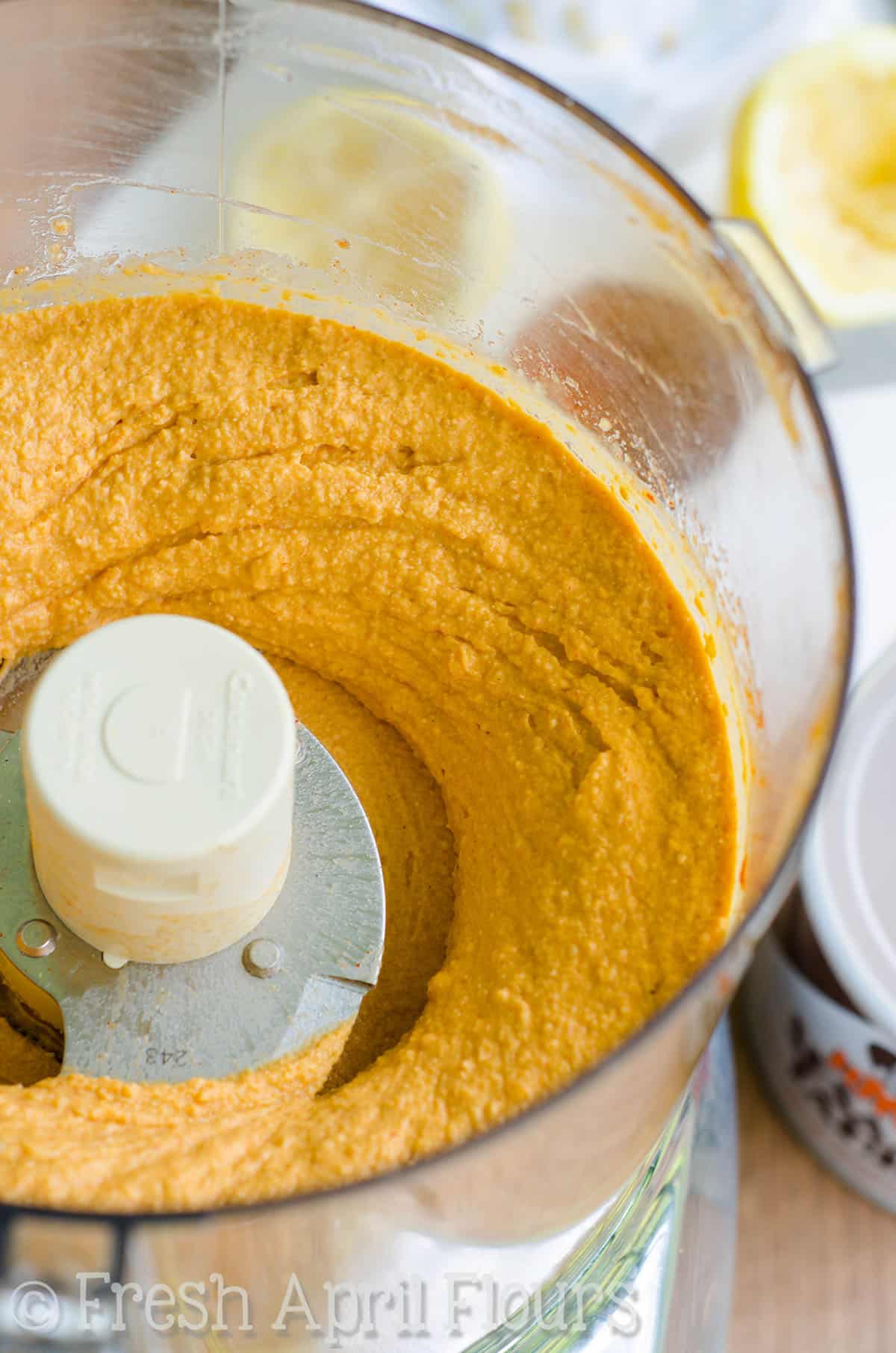 A little drizzle of more buffalo sauce and a few crumbles of blue cheese make this beautiful bowl simply irresistible!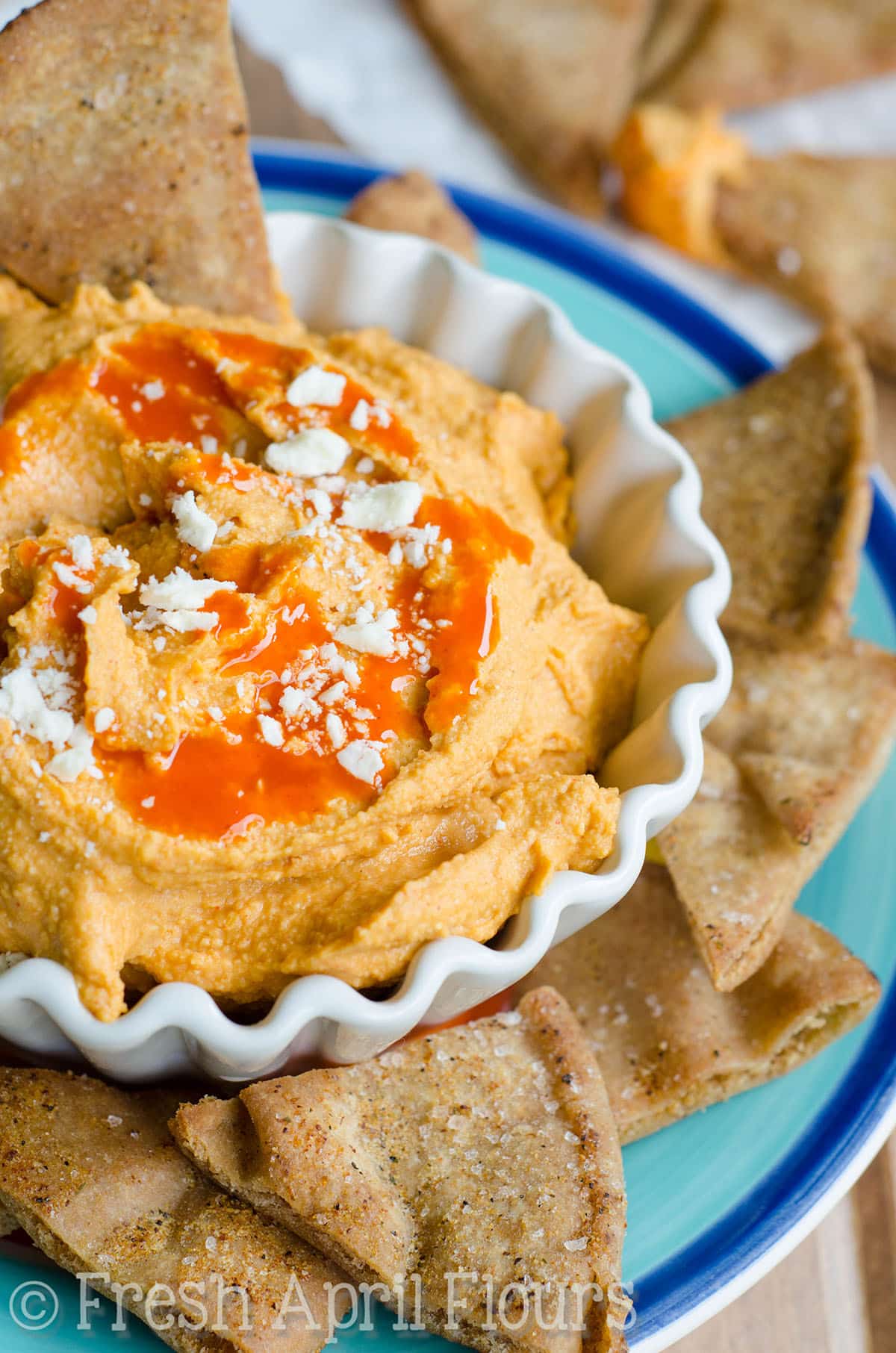 We love dipping anything and everything into hummus: chips, bread, vegetables, even chicken, and especially spoons. Lucky for you, I made a second post today completely dedicated to homemade pita chips.
They're SO EASY.
You're welcome.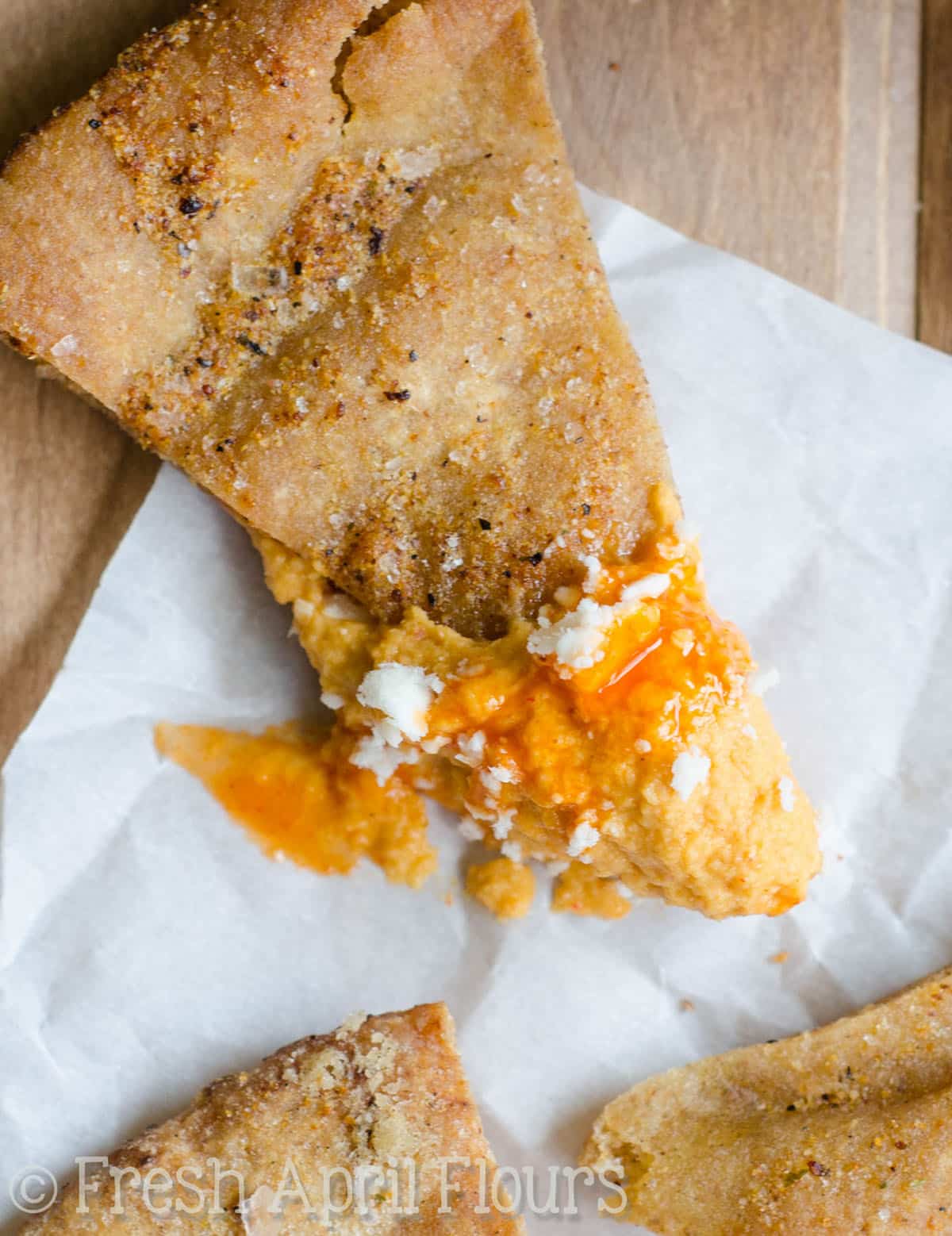 One scoop of this creamy buffalo hummus and you'll agree, skinning the chickpeas was totally worth the time it takes to peel every single one. Seriously smooth, seriously buffalo-y, and all you could ever hope for in a homemade dip that's ready in no time at all.
Looking for more buffalo recipes? Check out any of these buffalo-inspired recipes: buffalo blue salad, buffalo chicken meatballs, buffalo chicken chili, buffalo cauliflower tacos, buffalo chicken dip, and make ahead buffalo chicken stuffed peppers.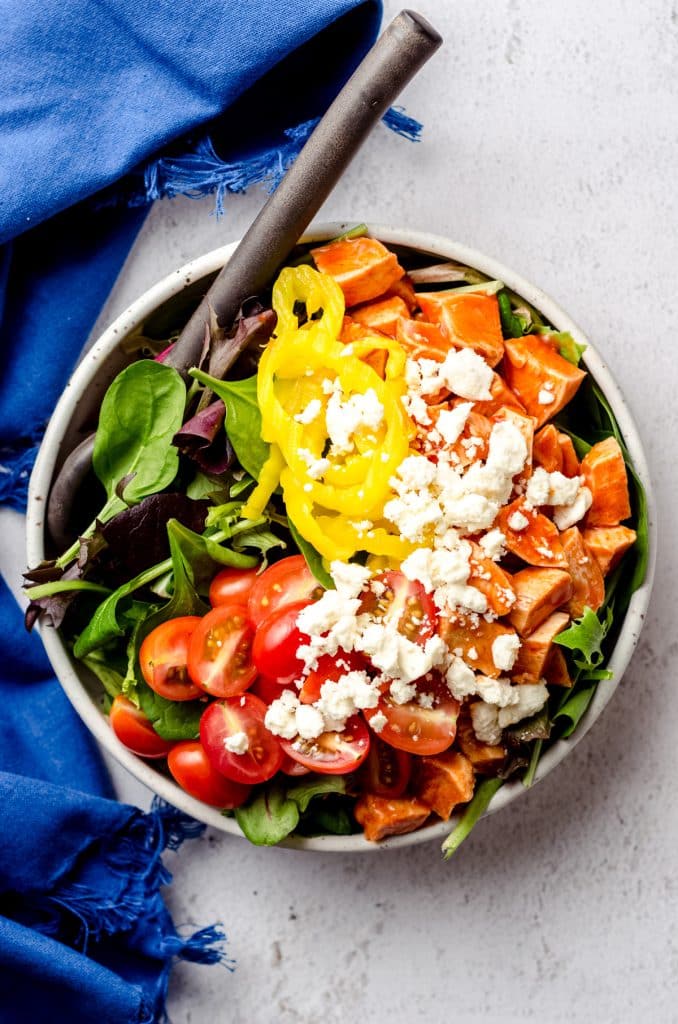 Creamy Buffalo Hummus
Smooth hummus loaded with spices and creamy blue cheese, perfect for dipping with homemade pita chips or your favorite vegetables.
Ingredients
1-15

ounce

can of chickpeas

drained and rinsed, reserve 1/4 cup liquid

1/4

cup

tahini

1/4

cup

Frank's RedHot buffalo sauce1

1

ounce

blue cheese

feta or Gorgonzola also work well

2

cloves

of garlic

2

Tablespoons

freshly squeezed lemon juice

this is about one medium lemon

1

teaspoon

smoked paprika

1/2

teaspoon

cumin

1/2

teaspoon

salt
Instructions
Peel the skins off of all the chickpeas (I found using a strainer for unpeeled chickpeas, a small prep bowl for skins, and a cereal bowl for peeled chickpeas was the easiest way to keep everything separated).2

Place all of the ingredients (except the reserved liquid) into your food processor or high speed blender and process until smooth and creamy. Add the reserved chickpea liquid until hummus reaches desired consistency. Taste the hummus and add more buffalo sauce, spices, and/or salt, if desired. If you want your hummus even thinner, add water.

Spoon the hummus into a bowl and drizzle with additional buffalo sauce and a sprinkle of blue cheese. Serve with homemade pita chips, fresh vegetables, or even chicken. Store tightly in the refrigerator up to 5 days.
Notes
Add more buffalo sauce if you really like heat.
You may peel the chickpeas in advance to save time. Store peeled chickpeas in an airtight container in the refrigerator up to 2 days.
Nutrition Disclosure
All nutritional values are approximate and provided to the reader as a courtesy. Changing ingredients and/or quantities will alter the estimated nutritional calculations.