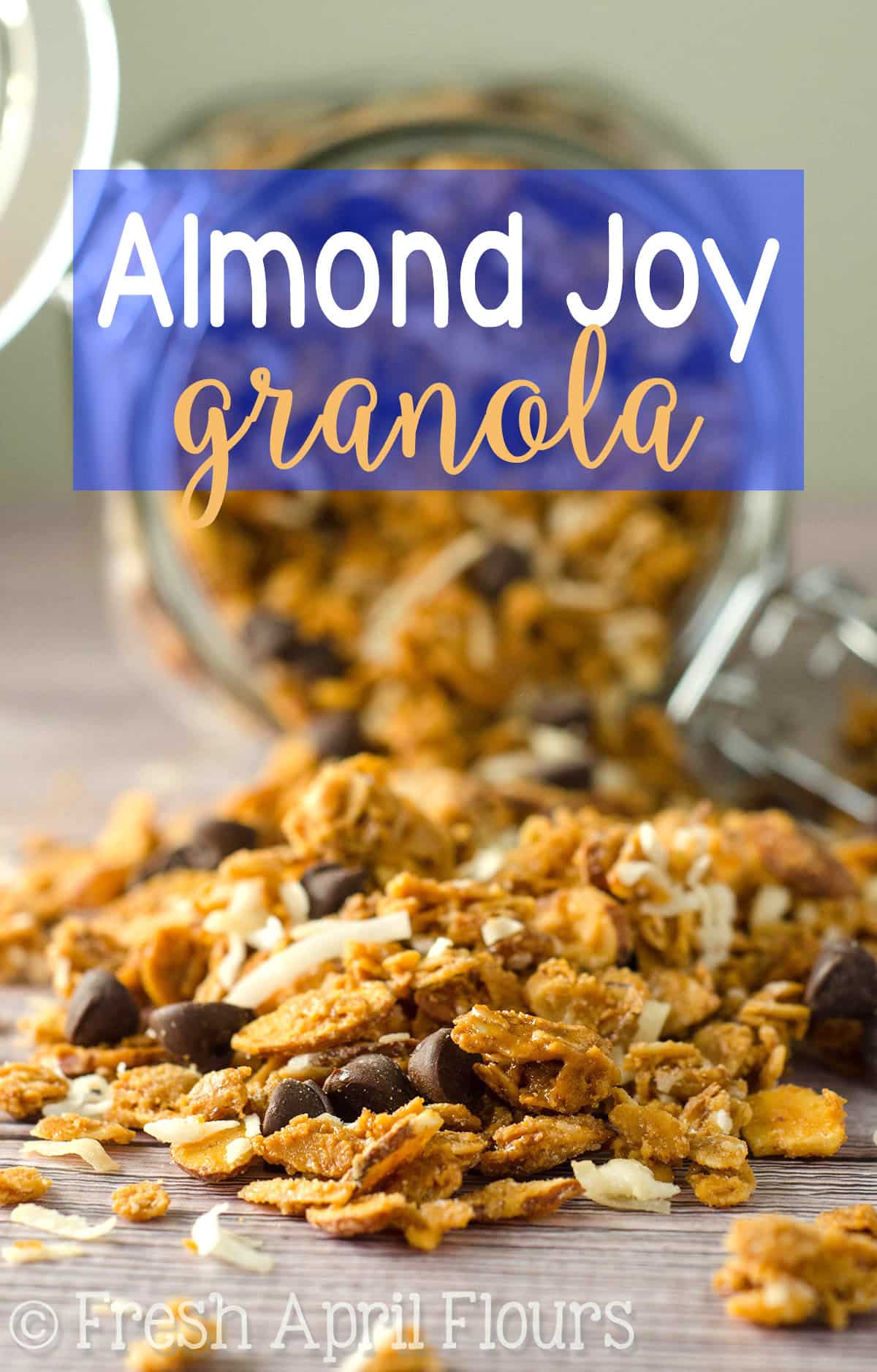 As an Amazon Associate, I earn from qualifying purchases. Read the full disclosure here.
Crunchy and wholesome homemade granola full of almonds, coconut, and chocolate.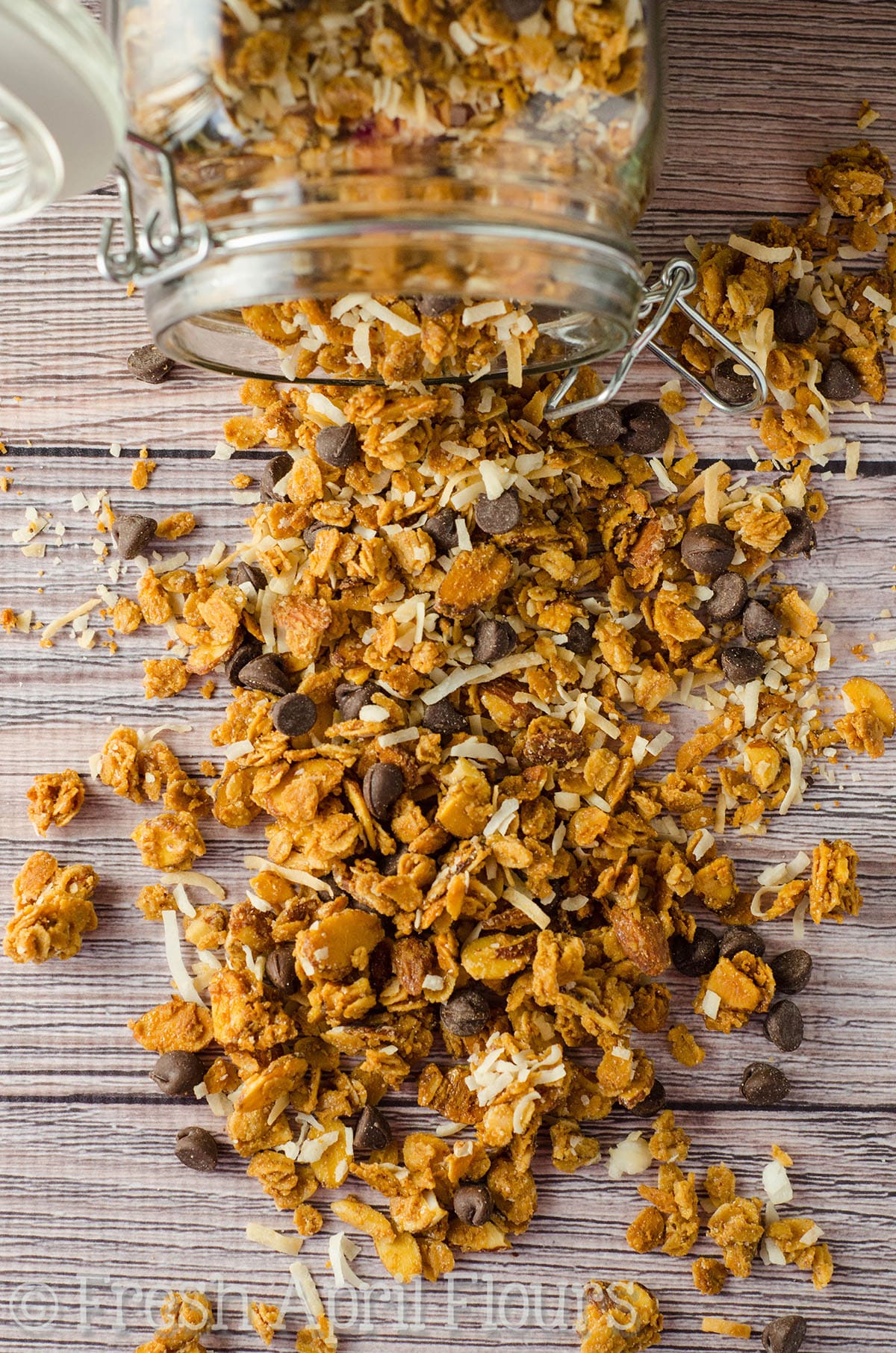 Sometimes you feel like a nut; sometimes you don't. Is that still the tag line for Almond Joy? I sure hope so, because the jingle (hello, 1990!) has been stuck in my head for daysssss, and it brings back lots of childhood memories.
I've always been an Almond Joy gal (as opposed to a gal of the Mounds variety) because I'm a big advocate for nuts in my candy and/or baked goods (<–didja catch those 4 nutty favs?). I always ate around the almond on top of my Almond Joy so I could savor the chocolate covered coconut WITH the almond as my last bite.
Tell me you did it too??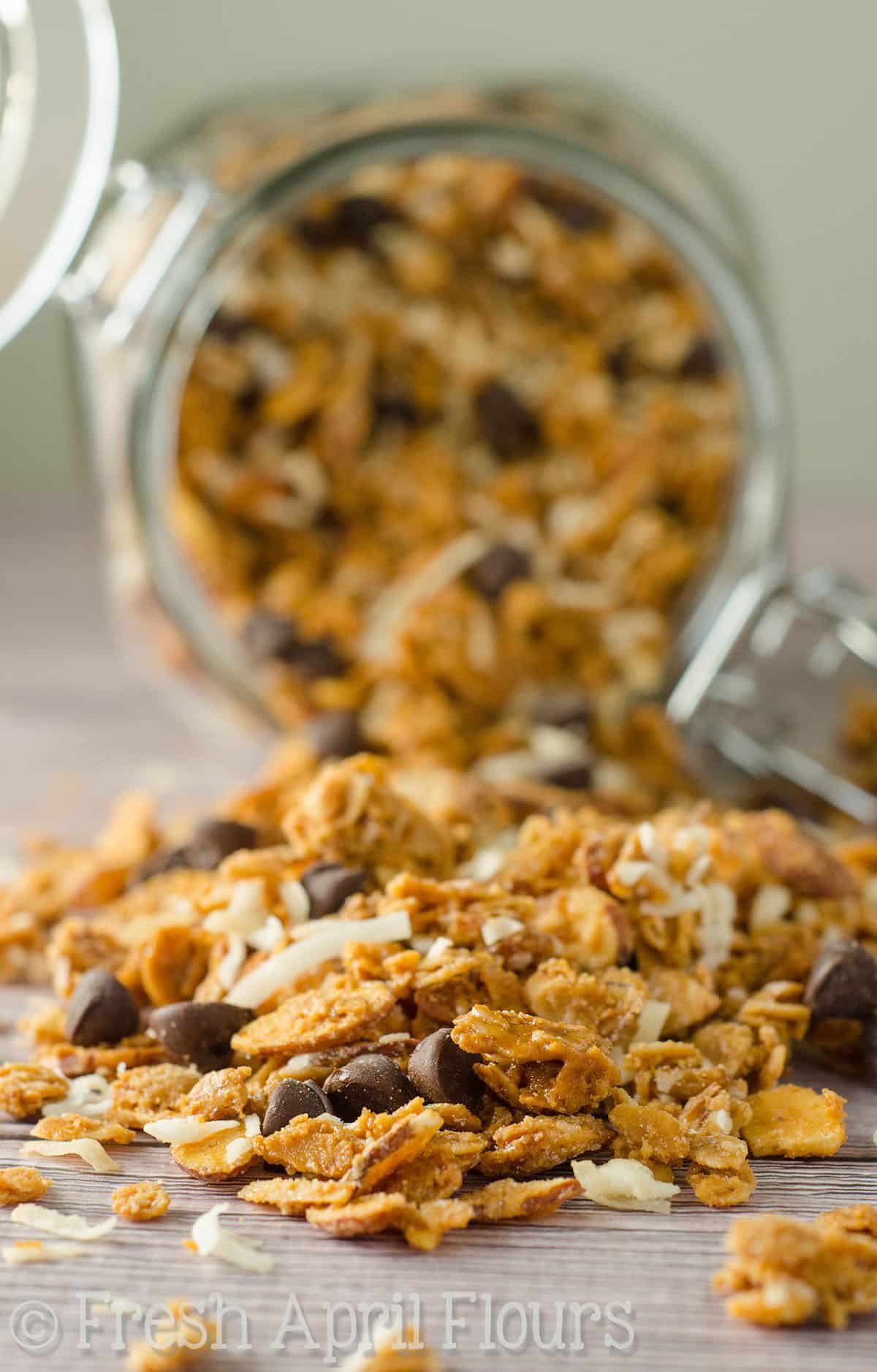 Speaking of ways to eat things… How do you eat your granola?
Do you grab a handful and shove it all in your mouth at one time?
Do you take a handful and pick out individual pieces and eat them all separately?
Do you grab a handful, pick out one of everything to create the perfect bite, and then shove that perfect bite in your mouth, basking in total bite balance? <– umm, totally me.
You can't possibly be surprised.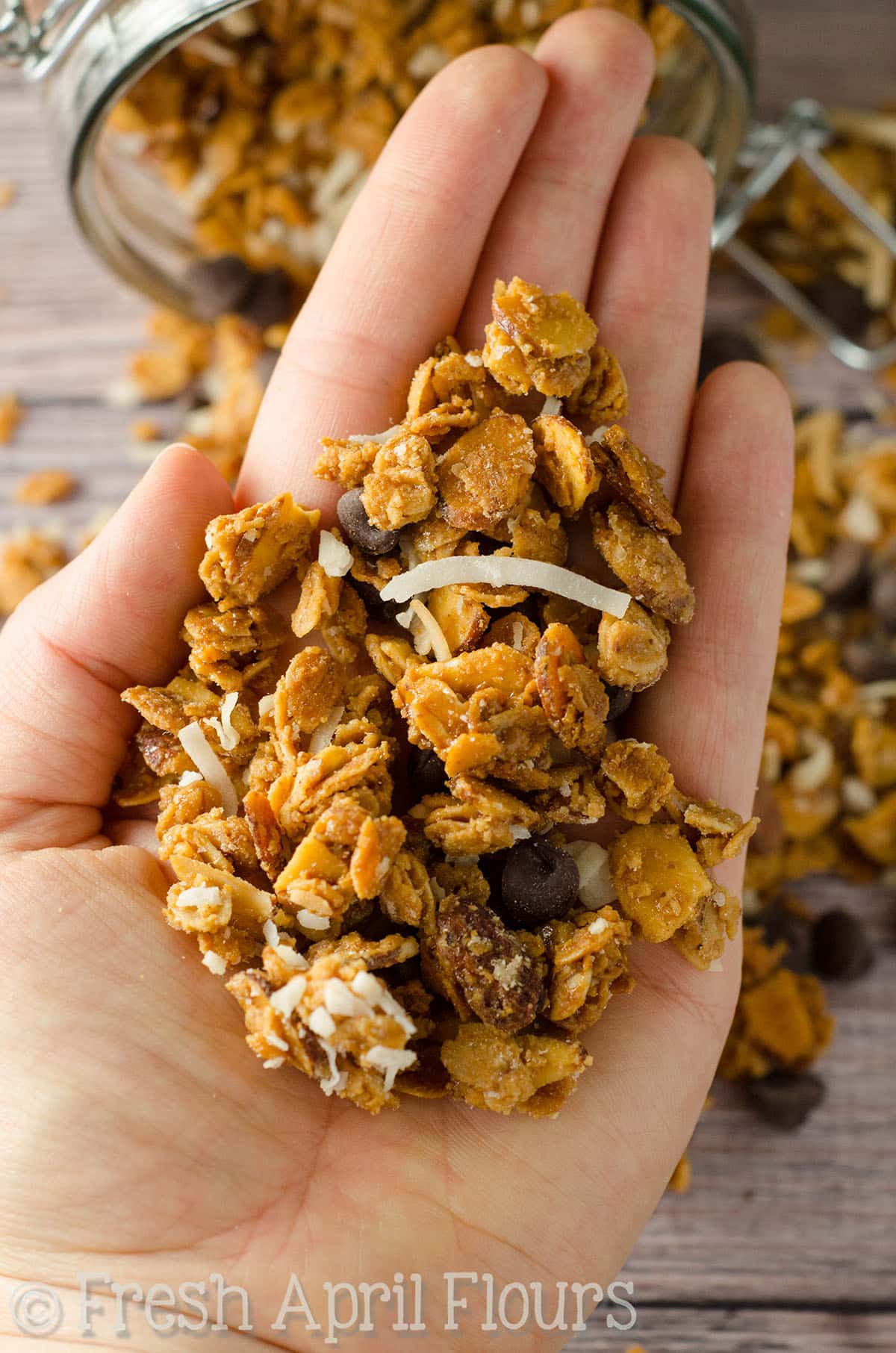 I'd been itching to make some more homemade granola since my first successful adventure with the carrot cake variety, and since that kind was soft-baked, I wanted to head in the crunchier direction for my next batch. Plus, an excuse to eat granola, and one that makes you feel like you're eating a candy bar?
I'm all about this.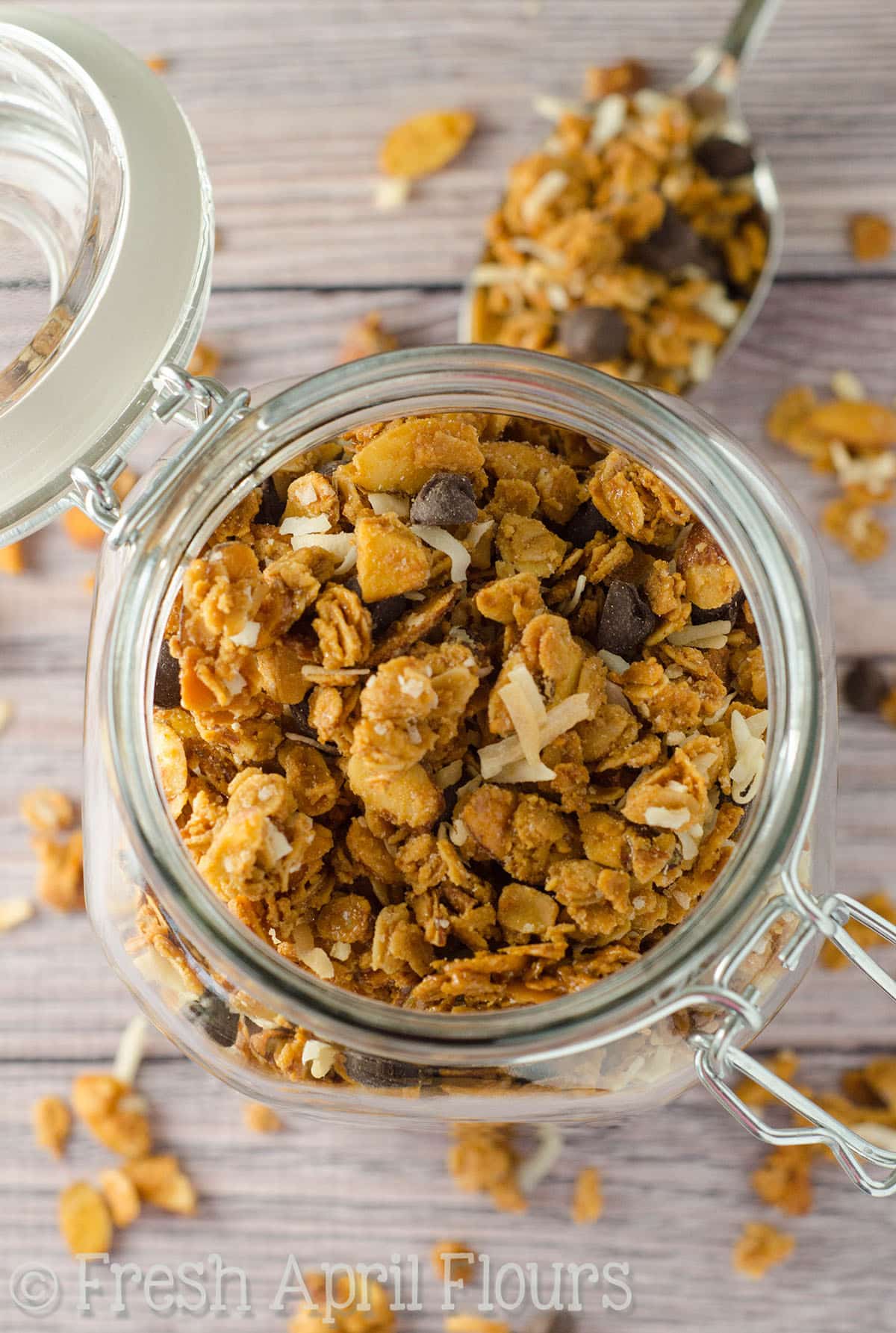 We here in the April household are huge almond eaters. We buy a 2lb container frequently, and a lot of times, more than that since we love whipping up our own homemade almond butter at home. We also love almonds for their big time health benefits!
Did you know that…
Almonds are good for your heart?
The monounsaturated fats and various vitamins in almonds not only help reduce the risk of heart disease, but they can also cut down on inflammation in the arteries.
Almonds can help your immune system?
Almonds contain alkali material (which help boost the immune system and help you fight off diseases) and vitamin E (which is a great antioxidant).
Almonds are great for blood pressure?
The potassium in almonds helps regulate blood pressure, and since almonds are naturally low in sodium, there's no worrying about fluctuating blood pressure.
Almonds can give you an energy boost?
While low in calories and in fat, almonds pack a big punch for their small package thanks to manganese, copper, and riboflavin.
Almonds can be great for pregnancy?
Almonds contain folic acid, an incredibly important vitamin that aids in healthy tissue and cell growth formation of the fetus. Women who are pregnant are often prescribed extra folic acid to ensure proper growth of their babies and to maintain their own reproductive health.
Almonds can help keep you regular?
Almonds are packed with fiber, an essential dietary material that aids in digestion and, well… You know 🙂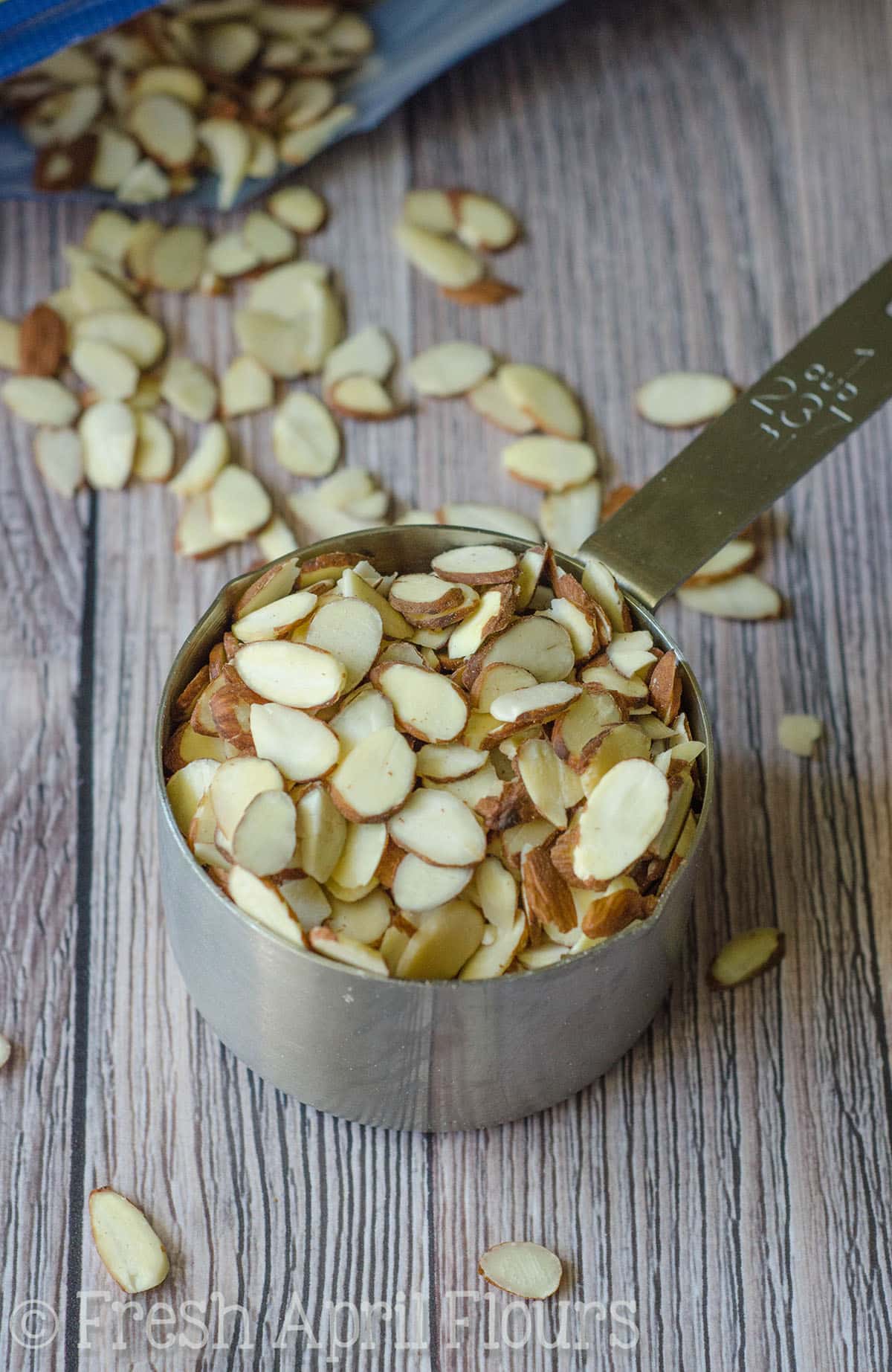 See? So many reasons to love almonds. Which is why this Almond Joy granola features almonds not only in the crunchy bits, but also in the glue that holds everything together.
Honey + coconut oil + homemade almond butter are the key players in this glue, and they are quite the snack trifecta.
Honey to sweeten, coconut oil to help "crunchify" everything, and almond butter to give subtle almond flavor to everything it touches. All of that combined with some sweetened shredded coconut and chocolate chips really tastes just like an Almond Joy bar without the crap (sorry, AJ ♥ I still love you forever).
PLUS, you can totally put granola in/on lots of things:
√ in a bowl of milk
√ on a spoon
√ on top of yogurt
√ on top of ice cream
√ with fruit
√ on a banana + peanut butter
√ in oatmeal
√ in your hand
Homemade granola is so easy, you'll wonder why you don't make it every single day. Believe me, if I could, I would, and this Almond Joy granola would be at the top of my list. I would be lying if I said it hasn't been my dinner appetizer for the past week… And maybe dessert. And snack. Oops!
Give it a try– I think you'll find it to be worlds better than store-bought!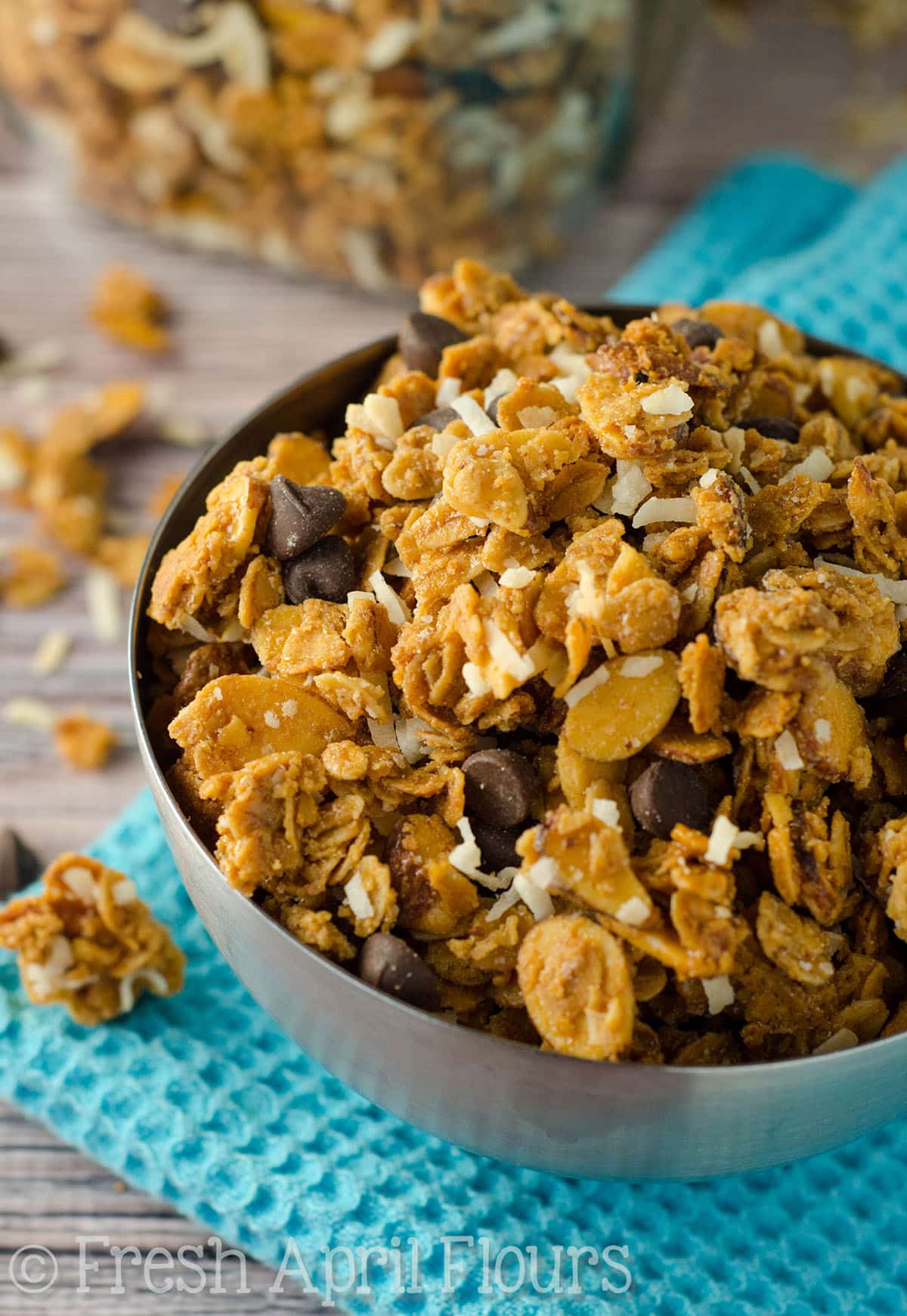 If you love almonds as much as we do, check out some of these recipes featuring almonds from some of my friends!
More homemade granola recipes: chai spiced granola, piña colada granola, apple quinoa granola, and carrot cake granola.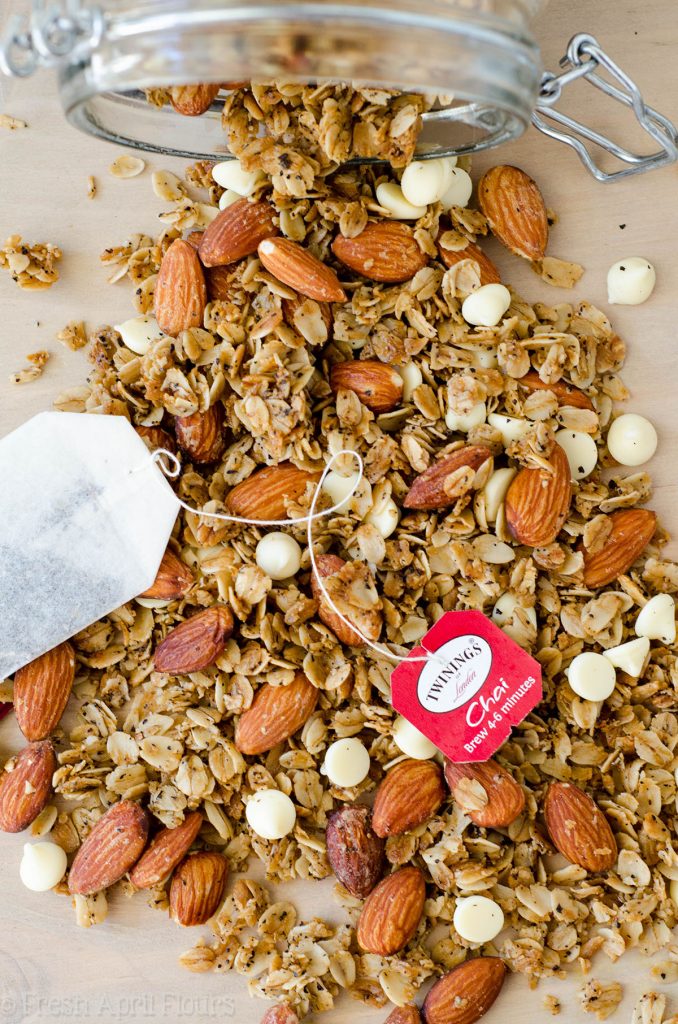 Almond Joy Granola
Crunchy and wholesome homemade granola full of almonds, coconut, and chocolate.
Ingredients
2 and 1/2

cups

old fashioned oats1

not quick

1

cup

sliced almonds

whole raw is fine

1/2

teaspoon

salt2

1/2

cup

honey

1/3

cup

coconut oil

1/4

cup

almond butter

1

cup

sweetened shredded coconut

3/4

cup

semi-sweet chocolate chips
Instructions
Preheat oven to 250ºF. Line a baking sheet with parchment paper or a silicone baking mat. Set aside.

In a large bowl, stir together the oats, sliced almonds, and salt until thoroughly combined. Set aside.

In a medium saucepan, combine honey, coconut oil, and almond butter. Heat over low to medium heat, stirring frequently, until completely melted and smooth. Pour over oat mixture and stir well to coat everything.

Pour granola onto baking sheet and spread out evenly over entire surface. Mixture will be very sticky. This is ok. Bake for 15 minutes, stir, bake 15 minutes, stir again, bake another 15 minutes, stir once again and then add the coconut. Bake an additional 30 minutes. Allow granola to cool completely– the air will help the granola crisp up. Once granola is completely cool, break up chunks (if desired), add the chocolate chips, and stir to distribute evenly. Granola will remain fresh in an airtight container at room temperature up to 3 weeks.
Notes
Use certified gluten-free oats to keep this recipe GF friendly!
If using salted almonds, reduce salt to 1/4 teaspoon
Nutrition Disclosure
All nutritional values are approximate and provided to the reader as a courtesy. Changing ingredients and/or quantities will alter the estimated nutritional calculations.