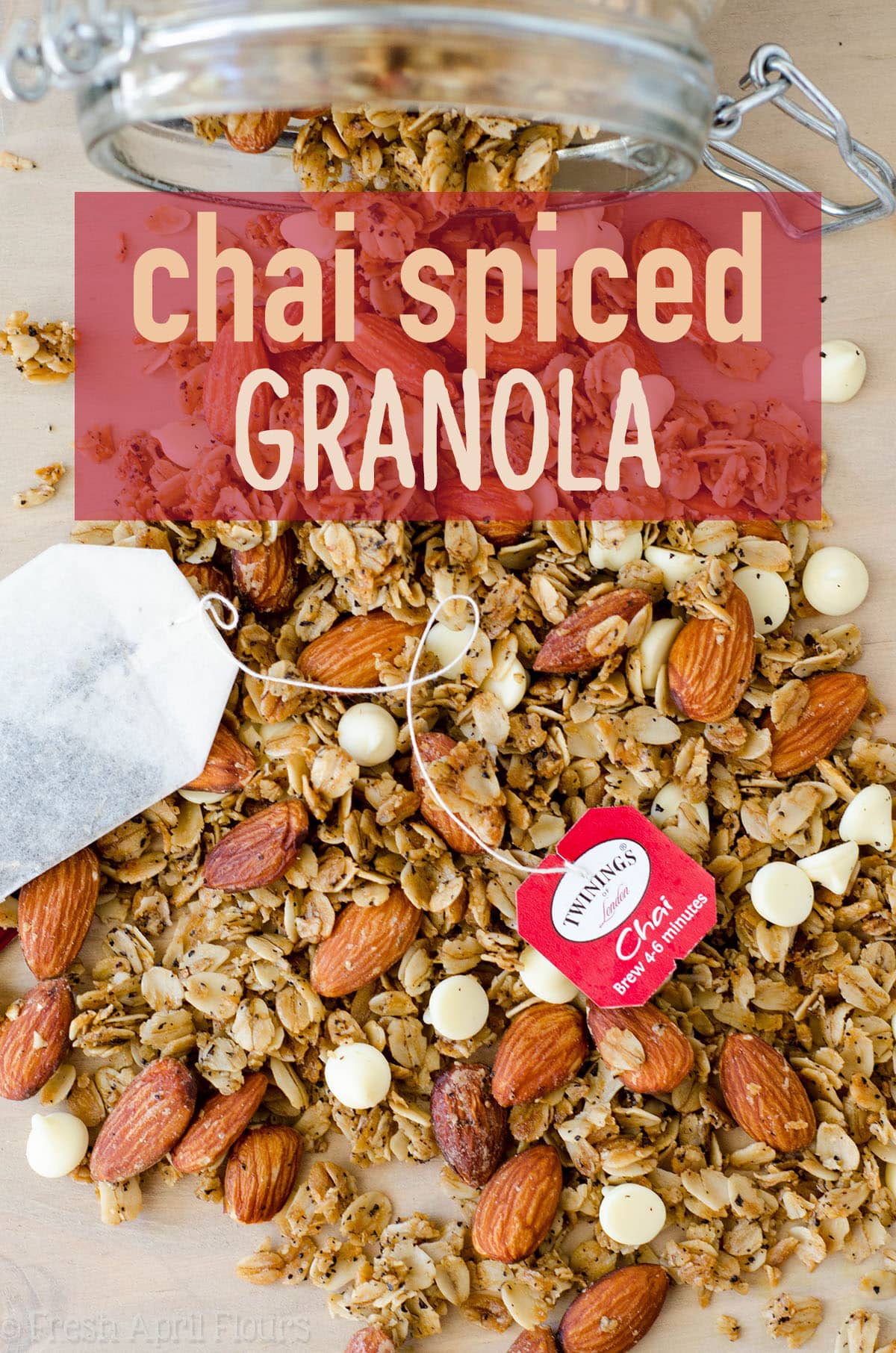 As an Amazon Associate, I earn from qualifying purchases. Read the full disclosure here.
Easy homemade granola spiced with the warm flavors of cinnamon, nutmeg, and cardamom. Perfect for a cold weather snack!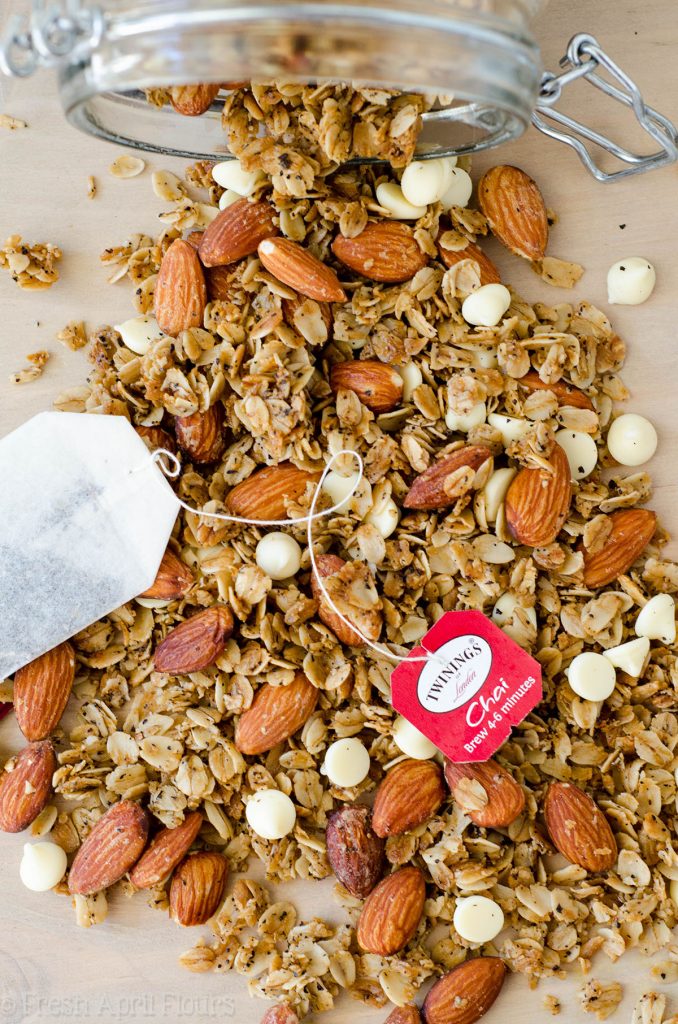 It's that time again! Time for cinnamon and nutmeg and cardamom and PUMPKIN and all the best flavors that fall has to offer. Essentially, it's the beginning of the most wonderful time of the year.
So let's kick it off with none other than a warm, toasty, spicy snack that will have you reaching into your granola jar every meal of every day for the next 3+ months. Are you thinking, now, that you don't have a granola jar and maybe you should?
You definitely should. And keep that baby stocked all the time!
Ok, the truth is, I don't keep my granola jar stocked nearly as much as I should, but I can tell you one person I know who does, and that's my girl Leah. Leah is the head of a blog (Grain Changer) full of delicious gluten free recipes.
All of them. Every. Single. One.
She makes some of the most mouth-watering treats that are naturally gluten free and does it with style. I've had the privilege of having Leah cook (personal fav– honey glazed Brussels sprouts!) and bake for me (personal super fav– gluten free walnut chocolate chip banana bread!) and OH MY GOSH, that girl is a genius in the kitchen!
If you've ever been intimidated by GF cooking and/or baking, Leah's blog should be on your regular internet browsing rotation. She makes it easy as pie (with a gluten free crust, of course).
Not only is Leah a fellow blogger, Philadelphia(area)n, and fitness nut like myself, she's also about to join me on the NEW MOM front as she's just a few weeks away from delivering a little baby m!
So before I commiserate with her about how awful newborns are get to visit her little man in person soon, I'm helping a few other bloggers throw her a virtual baby shower with none other than one of her favorite things on the planet: GRANOLA.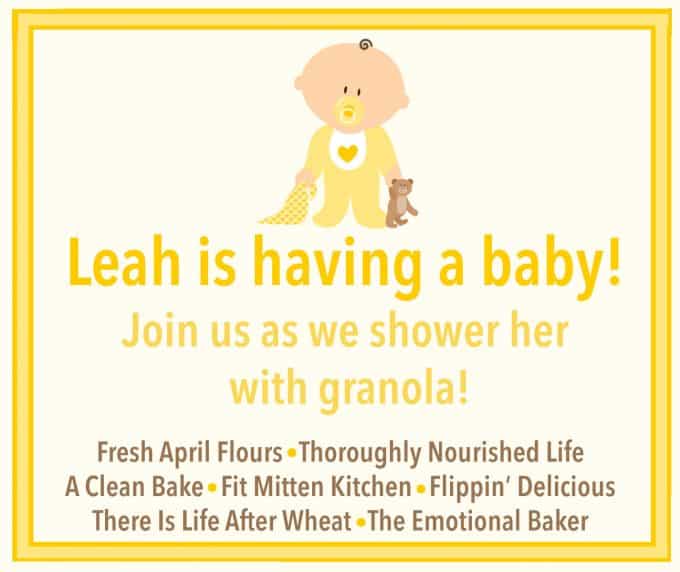 Seriously, Leah is the queeeeeen of homemade granola. She makes it all the time. Like… Weekly. Probably even more than once a week. I've made a few of her granola recipes and all of them have been absolutely fab.
She could definitely make granola in her sleep or with her eyes closed, which is great news for newborn life, because, well… NEWBORNS.
Leah is also a chai fan (seriously, LOVE this girl), so naturally, chai spiced granola was born in my kitchen when I got to working on her shower recipe (shoutout to a little inspiration from my friend Megan).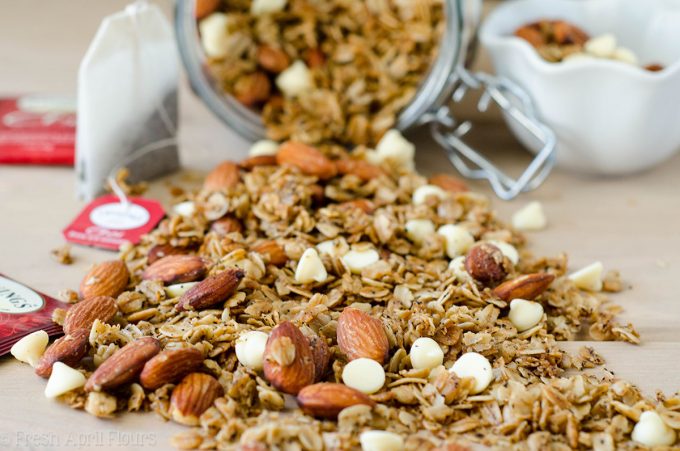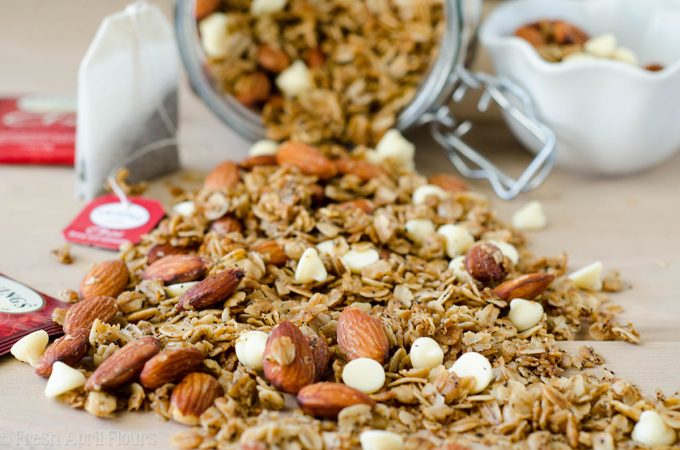 This recipe, like all my other homemade granolas, is super simple.
When making granola at home, you need a few key things:
•some oats (old fashioned, please!)
•a sticky binder (in this case, maple syrup for some warm flavors)
•some sort of oil to bring the crunch factor (coconut oil is my go-to!)
•plus some seasonings that will come directly from 2 packets of chai tea.
That's right– empty those tea bags right into your melty, oily, maple syrupy mixture. The initial heat will help all those spices marry into the liquid, and the heat from an hour in the oven will just seal the deal with a nice and spicy kiss.
The white chocolate chips are totally optional, but… Why the heck not? All that crunch from the crispy oats plus whole roasted almonds covered in warm fall spices needs a sweet and creamy counterpart, don't you agree?
I'm not usually one for white chocolate, but in this granola? It's the perfect complement.
If chai spiced granola isn't quite up your alley, there is plenty of homemade granola around the blogosphere today to tickle your fancy. I think after peeking at all of these ladies' treats, I might need to load up on more granola jars, because I just want ALL THE GRANOLA right now.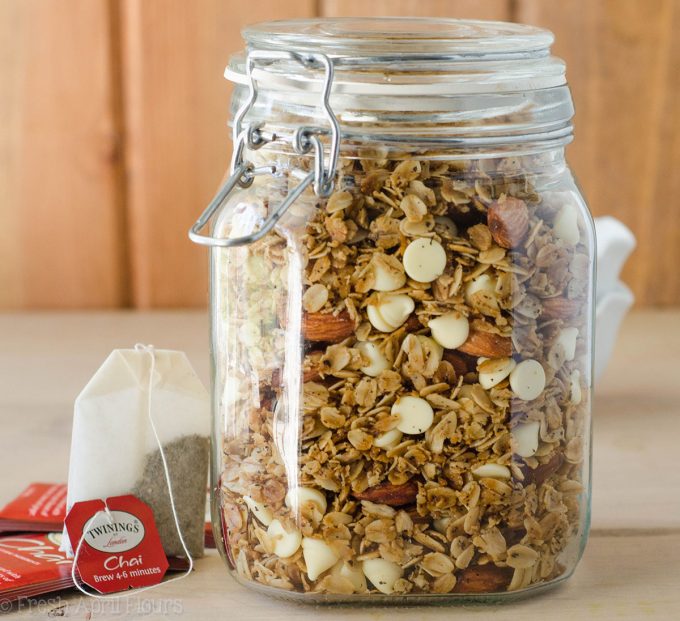 Check out some of the other granolas my friends brought to the party!
Tropical Hempseed Granola from Nora at A Clean Bake
Coconut Granola from Megan at The Emotional Baker
Maple Walnut Cinnamon Granola from Ashley at Fit Mitten Kitchen
Gingerbread Granola (Gluten Free) from Brianna at Flippin' Delicious
Oat Free Granola from Celeste at There Is Life After Wheat
Lemon Blueberry Granola from Amy at Thoroughly Nourished Life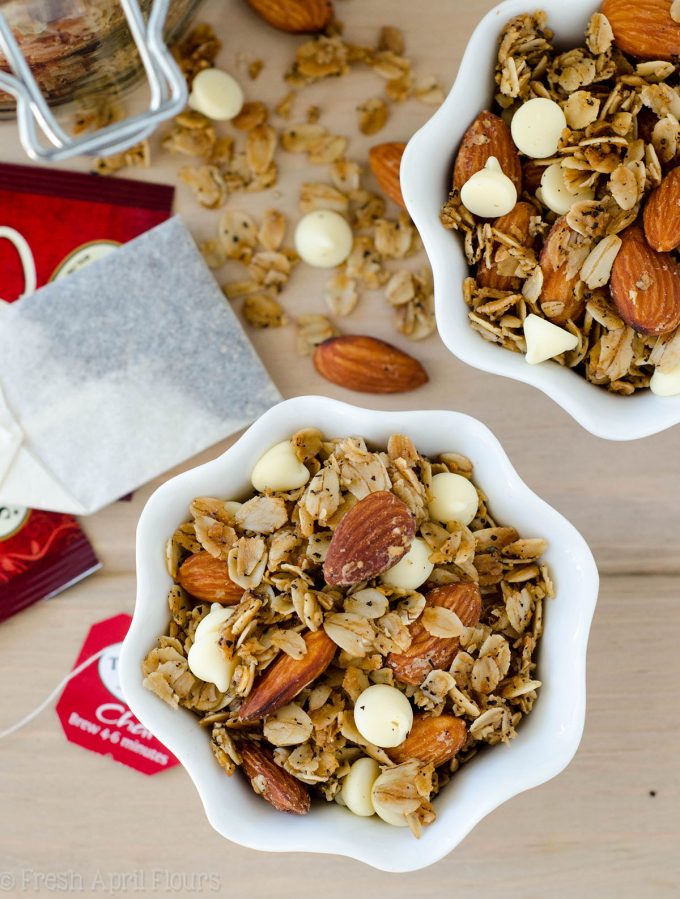 Congratulations, Leah! We are SO excited for you and I can't wait to love up on that little guy!
Chai Spiced Granola
Easy homemade granola spiced with the warm flavors of cinnamon, nutmeg, and cardamom. Perfect for a cold weather snack!
Ingredients
2 and 1/2

cups

old fashioned oats1

do not use quick oats

1

cup

whole almonds

½

teaspoon

salt2

½

cup

pure maple syrup

⅓

cup

coconut oil

2

packets of chai tea

1/2

cup

white chocolate chips
Instructions
Preheat oven to 250ºF. Line a baking sheet with parchment paper or a silicone baking mat. Set aside.

In a large bowl, stir together the oats, almonds, and salt until thoroughly combined. Set aside.

In a medium saucepan, combine maple syrup, coconut oil, and chai tea packet contents. Heat over low to medium heat, stirring frequently, until completely melted and smooth. Pour over oat mixture and stir well to coat everything.

Pour granola onto baking sheet and spread out evenly over entire surface. Mixture will be very sticky. This is ok. Bake for 15 minutes, stir, bake 15 minutes, stir again, bake another 15 minutes, stir once again and bake an additional 30 minutes. Allow granola to cool completely-- the air will help the granola crisp up. Once granola is completely cool, break up chunks (if desired) and stir to distribute evenly. Toss in white chocolate chips. Granola will remain fresh in an airtight container at room temperature up to 3 weeks.
Notes
Use certified gluten-free oats to keep this recipe GF friendly!
If using salted almonds, reduce salt to ¼ teaspoon
Nutrition Disclosure
All nutritional values are approximate and provided to the reader as a courtesy. Changing ingredients and/or quantities will alter the estimated nutritional calculations.