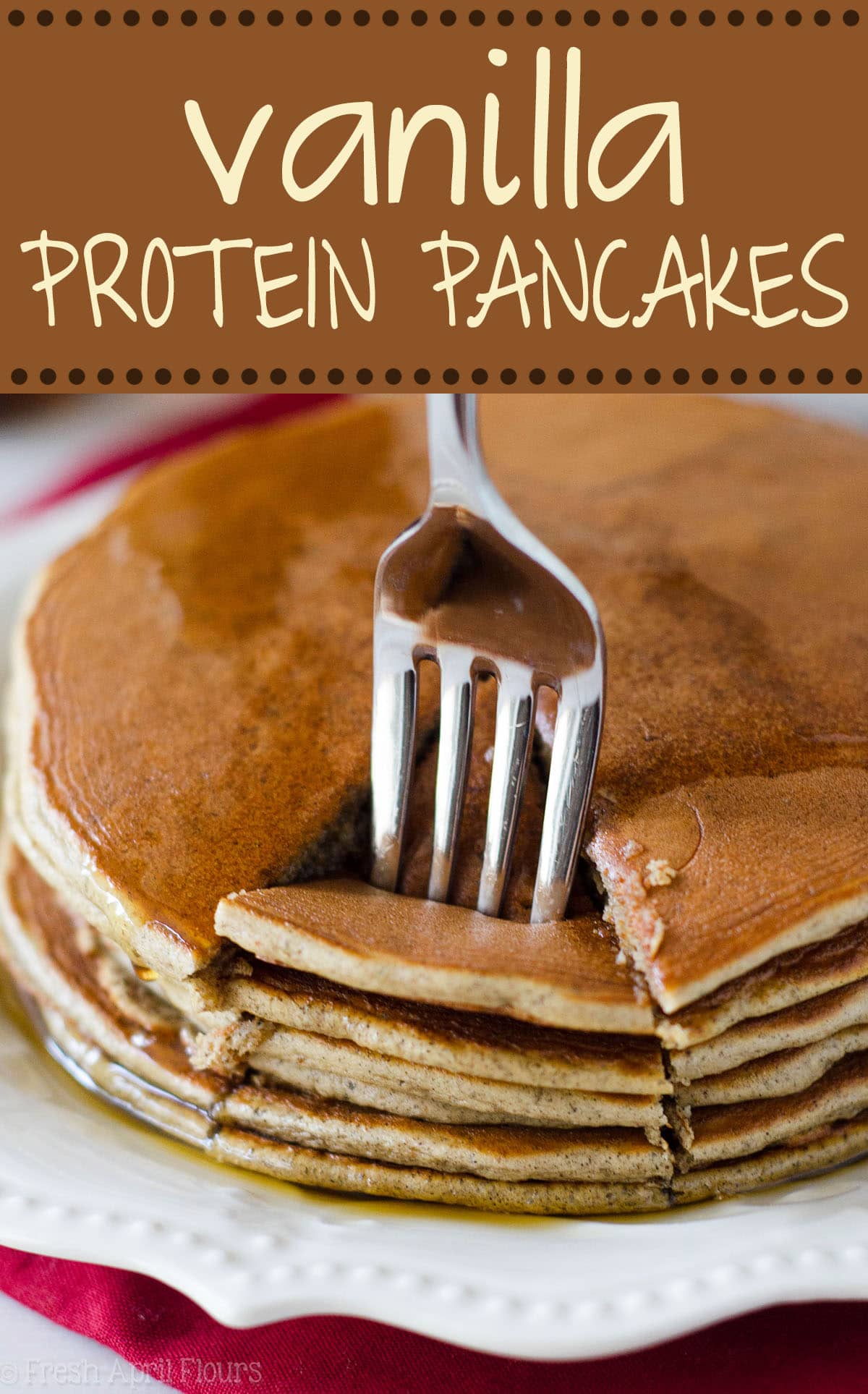 As an Amazon Associate, I earn from qualifying purchases. Read the full disclosure here.
Hearty, gluten free, and protein packed pancakes come together in a snap to make breakfast even better. Makes great leftovers!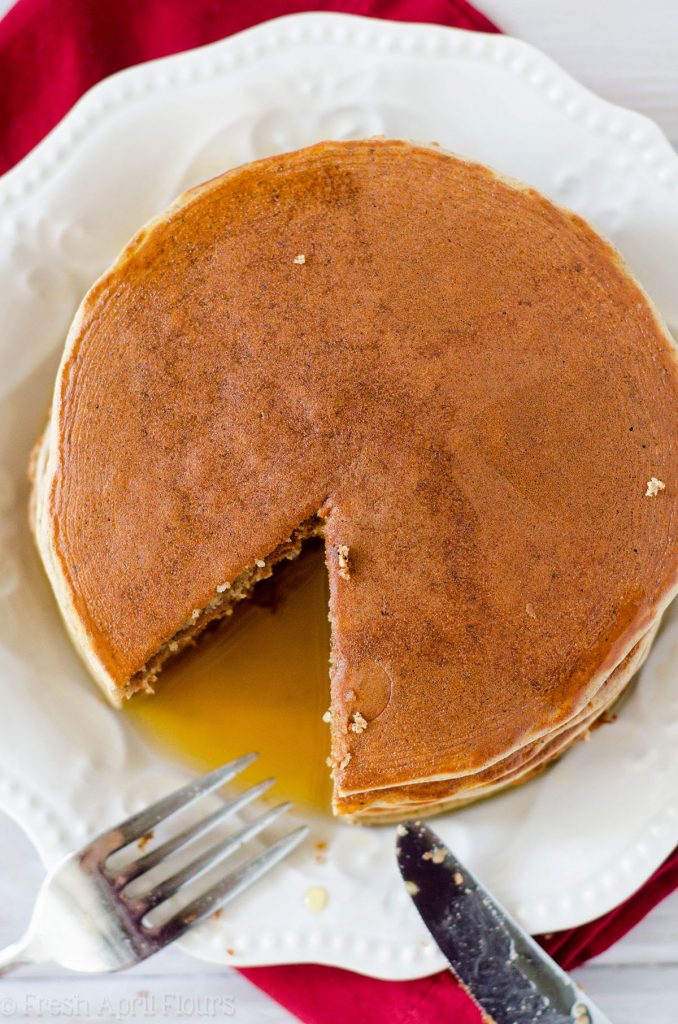 I know what you're thinking: "protein pancakes? I'm already uninterested. No one wants to eat cardboard for breakfast!" And you're right, no one wants to eat cardboard for breakfast, or any meal for that matter, so I promise what I have for you today is nothing short of an actual protein pancake that tastes like actual food.
We were Matt was able to spend a lot of time in the kitchen this summer. I spent most of the summer like this. Since Matt does the majority of his training in the evenings, my maternity leave was basically spent with both of my boys all day long.
It. Was. Glorious.
After the fog of the first 6 weeks of a newborn cleared and the last crumbs of the wonderful (and so much appreciated!!) meals that people had brought us reached our bellies, we tried to get into somewhat of a normal eating schedule again. This meant cooking everything at the beginning of the week so that we, me especially, didn't have to scrounge for something to eat.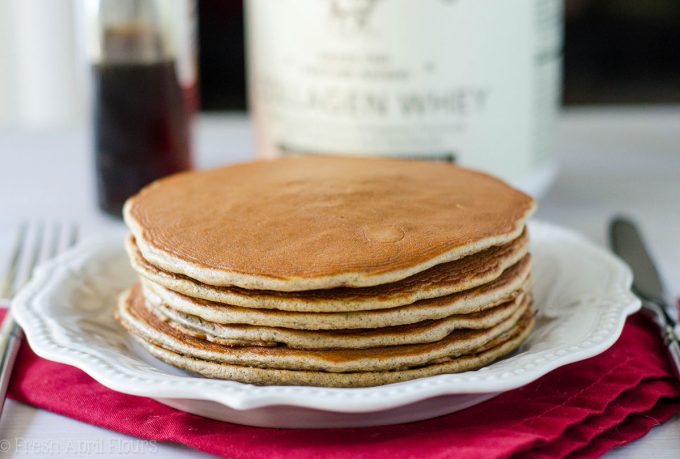 Amidst our newborn fog also came a shipment from our amazing friends at Vital Proteins. They wanted to help welcome J into the world and also restock our quickly diminishing stash of protein that was helping us stay alive. Thank goodness for them! They sent along some new products for us to try out, and Matt instantly fell in love with the vanilla and chocolate whey.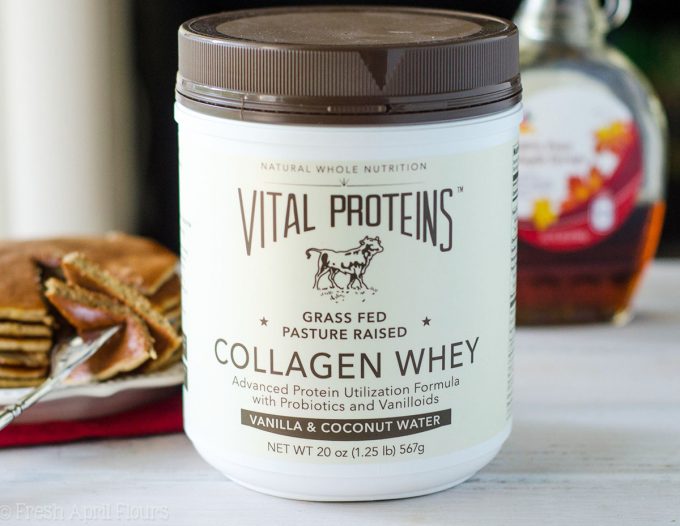 Matt wanted to make some sort of meal with the whey that he could cook/bake in bulk, that was easily reheated (or could be eaten cold), and that would pack a pretty good nutritional punch. He settled on protein pancakes, and the results were, well… Excellent, once he found the right recipe.
There was a lot of testing, tasting, retesting, and retasting to get this recipe just right. We tried all purpose flour, sugar, brown sugar, lots of eggs, no eggs, oil– any and every combination of ingredients to find just the perfect mix. We settled on a few favorites, and here's why…
Almond flour: we wanted to keep these protein pancakes gluten free. Not necessarily because we follow a completely GF lifestyle, but a lot of Vital Proteins' consumers follow GF, sometimes vegan, diets. We wanted to keep in line with that.
Cinnamon: it added another subtle level of flavor to the pancakes! Also, I love cinnamon, duh.
One egg: without an egg, these pancakes were so so dry. It was pretty much like eating cardboard. We tried to up the moisture with some more fat (in the form of oil/butter), but it just wasn't cutting it. Only one egg is necessary for one batch of these pancakes.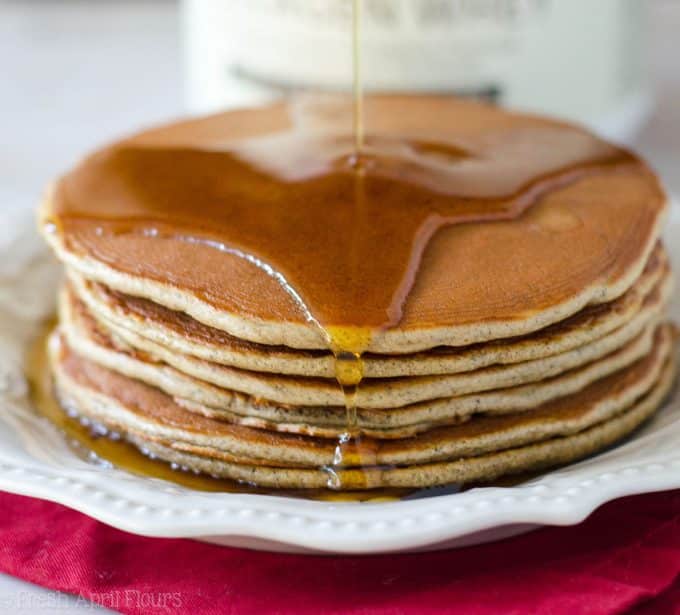 Butter: only one Tablespoon, but it makes ALL the difference in the taste and texture.
Liquid stevia: this is not an ingredient you'll find too much on my blog. In fact, I wouldn't say that I use it all that often in my daily life (but this is our favorite!). Matt and I use it pretty sparingly, but it's the perfect sweetener for something that you're trying to make just a touch sweeter and that you don't want to completely undo your day. Pancakes don't need to be all that sweet, so just 1/8 of a teaspoon gets the job done.
These pancakes come together in a snap, just like traditional pancakes. You'll just cook them up a little differently.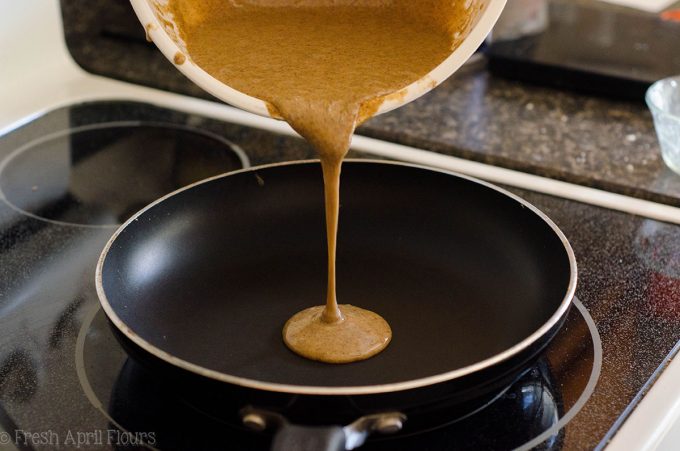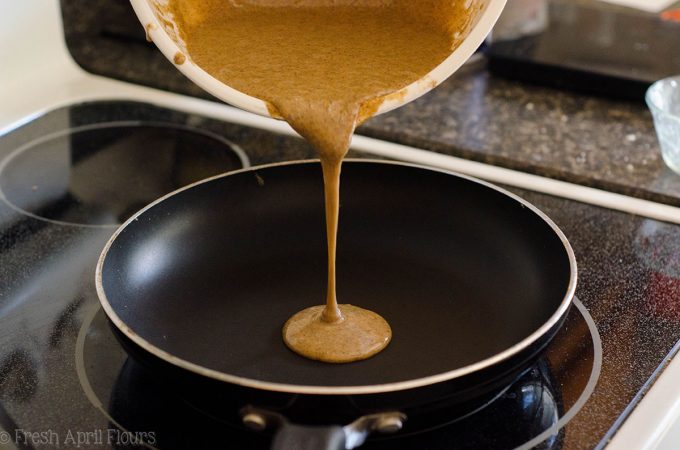 You want to look for bubbles, but the centers will still be quite liquidy. Flip carefully, and you're golden. We tried letting the pancakes go until they were bubbly all over, but that made them far too dry. Easy does it on that flip!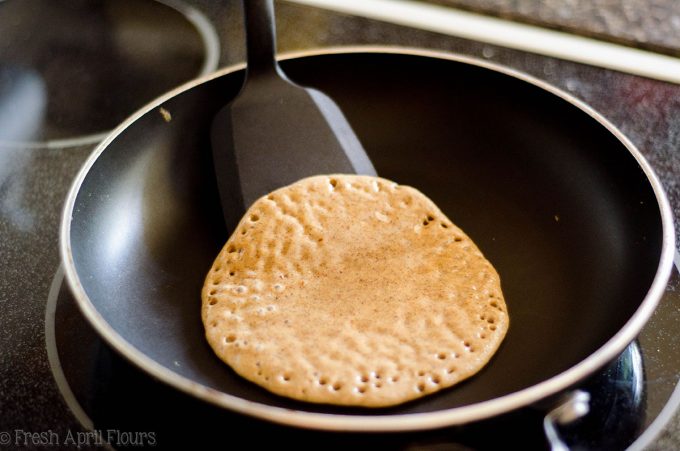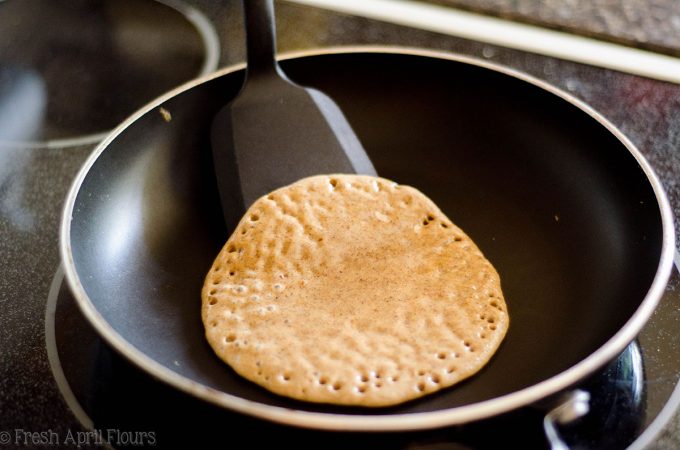 After they're all baked, soak 'em in syrup, put a little powdered sugar on them, or just eat them straight up!
You'll also be happy to know that these pancakes lend well to fillers. Pictured here, eaten cold, are a blueberry variety. We've also thrown in chocolate chips! Banana slices would also work well for a nice fruity touch. Just toss whatever filler you're into right into a cooking pancake after pouring the batter into the pan.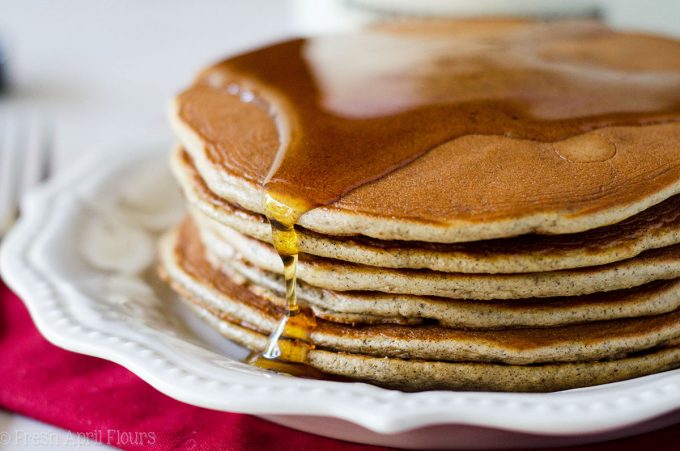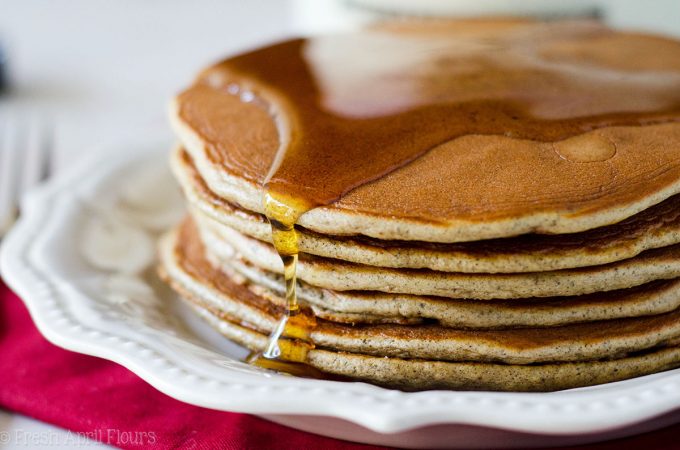 These pancakes saved my sanity this summer when Joey needed to get out and take a walk but mama still needed to eat. They've also been wonderful for me as a snack after work when I just want to spend some time with my buddy but not have to work too hard to get a meal together.
They save well, are great hot or cold, and are filling without weighing you down. And seriously, they do not taste like cardboard. You'll find these pancakes to be impressively tasty.
Just remember, they are not buttermilk pancakes. They are protein pancakes, but they won't make you feel like you're sacrificing flavor and texture just to get your fix of wholesome ingredients.
I promise, as much as my life lends to ease and "eat whatever you can get into your mouth" right now, I wouldn't steer you wrong with a tasteless recipe!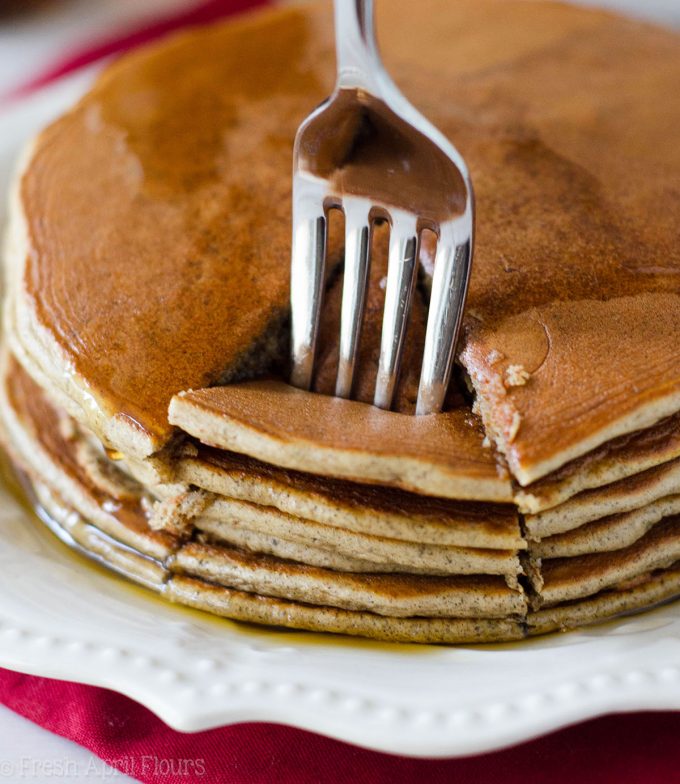 It's all about the good stuff here at FAF.
Vanilla Protein Pancakes
Hearty, gluten free, and protein packed pancakes come together in a snap to make breakfast even better. Makes great leftovers!
Ingredients
3 and 1/2

servings

vanilla whey protein

1/2

cup

almond flour*

1/2

teaspoon

baking powder

1/4

teaspoon

baking soda

1/8

teaspoon

ground cinnamon

optional

1/8

teaspoon

salt

1/2

cup

almond milk

any milk is fine

1

large egg

1

Tablespoon

unsalted butter

melted

1/2

teaspoon

vanilla extract

1/8

teaspoon

liquid stevia
Instructions
In a medium size bowl, toss together the whey, almond flour, baking powder, baking soda, cinnamon (if using), and salt. Set aside.

In a small bowl, whisk together the milk and the egg. Add the melted butter, vanilla, and liquid stevia and whisk again until everything is combined. Pour the wet ingredients into the dry ingredients and whisk again until ingredients are just combined.

Heat a griddle or skillet over medium-low heat. Coat generously with butter, vegetable oil, or coconut oil. Once hot, drop ¼ cup of batter onto the skillet. Cook until bubbles begin to form on the edges. Center will still be very wet. This is ok. Using a large spatula, flip the pancake quickly and cook on the other side until cooked through. Coat griddle/skillet again with choice of fat for each pancake.

Pancakes are best served immediately with your favorite toppings. Pancakes can be reheated in the microwave as needed (wrapped in a moist paper towel) or kept warm in a 200ºF oven until all pancakes are ready to serve. Leftover pancakes can be kept in the refrigerator, wrapped tightly in plastic wrap, up to 3 days. Pancakes can be frozen, up to 2 months. Reheat as desired.
Notes
*You can make your own almond flour by processing whole almonds in a food processor. Pulse until a fine powder forms.
Nutrition Disclosure
All nutritional values are approximate and provided to the reader as a courtesy. Changing ingredients and/or quantities will alter the estimated nutritional calculations.