Slow Cooker Creamy Chicken and Wild Rice Soup

As an Amazon Associate, I earn from qualifying purchases. Read the full disclosure here.
An easy set-it-and-forget-it recipe for creamy chicken and wild rice soup for the slow cooker. Perfect for cold weather and freezing for on-hand meals.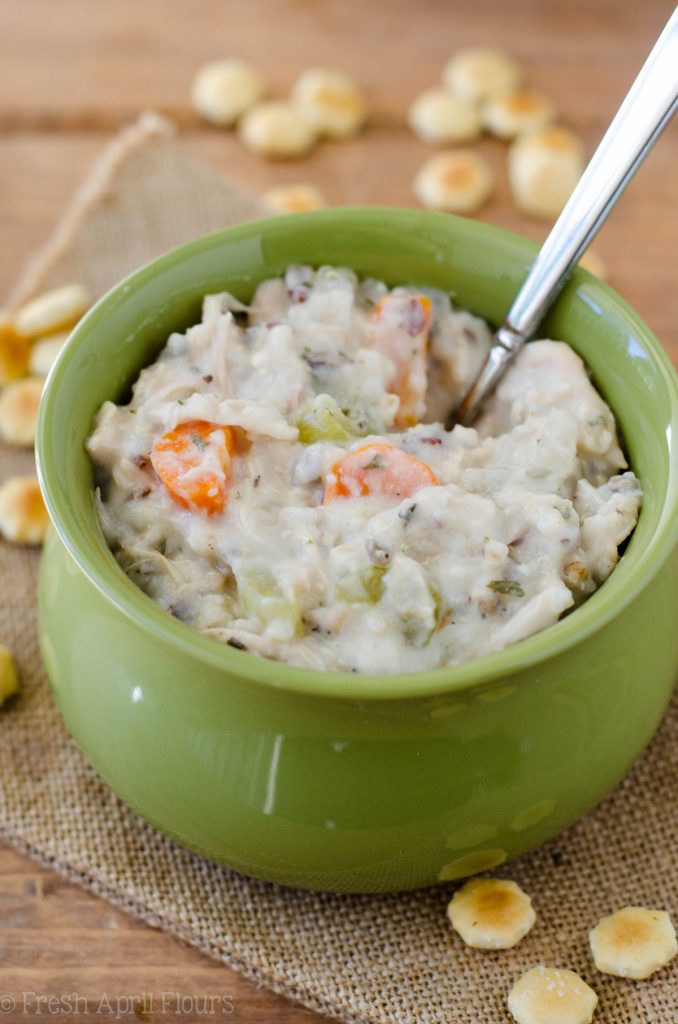 Lucky us, sinus infections and an ear infection swept through our household like wildfire last week. It started with Matt, then he started feeling better, then I started up with it, and he regressed.
Needless to say, we were snotty, sneezy, coughing messes all last week, and thankfully, somehow, the little dude has stayed healthy so far (I'm thanking breastfeeding for that one! And also running into the nearest forest and knocking on every tree there…).
Because Matt picked up whatever we had before I did, I was able to prep a few things in order to make life easier for him while I was at work, since he's the one home with our son all day long.
And also, one can't live on just cookies alone (we are in the thick of prepping for the 12 Days of Christmas Cookies, after all), so healthier options it was. On the list of those things was this hearty, filling, cold weather soup that filled our bellies for a little while and helped us get through some of our worst days when we just didn't feel like cooking a damn thing.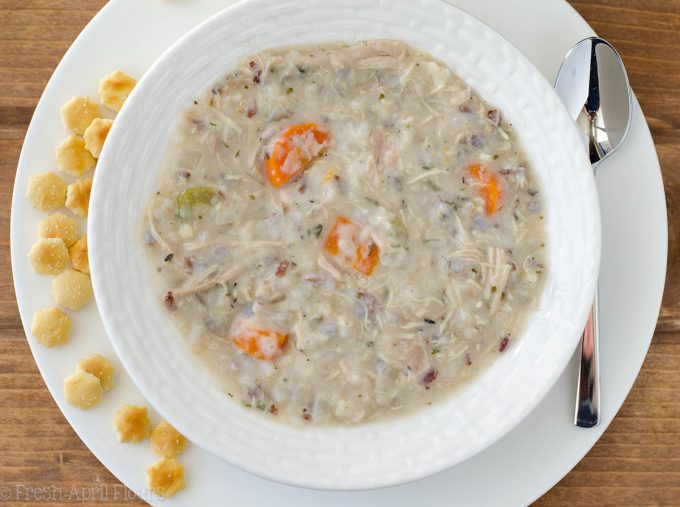 I should mention that although it is October here in eastern PA, it's been unseasonably warm. So warm, in fact, that the pumpkin I carved a week ago only lasted 3 days outside before it was a buggy mess. Come on, PA. Let's get it together??
Needless to say, this soup still totally hit the spot, even if we were in shorts, tshirts, and enjoying the breeze coming through our back door and windows. WHAT?!
So let's get right down to it: this soup is not only perfect for chilly weather but also for those of us who like to set-it-and-forget it. I do love me some slow cooker recipes. So break it out and start souping! But don't really break it out, unless you'd like to do this exactly like I did and start with a brand new slow cooker.
You do you, friend. This is your soup.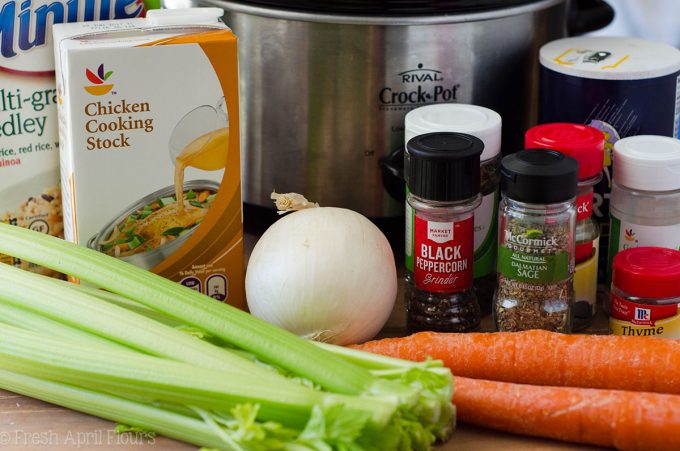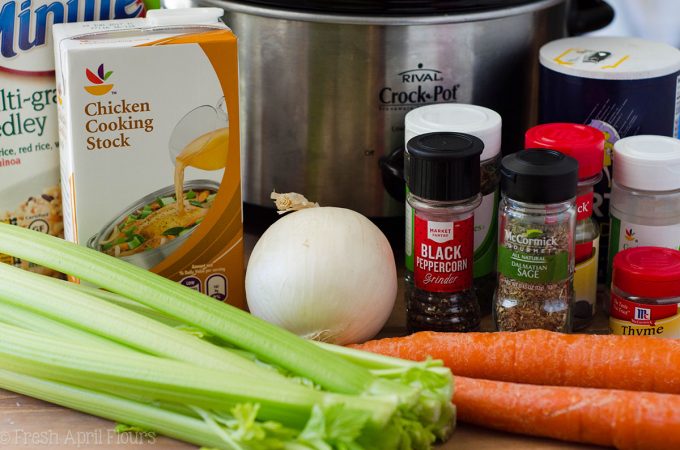 Because this recipe goes right into the slow cooker, there's really very minimal prep. The only thing you'll need to prep is your onion, celery, and carrots. The rest are spices, chicken stock*, and water. And then heavy cream at the end.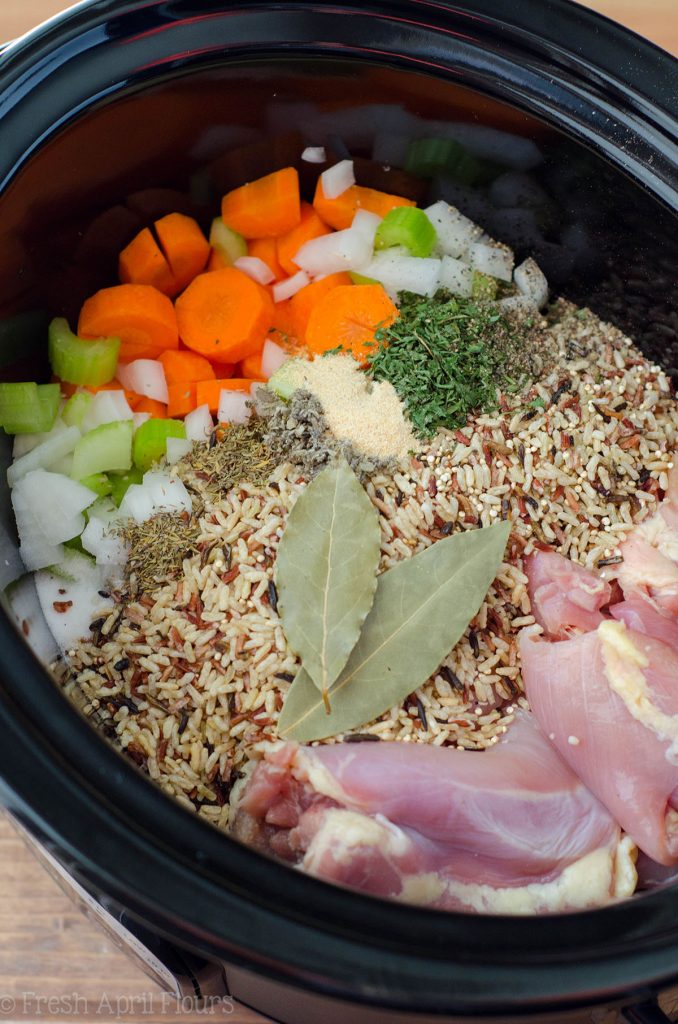 Depending on the kind of chicken you choose, that doesn't need any prep either. I chose to go with chicken thighs as opposed to breasts or cutlets because they are fatty and super flavorful. Whatever chicken you prefer is fine for this soup.
*Chicken stock is crucial here, not to be confused/switched out with chicken broth. Chicken stock has much more flavor and is the best choice for creamy soups. If you decide to use chicken broth instead, be aware your soup may not be as flavorful or as thick. You may need additional spices and cooking time to evaporate some of the broth.
Everything but heavy cream goes right into the slow cooker.
Set it to low for about 5 and 1/2 hours (chicken should be done by then), shred the chicken (my favorite way to do this is in my Kitchen Aid stand mixer with the paddle!), and then cook for another 30 to 60 minutes, until the veggies and rice blend are cooked to your liking.
Just a 1/2 cup of heavy cream goes in at the end, right before serving, as does a little salt and pepper once you've tasted the soup.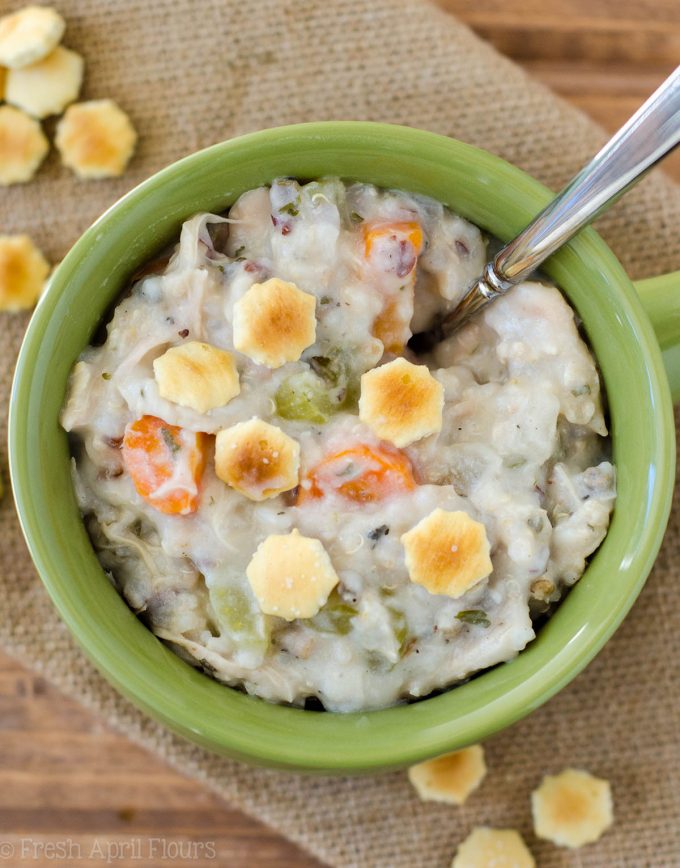 As most soups go, this only gets better as it sits in the fridge and makes wonderful leftovers. Truthfully, we ate this up so fast I wish that we would have made a double batch. I will definitely be making another crock full of this soup when the weather actually gets chilly.
Perhaps by December we will finally be in scarves, gloves, and hats, warming our bellies with this soup.
Serve it up now, freeze some and save it for later, or whip some up and take it to someone who could use a homemade meal (ahem– A NEW MOM!) without lifting a finger.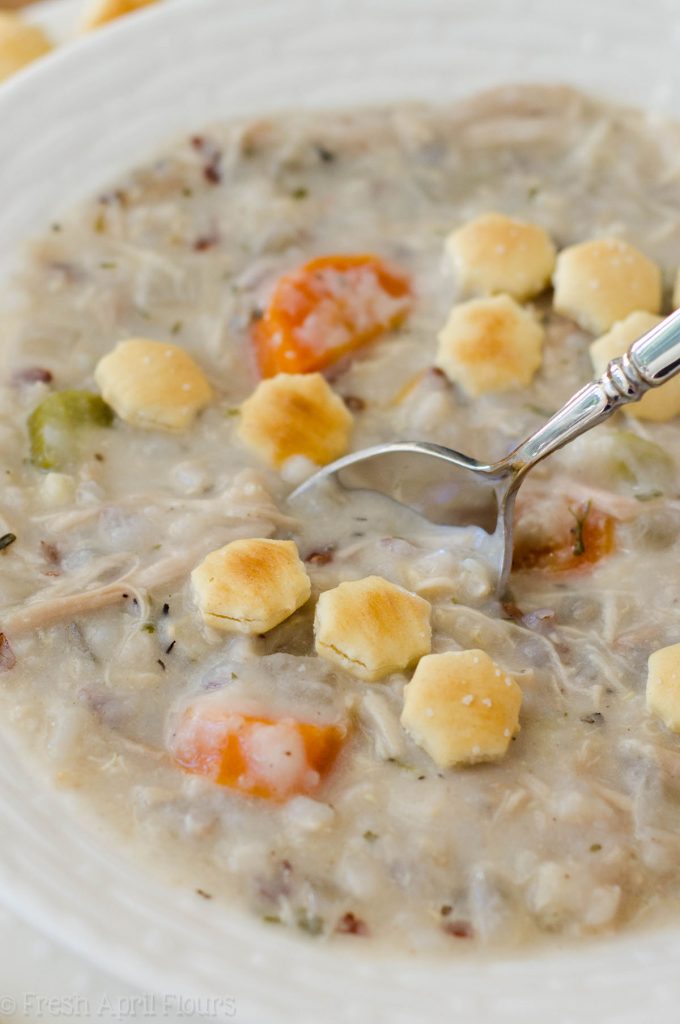 And of course, this soup is perfect with crackers. Always the crackers.
Slow Cooker Creamy Chicken and Wild Rice Soup
An easy set-it-and-forget-it recipe for creamy chicken and wild rice soup for the slow cooker. Perfect for cold weather and freezing for on-hand meals.
Ingredients
2

pounds

boneless skinless chicken thighs1

2

cups

wild rice blend

uncooked2

1

large onion

diced

3

large celery stalks

chopped

2

large carrots

chopped

2

bay leaves

2

teaspoons

dried parsley

1

teaspoon

garlic powder

1

teaspoon

salt

1/2

teaspoon

black pepper

1/2

teaspoon

dried thyme

1/2

teaspoon

dried sage

4

cups

chicken stock3

3

cups

water

1/2

cup

heavy cream
Instructions
Place all of the ingredients except the heavy cream in a large 6-7 quart slow cooker. Cook on low about 5 and 1/2 hours (or until chicken is done), then shred the chicken. My favorite way to shred chicken is to remove it from the slow cooker and use my

Kitchen Aid stand mixer

with the paddle attachment on the lowest speed. You can also use forks to shred the chicken right in the slow cooker.

Cook for an additional 30 minutes to 1 hour, until vegetables and rice blend are cooked to your liking. Remove the bay leaves and discard. Turn off the slow cooker, add the cream, stir, and serve warm. Add salt and pepper as needed. Leftovers can be kept in the refrigerator in an airtight container up to 5 days. Reheat in microwave. Soup freezes well, up to 3 months. Thaw in refrigerator overnight and reheat as needed.
Notes
Any chicken will do here: boneless skinless breasts, bone-in thighs, cutlets, etc. I chose boneless skinless thighs because they have more fat and flavor and tend to dry out less quickly than white meat.
I used a quick-cooking blend. If you want this to be more of a stew, use a regular cooking blend, as it will absorb more moisture.
I prefer chicken stock for this soup as it has much more flavor than chicken broth.
Nutrition Disclosure
All nutritional values are approximate and provided to the reader as a courtesy. Changing ingredients and/or quantities will alter the estimated nutritional calculations.