As an Amazon Associate I earn from qualifying purchases.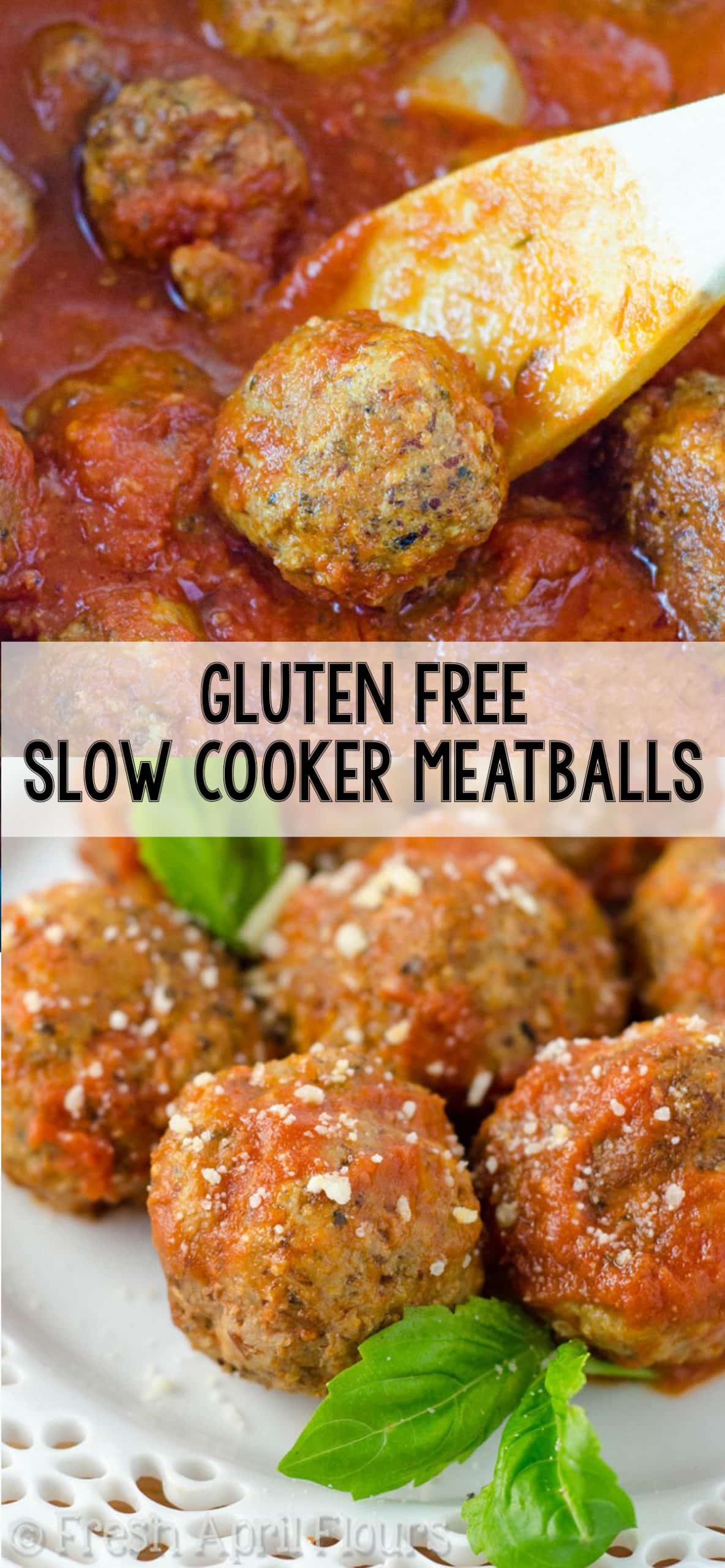 Easy, flavorful turkey meatballs made with ground flaxseed in place of breadcrumbs. Only 30 minutes of prep time– let the slow cooker do the rest!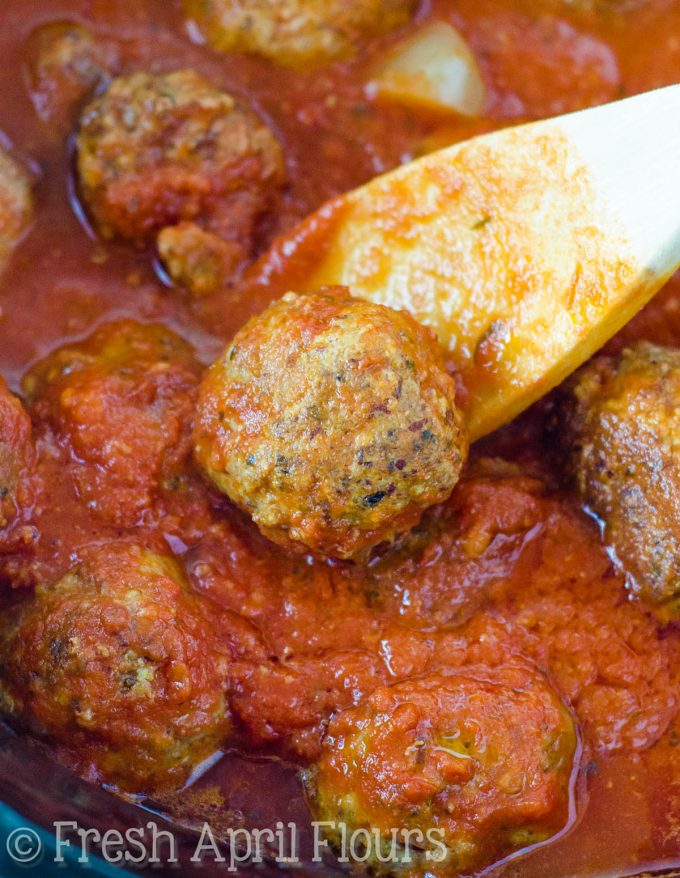 Happy 2016, my fellow kitchen lovers! It's a brand new year (albeit, I'm a week late to the party– SORRYYYYY) and I'm fully equipped with lots of healthier recipes to get things started.
Are you feeling the lingerings of the holiday season?
Perhaps in your sluggishness or even your waistline?
My pants are definitely tighter these days, but they tell me that's normal for my circumstances…
So here we go: no cookies, no cakes, no candy recipes on my blog for at least the entire month of January, ok? When February rolls around, I can't make any promises (hellooooo, red velvet life!), but for the most part, I'm going to be regularly incorporating a lot of recipes that we use around the April household on a daily basis.
For two reasons.
1) with a baby on the way, I'm certainly not going to have as much time to dedicate to the blog as I have in the past, even before he gets here. This means that more of the everyday things we eat will make an appearance for you on my blog.
And 2) life is not all about desserts.
As much as we all wish that it was… It's not.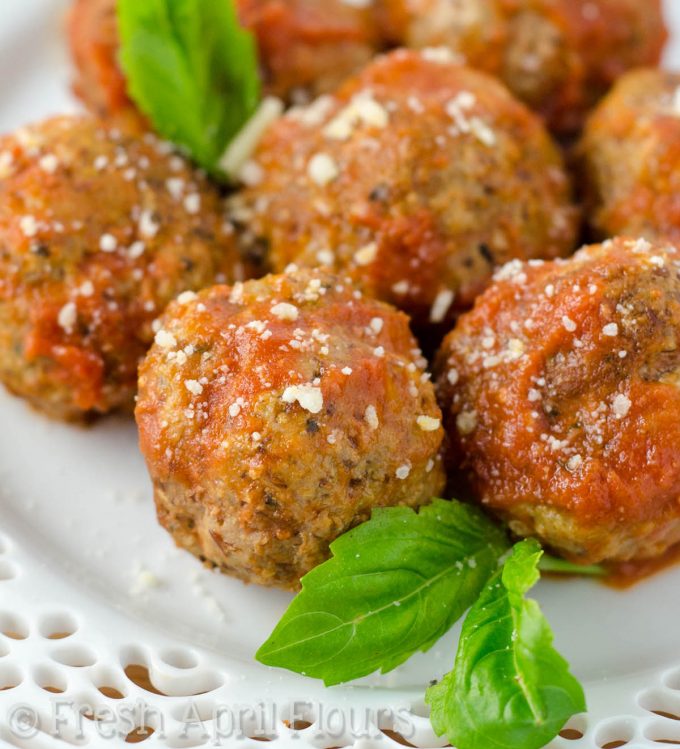 Now I am not saying I won't have sweets for you ever again (that would just be cruel), but I would like to start sharing more of my healthier, everyday recipes with you. Is that cool? Will you still read my blog? Please say yes. I just love havin' ya!
Ok, enough chit chat. Let's get down to meatball business. It's a pretty tasty business, if I do say so myself, and I'm so happy to finally be bringing this recipe to you!
I would like to be totally honest with you here and tell you that I adoreeeee spaghetti and meatballs (I mean, I am Italian, for goodness' sake!). In fact, I have really been craving pasta during my pregnancy, but I haven't quite given in because I fear never-ending pasta for every meal if I open that can of worms.
I started eating corn and quinoa pasta, which I am incredibly surprised is absolutely delicious, and it totally satisfies my craving.
But how can you have pasta without meatballs? You really can't. And if you somehow can… I urge you to add a meatball or two to your next dish and tell me it isn't just the greatest thing.
Now I know there are such things as vegetarians out there, and if that's your case, my friend Amy has a mouth-watering recipe for black bean meatballs on her blog. Check 'em out!
But for my carnivore friends? Read on!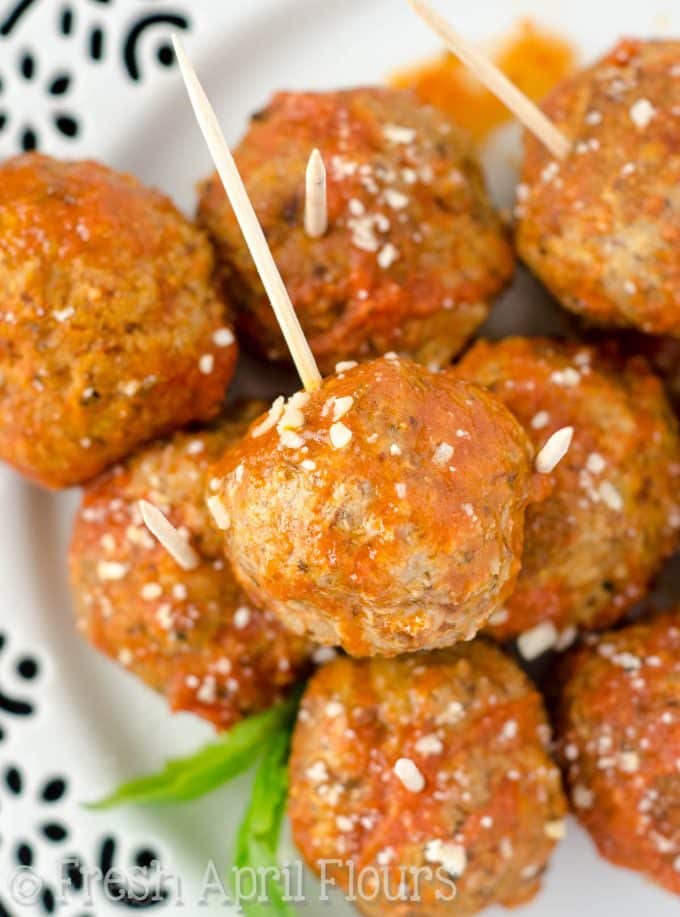 These meatballs are so simple. So simple, actually, that the hands-on time is virtually nothing when you compare it to all the work being done inside your slow cooker. That's my kinda recipe, yeah??
I made these meatballs completely gluten free because, well, that's just how I like to roll sometimes.
Instead of breadcrumbs, which are usually the binder in things like meatballs and quinoa patties, I use ground flaxseed. Have you used this before? It's a wonderful ingredient. It's slightly nutty, flaky like breadcrumbs, and it packs quite a nutritional punch: omega-3 fatty acids, antioxidant qualities, fiber, and lots of protein.
I loveeee throwing this stuff into smoothies, cereal, cookies, breads… You name it. Quite an impressive and versatile little ingredient!
I like to use ground turkey for my meatballs because it's pretty low in fat. But you're welcome to use whatever kind of meat you'd like and whatever fat content. Ground beef, ground chicken… Your choice.
Aside from the meat and ground flaxseed, you're going to need a bunch of spices (nothing too crazy), some Parm cheese, an onion, and two cans of crushed tomatoes.
To get started, you'll layer the onions in the bottom of your slow cooker and top them with one can of the tomatoes. A little flavor bed for your meatballs, if you will.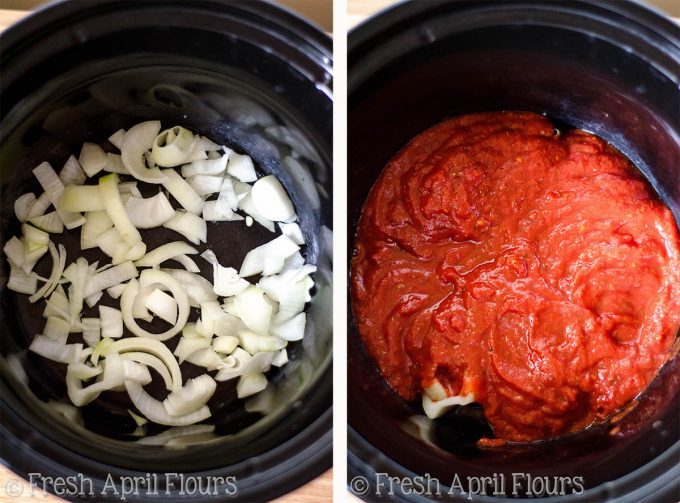 Then, the fun part. Mix all of your meat, flaxseed, cheese, spices, and one beaten egg and roll it all into balls. Mine were about the size of a golfball. After they're all rolled, you'll lightly brown the meatballs for a couple reasons.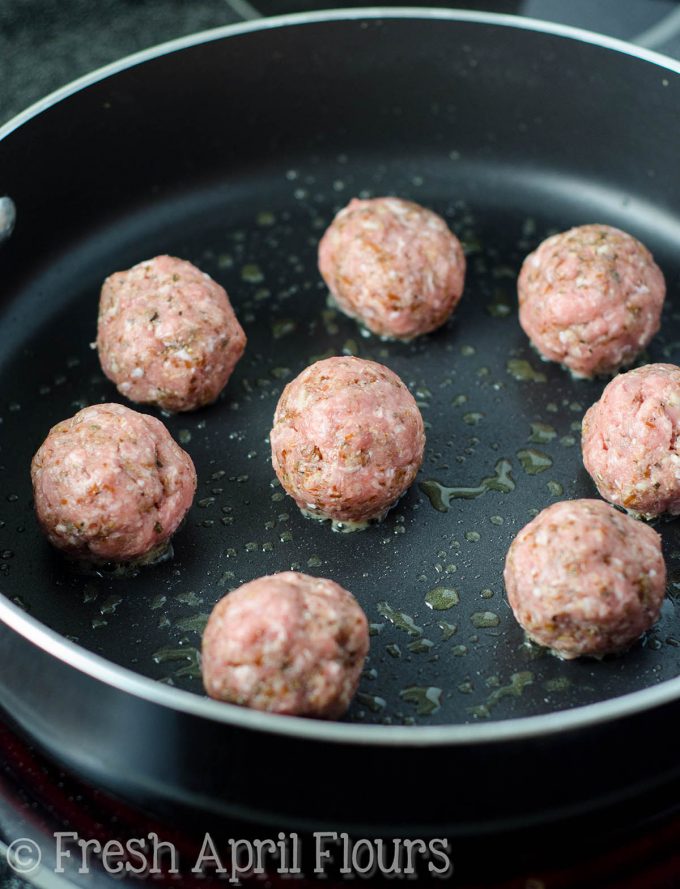 First of all, you need them to stay together in the slow cooker, otherwise they will all just fall apart. And second, you want to start the browning process and bring out all those lovely spices and flavors. Just about a minute or two on each side.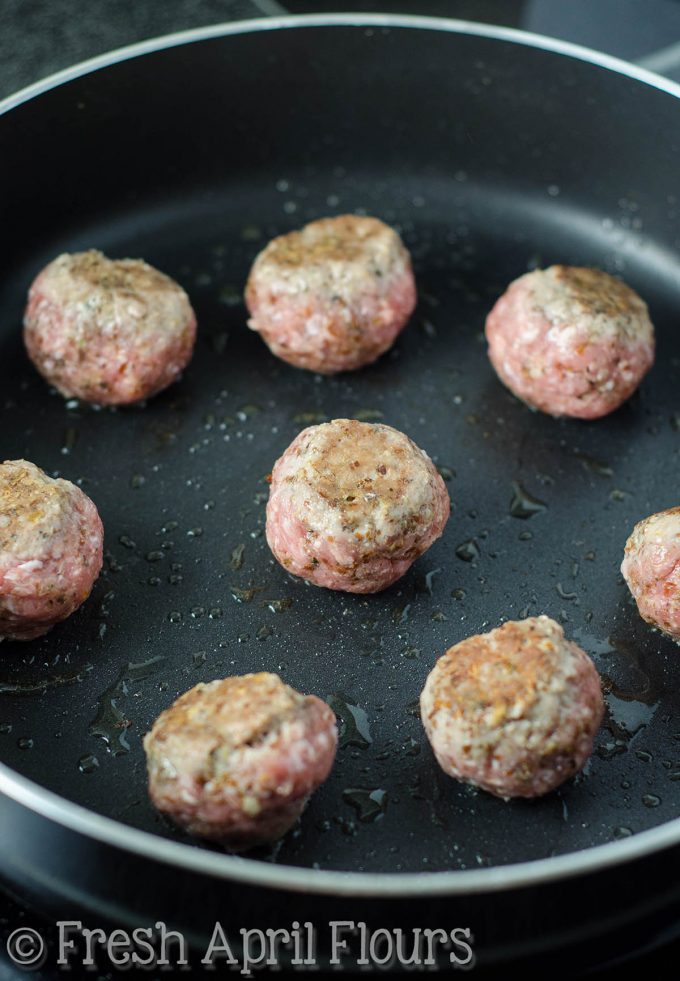 Once your meatballs are browned, transfer them to the slow cooker, continue browning the rest of your meatballs, cover all of the meatballs with more crushed tomatoes, and then set it and forget it!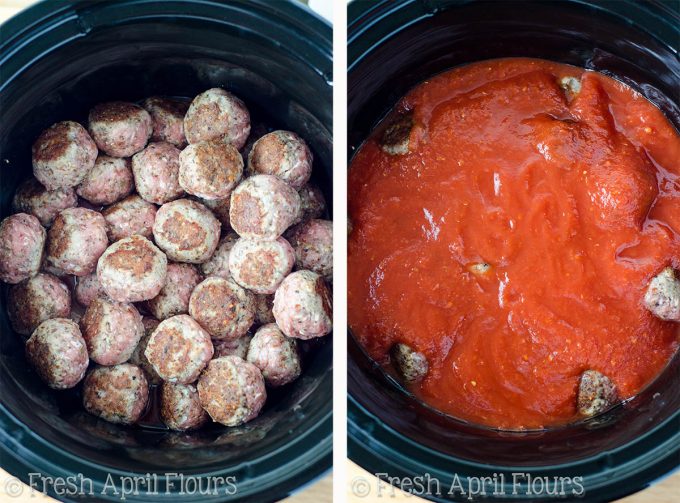 You'll need about 6-7 hours on low, 4-5 on high. I tested my meatballs with a meat thermometer to make sure they were done. You're looking for 165°F (73.9°C) for poultry.
When the meatballs are fully cooked, eat them straight up, throw them into a roll for a meatball sub, toss them on top of your plate of pasta, or eat them on a salad. They are so versatile and so tasty, you'll want to put them on everything just to have an excuse to eat them.
Tender, flavorful meatballs, made totally gluten free with good-for-you ingredients. This is absolutely something January can get down with, amirite?! Try them out, I'm sure you'll find they're much easier than you think and waaaaaaay better than buying frozen.
Speaking of, see notes in the recipe for making ahead and freezing.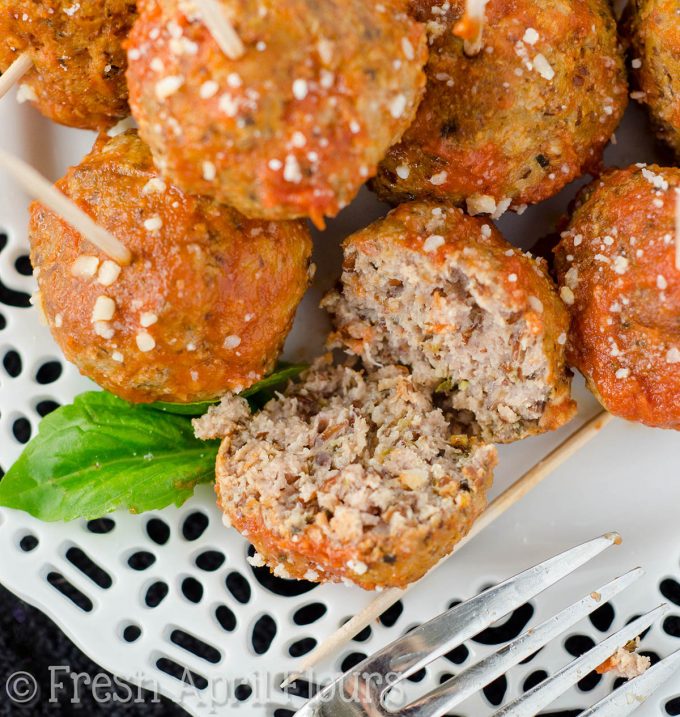 Homemade meatballs, for the win! Your Italian grandmother will be so proud.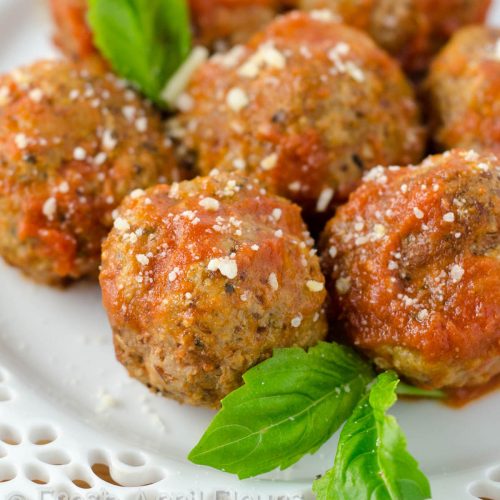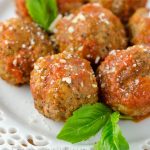 Print Recipe
Slow Cooker Turkey Meatballs (Gluten Free)
Easy, flavorful turkey meatballs made with ground flaxseed in place of breadcrumbs. Only 30 minutes of prep time-- let the slow cooker do the rest!
Servings:
4
dozen meatballs
Ingredients
1

onion

roughly chopped

2-28

ounce

cans crushed tomatoes

undrained

1

large egg

2

pounds

lean ground turkey

any fat content

2/3

cup

ground flaxseed

1/3

cup

grated Parmesan cheese

2

Tablespoons

olive oil

plus more for the frying pan

3

cloves

of garlic

minced

2

teaspoons

dried oregano

2

teaspoons

dried basil

1 and 1/2

teaspoons

salt

1/2

teaspoon

ground black pepper

fresh basil
Instructions
Place the chopped onion in the bottom of your slow cooker. Top with one can of the crushed tomatoes.

In a large bowl, lightly beat the egg. Add the ground turkey, flaxseed, Parmesan cheese, olive oil, garlic, oregano, basil, salt, and pepper. Stir with a large spatula until completely combined. Roll meat mixture into balls and place on a large plate or platter until you are ready to cook them. My meatballs were all between 1.0 and 1.2 ounces each, about the size of a golfball.

Pour about a Tablespoon of olive oil in a large skillet. Lightly brown the meatballs (about 8 at a time) over medium heat, about 1-2 minutes each side. Do not overcrowd. Place each batch of browned meatballs into the slow cooker until all meatballs are browned. Cover meatballs with second can of crushed tomatoes.

Cover the meatballs and cook on low for 6-7 hours or high for 4-5 hours*. Top with fresh chopped basil, if desired. Serve as an appetizer, with pasta, in subs, or alone. Leftovers will stay fresh in the refrigerator, covered, up to 1 week. Make ahead: prepare meatballs through the browning step, then cover and refrigerate up to 1 day or freeze up to 2 months. Add to slow cooker frozen and cook as directed. OR fully prepare up to 1 day in advance, refrigerate, then reheat in the slow cooker on low for 1 hour. Cooked meatballs can be frozen in sauce up to 2 months. Defrost in refrigerator before reheating.
Notes
*I test a few meatballs with a meat thermometer to ensure safety. You're looking for 165°F (73.9°C) for poultry.
No slow cooker? Use your stove top! Add the chopped onion and 1 can of the crushed tomatoes to a large pot and set aside. Prepare meatballs through step 2. Add raw meatballs to a large skillet coated with olive oil and cook until browned on all sides (about 5 minutes). Transfer to a large plate or platter (not the same one that held the raw meatballs). Repeat with remainder of meatballs. Add the meatballs to the prepared pot and pour second can of crushed tomatoes on top. Simmer over medium-low heat until sauce thickens and meatballs are fully cooked, about 35 minutes.
More gluten free and healthy recipes!
Cheesy Enchilada Quinoa Casserole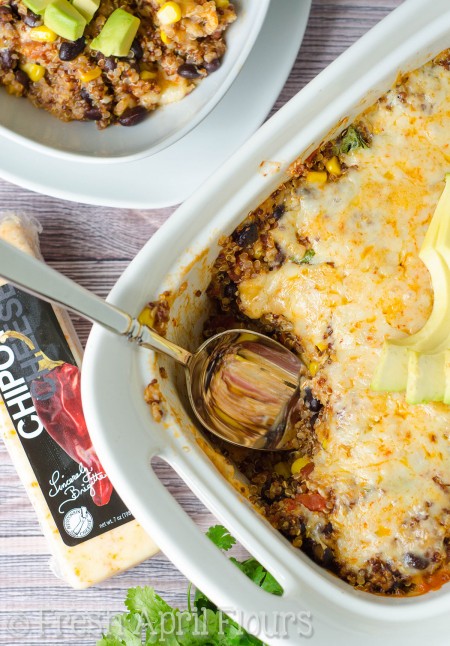 Soft-Baked Carrot Cake Granola