Buffalo Chicken Meatballs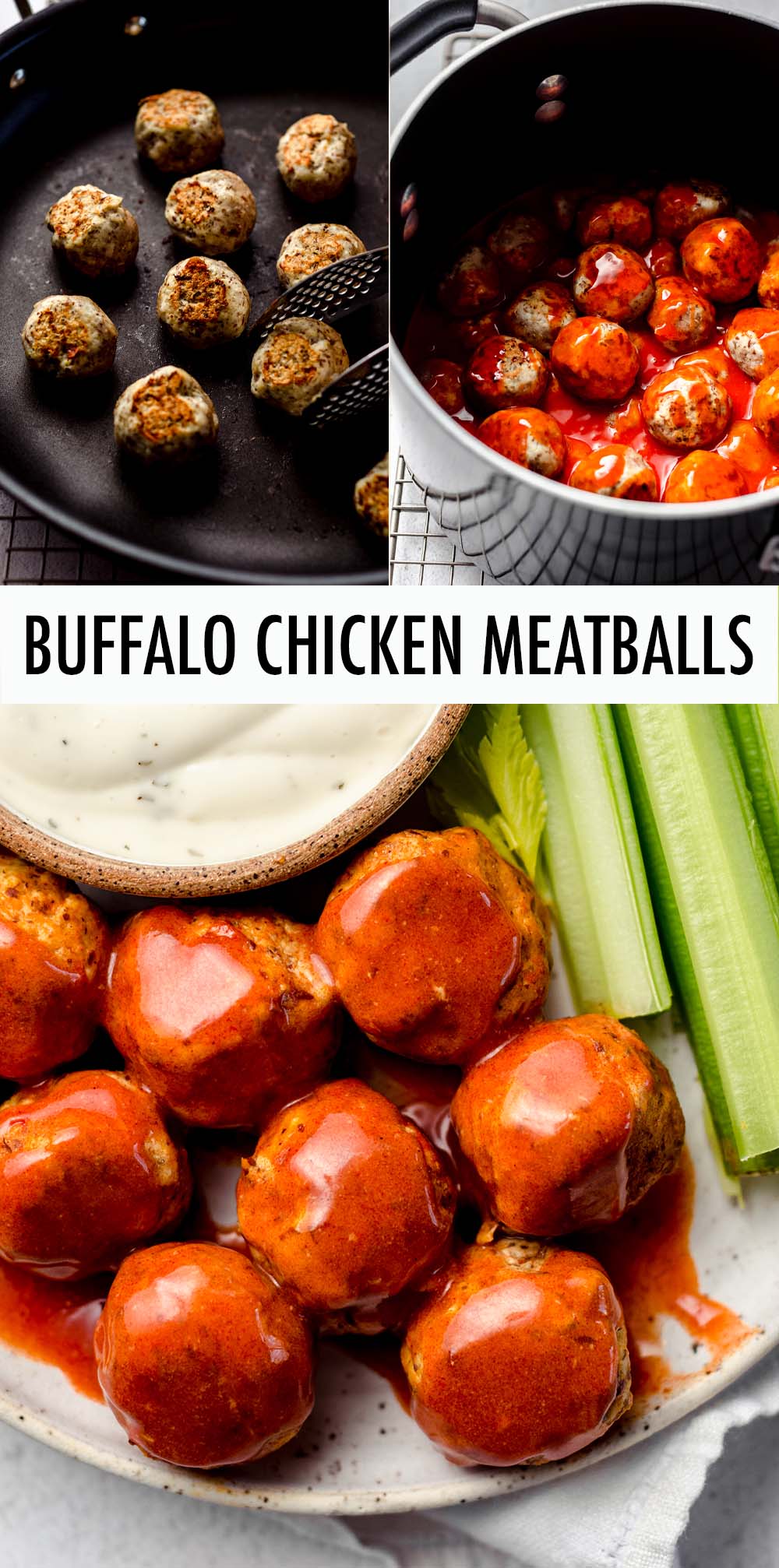 As an Amazon Associate, I earn from qualifying purchases. Read the full disclosure here.
These simple ground chicken meatballs are cooked in a spicy buffalo sauce, making them great as an appetizer or a meal. As written, the recipe is completely gluten-free. Replace ground flaxseed with traditional breadcrumbs if you prefer.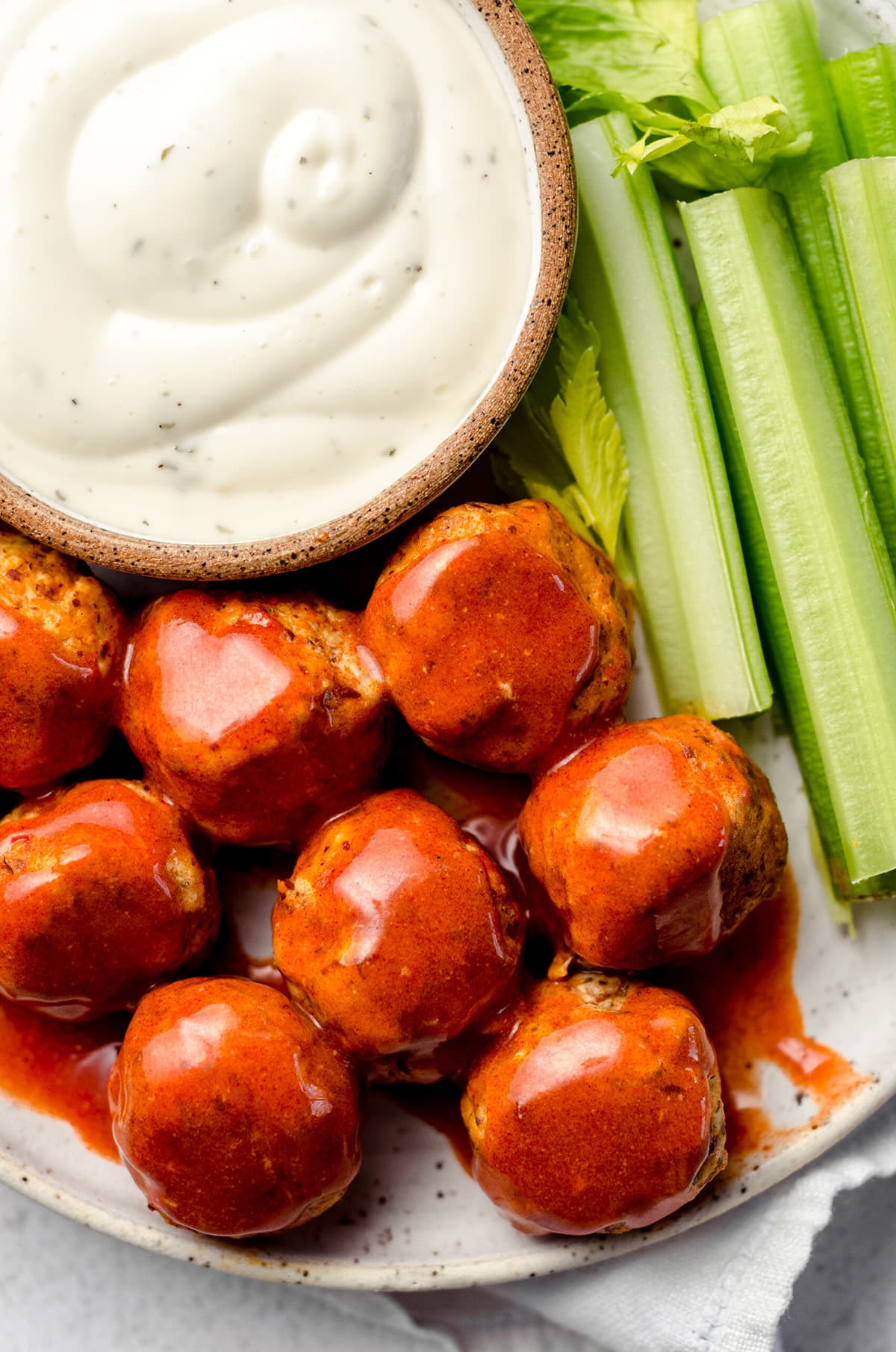 If you've been around here for any length of time, you've probably noticed that I'm pretty heavy on the desserts. You know, brownies, cookies, cakes, and all the things that have your eyes rolling back in your head.
But you might be surprised to learn that I absolutely looooveee savory foods. In fact, a few of my most popular (and personal favorite) recipes are savory ones. That includes my super quick tortilla pizza, this easy make ahead breakfast casserole, and these baked turkey and cheese sliders.
These buffalo chicken meatballs are a new favorite around here, and it's no wonder! Not only are they crazy easy to make, but they are spicy, tangy, slightly acidic and perfect when paired with a creamy bowl of blue cheese dressing.
If you are even remotely a fan of buffalo chicken wings, you're going to want to keep the recipe for these easy buffalo chicken meatballs in your back pocket!
Best of all? They can be made either in a slow cooker (my favorite!) or on the stovetop. Both methods are super easy to do, thanks to the use of store bought buffalo sauce (although you could certainly use homemade buffalo sauce) and a one bowl meatball recipe.
Oh, and did I mention they are gluten free? Yep, that's right! An easy and healthy swap for breadcrumbs (flaxseed) acts as a binder, holding the ground chicken mixture together in tasty little spheres of goodness (aka meatballs, but "spheres of goodness" sounds better).
Don't worry if you don't have flaxseed on hand, because you can totally use your favorite style of dried breadcrumbs to make these tasty buffalo meatballs!
INGREDIENTS
Since this buffalo chicken meatballs recipe was based off my gluten free meatballs recipe, it shares a lot of similar ingredients with the mother recipe.
But because the original recipe uses ground turkey and Italian-inspired herbs and spices, I had to switch things up a bit to make spicy, savory buffalo chicken meatballs.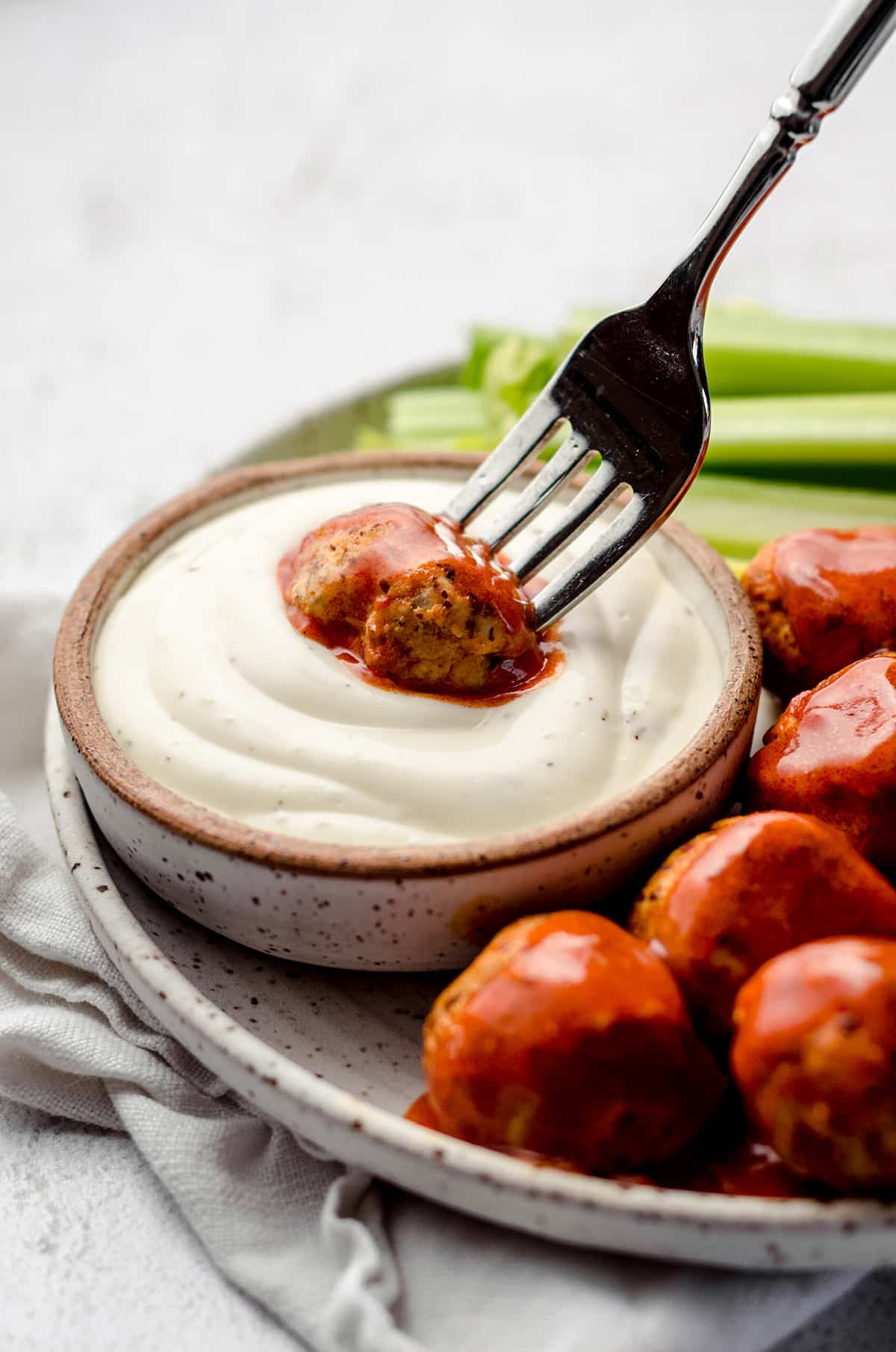 Like my gluten free meatballs, these contain egg, ground meat (ground chicken, but you can use whatever you like), and ground flaxseed.
Flaxseed is a delicious and excellent gluten-free substitute for breadcrumbs. If you don't want or need your meatballs to be gluten-free, go ahead and use your favorite dried breadcrumbs in place of the flax.
In addition to the base ingredients, I use olive oil and versatile seasonings like garlic powder, onion powder, and salt.
And while most meatballs are served with a tomato-based sauce, these buffalo-style chicken meatballs are covered with classic spicy and tangy buffalo sauce. You could totally make your own, or you could pick up a bottle at the store like I did!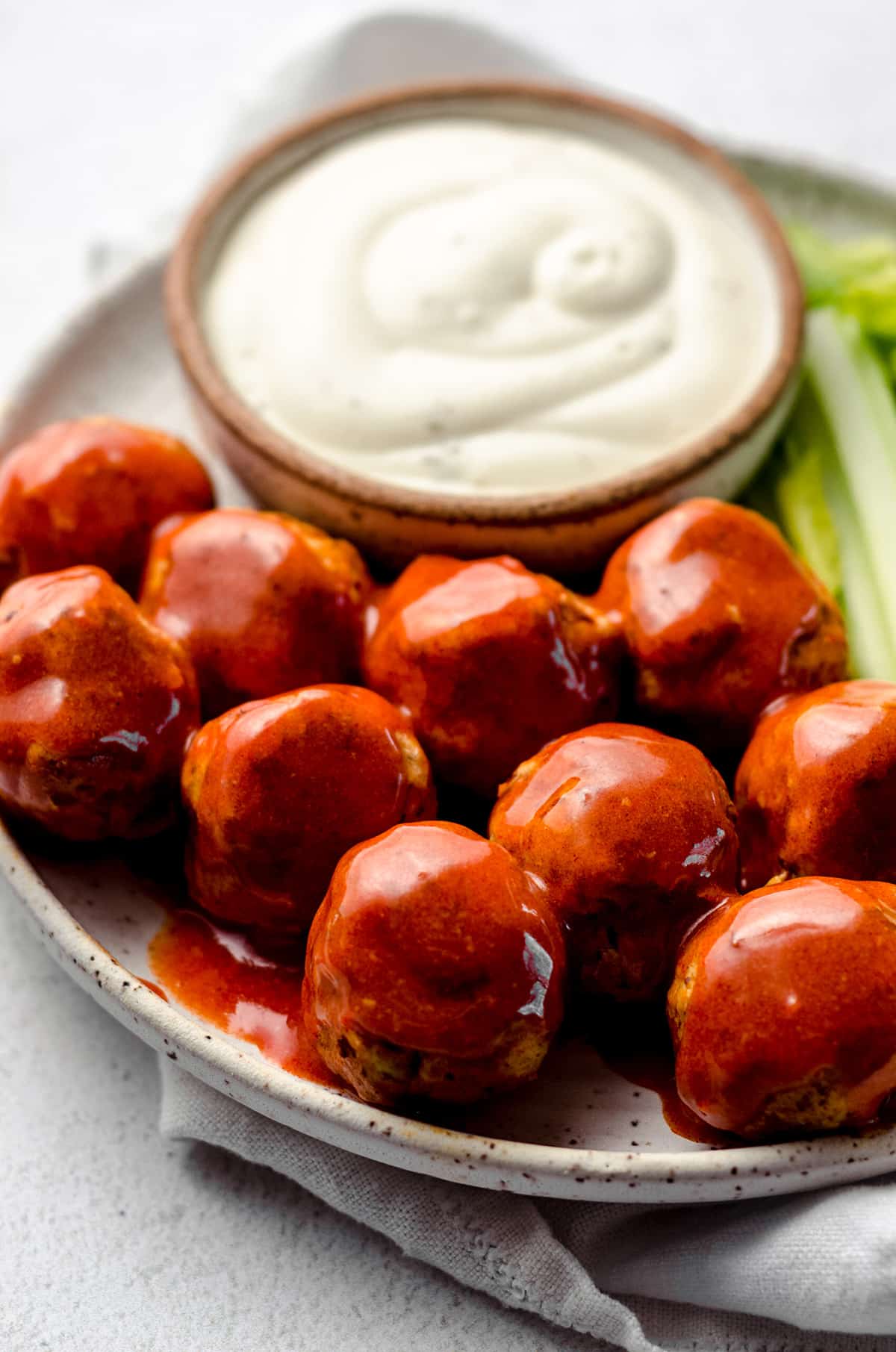 MAKE THE MEATBALL MIXTURE
One of the things I love most about this recipe (and trust me, there's a lot) is how easy it is to make. All of the ingredients needed to make the meatballs are just added to one big bowl, stirred together, shaped, and then it's on to browning and cooking. What's not to love about that?
Just start out by beating the egg inside the bowl, then add in the ground chicken (or ground meat of your choice, whatever works), ground flaxseed, some olive oil, and the seasonings (garlic powder, onion powder, and salt).
Then stir everything together with a large spatula until it's combined and pretty uniform.
You could also totally get in there with your hands if that's your thing– I know some folks are real hands-in-the-bowl enthusiasts. I am not one of them, but if you are, go for it!
FORM THE MEATBALLS
Once the meat mixture is well combined, you're ready to start forming it into meatballs.
Because I love things to be even, I like to use a cookie scoop for medium size meatballs (like appetizer meatballs), OR an ice cream scoop for large, juicy meatballs.
Using a scoop to portion the meat helps them cook evenly, rather than some meatballs being overcooked while others still have yet to reach a safe internal temperature.
Seeeee, it's not just me wanting pretty, perfect meatballs… It's practical too.
Once you have the perfect portion of meat, roll it between your palms into a smooth ball. Then place it on a large plate and repeat with the remaining meat until it has all been formed into meatballs.
Oh, and just so you have a general idea of what kind of size I'm talking about (while a picture is worth a thousand words, it can be hard to tell size and scale), my meatballs are generally about 1 ounce in weight/size. I find this is the sweet spot for browned exteriors and perfectly cooked interiors.
BROWN THE MEATBALLS
Once all of your meatballs have been formed, you're ready for the next step: browning them!
Even though we'll be simmering the chicken meatballs either in a slow cooker or on the stovetop, giving them a quick browning is really essential to having success.
Not only does browning the meatballs give them a boost of flavor, but it also helps hold them together during the cooking time, ensuring you don't end up with buffalo chicken bolognese instead of meatballs!
And just for super extra bonus points, browning also helps render some of the fat out, meaning you won't get pooling fat in your simmering sauce. It's a win-win-win situation!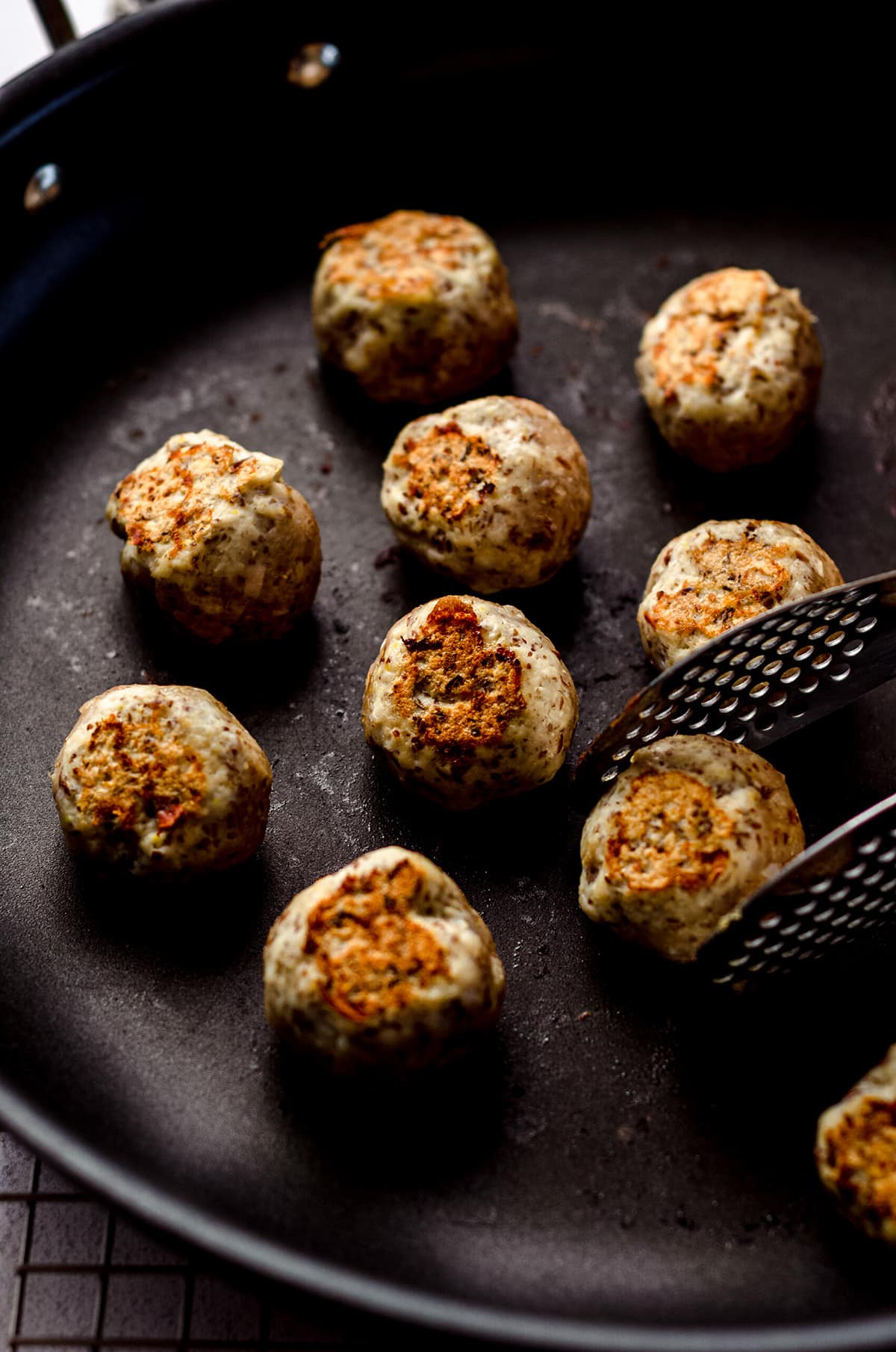 All you have to do is heat a large skillet over medium heat and add some olive oil. Once the oil is shimmering, add about 8 meatballs at a time and brown on each side. This should be roughly 1-2 minutes per side.
Then transfer the meatballs to a plate and repeat with the remaining formed balls until they have all had their turn to get all toasty in the skillet.
COOK THE MEATBALLS
When it comes to cooking your buffalo chicken meatballs, you've got options! If you want to go the quick and simple route (hellooooo, weeknight dinners!), you can use the stovetop method.
If you're feeling a little more slow and low, you can opt to turn these into crockpot buffalo chicken meatballs (which is the same method I use most often for my gluten free meatballs).
I happen to love the slow cooker method because it's pretty hands-off. I can prep everything in the morning hours, get some work done, take care of ALL the things, and then pull dinner together in a matter of minutes.
Whether you use the stovetop method or the crock pot method, it's pretty easy to prepare– promise!
All you have to do is place half of the buffalo sauce in the bottom of your pot or slow cooker. Don't worry about turning on the heat or anything like that yet. Just set aside and we'll be back in just a minute.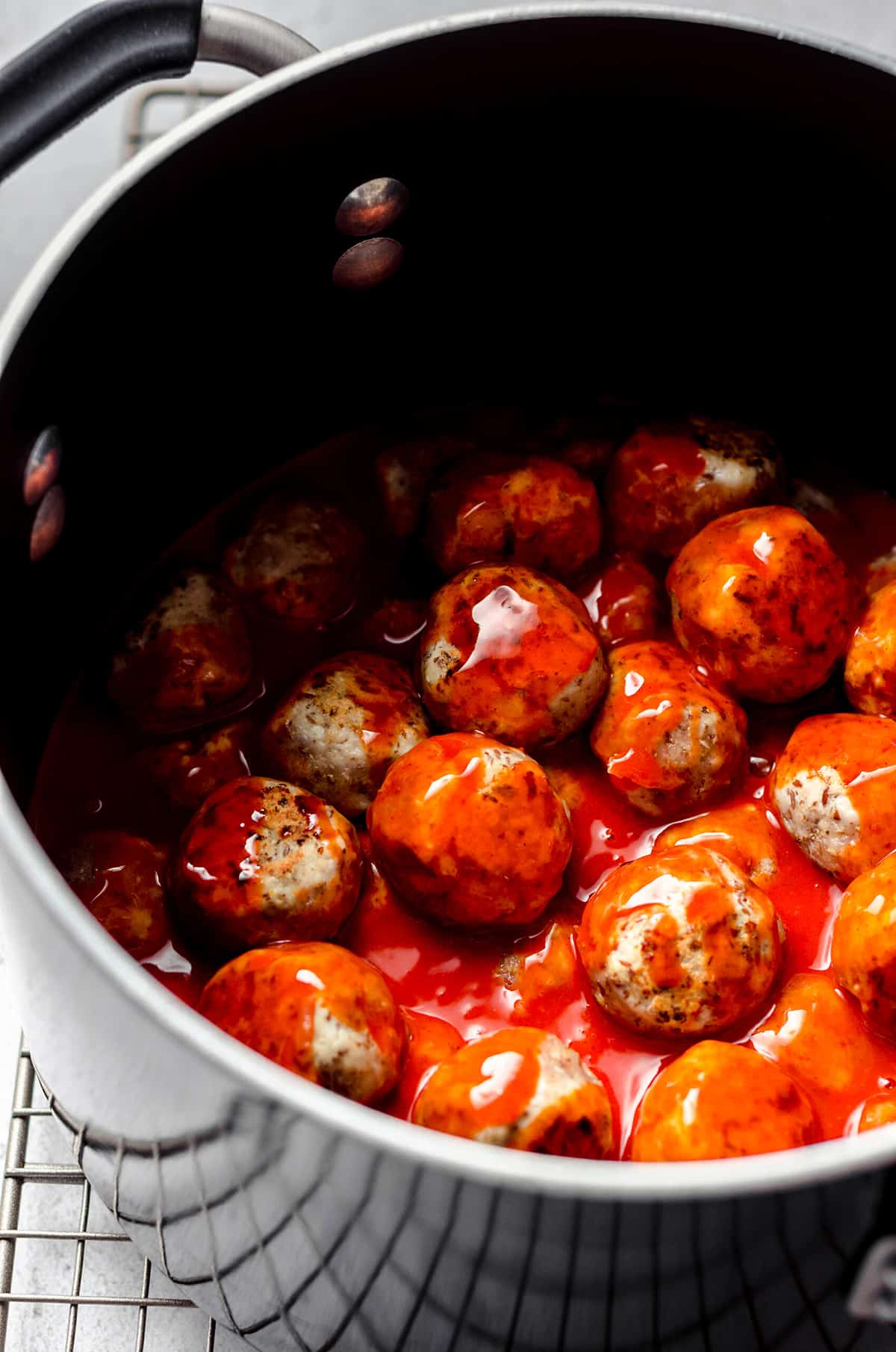 Then start adding the browned meatballs into the pot or slow cooker. If you browned them in one big batch, just add 'em all in at once. Otherwise, you can brown a few at a time and add them to the sauce once each set is ready to go.
Once all of the meatballs are in place, nested into the spicy and colorful buffalo sauce, cover them with the remaining sauce.
SLOW COOKER
If you're making your chicken meatballs with buffalo sauce in the slow cooker, all you have to do is cover with a lid and cook on low for 6-7 hours OR on high for 4-5 hours.
If you have a modern slow cooker, you probably have a timer function that you can set. I love using this when I'm out of the house because the cooker will just switch over to warm when the cooking time is up and I don't have to worry about burned or overcooked food.
I just come home to an ah-may-zing smelling house and thank earlier-in-the-day me for having the foresight to put something on for dinner.
STOVETOP
Even though I'm showing my cards with how much I love (adore? admire? prize?) the slow cooker method for this easy chicken meatball recipe, I would be lying if I didn't tell you that I also happen to enjoy its stovetop counterpart.
The stovetop version is so quick and easy, and makes serving these spicy buffalo chicken meatballs a total cinch.
All you have to do is layer in the sauce, the browned meatballs, and then top off with the remaining buffalo sauce.
Heat the saucepan over medium-low heat until the sauce gets nice and thick and the meatballs are fully cooked through. This takes about 35 minutes for me, which isn't really that long because it's very passive time– just a little stirring here and there.
Once your meatballs are cooked through and ready to go– whichever way you prepared them– you're ready to serve with your favorite sides.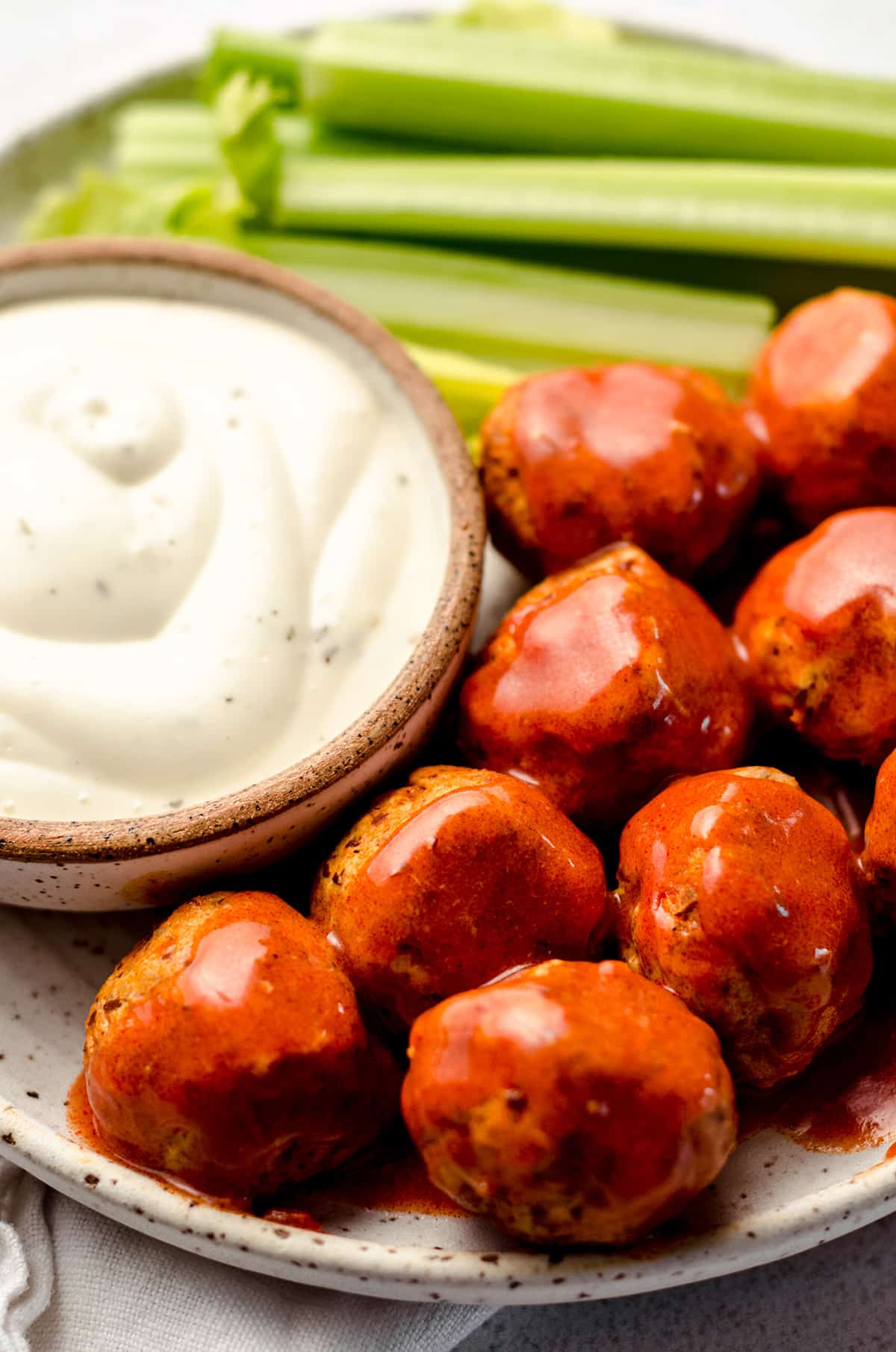 Since I like to go all-in, I love serving these with some buffalo chicken inspired sides: fresh celery sticks, blue cheese dressing, blue cheese crumbles, or maybe some carrot sticks if you're feeling up to it!
If you don't like blue cheese dressing, you can totally go for a ranch dressing instead. The important thing is the creaminess, which helps cut the spicy buffalo sauce and just makes for a dreamy combo all around.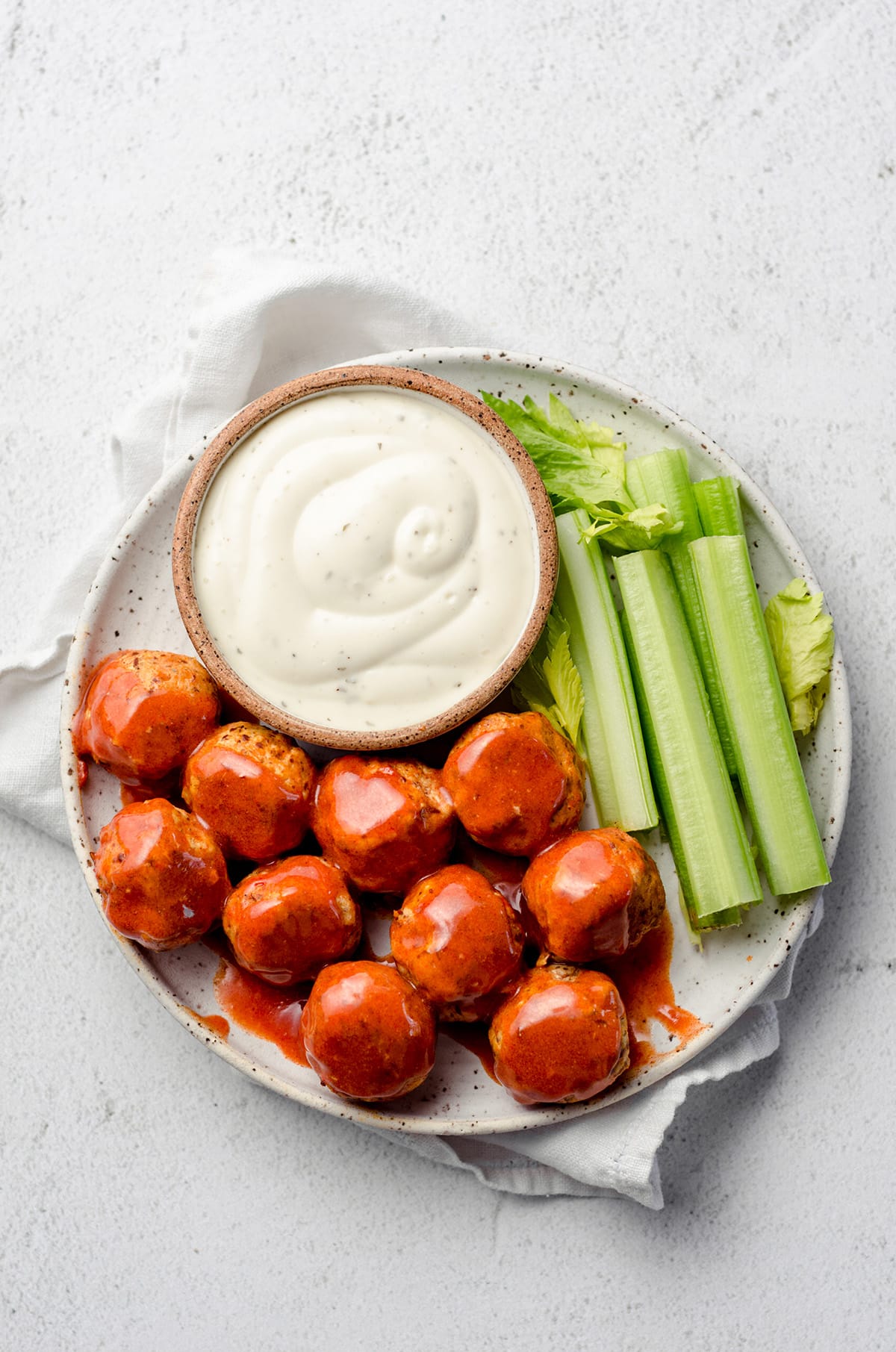 As a side note, the best way to know your meatballs are cooked through is by checking the internal temperature with an instant-read thermometer. Your meatballs should register at 165ºF/75ºC (if using ground chicken or turkey) or higher.
I like to check a few on the edges of the pan, and a few near the center to make sure they are safe to remove from the heat and serve.
If you have any leftovers, you can stash them in the refrigerator for up to 1 week. Just make sure they are well covered or in an airtight container.
CAN I MAKE BUFFALO CHICKEN MEATBALLS AHEAD OF TIME?
Yes, you can make your chicken meatballs ahead of time! Cue the singing chorus of all of us who love prepping ahead.
You really have a few options here: you can make the meatballs ahead and refrigerate them, freeze them, or prepare the entire shebang (meatballs + buffalo sauce) ahead and reheat when you're ready to serve.
If you just want to prep the meatballs ahead (in my opinion, this is the tastiest method), prepare them through to the browning step. Then cover the browned meatballs and refrigerate for up to 1 day (or freeze for up to 2 months).
When you're ready to cook, add them to the slow cooker or large pot and cook as directed in the recipe. If the meatballs were frozen, add them in just like that– it won't take long for them to thaw.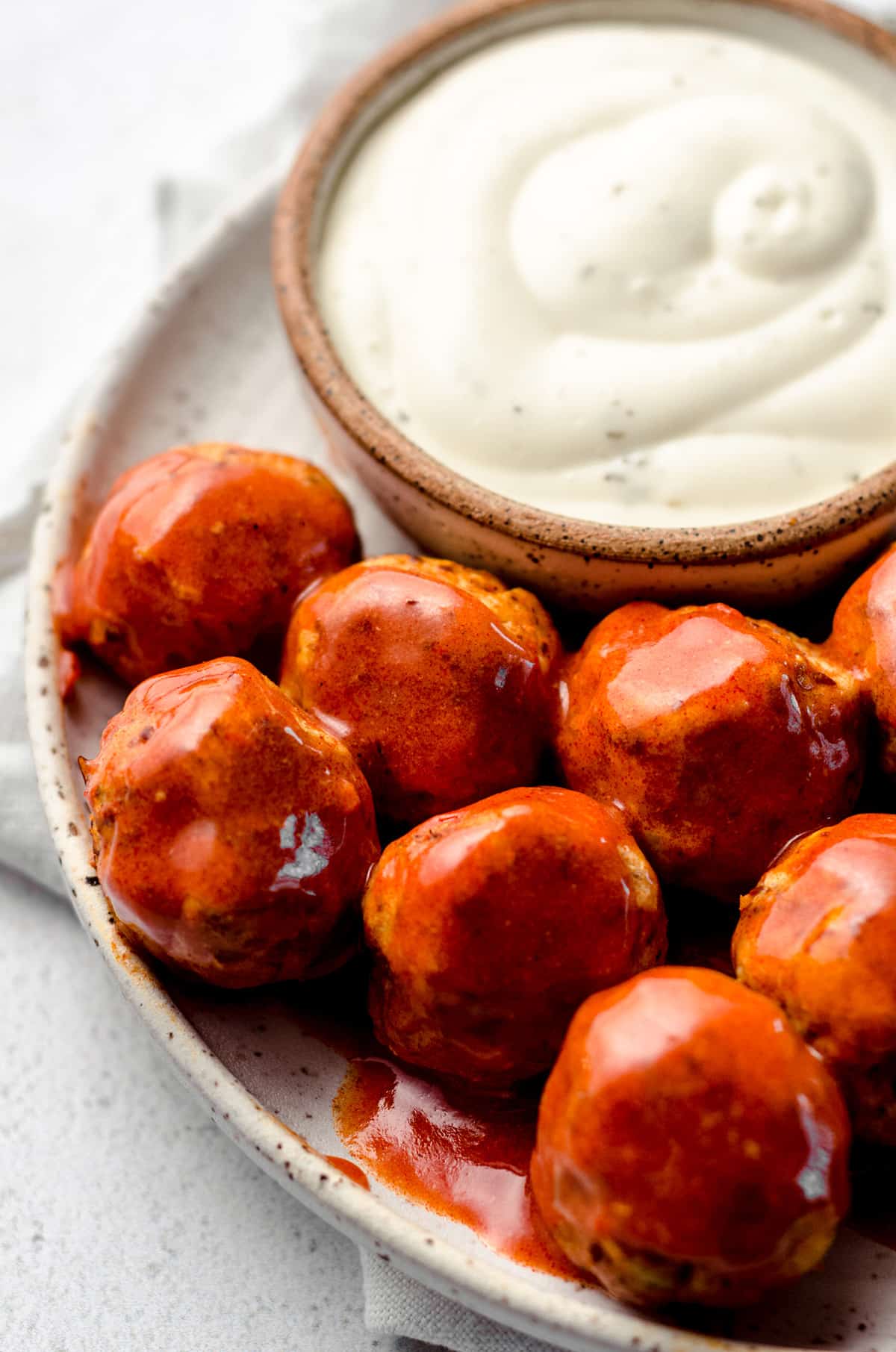 To prep the meatballs and sauce together, just allow everything to cool slightly after the meatballs have reached their minimum internal temperature, transfer to a container and refrigerate. You can prep up to 1 day in advance like this.
Once you're ready to serve, reheat the chicken meatballs and sauce in the slow cooker on low for 1 hour or on the stovetop for 20-30 minutes.
If you want to, you could even freeze the cooked meatballs and sauce– they can be frozen and stored like this for up to 2 months. Just defrost in the refrigerator overnight before reheating in a slow cooker or saucepan.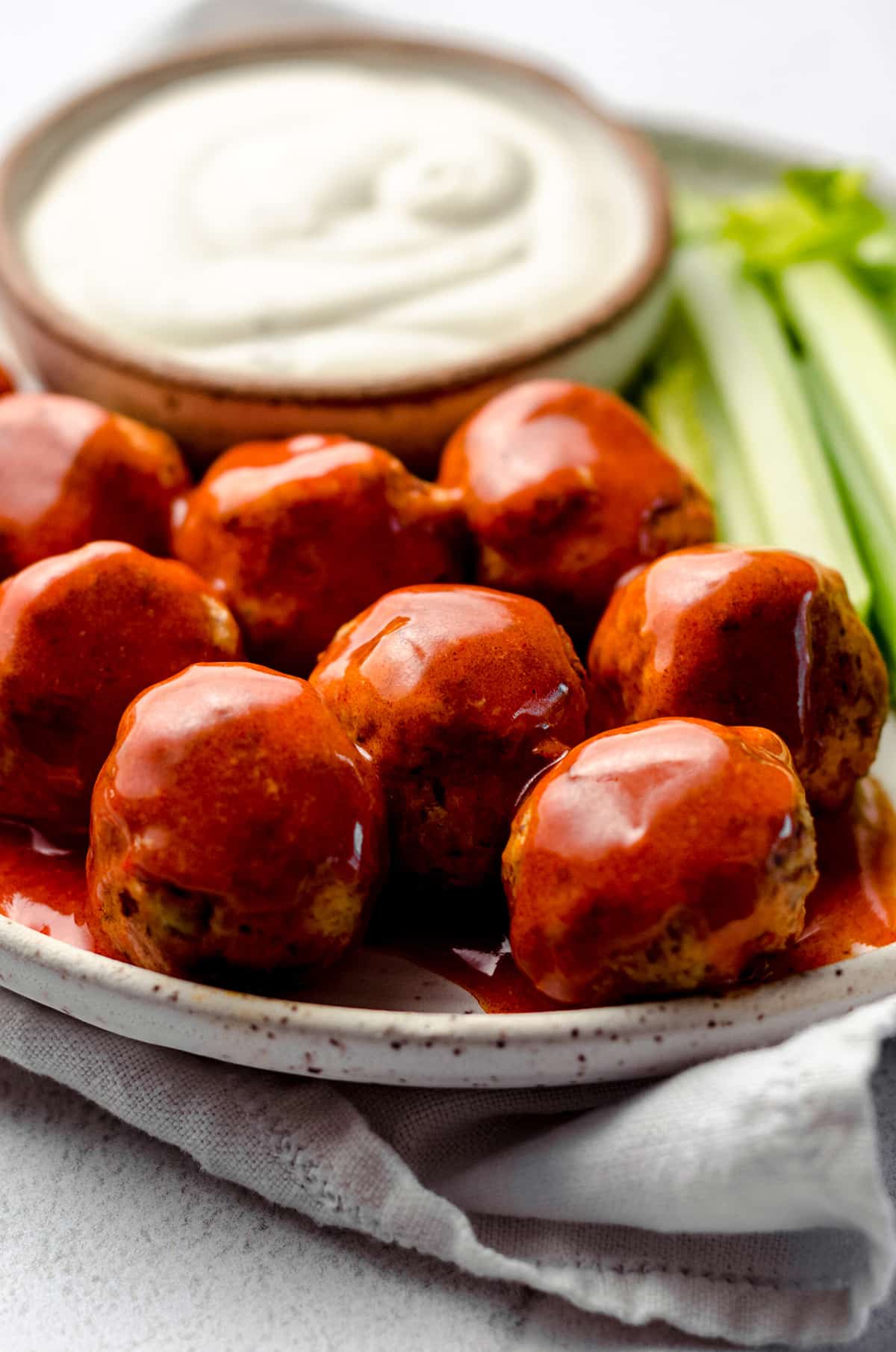 Are you all aboard the buffalo train now? You just have to try a few of my favorite recipes that feature spicy, mouthwatering buffalo sauce. Try my version of the classic buffalo chicken dip or a hearty bowl of buffalo chicken chili. Or maybe you want something on the lighter side? Try a few of my buffalo cauliflower tacos or a heaping plate of buffalo blue salad.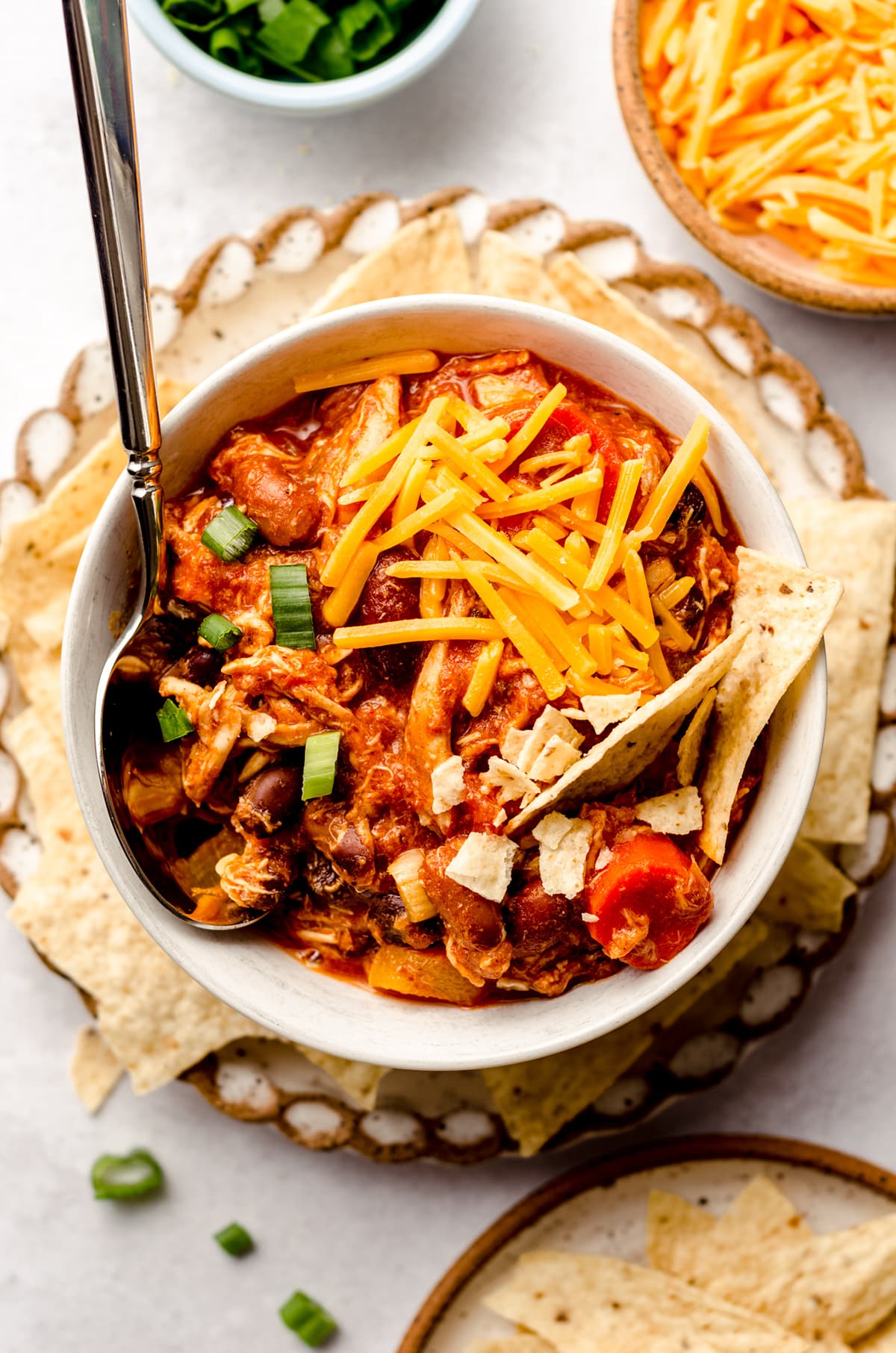 Buffalo Chicken Meatballs
These simple ground chicken meatballs are cooked in a spicy buffalo sauce, making them great as an appetizer or a meal. As written, the recipe is completely gluten-free. Replace ground flaxseed with traditional breadcrumbs if you prefer.
Servings:
36
medium size meatballs
Ingredients
1

large egg

2

pounds

(907g) ground chicken1

any fat content

⅔

cup

(63g) ground flaxseed2

2

Tablespoons

(30mL) olive oil

plus more for the frying pan

1

teaspoon

garlic powder

1

teaspoon

onion powder

1

teaspoon

salt

1 and ½

cups

buffalo sauce3
Instructions
In a large bowl, lightly beat the egg. Add the ground chicken, flaxseed, olive oil, garlic powder, onion powder, and salt. Stir with a large spatula until completely combined.

Roll meat mixture into balls and place on a large plate or platter until you are ready to cook them. I like to use a cookie scoop (for medium size meatballs) or ice cream scoop (for larger meatballs). My meatballs are usually around 1oz in weight/size. Set aside.

Place half of the buffalo sauce in the bottom of a large pot or slow cooker. Do not heat yet. Set aside.

Heat a large skillet with olive oil over medium heat. Lightly brown the meatballs (about 8 at a time), about 1-2 minutes each side. Place each batch of browned meatballs into the large pot or slow cooker until all meatballs are browned. Cover meatballs with rest of the buffalo sauce.

Cover the meatballs and cook4 in slow cooker on low for 6-7 hours or high for 4-5 hours. If using a pot and the stovetop, simmer over medium-low heat until sauce thickens and meatballs are fully cooked, about 35 minutes. Leftovers will stay fresh in the refrigerator, covered, up to 1 week.

Make ahead: prepare meatballs through the browning step, then cover and refrigerate up to 1 day or freeze up to 2 months. Add to slow cooker or large pot cold or frozen and cook as directed. Alternatively, fully prepare up to 1 day in advance, refrigerate, then reheat in the slow cooker on low for 1 hour or on stovetop 20-30 minutes. Cooked meatballs can be frozen in sauce up to 2 months. Defrost in refrigerator before reheating.
Notes
Meat: you can actually use any ground meat here.
Ground flaxseed: if you don't need or want these to be gluten-free, replace with the same amount of breadcrumbs.
Hot sauce: I like to use Frank's Red Hot Wings but you can use your favorite buffalo sauce.
Test for doneness: I check a few meatballs with a meat thermometer to ensure food safety. You're looking for 165°F (74°C) for poultry.
Nutrition Disclosure
All nutritional values are approximate and provided to the reader as a courtesy. Changing ingredients and/or quantities will alter the estimated nutritional calculations.
Serving:
1
meatball
|
Calories:
61
kcal
|
Carbohydrates:
1
g
|
Protein:
5
g
|
Fat:
4
g
|
Saturated Fat:
1
g
|
Polyunsaturated Fat:
1
g
|
Monounsaturated Fat:
2
g
|
Trans Fat:
0.02
g
|
Cholesterol:
26
mg
|
Sodium:
389
mg
|
Potassium:
159
mg
|
Fiber:
1
g
|
Sugar:
0.1
g
|
Vitamin A:
7
IU
|
Vitamin C:
0.03
mg
|
Calcium:
10
mg
|
Iron:
0.4
mg