Best Recipe for Buffalo Chicken Dip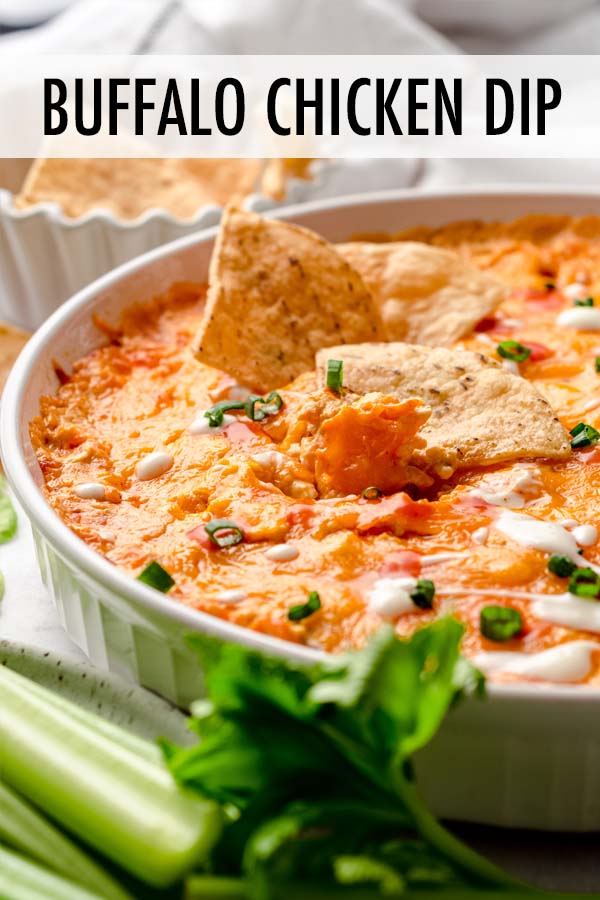 As an Amazon Associate, I earn from qualifying purchases. Read the full disclosure here.
Everyone should have an easy buffalo chicken dip recipe in their back pocket! Make this version in the oven or slow cooker.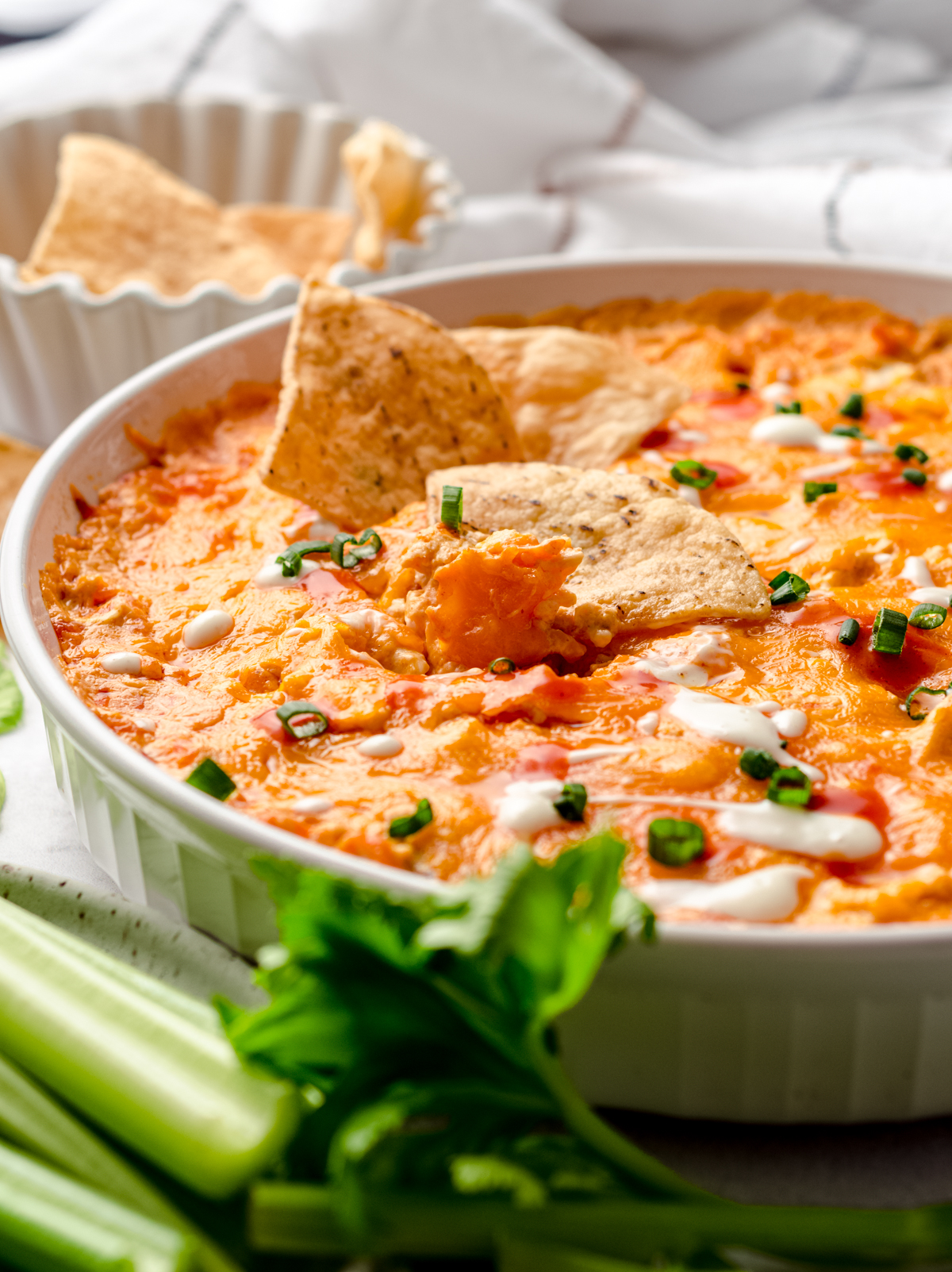 THIS RECIPE FOR BUFFALO CHICKEN DIP IS A PARTY STAPLE
If you throw a dip party and there is no buffalo chicken dip, did you actually even throw the party?
The answer is no. You absolutely did not. So here is your sign to add this spicy buffalo chicken dip to the list of MUSTS for your next party, game day, game night, Super Bowl party, or any other special occasion that could be made even better by this iconic party dip.
You will love this delicious dip: it only uses 5 simple ingredients, can be baked in the oven, Crock Pot, or slow cooker, and can be served as a warm dip or a cold dip.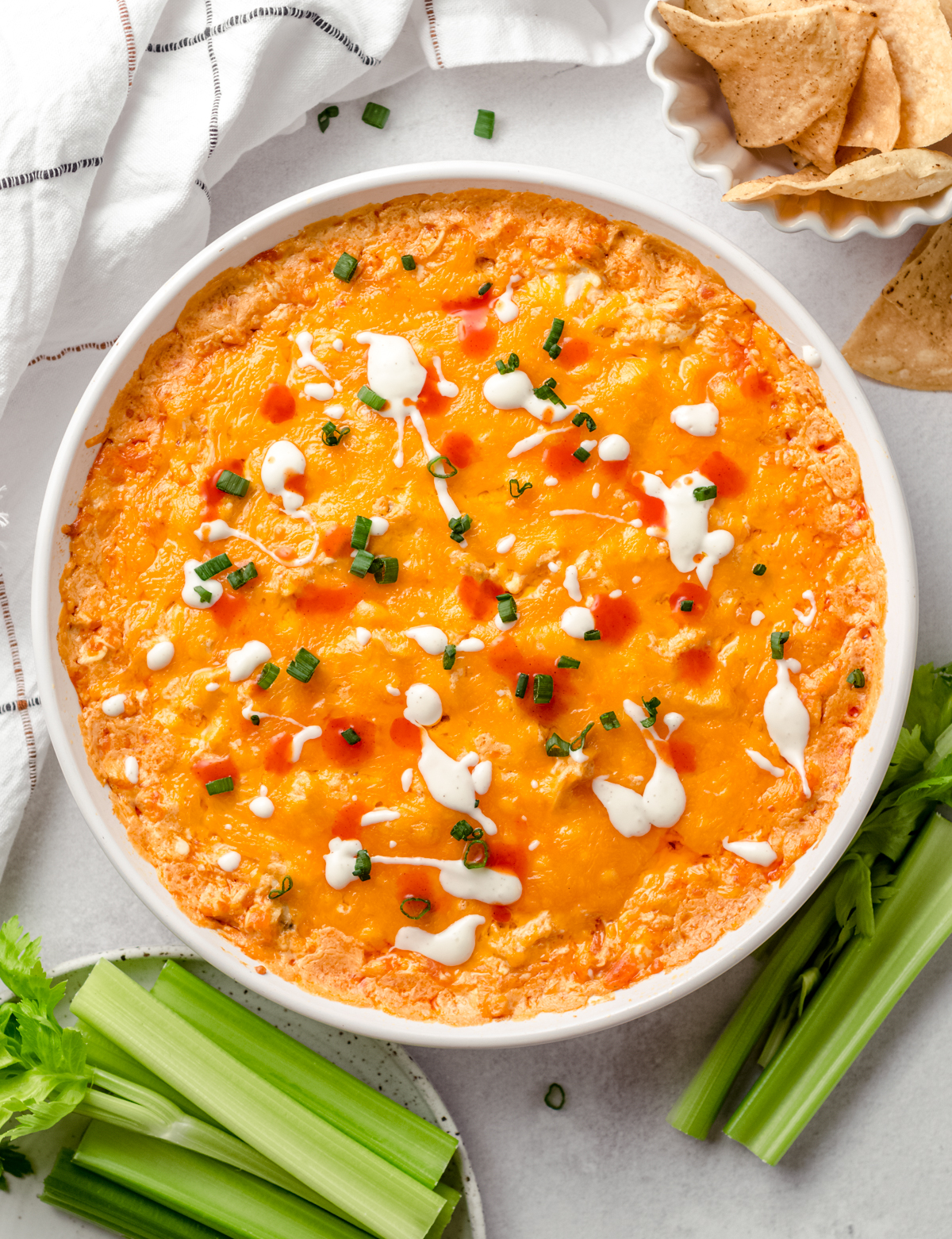 It's one of my favorite appetizers, because I can serve it with tortilla chips and the very best celery sticks (the whiteish ones, duh), or I can go a completely different route and spread it onto bagel chips or even turn it into an epic grilled cheese sandwich situation.
---
EASY BUFFALO CHICKEN DIP INGREDIENTS
As I mentioned, this easy recipe features only 5 simple ingredients. See below for recipe variations if you're interested in making this delicious buffalo chicken dip in a different way.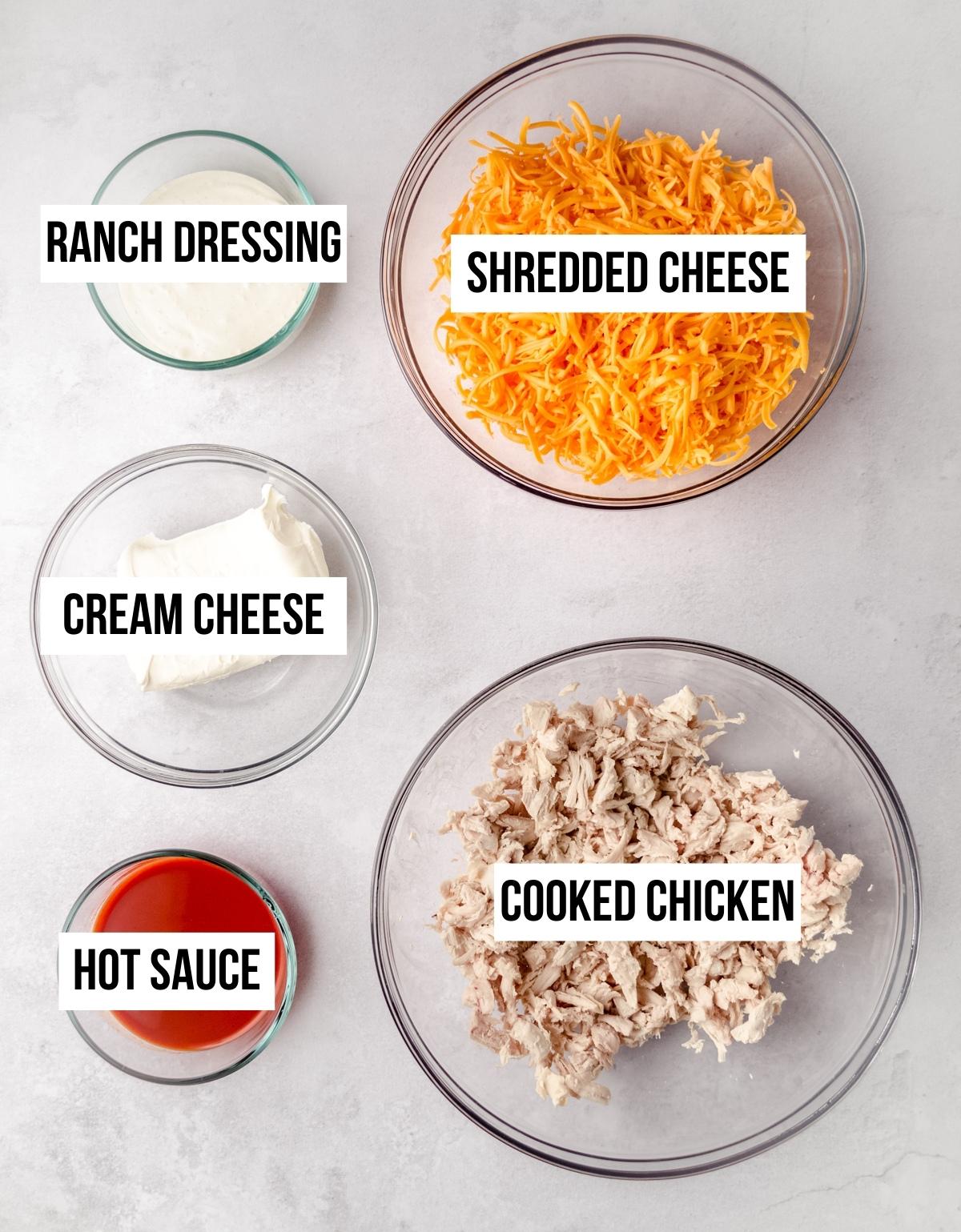 For this buffalo chicken dip, you will need:
• block cream cheese
• hot sauce (buffalo style preferred)
• ranch dressing
• shredded cooked chicken
• shredded cheese
WHAT CHEESE GOES WITH BUFFALO CHICKEN?
Buffalo chicken goes very well with cheddar cheese, blue cheese, Gorgonzola cheese, feta cheese, or another tangy cheese. While there is no hard and fast rule when it comes to the cheeses you can use, these tend to be the most common ones used in buffalo chicken dip recipes.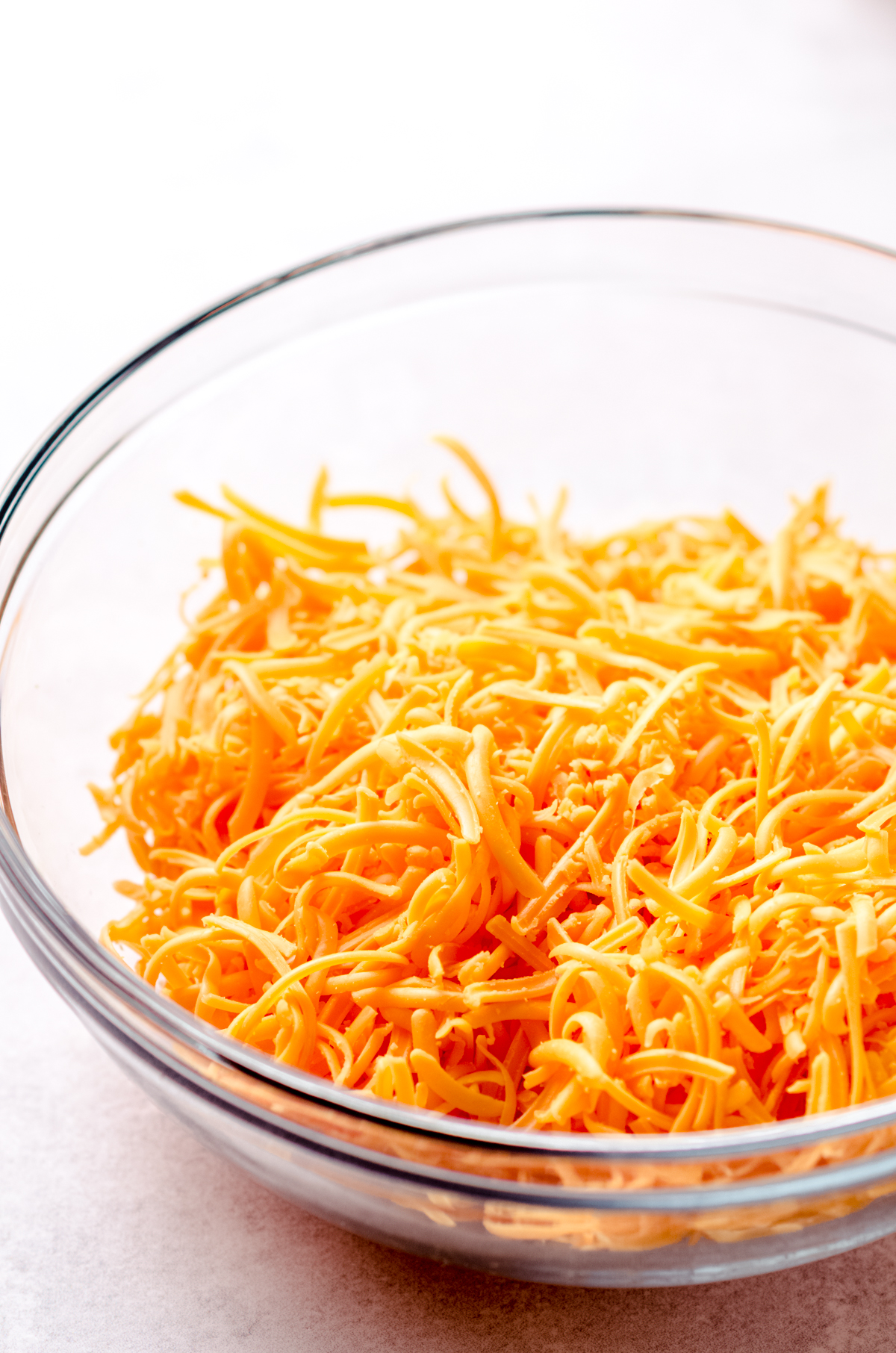 If you're thinking of using blue cheese crumbles, Gorgonzola crumbles, or feta crumbles, I recommend simply sprinkling these on the finished dip for a little something extra as opposed to replacing the cheddar cheese inside of the actual dip.
WHAT IS THE BEST HOT SAUCE TO USE FOR BUFFALO CHICKEN DIP?
I typically reach for Frank's Red Hot Buffalo Sauce as opposed to another traditional hot sauce. In my experience, the buffalo sauce is creamier and has a richer buffalo sauce flavor than standard hot sauce. Feel free to use whatever sauce you have on hand or prefer.
HOW TO MAKE BAKED BUFFALO CHICKEN DIP
The most time consuming part of this whole dip is the chicken, but there are a few different routes you can take when prepping it. The fastest way is to use leftover chicken. You've already prepared and cooked it for some other purpose, so it's done.
​CHICKEN PREPARATION OPTIONS
You might also consider the route of picking apart a rotisserie chicken, which is what I often do with my buffalo chicken chili.
You could also start from scratch and cook your chicken right before you use it. My favorite way to prep chicken this way is by boiling it. This method doesn't result in the most beautiful, moist, or delicious chicken on its own, but it gets the job done for the purpose of throwing it into a dip.
I usually cut my chicken into approximately 2″ cubes, toss them into boiling water, and then remove them when they seem mostly done, usually about 10 minutes. Remember, the chicken will cook in the oven once it's in the creamy dip, so no need to make sure it's fully cooked before shredding it. Just be mindful of your food safety guidelines for any surfaces potentially undercooked chicken may touch.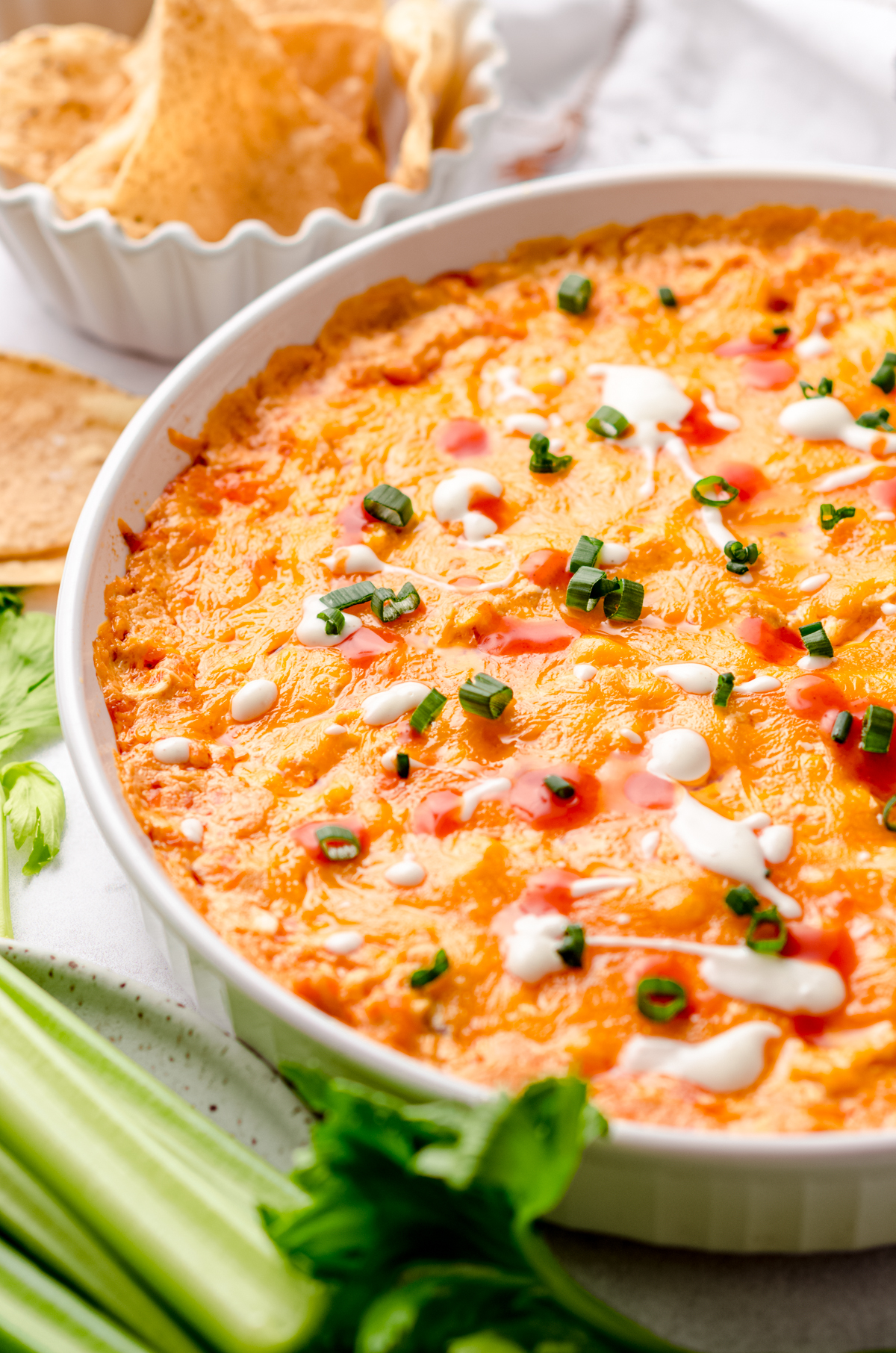 With this method, there is no need to season the chicken or make it fancy, because the "dip" part of the buffalo chicken dip will take over all the taste and texture.
However it is you prepare your chicken, you are looking for approximately​ 2 and ½ to 3 cups of chicken, or about 1 to 1 and ½ pounds.
Once your chicken is prepared, set it aside while you prepare the rest of the dip.
STEP #1
To make this easy buffalo chicken dip, you'll simply combine the softened cream cheese, hot sauce, and ranch dressing and mix that all together until combined.
STEP #2
Next, add the shredded chicken and stir until it is evenly dispersed.
STEP #3
Stir in half of the shredded cheese, then spread the dip mixture into a prepared casserole dish (see recipe notes for sizes that work best for this buffalo chicken dip).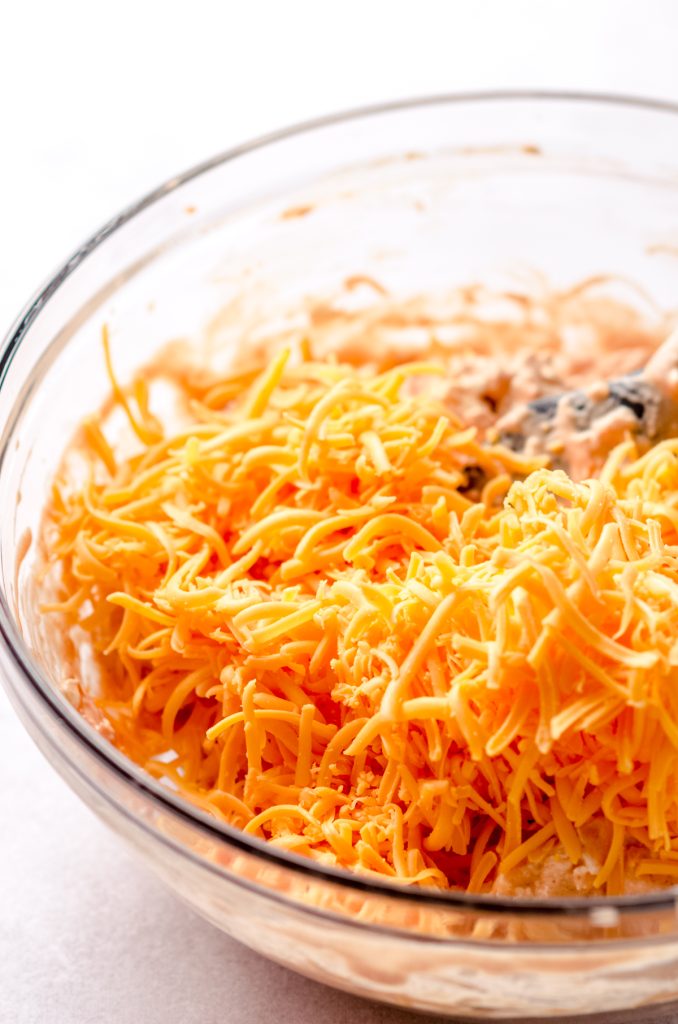 STEP #4
Sprinkle the remaining shredded cheese on top of the dip, then bake to cheesy goodness perfection.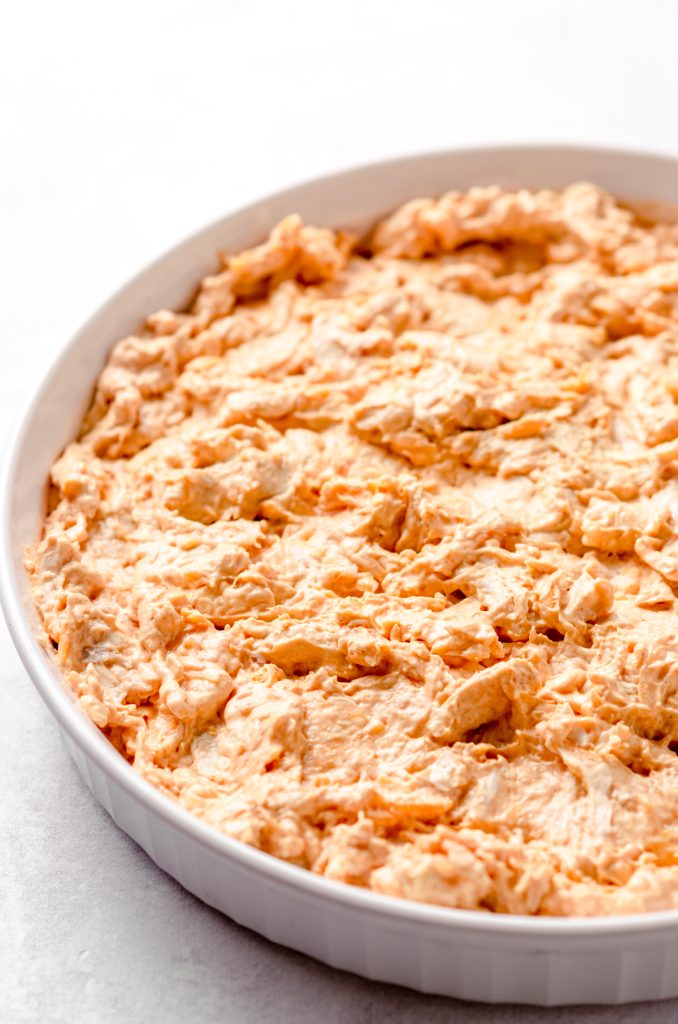 HOW TO SERVE THIS RECIPE FOR BUFFALO CHICKEN DIP
When your buffalo chicken dip is fully baked and allowed to cool for a bit, you have so many serving options.
Serve this dip with tortilla chips (or any of your other favorite chips), celery sticks, carrot sticks, bread, crackers, EVERYTHING. This dip disappears in NO time. One time, I took some over to neighbors, stayed to chat for a bit, and before I left to go back home, it had been devoured. Not surprised.
WHAT GOES BEST WITH BUFFALO CHICKEN DIP?
Buffalo chicken dip is so versatile! While I enjoy it best with celery, carrots, and chips, there is no limit to what you can dip into buffalo chicken dip.
My favorite thing to do with leftover dip is use it as a cold sandwich spread (with bread or tortillas), make an open-face bagel melt, make a fun grilled cheese, or dollop it on top of baked potatoes or fried eggs. There is no shortage of ways to enjoy this dip beyond an actual dip!
CHICKEN BUFFALO DIP STORAGE
Store cooled buffalo chicken dip in the refrigerator. It also freezes well, baked or unbaked.
HOW LONG IS BUFFALO CHICKEN DIP GOOD FOR?
Buffalo chicken dip will last in the refrigerator for about 5 days. Be sure to pay attention to how old your chicken is if you happen to be using leftover chicken.
CHICKEN BUFFALO DIP RECIPE VARIATIONS
The best part about buffalo chicken dip is that you can customize it to your liking.
Love it super spicy? Add some more or spicier hot sauce. Or consider adding pepper jack cheese to the mix.
Prefer all cheddar cheese? Go with it.
Really like bleu cheese with your buffalo? Use blue cheese dressing instead of ranch.
Do it up! You really can't screw it up.
Unless you don't make it. That is a very big mistake.
Easy Buffalo Chicken Dip Recipe FAQs
Baked Buffalo Chicken Dip
Everyone should have an easy buffalo chicken dip recipe in their back pocket! Make this version in the oven or slow cooker.
Ingredients
8

ounces

(227g) block cream cheese2

softened to room temperature

½

cup

(120mL) hot sauce

buffalo style preferred

½

cup

(120mL) ranch dressing

1 to 1 and ½

pounds

(453-680g) cooked and shredded chicken1

about 2 and ½ to 3 cups

4

cups

(452g) shredded cheese3

divided
Instructions
Preheat the oven to 350ºF (177ºC).

In a large bowl, combine the cream cheese, hot sauce, and ranch dressing. Stir until combined.

Add the shredded chicken and stir until the chicken is evenly dispersed.

Add half of the shredded cheese (about 2 cups), then stir until everything is combined.

Spread dip into an 8" or 9" tart pan or an 8" or 9" square baking pan4, then sprinkle the remaining 2 cups of shredded cheese on top. Bake the dip for 25 to 30 minutes or until the cheese bubbles. Allow to cool 15 minutes before serving. Store leftovers covered in the refrigerator up to 5 days. This dip serves well hot or cold.

Make ahead: to make this buffalo chicken dip ahead of time, prepare all the way through to topping the dip with shredded cheese, then cover tightly and store in the refrigerator for up to 1 day. Bake before serving.
Notes
Chicken: you can use any chicken here that you like, be it chicken breasts, chicken thighs, chicken cutlets, canned chicken, or leftover rotisserie chicken.
Cream cheese: you can use any fat content you prefer here, just make sure you're using block cream cheese and not whipped cream cheese.
Shredded cheese:

I prefer a combination of cheddar and Colby Jack, but you can use any flavor of cheese you prefer. I like to shred my own cheese, but pre-shredded is fine, too.

Baking pan: this can really fit into any baking dish 9″ x 13″ or smaller. Since the chicken is already cooked, you are really just making sure it is heated the whole way through and the cheese is fully melted.
Make it in the slow cooker: if you'd like, you can slow cook this buffalo chicken dip. Place everything (minus the remaining 2 cups of shredded cheese) in the slow cooker, then cook on high for 1 hour, stirring a few times as it cooks. Top with remaining cheese for the final 10 minutes, then turn heat to "warm" setting while serving.
Nutrition Disclosure
All nutritional values are approximate and provided to the reader as a courtesy. Changing ingredients and/or quantities will alter the estimated nutritional calculations.
Serving:
1
serving
|
Calories:
234
kcal
|
Carbohydrates:
3
g
|
Protein:
24
g
|
Fat:
13
g
|
Saturated Fat:
5
g
|
Polyunsaturated Fat:
3
g
|
Monounsaturated Fat:
3
g
|
Trans Fat:
0.01
g
|
Cholesterol:
64
mg
|
Sodium:
843
mg
|
Potassium:
318
mg
|
Fiber:
0.03
g
|
Sugar:
2
g
|
Vitamin A:
266
IU
|
Vitamin C:
8
mg
|
Calcium:
502
mg
|
Iron:
0.4
mg