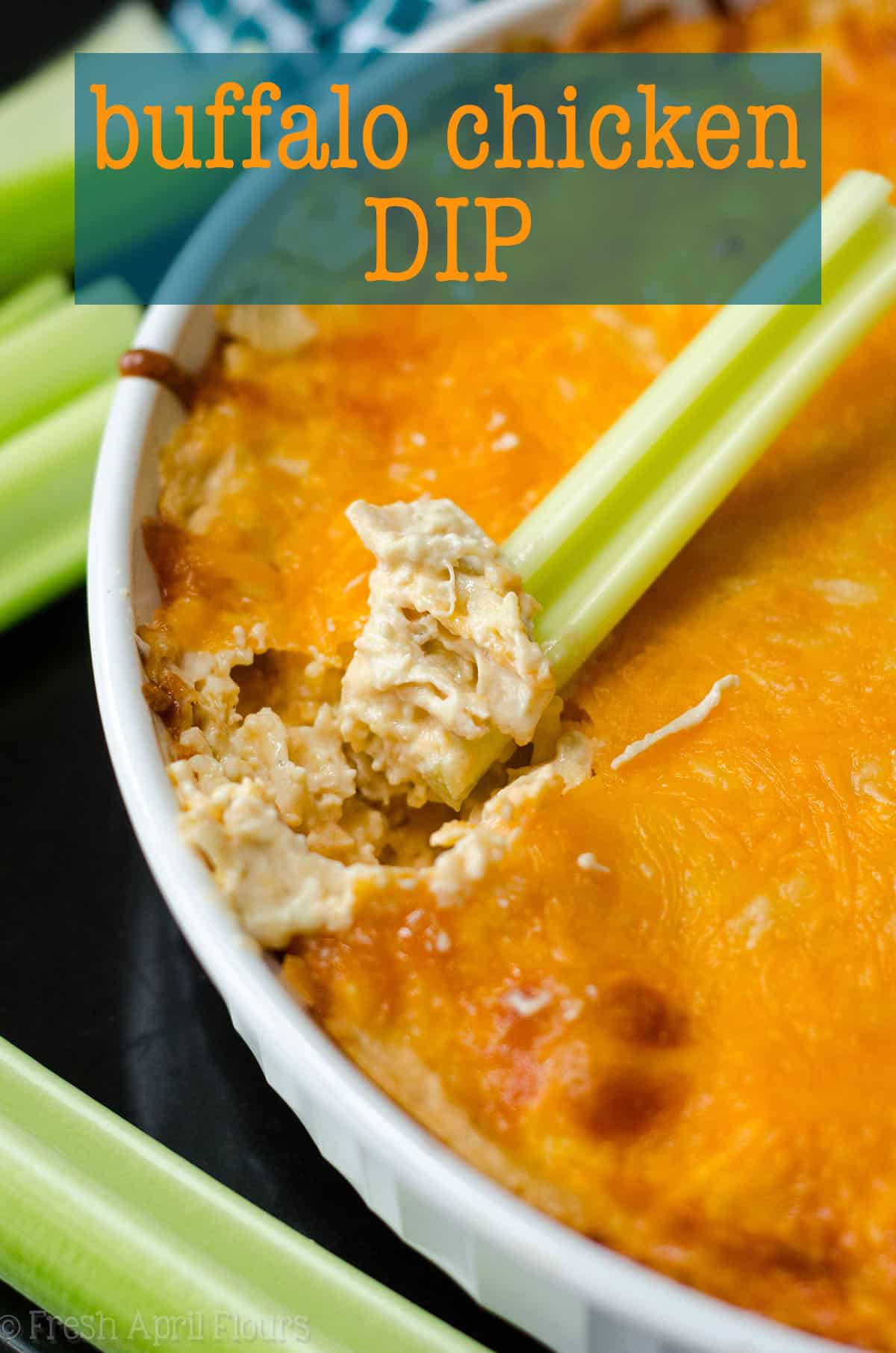 As an Amazon Associate, I earn from qualifying purchases. Read the full disclosure here.
Everyone should have a good buffalo chicken dip recipe in their back pocket– consider this easy one for your next dippable occasion!
If you throw a dip party and there is no buffalo chicken dip, did you actually even throw the party?
The answer is no, so, appropriately enough, we're slipping some homemade buffalo chicken dip into our 12 Dips of Christmas because it is an absolute staple in the dip world and I really truly don't know that I've ever met someone who doesn't enjoy it.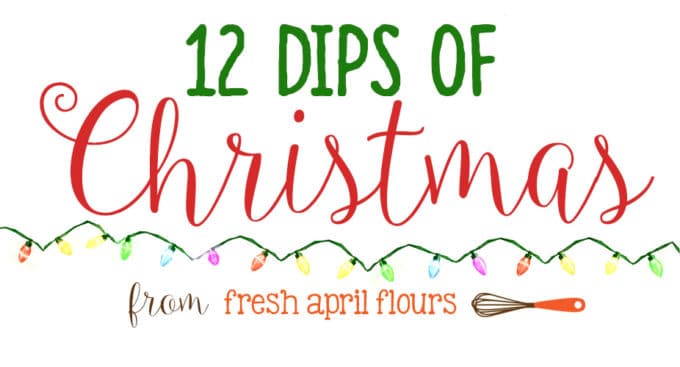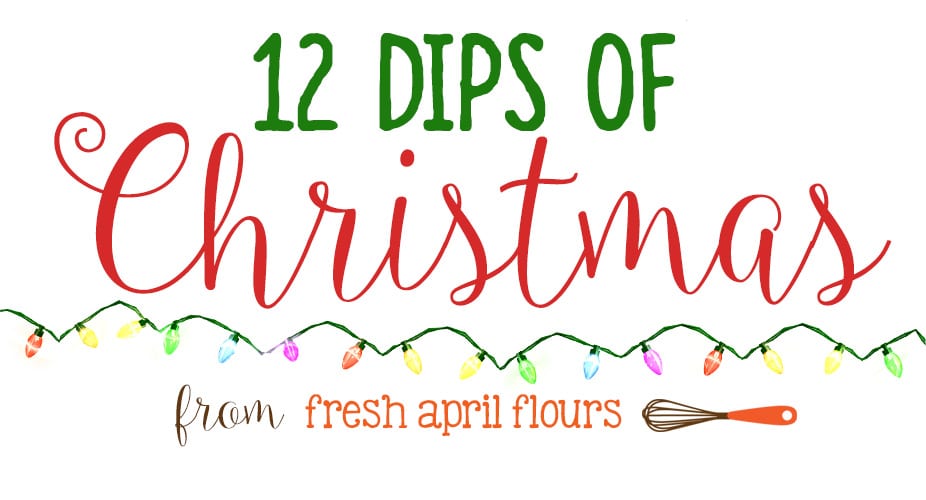 Dip #5 in our party… We welcome you with open tortilla chips and the very best stalks of celery (the whiteish ones, duh). And also spoons.
Before we get to the dip, did you know I have several buffalo inspired recipes on my blog? Chili. Hummus. Stuffed peppers. Salad. Buffalo is one of those flavors you just can't go wrong with and if you throw it in something, chances are the result will be delicious.
So yes, buffalo chicken dip reigns supreme when it comes to party dips, so I think it's imperative everyone have a go-to recipe in their back pocket. Simple. Easy. Well-liked. These are definitely qualities we want in our dips.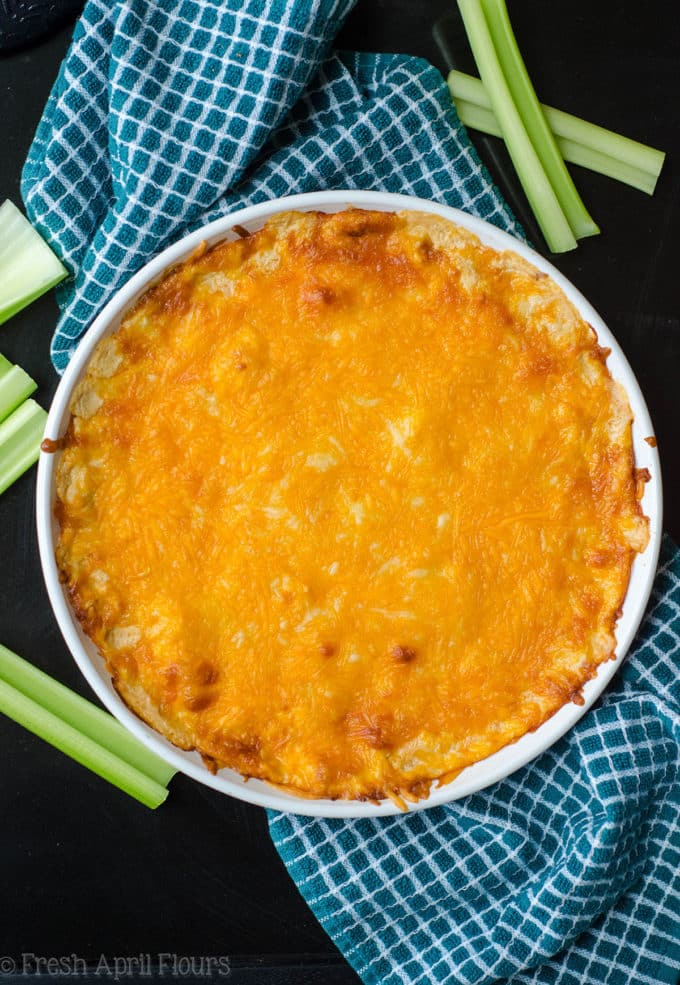 The most time consuming part of this whole dip is the chicken, but there are a few different routes you can take when prepping it. The fastest way is to use leftover chicken. You've already prepared and cooked it for some other purpose, so it's done.
There's also the route of picking apart a rotisserie chicken, which is what I have often done with my buffalo chicken chili.
Or… You can start from scratch and cook your chicken right before you use it. My favorite way to prep chicken this way? Boil it. It doesn't result in the most beautiful, moist, or delicious chicken, but it gets the job done for the purpose of throwing it into a dip.
I usually cut my chicken into approximately 2″ cubes, toss them into boiling water, and then remove when they seem done, usually about 10-15 minutes. Shred it up, throw it in with the rest of the ingredients, and you're good to go.
No need to season or make it fancy, because the "dip" part of the buffalo chicken dip will take over all the taste and texture. I promise.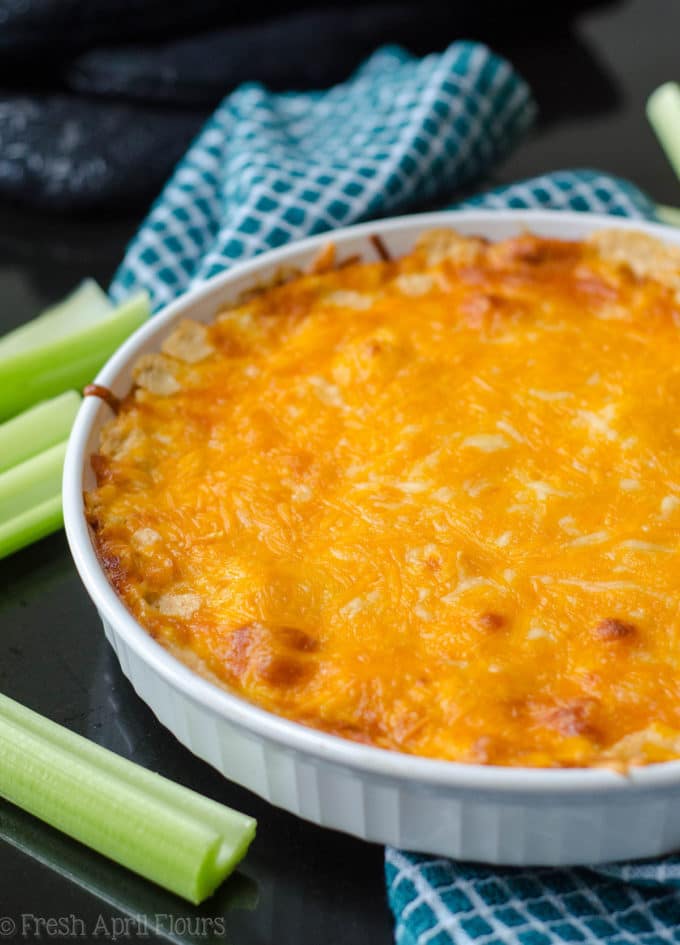 You do you, chicken preppers. Just have about 2 and 1/2 to 3 cups of chicken (about 1 to 1 and 1/2 pounds).
The bread and butter of the dip consists of cream cheese, hot sauce, ranch dressing, and more shredded cheese than you could ever want in a cheesy dip.
So. Much. Cheese.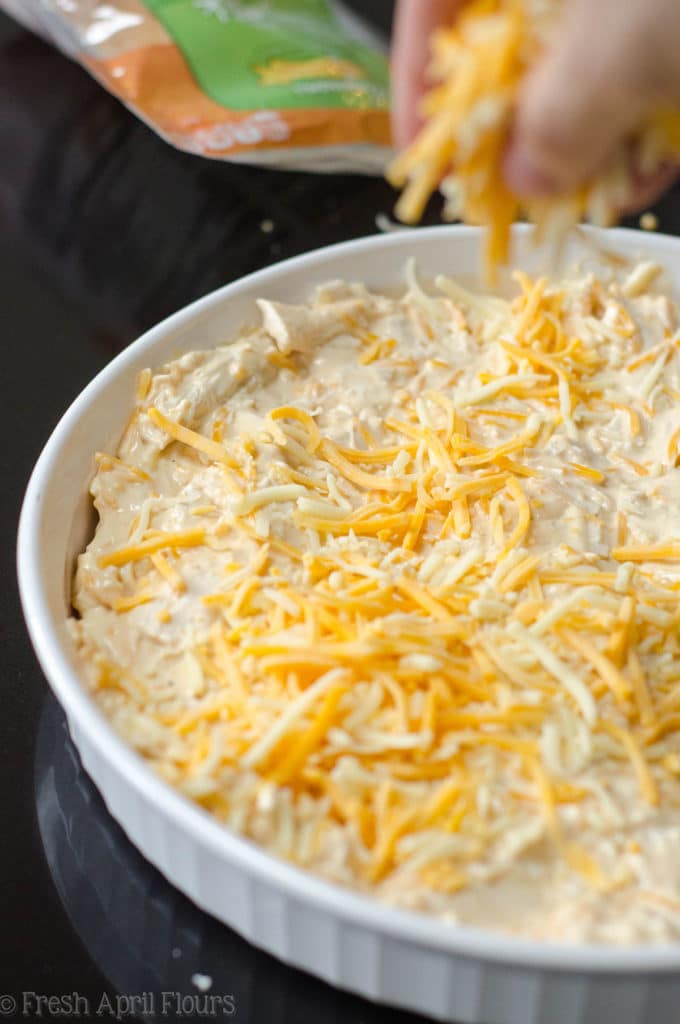 All the googly heart eyes.
Everything gets mixed up together before it goes into the oven to get nice and bubbly hot.
And when it comes out? Chips. Veggies. Crackers. EVERYTHING. This dip disappears in NO time. I took some over to neighbors, stayed to chat for a bit, and before I left to go back home, it had been devoured.
The best part about buffalo chicken dip is that you can customize it to your liking– love it super spicy? Add some more hot sauce. Or consider adding pepper jack cheese to the mix.
Prefer all cheddar? Go with it.
Really like blue cheese with your buffalo? Use blue cheese dressing instead of ranch.
Do it up! You really can't screw it up.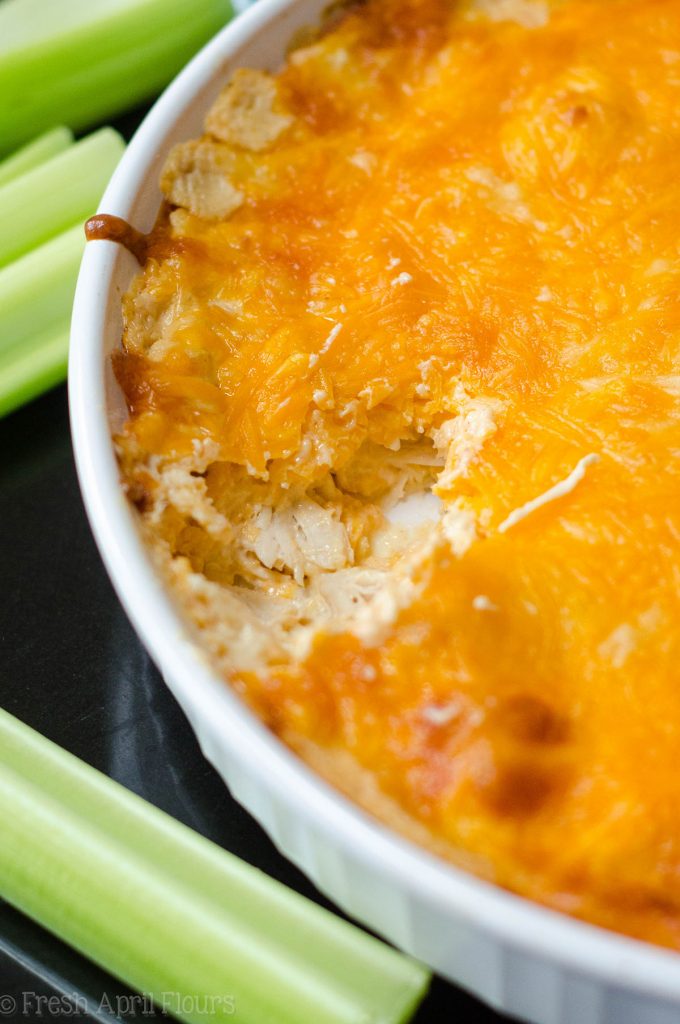 Unless you don't make it. That is a very big mistake.
Buffalo Chicken Dip
Everyone should have a good buffalo chicken dip recipe in their back pocket-- consider this easy one for your next dippable occasion!
Ingredients
1 to 1 and 1/2

pounds

cooked and shredded chicken

about 2 and 1/2 to 3 cups

8

ounces

cream cheese

softened to room temperature

1/2

cup

hot sauce

buffalo style preferred

1/2

cup

ranch dressing

4

cups

shredded cheese

flavor of your choosing (I prefer a combination of cheddar and Colby Jack), divided
Instructions
Preheat the oven to 350ºF.

Prepare your chicken in whatever way you prefer (use leftover, pull apart a rotisserie chicken, or bake or boil your chicken from raw) then shred. Set aside to cool.

In a large bowl, combine the cream cheese, hot sauce, ranch dressing, and half of the shredded cheese. Add the chicken then stir until everything is combined.

Spread dip into a 7" x 11" or 9"x 13" baking dish or an 8" or 9" tart pan. Bake for 25 to 30 minutes until cheese bubbles. Allow to cool 15 minutes before serving. Store leftovers covered in the refrigerator up to 5 days. This dip serves well hot or cold.
Nutrition Disclosure
All nutritional values are approximate and provided to the reader as a courtesy. Changing ingredients and/or quantities will alter the estimated nutritional calculations.