As an Amazon Associate I earn from qualifying purchases.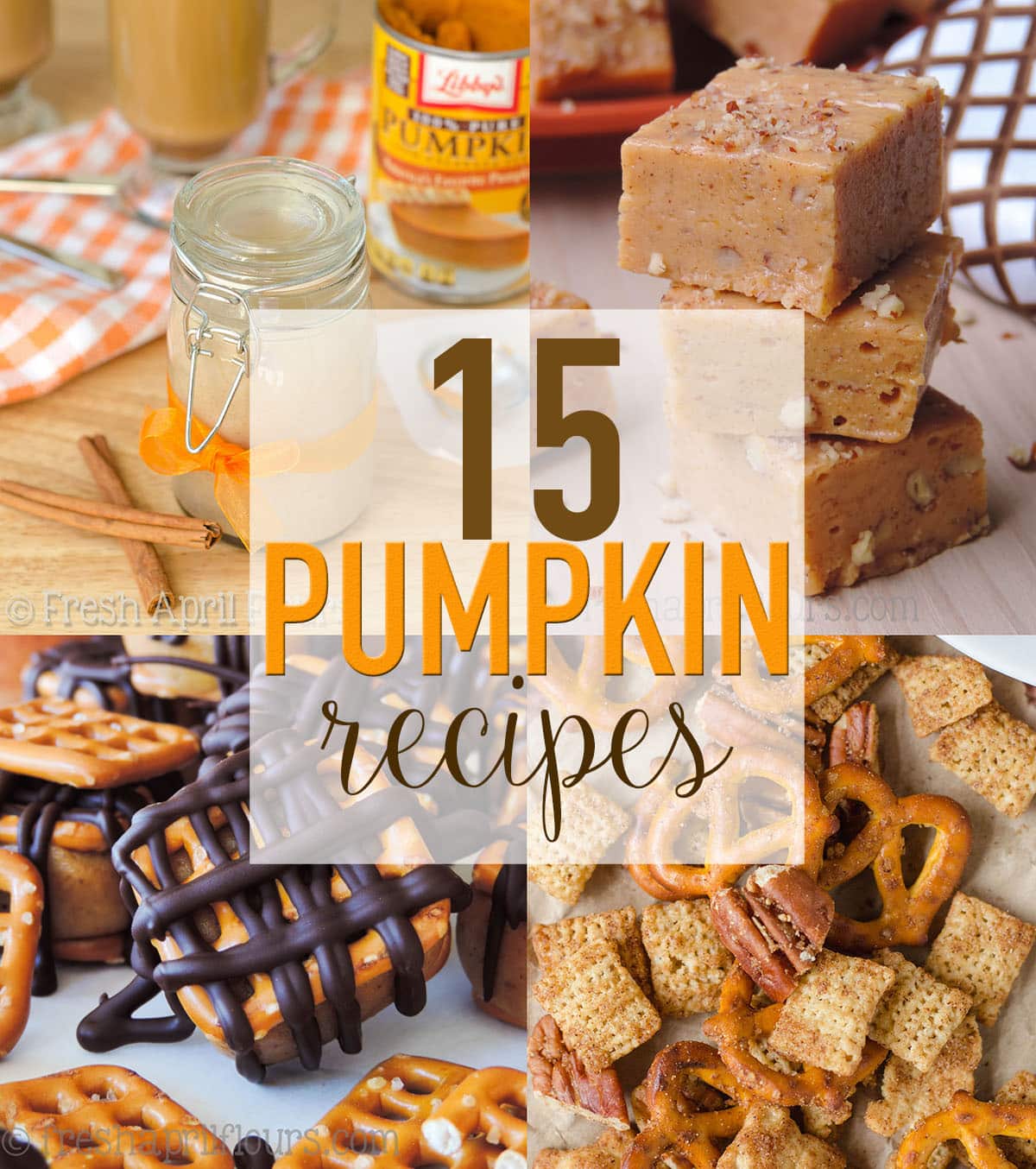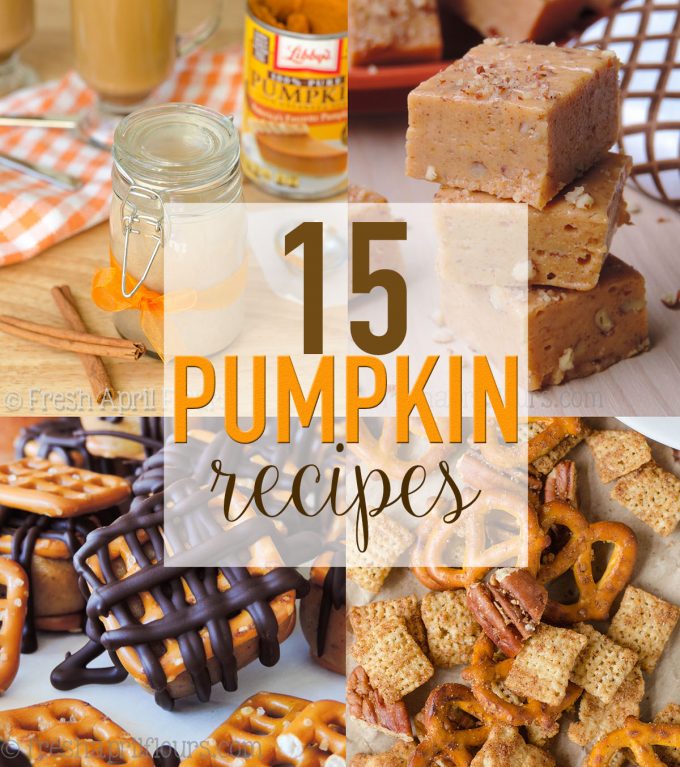 It's the most wonderful time of the year! Do you love pumpkin? I guess that's like asking "is the sky blue?" these days. Of COURSE you love pumpkin, if you are living and have tastebuds!! Ok, I realize not everyone is CUCKOO for pumpkin, but if you are, I've rounded up 15 must-try recipes! Some are from me, some are from my friends around the interwebs, but they are all delightfully pumpkiny and you must make all of them this fall. While sipping fall beverages. And carving pumpkins. And crunching leaves.
Let's get this pumpkin party started!
Pumpkin Spice Chex Mix: A personal favorite last year. I made it, umm, a lot of times.
Pumpkin Butterscotch Bark: Quick and easy and perfect for a last minute treat for a Halloween party!
Pumpkin Spice Puppy Chow: I mean, I am the Puppy Chow Queen, so naturally…
Pumpkin Oatmeal Cookies with Cinnamon Chips: If you know me, you know how I feel about oatmeal cookies. Load them up with pumpkin, pepitas, and cinnamon chips and you're talking "fall cookie" faster than you can throw on your boots and chunky sweater.
Pumpkin Fudge: This one is acceptable all year round. For serious. And much easier than you think it is!
Pumpkin Overnight Oats: Because sometimes, pumpkin has to be in breakfast as well.
Pumpkin Rice Krispies Treats: What is a season without RKTs?
Pumpkin Peanut Butter Pretzel Bites: This recipe gets RAVE reviews every single time. I may have made these more times than the Chex mix…
Pumpkin Spice Coffee Creamer: BECAUSE, FALL.
Pumpkin Spice Granola (via Grain Changer): I've made this. It's life changing.
Pumpkin Chai Mini Muffins– Gluten Free (via Grain Changer): Leah… You know the way to my chai-loving heart.
Whole Wheat Pumpkin Donuts (via Fit Mitten Kitchen): Whole wheat means healthy, right? Plus, there's a chocolate glaze. Yes, please.
Seeded Pumpkin Loaf with Brown Sugar Glaze– Gluten Free (via Thoroughly Nourished Life): Gimme.
Pumpkin Pie Egg Rolls (via Show Me The Yummy): So this is dinner, right?
Paleo Moroccan Spiced Carrot Pumpkin Soup (via The Modern Buttery): Ok, now THIS is dinner. Because life can't be all about dessert. Well… It can, but Glynnis makes pumpkin fit into dinner too so we never have to be without pumpkin!