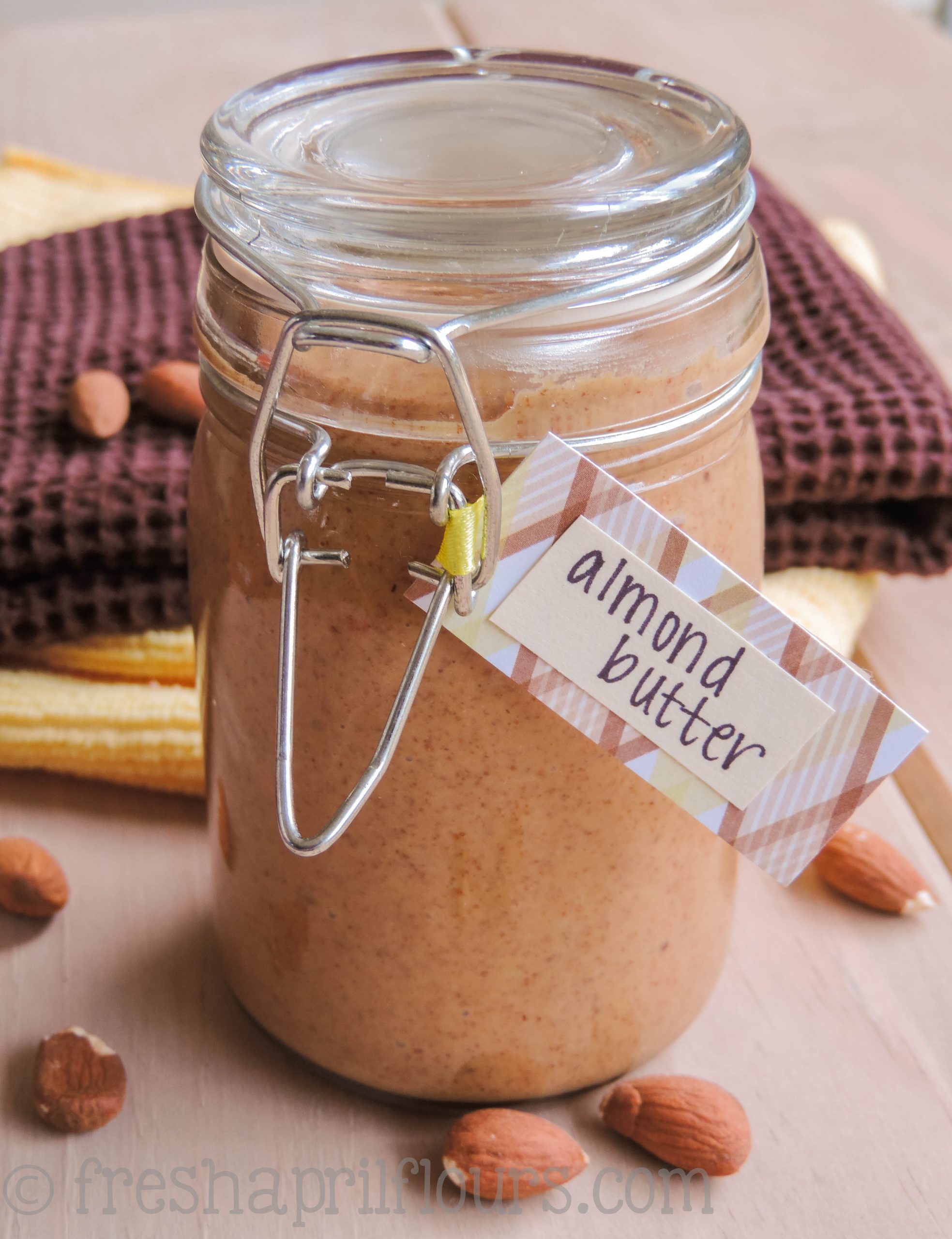 As an Amazon Associate, I earn from qualifying purchases. Read the full disclosure here.
Making your own homemade almond butter is really quite easy. Add some honey to give it some flair and you'll never purchase another jar again!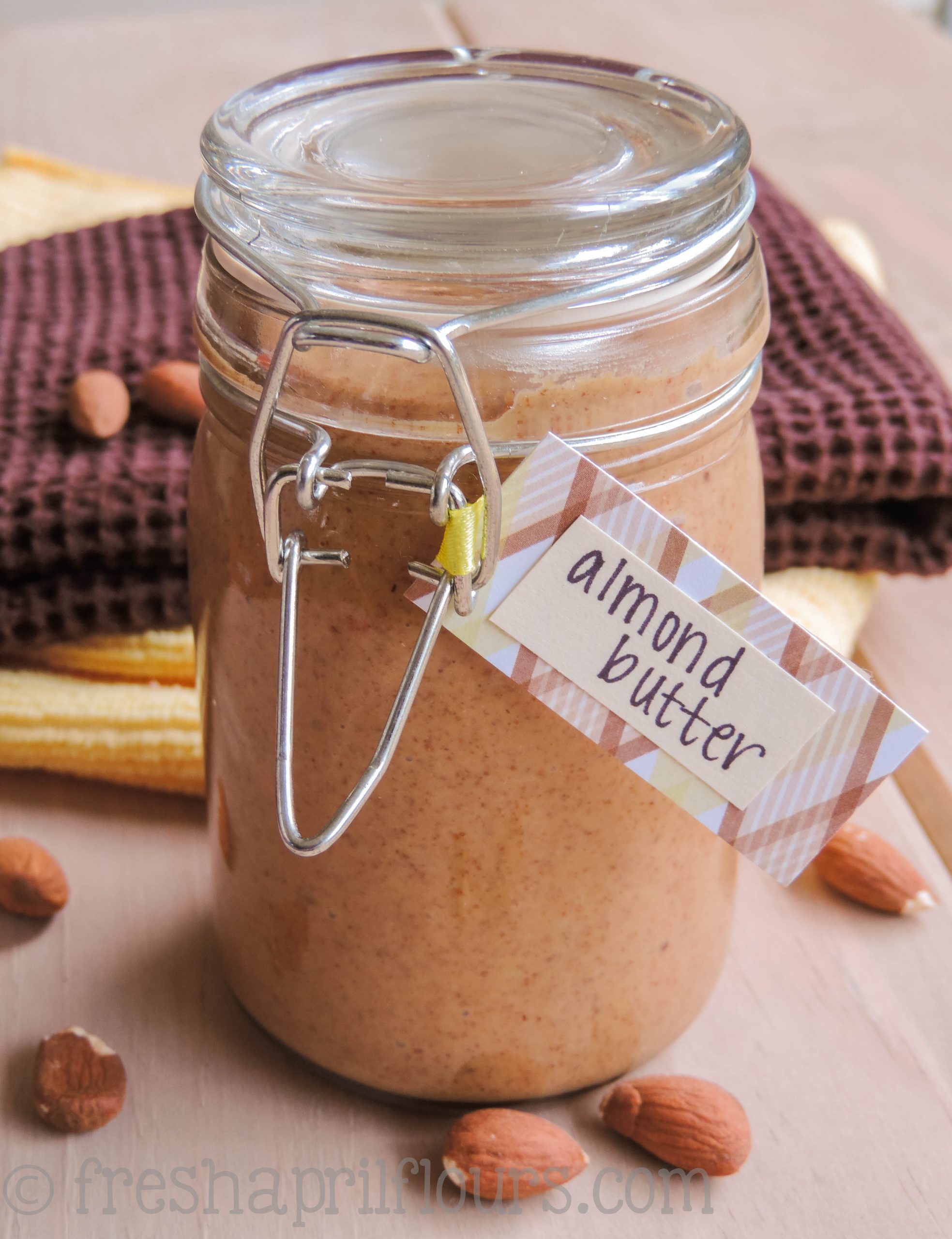 This almond butter recipe was originally published on my website back in 2014. It has since been a staple in our house, as we consume almond butter exclusively in our house.
Since 2014, almond butter has become more and more prevalent with peanut allergies in many households, and it's also more economically sound to make it yourself from raw almonds rather than purchase a pre-made jar if you buy your almonds in bulk.
INGREDIENTS
When it comes to making your own nut butter, you typically only need the nuts you're looking to use and that's it. Sometimes a little salt depending on your tastebuds, but for this particular honey almond butter, we're using nothing but almonds and honey.
Shocker, eh?
For the almonds, you'll want to use raw, unsalted almonds. I also like to use dry roasted sometimes, because I feel like they don't take as long to process.
But for the most part, any kind of plain almonds will work great in this homemade honey almond butter.
HOW TO MAKE HOMEMADE ALMOND BUTTER
Any time I share my process of making nut butter on Instagram or Facebook stories, I always get the same questions… Every.single.time…
"You make your own almond butter?"
"Yeah! It's so good!"
"Was it hard?"
"No, not at all… Just almonds and a food processor!"
"That's it?"
"That's it."
"Really?"
"Really."
"Wait, no water?"
"No."
"No oil?"
"Umm… No, again."
"Really?"
Really, people. If you have a food processor, or a Ninja, or something of the like… This is in your realm of capabilities.
Ok, I lied a little bit. You need a few more things other than the almonds and honey.
You'll want a food processor (this is an upgraded version of the food processor we own and love), patience, and trust (in me that I'm not lying to you again and that this will eventually become almond butter).
Since I make this so often, I've come to the conclusion that, as I said earlier, no two kinds of almonds are alike. I've made this using raw almonds, roasted unsalted almonds, roasted salted almonds, and honey roasted almonds.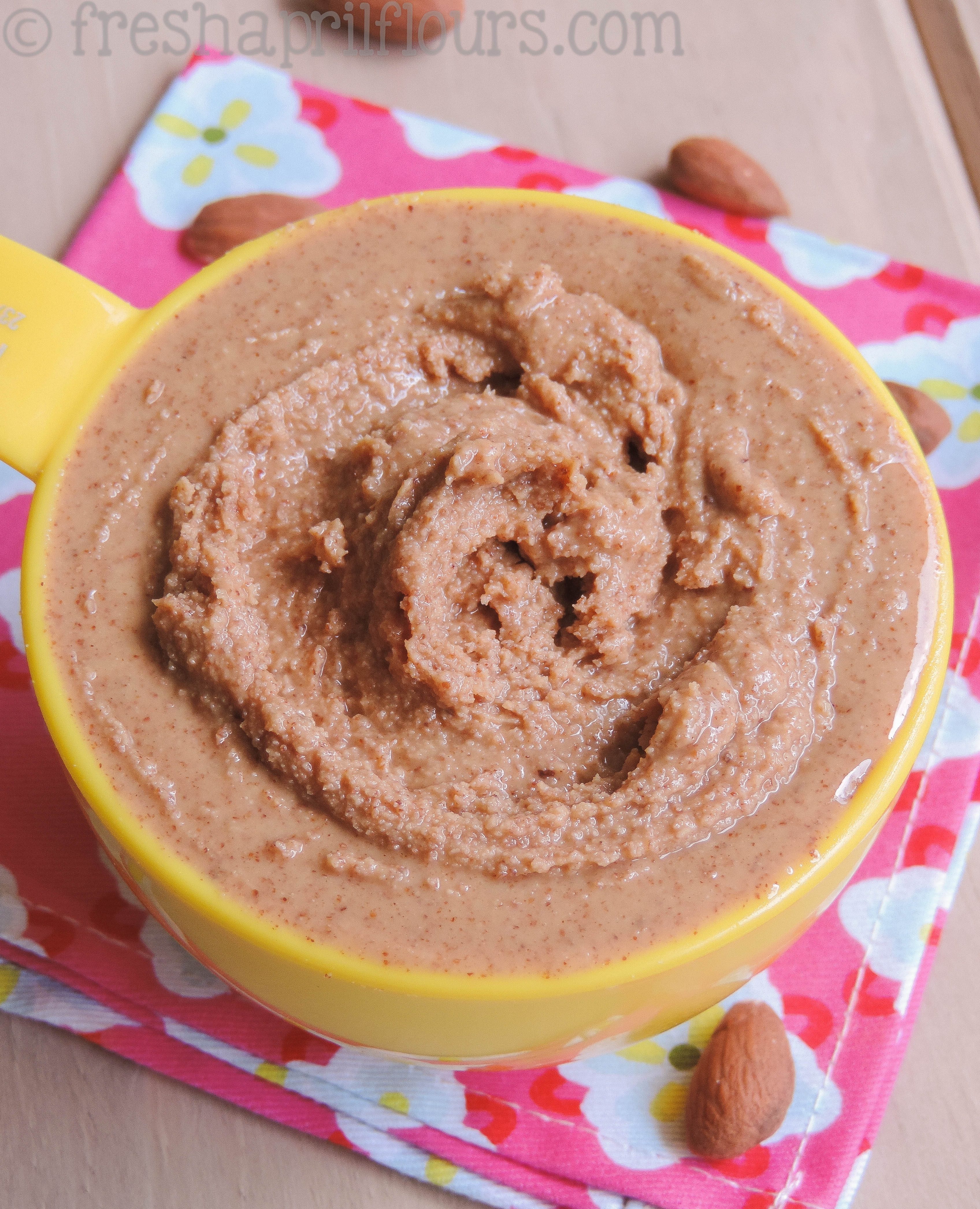 Fun fact: if you use roasted almonds, you'll have yourself some roasted almond butter. Your nut butter will taste exactly like the almonds you start with, so keep that in mind when choosing your nuts.
I can't say that one type is faster than another, but I can say with confidence that the speed at which this comes together depends completely on a combination of what type of food processor or blending machine you're using and the type/size of almonds you've chosen.
That being said, please know this can take anywhere from 5 minutes to 25 minutes. Regardless of the length of time, the steps look the same (and you'll find photos of the steps below).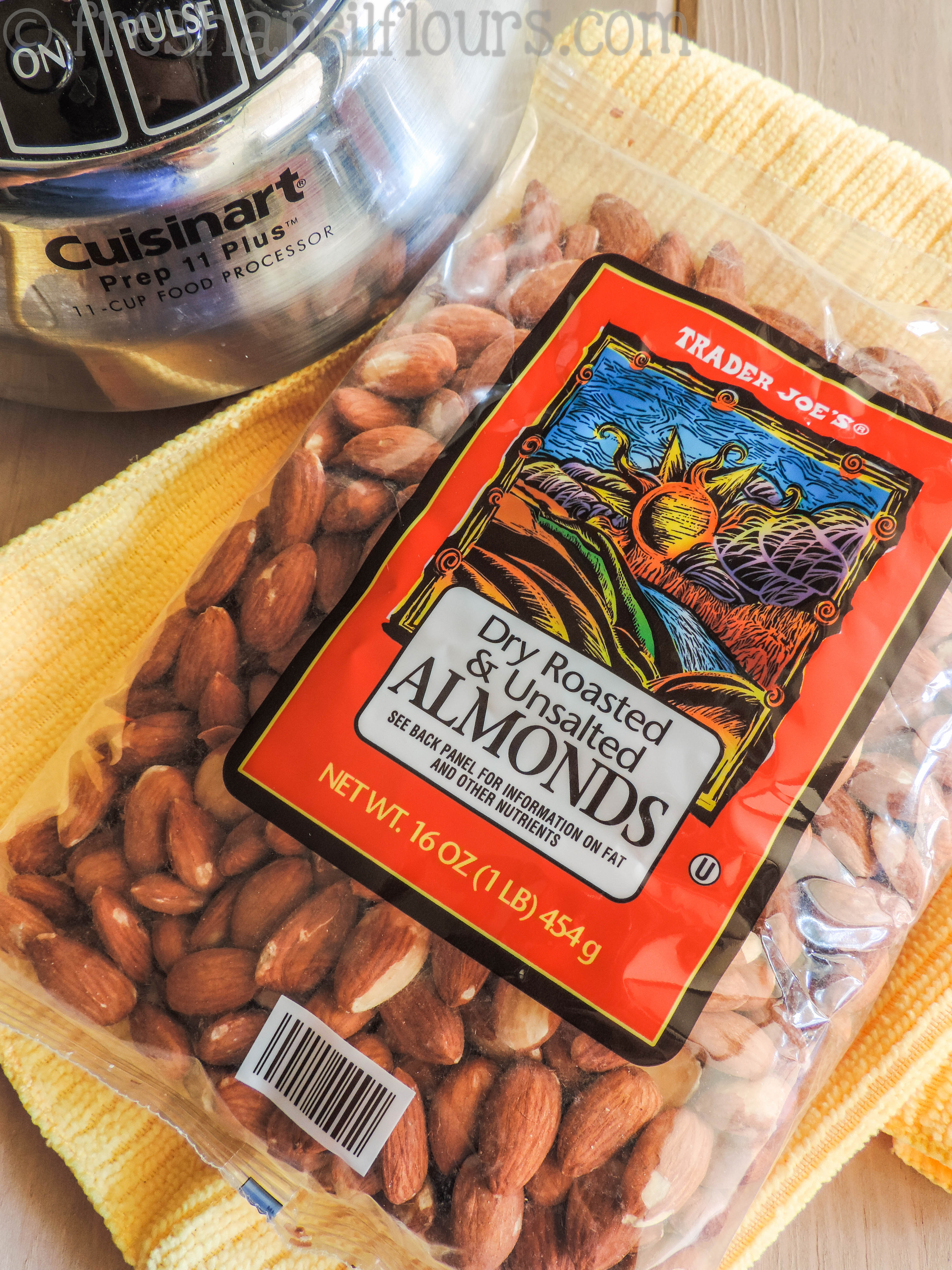 Furthermore, feel free to use whatever kind of nut combination you want. I have often added honey roasted peanuts instead of or in addition to honey. I have also added cashews for a little more of a creamy consistency, and I know almonds come in all kinds of flavors these days.
This "recipe" (I say that because it's seriously just 2 ingredients) is just as good with any kind of almonds you choose. Be adventurous!
I like to shop at Trader Joe's or Wegman's for my almonds. I can usually get them for $6-8 per pound. That's great!
PUT THE ALMONDS IN A FOOD PROCESSOR
You'll want to start with whatever fits nicely in your food processor or blender. I typically do 1 pound at a time.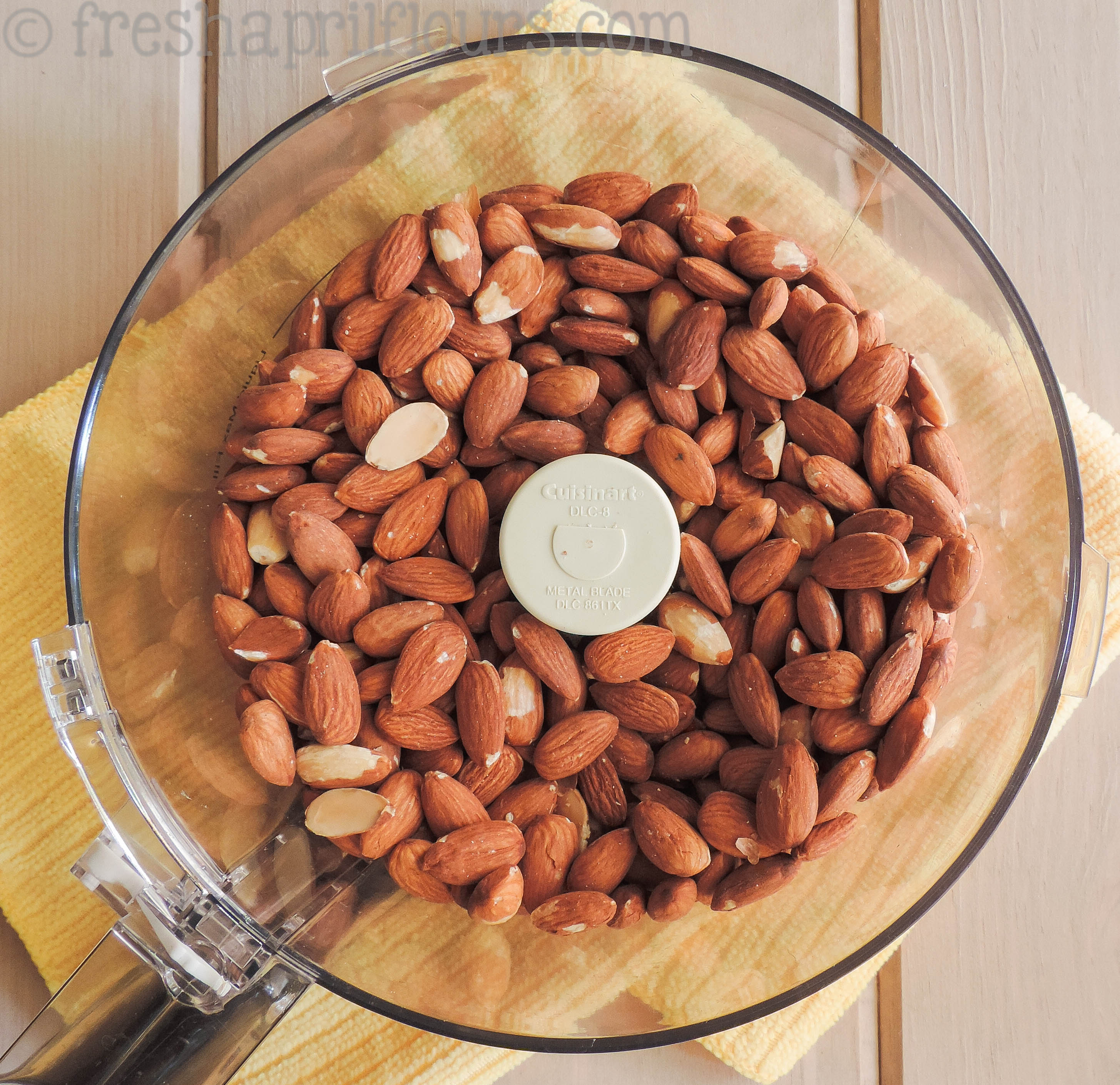 Use your best judgement here, and don't pack your bowl with too many almonds. Not only will it take longer, but you might jam up your blade.
ADD HONEY ROASTED PEANUTS OR HONEY
This is where I occasionally add some honey roasted peanuts if that's what I'm going for that time around.
If I'm using honey instead, I typically wait until the almonds are ground up a bit, but there's nothing wrong with adding it before you start. As far as the peanuts, add as many or as few of them as you want.
Lucky for you, if you decide you want more honey roasted taste near the end, you can add more peanuts easily. As stated above, I often just drizzle honey in as the almonds process.
START THE PROCESSING
So let's put the lid on and get to work!
In the first few minutes, you'll end up with a pretty dry mixture of very fine almonds (PHOTO 1).
Keep processing, and you'll start to see the mixture getting a little moist and starting to clump up. This is a good sign! The oils in the almonds are releasing. You'll want to make sure you stop periodically and scrape down the sides of the bowl (PHOTO 2).
The next thing you'll observe is that it appears to be doing nothing. Just kind of flinging bits all over the place. You'll start to wonder "did Lynn lie to me? Is this a joke?"
It's not. Remember the trust? Pull it out of your back pocket now.
After a few more minutes, the sound of your processor will change. A large ball of almond "meat" will be swirling around and around and around… And around (PHOTO 3).
You'll wonder if your food processor is going to live through this… It will! I promise. Don't forget to keep scraping!
Eventually, this ball will gather a ton more moisture. It will start to glisten and it will start getting warm (PHOTO 4). You'll start thinking "wow, this is getting somewhere!"
Unfortunately, this is far from true. This is the step I always find I can walk away from for a little bit, so I play with kids or watch part of an episode of Friends or do some dishes so I'm not far away from the action.
It is usually a good 10 minutes before I open up the lid and see a glorious sight (PHOTO 5).
By all means, stop here if you like the texture. For me, it is typically still a little gritty (interestingly enough, I'm a crunchy nut butter gal through and through), so I keep going until my spatula can smooth the almond butter around easily (PHOTO 6).

Ahh, yes. There it is. The perfect texture! Shiny, oily, and so incredibly aromatic. And steam comes out of the bowl when I lift the lid! That signals it's done for sure.
All in all, this is about a 20 minute process with very little hands on time (but like I said, sometimes it takes much less). So worth it if you don't feel like spending an arm and a leg on a jar.
Plus, you get to control just about everything here. The taste, the texture, the ingredients… And that is worth so much more! Homemade things taste better because of the love.
So, oh yeah, add "love" up there in the list of all those other things I said you would need that were not almonds or a food processor.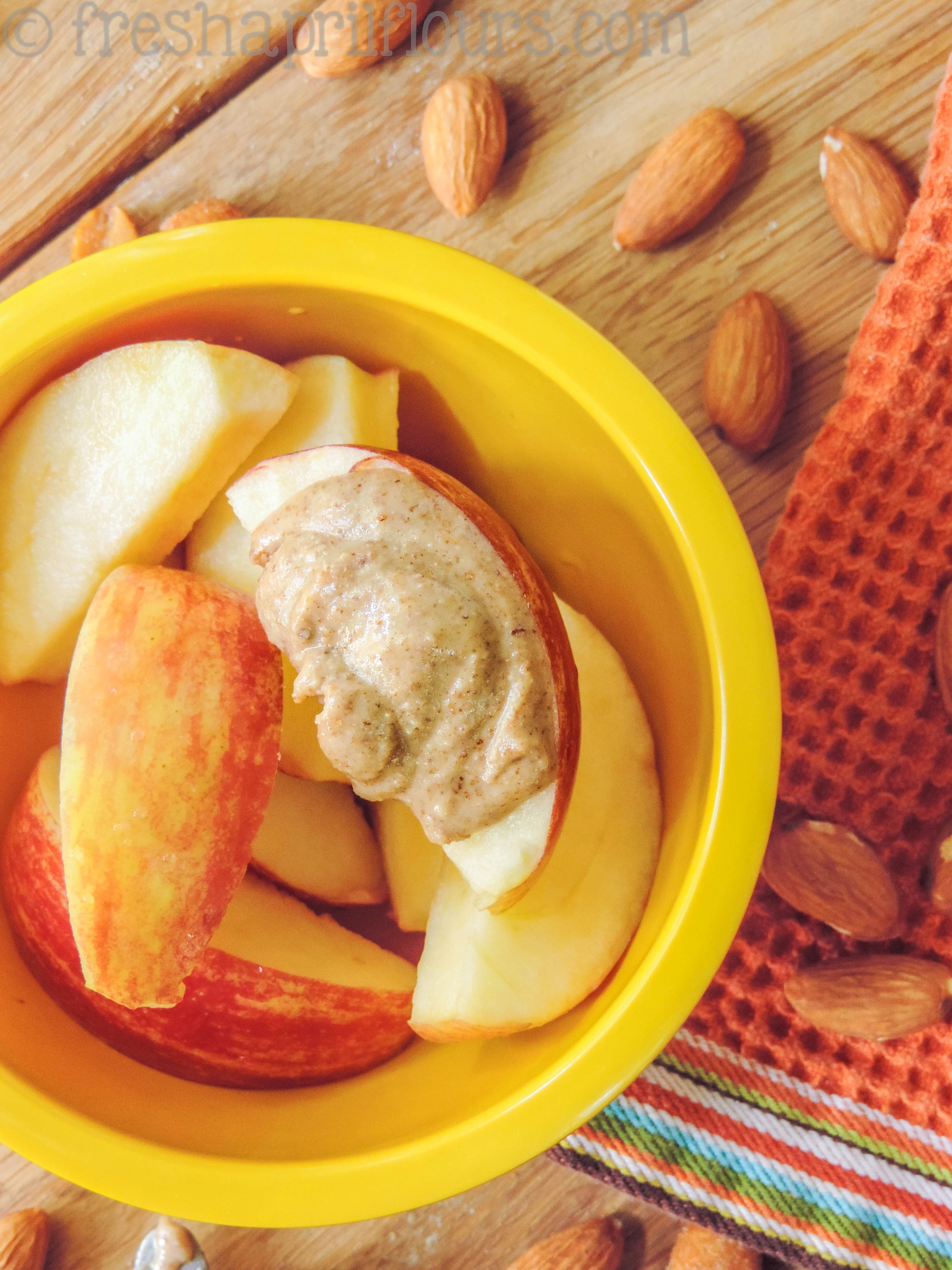 In smoothies, on apples, on graham crackers, in a recipe, on a spoon, on your fingers… Enjoy any way you would normally enjoy your almond butter. Thank me later.
HOW LONG DOES HOMEMADE ALMOND BUTTER LAST?
If stored in a dry, room temperature environment, your honey roasted almond butter should last quite awhile. If you don't use it often or are worried about it spoiling, you can put it in the fridge.
In the fridge, it will last even longer, but it may be difficult to spread while cold.
If you love almond butter and/or almond flour or want to know what to do with almond butter, check out some of my favorite almond recipes: almond butter chocolate chunk cookies, candied almonds, almond flour pecan sandies, almond flour banana bread, or Almond Joy granola.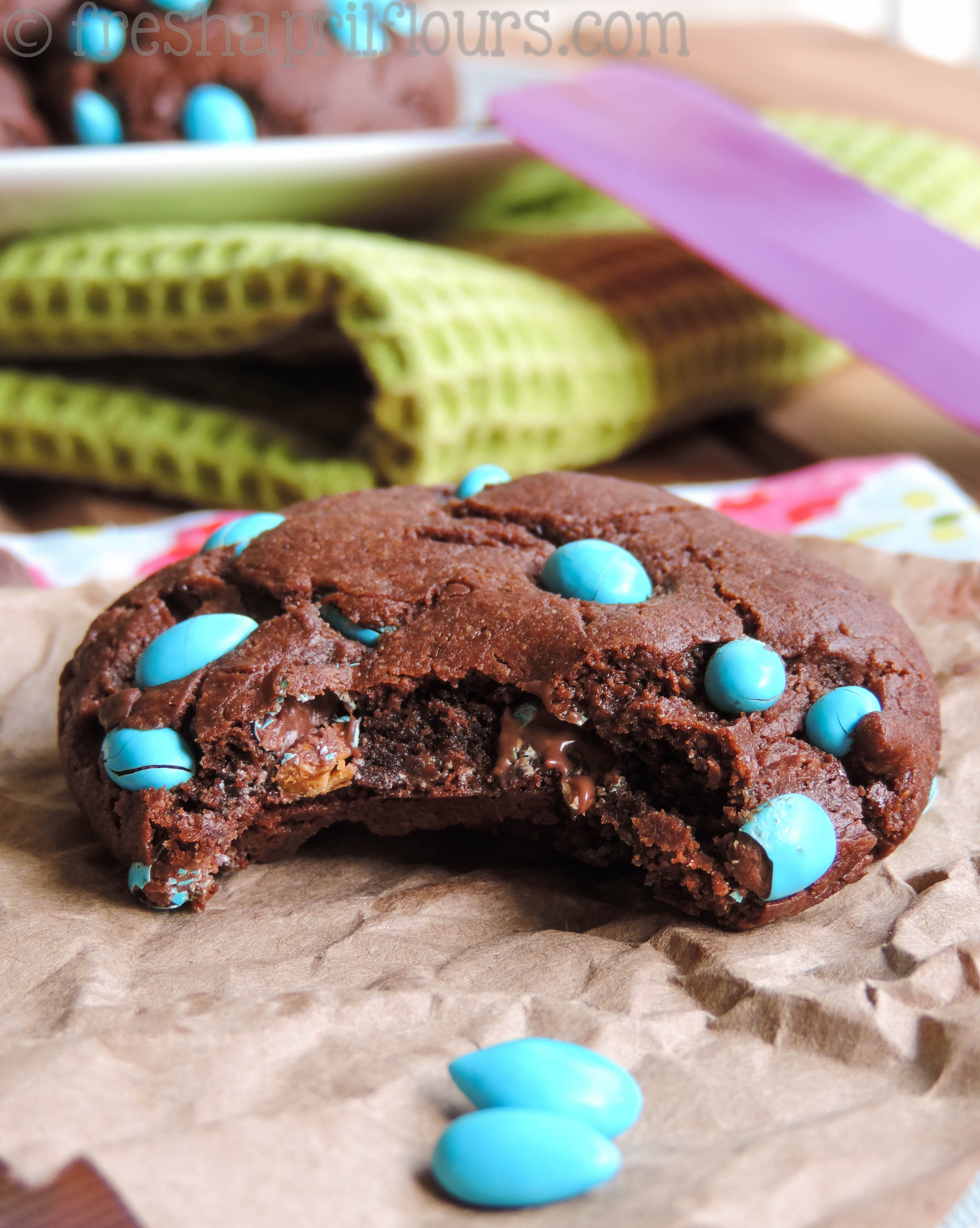 Honey Almond Butter
Making your own homemade almond butter is really quite easy. Add some honey to give it some flair and you'll never purchase another jar again!
Ingredients
1

pound

(454g) raw or dry roasted almonds

unsalted

1

Tablespoon

(21g) honey
Instructions
Pour the almonds into a food processor and secure the lid.

Process the almonds until they go from coarse, to fine, to crumbly, and then finally into a ball. Add the honey at any point after the almonds are broken down.

Stop and scrape down the sides between stages as necessary. Continue to process until the almonds reach the consistency you like. Store almond butter at room temperature.
Nutrition Disclosure
All nutritional values are approximate and provided to the reader as a courtesy. Changing ingredients and/or quantities will alter the estimated nutritional calculations.