Almond Butter Chocolate Chunk Cookies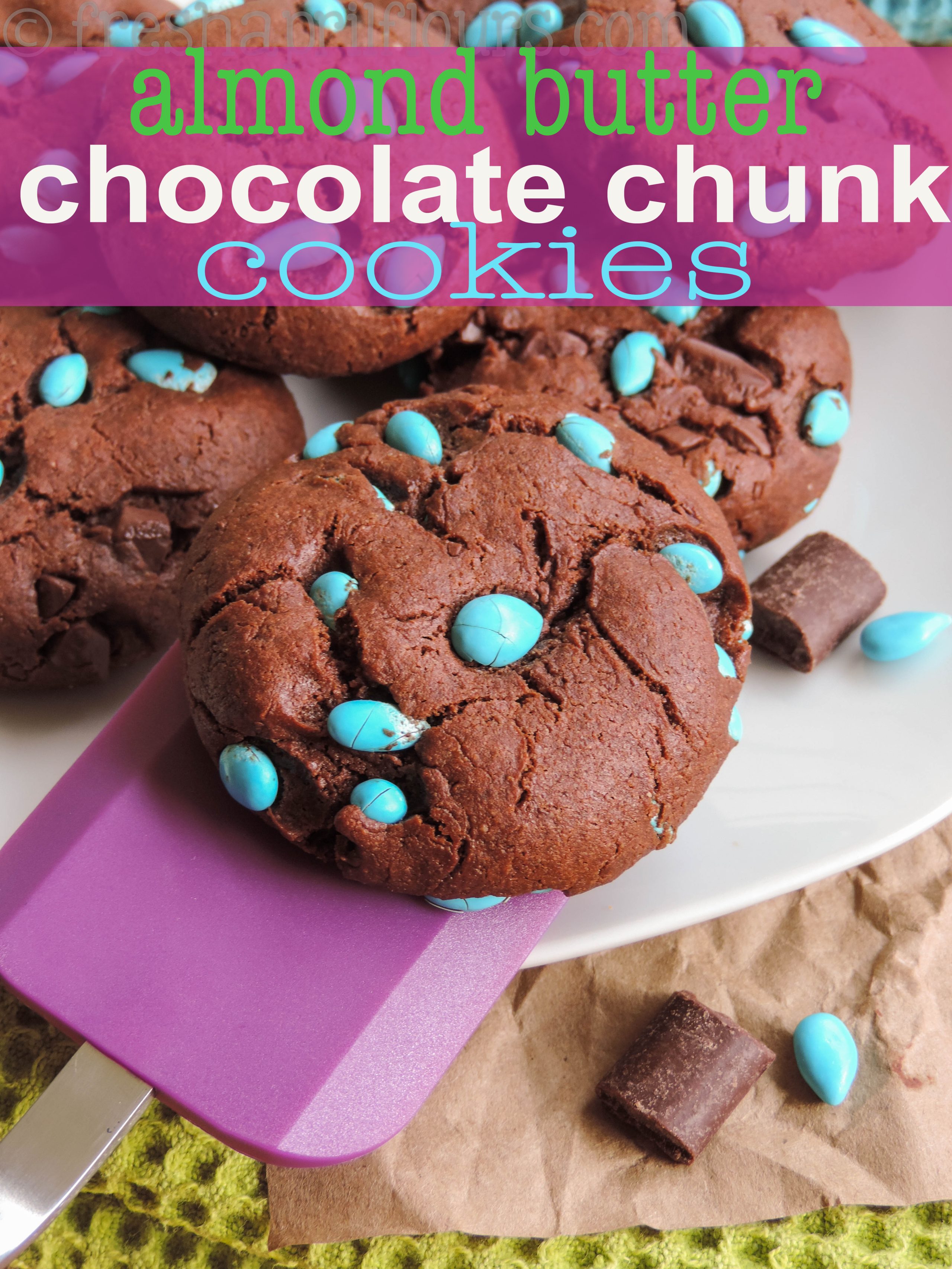 As an Amazon Associate, I earn from qualifying purchases. Read the full disclosure here.
These gluten-free, easy almond butter base cookies are so chocolatey, so fudgy, and so good you won't even miss the butter and flour!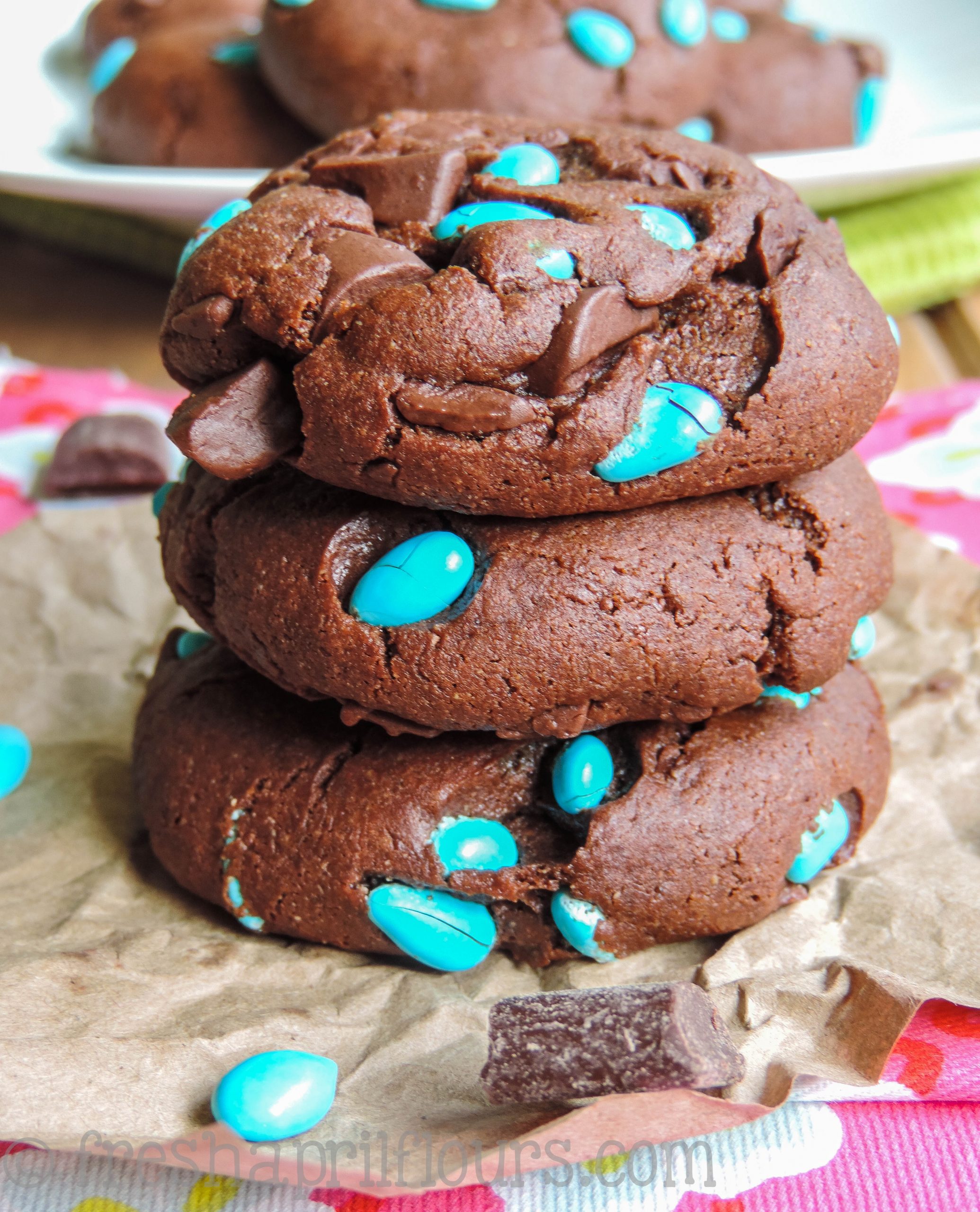 Before I get to the good stuff, I want to touch a bit on why I'm featuring this recipe today. I know I said back in my first post of the month that this month was special for a few fun reasons, but it was brought to my attention that there is another rather serious reason for this month to be near and dear to my heart.
A friend of mine from high school, Anna, made a post on Facebook about September being Poly Cystic Ovarian Syndrome (PCOS) awareness month [[click on this link from the PCOS foundation if you want to read more about what PCOS is]].
She shared with the whole world (well, her Facebook world anyway) that she is of the 1 in 10 women who suffer from this disorder.
I thought it was so brave of her to share that information, and seeing how much positive feedback and support she got from that one post, I decided to share with all of you that I am of the 1 in 10 as well. I have only been under this diagnosis for about 4 months, so I'm still learning what it means for me personally.
A lot of women who suffer from this disorder have it much worse than I do. I am so very grateful that I am able to maintain a healthy lifestyle while figuring out how to handle and treat my symptoms.
I am also incredibly thankful that I have several doctors who are just amazing and who listen to me, are patient with me, and genuinely care about my well-being.
Don't even get me started on how supportive my husband is. He is seriously the greatest.
While I don't personally follow a gluten-free diet, many PCOS women find it helps them control their symptoms. Anna is one of those women. So… I made these cookies with Anna in mind as well as all of the other women out there who may silently be dealing with this awful disorder.
Side note: If you know me, you might know I rarely paint my nails. My full time job makes it too hard to keep them nice.
When I read Anna's post, I learned the PCOS awareness color is teal and I had teal nail polish on from the wedding Matt and I were at the night before. I got pretty choked up!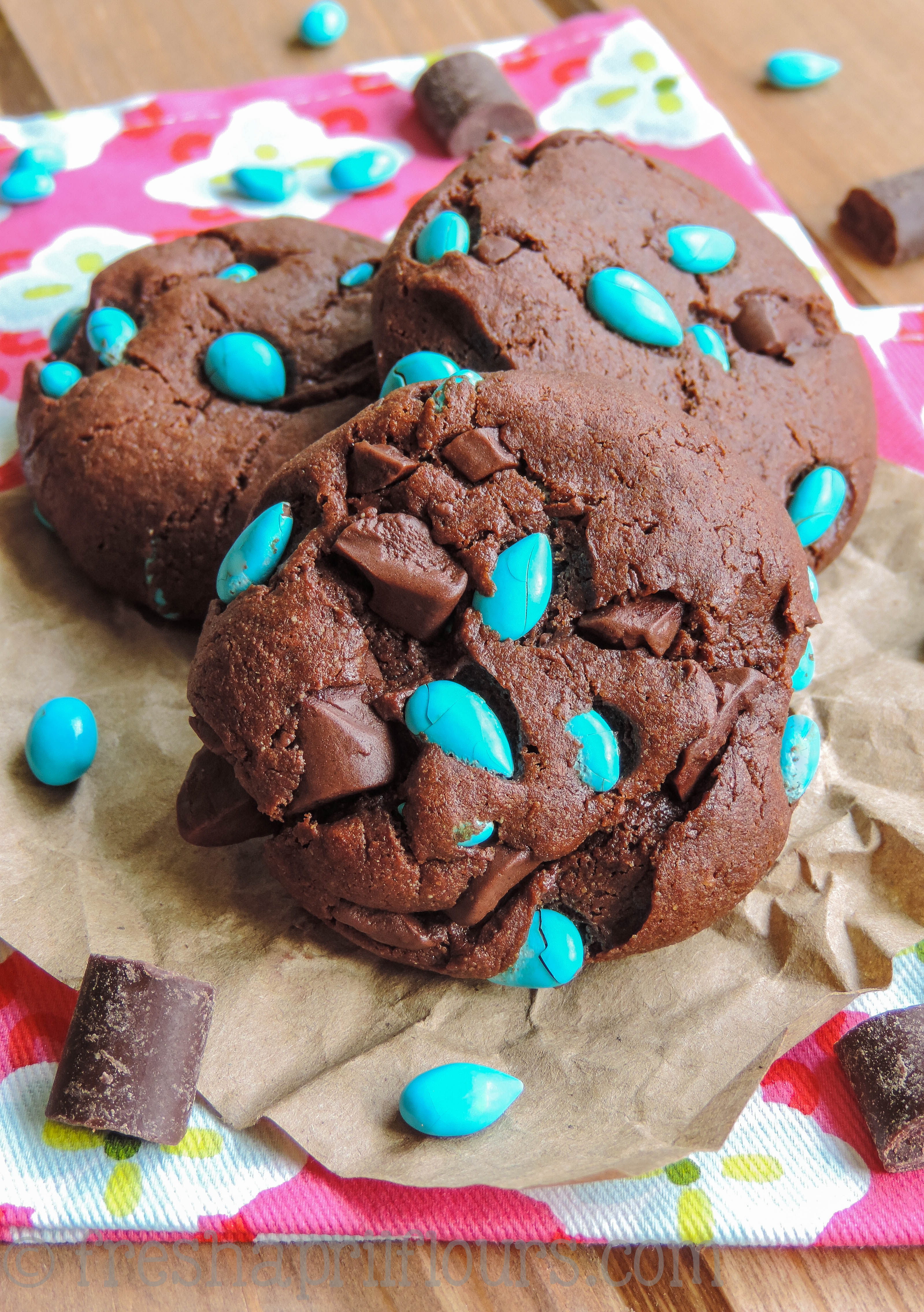 Am I going to challenge you to dump a bucket of something or another on your head? Am I going to threaten you with a passive aggressive Facebook status with the "if you don't share this, you don't have a heart" line?
No, I'm not.
But I do hope this post makes you aware that this disorder exists. I had no idea what it was until I started looking into the symptoms I was experiencing and was glad to have at least an idea of what it was when I got diagnosed.
I hope it also makes you a little more sensitive to the conversation when you think about asking a couple why they haven't had kids yet or telling them "it's time." You just never know what people are going through, and that's what awareness is all about.
Ok, PHEW, now that that's all out of the way…
I want to share with you a recipe I'm actually really excited about.
I have dabbled in the gluten-free cooking world a bit, but not too much in the way of baking. I've always heard that GF baking is difficult, expensive, and finicky.
When I came across a recipe for dark chocolate almond butter cookies from Dr. Axe, I thought "WHAAAT? I have all of those things! Let's do this!"
I had been meaning to get to the recipe for months, so it only seemed appropriate I pair it with my PCOS awareness post.
I took the original simple recipe and made it even simpler. All you need is some almond butter, some honey, an egg, cocoa powder, some leavening agents, and chocolatey add-ins.
You can combine everything in one bowl with one utensil! You just have to make sure to chill the dough for about 20 minutes before you roll it and bake it.
The honey makes the dough pretty moist, so chilling everything for a bit prevents your dough from sticking to your hands and your baking cookies from falling apart in the oven.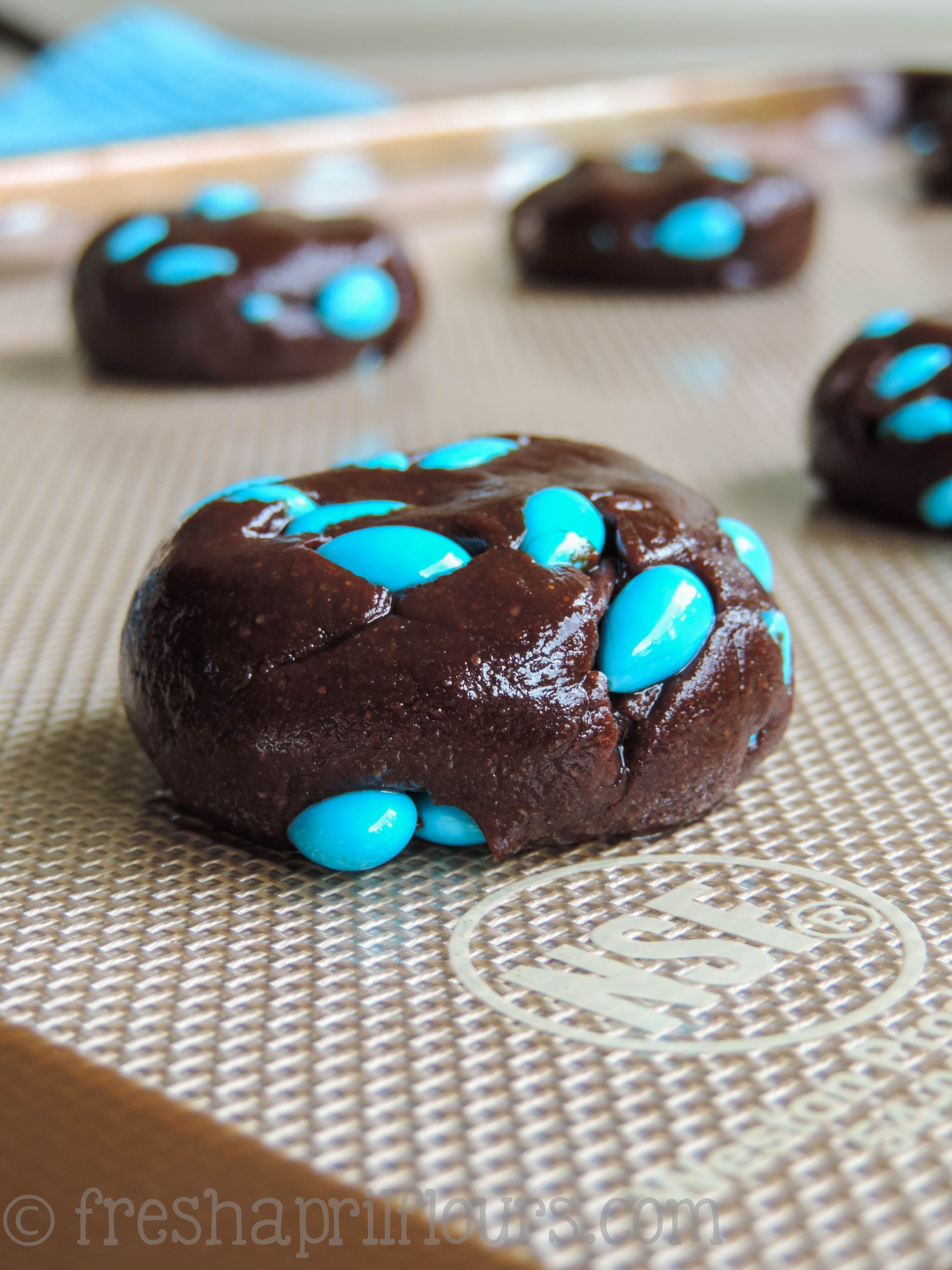 Let's chat about these ingredients for a second.
You're going to use almond butter here, and my best suggestion is just to make it yourself. I have a very comprehensive almond butter post about making it yourself, and you should not be afraid to tackle it yourself.
If you're short on time or simply don't feel like challenging yourself just yet, store bought almond butter is fine. Just remember to come back and try the homemade kind another time!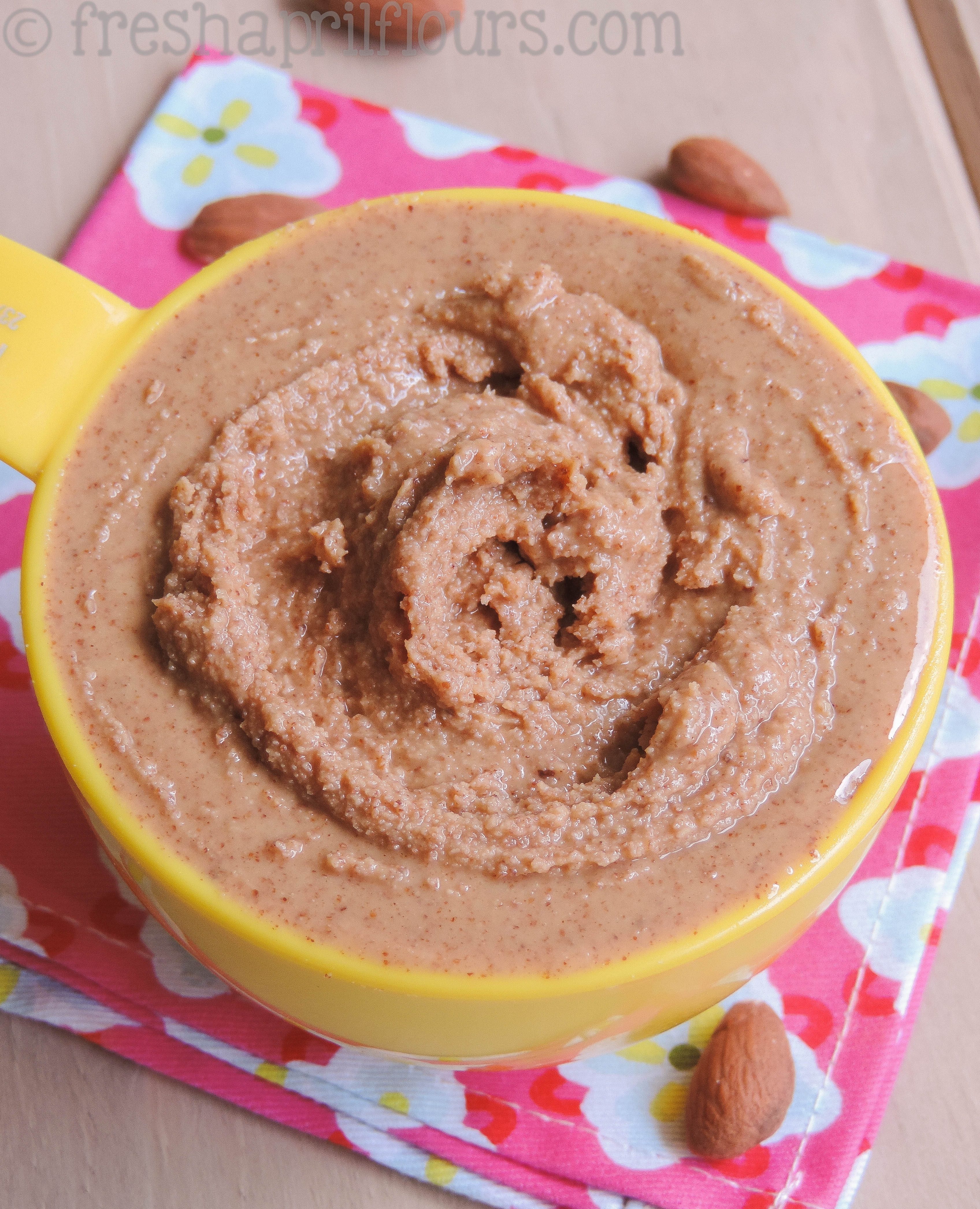 I used chocolate covered sunflower seeds because they're gluten-free. I wanted to use a teal colored add-in, but sadly, m&m's aren't gluten-free. Bright light blue was the closest I could find to teal!
The sunflower seeds are so cute, and they also add another nutty note to the cookies. You can find those little guys at Trader Joe's and Wegman's.
There are also chopped up chocolate chunks in these cookies, so you never know what you're going to get in your next bite!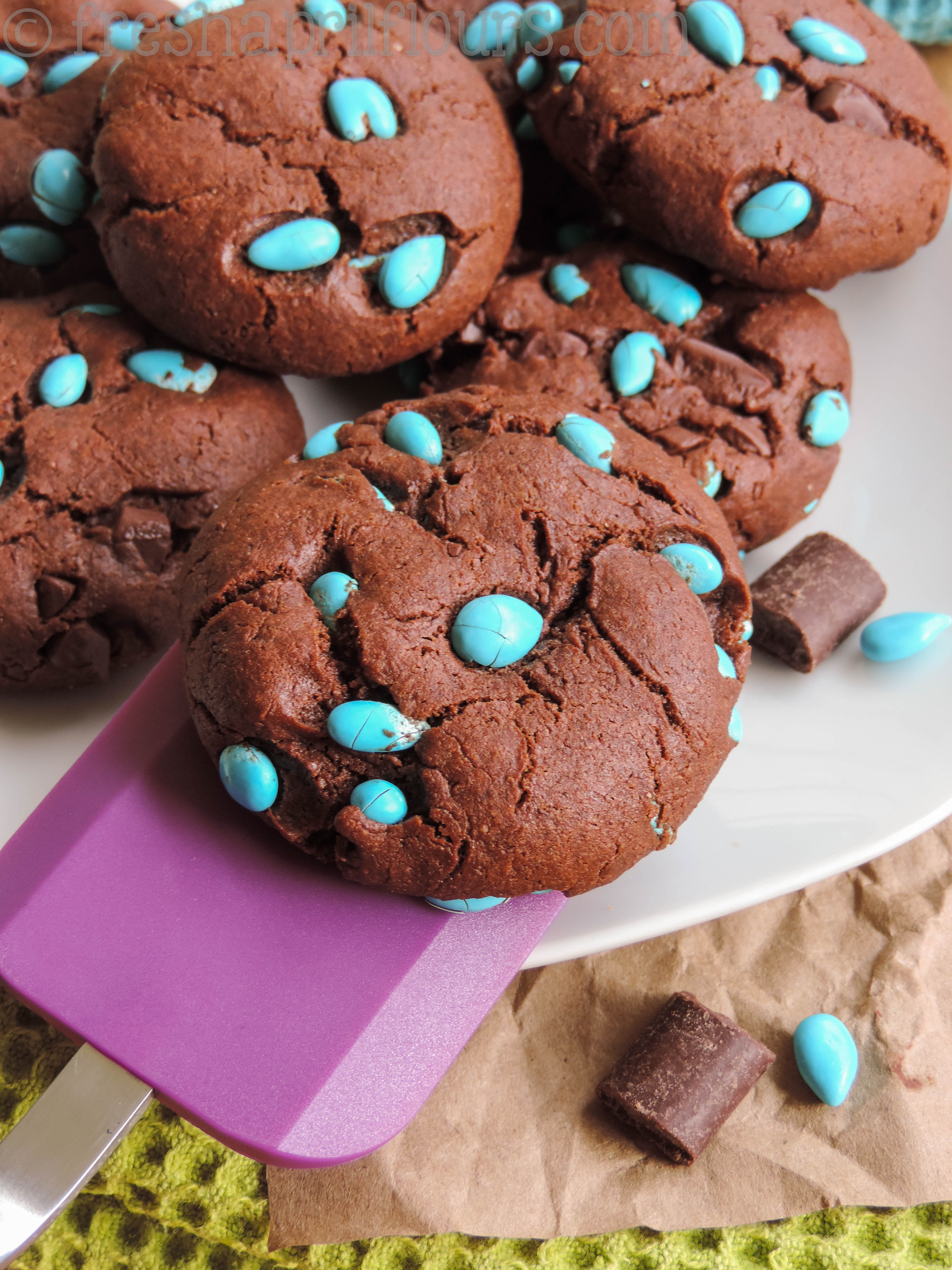 Honestly, if I didn't make these myself, I would have no idea they are gluten-free. They are so chocolatey, and what I like most about them is that they're a rich chocolate flavor.
They're not overly sweet, and they're certainly not lacking authentic, dense chocolate flavor… They're a little bit crunchy on the outside, chewy and fudgy on the inside, and the perfect little snack you can share with anyone!
Well, except people who have a nut allergy… Please, don't share this with them.
Share it with your gluten-free friends and they'll love you forever! I promise! If you want them less fudgy and a little closer to crunchy, increase the baking time by about 2 minutes.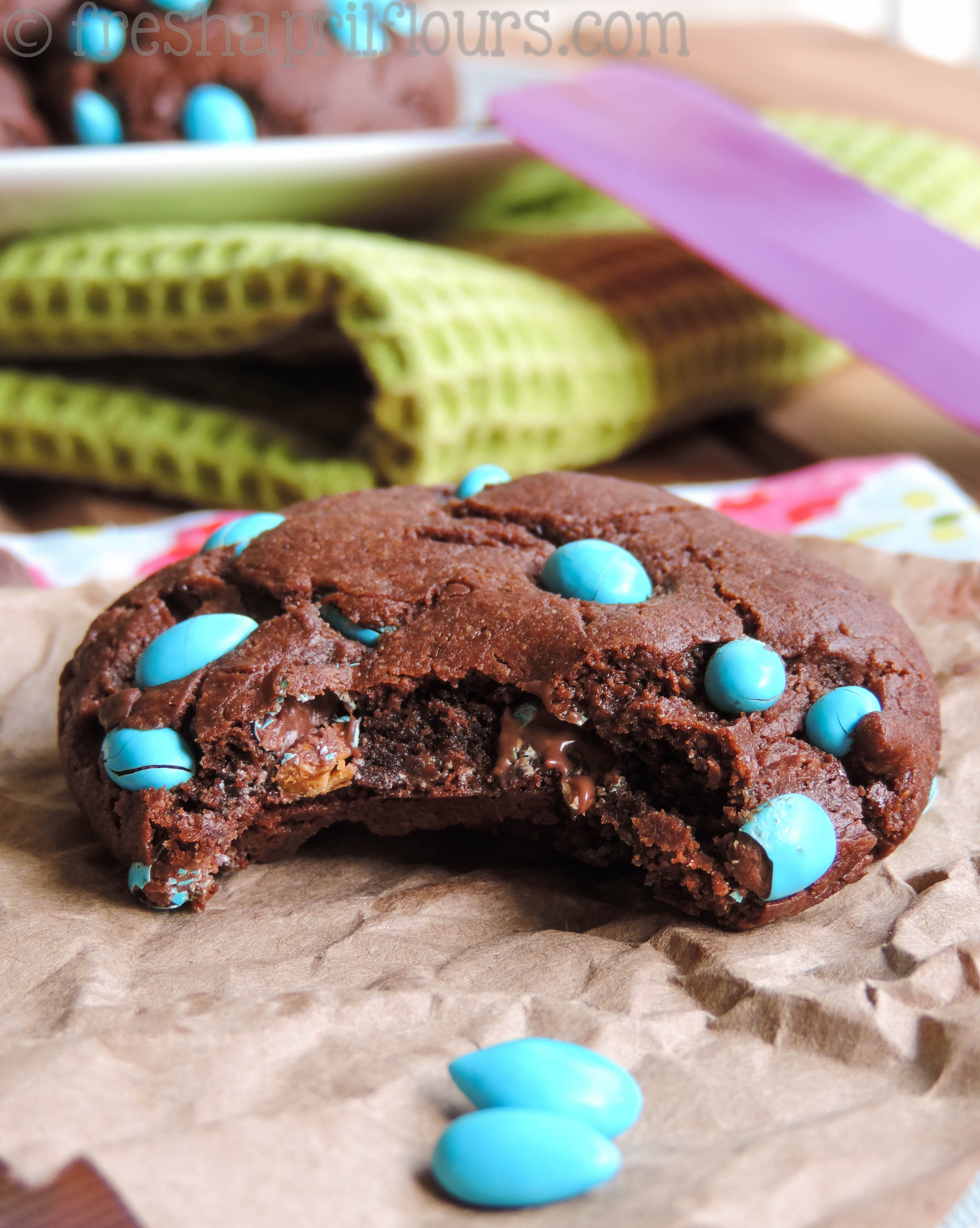 I would really like to experiment with more gluten-free recipes. I have a blogging friend named Amy (hi, Amy!) who lives in Australia and heads a gluten-free blog called Thoroughly Nourished Life. She has recipe after recipe that just make me want to dive right in to the gluten-free world. Check her out!
I hope you'll give these cookies a try and find that gluten-free baking can be yummy, too!
More gluten free cookies? Try some of these on for size! Pignoli cookies, almond flour pecan sandies, carrot cake coconut macaroons, or almond flour peanut butter cookies.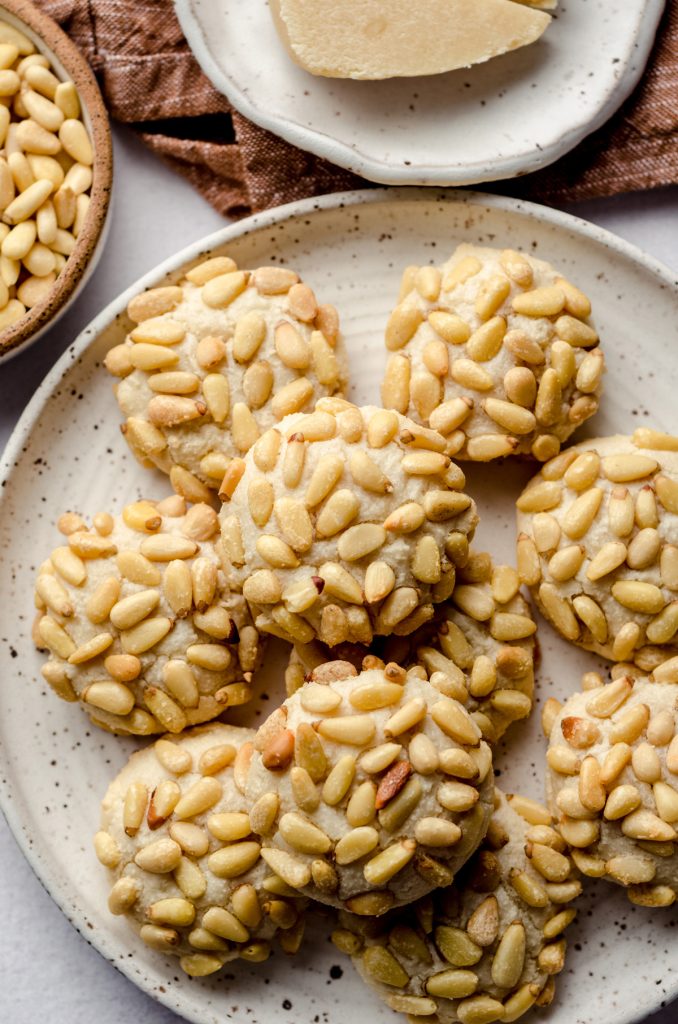 Almond Butter Chocolate Chunk Cookies
These gluten-free, easy almond butter base cookies are so chocolatey, so fudgy, and so good you won't even miss the butter and flour!
Ingredients
1

egg

beaten

1

cup

homemade almond butter

1/3

cup

honey

1/2

cup

unsweetened cocoa powder

1/2

teaspoon

salt

1/2

teaspoon

baking soda

1/4

teaspoon

baking powder

1/2

cup

semi-sweet chocolate chunks

chopped

1/3

cup

chocolate covered sunflower seeds

optional
Instructions
In a medium bowl, beat the egg. Add the almond butter, honey, cocoa powder, salt, baking soda, and baking powder and mix well. Stir in chopped chocolate chunks and chocolate covered sunflower seeds, if using. Chill dough in refrigerator for 20 minutes.

When dough has chilled, preheat the oven to 350ºF. Line two large baking sheets with parchment paper or silicone baking mats. Set aside.

Scoop the dough with a cookie scoop (I use this #50 cookie scoop for all of my standard size cookies) and form into a ball with your hand. Place no more than 8 dough balls on a baking sheet at a time. Press down on dough balls with the palm of your hand or the back of a spoon to flatten slightly.

Bake cookies for 10 minutes. If you prefer your cookies a bit crunchier, bake for 12 minutes. Allow cookies to cool for 5 minutes on baking sheet before transferring to a wire rack to =cool completely. Cookies stay fresh at room temperature, covered, up to 7 days. Frozen, cookies last up to 3 months.
Nutrition Disclosure
All nutritional values are approximate and provided to the reader as a courtesy. Changing ingredients and/or quantities will alter the estimated nutritional calculations.