Gingersnap Cheesecake Bites

As an Amazon Associate, I earn from qualifying purchases. Read the full disclosure here.
Easy, no bake cheesecake bites, rolled in a spicy gingersnap cookie coating.
Merry Christmas in July!
Am I totally crazy? Maybe, but the truth of the matter is, Christmas is only 5 months away and that itself is completely nutso. What's possibly the craziest of all is that I'm sure Christmas music/decorations/candy are only about 2 months away, so we might as well start getting in the mood now, right?
I'm glad you agree.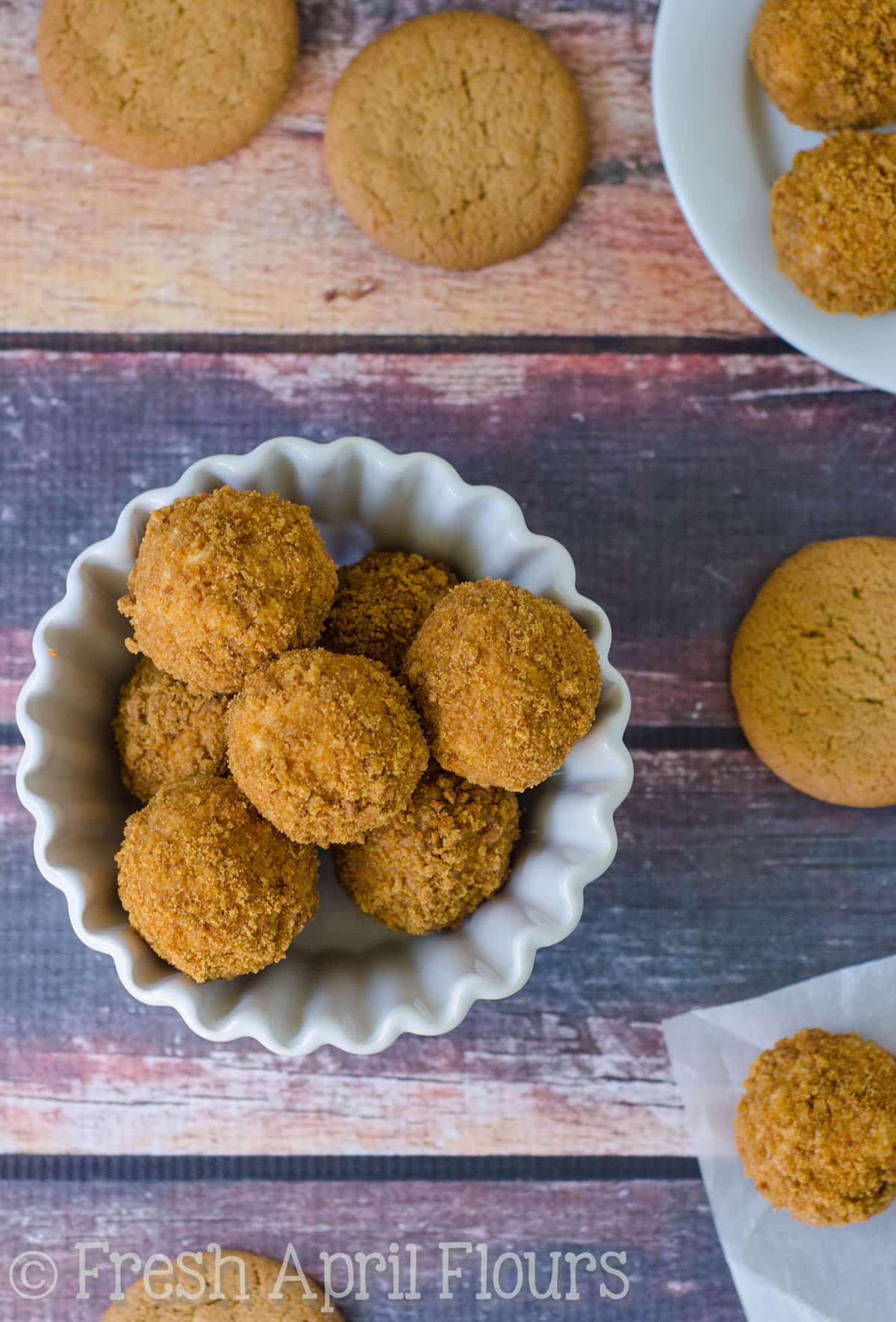 To be perfectly honest, I've had Christmas on my mind since we got back from our week on the lake. It occurred to me that Christmas was only 6 months away, and when you're a food blogger, you must be wayyyyy ahead of the season (those of you who have been following me for awhile will remember I broke out the pumpkin in August last year– and YUP, it's coming to my kitchen again here shortly!).
I already have a ridiculously exciting Christmas cookie extravaganza all planned out for you. So yes, I'm a bit forward thinking at the moment, but it's completely to your advantage with this recipe.
This idea actually came from Matt. He has been saying for years and years that he wants to host a Christmas in July party, and every year, we don't even think about it until it's too late to plan anything. This year, although we thought about it several weeks ahead of time, we already had other plans.
Matt suggested a Christmas themed recipe that I could share in lieu of an actual party, so I got to thinking and came up with these little cuties.
I knew I wanted to do something that was no bake because it's seriously scorching outside right now (is it where you are, too?), and I had absolutely zero interest in turning on my oven. At the same time, I wanted something that could fit into the Christmas season seamlessly, so I decided on pre-baked cookies as a crust for my no bake cheesecake bites.
No ovens, no heat, and nothing but deliciously Christmasy flavors that don't involve candy canes. SOLD.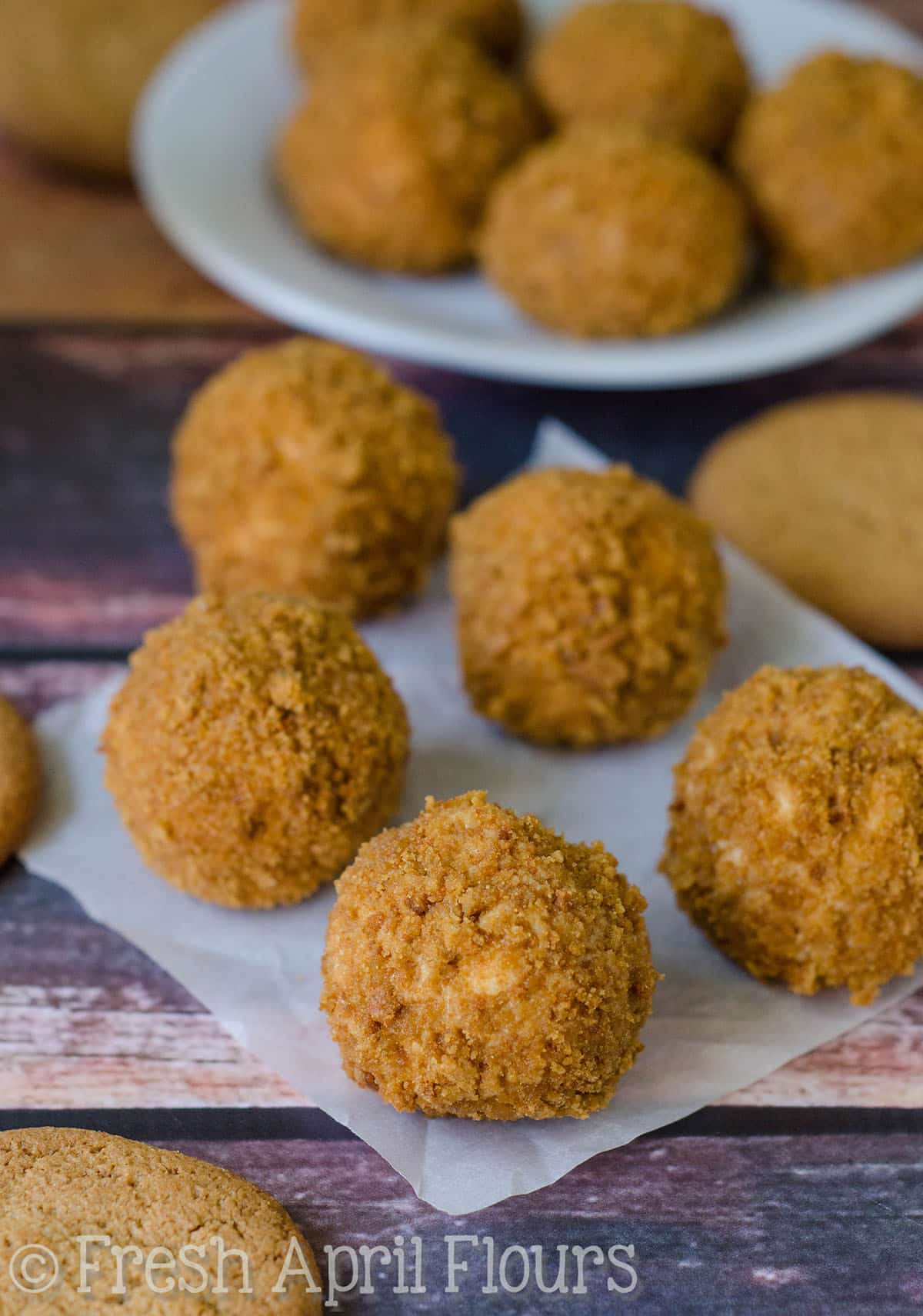 These cheesecake bites could not be easier to throw together. All you need for the cheesecake balls are whipped cream (lucky for you, I showed you how to make homemade whipped cream last week! Store-bought is just fine, though), some cream cheese, a little molasses, and some sugar.
All of these ingredients get whipped together and frozen for a bit so the cheesecake is easily formed into balls. It will take at least 2 hours for your cheesecake mixture to fully harden, so you'll need to do a little planning ahead for this recipe.
Once the cheesecake is set, you'll use a cookie scoop to form the cheesecake into balls. You don't actually need to use a cookie scoop, especially if you want your bites to be smaller. Use a spoon or even a measuring spoon to get your cheesecake balls into the size you want. Whatever gets the job done.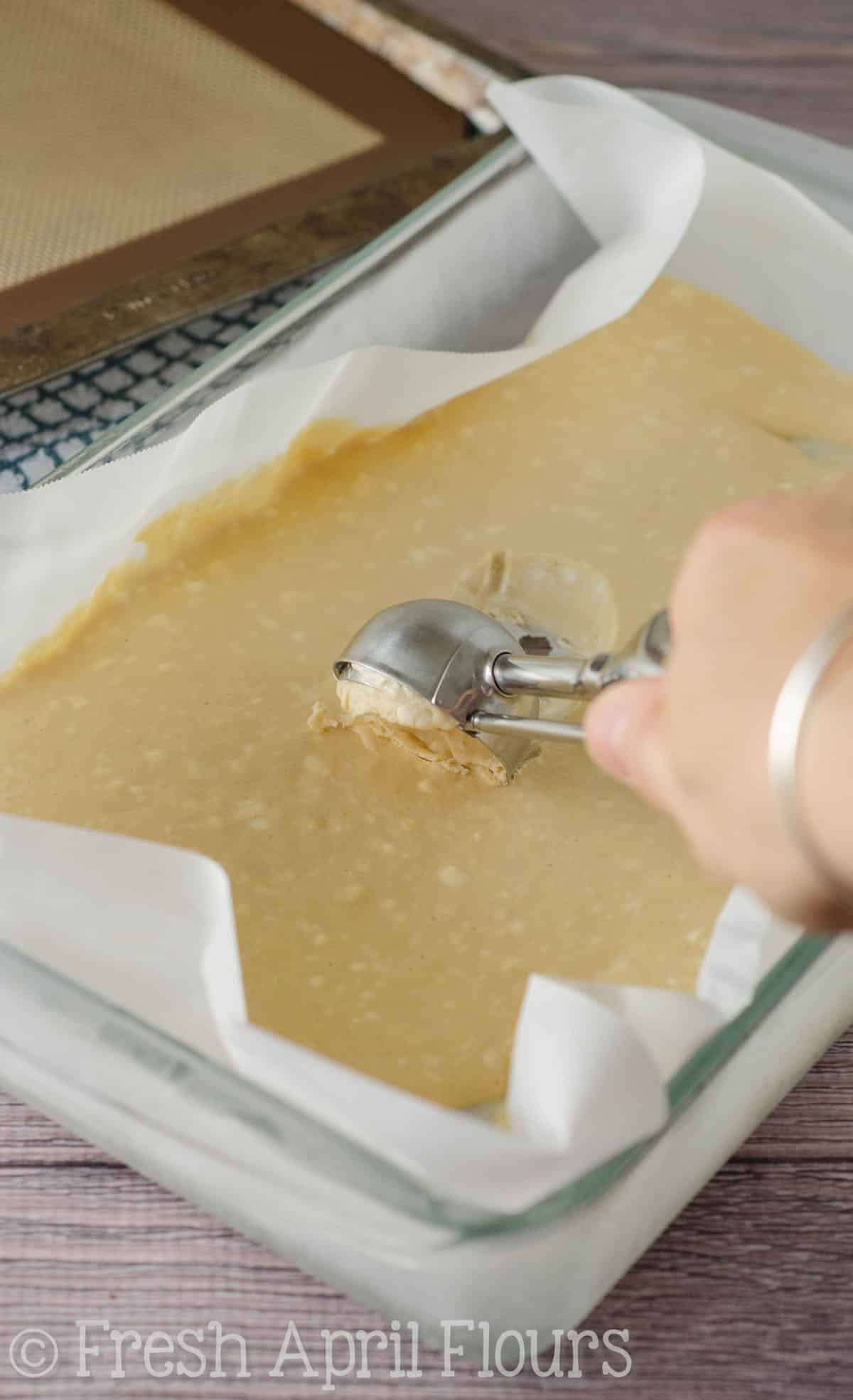 Quickly roll the cheesecake into a ball and give it a dunk into some crushed gingersnaps.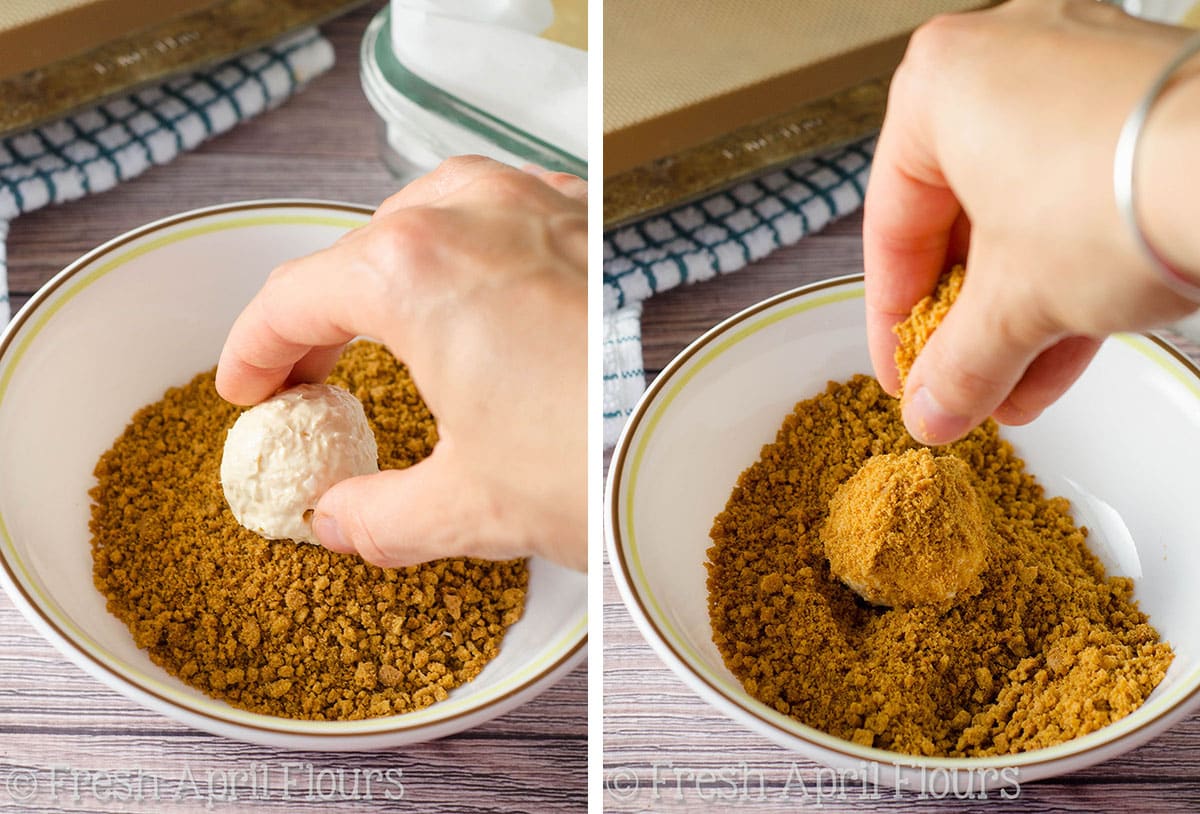 Back into the freezer they go for just another hour to firm up, and then they're ready to serve.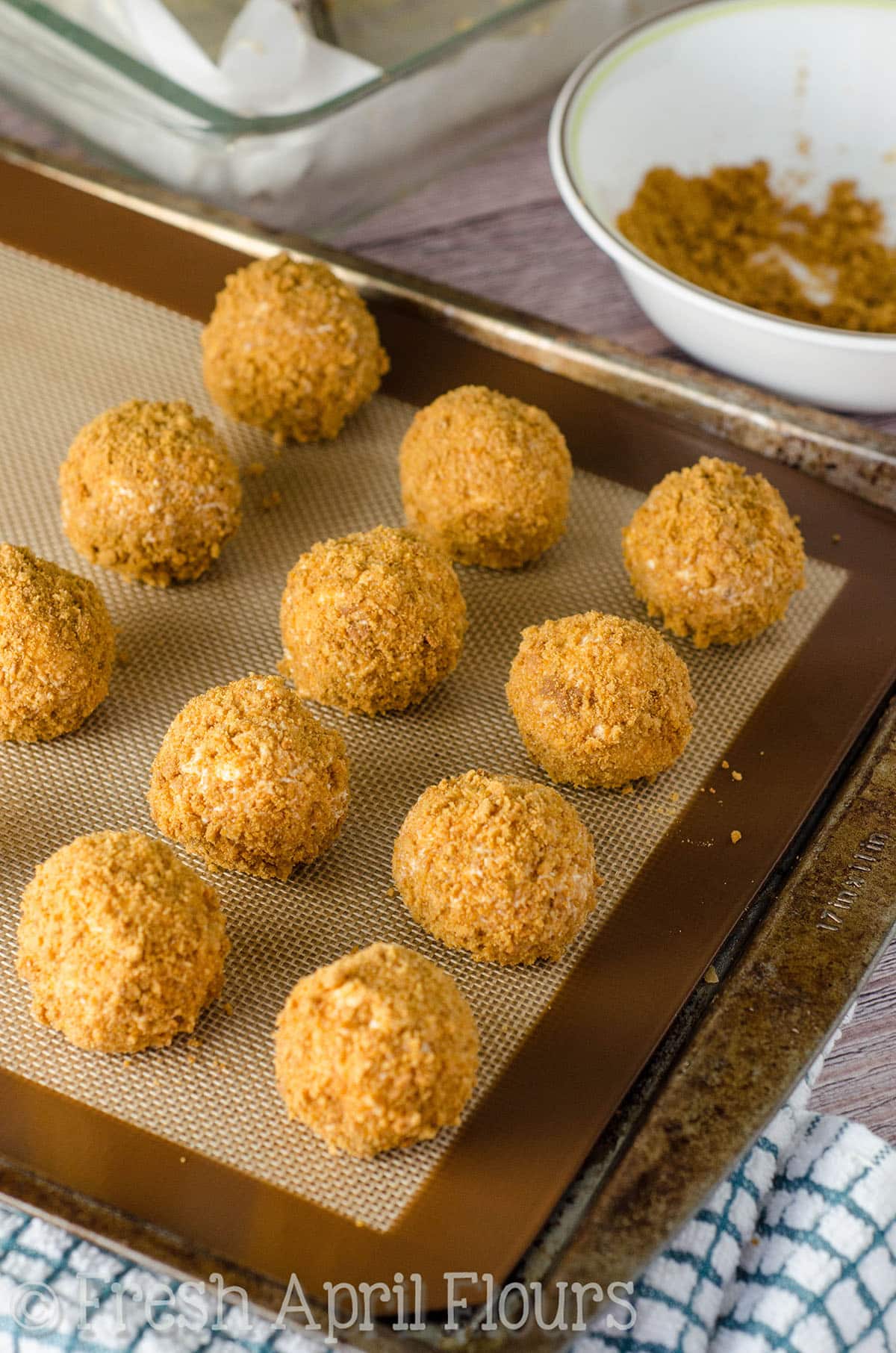 Let me tell you about these cheesecake bites… That gingersnap shell is so wonderfully spicy and is the perfect prefix to the sweet and creamy cheesecake center. They're the ideal treat to help you combat the heat but also give a jingle-filled nod to Christmas in July.
Plus, they might even be a nice addition to your actual Christmas in December repertoire, as bite-size treats areeeee the best when it comes to all those holiday goodies. You get to sample a little bit of everything! Less bites + more dessert. Yay.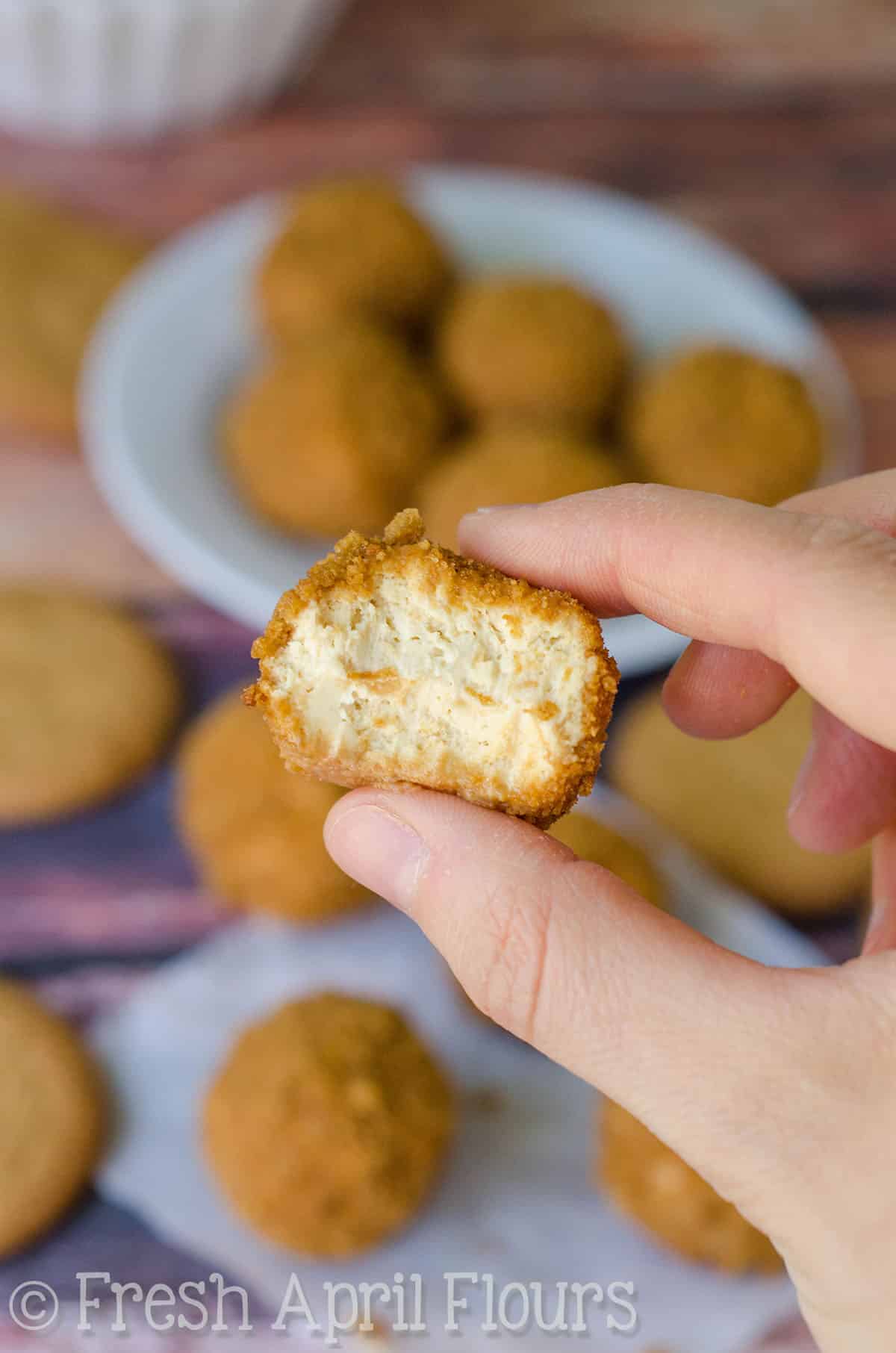 Whether you're making these gingersnap cheesecake bites in the summer or really any other season (because, raise your hand if you loooooove gingersnaps [me! me!]), they're the perfect way to get cheesecake all up in your dessert without going through the whole cheesecake baking process (still on my to-do list for all of eternity).
Try using graham crackers or another favorite cookie for the coating!
The dessert possibilities are endless.
Love gingersnaps? Check out these recipes featuring gingersnap cookies: cranberry curd tart and pumpkin swirl cheesecake.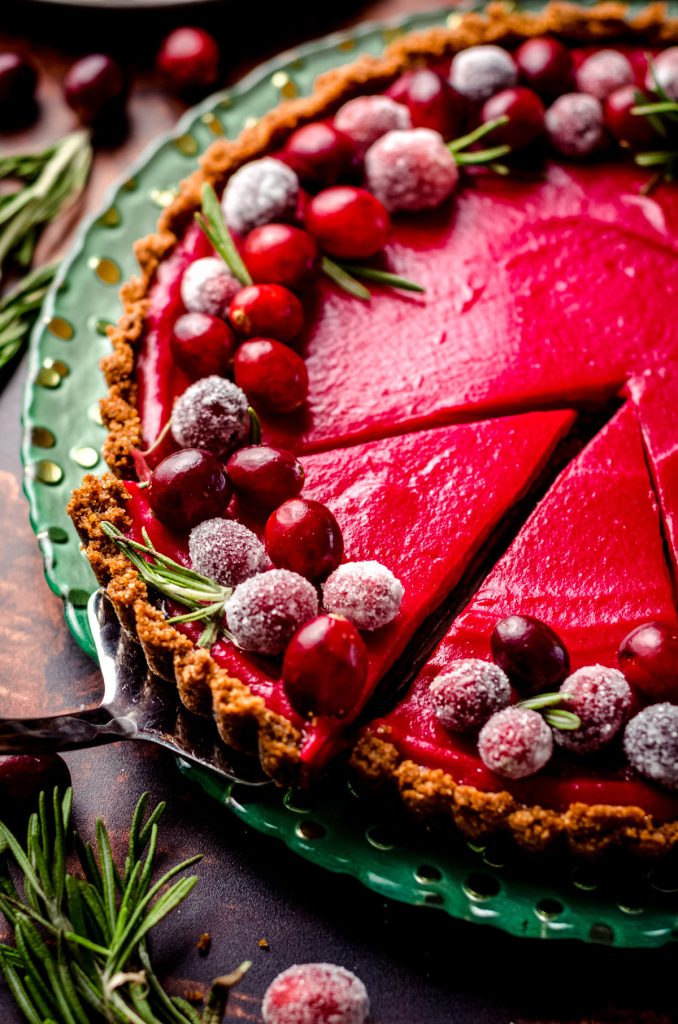 Gingersnap Cheesecake Bites
Easy, no bake cheesecake bites, rolled in a spicy gingersnap cookie coating.
Ingredients
1

cup

homemade whipped cream

or store bought

8

ounces

full fat cream cheese

softened to room temperature

1

Tablespoon

molasses

1

Tablespoon

granulated sugar

2/3

cup

crushed gingersnap cookies
Instructions
Line a 9×13 baking dish or a large baking sheet with parchment paper or a silicone baking mat. Set aside.

In a large bowl with a handheld mixer or the bowl of a stand mixer fitted with the paddle attachment, beat the cream cheese on high until smooth. Add the whipped cream, molasses, and sugar and beat again on high until completely combined. Pour the cheesecake mixture into the baking dish, spread it out evenly, and freeze at least 2 hours.

When cheesecake is frozen, prepare a large baking sheet with parchment paper or a silicone baking mat. Using a cookie scoop with a thumb trigger, form cheesecake into balls with your hands (they can be whatever size you wish, but mine were about 1″ each). Roll each ball quickly as the warmth of your hand will start to soften the cheesecake. Drop each ball into crushed gingersnaps and roll it around to cover it completely. If cheesecake is too soft, you can form balls, freeze for 10 minutes, and then roll in crushed gingersnaps. Place each ball on baking sheet.

Once all of the cheesecake mixture has been used up, freeze gingersnap covered bites at least 1 hour. Once frozen, move cheesecake bites into the refrigerator until ready to serve. Bites are best enjoyed the day and day after they are made. After the second day, the coating starts to get soggy.
Notes
Try using graham crackers or another favorite cookie for the coating!
Nutrition Disclosure
All nutritional values are approximate and provided to the reader as a courtesy. Changing ingredients and/or quantities will alter the estimated nutritional calculations.