Mini Pineapple Upside-Down Cakes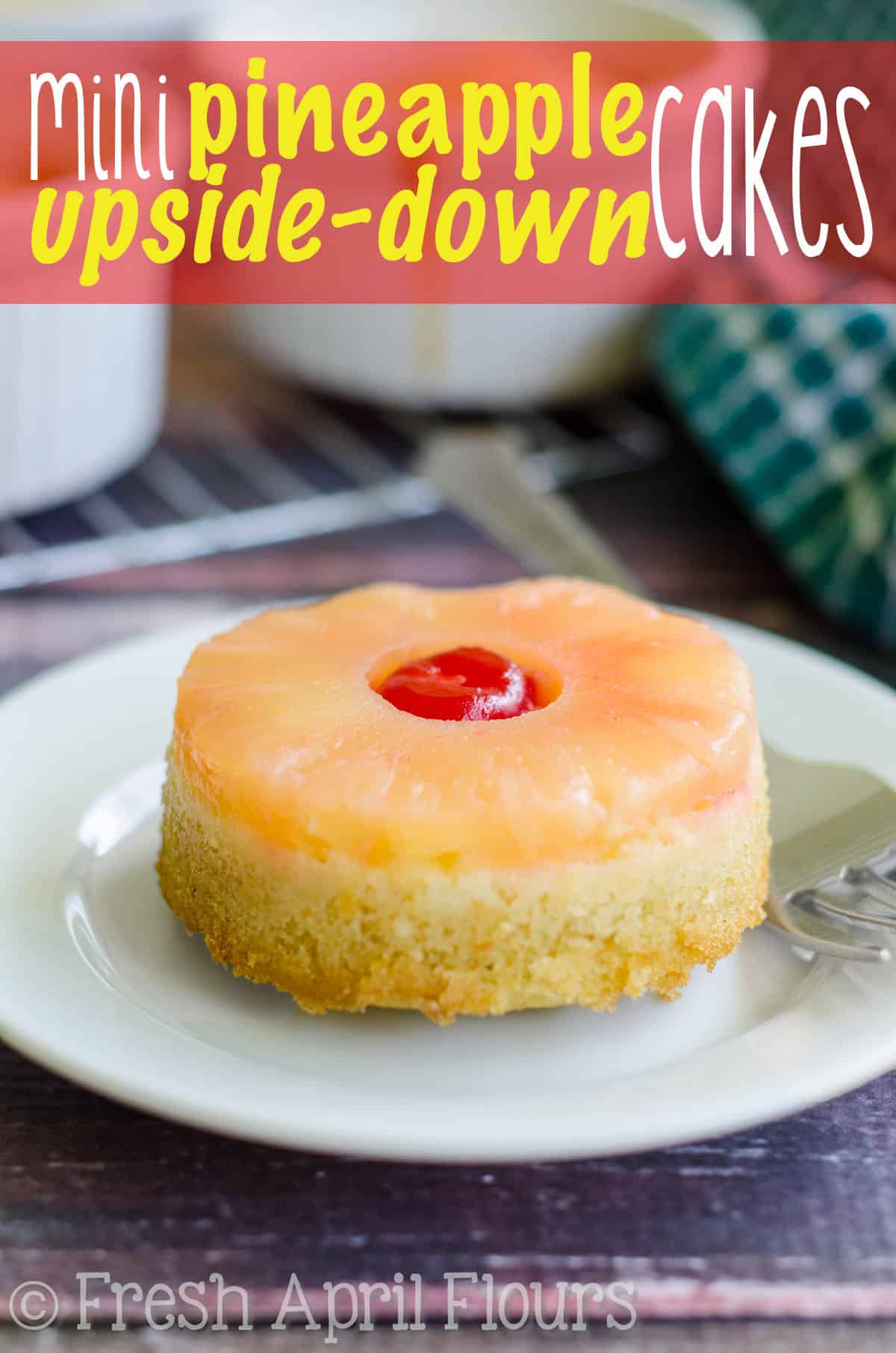 As an Amazon Associate, I earn from qualifying purchases. Read the full disclosure here.
Like the classic, just smaller. Moist and flavorful cake topped with pineapple and a cherry.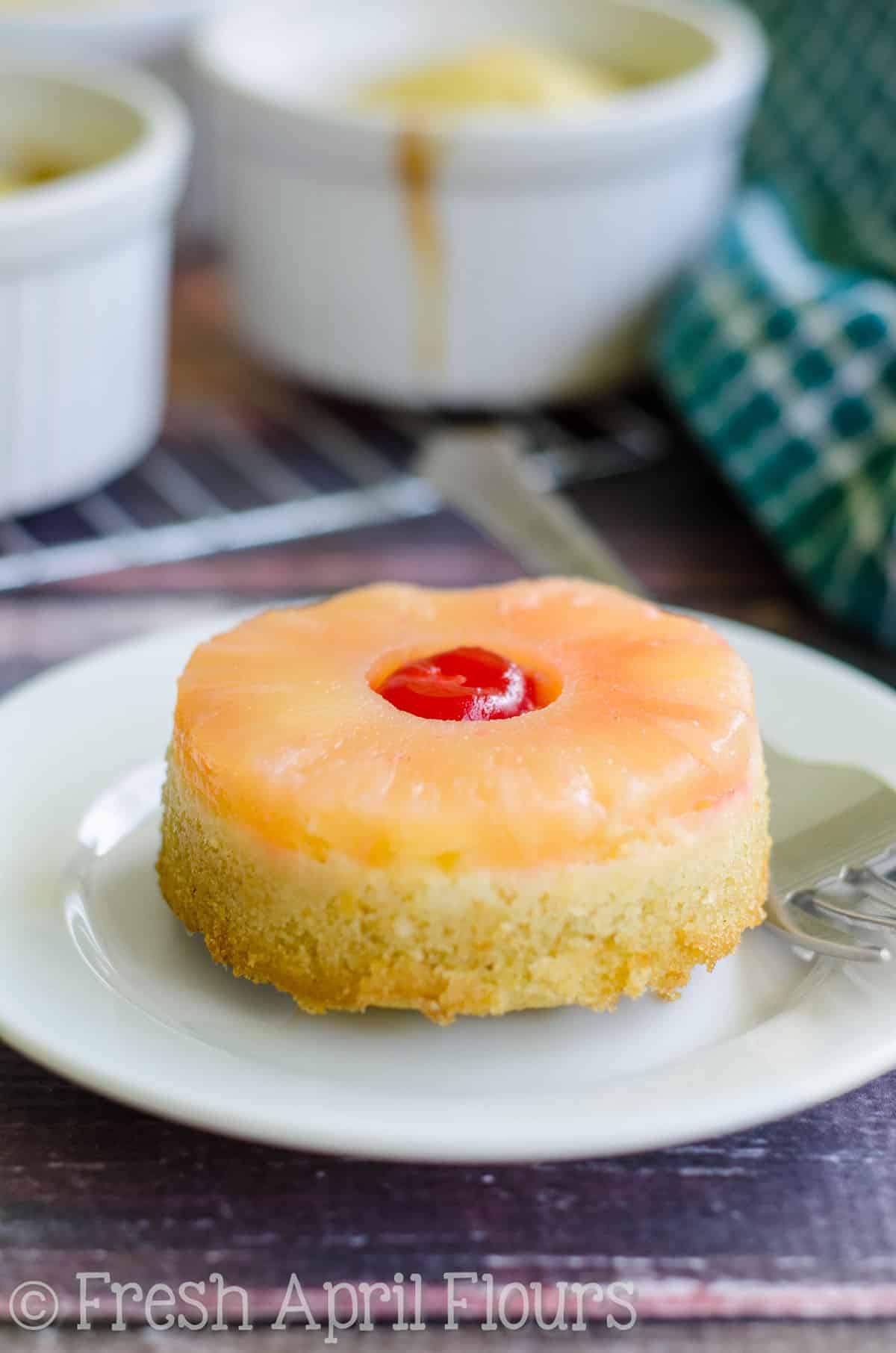 Confession: I have never made a pineapple upside-down cake. I have made a cranberry upside-down cake (about 5 years ago, before blogging was "a thing" for me), but never the classic. I guess you can say I've still not made one, but I'm getting closer with these cute little individual pineapple upside-down cakes, so that should count for something…
Right??
I made a promise to myself at the beginning of 2015 that I would learn/share more classic recipes (like these chocolate chip cookies, these snickerdoodles, and these vanilla cupcakes). I have quite a few more "classics" coming, so keep an eye out for them (hello, Christmas cookies)!
Tackling some classics will also mean crossing some things off of my baking bucket list list, which will be quite the undertaking alone throughout the course of my baking career (hopefully lasting as long as I am alive)!
This recipe gets a temporary crossing out of pineapple upside-down cake until I attempt a full size one. Juuuust a placeholder for the time being. Who wants to be a taste tester when I break out the big guy?!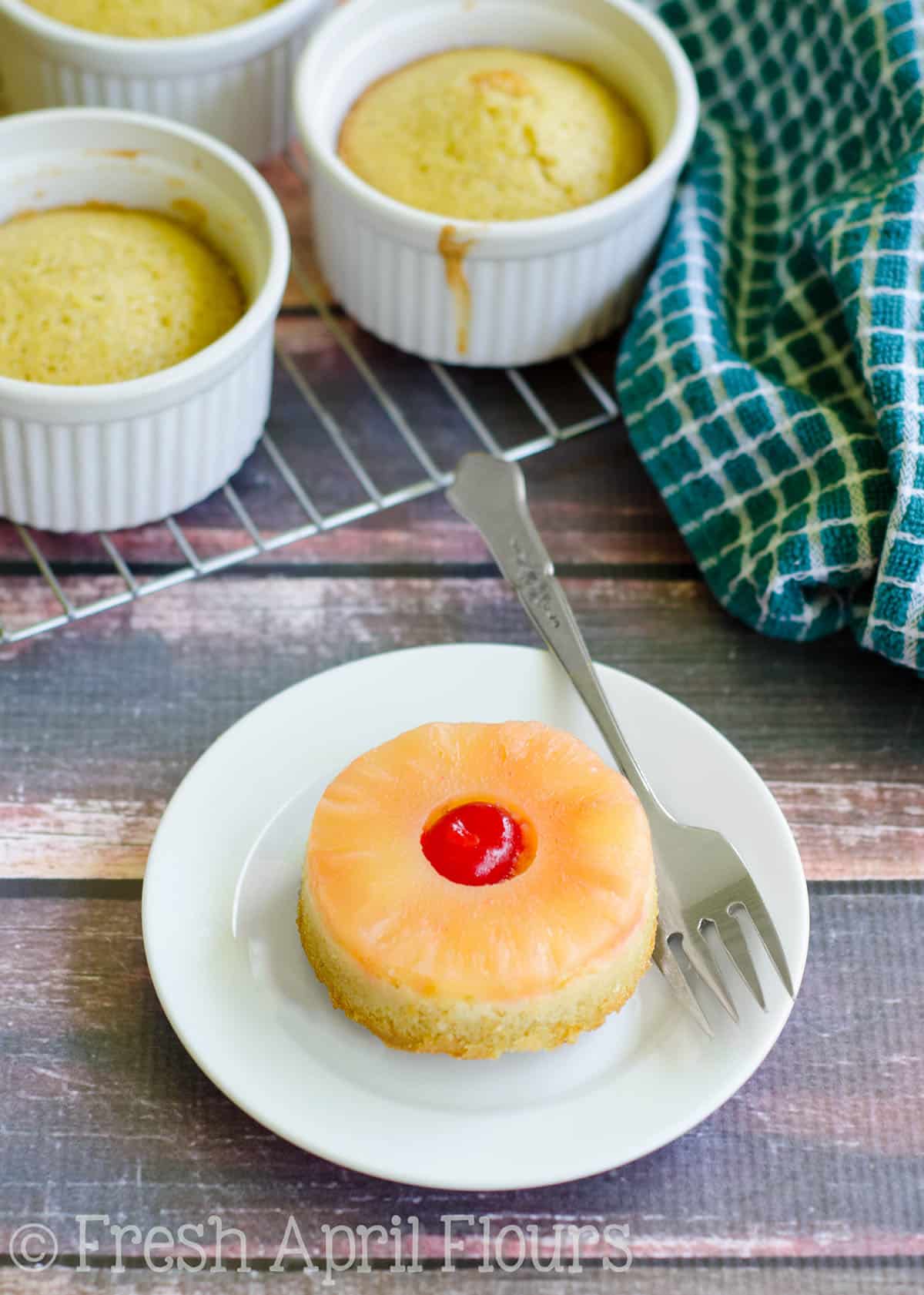 Now, funny story about my fun-size cakes: my first attempt was a complete flop (don't worry, you can see that beautiful photo in 2015's failure post), which is par for the course sometimes when you develop recipes from scratch. Not only that, but when you're working on such a small scale recipe, things can go wrong much more quickly than they can in a larger recipe.
There is a lot less room for error, so I had to go back to the drawing board after my first batch. Lucky for me, the second batch went mostly ok (after realizing I didn't add the sugar– DOH!), and the end result is exactly what I was hoping to bring to this classic summer time treat– a way to get pineapple upside-down cake on your picnic table without the work of the big cake!
Plus, I really wanted an excuse to break out my ramekins again. I just love me some cute little desserts!
This recipe is so simple. We have the usual suspects (flour, sugar, butter, an egg) plus some pineapple slices and some maraschino cherries. Bonus: canned pineapple rings come in small cans of 4 (at least they do at our grocery store), or you can make another set of little cakes if you decide to go with the big can!
And those maraschino cherries? Use them on top of these piña colada bars ORRR make these incredibly strange but super delicious cherry almond date cookies!
Each ramekin starts with a sprinkle of brown sugar, which guarantees a nice little caramelization action on the pineapple slice you'll place right on top of that. Add a cherry to the center of each pineapple, and your ramekins are all ready for the cake batter.
One bowl, no mixer, wham bam, thank you ma'am. You'll see in the recipe that I added some ground nutmeg to my cake batter. This is totally optional, I just wanted to add a little flair to my mini cakes. Plus, since I was making such a small batch of desserts, if the flavors completely clashed, it wouldn't have been the end of the world.
If you don't like nutmeg, leave it out! Replace with cinnamon or nothing at all. Whatevs. It'll be delish either way!
Although your ramekins will not overflow in the oven (scout's honor), it's still recommended you place your ramekins on a baking sheet. Not only does this make it easier to pull piping hot porcelain out of your oven (safety first, y'all), it also promotes even baking from the bottom through the top of your individual cakes.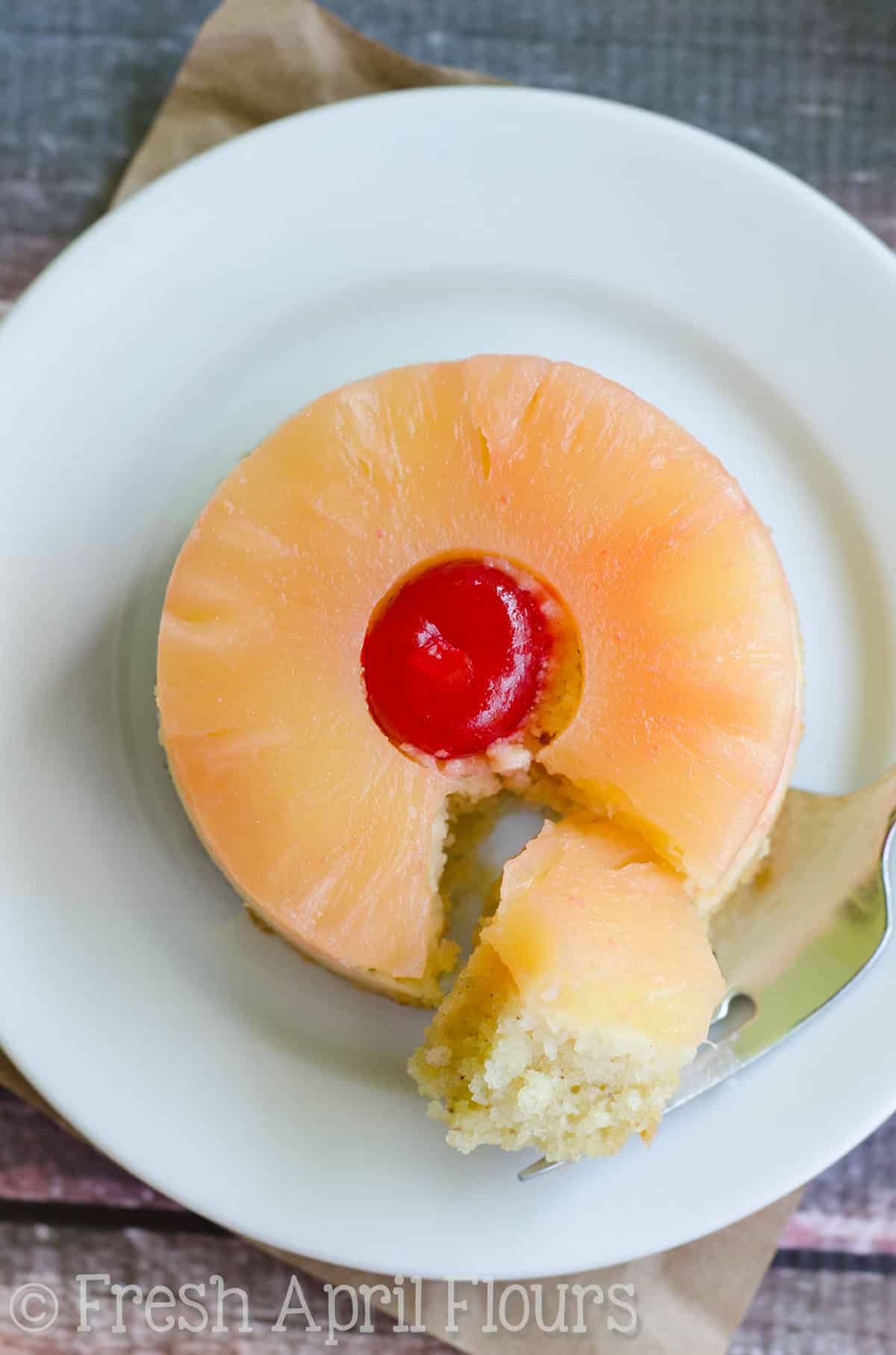 Once your mini cakes are done, allow them to cool completely before inverting them onto a plate. While the cake itself is quite dense, it's still petite and supporting the weight of a pineapple slice, so you want to make sure it's got some solid ground before letting it loose.
These mini pineapple upside-down cakes are the perfect treat for entertaining a small group, especially in the summer when rich, heavy desserts are not so welcome. Plus, you could kick it up a notch and use fresh pineapple instead of canned for an extra special treat!
Or, see my notes at the bottom of the recipe for making a romantic batch of pineapple upside-down for two.
Eat your mini cake alone or alongside some ice cream. No matter the way you eat it, this sweet and tangy tropical dessert should definitely make an appearance in your kitchen sometime soon!
More recipes featuring pineapple that you will LOVE: piña colada bars, piña colada coconut macaroons, piña colada granola, and banana split bark.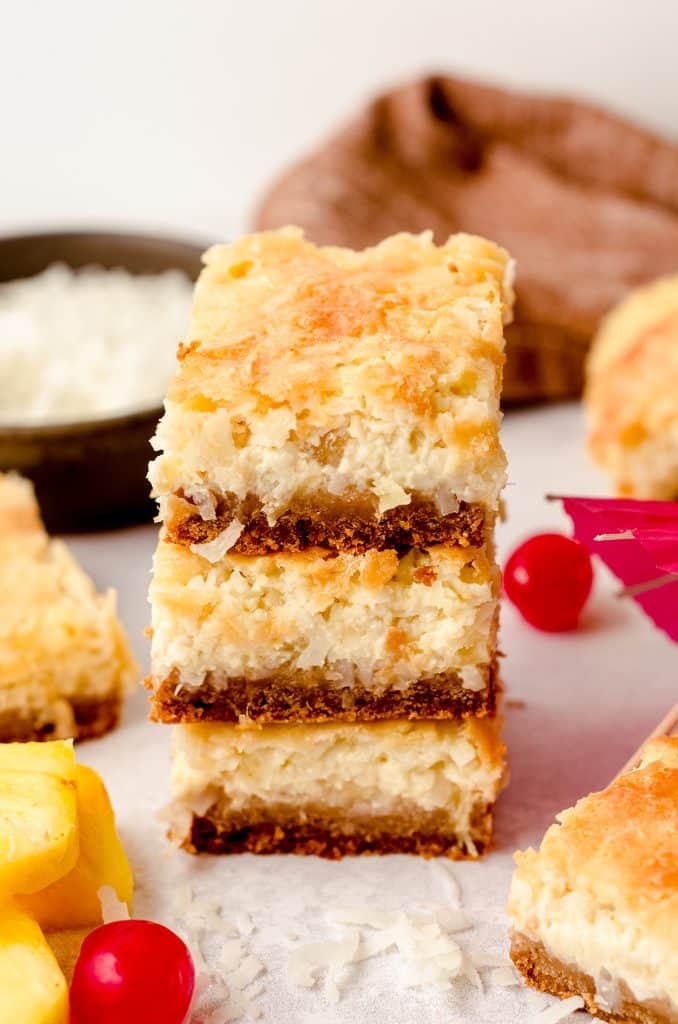 Mini Pineapple Upside-Down Cakes
Like the classic, just smaller. Moist and flavorful cake topped with pineapple and a cherry.
Servings:
4
single-serving cakes
Ingredients
2

teaspoons

brown sugar

4

canned pineapple slices

4

maraschino cherries

1

large egg*

1/4

cup

milk

any

1/4

cup

+ 2 Tablespoons granulated sugar

3

Tablespoons

butter

melted

1/4

teaspoon

vanilla extract

1/2

cup

all-purpose flour

1/8

teaspoon

baking soda

1/8

teaspoon

salt

1/8

teaspoon

ground nutmeg

optional– replace with ground cinnamon or omit entirely
Instructions
Preheat the oven to 350ºF. Spray four (4) 6 ounce ramekins with non-stick spray and sprinkle 1/2 teaspoon of loosely packed brown sugar evenly in the bottom of each. Place a slice of pineapple in the bottom of each ramekin, and a maraschino cherry in the middle of each pineapple slice. Place ramekins on a baking sheet and set aside.

In a medium size bowl, whisk together the egg and the milk. Add the sugar, melted butter, and vanilla, and whisk again until smooth. Add the flour, baking soda, salt, and ground nutmeg (if using) and mix gently until no clumps remain.

Divide the batter evenly between the 4 ramekins and bake for 24-26 minutes or until a toothpick inserted in the center comes out clean. Allow ramekins to cool completely on the baking sheet before serving.

When ready to serve, run a knife around the edge of each cake and turn over onto a plate. If not serving right away, turn out each cake when completely cool and wrap or cover tightly until ready to serve. Cakes stay fresh wrapped tightly or in an airtight container at room temperature up to 2 days or in the fridge up to 4 days.
Notes
*If dividing this recipe in half, whisk egg into a small bowl and measure out 2 Tablespoons. This amount is 1/2 of an egg.
Nutrition Disclosure
All nutritional values are approximate and provided to the reader as a courtesy. Changing ingredients and/or quantities will alter the estimated nutritional calculations.