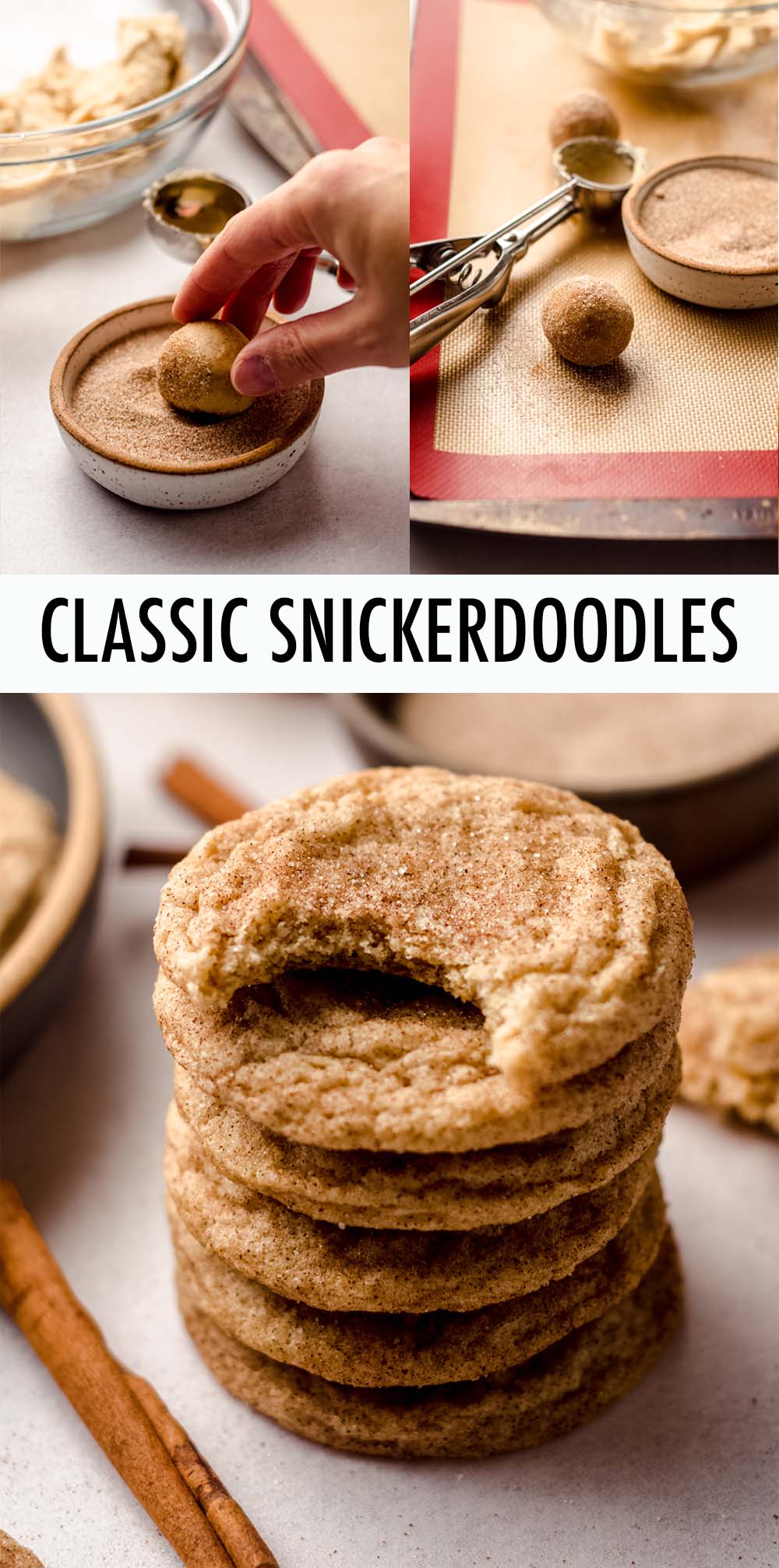 As an Amazon Associate, I earn from qualifying purchases. Read the full disclosure here.
Crisp edges, melt-in-your-mouth centers, and all the cinnamon-sugar you could want from these classic snickerdoodle cookies.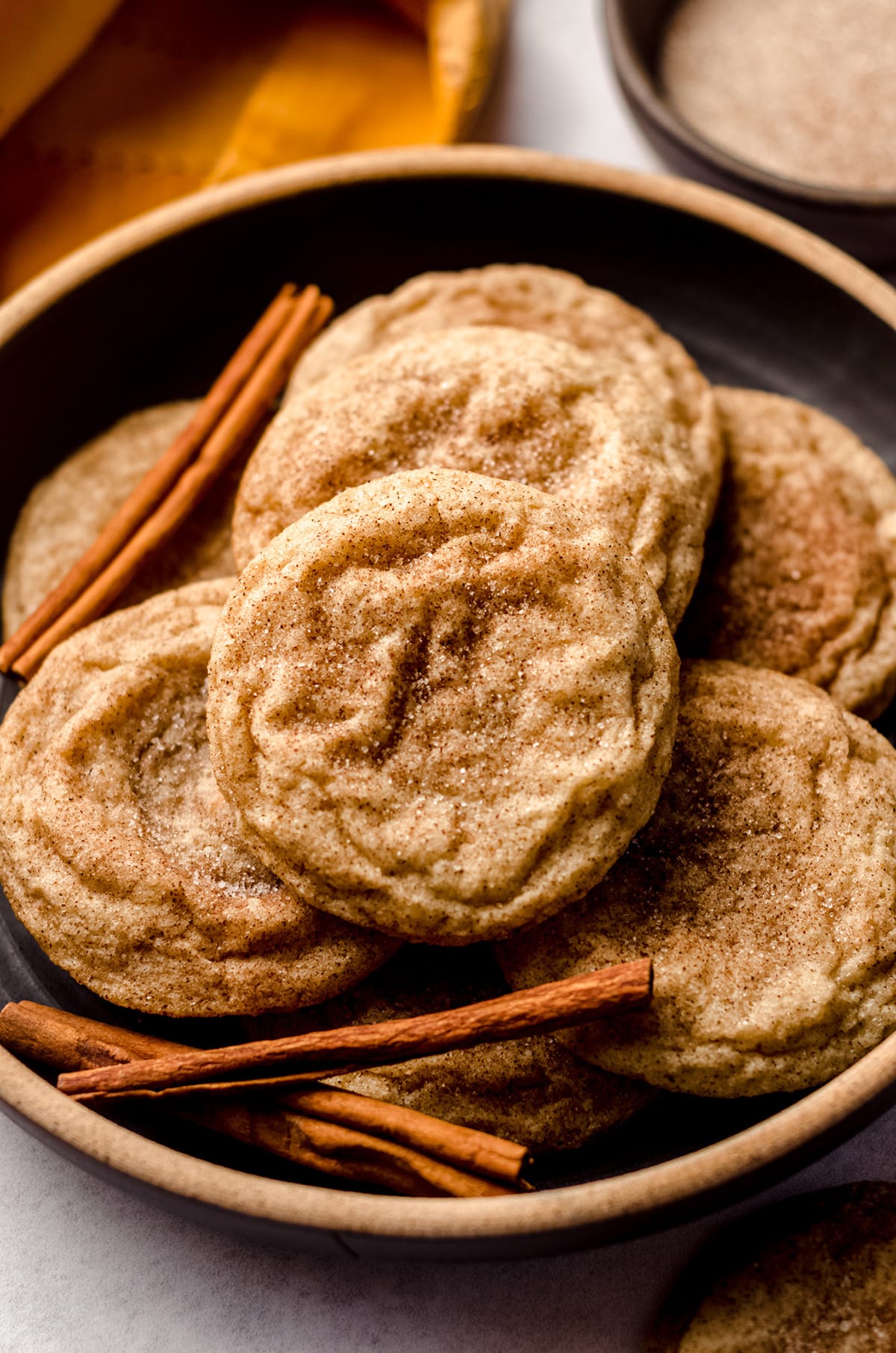 What type of cookie is your favorite? Not kind, but type.
Are you strictly in the chewy camp?
Strictly in the crunchy camp?
Or do you pitch your tent somewhere in the middle?
Or maybe you've never thought about this and are all "C is for Cookie," just give it to me, cookie monster style?
No judgment here, promise.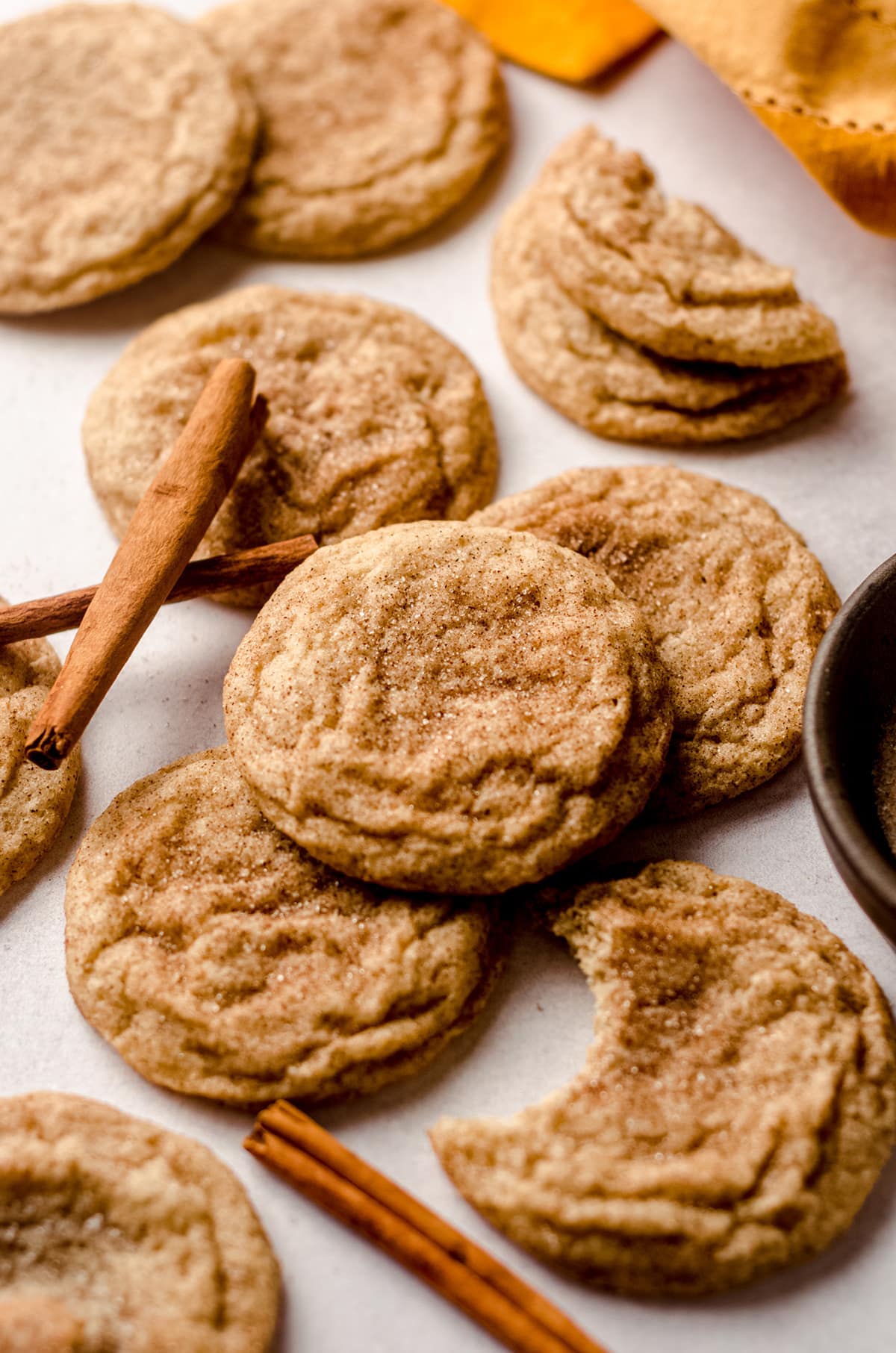 I'm somewhere in the middle of the camps, venturing over to steal my favorite parts of each camp and putting them all together to make the place in my tent just perfect.
Equal Opportunity Cookie Camp. That's what my place is called. Welcome!
So here's what I mean when I say I have favorite parts of both: I really like the edges of my cookies to have a bit of a crunch.
I enjoy a hearty edge (brownie edge lover right here!) that I can sink my teeth into but that doesn't require a dunk in milk.
If it gets dunked in milk, totallyyyy ok with me (hi, hello, I love biscotti), I just don't want my cookie to come with a prerequisite of a dunk.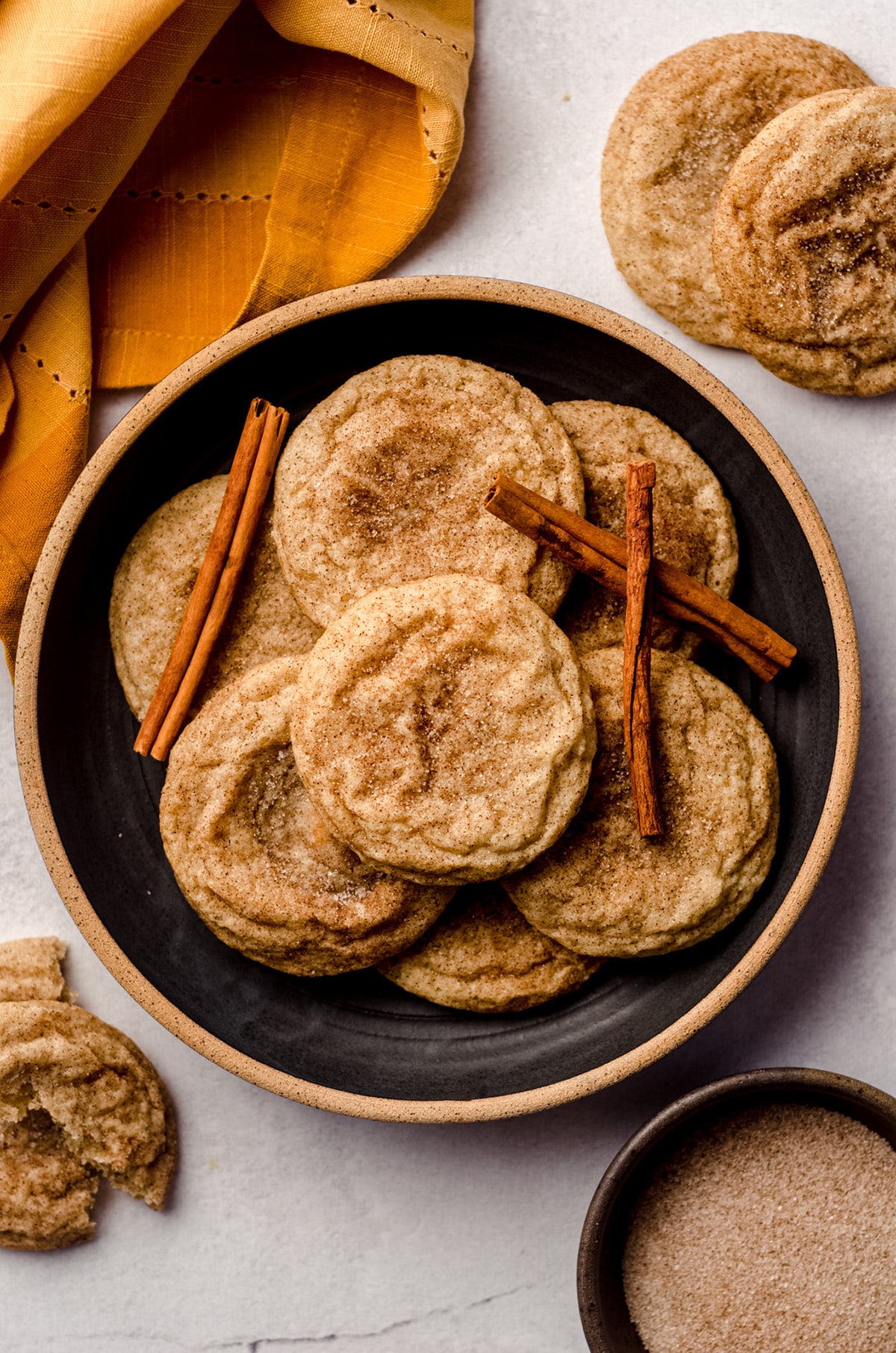 When it comes to the middle of my cookie, I like it to be soft and slightly chewy, and my favorite kind of cookie center is the kind that sort of melts in my mouth after my teeth have gracefully glided through the crumbs.
I am so passionate about my cookies here in Equal Opportunity Cookie Camp. Please excuse my detailed cookie eating description.
THE PERFECT BALANCE OF CRISP AND CHEWY
These cookies, these right here classic snickerdoodle cookies, are just that: the perfect marriage of textures with a crisp exterior that leads to this center that is just… Oh my gosh… I don't even know how to describe to you how great it is.
My husband and I chatted in detail about these cookies the first time I made them (totally normal) and decided that they are "deceivingly chewy cookies."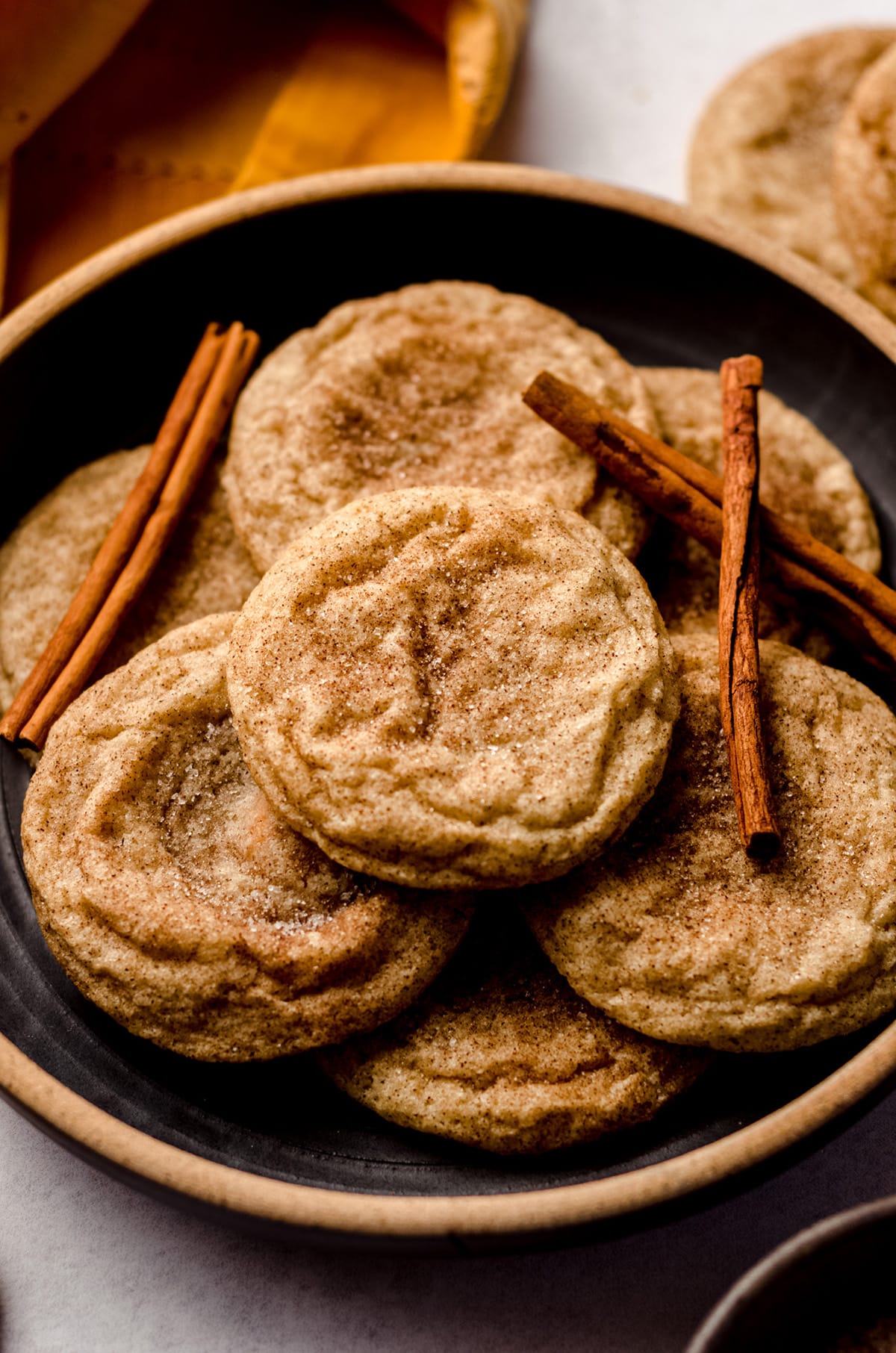 That's because when I picked up a completely cooled snickerdoodle cookie, I was really bummed that the entire outside felt crunchy. Too crunchy, in fact.
But I gave one a good bite anyway and was pleasantly surprised that it just absolutely melted in my mouth. I was blown away!
I handed my cookie to Matt and told him to take a bite. He bit into it, gave me an inquisitive look, and then his eyes brightened.
I knew what that look meant– he had found himself in Equal Opportunity Cookie Camp.
The middle is magic.
INGREDIENTS
So let's talk about how you, too, can get cookie magic via this snickerdoodle recipe.
First, you'll start with softened butter. Some of my cookie recipes involve melted butter (like my classic chocolate chip cookies), which makes for a bit more dense cookie, but for these sugar-cinnamon lovelies, I wanted to keep things light.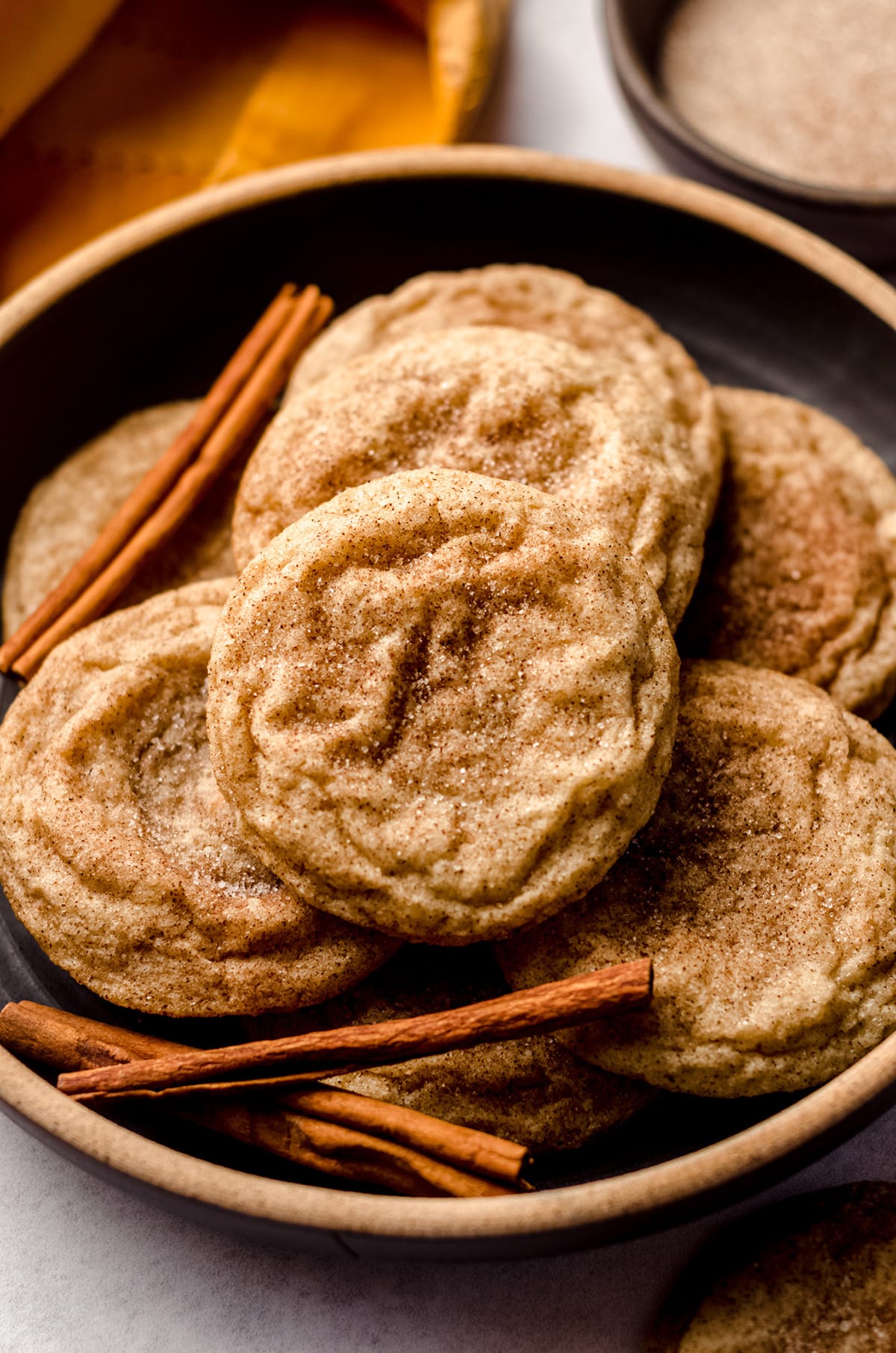 To the softened butter, you'll add all granulated sugar. Which is so unlike me!
Typically, I find any excuse to add brown sugar to my baked goods (hello, moisture!), but I wasn't so concerned about the moisture in these cookies.
Plus, snickerdoodles are a sweet and tangy cookie (see next section for explanation), so all granulated sugar will give you the straight up sweetness you need for this snickerdoodles recipe.
CREAM OF TARTAR IS ESSENTIAL IN THESE SNICKERDOODLES
And ohhhh, the tang of a snickerdoodle.
Let's talk about a little ingredient called cream of tartar. Here comes the cookie science!
It is absolutely imperative to use cream of tartar in this recipe for snickerdoodle cookies.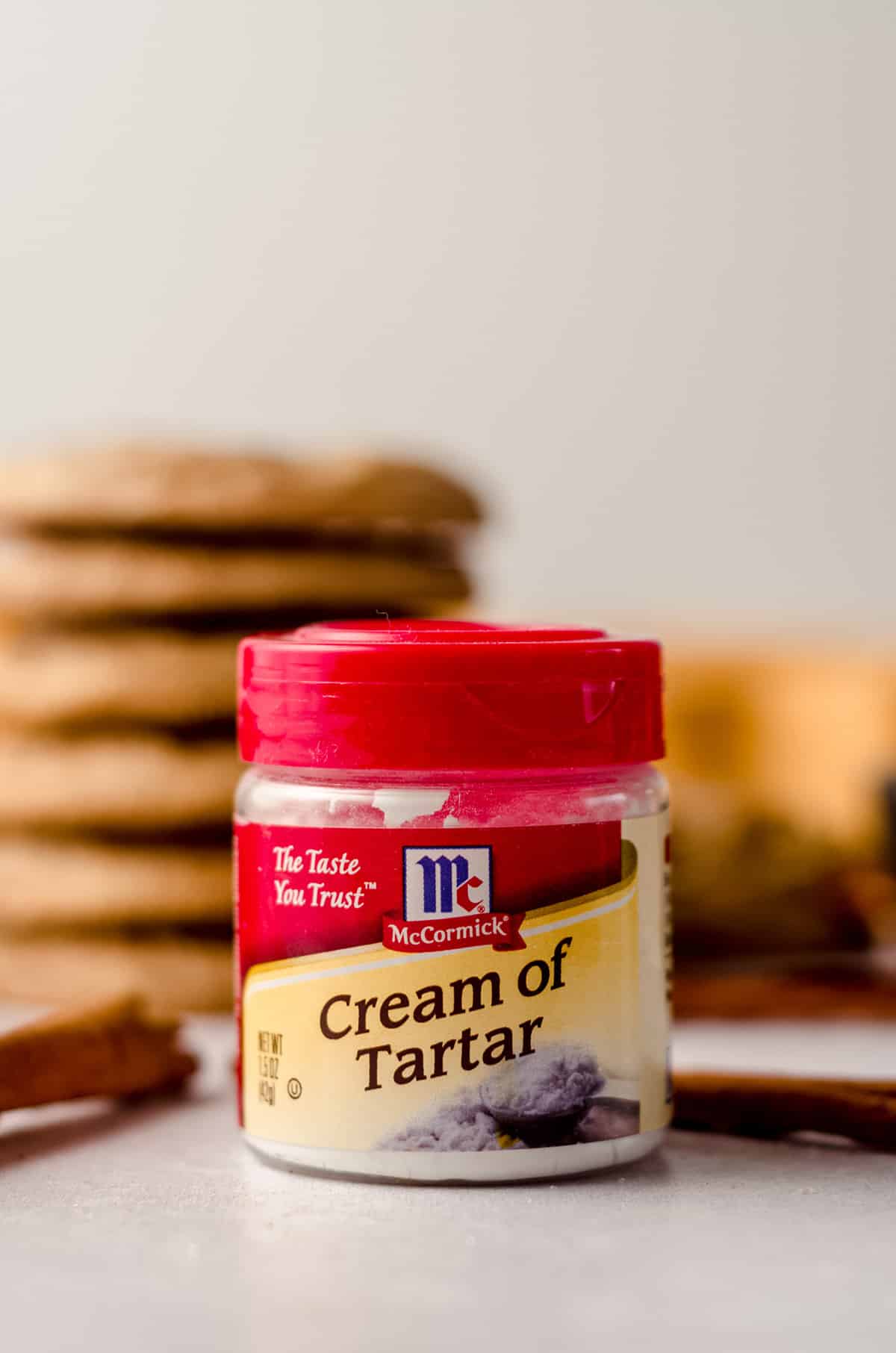 Without it, you've essentially got yourself a regular sugar cookie (but hold the phone: I also have this– a recipe for snickerdoodles without cream of tartar and you can read all about how and why they're still a snickerdoodle and get the recipe over there).
Cream of tartar is used for stabilizing egg whites and also in boiled/cooked sugar for coating things like popcorn. It's actually an interfering agent, in that it prevents sugar from binding together and creating crystals.
Its role in classic snickerdoodles is to do that same thing: prevent these cookies from tasting like a strictly butter/sugar combination (aka a sugar cookie <–try those).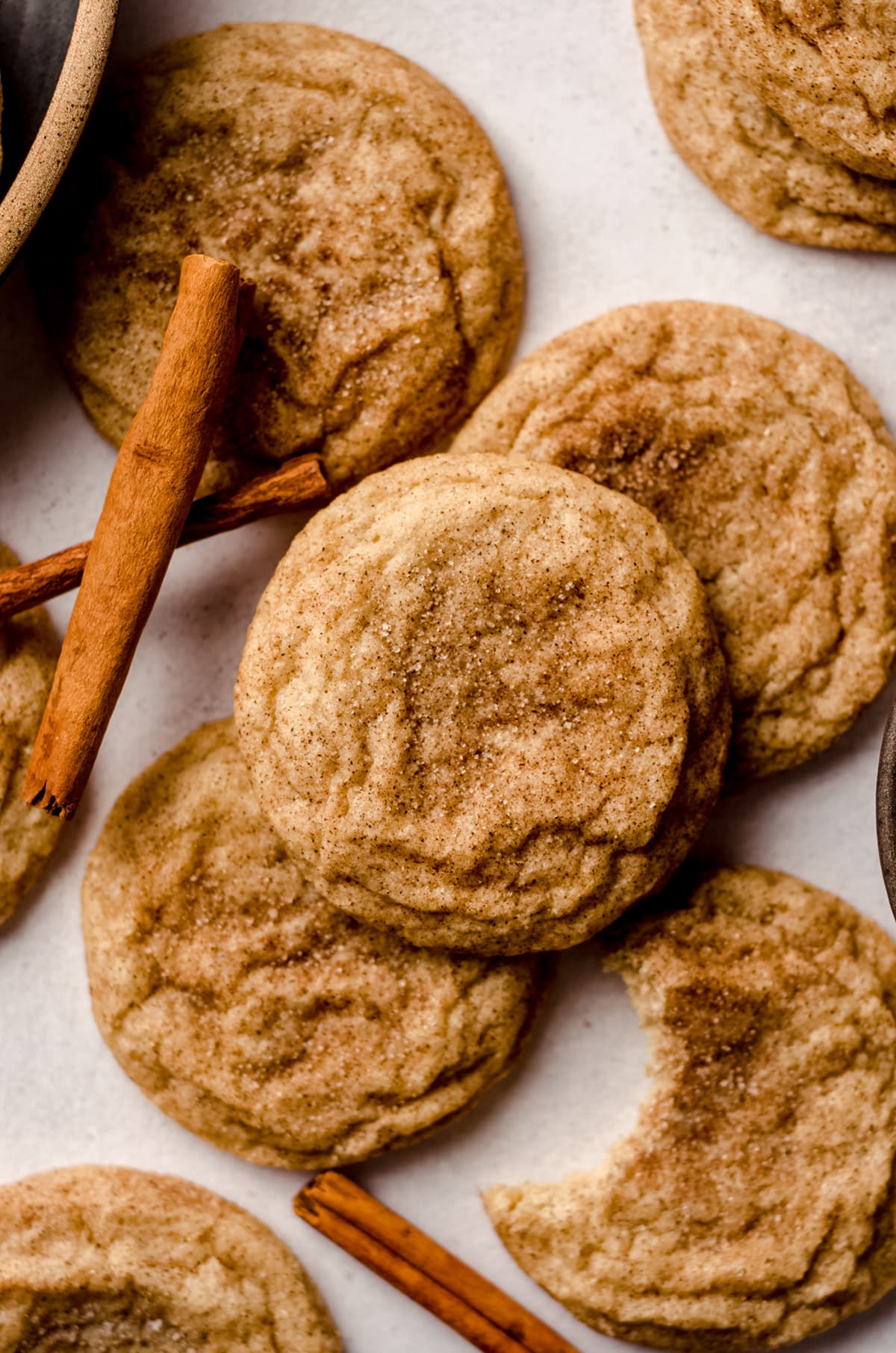 You follow?
ADD CINNAMON TO THE COOKIE DOUGH
To make my snickerdoodle cookie recipe even more cinnamon-sugary, I add some cinnamon right to the cookie batter, rather than only adding it to the outside.
I am a huuuuuge fan of cinnamon (see my cinnamon roll cheesecake if you also love cinnamon)– a satellite camp of my Equal Opportunity Cookie Camp is Cinnamon Camp– so any way I can get it into my baked goods more often, I'm all about it.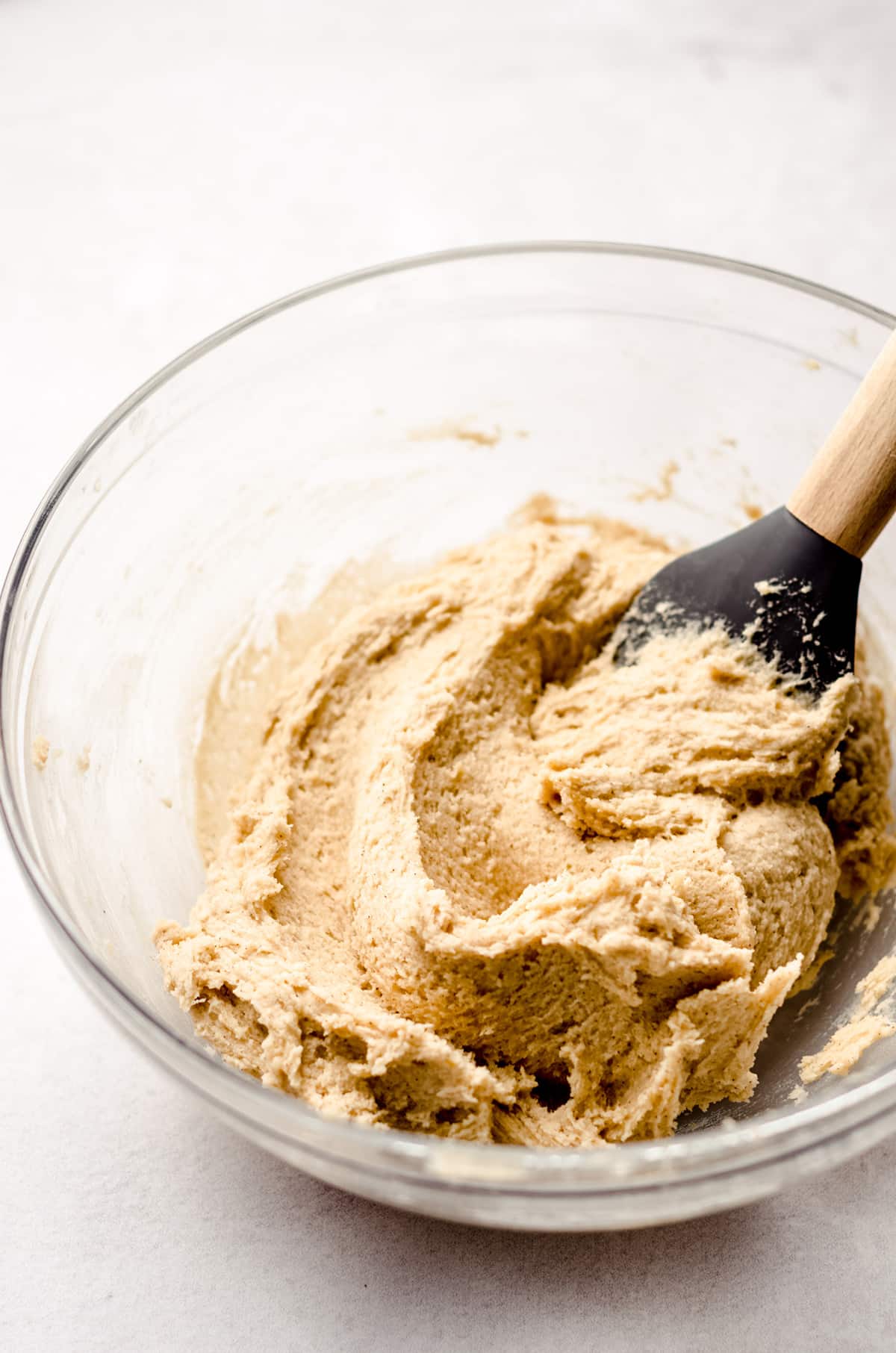 Once your cookie dough is together, you'll need to chill it for at least an hour. If you don't, you're definitely going to have one big spready cookie mess.
No good. Must. Chill.
HOW TO MAKE SNICKERDOODLES
After the big chill, each cookie dough ball gets rolled in a nice little bath of cinnamon-sugar. This is totally a bath I wish I could take every morning.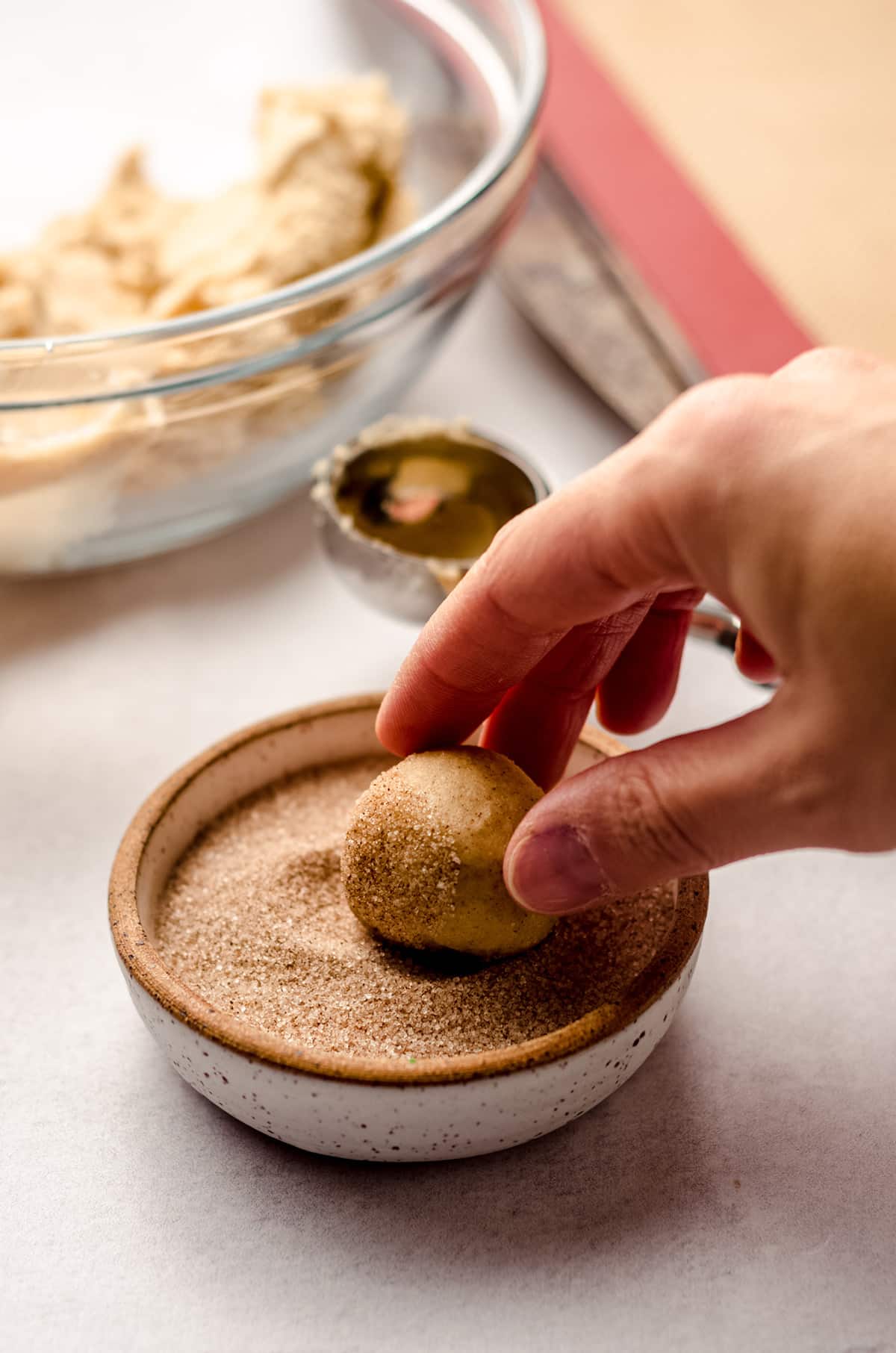 Tanginess + a cinnamon-sugar coating are two characteristics of classic snickerdoodles that make them stand out among the rest.
Once these cookies come out of the oven, they'll rest on the baking sheet for just a few minutes so they can gain some strength before you cool them completely on a wire rack.
They will look incredibly underdone right out of the oven, and this is exactly what you want. They will crinkle and crisp up as they cool, locking in that magical, deceivingly soft middle.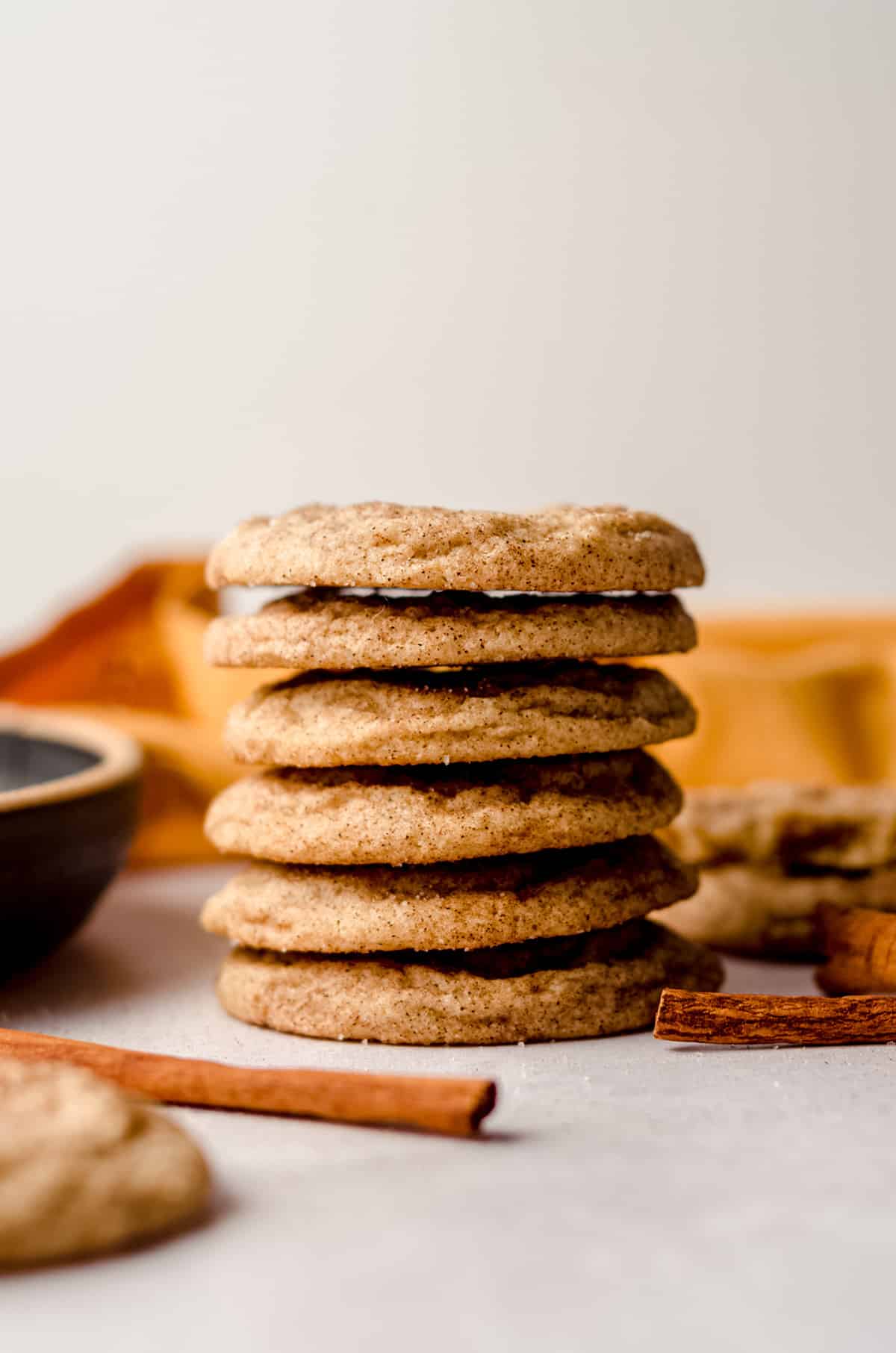 If you're looking for a classic snickerdoodle that will please nearly everyone, this cookie is for you.
If you're looking for one that is strictly chewy, this isn't it, and you can find that one (snickerdoodles without cream of tartar) in my soft and chewy snickerdoodle recipe.
If you're looking for one that is strictly crunchy and goes right alongside a glass of milk, this isn't your best snickerdoodle recipe to choose either.
If you're firmly planted in my camp and are open to many textures in your cookies, possibly a glass of milk but not necessarily in need of one, you're going to love this easy recipe for snickerdoodles, FAF style.
Ohhh, and don't forget to check out this same exact snickerdoodle recipe stuffed with caramel. My salted caramel stuffed snickerdoodles will knock your caramel-loving socks off!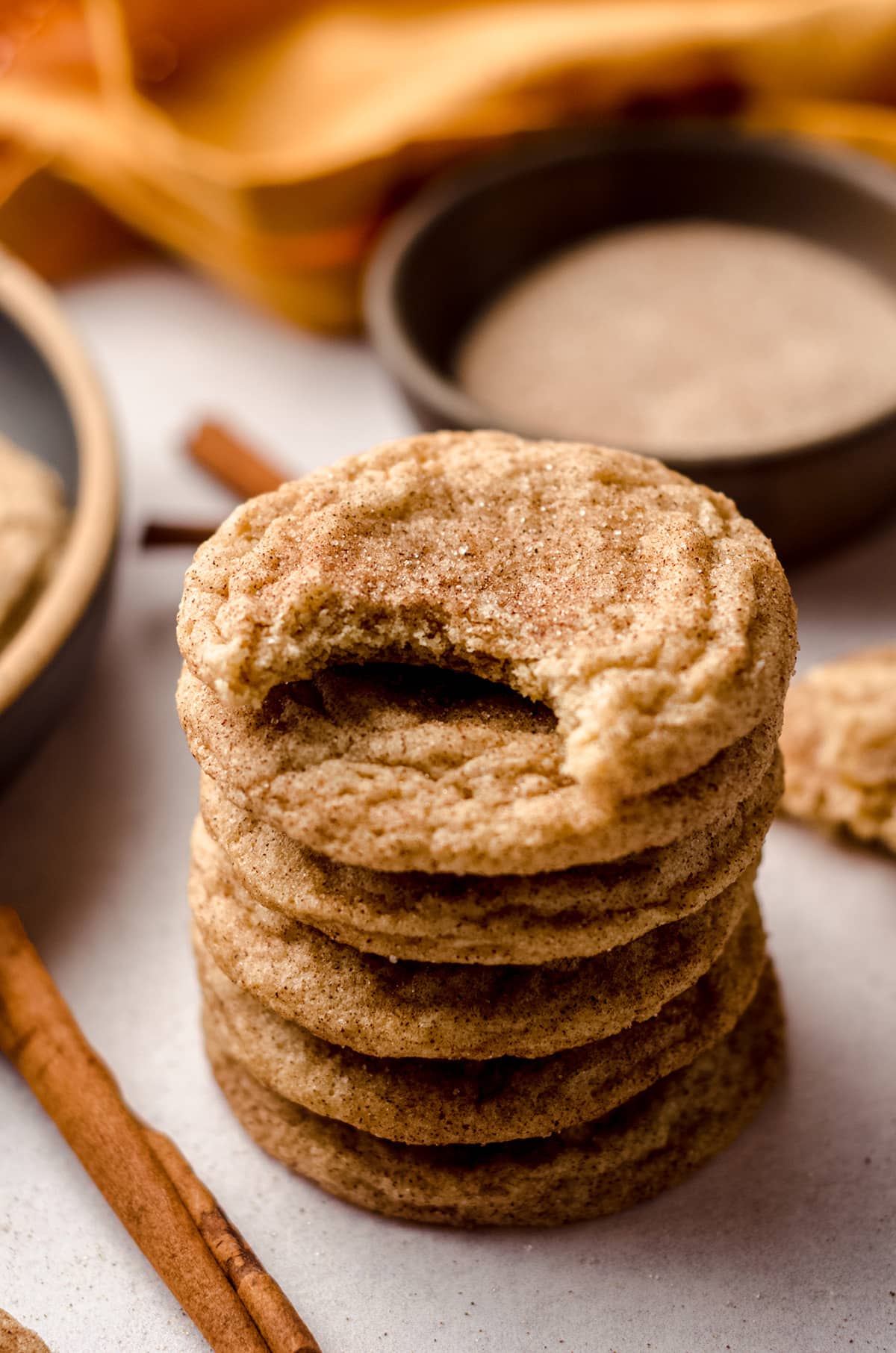 Cinnamon-sugar coated bites of tangy, buttery sweetness. I'm totally down. Wanna come to my camp??
Classic Snickerdoodles
Crisp edges, melt-in-your-mouth centers, and all the cinnamon-sugar you could want from these classic snickerdoodle cookies.
Ingredients
COOKIES
1 and ¼

cup

+ 2 Tablespoons (165g) all-purpose flour be sure to measure properly

1

teaspoon

cream of tartar1

¾

teaspoon

ground cinnamon

½

teaspoon

baking soda

¼

teaspoon

salt

½

cup

(113g) unsalted butter

softened to room temperature

¾

cup

(150g) granulated sugar

1

large egg room temperature2

¾

teaspoon

vanilla extract
COATING
¼

cup

(50g) granulated sugar

1

teaspoon

ground cinnamon
Instructions
In a medium bowl, toss together the flour, cream of tartar, cinnamon, baking soda, and salt. Set aside.

In a large bowl with a handheld mixer or the bowl of a stand mixer fitted with the paddle attachment, cream the butter and sugar together on medium speed until light and fluffy (approximately 2-3 minutes).

Add the egg and vanilla extract and beat again until completely incorporated. Reduce mixer speed to low and add the flour mixture in two parts. When all of the flour mixture has been added, beat on medium-high speed until dough is completely combined. Cover tightly and chill in the refrigerator at least 1 hour or up to 3 days. If chilling longer than 1 hour, allow to sit at room temperature for 10-15 minutes before moving on with the recipe.

When you are ready to bake the cookies, preheat the oven to 350ºF (177ºC). Line a large baking sheet with parchment or a silicone baking mat and set aside.

Toss together the granulated sugar and ground cinnamon for the cookie dough coating in a small bowl and set aside.

Using a cookie scoop (I use this #50 cookie scoop for all of my standard size cookies), roll dough into balls. Drop each ball into the cinnamon-sugar coating and roll around to coat completely. Place on baking sheet, no more than 8 per sheet.

Bake cookies for 10-12 minutes, or until edges just start to set. Remove from oven and allow to rest on baking sheet for 2 minutes. Transfer to a wire rack to cool completely. Cookies stay fresh stored in an airtight container at room temperature up to 7 days. Cookies freeze well, up to 2 months. Rolled cookie dough freezes well, up to 2 months. Thaw on baking sheet for 10 minutes, roll in cinnamon-sugar, and bake as directed.
Notes
Cream of tartar: this specific ingredient is preferable, but if you must make a substitution, replace with 1 teaspoon baking soda, bringing the total baking soda amount to 1 and

½

teaspoons per one batch of cookies. You could also make my no-chill soft and chewy snickerdoodles that are made without cream of tartar.
Room temperature eggs: these are preferred when using room temperature butter, as they incorporate into batter much more easily.
Nutrition Disclosure
All nutritional values are approximate and provided to the reader as a courtesy. Changing ingredients and/or quantities will alter the estimated nutritional calculations.