Snickerdoodles (Without Cream Of Tartar)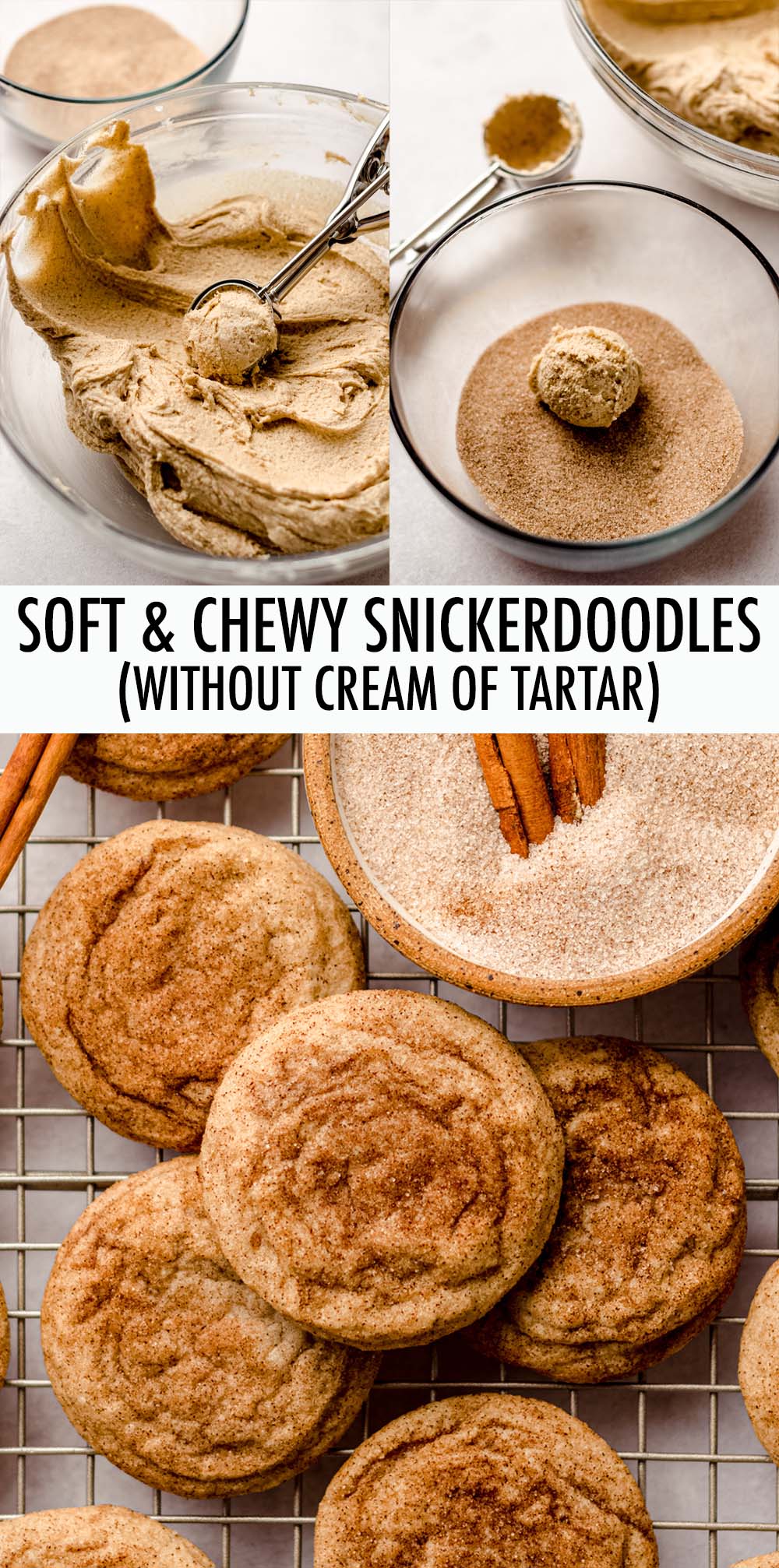 As an Amazon Associate, I earn from qualifying purchases. Read the full disclosure here.
No cream of tartar? No problem! You can still make perfectly soft and chewy snickerdoodle cookies without it. This no chill snickerdoodle cookie recipe will be your new favorite alternative to traditional snickerdoodle cookies.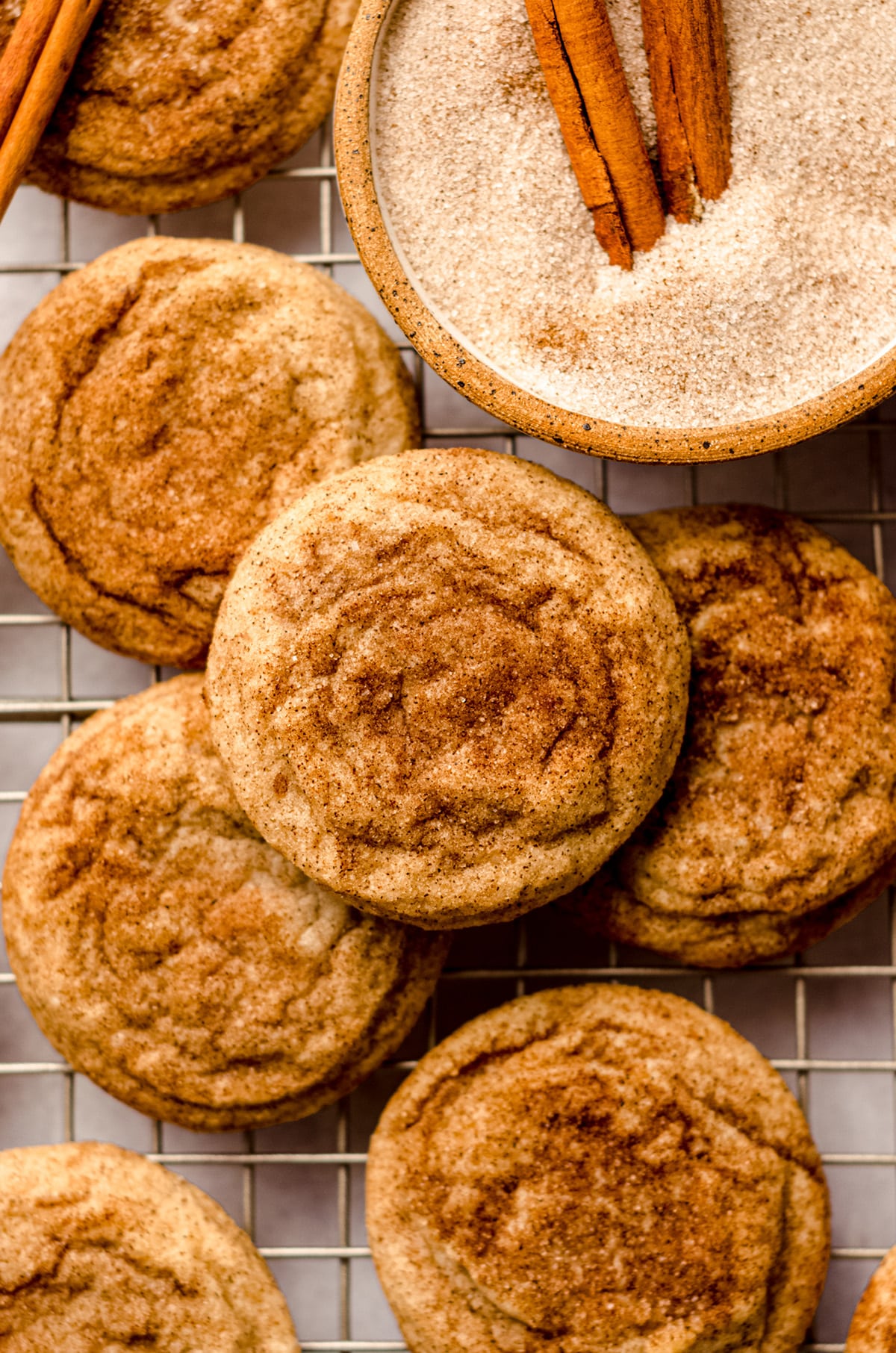 Over my many years of baking all kinds of goodies for folks, I have come to find that snickerdoodles are a hot topic. Why? Because people either really love them or really dislike them, and more often than not, the folks who dislike them say they taste bitter or too acidic.
THE PROBLEM WITH CREAM OF TARTAR
While there isn't necessarily a problem with cream of tartar itself, some folks who tend to have more sensitive tastebuds, or rather tastebuds that maybe don't prefer the taste of tangy or bitter things, can detect that specific taste in traditional snickerdoodles.
But guess what? I have good news.
THE SOLUTION: A Snickerdoodle COOKIE Recipe Without Cream of Tartar
While most recipes for snickerdoodle cookies call for cream of tartar, this one does not!
While cream of tartar is a staple ingredient in snickerdoodles, with the right adjustments of baking soda and baking powder, we can mimic the tang in a more subtle way while also keeping the integrity of a soft and chewy texture, which is something else we can thank cream of tartar for in snickerdoodle cookies.
I have recipes for classic snickerdoodles as well as salted caramel stuffed snickerdoodles that both include cream of tartar, but the alternative in these snickerdoodles without cream of tartar still make for a chewy and soft texture, without having to run out to buy an ingredient nor disappoint the cinnamon lovers who can really detect cream of tartar.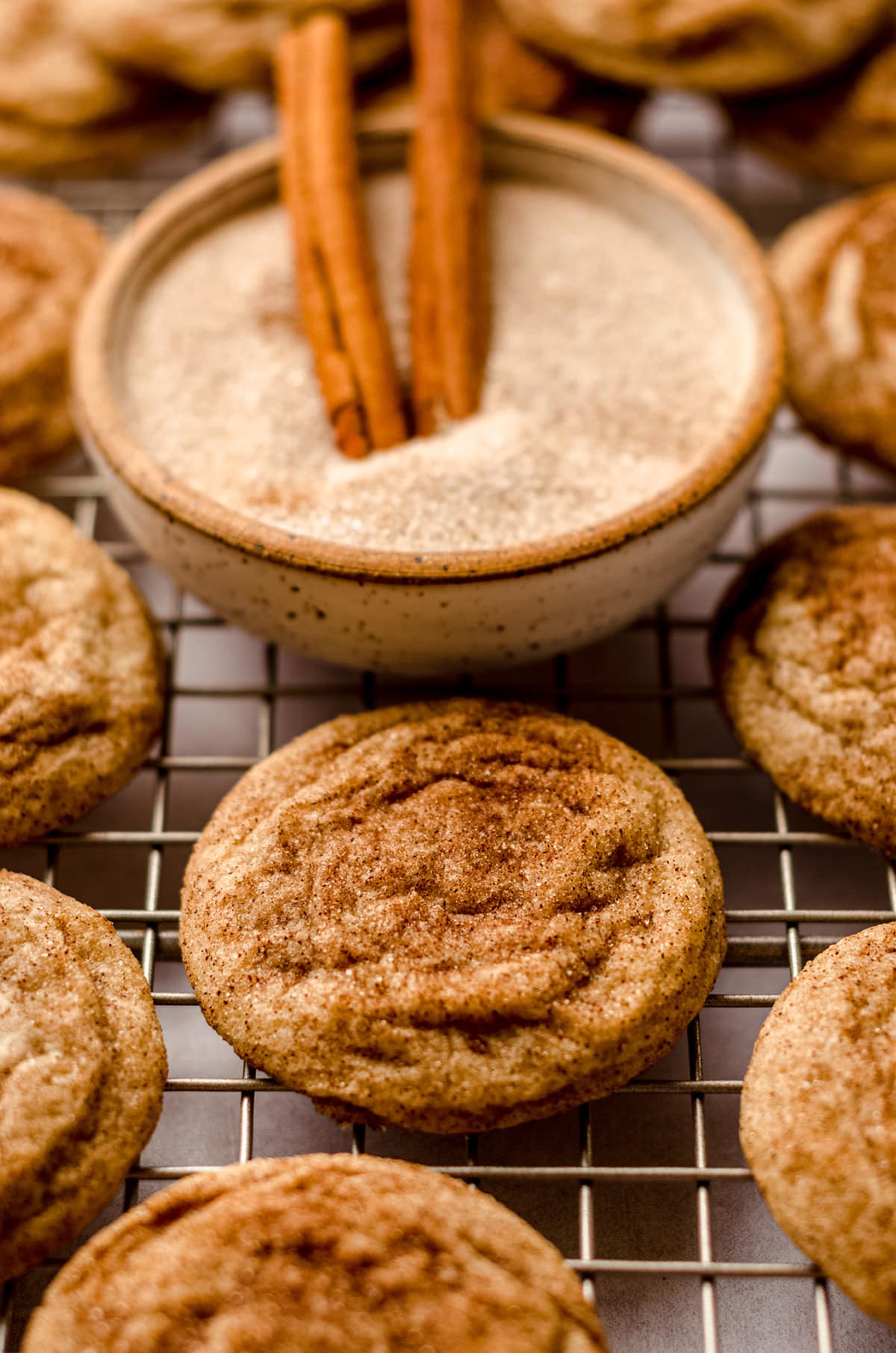 Cream of tartar is added to snickerdoodles to activate the baking soda and create a signature tangy flavor. Without this ingredient, we have a slightly less tangy cookie, but still all the chewy goodness and cinnamon sugar heaven of the original.
These snickerdoodle cookies are actually modeled after my vanilla bean sugar cookies, which went VIRAL on Instagram, so you know they've got a good base!
Still a Snickerdoodle Cookie
You might be wondering… "But… Can you make traditional snickerdoodles without cream of tartar?" While I say yes and I'm not the cookie police, let me break it down for you the way I see it.
Although cream of tartar is imperative to classic snickerdoodle cookies, you can still technically make an amazing snickerdoodle cookie without it.
While these chewy, sweet, and cinnamon-sugary cookies are made with a sugar cookie base, it's the rolling in cinnamon sugar that really starts to transform them into what we know and love as snickerdoodle cookies.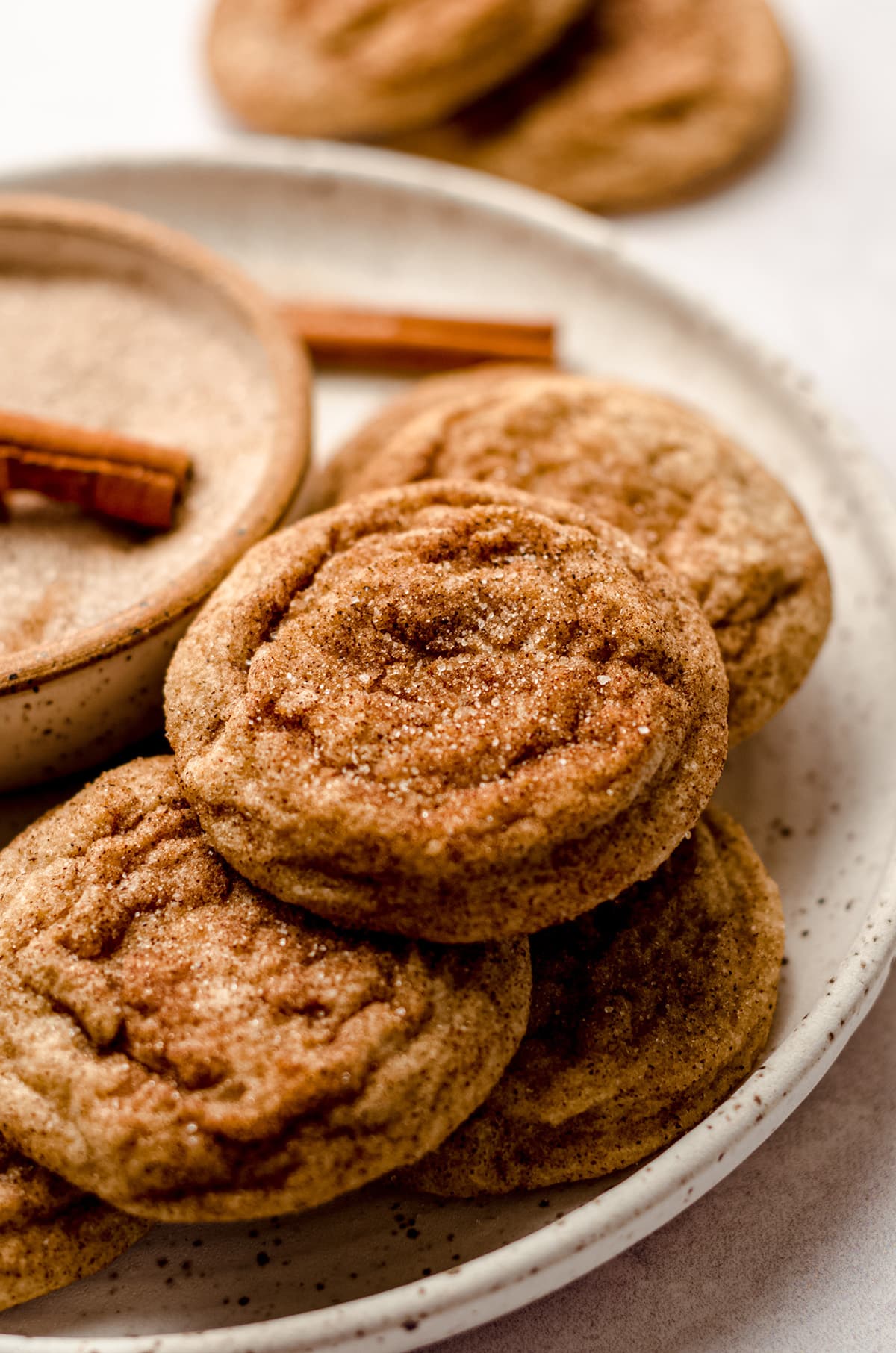 An absolute requirement for soft snickerdoodles is a lightly crisp exterior, a chewy interior, and a cinnamon sugar coating. And these definitely check all of the boxes!
So while the classic snickerdoodle will always be made with cream of tartar, we can make this alternative version that will still fulfill all of our cinnamon sugar cravings.
And if you have a cinnamon craving that just won't quit, you just have to try my cinnamon pinwheel cookies, snickerdoodle cookie cake, or cinnamon streusel coffee cake recipes. If the craving is really strong, maybe all three!
I won't judge, I promise.
Ingredients
Because of the absence of cream of tartar, these chewy snickerdoodle recipe requires no special ingredients whatsoever! If you have a well-stocked kitchen and pantry, you likely have all you need to bake up a batch of warm soft and chewy snickerdoodles.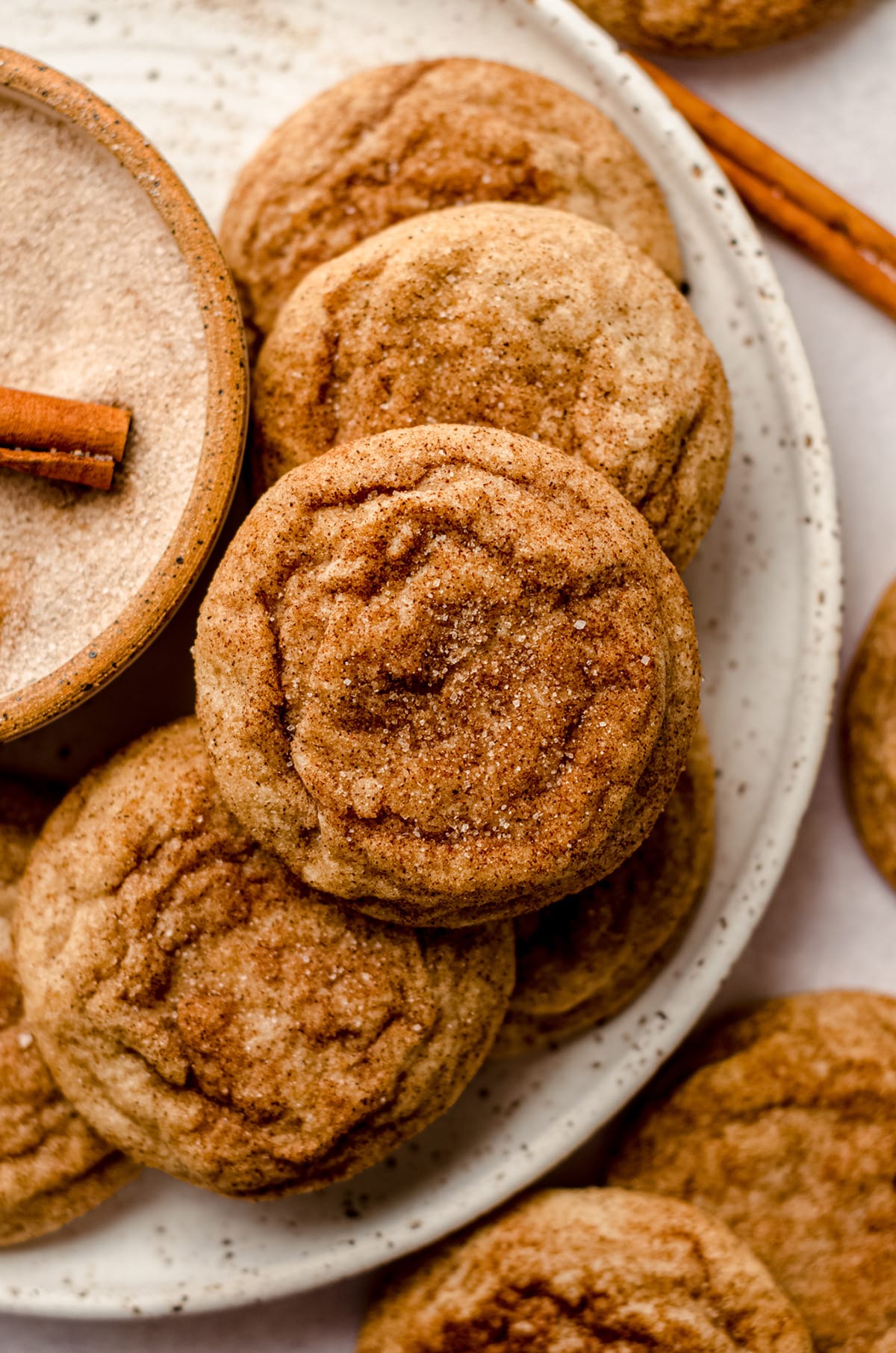 For this snickerdoodle recipe without cream of tartar, you will need:
• all-purpose flour
• ground cinnamon
• baking powder
• baking soda
• salt
• unsalted butter
• powdered sugar
• an egg
• vegetable oil
• vanilla extract
POWDERED SUGAR FOR SOFT AND CHEWY COOKIES
We use powdered sugar for these amazing snickerdoodle cookies, which may seem strange at first, but I assure you it yields totally amazing results.
One of the functions of cream of tartar in snickerdoodle cookies is to act as an interfering agent, which prevents sugar from binding together and creating crystals.
Since we are making these easy snickerdoodles without cream of tartar, we need a way to keep the sugar crystals small, and a great way to do that is by using powdered sugar!
Powdered sugar is used in many cookie recipes where you want to create a soft and tender result.
Since the cornstarch in powdered sugar absorbs moisture, cookies that contain powdered sugar also tend to hold their shape very well with little spreading.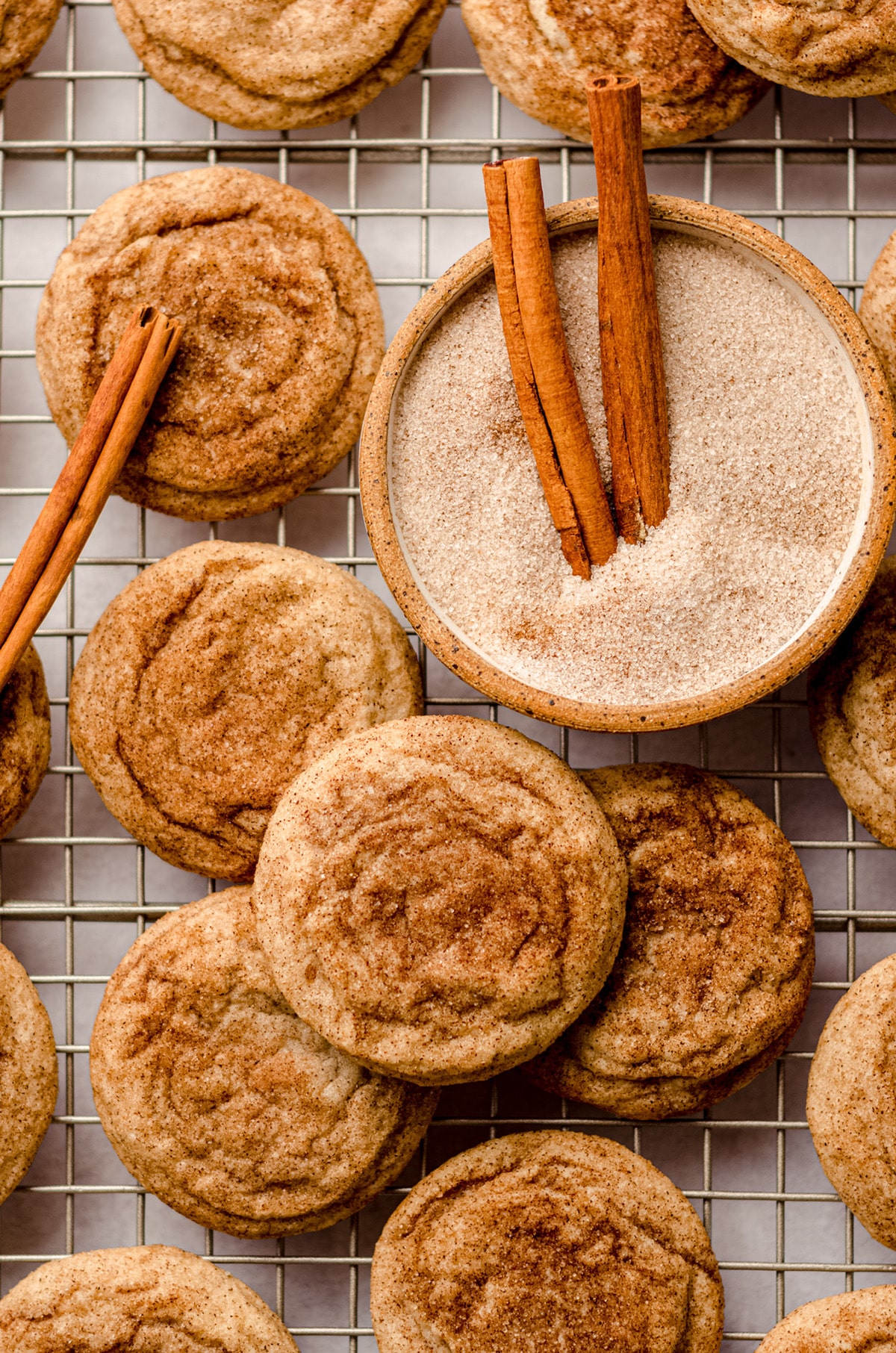 Powdered sugar is used in many rolled cookie recipes, like my easy cut-out sugar cookies, chocolate cut-out sugar cookies, and funfetti cut-out sugar cookies.
Who knew there would be so much science involved in baking cookies, eh?
How to Make Snickerdoodles (Without Cream of Tartar)
The best way to get that heavenly cinnamon flavor throughout your cookie is to include cinnamon in the dough.
I include a full 2 teaspoons of ground cinnamon in this easy snickerdoodle cookie recipe without cream of tartar (and even more for the cinnamon sugar mixture), making for an ultra fragrant cookie. If you love cinnamon, you're going to love these cookies.
And (!!) if you are sensitive to the cream of tartar taste (I have met people who are!!), you'll love that this easy recipe lets you leave it in the pantry. Hooray!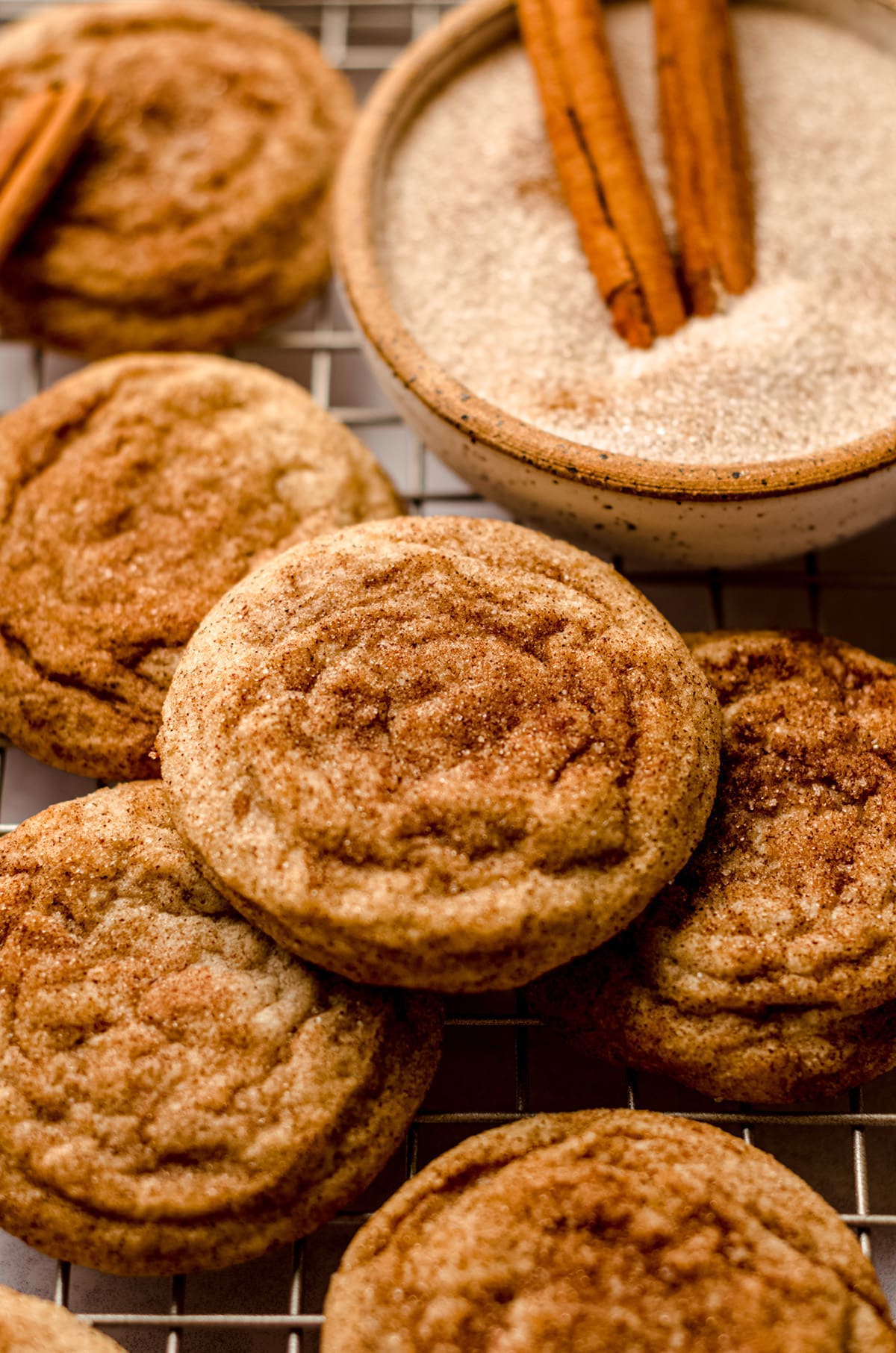 MAKE THE COOKIE DOUGH
Bringing this cookie dough together is super simple.
You'll start with whisking all of the dry ingredients together (including that glorious cinnamon).
Then you'll cream together the butter and powdered sugar until fluffy and airy. Add in the remaining wet ingredients and beat until everything is combined and ultra smooth.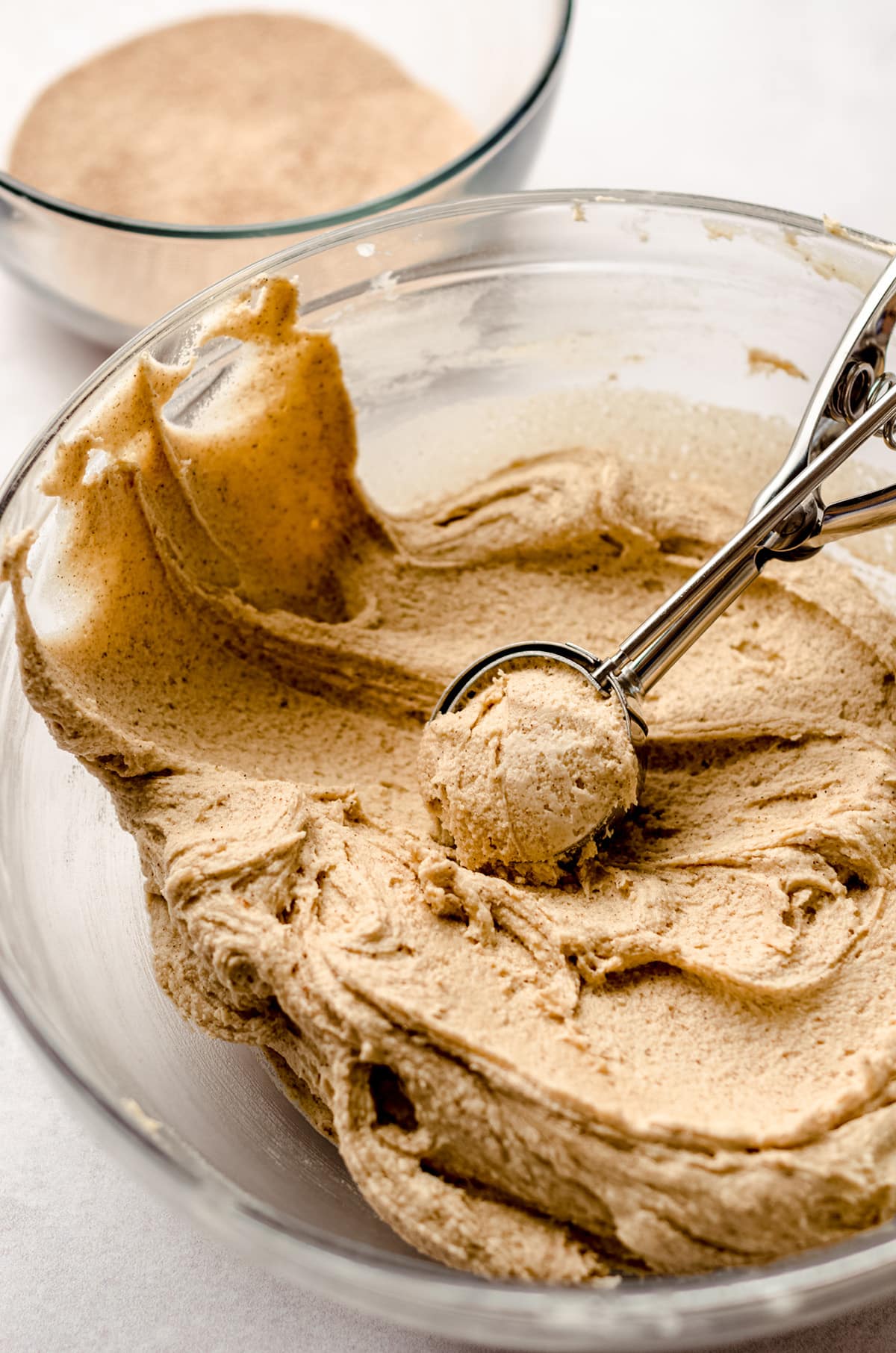 Finally, add the dry ingredients to the wet ingredients in two additions, mixing until just combined to avoid overworking the dough.
ROLL IN THE CINNAMON SUGAR MIXTURE
Once your cookie dough is ready, use a cookie scoop to portion out the dough and drop it directly into the cinnamon sugar mixture.
Very gently (I can't stress this enough) roll your snickerdoodle cookie balls in the cinnamon sugar blend. This dough is soft, but it isn't very sticky. So a gentle touch while rolling is imperative.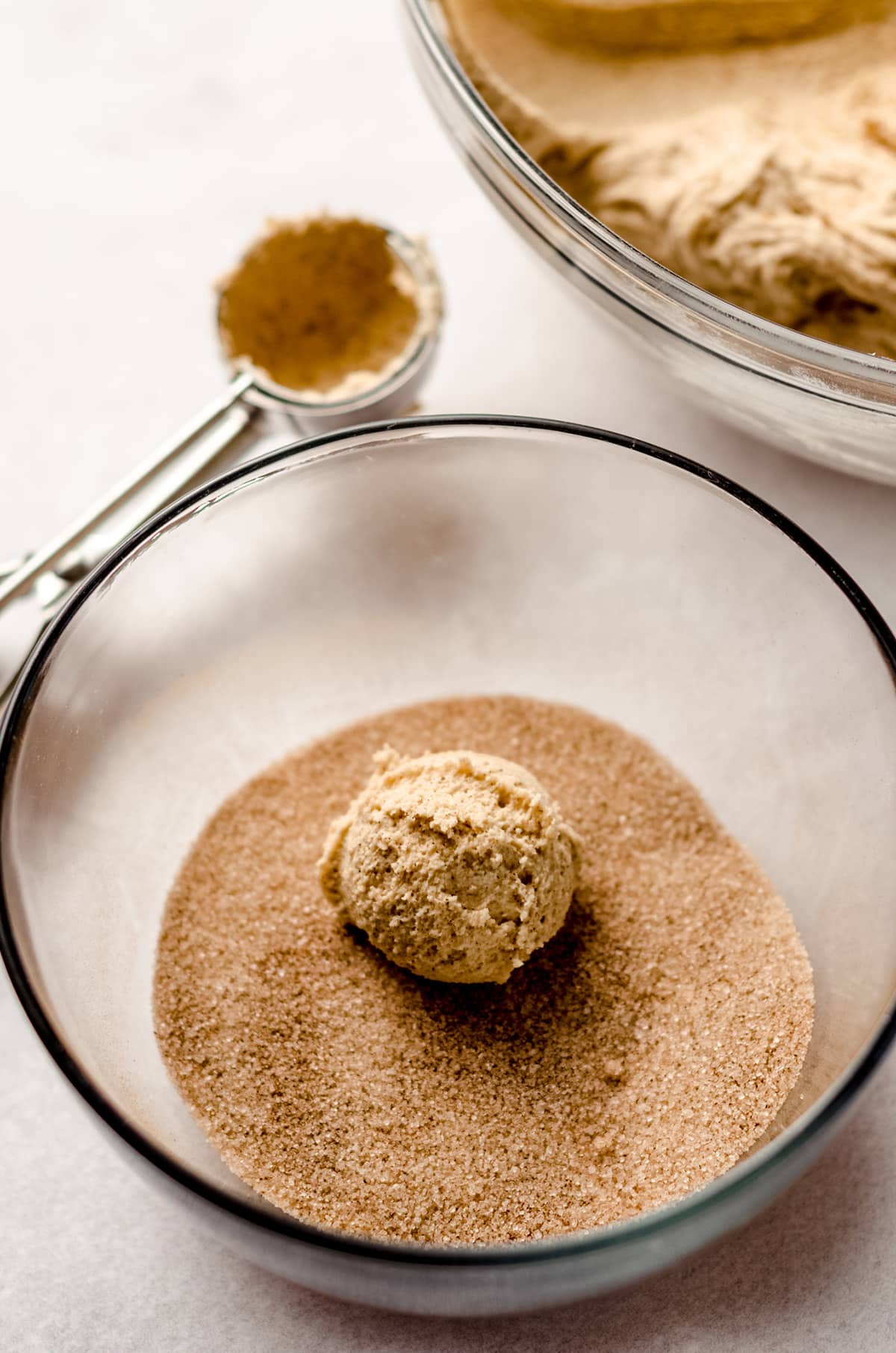 Once your cookies are completely coated in cinnamon sugar, transfer them to a baking sheet lined with parchment paper or silicone baking mat. Be sure not to place more than 8 cookies at a time on your baking sheets.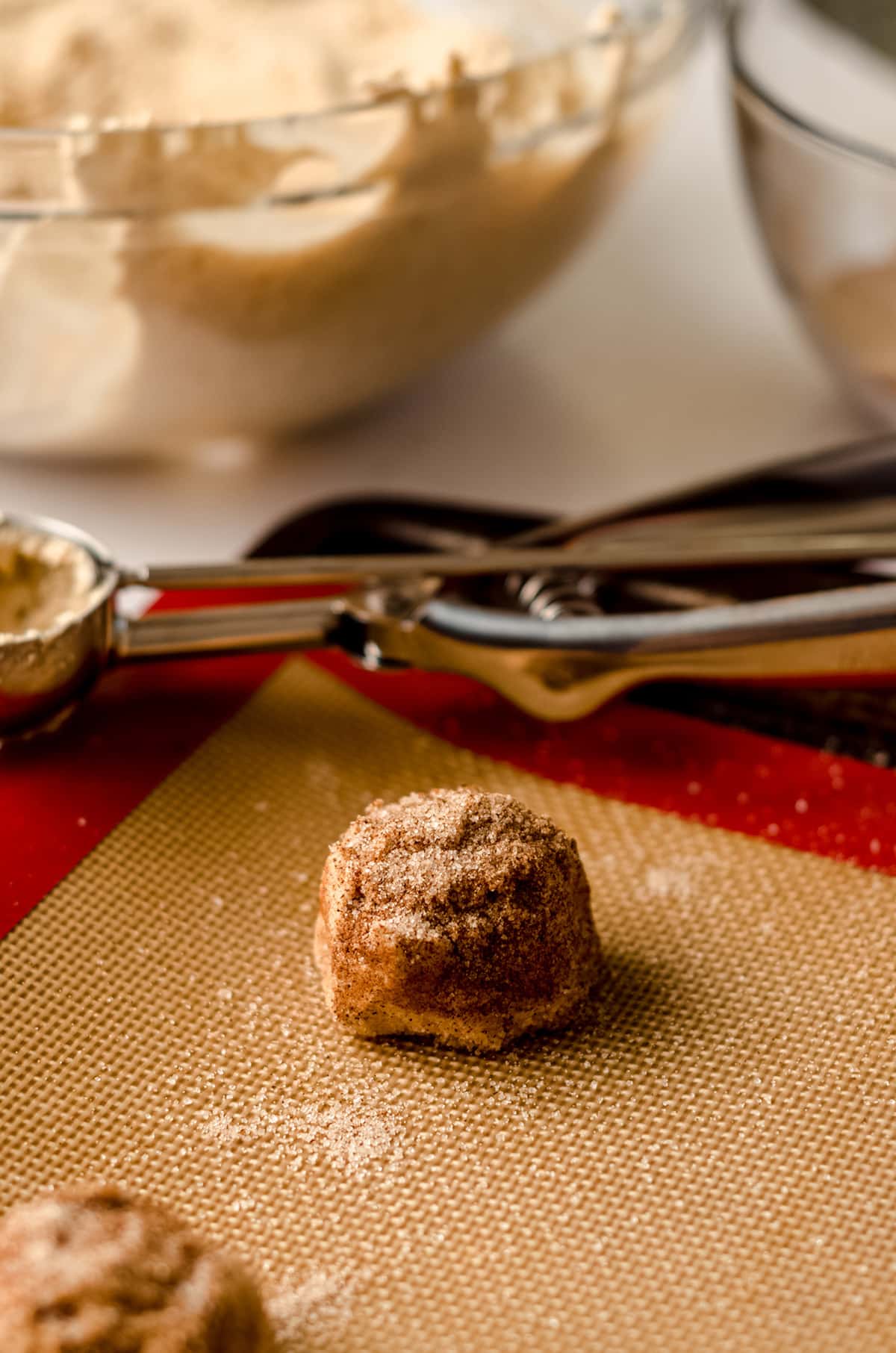 Spacing your cookies makes sure you don't end up with any strange or mutant cookies. While they absolutely still taste amazing (obviously), they just wouldn't be as pretty, and so we want to make sure we give each cookie the space they need to spread out.
NO CHILLING NECESSARY
While classic snickerdoodles require at least an hour for chilling, this soft and chewy version requires no chill time whatsoever. That means you can have cinnamon sugar coated cookies in less than 25 minutes!
Bake each sheet of 8 cookies for 8 to 9 minutes in the preheated oven, or until the edges are set.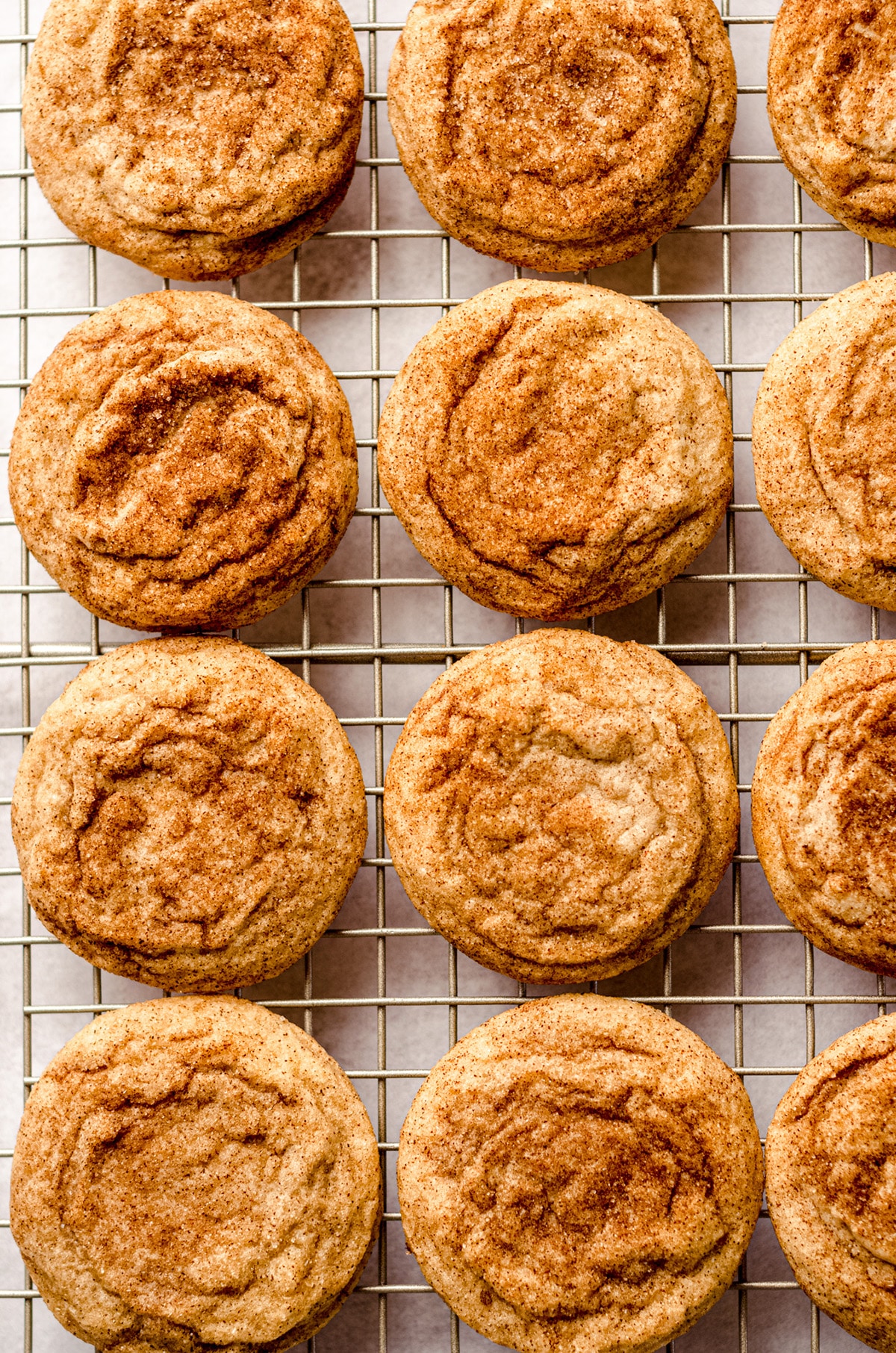 Let your cookies rest on the sheet for 2 to 3 minutes to give them some strength, then transfer your cookies to a wire cooling rack.
Allow your cookies to cool completely on the wire rack before storing. If you sneak a few warm ones, I absolutely would not blame you. It's the bakers tax, after all!
You Can't Go Wrong with these Cookies
If you're looking for a snickerdoodle that requires no special ingredients, and no chilling time, this is the one for you!
If you love the classic tang that is signature to snickerdoodle cookies, this isn't the cookie for you. Instead I recommend that you bake up a batch of my classic snickerdoodles, which are crispy on the outside and chewy on the inside.
(And while you're at it, shove some caramel inside those same cookies and you've got yourself my salted caramel stuffed snickerdoodles!)
If you just love cookies, plain and simple, be sure to check out my oatmeal chocolate chip walnut cookies, white chocolate chunk macadamia nut cookies, or classic chocolate chip cookies.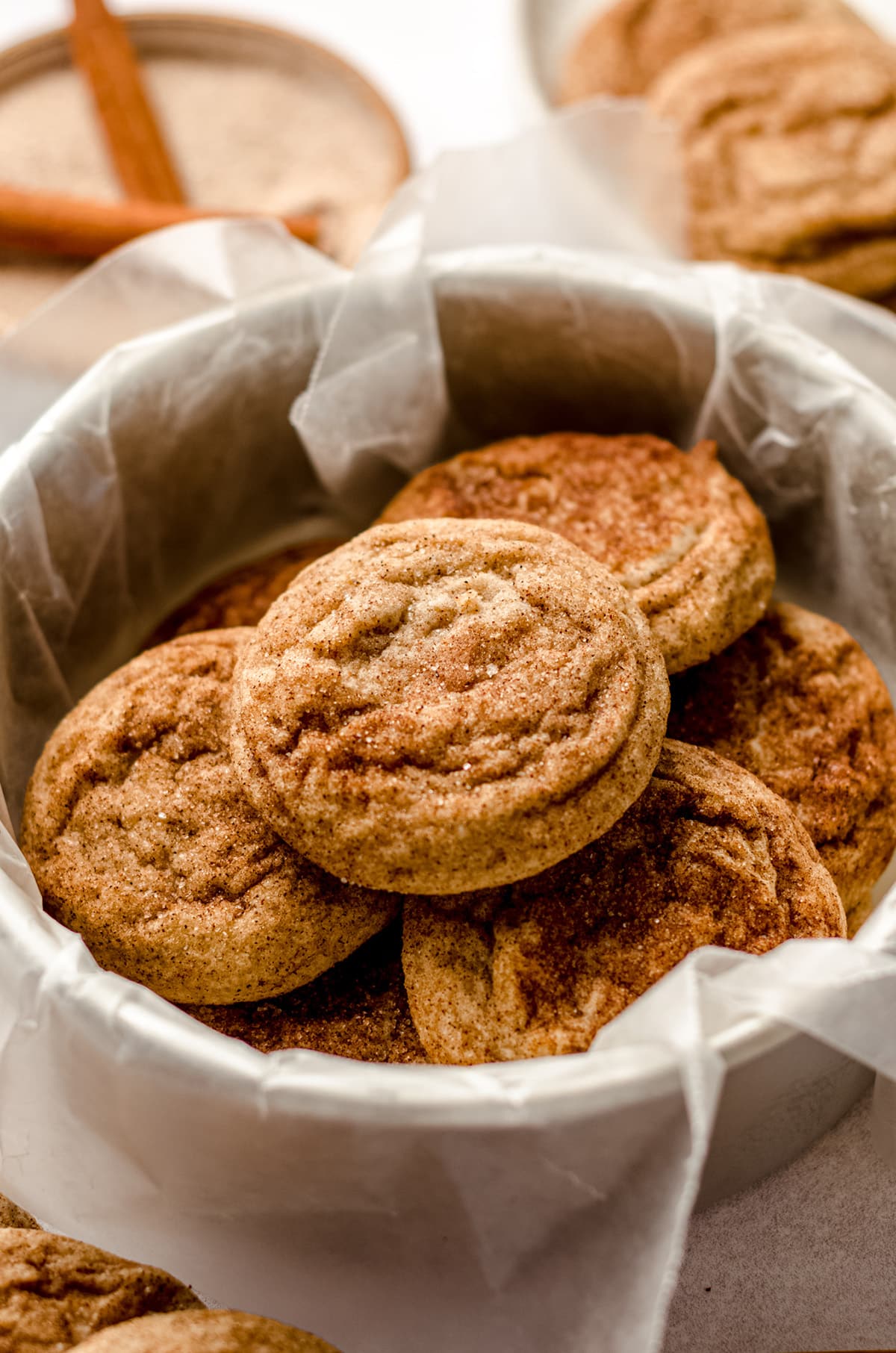 And do yourself a serious favor and try out my sweet and salty compost cookies, you won't regret it for a single second.
Ohhh, and don't forget to check out my original base recipe for vanilla bean sugar cookies, which these snickerdoodles are modeled after. They are filled with flecks of vanilla bean, super soft, and dusted with a sweet sugar coating.
Ok, ok, I'm done shoving allthecookies at you, but seriously, you need this easy snickerdoodle recipe in your life. My (manyyyy) taste-testers would agree.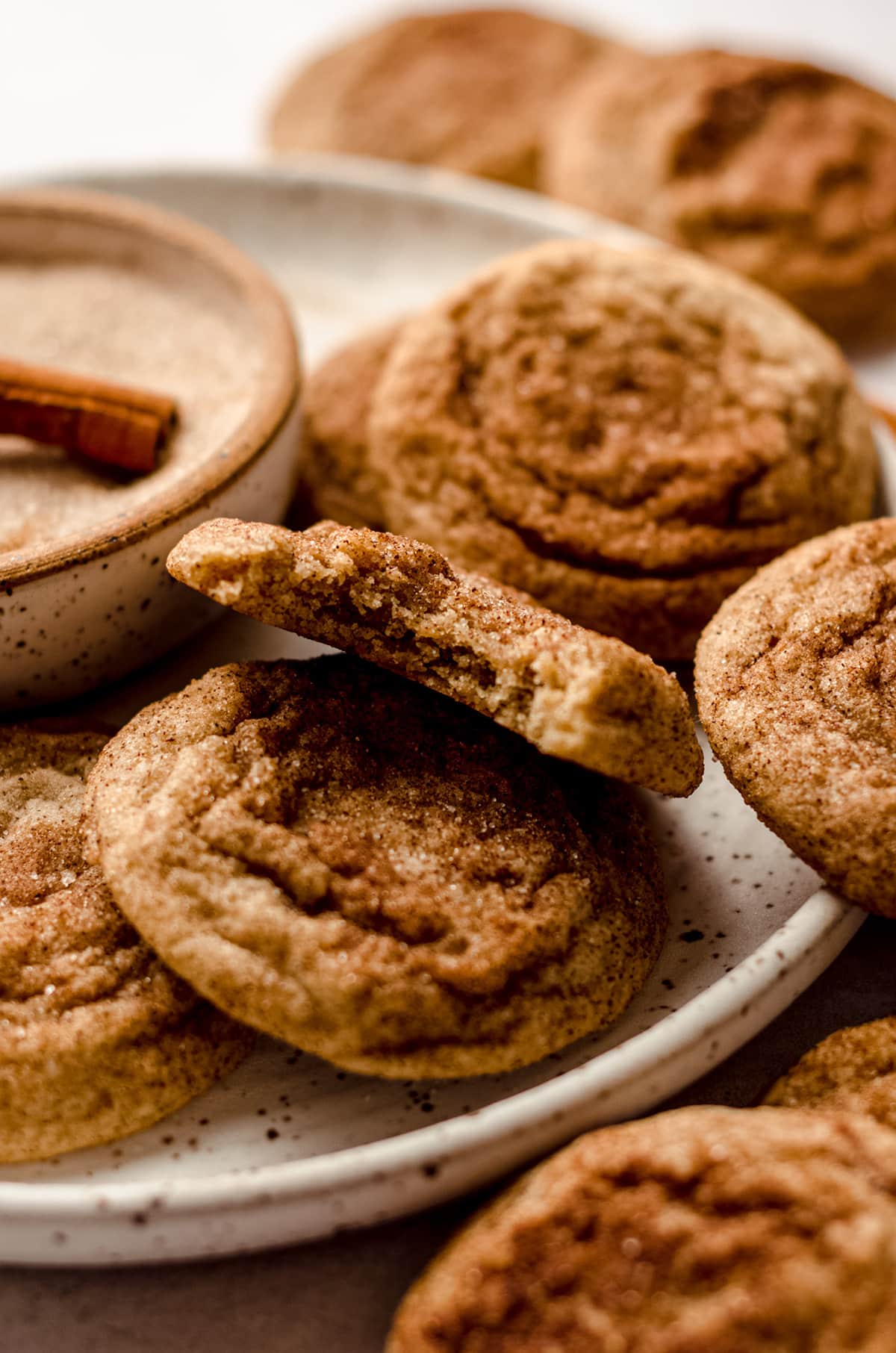 And they might even say (some did!) it's the best snickerdoodle recipe they've tasted. Give it a shot!
FAQ
Here are some frequently asked questions about snickerdoodle cookies made without cream of tartar.
WHY DO SNICKERDOODLES HAVE CREAM OF TARTAR?
Cream of tartar gives snickerdoodles its iconic tangy taste. This recipe has been appropriately adjusted to use baking soda and baking powder in proper proportions to create a soft and chewy cookie that still has tang but without the addition of cream of tartar.
WHAT CAN I USE INSTEAD OF CREAM OF TARTAR IN SNICKERDOODLES?
While you can replace cream of tartar in a snickerdoodle recipe with the proper amount of baking powder, this recipe for snickerdoodles is made entirely without cream of tartar, so you don't have to worry about replacing anything in the recipe.
CAN YOU LEAVE CREAM OF TARTAR OUT OF COOKIES?
It's always best to follow the recipe exactly, which means including cream of tartar if the recipe has been tested with it. If you omit it, you may get different results than expected.
WHY DO MY SNICKERDOODLES TASTE BITTER?
Your snickerdoodles may taste bitter if you are sensitive to the taste of cream of tartar. This snickerdoodle cookie recipe without cream of tartar is an excellent option if you fall into that category.
Some snickerdoodle favs: snickerdoodle cookie cake, snickerdoodle biscotti, and snickerdoodle chocolate chip pudding cookies.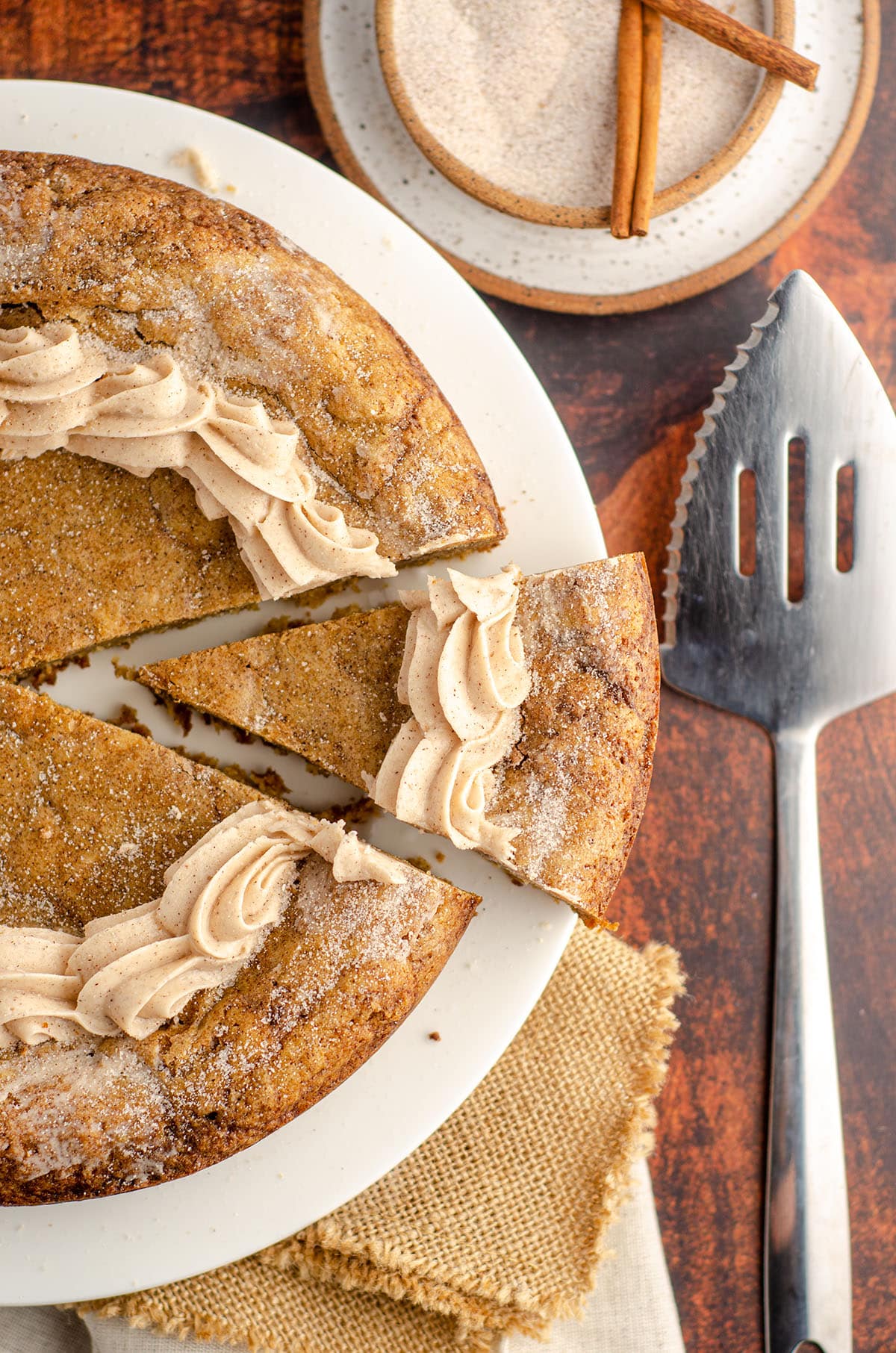 Snickerdoodles (Without Cream of Tartar)
No cream of tartar? No problem! You can still make perfectly soft and chewy snickerdoodle cookies without it. This no chill snickerdoodle cookie recipe will be your new favorite alternative to traditional snickerdoodle cookies.
Ingredients
SNICKERDOODLE
2

cups

(240g) all-purpose flour1

2

teaspoons

ground cinnamon

¾

teaspoon

baking powder

½

teaspoon

baking soda

½

teaspoon

salt

½

cup

(113g) unsalted butter

softened to room temperature

1

cup

(120g) powdered sugar

1

large egg room temperature preferred2

¼

cup

(56mL) vegetable oil

1

Tablespoon

vanilla extract
CINNAMON SUGAR COATING
½

cup

(100g) granulated sugar

2

teaspoons

ground cinnamon
Instructions
Preheat the oven to 350ºF (177ºC). Line a large baking sheet with parchment paper or a silicone baking mat. Set aside.

In a medium size bowl, whisk together the flour, cinnamon, baking powder, baking soda, and salt. Set aside.

In a large bowl with a handheld mixer, or the bowl of a stand mixer fitted with the paddle attachment, cream the butter and powdered sugar on medium-high speed until light and fluffy, about 2-3 minutes.

Stop the mixer, add the egg, vegetable oil, and vanilla extract, then beat again on medium speed until everything is combined, stopping the mixer to scrape down the sides of the bowl as necessary.

Reduce the mixer speed to low, then add the dry ingredients in two additions, insuring the first addition is mostly incorporated before adding the second. Continue to beat on low until just combined. Dough should be soft but not very sticky, and you should be able to scoop it with a cookie scoop without issue. Once it is dropped into the sugar, it will decrease in stickiness.

Place the granulated sugar and cinnamon into a small bowl, stir to blend, then, using a cookie scoop (I use this #50 cookie scoop for all of my standard size cookies), drop balls of dough into the cinnamon sugar and use your fingers to gently roll the ball through the mixture. When dough ball is completely covered in cinnamon sugar, place on prepared baking sheet (8 per sheet).

Bake the cookies for 8-9 minutes, just until edges are set. Allow to cool on the baking sheet for 2-3 minutes before transferring to a wire rack to cool completely. Store cookies covered tightly at room temperature up to 1 week. Cookies freeze well, up to 3 months. Unbaked dough balls also freeze well, up to 3 months. Do not roll in cinnamon sugar, thaw in refrigerator overnight, and roll in cinnamon sugar before baking.
Notes
Flour: it is imperative that you either fluff/spoon/level your flour or ideally, weigh it in grams. Two cups of all-purpose flour is 240g. Too much flour will result in a dense cookie.
Room temperature egg: it is always a good idea to use room temperature eggs when using room temperature butter, as it incorporates into batter much more easily. It is not required, just encouraged.
Recipe adapted from vanilla bean sugar cookies
Nutrition Disclosure
All nutritional values are approximate and provided to the reader as a courtesy. Changing ingredients and/or quantities will alter the estimated nutritional calculations.
Serving:
1
cookie
|
Calories:
132
kcal
|
Carbohydrates:
17
g
|
Protein:
1
g
|
Fat:
6
g
|
Saturated Fat:
3
g
|
Polyunsaturated Fat:
2
g
|
Monounsaturated Fat:
2
g
|
Trans Fat:
0.2
g
|
Cholesterol:
17
mg
|
Sodium:
88
mg
|
Potassium:
17
mg
|
Fiber:
0.5
g
|
Sugar:
9
g
|
Vitamin A:
129
IU
|
Vitamin C:
0.01
mg
|
Calcium:
15
mg
|
Iron:
1
mg