Snickerdoodle Chocolate Chip Pudding Cookies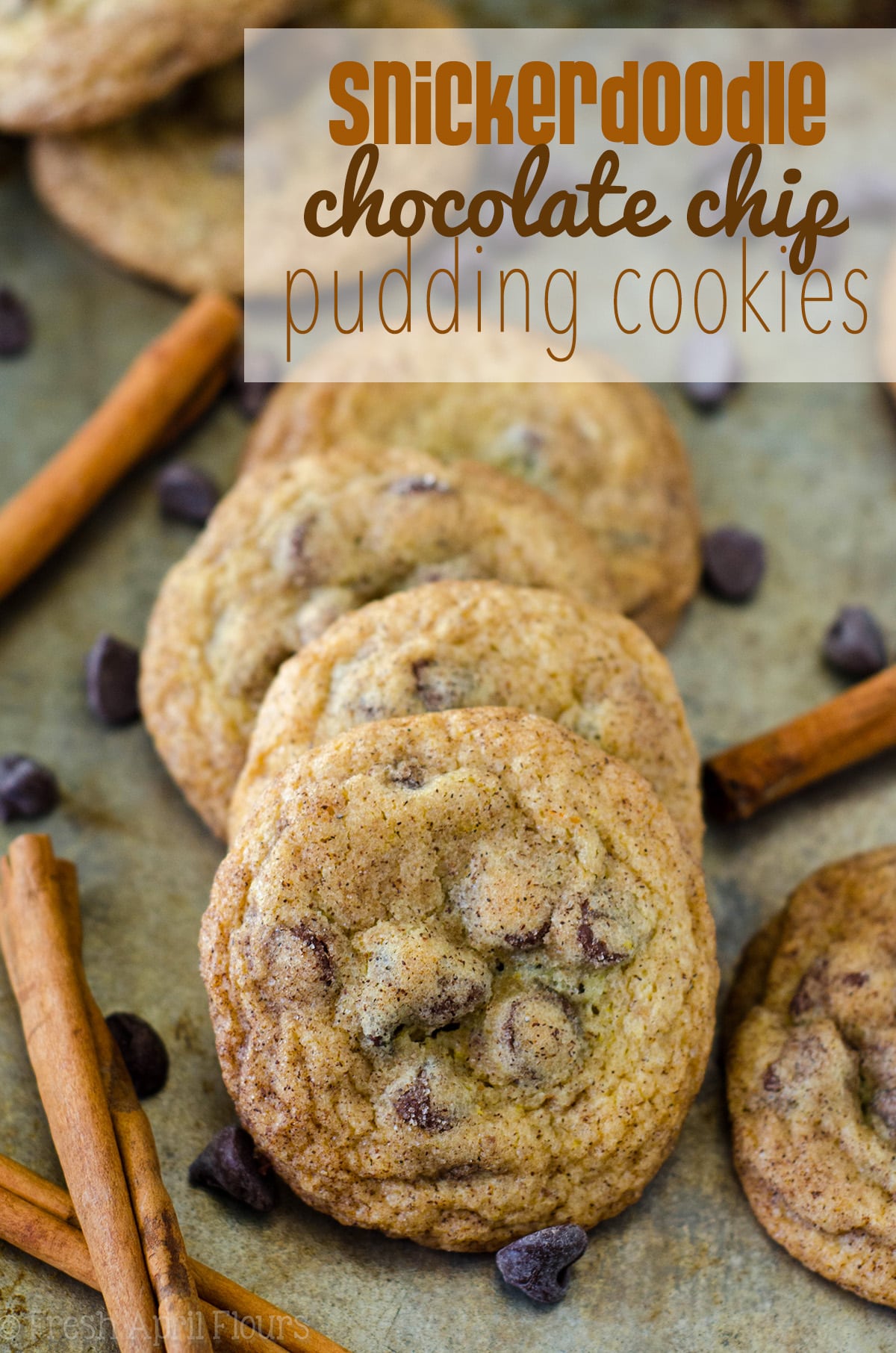 As an Amazon Associate, I earn from qualifying purchases. Read the full disclosure here.
Soft and chewy pudding cookies filled with chocolate chips with a generous cinnamon-sugar coating.
Here we are at the halfway mark for our cookie party! Can you believe Christmas is in 2 weeks? Have you finalized your cookie baking list?
I've already moved onto recipes and posts for early 2017, but that doesn't mean I don't have cookies on my baking list! I plan to make a batch of my chocolate cayenne cookies for Christmas Eve and also these bad boys that I'm super excited to share with you today.
Ok, let's be honest, I'm never not excited to share a recipe with you, but today is one of those days I'm extra excited. Why? Because this cookie may be one of the best cookies I've ever made (that's saying a lot considering cappuccino cookies are a thing), and it all started with a friend/reader putting me to a challenge.
Earlier this year, my friend Allison (the same Allison who challenged me and resulted in this cranberry gingerbread <– ohhhh, make that for Christmas!) told me that her aunt (also a follower of mine) had a challenge for me. Her aunt frequents an Amish store where they sell what they call "holstein cookies," but she is unable to find any recipe online like them and they, of course, won't share their recipe.
Now, if you live near any Amish people, you know they knowwww their baked goods. I don't blame them for keeping their recipe to themselves!
The only clues Allison and her aunt could give me was that pudding was listed as an ingredient, and they described them as "some sort of soft sugar cookie crossed with a chocolate chip cookie." I proceeded to ask Allison 8 billion questions about these cookies, she actually sent me a picture of one, and we decided that they were also sort of like a snickerdoodle.
So we had these things to work with:
√it's like a sugar cookie
√it's also like a snickerdoodle
√it's also like a chocolate chip cookie
√it has pudding in it
√it's soft
√it's chewy
I would love to say I got to work pronto, but then I had a baby and, well, it was October before I knew it.
I did a little brainstorming and figured that keeping these cookies super easy was the key. While I could have started with homemade pudding and made these cookies extra full of love, I skipped that part and went straight for the instant pudding.
I used vanilla, but I think that chocolate, butterscotch, or really any flavor you'd like to showcase in these cookies would be perfect. I loosely used my classic chocolate chip cookie recipe as a guide, removing some butter because of the addition of the pudding, and letting the pudding do most of the flavoring instead of vanilla extract.
I also snuck some cinnamon into the cookie dough to bring the whole flavor profile full-circle.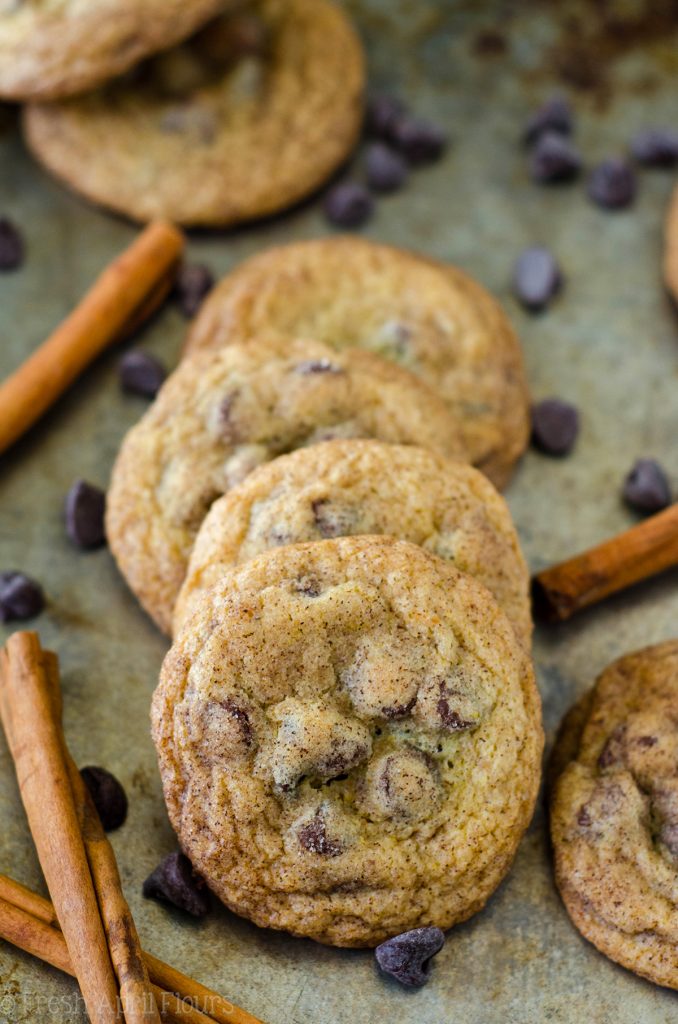 Also, have you ever tried pudding in a cookie? You might want pudding cookies to be the only cookie you ever have for the rest of eternity, because there is nothing like the texture they put into a cookie!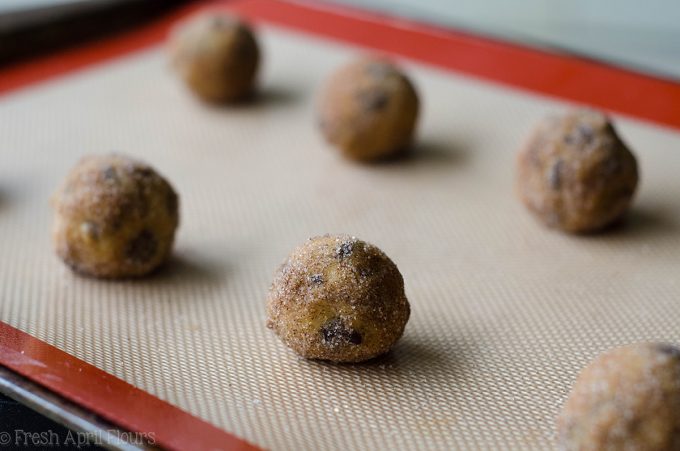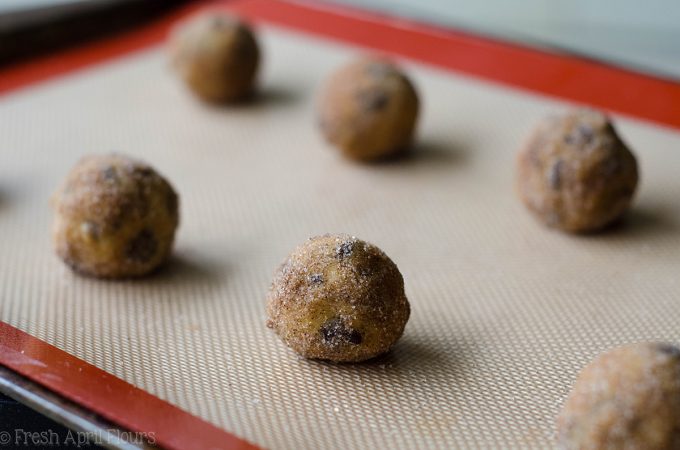 The cookie dough gets a 1 hour chill in the fridge before you roll it into balls, dunk it into a cinnamon sugar coating, and place onto a baking sheet for a quick 10 minute bake.
These cookies boast a super soft texture, so letting them rest on the baking sheet after they're done baking is key. At least 5 minutes of rest before transferring to a wire cooling rack. This is a must. The cookies will absolutely fall apart if you try to move them before that.
Believe me, I heard from a friend…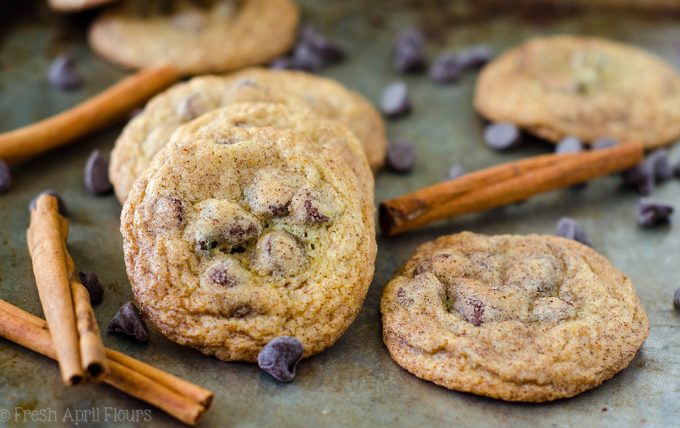 These cookies absolutely blew my mind. I could not stop breaking off little pieces, and before we knew it, we were mostly done with the cookies (not before I packaged some up for Allison to taste test herself!).
The verdict from the challenger?
They were pretty close to the original, and even if they aren't and she lied to me to make me feel better, this is still a damn good cookie.
Super soft and chewy with extra chewy edges, plus gooey chocolate chips and a cinnamon sugar coating to set each bite off on the best foot possible. These cookies are definitely one you'll want to add to your celebration this Christmas.
They're like the best of a chocolate chip cookie, a snickerdoodle, and a pudding cookie all rolled into one.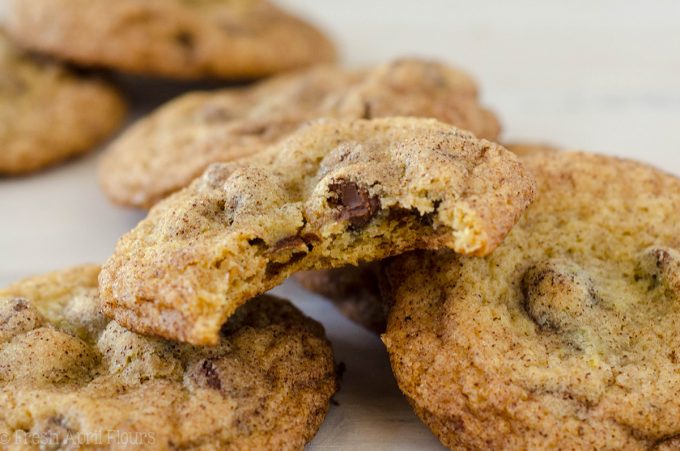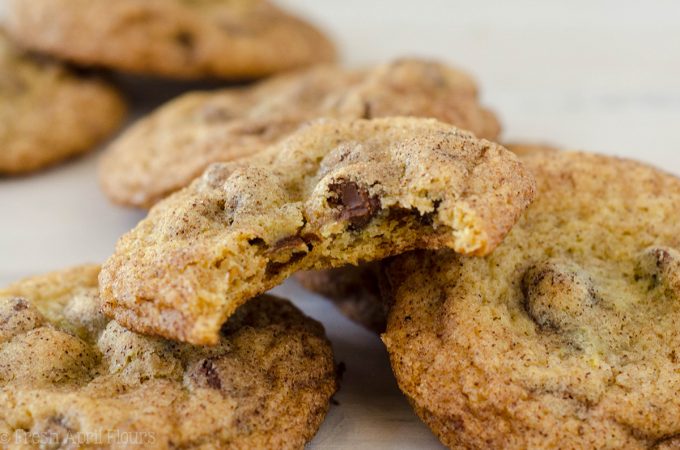 Plus, you can eat just one and feel like you've gotten the satisfaction of three different cookies. More room for all the others!
Snickerdoodle Chocolate Chip Pudding Cookies
Soft and chewy pudding cookies filled with chocolate chips with a generous cinnamon-sugar coating.
Ingredients
COOKIES
1

cup

all purpose flour

be sure to measure properly

1

package

3.4oz instant vanilla pudding mix1

1

teaspoon

baking soda

1/2

teaspoon

salt

1/2

teaspoon

ground cinnamon

1/2

cup

(1 stick) unsalted butter

softened to room temperature

1/2

cup

packed light brown sugar

2

large eggs

room temperature2

1

cup

semi-sweet chocolate chips
COATING
¼

cup

granulated sugar

1

teaspoon

ground cinnamon
Instructions
In a medium-size bowl, toss together the flour, pudding mix, baking soda, salt, and cinnamon. Set aside.

In a large bowl with a handheld mixer or the bowl of a stand mixer fitted with the paddle attachment, beat the butter and brown sugar on medium-high speed until light and fluffy, about 2-3 minutes. Add the eggs and beat until completely combined, scraping down the sides of the bowl as needed.

Decrease the mixer speed to low and slowly add the dry ingredients. Mix until dough is just combined, then stir in the chocolate chips. Chill the dough for at least 1 hour and up to 3 days.

When you are ready to bake the cookies, preheat the oven to 350°F. Line a large baking sheet with parchment paper or a silicone baking mat. Set aside.

Using a cookie scoop (I use this #50 cookie scoop for all of my standard size cookies), carefully roll dough into 1" balls. The dough will be very soft. Drop each ball into the cinnamon-sugar coating and roll around to coat completely. Place on prepared baking sheet, no more than 8 per sheet.

Bake the cookies for 10-11 minutes, until edges just start browning. Cookies will look very underdone. Allow cookies to cool on the baking sheet at least 5 minutes before transferring to a wire rack to cool completely. Cookies stay fresh in an airtight container at room temperature up to 5 days. Cookies freeze well, up to 2 months. Rolled cookie dough freezes well, up to 2 months. Thaw on baking sheet for 10 minutes, roll in cinnamon-sugar, and bake as directed.
Notes
Feel free to use chocolate pudding or even butterscotch, based on your flavor preferences.
Room temperature eggs are preferred when using room temperature butter, as they incorporate into batter much more easily.
Nutrition Disclosure
All nutritional values are approximate and provided to the reader as a courtesy. Changing ingredients and/or quantities will alter the estimated nutritional calculations.