Salted Caramel Stuffed Snickerdoodles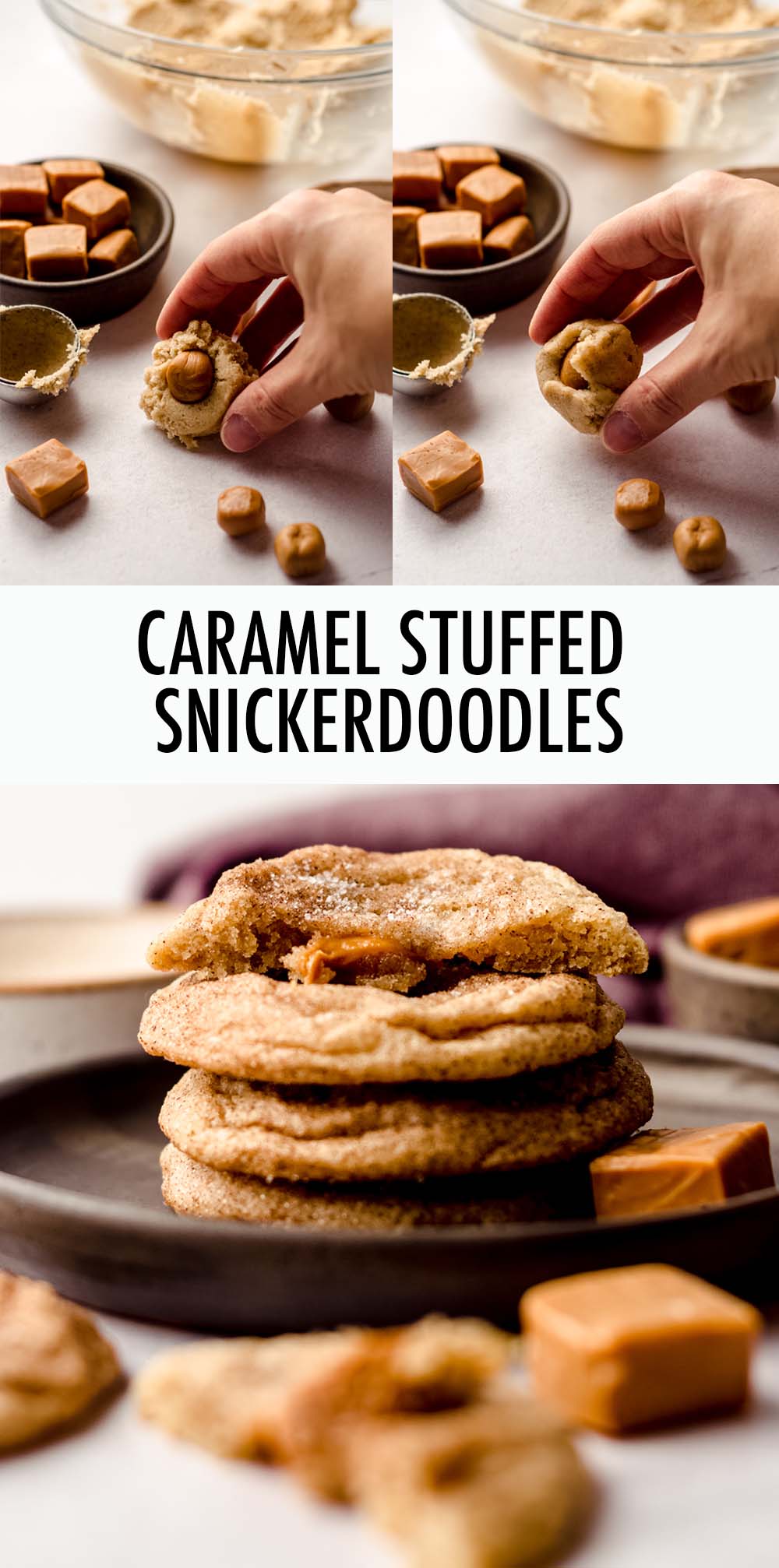 As an Amazon Associate, I earn from qualifying purchases. Read the full disclosure here.
Classic snickerdoodle cookies stuffed with caramel and sprinkled with sea salt. A jazzy upgrade for the sweet and salty lovers of the cookie world!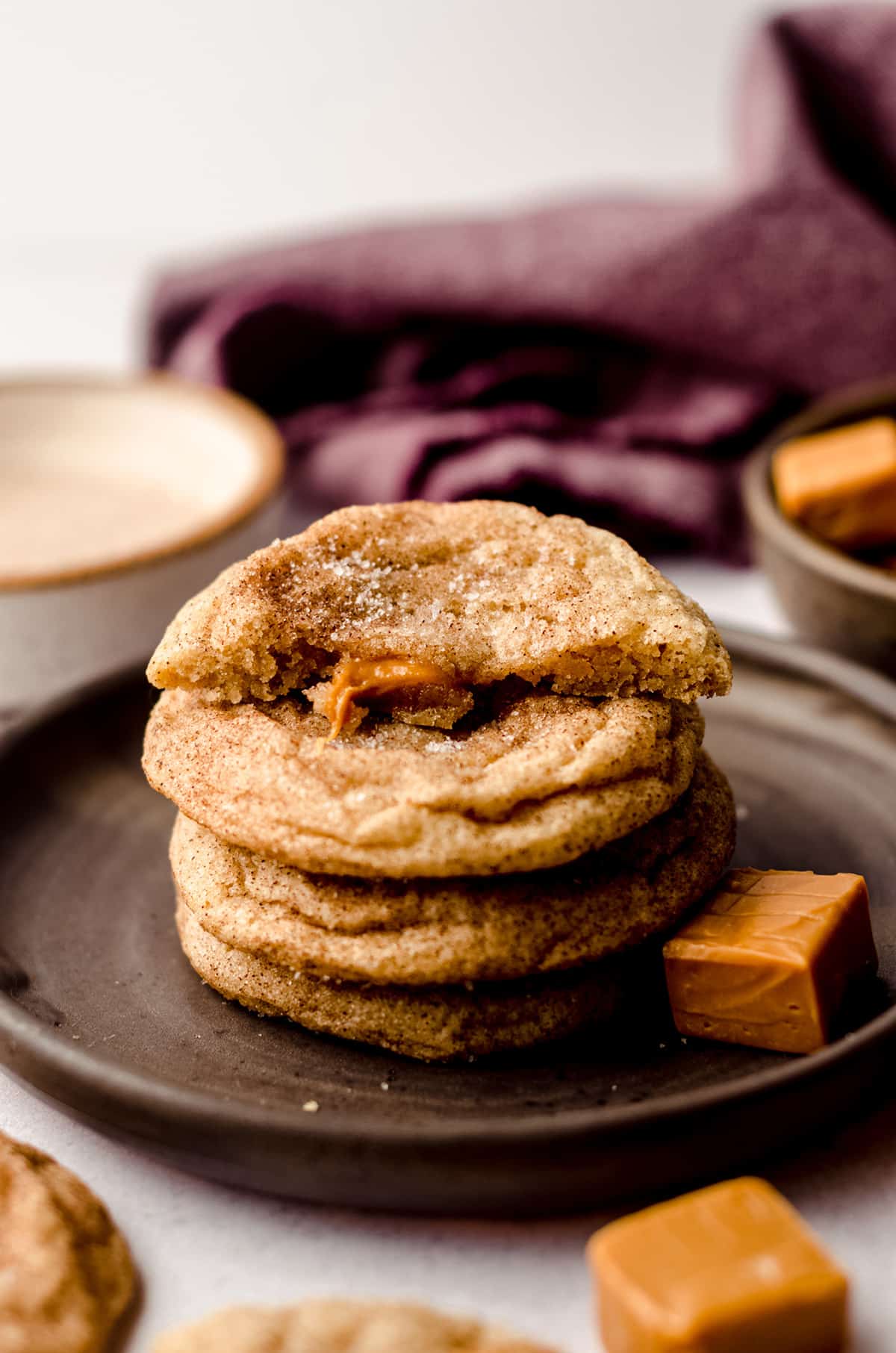 If you're here, you may or may not have seen my classic snickerdoodles recipe. That recipe is a big hit on my site with my invisible friends and in real life with my REAL PEOPLE friends.
No surprise there– they are slightly crisp on the outside, ever so lightly chewy on the inside, and absolutely coated in cinnamon sugar.
What's not to love? You can't beat a classic.
Unless, of course… You take that classic and stuff it with something amazing and sprinkle it with salt. NOW we're talkin' something to write home about.
Don't get me wrong, I was/am/always will be totally smitten with my classic snickerdoodle recipe, but there's something to say about salted caramel (just ask my bourbon salted caramel sauce).
Add it to any dessert and that dessert is automatically infinitely better. Am I right? I'm totally right.
Let's put it this way: if my classic snickerdoodles are a cozy evening on the couch with my husband and our favorite show, these caramel stuffed snickerdoodles are ALL OF THAT plus our favorite snacks and we don't have to clean up.
I'm totally in love with the original, but absolutely smitten with the jazzed up version. Are you following?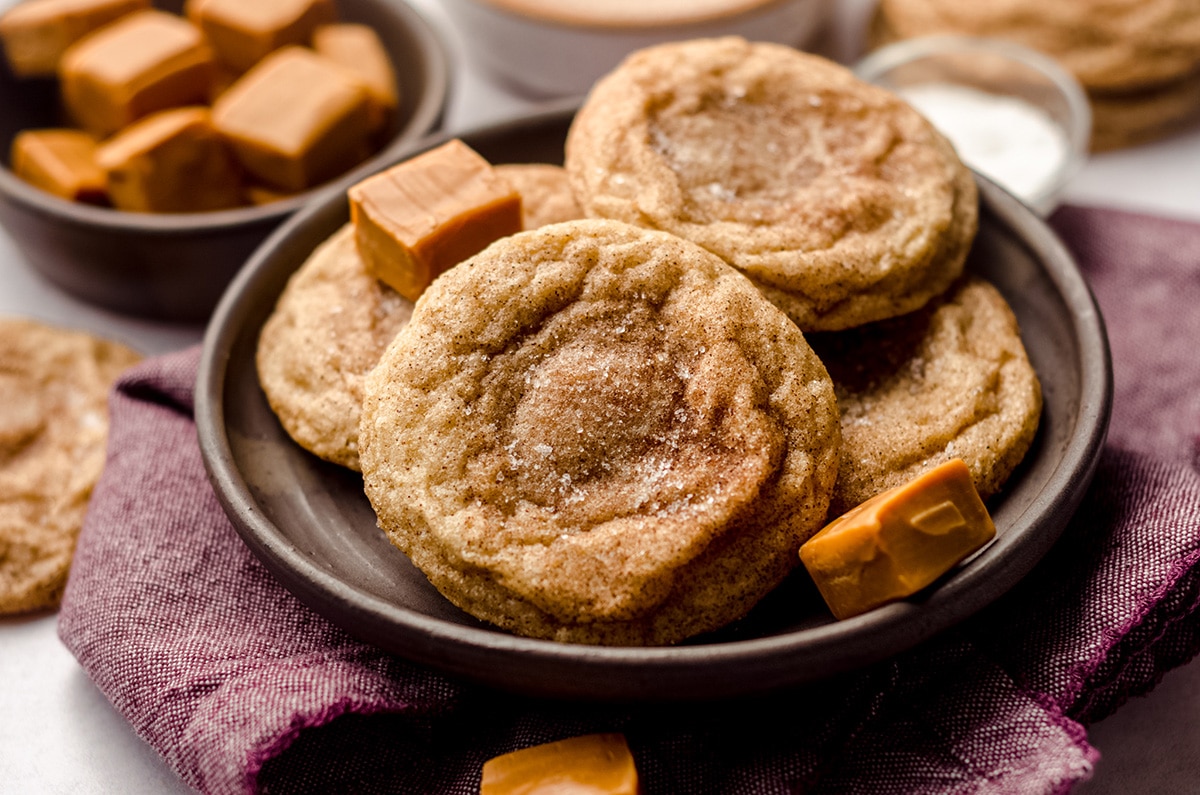 If you missed all the science of snickerdoodles in the classic post, I'd love for you to read about it now.
Or, if you could not care less, then don't. No judgment whatsoever.
Not all of us are food/cookie nerds, and that's a-ok. We can all live in perfect harmony as we agree as a group that snickerdoodles (stuffed with caramel or otherwise) make the world a better place.
INGREDIENTS
These stuffed snickerdoodle cookies are literally the exact same base cookie recipe as my classic snickerdoodles. So, by tradition, we are using cream of tartar in the cookie base.
But to turn those basic snickerdoodles into salted caramel stuffed snickerdoodles, we need to
1) stuff them with caramel and
2) salt them.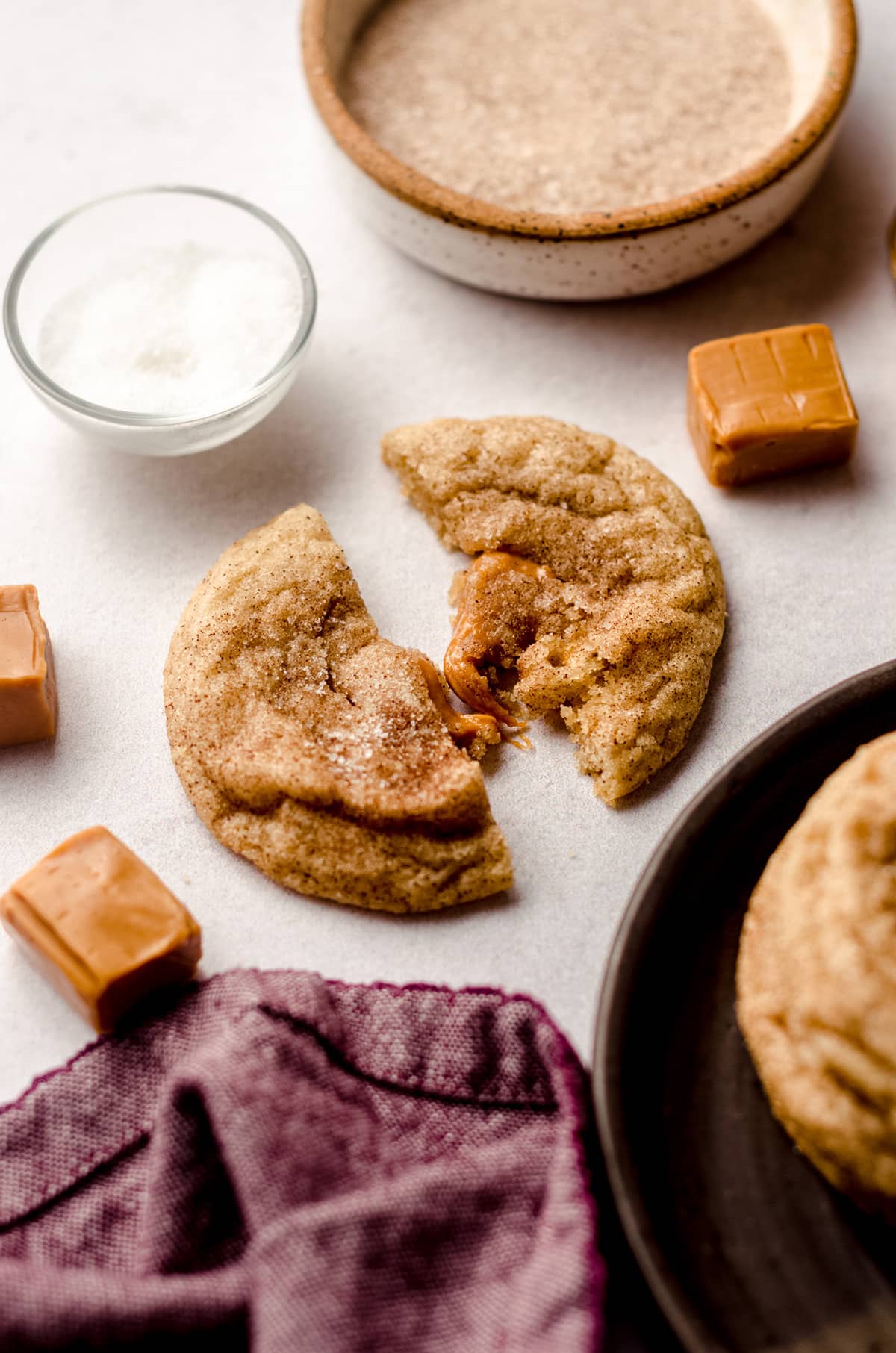 To do so, we'll be working with soft caramel chews (I prefer to use Brach's MilkMaid caramels) and flaky sea salt.
The caramel goes in before baking, the salt goes on after baking, and we'll get to how that all happens in a bit.
HOW TO MAKE CARAMEL STUFFED SNICKERDOODLES
As I mentioned, these salted caramel snickerdoodles are made with cream of tartar and the dough also requires chilling.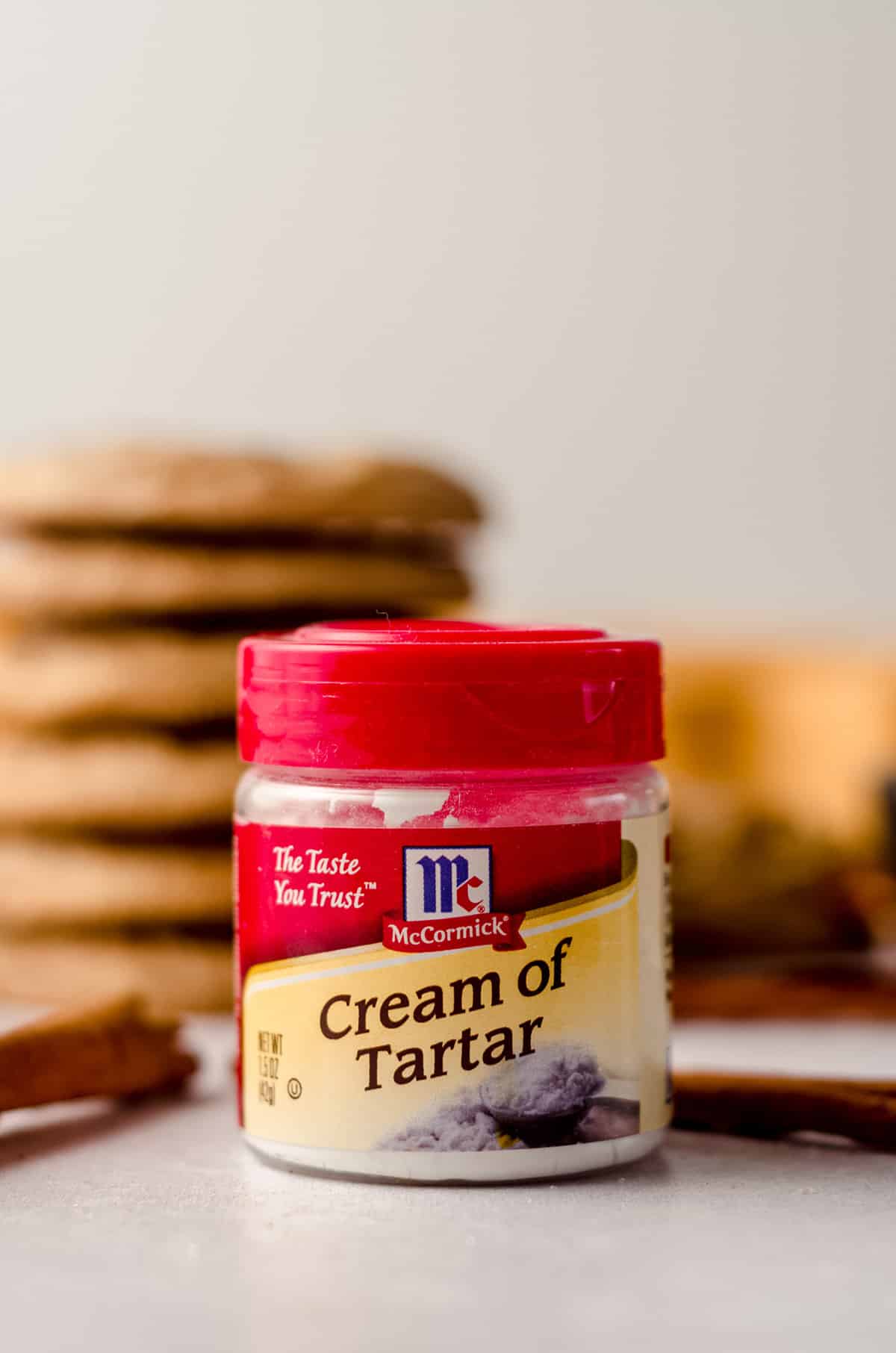 Just a few minutes of mixing dough and 1 hour of chilling and then you're good to go on getting these caramel filled snickerdoodles going.
My best suggestion is to prepare your caramels while your cookies chill.
NO, it won't take you an hour to cut caramels in half, but if they're cut and maybe even shaped before you start rolling cookie dough, you'll have one fewer step to accomplish before getting your cookies into the oven.
CREATE COOKIE DOUGH BALLS
First, set up a baking sheet (or two) with silicone baking mats or line them with parchment.
You're going to scoop all of your dough onto these cookie sheets before getting the caramel all up in them.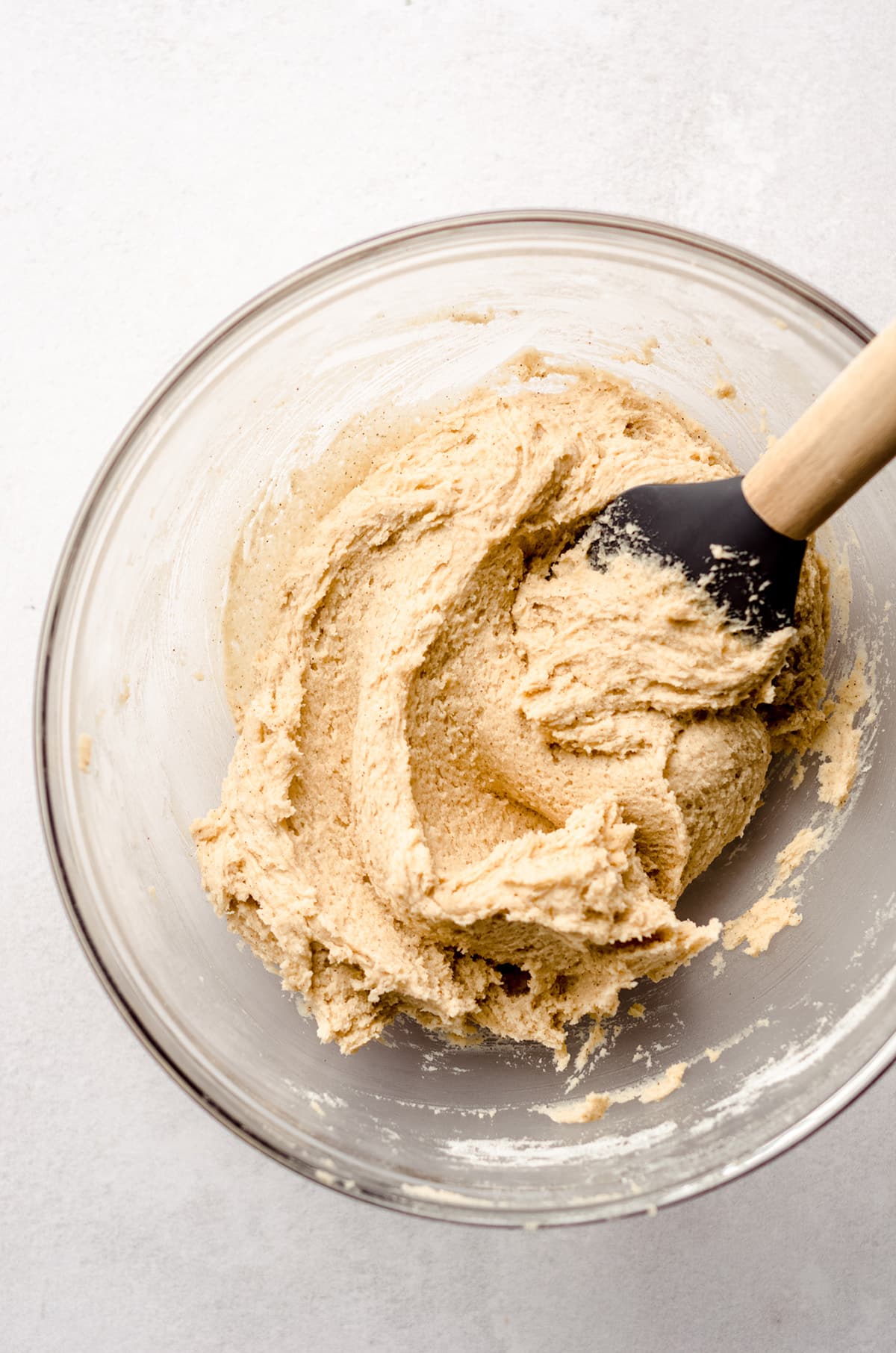 Don't worry about using up ALL of the dough at this point, just at least a tray's worth of cookies so you can focus just on the caramel stuffing next.
HOW TO MAKE COOKIES WITH CARAMEL IN THE MIDDLE
In order to turn these cookies into salted caramel stuffed snickerdoodles, we'll be inserting a rounded ball of caramel right into the center of the ball of dough.
To do this, take a rectangle of caramel and soften the corners with the warmth of your fingers/hands. You want either a round ball or a rounded cube. Either one is acceptable.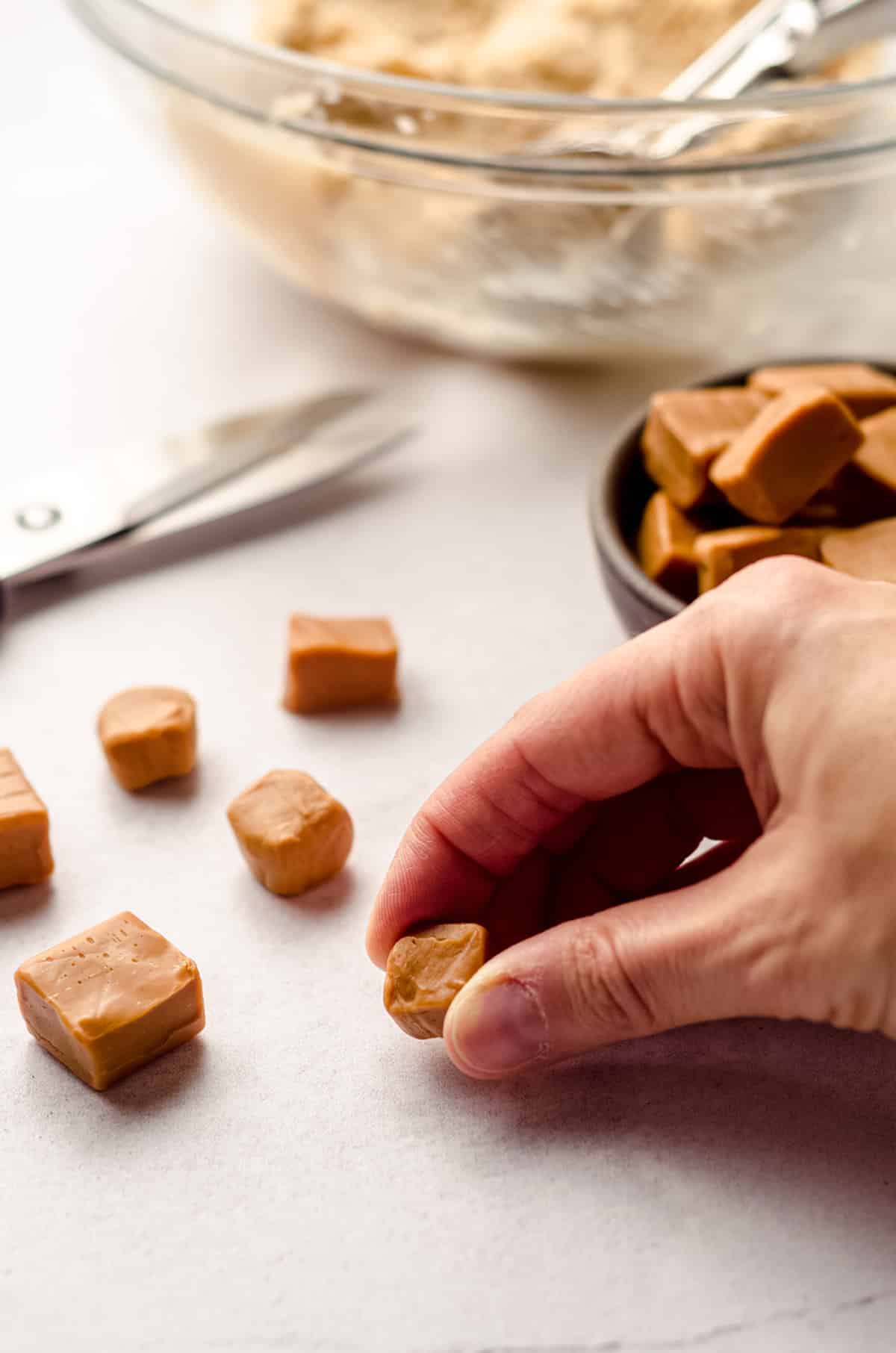 Next, stuff that caramel right into your cookie dough ball, and, working gently but quickly (because the warmth of your hands will start to melt the butter), work the cookie dough around the caramel so that the caramel piece is completely covered.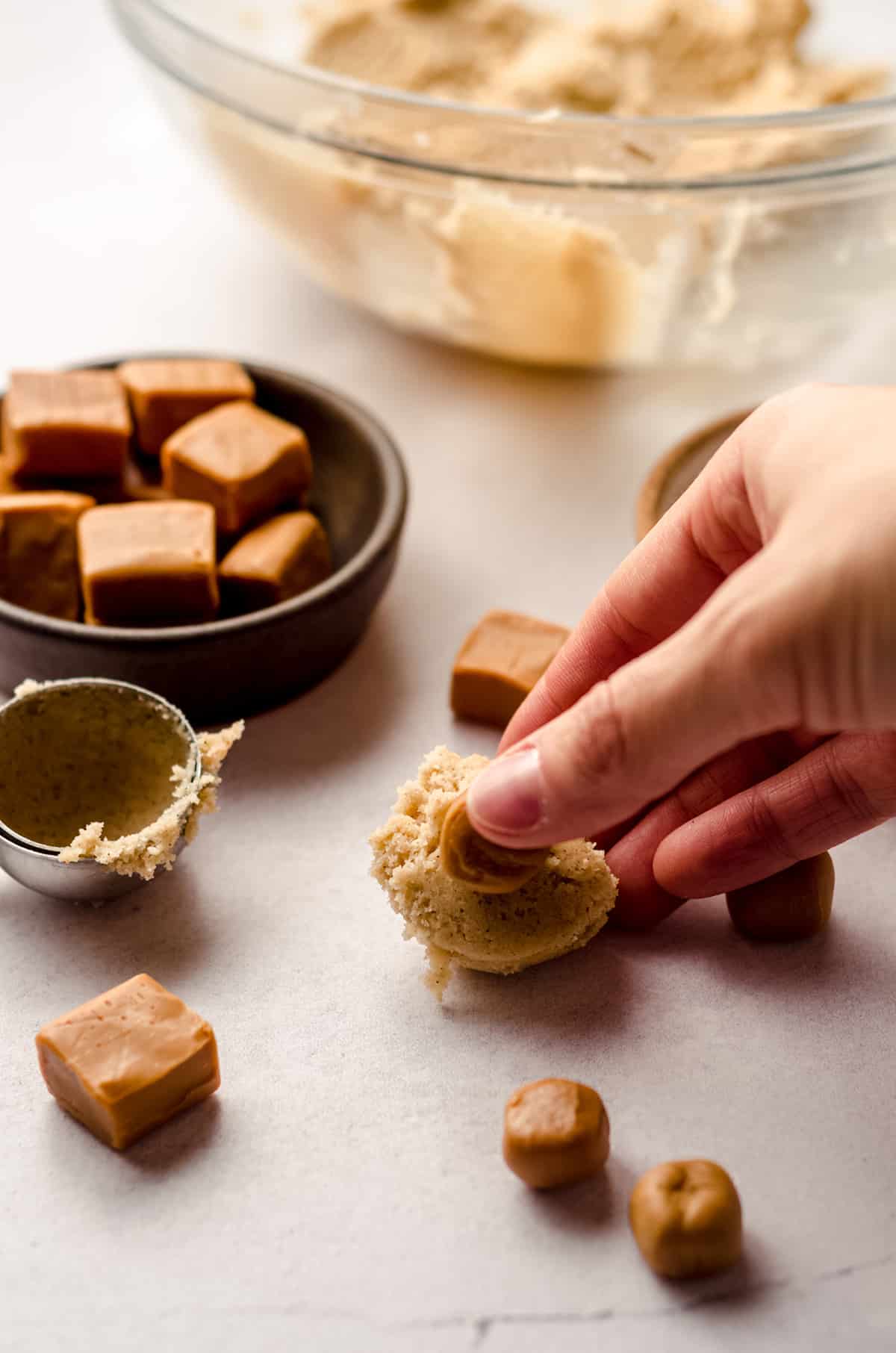 A note about the caramels:

The caramels you use should be about ½" cubes/balls once cut and molded. You will want them to be completely covered so that nothing leaks out. Any visible caramel pieces will melt out during baking and will create caramel puddles. That sounds really yummy, but it's not something you want happening with these caramel snickerdoodle cookies.

Also, you'll want to use a softer caramel candy, sometimes referred to as "old fashioned." The Kraft brand tend to be a bit harder, and they don't melt as nicely. Brach's is my preferred brand for these caramel cookies.
ROLL IN CINNAMON SUGAR
And of course, since these are snickerdoodle cookies after all, a dunk in some cinnamon sugar coating seals the deal and we're ready to go into the oven.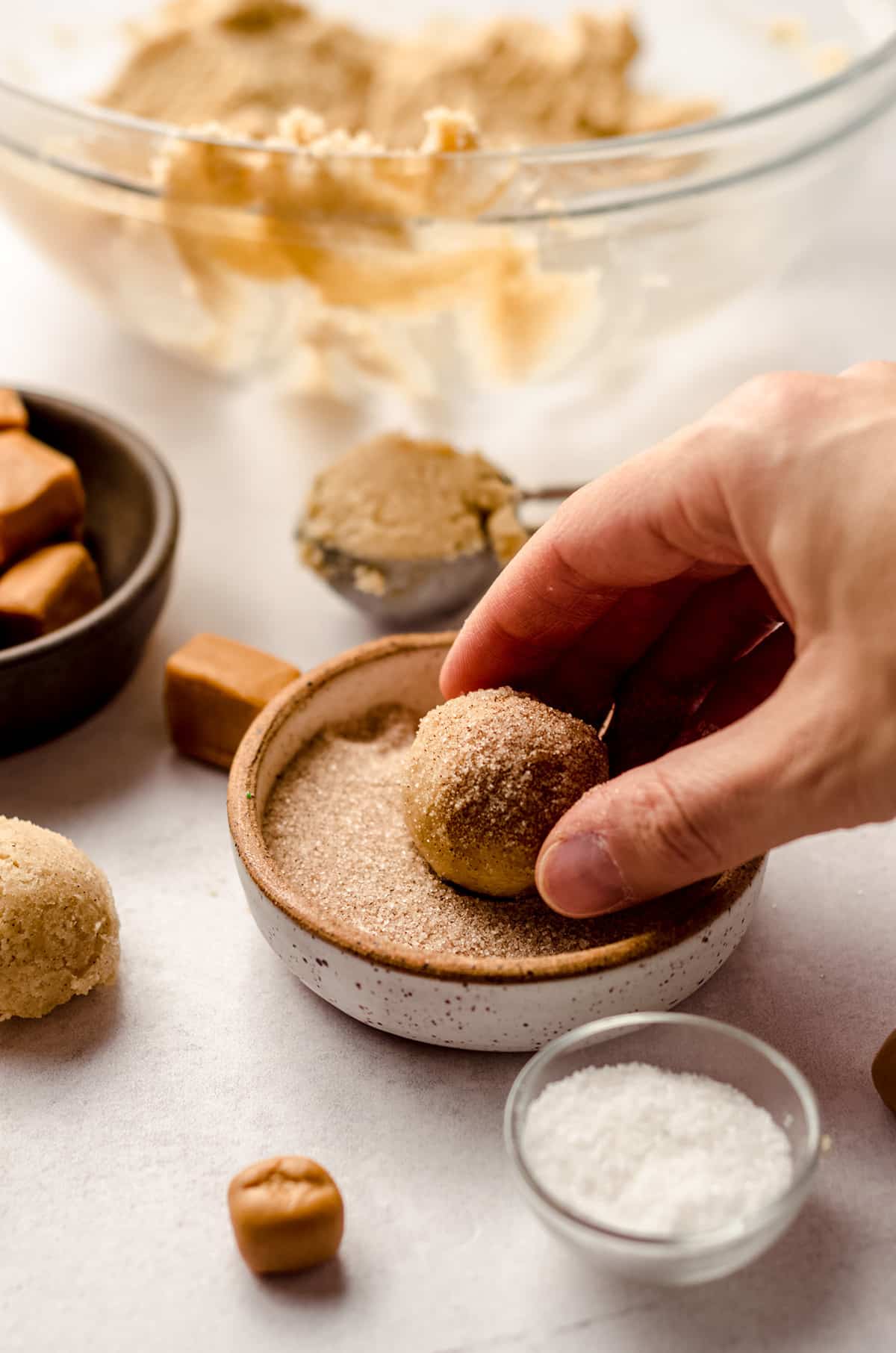 A quick 10-12 minute bake time, and as soon as they're out of the oven, a sprinkle of flaky sea salt goes right on top.
And please make sure you're using sea salt. Or kosher salt. Any kind of large, flaky salt.
Table salt will not do well here. Trust me. The granules of table salt are much finer, so a "pinch" of table salt winds up being much saltier than a "pinch" of flaky salt.
Sea salt, sea salt, sea salt. Or kosher. Just make it flaky!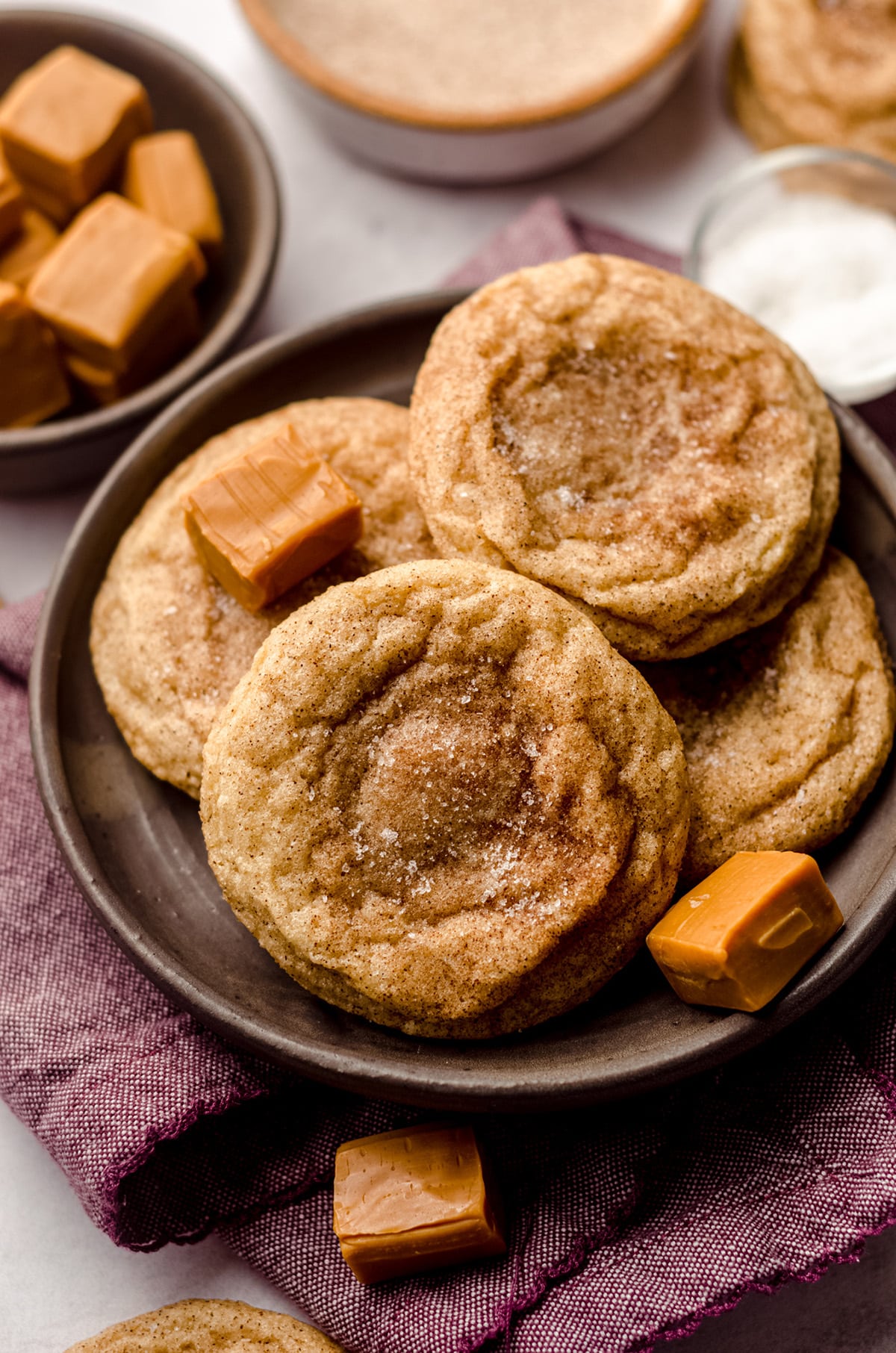 Ok my people (invisible friends), if there is one cookie you must try right now, it's this one. Yes, I would encourage you to try any of the cookies I have on my site, but this one is out of this world good.
If you eat one of these cookies while it's warm, fahgedaboutit. You will wind up in a puddle on the floor because of how much your tastebuds enjoy that salted caramel, cinnamon sugary combination. It is heavenly.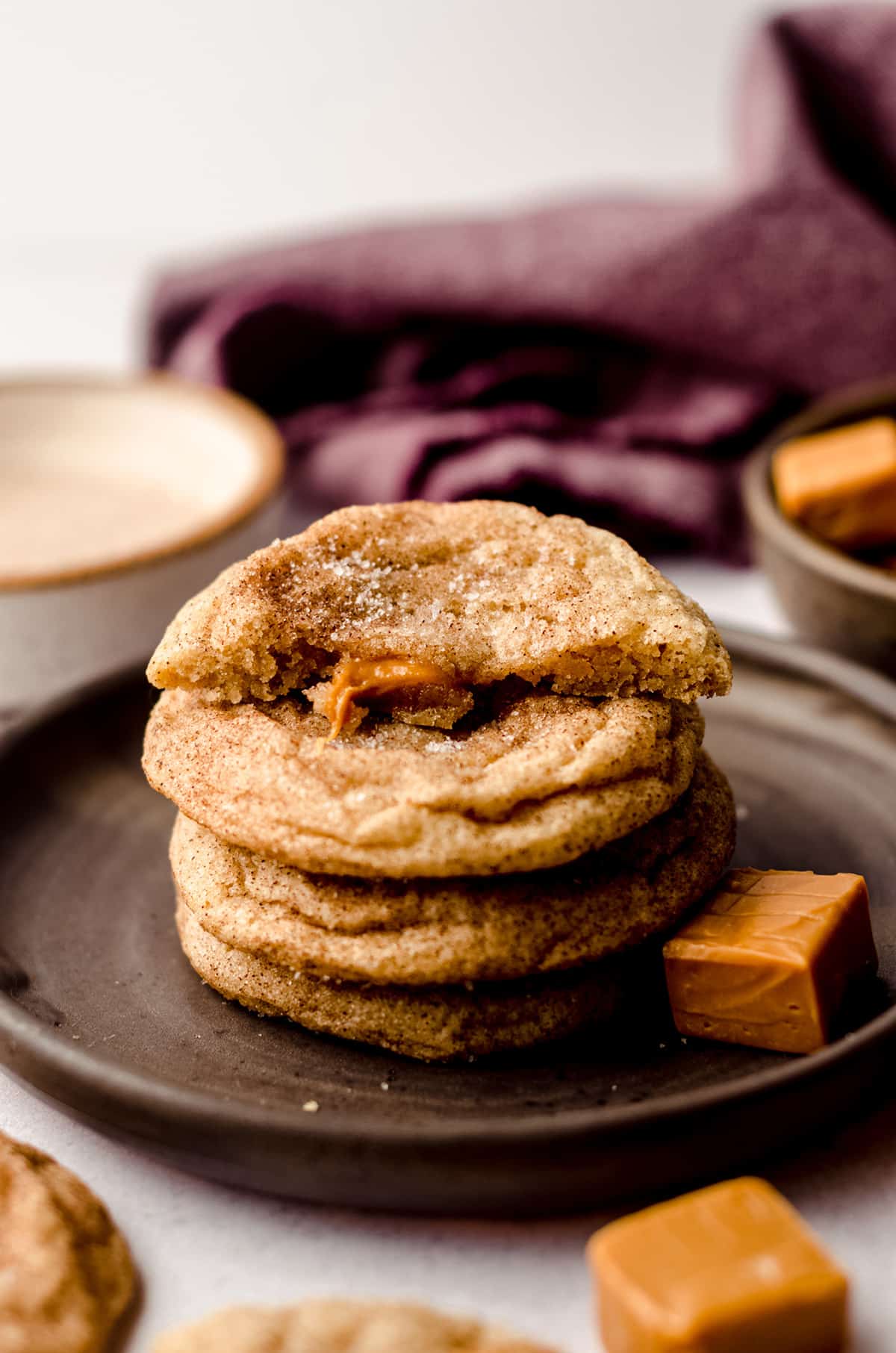 If you don't get to enjoy one right away, a quick 3-5 second zap in the microwave makes these cookies just like fresh out of them oven, so you're never too far from an ooey gooey centered snickerdoodle!
Unless, of course, you've stuffed one (some) in your purse (GUILTY) and you're eating one on the go or in your car or walking down the street.
Then you might have some trouble getting it all melty inside, but I assure you, the flavor is still wow-worthy enough to impress your tastebuds.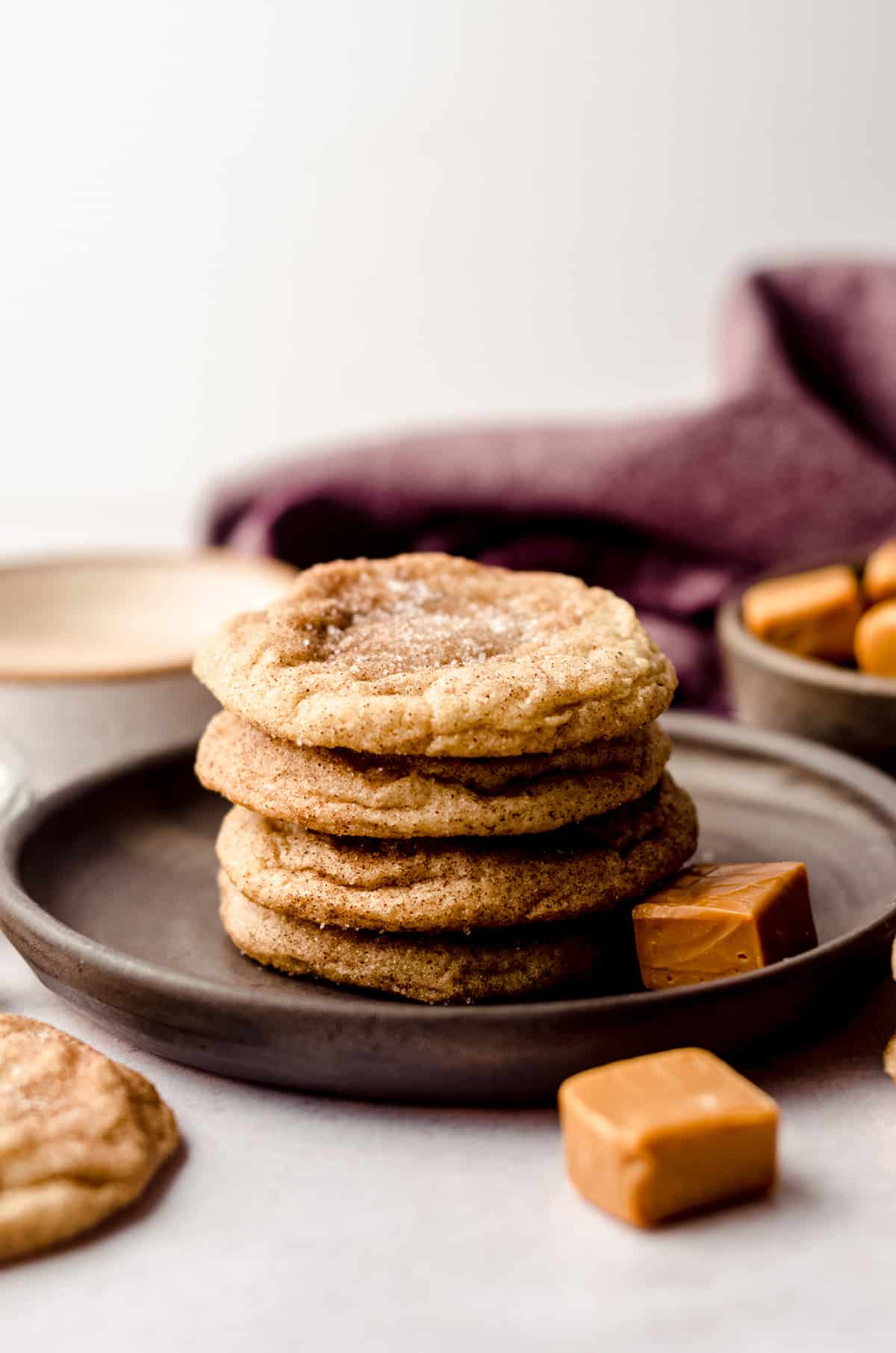 Sweet, tangy, spicy, and salty. A jazzy remix of the classic. A dessert you can get smitten with. A must try!
And while you're on the caramel kick, give my salted caramel chocolate chip cookies, salted caramel brownies, or caramel rolls a try next!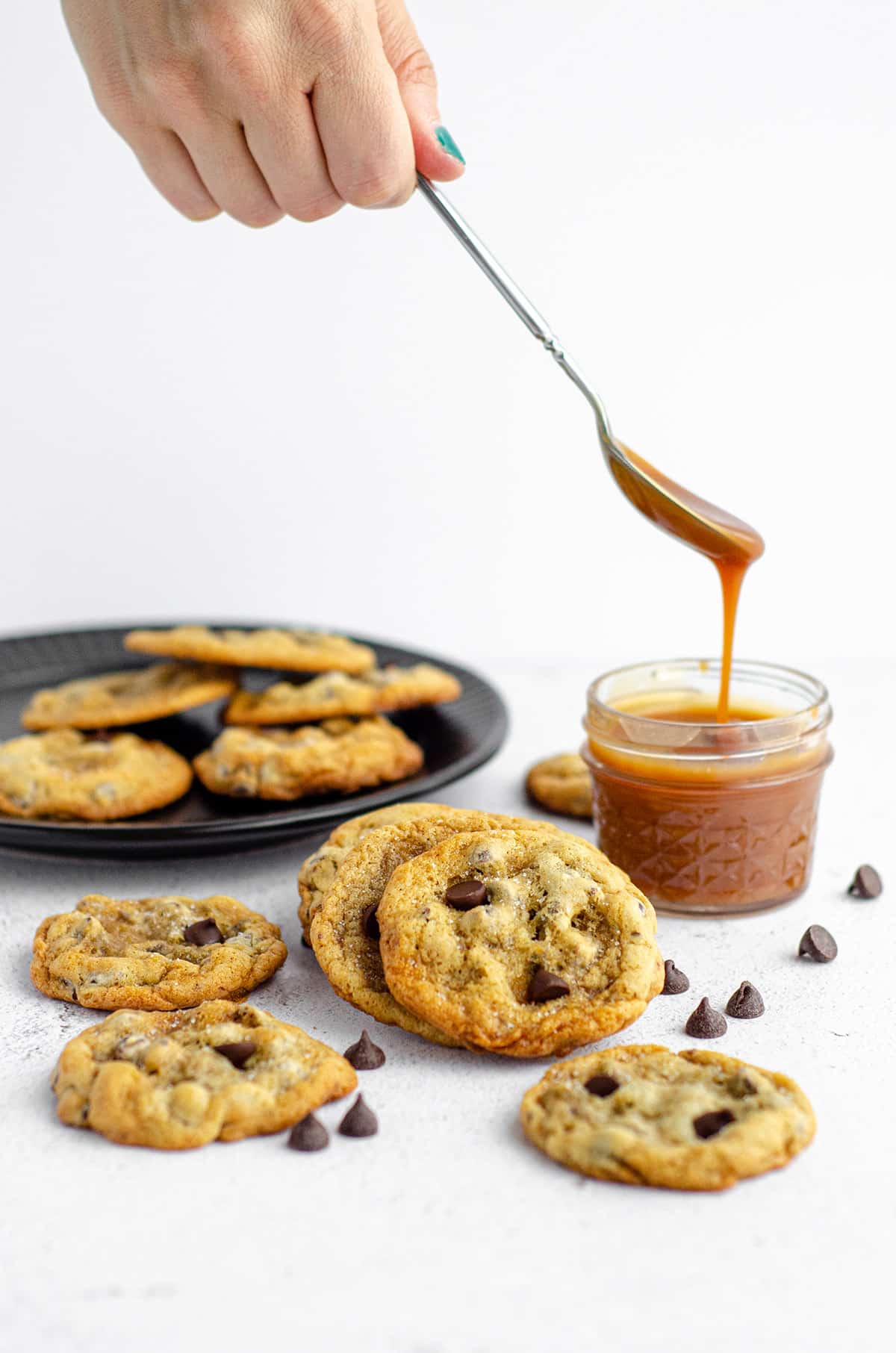 Salted Caramel Stuffed Snickerdoodles
Classic snickerdoodle cookies stuffed with caramel and sprinkled with sea salt. A jazzy upgrade for the sweet and salty lovers of the cookie world!
Ingredients
COOKIES
1 and ¼

cup

+ 2 Tablespoons (165g) all-purpose flour be sure to measure properly

1

teaspoon

cream of tartar1

¾

teaspoon

ground cinnamon

½

teaspoon

baking soda

¼

teaspoon

salt

½

cup

(113g) unsalted butter

softened to room temperature

¾

cup

(150g) granulated sugar

1

large egg room temperature2

¾

teaspoon

vanilla extract

9

caramels

such as Brach's MilkMaid Caramels, each cut in half

sea salt

as needed
COATING
¼

cup

(50g) granulated sugar

1

teaspoon

ground cinnamon
Instructions
In a medium bowl, toss together the flour, cream of tartar, cinnamon, baking soda, and salt. Set aside.

In a large bowl with a handheld mixer or the bowl of a stand mixer fitted with the paddle attachment, cream the butter and sugar together on medium speed until light and fluffy (approximately 2-3 minutes).

Add the egg and vanilla and beat again until completely incorporated. Reduce mixer speed to low and add the flour mixture in three parts. When all of the flour mixture has been added, beat on medium-high speed until dough is completely combined. Chill in the refrigerator at least 1 hour or up to 3 days. If chilling longer than 1 hour, allow to sit at room temperature for 10-15 minutes before moving on with the recipe.

When you are ready to bake the cookies, preheat the oven to 350ºF (177ºC). Line a large baking sheet with parchment or a silicone baking mat and set aside.

Toss together the granulated sugar and ground cinnamon for the cookie dough coating in a small bowl and set aside.

Using a cookie scoop (I use this #50 cookie scoop for all of my standard size cookies), drop scoops of dough onto the prepared baking sheet. Set aside.

Using the warmth of your hands, soften the corners of one caramel half and form the rectangle into a circle or a rounded cube. Pick up a ball of dough and press one rounded caramel into it, using your hands to enclose the caramel with cookie dough. Work quickly as your hands will warm the cookie dough, but be sure to cover the caramel completely as you don't want any melting caramel to leak out. Drop each filled cookie dough ball into the cinnamon-sugar coating, and roll around to coat completely.

Place coated dough balls on baking sheet, no more than 8 per sheet. Bake cookies for 10-12 minutes, or until edges just turn slightly brown. Remove from oven, sprinkle with coarse sea salt, and allow to rest on baking sheet for at least 5 minutes. Transfer cookies to a wire rack to cool completely. Cookies stay fresh stored in an airtight container at room temperature up to 7 days. The caramel will not be as soft after about 3 days. You will definitely want to zap in the microwave for about 3-5 seconds if you're enjoying them after the 3rd day. Cookies freeze well, up to 2 months. Rolled cookie dough freezes well, up to 2 months. Thaw on baking sheet for 10 minutes, roll in cinnamon-sugar, and bake as directed.
Notes
Cream of tartar: this specific ingredient is preferable, but if you must make a substitution, replace with 1 teaspoon baking soda, bringing the total baking soda amount to 1 and

½

teaspoons per one batch of cookies.
Room temperature eggs: these are preferred when using room temperature butter, as they incorporate into batter much more easily.
Adapted from classic snickerdoodles
Nutrition Disclosure
All nutritional values are approximate and provided to the reader as a courtesy. Changing ingredients and/or quantities will alter the estimated nutritional calculations.