Mini Sugar Cookies with Sprinkles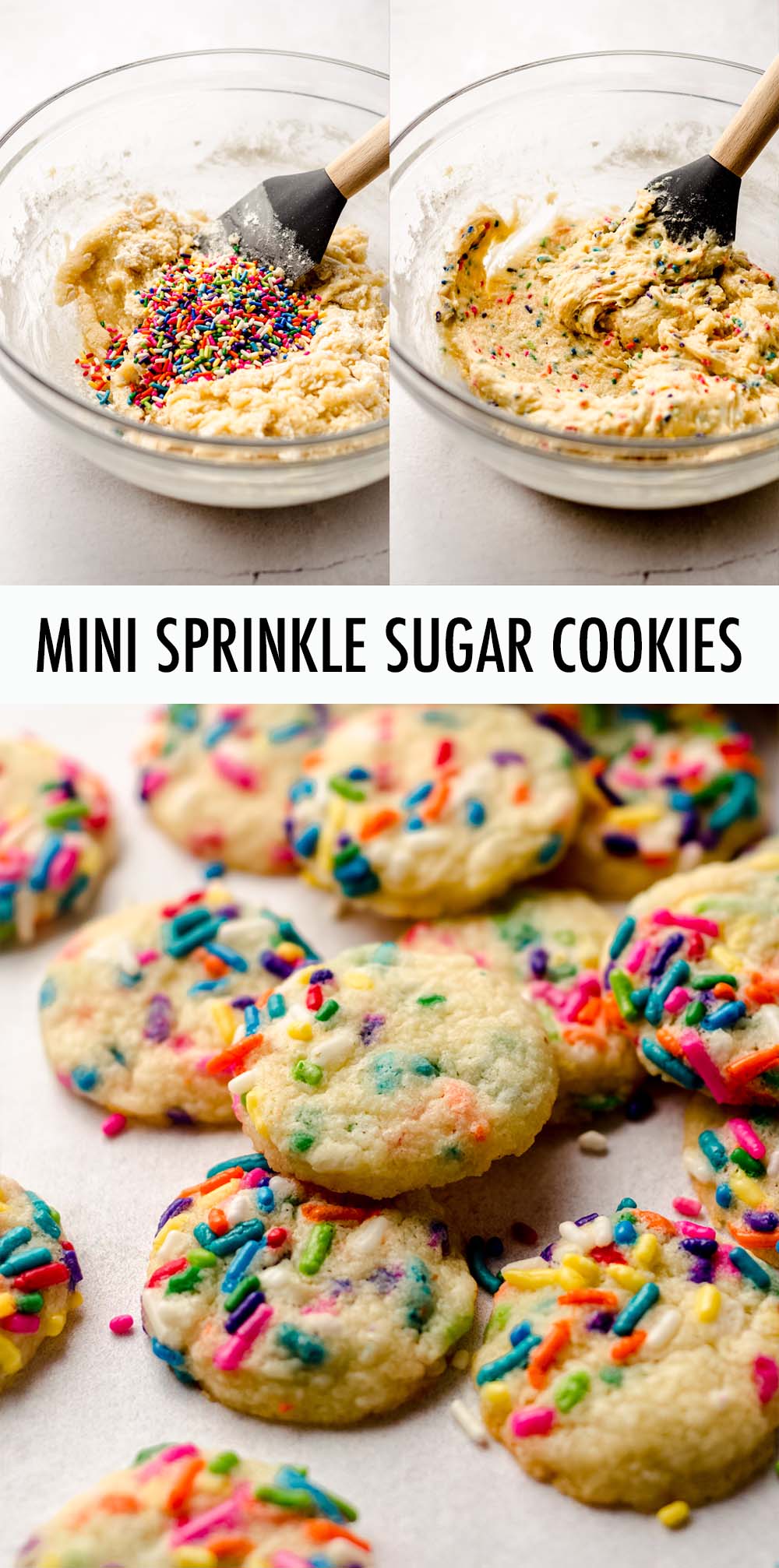 As an Amazon Associate, I earn from qualifying purchases. Read the full disclosure here.
Soft and chewy drop sugar cookies filled with sprinkles. Keep them mini or make them standard size. Fill with your favorite holiday sprinkles!
Back in October 2019, I shared this mini sugar cookie recipe as a celebration for myself and my readers as I transitioned from a full time immunology lab technician and part time blogger (working close to full time hours on the side) into a full time blogger.
It has been a WILD ride, especially considering only a few short months later was, well, you know.
These mini sugar cookies with sprinkles have since been my go-to for all things celebratory.
They're cute, they're easy, they can take on whatever color scheme I want them to have, and believe me… Mini cookies are hard to turn down.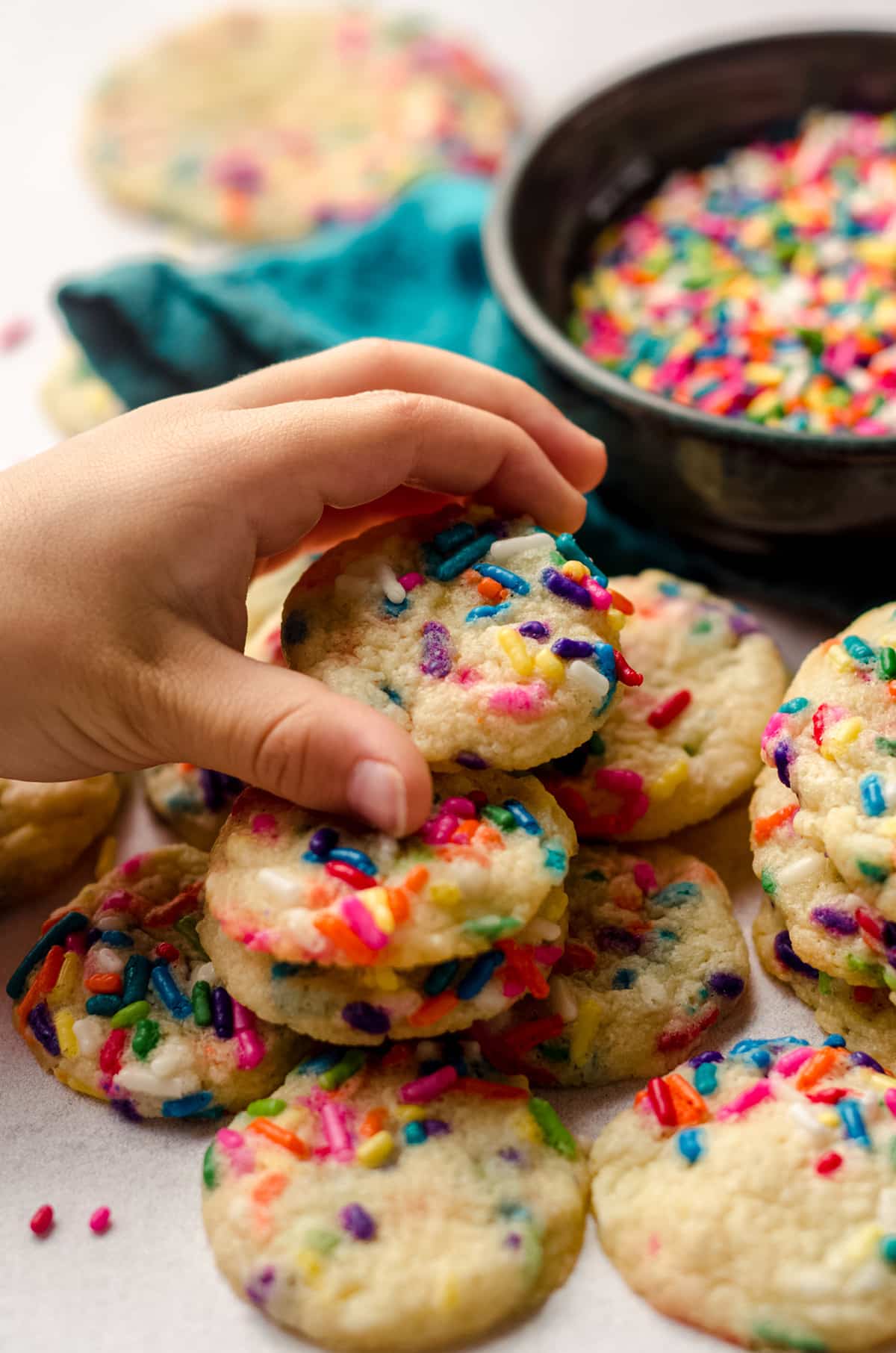 So, yeah… We're still celebrating that transition big, years later. It has done so many wonderful things for our family and quality of life, so let's party… In the form of cute bite size sugar cookies.
Let's chat mini drop sugar cookies with sprinkles.
WHAT IS A DROP SUGAR COOKIE?
First things first, you may be wondering what a drop sugar cookie is and if there's another kind of sugar cookie on the block you didn't know about.
The answer would be no, there isn't really anything you weren't aware of, but when we talk about sugar cookies, we've got drop and we've got cut-out.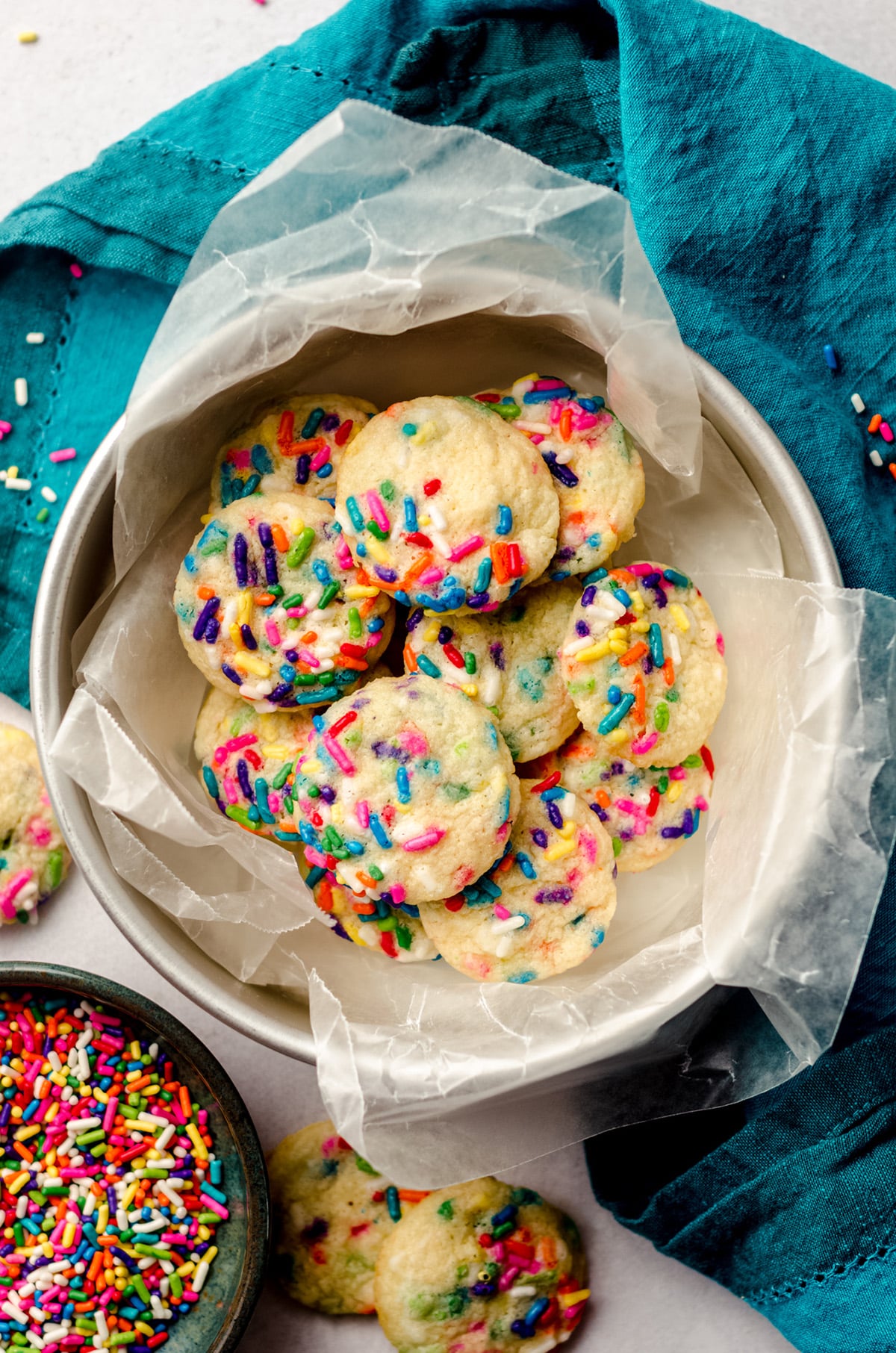 Visit any number of these posts for my collection of cut-out sugar cookies!
•the original easy cut-out sugar cookies
•funfetti cut-out sugar cookies
•pumpkin spice cut-out sugar cookies
•spiced gingerbread cut-out cookies
•peppermint cut-out cookies
The other type of sugar cookie that exists in this world that we refer to as drop means that we drop these cookies onto the baking sheet. In fact, my vanilla bean sugar cookies are considered a drop cookie recipe.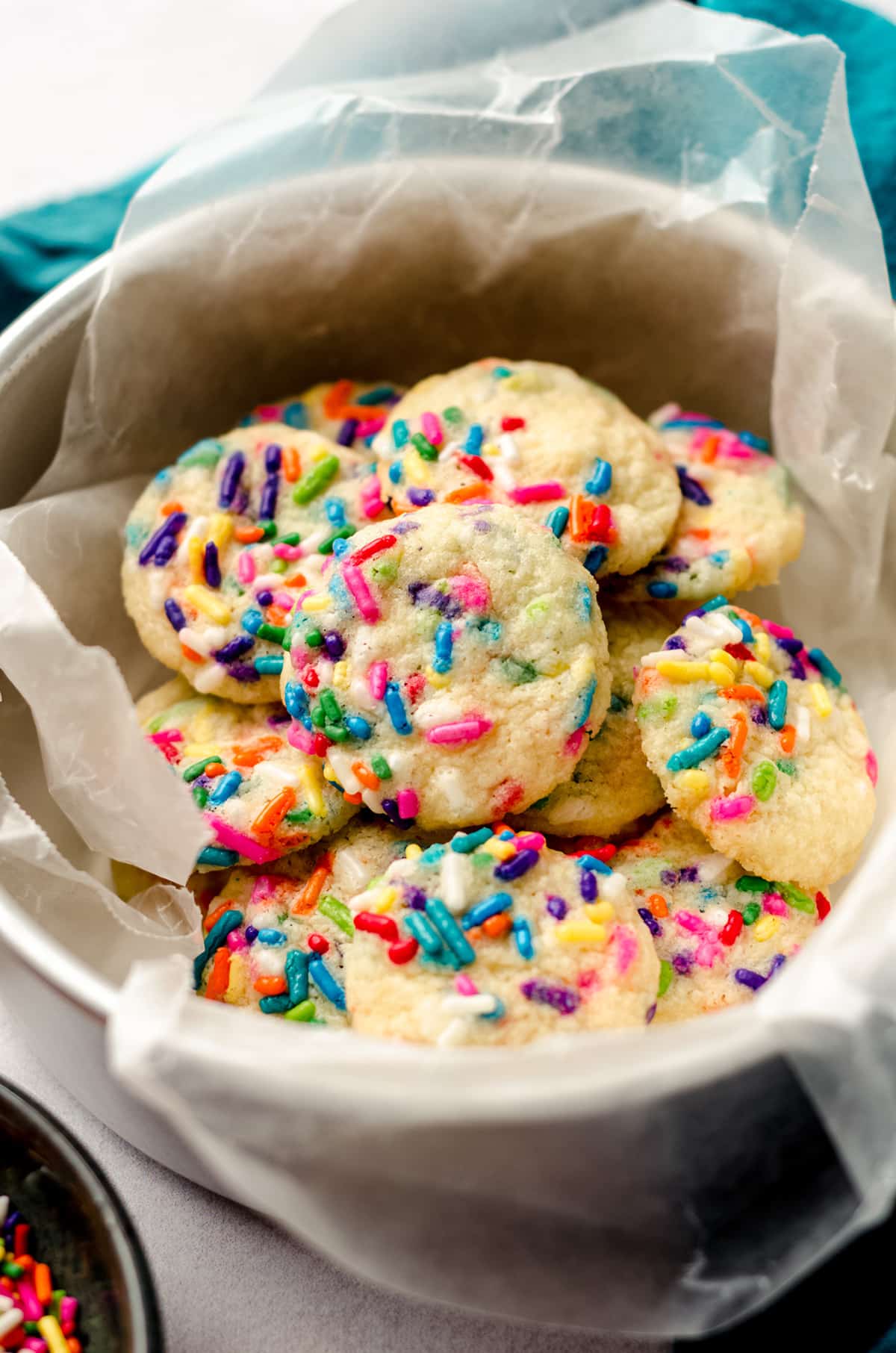 Really, most cookies you're familiar with are considered "drop cookies," but because sugar cookies tend to be a little more popular in the cut-out form, we specify these as drop.
Are we on the same cookie page?
First, I removed the brown sugar. Sugar cookies are all white sugar flavor. That super sweet sugar flavor is just what sugar cookies need. We don't need any depth of flavor happening here!
I also backed down the flour a bit, simply because when we're making small cookies, we don't want a ton of spread. Those little cuties need to stay nice and fluffy. Added flour could make them spread too much.
Next, a touch of almond extract is my favorite addition to the whole flavor profile, but if you're not into that or don't have any, just vanilla is fine.
And lastly… The sprinkles!
WHAT KIND OF SPRINKLES SHOULD I USE?
For this mini sugar cookies recipe, you're going to want to use a sprinkle blend that is just jimmies/rods. You don't want to use nonpareils because the color will bleed all over the batter and you'll have muddy colored sugar cookies with sprinkles in a hurry.
This is a great place to customize your cookies, because you can choose the colors you want to coordinate with your theme or holiday.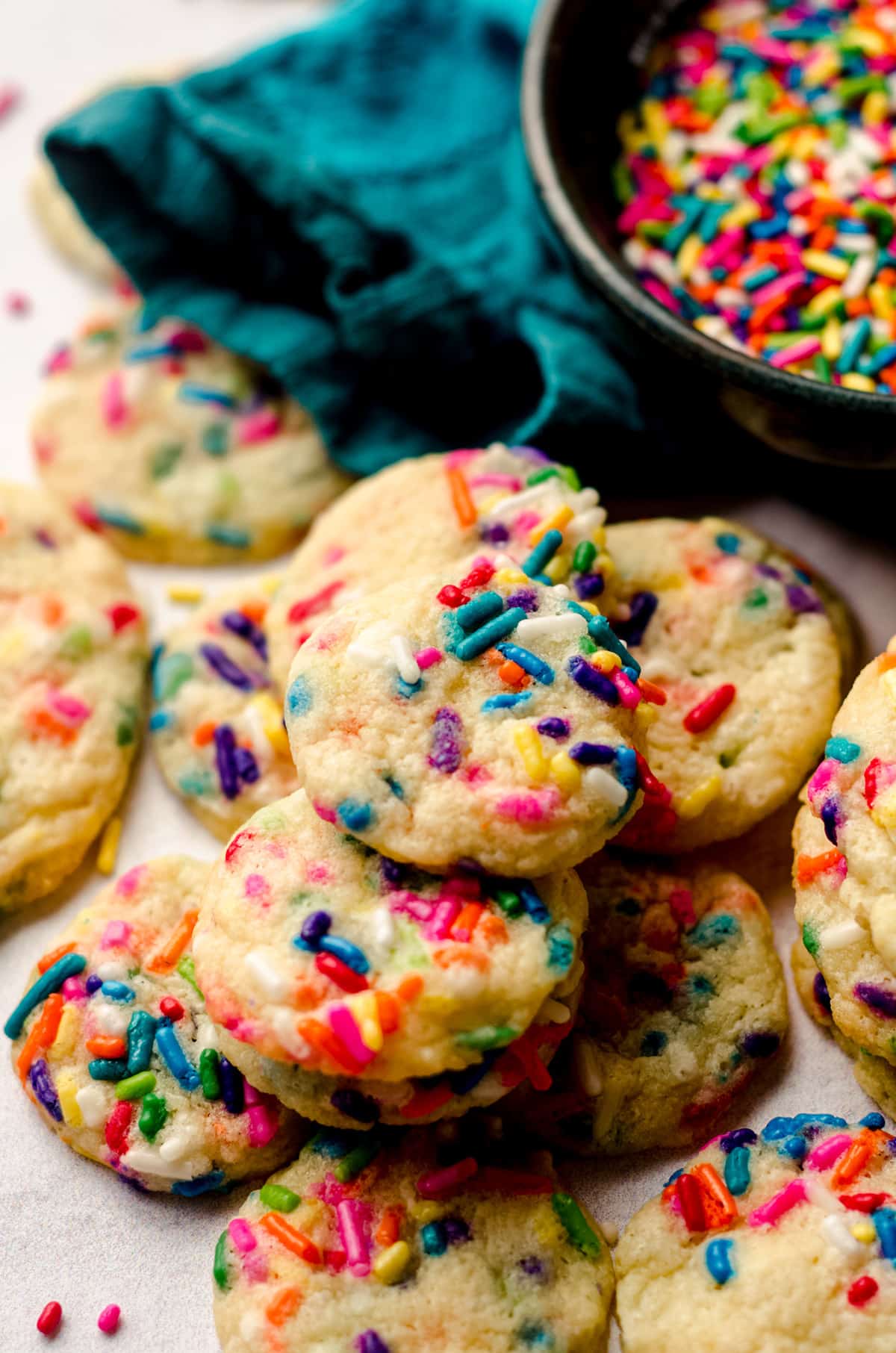 These are actually one of my favorite recipe to use for Christmas cookies because I can use red and green sprinkles and make adorable mini Christmas cookies without breaking out any cookie cutters.
HOW TO MAKE SUGAR COOKIES WITH SPRINKLES
This recipe is super easy. We're using melted butter, so you don't have to wait for any butter to soften.
You'll mix together your dry ingredients, set them aside, work on the wet ingredients, and then combine it all with a spatula You don't even need to break out the mixer.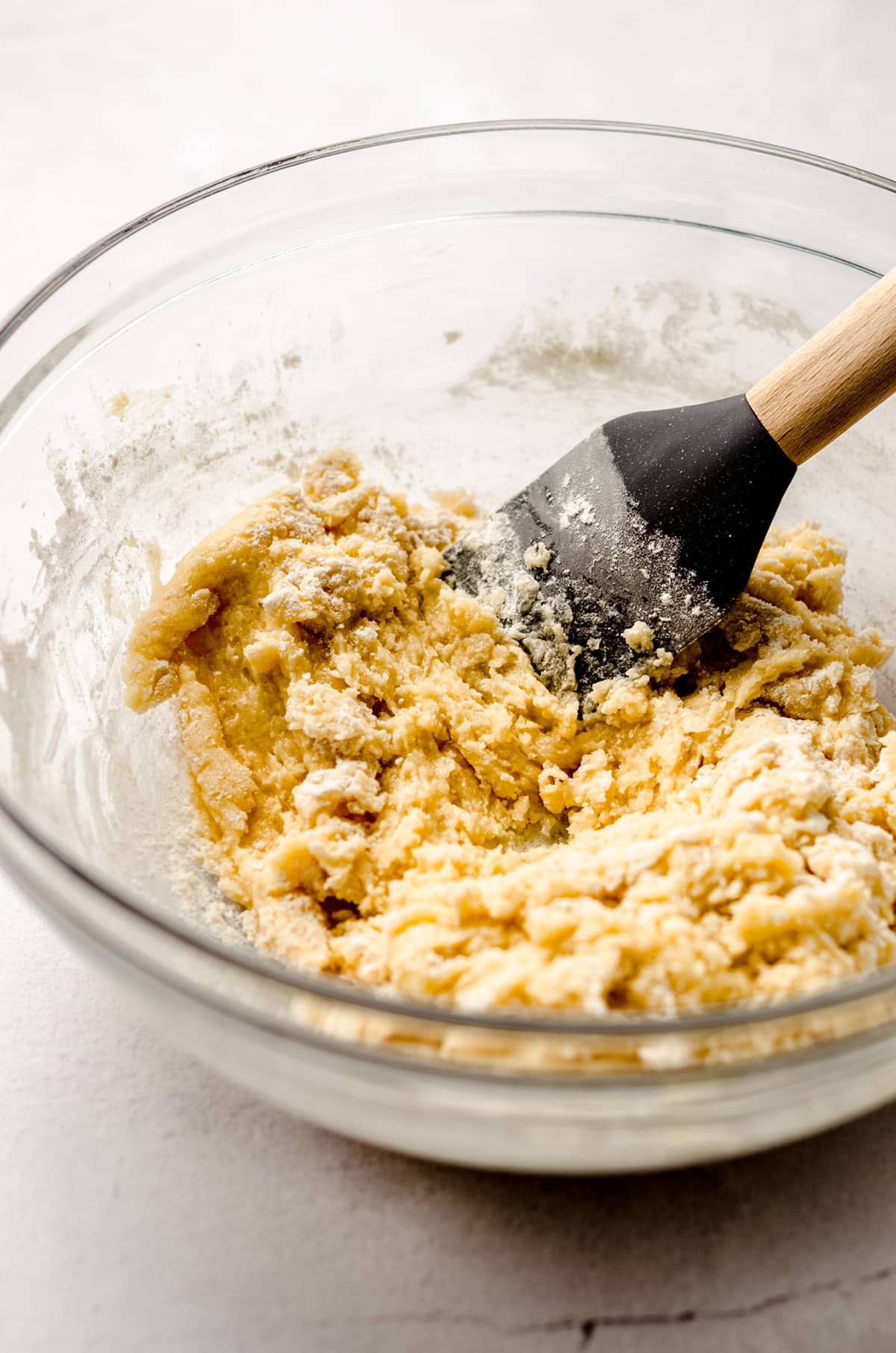 Cute cookies and no mixer? Say hellooooo to your new favorite sugar cookies.
Once the dough is together, you'll need to chill it in the refrigerator for 1 hour.
ROLL THE DOUGH
When the cookie dough is thoroughly chilled, you'll roll the cookie dough into balls and dip them into even more sprinkles.
This is simple: roll dough, dip a tiny portion of the dough ball into sprinkles, then place the cookie dough ball on a plate/baking sheet/whatever.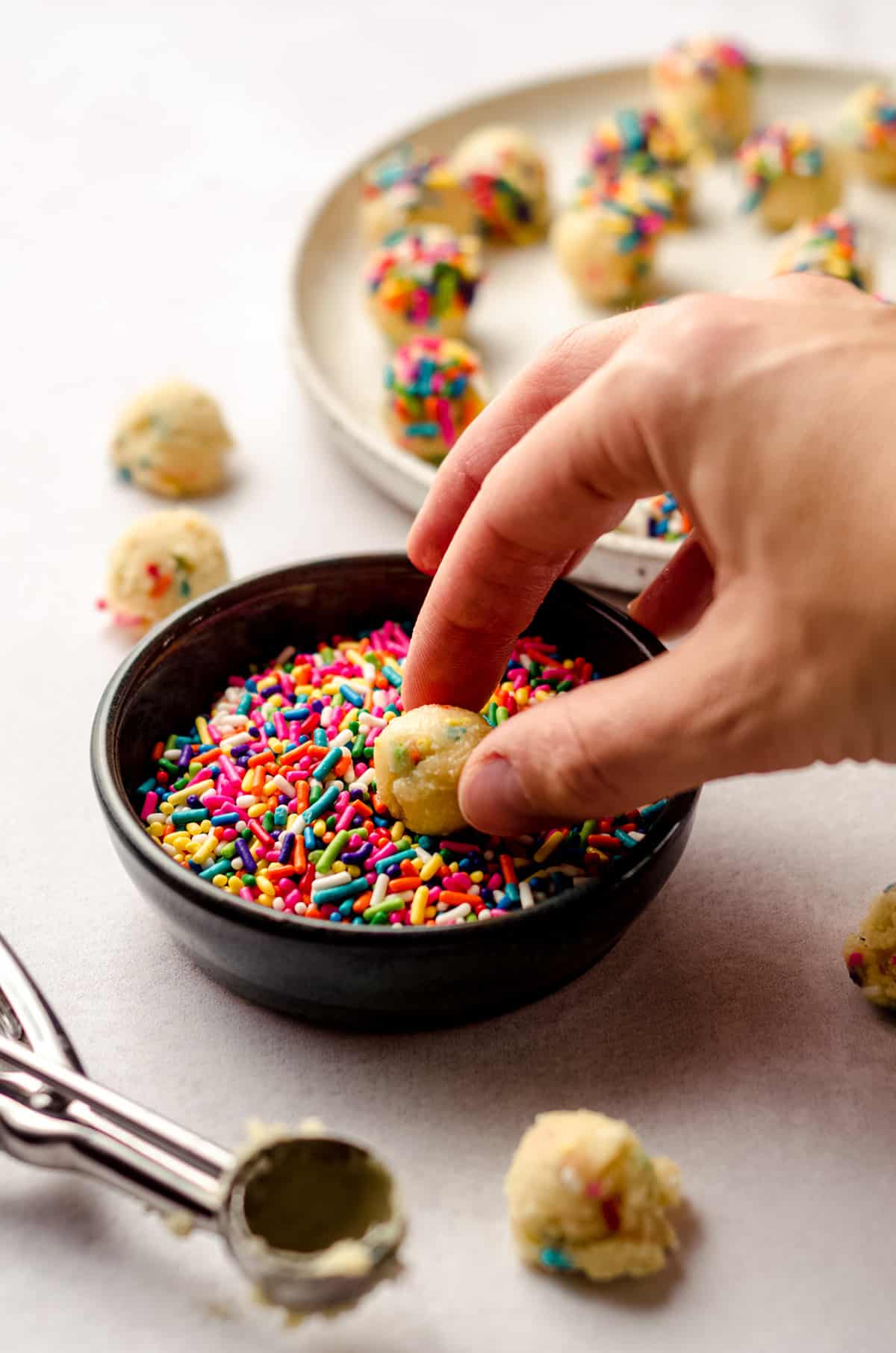 The reason you'll want to let them sit on a plate or something of the like is because they do need an additional 15 minutes or so to firm up again.
Since these cute sugar cookies are so small, the warmth of your hand will melt the butter pretty easily. If we let the butter firm up again, we can retain the integrity of that perfectly round cookie shape.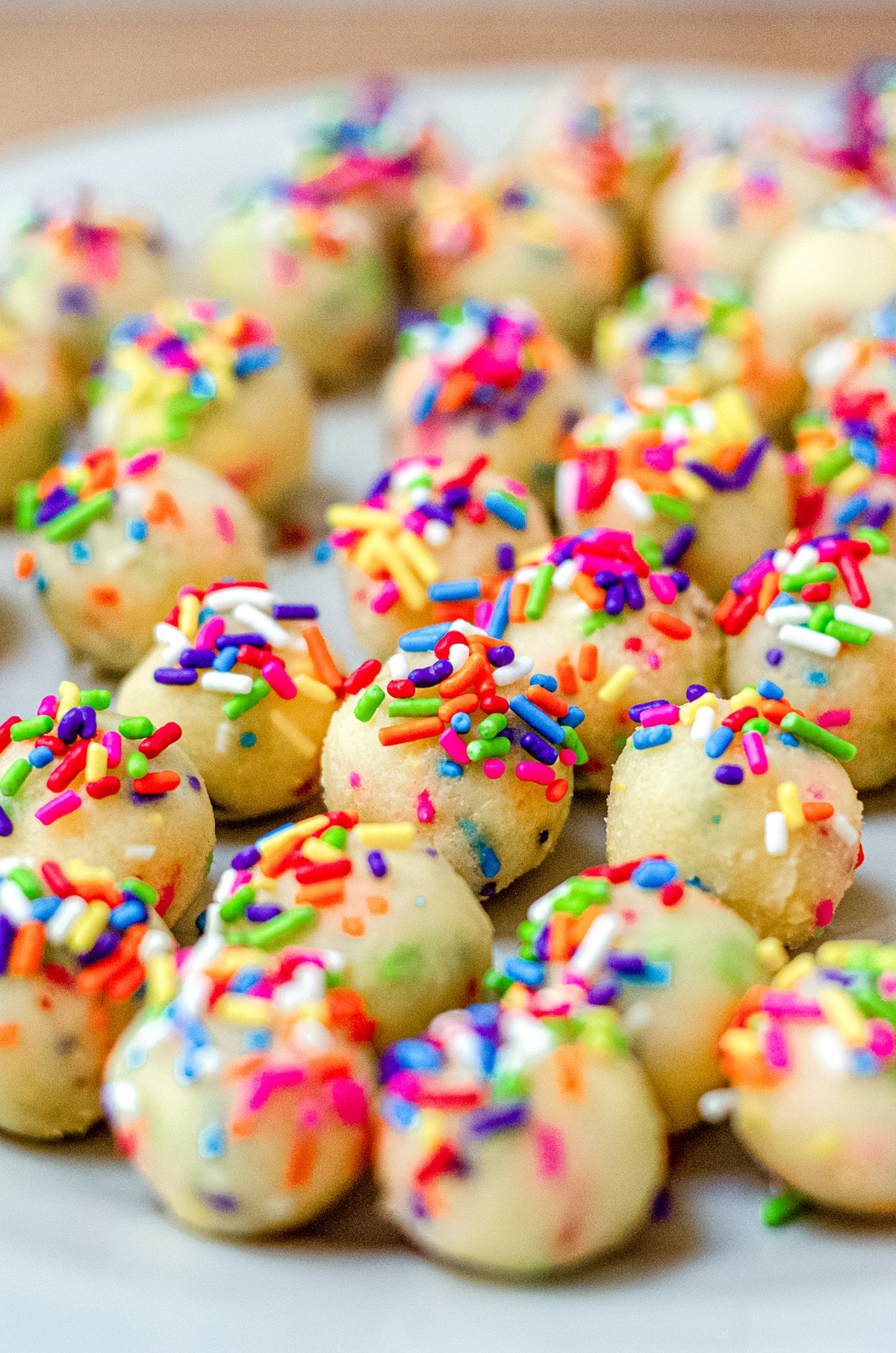 MAKE THEM MINI OR STANDARD SIZE
Though I wrote this sugar cookie recipe to make mini cookies, making them standard size is really just a matter of how large you roll the cookie dough.
My favorite cookie scoop for mini size cookies is a #110 scoop, and my favorite standard size cookies is a #50.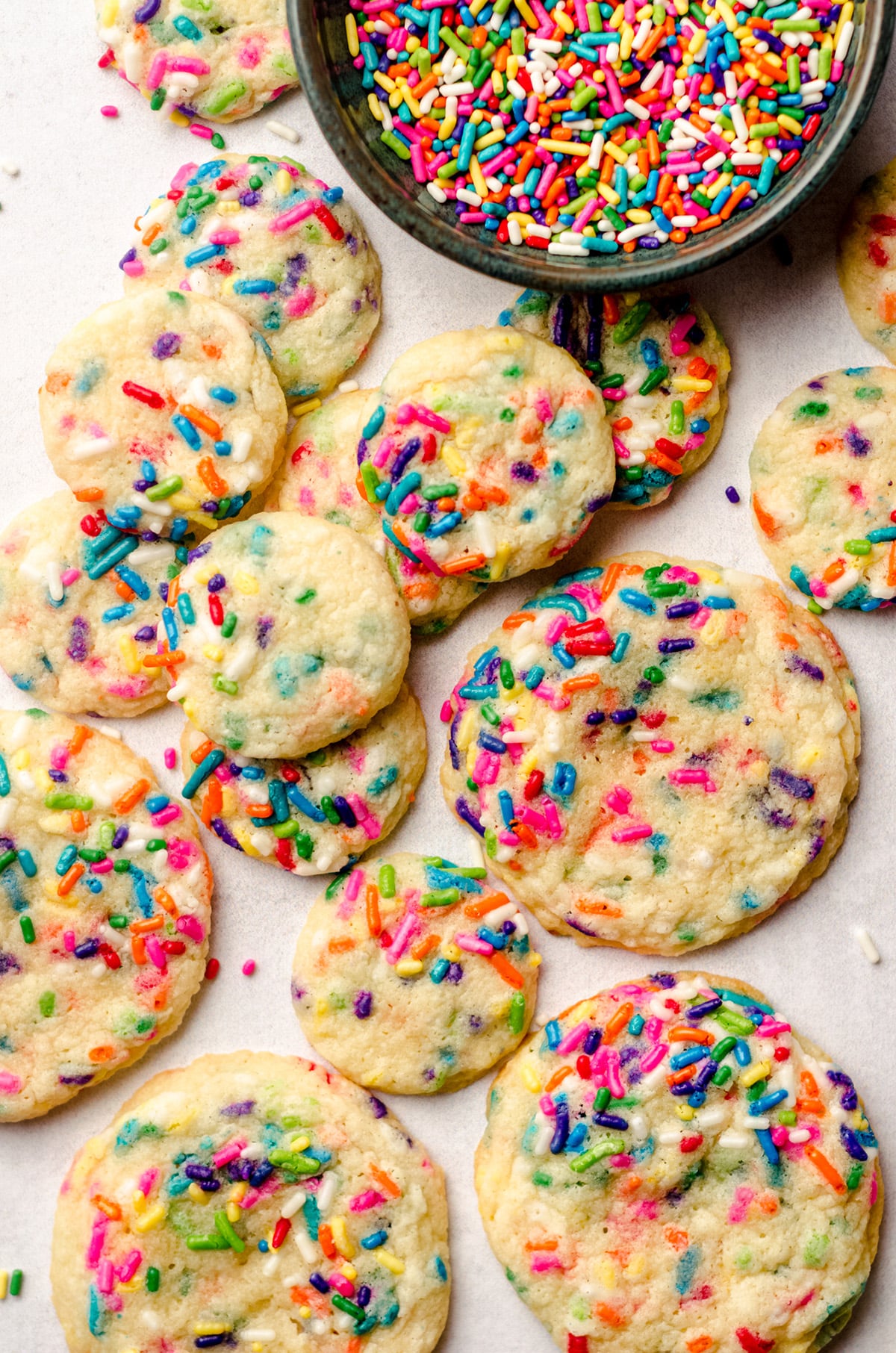 You can really turn any cookie recipe into mini cookies, just consider the add-ins! Standard size chocolate chips are pretty big to be making into mini cookies.
But something like these sugar cookies with sprinkles? Easy peasy!
ALWAYS A HIT
These confetti cookies never last long when I take them somewhere. In fact, my most recent batch went to the lobby at our gym and they were gone after 2 sessions.
They are slightly textured on the outside and on the edges, the inside is soft and chewy, and when it comes to the way they look, that is totally up to you. Make 'em special!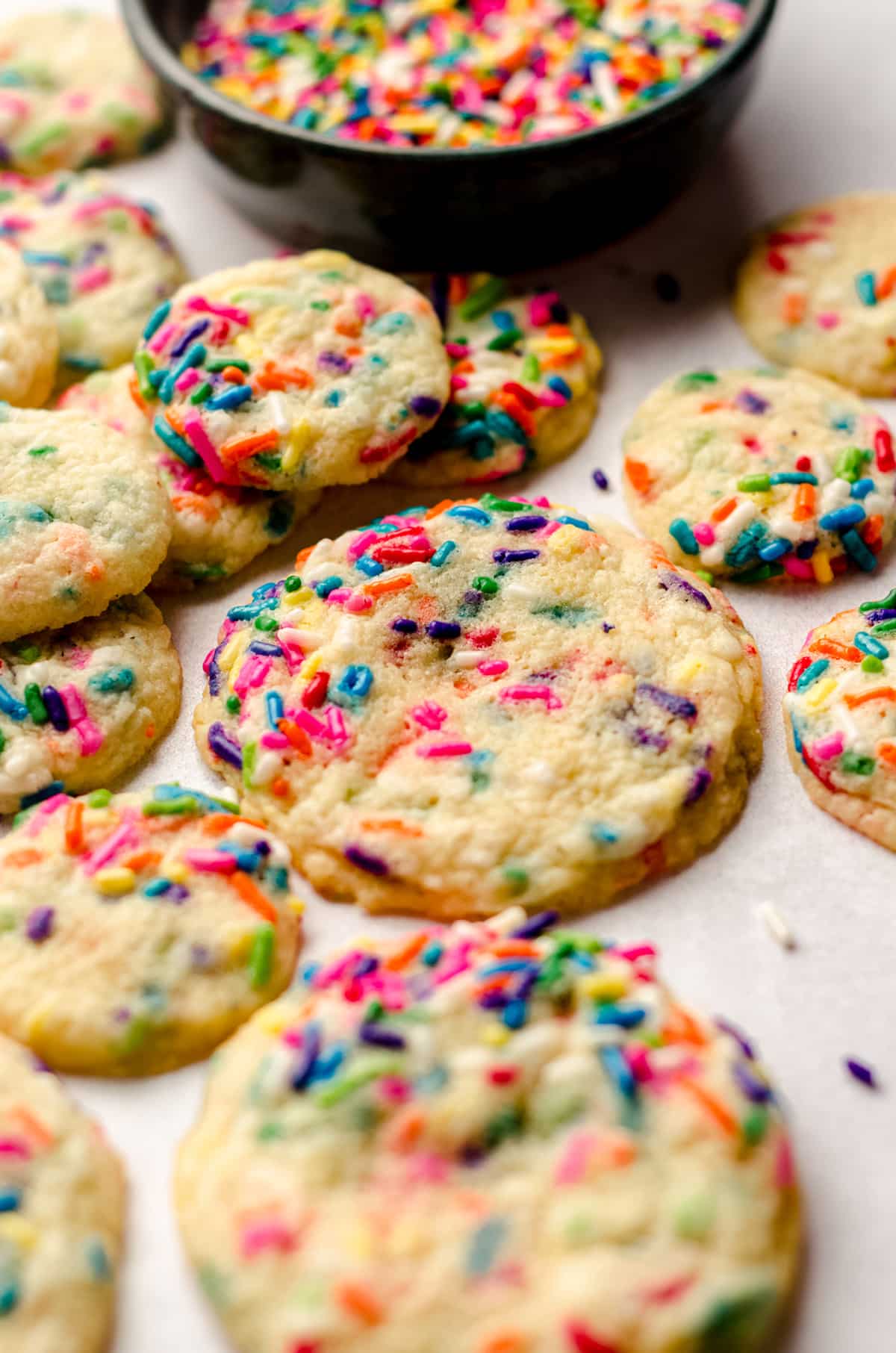 I hope you'll pack this cookie recipe in your back pocket for any holiday celebration you have coming up.
Like I said, this cookie recipe is totally fit for any celebration (birthday! shower! Christmas! Hanukkah! Super Bowl!), so let's sprinkle the world with these sprinkle sugar cookies (I've already started)!
If you like these cookies, you'll love some of these other funfetti recipes! Try my funfetti sugar cookie cake, funfetti snowballs, or funfetti cheesecake!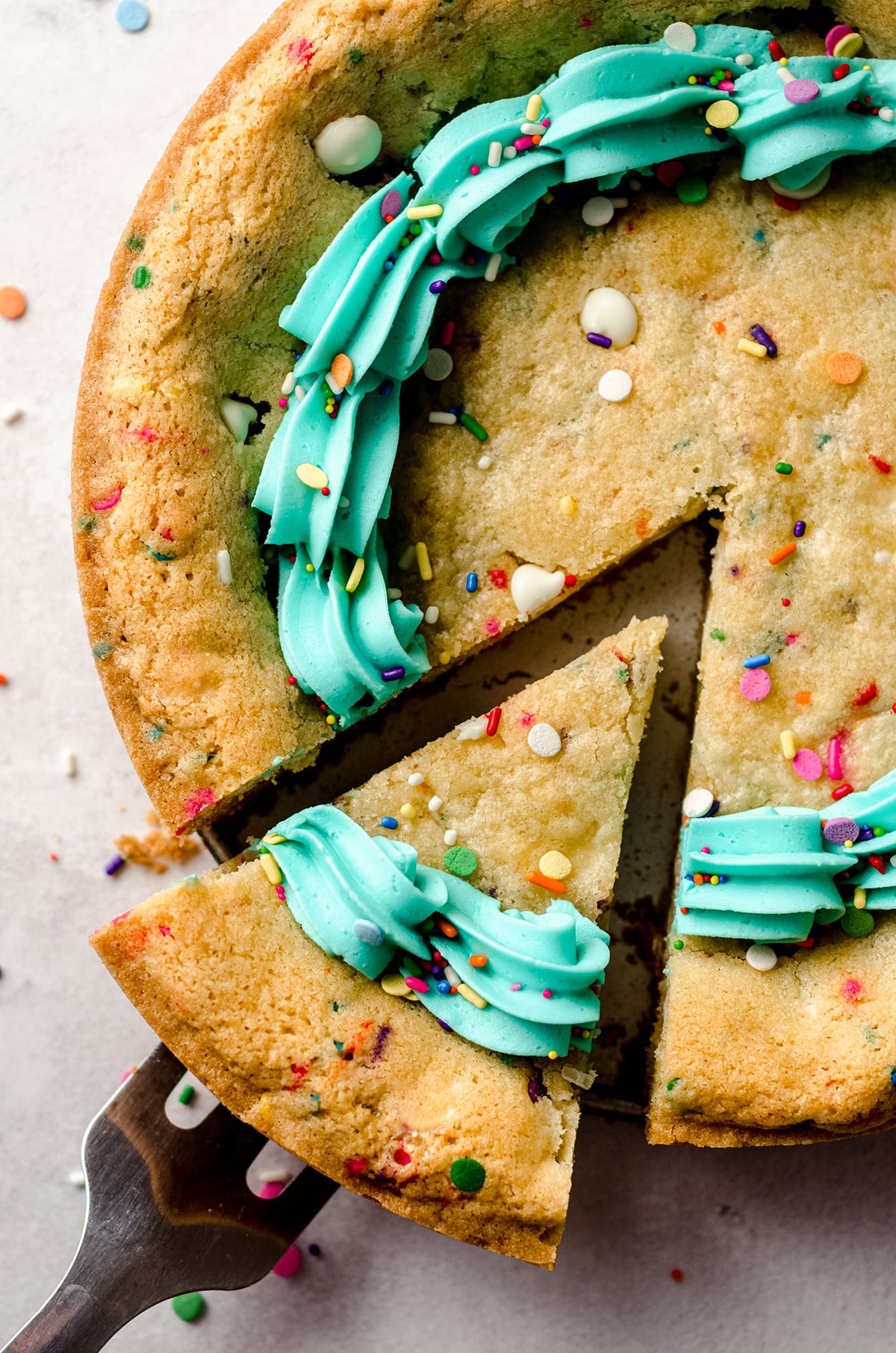 Mini Sugar Cookies with Sprinkles
Soft and chewy drop sugar cookies filled with sprinkles. Keep them mini or make them standard size. Fill with your favorite holiday sprinkles!
Servings:
60
mini cookies (or 24 standard size)
Ingredients
1

cup

+ 2 Tablespoons (135g) all-purpose flour be sure to measure properly

¾

teaspoon

baking powder

¼

teaspoon

salt

½

cup

(113g) unsalted butter

melted

⅔

cup

(132g) granulated sugar

1

large egg

room temperature

1

teaspoon

vanilla extract optional: +¼ teaspoon almond extract

⅓

cup (33g)

sprinkles

not non-pareils
Instructions
In a large bowl, whisk together the flour, baking powder, and salt. Set aside.

In a medium size bowl, whisk together the melted butter, sugar, egg, and vanilla extract (also almond extract, if using) until smooth.

Pour the wet ingredients into the dry ingredients and stir a few times with a large spatula until batter starts to come together. Pour in the sprinkles and continue to mix gently until everything is incorporated. Cover dough and chill in the refrigerator for at least 1 hour and up to 3 days.

When you are ready to roll the cookie dough, get out a large dinner plate. Using a ½ teaspoon measure or mini cookie scoop with a trigger, roll cookie dough into balls and press the tops into additional sprinkles, if desired. Place rolled balls on plate, then refrigerate dough balls for an additional 15 minutes before baking.

While dough balls chill, line a large baking sheet with parchment paper or a silicone baking mat. Set aside. Preheat the oven to 350ºF (177ºC).

Place no more than 12 dough balls on a baking sheet and bake the cookies for 8-9 minutes, until edges are set. Remove from the oven and allow to cool on the baking sheet for 5 minutes before transferring to a wire rack to cool completely. Keep rolled dough balls waiting to bake in the refrigerator. Cookies stay fresh covered tightly at room temperature up to 1 week. Cookies freeze well, up to 2 months. Unbaked cookie dough freezes well, up to 2 months. Place frozen dough balls on baking sheet and bake for an additional 1-2 minutes.
Nutrition Disclosure
All nutritional values are approximate and provided to the reader as a courtesy. Changing ingredients and/or quantities will alter the estimated nutritional calculations.
Serving:
1
mini cookie
|
Calories:
37
kcal
|
Carbohydrates:
5
g
|
Protein:
0.3
g
|
Fat:
2
g
|
Saturated Fat:
1
g
|
Polyunsaturated Fat:
0.1
g
|
Monounsaturated Fat:
0.4
g
|
Trans Fat:
0.1
g
|
Cholesterol:
7
mg
|
Sodium:
16
mg
|
Potassium:
4
mg
|
Fiber:
0.1
g
|
Sugar:
3
g
|
Vitamin A:
51
IU
|
Calcium:
4
mg
|
Iron:
0.1
mg