As an Amazon Associate I earn from qualifying purchases.

No dough chilling necessary for these spiced, soft cut-out sugar cookies that are perfect for decorating with icing and sprinkles. Crisp edges, soft centers, and completely customizable in shape!
This giveaway is closed.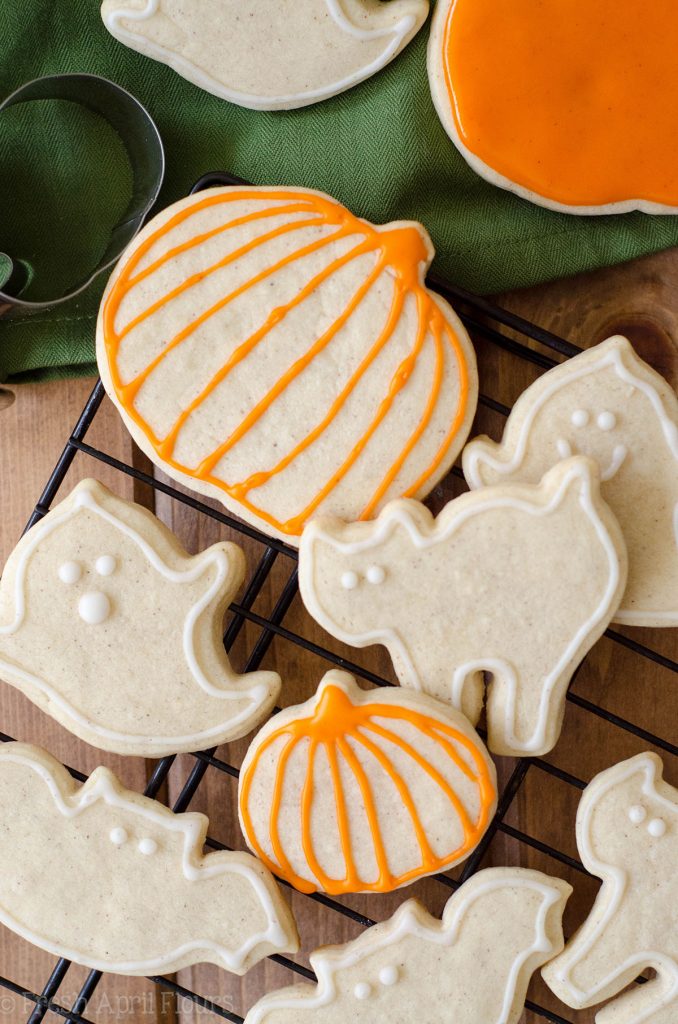 They're baaaaack! It's the return of my favorite cut-out sugar cookies that are perfect in every way, shape, and form. You'll remember them from way back in March 2015, but you've seen them most recently in the form of peppermint for 2016's 12 Days of Christmas Cookies (but like for real, can you believe that 2017's is legit right around the corner? YIKES!).
And, don't you fret… This year's Christmas cookie explosion will feature another way to turn these incredibly easy cut-out sugar cookies into the perfect cookie for any celebration. Are you excited? #cookienerd
But first, how's your fall going so far? Hot and sweaty like ours here in PA? Next week's temps look more like July and August, so I'm not sure what's happening here, but I am all decked out in my leggings, boots, and chunky sweaters, so hopefully it cools down soon because I am not breaking my summer clothes back out now that it's September– can I get an AMEN?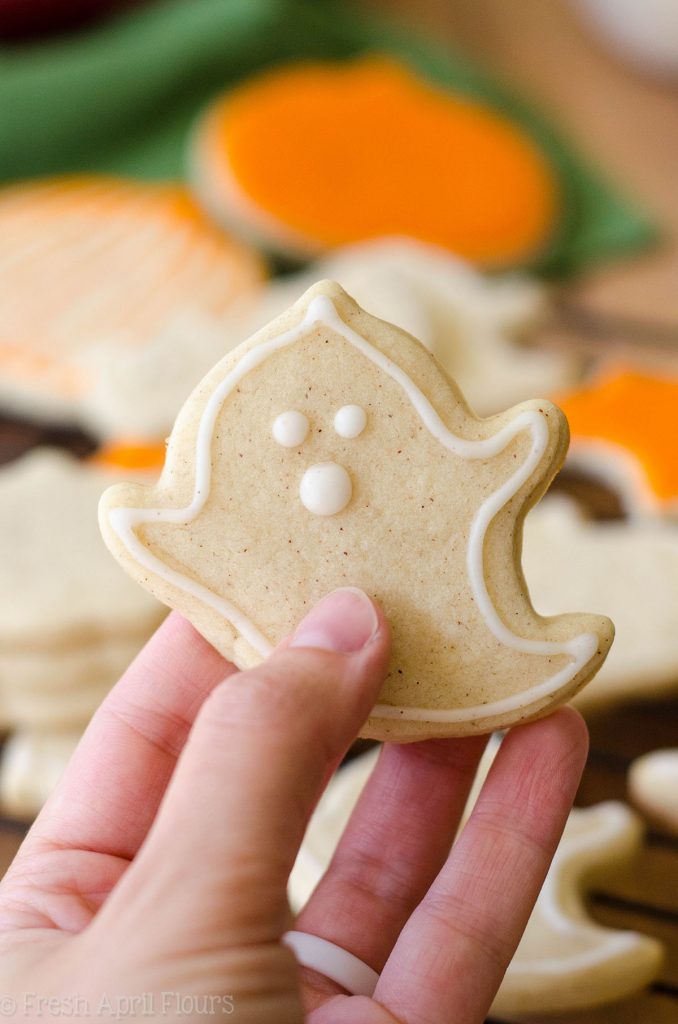 See ya, bikini. It's time for all of the sweets.
So these cookies (!!!). They are all about fall. Actually, my particular cookies have "HALLOWEEN" written all over them, but that was truly just a personal choice I made for these photos.
When it comes to pumpkin spice, you can get away with them from September through November, so break out those leaf and pilgrim hat cookie cutters, because you will want these babies in your cookie jar non-stop until it's time for peppermint.
BELIEVE ME.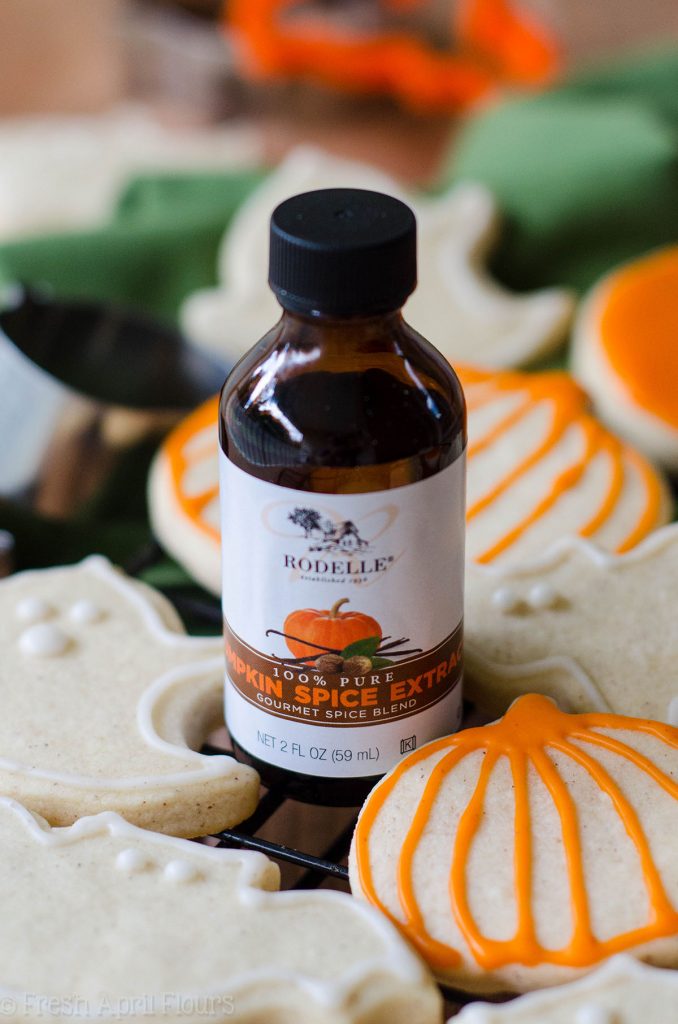 The cool thing about these pumpkin spice cut-out sugar cookies is that they aren't just stuffed with classic fall spices (cinnamon, nutmeg, cloves). No siree, these cookies have been kissed with the most fabulous ingredient that has graced my pantry this year, and that ingredient is pumpkin spice extract from my friends at Rodelle.
You remember Rodelle, yes? I started working with them last summer, and I haven't regretted a single second of that as they keep my baking cabinet stocked with the latest and greatest baking ingredients all.the.time!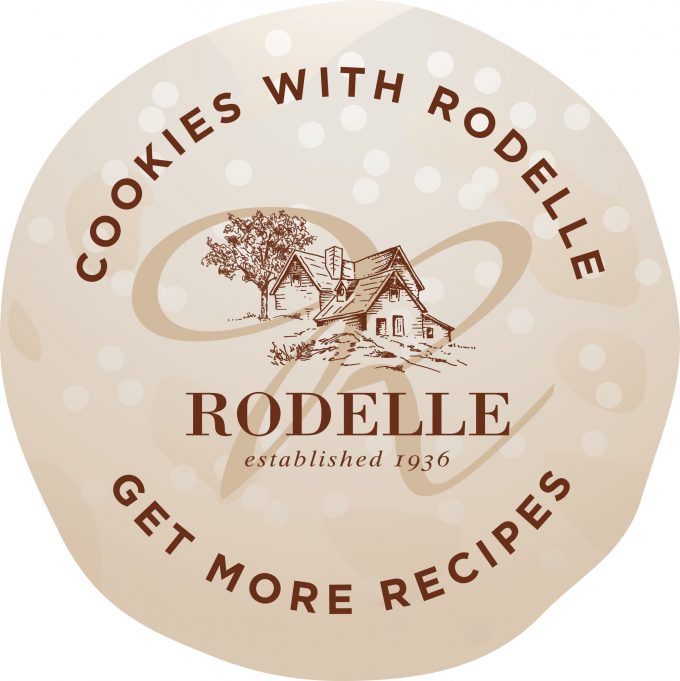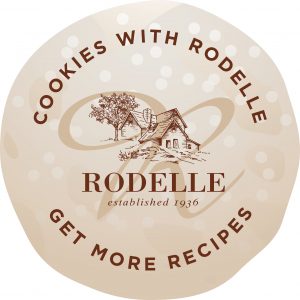 They're basically my baking besties. And you have a chance for them to be your baking bestie today, too! Scroll to the bottom of the post for how to enter the giveaway for a goodie box from Rodelle, featuring today's special ingredient.
As I've said before, these cookies are laughably easy. You can read all about the whys, hows, and whats in this post here, and you can also scroll to right under that recipe to see step-by-step what this cookie dough should look and feel like when you're working with it.
Trust me, it is so easy.
I get rave reviews about these cookies all the time, and the addition of pumpkin pie spice and pumpkin spice extract don't change that one bit.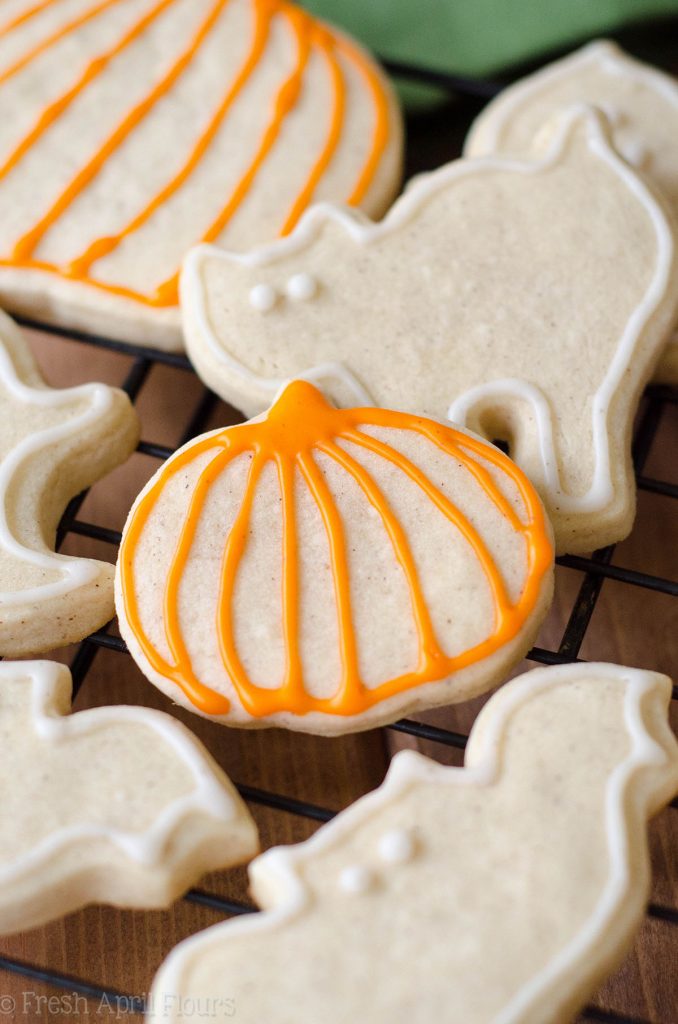 Oh, and the cookie icing on top? Also features some spice. Go ahead with your pumpkin self, friend. These cookies are as #basic as they come. (Where's my PSL?)
So about this giveaway. Let's hop to it because we have cookies to bake!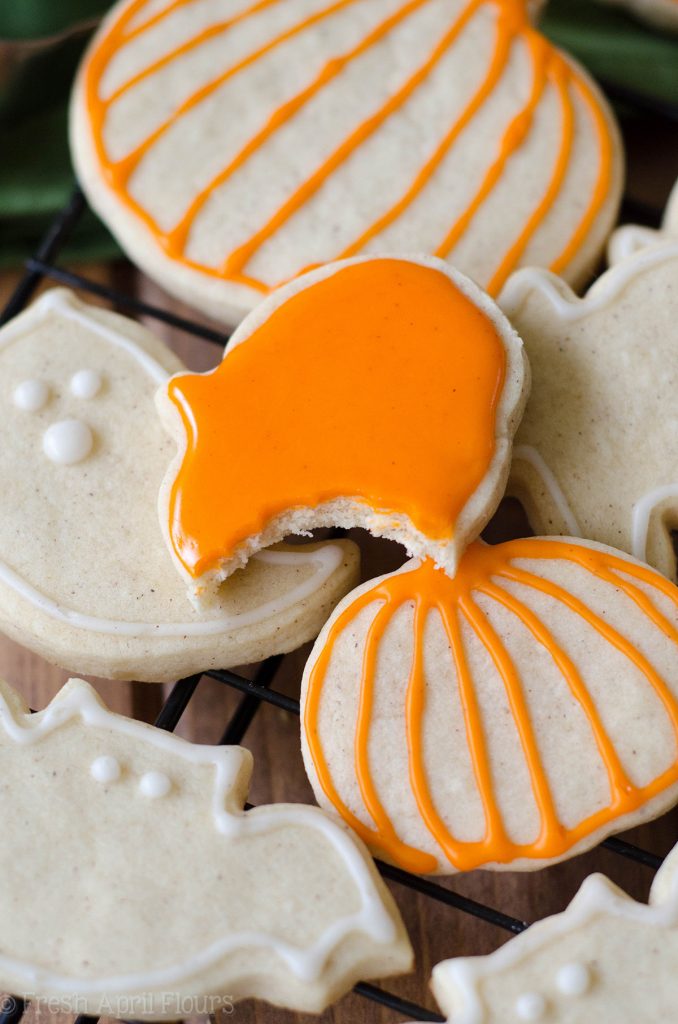 What you will win
A goodie box from Rodelle featuring their amazing Pumpkin Spice Extract and a few other products they think you will love!
How to enter
Comment below and tell me what your favorite pumpkin flavored thing is. That's it!
Winner will be picked randomly by comment number entered into random.org.
This giveaway is open to the U.S. only. Giveaway ends on Sunday, September 24th at 11:59pm.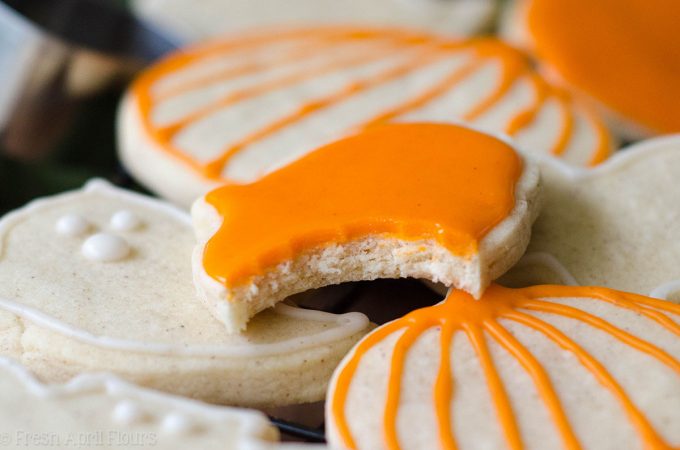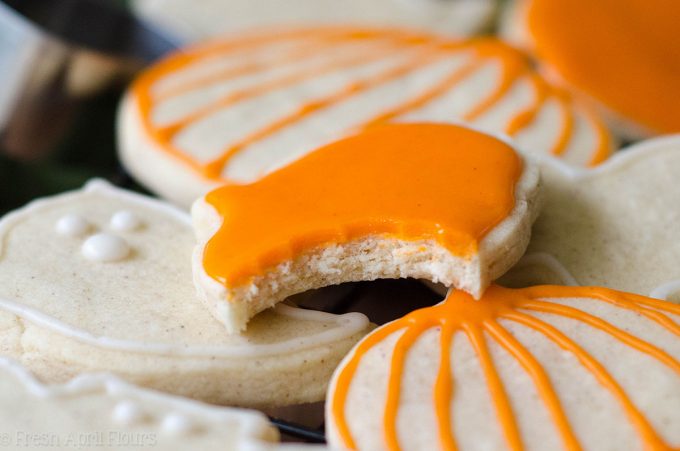 Happy pumpkin baking, friends!
Pumpkin Spice Cut-Out Sugar Cookies
No dough chilling necessary for these spiced, soft cut-out sugar cookies that are perfect for decorating with icing and sprinkles. Crisp edges, soft centers, and completely customizable in shape!
Servings:
2
dozen (2") cookies
Ingredients
PUMPKIN SPICE SUGAR COOKIES
2 and 1/2 to 3

cups

all-purpose flour1

2

teaspoons

baking powder

1

teaspoon

salt

1

teaspoon

pumpkin pie spice

1/4

teaspoon

ground cinnamon

1

cup

(2 sticks) unsalted butter

softened to room temperature

1 and 3/4

cup

powdered sugar

1

large egg

room temperature2

1

teaspoon

vanilla extract

2

teaspoons

Rodelle Pumpkin Spice Extract
PUMPKIN SPICE COOKIE ICING
1 and 1/2

cups

powdered sugar

1/8

teaspoon

pumpkin pie spice

2

Tablespoons

warm water

½

Tablespoon

light corn syrup

⅛

teaspoon

Rodelle Pumpkin Spice Extract
Instructions
PUMPKIN SPICE SUGAR COOKIES
In a medium sized bowl, toss together 2 and ½ cups of flour, baking powder, salt, pumpkin pie spice, and cinnamon. Set aside.

In a large bowl with a hand mixer or the bowl of a stand mixer with the paddle attachment, cream together butter and powdered sugar until light and fluffy, about 3 minutes. In a measuring cup or small bowl with a spout, beat the egg and extracts. Add egg mixture to creamed butter and sugar and beat on high until completely incorporated, scraping down sides as necessary.

With mixer on low, add flour mixture to wet ingredients little by little, allowing dough to come together after each addition. After you have added all 2 and ½ cups of flour (plus baking powder and salt) to the bowl, most of the dough should stick to your beaters or paddle.

Test dough consistency by touching it with your fingers. It should be slightly tacky, but not sticky. It should remind you of Play-Doh. If it is too sticky, add ¼ cup of flour at a time until you reach 3 total cups of flour (two additions). Occasionally, I will need a tad more flour, but do not exceed 3 cups + 2 Tablespoons flour. Too much flour yields denser cookies, and we want these to stay soft. When your dough is the right consistency, gather it into a ball and allow it to rest for 10 minutes. While it is resting, preheat your oven to 400ºF. Line two large baking sheets with parchment paper or silicone baking mats. Set aside.

Prepare your rolling surface by dusting it lightly with powdered sugar. If you would like, use two wooden dowels, sized at ¼" thickness, on either side of your dough while rolling it out to keep cookies a uniform thickness.

When your dough is ready to roll, break off a workable size of dough. I usually break it into 4 pieces. Roll dough with a powdered sugared rolling pin and cut into desired shapes with cookie cutters. I like to dip my cookie cutter into powdered sugar every few cuts to keep my cookie edges clean. Transfer cut dough onto baking sheets. It is best to keep cookies that are the same size and shape together on baking sheets so as to uniformly bake all of your cookies. Re-roll and cut dough as needed until all of the dough is used up. At this point, you may decorate cut cookies with sprinkles or just leave them plain and decorate them with icing later.

Bake cookies for 4-6 minutes. Medium cookies (2") take about 6 minutes. Mini cookies (1") take about 4 minutes. Bake until cookies are slightly puffed and are no longer shiny. Edges may start to brown, and that's ok, just work quickly to remove them from the oven. I prefer to remove mine before they start to brown. Allow cookies to rest on baking sheet for 2 minutes before transferring to wire rack to cool completely. I prefer to decorate day-old cookies, as they are sturdier, but this is personal preference and only a suggestion. Undecorated cookies freeze extremely well (I actually like to eat them frozen!), up to 3 months. Do not freeze decorated cookies. Thaw overnight before decorating previously frozen cookies.
PUMPKIN SPICE COOKIE ICING*
When you're ready to decorate your cookies, place powdered sugar and pumpkin pie spice in a medium bowl and set aside. In a small bowl, combine warm water, light corn syrup, and pumpkin spice extract. Stir until corn syrup is dissolved.

Add sugar water to powdered sugar and stir until completely combined. Mixture will be thick. The consistency you're looking for is a slowly dripping icing that disappears into the bowl within about 12 seconds. Add water by drop if you think it's too thick. If it becomes too thin, add more powdered sugar by the teaspoon. Use immediately. If you need to wait to use your icing, cover tightly, and use within 1 day. You will need to stir it up again and possibly add more water before using. Cookies will stay fresh in an airtight container at room temperature well over a week.
Notes
Start with 2 and ½ cups of flour and work your way up to 3 cups as needed. Do not exceed 3 cups + 2 Tablespoons.
Room temperature egg preferred. It is always a good idea to use a room temperature egg when using room temperature butter, which allows for better incorporation into dough.
*See my detailed easy royal icing recipe for a video of exactly how to make this icing and what the drizzle test looks like.