Pumpkin Spice Cut-Out Sugar Cookies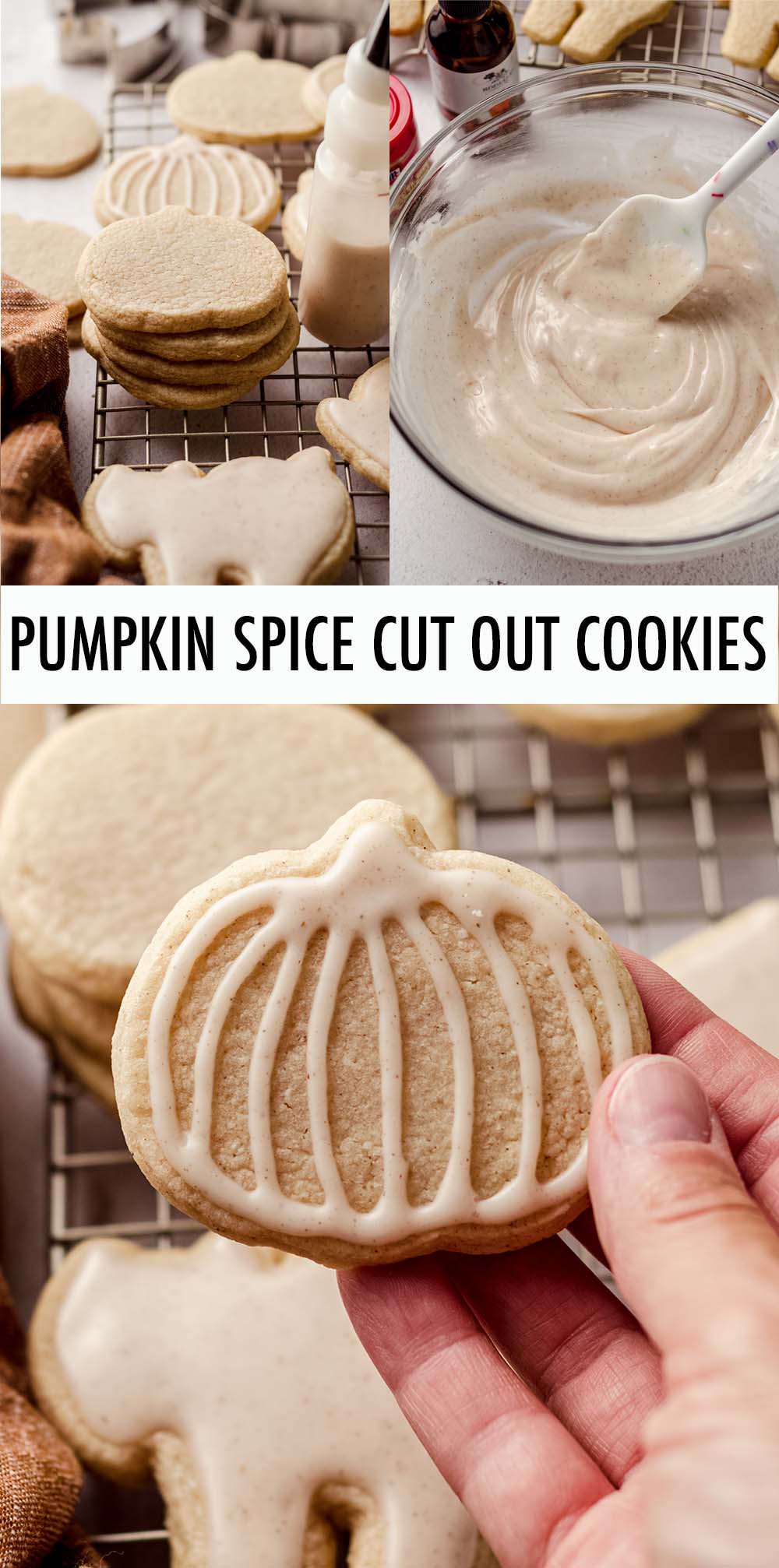 As an Amazon Associate, I earn from qualifying purchases. Read the full disclosure here.
No dough chilling necessary for these pumpkin spiced, soft cut-out sugar cookies that are perfect for decorating with icing and sprinkles. Crisp edges, soft centers, and customizable in shape. Use my easy pumpkin spice royal icing recipe (included) to decorate them!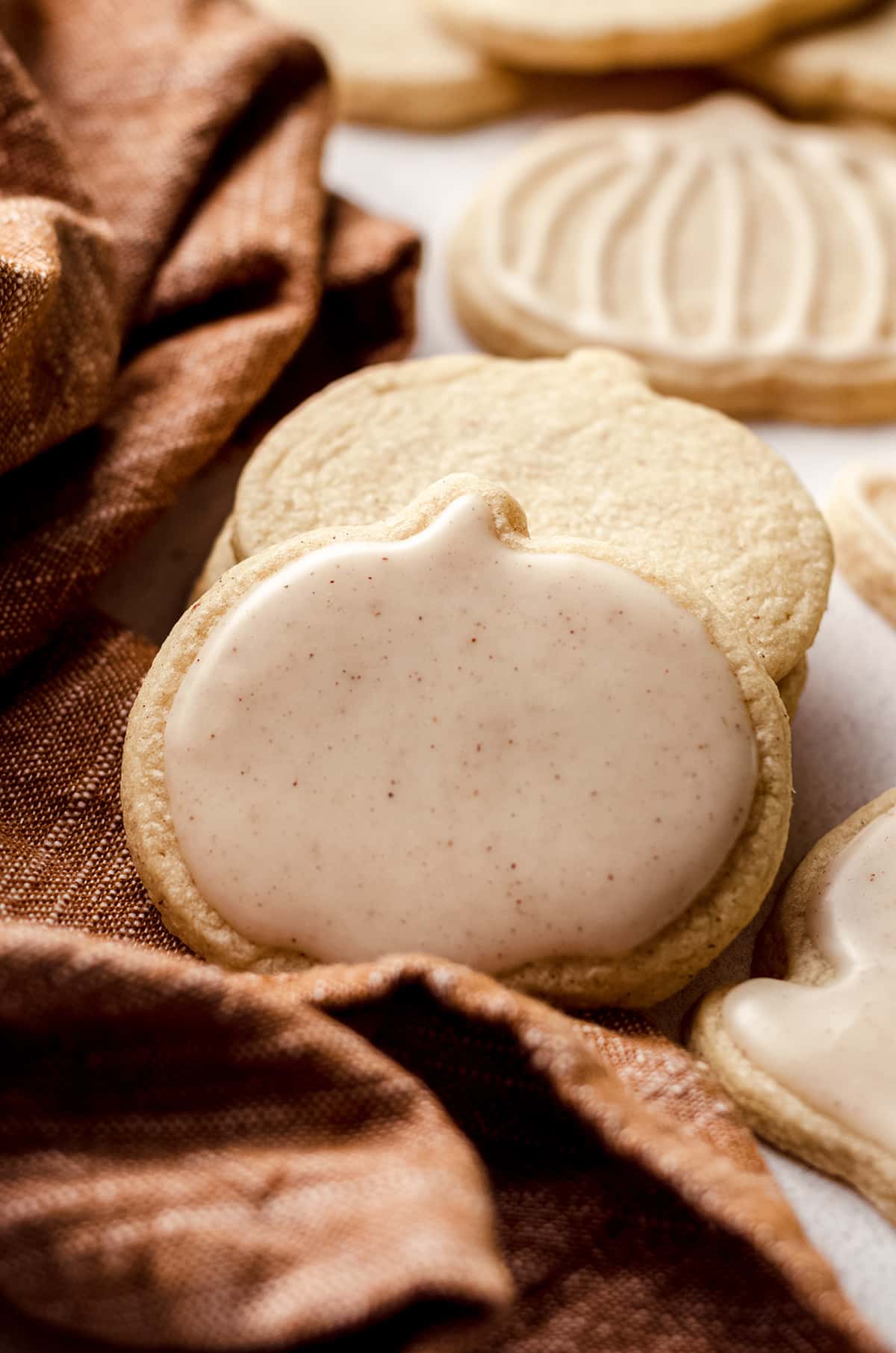 They're baaaaack!
Ok, maybe they're not *back* if you've never seen my classic sugar cookies recipe, so if you haven't seen those already, that's where this pumpkin spice sugar cookie recipe is back from.
And also, since this recipe has lived on my site since 2017, it's also sort of back in an "I've been updated and refreshed and I'm better than ever" kind of way. With 5-star reviews and all kinds of taste tests and everything!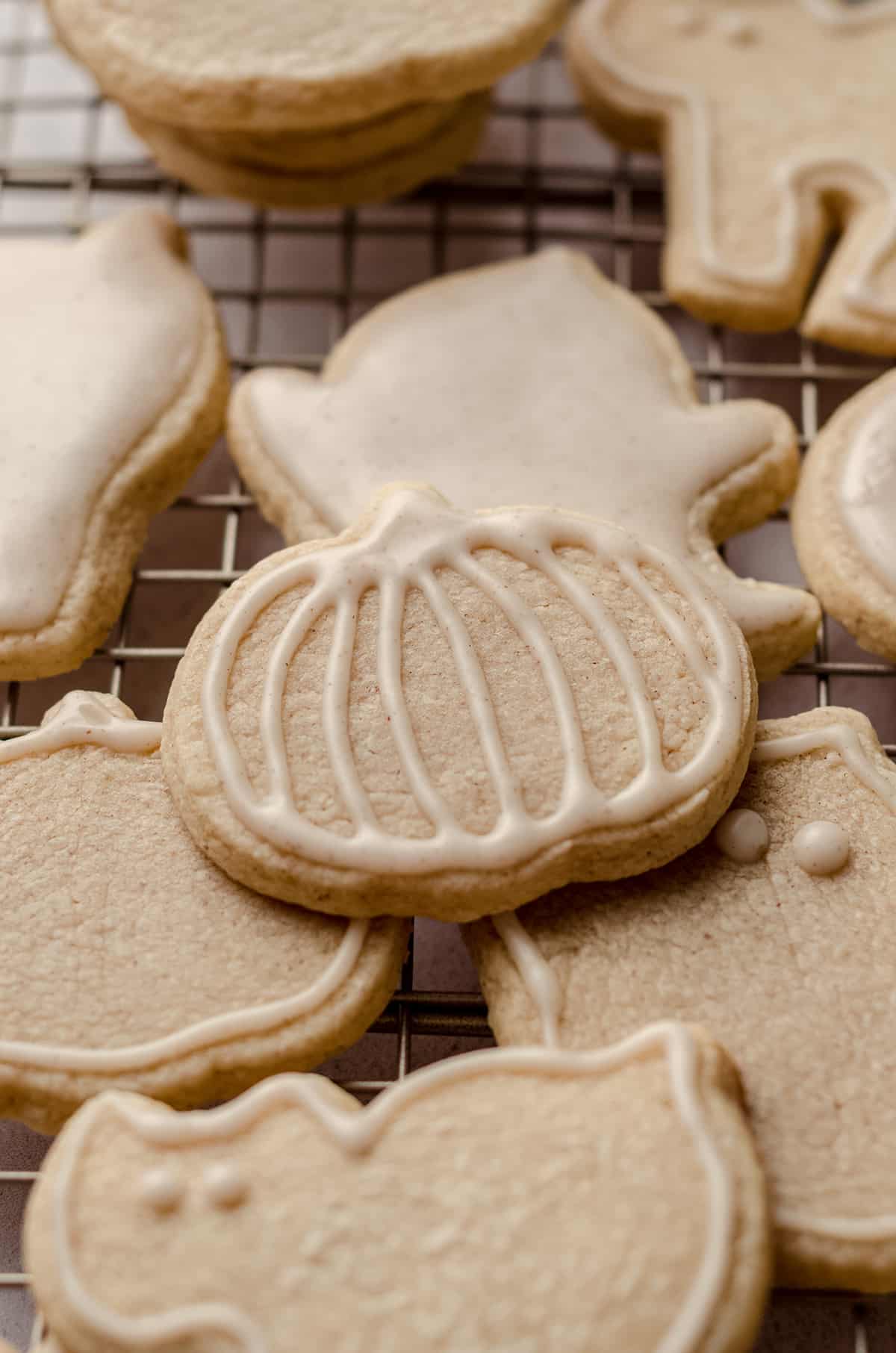 My original cut-out sugar cookie recipe has been in my life since I first started my site in 2014, and it is quite literally a perfect sugar cookie recipe.
It's soft on the inside, has sturdy edges that hold their shape in the oven, it doesn't require any chilling of the dough, and it comes alongside the most popular recipe on my entire site: my easy royal icing, which has no meringue powder and requires no mixer.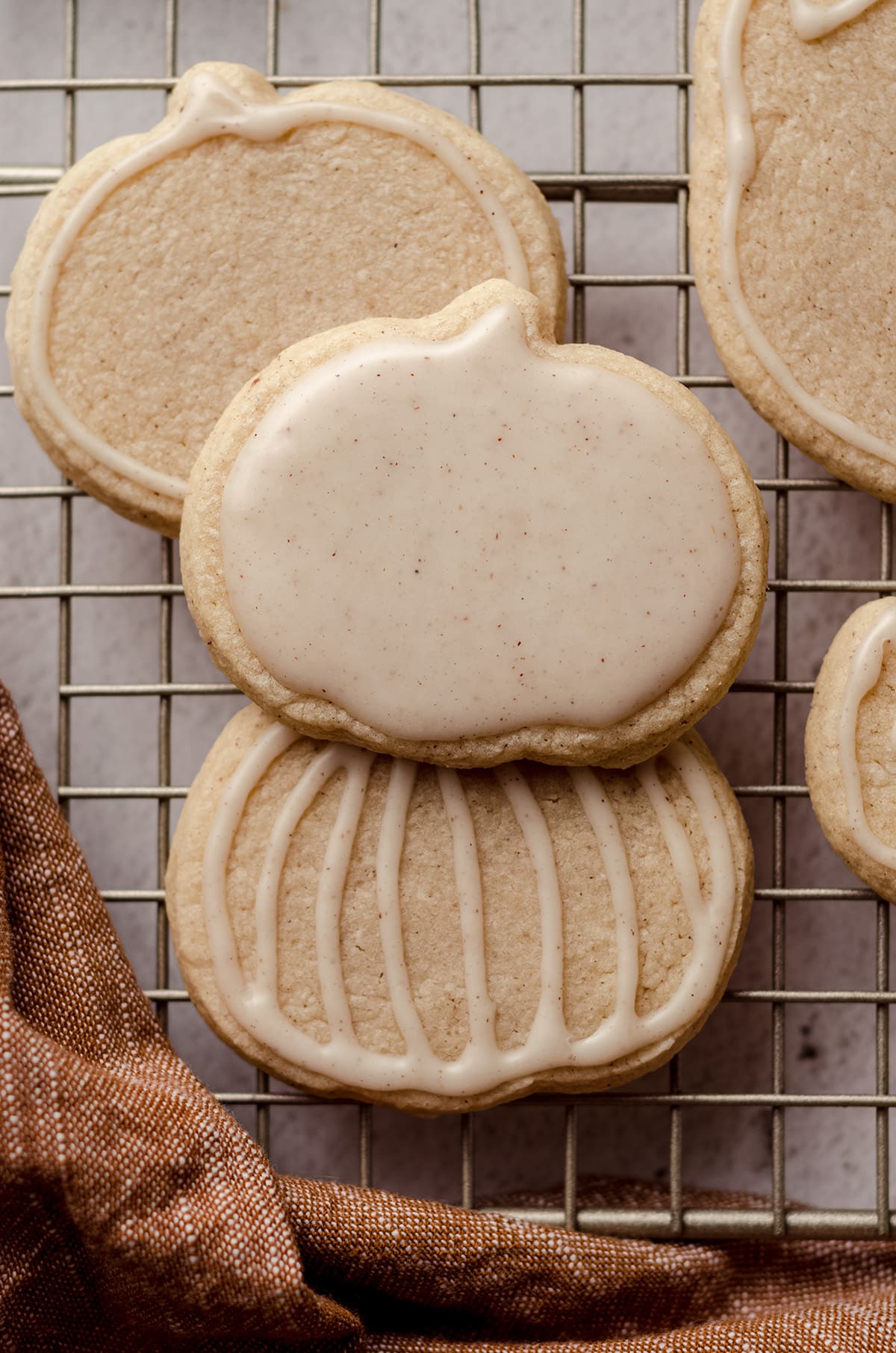 Don't miss the same cookie dough base in other flavors: funfetti cut-out sugar cookies, chocolate sugar cookies, and peppermint cut-out sugar cookies.
Did you know you were going to get so much awesomeness in one place with this ridiculously easy recipe? I'm so glad you're here!
INGREDIENTS
There are two components to these pumpkin cut-out cookies– the cookies themselves and then the icing on top.
PUMPKIN SPICE SUGAR COOKIES
This pumpkin spice sugar cookies recipe is almost identical to my traditional sugar cookie recipe, but we're amping up the flavor and turning them into fall cookies with two major things: pumpkin pie spice and pumpkin spice extract, which can also be found labeled as pumpkin pie extract. They're the same thing and they both get the job done in these easy cookies.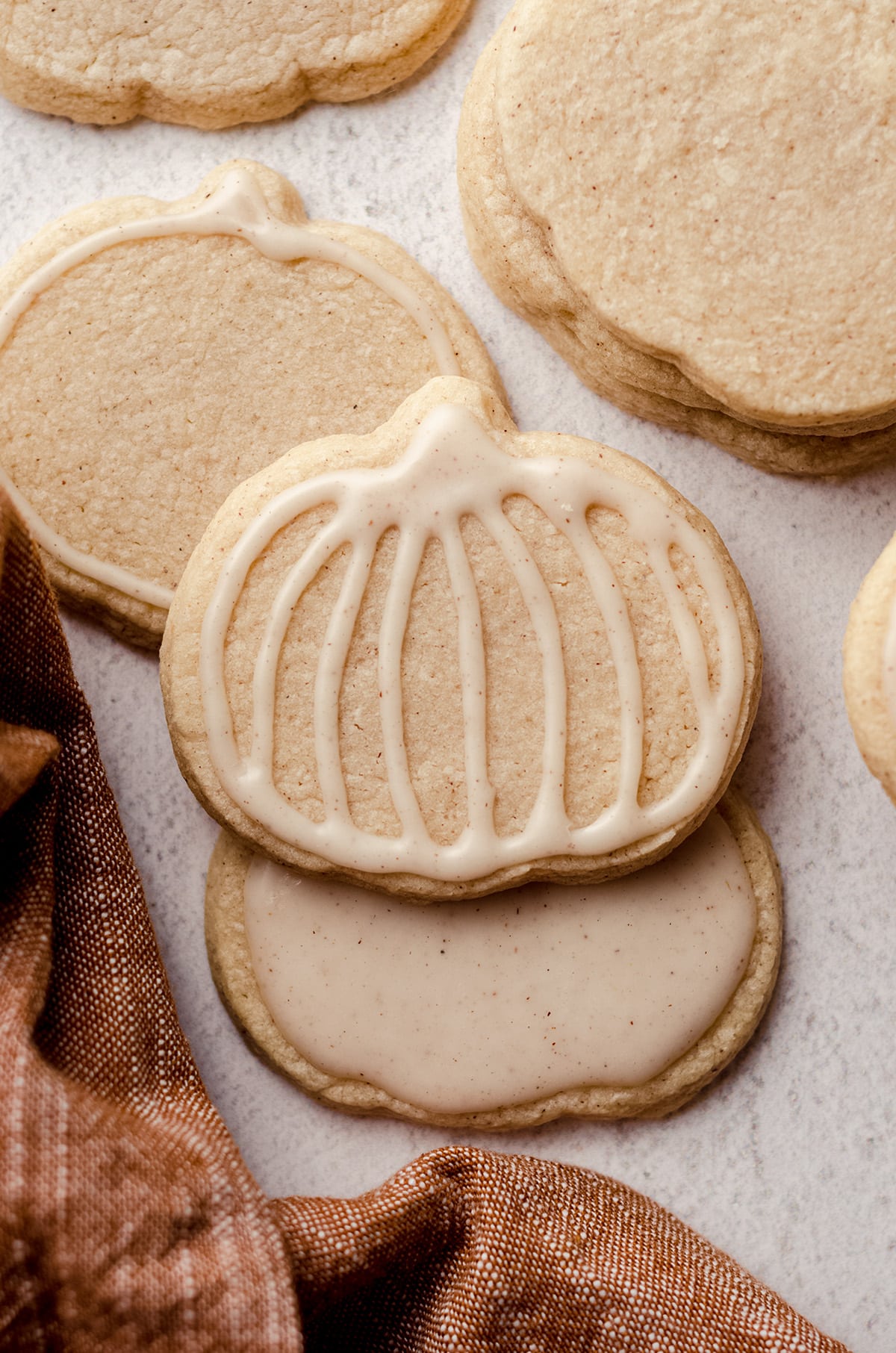 Other ingredients you'll need for these homemade sugar cookies: all purpose flour, baking powder, salt, ground cinnamon, unsalted butter, powdered sugar, an egg, and some vanilla extract.
You might be wondering what's happening with the powdered sugar, and I'm here to tell you that it will change your cut-out cookie baking life!
WHY POWDERED SUGAR?
Believe me when I tell you that using powdered sugar for cut-out sugar cookies is a game changer.
By using sugar in a powder form, we can almost absorb the oiliness of the butter, which means that our sugar cookie dough isn't nearly as sticky, and we eliminate the need to chill the cookie dough before we roll it.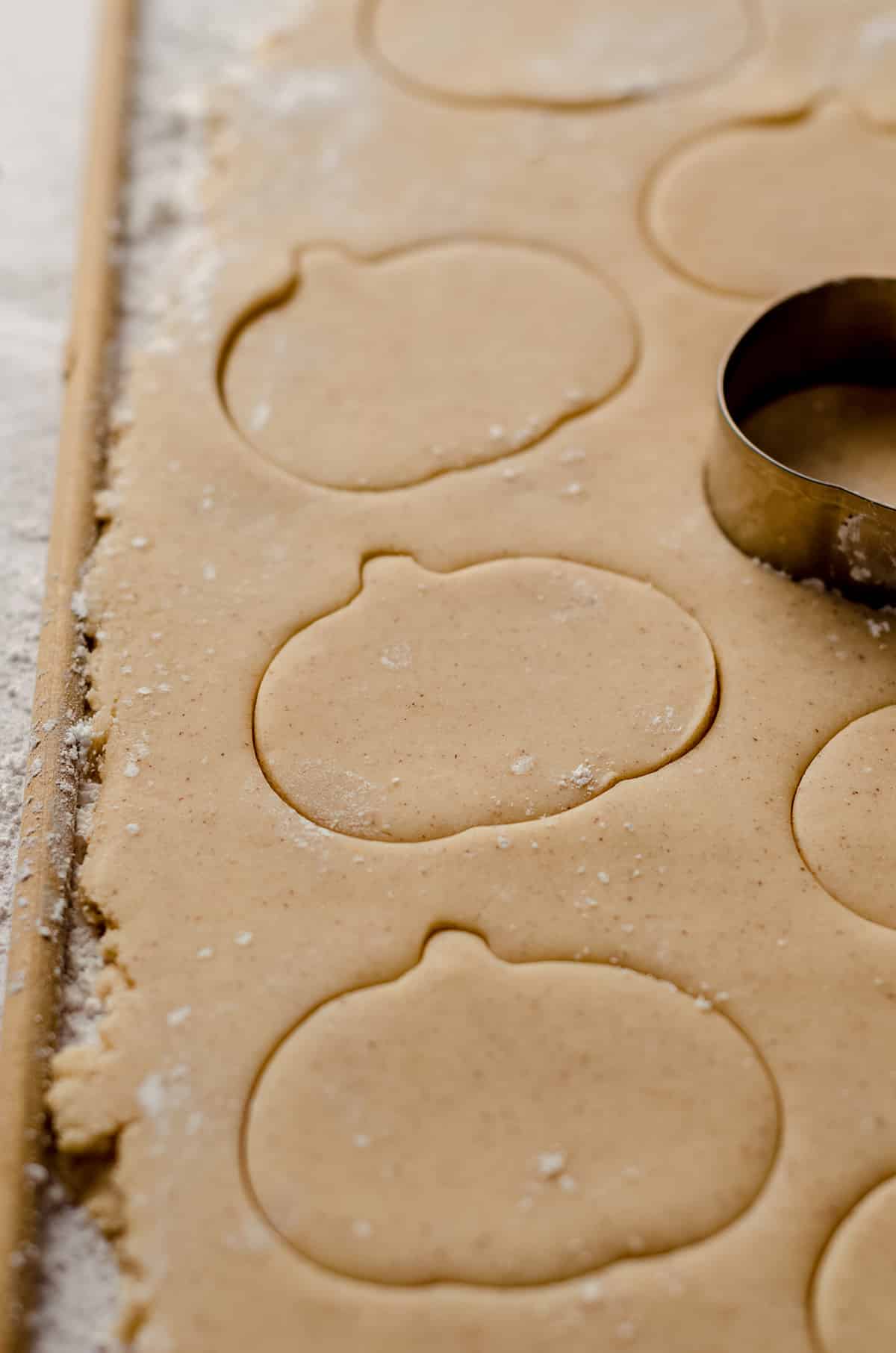 Say what? Yes, it's true. These homemade pumpkin sugar cookies can go from ingredients to baking in the oven in less than 30 minutes.
PUMPKIN SPICE ROYAL ICING
The ingredients for this easy pumpkin spiced icing are many of the ones you already used for the cookies (powdered sugar, pumpkin pie spice, and pumpkin spice extract). Two more that you'll need are water and some light corn syrup.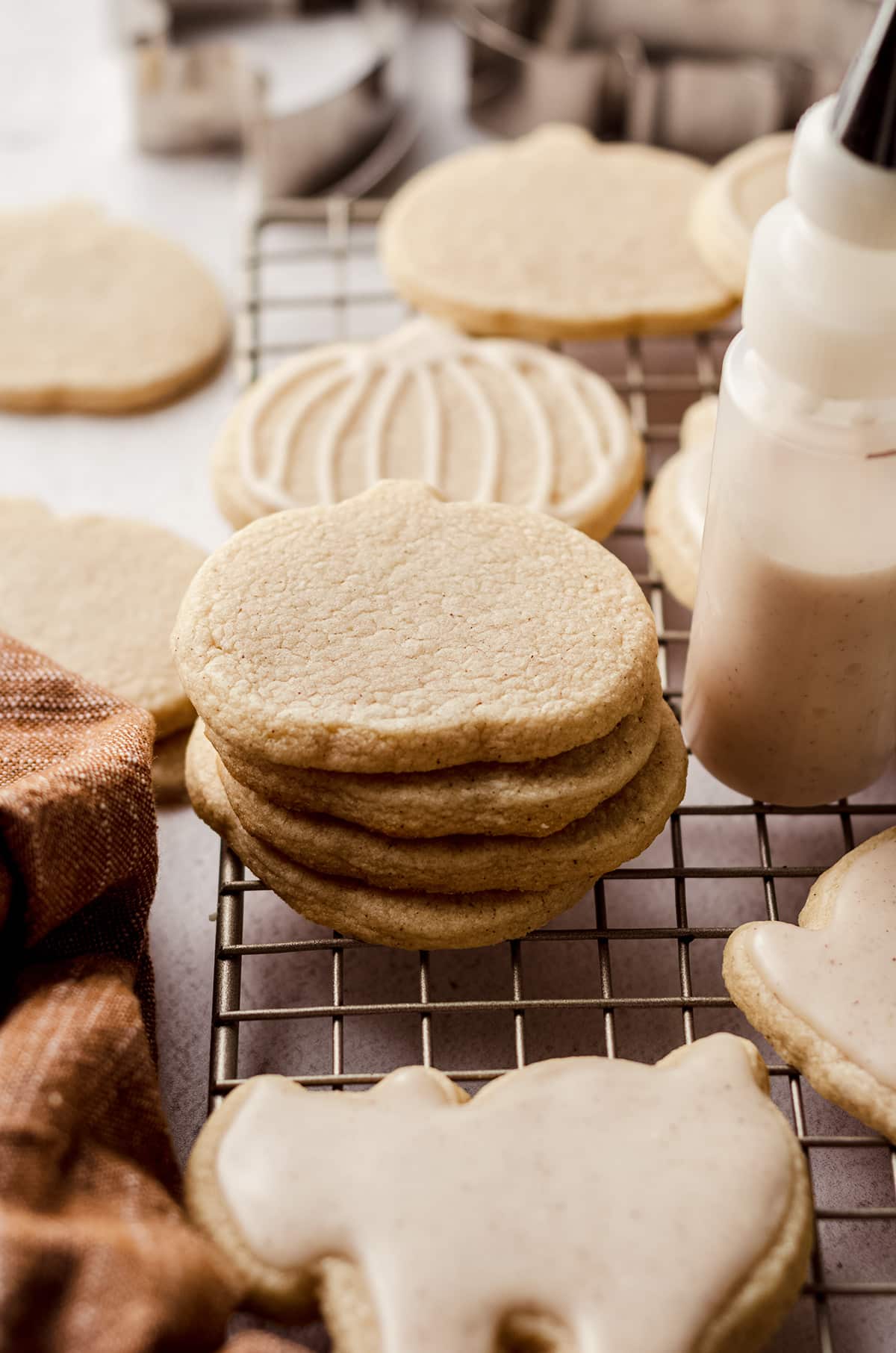 Over the years, I've been asked if you can use maple syrup as a replacement for corn syrup in the cookie icing, and the answer is no. It does not set up the same way that corn syrup does, so you'll need to use the corn syrup.
I understand the maple syrup is a great complement to the pumpkin flavor, but it just does not work here. Consider topping these cookies with my maple cinnamon cream cheese frosting if you're looking for something like that!
HOW TO MAKE PUMPKIN SPICE CUT-OUT SUGAR COOKIES
You might notice that this pumpkin cookie recipe starts with a range for the amount of flour, and there's a reason for that and a method to my madness.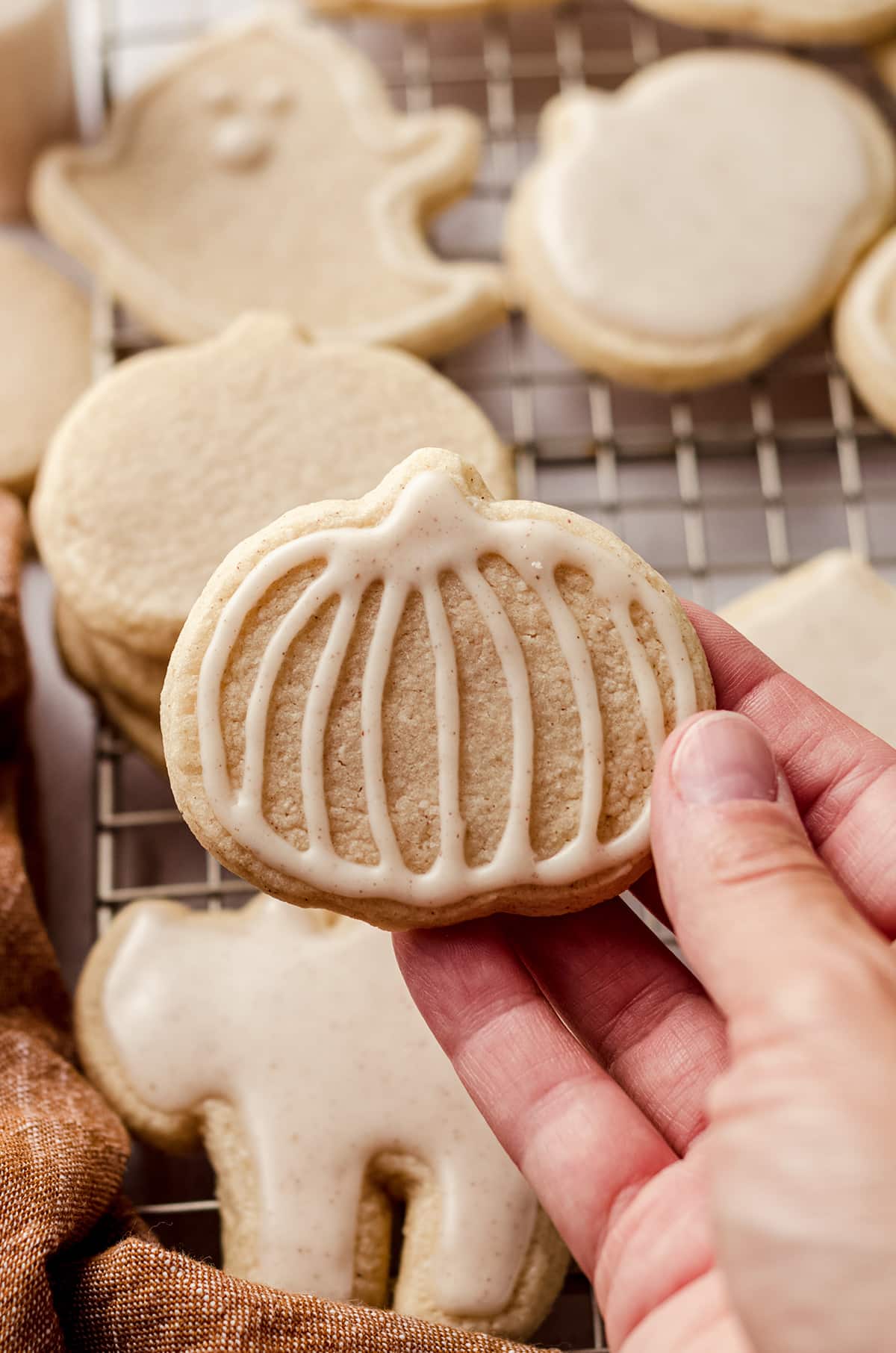 You'll start by combining the smallest amount of flour (2 and ½ cups) with the baking powder, salt, pumpkin pie spice, and ground cinnamon.
Then, you'll cream the butter and powdered sugar, to which you'll add the egg + extracts that you've beat together.
The dry ingredients will go slowly into the wet mixture and your dough will start to come together nicely.
Here's where you'll need to pay careful attention.
The cookie dough might be a little sticky at this point, so if necessary, you can add 2 to 4 Tablespoons of flour at a time to the dough to combat the stickiness.
Keep in mind that your dough will rest for about 10 minutes before you start rolling it, which will help the flour and powdered sugar absorb some of the moisture, but you're aiming for a PlayDoh texture for the dough when it comes out of the mixing bowl.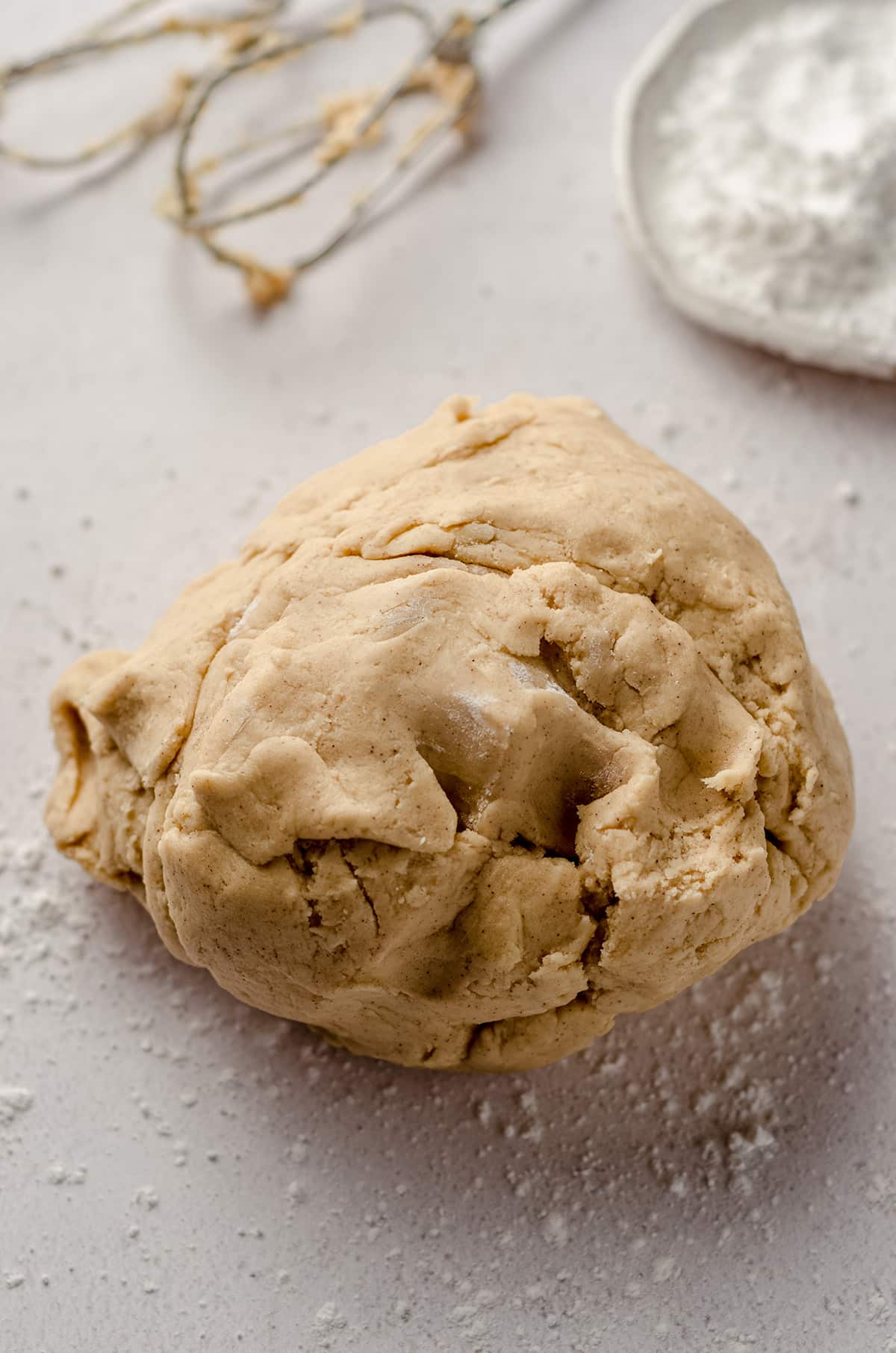 You know the texture– slightly tacky but not sticky. And certainly not dry!
Allow it to rest while you prepare your rolling space, baking sheets, and preheat the oven.
ROLL OUT THE DOUGH
My longest-running cookie baking tip that I learned somewhere that I wish I could remember is that rolling out sugar cookie dough is best done on a surface dusted with powdered sugar instead of flour.
This prevents your cookie dough from taking on too much flour, which can lead to denser cookies and spreading shapes. I also like to dip my cookie cutter into powdered sugar, which keeps the edges nice and sharp.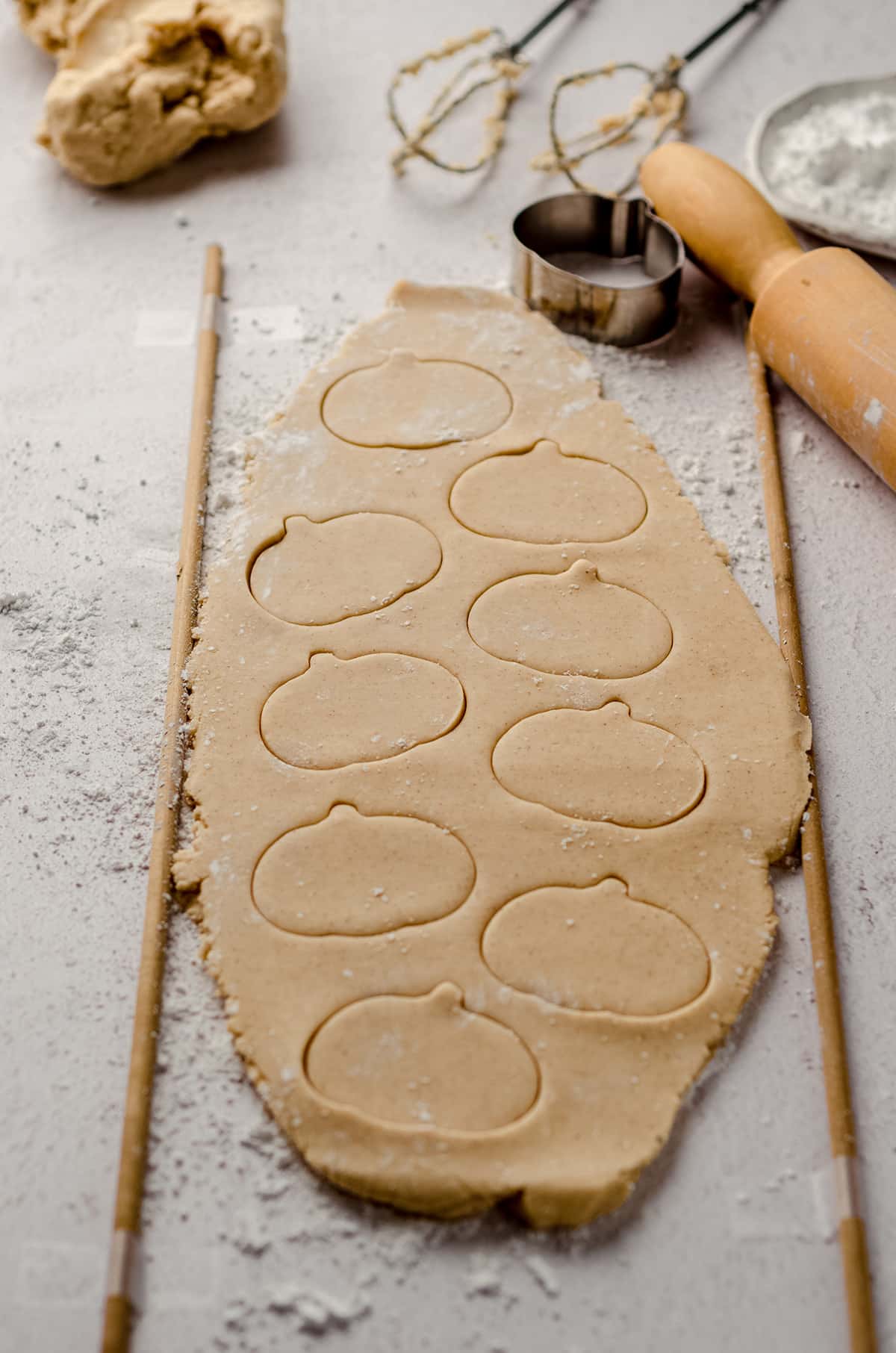 Use whatever shapes you like! When it comes to pumpkin spice, you can get away with them from September through November, so break out those cute leaf cookie cutters, because you will want this perfect fall cookie in your cookie jar non-stop until it's time for peppermint, believe me.
BAKE LIKE-SHAPED COOKIES
Another important tip when it comes to cut-out sugar cookies is that baking the same sizes/shapes at the same time is crucial to the success of the shapes and uniform doneness.
Meaning… Don't bake mini pumpkins at the same time you're baking jumbo ghosts. The pumpkins may be done in 3 minutes and the ghosts need more like 10. That makes for a sad time for those little pumpkins and they're sure to be burned by the time you are ready to retrieve the ghosts.
Same shape. Same size. Even if that means you're only baking 2 cookies at a time. Got it? Good.
HOW TO MAKE PUMPKIN SPICE ROYAL ICING
You'll want to wait until you are totally ready to decorate the cookies before making a batch of royal icing. Personally, I prefer to decorate day-old cookies because they're sturdier, but this is totally my own preference.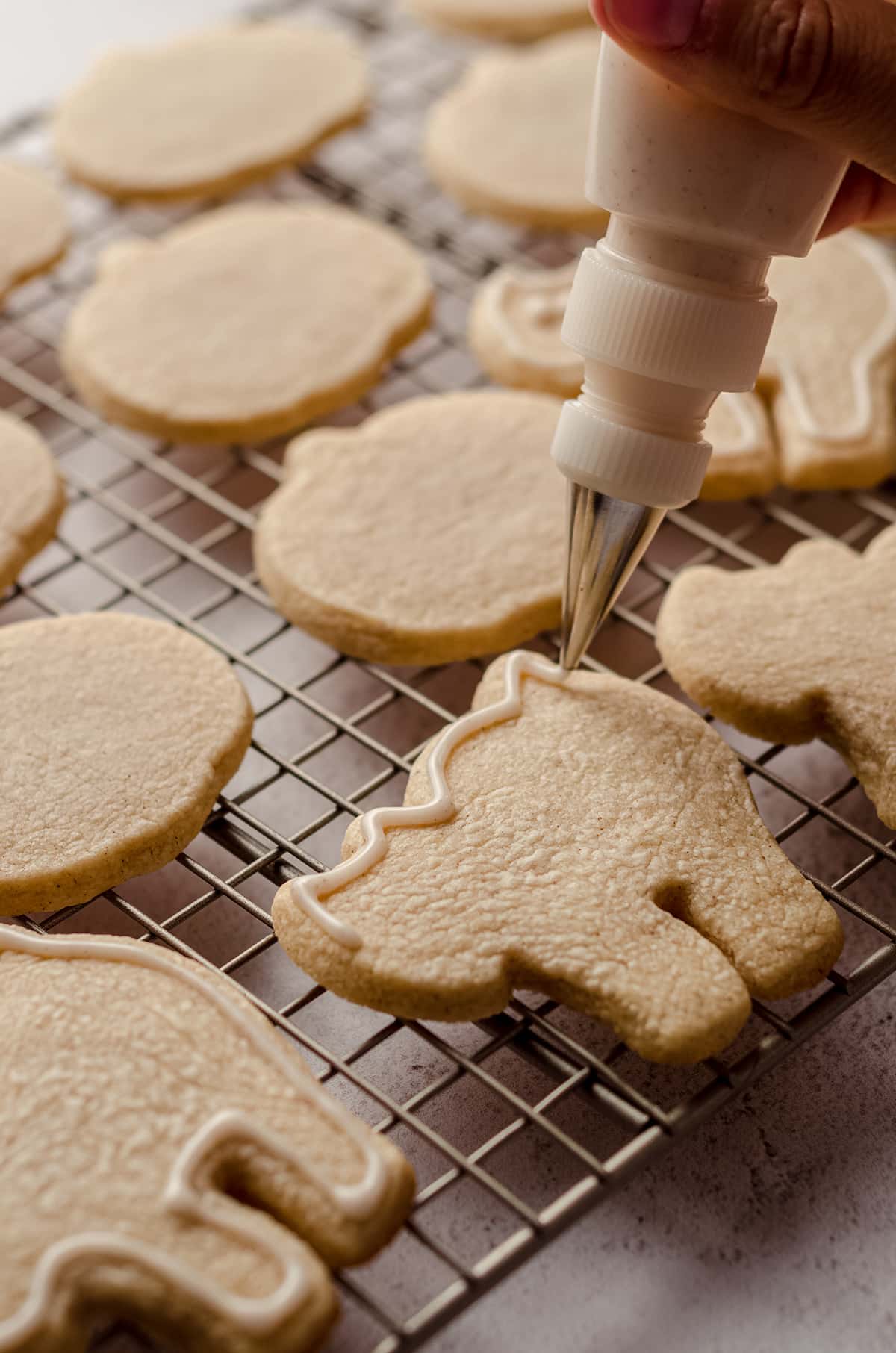 To make the icing, you only need a few minutes, a bowl, and a spatula.
Since you won't be using any meringue powder, we don't need a mixer to get this pumpkin icing done.
You'll whisk together the powdered sugar and the spice, then separately whisk the warm water, corn syrup, and extract.
Pour the liquid into the spiced powdered sugar, then stir, stir, stir.
It will come together, I promise.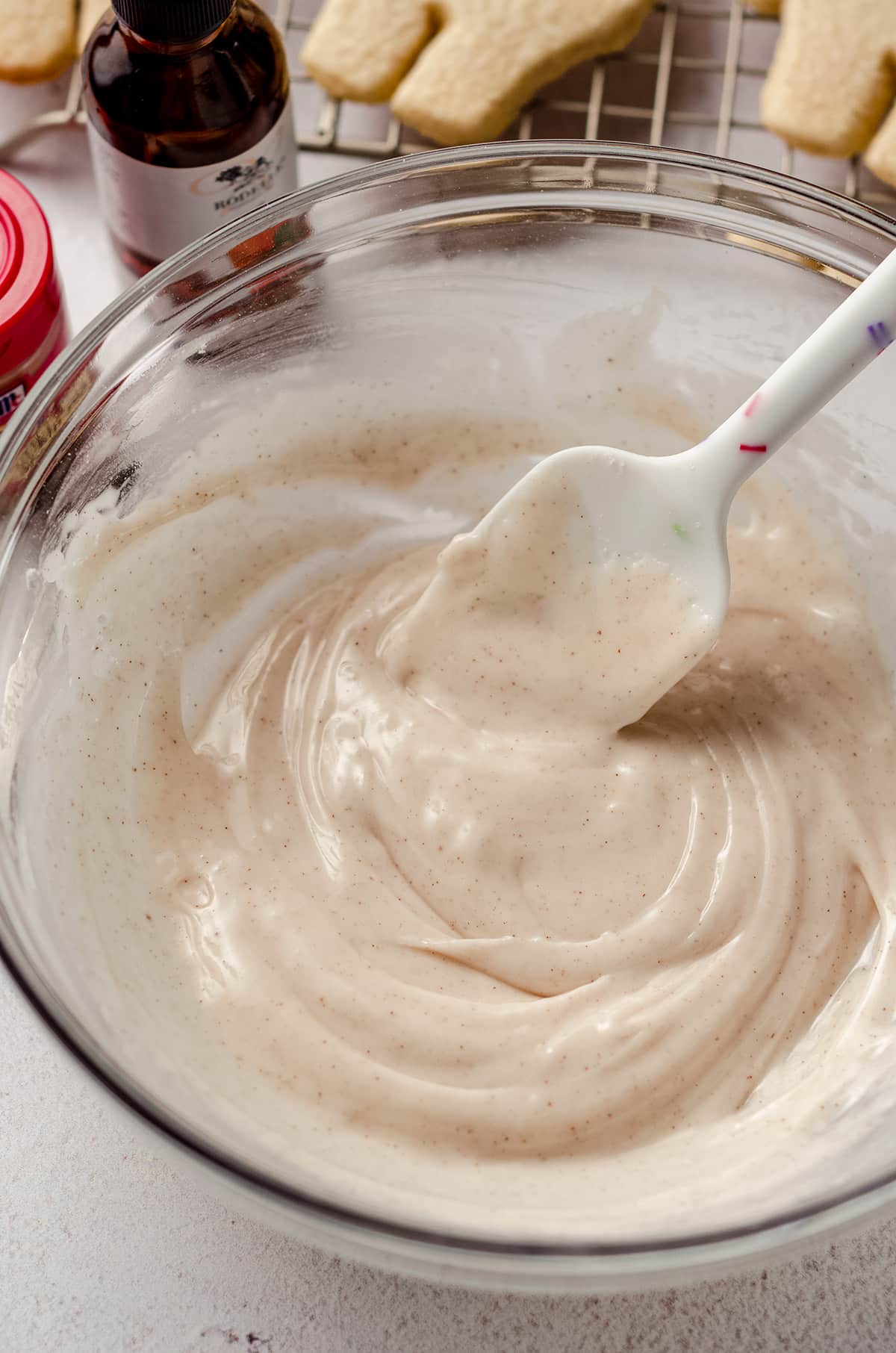 You'll know the pumpkin spice royal icing is done when you drop a line of icing onto itself and it vanishes in about 12 seconds. Adjust as needed by adding a drop of water at a time to thin it out or a sprinkle of powdered sugar to thicken it up.
This royal icing is forgiving but it's also sensitive, meaning a little goes a long way. Remember that line when adjusting the viscosity.
CAN I TINT THE ICING?
You can absolutely color this icing! In fact, I often turn it orange and it's the perfect way to make your fall-shaped spiced cookies even cuter.
I always prefer to use gel coloring because they don't thin out icing and the colors are so rich.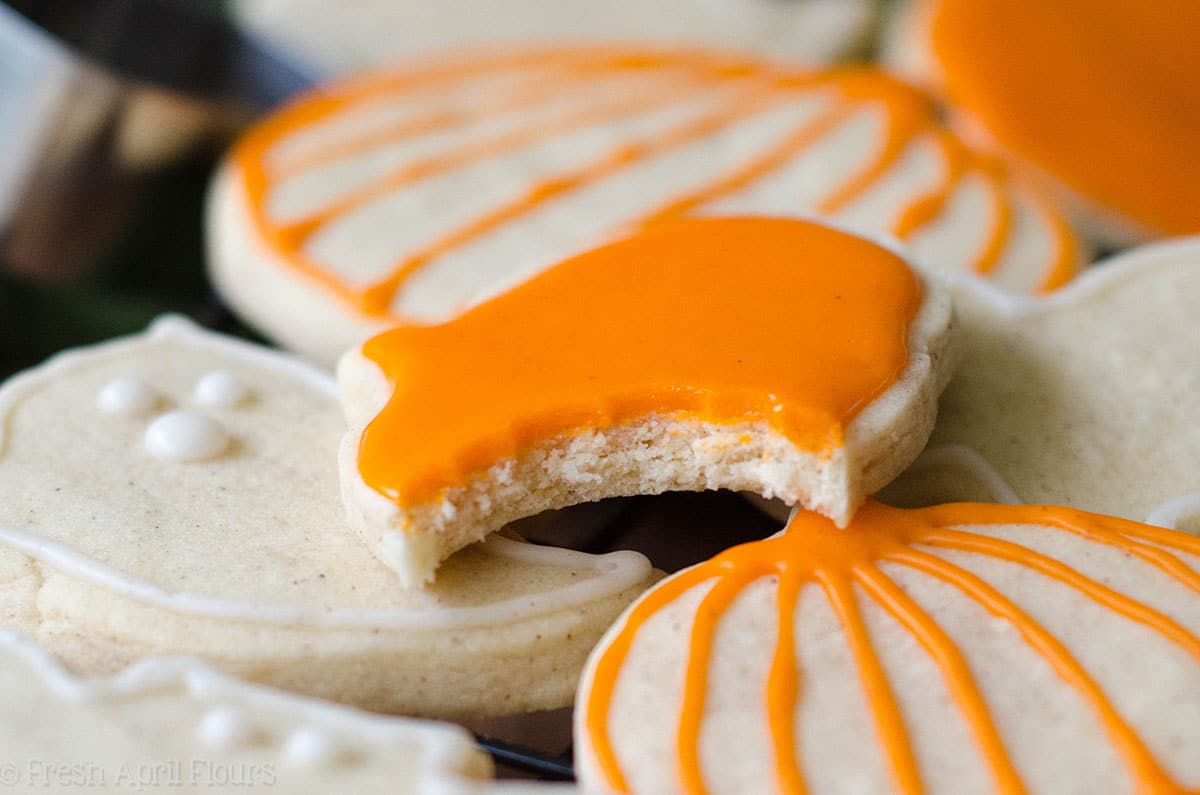 As I mentioned, these cookies are a sugar cookie base, perfect for cutting out shapes. They are pumpkin spice cookies without pumpkin pureé, so if you're looking for cookies packed with actual pumpkin, my pumpkin spice cookies are for you (they're kind of like a pumpkin snickerdoodle!).
If you're here for the cut-outs where the warm fall flavors comes from spice and extract and have room for all the cute fall decorations, you're in the right spot.
I have kept the integrity of my classic cut-out sugar cookies for these pumpkin spice cutout cookies, which creates incredibly soft centers with sturdy edges and cookies that keep their shape. It's my go-to for all things shaped, and I think you'll love it as much as so many of my readers do.
Combined with my incredibly easy royal icing recipe, these cookies are great for a simple icing flood, easy faces on ghosts and cats, and textured lines on pumpkins.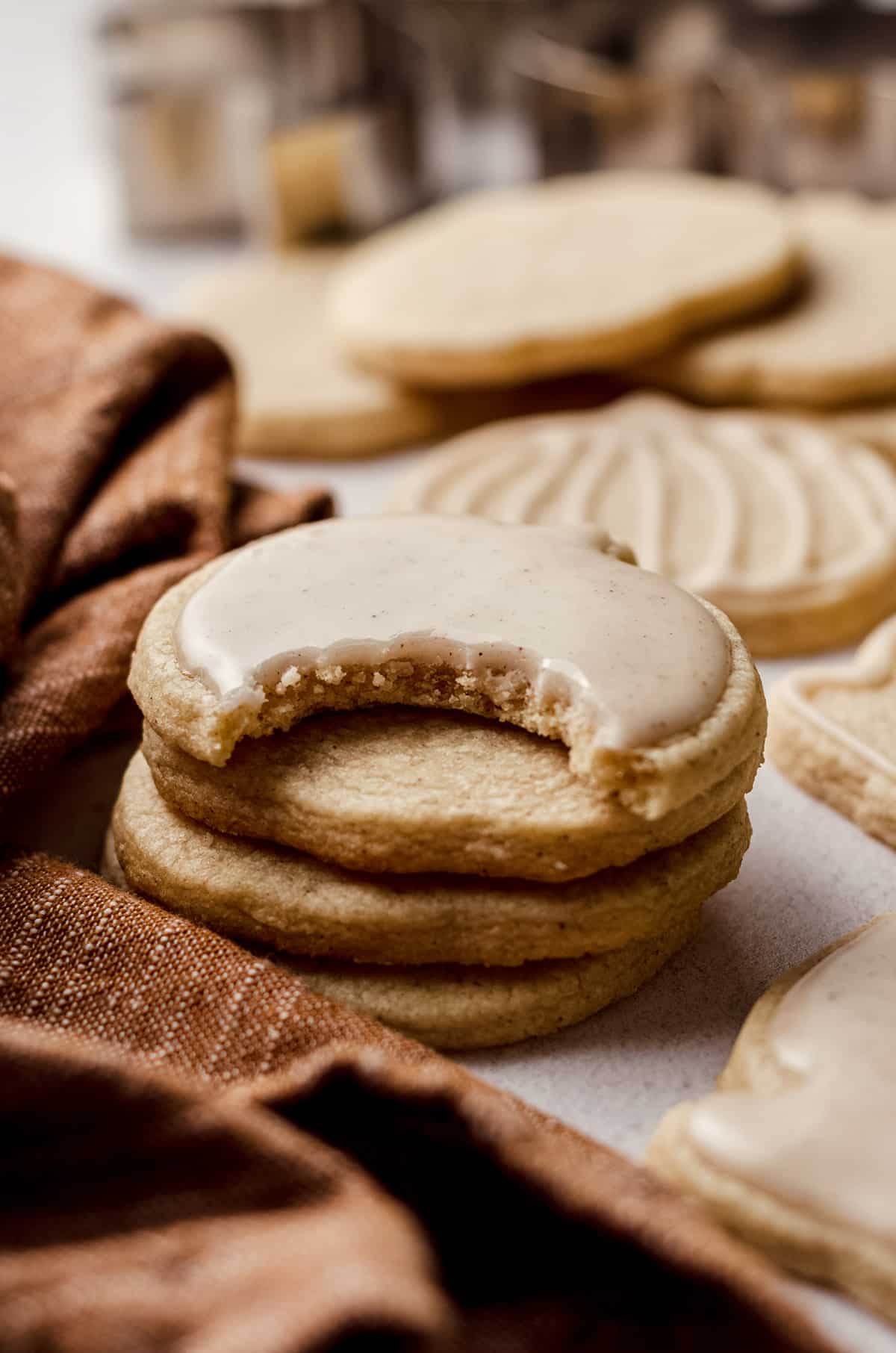 Keep it simple– because these pumpkin roll out cookies totally speak for themselves! And they're great for dunking into a pumpkin spice latte.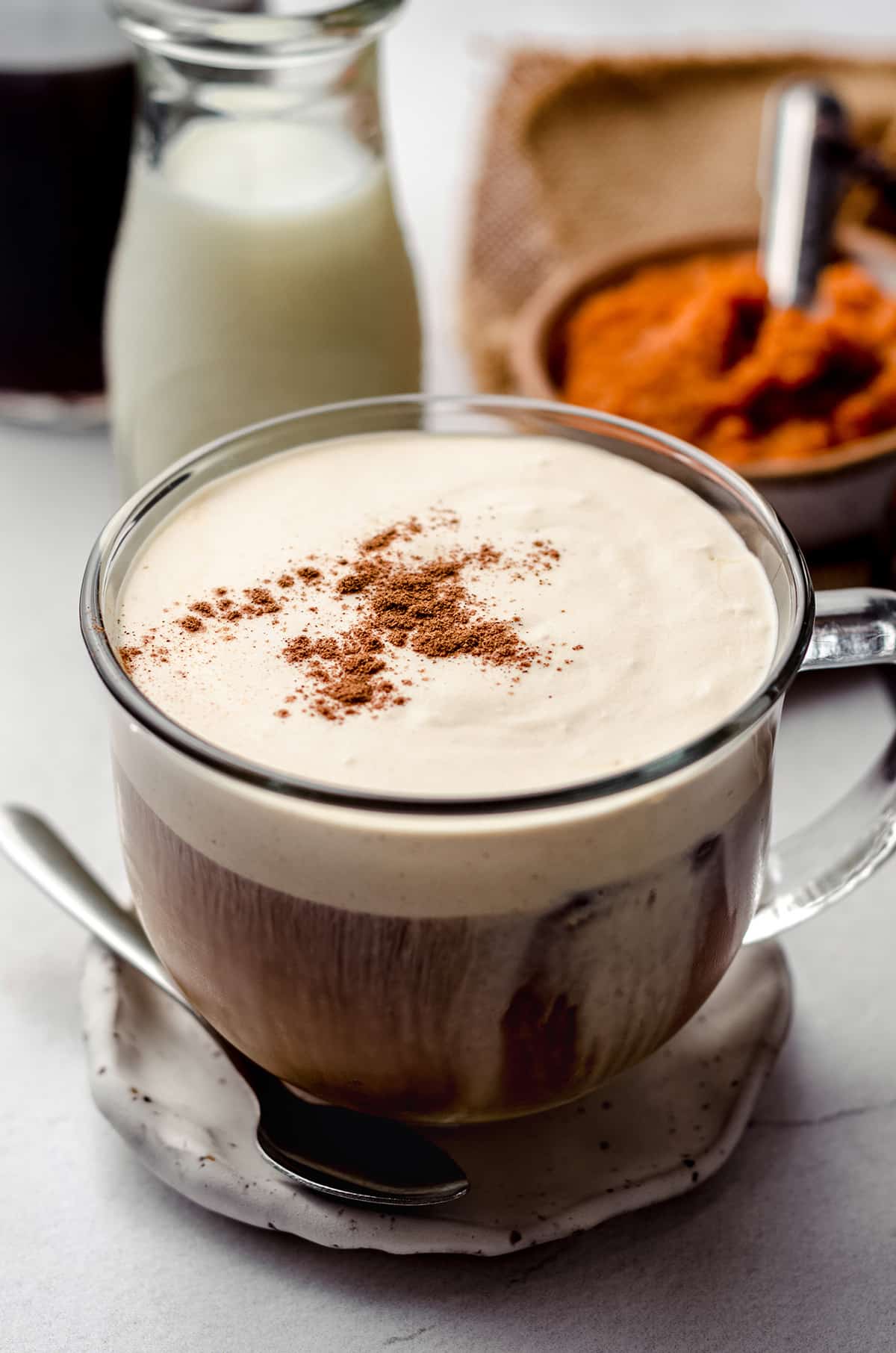 More Favorites from Fresh April Flours
Pumpkin Spice Cut-Out Sugar Cookies
No dough chilling necessary for these pumpkin spiced, soft cut-out sugar cookies that are perfect for decorating with icing and sprinkles. Crisp edges, soft centers, and customizable in shape. Use my easy pumpkin spice royal icing recipe (included) to decorate them!
Servings:
2
dozen (2″) cookies
Ingredients
PUMPKIN SPICE SUGAR COOKIES
2 and ½ to 3

cups

(300-360g) all-purpose flour1 be sure to measure properly

2

teaspoons

baking powder

1

teaspoon

salt

1

teaspoon

pumpkin pie spice

¼

teaspoon

ground cinnamon

1

cup

(227g) unsalted butter

softened to room temperature

1 and ¾

cup

(210g) powdered sugar

1

large egg room temperature2

1

teaspoon

vanilla extract
Instructions
PUMPKIN SPICE SUGAR COOKIES
In a medium sized bowl, toss together 2 and ½ cups of flour, baking powder, salt, pumpkin pie spice, and cinnamon. Set aside.

In a large bowl with a hand mixer or the bowl of a stand mixer with the paddle attachment, cream together butter and powdered sugar until light and fluffy, about 3 minutes.

In a measuring cup or small bowl with a spout, beat the egg and both extracts. Add egg mixture to creamed butter and sugar and beat on high until completely incorporated, scraping down sides as necessary.

With mixer on low, add flour mixture to wet ingredients little by little, allowing dough to come together after each addition. After you have added all 2 and ½ cups of flour (plus baking powder and salt) to the bowl, most of the dough should stick to your beaters or paddle.

Test dough consistency by touching it with your fingers. It should be slightly tacky, but not sticky. It should remind you of Play-Doh. If it is too sticky, add 2 to 4 Tablespoons of flour at a time until you reach 3 total cups of flour (two additions). Occasionally, I will need a tad more flour, but do not exceed 3 cups + 2 Tablespoons flour. Too much flour yields denser cookies, and we want these to stay soft.

When your dough is the right consistency, gather it into a ball and allow it to rest for 10 minutes. While it is resting, preheat your oven to 400ºF (204ºC). Line two large baking sheets with parchment paper or silicone baking mats. Set aside.

Prepare your rolling surface by dusting it lightly with powdered sugar. If you would like, use two wooden dowels, sized at ¼" thickness, on either side of your dough while rolling it out to keep cookies a uniform thickness.

When your dough is ready to roll, break off a workable size of dough. I usually break it into 4 pieces. Roll dough with a powdered sugared rolling pin and cut into desired shapes with cookie cutters. I like to dip my cookie cutter into powdered sugar every few cuts to keep my cookie edges clean.

Transfer cut dough onto baking sheets. It is best to keep cookies that are the same size and shape together on baking sheets so as to uniformly bake all of your cookies. Re-roll and cut dough as needed until all of the dough is used up. At this point, you may decorate cut cookies with sprinkles or just leave them plain and decorate them with icing later.

Bake cookies for 4-6 minutes. Medium cookies (2") take about 6 minutes. Mini cookies (1") take about 4 minutes. Bake until cookies are slightly puffed and are no longer shiny. Edges may start to brown, and that's ok, just work quickly to remove them from the oven. I prefer to remove mine before they start to brown. Allow cookies to rest on baking sheet for 5 minutes before transferring to wire rack to cool completely. I prefer to decorate day-old cookies, as they are sturdier, but this is personal preference and only a suggestion. Undecorated cookies freeze extremely well (I actually like to eat them frozen!), up to 3 months. Do not freeze decorated cookies. Thaw overnight before decorating previously frozen cookies.
PUMPKIN SPICE COOKIE ICING*
When you're ready to decorate your cookies, place powdered sugar and pumpkin pie spice in a medium bowl and set aside. In a small bowl, combine warm water, light corn syrup, and pumpkin spice extract. Stir until corn syrup is dissolved.

Add sugar water to powdered sugar and stir until completely combined. Mixture will be thick. The consistency you're looking for is a slowly dripping icing that disappears into the bowl within about 12 seconds. Add water by drop if you think it's too thick. If it becomes too thin, add more powdered sugar by the teaspoon. Use immediately. If you need to wait to use your icing, cover tightly, and use within 1 day. You will need to stir it up again and possibly add more water before using. Cookies will stay fresh in an airtight container at room temperature well over a week.
Notes
Flour: start with 2 and ½ cups of flour and work your way up to 3 cups as needed. Do not exceed 3 cups + 2 Tablespoons.
Room temperature egg: this is preferred. It is always a good idea to use a room temperature egg when using room temperature butter, which allows for better incorporation into dough.
Pumpkin spice extract: this is sometimes labeled "pumpkin pie extract." They are the same! You should be able to find this year round in the baking aisle of your grocery store. If you can't find any pumpkin spice extract, just use vanilla extract in the listed amount of pumpkin spice extract and increase pumpkin pie spice to 1 and

¼ teaspoons and cinnamon to ½ teaspoon in the cookies and increase pumpkin pie spice to ¼ teaspoon in the icing.

Color the icing: I prefer to use gel coloring when tinting icing.
*See my detailed easy royal icing recipe for a video of exactly how to make this icing and what the drizzle test looks like.
Nutrition Disclosure
All nutritional values are approximate and provided to the reader as a courtesy. Changing ingredients and/or quantities will alter the estimated nutritional calculations.