Homemade Dog Treats with Pumpkin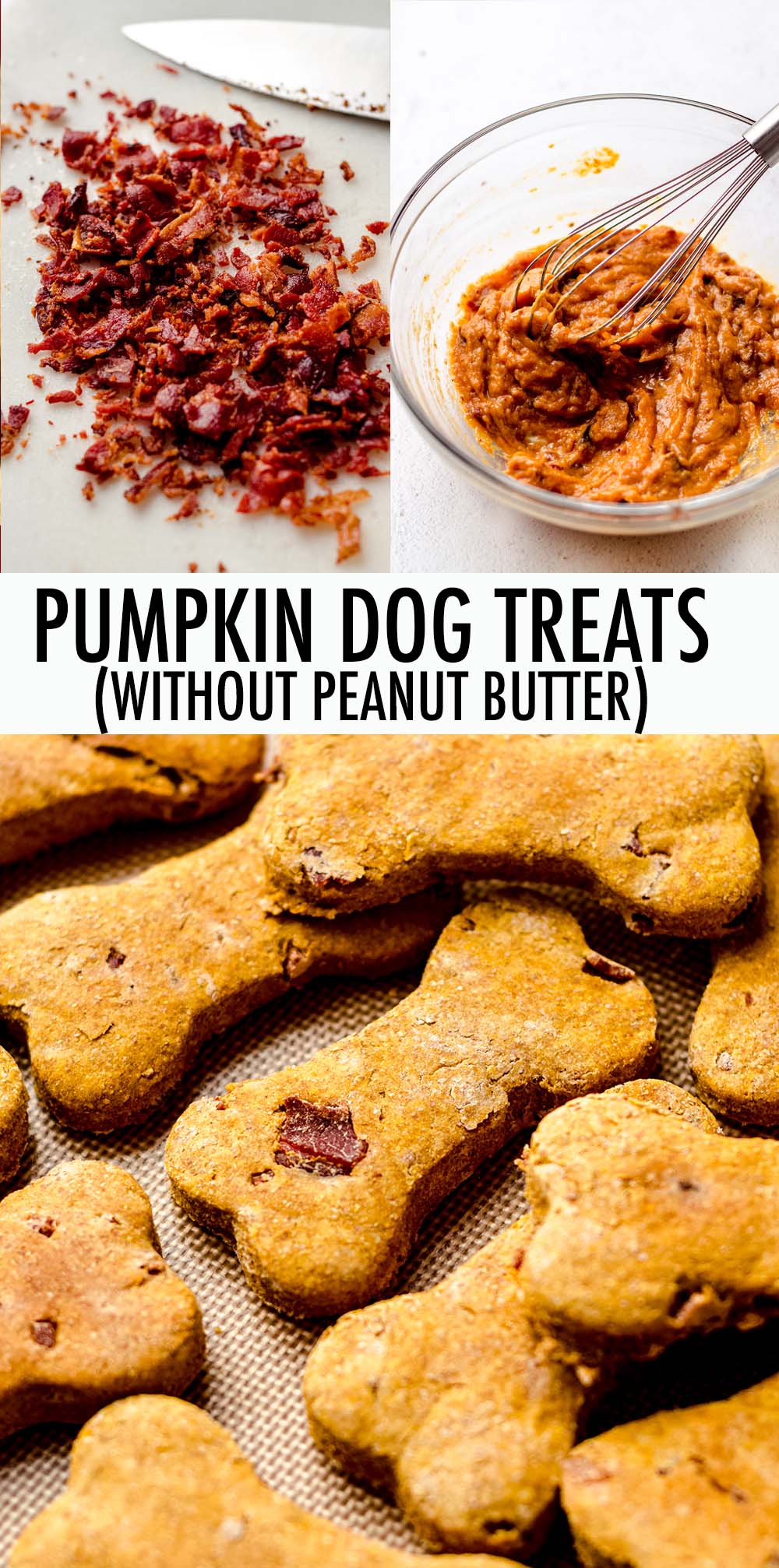 As an Amazon Associate, I earn from qualifying purchases. Read the full disclosure here.
Simple homemade pumpkin dog treats made with pumpkin puree, whole wheat flour, and bacon. These treats are also made without peanut butter, so they're great for homes with a peanut allergy!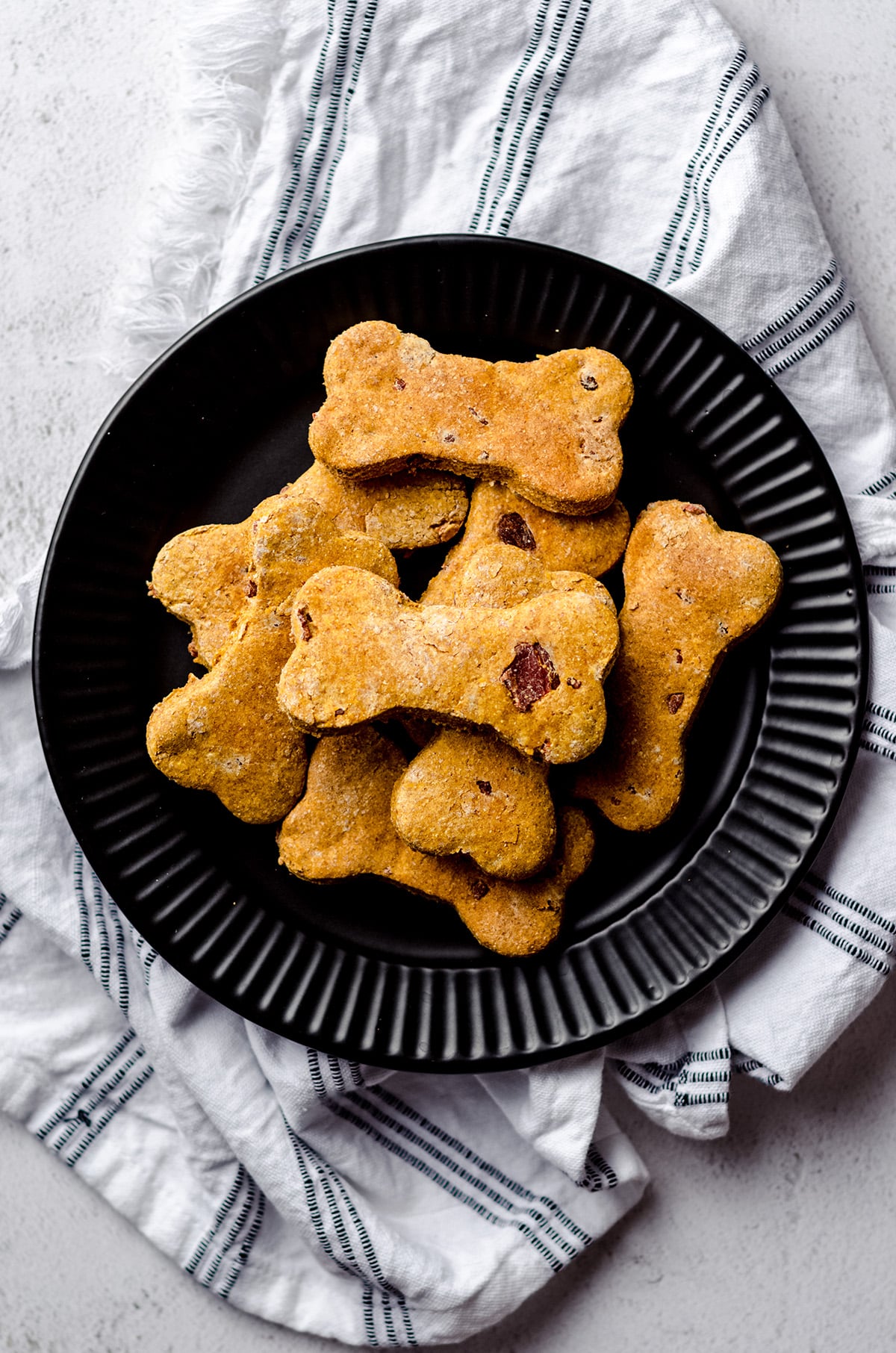 Your pup will love this Pumpkin Dog Treat Recipe
Bet you didn't expect to see a pup on my website, did you? And I bet you'd be surprised these pumpkin dog biscuits are in the top 20 recipes on my entire website consistently.
That's right– this website, which houses recipes for mostly sweets gets lots of visitors to this recipe all year long, all from people who are looking to make homemade dog treats without peanut butter for a whole host of reasons.
Is there a peanut allergy in your house? Does your dog have a peanut allergy? Do you just not like peanut butter?
It can be hard to find a recipe for dog treats without peanut butter around the internet, so many years ago during my annual pumpkin week, I used those issues to fill a gap I saw in the homemade pumpkin treats for dogs category of recipes.
Major shoutout to my assistant Lauren whose idea it was. She's a dog owner herself, and when she suggested I create a recipe for pumpkin dog treats, I couldn't get into the kitchen fast enough.
Here's the interesting part… We do not have a dog. I'm not sure we will ever have a dog, but if our boys have any say in the matter… We might.
BUT, the truth is, I'm allergic to them and I don't love pets in general.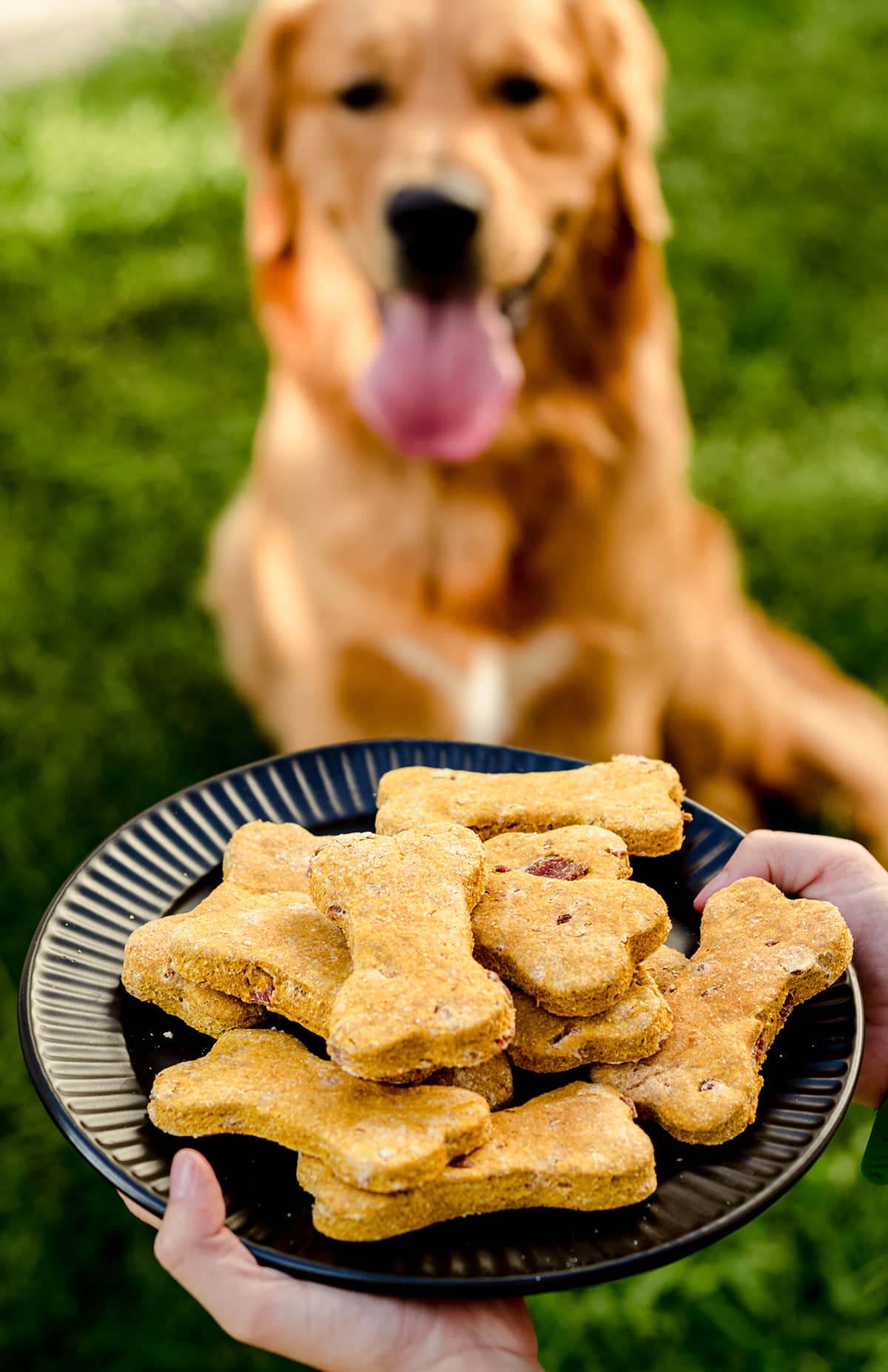 The dogs on our street and in our neighborhood? LOVE THEM. Our boys ADORE this dog in particular that we borrowed for photos (hi, Reggie!), but I'm currently in the mindset of never wanting animal hair or fur in my house.
Please don't hate me. But definitely invite me and my kids over to give lots of pets and belly rubs!
That said, I don't particularly need or use this recipe, like, ever, but I know about 99% of the population of my readers probably do.
Pumpkin Dog Treats Recipe ingredients
Before I developed this recipe, I did some research on dog treats all over the internet. I'd say the majority of them included peanut butter.
I decided I didn't want to do that, not only because there were one million peanut butter pumpkin dog treat recipes out there, but also because we are actually a peanut butter free home.
No, no allergies and no opposition to peanut butter (HELLO, I STILL LOVE YOU PB + CHOCOLATE), but there is a legume sensitivity in our house, so we're straight up almond butter people…
Except in my baking cabinet where you can find a jar of natural peanut butter as well as traditional peanut butter at any given moment because, well, peanut butter recipes are still quite abundant on my website despite the foods we keep in our house (see my ultimate peanut butter cookies or no bake peanut butter pie for starters).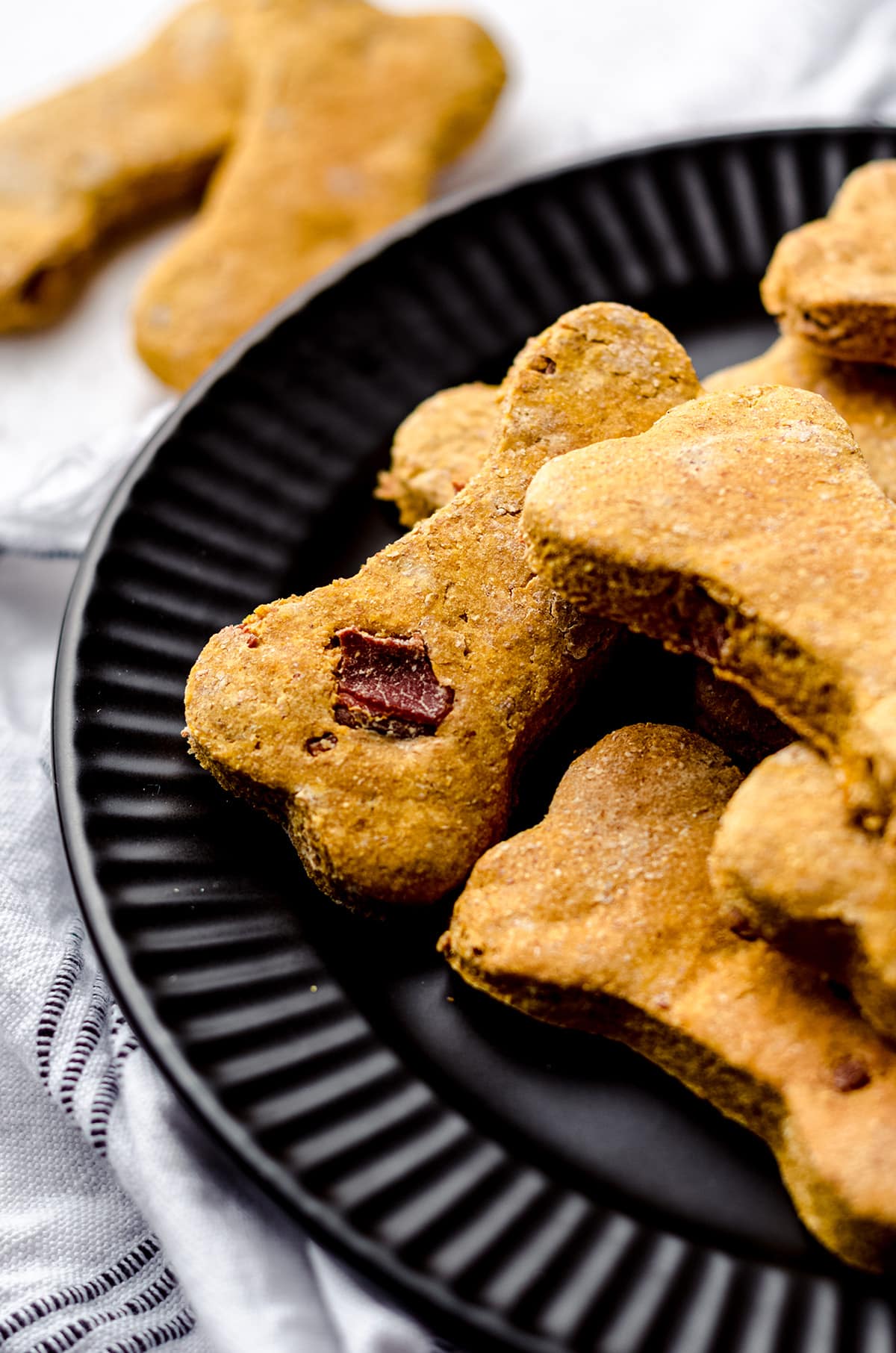 All in all, I wanted to keep this peanut-free upon principal and also internet saturation!
The ingredient list for these dog biscuit recipe is short. You'll need:
bacon
whole wheat flour
baking powder
pumpkin purée
water or milk
and an egg.
Of course, you can make any basic adjustment to this ingredient list, like if your dog doesn't consume milk or you would prefer to use all-purpose flour to whole wheat.
How to make Homemade Dog Treats with Pumpkin
These pumpkin dog treats are mega simple. You'll see the recipe calls for 4 strips of bacon and that you're to keep the grease.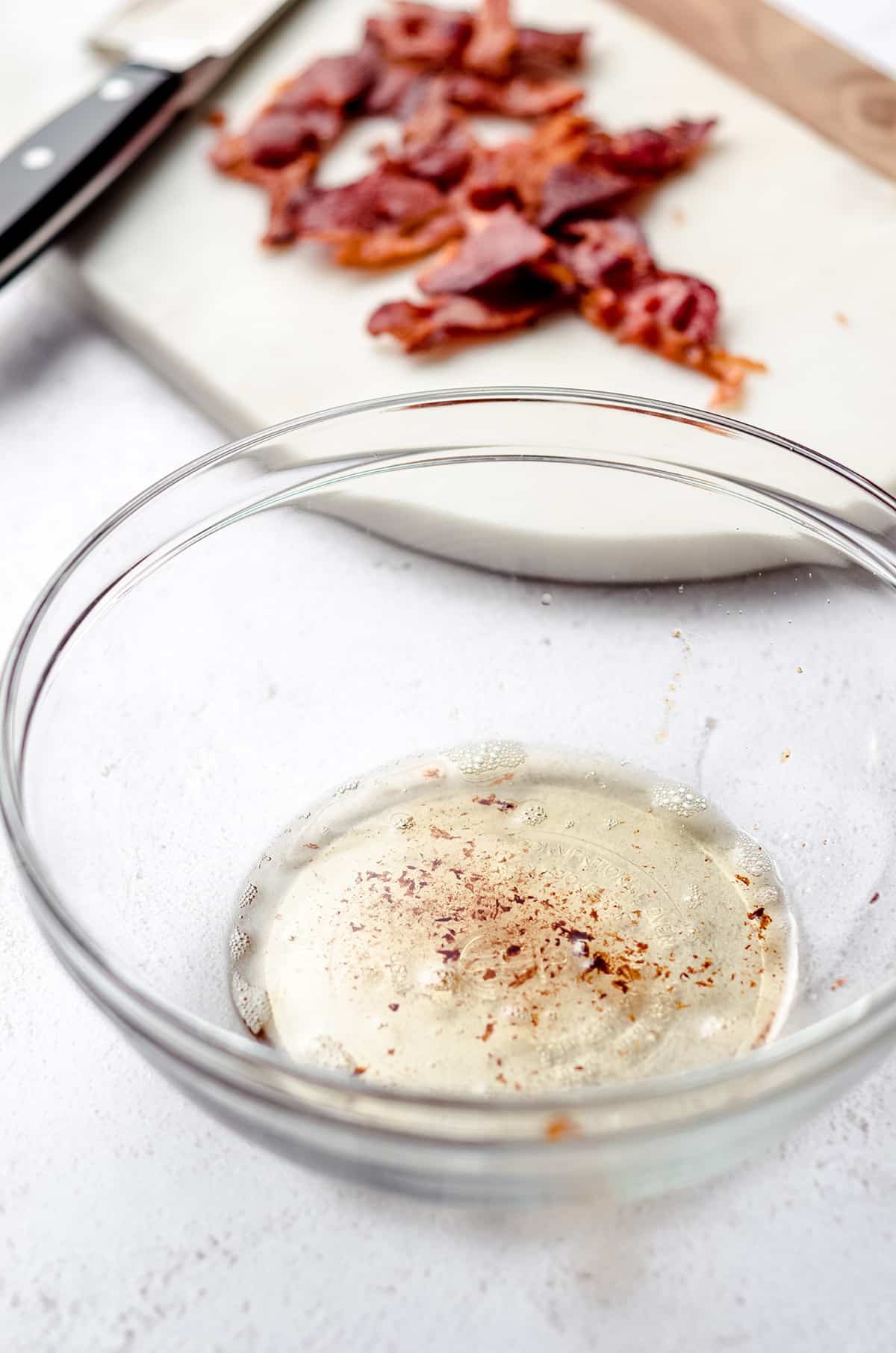 2. Know that you don't need a specific amount of the bacon grease, it is just part of the whole pumpkin dog treat package. The additional water or milk is for helping the dough come together, so don't worry if you don't have all that much grease leftover from cooking.
3. Once your bacon is cooked, you'll pour the grease off into a medium size bowl. Chop the cooked bacon and put it into the bacon grease.
4. Next, whisk in the pumpkin and the egg until the mixture is smooth (with bacon lumps, duh).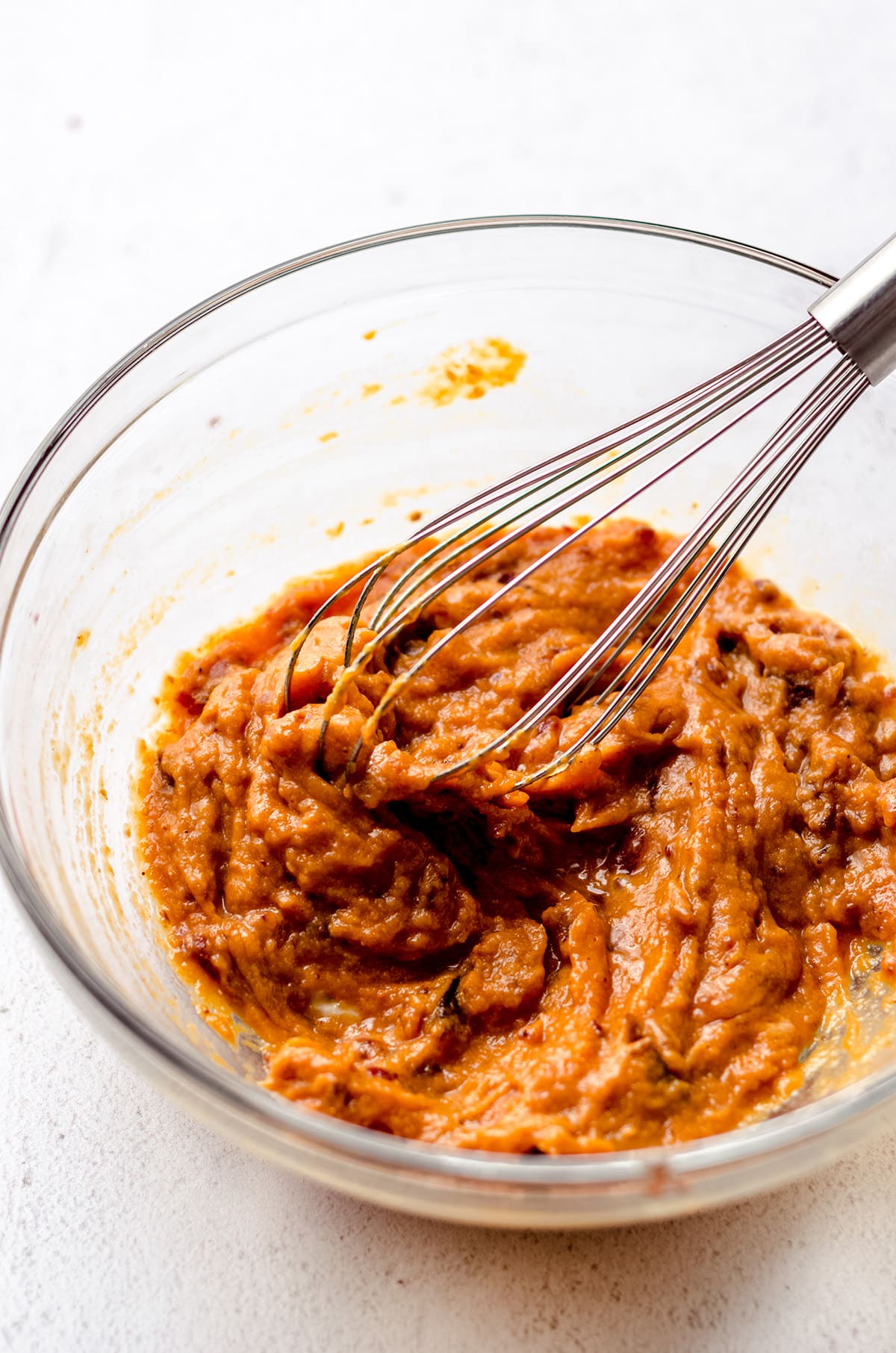 5. Lastly, whisk together the dry ingredients (the flour and baking powder).
6. Add the wet ingredients to the dry ingredients and then start mixing them together.
ADD MILK OR WATER TO ACHIEVE DESIRED DOUGH CONSISTENCY
7. The dough will come together just like you expect it to, similar to cut-out cookie dough, but depending on how much bacon grease you have, your dough could be on the drier side.
8. Any time I make these dog treats, I wind up adding a different amount of liquid based on the dough in front of me.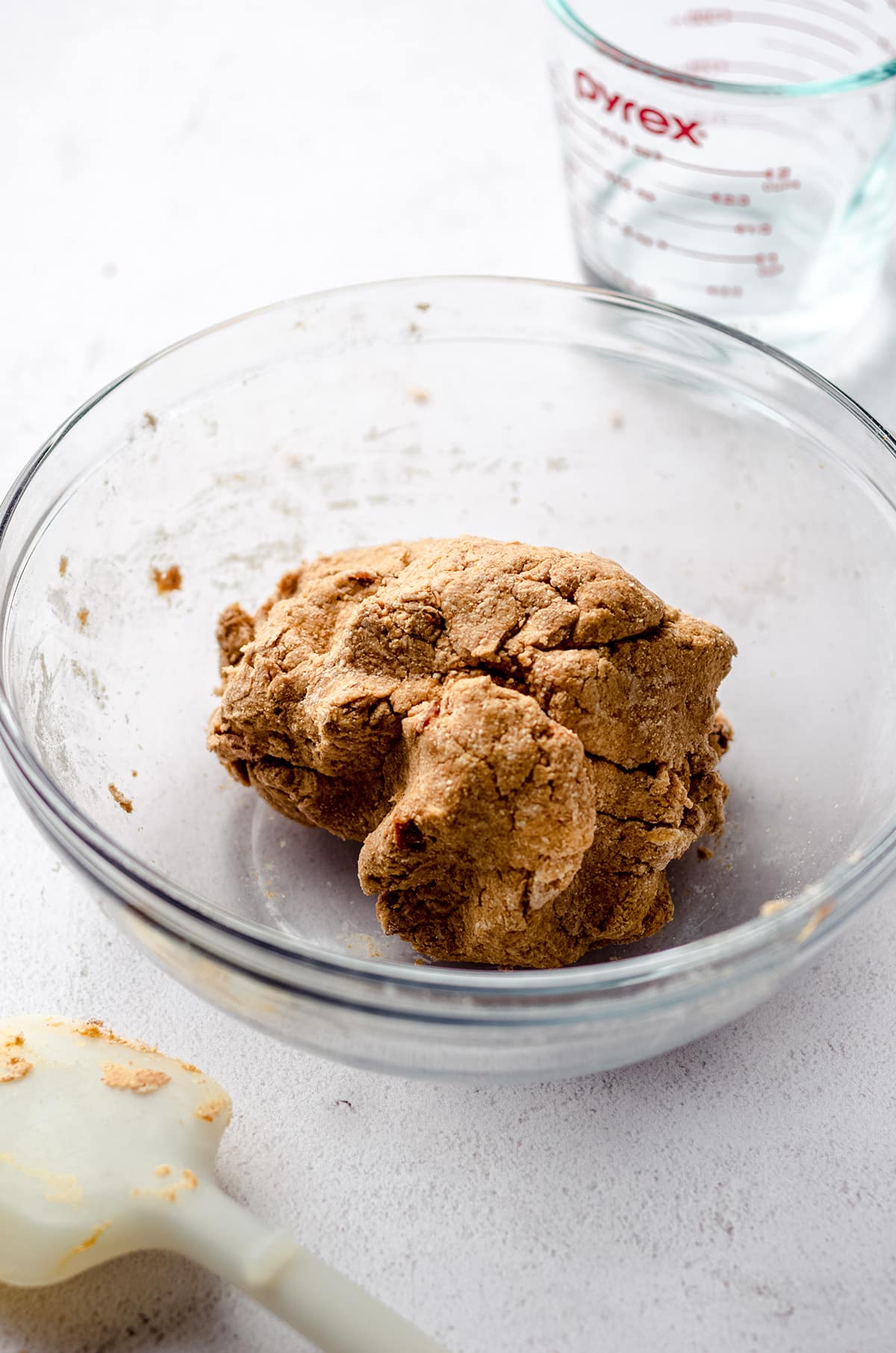 9. My best tip? Stir the dough, add about ½ to 1 Tablespoon of liquid, stir more, and add more liquid as needed.
10. You want to be able to roll the dough out without it being too sticky, but you don't want it to fall apart. I usually wind up adding about 2 to 4 Tablespoons total of liquid.
ROLL AND CUT WITH A COOKIE CUTTER
11. Turn out the dog biscuit dough onto a floured surface and roll out to approximately ¼" thick.
12. Use the desired shape cookie cutter to cut shapes (I opted for the dog bone shaped cookie cutters, of course), reroll the dough, and cut again until there is no more dough left.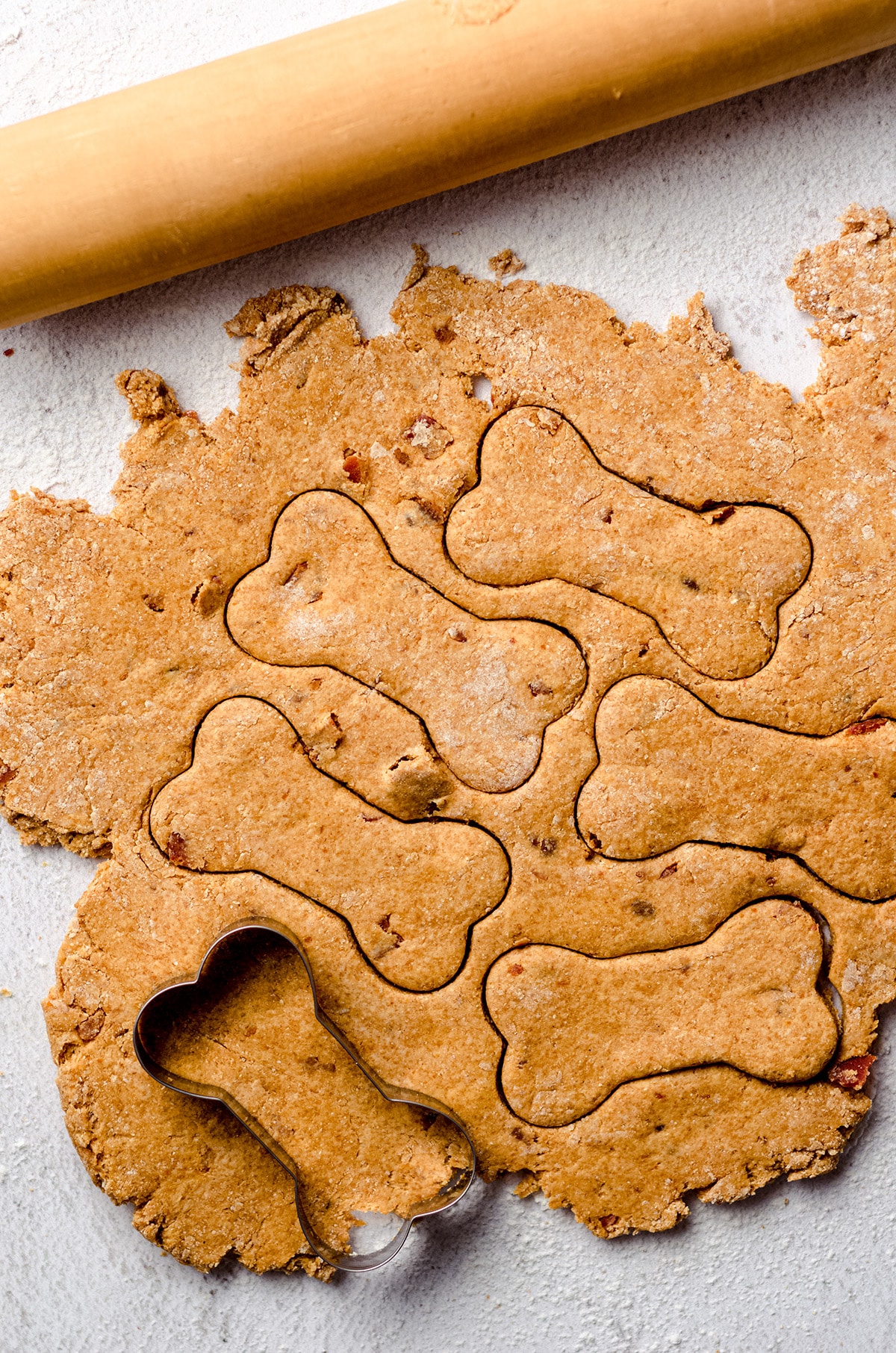 13. You'll bake your dog treats for 30 minutes, flipping them over halfway through baking. They will harden as they cool.
ENJOY, DOGGIES!
This is normally the part in my recipe post where I tell you what the flavor profile is like, how much I liked it, what my favorite part was…
But here's the thing: I made one batch of pumpkin dog treats, tasted one, decided I needed to try again, tasted that one, and then decided I am not a dog, so my opinion isn't so great on that topic.
These homemade dog treats without peanut butter have gone, over the years, to dozens of different dog taste testers, and the consensus always is… There are never any dog treats left.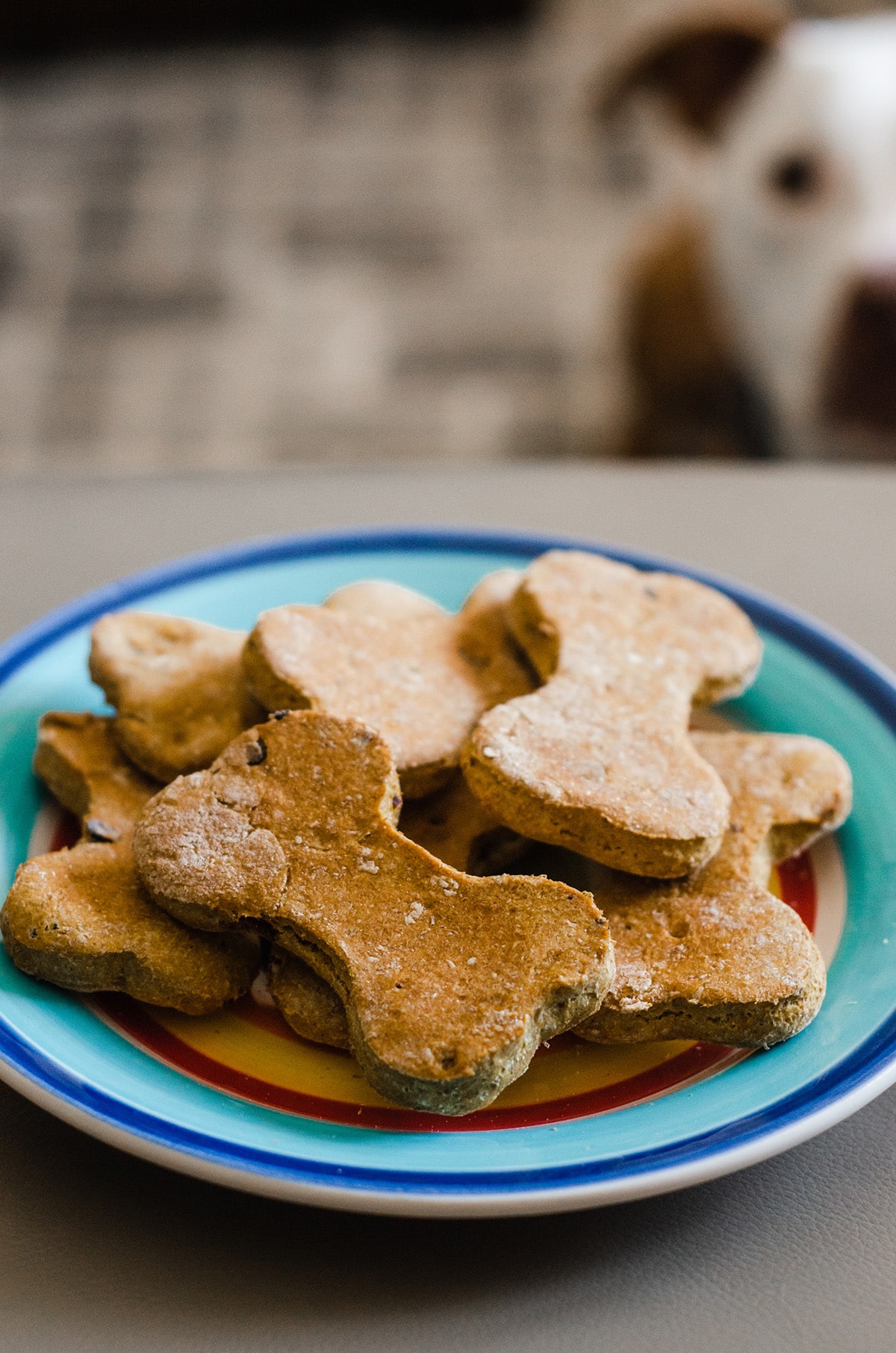 And I have realized I can never again taste-test dog treats. The dogs are much better judges.
Health benefits of Pumpkin Dog Treats
Side note: did you know pumpkin can be good for dogs? Pumpkin without added sugar or spice can be helpful to keep things moving in the digestive tract. Pumpkin for the win!
So there you are, friends. A little addition to pumpkin week that's one for the pups. While we may never actually own a dog, I'm happy to know that I can supply a relatively healthy dog treat recipe to one if we ever decide to.
Looking for more ways to use your pumpkin purée? Try my savory pumpkin biscuits, pumpkin ice cream, or pumpkin pie smoothie next!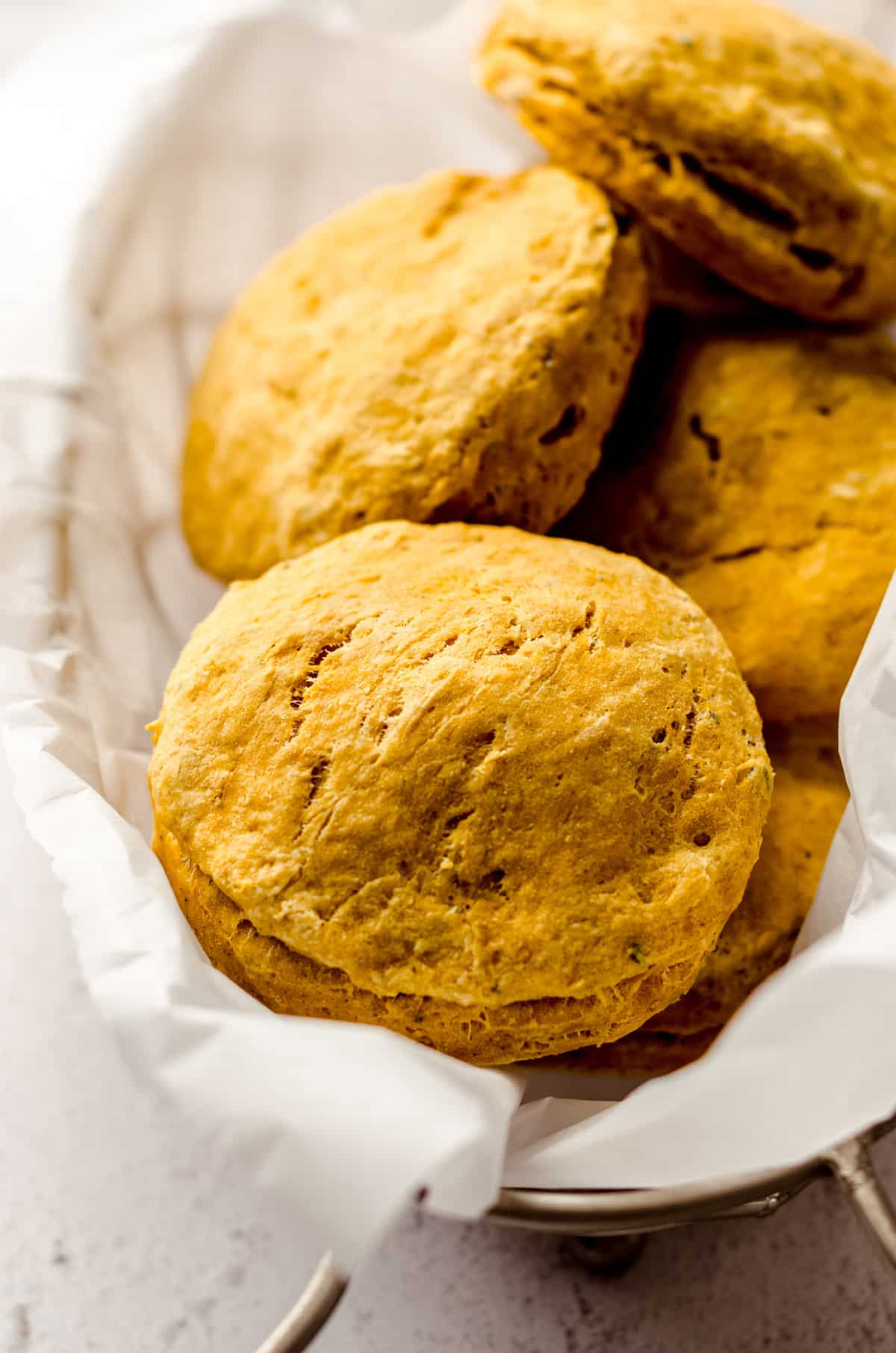 Homemade Dog Treats Pumpkin FAQs
Is it OK to give dogs pumpkin everyday?
Yes! While this will always depend on your dog's specific tolerances and tastes, there is no fundamental reason you could not feed your dog pumpkin daily.
Do pumpkin dog treats need to be refrigerated?
You do not need to refrigerate your pumpkin dog treats, but if you find that they are getting stale or molding before your dog finishes them, it's a good idea to keep them in the refrigerator.
Is canned pumpkin safe for my dog?
Yes, canned pumpkin is perfectly safe for your dog. It is a great source of fiber and nutrients.
More Favorites from Fresh April Flours
Pumpkin Dog Treats
Simple homemade pumpkin dog treats made with pumpkin puree, whole wheat flour, and bacon. These treats are also made without peanut butter, so they're great for homes with a peanut allergy!
Ingredients
4

strips

bacon

½

cup

(122g) pumpkin purée

1

large egg

2

cups

+ 2 Tablespoons (323g) whole wheat flour all-purpose is fine; be sure to measure properly

½

Tablespoon

baking powder

2 to 4

Tablespoons

(30-60mL) water or milk
Instructions
Preheat the oven to 350ºF (177ºC). Line a large baking sheet with parchment paper or a silicone baking mat. Set aside.

Cook the bacon by your desired method until fully cooked. Remove the cooked bacon, place it on a plate or cutting board to cool a bit, then pour off the bacon grease into a medium size bowl.

Coarsely chop the bacon, then add it to the bowl of bacon grease. Add the pumpkin and the egg and whisk until smooth. Set aside.

In a large bowl, whisk together the flour and baking powder.

Pour the wet ingredients into the dry ingredients and mix gently until everything is combined. Add about ½ to 1 Tablespoon of water or milk at a time until dough stays together (I usually wind up adding about 2 to 4 Tablespoons total). You will likely need to use your hands.

Turn out dough onto a floured surface and roll out to approximately ¼" thick. Use desired shape cookie cutter, reroll, and cut again until there is no more dough left. Bake dog treats for 30 minutes, flipping treats over halfway through baking. Store dog treats covered at room temperature. Treats may be frozen, up to 3 months. Thaw at room temperature.
Nutrition Disclosure
All nutritional values are approximate and provided to the reader as a courtesy. Changing ingredients and/or quantities will alter the estimated nutritional calculations.
Serving:
1
dog treat
|
Calories:
81
kcal
|
Carbohydrates:
12
g
|
Protein:
3
g
|
Fat:
3
g
|
Saturated Fat:
1
g
|
Polyunsaturated Fat:
1
g
|
Monounsaturated Fat:
1
g
|
Trans Fat:
0.01
g
|
Cholesterol:
14
mg
|
Sodium:
81
mg
|
Potassium:
85
mg
|
Fiber:
2
g
|
Sugar:
0.3
g
|
Vitamin A:
1210
IU
|
Vitamin C:
0.3
mg
|
Calcium:
31
mg
|
Iron:
1
mg