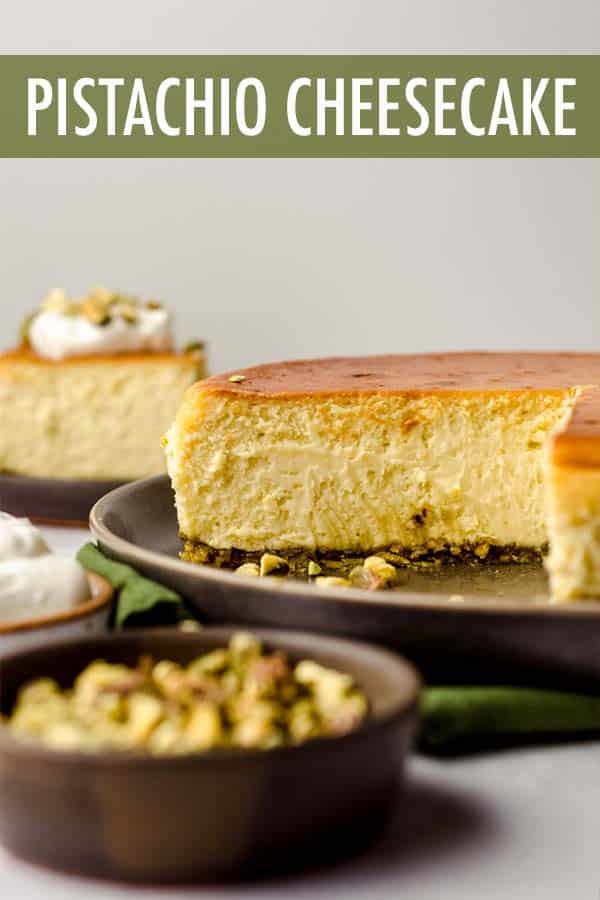 As an Amazon Associate, I earn from qualifying purchases. Read the full disclosure here.
This creamy, sweet, and slightly salty pistachio cheesecake recipe is made and flavored with nothing but pure pistachios. There is no pudding or artificial pistachio flavoring involved but rather instructions for making incredibly flavorful homemade pistachio butter to flavor your cheesecake.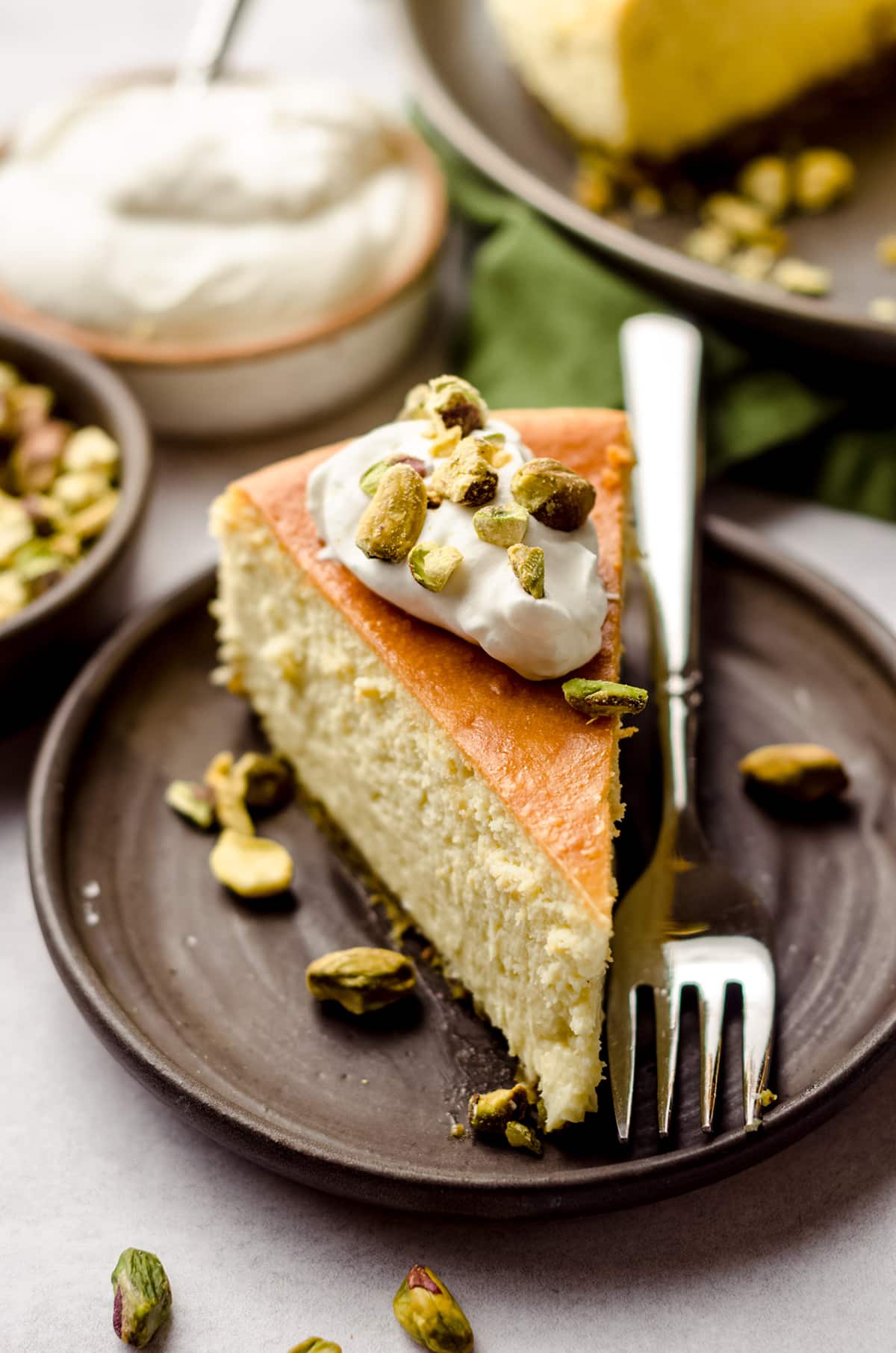 If there's one dessert that I think flies under the radar as a really good option, it's cheesecake. Cheesecake is creamy, versatile, and often gets a bad rap of being hard to make.
I taught myself how to make cheesecake with my funfetti cheesecake recipe, and I just keep finding more and more flavors to share, because making cheesecake from scratch is actually so simple once you have the basic techniques down.
Other delish cheesecake recipes I have are a fresh peach cheesecake, a cinnamon roll cheesecake, a pumpkin sheet cake style cheesecake, cheesecake brownies, and even no bake cheesecake bites for when the urge hits in the dog days of summer.
The Best Pistachio Cheesecake Recipe
I couldn't wait to share this pistachio cheesecake recipe with you, because my recipes that include pistachios are actually quite popular on my site! So many of us have intense sweet and salty cravings, and this creamy and nutty cheesecake satisfies both of those cravings.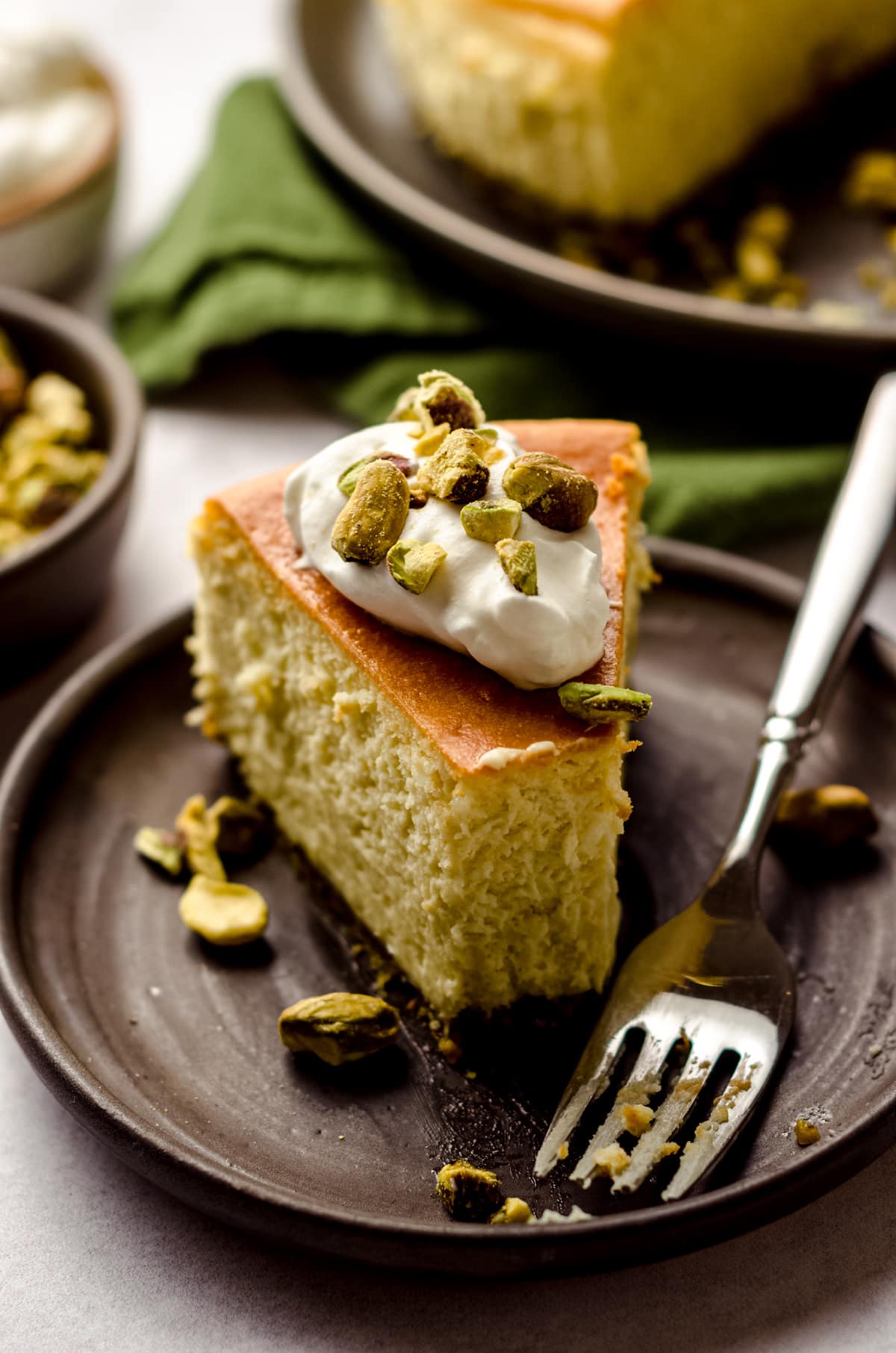 Smooth pistachio flavor, a crunchy and nutty crust, and the sweet, creamy filling make for an explosion of pistachio in every single bite. You're going to love this recipe as much as I do, I just know it!
PISTACHIO CHEESECAKE COMPONENTS
While every cheesecake follows roughly the same outline, this homemade pistachio cheesecake, in particular, involves a bit more elbow grease than it might seem at first glance, but I assure you that if you plan ahead, you'll find the whole process quite simple.
This easy pistachio cheesecake is flavored with nothing but real pistachios, and since weighing down the inside of the cheesecake with bulky pistachios wasn't exactly what I was going for in this recipe, I took to some of my friends around the blogosphere to help me out.
I figured there had to be an easier way to flavor my pistachio cheesecake with glorious pistachio flavor without the use of pudding or artificial flavoring, and I found that Sweet and Savory by Shinee had a really simple tutorial for making homemade pistachio paste or pistachio butter (they're considered the same thing).
We'll get to exactly how to do that in a bit (it's really simple, it just takes some time), but know that pistachios really are the stars of the show in this pistachio crust cheesecake.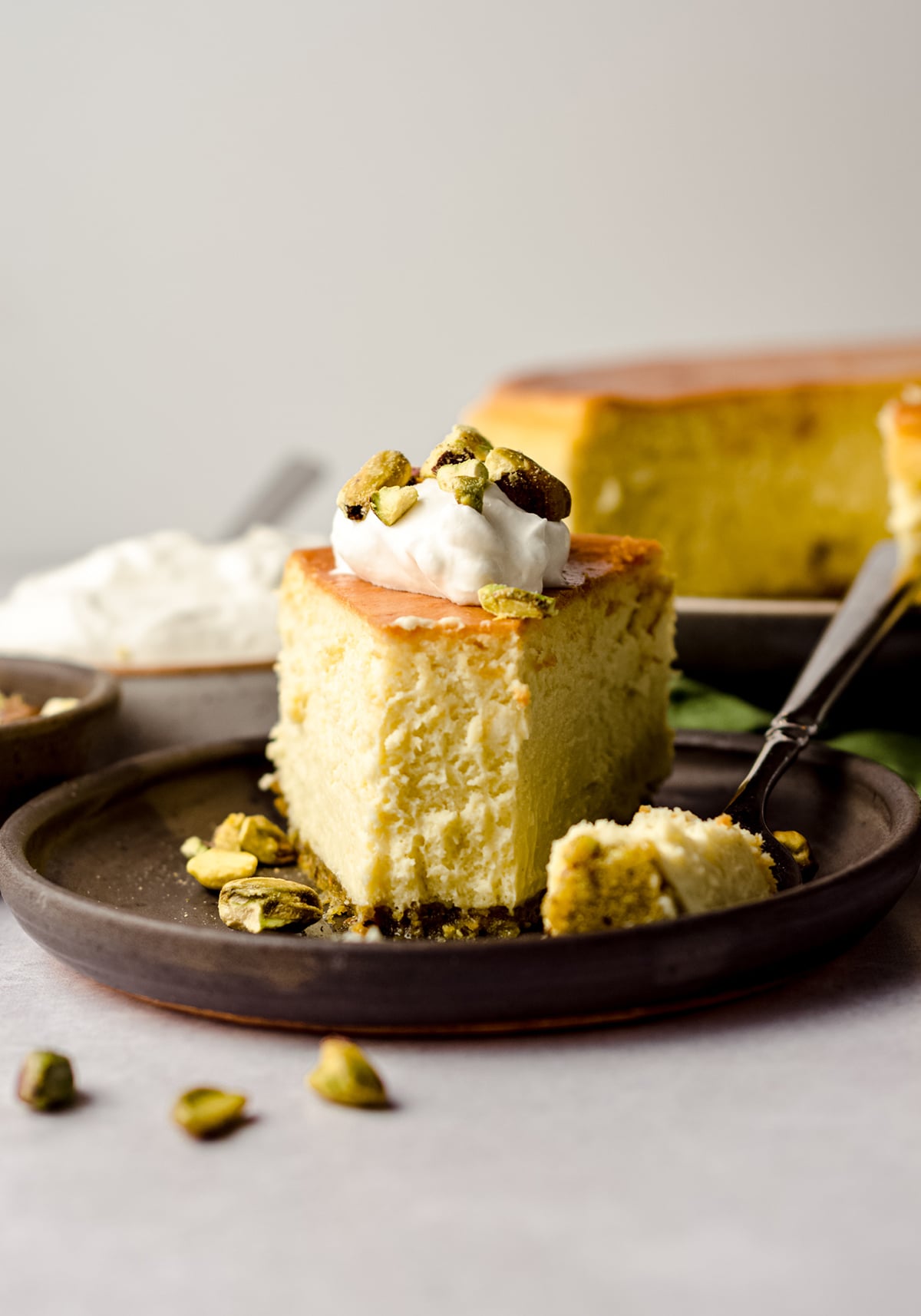 Alongside the pistachio butter/pistachio paste inside the filling of the cheesecake, we're also making the crust entirely of pistachios and topping the whole thing with a simple garnish of fresh homemade whipped cream and coarsely chopped pistachios.
Ingredients
Like I mentioned, one of the best things about this pistachio cheesecake recipe is how simple the ingredient list is! In addition to the traditional cheesecake ingredients like cream cheese, heavy cream, and sour cream, you'll find that this recipe relies on just a few simple additions. Most notably, pistachios!
And I don't mean just a handful, we are talking about serious amounts of these amazing, salty, and crunchy little green nuts.
Give Me All the Pistachios
When it comes to nuts, most recipes get their flavor by including an extract to up the ante. Since nuts naturally have mild and subtle flavors, extract is needed to give it a little boost.
While I absolutely love almond extract, and use it often (including in this recipe, if you'd like to use it), pistachio extract is really hard to find. Further, even high quality brands just don't provide the authentic buttery pistachio flavor we all know and love.
And while many recipes rely on pistachio pudding for a flavor infused filling, that was just not something I wanted for this cheesecake. I wanted real, incredible pistachio flavor.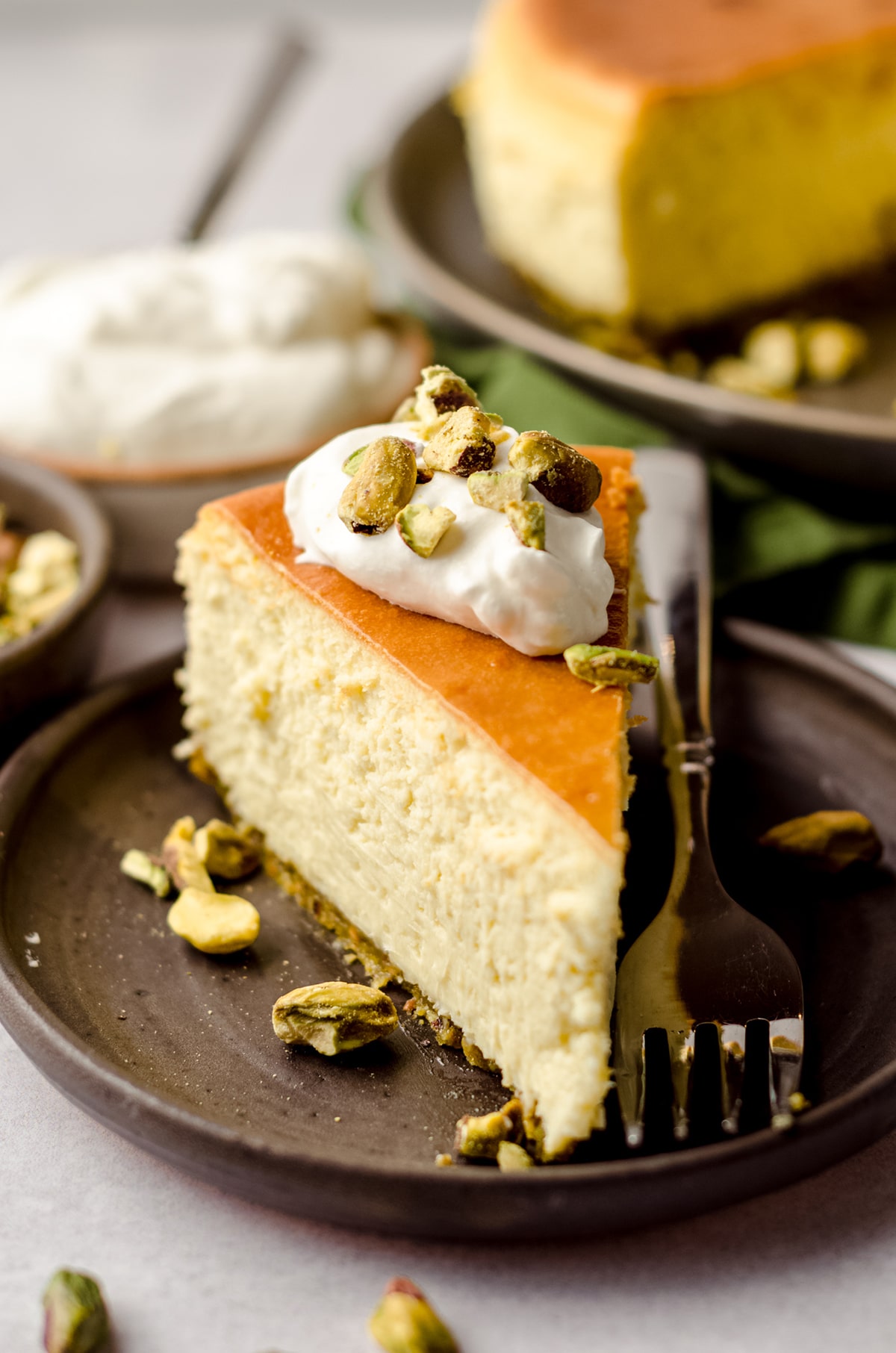 For that, there was only one way: include a whopping 1 and ½ cups of pure pistachio goodness. And when I tell you this, I mean it: this cheesecake is 100% worth all of the shelling you may or may not have to do.
While you can absolutely use shelled pistachios, buying pistachios in the shell is considerably cheaper AND you get to sneak a handful as a labor tax. That sounds like a great deal to me, don't you think?
Oh, and if you happen to buy a huge bag (because bulk deals, of course!), make sure to try my recipes for pistachio biscotti and pistachio muffins. Like this recipe, they are sweet, salty, and totally worth any shelling you have to do.
Making Pistachio Butter/Pistachio Paste
Before we get started on the rest of this pistachio cheesecake, you'll want to decide whether or not making the pistachio butter/pistachio paste is something you'd like to do ahead of time or at the same time as the rest of your cheesecake.
From start to finish, depending on what kind of pistachios you're starting with (shelled or in the shell), this process can take anywhere from 20 to 60 minutes.
My best advice? Start with shelled pistachios. You'll save tons of time!
USE RAW PISTACHIOS
It's also important you use raw unsalted pistachios, as roasted/salted pistachios will make your pistachio butter very brown and very salty.
Pistachio paste is really the ultimate secret to getting the best pistachio flavor, with no added pudding mixes or anything like that (not that I have anything against pudding mixes, see my snickerdoodle pudding cookie recipe as proof).
A homemade pistachio paste infuses the creamy cheesecake with flavor, and is actually surprisingly easy to make!
BLANCH THE PISTACHIOS
In order to get the pistachios to a place they're willing to blend into a butter/paste, you'll need to blanch them.
Bring a medium sized saucepan full of water to a boil. Once it reaches a boil, remove it from the heat and add in your pistachios.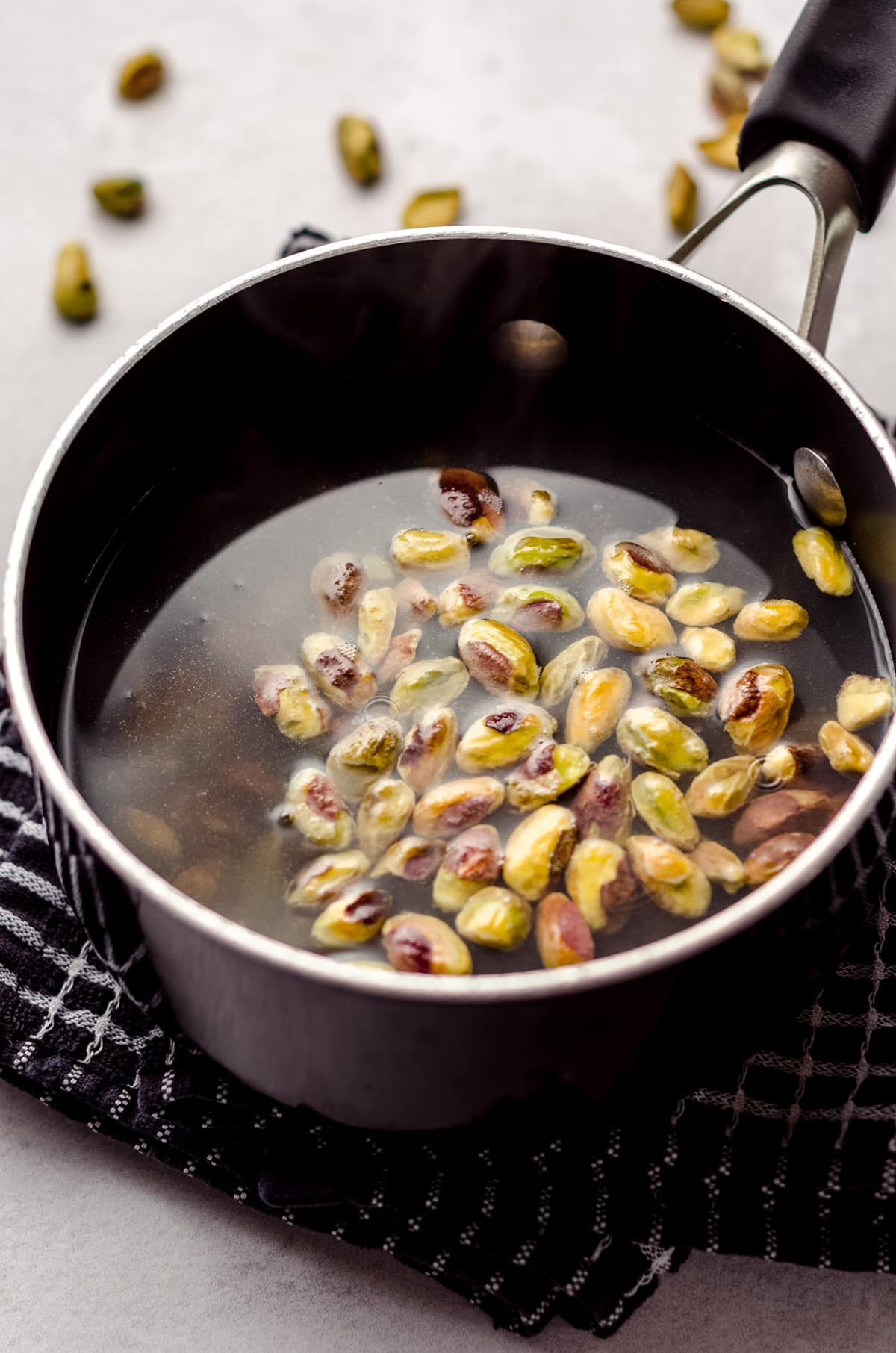 Then, allow the pistachios soak for about 4-5 minutes. This will help soften them, making them easier to skin and blend into a yummy paste later on.
Once your pistachios have soaked, go ahead and drain them. Place them on a clean kitchen towel, and rub them to remove the skins. Some pistachios may have more stubborn skins, but that's nothing a little bit of work with your hands can't fix.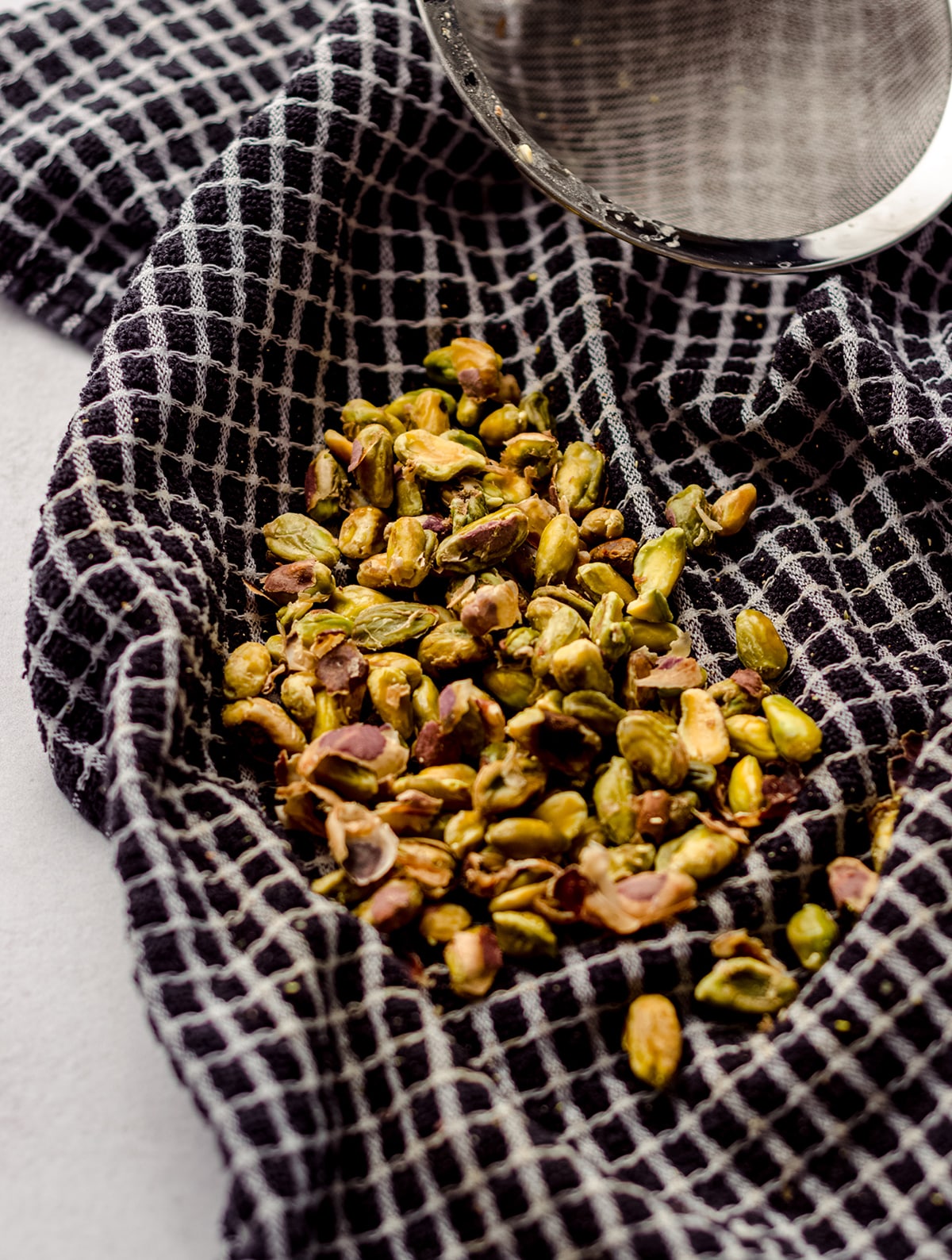 BLEND THE PISTACHIOS
Once all of your pistachios have been skinned, add them to your food processor.
Process the pistachios until smooth, adding about a tablespoon of water at a time when the pistachios seem to be clumping. Scrape down the edge of the bowl, to ensure an even blending and smooth end result.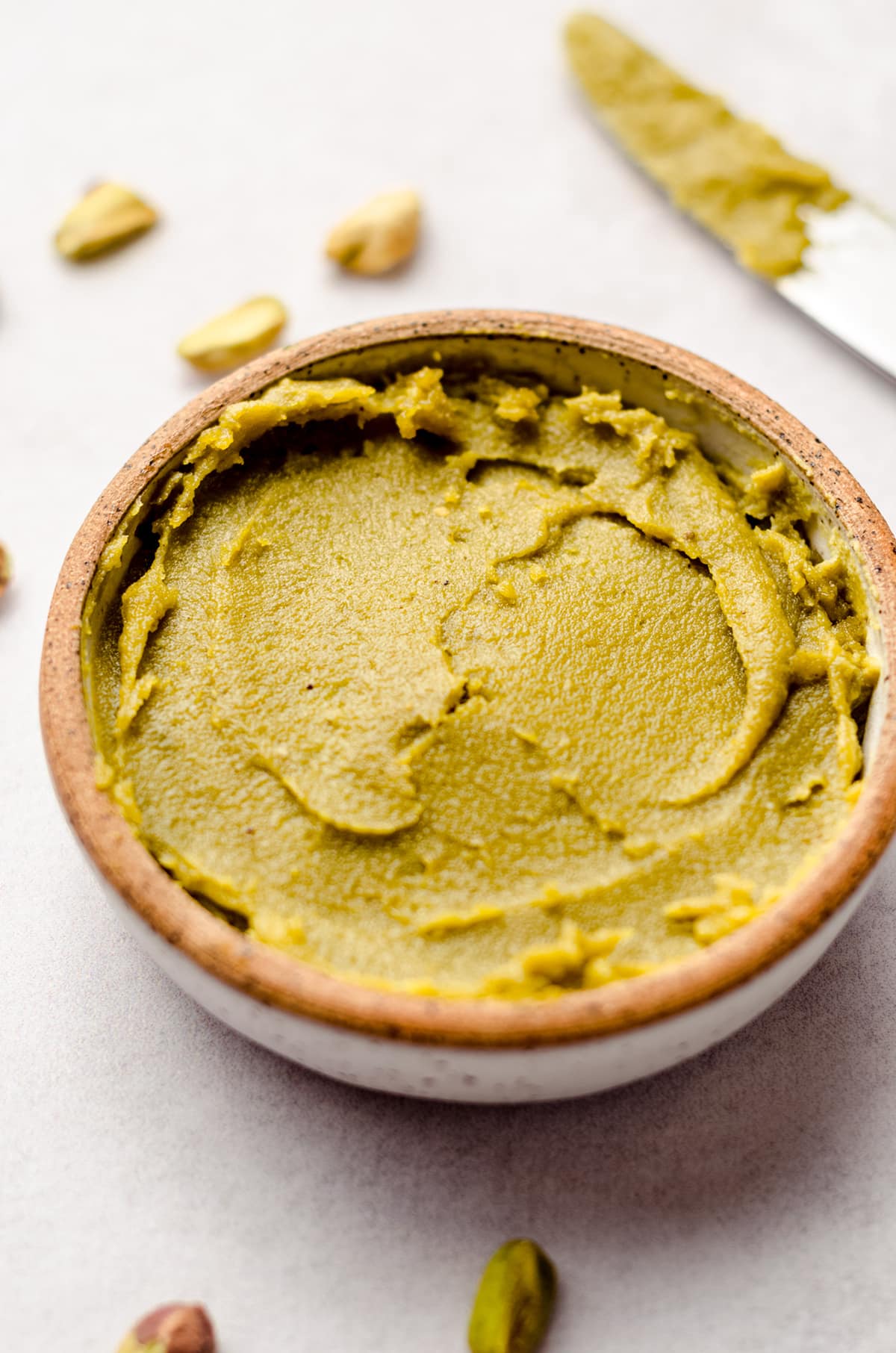 Remove your pistachio paste from the food processor and set aside. You can chill this in the refrigerator up to 2 weeks or use it right away. It's up to you!
Once your pistachio butter/pistachio paste is done, it's time to move onto the rest of the cheesecake.
Make a Pistachio Crust
I wanted the crust of this pistachio cheesecake to be different than the typical graham cracker crust you find with most cheesecake recipes (like my funfetti or peach versions). Since I love the salty, buttery flavor of pistachios so much, what about making a crunchy pistachio crust?
It turns out, that was a VERY good idea.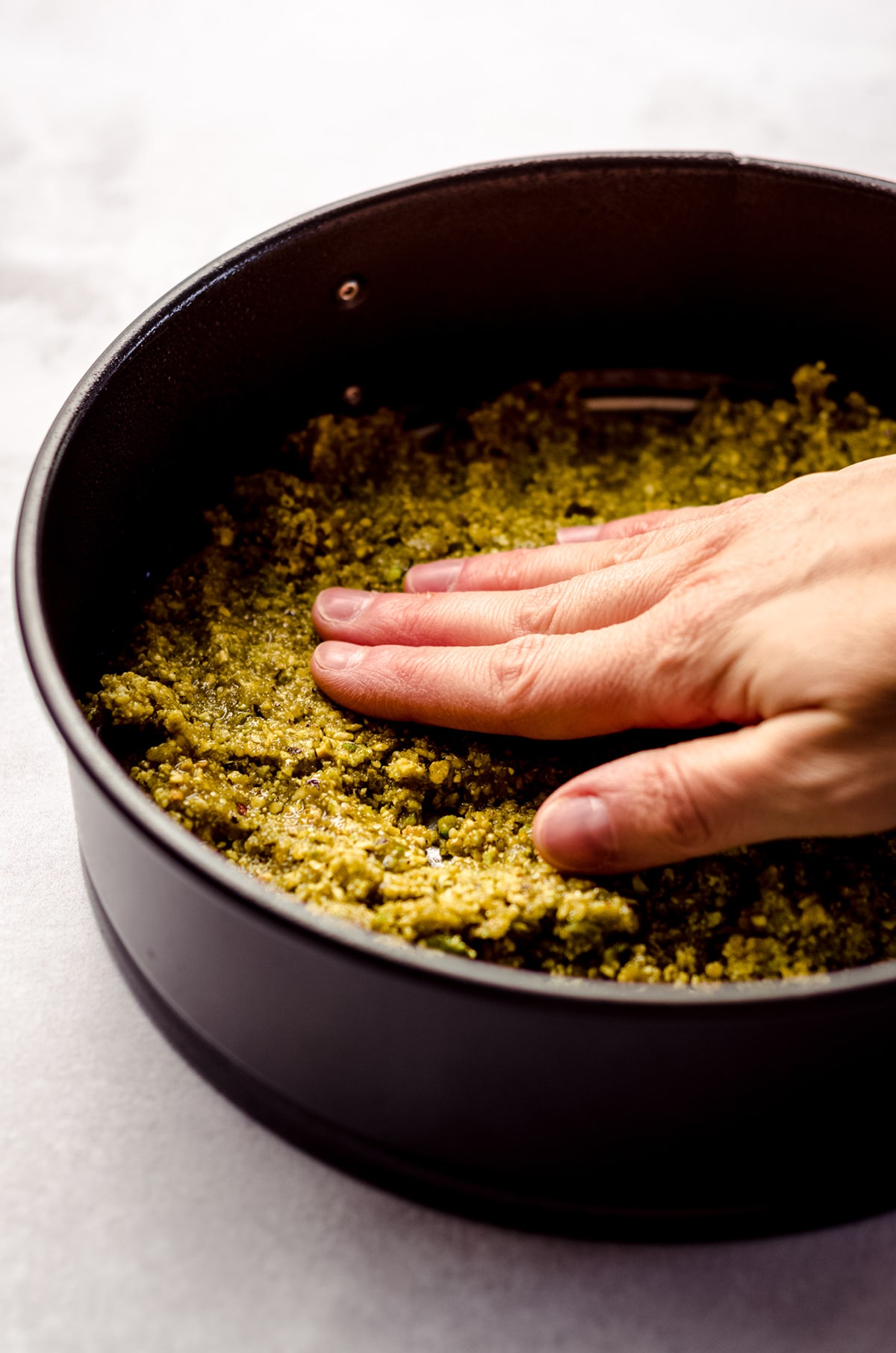 All you have to do is crush a full cup of pistachios and combine with sugar and melted butter. Then, press this intoxicating mixture into the bottom of a springform pan and pre-bake it just long enough to give it some structure.
Once your crust has been pre-baked, set it aside to cool while you prepare the filling.
Always Use Room Temperature Ingredients
The most important thing to remember when we're talking about baking cheesecake is to always use room temperature ingredients.
While this may seem like a tedious and unnecessary step, it really is essential to the success of your cheesecake.
Using ingredients that are too cold, or not all the same temperature results in a lumpy, uneven cheesecake. I don't know about you, but biting into a lump of pure cream cheese when what I'm really wanting is a creamy, sweet pistachio cheesecake filling is just not going to fly.
Using room temperature ingredients helps your eggs, cream cheese, and sour cream blend together effortlessly and become a uniform (and delicious) cheesecake filling that will have you swooning over the super smooth and creamy texture.
I know, the waiting is torturous. But I promise: it's worth it. Plan ahead and let your ingredients warm up before you get started.
Make the Filling
I've written in detail about exactly how to make a cheesecake in my debut cheesecake recipe, but, as I mentioned, every good cheesecake follows essentially the same formula.
We need a springform pan, lined with a yummy crust, a luscious cream cheese filling, and then either goodies inside or on top of the baked cheesecake. Sounds simple, right?
This pistachio cheesecake is of the "goodies inside" variety, and it involves that amazing pistachio paste I mentioned earlier. Are you ready for your pistachio-loving world to be rocked?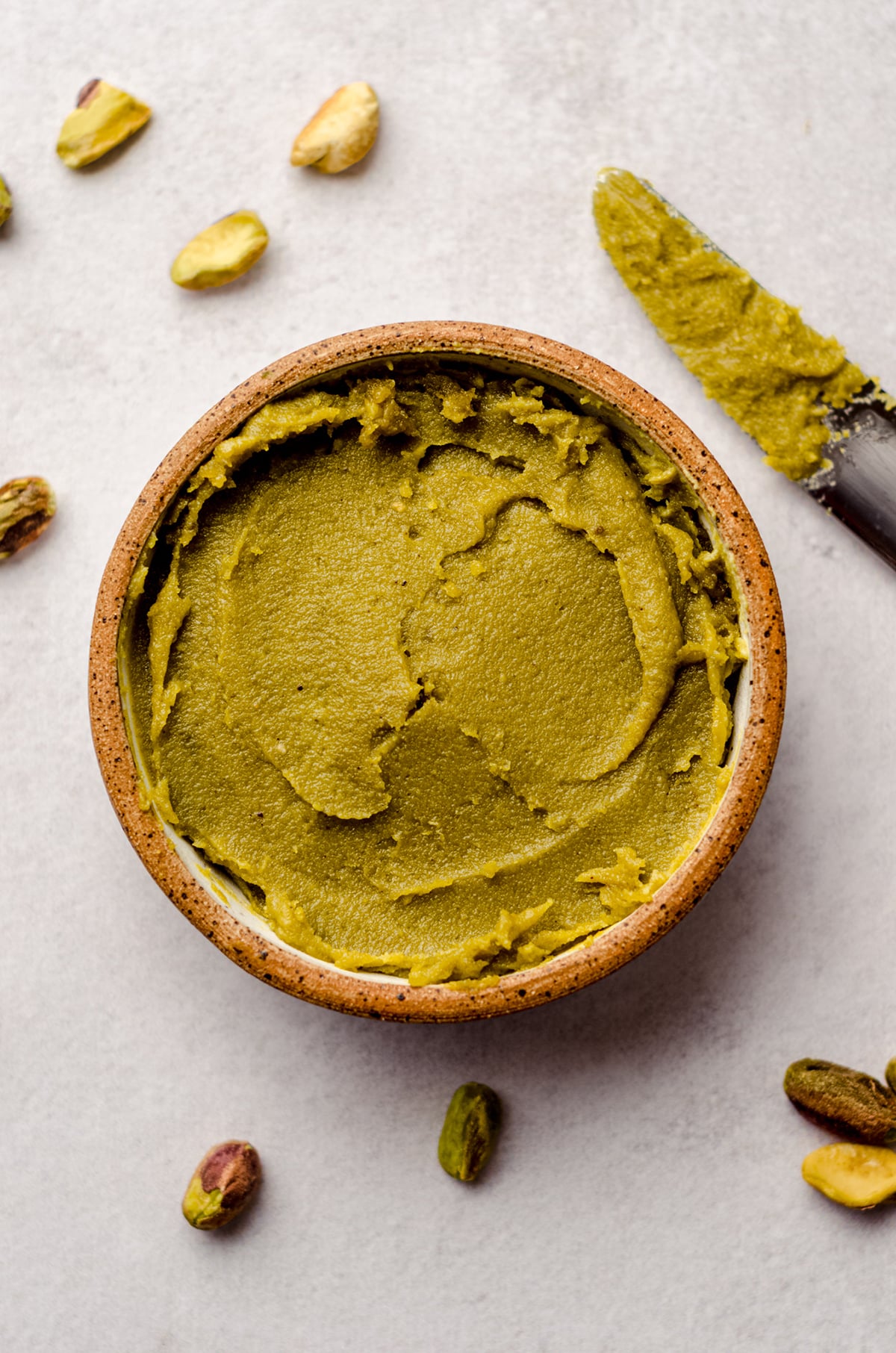 Once your cream cheese is whipped and smooth, add in your pistachio paste along with the sugar and salt, and beat until combined, or about 2 minutes.
Then you'll add in the rest of cheesecake filling ingredients, whip them together, and we are ready to start assembling the cheesecake.
Bringing It All Together
Now that we have all of the elements taken care of, it's time to start building the actual cheesecake.
Once your pistachio crust is baked and cooled, you'll add the dreamy pistachio cheesecake filling.
Now you're ready to prepare the water bath and get to baking!
A Water Bath is a MUST
For the creamiest, smoothest cheesecake, a water bath is essential! If you want avoid cracking, have an evenly baked filling, and live in the land of cheesecake bliss, a simple water bath is the answer to all of your cheesecake woes.
I'm sure you've seen water baths done with foil, huge pans, and boiling water spilling everywhere, but I have a super simple method that I've been using for all of my cheesecakes and it works like a dream.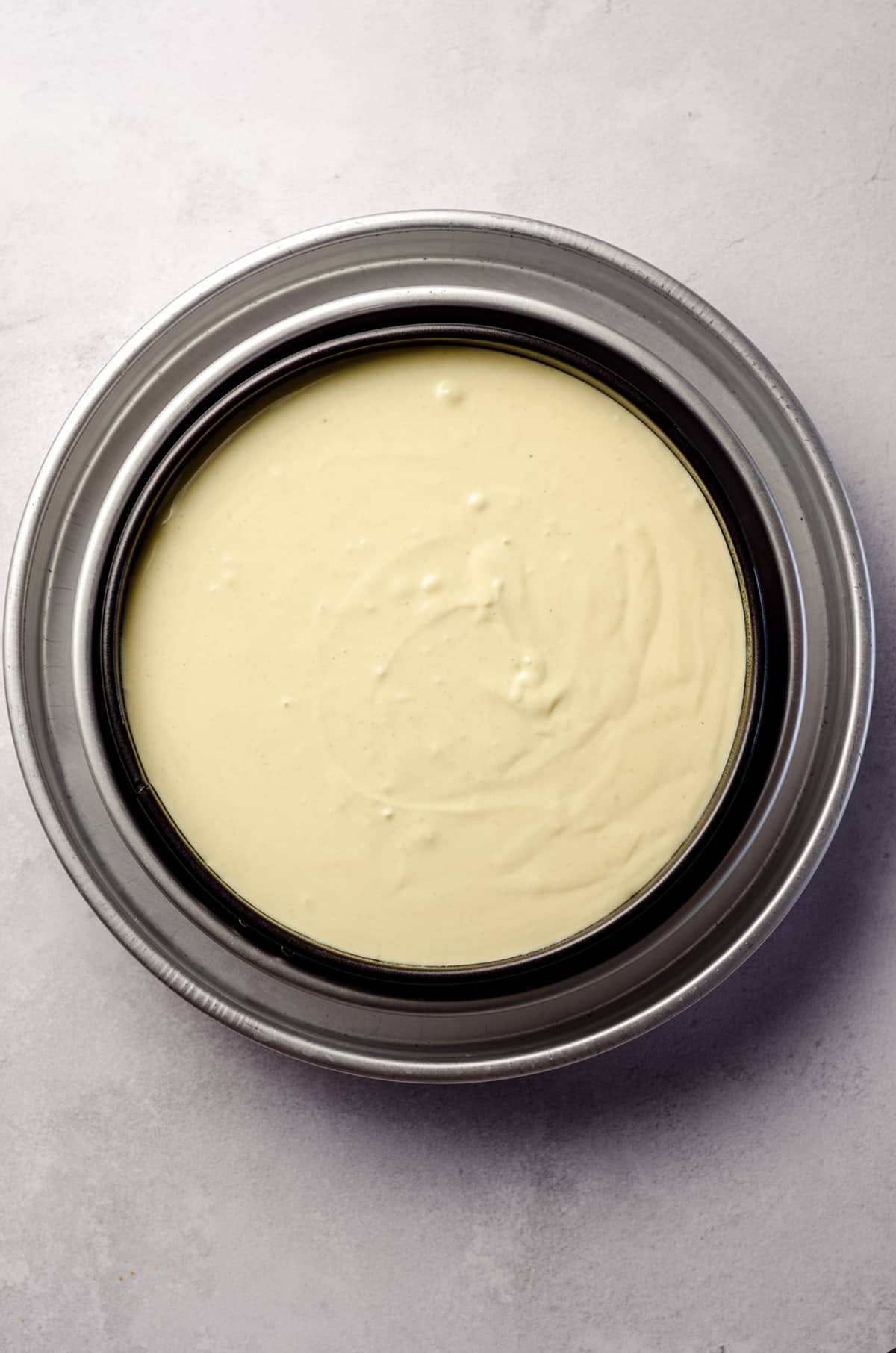 I go into detail in my peach cheesecake recipe, but the idea is that you place your 9″ springform pan inside of a 10″ cake pan, and then fill a 12″ cake pan with water. There is no leaking of the filling, no crazy amounts of foil, and it works perfectly every single time. You can find a link for the exact pans that I use in the recipe card, along with detailed instructions on how to properly prepare your water bath.
A Fully Baked Cheesecake Will Jiggle
Perhaps the most surprisingly thing to new cheesecake bakers is that the filling will look underdone, when in fact it is perfectly cooked through. This is why it's so important to know what to expect!
Once your cheesecake has baked for 90-105 minutes, the middle should jiggle just a little bit.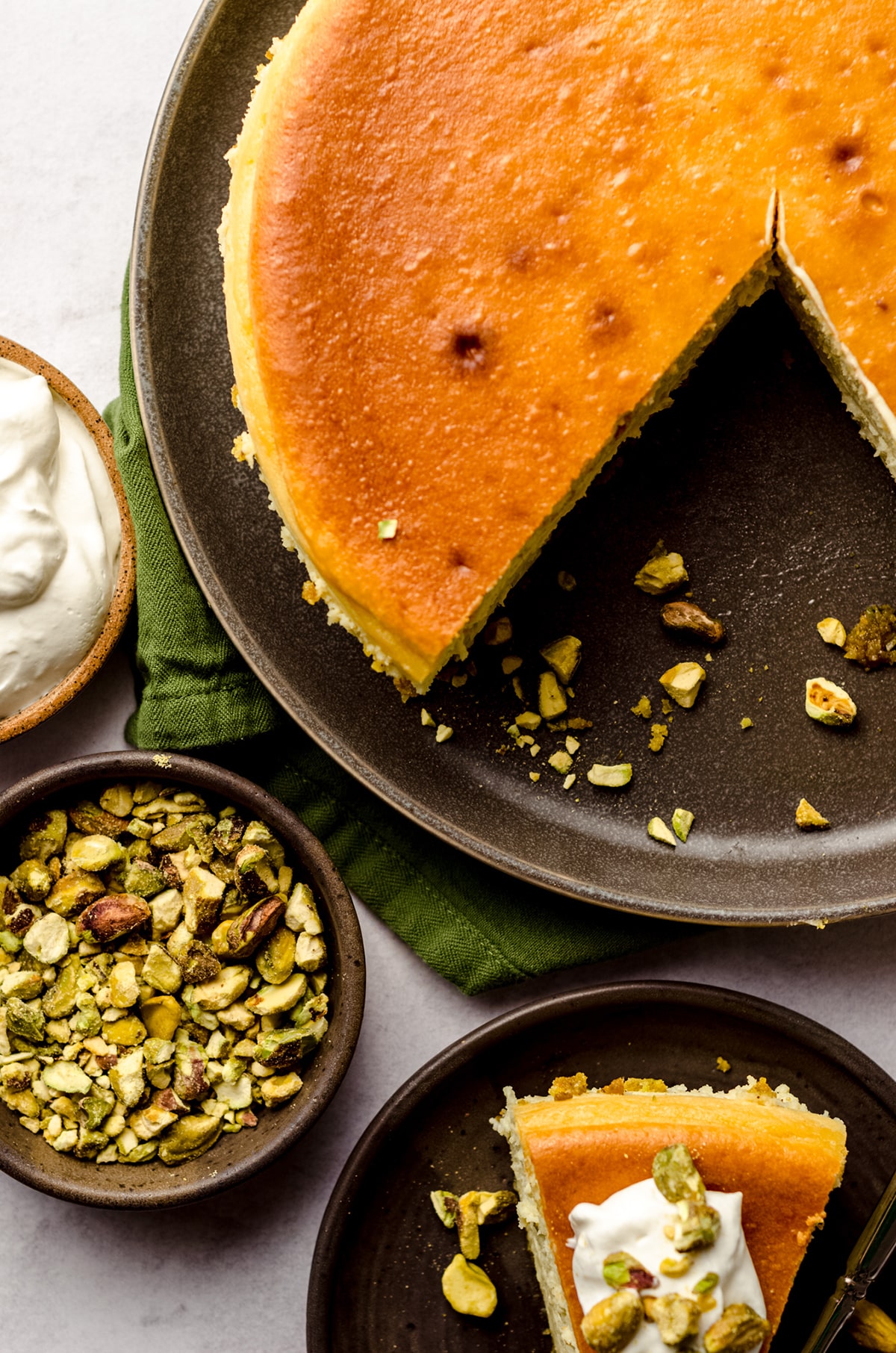 If the area that jiggles has a diameter larger than about 2″, you'll want to return your pistachio cheesecake to the oven to bake for a little longer.
A great way to tell if your cheesecake is completely baked through is to use an instant read thermometer to test the internal temperature. You're looking for a temperature of 145°F (63°C).
Proper Cooling Prevents Cracking
Once the cheesecake is fully cooked, turn the oven off and allow your cheesecake to cool in the oven with the door partially open. I like to use a wooden spoon to keep the oven propped open, but you can use any heat safe utensil you have on hand.
Let you cheesecake cool in the oven for about 1 hour, then remove the springform pan from the other pans and let cool on a rack for 2 hours.
Once the cheesecake is cooled, wrap it tightly with plastic wrap and chill it in the fridge for at least 6 hours, ideally overnight.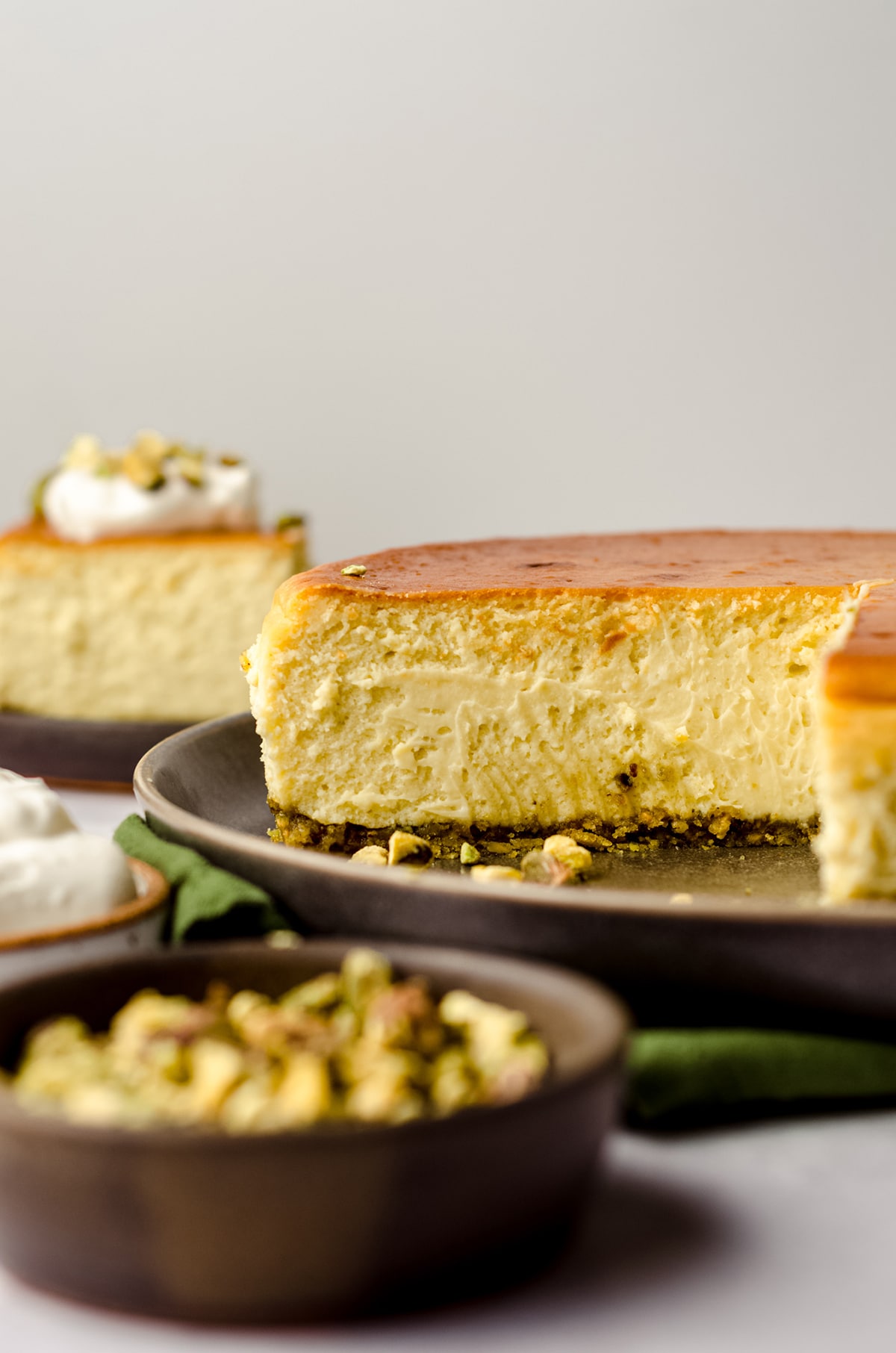 Taking the time to cool and chill the cheesecake prevents the top cracking, and gives the most wonderful creamy and delicious texture possible. Trust me, it's worth the extra time!
We served this cheesecake at Christmas Eve dinner, and it was a huge hit. I also found myself stealing bites of leftovers every time I went to the fridge those first few days of our holiday break.
The filling is so creamy and luscious with little bits of pistachio throughout. The flavor is subtle but absolutely there and complemented by that intensely flavorful and textured pistachio crust.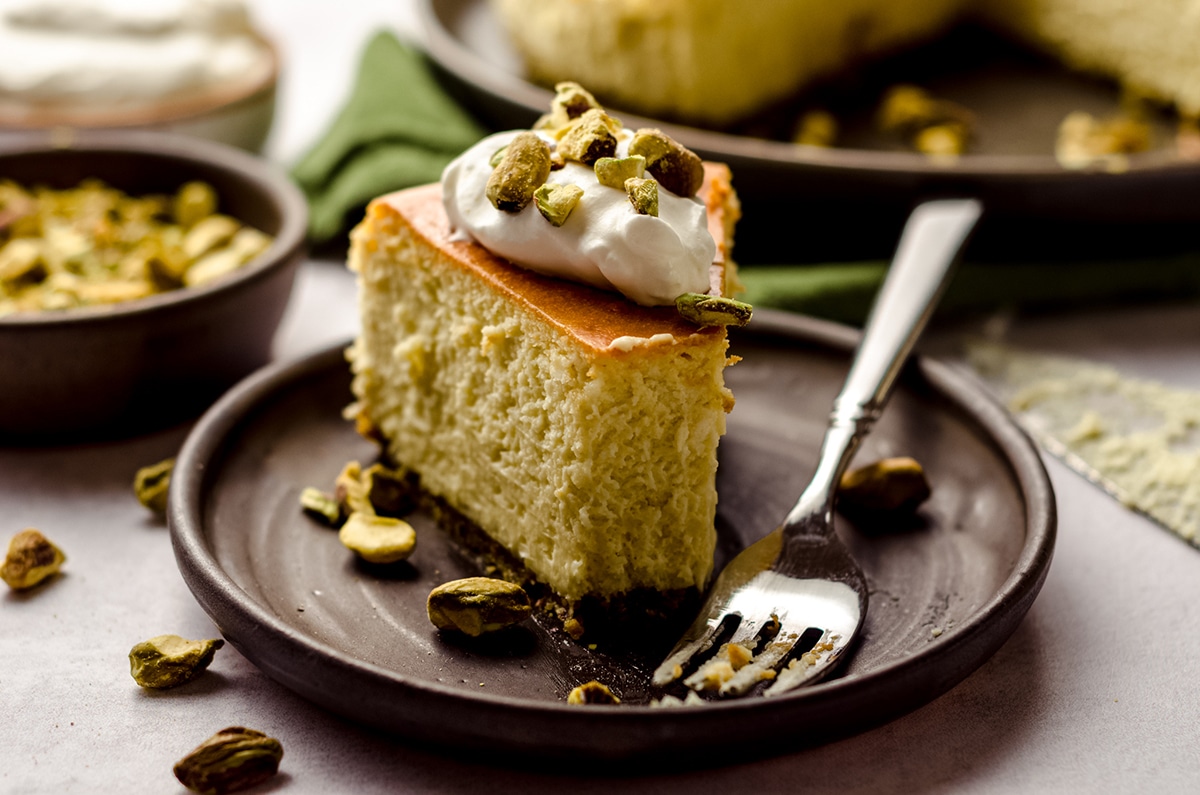 If you're a pistachio fan, this cheesecake is 100% for you. You will be so pleased with its natural pistachio flavor and how it highlights that fantastic nut as the star of the show in your dessert.
Now that you've tried your hand at baking a deliciously nutty cheesecake, try some of my other recipes that use nuts! A few of my favorites include these white chocolate chunk macadamia nut cookies, carrot cake cupcakes, banana nut muffins, and my honey walnut cookie sticks.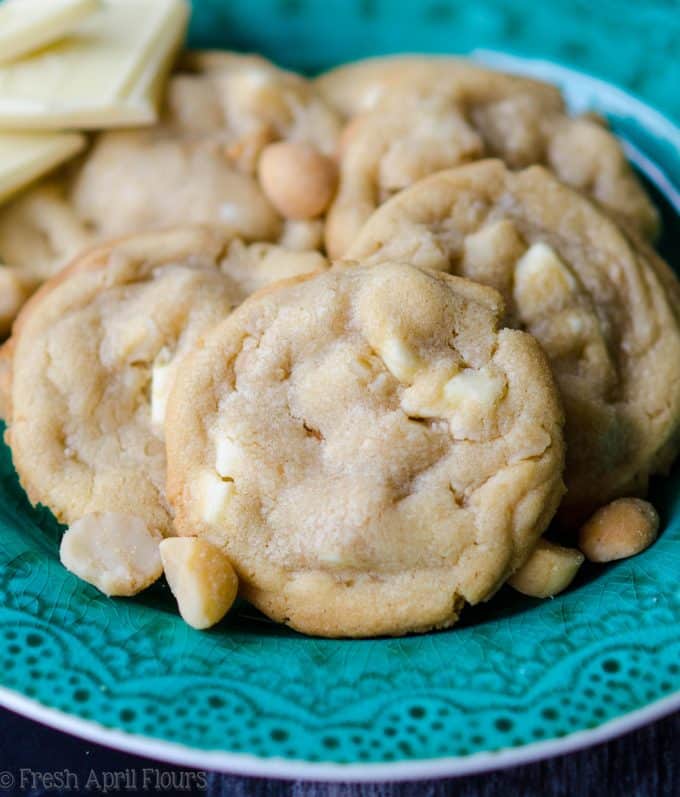 More Favorites from Fresh April Flours
Pistachio Cheesecake
This creamy, sweet, and slightly salty pistachio cheesecake recipe is made and flavored with nothing but pure pistachios. There is no pudding or artificial pistachio flavoring involved but rather instructions for making incredibly flavorful homemade pistachio butter to flavor your cheesecake.
Ingredients
PISTACHIO PASTE
½

cup

(60g) raw shelled pistachios1

2

Tablespoons

(30mL) water
PISTACHIO CRUST
1

cup

(120g) raw shelled pistachios

¼

cup

(50g) granulated sugar

¼

cup

(57g) unsalted butter

melted and allowed to cool

¼

teaspoon

salt
PISTACHIO CHEESECAKE
32

ounces

(900g) full fat block cream cheese

completely softened to room temperature

1

cup

(200g) granulated sugar

¼

cup

(60mL) heavy whipping cream

at room temperature

5

ounces

(153g) Greek yogurt or sour cream

about ⅔ cup; at room temperature

½

teaspoon

vanilla extract

¼

teaspoon

almond extract2

¼

teaspoon

salt

4

large eggs

at room temperature

2

large egg yolks

at room temperature
Instructions
PISTACHIO PASTE
Bring a medium size saucepan of water to a boil. Turn off or remove from heat, then add the raw pistachios.

Allow the pistachios to soak for 4-5 minutes, then drain.

Place the blanched pistachios in a clean kitchen towel, then rub the pistachios together to remove the skins. You may have to use your hands to remove stubborn skins.

Place the skinless pistachios into a food processor, then process until smooth. Add the water one Tablespoon at a time when pistachios seem to be clumping. Scrape down the sides of the food processor as needed.

Remove pistachio paste from the food processor and set aside to use right away in the cheesecake, or store in the refrigerator1 until ready to use.
PISTACHIO CRUST
Preheat the oven to 325ºF (162ºC). Spray a 9" springform pan with nonstick spray. Set aside.

In a food processor, pulse the pistachios until they become small pieces. Pour the crushed pistachios into a medium size bowl, add the sugar, melted butter, and salt, then stir to combine.

Press the pistachio mixture into the bottom of the prepared springform pan, then bake the pistachio crust for 8-10 minutes, until crust is fragrant and set. Remove from the oven and allow to cool while you prepare the filling.
PISTACHIO CHEESECAKE
In a large bowl with a handheld mixer or the bowl of a stand mixer fitted with the paddle attachment, beat the cream cheese on medium high speed until smooth, about 2 minutes. Add the granulated sugar, pistachio paste, and salt, then beat again until combined, about another 2 minutes.

Reduce the mixer speed to low3, then add the heavy cream, yogurt or sour cream, and vanilla and almond extracts and mix until completely combined. Add the eggs one at a time and continue mixing on low until eggs are just combined. Your batter should be smooth and creamy without lumps.

Pour the batter into the prepared pan. Create a water bath4 by placing the 9" springform pan in a slightly larger round pan (I like to use a 10" cake pan) and then place that pan into an even larger round pan (I like to use a 12" cake pan) or roasting pan.

Fill the outer pan with hot water halfway up the sides of the middle pan, then carefully transfer the whole thing to the oven.

Bake the cheesecake for 1 hour 35 minutes to 1 hour 50 minutes. The middle of the cheesecake (a center approximately 2" wide) should jiggle just a little bit. I use my digital instant-read thermometer to check the internal temperature has reached 145ºF (63ºC). Turn the oven off5 and allow the cheesecake to cool in the oven for 1 hour. After 1 hour, remove the springform pan from all of the other pans and allow to cool on a cooling rack for another 2 hours. When the cheesecake is completely cool, cover or wrap tightly and allow to chill in the refrigerator for at least 6 hours, ideally overnight.

Remove the cheesecake from the fridge and use a spatula or butter knife to gently loosen the crust from the side of the pan, then release the outer ring of the springform pan.

Top the cheesecake with fresh whipped cream (I use my homemade whipped cream recipe) and crushed pistachios, if desired. Store leftovers in the refrigerator up to 5 days. Cheesecake freezes well, up to 3 months. Thaw in the refrigerator overnight.
Notes
Pistachio paste: instead of making your own pistachio paste, you can also use store-bought. Use

⅓

cup of pre-made pistachio paste

. Making your own takes about 20 minutes (if you're using shelled pistachios) and can be done ahead of time and kept in the fridge until needed (pistachio paste will last in the refrigerator about 2 weeks). Be sure to use raw unsalted pistachios.
Almond extract: this is not imperative, but it enhances the pistachio flavor.
Mixer speed: it's important not to go above low (or low-medium) speed after you've beaten the cream cheese. Incorporating too much air will create bubbles and potential cracks in your finished cheesecake.
Water bath pans: here is a bundle that includes all the pans I use. Using this method eliminates the need to wrap anything in foil.
Cool the cheesecake: I like to prop the oven door open with a wooden spoon or spatula.
Pistachio paste recipe from Sweet & Savory by Shinee, cheesecake adapted from funfetti cheesecake
Nutrition Disclosure
All nutritional values are approximate and provided to the reader as a courtesy. Changing ingredients and/or quantities will alter the estimated nutritional calculations.
Serving:
1
slice
|
Calories:
422
kcal
|
Carbohydrates:
38
g
|
Protein:
21
g
|
Fat:
21
g
|
Saturated Fat:
8
g
|
Polyunsaturated Fat:
3
g
|
Monounsaturated Fat:
8
g
|
Trans Fat:
0.2
g
|
Cholesterol:
143
mg
|
Sodium:
787
mg
|
Potassium:
495
mg
|
Fiber:
2
g
|
Sugar:
32
g
|
Vitamin A:
589
IU
|
Vitamin C:
1
mg
|
Calcium:
372
mg
|
Iron:
1
mg